! >
Broadway To Vegas
  SHOW REVIEWS CELEBRITY INTERVIEWS GOSSIP NEWS

| | |
| --- | --- |
| | |
MORE PRESIDENTS SCORPIO OR AQUARIUS - - THE LAP DANCE DIET - - JERRY ORBACH HONORED - - ELTON JOHN/BILLY JOEL TOUR - - SHUT OFF THE CELL PHONE - - ONE HUNDRED DOLLAR TICKETS - - BOB HOPE EXHIBIT - - WESTERN MOVIE SEMINARS - - DONATE . . . Scroll Down


LAP DANCE THE WEIGHT OFF


Oversized rumps are giving an added dimension to the term SRO. Americans are getting too big to squeeze into theatre seats. Chris Bryant, a member of Prime Minister Tony Blair's Labor Party informed the House of Commons that "theatre seats were built for backsides of a Victorian era, not of a modern era - or indeed an American size." As an example, he pointed out that The Old Vic, which is now helmed by Kevin Spacey, has seats which measure "a standard size of about 18 inches."

Lard butt Americans can't get into them. The posterior problem is hurting West End theatre ticket sales.

Americans are a bunch of overweight, fat slobs. That's what even our own government is telling us. More than half of American adults are overweight or obese. An additional 6 million are "super obese" they weight about 100 pounds more than they should. No other nation in history has gotten so fat, so fast. The CDC (Center for Disease Control) estimates that "280,000 Americans die every year as a direct result of being overweight."

Want to lose 1200-1500 calories a day? That equals a weight loss of somewhere between a third and a half a pound a day - 3500 calories equal one pound - and not have to alter your current diet?

Get a job as a lap dancer, also known as table dancing. Apparently, those who shove their private parts in the faces of total strangers are being admired and imitated by those who save it for home.

Dr Petra Boynton, a prominent member of the British Psychological Society, says increasing numbers of women are visiting lap-dancing clubs to compare their bodies with the performers and also want to learn how to be sexy.

"There is a gap in their knowledge, which is one of the reasons why they are going to these places to learn."

"These dancers are portraying themselves in a sexy way, and there is a subtext in there that women can watch it, copy it, take it home and be sexy themselves."

She added, "It's a 'like me' or 'not like me' situation. Women will either imagine themselves in the place of the dancer, or attempt to judge themselves and their own worth by how much better or worse they perceive the dancers look than them."

An energetic lap dancer, who is suppose to perform three dances per hour, or 17 per shift, will burn off 1200-1500 calories a night. Work just one day and you can eat a Burger King Whopper and fries and not gain an ounce.

The same holds for other menu items. McDonald's Big Mac and Super-Size fries 1100 calories, 56 grams of fat. Taco Bell bean burrito 370 calories, 12 grams of fat. Taco Bell Nachos Bellgrande 760 calories, 39 grams of fat. Burger King Whopper and Fries 1250 calories, 70 grams of fat. Hardee's Super Star and Crispy Curl Potatoes (monster size) 1380 calories, 84 grams of fat.

Sex, by the way, is supposed to expend between 200-300 calories per hour, meaning a man probably burns off 20 calories - you do the math.

If the lap dance job description, or the possibility of a police record, isn't within your comfort level - consider belly dancing.

An ancient dance once associated with fertility rites and religion has made it mainstream onto workout videos and into health clubs. Dance studios use it as a get-fit alternative to treadmills and other aerobic staples.

Belly dance comes in a wide variety of styles using dance elements from around the world, particularly the Middle East and India: Egyptian Cabaret is controlled, elegant and typically what you'll see on television, in movies or at a banquet/restaurant. Turkish Cabaret is more flamboyant, with leaps and more pronounced pelvic movements. Persian emphasizes the arms and shoulders, while fusion, sometimes called tribal, is a modern mix of dance.

According to Harvard researchers a 110-pound woman who belly dances for 45 minutes burns about 240 calories, while that same-sized woman performing slower dances, such as waltz, uses up about 120 calories.


PRESIDENTS WHO GET STUCK IN BATHTUBS HAVE A BAD MOON RISING AND OTHER ZODIAC PECCADILLOES


Until 1971, both February 12 and February 22 were observed as federal holidays to honor the birthdays of Abraham Lincoln (Feb. 12) and George Washington (Feb. 22).

In 1971 President Richard Nixon proclaimed one single federal holiday, the Presidents' Day, to be observed on the third Monday of February, honoring all past presidents of the United States of America.

There have thus far been a total of 42 different individuals who have served in the office. 12 percent of them have had their Sun Sign in Scorpio or Aquarius Least apt to become elected are the Sun signs of Aries, Gemini or Virgo.

For a list of the Presidents and what happened; including which president got into a physical altercation over his wife and which one got stuck in the bath tub CLICK HERE


THE LAST ROUNDUP


Everyone remembers the good old days of Hollywood cowboys in western movies. Good guys wore white, fought the good fight, and ultimately triumphed over evil. In the final reel, the heroes mounted their trusty horses and rode off into the sunset singing the cowboy songs that we all knew and loved. The President Herbert Hoover Library and Museum celebrates this mythic West with Western Movies in Perspective The Last Roundup symposium.

Hollywood cowboys reminiscing about their days in the Western sun include; Will Hutchins, Robert Horton, silent star Marion Shilling, director Earl Bellamy, and singer/composer Johnny Western. Moderated by Boyd Magers, the symposium will give attendees a chance to listen to stories about making western movies and television shows, ask questions and get an autograph.

Bellamy was assistant director for the classic films A Star is Born and From Here to Eternity. Among the scores of westerns directed by Bellamy are Seminole Uprising and Incident at Phantom Hill. Bellamy's television work was also diverse. His credits include episodes of: The Lone Ranger, The Virginian, Wagon Train and Rawhide. But Bellamy was not limited to westerns, he also directed episodes of I Spy, M*A*S*H, and The Andy Griffith Show, among others. By the time he retired in 1986, Bellamy had directed over 1600 films and television episodes.



Robert Horton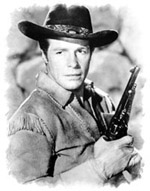 Actor Robert Horton is best known for his work on television's Wagon Train. His television career included appearances on Alfred Hitchcock Presents, Murder She Wrote and As the World Turns. He also acted on Broadway and in regional theater for more than twenty years, beginning with a star turn in 110 in the Shade. In a May 1960 command performance at the Victoria Palace Theater he sang the song Shenandoah for Her Majesty Queen Elizabeth.



Will Hutchins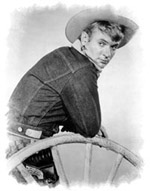 Will Hutchins starred as easy going, cattle roping Sugarfoot in the eponymous television series. When Sugarfoot went off the air, Hutchins played Dagwood Bumstead in television's Blondie, and worked with Elvis Presley and Shelley Fabares in Clambake and Spinout

Beginning in 1929 Marion Shilling has worked in more than forty films. She is most noted for her role in the western serial, The Red Rider, with Buck Jones. Shilling's last film role was in 1936, playing opposite Hoot Gibson in Cavalcade of the West. Recently Shilling's career accomplishments earned her the coveted Golden Boot Award from the Motion Picture & Television Foundation.

The event takes place at the Herbert Hoover Presidential Library-Museum in West Branch, Iowa on February 22.



Johnny Western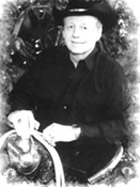 The night before, February 21, the Museum will be the site of a benefit concert for the Englert Theater with Johnny Western performing. Best known for composing and singing The Ballad of Palladin, the ever-popular theme song to the CBS television show Have Gun-Will Travel, Western began his career as a performer and guitarist on the Gene Autry show and moved on to play with Johnny Cash and appear in 37 features and western TV series. He was recently inducted into the Western Music Hall of Fame.

All proceeds from the concert will go toward the restoration of the historic Englert Theatre in downtown Iowa City.

The Englert Civic Theatre, Inc. is a nonprofit community organization working to restore and renovate the Englert Theatre building with the long-term goal of creating a multi-use performance venue in Iowa City.



Broadway To Vegas is supported through advertising and donations. Priority consideration is given to interview suggestions, news, press releases, etc from paid supporters. However, no paid supporters control, alter, edit, or in any way manipulate the content of this site. Your donation is appreciated. We accept PAYPAL. Thank you for your interest.



JERRY ORBACH

Jerry Orbach
will be honored by The Drama League during its annual A Musical Celebration of Broadway February 24.

The black-tie event, which features dinner and an original musical revue, will be held in the Grand Ballroom of the Pierre Hotel in Manhattan. Orbach, a Broadway veteran who, according to Drama League President Patricia Follert, "has appeared in more American musicals than any other living actor," successfully made the transition to cynical Det. Lennie Briscoe on Law and Order, will be saluted by celebrities from the world of both Broadway and television including Richard Belzer, Jesse Martin, Hinton Battle, Karen Ziemba, Donna McKechnie and Judy Kaye.

Law & Order co-stars Jesse Martin will perform Mack the Knife, and Richard Belzer will present a comedic tribute. Broadway veterans Hinton Battle, Karen Ziemba, Donna McKechnie and Judy Kaye will deliver a medley of Broadway tunes. Liz Smith will introduce the creators of The Fantasticks, Tom Jones and Harvey Schmidt, who will perform a medley from the musical that originally starred Orbach.



Jerry Orbach in The Fantasticks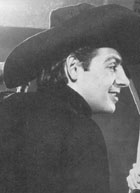 The Bronx born and bred Orbach, a Northwestern University alumnus, has accomplished what few ever achieve. He has steadily worked as an actor since the age of 20.

After training with Herbert Berghof and Lee Strasberg, Orbach received his job off-Broadway as an understudy in the 1955 revival of The Threepenny Opera. The cast included Bea Arthur, Ed Asner, John Astin, Jerry Stiller, and Lotte Lenya. Eventually Orbach played the lead role of MacHeath.



Jerry Orbach in Promises, Promises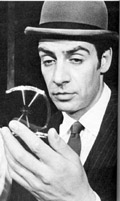 In 1960, Orbach created the role of flamboyant interlocutor El Gallo in off-Broadway's The Fantasticks. Orbach was paid $45 per week.

The lanky, deep-voiced performer has starred in the Broadway production of; Carnival, Guys and Dolls, Annie Get Your Gun, The Natural Look, and Promises, Promises. He was also in the original Chicago and 42nd Street.

He also managed to make a film a year, including portraying Jennifer Grey's father in Dirty Dancing, the voice of the Chevalieresque candelabra in the Disney delight Beauty and the Beast, and Billy Crystal's agent in Mr. Saturday Night.

He went on to received a Tony Award for his performance in Promises, Promises. He has also starred on Broadway in Carnival, Guys and Dolls, The Natural Look, 6 Rms Riv Vu and the original companies of Chicago and 42nd Street.

The Drama League was created in 1916 to nurture artists and audiences for the American theatre. The Feb. 24 evening will benefit the Drama League's Directors Project.

THANKS FOR THE MEMORIES The Ronald Reagan Presidential Museum and Library is giving Bob Hope, who turns 100 on May 29th, an early birthday present by unveiling the Bob Hope: American Patriot exhibit.

Friend of every President of the United States since Franklin Roosevelt, golfing buddies with Presidents Eisenhower, Nixon, Ford, Reagan, Bush Sr. and Clinton, winner of the Congressional Gold Medal, the Medal of Freedom and the Medal of Arts, and the only civilian to be named an honorary veteran of the United States Armed Forces, Bob Hope is proclaimed a true American patriot.

Celebrating his first 100 years of life, this exhibit will showcase his work during World War II, the Korean War, Vietnam, the Persian Gulf, and the Gulf War. Also on display are highlights of his career and friendship with the last eleven presidents.

An exhibit featuring rare photographs, video and film clips, and letters from the families of military personnel Hope visited on overseas USO.

Former first lady Nancy Reagan welcomed Hope's wife, Dolores, for a personal tour through the Bob Hope: American Patriot last Saturday night. His daughter, Linda, toured the exhibit on Thursday.

The exhibition Bob Hope American Patriot opens to the public on Monday February 17 remaining through June 7.

MARY KAYE founding member of the legendary Mary Kaye Trio honored with a benefit in Las Vegas February 17. During the celebrity studded event it is promised that Kaye will even deliver a short performance. Noon at Nick's on the Strip.

27th ANNUAL LAURENCE OLIVIER AWARDS in association with Hilton UK and Ireland, were presented February 14 at the Lyceum Theatre in London. Hosted by Clive Anderson the theatrical accolades are the British version of the Tony Awards. For a list of the winners CLICK HERE


SWEET CHARITY


THE NATIONAL ALLIANCE RESEARCH ON SCHIZOPHRENIA AND DEPRESSION benefits from a special gala performance of La Boheme on Saturday, February 11.


OTHER PEOPLE'S MONEY


ONE HUNDRED DOLLAR TICKET is back on Broadway. That will be the top ticket price for the revival of Eugene O'Neill's Long Day's Journey Into Night when the classic opens May 6 at the Plymouth Theatre for an 18-week run. The production will star Brian Dennehy, Vanessa Redgrave, Philip Seymour Hoffman and Robert Sean Leonard. That ticket price does not include a $1.25 per ticket "restoration fee". The last time a straight play charged $100 for a ticket was in 1999 for The Iceman Cometh, which starred Kevin Spacey.



VINCENT IN BRIXTON by Nicholas Wright. Directed by Richard Eyre.

Everyone has seen Vincent Van Gogh's paintings, those swirling, thickly-pigmented canvases filled with sunflowers, soulful faces and starry night skies. But what do we really know about Van Gogh's life, especially his early life when he first discovered he wanted to paint?

In various films, Van Gogh has been depicted as a cliched epitome of a tortured genius, but in Lincoln Center Theater's production of the new play Vincent In Brixton, author Wright presents Van Gogh as he genuinely might have been: raw, ruthless, naive, tactless and comically direct.

Wright starts with the historical fact that Van Gogh went to live in Brixton, a London suburb, in 1873 at the age of 20. He had moved from his native Holland to work in the London office of an international art-dealing firm?this was no stepping stone to a life as an artist, however. Van Gogh had three uncles who were art dealers, and he was simply being groomed for a middle-class career in the family tradition.



Van Gogh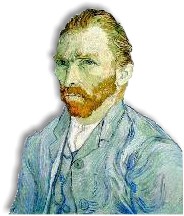 Vincent rented a room in the house of a young widow named Ursula Loyer and her adult daughter Eugenie. Wright speculates that Van Gogh fell in love with both women, but it was his affair with Mrs. Loyer that was a life-altering experience in a journey that ultimately ended with mental breakdown, death and immortality.

His intriguing scenario uses information gleaned from letters written by Van Gogh and his family as a stepping-off point. "I was encouraged by an intriguing six-month gap in Vincent's surviving letters and by the well-known tendency of young men writing home to be less than frank about their most formative experiences," said Wright. The play traces the transforming effects of love, sex and youthful adventure on Van Gogh's still-unformed talent. The play was a hit with its London debut last spring at the Royal National Theatre. Vincent In Brixton went from the small Cottesloe auditorium at the National to an extended run on the West End. Now Sir Richard Eyre has brought his acclaimed production to New York for a limited engagement complete with the play's original London stars: Clare Higgins, who just won the Evening Standard Award for her performance, and Jochum ten Haaf, in the lead roles.

Sets and Costumes by Tim Hatley. Lighting by Peter Mumford. Sound by Neil Alexander.

At the 800-seat Golden Theatre, in a limited run of just 92 performances to May 4.

SHOWTUNES a revue by Jerry Herman begins a six week run at the Theatre at St Peter's, NYC with previews beginning February 18.

Directed by Joey McKneeley, the production stars Karen Murphy and Martin Vidnovic. Also featured are Paul Harman, Tom Korbee, Russell Arden Koplin and Sandy Binion. Musical direction by James Followell with Bobby Peaco show pianist. Showtunes officially opens February 27.

CABARET welcomes Deborah Gibson to the Broadway revival cast, in the role of Sally Bowles, on February 21. The John Kander and Fred Ebb musical plays at Studio 54, NYC.

THE LUCKY O' LEARY'S an Irish family comedy by Jim Brochu. A woman needs some ready cash right away because her apartment is about to be condo-ed. As she believes she is going to win the big lottery, she withdrawals her life savings to buy tickets. Meanwhile her husband, who left her three years before, arrives back home on her birthday, the day of the lottery drawing.

Russell St. Clair directs the production that features Rosina Pinchot, Bob Kokol, Daniel John McCoy, Linda Van Dine, Libby Letlow, Ian Tanza, Liam Cannon, Ken Seeraty and Faye Pentecost.

Scenic design is by Vincent Roca; Sound Design by Ron Wyand, Costume Design by Donna Fritsche and Lighting Design is by Millicent Dickinson.

Opens February 22 at the Long Beach Playhouse Mainstage Theatre, Long Beach, California. The opening performance is followed by a champagne reception with the Director, Cast, Crew, and Playhouse Staff. Through March 29.


WHO'S WHERE


OLIVIA NEWTON JOHN John Travolta's onetime Grease co-star performs with a 20-piece orchestra at Paris Las Vegas from February 20 through February 23.

PETER CINCOTTI performing at the Algonquin Hotel in New York City through March 8.

NANCY SINATRA AND FRANK SINATRA, JR are pitted against each other in a February 22 engagement at the Mohegan Sun Casino in Uncasville, Conn.

The casino has more than one performance space. Sinatra, Jr. begins a four night engagement on Wednesday. On Saturday his sister comes in for a one night stand. Nancy Sinatra's show times 8 and 11 p.m. in the Wolf's Den. Sinatra, Jr performs in the Cabaret room and his show on Feb 22 begins at 8 p.m.

BIG BAD VOODOO DADDY entertaining Friday in Verona, New York at Turning Stone Casino. Next Sunday they will be performing at the Mohegan Sun Casino in Uncascille, CT.

ELTON JOHN AND BILLY JOEL pick up the tour on stage February 21 in Birmingham, Alabama at the Jefferson Arena.

PHISH closes out a Las Vegas two nighter this evening at the Thomas and Mack Center. On Tuesday the are in the spotlight at the Pepsi Center in Denver. Thursday the performance takes place at the Allstate Arena in Rosemont, Illinois and on Friday they begin a two night engagement at the U.S. Bank Arena in Cincinnati.

TORI AMOS plays the Ryman in Nashville, Tennessee on February 23.

THREE MO TENORS appearing tonight February 16 at the Rialto Square Theatre in Joliet, Ill. On Friday the show is in Des Vos Hall at Grand Central in Grand Rapids, Michigan.

MAYNARD FERGUSON on stage at the Blue Note in New York City on February 18.

MICHAEL FEINSTEIN entertaining at the Lobero Theatre in Santa Barbara, California on February 16.

STEVE & EYDIE in a two nighter at the Cerritos Center in Cerritos, California Saturday and Sunday, February 22-23. Las Vegas residents, Lawrence has a new CD, his first solo album is some years, Steve Lawrence Sings Sinatra - all classic Sinatra arrangements and standards.

SMOTHERS BROTHERS telling stories Tuesday, February 18 in Springfield, Missouri at the Juanita K. Hammons Hall. On Thursday the bickering brothers will be at the McComb Center in Clinton Township, Michigan. Friday the barbs will be hurled in Dearborn, Michigan at the Ford Community and Performing Arts Center. They close out the week, Saturday, in Jackson, Michigan at the Potter Center.

SWEET HONEY IN THE ROCK in the spotlight tonight in Montgomery, Alabama at the Davis Theatre. On Tuesday they are center stage at the Ruth Seaton James Auditorium in Bermuda. On Saturday the can be found at the Meyerhoff Symphony Hall in Baltimore.

JOHN PIZZARELLI Saturday on stage in Springfield, Missouri at the Juanita K. Hammons Hall.


PIFFLE AND PROFUNDITIES


SHUT OFF YOUR PHONE Last Wednesday the New York City Council approved legislation that bans the use of cellphones at public performances. The Council's 38-5 vote, with two abstentions, overrode Mayor Michael Bloomberg's veto on the bill.

City Councilman G. Oliver Koppell told his colleagues: "We have testimony from actors and actresses that when they are interrupted by cellphones, it breaks their concentration."

Violators will face a $50 fine and eviction from the venue for talking on, listening to or having a cellphone ring at movie theaters, plays, musicals, museums, libraries and other performances or events. The law doesn't go into effect for another 60 days. Emergency calls are exempted and sporting events at stadiums do not fall under the restrictions.

Theater owners will be required to post signs about the new law.













Next Column: February 23, 2003
Copyright: February 16, 2003. All Rights Reserved. Reviews, Interviews, Commentary, Photographs or Graphics from any Broadway To Vegas (TM) columns may not be published, broadcast, rewritten, utilized as leads, or used in any manner without permission, compensation and/or credit.
Link to Main Page
---
Laura Deni


CLICK HERE FOR COMMENT SECTION