! >
Broadway To Vegas
  
  REVIEWS INTERVIEWS COMMENTARY NEWS

| | |
| --- | --- |
| | |
CHINESE YEAR OF THE SHEEP INCLUDES ENTERTAINMENT - - LISA MINNELLI AND JIMMY KIMMEL HONORED - - DUCK DYNASTY THE MUSICAL - - MARDI GRAS DRAG MADNESS - - HALEY AND JULIET MILLS TO CO-STAR - - THE LYRICS AND LIFE OF DOROTHY FIELDS - - 2015 TRIENNIAL: SURROUND AUDIENCE - - KID VICTORY - - DONATE . . . Scroll Down




Copyright: February 15, 2015
By: Laura Deni
CLICK HERE FOR COMMENT SECTION


CHINESE YEAR OF THE SHEEP INCLUDES ENTERTAINMENT
London's Chinese New Year celebrations are advertized as the biggest outside of Asia. Photo: Laura Deni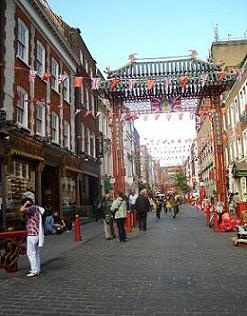 London Chinatown contains a number of Chinese restaurants, bakeries, supermarkets, souvenir shops, and other Chinese-run businesses. Photo: Laura Deni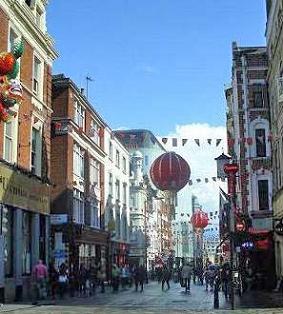 You don't have to be Chinese to love a good Chinese New Year's party.

Chinese New Year is a two week spring festival celebrated for over 5,000 years in China. It is now considered to be the biggest festival and holidays for Chinese communities all around the world. In many ways the day is similar in popularity as, say - St. Patrick's Day - when everyone is Irish for a day. On Chinese New Year, everyone loves a good lion dance and a prosperous fortune cookie.

This year Chinese New Year falls on February 19, but London celebrates the Year of the Sheep on February 22. London's Chinese New Year celebrations are advertized as the biggest outside of Asia. Hundreds of thousands of people are expected to descend on the West End to mark the occasion.

A major parade is followed by an official opening ceremony in Trafalgar Square which will then be followed by various performances. Expect to see acrobatics, traditional dance, theatre and song recitals by artists visiting from China especially for the occasion.

There will also be a special stage providing a platform for up-and-coming acts.

On Saturday, February 21, the National Gallery will host a full day of Chinese New Year-related activities. Events include learning traditional nursery rhymes in Mandarin to creating a huge puppet to parade through the galleries with artists Harriet Hill and Oliver Hymas. Listen to stories inspired by Jacob with the Flock of Laban by Jusepe de Ribera in the National Gallery at the Magical Magic Carpet event. Or, learn how to play ancient Chinese instruments with China People Promotions at Stories and Sound.

On the same day, the National Maritime Museum will be celebrating British East Asian heritage with workshops, performances and, of course, a traditional lion dance. It's the perfect place to learn more about Britain's long history of trade and cultural exchange with China.

The San Francisco Chinese New Year celebration originated in the 1860's during the Gold Rush day and is now the largest Asian event in North America. The celebration includes two major fairs, the Chinese New Year Flower Fair and Chinatown Community Street Fair. All the festivities culminate with Chinese New Year Parade.

Named one of the world's top ten parades, Chinese New Year Parade in San Francisco is the largest parade outside of Asia. Over 100 units will participate in the parade, many of the floats and specialty units will feature the theme of this year's Chinese zodiac sign.

Nowhere in the world will you see a Lunar New Year Parade with more gorgeous floats, elaborate costumes, ferocious lions, and exploding firecrackers. Some of the parade highlights include elaborately decorated floats, school marching bands, martial arts groups, stilt walkers, lion dancers, Chinese acrobatics, the newly crowned Miss Chinatown USA and the Golden Dragon. The Golden Dragon is over 201 feet long and is always featured at the end of the parade as the grand finale and will be accompanied by over 600,000 firecrackers!

The Golden Dragon was made in Foshan, a small town in China. The Foshan dragon masters formerly made all the costumes for the Cantonese opera, and the Golden Dragon bears many operatic touches, such as the rainbow colored pompoms on its 6 foot-long head. It is festooned from nose to tail with colored lights, decorated with silver rivets on both scaly sides and trimmed in white rabbit fur. The dragon, made on a skeleton of bamboo and rattan, is in 29 segments. It takes a team of 100 men and women to carry the Golden Dragon. This is also considered an honor to be chosen for the grand finale.

Manhattan Chinatown is one of 9 Chinatown neighborhoods in New York City and 12 in the New York City Metropolitan Area, which contains the largest ethnic Chinese population outside of Asia, enumerating an estimated 779,269 individuals as of 2013.

China is represented on Broadway and elsewhere.

The Manhattan Theatre Club is staging The World of Extreme Happiness, the new play by Frances Ya-Chu Cowhig, directed by Eric Ting. Critically acclaimed when it debuted in a workshop production at London's National Theatre, The World of Extreme Happiness makes its world premiere in a co-production with Chicago's Goodman Theatre.

The World of Extreme Happiness features Francis Jue, Telly Leung, Jennifer Lim, Jo Mei, James Saito, and Sue Jin Song.

"Unwanted from the moment she's born, Sunny (Jennifer Lim) is determined to escape her life in rural China and forge a new identity in the city. As naïve as she is ambitious, Sunny views her new job in a grueling factory as a stepping stone to untold opportunities. When fate casts her as a company spokeswoman at a sham PR event, Sunny's bright outlook starts to unravel in a series of harrowing and darkly comic events, as she begins to question a system enriching itself by destroying its own people."

The creative team includes Mimi Lien (scenic design), Jenny Mannis (costume design), Tyler Micoleau (lighting design), Mikhail Fiksel (sound design), and Thomas Schall (fight director).

The World of Extreme Happiness is currently in previews and officially opens on Tuesday, February 24.



The Legend of Mulan. Photo: Hong Kong Dance Company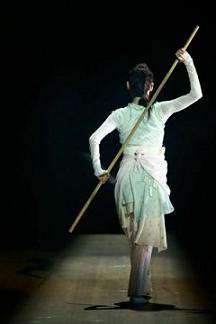 For the first time outside of China, the Hong Kong Dance Company (HKDC) brings to the New York stage an inspiring re-telling of the household folktale of love, peace and virtue in a dance drama, The Legend of Mulan. It will be performed at the David H. Koch Theater at Lincoln Center March 5 – 8, 2015.

The spectacular production is presented by The China Arts & Entertainment Group (CAEG), a creative enterprise under the administration of the Ministry of Culture for the People's Republic of China. The engagement is the fourth production in an ongoing relationship between CAEG and the David H. Koch Theater. These presentations showcase China's historical contribution to the world of theater and art by presenting the finest in Chinese contemporary and classical performing arts to the United States.

Mulan is the legendary figure from ancient China who was originally presented in a Chinese poem known as the Ballad of Mulan dating to the fifth century. Mulan, a peasant girl, disguised herself as a man to join the army in place of her aged father. She fought for a decade and gained much respect. She gave up a position at court and retired to her hometown instead. Traditional Chinese virtues are exemplified through the unusual adventures and touching story of Mulan, who shows extraordinary courage when it comes to protecting her country and family. A heroine with moral courage and intelligence, Mulan's exceptional wisdom and vision transcend fame and fortune.

Over time, the story of Mulan rose in popularity as a folktale and became widely taught in schools. It has also inspired a number of screen and stage adaptations, including the hit animated Disney movie releases in 1998.

The creative staff of the production includes: Director & Choreographer - Yang Yuntao, Playwright - Gerard C C Tsang, Assistant Choreographer - Xie Yin, Music Director and Composer - Matthew Ma, Set Designer - Yuen Hon-wai, Costume Designer - Karin Chiu, Lighting Designer - Yeung Tsz-yan, Digital Image Designer - John Wong, and Lyricist - Chris Shum.

Shen Yun Performing Arts is a performing-arts and entertainment company based in New York. It performs classical Chinese dance, ethnic and folk dance, and story-based dance, with orchestral accompaniment and solo performers.

The group is composed of three performing arts companies: The New York Company, The Touring Company, and the International Company, with of a total of over 200 performers. For seven months a year, Shen Yun Performing Arts tours to over 130 cities across Europe, North America, Oceania, and Asia. but has yet to perform in Mainland China or Hong Kong.

Each touring company consists of approximately 60 male and female dancers, Shen Yun dances are accompanied by a Western philharmonic orchestra that integrates several traditional Chinese instruments, including the pipa, suona, dizi, guzheng, and a variety of Chinese percussion instruments.



Acrobats of China. Photo: Discover Branson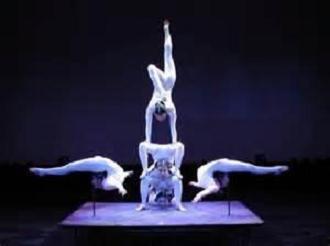 Branson, Missouri boasts several Chinese residence production shows. The Acrobats of China, featuring 20 acrobats, has been a Branson mainstay for several years. Headquartered at comedian Yakov Smirnoff's Theatre, the troupe performs March 4-December 31, taking a vacation during Chinese New Year, during which time Smirnoff brings on the laughs.

Known for their colorful costuming and daring feats, as well as their breathtaking renditions of classic Chinese dance and human performance art, The Jinan Troupe is considered one of the most skilled and highly awarded Chinese acrobatic troupes. This season the group unveiled a new edition. A unique feature is a pre-show Chinese Tea Ceremony accompanied by an Erhu Musican, Chinese artisians and special exhibits.

Recently, the first Chinese resident show opened in Las Vegas. Called Panda, performances are at the Venetian Hotel. Featuring Chinese Acrobats, Kung Fu Masters and Dancers the show "follows the heroic quest of LongLong, a warm and caring panda, on an adventurous mission to rescue his beloved Peacock Princess from the malicious Demon Vulture, who has kidnapped her on their wedding day. In the face of desperation, LongLong seeks counsel from Immortal Old Man, who prepares him for the dangerous mission to save his true love."

However, there always seems to be a down side to everything. Don't expect a lot of Chinese couples to have a baby this year. Bad vibes. Rumor mongers say babies born in the Year of the Sheep have bad luck and grow up to be nothing more than followers. Scientists say they have found no such evidence.

Judge for yourself.

A few of the birth years for those classified as Sheep include: 1775 - 1787 - 1799 - 1811 - 1823 - 1835 - 1847 - 1859 - 1871 - 1883 - 1895 - 1907 - 1919 - 1931 - 1943 - 1955 - 1967 - 1979 - 1991 - 2003 - 2015.

Some of the famous people born in the Year Of The Sheep: Bud Abbott, Gracie Allen, Pamela Anderson, Jane Austen, Martin Balsam, John Barrowman, Gene Barry, Boris Becker, Jerry Bruckheimer, Ty Burrell, Red Buttons, Chevy Chase, Nat Cole, Harry Connick, Jr., Benicio Del Toro, Blythe Danner, Dino De Laurentiis, Robert De Niro, Catherine Deneuve, Laura Dern, Will Ferrell, Conchata Ferrell, Jamie Foxx, Eva Gabor, Betty Garrett, Paul Giamatti, Paul Michael Glaser, Mikhail Gorbachev, Lauren Graham, Shuler Hensley, Philip Seymour Hoffman, J. Edgar Hoover, Mick Jagger, Kristen Johnston, Jennifer Jones, Buster Keaton, Howard Keel, Nicole Kidman,Ben Kingsley, Ernie Kovacs, Bert Lahr, Matt LeBlanc, Liberace, Franz Liszt, Hattie McDaniel, Jock Mahoney, Michael Mann, Penny Marshall, Strother Martin, Jane Meadows, Michelangelo, Richard Moll, Michael Owen, Jack Palance, Valerie Perine, Joe Pesci, Nehemiah Persoff, Slim Pickens, Donald Pleasence, Lynn Redgrave, Keith Richards, Julia Roberts, Jackie Robinson, Mark Ruffalo, Babe Ruth, Liev Schreiber, Sam Shepard, Mira Sorvino, David Soul, Robert Stack, Holland Taylor, Forrest Tucker, Mark Twain, Rudolph Valentino, Hervé Villechaize, Christopher Walken, Sam Wanamake, Emily Watson, Tuesday Weld, Bruce Willis, Orville Wright, Alan Young,






Broadway To Vegas is supported through advertising and donations. Priority consideration is given to interview suggestions, news, press releases, etc from paid supporters. However, no paid supporters control, alter, edit, or in any way manipulate the content of this site. Your donation is appreciated. We accept PAYPAL. Thank you for your interest.




ART AND ABOUT


2015 TRIENNIAL: SURROUND AUDIENCE

Juliana Huxtable, Untitled, 2014 (detail). Photograph, color. Courtesy the artist/New Museum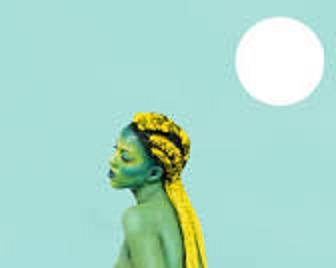 is the only recurring international exhibition in New York City devoted to early-career artists from around the world.

Surround Audience and will feature fifty-one artists and artist collectives from over twenty-five countries; for many of the participants, this will be their first inclusion in a museum exhibition in the United States.

The 2015 Triennial is organized by Lauren Cornell, Curator, 2015 Triennial, Museum as Hub, and Digital Projects at the New Museum, and the iconic artist Ryan Trecartin, who was featured in the inaugural 2009 Triennial.

The exhibition encompasses a variety of artistic practices, including sound, dance, comedy, poetry, installation, sculpture, painting, video, and one online talk show.

Participating artists include: Nadim Abbas (China), Lawrence Abu Hamdan (Jordan/London), niv Acosta (New York), Njideka Akunyili Crosby (Nigeria/Los Angeles), Sophia Al-Maria (USA/UK) Ketuta Alexi-Meskhishvili (Germany) Ed Atkins (London), Olga Balema (Netherlands.Germany), Frank Benson (USA), Sascha Braunig (Canada/USA), Antoine Catala (France/USA), Asl Çavuolu (Turkey), José León Cerrillo (Mexico), Onejoon CHE (Korea), Tania Pérez Córdova (Mexico), Verena Dengler (Austria), DIS (Founded 2010, New York, NY, US), Aleksandra Domanovi (Germany), Casey Jane Ellison (USA), Exterritory (Founded 2009, the Extraterritorial Waters), Geumhyung Jeong (South Korea), Ane Graff (Netherlands), Guan Xiao (China), Shadi Habib Allah (Palestine/USA), Eloise Hawser (London), Lena Henke (Germany/ New York), Lisa Holzer (Austria/Germany), Juliana Huxtable (USA), Renaud Jerez (France/Germany), K-HOLE (Founded 2010, New York, NY, US), Shreyas Karle (India), Kiluanji Kia Henda (Angola/Portugal), Josh Kline (USA), Eva Ko?átková (Czech Republic), Donna Kukama (South Africa), Firenze Lai (China), Oliver Laric (Germany), Li Liao (China), Rachel Lord (USA), Basim Magdy (Egypt/Switzerland), Nicholas Mangan (Australia), Ashland Mines (USA), Shelly Nadashi (Israel/Belgium), Eduardo Navarro (Argentina), Steve Roggenbuck (USA), Avery K. Singer (USA), Daniel Steegmann Mangrané (Brazil), Martine Syms (USA), Lisa Tan (USA), Luke Willis Thompson (New Zealand), and Peter Wächtler (Germany),

New Museum of Contemporary Art in New York City. February 25-May 24, 2015.


SWEET CHARITY


MARDI GRAS DRAG MADNESS

Miss Pumpkin (a.k.a. Michael Gardner) will be honored for spending the last 25 years raising money for charities.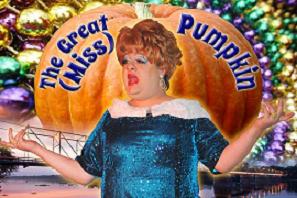 takes place February 17, 2015 at the Bucks County Playhouse in New Hope, PA.

Miss Pumpkin (a.k.a. Michael Gardner) will be celebrating her 25th year anniversary in drag – Mardi Gras Style! The Playhouse will festively celebrate with Miss Pumpkin and friends her glamorous and generous journey through a colorful drag show filled with laughter, beads, glittera and gold. Over the past 25 years Miss Pumpkin has devoted her time raising money and her glass on stage, toasting crowds to benefit various charities.

"This unique event is sponsored by Cruzan Rum and Beam Suntory and will be proudly served by New Hope's own, Sharon Fronabarger who will be the guest bartender from 5pm – 7pm at the Playhouse's Riverview Café. Fronabarger will additionally be donating all of her evening's tips to benefit New Hope Celebrates."

The Playhouse promises that "guests won't want to miss this night of fabulous and funny drag performed by Miss Pumpkin and Friends."

SIR ELTON JOHN AND DAVID FURNISH will host the Elton John AIDS Foundation's 23rd annual Academy Awards Viewing Party on Sunday, February 22, 2015, at West Hollywood Park in Los Angeles.

The event will feature a sumptuous dinner designed by Chef Gordon Ramsay, a live telecast of the 87th Academy Awards, followed by a live auction, a special performance by Nile Rodgers & CHIC, and dance tunes spun by DJ Johnny Dynell.

CELEBRATE CHINESE NEW YEAR and welcome the Year of the Sheep with a traditional eight course Chinese New Year feast benefiting the Flynn Center for the Performing Arts' cultural and education programs. Spend the evening with friends and Flynn guest artist Kristina Wong, and learn about some fun Chinese traditions.

Menu includes: Eight Treasure Dumplings; Gold Coin Vegetables; Cha Shao Noodles; Poached Yu Choy with Hong Kong Sauce; Good Fortune Hen; Laplatte River Angus Farm Beef Dish; Grand Marnier Prawn with Candied Walnut; and Traditional Sweet Rice with Taro, Red bean.

Sunday, February 22, at A Single Pebble in Burlington, Vermont.

INTERNATIONAL CITY THEATRE 30th ANNIVERSARY OPENING NIGHT GALA takes place Friday, February 20. The gala includes: Wine & Dinner Reception inside the theatre lobby. There will be a short talk More About Judy Garland with director John Henry Davis followed by the Opening Night Performance of End of the Rainbow, followed by the Opening Night party with the cast.

End of the Rainbow is called, "a savagely funny play, offers unique insight into the inner conflict that inspired and consumed one of the most beloved figures in American popular culture. It's 1968, and Judy Garland, at 46, with new flame Mickey Deans at her side, prepares to make her comeback with a six-week booking at London's Talk of the Town nightclub. End of the Rainbow is a powerful, and at times hilarious, exploration of the final days of this lonely and exploited star. Part drama and part concert, the production features Garland's most memorable songs including The Man That Got Away, Come Rain Or Come Shine, The Trolley Song and, of course, Somewhere Over The Rainbow."

The International City Theatre in located in Long Beach, CA.


SPREADING THE WORD


DUCK DYNASTY THE MUSICAL called The Duck Commander Musical, which the New York Times revealed last November would open in Las Vegas, now has a date and venue - April 20 at the Rio Hotel. Coming to the stage from the A&E reality show Duck Dynasty, don't expect this to transfer to Broadway and topple Book or Mormon, or Wicked - or anything else, for that matter.

If it's odd ball enough - and inexpensive - it may have a following. The controversal television reality show turned into a financial dynasty for the family. Las Vegas residents include a lot of rednecks, and Vegas enjoys a large tourist population from the Midwest and south.

Tony Award-nominated Jeff Calhoun will helm the production and choreograph the 90-minute musical that is based on the 2012 book, The Duck Commander Family: How Faith, Family, and Ducks Built a Dynasty, written by Willie and Korie Robertson. Asa Somers is the musical's book writer. Steven Morris, Robert Morris and Joe Shane wrote the score.

The production has set design by Tobin Ost, Adam Rigg and Leslie Malitz, lighting design by Michael Gilliam and Topher Stumreiter, sound design by John Trace, projection design by Aaron Rhyne, Bart Cortright and Matthew Mellinger, musical supervision by Jesse Vargas and casting by Duncan Stewart CSA/Benton Whitley CSA. Bryan Bradford is associate director-choreographer.

The actual family will not be in the production. Their parts will be played by actors.

ACADEMY AWARD WINNER OLYMPIA DUKAKIS considered one of the world's leading interpreters of Greek theater, will teach a 4-day acting workshop on The Greeks. February 20-23 at Red Bull Theater in New York City.

Taught entirely by Olympia Dukakis, this workshop is filled with detailed one-on-one work. With a particular focus on the play Electra, participants will engage with creating a role in Greek drama from the page all the way to the stage.

THE LYRICS AND LIFE OF DOROTHY FIELDS who wrote over 400 songs for Broadway musicals and film, including some of the most enduring lyrics of the golden age of American popular songs.

Join her son – jazz pianist and arranger David Lahm – and cabaret performer/producer/historian Harvey Granat to hear favorites like I Can't Give You Anything but Love, and The Way You Look Tonight and learn about her early challenges as a woman songwriter, her show-business family, her partnership with Jerome Kern and more about her life and work from her son.

Tuesday, February 24 at the 92Y in New York City.

COMPOSER MASON BATES will join the Kennedy Center in the 2015-2016 Season as its first Composer-In-Residence. During his three-year residency, Bates will compose music across artistic genres and curate a new music series.

Recently awarded the Heinz Medal in the Humanities, Mason Bates writes music that fuses innovative orchestral writing, imaginative narrative forms, the harmonies of jazz and the rhythms of techno. Frequently performed by orchestras large and small, his symphonic music has been the first to receive widespread acceptance for its expanded palette of electronic sounds, and it is championed by leading conductors such as Riccardo Muti, Michael Tilson Thomas, and Leonard Slatkin.

SISTER ACT Haley Mills and Juliet Mills set to star in Legends! playing "two famous but fading movie stars who try to upstage one another." The production also features Maxwell Caulfield and Leah Howard and begins an Australia tour in May.

The play by James Kirkwood toured extensively across America in 1986 with Carol Channing and Mary Martin. It received almost universally negative reviews. The pairing of two real life sisters, daughters of the legendary actor Sir John Mills, is infusing the play with new interest.

RED CARPET OSCAR PARTY takes place February 22, 2015 at the Bucks County Playhouse in New Hope, PA.

Bucks County Playhouse will be broadcasting the 87th Oscar Award Ceremony on their big screen in the theater. "Come out and enjoy a night of awards and see if the actors you chose win. There is lots of fun happening including – a costume party, a 50/50 raffle and a winners' ballots contest."

Come dressed as your favorite movie moment, Oscar Nominee, actor, or Oscar moment for a chance to win a special prize.


OTHER PEOPLE'S MONEY


ENGLISH NATIONAL OPERA IN CRISIS MODE If disasters comes in three, The English National Opera (ENO) has lived up to the superstition. In less than a week two company executives - chairman Martyn Rose and executive director Henriette Gotz - resigned; the ENO was forced to withdraw from a co-production of Orfeo with the Bristol Old Vic because of monetary issues; and the ENO has been dropped from Arts Council England's national portfolio and instead placed under a special funding arrangement, after ACE said it had "serious concerns" about the organization.

To cap it off, ENO artist-in-residence Peter Sellars spoke up and referred to company undergoing a Chernobyl meltdown. Sellars warned that the problems weren't limited to the ENO but rather indicated a wider problem within the arts. Sellars made his comments in a public forum, while speaking at east London arts centre Rich Mix, Sellars stated:

"Given my exalted position at the ENO where I am artist-in-residence, what do I think of the current Chernobyl meltdown?" he asked, before answering his own question. "Let me just say really simply that cultural meltdown is the order of the day. There's not one theatre or opera company that can sell out anything anymore. "For one thing that's because the middle class is being destroyed right in front of our eyes. So most people do not have the available extra cash, and will have to decide: will we see this, will we see that, or will we not see anything?"

ENO's financial problems have been a long time in the making. In 2002 ENO was provided an $18 million "stabilization grant" from Arts Council England to keep it from collapsing.

Sellars warned not to play the blame game and stressed the "profound crisis" was not only at ENO, adding: "Meanwhile, because all the theatres are suffering, all those prices went up. So the combination is absolutely unworkable. Not for the ENO, for everyone." He challenged the industry to use the ENO crisis as a "wake up call, it's an invitation for all of us to deepen our practice, and say: what are the things that actually matter, and what are the things that don't matter at all and should be destroyed?"



THE 2015 JACK VALENTI LEGEND AWARD will be presented to Tony and Oscar award winner Liza Minnelli February 20 during the Los Angeles Italia Festival's closing night ceremonies.

Named in memory of long-time MPAA president Jack Valenti, it is the festival's highest honor and is given to Italian-American who have made an impact on the motion picture industry.

Prior recipients are Al Pacino and Anjelica Huston.

The 10th annual Los Angeles Italia Festival begins today, February 15, at the TCL Chinese Theatre in Hollywood. Jimmy Kimmel will receive an Award of Excellence during the Opening Gala.

The six day event will feature Italian, Italian-American and international artists showcasing the best of Italian culture.

This year's festival is dedicated to Frank Sinatra in commemoration of the 100th anniversary of his birth.

Oscar-winning writer Bobby Moresco (Crash) is chairing this year's festival with Lady Monika Bacardi as its president and Mark Canton serving as chairman of the Honorary Board which includes Italian producer Marina Cicogna, director Lina Wertmuller, actor Franco Nero, Italian music legend Tony Renis, and Valerio Massimo Manfredi.



KID VICTORY

Kid Victory from John Kander and Greg Pierce.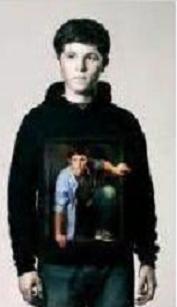 Story by John Kander & Greg Pierce. Music by John Kander. Book & Lyrics by Greg Pierce.

Directed by Liesl Tommy. Assistant Director Walter Ware III.

The highly anticipated and chilling world premiere musical from legendary composer John Kander and acclaimed playwright Greg Pierce. Seventeen-year-old Luke returns home after vanishing a year ago. Profoundly changed, Luke and his parents struggle to adjust to life following his disappearance. Only finding solace with Emily, the quirky proprietor of an offbeat garden shop, Luke grapples with a past undone and a coming of age that came too late to a boy who just wants to fade away.

Kid Victory is billed as "a hauntingly mesmerizing original musical about what it means to disappear."

Featuring Christopher Bloch, Laura Darrell, Jeffry Denman, Parker Drown, Sarah Litzsinger, Donna Migliaccio, Christiane Noll, Bobby Smith, and Jake Winn.

Choreographer Christopher Windom. Music Supervisor David Loud. Music Director/Conductor Jesse Kissel. Associate Music Director Chris Dieman. Lighting Designer David Weiner. Scenic Designer Clint Ramos. Costume Designer Kathleen Geldard. Sound Designer Lane Elms. Wig Designer Anne Nesmith. Production Stage Manager Julie Meyer. Assistant Stage Manager Kristen Harris. Production Assistant Stephanie Junkin.

A co-production with The Vineyard Theatre with performances February 17 – March 22, 2015 in the MAX Theatre at the Signature Theatre in Arlington, VA.

ANNA CHRISTIE by Eugene O'Neill.

Directed by Kim Rubinstein.

Real-life father and daughter Jeff Perry and Zoe Perry star in Eugene O'Neill's 1922 Pulitzer Prize winner. After a 20-year separation, a coal barge captain is reunited with the daughter he unknowingly abandoned to a life of hardship. When Anna falls in love with a sailor (Grey's Anatomy's Kevin McKidd), certain secrets about her past come to light.

The cast also includes Mary Mara, Martin Gutfeldt, and Tait Ruppert.

Presented by Odyssey Theatre Ensemble, the production has been extended through March 22 at the Odyssey Theatre in Los Angeles.

MULTITUDES a World Premiere John Hollingworth.

Directed by Indhu Rubasingham.

Set in Bradford on the eve of the Conservative Party conference, Multitudes is billed as "a gripping new drama that tackles the question of what it means to be British at a time when immigration is the touch paper of much political and media debate."

Bradford. On the eve of a Conservative Party Conference the country is in turmoil and one of its most multicultural cities awaits a visit from the Prime Minister.

Kash, a liberal British Muslim, prepares his address to politicians about the state of the nation. His girlfriend Natalie, a recent convert to Islam, cooks for anti-war protesters gathered at the Town Hall. Lyn, her mother, moans to anyone who'll listen about the decline of her cherished England. It's all too much for Kash's daughter Khadira, who begins to plan a radical intervention.

As the nation questions immigration policies and military support in the Middle East, one family face their own internal conflict of faith, belonging, and who gets to call themselves British.

February 19-March 21, 2015 at the Tricycle Theatre in London.

FAUST

Faust in the Joan Sutherland Theatre, Sydney Opera House. Photo: Opera Australia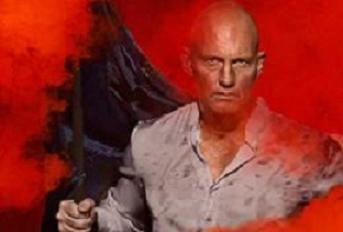 by Charles Gounod to a French libretto by Jules Barbier and Michel Carré from Carré's play Faust et Marguerite, in turn loosely based on Johann Wolfgang von Goethe's Faust, Part 1.

Conducted by Guillaume Toumiaire until February 28 and then Anthony Legge. Directed by David McVicar. Revival Director Bruno Ravella.

Starring Teddy Tahu Rhodes, Nicole Car and Giorgio Caoduro making their role debuts, and American tenor sensation Michael Fabiano singing the title role.

Temptation. The word holds great power, even in an age where organized religion holds little sway. What would you give up your soul for?

Led into temptation by the garish Méphistophélès, Faust hardly hesitates, swapping a life of dissatisfied restraint for a salacious journey through life's earthly pleasures.

McVicar's startling production for Covent Garden puts the opera in the composer's own time: the decadence and debauchery of 1870s Paris. Between towering cathedral columns and the crumbling proscenium arch of the theatre, Faust's terrible pact plays out in all of its sinister splendor.

When an ageing academic accepts a deal from the underworld, his dreams of youth and love look set to come true. But as the lives around him start to unravel, the devil, it seems, is in the detail.

The images are at once delightful and disturbing, a reminder that given the chance, any one of us might stumble down Faust's road. Behind all this is the resounding beauty of Gounod's music, including the famous Soldier's Chorus.

Nicole Car sings the 'Jewel Song' in her role debut as Marguerite, opposite Teddy Tahu Rhodes in his debut as the devilish Méphistophélès and thrilling young American tenor Michael Fabiano in the title role. Giorgio Caoduro sings the role of Valentin.

The production also features Dominica Matthews as Marthe, Anna Dowsley as Siebel and Richard Anderson as Wagner.

The ensemble includes around 80 performers – opera singers, dancers, conductors and repetiteurs – and 200 people in the areas of scenic construction and painting, lighting, design, direction, wardrobe, wig-making, management and administration.

Set designer - Charles Edwards. Costume designer - Brigitte Reiffenstuel. Lighting designer - Paule Constable. Choreograhper - Michael Keegan-Dolan. Rehearsal Choreographer - Daphe Strothmann. Fight choreographer - Scott Witt and Tim Dashwood. Assistant Direct 1/ Assistant Choreographer - Shane Placentino. Assistant Director 2 - Andy Morton.

Based on the co-production by Royal Opera House, Covent Garden, Opéra de Monte-Carlo, Opéra de Lille, and Fondazione Teatro Lirico Giuseppe Verdi, Trieste and first performed at Covent Garden.

Performances in the Joan Sutherland Theatre, Sydney Opera House February 17 – March 13, 2015. Sydney, Australia.


WHO'S WHERE




VOIGHT LESSONS starring internationally opera star Deborah Voigt with music direction by Kevin Stites. In this one-woman show - co-created with Tony Award-winning playwright Terrence McNally and acclaimed opera and theater director Francesca Zambello - Voigt performs arias, pop songs, standards and spirituals of deep personal significance, along with anecdotes and backstage stories describing her astonishing rise to operatic heights, despite her private challenges. Thursday, February 26, at the 92Y in New York City.

THE EAGLES open a two nighter Wednesday, February 18, 2015 at the Perth Arena in Perth, Australia. Next Sunday, February 22, the show is at the Rod Laver Arena in Melbourne, Australia.

AN EVENING WITH MARK RUSSELL The mid-terms may be over, but the laughs keep on coming. Piano-playing political satirist Mark Russell returns to Ford's Theatre with material ripped from today's headlines. One Night Only! Presidents' Day Monday, February 16, 2015, at Ford's Theatre in Washington, DC.

NICKELBACK brings their tour to the Canadian Tire Center in Ottawa on Tuesday, February 17. On Wednesday they perform at the Bell Center in Montreal. Saturday's gig is at the Budweiser Gardens in London, Ontario and next Sunday, February 22, the show is at the Air Canada Centre in Toronto, Ontario.

ENRIQUE IGLESIAS AND PIT BULL are on stage Tuesday, February 17, at the Pepsi Center in Denver. Friday finds them at the Allstate Arena in Rosemont, IL. Saturday's stop is at the Target Center in Minneapolis.

GREGORY PORTER 2014 Grammy Winner for Best Jazz Vocal Album performs Thursday, February 19, at the Flynn Center for the Performing Arts in Burlington, VT.

USHER on stage Friday, February 20, at the Spektrum Arena in Oslo, Norway.

BILLY IDOL opens a two nighter Wednesday, February 18, at The Wiltern in Los Angeles. Saturday he'd on stage at the Chelsea at the Cosmopolitan in Las Vegas. Next Sunday, February 22, his tour stops at The Observatory in Santa Ana, CA.

CASSANDRA WILSON A Celebration of Billie Holiday on Saturday, February 21 at the Scottsdale Center for the Performing Arts in Scottsdale, Arizona.

BETTYE LaVETTE the Grammy nominated soul singer wails Tuesday, February 24, at Wolf Trap in Vienna, VA.


FINAL OVATION


GARY OWENS disc jockey and voice actor known for being the announcer on Rowan and Martin's Laugh-In died Thursday, February 12, 2015 at his home in Encino, California of complication from diabetes, which he had suffered from since the age of 8. He was 80.

For 30 years, Owens hosted a popular national radio show on The Music of Your Life Network and was a personality on a number of California stations, including KMPC, KFI, KFWB and KIIS.

Owens did over 30,000 voice-overs and commercials and appeared on more than 1,000 network TV shows. He also did voices for over 3,000 animated cartoon episodes.

He was the first radio star to be inducted into the Hollywood Hall of Fame, and received his star on the Walk of Fame in 1980.

Owens is survived by his wife of 57 years, Arleta, and sons Chris and Scott.

MARY HEALY Broadway, television, film actress and singer died February 3, 2015 in Calabasas, California. She was 96.

Married to performer Peter Lind Hayes from 1940 until his death in 1998, they were known as a husband and wife comedy team. In 1942 Healy made her stage debut in Count Me In, and then starred in Orson Welles' 1946 Broadway production of Around the World in 80 Days, a role that she would later reprise for The Mercury Summer Theatre on the Air radio adaptation of the musical play.

From that time on Healy appeared with her husband. In 1958, the couple starred in the Broadway farce Who Was That Lady I Saw You With?, which ran for 26 weeks.

They appeared together in the early '50s on two variety shows, The Peter Lind Hayes Show which aired on NBC and Star of the Family on CBS.

In 1960, they starred in Peter Loves Mary, a sitcom about married show-business celebrities struggling to adjust to life in the suburbs. They were also frequent guest panelists on the CBS game show What's My Line and vacation hosts on Arthur Godfrey's television programs.

During the 1960s they also had a a "life in suburbia" WOR radio broadcast from their home in Westchester County, N.Y.

Ms. Healy and Mr. Hayes wrote a memoir, Twenty-Five Minutes From Broadway (1961), its title inspired by George M. Cohan's musical about New Rochelle, Forty-Five Minutes From Broadway.

In 2006 she was inducted into the Nevada Entertainment/Artist Hall of Fame at the University of Nevada, Las Vegas.

She is survived by her daughter Cathy, a son, Peter, and a grandchild.

















Next Column: February 22, 2015
Copyright: February 15, 2015 All Rights Reserved. Reviews, Interviews, Commentary, Photographs or Graphics from any Broadway To Vegas (TM) columns may not be published, broadcast, rewritten, utilized as leads, or used in any manner without permission, compensation and/or credit.
Link to Main Page
---
Laura Deni



For the snail mail address, please E-mail your request.
CLICK HERE FOR COMMENT SECTION