! >
Broadway To Vegas
  
 SHOW REVIEWS CELEBRITY INTERVIEWS GOSSIP NEWS

| | |
| --- | --- |
| | |
MICHIGAN PLANS TO BE THE NEW HOLLYWOOD - - TWO MEMBERS OF CHUCK MANGIONE'S BAND KILLED - - OPERA AUSTRALIA COSTUMES HEAD TO FLORIDA - - THEATRICAL PRODUCERS GARTH DRABINSKY AND MYRON GOTTLIEB LOSE APPEAL - - SHAH'ABBAS THE REMAKING OF IRAN - - CONNECTICUT OPERA SHUTS DOWN AND ATTORNEY GENERAL INVESTIGATES - - CHICAGO PREMIERES IN BANGKOK - - STEVIE WONDER TO BE HONORED AT WHITE HOUSE - - DONATE . . . Scroll Down


Copyright: February 15, 2009
By: Laura Deni

CLICK HERE FOR COMMENT SECTION
MICHIGAN WISHES FOR A STAR - THE FILM INDUSTRY
L-r) Director CLINT EASTWOOD, camera operator STEVE CAMPANELLI, 1st Assistant Camera BILL COE, and actor BEE VANG on the set of Warner Bros. Pictures' and Village Roadshow Pictures' drama Gran Torino. The film stars Clint Eastwood and is distributed by Warner Bros. Pictures becoming the first feature under Michigan's new incentives to open in theatres. Photo by Anthony Michael Rivetti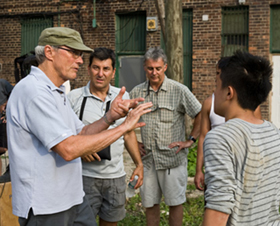 Jiminy Cricket (Cliff Edwards) sang "when you wish upon a star all your dreams come true."

Economically hurting Michigan is hoping to take that Hollywood star wish to the bank.

Clint Eastwood proclaimed that Michigan would become the new Hollywood.

From his lips to...

Michigan now offers the most lucrative financial incentives for productions to film in their state.

The new law gives money back to any film production company – from Michigan or elsewhere – that spends between $200,000 and $10 million in Michigan. Since last spring, when Michigan lawmakers adopted tax incentives that reimburse film companies for up to 42 percent of their expenses if they shoot in Michigan, the state has enjoyed a surge in interest from Hollywood. While the film industry spent $3 million in Michigan in all of 2007, in the last eight months of 2008 production companies spent $167 million. Already 42 major motion pictures are scheduled to be filmed in Michigan in 2009.



Center for Film Studies officials - Chief Operating Officer Jack B. Grushko, Director of Education Kim Haveraneck and Executive Director Mort Meisner.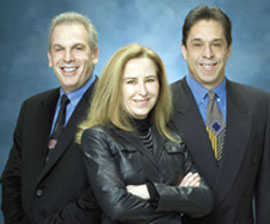 Mort Meisner, president of the Huntington Woods based Center for Film Studies, spoke with Broadway To Vegas about the financial incentives and subsequent need for qualified people to fill the growing number of employment opportunities.

Using money as the carrot to get productions filming in Michigan isn't something new. In 2007 Michigan tried enticing moviemakers to the state by giving a rebate of up to 20 percent to production companies that shoot movies, TV shows and commercials in the state. That bling was tarnished when other states - such as Louisiana, New Mexico and Connecticut - upped the ante. Michigan Gov. Jennifer Granholm immediately set about to offer a better tax rebate.

Will film incentives turn into a bidding war?

"Is somebody else going to do 50 percent? You can't rule it out, but studios are starting to be built here, so the (entertainment) industry is here to stay," answered Detroit born Meisner who has spent over 30 years in the industry, running television stations in Chicago and St. Louis. Through his agency Mort Meisner Associates he has acted as agent to over 100 on-air television news people from various parts of the country.

With enough money thrown back at them, production companies can bite into the lure of being able to bring a project in under budget. The key is for the state to be able to provide competent employees.

"The biggest problem is that there are a lot of talented people here, but none of them are trained," Meisner replied. "That's Hollywood's big gripe. That's why we're training them."

Like any industry the film business has its own in-house vocabulary and skill requirements. Do Michigan residents think the word grip means the strength of a handshake?

"Yes, that grip is a handshake or that a gaffer is someone who makes a mistake," he said referring respectively to a grip, who is part of a union crew responsible for moving lights, dolly tracks, cranes and scenery. A gaffer is an electrician.

Since announcing that the first entertainment industry classes would begin March 2, his Center for Film Studies has been flooded with hundreds of applications.

"We're the only stand alone school and we think that makes a big difference," he reasoned.

Classroom work will be held in Troy, while studio training will take place in Farmington Hills, Ferndale, Warren, as well as, in Troy. Subject matter includes lighting, set building and design, film makeup and screenwriting, as well as training for positions such as grip and production assistant. The school is state-certified. Tuition ranges from $750 to $1650, depending on the course desired.

"We screen the applicants. You want to make sure they are going to make a good appearance. You want to make sure they have their (mental) faculties. At least a high school diploma or a GED."

The school does not do a criminal background check. "They would be up to the employers," he explained.

Many of the entertainment trades require certification.

"Our graduates will get certificates," he quickly answered. The Center for Film Studies has entered into a training alliance with the Michigan Council of Carpenters -- AFLCIO.

Are the unemployed, who may be making a transition from a depression induced job lay-off to having show business stars in their eyes, thinking that the entertainment industry is an answer to all their financial problems? Few within the entertainment world totally earn a living in that capacity. Are people who may have only worked within the 9-to-5 world being misled?

"We let people know that this is an industry where there is no regular schedule," he stressed. As to the industry being a great extra income but few actually earn a living he responded; "You tell them that and whether or not they understand that, I don't know."



Carey Torrice on the movie set of Bone Deep starring Matt Dillon. Torrice was actively lobbing movie producers to film in Macomb County.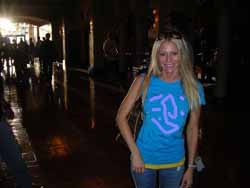 Carey Torrice is a Macomb County Commissioner who is a model and actress - a card carrying member of SAG. "I don't believe the people of Michigan are being misled into thinking these are 9-to-5 jobs. I have been very clear on the job-to-job basis in which this industry works," she emphatically told Broadway to Vegas.

One of the leaders attempting to put Michigan on the production shoot short list, she hopes that her connections in the entertainment industry can help make her Macomb County a destination for production studios.

Torrice is coy about details.

"I have been in direct contact with many directors and producers, but many things are under wraps until we get the green light."

Recently, Torrice worked with actor-director Clint Eastwood on one of the most prominent 2008 films made in Michigan - Gran Torino - which stars Eastwood and is currently in theaters.

"The Michigan Legislature enacted legislation that provides a tax credit for production companies if they film in the state of Michigan. There are certain criteria that must be met, some of which include using Michigan talent and vendors during production. This leaves Michigan as one of the highest tax credit states in the country. Already many movies are slated to be filmed here, with estimated spending budgets of almost $200 million." continued the Clinton Township Democrat.

"What does that mean for us? For starters, it means economic growth. Many local actors are being auditioned and hired. These actors live, work and spend money in our area. Many local companies in the construction, security, catering, equipment or rental categories are employed to support production. This, in turn, helps to stimulate our local economy. I know firsthand. I was paid to work on this production," she said referring to Gran Torino.

"I believe that Michigan will be a hot spot for film production. I also believe that Macomb County should entice producers to film in our area. We have many different things to offer and these things must be promoted to producers. All local heads of government should jump at this opportunity. Even during these tough economic times, there is hope. If our local, county and state officials push hard enough and entice these producers to come to Michigan, it will benefit all of our residents."

When Clint Eastwood kept all of his people at the Somerset Inn in Troy, they had to hire three extra staff. A banquet scene in Gran Torino had food catered by Bangkok 96, a restaurant in Dearborn owned by Genevieve Vang.



Hilary Swank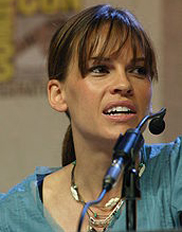 George Clooney and Hilary Swank, two of Hollywood's biggest box office draws, are expected to film movies in the Detroit area in the next few weeks.

The producers of Betty Anne Waters, starring two-time Oscar winner Swank, helmed by Tony Goldwyn, received approval by Livingston County Commissioners on February 2, allowing them to use the historic Howell courthouse for filming - despite concerns raised by Commissioner Donald Parker about compensation. Parker said some of his clients received payments for their cooperation in the movie High School, which completing filming in December. County Administrator Bob Block said they did request a $1,000 security deposit but pointed out that the company only wanted to use the outside of the building and only for one day. In the end, the board voted against charging the Ann Arbor-based Innocence Productions.

Betty Anne Waters, is based on a true story that revolves around a working mother who puts herself through law school in an effort to represent her brother, who has been wrongfully convicted of murder. The filming will take place the morning of March 4th and the City of Howell is working with the production company on minor road closures.

Clooney is set to star in the Paramount comedy Up in the Air by Walter Kirn, directed by Jason Reitman, part of which is set to be filmed at the Berry and McNamara terminals at Detroit Metro Airport, possibly for a week in late February. The movie also stars Anna Kendrick and Vera Farmiga.

The studio will have to pay the airport to film there - fees for a production involving 16 or more people start at $4,400 for four hours and $600 for each additional hour.

Clooney is expected to star as a professional who specializes in career transition counseling - a euphemism for firing people - who is trying to rack up 1 million frequent flier miles in attempting to land a mysterious job.

Just because a state is a shooting scene site, doesn't mean that's where the entire film will lens. While the bargaining ability of a film locator is crucial, other variables can dictate location - such as the plotline.

Up in the Air moves to Missouri to begin filming in St. Louis on March 3 and continues there through the end of April, employing over 2,000 extras.



Jeff Daniels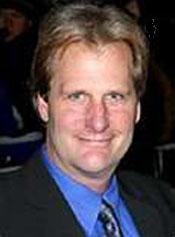 Poster boy for Michigan Jeff Daniels has spent decades touting all that is Michigan. He founded the Purple Rose Theatre in Chelsea, Michigan (1 hour from Detroit, 2 hours from Grand Rapids, 15 minutes from Ann Arbor) ( See Broadway To Vegas column of October 6, 2002 ) and recently starred in the Tommy Tune musical Turn of the Century, which closed Nov 2 at the Goodman in Chicago. Daniels, filmmaker Mike Binder (The Upside of Anger starring Joan Allen and Kevin Costner), and best-selling author, journalist, screenwriter, playwright, Mitch Albom, were instrumental in explaining the economics of movie making to Lansing lawmakers.

"I can't tell you how many movies I've done in Vancouver and Winnipeg and Toronto since the late '80s, simply because it was cheaper," campaigned Daniels. "They used Canadian crews and a lot of Canadian actors and, you know, I've gotta go where the work is. They were not gonna shoot The Crossing for A&E about George Washington in Virginia on locations that would mirror where Washington was. We went to Toronto to shoot it."

"I shot the movie Winn-Dixie in Louisiana. Why? Because they had a rebate. They had a tax incentive that helped their budget simply by going to Louisiana and hiring Louisiana crews and day players - actors from New Orleans were in the movie. It created so many jobs, simply because the state of Louisiana … provided an opportunity for the producers and studio to bring their movie there and save some money. That's all they care about."


AUSTRALIAN COSTUMES PLAY MAJOR PART IN MIAMI OPERA PRODUCTION
Photograph of Leah Partridge as Lakmé by Deborah Gray Mitchell.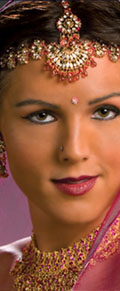 Cultures collide, generations are at war and lovers fall irresistibly, helplessly and hopelessly in love. You can almost smell the jasmine. A vision of Southern Indian peopled by mystical princesses, peasants, and Brahmins, well-meaning officers of the British Army and even a few gods in the opera Lakmé by Léo Delibes.

To keep the mood you need the costumes.

When Opera Australia/Opéra de Montréal's 2006 co-production of Lakmé is staged by Florida Grand Opera, their Wardrobe Department headed by Mark Thompson will be using the original costumes shipped to them from Opera Australia. The shipment also included "costume bibles" that consists of photographs illustrating how each ensemble fits together. And where remakes were necessary, Opera Australia's Wardrobe Department stresses that they took care to provide sources and quality numbers for fabric.

Opera Australia's desire to make it as easy as possible for the Florida production is because when Opera Australia first staged Lakmé in 2006, Wardrobe Buyer Miranda Brock and Wardrobe Technical Supervisor Thorston Ohst had to scratch their heads to come up with ways to overcome obstacles. Brock came up with the idea of importing 360 saris from markets in India.



Costumes sent to Florida included "costume bibles" of photographs illustrating how each ensemble fits together. Photo from Opera Australia.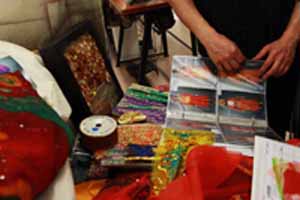 Designer Mark Thompson had envisaged a stage filled with the colors of India from the Raj period, with all the patterns, sequins and trimmings that one would expect to see in such costumes. It could be done, of course. But could it be done within budget?

Choristers presented the biggest challenge. Wardrobe was looking for ways to give the designer the borders and trimmings that he desired, yet trying to sew five different braids onto an organza skirt 25-feet in width, was simply not going to work. "You can't even pin that amount of braid on fabric that flimsy. And even if you could, it would take hundreds of hours to do so," Ohst says.

Brock went about solving the problem in a variety of ways. To source trimmings for choristers' costumes, she allowed for six saris per person and ordered them from a supplier in India. "We chopped off the borders and used them for cuffs, borders and accent pieces," she says.

For the wide women's skirts, she arranged to have "hundreds of metres" of fabric (34 feet per skirt) embroidered. For Lakmé's costumes, she ordered forty metres of white silk (1 meter = 3.28 ft.) and had it embroidered, then dyed by Opera Australia's Art Department, in the colors that Thompson wanted. "That way we had more control over the end result," she says.

To dress singers with prominent roles, Brock asked Thompson to draw ten different border designs and sent them off, with color samples, to India. The supplier sent back twelve metres of each embroidered border. Ohst says: "We sewed them onto the fabric ourselves because having it all made up in finished form would have been too expensive." The custom-made border designs created a very dramatic look for key performers.

To create the look of the Raj period, Brock sourced second-hand saris from Rajasthan, mainly Jaipur. Each dancer would wear just one, for effect. "We needed the bright, vibrant colors of the period and contemporary fashion in Delhi could not meet requirements, hence the need for second-hand saris," she says.

Female dancers' jewelry had to be sewn into their costumes because it was too cumbersome to dance with dangling bangles and shifting necklaces.

For Ohst, the challenge was to use the most striking parts of the saris in prominent ways in the men's costumes. "We'd put an embroidered motive on the back of a long coat, for example, or we'd cut off the borders and use them in cuffs."

The most difficult costume to make was that of the Kathakali dancer. Ohst says: "Although we knew what it looked like from pictures, we had no idea how the detail fitted together. It got later and later and we talked and talked about it. In the end, Miranda managed to get a costume from India."

Brock "knew someone who knew someone who jumped on a train" because there's only one area in Southern India where traditional Kathakali dancing is performed and the made-to-order costumes are not for sale. She managed to buy one from a dancer. "It arrived in a tin box and we had to get set makers to cut off the padlocks – it was very exciting!" she laughs.

Inside the box they found 32 pieces – earrings, trousers, a headpiece, a belt, hair. "We had to figure out where each piece belonged," Ohst says.

The costume was old and fragile and only parts could be used. But, says Ohst, "We had it as a reference. We could copy it."

Even closer to opening night, to "boost" the look of the production, Brock took herself off to local and interstate Indian shops and bought "boxes and boxes and boxes" of trim, borders and accent pieces that were added at the end and that "really just lifted the show".

The whole workroom loved working on the production because the fabrics were just so beautiful, Ohst recalls. "We didn't have any off-cuts in the garbage bins – everyone took them home!" Opera Australia predicted that "at Florida Grand Opera this month, there are probably no empty garbage bins either."

Patrons can feel the heady love and crushing despair in this passionate opera, and relish some of opera's greatest show-stoppers, including Lakmé's transcendent Bell Song and the heartwarming Flower Duet. Libretto by Edmond Gondinet and Philippe Gille. Conducted by Stewart Robertson. Lakmé is portrayed by Leah Partridge and Evelyn Pollock. Cast as Gérald are Bryan Griffin and Chad A. Johnson. Nilakantha is played by Burak Bilgili. Aaron St. Clair Nicholson takes the role of Frédéric.

Stage Director is Adam Cook. Lighting Design by Gavan Swift. Choreographer Elizabeth Hill

Presented by arrangement with Opera Australia and Opéra de Montréal. Sung in French with English and Spanish projected titles. February 21-28 in Miami and March 5 and 7 in Fort Lauderdale, FL.

Miami performances are at the Sanford and Dolores Ziff Ballet Opera House at the Adrienne Arsht Center for the Performing Arts of Miami-Dade County. Fort Lauderdale performances are at the Au-Rene Theater at the Broward Center for the Performing Arts.



Broadway To Vegas is supported through advertising and donations. Priority consideration is given to interview suggestions, news, press releases, etc from paid supporters. However, no paid supporters control, alter, edit, or in any way manipulate the content of this site. Your donation is appreciated. We accept PAYPAL. Thank you for your interest.


ART AND ABOUT


SHAH'ABBAS THE REMAKING OF IRAN This major exhibition explores seventeenth-century Iran through the reign and legacy of one of its most influential rulers, Shah Abbas I (reigned AD 1587–1629).

Shah Abbas was a stabilizing force in Iran following a period of civil war and foreign invasion. He strengthened the economy by establishing global trade links between Asia and Europe and revitalized the state religion Shi'a Islam which is still practiced today.

The exhibition will demonstrate Shah Abbas's social, religious and artistic influence on Iran through the gifts he endowed to major shrines in Mashhad, Ardabil and Qum, and his magnificent new capital at Isfahan. The objects, many of which have not been seen outside Iran, will include exquisite Qur'ans, mosque lamps, paintings, carpets, calligraphy, porcelain and silks.

Shah Abbas: The Remaking of Iran is the next major exhibition in the British Museum series focused on great rulers, following The First Emperor: Cina's Terracotta Army and Hadrian: Empire and Conflict.

February 19-June 14 at the British Museum in London.




SPREADING THE WORD

I'VE KNOWN RIVERS a conversation with Christina Anderson, Charles Fuller, Lynn Nottage and Liesl Tommy. Moderated by Sabrina LeBeauf.

The event marks a unique collaborative effort between six New York theater institutions: a panel discussion in which five gifted African-American theater artists – all of whom have projects happening almost simultaneously at five of New York's most respected non-profit theaters – will discuss their lives, work, and current projects.

The event title comes from a poem by Langston Hughes, The Negro Speaks of Rivers. I've Known Rivera is presented as part of the Harlen Stage Partners Program. Admission to the event is free. Monday, February 23, at the Harlem Stage Gatehouse, NYC.

BETRAYED by George Packer, based on his article in The New Yorker. L.A Theatre Works records five performances with members of the original New York cast for nationally syndicated radio theater series.

Original New York cast members Jeremy Beck, Mike Doyle, Sevan Greene and Waleed F. Zuaiter head the cast under the guidance of original director Pippin Parker. Five performances take place February 18-22 at the Skirball Cultural Center where they will be recorded to air on L.A. Theatre Works' nationally syndicated public radio theater series, The Play's The Thing.

In early 2007, George Packer published an article in The New Yorker about Iraqi interpreters who jeopardized their lives on behalf of the Americans in Iraq, yet were provided with little or no U.S. protection or security. The article drew national attention to the humanitarian crisis and moral scandal. Based on Mr. Packer's interviews in Baghdad, Betrayed tells the story of three young Iraqis - two men and one woman - who were motivated to risk everything by America's promise of freedom. The award-winning play explores their complex relationships with each other and with their American supervisor as they struggle to find purpose even as their country collapses around them.

Betrayed opened at New York's Culture Project on February 6, 2008, garnering the Lucille Lortel Award for Outstanding New Play and a nomination for the John Gassner Award by the Outer Critics Circle.

Performances of Betrayed take place February 18-22 at The Skirball Cultural Center, Los Angeles, CA.


OTHER PEOPLE'S MONEY


CONNECTICUT OPERA SHUTS DOWN AND ATTORNEY GENERAL INVESTIGATES On January 29, 2009 in a letter jointly signed by Connecticut Opera officials; John Kreitler, Board Chairman; Brooks Joslin, Board President; Willie Anthony Waters, Artistic Director and Linda Jackson, Managing Director subscribers were told that the opera was shutting down after 67 seasons because of the bad economy. The opera closed its Hartford headquarters and laid off all staff. The 2000 subscribers were asked to give a board a few weeks to formulate a plan. Then it was announced that no refunds would be given. on the two canceled productions The Daughter of the Regiment and La bohème. In a letter dated February 6 it was suggested to subscribers that they write off the cost on their income tax "to the full extent allowed by the law" as a charitable contribution to the opera.

Connecticut Attorney General Richard Blumenthal immediately announced that he will investigate the situation and made a formal demand for information from the opera on Friday, February 13. "We believe the opera has a strong obligation legally and morally to provide full accountability and transparency," he said. Although the opera is nonprofit, Blumenthal said it has the same responsibilities as "any business that takes money and promises services."

Ticket prices for the opera, which had an annual budget of about $2.1 million, range from $25 to $35 a ticket to about $100.

"The reality of our situation is that ticket sales for Connecticut Opera in a normal season cover less than 40% of the cost of producing the high-quality opera (patrons) have grown to expect from us over the past 67 years. This year, however, we are facing enormous economic challenges including a slow down in ticket sales and increased difficulty in raising charitable gifts and sponsorships. This combination has made it financially impossible for us to complete the season," stated Kreitler.

He added that the group is not filing for bankruptcy because "the cost of doing so would be wasted money." He said opera officials "are trying to work out the arrangements with our secured creditor about what will be done with our very few remaining assets. The Connecticut Opera is the latest victim of the current economic crisis facing our nation."

THEATRICAL PRODUCERS GARTH DRABINSKY AND MYRON GOTTLIEB have been refused an appeal by The Supreme Court of Canada. The Feb. 12 ruling regarding a U.S. shareholder lawsuit against the co-founders of Livent Inc., which produced Ragtime, Barrymore, Kiss of the Spider Woman, Show Boat, Fosse and others. ( See Broadway To Vegas column of August 17, 1998 ) That empire collapsed amid charges of financial mismanagement. The ruling means Drabinsky and Gottlieb must pay a $36.6 million settlement to investors who sued them. They must also pay the legal costs of the shareholders for the appeal challenge. That is expected to add on another $4 million.



STEVIE WONDER

Stevie Wonder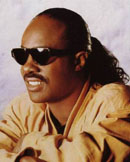 will be presented a Library of Congress Award by President Obama on February 25 at the White House.

The tribute concert will be taped for PBS and air the next day as part of its Performance at the White House series.

Wonder has sold more than 70 million albums since he was signed by Motown Records at the age of 11. His best known hits include I Just Called To Say I Love You - which won him an Oscar in 1985 - and 1973's Superstition.

Wonder's Signed, Sealed, Delivered I'm Yours was a theme song during the Obama presidential campaign.


CURTAIN DOWN


AN EVENING AT LA CAGE starring Frank Marino as Joan Rivers abruptly shut down after Monday's (February 10) performance at the Riviera Hotel in Las Vegas, ending a nearly 24-year run. An Evening at La Cage opened in September 1985 and became the fourth longest-running show on the Las Vegas Strip. Producer Norbert Aleman cited economic conditions.



ELLA Book by Jeffrey Hatcher. Conceived by Rob Ruggiero and Dyke Garrison. Musical Direction and Arrangements by Danny Holgate. Directed by Rob Ruggiero.

It's a life lived out loud in this exhilarating new musical about The First Lady of Song, Ella Fitzgerald. This theatrical event weaves myth, memory and music as it tells the uplifting and poignant story of one of the greatest jazz/pop vocalists of 20th century music. It's 1966 and the fabled songstress is preparing for one of the most important concerts of her career. As she jams with the musicians (including famed trumpeter Louis Armstrong) and gets ready to meet the audience, Ella reflects on her life, her secrets and the love of music that made her soar.

Featuring more than a dozen of her most famous hits, including A Tisket, A Tasket; How High the Moon; That Old Black Magic and They Can't Take that Away from Me, this swinging new musical invites audiences to fall in love all over again with the magic and soul of Ella Fitzgerald.

February 17 – March 22, 2009 at the Laguna Playhouse in Laguna, CA.

THE CRIPPLE OF INISHMAAN by Academy Award winner and four-time Tony Award nominee Martin McDonagh. Directed by Tony Award winner Garry Hynes.

Set in 1934 on an island off the west coast of Ireland, The Cripple of Inishmaan is the second play in McDonagh's Aran Island's trilogy, where Hollywood filmmaker Robert Flaherty arrives on the neighboring island of Inishmore to film his movie The Man of Aran and excitement ripples through the sleepy community of Inishmaan. For orphaned Billy Claven, who has been relentlessly scorned by the island's inhabitants, the film represents an escape from the poverty of his existence. He vies for a part in the film, and to everyone's surprise, it is the cripple who gets his chance.

The celebrated Irish and American cast features Kerry Condon, Andrew Connolly, Laurence Kinlan, Tony Award nominee Dearbhla Molloy, Aaron Monaghan, Tony Award winner Marie Mullen, Patricia O'Connell, David Pearse and John C. Vennema.

Off-Broadway at Atlantic Theater Company at the Linda Gross Theater, the limited engagement originally scheduled through February 1, 2009 has been extended twice - and now plays through the Sunday matinee on March 15, 2009.

BLUEBEARD'S CASTLE AND ERWARTUNG Bluebeard's Castle Music by Béla Bartók. In Hungarian with English Captions. Erwartung (Expectation) Music by Arnold Schoenberg. In German with English Captions.

Already seen on four continents, the most widely celebrated production in the history of Canadian Opera Company will open in Seattle for an exclusive engagement. The production combines the enigmatic Hungarian fairy tale of Bluebeard's Castle with the dream-like monodrama Erwartung for a haunting journey into the mysteries of the subconscious.

Artist of the Year recipient John Relyea returns as the brooding Duke Bluebeard with Malgorzata Walewska as is his overly curious wife. Susan Pierson is The Woman in Erwartung.

A Unique Double Bill from Cirque du Soleil Visionary Robert Lepage. Conducted by Evan Rogister. Stage Director if Francois Racine. Set and costume design by Michael Levine. Sets and costumes from the Canadian Opera company. Media Effects design by Laurie-Shawn Borzovoy. Lighting design by Robert Thomson. English captions by Gunta Dreifelds. Seattle Opera Company presentation Feb. 21 - Mar. 7 in Seattle, Washington.

CHICAGO opened Thursday, February 12 at the Muang Thai Rachadalai Theatre in Bangkok with performances through Sunday, February 22.

Performed in English, the Thai premiere company stars Michelle DeJean as Roxie Hart, Terra C. MacLeod as Velma Kelly, Jeff McCarthy as Billy Flynn, Roz Ryan as Matron "Mama" Morton and Ben Elledge as Amos Hart.

Chicago features a book by Fred Ebb and Bob Fosse, music by John Kander and lyrics by Fred Ebb. The production features orchestrations by Ralph Burns, supervising music direction by Rob Fisher and music direction by Leslie Stifelman.

With this latest international premiere, Chicago has now played a total of 24 countries in 11 languages since the Tony Award-winning revival first opened on Broadway in 1996.

THE STORY OF MY LIFE a new memory-play musical with music and lyrics by Neil Bartram and a book by Brian Hill. Directed by Tony Award winner Richard Maltby Jr.

Starring Will Chase and Malcolm Gets as pals who grew up together, and play ages 6 to 35. In this play about family relationships, true friendship and reconnecting with the simplest and purest qualities Gets plays quirky bookstore owner Alvin Kelby (the friend who stayed put) and Chase is best-selling writer Thomas Weaver as the friend who went away.

Orchestrations by Jonathan Tunick. Musical director is David Holcenberg. Scenic design by Robert Brill. Costume designs by Wade Laboissonniere; Lighting design by Ken Billington and sound designer Carl Casella.
The Story of My Life premiered at Toronto's Canadian Stage Company in fall 2006. The production was seen in the National Alliance for Musical Theatre's Festival of New Musicals in fall 2007. Revised and refined under Maltby for a fall 2008 developmental production presented by Goodspeed Musicals in Connecticut.

Officially opens February 19 at The Booth in NYC.




WHO'S WHERE


PRESERVATION HALL JAZZ BAND The "house" band for the birthplace of jazz. Preservation Hall sits at the heart of the French Quarter, and the musicians who make up the band learned from legends who played with the forefathers of New Orleans jazz: Buddy Bolden, Jelly Roll Morton, Louis Armstrong and others. Spirits preserved. Presented by the Saint Louis Symphony as a special event on Friday, February 20, 2009.

MOTLEY CRUE performs Tuesday, February 17, at the Wells Fargo Arena in Des Moines, Iowa. On Wednesday the show is at the Xcel Energy Center in Saint Paul, MN. Thursday they show is at the Resch Center in Green Bay, WI and on Saturday they are in the spotlight at the Sommet Center in Nashville, TN.

JERRY SEINFELD telling funny stories Thursday, February 19, at the Warner Theatre in Erie, PA. On Friday he'll be getting laughs at the Louisville Palace Theatre in Louisville, KY.

ROBIN WILLIAMS brings his multi-talented self to the Verizon Wireless Theater in Houston, Texas on Wednesday, February 18. On Thursday he'll be delighting the crowds at the Frank Erwin Center in Austin, Texas. On Friday he'll have customers doubled up in laughter at the Nokia Theatre at Grand Prairie, TX. On Saturday he's on stage at the Brady theater in Tulsa, OK.

CHER returns to Caesars Palace in Las Vegas for an engagement running Feb. 21- March 21.

RAY ROMANO AND BRAD GARRETT deliver a two fisted comedic punch Feb. 20-21 at The Mirage Resort in Las Vegas.

DANA CARVEY getting laughs Feb. 20-22 at The Orleans Hotel in Las Vegas.

AL STEWART making lovely music February 20 at Santa Fe Station in Las Vegas.




FINAL OVATION


TWO MEMBERS OF CHUCK MANGIONE'S BAND

Gerry Niewood and Coleman Mellett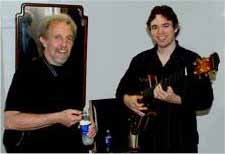 were killed when the plane they were on board, Flight 3407, crashed Thursday night into a house near Buffalo, N.Y. A statement from Mangione was released by publicist Sandford Brokaw;

"I'm in shock over the horrible, heartbreaking tragedy of the crash of Flight 3407, which took the lives of my dear friends and band members. I am grieving and praying with their families and friends. Chuck Mangione"

Mangione and his band were scheduled to perform Friday with the Buffalo Philharmonic Orchestra at Kleinhan's Music Hall. The concert was postponed.

GERRY NIEWOOD 64, of Rochester, N.Y., played saxophone and flute. He lived in Glen Ridge, N.J., and backed some of biggest names in pop music, including Peggy Lee, Anne Murray, Simon and Garfunkel, Billy Joel, Judy Collins and Frank Sinatra. Gerry had also been part of the orchestra for the Broadway shows Fosse, Cats, and Grease.

His son Adam is following in his father's musical footsteps. He graduated with a Masters Degree in Jazz Performance in May 2005 from the Manhattan School of music. Niewood is also survived by a daughter and his wife Gurly Niewood, a classical pianist and clarinetist.

COLEMAN MELLETT 33, of Maryland was a guitarist. He grew up in Potomac, DC area. His first musical teacher was Jazz guitarist Paul Wingo. Upon receiving the Emily Remler Jazz guitar scholarship to Duquesne University, Mellett headed to Pittsburgh where he spent a year learning from guitarist Joe Negri. To be closer to the New York Jazz scene, Mellett transferred to the jazz program at William Paterson University where he studied with Rufus Reid, Kenny Burrell, Norman Simmons, Steve Turre, and Harold Mabern. After graduating from William Paterson, Mellett headed to Manhattan School of Music to pursue a Master's degree in Jazz Performance, which he received in 1998. While performing with this trio in 1999 on a Manhattan Cable T.V. program, Mellett caught the eye of Chuck Mangione who was looking for a guitar player at the time. Mellett was invited to audition for Mangione, and was hired on the spot to be the substitute for Grant Giessman, who had been playing with Chuck since the mid 1970's. After two years of "subbing" for Giessman, Chuck invited Mellett to be a permanent member of the group, and since then Coleman has been touring the world with Chuck Mangione band.

Mellett was also set for a solo gig February 17 in Madison, NJ. He was married to Jeanie Bryson, the daughter of jazz musician Dizzy Gillespie.

Next Column: February 22, 2009
Copyright: February 15, 2009. All Rights Reserved. Reviews, Interviews, Commentary, Photographs or Graphics from any Broadway To Vegas (TM) columns may not be published, broadcast, rewritten, utilized as leads, or used in any manner without permission, compensation and/or credit.
Link to Main Page
---
Laura Deni


COMMENTS