! >
Broadway To Vegas
  
 SHOW REVIEWS CELEBRITY INTERVIEWS GOSSIP NEWS

| | |
| --- | --- |
| | |
SPECIAL EFFECTS VS SINGING - - THE SUBJECT WAS ROSES STARS MARTIN SHEEN - - SOAP FAN MYSTERY THEATRE - - AMERICAN PRESIDENTS ATTEND THE THEATRE - - CELINE DION SIGNS MULTI-MILLION DOLLAR CAESARS PALACE DEAL - - RITZ CARLTON HOTEL TO CLOSE - - CHINESE NEW YEAR IMPORTANT TO LAS VEGAS - - THE JAZZ LOFT PROJECT - - DONATE . . . Scroll Down


STILL IN HARMONY - THE FOUR ACES DISCUSS SPECIAL EFFECTS VS SINGING
Top row: Danny Colingo and Harry Heisler. Bottom row: Fred Diodati and Joe Giglio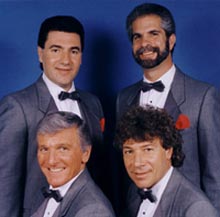 If more money is spent on lighting design and special effects than on live musicians, then what happens to the music?

Fred Diodati has been lead singer and spokesman for The Four Aces since 1956. The Four Aces is the singing group whose million-selling signature tunes include Love is a Many-Splendored Thing; Three Coins in the Fountain; Stranger in Paradise; Garden In The Rain; Dream; Tell Me Why; It's No Sin; Shangri-la; Woman in Love; Perfidia and Sincerely.

The quartet includes Fred Diodati, Joe Giglio, Harry Heisler, and Danny Colingo. While starring in The Palm Springs Follies ( See Broadway To Vegas column of July 17, 2005 ) Diodati spoke with Broadway To Vegas.

"I love the guitar. But, if you listen, the background for so many of the today's songs is mostly bass guitar. Rarely do you hear trumpets or trombones."

Live musicians cost money.

"The money is going in lighting or effects," he said." A lot of the entertainers, from what I see, if they didn't have the effects - lighting effects and just stood and sang with a band behind them, might have difficulty. At the end of Dream I snap my fingers and the lights go out. That's effect, there's no question about it. Lighting has a lot to do with how an entertainer goes over. When there are explosions and fireworks, I think it takes away from the music."

Diodati also laments that lyrics aren't what they used to be. In the heyday of the boy quartet groups - The Four Aces, The Four Lads, The Four Freshman, The Four Preps and The Four Coins - not only was harmony a key component, so were lyrics which Diodati likens to poetry.



Paul Francis Webster was an American lyricist who won three Academy Awards for Best Song and was nominated 16 times in that category.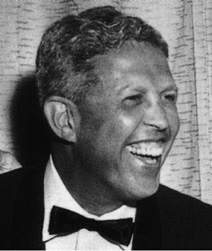 He references Love Is a Many-Splendored Thing, with music by Sammy Fain and lyrics by Paul Francis Webster. The song was written as the title song for the 1955 movie of the same name, winning its own Best Song Academy Award. From 1967 to 1973, it was used as the theme song to Love is a Many Splendored Thing the soap opera based on the movie. The Four Aces had the best-selling version of the song which was issued by Decca Records. It reached #1 on both Billboard and Cash Box. The recording by The Four Aces was also featured in the 1989 film Cookies.

Diodati recited the lyrics:

Love is a many-splendored thing
It's the April rose that only grows in the early spring
Love is nature's way of giving a reason to be living
The golden crown that makes a man a king
Once on a high and windy hill
In the morning mist two lovers kissed and the world stood still
Then your fingers touched my silent heart and taught it how to sing
Yes, true love's a many-splendored thing

"That's poetry!" he exclaimed.

"A lot of the songs we do belt out, but it isn't loud from beginning to end. We try to sing with feeling. When we are singing the lyrics, to me that is poetry. It has nothing to do with us. It has to do with the writer."

"People can understand the lyrics, because it is so beautifully written. And, wow, that is another thing that is gone - the writers of yesteryear. I sound like an old fuddy duddy now, but it is true. I'm sure there are a lot of good writers capable of writing good lyrics. But, there aren't too many that you hear."

That doesn't mean Diodati isn't a fan of today's pop vocalists. He likes "Michael Buble, Harry Connick, Jr. and fellows like that." And, of course, the iconic Tony Bennett.

"Being in The Palm Springs Follies may be the most ideal situation that we have ever had," happily reported Diodati. Currently starring Rita Coolidge, just some of the famous talents who have done a turn in the guest star slot include; Anna Maria Alberghetti, Susan Anton, Kaye Ballard, Jo Ann Castle, John Davidson, Gogi Grant, Mimi Hines, Gloria Loring, Melba Moore, Carol Lawrence, Freda Payne and Mary Wilson.

"It's run professionally and perfectly," continued Diodati. "We do 22-23 minutes on stage and sing everything we think the people want to hear. The show runs fast and the audience responds. It's one of the nicest engagements we've ever had. This was our fifth or sixth appearance here, so it's getting to be like old home week."

The Four Aces honed their stage act in Las Vegas.

"The first time we went into the Stardust hotel in Las Vegas we had a 5-year contract," he recalled. "We did three shows a night and then four on Saturday night," he said of a schedule that proved too rigorous.



No longer in existence, The Stardust Hotel in Las Vegas is where The Four Aces honed their stage performance.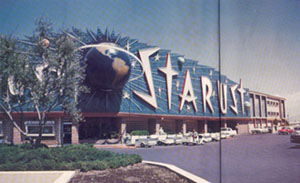 "My voice was just about shot and so were all the guys. So they cut it down to two shows a night and three on the week-end. That taught us how to use our voices and not belt every song. How to pace yourself. We learned a lot. I learned more working in Vegas than I learned anywhere else."

"Of course when we worked Vegas, it was just the best of times for performers," he said referring to an era which lasted through the mid 70s. He rattled off hotels where they performed: "The Stardust, Sahara, MGM, Dunes, Showboat, the 4-Queens, Boulder Station."

"There were great musicians in Las Vegas. I guess it's become a matter of economics now," he theorized about musicians as endangered species.

The Four Aces have endured.

"The group is singing well. We try to watch what we eat, particularly before a show. None of us are on any strict diets. All of us work out a little bit. That's important for us, strengthen your muscles helps for endurance on the stage. Getting enough sleep has a lot to do with it. It's a lot of work. It's not just singing. You've got to be lucky, too. Some guys lose their voices at a young age."

"Singing is the easiest part. You've got an audience that, generally speaking, is there to hear you sing. They seem to enjoy the show. The toughest part is the travel," he lamented.

"Eighty-five to ninety percent of it is by plane. We flew from Philadelphia to Phoenix to Palm Springs. Tomorrow we're flying to Sacramento for four days. Then we fly back home to Philadelphia. It works on you a little bit. The ones that really get to you are when you're going overseas, like to Australia. To go through security you have to get there two hours early. It has to be done and we appreciate it. None-the-less, tiresome. Somewhere along the line, common sense should prevail. I understand the security and I'm 100 percent for it. But, my God, I saw a little old lady in a wheel chair and she couldn't see well. They were examining her - frisking her - delicately and gently, but never-the-less frisking her."

"We were in the Philippines and we have been extremely fortunate to do well, there. I think that was our fifth trip there. It's terrific. The place sits about 20,000. We've enjoyed performing in Brazil, Chile, Argentina."

Diodati was born and raised in Philadelphia, where he still resides. The weather?

"How about two feet of snow? The irony is, I like snow. I think it's beautiful. I like to be out in it. It's peaceful and quiet."

From rain soaked Palm Springs The Four Aces headed up state for a Wednesday show at the Robert Modavi Arts Center, which is part of The University of California at Davis.

"That's the kind of venues we do. Forget the nightclubs - they're gone. Terribly sad. It really is. In many ways I don't miss two shows a night, three on week-ends, but that is where we really learned our craft."

"To be honest, if people want a bit of nostalgia, we are one of the few singing groups still around, where people can go in an see a show and just reminisce. People sing along with us. With most of the audience you could see the sentimental value of the songs that we sing. When they came out they were just hit records. Now, they mean a lot more to people. It's a pleasure to sing and it's a pleasure to hear the audience sing along with us."

On February 20th The Four Aces will be performing at Wynmoor Village in Coconut Creek, FL On February 26 - 27 they are on stage at Casino Aztar's Hoosier's Lounge, Evansville, IN.



Broadway To Vegas is supported through advertising and donations. Priority consideration is given to interview suggestions, news, press releases, etc from paid supporters. However, no paid supporters control, alter, edit, or in any way manipulate the content of this site. Your donation is appreciated. We accept PAYPAL. Thank you for your interest.


ART AND ABOUT


THE JAZZ LOFT PROJECT From 1957 to 1965 legendary photographer W. Eugene Smith made approximately 3,000 hours of recordings on 1,740 reel-to-reel tapes and nearly 40,000 photographs in a loft building in Manhattan's wholesale flower district where major jazz musicians of the day gathered and played their music. The tapes have not been played since they were archived, following Smith's death in 1978, at the Center for Creative Photography (CCP) at the University of Arizona.

The Jazz Loft Project, organized by the Center for Documentary Studies in cooperation with CCP and the Smith estate, is devoted to preserving and cataloging Smith's tapes, researching the photographs, and obtaining oral history interviews with all surviving loft participants.

The exhibition will evoke the jazz loft through more than 200 images, several hours of audio, and 16mm film footage of Smith working in the loft. Setting the scene will be Smith's gritty photographs of the loft and his pictures of the flower district below his fourth-floor loft window. Viewed alongside his master prints, Smith's 5x7-inch work prints further indicate the breadth and depth of the loft story. Listening stations will give access to remastered selections from Smith's reel-to-reel tapes, which caught everything from rousing jam sessions to historic radio and TV broadcasts, loft conversations, and street noise. Concerts and other programming will supplement the exhibition experience.

The exhibit opens February 17, 2010, at the New York Public Library for the Performing Arts at Lincoln Center and will run through May 27, 2010. The exhibit will travel to the Chicago Cultural Center, the Nasher Museum of Art at Duke University, and the Center for Creative Photography at the University of Arizona.





CHINESE NEW YEAR IMPORTANT TO LAS VEGAS
Focal point of the elaborate display at the Bellagio Hotel in the god of Luck. Photo: Laura Deni
Las Vegas is betting on Chinese New Year to bring in wealthy Asian gamblers. While Year of the Tiger is notorious for turbulence - political unrest, coups d'états, with natural catastrophes often striking during this action-packed year - Sin City is hoping the Tiger will rev up a rebound for the city which has been hit hard by the recession.

Traditionally, Chinese New Year has always been a profitable time for Las Vegas with an influx of Asian and Asian-American tourists who have money to spend.

While New York City, San Francisco and Los Angeles have the largest number of Chinese residents with a growing Chinese American populations in New Jersey and Texas, Las Vegas has long celebrated Chinese New Year with decorations, special entertainment and food.

This year is no exception.

The Bellagio Hotel Conservatory is celebrating with an amazing, attention to detail display, crafted from flowers and nuts.



Artistically crafted colorful figure greets guests as they check into the Bellagio. Photo: Laura Deni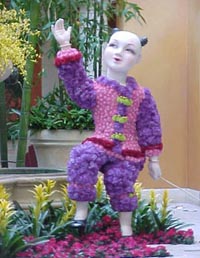 Beneath a 55-foot-tall glass ceiling, the arrangements include a tiger which moves its head, two pandas, a red bridge, pots of oversize insense. Chinese lanterns hang in groups of six because multiples of six are lucky numbers. The focal point is the God of Wealth, surrounded by gold coins.

The Conservatory's creations extend to an area behind the registration desk where colorful folk frolic.

MGM Mirage will celebrated the 2010 Chinese New Year with a multitude of events. Last night Canto Pop musical legend Sam Hui performed at the MGM-Grand.

The MGM Mirage presents the Lion dance performances of Yau Kung Moon, one of the best and most respected dragon and lion dance organizations which has been performing since the 1960's and now has more than 3,000 members.

Beginning yesterday at the MGM-Grand, lion dance performances will be held at various resort valet and porte cochere locations throughout the 2010 Chinese New Year celebrations. . Other MGM Mirage resorts Lion dance performances take place today, Sunday, February 14, at The Mirage Hotel, Bellagio Hotel and Mandalay Bay. On Tuesday the Lion dance is at the ARIA Resort and Casino.

Off the strip, about 5,500 are expected to attend the full-day celebration organized by the Chinese American Chamber of Commerce which will be held Sunday, February. 21 at the China Town Plaza. Guests can enjoy special cultural performances of the Lion dance, Chinese acrobats, Philippine Bamboo Stick Dance, Japanese Dance, Tahitian Dance, Chinese Folk Dance, and Japanese Taiko Drum performances. The Asian food celebration portion of this event will includes specialties of Hong Kong, Canton, Mandarin, Vietnamese, Thai, and Hawaiian dishes.



80-panel exhibit includes politics, trade, education, sports and culture . Photo by Laura Deni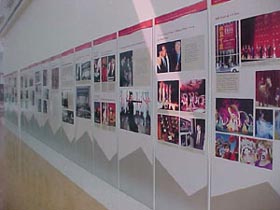 Looking Back After 30-Years is a photo retrospective. Photo by Laura Deni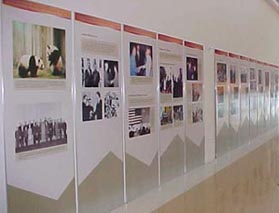 A significant exhibition is taking place at Crystals Shopping Plaza at City Center in conjunction with the Chinese People's Assn. for Friendship with Foreign Countries. Looking Back After 30-Years is a 30-year retrospective view of the China-United States diplomatic relations presented in a four-part 80-panel chronological display which spans the second and third level of the retail and entertainment district.

The exhibition is part of a one-year tour program emphasizing that the ties between the two countries have become one of the most important bilateral relations in the world. Madame Li Xiaolin, daughter of China's former President Li, and Feng Xie, China envoy to the United States, were present to officially open the exhibit as were middle school students from Beijing.

The four sections - Recalling History, Friendship Between People, Economic Exchanges and Win-Win Cooperation - document the nations' interactions throughout the last 30 years in the fields of politics, trade, education and sports and culture.

Emphasis is placed on the performing arts and motion picture industry.



Farewell My Concubine poster from Looking Back After 30-Years. Photo by Laura Deni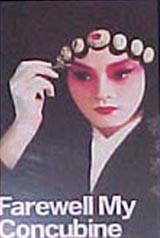 Display section include Chinese Elements in American Films highlighting Kung Fu Panda and Mulan. A display is devoted to Chinese People Republic films which were released in America including Raise The Red Lantern and Farewell My Concubine.

Farewell My Concubine directed by Chen Kaige, is considered as one of the greatest Asian films every released. Starring Leslie Cheung, Fengyi, Li Gong - the beautiful leading lady of Raise the Red Lantern - Qi Lu and Da Ying, Farewell My Concubine is a compelling epic spanning two centuries, as well as a melodrama about life backstage at the famed Peking Opera, as two lifelong friends unexpectedly caught in a passionate love triangle with the woman who comes between them.

At the 1993 Cannes Film Festival, the film was awarded the highest prize, the Palme d'Or. Miramax Films mogul Harvey Weinstein purchased the distribution rights and removed ten minutes. This is the version seen in U.S. and U.K. theaters. According to Peter Biskind's book, Down and Dirty Pictures: Miramax, Sundance and the Rise of Independent Film, Louis Malle, who was president of the Cannes jury that year, said: "The film we admired so much in Cannes is not the film seen in this country (referring to the U.S.), which is twenty minutes shorter - but seems longer because it doesn't make any sense. It was better before those guys made cuts."

Most of the cuts were not long extended scenes, but rather a minute or so from many different scenes. The uncut film has been released by Miramax on DVD, and is the original 171-minute version.



Raise the Red Lantern. poster from Looking Back After 30-Years. Photo by Laura Deni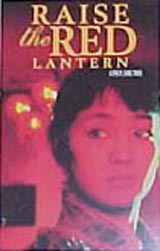 Raise the Red Lantern is an award-winning 1991 Chinese-Hong Kong-Taiwanese co-produced film, directed by Zhang Yimou and starring Gong Li.

It's an adaptation by Ni Zhen of the 1990 novel Wives and Concubines by Su Tong. The film was later adapted into an acclaimed ballet of the same title by the National Ballet of China, also directed by Zhang.

Set in the 1920s, the film tells the story of a young woman who becomes one of the concubines of a wealthy man during the Warlord Era.

According to a review in TV Guide. "Though Zhang's screenplay got a stamp of approval from the Chinese censors, the finished production was banned at home while playing to great praise abroad."

A Titanic movie poster has the heading of being the most popular American film ever released in China.

Another poster honors the first American movie ever imported to China - The Fugitive - starring Harrison Ford as Dr. Richard Kimble, a man wrongly convicted of the murder of his wife, and Tommy Lee Jones as the federal marshal who pursues him.

The exhibit has traveled to more than 20 U.S. and global cities, including New York, Washington D.C., Los Angeles, Macau, Beijing, Shanghai and Hong Kong. It will be in Las Vegas until February 22 and is free to the public.




SPREADING THE WORD


AMERICAN PRESIDENTS ATTEND THE THEATRE Mention "presidents" and "theatre" in the same sentence and almost anyone's first thought is that terrible night at Ford's.

But how many people know that George Washington defied a Congressional ban on theatre to produce morale-boosting plays at Valley Forge? Or that big-game-hunting Teddy Roosevelt loved Caruso's operatic arias?

Woodrow Wilson liked vaudeville shows; his successor, Warren Harding, preferred burlesque.

This story of American Presidents and theatre illuminates a myriad of personalities and the mutual attraction of actors and Presidents, lies in a shared understanding that they each play roles on their respective stages.

Surveying over 250 years, American Presidents Attend the Theatre examines presidential theatregoing as it has reflected shifting popular tastes in America. It is both the chronology of theatregoing throughout the lives of our forty-three Chief Executives - from nineteen-year old George Washington seeing his first play in Barbados in 1751 to George W. Bush attending a Kennedy Center show in 2005 - and a narrative of friendships, performances, and personalities onstage, backstage and in the White House.

Meet the author of American Presidents Attend the Theatre, Thomas A. Bogar, Thursday, February 18, when he takes part in Noon at the National, a salon-style series which explores our heritage, culture and current events with an author reading and discussing of a new book in the intimate and elegant Helen Hayes Gallery of the historic National Theatre in Washington, DC. The event is free.

OSF CELEBRATES 75 YEARS OF THEATRE the Tony Award–winning Oregon Shakespeare Festival will celebrate its 75th anniversary this season, and while patrons will notice celebratory signs and banners as well as opportunities to sit in on historical lectures and talks throughout the season, the primary celebration is onstage. OSF has promised its audiences, to whom it has dedicated this milestone season that it will continue to focus energies on producing great plays this year.

The 2010 season opens Friday, February 26, in the Angus Bowmer Theatre with William Shakespeare's masterpiece Hamlet, directed by OSF Artistic Director Bill Rauch. On Saturday afternoon, February 27, in the Angus Bowmer Theatre, theatergoers will experience Tennessee Williams' intensely rich drama Cat on a Hot Tin Roof, directed by Christopher Liam Moore. That evening audiences will be treated to an adaptation by Joseph Hanreddy and J. R. Sullivan of Jane Austen's Pride & Prejudice, directed by OSF artistic director emerita Libby Appel. The final opening of the weekend is Lisa Kron's comedy Well on Sunday, February 28 in the New Theatre, directed by OSF veteran James Edmondson.

In honor of Angus Bowmer's first two productions in 1935, OSF is anchoring the outdoor Elizabethan Stage season (opening June 11-13 and running through October 10) with the plays Bowmer chose for that first season: Shakespeare's ever popular comedy Twelfth Night, directed by guest artist Darko Tresnjak, and The Merchant of Venice, directed by Bill Rauch. Also playing on the outdoor stage is Shakespeare's Henry IV, Part One, directed by another OSF veteran, Penny Metropulos.

Later this season, opening in the Angus Bowmer Theatre, is the musical She Loves Me, directed by Rebecca Taichman (April 24), and the world premiere stage adaptation by Ping Chong of the film by Akira Kurosawa, Throne of Blood (July 24). Ping Chong also directs. The production will move to Brooklyn Academy of Music's Next Wave Festival after its run in Ashland. Opening in the New Theatre on March 27 is Lynn Nottage's Pulitzer Prize-winning play, Ruined, directed by Liesl Tommy, and on July 3 the world premiere of American Night will open. The play, written by Richard Montoya and Culture Clash and directed by Jo Bonney, is the inaugural production of OSF's American Revolutions: the United States History Cycle. Headquartered in Ashland, Oregon, OSF's 2010 season runs from February 18 through October 31, offering 766 performances of 11 productions.

MICHAEL JACKSON'S DOCTOR

Michael Jackson's doctor returns to Nevada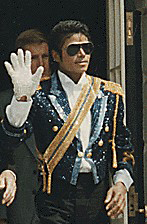 Conrad Murray, who is battling a manslaughter charge in connection with the death of Michael Jackson, has returned to Las Vegas after posting $75,000 bail

Under the terms of his bail, Dr Murray is allowed to continue to practice medicine. However, on Monday Judge Keith Schwartz instructed Murray; "You may not under any circumstances use any anesthetic agents, specifically Propofol."

Murray, a native of Grenada, was forced to turn in his passport, due to his possibility as a flight risk

He is working out of another physician's office, located in the southeast area of Las Vegas. The embattled physician shuttered his own Vegas office last August. The cardiologist, continues to run a practice in Houston. He is licensed to practice medicine in Nevada, Texas and California, although the California Medical Board is preparing to seek removal of his license.

Jackson died at his home on June 25, 2010 at the age of 50. His death was ruled as homicide, mainly caused by the anesthetic Propofol.

Prosecutors filed one count of involuntary manslaughter. Murray has always maintained he neither prescribed nor administered anything that should have killed Jackson. If convicted he could face four years in jail. A Los Angeles hearing has been set for April 5.

AFTER THE WAR: JAPANESE AMERICAN AND AFRICAN AMERICAN COMMUNITY RELATIONSHIPS To mark the 68th anniversary of the signing of Executive Order 9066 by President Franklin D. Roosevelt, which led to the imprisonment of 120,000 Americans of Japanese ancestry during World War II, the National Museum of American History presents a discussion with playwright Philip Kan Gotanda and historian Scott Kurashige.

Gotanda talks about one of his latest plays, After the War, which captures postwar life for 11 Americans of diverse backgrounds brought together by a shared address in San Francisco's Japantown. Kurashige, an associate professor of Asian/Pacific Islander American Studies, American Culture and History at the University of Michigan, discusses his debut title, The Shifting Grounds of Race, which examines the conflicts and combined activism of the Japanese American and African American communities within a predominantly white but quickly changing Los Angeles during the last century. Franklin Odo, director of Smithsonian Asian Pacific American Program, moderates the discussion.

Saturday, February 20; 2010 in the Carmichael Auditorium, National Museum of American History in Washington, DC.

THE GERALD W. LYNCH THEATER at John Jay College in NYC presents the first staged reading in the First Throws Play Reading Series, Jeanne Sakata's Dawn's Light: The Journey of Gordon Hirabayashi, directed by Lisa Rothe and featuring Joel de la Fuente, on Monday, February 22, 2010.

First Throws is John Jay's first playwright salon, presenting new theatrical works and readings in a casual setting. First Throws presents new works that examine issues of justice with an artistic perspective.

Dawn's Light: The Journey of Gordon Hirabayashi, a solo play by Jeanne Sakata, was inspired by a true story. During World War II in Seattle, University of Washington student Gordon Hirabayashi agonizes over U.S. government orders to forcibly remove and mass incarcerate all people of Japanese ancestry on the West Coast. As he fights to reconcile his country's betrayal with his passionate belief in the U.S. Constitution, Gordon journeys toward a greater understanding of America's triumphs - and a confrontation with its failures.

DREAM ROLE! THE FACES BEHIND THE SCENES They've cast and managed some of the biggest names in the business, now we flip the switch and put some of our favorite casting directors, agents and producers on stage at the latest installment of Dream Role!

Featuring Mary Egan-Callahan (Casting Director, House Productions), Phil Cassese (Agent, Talent Works), Carrie Faverty (Casting Director, Sound Lounge), Yvonne Gougelet (Producer), Jerry Kallarakkal (Agent, DDO Artists), Danny Salles (Producer, Director), Marla Webber (Agent, Don Buchwald Associates), Glennis McMurray, Sara Jo Allocco, and Katina Corrao.

Wednesday, February 17. Theater Events at 92YTribeca, NYC.

SOAP FAN MYSTERY THEATRE

Jacob Young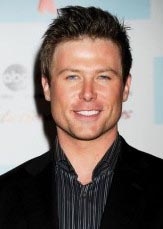 is a merging of stars from television's All My Children; The Guiding Light and General Hospital First up is Agatha Christie's The Unexpected Guest, starring Stefanie Powers, Vincent Irizarry, Jacob Young, Adam Mayfield, Robert Newman, David Hedison and Constance Towers.

The Unexpected Guest will be read February 20-21.

Juliet Mills and her husband Maxwell Caulfield lead the cast of Spider's Web, which also features Ricky Paull Goldin who played Danny Zuko in 726 performances of Grease on Broadway, Adam Mayfield and Jacob Young. That reading is slated for March 13-14.

In The Unexpected Guest, Michael Starkwedder, played by Emmy winner Vincent Irizarry, accidentally drives his car into a ditch on a foggy night. He then wanders into a nearby house to use the phone. The unexpected guest then discovers Laura Warwick (Powers) standing over her dead husband's body holding a smoking gun. With a houseful of suspects - including Adam Mayfield and Emmy winner Jacob Young - to choose from, the audience is kept guessing right up until the shocking climax.

The Soap Fan Mystery Theatre readings will take place at the WGA Theatre in Beverly Hills, CA.





SWEET CHARITY


TEENAGE CANCER TRUST 2010 is an all-star, 10-night line up to celebrate its 10th year of music and comedy at the Royal Albert Hall, London kicks off Wednesday, February 17 with Depeche Mode supported by The Horros and wrapping up Tuesday, March 30 with the performance by The Who.

In between the acts include Them Crooked Vultures, Comedy Night with Jimmy Carr, Noel Fielding and Rhod Gilbert; Suede; Noel Gallagher; Arctic Monkeys; JLS; The Specials.

Teenage Cancer Trust aims to provide teenagers and young adults these essential services:

Rapid access to cancer services offering accurate diagnosis and a competent assessment
Clear and accurate information
Evidence based treatment with access to clinical trials
The best chance of survival with the least possible physical cost
A high standard of age specific facilities
Access to staff that understand them and their needs
Peer support
Psychological, social, educational, and employment support
The best treatment as close to home as possible


OTHER PEOPLE'S MONEY


SHAKESPEARE THEATRE COMPANY in Washington, DC has a The Show Must Go On policy. They didn't let a little thing like last week's historic blizzard slow them down. They did concede, though, that some of their patrons might prefer to stay home. Thus, a bargain. To entice people to snowboard, ski, or shovel their way to the box office last Sunday for Richard II - all seats for that performance were just $10.

RITZ CARLTON HOTEL LAKE LAS VEGAS a five-diamond hotel within a 3,600-acre resort community - built around a 340-acre man-made lake - informed its 340 employees last Monday that it will close on May 2.

"The unprecedented economic downturn has had a significant impact on the hotel's operations. As a result, Village Hospitality LLC concluded that continuing to fund operations was no longer economically viable and consequently decided to close the hotel effective May 2, 2010," Assistant Vice President Scott Helfman said in a statement.

The 349-room hotel, located about 14 miles from the Las Vegas strip, was opened in 2003 by Transcontinental Corp. The Ritz-Carlton Lake Las Vegas filed for reorganization in 2008 to avoid foreclosure. Deutsche Bank took over ownership of the property last year through an affiliated company Village Hospitality.

FAO SCHWARZ in Las Vegas packed up their toys and went home. The famed toy store located at the Forum Shops at Caesars Palace opened in 1997 in a 55,000 square foot store, which featured a 48-foot horse at the entrance. FAO Schwarz owner Toys R Us let the lease expire and the store has closed. About 60 employees were affected

CELINE DION has signed a multi-million dollars deal to return to Caesars Palace in Las Vegas for a three-year gig. The Colosseum at Caesars seats 4,300 and tickets will range from $55 to $250. She is expected to perform 70 shows a year. Her first segment will include 53 shows and begin March 15, 2011.



THE FEMALE OF THE SPECIES the American premiere of playwright Joanna Murray-Smith's comedy. Helmed by Geffen Playhouse artistic director Randall Arney.

Starring Three-time Academy Award nominee Annette Bening as a famed feminist with David Arquette, Tony Award nominee Mireille Enos, Julian Sands, Josh Stamberg and Merritt Wever.

Loosely inspired by a real-life incident, The Female of the Species begins with Margot (Annette Bening) at her country home attempting to pen her next masterpiece in the peace and quiet. Problem is, nothing's coming. Nothing, that is, except for Molly (Merritt Wever), a former student who is intent on taking Margot hostage as punishment for her mixed message ideology. Enter Margot's overlooked daughter (Mireille Enos), her simplistic son-in-law (David Arquette), her longtime publisher (Julian Sands) and a disgruntled cab driver (Josh Stamberg) ... and all of a sudden a simple kidnapping turns into a battle over who can throw the first punch and get the last word.

The creative team includes set designer Takeshi Kata, costume designer David Mickelson, lighting designer Daniel Ionazzi, composer/sound designer Richard Woodbury and production stage manager James T. McDermott.

The Female of the Species had its world premiere at the Melbourne Theatre Company in 2006, which was followed by a production on London's West End in 2008. Productions at the Geffen Playhouse in Los Angeles to March 14, 2010.

DONNY CLAY starring Tony Award-winner Jason Alexander in his one-man show.

Alexander as the toupee wearing Donny Clay is the world's fourth-best motivational speaker. His world-famous seminars entail hilarious evenings full of comedy, music, self-help and partial nudity.

Alexander created a Clay, who performs at corporate retreats. In a legitimate Speakers Bureau pitch for corporations to actually book Alexander as Clay the release reads:

"This unique comedy show is presented as a motivational//inspirational seminar. However, it is actually a hysterical send-up of the Tony Robbins/Deepak Chopra/Dr. Phil milieu.

"The show consists of comedy bits, both live and filmed; musical numbers; magic and some actual techniques in various fields of business or interpersonal relations. Each show is adapted to the buyer. Specific references to the organization or business are made; in house personnel are employed in bits and the whole experience feels as if it was created specifically for you. Enormously funny and entertaining, there is no other presentation like this anywhere."

The Las Vegas mounting is also an interactive, partially improvised comedy romp where the audience is part of the show.

The first leg of the show finishes tonight, February 14, at Planet Hollywood in Las Vegas, with the second leg opening February 25-28. The show returns March 4-7 and March 11-14.

Alexander is also a celebrity poker player and serves as the artistic director of the Reprise Theatre Company in Los Angeles.

THE SUBJECT WAS ROSES by Frank D. Gilroy. Directed by Neil Pepe.

Starring Martin Sheen as John Cleary, Frances Conroy as Nettie Cleary and Brian Geraghty as Timmy Cleary.

When it comes to family, there are three sides to every story. A young man's return from World War II becomes a catalyst for an emotional tug-of-war in which love is a prize and a weapon.

Martin Sheen returns to the play that earned him a Tony Award nomination in 1964: now as the patriarch of a family forced to confront its own privatized emotions and buried truths. Frances Conroy and Brian Geraghty complete the family triangle struggling to reconnect after years of emotional distance and rediscover the beauty in the simple gift of roses.

Sheen played the war-veteran son, Timmy, in the original Broadway production and reprised the role in the 1968 film version.

Scenic Design by Walt Spangler. Lighting Design by Laura Bauer. Lighting design by Rui Rita. Sound Design by Cricket S. Myers. Original Music by Obadiah Eaves.

In previews at the Mark Taper Forum in Los Angeles. The production officially opens on February 21 with performances to March 21.

LES BALLETS TROCKADERO DE MONTE CARLO that all male company which provides a playfully entertaining view of ballet in a parody format, bring their tutus, tiaras and tights to California this week.

The Trocks perform February 18 at the Balboa Theatre in San Diego. On February 19 the show is at the Beckman Auditorium in Pasadena. February 20-21 finds the blokes in tutus at the Carpenter Performing Arts Center in Long Beach, On February 23 the tour stops at the Van Duzer Theatre in Arcata.

The cast includes: Ludmila Beaulemova, Nadezhda Bogdownova, Katarina Bychkova, Ephrosinya Drononova, Lariska Dumbchenko, Helen Highwaters, Sveltlana Lofatkina, Ida Nevasayneva, Maria Paranova, Eugenia Repelskii, Olga Supphozova, Vera Tchumpakova, Minnie Van Driver, Yakatarina Verbosovich, Vanya Verikosa, Giuseppina Zambellini, Jacques d'Ambrosia, Jacques D'Aniels, Roland Deaulin, Pepe Dufka, the Legupski Brothers (Araf, Dimitri and Ivan), Tino Xirau Lopez, R.M. ("Prince") Myshkin, Boris Nowitsky, Velour Pilleaux, Ashley Romanoff, Yuri Smirnov, Innokenti Smoktumuchsky, Zapoi Valenki and William Vanilla.

THE SCOTTSBORO BOYS a musical with music and lyrics by John Kander and the late Fred Ebb was one of their final collaboration. The book is by David Thompson. Directed and choreographed by Susan Stroman.

Starring John Cullum, Brandon Victor Dixon and Coleman Domingo with Sean Bradford, Josh Breckenridge, Derrick Cobey, Rodney Hicks, Kendrick Jones, Forrest McClendon, Julius Thomas III, Sharon Washington, Cody Ryan Wise and Christian White.

The Scottsboro Boys explores the famous 'Scottsboro' case of the 1930s - in which a group of young African American teenagers were unjustly accused of attacking two women - and the boys' attempts to prove their innocence.

The design team includes Beowulf Boritt (set), Toni-Leslie James (costumes), Kevin Adams (lighting) and Peter Hylenski (sound). David Loud serves as music director. Orchestrations are by Larry Hochman.

In previews at Off-Broadway's Vineyard Theatre with the official opening set for March 10 for a run through April 4.

A MIDSUMMER NIGHT'S DREAM

Judi Dench as Titania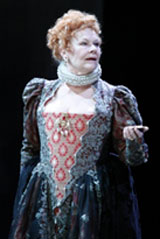 by William Shakespeare. Directed by Peter Hall.

A Midsummer Night's Dream reunites Peter Hall and Judi Dench as Titania, an enduring theatrical partnership lasting some fifty years. Judi Dench first played Titania for Peter Hall with the Royal Shakespeare Company in 1962 and they have subsequently worked together on productions such as Antony and Cleopatra (National Theatre), The Royal Family (Haymarket) and Hay Fever (West End).

Set in Elizabethan England, this production sees Titania, the Fairy Queen, as a portrait of the aging Queen Elizabeth I, fascinated with the theatre, besieged by courtiers but "married to the people of England." In addition to Dench the company features; Oliver Chris as Bottom. William Chubb plays Egeus. Msimisi Dlamini portrays Philostrate. Charles Edwards is cast as Oberon. Richard Keightley plays Fairy.James Laurenson appears as Quince. Ben Mansfield taken on the role of Demetrius. Reece Ritchie plays Puck. Susan Salmon is cast as Hippolyta. Simon Scott plays Snout. Sophie Scott is the First Fairy. Annabel Scholey plays Hermia. Timothy Speyer plays Snug. Rachael Stirling plays Helena. Julian Wadham plays Theseus. Leon Williams plays Flute. Tam Williams portrays Lysander.

The creative team includes Associate Director - Cordelia Monsey ; Set & Costume Design - Elizabeth Bury; Lighting Design - Peter Mumford; Sound Design - Gregory Clarke; Music - Mick Sands; Movement - Laila Diallo and Fight Director - Kate Waters.

Performances through March 20 at the Rose Theatre, Kingston, England.

THE DEAD SCHOOL by Pat McCabe. Directed by Padraic McIntyre.

Cast includes: Sean Campion, Carrie Crowley, Peter Daly and Gemma Reeves.

Ireland of the 70s: crashing headlong into the warring forces of change and tradition.

Schoolmaster Raphael Bell is devoted to traditional teaching values, while on the other side, Schoolmaster Malachy Dudgeon loves rock music and makes rules only in order to break them. When these two men and all they represent come together, chaos is only round the corner.

The Tricycle Theatre states that; "The drama dances between the past and the present, and music and song are seamlessly interwoven in this powerful story of the love men leave behind in the pursuit of what they think is life."

Following a sell-out run at the 2009 Dublin Theatre Festival and three Irish Times Theatre Award nominations including Best Play and Best Actor (Sean Campion), February 22, 2010 through March 12, 2010 at The Tricycle Theatre in London.

THE LONG RED ROAD by Brett C. Leonard. Directed by Philip Seymour Hoffman.

The cast features London stage and screen star Tom Hardy, making his U.S. stage debut as Sam - the complex central role playwright Leonard penned with Hardy in mind. The production also features Marcos Akiaten, Greta Honold, Chris McGarry, Fiona Robert and Katy Sullivan.

Billed as a raw and provocative new play about how one person's anguish can tear a family apart. Sam attempts to drink away his past and exorcise his demons on an Indian reservation in South Dakota, where he has been trying to forget his role in a tragic accident with his family. When a visitor from his past arrives on the reservation, Sam is forced to face his guilt - and take a harrowing look at the man he has become.

This world premiere officially opens February 22 at The Goodman Theatre in Chicago. Performances are through March 14, 2010.





WHO'S WHERE


MONTEREY JAZZ FESTIVAL ON TOUR with Kenny Barron, Regina Carter, Russell Malone, Kurt Elling, Johnathan Blake and Kiyoshi Kitagawa make a stop at the Eisenhower Auditorium at University Park, PA on Tuesday, February 16. On Wednesday the perform at McCarter theatre in Princeton, NJ. Thursday the show is at the count Basie Theatre in Red Bank, NJ. They take to the stage at the Music Center at Strathmore in North Bethesda, MD on Friday. On Saturday they can be enjoyed at the Zoellner Arts Center in Bethlehem, PA.

MARK RUSSELL the piano-playing political satirist returns to Ford's Theatre in Washington, D.C. with material ripped from today's headlines for One Man. One Piano. One Nation. Indivisible. February 17-20.

JOHN MAYER whether his mouth will be filtered is unknown, performs Tuesday, February 16, at Scotiabank Place in Ottawa. On Wednesday the tour stops at the Bell Centre in Montreal. On Friday the show is at the Mohegan Sun Arena in Uncasville, CT. On Saturday he is at the Verizon Center in Washington, DC.

MARIAH CAREY in the spotlight Wednesday, February 17, at the Verizon Wireless Theater in Houston. On Thursday she's on stage at the Nokia Theatre in Grand Prairie, TX and on Saturday she can be enjoyed at the Dodge Theatre in Phoenix, AZ.

BILL COSBY getting laughs Monday, February 15, at the McCallum Theatre in Palm Desert, CA.

TYLER PERRY IN MEDEA'S BIG HAPPY FAMILY opens a two nighter Tuesday, February 16, at the Veterans Memorial Arena in Jacksonville, FL. On Thursday the performance is at the Soldiers & Sailors Memorial Auditorium in Chattanooga, TN. On Friday he beings a two nighter at the Lawrence Joel Coliseum in Winston-Salem, NC.

HARRY CONNICK,JR on stage at the Performing Arts Center in Durham, NC on Tuesday, February 16. On Wednesday he'll bring his show to the Clay Center in Charleston, WV. Thursday the tour stops at the Lyric Opera House in Baltimore, MD. Friday finds him at the Sandler Center in Virginia Beach, VA.

ERIC CLAPTON AND JEFF BECK in a two-nighter Thursday and Friday at Madison Square Garden in NYC.

ANN HAMPTON CALLAWAY opens a six night gig at Dizzy's Club in NYC on Tuesday, February 16.

WEDNESDAY NIGHT AT THE IGUANA hosted by Dana Lorge and Richard Skipper with Barry Levitt on keyboard & Saadi Zain on bass. Guests include: James Alexander, Arianna, David Gurland, Rita Ellis Hammer. Reservations a must. Wednesday, February 17, Iguana VIP Lounge, NYC.

BUDDY GUY fresh from appearing on Broadway in Finian's Rainbow is on stage Tuesday, February 16, at the Fox Theatre in Detroit. On Thursday he's be performing at The Family Arena in Saint Charles, MO. On Friday he in the spotlight at The Midland By AMC in Kansas City and on Saturday the tour stops at The Orpheum Theatre in Minneapolis.




FINAL OVATION


SIR JOHN DANKWORTH the British born jazz star died in a London hospital on Saturday, February 5, after a short but undisclosed illness. He was 82.

His wife, the singer Cleo Laine, announced his death from the stage during a concert to mark the 40th anniversary of The Stables, a music venue they founded next to their home in Buckinghamshire, north of London.

Stephen Clarke, chairman of the charity that runs The Stables music venue, said in a statement: "It is a fitting tribute that on the day of Sir John's death that we celebrated on stage...with some of the many artists who have performed with Sir John."

In part, the official release stated:

Dame Cleo Laine, daughter Jacqui, son Alec and granddaughter Emily Dankworth gave the performance of their lives last night ...Despite the heartbreak of knowing that John had passed away earlier that day, his wife of 52 years, Dame Cleo and their family paid him the highest tribute imaginable by singing their hearts out in the place that is and will always be alive with the spirit of Sir John Dankworth CBE."

"The all-star concert, compered by Paul O'Grady, featured a glittering line-up of British stars from stage, screen and music including Prunella Scales and Timothy West, Maureen Lipman, Victoria Wood, Laurie Holloway, Rod Argent, Emma Johnson, Lorna Watts and of course the Dankworth big Band."

"Surrounded by friends and loved ones, Dame Cleo bravely announced John's passing at the end of the concert."

The saxophonist was one of the leading figures in jazz music for more than half a century.

In October 2009 at the end of a US tour with his wife, Sir John was taken ill. The couple cancelled a number of UK concert dates for the following month. Dankworth did return to the concert stage for just one solo at the London Jazz Festival at the Royal Festival Hall, London, in December 2009. He played his sax from a wheelchair. He also played at John & Cleo's Christmas Show on December 17 at The Stables in Wavendon.



Next Column: February 21, 2010
Copyright: February 14, 2010. All Rights Reserved. Reviews, Interviews, Commentary, Photographs or Graphics from any Broadway To Vegas (TM) columns may not be published, broadcast, rewritten, utilized as leads, or used in any manner without permission, compensation and/or credit.
Link to Main Page
---
Laura Deni



U.S. Postal Address: Post Office Box 60831, Las Vegas, NV 89160
CLICK HERE FOR COMMENT SECTION