Broadway To Vegas
  
 SHOW REVIEWS CELEBRITY INTERVIEWS GOSSIP NEWS

| | |
| --- | --- |
| | |
HAIRSPRAY STANDS OUT IN LAS VEGAS - - BRYN TERFEL IN THE FLYING DUTCHMAN - - ENTERTAINING MR. SLOAN - - THE SLEEPER - - OPEN YOUR HEART AUCTION - - BARRY MANILOW STILL NUMBER ONE - - HELEN HAYES AWARDS - - KISSING CAN HELP PREVENT TOOTH DECAY - - DONATE . . . Scroll Down


Copyright: February 12, 2006
By: Laura Deni

CLICK HERE FOR COMMENT SECTION
HAIRSPRAY IN VEGAS HOLDS ITS STYLE


Having seen Harvey Fierstein and Dick Latessa star on Broadway in Hairspray as well as in the Las Vegas production puts Broadway To Vegas in a unique position.

The show has been on Broadway since August, 2002 and toured everywhere. So, why should anybody bother to see the Las Vegas effort?

For several reasons.

Hairspray is a great show - every bit as good as the Broadway production. This is also a rare opportunity to see the original Broadway stars re-create the roles that earned them both a 2003 Tony Award.

The production is mounted in the cavernous 1,526-seat Luxor showroom. While the red plush seats are no wider than Broadway theatre seats, they do boast individual cup holders. A blessing if you have a drink - a curse if the guy next to you spills his.

With 10 performances per week - versus Broadway's eight - the Broadway two-hour and forty-minute production was whittled to 90-minutes with no intermission.

Anyone who has seen the Broadway take will miss the loss of the big number The Doll House that opened act two, in which Harvey Fierstein as Edna tapped danced in high heels. Also on the cutting room floor is Velma's song (The Legend of) Miss Baltimore Crabs.

Those who are Hairspray virgins won't notice the difference.

The 90-minute Vegas version isn't so much a cut as artistically carved, as one might prune - leaf by leaf - an award winning horticultural sculpture.

However, the line about Wayne Newton could have been dropped as no one even smiled - much less laughed.

Based on the New Line Cinema film written and directed by John Waters, Hairspray takes audiences to 1962 Baltimore, where 16-year old Tracy Turnblad, a big girl with a big heart and even bigger hair has only one passion, to dance. After winning a spot on the local TV dance program - The Corny Collins Show - she becomes an irrepressible teen celebrity, despite the rejection of her physical appearance by "the Council" (think Simon Callow on American Idol) headed by Amber Von Tussle (Katharine Leonard) and her mother, Velma (Susan Anton). But, can a plus-size trendsetter vanquish the program's reigning princess, win the heart of the boy she loves and integrate a television show without denting that hairdo?



Harvey Fierstein and Dick Latessa performing Timeless To Me. Photo by: Paul Kolnik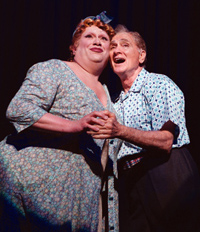 Fierstein plays Edna Turnblad, a middle aged, over-weight wife and mother who slaves over an ironing board taking in the laundry of others. Her hair is flat and straggly from that steam iron and her best dress is the one she wears to do the housework. A devoted wife and mother she is married to Wilber who sells novelty items. Opposites in many ways, their love and devotion is tenderly expressed in their duet Timeless To Me.

While Wilbur's loud wardrobe compliments his occupation, Edna's personality changes with her hair.

If there is one thing Hairspray has - it's hair. After all 1962 was the dawn of the big hair era.

Paul Huntley, 75, has designed hair and wigs for 168 Broadway shows since the Brit arrived in this country in 1973.

The Tony Award winner created about 125 wigs for Hairspray. One of the wigs, a blonde number nicknamed "the topiary," stands about 20 inches tall. Some are worn for artistic reasons while others have the practical purpose of hiding the microphones.

Hair is layered over wire frames to facilitate the exceptional heights. That makes dancing difficult. Takes some strong neck muscles to hold the wig upright. The performers make the hard work look effortless.

As with Edith, the succession of wigs worn by Tracy show the teen's transformation into a celebrity as well as personal self confidence. She starts out with a simple teased beehive with streaks. Later, she changes to a skunked wig - which means coloring the hair with big, fat strips of contrast shades - and later has a huge blonde fall attached to her wig.

For Fierstein to transform himself into Edna takes more than putting on a housedress and a wig. Waxed and peeled, the guy has been plucked more than a chicken. Then it takes 80 minutes to get him into the get up and glossed over.

He arrives in his dressing room sans leg, arm and chest hair. He has no eyebrows, and often shaves his beard twice a day. He slips into a 25-pound suit padded with foam and silicone.



Harvey Fierstein as Edna. Photo by: Paul Kolnik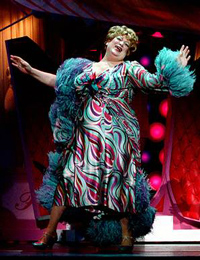 To turn Fierstein into Edna the housewife drudge who evolves into glam involves six shades of blush, seven shades of eye shadow, liquid eyeliner, two sets of false eyelashes, mascara, lip pencil and lipstick.

Transmitters in the hips convey sound from microphones concealed under his wig.

For the final scene Edna's hairdo is actually two top knot hairpieces placed on top of a wig. In the finale with heels and hair, Fierstein stands almost 7-feet tall.

After the first burst of applause for the multi-talented Fierstein, the audience becomes immersed in his part. While much has been made of the actor's professional gender jumping - from playing a wife and mother in Hairspray to the husband and father,Tevya, in Fiddler on the Roof then returning to Hairspray - both parts are of a spouse and parent.

Fierstein is both an artiste and a true professional. He was one of only three cast members in the Broadway production who never missed a show.

Tony winner Dick Latessa has the ability to give a second banana depth, as opposed to just being a slippery peel guaranteed to generate a cheap laugh. His character of Wilbur may hawk novelty gags and dress for his customers, but what he demonstrates is that he works hard for his family and he loves his wife and daughter.



Susan Anton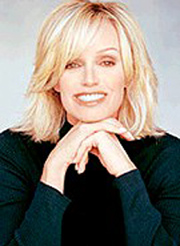 Local gal, Susan Anton, generated applause by walking on stage. She's no stranger to theatergoers. Wearing a black wig she first appeared as one of Tevya's daughters in a Vegas production of Fiddler on the Roof. After headlining casino showrooms on a regular basis, she moved to Sin City where her five-and-a-half year tenure as Special Guest Star with the Great Radio City Music Hall Spectacular and its renowned Rockettes, preceded a two year U.S. national tour of the same production.

Susan made her Broadway debut by replacing Candice Bergen in David Rabe's Tony nominated play Hurleyburly, directed by Mike Nichols. Preceding Hurleyburly, she starred in the U.S. national touring company of the Neil Simon/Marvin Hamlisch musical They're Playing Our Song and toured the U.S. with Elizabeth Ashley in A Couple of White Chicks Sitting Around Talking. She returned to Broadway in 1991 to co-star with Keith Carridine and the original Broadway cast of Tommy Tune's Tony award winning musical The Will Rogers Follies.

An ageless beauty who doesn't look a pound heavier than her beauty queen days, she must have been a joy for William Ivey Long to costume - not a figure flaw to hide.

A lovely person in real life, Susan Anton, in this virtually non singing role, gives a convincing portrayal of the anti-integration television executive who is more interested in hiding her daughter's acne than she is in social justice.

With well balanced sound by Steve C. Kennedy, the high energy, driven rhythms offer an uplift to the spirit rather than a pain in the ear.

The Vegas production has one of the strongest casts this side of Broadway.

Granted nobody has an easy task in following Marissa Jaret Winokur, who took home the Tony for her portrayal of Tracy Turnblad. But to see Katrina Rose Dideriksen perform as Tracy Turnblad, it's hard to believe that Dideriksen is a relative newcomer to the theatrical boards having recently made her professional debut in the Toronto production of Hairspray. Fran Jaye with her 6-octave voice is a show stopper as Motormouth Maybelle. Katharine Leonard, who was in the original Broadway production, is a scene sealer as is Chandra Lee Schwartz who plays Penny Pingleton, the best friend of the heroine, Tracy Turnblad.

Terry Lavell, who plays Seaweed, has a body with a beat. He makes his legs bend like a rubber doll, executing dance moves that look like they should hurt. High energy vocalist Carla Duren left no doubt that she is on the short list of singers in demand, having been a Harlette backing Bette Midler and a raft of other performers.



Austin Miller as Link Larkin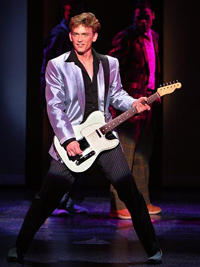 Texas born and raised Austin Miller, who originated the role of the loveable Link Larkin in the National Tour, reprises his role in this effort. Miller has spent a significant amount of time in Las Vegas. First as a principal singer and dancer in Enter The Night, which played at the Stardust Hotel, and then in the Vegas production of Starlight Express.

Kevin Spirtas, who was Hugh Jackman's standby for The Boy From Oz, and is best known as Dr. Craig Wesley for six years on Days of Our Lives, walked on stage to applause from his soap fans. He's got Corny Collins down pat as does Ed Romanoff as the Principal.

Veteran Susan Mosher is a delight as Prudy Pingleton/Gym Teacher.

Hairspray is above all -a musical. Whether you see a production or listen to the CD the music by Marc Shaiman and the lyrics by Shaiman and Scott Wittman range from pity to profound. Mama, I'm a big Girl Now makes a statement with the lyrics while the music owns the stage. I Know Where I've Been and Big, Blonde and Beautiful are show stoppers.

William Ivey Long's costumes are perfect. If the message is in the color, fabric and design then Long's missive is a "good-read."

Lighting by Kenneth Posner and set design by David Rockwell make the most of the Luxor stage and showroom.

Both Fierstein and Latessa are in the Vegas production only through April 30 - a good excuse to hurry up and come to Vegas.

Whether this production has long legs in Vegas will depends upon who replaces Harvey Fierstein. While this is a quirky musical and seemingly a perfect fit for Las Vegas, 1,526 are a lot of seats to fill. Vegas never has been and never will be a theater town. People will flock to the showrooms to see a star. The once Strip staple of production shows followed by magical extravaganzas scored because the customer needed neither command of the English language nor a significant attention span to appreciate what they were watching.

Hairspray opened in August of 2002 on Broadway and garnered eight Tony's, including Best Musical, Best Original Score for Marc Shaiman and Scott Wittman, Best Book of a Musical for Mark O'Donnell and Thomas Meehan, Best Direction of a Musical for Jack O'Brien. In addition, the musical won a Grammy for Best Musical Show Album and five Outer Critics Circle Awards. Jerry Mitchell received a Tony nomination for his choreography.

Lon Hoyt is the Las Vegas music supervisor while John Miller is the music coordinator.

The Las Vegas production stars Harvey Fierstein and Dick Latessa and the company features Katrina Dideriksen as Tracy Turnblad, Austin Miller as Link Larkin, Kevin Spirtas as Corny Collins, Terry Lavell as Seaweed, Fran Jaye as Motormouth Maybelle, Chandra Lee Schwartz as Penny Pingleton, Katharine Leonard as Amber Von Tussle, Susan Anton as Velma Von Tussle, Ed Romanoff as the Male Authority Figure, Susan Mosher as the Female Authority Figure and Carla Duren as Inez.

Officially opens at the Luxor Hotel in Las Vegas on Wednesday, February 15.



Broadway To Vegas is supported through advertising and donations. Priority consideration is given to interview suggestions, news, press releases, etc from paid supporters. However, no paid supporters control, alter, edit, or in any way manipulate the content of this site. Your donation is appreciated. We accept PAYPAL. Thank you for your interest.



HELEN HAYES AWARDS takes place Monday April 17, 2006 at the Warner Theatre and the JW Marriott Hotel, Washington, DC Hosted by Washington native Brad Oscar, the Awards show will be directed by Olney Theatre Artistic Director Jim Petosa, written by Playwright Norman Allen, designed by Lighting Designer Daniel MacLean Wagner who will co-produce the presentation with Helen Hayes Awards Executive Director Linda Levy Grossman. Glenn Pearson of Floating Opera Productions serves as Musical Director.

In addition to awards in 23 categories for outstanding artistic achievement in Washington professional theatre, the recipients of three special awards will be named who have made or are making extraordinary contributions to live theatre:

The KPMG Award for Distinguished Service to the Washington Theatre Community
The Washington Post Award for Innovative Leadership in the theatre community
The Helen Hayes Tribute, sponsored by Gilbert and Jaylee Mead, for significant achievement in the American theatre

( For list of the nominees click here )

LOS ANGELES DRAMA CRITICS CIRCLE has announced its nominations and special awards for excellence in Los Angeles and Orange County theatre for the year 2005. The 37th Annual Los Angeles Drama Critics Circle Awards ceremony will take place Monday, March 13 at the El Portal Theatre in North Hollywood.

Awards will be given in fifteen categories, honoring excellence in theatre over the past year. Six special awards will also be given, including a new award, honoring the memory of LADCC member Joel Hirschhorn, which will be awarded for outstanding achievement in musical theatre.

The Los Angeles Drama Critics Circle was founded in 1969. It is dedicated to excellence in theatrical criticism, and to the encouragement and improvement of theatre in Greater Los Angeles.

( For list of the nominees click here )
SWEET CHARITY


18TH ANNUAL OPEN YOUR HEART AUCTION

ModelBartenders.com's David offers a theme cocktail at last year's Bailey House Open Your Heart Auction photo S. Kmiec'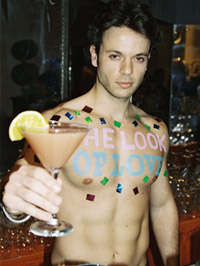 The worlds of art, design and fashion will converge at this high-energy evening of charity which brings New Yorkers out to bid on photography, paintings, furnishings, fashion and much more, all in support of New York's Bailey House, which pioneered the creation of permanent housing and support services for homeless men, women and children living with HIV/AIDS..

This year's auction will feature a vast array of items, including a Susan Lucci-guided tour of the All My Children set, Carson Kreesley, Doug Wilson, and Keith Boykin exclusive packages, Martha Stewart Signature Collection 4-piece bedroom set, fine art and photography, couture, home furnishings, travel, entertainment and dining packages, accommodations at hotels around the world, and tickets to the hottest Broadway shows. Have your photo taken with Abercrombie and Fitch's newest coverboy Maxwell Zagorski or a personal portrait by photographer Chris Makos.

Honorary co-chairs of the auction are Oscar winner Susan Sarandon, Tony Award winner Natasha Richardson, Jesse L. Martin (Law and Order & Rent), TV - All My Children's Susan Lucci, Jeff Branson and Thorston Kaye, and photographers Chris Makos, Jed Root, and Paul Solberg. Co-chairs are Marc Levine and Jimmy Markee.

Bailey House Thursday, February 16 at The Puck Building in NYC.

FRACTURED BROADWAY A Benefit for the new Valley Musical Theatre featuring performances by; Sam Harris, Bruce Vilanch, Sally Struthers, Jennifer Leigh Warren, Henry Polic II, Kirsten Benton Chandler, Stan Chandler, Misty Cotton, Michelle Duffy, Kevin Earley, David Engel, Christa Jackson, Julie Dixon Jackson, Adam Lambert, Elizabeth Ward Land, Jon Maher, Lesli Margherita, William Martinez, Sean McDermott, Jeffrey Polk, Alison Porter, Larry Raben, Nita Whitaker, Ruth Williamson, Ryan Ashley, Thomas Garcia, Richard Bermudez, Chris Ciccarelli, Matt Hoganson, Danial Brown, Bets Malone, Shell Bauman, Robert Pieranunzi, Kim Mikesell, Penny Collins and Paul Ainsley.

Musical Direction by Gerald Sternbach. Choreography by Lee Martino. Directed by Nick DeGruccio.

Feb. 20 & 21 at the El Portal Theatre in North Hollywood.

Starting with an inaugural production this Fall, VMT hopes to grow into a nationally recognized company that will produce full seasons of professionally mounted Broadway musicals. VMT, with Ronn Goswick as Executive Director, will also be working with the LA Unified School District to bring the arts to their schools by bringing students to the theatre for a free performance of the shows on the schedule.

MIAMI CITY BALLET - NIGHT MOVES 20th anniversary gala at the Kravis Center in West Palm Beach, FL. on February 16.


SPREADING THE WORD


WORKING IN THE THEATRE SEMINAR - THE PLAYWRIGHT takes place Thursday, February 16th.

The scheduled panelists for this seminar include playwrights Christopher Durang, Lisa Kron, Marsha Norman, John Patrick Shanley and Diana Son.

All seminars are held at Elebash Hall in the CUNY Graduate Center, NYC.

Working In The Theatre seminars are produced in cooperation with Continuing Education & Public Programs, The Graduate Center, CUNY.



THE SLEEPER Written by Catherine Butterfield. Directed by Andy Barnicle.

This is the West Coast Premiere of the 2004 Kaufman and Hart Award-Winning Comedy.

A suburban housewife finds herself irresistibly drawn to her son's tutor, a handsome young man whom she begins to suspect may be involved in some dangerous political activities. Determined to do the right thing, she sets off on a hair-raising mission to get to the bottom of it.

The cast of The Sleeper includes Cynthia Beckert, Ray DeJohn, Eric Curtis Johnson, Jeff Marlow, Tim Meinelschmidt, Clarinda Ross and Amy Tribbey. The set design is by Bruce Goodrich. The lighting design is by Paulie Jenkins. The sound design is by David Edwards. The Costume design is by Julie Keen.

Opens Saturday, February 18 at The Laguna Playhouse in Laguna, CA.

86 continuous year in operation - the Playhouse will feature this season Two World Premiere Commissioned Plays, Two West Coast Premieres, One Southern California Premiere, One Orange County Premiere and the American Premiere of Israel's Best Play of 2003!

THE HEIRESS by Augustus and Ruth Goetz. Directed by John Going.

Catherine Sloper is a wealthy, impressionable young woman living with her father in 1850's New York. Though her naiveté may prevent her from seeing a suitor's true motives, her father will not be fooled. Based on Henry James' novel, Washington Square, The Heiress is a drama of a young woman's heart caught between a fortune hunter and her protective, penny-wise father.

February 15 – March 12 on the New Mainstage of the Olney Theatre in Spring Road Olney, MD.

DANNY GANS the incredible impressionist that Broadway To Vegas first enjoyed in New York and then delighted at his move to Las Vegas, when he made his initial appearance at the Stratosphere, has made a serious niche for himself in Sin City - as star of his own showroom at the Mirage. After being forced to take three months off to recover from surgery he's back on stage. Four shows per week. The Mirage Hotel in Las Vegas.

POT MOM Written and Directed by Justin Tanner.

Laurie Metcalf who gained initial fame on Roseanne, makes her Third Stage Company debut in Pot Mom. She returns to her role of best friend Michelle to Ellen Ratner (who also returns) as Patty, the suburban mother growing pot to make ends meet, in Justin Tanner's 1994 award-winning comedy.

Pop Mom deals with a drug dealing suburban mom trying to keep her household together. The cast is rounded out by Jon Palmer (reprising his role from the original production) as Patty's long-suffering boyfriend Richard. Third Stage Company regulars Todd Lowe and Victoria Prescott play two of Patty's dope-smoking kids. Limited Engagement Begins Friday, February 17 At the Third Stage Theatre in Burbank,CA.

DA Hugh Leonard's Tony Award winning drama.

Actor Jim Lawson, better known as Jim McDonald in Coronation Street, and Olivia Nash who plays "Ma" in the BBC NI series Give My Head Peace star.

Dublin in the 1960's, it's just after Da's funeral and Charlie returns to his childhood home to sort out a few things. Da's ghost however, is stubbornly unwilling to leave the house or his son's mind. As the events of Charlie's youth and Da's troubled relationship with Mother are replayed, we discover the darkly comic relationship that existed between father and son.

Presented by Northern Ireland's Association Of Regional Theatre, Da opens at the Millennium Forum, Derry/Londonderry in Ireland on Thursday, February 16 before embarking on an extensive tour of regional theatres.

THE FLYING DUTCHMAN a new staging of Wagner's opera by David Pountney, conducted by music director Carlo Rizzi.

Bryn Terfel voyaging home to Wales to play his first Flying Dutchman. Swedish soprano Annalena Persson co-stars as Senta, the only woman who can save the mariner from his watery isolation with a ghostly crew. Terfel comes to London's Coliseum and Birmingham with the production, before Robert Hayward takes over for the rest of the tour to Bristol, Milton Keynes, Liverpool and Swansea. Opens February 17 at the Wales Millennium Centre in Cardiff, UK.

Performances through March 3 before touring.

THE MUSIC TEACHER by Wallace Shawn and Allen Shawn opens at the Minetta Lane Theater in NYC, where it is set to run from Feb. 21 through April 8.

ABIGAIL'S PARTY by Mike Leigh. Staged by Scott Elliott. This 1977 biting comedy is about manners and domestic discord among the British middle classes. The ensemble cash features Jennifer Lason Leigh as a party hostess who wields the gin bottle like a deadly weapon, Extended through April 8 at the Acorn Theater in New York City.

ENTERTAINING MR. SLOAN by Joe Orton, Directed by Scott Ellis. Starring Alex Baldwin, Chris Carmack, Richard Easton and Jan Maxwell.

Joe Orton's classic dark comedy centers on a handsome stranger with a secret, his libidinous landlady, her gender-bending brother and geriatric father. Kath's (Maxwell) language may be prim but her intentions are blatant when she picks up Mr. Sloane (Carmack) and takes him in as a lodger. Attractive, mischievous and dangerous, Sloane eventually has Kath, her brother Ed (Baldwin) and their father Kemp (Easton) eating out of his hand as they all compete for his favors. Together they play out a sexual tug of war, sparking a series of murderously funny events in this survival of the fittest power struggle where they will resort to anything to get what they want.

One of England's most celebrated satirists and playwrights, Joe Orton became famous during his brief career for shocking and amusing audiences while effectively pointing out the pretensions and hypocrisy of British society. His first major play, Entertaining Mr. Sloane, was first produced on Broadway in 1965 and was made into a 1970 feature film directed by Douglas Hickox.

The design team for Entertaining Mr. Sloane includes Allen Moyer (sets), Michael Krass (costumes), Ken Posner (lights) and John Gromada (original music and sound).

Begins previews February 17 at the Laura Pels Theatre in NYC.Opens officially on March 16 and is scheduled to end its limited engagement on May 21.

MYTHS & LEGENDS

part of the Chinese New Year Global Gala. A Dazzling Stage Cavalcade of Eastern and Western Song, Instrumental Music, Dance and Acrobatics. New Tang Dynasty Television proudly brings the breathtaking 2006 Chinese New Year Global Gala to 16 major cities around the world.

This year's Gala will feature Myths & Legends of the world's oldest civilization as well as the best artistic traditions of all lands. From fairy dances of ancient China to artistic performances of modern America.

Presented by New Tang Dynasty Productions. A glorious cross-cultural spectacle of astounding beauty, dynamic performers, exquisite enchanting music and colorful authentic costumes.

Thursday, February 16 and Friday, February 17 at The National Theatre in Washington, D.C.


| | | |
| --- | --- | --- |
| | | |
WHO'S WHERE


BON JOVI performs Tuesday, February 14 in Nashville, at the Gaylord Entertainment Center. On Thursday the show is in Sunrise, FL at the BankAtlantic Center. Friday's performance is in Tampa, FL at the St. Pete Times Forum.

BILLY JOEL in a Valentine Show Tuesday, February 14 at the Wachovia Center in Philadelphia. On Thursday he's in the spotlight at Madison Square Garden in NYC.

BROOKS AND DUNN on Friday, February 17 star at the Seneca Niagara Casino in Niagara Falls, N.Y. On Saturday they open a two nighter in Atlantic City at the Trump Taj Mahal.

GEORGE JONES gives a Valentine Day performance on Tuesday, February 14 at the Fox Theatre in Hanford, CA. On Wednesday he is in the spotlight at the Cohan Center in San Luis Obispo, CA. Friday finds him entertaining at the Pechanga Resort in Temecula, CA. On Saturday he'll be returning to the Fox Theatre in Hanford, CA. Next Sunday the show is at the Silver Legacy Casino in Reno.

GENE PITNEY performs Valentine's Day Tuesday, February 14, at the Soaring Eagle Casino in Mount Pleasant, MI.

LILY TOMLIN has a Valentine's show, February 14, at the Blumenthal Center in Charlotte, NC.

ISSAC HAYES performs at the House of Blues Sunset Strip Hollywood, CA on Saturday, February 18.

KAREN MASON in the spotlight Feb. 14 - 26 at the Prince Music Theatre in Philadelphia.

TOM JONES the Welsh singer known for a string of hits beginning with It's Not Unusual in 1965, who was recently named a knight of the realm in Great Britain - honored for his services to music - performs for two nights at the Nokia Theater in Times Square beginning on Valentine's Day.

RICK DAVIES trombonist and composer celebrates the release of his latest CD of original salsa and Latin jazz music, Siempre Salsa, with a concert featuring Davies' Latin jazz sextet Jazzismo - Alex Stewart, tenor sax; John Rivers, bass; Tom Cleary, piano; and Jeff Salisbury and Steve Ferraris, percussion - as well as special guests David Grippo, saxophone; Alejandro Torrens and Abigail Sperry, and members of the UVM Jazz Ensemble.

Friday, February 17 at The Flynn Center in Burlington, Vermont.

THE 5th DIMENSION The group's unique sound Up, Up and Away, The Age of Aquarius, and Stoned Soul Picnic lays somewhere between smooth, elegant soul and straightforward, adult-oriented pop, often with a distinct flower-power vibe. February 18 Palace Theatre at the Stamford Center for the Arts in Stamford, CT.

BARRY MANILOW has scored his first No. 1 album in 29 years with The Greatest Songs of the 50's - featuring tunes like Unchained Melody and Love Is a Many-Splendored Thing. The last time he hit the peak position on the Billboard chart was in 1977. You can enjoy him at the Hilton Hotel in Las Vegas.

DAME FELICITY LOTT AND GRAHAM JOHNSON in Fallen Women and Virtuous Wives.Works by Brahms, Haydn, Mozart, Schumann, Strauss, and Wolf among others. Monday, February 13 at Carnegie Hall in NYC.


PIFFLE AND PROFUNDITIES


VALENTINE'S DAY IS APPROACHING SO PUCKER UP
1 A one-minute kiss burns about 26 calories.
2 The average person will spend two weeks of their life kissing.
3 You've got less chance of catching a cold from kissing than from shaking hands.
4 International Kissing Day is on February 5.
5 In the Middle Ages, the Catholic Church declared kissing a mortal sin.
6 Rodin's famous sculpture of The Kiss was named one of Britain's favorite works of art in a 2003 survey.
7 The tradition of kissing under the mistletoe has its roots in ancient Celtic mythology.
8 Indonesia is considering new laws which would result in anyone who kisses in public being jailed for 10 years.
9 You use two muscles in your face giving a peck on the cheek, but all of your facial muscles for a passionate French kiss.
10 Research shows that we find big lips more attractive, but over-sized ones a turn-off.
11 Kissing increases the production of saliva which helps reduce tooth decay.
12 A butterfly kiss is when you brush someone's cheek with your fluttering eyelashes.
13 The scientific name for kissing is philematology.
14 On Valentine's Day 2004, 5,122 Philippine couples gathered for a record kissathon.
15 The longest underwater kiss took place in Tokyo, Japan, in April 1980 and lasted two minutes, 18 seconds.
16 In a 2003 survey the kiss between Vivien Leigh and Clark Gable in Gone With The Wind was voted the best in cinema.
17 Other animals that kiss on the lips include chimps, orangutans and bonobos.
18 The human brain has special neurons that help locate a lover's lips in the dark.
19 Under old Puritan laws, in Hartford, Connecticut, USA, it is illegal for a husband to kiss his wife on a Sunday.
20 The Tonga of Africa view kissing as unhygienic.
21 A kiss boosts the "happy hormone" oxytocin.
22 Romans would kiss one another on the eyes or the mouth as a form of greeting.
23 Mae West once said: "I have found men who didn't know how to kiss. I've always found time to teach them."















Next Column: February 19, 2006
Copyright: February 12, 2006. All Rights Reserved. Reviews, Interviews, Commentary, Photographs or Graphics from any Broadway To Vegas (TM) columns may not be published, broadcast, rewritten, utilized as leads, or used in any manner without permission, compensation and/or credit.
Link to Main Page
---
Laura Deni


CLICK HERE FOR COMMENT SECTION