! >
Broadway To Vegas
  
  REVIEWS INTERVIEWS COMMENTARY NEWS

| | |
| --- | --- |
| | |
BENEFITS FOR FILM TELEVISION, LIVE THEATER, NASCAR AND HORSES - - VIRGINIA WOOLF: AN EXHIBITION INSPIRED BY HER WRITINGS - - ERNEST SHACKLEON LOVES ME CD REVIEW - - ARTISTS FOR WORLD PEACE ON BROADWAY - - SOME OLD BLACK MAN STARS MEGHAN MARKLE'S FAKE FATHER - - LAS VEGAS AUCTION OF DEBBIE REYNOLDS AND CARRIE FISHER'S POSSESSIONS - - SOPHIE, THE COUNTESS OF WESSEX OPENS MUSIC THERAPY CENTRE - - STOCK MARKET VERSUS SHOES - - DONATE . . . Scroll Down





Copyright: February 11, 2018
By: Laura Deni
CLICK HERE FOR COMMENT SECTION


BENEFITS FOR FILM TELEVISION, LIVE THEATER, NASCAR AND HORSES REMAIN IN NEW FEDERAL BUDGET
You can keep breathing and working. Protections for film, television, live theater, NASCAR and race horses remain in place in the budget passed early Friday of last week by Congress.

Those with interests in the above mentioned categories should thank deal negotiators Senate Majority Leader Mitch McConnell (R-Ky.), and Democratic Leader Charles Schumer (N.Y.).

The giddy up Dobbin, triple crown crowd racehorse provision benefits investors in horses rather than breeders who race their own horses. It extends the three year depreciation period.

That provision was a top priority of the National Thoroughbred Racing Association, which is based in Mitch McConnell's home state.

Strongly supported by Nevada Senator Dean Heller was a roar-of-the-engines provision which is an extension of the seven-year recovery period for motorsports entertainment complexes.

The International Speedway Corp., owns and operates 13 motorsports facilities around the country, including Daytona International Speedway, Darlington Raceway and Talladega Superspeedway.

Heller (R-Nev.), who represents the Las Vegas Motor Speedway, Sen. Pat Roberts (R-Kan.), whose state boasts the Kansas Speedway, and Sen. Richard Burr (R), whose home state of North Carolina proudly calls itself NASCAR's home, also supported the provision.

Also strongly supporting the NASCAR feature was Sen. Debbie Stabenow (D-Mich.). Her state is home to major automobile manufacturers and the Michigan International Speedway.

The budget extends the 2015 special expense rules for film and television productions, giving a boost to Hollywood, and to live theater productions, according to Democratic Leader Charles Schumer (N.Y.) who helped negotiate the deal.

Schumer argued that live theater productions should reap the same tax benefits as film and television and warned in the past that without tax incentives, production companies would move away from New York City.

The tax provision provides for 100% for movies, TV shows, and theatrical productions expenses for the next five years, with a reduced amount for the years after that. And it removes the cap.

According to printed reports that provision "will cost the government $1.3 billion in fiscal year 2018."

Protecting movies and Broadway has long been one of Schumer's top priorities.

On December 17, 2015 he announced the just-unveiled must-pass tax package, the "Protecting Americans From Tax Hikes Act of 2015," gives Broadway and live theater productions the same benefits that have long been afforded to TV and film productions. In that release it stated that "Schumer rallied for passage of this bill last year standing alongside a cast of Broadway stars, including Neil Patrick Harris, Bryan Cranston and Tyne Daly

His release stated: "the Protecting Americans From Tax Hikes Act of 2015, gives Broadway and live theater productions the same benefits that have long been afforded to TV and film productions. Schumer says that this benefit for Broadway will ultimately encourage investment and spur even greater creativity and job development on the Great White Way.

Schumer has publicly campaigned for passage of his key amendment that would change the federal tax code and create equal tax treatment for live theater by extending its investors the same benefits afforded already to film and television producers. Schumer explained that individual investors are the backbone of this industry, but it is often a prohibitively risky enterprise to invest and finance commercial stage production. . . He also pointed out that failure to level the playing field for Broadway and live production meant that more and more productions would choose locations like London diminishing New York and American as the epicenter of culture and creativity.

"Finally, Congress will give its regards to Broadway. By eliminating the double standard in the tax code that prevented Broadway and live theatre from receiving tax benefits, New Yorkers will enjoy more shows, more jobs and more investment in-and-around the Great White Way," said Schumer. "Culture and entertainment is one of America's great economic drivers and investing in live theater is absolutely fundamental to the nurturing and growth of this critical sector of our national economy. . . "






E-Book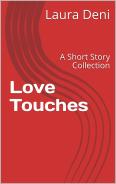 Soft back Book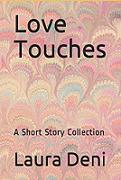 Broadway To Vegas is supported through advertising and donations. Priority consideration is given to interview suggestions, news, press releases, etc from paid supporters. However, no paid supporters control, alter, edit, or in any way manipulate the content of this site. Your donation is appreciated. We accept PAYPAL. Thank you for your interest.



E-Book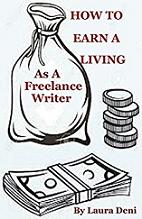 Soft back Book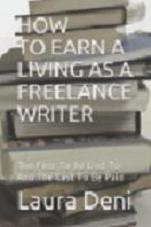 This is not your typical, totally boring textbook.

In the pages of How To Earn A Living As A Freelance Writer (the first to be lied to and the last to be paid) you'll find sex, celebrities, violence, threats, unethical editors, scummy managers and lawyers, treacherous press agents, sex discrimination; as well as a how-to for earning money by writing down words.





ART AND ABOUT


VIRGINIA WOOLF: AN EXHIBITION INSPIRED BY HER WRITINGS

Adeline Virginia Woolf was an English writer, who is considered one of the foremost modernist authors of the 20th century and a pioneer in the use of stream of consciousness as a narrative device. Photo by George Charles Beresford.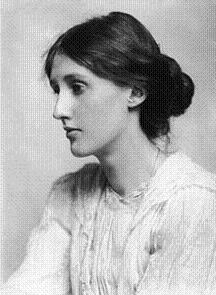 discover art from 1850 to the present, inspired by the writing of this celebrated author

Author of classic texts including To the Lighthouse and the pioneering feminist text A Room of One's Own, Virginia Woolf spent much of her childhood in St Ives.

This exhibition is led by her writing, which will act as a prism through which to explore feminist perspectives on landscape, domesticity and identity in modern and contemporary art - with works by over 80 artists, including Laura Knight, Gwen John, Vanessa Bell, Winifred Nicholson, Sandra Blow, Barbara Hepworth, Claude Cahun and Dora Carrington.

February 10 - April 29, 2018 at Tate St Ives in Cornwall, England.

A Virginia Woolf Art and Ideas Conference takes place March 2-4, 2018. Attendees at the sold out event will listen to an exceptional line up of artists, historians and writers as they discuss the themes of the Virginia Woolf exhibition.

Frances Spalding, respected authority on the life and influence of Virginia Woolf will deliver the keynote lecture on Friday evening and Saturday will feature speakers on the themes of the exhibition which features over 200 works of art in four sections - Landscape and Place, Performing Identity, Still Life and the Home and The Private Self.

Friday's events also include screening of director Richard Kovitch's "Penny Slinger – Out Of The Shadows the incredible, untold story of the British artist Penny Slinger and the traumatic events that led to the creation of her masterpiece, the 1977 photo-romance, An Exorcism/. Speakers include:

Tess Denman-Cleaver, artist / Bryony Gillard, artist / Maggie Humm, Emeritus Professor, University of East London / Dr Hana Leaper, John Moores Painting Prize Senior Lecturer, Liverpool John Moores University / Jean Mills, Associate Professor of 20th Century British Literature, John Jay College, New York / Anna Snaith, Professor of Twentieth Century Literature, King's College London / Claudia Tobin, Leverhulme Early Career Fellow, English, Cambridge University / Sarah Victoria Turner, Deputy Director for Research, Paul Mellon Centre and Francesca Wade, Co-Editor, The White Review.






E-Book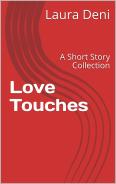 Soft back Book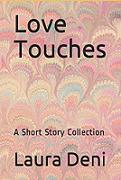 SWEET CHARITY


A MAJOR AUCTION OF DEBBIE REYNOLDS AND CARRIE FISHER'S PERSONAL POSSESSIONS is being held today, Sunday, February 11, both on line and at McManus Auctions in Las Vegas.

Profits from the auction will go towards the Debbie Reynolds Performing Arts Scholarship at UNLV.

Last October in Los Angeles, an auction of their personal property was gaveled down by Profiled in History. The auction grossed over $2 million. Portions of the proceeds were divided between two charities: The Thalians, founded by Reynolds in the '50s to tackle mental-health stigmas, and the Jed Foundation, chosen by Fisher's daughter Billie Lourd for its dedication to suicide prevention.

ARTISTS FOR WORLD PEACE ON BROADWAY 7th annual fundraiser takes place Sunday, February 18, 2018 at The Cutting Room in New York City.

Come watch as Broadway performers sing, dance, and tell stories to help children all over the world. This year's Broadway performers include:
George Abud - Etai Benson - Stephen Carrasco - Becky Gulsvig - Monica Kapoor - Alison Luff - Katrina Lenk - Mike Millan - Paul Alexander Nolan - Rachel Prather - Jonathan Raviv - Sharone Sayegh - Ari'el Stachel - Mary Testa - Vishal Vaidya and Rema Webb. A rare opportunity to see Broadway performers in an intimate club setting and party with them after the show.Enjoy dinner, drinks, and the silent auction.

After the show attendees are told to "Feel free to stay and hang with the performers for a drink after the show."

Artists for World Peace connects communities of artists with communities in need and raises funds through making art to support grass-roots organizations in communities around the world.




E-Book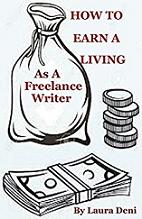 Soft back Book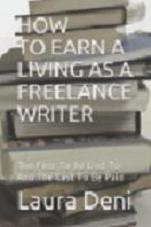 This is not your typical, totally boring textbook.

In the pages of How To Earn A Living As A Freelance Writer (the first to be lied to and the last to be paid) you'll find sex, celebrities, violence, threats, unethical editors, scummy managers and lawyers, treacherous press agents, sex discrimination; as well as a how-to for earning money by writing down words.





THE MUSIC GOES ROUND AND ROUND


ERNEST SHACKLETON LOVES ME an original cast recording has been released on Broadway Records.

The two person musical stars Valerie Vigoda and Wade McCollum.

Ernest Shackleton Loves Me is quirky, ambitious, complicated and entertaining.

To fully appreciate and enjoy this CD you need to know about Ernest Shackleton who was a real person.

Who?

Ernest Shackleton.

Sir Ernest Henry Shackleton (1874-1922) was a polar explorer who led three British expeditions to the Antarctic, and one of the principal figures of the period known as the Heroic Age of Antarctic Exploration.

Shackleton's most famous exploit came to be known as the Trans-Antarctic Expedition, 1914-1917. Disaster struck when Shackleton's ship, Endurance, became trapped in ice and was slowly crushed. The crew escaped by camping on the sea ice until it disintegrated, then by launching two wooden lifeboats to reach Elephant Island and ultimately the inhabited island of South Georgia, a stormy ocean voyage of 720 nautical miles. One of the ways they survived involved toting around a 12 pound banjo.

The story-line by Tony award-winner Joe DiPietro is ingenious, canny, and unique. The idea of using Shackleton as focal point was presented to DiPietro by musicians/composers Valerie Vigoda and Brendan Milburn after the couple had toured a Shackleton museum exhibit. They were so moved that "Shackleton" became their personal mantra when anything bothered them.

Ernest Shackleton Loves Me is a wildly inventive musical adventure that tells the story of a sleep-deprived, stressed out, single mom (Vigoda) Kat, trying to make it as a working artist. After her son's absentee father takes off on tour with a Journey cover band, Kat is fired from her day job as a video game composer and stays up for 36 hours straight. On an insomnia-induced whim, she logs onto a dating website where she is contacted by none other than the legendary Antarctic explorer, (McMcCollum) Ernest Shackleton. Drawn to Kat's innovative musical compositions, Shackleton reaches across space and time arriving - through her refrigerator - inviting Kat to share his heroic journey. As her apartment transforms into Antarctica they discover that - against all odds - their greatest inspiration lies within each other.

With music by Milburn and lyrics by Vigoda, this is a hallucinatory adventure about how a little strength and determination can help us overcome any odds.

An added plus for this recording is that it is a fabulously fun teaching tool for students to learn about world history, the Antarctica, explorers and the power of music.

Co-starring in this production is the Mark Wood's Viper violin which permits the player's neck area to be free. Players can turn their head and sing - not being required to hold the violin with a hand.

The actual stage production retells the adventure of Endurance in detail, incorporating photos and videos of the journey. The CD booklet contains 14 magnificent color production photographs by Jeff Carpenter.

Looking at those photographs the viewer might notice that Val is playing without a shoulder rest.

Val, who was the first female Viper player, doesn't use a shoulder rest. She uses a Viper patented chest support system making it possible for her to turn her sing, sing, walk around and even pick up objects. Simultaneously playing and singing also demands complex, coordinated motor skills.

About that banjo.

According to the National Maritime Museum: The banjo was the property of the ship's meteorologist Dr Leonard Hussey, who would bring it out each night and play popular tunes to entertain the crew during their ordeal. Dr Hussey joined Shackleton's British Imperial trans-Antarctic expedition of 1914 as a meteorologist after giving up his job as an archaeologist in Sudan.

The expedition had been advertised in a letter to the Times reading: "Men wanted for hazardous journey. Small wages, bitter cold, long months of complete darkness, constant danger, safe return doubtful. Honour and recognition in case of success."

When disaster struck only essential supplies were allowed to be taken off the ship. Shackleton told his crew they could take just 2lb (0.9kg) of personal belongings from the sinking vessel. But he told meteorologist Leonard Hussey he could take his 12lb (5.4kg) banjo, claiming it was "vital mental medicine". Dr Hussey went back to the sinking ship to salvage his banjo.

During their time on the ice, Hussey would play his banjo, and a home-made one-string violin, "with cheeriness" according to Shackleton's diaries. He added: "Loyalty comes easier to a cheerful person."

In lectures that Hussey delivered after the expedition, he discussed playing the banjo to raise spirits and of once playing to a flock of penguins.

In 1959 the original banjo - autographed by Shackleton and his men - was given by Hussey to the National Maritime Museum, Greenwich. England.

There is even a Shackleton Instrument Company - "the first banjo factory to be launched in Britain for more than 60 years." Their latest offering is the . The Shackleton Centenary Zither Banjo."

According to Shackleton Instruments: "In their long sojourn in Antarctica, Shackleton's men often told each other stories of what they would eat and drink if they ever managed to return, and maintained their spirits with songs and tunes on the expedition's banjo, which Shackleton himself ordered rescued from the wreck of the Endurance. He left the gold and even the bible, but he rescued the banjo."

The first song on Ernest Shackleton Loves Me with an energetic rock beat Stop/Rewind/Play/Record has an energetic rock beat as Kat attempts to register on a dating site in which she is told to list her name and actual age. There is a cute exchange in which she makes several attempts before listing her true age. She finally gets registered; an accomplishment which she hopes will bring her peace and closure.



Brendan Milburn and Val Vigoda.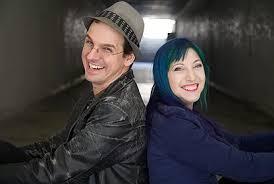 Powerfully sung by Vigota whose singing ability, composing skills and violin playing are an awesome cosmic triangle.

Ernest Shackleton Loves Me music director and orchestrator Ryan O'Connell has used virtually every type of musical arrangement; Phoenix, Arizona has a country twang. O Katerina is a tango. We're On Our Way is a shanty. Track #6 And Then Shackleton Said incorporates We're a Long Way To Tipperary. A dramatic arrangement (think Les Miz) backs Track #14 Toward Elephant Island.

The rock violin score demands exceptional articulation. Valerie Vigoda has the lion's share of the tongue twisting dialogue, which she delivers in a vocal style ranging from fierce to soothing. Both Vigoda and Wade McCollum are excellent.

Vigoda is a live-looping, electric violinist, singer/songwriter, and a founding member of the band GrooveLily. She has toured the world with Cyndi Lauper, Joe Jackson, and the Trans-Siberian Orchestra. She was admitted to Princeton University at the age of 14, withdrawing after one year to complete her classical violin training. She returned after a few years, graduating with honors and a degree in sociology.

Along with Brendan Milburn, Vigoda has won the Jonathan Larson Award for Excellence in Musical Theatre, the LA Ovation Award for Best Musical, and the ASCAP Richard Rodgers Award for her work.

Vigoda's longtime musical collaborator Brendan Milburn is also her ex-husband, writing partner and best friend. Together they are parents to son Mose.

McCollum is an actor/composer. His roles have included performing in Wicked on Broadway, and starring as "Tick/Mitzi" in the first national tour of the musical Priscilla Queen of the Desert.

Edited and mixed by Derik Lee. Recording Engineer Roy Hendrickson. Production manager Jill Dell'Arte. Recorded at Avatar Studios. Mastered by Oscar Zambrano at Zampol Productions. Sound design by Tony Award winner Rob Kaplowitz. Music Supervisor Curtis Moore. Vocals: Violins, keyboards, Banjo, Percussion Val Vigoda. Keyboards, Banjo, percussion keyboard and Ableton Programming by Ryan O'Connell.


SOPHIE, THE COUNTESS OF WESSEX OPENS MUSIC THERAPY CENTRE
The Countess of Wessex (left) shares a laugh with Annie Mawson during a visit to the Sunbeams center. Photo: The Royal Family.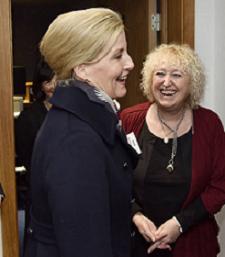 The wife of Prince Edward clapped and sang along to versions of I'm a Believer and Blue Suede Shoes as she officially opened the $4 million - five years in the planning - Annie Mawson's Sunbeams Music Centre in Penrith, Cumbria on February 8, 2018.

Sunbeams Music Trust was founded by musician Annie Mawson in 1992, to bring the 'healing power of music' to people of all ages with disabilities. In 2013 it was announced that "a very clear need has arisen for a National Sunbeams Music Centre."

Sunbeams is one of the leading Arts in Health organizations in the UK and recognized as one of the most innovative, high-achieving "hands-on" charities.

Sunbeams tackles the serious challenges raised by social exclusion, deprivation, ill-health and inequality through the trans-formative power of music.



Sophie, The Countess of Wessex showed off her always well put together look in a Navy blue outfit when presented with a lovely bouquet of flowers by handsome Sunbeams student Luiz, whose mother Janine da Silva took and posted the photo.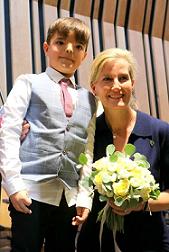 An International singer and harpist, as well as holding an educational degree in Special – Music Therapy, Annie herself, presents 100 recitals a year, as well as spreading the work of Sunbeams on foreign tours. There have been television and radio broadcasts including an ITV documentary "The Secret Heart, featuring Annie and Philip Glass, who became Sunbeams' first Patron.

Sunbeams Specialist Graduate Musicians deliver over 100 Community Music Therapy sessions in 35 venues to 1,450 different people every month. "Our beneficiaries range from children aged 3 months to adults aged 106 years with a wide spectrum of special needs, including cerebral palsy, autism, rare syndromes, terminal and debilitating illness, emotional and behavioral disturbance, profound multiple disabilities, Alzheimer's and senile dementia.



The Countess of Wessex participates in a musical selection. Photo: The Royal Family.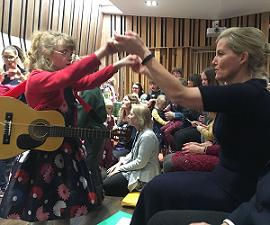 "The interaction which takes place is profound, and also helps to eliminate discrimination and preconceptions held by the general public."

The new Center includes: Main Hall/Reception Area - 5 Music Therapy Rooms - Therapy Observation/Recording Studio - Performance Area - Music/Training Room - Main Meeting Room - Exhibition Space - Office/Administration- Kitchen- Sensory garden- and Woodland.

At the opening the countess met youngsters, some with profound disabilities, who spend time in music workshops and therapy sessions. The countess also met some of the key people who helped raise the millions needed to build the center and those who help run it.



Sophie, The Countess of Wessex, herself the mother of two with several of the music students. Photo: The Royal Family.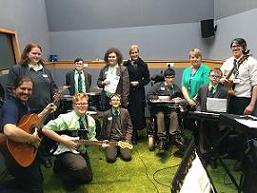 Sunbeams founder and leader Annie Mawson took Sophie, who is the mother of two, on a tour of the facility, designed by Annie's architect nephew, Will Mawson of MawsonKerr Architects.

The tour included a visit to Tom's Room - a music room where children from Walney School aged from 11 to 16 sang and played a song about bullying they had specially composed for her visit.

Tom Froggat was 23 when he died in 2015 after a five-year battle with an undiagnosed brain virus and never got to see the room named after him. Before he fell ill, he was a keen sportsman and a gifted cellist and piano player.

The countess then went into Yasmin's Room - a special sensory play area. Yasmin Taylor is one of only a handful of people who have the neurodegenerative disease niemann pick disease.

After visiting the rooms named after two special youngsters the countess was treated to a singalong with the staff and those who use Sunbeams. She even hand-jived with student Lucy Chapman who sat next to her.


SPREADING THE WORD


DELTA RADIO WHICH IS BASED IN LAS VEGAS has hired David Mueller, 56, the former Denver DJ who lost a groping lawsuit to Taylor Swift.

Delta Radio owns nine radio stations and hired Mueller for their station in the Greenwood Commonwealth of Mississippi.

Mueller, who goes by "Jackson" on air, is co-hosting the "Jackson and Jonbob" show.

A federal jury determined Mueller assaulted and battered Swift by grabbing her under her skirt as they posed for a 2013 photo in Denver.

The Washington Post quoted Delta Radio CEO David Fuss as stating he believes Mueller's side of the story, but also conceded that hiring Mueller was also fueled "maybe a tiny bit" by the desire to obtain publicity for his radio empire.

The official bio for Fuss states that he is "President/CEO of Delta Radio Networks and works with various advertisers and ad agencies to secure effective ad campaigns on all the Delta Radio Network stations. Larry commutes between Las Vegas, Nevada and the Delta."

Formats for Delta Radio stations include Grunge, Hip Hop, Country, Alternative, Indie and Hard Rock, with a target demo of: "18-54, about 50/50 male/female."

On Delta Radio's website under "Our Team" there is a section on David Mueller who is simply called "Jackson." His picture is posted. Under the photo it states: "Jackson, KIX-92.7 Morning Host & Marketing Consultant Jackson is the host of KIX-92.7's "Jackson & Jonbob" morning show and is also an ace marketing consultant. Need help generating more business for your business? Call Jackson for instant action. He can be reached at 662-XXX-xxx, ext. xxx"

The Greenwood newspaper reported that Delta Radio has received complaints about the hiring of David Mueller from Taylor Swift fan groups from as far away as Sweden and Saudi Arabia.

92Y'S LYRICS & LYRICISTS Presents A Leonard Bernstein Centennial Celebration February 24 - 26 at 92Y in New York City.

With a nod to the centennial of Leonard Bernstein, including never-before-heard stories about this extensively documented composer. Writer and host Amanda Green - Tony-nominated songwriter, performer and daughter of lyricist and book writer Adolph Green - joins artistic director and L&L favorite Rob Fisher to celebrate the composer's extraordinary lyric collaborations on such standards as Something's Coming, New York, New York and Make Our Garden Grow. Bringing the lyrics to life are vocalists: Mikaela Bennett, Andréa Burns, Darius de Haas, Howard McGillin, and Tony Award nominee Tony Yazbeck, under the direction of Gary Griffin.

The Greens and Bernstein were lifelong friends, and Amanda will share her personal view and behind-the-scenes stories about Bernstein's groundbreaking shows with her father and Betty Comden. "The world simply had no previous model for the boundless reach of Leonard Bernstein," comments artistic director Rob Fisher. In preparation for this program Amanda consulted her friends Stephen Sondheim, Stephen Schwartz, and the Bernstein 'kids' for their recent reflections about this passionate artist and how he worked. I am passionate about Lyrics and Lyricists because it is the only opportunity to reveal the mechanics of collaboration so personally."

Learn more before the show at this class from 92Y's School of Music. Bernstein and Song takes place Sunday, February 18, 2018.

Leonard Bernstein was that rare "classical" composer and musician who was also a terrific songwriter. The class will continue his 100th birthday celebration by exploring his diverse song catalogue from all possible angles, including theater songs from West Side Story, Candide, Wonderful Town, On the Town, 1600 Pennsylvania Avenue and Trouble in Tahiti, as well as selections from his lesser known but equally beautiful song cycles such as Songfest, I Hate Music and Arias and Barcarolles.

JUNE CHRISTENSEN for nearly two decades has served as president and CEO of the influential Houston Society for the Performing Arts. She has announced that she will retire in December 2018, as first reported in the Houston Chronicle.

The 52-year old society is the largest nonprofit presenting organization of its kind in the entire Southwest. Each year SPA presents internationally acclaimed artists from the entire performing arts spectrum, traditional to avant-garde alike, from large orchestras and dance companies to recitalists and solo performers.

Christensen will conclude her outstanding service by curating the society's 2018-19 season, to be announced this spring.

Board chair Theresa Einhorn issued a statement that the society would conduct a national search for Christensen's replacement.

THE ROYAL ACADEMY OF MUSIC in London will open their new 100-seat performance arts space on February 21. The opening will be conducted by the Duchess of Gloucester who is president of the organization.

FEBRUARY 11 is National Peppermint Patty Day. Monday is National Plum Pudding Day, National PB&J Day and National Biscotti Day. Tuesday is National Tortellini Day and National "Italian Food" Day. Valentine's Day is National Cream-Filled Chocolates Day. Thursday is Singles Awareness Day. For those who didn't receive a Valentine yesterday they are already aware that they are single - or long time married. It's also National Gumdrop Day and National Chewing Gum Day. Friday is National Almond Day and Saturday is National Cafe' Au Lait Day as well as Random Act of Kindness Day. Next Sunday, February 18, is National Drink Wine Day.





OTHER PEOPLE'S MONEY


STOCK MARKET VERSUS SHOES

Available in pink or tan, the shoes sold out in hours. Buyers attach the pins to suit their fancy. Photo: Barney's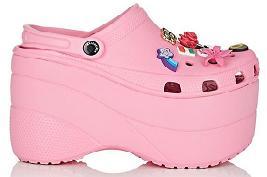 as people were becoming nauseous at the roller coaster stock market ride, perhaps a more important economic indicator was stepping out. Balenciaga's platform Crocs - rubber clogs, which retail for $850, became available for preorder on Barney's website last week - and sold out within hours.

So, if the stock market is on an expected "correction," you might be able to afford them. If the market has turned bear - then you'll look good walking to the poor house.

The pink or tan shoes are a joint venture between Balenciaga and Croc, maintain the Croc's original show design with added 4-inch platforms. Crucial to making the shoes look cute are the numerous kitschy pin embellishments which the shoe wearer can snap within the holes around the toe for a custom top look.

The bizarre footwear first appeared on the Paris Fashion Week Runway in October 2017, designed by Demna Gvasalia for Balenciaga.

THE PLANNED UNIVERSITY OF MISSOURI CONSERVATORY PROJECT to build a $96 million arts campus in Downtown for the University of Missouri-Kansas City received a cancellation notice when a backer's donation, which would have would have funded a fourth of the project, was withdrawn.

CityScene KC first reported that the Muriel McBrien Kauffman Foundation pulled its $20 million pledge after Gov. Eric Greitens, refused to sign off on bonds to back the funding. In effect, that dropped the curtain.

The Kansas City Star printed that the funding was pulled because the original plan "was fundamentally a different project" than the one the Foundation had agreed to bankroll, according to Dave Lady, president of the foundation. Paperwork indicates that the grant was always contingent upon both the funding matches from the state and from private fundraising.

UMKC had envisioned the campus just south of the Kauffman Center for the Performing Arts in the heart of the Crossroads Arts District. The school raised $48 million through donors - including the Muriel McBrien Kauffman Foundation's gift - and the city of Kansas City - which donated $7 million in the form of land and infrastructure.

After Greitens' end of January 2018 veto, UMKC officials had said they would go it alone to raise the rest of the money. In an official statement interim UMKC Chancellor Barbara Bichelmeyer asked people to "keep the faith."



E-Book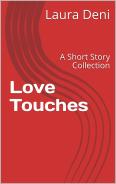 Soft back Book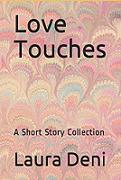 SOME OLD BLACK MAN by James Anthony Tyler.

Directed by Joe Cacaci.

When college professor, Calvin Jones, moves his 82-year-old doggedly independent, blue collar, ailing, father from Greenwald, Mississippi into his Harlem penthouse, an argument over what to eat for breakfast turns into a generational clash over race, opportunity, and a decision that Calvin made years ago.

The two person play stars Wendell Pierce and Tony Award-winner Roger Robinson.

Addressing the elephant in the room - yes, it's Wendell Pierce who played Meghan Markle's father on Suits. If that notoriety causes more people to go to a live theater performance - especially one that is good - then Pierce shouldn't have second thoughts about capitalizing on the status that he really does know the eventual mother to more of Queen Elizabeth and Prince Phillip's great grandchildren.

When guesting on Harry Connick, Jr's talk show Tuesday, February 6, Pierce told Connick how he would communication 'in code' on the Suits set when discussing her romance with Prince Harry.

"We always talked about him in code really," Pierce disclosed on Connick's talk show. "You know, 'How you doing?', 'Oh I'm going to London, coming from London', whatever."

Pierce, 54, played Meghan's character Rachel Zane's father for seven years, and revealed they shared a 'wonderful moment' as she filmed her final scenes in November 2017, before moving to London and announcing her engagement.

'It was just she and I in the room and I said, "I know your life is going to change but always know, no matter where you are, I will always be your loving fake father".

When asked if he would be attending her wedding to Prince Harry at Windsor Castle in May, the star replied: 'I hope so'.

Connick made no secret of the fact that he would also like to be there. When Piece suggested he could perhaps volunteer to play at the reception, Connick eagerly agreed. Now all he needs is to be asked.

In the meantime, go see Some Old Black Man.

Berkshire Playwrights Lab presents this limited engagement with performances only through March 4, 2018 at 59E59 Theaters in New York City.

NSO POPS: WEST SIDE STORY IN CONCERT Conducted by Steven Reineke, NSO Principal Pops Conductor. Directed by Francesca Zambello, Washington National Opera Artistic Director.

Experience forbidden love, fierce family loyalties, and the ruthless feud between the Sharks and the Jets through the iconic music of West Side Story.

Leonard Bernstein's legendary, Broadway-shaping musical interpretation of Romeo & Juliet with lyrics by Stephen Sondheim comes to life as part of the global celebration of Bernstein's 100th birth year.

A full cast of more than 20 dazzling performers - comprised of Broadway favorites, talents from DC's thriving theater scene, and members of WNO's Domingo-Cafritz Young Artist Program - join this special production staged for the unique experience of the Concert Hall by a visionary creative team.

Featured soloists include: Corey Cott as Tony, Solea Pfeiffer as Maria, Krysta Rodriguez as Anita, Ephraim Sykes as Riff, and Joel Perez as Bernardo. Creative team members include assistant director Eric Sean Fogel, visual designers S. Katy Tucker and Mark McCullough, costume designer Lynly Saunders, and sound designer Ken Travis.

February 14, 16 & 17 at the Kennedy Center in Washington, DC.

DIXIE'S NEVER WEAR A TUBE TOP WHILE RIDING A MECHANICAL BULL and 16 Other Things I Learned While I Was Drinking Last Thursday, written and performed by Dixie Longate.

She's back! After her acclaimed one-woman show, Dixie's Tupperware Party, fast-talking, honky-tonking Dixie Longate is back. Learn what a jeweled crown, a cardboard cutout of Julie Andrews and a box of moon pies all have in common as Dixie bestows the wisdom she gained after a hard night of drinking. Spend a night with Dixie as she swaps her Tupperware bowls for a mechanical bull!

February 13 - February 18, 2018 at the Starlight Theatre in Kansas City, Missouri.

RING OF FIRE created by Richard Maltby, Jr. Conceived by: Bill Meade.

Musical direction by J P Meyer, the Dutch Apple Resident Music Director.

Choreography by Candice Lively.

From the iconic songbook of Johnny Cash comes this unique musical about love and faith, struggle and success, rowdiness and redemption, and home and family. More than two dozen classic hits - including I Walk The Line, A Boy Named Sue, Folsom Prison Blues, and the title tune - paint a musical portrait of The Man in Black that promises to be a foot-stompin', crowd-pleasin' salute to a unique musical legend. Though he is never impersonated, Johnny Cash's remarkable life story is told through his music, climaxing in a concert that will both move and exhilarate.

Performers include: Andrea Devriendt, Tim Drake, Justin Droegemueller, Allison Fund, Ben Hill, Jonah M. Martin, Matt McClure, Brandon T. Miller, Steven Sitzman, Emily Woods, and Chet Wollan.

Through March 17, 2018 at the Dutch Apple Dinner Theatre in Lancaster, PA.

THE 39 STEPS by Alfred Hitchcock, adapted by Patrick Barlow.

Directed by Laura Gisi.

Featuring Katherine Clay, Cody Petty, Doug Hart, and Graham Avery.

Our suave hero, Richard Hannay, learns from a beautiful spy about a plot of international espionage. The woman is killed in Hannay's flat and he suddenly finds himself caught up in a race from London to Scotland in hopes of stopping military secrets from being smuggled out of the country. As he searches for the secret of the 39 steps, he is doggedly pursued by the police who believe he is a murderer.

Alfred Hitchcock's The 39 Steps will be presented February 15-March 4 at the Hill Country Community Theatre, Cottonwood Shores, TX.



E-Book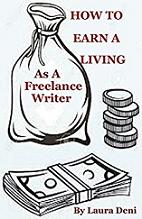 Soft back Book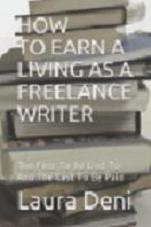 This is not your typical, totally boring textbook.

In the pages of How To Earn A Living As A Freelance Writer (the first to be lied to and the last to be paid) you'll find sex, celebrities, violence, threats, unethical editors, scummy managers and lawyers, treacherous press agents, sex discrimination; as well as a how-to for earning money by writing down words.





WHO'S WHERE




KID ROCK stars at the Air Canada Centre on Friday, February 16, in Toronto, Ontario, Canada. Saturday's gig is at the Nationwide Arena in Columbus, Ohio.

PETER CETERA the Grammy Award-winning singer-songwriter performs Sunday, February 18, 2017, at the Kauffman Center in Kansas City, MO.

CHER performs February 17, 2018 at the MGM National Harbor in National Harbor, MD.

THE TEXAS TENORS star at The Riley Center - Grand Opera House in Meridian, Mississippi on February 17.

DIANNA REEVES performs Thursday, February 15 at the Flynn Center for the Performing Arts in Burlington, Vermont.

HOT LATIN NIGHTS WITH THE MAMBO KINGS backed by the New Jersey Symphony Orchestra with Thomas Wilkins conducting. From the sultry melancholy of Astor Piazzolla and the burning Afro Cuban rhythms of Tito Puente to the rhythmic playfulness of jazz great Dave Brubeck and the pop strains of The Beatles, the Mambo Kings take you on a Latin jazz tour that promises to drive you to your feet. Sunday, February 18, 2018 at the State Theatre of New Jersey in New Brunswick, NJ.

WAYNE ALAN performs his award- winning sleight of hand Valentine themed magic show, featuring original and unique close-up magical effects and illusions. A free fresh rose will be presented to the first 12 ladies. Wednesday, February 14, at the Historic North Theatre in Danville, VA.

PAULA POUNDSTONE telling funny stories February 17, at the Parker Playhouse in Ft. Lauderdale, Florida.

TIM ALLEN will be getting laughs February 15, 2018 when he stars at the Laugh Factory in Hollywood, CA.


FINAL OVATION


LOUIS ZORICH Tony nominated actor and husband of Olympia Dukakis died in his sleep January 30, 2018 in New York City. He was 93.

In 1957 he played Estragon to Harvey Korman's Vladimir at Waiting for Godot at the Studebaker Theater. In the early 1960s, he appeared on Broadway in Becket with Laurence Olivier and Anthony Quinn. Zorich received a Tony nomination in 1969 for his featured role as Cardinal Ragna in Hadrian VII. In 1984, he played Uncle Ben in Death of a Salesman featuring Dustin Hoffman. The following year, he starred with Glenne Headly, Kevin Kline and Raul Julia in a revival of Arms and the Man.

Along with his wife he helped found New Jersey's Whole Theater Company.

He also had a successful career in the movies and television including his portrayal of Paul Reiser's father, Burt Buchman, on the NBC series Mad About You. He played the role from 1993 to 1999.

Zorich was on the faculty of HB Studio in New York City.

According to an interview Dukakis did with People she met the man she would marry at a New York audition in 1962. They married the following year, using a "98-cent ring from Woolworth's."

In addition to his wife, he is survived by sons Peter and Stefan, daughter Christina, and a sister. He is also the uncle of former Chicago Bears' defensive tackle Chris Zorich.

JOHN MAHONEY Tony award winning and Emmy nominated actor who gained household name fame playing the cantankerous father on the 90s NBC hit Frasier, died February 4, 2018 in a Chicago hospice. He was 77.

.He suffered from colon cancer in the mid-1980.

Born in England, Mahoney moved to the United States as a teenager with his sister Vera and he studied at Quincy University in Illinois and joined the US Army, which helped him become a citizen in 1959.

During the 1960s and 1970s he was the editor of a Midwestern medical-magazine. He quit his job there in his his late 30s to take up his passion of acting.

John Malkovich encouraged him to join the famed Steppenwolf Theater revue of Chicago soon after and then moved to New York to further his burgeoning career. His first role was in 1977 David Mamet's Water Engine. Mahoney became noted for an off-Broadway production of Orphans directed by Gary Sinise and he received a Theater World Award for that performance in 1985.

The next year in 1986, Mahoney won the Tony Award for for his performance in a revival of John Guare's The House of Blue Leaves. The production was aired on PBS' Theatre in America series.

That led to his successful career in both television and movies.

After Frasier ended in 2004, Mahoney declined many starring roles, instead returning to Chicago's Steppenwold Theater Company.

Chicago Mayor Rahm Emanuel offered a statement on Monday in response to the news and said that Mahoney was a fixture of the city for more than 30 years and was known for his 'countless award-winning performances.'

"Even as his fame grew through his fantastic work in movies and television, John stayed connected to his artistic home here in Chicago in theaters and as a member of the Steppenwolf Theatre Company," Emanuel said. "Though he will be missed, his work and impact will endure for generations to come."

Steppenwolf issued the following statement: "It is with our deepest sorrow that we acknowledge the news that ensemble member of 39 years John Mahoney passed away due to complications from cancer while in hospice care on Sunday.

"John was a beloved member of our Steppenwolf family who was known for his extraordinary kindness, generosity of spirit and quick smile. He performed in more than 30 Steppenwolf productions - from his breakthrough role in Orphans in 1985 to most recently in The Rembrandt this past September. John's impact on this institution, on Chicago theatre, and the world of arts and entertainment is great and will endure.

"Our hearts go out to John and his family, and to our collective Steppenwolf family. At John's request, Steppenwolf will not hold a public memorial. With sadness and love, Artistic Director Anna D. Shapiro and Executive Director David Schmitz.

He never married. Along with David Hyde Pierce, Mahoney was godfather to Frasier co-star Jane Leeves' son Finn.

JOHN PERRY BARLOW an American poet and essayist, former lyricist for the Grateful Dead died February 6, 2018. He was 70.

Barlow was a founding member of the Electronic Frontier Foundation and Freedom of the Press Foundation. He was Fellow Emeritus at Harvard University's Berkman Center for Internet and Society, where he had maintained an affiliation since 1998.

In late 1971 Bob Weir and Barlow began to write together. They co-wrote Cassidy, Mexicali Blues and Black-Throated Wind,, all three of which would remain in the repertoires of the Grateful Dead and of Weir's varied solo projects. Barlow subsequently collaborated with Grateful Dead keyboardist Brent Mydland, a partnership that culminated in four songs on 1989's Built to Last. He also wrote one song The Devil I Know with Vince Welnick.

He is survived by three daughters, Leah Justine, Anna Winter and Amelia from his marriage to Elaine Parker Barlow.

JOHANN JOHANNSSON the Oscar, BAFTA and Grammy nominated composer was found dead on Friday, February 9, 2018 in his Berlin apartment. He was 48.

Berlin authorities are investigating and that an autopsy would be performed. Cause of death, thus far, is unknown.

He was the composer of such films as Arrival, Sicario and The Theory of Everything.

Jóhannsson is survived by his parents, a daughter and three sisters.






E-Book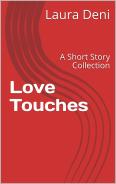 Soft back Book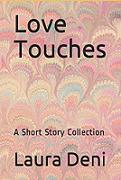 Next Column: February 18, 2018
Copyright: February 11, 2018 All Rights Reserved. Reviews, Interviews, Commentary, Photographs or Graphics from any Broadway To Vegas (TM) columns may not be published, broadcast, rewritten, utilized as leads, or used in any manner without permission, compensation and/or credit.
Link to Main Page
---
Laura Deni



For the snail mail address, please E-mail your request.
CLICK HERE FOR COMMENT SECTION