! >
Broadway To Vegas
  SHOW REVIEWS     CELEBRITY INTERVIEWS     GOSSIP     NEWS 
| | |
| --- | --- |
| | |
Copyright: February 11, 2001
By: Laura Deni
( COMMENT SECTION )

FORGET YELLOW ROSES AND LOOK FOR A GOLDFINCH
We know why Tom Cruise and Nicole Kidman are splitsville.

Sure, we're heard all of the gossip - With the love of Rosie O'Donnell's life - Tom Cruise - and the fantasy of almost every man - Nicole Kidman - filing for divorce the phone lines in Las Vegas have been in overload.


NICOLE KIDMAN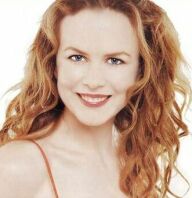 If you're a member of the press and haven't had a phone call on this one, then pack it in, because you're out of the loop entirely. You see, that loving couple renewed their wedding vows and then came to Las Vegas for New Year's Eve. They got into their limo and headed down the Strip to the Stratosphere Hotel where they rode the Big Shot thrill ride, not once, but three times - each time being shot 160 feet into the air in 2.5 seconds. Cruise, a speed freak, loves that kind of thing.

Offers for pictures taken of them while they were being hurled skyward shot into orbit and gossips wag, wondering what - if anything - happened in Vegas to cause the sudden split.

The scuttlebutt looks like a menu from a roadside diner - a little something for everyone - only be careful what you swallow; sex or lack thereof, career demands, religious conflicts, issues of children, sexuality preference/partners issues, and was it a marriage of convenience? And that's just the polite and printable vicious gossip.

The reasons for the breakup are - pesto sauce and yellow roses. Cruise, who was previously married to Mimi Rogers, who was once involved with Tom Selleck, likes yellow roses. And, Cruise and Kidman had been eating pasta with pesto sauce.

We'll explain.

With Valentine's Day upon us it's imperative that those ignorant of flower power get wise.

In the 1600's, a language of flowers developed in Constantinople and in the poetry of Persia. Charles II introduced the Persian poetry to Europe, and Lady Mary Wortley Montagu brought the flower language from Turkey to England in 1716. It spread to France and became a handbook of 800 floral messages known as the Book Le Langage des Fleurs. Lovers exchanged messages by giving each other selected flowers or bouquets.



DIANE VON FURSTENBERG'S bridal bouquet is marriage saving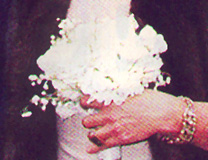 A full red rose meant beauty. Red and white mean unity. Crocus say "abuse not." And don't confuse white rosebuds with white roses; the first warns that you're too young for love, while the second means you're heavenly. That means that the Feb. 2 marriage of designer Diane Von Furstenberg to media titan Barry Diller will work out just fine. The bride carried a bouquet that included white roses, Lily of the Valley and ferns. The combination of Lily of the Valley and ferns means "Your unconscious sweetness has fascinated me." Coupled with the heavenly white roses the Furstenberg/Diller combo are destined to be on a honeymoon for ever.

Poor Tom Cruise. It's been printed that he likes yellow roses - he should have picked an iris. Yellow roses mean jealousy while a yellow iris means passion. What a difference a flower makes.

As for that pasta they ate - that was the clincher. If you don't have any "good" flowers to counteract what's coming - and Nicole hadn't - and eat a pasta dinner, you may be in trouble. Beware of pesto: basil, the cruelest of all flower words, means hatred.

Outside of a good divorce lawyer, Nicole does have some ammunition. She can pelt Tom with filberts for reconciliation, ivy for marriage, mock his vanity by giving narcissus, the flower of self-love. Let him have it with a petunia, which expresses anger and resentment. If she decides to go for marigolds she needs to be certain her marigold is where her mouth is because the large-flower signifies mean-spirited jealousy.

And, with all of the divorce lawyers haggling over settlements - if either of them objects to something - a striped carnation means flat-out refusal.

The message would grow in complexity with combinations. A full rose placed over two buds meant secrecy. Remove the thorns from a rosebud and you say "I fear no longer." Remove the leaves also and your message becomes "There is nothing to hope or fear."

You can only send a lilac once since it goes to your first love. Gardenia is for the scared or the shy, since it expresses secret untold love. If you just like the person try Violets. They express affection. Just want to say hello or welcome someone - try the friendly Wisteria. For a mama's boy or girl, moss is an expression of maternal love.

Roses have endured as the traditional flower of Valentine's Day, and perhaps we owe that to the Romans. In legend, a woman, Rodanthe, was pursued by many suitors who finally became so impassioned they broke down the doors of her house. This enraged the goddess Diana, who turned the woman into a flower and her suitors each into a thorn - giving us the expression "a thorny situation."

It is thanks to a guy known as Claudius the Cruel, that we even have Valentine's Day. Claude, aka Emperor Claudius II was in a pickle. It was the third century and Rome was involved in many bloody and unpopular campaigns. Claude needed to build up his army, but nobody wanted to play soldier.

The men were too busy making love to make war so the Emperor established his own special form of the draft - he banned engagements and marriages in Rome. He fiendishly reasoned that if the men couldn't get married it would be easier to lure them into the service, an occupation that kept them away from their loved ones for months at a time.

Young people were outraged and continued to get married in secret, providing they could find a willing priest. Enter Valentine, a priest at Rome. He and Saint Marius aided the love locked and secretly met with couples in private candlelit rooms where they would exchange vows in hushed tones, always fearful of discovery.

The secret ceremonies were discovered, and Valentine was apprehended and dragged before the Prefect of Rome, who condemned him to be beaten to death with clubs and to have his head cut off.



SAINT VALENTINE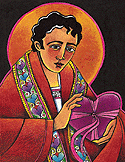 As he awaited execution, his admirers would come to the jail with flowers and notes of support. One of his most ardent supporters turned out to be the daughter of the prison guard, who bolstered Valentine's spirits by talking to him for hours at a time.

His execution was set for February 14, 269 AD. The day before Valentine wrote her a note of thanks for her friendship and loyalty and signed it, "Love from your Valentine."

In the year 269, the name Valentine would be forever linked to this romantic time. In 496, Pope Gelasius set aside February 14 to honor him as Saint Valentine and it has been St. Valentine's Day ever since.



SAINT VALENTINE BASILICA in TERNI, ITALY dedicated to the legend of Saint Valentine.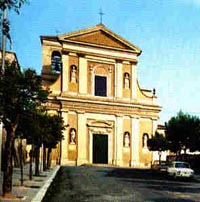 Ironically, Claudius executed Valentine on the holiday that honored Juno, the Roman goddess of women and marriage. The festival of Lupercalia followed, where boys drew the names of girls from a jar and paired up for the festivities.

The following day began the Feast of Lupercalia. Back then fierce wolves roamed the woods nearby. The Romans called upon one of their gods, Lupercus, to keep the wolves away. To thank Lupercus for keeping the wolves from their door - another phrase that caught on - a festival was celebrated February 15th.

The lives of young boys and girls were strictly separate. However, one of the customs of the young people was name drawing. On the eve of the festival of Lupercalia the names of Roman girls were written on slips of paper and placed into jars. Each young man would draw a girl's name from the jar and would wear the names on their sleeves for a week, thus the expression to wear your heart on your sleeve. The couple would then be partners for the duration of the festival. Sometimes the pairing of the children lasted an entire year, and often, they would fall in love and would later marry.

The pastors of the early Christian Church in Rome endeavored to do away with the pagan element in these feasts by substituting the names of saints for those of maidens Cupid has always played a role in the celebrations of love and lovers. He is known as a mischievous, winged child, whose arrows who would pierce the hearts of his victims causing them to fall deeply in love. In ancient Greece he was known as Eros the young son of Aphrodite, the goddess of love and beauty. To the Roman's he was Cupid, and his mother Venus.

Commercial valentines were introduced in the 1800's and has snowballed in a high profit holiday.

Loveland, Colorado, does a large post office business around February 14.

For 55 years people from all over the world have been using the Loveland re-mailing program to send something special to their loved ones on Valentines Day. Loveland Post Office creates a special cancellation mark annually to ensure that each Valentine is uniquely stamped. Now averaging 300,000 Valentines remailed annually including 140 foreign countries and all 50 United States. Valentine, Nebraska also has a re-mailing program and offers some udderly unique postcards.

Hundreds of years ago in England, many children dressed up as adults on Valentine's Day. They went singing from home to home.

In Wales wooden love spoons were carved and given as gifts on February 14th. Hearts, keys and keyholes were favorite decorations on the spoons. The decoration meant, "You unlock my heart!"

In some countries, a young woman may receive a gift of clothing from a young man. If she keeps the gift, it means she will marry him.

Some people used to believe that if a woman saw a robin flying overhead on Valentine's Day, it meant she would marry a sailor. If she saw a sparrow, she would marry a poor man and be very happy. If she saw a goldfinch, she would marry a millionaire.



OPRAH WINFREY a romantic at heart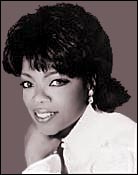 Ophra Winfrey likes the romantic idea of becoming a citizen of Saint Valentine. You can, too and still keep the one you have. The Independent Principality of Saint Valentine, the "Land of Love", is a micro nation between Switzerland and Austria and governed from the romantic medieval Saint Valentine Castle. Their nation is based on a very progressive and liberal Constitution. The fact that they are a Principality with Philiph, Count of Saint Valentine as Sovereign gives the small country the necessary stability and the romantic tourist attraction keeps the bills paid.

When The Independent Principality of Saint Valentine bestows you and your true love a citizen of Saint Valentine, you receive a real Certificate of Citizenship and a passport.

The Principality invites lovers to show romantic feelings for the relationship and for your Valentine by becoming a citizen of the "Land of Love." The pitch promises: - It is going to be a very romantic moment when you tell her or him "Darling, I want the both of us to be in the Land of Love - forever...!" while giving her (or him) a genuine Certificate of Citizenship - citizenship in the one and only REAL "Land of Love."

The Certificate of Citizenship is suitable for framing and Oprah called it " - the most romantic Valentine's Day idea ever."

Then there are those lovebirds. They got their name because it was thought that all birds mated around the middle of February. If birds do it and bees do it, so do elephants. Only this year they will be husband and wife.

In Bangkok, four Thai elephants are going to get married. It seems that St. Valentine's Day falls during their annual mating period. Since they were going to be doing it anyway, the government officials thought it would be a romantic tourist attraction to hold a wedding for two elephant couples at the camp of the Ayutthaya Elephant Club, where the elephants usually perform for tourists in a G-rated show.

Sompast Meepan, head of the Ayutthaya Elephant Club, announced that the wedding would feature a traditional welcoming ceremony for productive male elephants, which are hired to mate with female elephants at the club's stables. "Copulation will take place right after the wedding in an screened outdoor area," he said.

No report on the price of tickets to watch the action.



Broadway To Vegas is supported through advertising and donations. Priority consideration is given to interview suggestions, news, press releases, etc from paid supporters. However, no paid supporters control, alter, edit, or in any way manipulate the content of this site. Your donation is appreciated. We accept PAYPAL. Thank you for your interest.


SWEET CHARITY

GOD'S LOVE WE DELIVER BENEFIT will feature a reading of the 1950 Warner Bros. classic, Caged which tells the tale of a girl gone wrong (played by Eleanor Parker) and how prison life steers her much further astray.The cast for this special reading includes: Lily Tomlin, Isabella Rossellini, Lypsinka, Charles Busch, Lorna Luft, Varla Jean Merman, Wallace Shawn, Joan Rivers and a dozen others. Tweed Theaterworks masterminded the event February 19 at Town Hall, NYC.

CITY OF HOPE honors Rod Stewart and Vogue publisher Richard Beckman, with the Spirit of Life Award February 13 at Cipriani in N.Y.C. The gala award-giving coincides with the release of Human, Rod's first album for Atlantic Records. Mark McGrath the lead singer of Sugar Ray emcees the event, which will feature live performances by Brandy, Jewel, Darius Rucker, and McGrath.

ANDRE AGASSI SCHOOL the tennis champ returned to Las Vegas to announce the building of the Andre Agassi College Preparatory Academy which will open in the fall. Agassi is the charter school's philosophical and financial backbone. The school will open with students in third to fifth grades, with a maximum enrollment of 150 the first year. A grade level will be added each year until the Agassi Academy has a senior class. Applications will be accepted for the tuition free school beginning in March. The school will feature longer hours, an extended school year, uniforms and a focus on technology and college preparation. Students will have an opportunity to participate in cultural activities and community affairs. The first phase is budgeted at $4.1 million. The U.S. Department of Housing and Urban Development has given the charter school $900,000 in funding. The State of Nevada will provide another $600,000 and the Andre Agassi Charitable Foundation assumes the rest of the cost.


APPLAUSE, APPLAUSE

HEINZ AWARD given in recognition of people who enhance the lives of others have been bestowed upon six including two dance teachers.

Jacques d'Amboise, founder of the National Dance Institute in New York City, which teaches poor children classical and modern dance. He started the institute in 1974, and it has been his full time job since l984. Prior to that d'Amboise spent 34 years as a dancer with the New York City Ballet.

Arthur Mitchell, co-founder of the Dance Theater of Harlem. The New York City native has taken pride of the dance company's success in giving poor young people the skills to live meaningful lives.



THE PRODUCERS based on the Mel Brooks film has begun previews in Chicago at Cadillac Palace through February 25. Opening night is February 18, with the buzz that this little ditty will walk off with major Tony Awards.

Based on the classic 1968 film, The Producers set in 1958, tells the story of producers Bialystock and Bloom who scheme to make money by producing the biggest flop stage show in history. The stage production is expected to follow the film with some exceptions. The part of L.S.D. will not be included as such, but some characteristics are inherited by other characters. There is a dance-off between Winston Churchill and Adolph Hitler.

Based on Mel Brooks' film the production stars Nathan Lane (Max Bialystock ) Matthew Broderick (Leo Bloom) Roger Bart (Carmen Giya) Gary Beach (Roger DeBris) Ron Orbach (Franz Liebkind) and Cady Huffman (Secretary).

Other Cast Members: Madelaine Doherty, Kathryn Fitzgerald, Eric Gunhus, Peter Marinos, Jennifer Smith, Ray Wills, Jeffrey Denman, Bryn Dowling, Robert H. Fowler, Adrienne Gibbons, Ida Gilliams, Kimberly Hester, Naomi Kakuk, Jamie LaVerdiere, Matt Loehr, Brad Musgrove, Christina Marie Norrup, Angie L. Scwhorer, Abe Sylvia and Tracy Terstriep.

The cast is expected to be the same as the Broadway cast except for the role of Franz Liebkind, played in Chicago by Brad Oscar due to Ron Orbach taking time to recover from an injury.

The production team includes: Mel Brooks & Thomas Meehan(Book) Mel Brooks (Music, Lyrics) Susan Stroman (Director/Choreographer) Robin Wagner (Set Design) William Ivey Long (Costumes) Peter Kaczorowski (Lighting) Steve Kennedy (Sound) Glen Kelly (Musical Arranger/Supervisor) Patrick Brady (Musical Direction, Vocal Arrangements) Doug Besterman (Orchestrations) Barlow-Hartman (Press Agent).

STRIKE UP THE BAND starring Charles Nelson Reilly Feb. 21-March 4 at the Freud Playhouse, Los Angeles.

ALWAYS PATSY CLINE February 20-25 Broadway At The Bass, in Dallas, Texas.

THE BEST LITTLE WHOREHOUSE IN TEXAS starring Ann-Margret and Gary Sandy, directed by Thommie Walsh, launches its coast-to-coast tour on February 13 at the Oakdale Theatre in Wallingford, CT.

CABARET February 13-25 in Philadelphia, PA at the Merriam Theatre.

CREDIBLE WITNESS by Timberlake Wertenbaker, starring Olympia Dukakis began previews at the Royal Court Jerwood Theatre Downstairs in London on February 8, and opens there February 13, continuing to March 10.

FRESA Y CHOCOLATE (Strawberry and Chocolate) by Senel Paz; a funny, touching piece about the confrontation between a gay artist and a revolutionary purist February 18 as part of the Repertorio Espanol's Rotating Repertory. Grammercy Arts Theatre, NYC.

THE SCARLET PIMPERNEL the Frank Wildhorn musical will stage its Utah premiere at The SCERA Center in Orem Aug. 3-18 as part of the SCERA Shell's summer season. This will be the first Utah venue to present the musical and several professional actors who do not normally do community theater have asked to audition for the leading roles. The Scarlet Pimpernel is one of 12 shows and concerts scheduled this summer in the Orem amphitheater. Other musicals include the regional premiere Titanic the Musical, plus Hello, Dolly and Rodgers & Hammerstein's Cinderella - being presented as a cultural exchange from Sandy City Arts Guild - and performances by Roy Clark, Rich Little, Gordon Lightfoot, and the U.S. Army Jazz Ambassadors.


WHO'S WHERE

KAREN ZIEMBA who continues to play the 50s housewife with the vivid imagination in Contact which garnered her a Tony Award, must have set some sort of a record for her activities last Monday - technically her day off. She appeared at, not one, but three different events.



KAREN ZIEMBA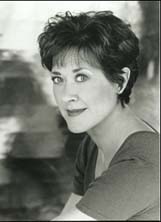 First she participated in a panel discussion sponsored by ART/NY called Behind the Scenes - a look at the state of the Musical. Karen joined Arthur Laurents, Daphne Reuben-Vega and others at the event at the Vineyard Theatre. Then Karen and her husband, actor Bill Tatum, appeared at the benefit for the Genesius Guild called Valentine Cabaret/New Songwriter Evening at the Players Club. That event, featured duets by many Broadway couples including Brian D'Arcy James & Jennifer Prescott, Michael McCormick & Alison Bevan and Karen and Bill, who performed a Michael Colby and Paul Katz song called You're There When I Need You. Karen concluded her day off by joining Elaine Stritch, Carol Lawrence, Alan Cumming, Bebe Neuwirth, Anne Reinking, Sandy Duncan and other Chicago alumni, in saluting Chita Rivera at the annual Drama League benefit at The Pierre Hotel.

FARLEY GRANGER has signed on to star in a London West End production of Noel Coward's 1927 Semi-Monde. The production opens in March.

LINDA EDER February 15-17 in Washington, D.C. at the Kennedy Center for the Performing Arts.

ROBERT GOULET in concert on February 13 for a Private Engagement at the Robert Mondavi Wine Festival in San Francisco, CA.

STEVE & EYDIE February 16-17 in Clearwater, Florida at the Ruth Eckerd Hall.

JOHNNY MATHIS February 14 in Mt. Pleasant, MI at the Soaring Eagle Casino and then February 16 in Cleveland, Ohio at the Palace Theatre.

BARRY MANILOW February 13-18 at the Civic Auditorium in Pasadena, CA.

JACK JONES February 17 in Chandler, AZ at the Chandler Center.

LARRY KIRWAN of Black 47 presents his solo act Kilroy Was Here - heard on Gadfly Records - at the West Bank Cafe, NYC February 14.

JOAN BAEZ Alabama Theatre in Birmingham, Alabama on February 16.

LEE MERIWEATHER Erie Meyer Civic Center in Gulf Shores, AL on February 20-22 Tickets $28-$32.

THE STATLER BROTHERS Von Braun Center in Huntsville, AL on February 21.

ERYKAH BADU February 14 and February 15 live in concert at Radio City Music Hall, NYC.


THIS AND THAT

7th HEAVEN

THE CAST OF 7th HEAVEN

For a heartfelt treat all year long tune into 7th Heaven on Warner Bros. Cable TV. Produced by Aaron Spelling, the guy that launched Beverly Hills 70210, this show isn't about sex, it's about love.That doesn't mean it's sappy. With perfect casting, writing and directing the show depicts a family that both loves and respects each other while tacking some gritty everyday problems. The production was quietly launched several years ago and has built a word of mouth following resulting in the show beating out the competition for young and teen viewers - which makes one think that maybe we're not all going to hell in a hand basket. About a clergyman and his family, the series stars: Stephen Collins, Catherine Hicks, Barry Watson, David Gallagher, Jessica Biel, Beverly Mitchell, MacKenzie Rosman and Happy the Dog.

Give it a try. You might find yourself doing something many families rarely do - sit down together, watch the show and then act more civil towards each other.


Mention BROADWAY TO VEGAS for Special Consideration
Call (800) 942-9027









Next Column: February 19, 2001
Copyright: February 11, 2001. All Rights Reserved. Reviews, Interviews, Commentary, Photographs or Graphics from any Broadway To Vegas (TM) columns may not be published, broadcast, rewritten, utilized as leads, or used in any manner without permission, compensation and/or credit.
Link to Main Page
---
Laura Deni



U.S. Postal Address: Post Office Box 60538, Las Vegas, NV 89160
( COMMENT SECTION )