! >
Broadway To Vegas
  
  REVIEWS INTERVIEWS COMMENTARY NEWS

| | |
| --- | --- |
| | |
THEATERS CELEBRATE BLACK HISTORY MONTH - -CHUCK JONES CENTENNIAL EXHIBITION - - FROM RUSSIA WITH LOVE - - ROMANTIC GESTURES FROM FAMOUS MEN - - PBS TO BROADCAST RIGOLETTO SET IN LAS VEGAS - - CELINE DION HEADLINES CHINESE NEW YEAR CELEBRATION - - THE BRIDE AND THE BACHELORS - - FREE LOVE IN TIMES SQUARE - - DONATE . . . Scroll Down




Copyright: February 10, 2013
By: Laura Deni
CLICK HERE FOR COMMENT SECTION


THEATERS CELEBRATE BLACK HISTORY MONTH
The late Larry Leon Hamlin directed more than 200 productions and was the only American producer and artistic director to produce eight National Black Theatre Festival.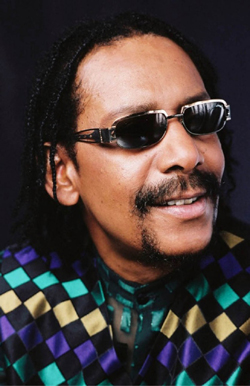 "Black Theatre is for Everyone," touts the North Carolina Black Repertory Company (NCBRC), which was the first professional Black theatre company in North Carolina.

Founded in 1979 by Larry Leon Hamlin, the Company's mission is summarized as "…the coordination, promotion and development of educational and cultural activities with emphasis on theatre arts."

The Company is universally recognized for its artistic and administrative achievements and its international outreach program, The National Black Theatre Festival (NBTF).

NCBRC is committed to exposing diverse audiences to Black classics, the development and production of new works, improving artistic quality, and sustaining Black theatre internationally. Further, NCBRC was founded as a vehicle from which theatre professionals can earn a living through their craft.

NCBRC presents three to four productions annually featuring members of its ensemble or through collaborations with other theatre companies from around the country.

The National Black Theatre Festival is an outreach program produced by the North Carolina Black Repertory Co. Their 13th bi-annual National Black Theatre Festival will take place Monday July 29, 2013 - Saturday, August 3, 2013 in Winston-Salem.

The upcoming By a Black Hand is a "Hip-Hop history lesson revolving around a young woman who is troubled about her lack of knowledge concerning the contributions of her African American ancestors, but with the help of her favorite Hip-Hop trio, she is able to finally learn the true worth of her heritage."

Staged February 13-14, this production is a Black History Month Special which the company encouraging teachers and parents to "bring your class, home schooled children or youth group."



Penumbra's Sarah Bellamy, the Associate Artistic Director for Education, will helm Let's Talk Theatre: The Harlem Renaissance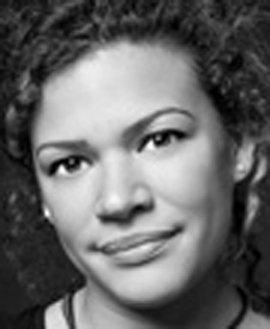 Let's Talk Theatre: The Harlem Renaissance is the next offering by the Penumbra Theatre in Saint Paul, MN which "creates professional productions that are artistically excellent, thought provoking, relevant, and illuminate the human condition through the prism of the African American experience".

Hosted by Penumbra's Associate Artistic Director for Education Sarah Bellamy, the February 18th event will "revisit the wellspring of art, ideas, and advocacy in the 1920's and 1930's - a dazzling period in American history. Wine and light bites paired with an inspired look at the Harlem Renaissance-what a great way to celebrate black history!"

Ford's Theatre in Washington, DC is celebrating the 75th anniversary of Thornton Wilder's Pulitzer Prize winning Our Town by staging a color blind casting version, directed by Stephen Rayne.

The stage manager is typically played by an older white man. Paul Newman returned to Broadway to play the part in 2002. In this version, Rayne has cast the African-American actress known professionally only as Portia in the role.

A February 27, 2005 New York Times article explained that Portia's last name had been that of her step-father. "And he left before I was in kindergarten." After her brother died, Portia dropped the surname. "It was really about me being O.K. with being me."

Diagnosed with scoliosis when she was 13, Portia wore a back brace for seven years. Her acting career was the result of flipping a cruel joke into success. As she explained in the Times article, as a mean joke, somebody put her name on a sign-up sheet for the high school's production of Grease. "She stuck the brace in her locker and won the role of Cha-Cha, as well as the admiration of the drama teacher, who paid for dance lessons, which she worked off by cleaning his house."

She graduated from Temple with a theater degree.

New York based Urban Stages will present the world premiere of Greg Kalleres' Honky, directed by Luke Harlan.

When a black sneaker company hires a white CEO, their commercials begin glorifying the "ghetto" and sales triple among white teens. But when violence erupts in a black community, the shoe designer blames the ads and promises revenge. Meanwhile, the writer of the ads is paralyzed by white guilt – which only gets worse when his therapist turns out not to be what he expected. Luckily, there's a new racism pill on the market advertising, "If you don't think you need it, you're probably a racist!" Honky takes a comedic look at the symbiotic relationship between racism and commercialism.

Starring Scott Barrow, Philip Callen, Dave Droxler, Danielle Faitelson, Anthony Gaskins, Chris Myers, Reynaldo Piniella and Arie Blanca Thompson.

Set Design by Roman Tatarowicz; Lighting design by Miriam Nilofa Crowe; Sound Design by Brandon Wolcott; Projection Design by Caite Hevner; Production Management by Sean Hagerty; Stage Manager by Brain D. Gold; Assistant Production Management by Megan Santelli.

The black comedy has performances beginning March 8 with the official opening set for March 14.



Alexis Rogers as Billie Holiday. Photo by Kelsey Jorissen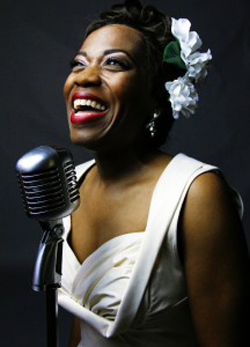 Chicago's Porchlight Music Theatre celebrates Black History Month with the third production in their season, Lanie Robertson's Lady Day at Emerson's Bar & Grill, with performances through March 10 at Stage 773.

The musical stars Alexis Rogers as Billie Holiday. Directed by Porchlight Artistic Associate Rob Lindley with music direction by Jaret Landon.

It's 1959 in a small bar in Philadelphia. Around midnight, the lights go down and the show of a lifetime begins. Witness one of last performances of the world's greatest chanteuse, Miss Billie Holiday (Alexis Rogers), intimately given four months before the passing of this tragic musical superstar. With her stellar jazz trio, she revisits her life, loves and losses in more than a dozen quintessential, thrilling and gut-wrenching numbers. It's a salty, sensual, often humorous, and always riveting portrait of the legendary lady and her legacy of music.

The production team for Lady Day at Emerson's Bar & Grill includes Alexia Rutherford, costume design; Nick Belley, lighting design; Jeffrey D. Kmiec, set design; Victoria "Toy" DeIorio, sound design; Adrian Juarez, properties design; Jenn Kincaid, stage manager; Deborah Blumenthal, dramaturgy intern and Patrick Fries, production manager.

On February 14 the Town Hall Education Arts Recreation Campus (THEARC) Theater in Washington, DC presents two SRO performances in honor of Black History month. Harriet Tubman: The Chosen One is a one woman show starring Gwendolyn Briley-Strand, who transforms into over a dozen characters while taking the audience on one of the nineteen journeys Harriet Tubman traveled through The Underground Railroad.

An expert on the life of Harriet Tubman, Strand has performed this play since 1993 throughout the United States.

A brief question and answer session with Ms. Strand will immediately follow each performance. Attendees may also view the photographic exhibit, Harriet Tubman: Portals Through Time, an intriguing view of Harriet Tubman's life as "Moses", rescuer of slaves; Civil War Spy and Suffragette. Other Abolitionists and Suffragettes, some of whom worked with Harriet Tubman, are also displayed.

Two of Off-Broadway's biggest hits serve as to recognize the contribution of African-Americans in American culture and history: Rain Pryor's Fried Chicken & Latkes and Black Angels Over Tuskegee, both mounted at the Actors Temple Theater.

Fried Chicken and Latkes is Rain Pryor's award-winning solo show based on her life and her father, legendary comedian Richard Pryor. It is an irreverent and poignant look at racism in the late '60s early '70s. Rain completely wrote and created her show including adding some of her own original music and lyrics to the production.

Growing up Black and Jewish gives Rain a unique perspective on race, religion and spirituality. She shares her views and has lead panel discussions on diversity in education and in the entertainment industry at Princeton University, The Jewish Federation of Los Angeles, Chicago and Baltimore.

Black Angels Over Tuskegee, Layon Gray's acclaimed play is now in its third year at the Actors Temple Theater. Based on true events, six men explore their collective struggle with Jim Crow, their intelligence, patriotism, dreams of an inclusive fair society, and brotherhood as they become the first African-American fighter pilots in the U.S. Army Air Forces.

Black Angels Over Tuskegee goes beyond the headlines of the popular stories of the Tuskegee Airmen and exposes the men who exhibited the courage to excel in spite of all the overwhelming odds against them.

In addition to being an official selection of the 2009 National Black Theater Festival, Black Angels Over Tuskegee also won a 2009 NAACP Award for Best Ensemble and a 2009 Artistic Director Achievement Award for Best Play. It was also presented at the 2009 National Tuskegee Airmen Convention in Las Vegas for over 30 chapters. Original Tuskegee Airmen Ted Lumpkin, President of the Los Angeles Chapter, said, "I love this play. It's real and it reminded me of my times at Tuskegee. [It's] a great show." Black Angels Over Tuskegee recently did a special performance for the entire NY Jets team.

Two African American Diversity Concerts - free, live performances by the U.S. Navy Band - will be held at the United States Navy Memorial in Washington, DC. The first performance, on Friday, February 17, will feature the Brass Quartet with guest soloist Musician 1st Class Cory Parker in a concert that tells the story of the integration of African-Americans in the U.S. Navy. The second performance, on Monday, February 27, will feature the U.S. Navy Band's premier jazz ensemble, the Commodores, and include a narrative lecture component by MUCS Michael Bayes.

African Americans have had a major presence in the U.S. Navy since the 19th Century. Their role grew tremendously during the Civil War when many newly freed slaves joined forces with U.S. sailors in working towards a common goal. The concerts are part of a series that celebrates different ethnicities in the Navy.

My Brother Marvin, a stage play about the life of musical great Marvin Gaye, comes to The Kimmel Center for the Performing Arts in Philadelphia.

Based on the first-hand accounts of Marvin's sister Zeola Gaye, the show reveals singer's internal battles, fears and family secrets. February 19-24 at the Merriman Theater.



De Cake Walk published by Currier & Ives in New York, 1883 shows a trio of outrageously dressed women dancing. The racist implications of De Cake Walk are clear: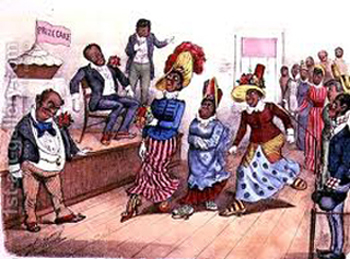 On Wednesday, February 13, the Museum of the City of New York presents Buffoons, Cartoons, and Stereotypes: The Other Side of Currier & Ives. Widely known for their picturesque winter scenes and quaint landscapes, Currier & Ives also produced the Darktown Comics, an enormously popular series that portrayed African Americans as dim-witted buffoons, promoting stereotypes popularized in 19th-century minstrel shows.

Joshua Brown, executive director of the American Social History Project at CUNY, moderates a discussion with Professor David Jaffee of Bard Graduate Center for Decorative Arts, Design and Culture; and University of Maryland Professor Carla Peterson, author of Black Gotham, about the "other side" of Currier & Ives.

The panel will look at the broader catalog of the most important commercial art firm of the 19th century, exploring the climate and attitudes that made Darktown one of its most profitable series.

As part of Black History Month, the Rock and Roll Hall of Fame and Museum will celebrate Cleveland's rich musical legacy, highlighting great moments in the city's rhythm and blues and soul music history. Programming includes live interviews with Inductee Bobby Massey and Lou Ragland, and a panel discussion on the Boddie Recording Service.

On Wednesday, February 13, it's An Evening with Lou Ragland. Between the late 1960s and mid-1970s, Ragland produced some of Cleveland's greatest soul music, helming such groups as Hot Chocolate (Good for the Gander is the best funk song Sly Stone never wrote), Volcanic Eruption and Seven Miles High. In 1977, he released the solo album, The Conveyer, on his own SMH label.

Besides recording for local labels, Ragland also waxed 45s for the national imprints Amy and Warner Brothers. Before he became O'Jays road manager in 1967, he was the only African-American in the Terry Knight Revue, playing guitar alongside Cleveland saxophone legend Ernie Krivda. Knight "created" Grand Funk Railroad.

Ragland will be interviewed by Carlo Wolff, author of Cleveland Rock & Roll Memories.

The term "color blind casting" conjures up the image of actors of color playing parts identified with white actors.

That's not always the case.

Diane Palus who last season staged The Gershwins' Porgy and Bess on Broadway "still has some magic to do," when she reinvents the first Broadway revival of Stephen Schwartz's Pippin, which begins previews at the Music Box Theatre on March 23. The original production won a Tony Award for black actor Ben Vereen.

In the revival, the role of Pippin will be played by Matthew James Thomas. He's white.

The significance being - if there is a possibility that color blind casting might distract the patron, the rainbow casting should be announced beforehand, so that the audience isn't caught off guard and can enjoy the performance from curtain up, as opposed to taking 20 minutes to adjust.

Once the color hue is known and assimilated in the brain, the results will be to enjoy the show. Color shouldn't matter.

Races should also be permitted to parody themselves and make fun of their own stereotypes. It can be a statement making way to correct misperceptions.

When we white wash the past, injustices are minimized and then forgotten. That can lead to a repeat performance - a type of encore nobody should encourage.





Broadway To Vegas is supported through advertising and donations. Priority consideration is given to interview suggestions, news, press releases, etc from paid supporters. However, no paid supporters control, alter, edit, or in any way manipulate the content of this site. Your donation is appreciated. We accept PAYPAL. Thank you for your interest.



ART AND ABOUT


CHUCK JONES CENTENNIAL EXHIBITION is a retrospective of the art of legendary animation director and creator.

The exhibition comprises 100 works of art from the late 1930s through the late 1990s.

Artwork for the exhibit is provided by the Chuck Jones Center for Creativity in Costa Mesa, CA.

Chuck Jones, a graduate of the Chouinard Art Institute (now CalArts in Valencia), drew $1.00 portraits on Olvera Street in downtown Los Angeles before he began his career in animation as a cel washer at Ubbe Iwerks Studio in 1932.

He directed his first cartoon, The Night Watchman, for Leon Schlesinger Productions in 1938 and went to helm such classic Warner Brothers shorts as What's Opera, Doc? and One Froggy Evening.

Winner of three animation Oscars and an honorary Lifetime Achievement Oscar for "the creation of classic cartoons and cartoon characters," Jones is today considered synonymous with the Golden Age of studio animation and has inspired many of today's most significant film directors, artists, and animators.

Opened on February 9 and is on display through May 5, 2013 at the Cartoon Art Museum in San Francisco.

THE BRIDE AND THE BACHELORS

Fountain by Duchamp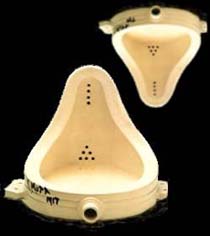 Duchamp with Cage, Cunningham, Rauschenberg and Johns exploring one of the most important chapters in the history of contemporary art. The exhibit focuses on Marcel Duchamp's American legacy, tracing his relationship to four great modern masters - composer, John Cage, choreographer, Merce Cunningham, and visual artists Robert Rauschenberg and Jasper Johns.

Encountering Duchamp and his work in the early stages of their careers, each of the younger artists embraced key elements of his ideas and practice, resulting in a seismic shift in the direction of art in the 1950s and '60s. Characterized by the integration of art and life, the work of Cage, Cunningham, Rauschenberg and Johns heralded the advent of Pop Art.

The Bride and the Bachelors features around 90 works, some by Rauschenberg and Johns are being shown in the UK for the first time. The selection reflects the artists' multiple levels of engagement across the disciplines of art, dance, and music.

Leading contemporary artist Philippe Parreno has devised a dynamic experiential staging of the exhibition inspired by the choreography of Cunningham and music of Cage, featuring two Yamaha Disklavier pianos playing live Cage scores, while the 'ghost' of the dancers can be heard pounding the floor. The soundscape is also punctuated by Parreno's own interpretation of Cage's famous 4' 33".

In Conversation: The Bride Stripped Bare takes place February 13. Join exhibition curator, Carlos Basualdo (the Keith L. and Katherine Sachs Curator of Contemporary Art at Philadelphia Museum of Art) and artist Parreno in conversation with leading Duchamp scholar Paul B. Franklin, as they discuss the legacy of Duchamp today.

Live dance Events will be performed on Thursday evenings and weekends throughout the duration of the exhibition by students and graduates from London Contemporary Dance School and dancers from Richard Alston Dance Company.

Special ticketed dance events taking place in the gallery setting include Cunningham's Rain Forest presented by Rambert Dance Company and Richard Alston Dance Company performing mixed pieces of his repertoire. Both are followed by a Q&A with Mark Baldwin and Richard Alston respectively.

The exhibition is curated by Carlos Basualdo (The Keith L. and Katherine Sachs Curator of Contemporary Art,) in collaboration with Erica F. Battle, (Project Curatorial Assistant, Modern and Contemporary Art) and organized by the Philadelphia Museum of Art in association with the Barbican. The exhibition has been developed with the full co-operation of Jasper Johns, Robert Rauschenberg Foundation, John Cage Trust, Merce Cunningham Trust and Association Marcel Duchamp.

February 14, 2013 - June 9, 2013 Art Gallery at the Barbican in London.

BECOMING PICASSO: PARIS 1901

Harlequin by Picasso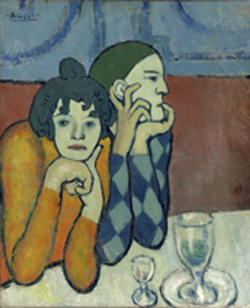 This exhibition tells the remarkable story of Pablo Picasso's breakthrough year as an artist – 1901. Focusing on his figure paintings, it brings together a major group of works to explore his artistic development during this seminal year, which launched his career and reputation in Paris.

These paintings will be reunited from international public and private collections, making this a unique opportunity to experience some of Picasso's very first masterpieces.

1901 was a momentous and turbulent year for the nineteen-year-old Picasso. He spent the first part of it in Madrid but his sights were firmly set upon becoming a great painter in Paris, the arts capital.

His first visit to Paris, at the end of 1900, had fuelled his ambitions and led to the prospect of an exhibition with one of the city's most important modern art dealers, Ambroise Vollard.

As he prepared for the show, he received the news that his closest friend, Carles Casagemas, had committed suicide – shooting himself in a Paris restaurant in front of a former lover. The tragedy would have a profound impact upon his art as the year unfolded.

Picasso left for Paris in early May with around twenty paintings and barely a month to produce enough work for the Vollard exhibition. Once there, he painted unstintingly, sometimes finishing three canvases in a single day. This great outpouring of creative energy resulted in more than sixty paintings for the exhibition.

These paintings are today celebrated as being among Picasso's most important and profound early works. Becoming Picasso: Paris 1901 will powerfully demonstrate the young Picasso's extraordinary creative achievements in this breakthrough year and will explore the birth of his artistic genius.

February 14 to May 26, 2013 at The Courtauld Gallery of Somerset House in London.


SWEET CHARITY


FROM RUSSIA WITH LOVE the opening night of Pageant of the Tsars: The Romanov Coronation Albums with a Valentine's Day benefit event.

Enjoy an evening of Russian love at Hillwood with sweet and savory bites, cocktails, and surprises. Experience Hillwood's newest exhibition, Pageant of the Tsars: The Romanov Coronation Albums with scheduled curator-led tours. View one-night-only objects of love displayed in the mansion and join tours of the Mansion and Greenhouse throughout the evening.

Event chairs are Sara O'Keefe, Anya Schmemann, and Mary Jatherine Stinson.

Committee members: Anna Aslund, Debra Kraft, Aimee Carter, Mariya Kravkova, Rebecca Chamberlain, Caroline Landau, Eugenie Chavchavadze, Chita and Ashley Middleton, Alison Cricks, Pilar O'Leary, Elissa and Tom Davidson, Olwen Pongrace, Curtis Decker, Lucy Rojansky, Scott Evans, Elizabeth Stinson, Katie Funk, Kandie Stroud, Nino Japaridze, John and Libby Wilkinson and Dabney and Rob Jewell.

Thursday, February 14 at Hillwood Estate, Museum and Gardens in Washington, DC.

BENEFIT CONCERT FOR DAYNA STEPHENS who is a world-class saxophonist, composer and bandleader based in both New York City and the California Bay Area. His role as an educator and mentor has also served to inspire many young musicians he's come into contact with. He has taught students at the Stanford Jazz Workshop, The New School, The Brubeck Institute Fellowship & Summer Jazz Colony, San Francisco State University, and the Jazz Camp West.

Sadly, Dayna has a rare kidney disease called Focal Segmental Glomerulosclerosis (FSGS), which affects 20 out of every million people, and he is waiting on an urgently-needed kidney transplant. He faces costly anti-rejection medications at a monthly rate of over $4,000 for an indefinite time period.

On February 17th, renowned pianist Taylor Eigsti and the Brubeck Institute Jazz Quintet will be hosting a concert in efforts to raise money towards covering Dayna's immense medical expenses.

Dayna Stephens himself will be playing in Taylor Eigsti's group, along with bassist Harish Raghavan and drummer Eric Harland. The members of the Brubeck Institute Jazz Quintet are Tom Kelley on alto and soprano saxophones, Rane Roatta on tenor saxophone, Paul Bloom on piano, Adam Goldman on bass, and Malachi Whitson on drums.

100% of all proceeds raised will go directly to Dayna through the Jazz Foundation's donation system.

Sunday, February 17 at the Piedmont Piano Company in Oakland, CA.


RICHARD III PARKING LOT PERFORMANCES: ART IMITATES LIFE
King Richard III ended up in cement.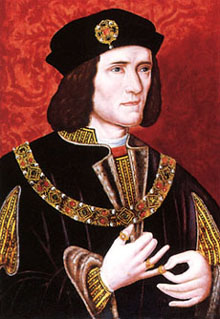 With the bones of King Richard III having been found beneath an English parking lot, New York's Shakespeare in the Parking Lot, a project of The Drilling Company, will present Richard III, directed by Hamilton Clancy, on a parking lot this summer from August 1 to 17.

Director Hamilton Clancy is founder and producing Artistic Director of The Drilling Company. He says, "We have known for a long time that parking lots and Shakespeare were connected. Our intention is to bring Richard III back to life in a parking lot."

Free Shakespeare in the Park(ing) Lot, is a summer New York institution dating back to 1996, that performs Shakespeare productions in a municipal parking lot at the corner of Ludlow and Broome Streets in Manhattan's Lower East Side. It has been passed down through the years to the Drilling Company, which has produced free Shakespeare there since 2006.

In its 20 year history, there have been over 50 productions of Shakespeare's plays performed for over 40,000 patrons.

The plays are presented in a working parking lot, so you can drive there but you should expect to pay the Muni-meter. In other words, you have to pay to park.

Why a parking lot?

"It is a tremendously accessible gathering place in the heart of the city. Like most companies that do Shakespeare we are following the spirit of Joseph Papp. But putting our own spin on it by placing it in a parking lot, making an urban wrinkle," says Clancy.

Shows are offered while the lot is in use. The action sometimes happens around a parked car which drives away during a performance. At such times, the players stop and the audience moves its chairs, pausing the performance the same way a show would stop for rain uptown in Central Park. It's all part of the fun.

Seats are available on a first come first serve basis. Patrons are encouraged and welcome to bring their own chair. Once seats are gone, blankets are spread out. "We've never turned anyone away," brags Clancy.

The productions are typically intrepid, bare-boned and often gloriously ingenious adaptations of the classics. For example, one recent summer, Clancy staged Julius Caesar as a battle for control of an urban school system, with women playing Brutus and Cassius.

The company stresses that the Parking Lot has now become a versatile theater where it presents its work, not unlike the Globe was to Shakespeare. Hamilton Clancy states, "We believe the Parking Lot can be a container for a range of directorial interpretations and perspectives. We're in the Parking Lot because it's a great place to present the play, not as a site specific interpretation."

This summer's offerings are supported by the Department for Cultural Affairs and the New York State Council on the Arts, Con Edison, and, appropriate for the location, the Department of Transportation.


ROMANTIC GESTURES FROM FAMOUS MEN
Harry and Bess Truman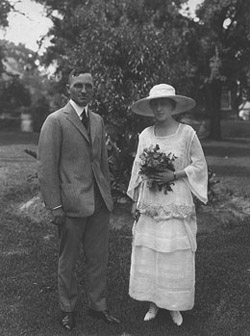 President Harry Truman wrote his wife, Bess, more than 1,300 love letters. Dear Bess: Love Letters from the President is an on line exhibit of those letters by the Harry S. Truman Library which shows their love for each other, in almost 50 years of handwritten personal letters. In one letter Harry wrote: "I love you as madly as a man can." Their romantic activates in their White House bedroom even broke their bed.

Another letter writer was Ludwig van Beethoven. Some of most his famous letters were sent in 1812 to his unidentified "Immortal Beloved". On July 7, 1812 he wrote: "Even in bed my ideas yearn towards you, my Immortal Beloved, here and there joyfully, then again sadly, awaiting from Fate, whether it will listen to us. I can only live, either altogether with you or not at all."

Making a more public display of affection was Prince Philip. An artist, the Duke designed a bracelet as his wedding present to then Princess Elizabeth. The stones came from a tiara owned by his mother. Once when he arrived back in England after an overseas assignment, he greeted his wife wearing a bright red tie with hearts on it.

Along the same heart theme, the late Paul Newman got a little more inside himself. Despite some ups and downs, Newman and Joanne Woodward who were wed in Las Vegas, made it last for 50 years. One Christmas, Paul gave Joanne the printed readout from his electro-cardiogram scan.

Going the verbal route is Tom Hanks who said about his wife Rita Wilson: "I won the lottery! My wife Rita Wilson is the greatest thing that ever happened on the planet Earth. . . . . She made me a 100% man, I was only about 68% until I met my wife. . . . . That woman has loved me skinny, she's loved me fat. She's love me bald, she's loved me hairy. That woman, I know, loves me. So, I'm a lucky man."

On their 20th wedding anniversary, President Obama expressed his love for Michelle via Twitter: "Twenty years ago today, I married the love of my life and my best friend. Happy anniversary, Michelle. -bo"

The First Couple hold hands in public, have been known to kiss in the back seat of their Secret Service driven limo and have regular date nights.

Since today is the Grammy Awards, we offer a special upcoming Happy Valentine's Day wish to multiple Grammy winner, writer/singer Bobbie Gentry who displayed mother's love 30-years-ago when she gave up her career to care for the needs of her son, and to two-time Grammy Award winner and current nominee Zac Brown (the Zac Brown Band's Uncaged has been nominated for a Grammy Award for Best Country Album), who fought for a zoning change so he could start a special needs children's camp, Southern Ground, on 500 acres he donated to the project in Fayette County, Georgia. Nice guy Zac Brown is a tireless fundraiser for the camp which serves children with ADD/ADHD, Dyslexia, Tourette's Syndrome, Asperger's Syndrome and Autism Spectrum Disorders. Programs include canoeing, horseback riding, swimming, zip lines, rock climbing, organic gardening, hiking, music, arts and crafts and organized games.


FREE LOVE IN TIMES SQUARE


Once again couples are invited to gather at Times Square - the Crossroads of the World - to get warm and share a little Free Love in Times Square.

The annual renewal of vows ceremony will take place February 14th on the iconic glass Red Steps in Times Square. Whether you've been married for five months or fifty years, couples are invited to come celebrate romance and passion by saying "I do" all over again.

Captain Arnold, a licensed U.S. Coast Guard Captain and wedding officiant, will lead the ceremony, which will be broadcast live in Times Square on the American Eagle Times Square Digital Billboard.

There will also be steamy offers, special shows, and romantic deals designed to keep love hot during the cold winter months.

Between February 12th - March 10th the annual Times Square Valentine heart sculpture will be on display. Heartwalk by Brooklyn-based design firm Situ Studio, took their inspiration from the collective experience of Hurricane Sandy and the love that binds people together during trying times.

Using boardwalk boards salvaged during Sandy's aftermath-from Long Beach, NY; Sea Girt, NJ; Rockaways, NY; and Atlantic City, NJ - Heartwalk begins as two ribbons of wooden planks that fluidly lift from the ground to form a heart shaped enclosure in the middle of Duffy Square.


MUSICAL VIAGRA


Available for weddings, Bar Mitzvahs and tortoise love making.

Richard Clayderman, known as the Prince of Romance.

The French pianist was summoned to the London Zoo on Thursday, February 7 - to encourage a low libido male Galapagos tortoise to get it on.

The tortoise in question, Dirk, is believed to be more than 70 years old and apparently Viagra wasn't available.

Dirk has his pick of the young things - Dolly, Priscilla and Polly, who are 17, and (legal in tortoise years) 13-year-old Dolores.

Zookeepers had hoped that Clayderman's romantic sounds would help the endangered animals get in the mood.

Clayderman has 267 gold and 70 platinum discs to his credit. The Guinness Book of World Records lists him as "the most successful pianist in the world".

His performance of the song Ballade Pour Adeline is one of the biggest-selling recordings of all time. The gentle piano ballad was composed by Paul de Senneville to celebrate the birth of his daughter, Adeline.

Clayderman also serenaded the shelled creatures with music from his latest album, Romantique. Other selections included Chariots of Fire, which didn't immediately appear to light any sparks.

Not noted for speed, the tortoises played it coy, refusing to engage in public displays of affection. Rather than kiss for the cameras pointed in their direction, they preferred to walk around.

Ever the romantic optimistic, referring to the unusual gig, Clayderman stated: "Music is a powerful thing, and I would like to believe it has a positive effect on animals, as well as us. It certainly is an experience to play in such a well known and romantic place as London Zoo."


PBS TO BROADCAST RIGOLETTO SET IN LAS VEGAS
Director Michael Mayer has set Rigoletto in Las Vegas. Photo: Metropolitan Opera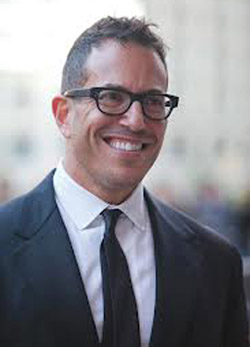 Transporting Verdi's Rigoletto from Italy to Las Vegas seems like a stretch.

Invoking the universal appeal of sex and debauchery, New York City's famed Metropolitan Opera is currently staging Tony Award-winning director Michael Mayer's Las Vegas-set production of the famed opera.

If you can't make it to The Great White Way, then flip on the boob tub because the production will be broadcast as part of The Met: Live in HD series on February 16.

Michele Mariotti conducts.

The company features Piotr Beczala as the womanizing Duke, reconceived as an amoral Las Vegas lounge singer whose entourage includes the world-weary comedian Rigoletto, sung by Željko Lucic.

The cast also includes Diana Damrau as Rigoletto's daughter Gilda.

Štefan Kocán appears as Sparafucile and Oksana Volkova is cast as Maddalena.



The new colorful version of Rigoletto set in Las Vegas, will air on PBS. Photo: Metropolitan Opera.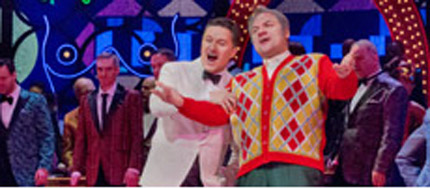 The Rigoletto creative team features staging by Christine Jones.

Choreography by Steven Hoggett.

The lighting design is by Tony-winning Kevin Adams.

The Met states that Mayer utilizes 1960's Las Vegas as a setting to "hold the universal story of this great masterpiece…a very licentious world where there is an obsession with money and power and sex - where pranks and a kind of trickster energy could go bad.

"There is this fascination we have with Vegas as this place to escape the responsibilities of our daily lives. It is designed for pleasure; you're not obliged to take any accountability for your actions when you're there.

"But there are often consequences to actions that get out of hand. And I think that this opera really speaks to the danger and the potential tragedy inside that kind of irresponsibility."

On second thought, Rigoletto and Vegas seem like the perfect match.


CELINE
DION WELCOMES THE CHINESE YEAR OF THE SNAKE



Celine Dion became the first Western performer to headline the official Lunar New Year television gala in China. Photo: celinedion.com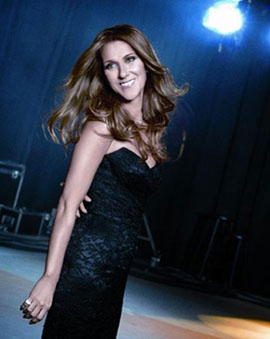 A famed French Canadian - Celine Dion - became the first Western performer to topline the Lunar New Year spectacular on China's main TV network China Central Television (CCTV), the official television special which celebrates the beginning of the Chinese New Year. This year the Year of the Snake begins February 10.

Extremely popular cross-talk performer Guo Degang also headlined the show. Degang is credited with reviving the ancient performance form, a type of traditional Chinese stand-up comedy accented with puns, poetry and talking across the 4th wall, directly to the audience - hence the term 'cross-talk.'

Other stars who performed included singer Leehom Wang, magician Liu Qian and actress Sun Li. The program also showcased South Korean rapper Psy who performed his mega-hit Gangnam Style on a show hosted by Shanghai's Dragon TV, one of the CCTV gala's many regional competitors.

Airing in China last night for more than four hours on multiple channels, the variety show has become a viewing habit for families who traditionally gather on New Year's Eve. Viewers topped a billion.

Dion performed My Heart Will Go On from what has been called "China's favorite film," Titanic. She also sang the folk song Jasmine Flower as a duet with Chinese soprano Song Zuying.

Dion returns to The Colosseum stage at Caesars Palace in Las Vegas on February 19.

The Venetian Resort in Macao will present Prosperity, a 3D Light and Sound Spectacular from February 10-24. The Venetian Macao Lagoon will come alive with Prosperity which promises to "capture all magic of the Chinese New Year on a scale never seen before!"

The Year Of Golden Snake Fun Fun Show at CotaiArena will boast ten Hong Kong TV stars including Lisa Wang and Wayne Lai who will perform live at The Venetian Macao on February 16. The evening will include greatest hits songs and comedy sketches.

In Las Vegas the Far East gambler is an important visitor. Also, more than 6 percent of the Las Vegas residents are of Asian heritage.

For years Strip hotels have celebrated Chinese New Year with elaborate decorations and special entertainment. This year is no different.

The Bellagio, The Venetian and The Palazzo Resorts have world class decorations, themed to represent the Chinese symbol of the incoming year.

Through March 3, Bellagio's Conservatory & Botanical Gardens celebrates the lunar new year with a display, incorporating principles of the Asian design philosophy feng shui, includes large hanging red lanterns, an 18-foot-tall money tree decorated with gold coins, a 9-foot blue-and-yellow snake, a waterfall, incense pots, and a wooden boat with a 38-foot mast in a pond of koi fish inspired by 15th century Chinese fishing vessels.

The waterfall atrium connecting The Venetian and Palazzo resorts boasts an art installation featuring lanterns, good luck coins, a 98-foot-long animatronic snake named Sophie Chow coiled throughout a 38-foot tall peach tree with 8,800 vines from which 194,0000 flowers are blooming. That is on display through February 25.

Las Vegas will also stage a three-day Chinese New Year in the Desert festival downtown, February 8-10, and a one-day festival in Sin City's Chinatown section on February. 17. Of course Dragon dances and fireworks are part of the festivities.


SPREADING THE WORD


BOOK TALES

Johnny Hallyday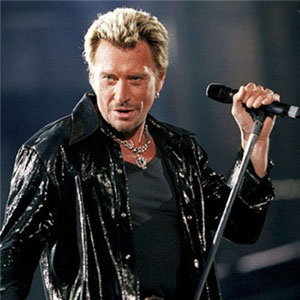 Dans Mes Yeux (In My Eyes) a book by French rock star Johnny Hallyday, 69, disclosed that famed singer Edith Piaf tried to seduce him when he was 16 or 17 and she was 44.

"I was sitting beside her and, in the middle of the meal, I felt her hand climbing up my thigh," Hallyday recalled in a book of interviews with novelist Amanda Sthers. "I hesitated. Then I left and ran away from there. I ran away from Piaf. I was almost a virgin at the time. I couldn't see myself in bed with her. As far as I was concerned, she was an old woman."

Arguably France's greatest rock star and icon, Hallyday brought his Avec Vous tour to the Royal Albert Hall for his first ever live UK show last October. The singer, who released his debut single in 1960, performed hits from his half-century musical career. Called 'the French Elvis Presley' in the early days, he is hailed as France's first and only full-fledged rock star. Hallyday, who has completed over 100 tours, had 18 platinum albums and sold over 110 million records had only ever performed in the UK for the filming of a TV show in the sixties. However, in his native France he enjoyed his latest number one album Jamais Seul in 2012.

He begins another tour June 2, 2013 at the Patinoire Meriadeck in Bordeaux, France.

STANDARDS AND PRACTICES PART OF GRAMMY AWARDS TELECAST the button it up e-mail sent by the CBS standards and practices department to managers and publicists of performers who will appear on tonight's (February 10) Grammy telecast, received amused reactions considering what you can see and hear just by walking down the sidewalk.

Apparently the network has had enough of the let it all hang out performers and offered some guidelines.

"Please be sure that buttocks and female breasts are adequately covered. Thong type costumes are problematic. Please avoid exposing bare fleshy under curves of the buttocks and buttock crack. Bare sides or under curvature of the breasts is also problematic.

"Please avoid sheer see-through clothing that could possibly expose female breast nipples. Please be sure the genital region is adequately covered so that there is no visible "puffy" bare skin exposure.

"Please avoid commercial identification of actual brand name products on T-shirts. Foreign language on wardrobe will need to be cleared. The network requests that any organized cause visibly spelled out on talent's wardrobe be avoided. This would include lapel pins or any other form of accessory."

Writing in all capital letters, the network added, "Obscenity or partially seen obscenity on wardrobe is unacceptable for broadcast."

TONY AWARD NOMINATED CAROL LAWRENCE

Lorna Luft, Carol Lawrence and the Follies Hank Brunjes. Photo: The Fabulous Palm Springs Follies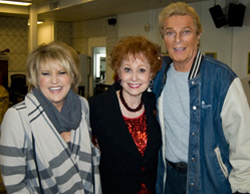 recently attended a performance of the Fabulous Palm Springs Follies and was mobbed by adoring fans after the show.

Later, in the green room, she (hilariously) performed all major roles from the opening number of her 1956 Broadway musical Shangri-La - much to the delight of assembled Follies cast and crew.

Unfortunately, Shangri-La was a 21-performance flop.

But, one year later, she starred in a new Broadway musical - something called West Side Story.

In addition to starring on Broadway and decades headlining in Las Vegas, Lawrence was the guest star in the Fabulous Palm Springs Follies seasons sixteen and eighteen.

The Fabulous Palm Springs Follies, with Lou Christie as the guest star, can be enjoyed at the historic Plaza Theatre in Palm Springs, CA.


OTHER PEOPLE'S MONEY


OLNEY THEATRE IN WASHINGTON DC has named Jason Loewith their new Artistic Director. Loewith is an award-winning musical writer, stage director and national leader in the development of new American plays.

He informally began the job last Friday, February 4, 2013. He officially takes over February 26, 2013.

The new Artistic Director will helm a three-theater campus with a $5 million budget, about 50 full-and part-time employees and interns and has the task of retiring $6.2 million of debt.

BRITNEY SPEARS has been the subject of much babble, including increased theorizing that she will headline Las Vegas. Planet Hollywood, part the Caesars Entertainment empire, has finally issued a release officially confirming they are in talks with the pop star's management about such a gig.



MASSACHUSETTS CULTURAL COUNCIL CEREMONY TO RECOGNIZE OLYMPIA DUKAKIS AND OTHERS

Olympia Dukakis
Boston University alumni have been named as 2013 Commonwealth Award recipients including Olympia Dukakis (SAR '53, CFA '70), Neil and Jane Pappalardo (CFA '65) and Stephen Mindich (CFA '65). Awarded by the Massachusetts Cultural Council, the 2013 Commonwealth Awards ceremony will take place on Tuesday, February 19, at the Massachusetts State House in Boston.

The Massachusetts Cultural Council recognizes Olympia Dukakis (CFA '63) for Achievement. "The Academy Award-winning actress, director, producer, teacher, activist, and author of the best-selling book, Ask Me Again Tomorrow, will receive the 2013 Commonwealth Award for her creative achievements that have uniquely enriched life in Massachusetts, in particular, Olympia Dukakis' role as a founding member of the Actor's Company and the Charles Playhouse."

Long-time philanthropists Neil and Jane Pappalardo (CFA '65) will receive the 2013 Commonwealth Award for Cultural Philanthropy. "The Pappalardos have provided major gifts to the Boston Society, Boston Symphony Orchestra, Museum of Fine Arts, Isabella Steward Gardner Museum, Huntington Theatre Company, WGBH, and the Museum of Science, among others. Additionally, Jane Pappalardo is a member of the MIT Council of the Arts, and Neil Pappalardo is Chairman and CEO of Medical Information Technology Inc. (Meditech), which has a long history of supporting local artists, in part through the company's highly regarded Art Liaison program."

Lastly, Stephen Mindich (CFA '65) on behalf of The Boston Phoenix, will accept the 2013 Commonwealth Award for Media "as an outlet that has demonstrated outstanding support of the cultural community in Massachusetts by telling its stories. For more than four decades, covering the arts has been the heart and soul of The Phoenix. Advocating for taxpayer support for the arts, and demonstrating its sense of social responsibility, The Phoenix stepped forward last year to sponsor the Robert Mapplethorpe's Anonymous Boston, a collaborative, community-based gallery exhibit that took a tough look at the media's role in cycles of urban crime, and the effects of violence on victim's families, and therefore proving that as The Phoenix takes on new formats and mediums, the values endure."

Given every two years by the Massachusetts Cultural Council, the Commonwealth Awards celebrate the extraordinary achievements of the cultural organizations, artists, leaders, and philanthropists who make Massachusetts a better place through their creativity and commitment.

THE WRITERS GUILD OF AMERICA WEST will honor four-time Tony Award and Academy Award-winning writer Tom Stoppard with the 2013 Laurel Award for Screen February 17 in Los Angeles.

The Laurel Award recognizes lifetime achievement in outstanding writing for motion pictures.

"A television writer since 1965 and a screenwriter since 1975, Tom Stoppard brings wit, elegance, and heart to all he composes. We did not want to let his acknowledged brilliance as a playwright to blind us to his dramatic talents in our own field. From The Romantic Englishwoman through Despair, The Human Factor, Brazil, Empire of the Sun, The Russia House, Billy Bathgate, Shakespeare in Love, Enigma, Vatel, and this past year's Anna Karenina, Stoppard's screenplays delight, disturb, entrance. Whether adapting the masters – Nabokov, Greene, Ballard, le Carré, Doctorow, Tolstoy – or crafting his own tales, Stoppard brings dignity and coherence to the act of imagination," WGAW vice president Howard A. Rodman said in a statement.

Stoppard took home the Tony for his plays The Coast of Utopia, The Real Thing, Travesties and Rosencrantz and Guildenstern Are Dead.

The 2013 Writers Guild Awards West Coast ceremony will be held at the JW Marriott L.A. LIVE in Los Angeles.

THE JEROME ROBBINS FOUNDATION will honor dancer-actress Chita Rivera, composer-lyricist Stephen Sondheim and director-producer Harold Prince as shared recipients of the 2013 Jerome Robbins Award, to be presented February 18 at the Baryshnikov Arts Center in Manhattan.

An evening of performances hosted by Frank Rich and featuring stars from Broadway and dancers from New York City Ballet will be included in the invitation-only presentation. After opening remarks by Rich, the program will highlight each artist's work in three separate acts.

The Harold Prince section will include David Pittu performing Dressing Them Up from Kiss of the Spider Woman and LaChanze singing Can't Help Lovin' Dat Man of Mine from Show Boat. Rich will present the award to Prince, who was a producer of the original West Side Story, which Robbins directed and choreographed.

The Chita Rivera segment will follow with Anthony Crivello performing Rosie from Bye Bye Birdie, as well as Charlotte d'Amboise and Deidre Goodwin performing Nowadays from Chicago. Rivera's daughter, Lisa Mordente, will present the award to her mother. Rivera played Anita in the original Broadway production of West Side Story.

Jessica Molaskey and John Pizzarelli will open the Stephen Sondheim segment by performing Children Will Listen/Children and Art from Into the Woods and Sunday in the Park with George. Bernadette Peters will then perform a Sondheim song, followed by the award presentation to Sondheim, who is West Side Story's lyricist working with composer Leonard Bernstein.

The finale of the program will be America, from West Side Story - the show that brought all three honorees together in 1957 on Broadway. It will feature Georgina Pazcoguin and dancers from the New York City Ballet.

Jerome Robbins established the Foundation in 1958, in honor of his mother, with the intent to support dance, theater, and their associative arts. In the 1980's, following the outbreak of AIDS, he directed Foundation resources almost exclusively to the AIDS crisis and still later, in letters left to the board, he conveyed his wish that the Foundation once again extend its resources to the performing arts - dance and theater especially.

Past recipients are Mikhail Baryshnikov (2005), Twyla Tharp(2008), Jennifer Tipton (2003), Robert Wilson,(2010) Brooklyn Academy of Music (2005), New York City Ballet (2003), San Francisco Ballet (2008), and 30 current and former principal ballerinas from New York City Ballet (2011).

Baryshnikov Arts Center (BAC) is the realization of a long-held vision by artistic director Mikhail Baryshnikov who sought to build an arts center in Manhattan that would serve as a gathering place for artists from all disciplines.



THE AUDIENCE

Helen Mirren photo by Giles Keyte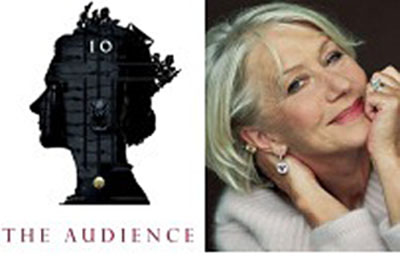 Peter Morton's new play directed by Stephen Daldry.

Helen Mirren stars as Queen Elizabeth II, a role audiences might recall, is a familiar one for Dame Helen.

For sixty years Elizabeth II has met each of her twelve Prime Ministers in a weekly audience at Buckingham Palace - a meeting like no other in British public life - it is private. Both parties have an unspoken agreement never to repeat what is said. Not even to their spouses.

The Audience breaks this contract of silence - and imagines a series of pivotal meetings between the Downing Street incumbents and their Queen. From Churchill to Cameron, each Prime Minister has used these private conversations as a sounding board and a confessional - sometimes intimate, sometimes explosive.

From young mother to grandmother, these private audiences chart the arc of the second Elizabethan Age. Politicians come and go through the revolving door of electoral politics, while she remains constant, waiting to welcome her next Prime Minister.

In addition to Mirren as Queen Elizabeth II, the cast includes: Michael Elwyn as Sir Anthony Eden, Jaydn Gwynne as Margaret Thatcher, Robert Hardy as Winston Churchill, Richard McCabe as Harold Wilson, Nathaniel Parker as Gordon Brown, Paul Ritter as John Major and Rufus Wright as David Cameron. The Equerry is Geoffrey Beevers and Young Elizabeth is portrayed by Bebe Cave, Maya Gerber and Nell Williams.

The production is designed by Bob Crowley with sound by Paul Arditti.

February 15, 2013– June 15, 2013 at the Gielgud Theatre in London.

THE CONVERT by Danai Gurira. Directed by Michael John Garcés.

OBIE Award-winner Danai Gurira returns to Woolly Mammoth Theatre with her rich, unflinching, and compassionate new play.

As colonization looms over Southern Africa in the mid-1890s, a teenage girl flees a forced marriage in her village and lands in an African missionary's household.

Caught between her loyalties to her family and culture - the clash of native religion and Christianity in what is now known as Zimbabwe - but indebted to a new Christian God, she must choose where her heart truly belongs.

February 13 – March 10, 2013 at Woolly Mammoth Theatre in Washington, DC.

TWO BY TWO a book by Peter Stone, lyrics by Martin Charnin and music by Richard Rodgers. Charlin also directs with music direction by Keith Levenson.

This is the latest in the Musicals in Mufti Series, presented by The York Theatre Company at Saint Peter's in New York City.

Tony winner Jason Alexander and four-time Tony nominee Tovah Feldshuh star in the limited engagement which will play five performances February 15-17.

Two By Two features "The story of Noah and the Ark is a musical adaptation of Clifford Odets' play The Flowering Peach and is retold with Noah and his family characterized in modern Jewish vernacular," according to the York. "It seems that the building of the ark was only the first of Noah's many daunting challenges in a journey that wasn't always smooth sailing. By turns inspirational and hilarious, it's good fun from The Good Book and when the land has dried, man and beast alike are invited to go forth and prosper in a bright New World."

The York Theatre Company's Musicals in Mufti series features musical theatre gems in simply-staged, book-in-hand concert format. Mufti means "in street clothes, without the trappings associated with the original full productions."

SMILE book written and directed by Peter Zinn. Music Direction and choreography by Ricardo Rust.

A country rock musical billed as a coming of age love story about a new generation of Southerners dealing with the drug epidemic, the War in Iraq, and other post 9/11 challenges in the rural South.

With songs by JT Harding including his country hits made famous by Kenny Chesney, Uncle Kracker, Jake Owen, and JTX.

Musical arrangements by Tim Hanson, Jeannie E. Travis and Richard Rust.

Featuring Michael Castillejos, Katy Frame, Joe Forbrich, Jonathan Judge-Russo, Lowell Byers, Aisha Renee, Ricardo Rust, and Michael Griffiths.

The New York cast and crew have loaded into the red pick up truck and are headed west after a New York workshop.

Smile has a try out run, with performances February 14-16, at the brand new multi-million dollar, Deane Center for the Performing Arts in Wellsboro, PA.

THE VAGINA MONOLOGUES by Eve Ensler.

Directed by Karen Lynn Carpenter.

Starring Elizabeth Ashley and Andrea McArdle.

This Obie Award-winning whirlwind tour of a forbidden zone introduces a wildly divergent gathering of female voices, including a six-year-old girl, a septuagenarian New Yorker, a vagina workshop participant, a woman who witnesses the birth of her granddaughter, a Bosnian survivor of rape, and a feminist happy to have found a man who "liked to look at it."

February 13, 2013 - February 17, 2013 at the Bucks County Playhouse in New hope, PA.

THE LARAMIE PROJECT CYCLE What has changed in Laramie, Wyoming, since the murder of Matthew Shepard? Director Moisés Kaufman and Tectonic Theater Project examine a community's shaken self-understanding in a rare presentation of The Laramie Project written by Moisés Kaufman and members of Tectonic Theater Project together with its epilogue, The Laramie Project: Ten Years Later, written by Kaufman, Leigh Fondakowski, Greg Pierotti, Andy Paris, and Stephen Belber. Directed by Kaufman and Fondakowski.

This historic double bill examines a community's shaken self-understanding in the aftermath of tragedy and the temptation to rewrite history in the name of moving on.

February 12-24 at BAM in Brooklyn, NY.

An artist's talk event takes place on Saturday, February 16, with Judy Shepard and Moisés Kaufman, moderated by Neda Ulaby.

Matthew Shepard has become synonymous with the activism and increased awareness of gay rights, thanks to the indefatigable work of his mother, Judy Shepard, and Moisés Kaufman, co-director of The Laramie Project Cycle. In this conversation, Shepard and Kaufman reflect on Matthew's legacy and their shared dedication to social justice, diversity awareness, and education.


WHO'S WHERE




TONYA PINKINS with Brad Simmons. Tony Award winner Tonya performs at Joe's Pub in New York City on February 18. She return to their stage for an ongoing series Bring On Men. This post Valentines day evening of music will feature Tonya and Brad singing signature original arrangements and medleys of rock, pop, Broadway and R & B tunes - all celebrating the search for love and men and the friends who support us on that rocky road. Tonya also appears opposite Woody Allen in the upcoming film Fading Gigolo by John Turturro.

BILLY GARDELL the Mike in Mike & Molly brings his stand up routine to the Orleans Showroom in Las Vegas this Friday and Saturday.

DUBAI INTERNATIONAL JAZZ FESTIVAL takes place February 14-22 at the Dubai Festival City in Dubai, UAE. Billed as a nine-day long chill-out jazz extravaganza, acts include Deep Purple rocking the city on February 21.

ITZHAK PERLMAN entertain February 12 at Walt Disney Concert Hall in Los Angeles. On Wednesday the concert is at The Smith Center in Las Vegas. Next Sunday, February 17, he can be enjoyed at the Louise M. Davies Symphony Hall in San Francisco.

PAUL ANKA will impress your sweetheart with his singing in a Valentine Day evening performance on, February 14, at the Sony Centre For The Performing Arts, Toronto, ON. Saturday's show is at the Colosseum at Caesars Windsor Windsor, ON. Next Sunday, February 17, he can be enjoyed at the Centre In The Square, Kitchener, ON, Canada.

BON JOVI opens a two night stand Wednesday, February 13 at the Bell Centre in Montreal, Canada. Next Sunday, February 17, he'll be on stage at the Air Canada Center in Toronto.

MAROON 5 perform Wednesday, February 13, at the Schottenstein Center in Columbus, OH. On Valentine's Day evening the show is at The Palace in Auburn Hills, MI. Saturday they're on stage at Madison Square Garden in NYC. Next Sunday, February 17, the show is at the Verizon Wireless Arena in Manchester, NH.

MARK RUSSEL that piano-playing political satirist will skewer Democrats and Republicans alike where he appears Monday, February 18, at Ford's Theatre in Washington, DC.

PINK performs Wednesday, February 13, at the US Airways Center in Phoenix, AZ. On Friday she's in Las Vegas at the Mandalay Bay Events Center. On Saturday her show is at the Staples Center in Los Angeles.

CHRISTINE EBERSOLE & AARON WEINSTEIN entertain February 12-16 at The Colony Hotel in Palm Beach, Florida. Ebersole is a two time Tony Award winner. Violinist Weinstein was named a "rising star" by Downbeat.

BOYZ TO MEN perform Valentine's Day at the PAC in Lancaster, CA. On Friday they are in the spotlight at the Morongo Casino in Cabazon, CA. Saturday they can be enjoyed at the City National Grove in Anaheim, CA.


FINAL OVATION


SHPRITZ ANTHONY a beloved member of the Sacramento, CA theater community, passed away unexpectedly January 5, 2013 at his Sacramento home at the age of 47. The cause of death has not been determined.

Anthony was a fixture at Sacramento Theatre Company for more than 20 years, starting there as an intern and working his way up to general manager.

At STC Anthony worked for six artistic directors, including Mark Cuddy. Anthony was the right hand man under Peggy Shannon, who led STC from June 1998 through June 2010.

He was credited with playing an instrumental role through the Pavilion's construction process and STC's renovation.

He also worked for California Musical Theatre as Music Circus operations manager from 2004 through the 2010 season.

"The Music Circus family mourns the loss of one of our own. Our dear and long-time friend, theater-devotee, and former co-worker for many years, Shpritz Anthony, passed away on January 5. We remember his never-ending smile, infectious laugh and love of life, and hope that fond memories of him will bring smiles and comfort to all who know and miss him," stated the official release.

Survived by: Father, Ernie Castellano; and sisters, Stephanie Aldama, Diana Gutierrez and Melody Spicer, all of Campbell, CA.







Next Column: February 17, 2013
Copyright: February 10, 2013. All Rights Reserved. Reviews, Interviews, Commentary, Photographs or Graphics from any Broadway To Vegas (TM) columns may not be published, broadcast, rewritten, utilized as leads, or used in any manner without permission, compensation and/or credit.
Link to Main Page
---
Laura Deni



For the snail mail address, please E-mail your request.
CLICK HERE FOR COMMENT SECTION