! >
Broadway To Vegas
  SHOW REVIEWS     CELEBRITY INTERVIEWS     GOSSIP     NEWS 
| | |
| --- | --- |
| | |
Copyright: February 10, 2002
By: Laura Deni
( COMMENT SECTION )

EIGHT BEANS A NIGHT
Chocolate or cocoa beans have been such a valuable commodity for acquiring love that by 600 A.D. the Mayans used it as currency. If amour du jour was the object - the favors of certain girls could be obtained at the price of eight cocoa beans per night.

Sharing a frothy chocolate drink was part of a ritual in Mesoamerican marriages in the 1100s.

The people believed the beans from the cacao Thebroma - which is the Greek word meaning food of the Gods - came from Paradise. According to the legend, the god Quetzalcoatl came to Earth on a beam of the Morning Star with a cacao tree and taught the people how to make the beans into a drink thought to bring wisdom and knowledge to those who consumed it.


Montezuma II, drank chocolate before visiting his harem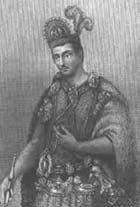 Spanish explorer Hernando Cortez was given the drink while visiting the court of Aztec king Montezuma, in what is now Mexico, around the year 1519. We don't know the size of the cups or the location of the nearest bathroom, but Montezuma is said to have consumed fifty cups of chocolate prior to entertaining his harem - not because he wanted to boost his intellect, but because of the power he believed it had over his libido.

Because of this women weren't allowed to drink it - merely service the men who did.

The brew was a combination of maize meal, water, cocoa, vanilla, and chili, combined to make a thick drink that was chug-a-lugged with great ceremony and protocol.

Cortez kept chocolate a secret in Spain for almost a century, hiding it away in monasteries where the cocoa beans were processed.



Jean Harlow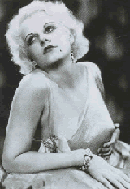 Anything rumored to improve one's sex life can't be kept a secret for long.

By the early 1600s, it had spread throughout Europe, although limited to the rich and noble elite. And with the addition of chocolate to rolls and cakes it was, for the first time, made into food instead of just drink.

Chocolate first appeared on film when Jean Harlow ate some candy in the 1933 comedy Dinner at Eight.

Candy bars became the rage and to have one's name attached to the chocolate delight deemed a serious honor.

The Baby Ruth candy bar was named after President Grover Cleveland's baby daughter, Ruth.

The only candy bar named after a sports figure was the Reggie Bar for "Mr. October," Reggie Jackson.

The Sarris Candy Company, which began as a three-employee company and developed into a $16 million per year business, produces a chocolate bar with almonds that salutes three famous groups from their corporate headquarters hometown of Canonsburg, PA.

The late great Perry Como is featured along with Bobby Vinton and the Four Coins.



Maria Theresa of Austria had a thing for chocolate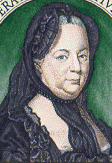 In 1615 Anne of Austria, a member of the Spanish royal family, married Louis XIII of France and introduced the drinking of chocolate to the French court.

When Maria Theresa of Austria married Louis XIV of Spain in 1660, her passion for chocolate caused its consumption to spread beyond the court to the French public.

"Chocolate is provocative to lust!" declared by Henry Stubbs, who was at that time England's royal physician.

In 1776 British parliament began motions to lower the tax on chocolate. Eventually successful, the lower prices they brought about made chocolate more accessible to the general public.

Chocolate induced sin ran rampant.

Kisses, first made in 1907, are produced today at the rate of approximately 20-25 million per day. Each kiss is wrapped in five square inches of foil wrap, and contains 25 calories.

Today chocolate hearts can be purchased with messages in Braille and a chocolate hand with I Love You printed in sign language.

The chocolate industry sells five billion dollars worth of chocolate each year in the U.S. alone. That sounds like a lot, but the U.S. is only the eighth largest consumer of chocolate. Switzerland, whose citizens eat more than 21 pounds per person each year, leads the world in chocolate consumption

The average person in the U.S. eats only 11 pounds of chocolate each year.


GYPSY AWARDS HONOR JUNE HAVER AND GREGORY HINES
June Haver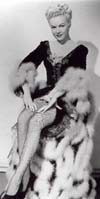 June Haver and Gregory Hines will receive the 2002 Gypsy Awards from the Professional Dancers Society tonight at the Beverly Hilton Hotel.

Donald O'Connor, Joni Berry and Robert Sidney host the event where Lee Hale presents a dance tribute to Busby Berkeley.

The multi talented Haver was a child piano protegee who, at the age of seven, played with Eugene Gossens and the Cincinnati Symphony. She made her first screen appearance in two 1941 Universal Musical Shorts. The first with Ted Fio Rito was entitled Skyline Serenade and the second with Tommy Dorsey called Trumpet Serenade.



June Haver in Irish Eyes Are Smiling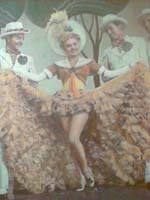 Her first starring role was Irish Eyes Are Smiling, playing the love interest of Tin Pan Alley composer Ernest R. Ball.

Her rise to stardom was meteoric. She starred in 15 motion pictures - one right after the other.

It was while June was appearing in the Broadway musical Roberta that she met a fellow cast member, Fred MacMurray, and bemoaned to her mother that the shy, sexy and attractive man was married.

MacMurray had fallen head over heels in love with the raven haired chorus girl, Lillian LaMont. On the night of June 20, 1936 the sensible MacMurray and LaMont eloped to Las Vegas, the town where Haver would one day also wed.

The MacMurray/LaMont union was blessed with love and devotion, torn apart only by LaMont's death on their 17th wedding anniversary.

For Haver, joy was a long way off. While her professional success was a shining star, her personal life was a flame out.

In March of 1947, while on a four-day break from the filming of Scudd-Hoo! Scudda-Hay! June eloped to Las Vegas and married Jimmy Zito, a musician she had met while singing for the Ted Fio Rito band.

In a desperate attempt to save the doomed union June converted to Catholic faith, but in less than three months the marriage ended in separation and then divorce. June called the impulsive marriage - "The biggest mistake of my life."

June thought she had found love when she became engaged to Dr. John Duzik, billed as the dentist to the stars. But a lingering illness took his life before they could wed.



June Haver and Fred MacMurray on their wedding day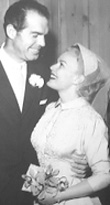 A devastated June retreated from Hollywood into a St. Louis convent. Within a few months illness forced her from the nunnery. She returned home to Hollywood, but stayed cloistered behind family walls.

Then John Wayne insisted she come to a costume party he was throwing -a party also attended by widower MacMurray.

Finally the happiness that had eluded June for years subsided and cupid's arrow found its proper mark. The minute their eyes met, they were one.

Their 37-year blissful marriage even included trips to Las Vegas for a chili contest sponsored by Circus Circus Resort - since MacMurray, who passed away in 1991, was both a chili fanatic and a gourmet cook.



Gregory Hines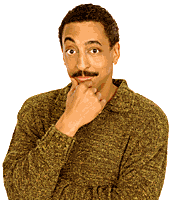 A triple threat, Gregory Hines sings, acts and dances. He's earned three Tony nominations and won a Tony for best actor in a musical for Jelly's Last Jam. On film, he's been seen in The Cotton Club and White Nights with Mikhail Baryishnikov.

He's been credited with reinventing tap dance.

Gregory was a homemade Valentine gift to his parents, born on Valentine's Day in New York City. We're not sure if he's going to be eating cake, but his daughter Daria has been known to fix him grilled salmon and beef on satay skewers, two of his favorite dishes.

Hines began dancing, with big brother Maurice, at the precocious age of not quite three, under the tutelage of tap master Henry LeTang. As soon as Gregory turned five, the brothers went professional as the Hines Kids, making nightclub appearances around the country, and virtually growing up backstage at the Apollo Theater, picking up pointers from tap dance legends like Honi Coles, Sandman Sims, the Nicholas Brothers and Teddy Hale who was Gregory's personal source of inspiration.

Gregory and Maurice then grew into the Hines Brothers and, when Gregory was eighteen they were joined by Maurice, Sr. on drums to become Hines, Hines and Dad. The act was a Las Vegas mainstay, and the family moved to Sin City.

Gregory eventually left the trio and settled briefly in Venice, California where he formed a jazz-rock band.

When he returned to live in New York, he won a role in The Last Minstrel Show, which led to his Broadway success in Eubie, Sophisticated Ladies, and Jelly's Last Jam.

In 1992 he won the Tony as best actor for his portrayal of jazz man Jelly "Roll" Morton in the production of Jelly's Last Jam. He had previously received three Tony nominations for his work in Eubie, Comin' Uptown, and Sophisticated Ladies.

If you favor television, you may have caught him in the Emmy winning PBS production Gregory Hines: Tap Dance in America, or his Emmy nominated performance in Motown Returns to the Apollo.

Gregory even had a number one song on the Black Single's chart: There's Nothing Better Than Love, a duet with Luther Vandross.

Hines directed and co-stars in The Red Sneakers which premieres on Showtime tonight.

The Gypsy Awards are named in honor of the unheralded dancers who formed the backbone of musical theater, film and television and are the true exponents of this musical genre.

They raise funds to provide housing, financial and other care for dancers when necessary. Some of the former honorees include Ann Margaret, Debbie Reynolds, Ann Miller and Mitzi Gaynor.



Broadway To Vegas is supported through advertising and donations. Priority consideration is given to interview suggestions, news, press releases, etc from paid supporters. However, no paid supporters control, alter, edit, or in any way manipulate the content of this site. Your donation is appreciated. We accept PAYPAL. Thank you for your interest.

THE ACTOR'S FUND OF AMERICA celebrates the 100th birthday of Lee Strasberg Monday at the Minskoff with attendees including Al Pacino, Ellen Burstyn, Harvey Keitel, Sophia Loren, John Lithgow, Brian Stokes Mitchell. An award in Strasberg's name will be initiated, and "Lee Strasberg Way," located at 15th Street and Union Square East, will be unveiled on Tuesday.

Among other events the Actor's Fund has Special Performances a 75-year-old tradition, in which once a year, every Broadway show, in New York and on the road, adds a performance to their regular schedule as a benefit for The Actors' Fund.

WILLIAM IVEY LONG the Tony Award-winning costumer has branched out into dressing the elegant masses. He'll premier his own collection during Fashion Week on Feb. 13.


LOVE - OR A HEAD COLD - IS IN THE AIR
Johnny Whitaker on Family Affair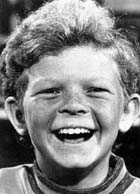 Airborne Formula, the natural cold remedy, is giving away a Valentine's Day ``dream date'' with former child star Johnny Whitaker, who played Jody on the television series Family Affair.

We hope Whitaker has a sense of humor.

The winner has their choice. Either the dream date with Whitaker or 2 tubes of Airborne.

The winner must also promise "not to stalk, hound, harass, or submit Mr. Whitaker to crank phone calls."



Anne Douglas and her "awful" husband, Kirk on their wedding day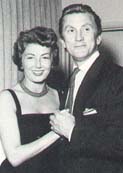 Kirk and Anne Douglas, who were married in Las Vegas, plan to renew their vows when they celebrate their 50th wedding anniversary in 2004.

Only this time they want a clergyman who speaks distinctly.

It seems during the Las Vegas event Anne couldn't understand what the guy was saying and thought she was taking Kirk for her "awful husband" rather than "lawful husband.

The Greater Miami Visitors Bureau has teamed up with KOOL radio in Las Vegas for a mass renewal of wedding vows on Valentine's Day at the Silverton Hotel.

An Elvis impersonator will perform the ceremonies.

Serving as everybody's best man will be Chubby Checker.

A wedding cake reception follows complete with a drawing. One lucky couple will win a honeymoon to Florida.


THE MUSIC GOES ROUND AND ROUND


Nancy Wilson who at age 65 has recorded over 50 albums and, as part of the Capitol Records stable, outsold all others on that label - that would be Frank Sinatra, the Beach Boys and Nat King Cole. The only Capitol artist she failed to surpass in sales was - The Beatles.

On Tuesday, to commemorate her 50th year in music, Wilson, who starting singing in front of audiences at the age of eight, and had her own television show by the time she was 15, will be saluted by Capitol Records with the release of a four-disc, 80-song boxed set called The Essence of Nancy Wilson.


JABBER, JABBER, JABBER
ROBERT WILSON AND FRED NEWMAN are two theatre artists who have spent their careers pushing the envelope of theatrical convention. On February 11 Wilson and Newman will meet onstage to talk about their work.



Fred Newman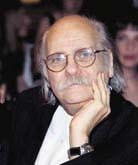 Fred Newman is a Stanford-trained philosopher as well as a playwright, director, lyricist, and composer. He has won acclaim in the past 15 years for his politically provocative, philosophically charged, structurally unconventional plays and musicals. The theatre he has built, the Castillo Theatre, is part of a broad social experiment in human development.

Newman has developed a therapeutic approach which is now recognized and practiced around the world.

Robert Wilson is considered America's foremost theatrical avant-gardist. His training in painting, therapy and architecture have flowered in his work as a director, choreographer, playwright, and designer. His numerous awards have included the Dorothy and Lillian Gish Prize for lifetime achievement and the Golden Lion for Sculpture of the Venice Biennale; and in 1986 he was the sole nominee for the Pulitzer Prize in Drama.

A common interest of these two very different risk-takers is the work of the late avant-garde German playwright Heiner Muller, with whom both have had a long collaborative history.

The dialogue between Wilson and Newman takes place at John Jay College Theatre, February 11.



AN ALMOST HOLY PICTURE by Heather McDonald, starring Kevin Bacon has opened to rave reviews for Bacon's portrayal of Samuel Gentle, a grounds keeper for The Church of the Holy Comforter who has heard God's call, but can't comprehend His mysteries.

His sometime poignant, sometimes comic journey of faith is the subject of this new play by American playwright Heather McDonald, directed by Michael Mayer.

This well crafted drama was nominated for a Helen Hayes Award and won the prestigious Kesselring Prize, an award whose previous winners include Tony Kushner, Nicky Silver and Naomi Wallace.

Sets by Mark Wendland. Costumes by Michael Krass. Lighting by Kevin Adams. Directed by Michael Mayer.

At the American Airlines Theater in New York City.

GOLDEN LADDER a semi-autobiographical play by Donna Spector in which Amy Redford - Robert's youngest child - plays a woman whose mother is Christian and whose father is Jewish. The religious conflict launches her on a three-decade spiritual odyssey, testing various religions and beliefs with often hilarious results.

Amy may have more understanding that some actors. She received a BA in Theater Arts from San Francisco State University with an undergraduate degree in religious studies and humanities.

The comedy/drama opens Tuesday at the Players Theater, New York City.

THE ROYAL FAMILY starring Judi Dench opens in London's West End on February 15.

RED NOSES by Peter Barnes. This award-winning energetic political satire, set in plague-ridden Europe of the 14th century, follows the true story of Father Flote, a monk who led a traveling band of clergy - turned comedic theatre troupe throughout the countryside, in hopes of alleviating human suffering through laughter. It is a story of vision, love, hope and survival of the human spirit - even in the worst of times. February 15-16 Boca Raton Campus University Theatre, Florida.

POST TRAUMATIC SLAVE SYNDROME a controversial and critically acclaimed play written by Kamal Sinclair Steele, directed by Obie Award-winner Robbie McCauley and developed through the Fractured Atlas Residency Program has opened at the Baha'i Center Theater in New York City.

Research sociologist Dr. Joy DeGruy-Leary developed a theory of Post Traumatic Slave Syndrome to explore the roots of mistrust and miscommunication between black and white Americans.

Dr. Leary's theory postulates that the African American community has suffered from the causes and exhibits all of the traditional symptoms of Post Traumatic Stress Disorder.

Her work explores the idea that North American chattel slavery itself was the inevitable consequence of a collision of fundamentally incompatible value systems: one derived as a means of survival in prehistoric Africa, the other as a means of survival in prehistoric Northern Europe.

Universal Arts developed Post Traumatic Slave Syndrome as a performance work to explore her ideas in an emotionally-charged, visceral way utilizing theatre, dance, music, and performance art to create a multifaceted, theatrically and emotionally charged work - in contrast to Dr. Leary's strictly academic approach.

The second act focuses on the parallel psychological injuries suffered by White Americans.

The stage action is complemented by original sound compositions by Leo-Coltrane Marcelin, lights by Jim Milkey, and costumes by Julie Winger.

Dr. Leary currently resides in Portland, Oregon, where her educational model for working with children of color is being implemented in Portland Public Schools.

The production continues through February 24.

THE LAST FIVE YEARS a musical love story by Jason Robert Brown involves an emerging novelist, a struggling actress and their divergent dreams; Norbert Leo Butz and Sherie Rene Scott star. Previews begin Tuesday with the official opening set for March 3. At the Minetta Lane Theatre, NYC.

THE COMPLETE WORKS OF WILLIAM SHAKESPEARE (ABRIDGED) getting raves from Rosie O'Donnell's side kick and musical director John McDaniel. The production is a delightful, don't miss race through all 37 of the Bard's plays; Peter Ackerman, Jeremy Shamos and David Turner star, and Jeremy Dobrish directs, Adobe Theatre Company in New York City.

THE DAZZLE starring Peter Frechette and Reg Rogers with Francie Swift. The Dazzle revolves around two brothers, with very different views on the possibilities of life. One longs to make his life a story. The other lives a life of serial intensities. A young woman comes to be fascinated with both brothers, providing their lives with a plot. The Dazzle is about how people spend their time. It's about the joys of collecting. It's about a house that gets incredibly messy.

David Warren directs this New York Premiere work by one of the most lauded contemporary playwrights around, Richard Greenberg.

This production is part of the New Play Initiative, funded through the support of the Harold and Mimi Steinberg Charitable Trust, Philip Morris Companies, Inc. and the Barbara Bell Cumming Foundation.

Performances begin Tuesday. A Roundabout Theatre Company Production at the Gramercy Theatre, New York City.

THE VAGINA MONOLOGUES by Eve Ensler features Barbara Barrie, Stefanie Powers and Lillias White through March 3. At the Westside Theatre. NYC.

LOVE & SEX written by Marc Meyers directed by Beth Manspeizer, presented by Silver Moon Productions. It is a collection of eight monologues, delivered by eight different actors, all dealing with Love, Sex and the repercussions of each, as the various characters recall their searches for romantic fulfillment in the streets and townships of New York City.

The monologues include Coney Island Dog, details the confessions of an upper-class sex addict; and Hotel Sheets, the story of a wild search for a dog named God during Mardi Gras.

The cast, featuring actors from The Barrow Group and The Ensemble Studio Theatre Institute Lab, includes Mauricio Alexander, Chris Campbell, Eric Deskin, Jon Michael Johnson, Inna Krieger, Marco Lando, Katherine Neuman and Katie Reichart. Presented at The Barrio New York City through March 3

FOOL FOR LOVE Sam Shepard's play in which a pair of former lovers reunite,officially opens Thursday. Performances through March 30, at 29th Street Rep, in NYC.

BABY

Rebecca Holden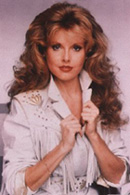 has a book by Sybille Pearson, Music by David Shire and Lyrics by Richard Maltby, Jr. This musical comedy tells the story of three couples at various stages of life as they deal with the painful, rewarding and agonizingly funny consequences of this universal experience. The production stars Rebecca Holden. TV fans also will remember Holden from her recurring roles as April Curtis on Knight Rider (1983-84) and Elena Cosgrove on General Hospital in 1987.

The cast of Baby also includes Lewis Kempfer, Erin Parker, John Warren, Erica Rowlett and Daniel Vincent.

Patrons are encouraged to bring a baby food item to benefit Feed America First when they attend Baby and in turn receive a coupon for $2 off their next visit to the Boiler Room Theatre.

Through March 2. Nashville, Tennessee.


WHO'S WHERE

AUDRA McDONALD the three-time Tony Award-winner made her Utah Symphony debut last night in a program featuring six Duke Ellington songs in new orchestrations by Larry Hoffman. McDonald who is currently working on her latest CD set for an April release, will spent most of this year on tour. McDonald travels with family and that includes her 11-month-old daughter, who has already been in three countries and 27 states.

McDonald's concert was part of the Olympic Arts Festival which included Keith Lockhart and the Utah Symphony playing George Chadwick's Jubilee from Symphonic Sketches, Copland's suite from Appalachian Spring, Bernstein's On the Town: Three Dance Episodes and Gershwin's An American in Paris.

ROBIN WILLIAMS hits the road doing his first tour in 15 years. The Chicago engagement is sold out. He plays the Chicago Theater Feb 26-27. His next stop is Milwaukee.

ELAINE PAIGE sings two concerts of musical theatre tunes with the Utah Symphony at Salt Lake City's Abravanel Hall Feb 15-16 with the Utah Symphony under the direction of Keith Lockhart. Then on Feb 20-21 Paige makes her Los Angeles concert debut at the Pasadena Civic Auditorium, also backed by the Utah Symphony.

KENNY CHESNEY thinks he's a little too popular. He's had to put up a fence and gate at his home. It seems there have been several times when the singer has actually found girls hiding in his garage. They lay in wait for their idol wanting him to autograph their 'She Thinks My Tractor's Sexy' T-shirts. The performer spends Valentine's Day singing in Erie, Pennsylvania at the Erie Civic Center. On Friday he is on stage in Salem, Virginia at the Salem Civic Center and Kenny closes out the week on Saturday in Lexington, Kentucky at the Rupp Arena.

RODEO HOUSTON on February 12th features the Dixie Chicks. On the 13th it's none other than Neil Diamond. Valentine's Day finds Alan Jackson on stage, and February 15th it's Clay Walker.

MARY J. BLIGE in new duds by Dolce & Gabbana, opens a two nighter this evening at Radio City Music Hall in New York. On Wednesday she performs at the Fox Theatre in Detroit. Thursday she is center stage at the Riverside Theatre in Milwaukee Wisconsin and on Friday the show is at the Auditorium Theatre in Chicago.

BETTY BUCKLEY in concert Feb. 14 and 16 at the Bottom Line in New York, NY.

MAUREEN McGOVERN in the spotlight Feb. 16 and 17 at the Hilbert Circle Theater in Indianapolis, IN.

ALICIA KEYS performs February 11 in Richmond, Virginia at the Landmark Theatre. On Tuesday she is in Charlotte, NC at the Ovens Auditorium. Valentine's Day find her performing in Sunrise, Florida at the Sunrise Musical Theatre. Then on Friday she is in Orlando, Florida at Hard Rock Live. Alicia closes out the week Saturday center stage in Atlanta, Georgia at the Tabernacle. Her Songs In A Minor received four nominations for the 16th annual Soul Train Music Awards.

PETE SEEGER who has recorded more than 50 albums and lived in the same house for 52 years with his wife of 58 years, Toshi, travels out of New York to perform tomorrow (Monday) with the Children's Dance Theatre in the Capitol Theatre, as part of the Cultural Olympiad. Salt Lake City, Utah.

CREEDENCE CLEARWATER REVISITED on stage Saturday at Universal Studios in Orlando, Florida.

DAVID CASSIDY will be singing the love songs on Valentine's Day at The Grove of Anaheim in Anaheim, California.

TONY BENNETT entertains Wednesday at the Lowell Memorial Auditorium in Lowell, Mass. Then he has a three night engagement at the Westbury Music Fair beginning February 15.

DONNA McKECHNIE sings Monday night at Arci's Place in New York City.

MICHAEL TILTON THOMAS conducts the San Francisco Symphony in two programs featuring works including Mahler's Das Lied von der Erde with tenor Michael Schade and baritone Thomas Hampson on February 12 and Ives Symphony No. 4 on February 14 at Carnegie Hall, New York City.

VONDA SHEPERD performs tonight at the House of Blues in Las Vegas. On Tuesday the entertainer is in Denver, CO at the Paramount Theatre. Valentine's Day finds her in St. Paul, Minnesota at the Fitzgerald Theater. On Friday the singer is on stage in Chicago, IL at the House Of Blues and she rounds out the week on Saturday in Akron, OH at the Highland Theatre.

ANNE MURRAY performs February 12 at the Ohio State Theater in Sandusky, Ohio. On Wednesday she can be enjoyed in Clinton Township, MI at the Macomb Center. Valentine's Day finds her singing the love songs in Danville, KY at the Norton Center and on Saturday she's center stage in Wilkes-Barre, PA at the F.M. Kirby Center.

STYX cranks it up on February 13 in Sioux City, Iowa at the Sioux City Auditorium. On Friday the gang is in Bismarck, North Dakota at the Bismarck Civic Center. They close out the week Saturday in Fargo, ND at the Fargodome.

BILL COSBY tells the funny stories on February 15 in San Francisco, CA at Davies Symphony Hall. On Saturday he can be enjoyed in Seattle, WA Benaroya Hall.

COMPOSER ALAN BERGMAN BACKED BY MARVIN HAMLISCH sing Marilyn and Alan Bergmans' tunes with the National Symphony Orchestra at the Kennedy Center on Tuesday. Amanda McBroom sings the program's first half. The Kennedy Center has also commissioned Alan and Marilyn Bergman and Cy Coleman to write "a song cycle from a jazz perspective" to be performed on May 17.


PIFFLE AND PROFUNDITIES

SUSAN STAFFORD the original letter turner on Wheel of Fortune, who left the program to become minister, is the clergyman who conducted the funeral services for actor George Nader, who recently passed away at the age of 80. Nader was the sole heir to the interest from the estate of Rock Hudson. Stafford is also the person who officiated when Hudson's ashes were buried at sea.

BURNING THAT CHICKEN FAT The University of Georgia is warming to the idea of Southern fried chicken. The chicken fat is being used to heat the campus and no students have been reported to smell like a fast food restaurant.

Georgia scientists proclaim that chicken fat could become a good alternative to fuel oil.

In tests over the last few weeks, the University's Department of Biological and Agricultural Engineering has used giant steam boilers - converted at an expense of $30,000, to burn animal fats - to heat water and buildings on campus.

The project, funded by the Georgia-based U.S. Poultry & Egg Association and the Fats and Protein Research Foundation in Illinois, also will test the potential of animal fat in other applications, such as truck and auto engines. Tom Adams, the department's outreach coordinator, said the fuel is safer for people and the environment than burning coal and oil, and no one has complained about odor.

The United States poultry industry produces some 2 million pounds of chicken fat a week, which could result in people pulling up to the pump and asking for a fill up of chicken fat.













Next Column: February 17, 2002
Copyright: February 10, 2002. All Rights Reserved. Reviews, Interviews, Commentary, Photographs or Graphics from any Broadway To Vegas (TM) columns may not be published, broadcast, rewritten, utilized as leads, or used in any manner without permission, compensation and/or credit.
Link to Main Page
---
Laura Deni



U.S. Postal Address: Post Office Box 60538, Las Vegas, NV 89160
( COMMENT SECTION )