! >
Broadway To Vegas
 
  SHOW REVIEWS CELEBRITY INTERVIEWS GOSSIP NEWS

| | |
| --- | --- |
| | |
SHERRY! CD - - PARAMOUNT GIRL TELLS STORY OF ACTRESS/NUN DOLORES HART - - THIS WOODEN O - - BROADWAY TALKS; THE PLAYWRIGHTS - - MICHAEL BUBLE ON THE ROAD - - STING MUSICARES PERSON OF THE YEAR - - MONEY IN CELEBRITY CIGARETTE BUTTS - - ROULETTE TAKES AIM - - DONATE . . . Scroll Down


Copyright: February 1, 2004
By: Laura Deni

CLICK HERE FOR COMMENT SECTION
PARAMOUNT GIRL NEW PLAY ABOUT DOLORES HART WHO WENT FROM ACTRESS TO NUN


Dolores Hart went from kissing Elvis Presley to becoming a cloistered nun. Paramount Girl, a new play by Sue Cargill, attempts to tell the story.

Directed by Beau O'Reilly, the production runs to March 7 at Chicago's Live Bait Theatre.

The question is not so much why a play been written about Hart's unusual life as to - why didn't somebody do it sooner.

Broadway To Vegas contacted both the Abbey, as well as the artistic director of Chicago's Life Bait Theatre. At first it was easier to get information from the officials at the Abbey of Regina Laudis in Bethlehem, Connecticut, where Hart has called home for almost four decades.

"She does know about it and I think that it all I'd like to say," responded Live Bait's artistic director Sharon Evans.



Abbey of Regina Nuns in their processional. Abbey of Regina Laudis photo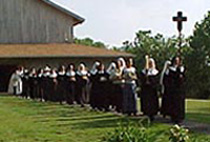 Why?

"Because she is cloistered. But, she does know about it. I don't want to discuss it because I want to respect her privacy, because she is a cloistered nun," defensively stated Evans, regarding a production which contains nothing derogatory about either Hart or her faith.

"We were told that she knew we were doing it," continued Evans. "She didn't want it to sully her in any way. Her concern was her privacy and her role as a nun was to be respected. In keeping with her vows, we've been not talking about this."

Well, I'll be damned.

"We wrote a very, very respectful show," Evans emphasized and reiterated, "It is very reverent. I certainly do not want, in any way, her to disapprove," stressed Evans.

"Actually," added Evans, "her first cousin came and he loved it."

In the late 1950s Hart was an up and coming Hollywood star. Billed "the next Grace Kelly," her first onscreen kiss was with Elvis Presley.



Dolores Hart and Elvis Presley in Loving You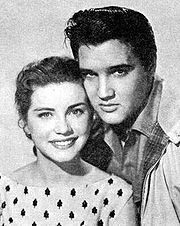 In the 1981 biographical film This is Elvis, home movies taken during breaks in filming show Hart playing the clarinet while Elvis plays piano.

Swivel Hips had stated that he had slept with all of his leading ladies - except one. Hart had indicated that was her. Then Mary Tyler Moore said she was the hold out. Broadway To Vegas thinks both Hart and Moore are telling the truth and it was Presley who was lying. Like many men who brag about their conquests, usually the ego list is embellished.

In a six-year period, Hart starred in films with Anthony Quinn, Robert Wagner, Jeff Chandler, and Montgomery Clift. She was the top-billed actress in MGM's highest grossing move of 1962: Where the Boys Are.

But God spoke and she listened. The only problem? How to explain it to her studio boss, the caustic Hal Wallis.



Alexandra Blatt
Paramount Girl stars Alexandra Blatt as Hart and features Mark Vallarta as Hal Wallis Tom Hickey as both Elvis and Hart's ex-fiancé Don Robinson and Vanessa Greenway as actress Pamela Tiffen and gossip maven Hedda Hopper.

The day Hart entered Regina Laudis, her limousine dropped her off following a publicity event for her latest movie Come Fly with Me. She was 24 years old. Some thought it was a publicity stunt. Time proved her sincerity. Hart jas been a cloistered nun for 37 years. Today she is the Rev. Mother Dolores Hart, O.S.B., the Abbey's prioress.

In addition to leaving behind a film career, she left behind a fiancé, Don Robinson, who never married and makes annual trips to the Abbey to visit the woman who once promised to be his wife, but instead took her vows to God.

In this twenty-first century, Hart chants the Daily Office in Latin eight times a day. That doesn't mean this Abbey is stalled in the dark ages. For a cloistered Abbey the residents tend to make headlines.

This is the Abbey that the "Cheese Nun" calls home.



"Cheese Nun" Mother Noella Marcellino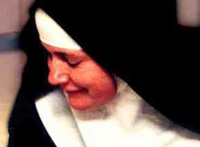 "Cheese Nun" Mother Noella Marcellino was the subject of a New Yorker article and a documentary about her work in cheesemaking. An expert in cheeses made from unpasteurized milk, Mother Marcellino holds a doctorate in microbiology and received a Fulbright Scholarship to study cheese fungus in France. Last December she journeyed from her convent in Connecticut to France and received the French Food Spirit Award from the Senate in Paris.

She is the subject of a documentary The Cheese Nun, directed and produced by Pat Thompson, with an English screenplay by Jim Bittermann. The effort captured Best Food Documentary Award in the 2003 Newport Beach Festival. The Cheese Nun will air this spring on PBS.

The Abbey of 40 residents also stresses the relationship between the spiritual and the theatrical spotlight by staging a wide variety of productions.



200 seat open air theatre. The Abbey of Regina Laudis photo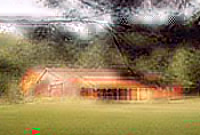 The open-air 200-seat theatre opened in 1982 through the help of actress Patricia Neal. Past productions range from Shakespeare to Sartre and from opera to musical reviews. Recent comedies include Love Letters starring Patricia Neal and James Douglas and She Stoops to Conquer, directed by Pirie MacDonald.

The Abbey stresses that "the link between drama and monastic life goes back to the origins of the medieval Mystery Plays. In continuity with this ancient tradition, the Abbey of Regina Laudis has always sought to sponsor the cultural and spiritual values derived from the best popular theater."



Mother Dolores flanked by Dawn and James Douglas.The Abbey of Regina Laudis photo.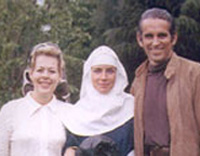 "Mother Dolores Hart, O.S.B., has worked with many fellow artists, especially James and Dawn Douglas, to build The Act Association, a group of veterans and newcomers, who perform annually at the Abbey's The Gary-The Olivia Theater."

Mother Dolores is still a member of the Motion Picture Academy of Arts and Sciences. Frustrated at being unable to vote for the Oscar winners because she cannot leave the Abbey to see the films, she asked the Academy to send her the films to watch on home video, so she could be reinstated as a voting member.

There is also a gift shop and a herd of animals.

When one of the animal herd changes its grazing grounds for residence with St. Francis of Assisi, one of the items left behind is its hide - which the sisters put to good use.

"For the first time a tanned cowhide from a Jersey steer is available at the Monastic Art Shop. The hide comes from the Abbey herds, is golden brown, with white and black markings, and gold highlights. Perfect as a rug or sofa cover, the hide measures 36 sq.ft. The retail price is $700."

People do visit, but that doesn't mean tour buses should drive by sight seeing for nuns. The retreats are controlled and the art shop is for walk in customers.

"No, we don't have a catalogue. We do not mail order," the Abbey informed Broadway To Vegas.

"Abbey crafts and food products are sold on a limited basis in the Monastic Art Shop, which is located near the main entrance to the Abbey and is open to the public year round. The supply of crafts and food items is seasonal, but usually includes pottery, candles, woven and knitted goods, wool from our sheep, hand-forged items, cheese, honey, herbs for seasonings, vinegar, hot mustard, perfumes and skin creams, as well as cards, books, medals, and other religious art objects."

The Abbey is also noted for it's music. Their CD's which are for sale, have been reviewed by music magazines.

The Gregorian Chant, that 1300-year old art form, which has recently made a comeback as a pop genre was offered up in A Gregorian Chant Master Class, an instructional handbook and CD from the Abbey of Regina Laudis. The effort was favorably reviewed last December by Opera News.

The Abbey is in the midst of promoting a Gregorian Chant Symposium, which takes place March 12-14 at The Church of St. John the Evangelist in Stamford, Connecticut.

The play Paramount Girl is in Chicago at the Live Bait Theatre running to March 7.


THE MUSIC GOES ROUND AND ROUND


SHERRY! book and lyrics by James Lipton. Music by Laurence Rosenthal. This marvelous CD on Angel Records is a perfect example that a writer should not only never through anything away but also make duplicate copies.

In 1966 Lipton, known to millions as the host of Bravo's channel's Inside the Actor's Studio, picked up pen and wrote a book and witty lyrics, while Laurence Rosenthal constructed delightfully exuberant, infectious music. The result was Sherry! a Broadway musical based on The Man Who Came to Dinner by Moss Hart and George S. Kaufman.

The show had a short lived run on Broadway at the Alvin Theatre. Opening previews began March 8, 1967 and the production closed May 27, for a total of 14 previews and 72 performances. The title song Sherry! took on somewhat of it's own life, covered by other singers and receiving air play. Upon hearing this CD many will happily remember the toe tapping number.

The Broadway show folded. That meant the next morning after the curtain rang down for the final time, certain things routinely occur: the set is burned and the show's score is packed in a trunk and sent to the writers' publisher.



l to r Robert Sher, Laurence Rosenthal, James Lipton, Marvin Laird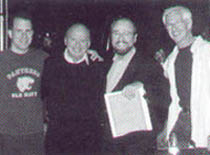 However, in this instance, the trunk with the show's score went missing. The search was unsuccessful and led to the only possible conclusion - that the trunk had been burned with the set.

This didn't sit well with Lipton. Time and time again he'd meet an actor who he saw as "right" for Sherry! But, Rosenthal was working in Hollywood and didn't have the time or interest in re-creating the score. Lipton was like a dog with a bone and mentioned to record producer Robert Sher that he now had a dream cast but no score and no way to re-create one.

For over 30 years, every offer for a Sherry! production had to be turned down because of the missing score.

Most would have called the situation hopeless. Lipton would have been told to go interview somebody and get a grip on reality - the show was gone.

Then in 1999 Sher contacted Lipton and said he heard a pirated tape and wanted to record the cast album. His perseverance led him to contact the Library of Congress repository of the musical theatre. Like finding gold, the trunk containing everything was there, unopened since 1967.

Over the next 4 years, the all-star cast recording came to fruition. Nathan Lane, Carol Burnett, Bernadette Peters, all alumni of Inside The Actors Studio, agreed to be in the cast along with Tommy Tune and a special guest appearance by Mike Myers. Collectively, the cast and creators of this cast album of Sherry! have received 87 Tony, Oscar, Emmy and Grammy nominations, and won 31 of those awards.

The double CD includes a 32-page booklet with liner notes by James Lipton and the complete libretto. Disc 2 also includes an enhanced CD with footage from Bravo Profile: Sherry! about the lost score and the making of the album as well as episode clips from Bravo Inside The Actors Studio of the principal cast - Nathan Lane, Carol Burnett, Bernadette Peters and Mike Myers.

Other cast members include; Siobhan Fallon, Tom Wopat, Lillias White, Keith David, James Lipton, Phyllis Newman, Laurence Rosenthal and Marian Hampton and The Manhattan Rhythm Kings.

Music direction and vocal arrangements by Marvin Laird. Orchestrations Allyn Ferguson. Associate Orchestrators; Peter Matz, Ken Thorne, Dan Ferguson, Philip J. Lang, Larry Wilcox, Clare Grundman, Jack Andrews and Laurence Rosenthal.

The recording credits include; Jason Buell music coordination and associate producer. Chief Recording Engineer was Danny Lawrence. Mixed and edited by Robert Sher and Adam Long.

As for Lipton, who always asks his celebrity guests their least favorite and favorite words - his own might be; lost and found.

Sherry! is available in stores February 24. Get you advanced order in early.


SPREADING THE WORD


BROADWAY TALKS: THE PLAYWRIGHTS Terrence McNally, A.R. Gurney and Julia Jordan. The three award winning playwrights will discuss their craft and their new plays - Strictly Academic by Gurney, The Standhahl Syndrome by McNally and Boy by Jordan. Emmy Award winning journalist Roma Torre moderates this series. Monday, February 9 at Hunter College, Kaye Playhouse in Manhattan.



Broadway To Vegas is supported through advertising and donations. Priority consideration is given to interview suggestions, news, press releases, etc from paid supporters. However, no paid supporters control, alter, edit, or in any way manipulate the content of this site. Your donation is appreciated. We accept PAYPAL. Thank you for your interest.


SWEET CHARITY


2004 MUSICARES PERSON OF THE YEAR will be presented to Sting in a star studded gala dinner, concert and silent auction held February 6 in Los Angeles, as part of Grammy Week, which culminates with the 46th Annual Grammy Awards on Sunday, Feb. 8 to be broadcast on CBS.

Prominent recording artists Tony Bennett, Black Eyed Peas, Elvis Costello, Dido, Elton John, Diana Krall, k.d. lang, Dave Matthews, John Mayer, and Rufus Wainwright are scheduled to perform.

Sting was chosen for his accomplishments as a musician, humanitarian and environmental activist. Proceeds from the annual Person Of The Year tribute provide essential support for MusiCares' Financial Assistance Program, which ensures that music people have a place to turn in times of financial, medical and personal need.


OTHER PEOPLE'S MONEY


MONEY IN CELEBRITY CIGARETTE BUTTS Bob Cawley was a teenager when J. Lee Thompson's original 1962 thriller Cape Fear was shot during the late 50's in Savannah, Georgia. The suspense classic, based on The Executioners by John D. MacDonald, starred Gregory Peck, Robert Mitchum and Polly Bergan. Cawley got a job at the highway filling station where the limos, used by those three stars, were taken after each day's shoot. Cawley's job was to clean out the ask trays - which he did. The young businessman showed early inklings of becoming the financial adviser that he is today. Instead of throwing away the cigarette butts - he sold them.

"They all smoked. I sold each butt for one dollar. It didn't matter who had smoked them, they were one dollar each. They all sold. Everybody in town wanted to say they had a cigarette butt smoked by one of those three. Their limos were brought in every night to be cleaned and filled with gas, so I had a fresh supply of cigarette butts each day."



THIS WOODEN O: AN EVENING OF SHAKESPEARE

Rosemary Harris and Philip Bosco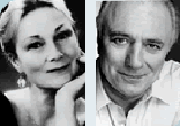 with Philip Bosco, Rosemary Harris and Brian Murray. Three of our finest actors give voice to the poetry of the English language's greatest writer.

Philip Bosco - whose most recent Shakespearean role was Malvolio in Lincoln Center's Twelfth Night, Rosemary Harris, whose many Shakespearean roles include Ophelia in Sir Laurence Olivier's Hamlet at the National Theater, and Brian Murray whose many roles with the Royal Shakespeare Company include Romeo, Cassio and Edgar in Peter Brook's King Lear, present an evening of scenes and monologues from the plays.

Monday, February 9th. Presented by the 92nd Street Y at the Kaufman Concert Hall in NYC.

THE STORY by Tracey Scott Wilson. Directed by Loretta Greco.

A shocking murder exposes a web of ambition, prejudice and sexual politics in this fast-paced newsroom drama. Co-produced with the Public Theatre. Staged at the Long Wharf Theatre in New Haven, Conn. February 4 - March 14.

ROULETTE by Paul Weitz stars Anna Paquin, Larry Bryggman and Ana Gasteyer. Joaquin Perez Campbell and Leslie Lyles also appear in the show in which a suburban father of two decides to spice up his life by playing Russian roulette and loosens his family's handle on reality in the process. Ensemble Studio Theatre production began performances Friday at the John Houseman Theatre in Manhattan. Directed by Trip Cullman, Roulette is set to officially open on February 15.

WINTERTIME by Charles L. Mee starring Marsha Mason and Michael Cerveris. Begins February 3 at Second Stage in NYC.

THE LADIES Dixon Place, in association with Chashama and Cherry Lane Theatre, will present the up-and-rising theater company The Civilians in the New York premiere of Anne Washburn's multi-layered comedy-drama The Ladies, a look at the lives of infamous dictator brides Elena Ceausescu, Imelda Marcos, Eva Peron, and Jiang Qing - aka Madame Mao. The production will be directed by Anne Kauffman, and presented at Dixon Place at Chashama, with performances beginning on Friday, February 6 and the official opening night set for Sunday, February 8th.

Notorious first ladies Elena Ceausescu, Imelda Marcos, Eva Peron, and Madame Mao—all deeply ambitious and determined, married power and turned their countries into a stage for their vast personal fantasies. In The Ladies playwright Washburn and director Kauffman, who began an investigation into these women's lives by recording and transcribing discussions of their research, become characters in their own play along with the infamous four. Incorporating historical fact and analysis, fantasy, torch songs, a brief dance number and excessive candor, Washburn creates a spectacle about the way we think about women and power.

The six member cast will be: Quincy Tyler Bernstine, Jennifer Dundas, Nina Hellman, Jennifer R. Morris, Maria Striar, and Alison Weller. The set design will be by Alexander Dodge, the costume design by Sarah Beers, the lighting design by Gwen Grossman, and the sound design by Mike Frank. Visual artist for the production will be Michelle Memran; the musical director will be Kris Kukul and the choreographer will be Karinne Keithley.

Founded by Artistic Director Steven Cosson, The Civilians is a production company that develops original projects from investigations into real life.

COPENHAGEN by Michael Frayn. Winner of the 2000 Tony Award for Best Play. For decades, scientists and historians have pondered, hypothesized and argued about the WWII meeting between two Nobel laureates to discuss the atomic bomb. A powerful, thought provoking drama, Copenhagen reenacts this meeting and challenges audiences to consider the possibilities.

Starring Mike Collins, Simon Donoghue and Catherine Smith. February 7 - 22 Charlotte Repertory Theatre, North Carolina.

OUR LADY OF 121st STREET Stephen Adly Guirgis' Off-Broadway hit has its West Coast premiere of hit Feb. 4-8. Presented by L.A. Theaterworks at the Skirball Cultural Center, Los Angeles.


| | | |
| --- | --- | --- |
| | | |
LAUGH A LOT


BILL COSBY telling funny stories Saturday at The Centre in Evansville, Indiana.

JEFF FOXWORTHY brings his red neck sense of humor to the Ameristar Hotel and Casino in Kansas City on Friday. On Saturday he'll be getting laughs at the Whiting Auditorium in Flint, Michigan.

CHRIS ROCK entertaining Thursday at the Soaring Eagle Casino in Mount Pleasant, Michigan. On Friday he begins a two night stand at Foxwoods Casino in Mashantucket, CT.

JERRY SEINFELD staring at the Warner Theatre in Erie, PA on February 6. On February 7 the laughs will be at the Devos Performance Hall in Grand Rapids, Michigan.

ABOVE KLEPTOMAIA an Improv & Sketch Comedy Theatre Company. Its winter 2004 season features three unique comedy shows a week. The Sage Theatre, NYC.

DANGERFIELD'S comedy club in New York City features a Feb. 2-8 line up including; Sherod Small, Richie Byrne, Steve Marshall, Peete Correale and Carrie Karavas.


WHO'S WHERE


TONY DANZA is picking up a Florida tan. He brings his personality and talent to the Van Wezel Performing Arts Hall in Sarasota, Florida on Thursday, Feb. 5. On Saturday he can be enjoyed at Ruth Eckerd Hall in Clearwater, Florida and next Sunday, Feb. 8th he is on stage at Barbara B. Mann Hall in Fort Meyers, Florida.

TOM WOPAT the Broadway and TV star comes to the cabaret with The Still of the Night, his reinvention of the best-loved songs of the last century. February 4-15 in The Cabaret at The Prince, Prince Theatre in Philadelphia.

SYLVIA NcNAIR the double Grammy winner performs Feb. 3-14 at the Oak Room in Manhattan.

STING performs Monday, February 2 at the Milwaukee Theatre in Milwaukee, Wisconsin. On Tuesday he can be enjoyed at the Northrop Auditorium in Minneapolis and on Thursday he's in the spotlight at the Fillmore Auditorium in Denver.

CASSANDRA WILSON entertains Friday at the Kennedy Center in Washington, D.C. On Saturday she is at the Berklee Performance Center in Boston.

STEVE LUTVAK who has received MAC Awards and a National Endowment of the Arts Grant for his musical, Esmeralda, most recently adapted A.R. Gurney's The Wayside Motor Inn into a musical while an artist-in-residence at the Eugene O'Neil Opera/Music Theatre conference. The show has just been optioned by Michael Leavitt, producer of the Tony Award winning Thoroughly Modern Millie. February 2 at the Crest Theatre, Delray Beach, Florida.

AMY GRANT in The Image Tour - Mercy Me performs Feb 5 at the Greensboro Special Events Center in Greensboro, North Carolina. On February 6 the show moves to the Township Auditorium in Columbia, South Carolina and on February 8 she is at the Moran Theatre-Times Union Center in Jacksonville, Florida.

DEE DEE BRIDGEWATER appears February 3-7 at Le Jazz Au Bar in NYC.

LARRY GATLIN in the spotlight Saturday, February 7, at the Executive Inn in Owensboro, Kentucky.

PRESERVATION JAZZ HALL BAND hitting all the right notes Tuesday at the E County Performing Arts Center in El Cajon, California. On Wednesday the group is at the Palm Springs Desert Museum in Palm Springs. Friday finds the guys at the Orpheum Theatre in Phoenix and they close out the week, Saturday, at the Palace of Fine Arts in San Francisco.

ROD STEWART atop the charts in 2003 with back-to-back hit albums, is also on tour, kicking off February 6 at the Sunrise's Office Depot Center in Miami. Titled: From Maggie May to the Great American Songbook the show on Saturday is at the St. Pete Times Forum in Tampa, Florida.

BETTE MIDLER brings her outrageously entertaining show to the Key Arena at Seattle Center in Seattle, Washington on Tuesday. Then she's on stage at the Rose Garden Arena in Portland, Oregon on Wednesday. She can be enjoyed Saturday at the HP Pavilion at San Jose.

MICHAEL BUBLE has taken his act on the road. Monday he's singing at the Queen Skirit Convention Center in Bangkok. Wednesday the show is at the International Convention Center in Taipei.

JIM BRINKMAN performs at the State Theatre in Sandusky, Ohio on Friday. On Saturday he is on stage at the Ritz Theatre in Tiffin, Ohio.

SARAH BRIGHTMAN thrilling audiences this week at the Bell Center in Montreal on Monday. The next night, Tuesday, she is at the Corel Center in Ottawa. Thursday finds her at Air Canada Centre in Toronto. Friday she's in the spotlight at the Copps Coliseum in Hamilton, Ohio and she closes out the week, Saturday, at the Blue Cross Arena in Rochester, New York.

ENRIQUE IGLESIAS at the DAR Constitution Hall in Washington, D.C. on Saturday.
















Next Column: February 8, 2004
Copyright: February 1, 2004. All Rights Reserved. Reviews, Interviews, Commentary, Photographs or Graphics from any Broadway To Vegas (TM) columns may not be published, broadcast, rewritten, utilized as leads, or used in any manner without permission, compensation and/or credit.
Link to Main Page
---
Laura Deni


CLICK HERE FOR COMMENT SECTION