! >
Broadway To Vegas
  
  REVIEWS INTERVIEWS COMMENTARY NEWS

| | |
| --- | --- |
| | |
GET IN THE SPIRIT WITH A CHRISTMAS STORY THE MUSICAL - -RECORDING FOR BROADCAST AN X-RATED PLAY - - MASTERPIECES FROM THE PRADO - - YOUNG PERFORMERS' EDITION LAUNCHES - - DON'T MISS GOLDEN BOY - - 54 BELOW TO HAVE LIVE ALBUM SERIES - - DANCERS OVER FORTY - - PRINCE WILLIAM TO ATTEND 65th ROYAL FILM PERFORMANCE OF THE HOBBIT - - DONATE . . . Scroll Down




Copyright: December 9, 2012
By: Laura Deni
CLICK HERE FOR COMMENT SECTION


DON'T MISS A CHRISTMAS STORY AND GOLDEN BOY


A festive musical and a riveting drama. Totally different, yet possessing the qualities that can appeal to the same audience.

While not the only strong shows on Broadway, these are the ones Broadway To Vegas is reviewing this week.

A Christmas Story: The Musical!, and Golden Boy.

The seasonal A Christmas Story: The Musical! has songs by Benj Pasek and Justin Paul and a book by Joseph Robinette. Superbly directed by John Rando and ditto for the choreography by Warren Carlyle. Those five have been blessed with an abundance of talent.

This is a wonderful, feel good Christmas tradition that, if at all possible, you should try to catch before it becomes a memory on December 30. Nobody is shooting their eye out in this offering, which has earned a place in the ranks of eagerly awaited annual Christmas productions.

There isn't anything not to like about the production. Those who are passionate about the film won't feel betrayed.

All of the scenes are there - the tongue getting stuck on the flagpole, the pink bunny pajamas, the Chinese restaurant, and that leggy lamp. Only the Broadway production one ups the movie version. Not only does Ralphie and the rest of the cast deliver the story line, they also sing and dance. Tap dancing to the point that children seeing a performance may be inspired to ask for tap shoes for Christmas.

And, watch out Rockettes, there is competition with that kick line of lamps. Just to perhaps give Annie some competition, remember the dogs in the movie that drove the Old Man to distraction? The Broadway musical has two who romp on stage much to the delight of the audience.

We triple dog dare you not to like the show. If A Christmas Story: The Musical! doesn't bring a smile your face and keeps you in a feel good mood as your leave the theater, then Santa should put a lump of coal in your sock.



Johnny Rabe in A Christmsa Story Production Photo.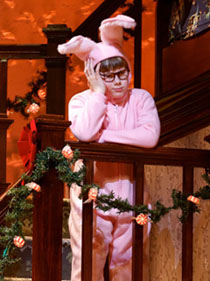 The mounting is cast heavy with talented children who are charming rather than coming across as a show-biz adult pretending to be a child.

On stage almost the entire time is Ralphie, played at most performances Johnny Rabe, a 12-year-old from Chicago who played one of Ralphie's classmates in the show's 2011 national tour. At certain performances the role is portrayed by 12-year-old Joe West, the son of Emmy award winner Maura West. Both West and Rabe are making their Broadway debut.

The cast for A Christmas Story! also includes Dan Lauria (Jean Shepherd), John Bolton (the Old Man), Zac Ballard (Randy), Erin Dilly (Mother) and Caroline O'Connor (Miss Shields), and Eddie Korbich as Santa Claus.

The ensemble for the production features Tia Altinay, John Babbo, Charissa Bertels, Grace Capeless, Zoe Considine, Andrew Cristi, Mathew deGuzman, Thay Flloyd, George Franklin, Nick Gaswirth, Mark Ledbetter, Jose Luaces, Jack Mastrianni, Mara Newbery, Lindsay O'Neil, Sarah Min-Kyung Park, J.D. Rodriguez, Analise Scarpaci, Lara Seibert, Jeremy Shinder, Luke Spring, Beatrice Tulchin, and Kirsten Wyatt.

Based on the 1983 holiday classic, A Christmas Story is set in 1940 in Hohman, Ind., where 9-year-old Ralphie is trying desperately to persuade his parents to make sure that come Christmas morning, a coveted Official Red Ryder Range Model Carbine Action BB Gun will be under the tree. He continues to long for the toy firearm, despite the repeated opining by adults that "you'll shoot your eye out."

The vivid sets are by Walt Spangler and costumes by Elizabeth Hope Clancy. Effective lighting by Howell Binkley and non irritating sound by Ken Travis.


Orchestrations by Larry Blank; music direction and supervision by Ian Eisendrath; dance music arrangements by Glen Kelly.

Produced by the film's original Ralphie, Peter Billingsley, the clever, sentimental and downright enjoyable A Christmas Story, The Musical! is a limited engagement at the Lunt-Fontanne Theatre, closing on December 30. If you're smart you'll order tickets for next year's production just as soon as they go on sale.



Tony Shalhoub, Seth Numrich, Dagmara Dominczyk and Michael Aronov in Golden Boy. Photos by Paul Kolnik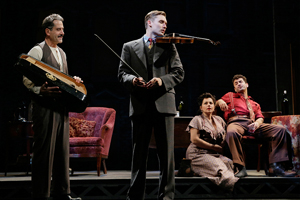 On the opposite side of the mirth meter is Golden Boy, by Clifford Odets which is having a 75th anniversary revival, directed by Tony Award winner Bartlett Sher. For those who think Broadway means an audience predominately of women of a certain age, buy a ticket to this powerful production. It's a man's show which will hold the attention of everyone.

Golden Boy - Gloomy, blistering, brutalizing, powerful and unforgettable.

First staged to great acclaim in 1937, Golden Boy is just as bloody, poignant, entertaining and relevant today as it was then.

Joe Bonaparte (Seth Numrich) is a gifted violin player, the son of an Italian immigrant (Tony Shalhoub) who sells vegetables from a horse-drawn cart.

The elder Bonaparte has struggled to save and spends those hard earned dollars on a concert worthy violin, explaining that "for me, a violinist is a servant to humanity." Also a savvy boxer, while Joe enjoys delicately playing that fiddle, it's those blood drawn ring fights which more than pays the bills.

Almost breaking his father's heart, Joe puts down the fiddle and puts on the gloves, hoping for even bigger bucks promised by manager Tom Moody (Danny Mastrogiorgio), who's counting on Joe to be his pathway to living well.

Golden Boy charts the swift rise of the gifted violinist, Joe Bonaparte, who is corrupted by fame and fortune when he chooses to become a professional boxer. Surrounding his hero with a gallery of sharply written characters who try to shape and guide Joe's destiny, Odets lays out the young man's many facets: sensitive musician, rebellious son, frustrated lover, and self-destructive champion. In the end, it is the seductive promise of the American dream that betrays Joe as it did for so many in the Depression years - and as it still does today - just look at all the home foreclosures.

Originally produced by the Group Theatre in 1937, Golden Boy was a great success for its author and his most popular play:

"Golden Boy was worth waiting for. It is a pungent, flashy story of a prizefighter who knocks out his own ego. Mr. Odets writes straight through the heart with the strength and gusto of a genuine artisan of the theatre." --Brooks Atkinson, New York Times, Nov. 5, 1937.

That same review could be run today.

What needs to be expanded are plaudits for the incredible cast and design crew.



Seth Numrich and Danny Burstein in Golden Boy. Photos by Paul Kolnik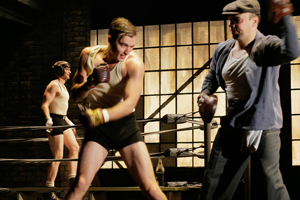 The cast for this 75th anniversary production includes Danny Burstein as Joe's trainer, Tokio and Yvonne Strahovski as Lorna Moon, the mistress of boxing manager Tom Moody played by Danny Mastrogiorgio.

Yvonne Strahovski. Who? Think reincarnation of Carole Lombard.

Strahovski is an Australian television actress who also appears on the cable show Dexter. She has made an attention getting, awesome Broadway debut. She's not only gorgeous and talented, she has a way with accents. Not a trace of the Australian and her ear for nuances has her capturing the street wise New Yawker accent to a fair-thee-well. If there is an 'r' or a 'g' at the end of a word - forgetaboutit.

Whether the scenes are in a boxing arena, the tenement apartments or seedy offices, they are emotional arenas filled with conflict and disillusion.

The cast is a stand out, Shalhoub in particular, who is such a gifted actor that he makes all parts seemingly flow effortlessly from him - be it Mr. Monk in that Emmy award winning series Monk, or as this devoted, reserved father who is heartbroken at the choice his son has made.

Impressive, Shalhoub manages to take stereotyped Italian accents and make them poignantly believable. It's a part whose lines are written in broken Italian-accented English, a potential for a comedic burlesque skit, if emanating from an actor with lesser ability.

With people drenched in blood, many times that type of stage creation can look like a cross between cinnamon jelly and ketchup. In Golden Boy the realistic red stuff sparks an urge to call the paramedics.

For Joe, the only experiences worse that the body blows are the emotional jabs that do permanent damage.

Playing his violin may feed his soul: "With music I'm never alone when I'm alone", but boxing is his revenge. "People have hurt my feelings for years," he says. "I never forget. You can't get even with people by playing the fiddle. If music shot bullets, I'd like it better ..."

Burstein as Joe's trainer, Tokio, tells Joe: "Your heart ain't in fighting ... your hate is."

The support beans are Dagmara Domincyzk and Michael Aronov as Joe's bawdy sister Anna and her boisterous cab-driver husband, Siggie; Jonathan Hadary as the sensible friend of Joe's father; Anthony Crivello plays oily fight promoter Eddie Fuseli, whose interest in Joe is a product of his own homosexual tendencies, and Brad Fleischer as Pepper White, a punch drunk rival boxer.

The fine supporting cast also includes: Demosthenes Chrysan (Lewis), Sean Cullen (Drake), Ned Eisenberg (Roxy Gottlieb), Karl Glusman (Call Boy), Jonathan Hadary (Mr. Carp), Daniel Jenkins (Barker), Dion Mucciacito (Sam), Vayu O'Donnell (Driscoll), Lucas Caleb Rooney (Frank Bonaparte), and David Wohl (Mickey).

Convincing sets by Michael Yeargan, on target costumes by Catherine Zuber and dramatic lighting by Donald Holder who knows the power of shading. Balanced sound by Peter John Still. Marc Salzberg's realistic fight direction conveys that you wouldn't want to be on the wrong side of him in a dark alley.

Performances at the Belasco Theater, where it premiered 75 years ago, through January 20, 2013.

LCT's Resident Director, Bartlett Sher. In his words, "Clifford Odets is one of the best 20th-century American playwrights and the obsessions and concerns that inform his work are what make him unique and great. As Joe Bonaparte struggles to define himself, each of us should also ask ourselves: Are you the violinist or are you the boxer? Will you allow your humanity to be crushed, whether it's for love, or fame, or money, or anything else?"

Don't miss Golden Boy, it'll knock you out.





Broadway To Vegas is supported through advertising and donations. Priority consideration is given to interview suggestions, news, press releases, etc from paid supporters. However, no paid supporters control, alter, edit, or in any way manipulate the content of this site. Your donation is appreciated. We accept PAYPAL. Thank you for your interest.



ART AND ABOUT


PORTRAIT OF SPAIN: MASTERPIECES FROM THE PRADO

Alonso Sánchez Coello, The Infanta Isabel Clara Eugenia (1566–1633) and Magdalena Ruiz, c. 1585–88, oil on canvas, Museo Nacional del Prado, Madrid. © Photographic Archive, Museo Nacional del Prado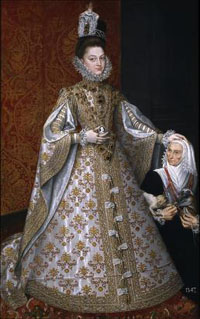 an exhibition of more than 100 masterworks from one of the world's most renowned collections of European painting comes to the Museum of Fine Arts in Houston on exclusive U.S. loan as part of a new initiative by the Muawo Nacional del Prado in Madrid to broaden access to its holdings.

The exhibition tells the story of the evolution of painting in Spain from the 16th through 19th centuries and explores how artists reflected the sweeping changes in society, culture, politics, and religion that contributed to the development of a modern Spanish identity.

Masterpieces by the leading painters of the day from each of the four centuries are included, with works by Francisco de Goya, El Greco, Bartolomé Esteban Murillo, and Diego Velázquez.

Artists who worked for the royal court and directly influenced the development of painting in Spain are also well represented, with superb paintings by Peter Paul Rubens, Giovanni Domenico Tiepolo, and Titian.

Portrait of Spain opens at the MFAH December 16, 2012 - March 31, 2013 following the premiere at the Queensland Art Gallery in Brisbane, Australia, the first stop on this two-venue tour.

On Thursday, December 13, Gabriele Finaldi, deputy director of conservation and research, Museo Nacional del Prado, Madrid; and former curator, National Gallery, London will deliver a brief history of Madrid's famous Museo Nacional del Prado, presented in conjunction with the exhibition.

SOMETHING WICKED is coming to the Smithsonian's National Museum of American History in Washington, DC. The museum will be accepting objects from the award-winning musical Wicked: The Untold Story of the Witches of Oz into their collection on Monday, December 17, 2012 during which time a special live performance will take place in Flag Hall.

In attendance will be Marc Pachter, acting director, National Museum of American History; Dwight Blocker Bowers, curator, National Museum of American History; Susan Hilferty, Tony award-winning costume designer, Wicked, and Wicked and actresses Donna Vivino who plays Elphaba and Tiffany Haas who is Glinda.

In a special ceremony, Tony award-winning costume designer Susan Hilferty will sign the deed of gift for an Elphaba costume and broom from the musical Wicked, based on the novel by Gregory Maguire, to the National Museum of American History's popular culture collections. The costume is currently on display in the American Stories exhibition.

In other Dorothy-related news, the ruby slippers from The Wizard of Oz are back on display in American Stories after their six week trip to the Victoria and Albert Museum in London.


SWEET CHARITY


65th ROYAL FILM PERFORMANCE OF THE HOBBIT: AN UNEXPECTED JOURNEY takes place at the Odeon cinema in London's Leicester Square on December 12. Prince William and Duchess Catherine were originally scheduled to not only attend but meet and greet the cast prior to the screen. Duchess Kate is coping with severe morning sickness and has dropped out of all activities.

On Saturday night, December 8, Prince William made a solo appearance at the Winter Whites Tennis Gala at Royal Albert Hall, a fundraising event for the homeless charity Centrepoint. He questioned the name of his wife's pregnancy condition saying, "I don't know why they call it morning sickness - they should call it all day and all night sickness." He added, "It's a long old process but she is getting there. She feels like it is going to go on forever."

At the moment Prince William is still slated to appear at the The Hobbit event, although it's speculated that the meet and greet will center more on the cast congratulating William over his expectant fatherhood, rather than discussing the movie.

Cast members from the fantasy film attending include Martin Freeman - who portrays lead character Bilbo Baggins in the motion picture alongside his co-stars Christopher Lee, James Nesbitt, Sir Ian McKellen, Andy Serkis, Cate Blanchett and director Sir Peter Jackson.

The evening benefits the charity Cinema and Television Benevolent Fund (CTBF) - which offers assistance to those in the industry affected by illness, bereavement, accident or unemployment, and is mainly funded by Royal Film Performance.


RECORDING FOR BROADCAST AN X-RATED PLAY
Chris Rock in The Mother ***** With The Hat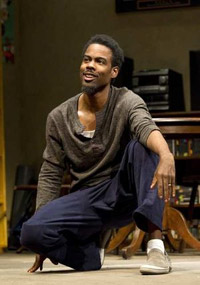 How do you air a radio broadcast of The Mother ***** With A Hat?

L.A. Theatre Works is about to find out.

Chris Rock will reprise his Broadway debut role in Stephen Adly Guirgis' The Mother ***** With The Hat for six performances at L. A. Theatre Works, January 31 to February 2.

The production will be a radio theater staging recorded in front of live audiences for later broadcast.

Rock will join other members of the original Broadway cast, including Bobby Cannavale and Elizabeth Rodriguez. Guirgis wrote the comedy about a former drug dealer (Cannavale) who learns to re-adjust to life outside of prison with the help of a counselor (Rock).

Guirgis' play will make its Los Angeles area debut at South Coast Rep January 6-27 in a mounting directed by Michael John Garcés.

As a general, rule people know what to expect when attending an X-rated stage production. For this South Coast Rep engagement, publicity, signs and pronouncements make it clear that; "Mature audiences only. As the title indicates, there is a large amount of profanity in this play, in addition to drugs, sexual situations, nudity and violence."

Although radio can be edgy, generally, radio audiences have a more G-rated set of aural expectations. How do you air this production?

Broadway To Vegas checked with L.A. Theatre Works which responded:

"The full text of the play will be available on CD and for digital download, but the X-rated words will be bleeped on the radio. There will also be a warning on the radio in addition to the bleeping."

A risk is that listeners will think they're hearing Morris code. Or, there will be so much dead air that those in radio land will fear their box is on the fritz.

L.A. Theatre Works' syndicated radio theater series airs weekly on radio stations nationwide and can be streamed on demand.

This past week-end L.A. Theatre Works recorded Lips Together, Teeth Apart in which Bart DeLorenzo directed two-time Emmy Award winner Kirsten Johnson and Steven Weber in the live studio recording of Terrence McNally's comedy. No bleeping was necessary.


YOUNG PERFORMERS' EDITION LAUNCHES WITH THE WIZARD OF OZ


Re-writing a musical to fit the guidelines for performances by youngsters is time consuming and expensive. Causing future Broadway stars to feel that they are 'somewhere over the rainbow,' was news that there is now an approved version of The Wizard of Oz.

Tams-Witmark Music Library has launched its Young Performers' Edition collection of titles with the release of The Wizard of Oz, Young Performers' Edition, now available for licensing, it was announced by Sargent L. Aborn, President of Tams-Witmark Music Library, Inc. The hour-long musical has been specially tailored for elementary school and middle school aged children by iTheatrics under the supervision of its founder and CEO, Timothy Allen McDonald, in collaboration with Deena R. Harburg.

"The Wizard of Oz is a beloved story that teaches a beautiful lesson: sometimes your heart's desire is in your own backyard. It seems only appropriate that this musical treasure should be the first Young Performers' Edition title in Tams-Witmark's new collection for children," says Aborn. "We are looking forward to seeing the creative ways in which children and educators will tell this wonderful story from their own backyards," he adds.

Tams-Wimark selected iTheatrics to create the student version of the show as well as accompanying support resources for educators - which are designed to make sure that anyone, anywhere has the tools and information necessary to successfully stage a musical production with students. These resources include a production guide for directors, a sing-along recording for rehearsal, a recording of the performance music and a choreography DVD which takes schools and educational groups step-by-step through the process of creating and staging engaging musical numbers.

"The launch of Tams-Witmark's collection of Young Performers' Edition musicals will offer even more young people the opportunity to experience the transformative power of musical theater, and it will give more schools the ability to create cost-effective and sustainable musical theater programs," says McDonald.

iTheatrics is currently working with Tams-Witmark to develop a student version of Bye Bye Birdie as its next Young Performers' Edition title.

Tams-Witmark Music Library, Inc. was founded in 1925 and its catalog of musical shows includes The Wizard of Oz, Bye Bye Birdie, Oliver!, You're a Good Man, Charlie Brown, Anything Goes, Hello, Dolly!, My Fair Lady, and Crazy for You. Its roster of authors covers every era from many of the greatest writers of the 1920s and 1930s to some of the best-known authors writing for Broadway today. In addition to schools, Tams-Witmark is engaged in worldwide licensing for all other types of theatrical organizations and is often involved in the licensing of Broadway and West End productions.


HOT NEW YORK NIGHTCLUB TEAMS WITH LABEL TO RECORD LIVE PERFORMANCES
Patti LuPone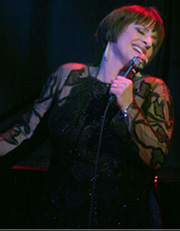 In an announcement that has to be making New York cabaret acts singing for joy, is the teaming of Broadway Records and 54 Below to have a Live Album Series which will launch January 15, 2013.

The album series will kick off with Patti LuPone and Norbert Leo Buts' recordings.

Patti LuPone Far Away Places - Live at 54 Below is produced by seven-time Grammy nominee Robert Sher.

Norbert Leo Butz Memory and Mayhem - Live at 54 Below is produced by Aaron Ankrum and Michael Moritz.

Christiane Noll Gifts - Live at 54 Below follows with a February 5th release date.



Andrea McArdle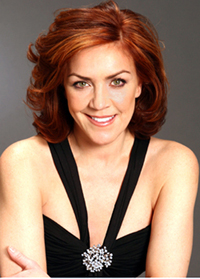 That is also an Ankrum produced effort as is Andrea McArdle 70s and Sunny - Live at 54 Below which is available February 26th.

Andrea McArdle's return engagement to 54 Below on January 14th through 17th will also be recorded to provide new material for her album.

"We are thrilled to be partnering with 54 Below on this exciting new live album series," stated Van Dean, co-founder of Broadway Records.

"We believe 54 Below has been, and will continue to be, host to a multitude of legendary concerts featuring Broadway's brightest stars and this is an opportunity to capture these performances permanently for the fans."

54 Below is owned and operated by Tony Award winning producers Tom Viertel, Marc Routh, Richard Frankel, and Steven Baruch.

Frankel said, "My partners and I are happy to add the live recording component to our 54 Below activities. It is exciting that some of the great performances will be available to audiences world wide." ( See Broadway To Vegas column of June 3, 2012 )


SPREADING THE WORD


DANCERS OVER FORTY holds their Fourth Annual Legacy Award event on December 10 at LIPS Restaurant in New York City.

Broadway veteran Harvey Evans hosts this Holiday Party and Dinner, along with performer, blogger and Hello, Dolly! expert Richard Skipper.

Honored will be Advisory Board Member Carol Lawrence, who is not only a Broadway and film star, but spent decades headlining Las Vegas hotels; Board Member Lee Roy Reams who took time out from Broadway to appear in the Las Vegas production of The Producers, Advisory Board Member Larry Fuller the choreographer for Evita, Sweeney Todd, On the Twentieth Century, and Merrily we Roll Along, former Board Member George Marcy of West Side Story, Damn Yankees, Carnival, and Man of La Mancha fame and Norma Doggett Bezwick who performed in Jack Cole's first Broadway musical, Magdalena, the movie Seven Brides for Seven Brothers, and Bells are Ringing, on Broadway.

Speakers and presenters include Leslie Uggams and Donna McKechnie.

THE 9th EDITION OF THE DUBAI INTERNATIONAL FILM FESTIVAL which takes place December 9-16, at the Madinat Jumeirah, will screen over 160 films from 61 countries, in 43 languages, featuring 52 world premieres, 14 international premieres, 73 Middle East premieres and 17 GCC premieres.

Academy Award winners Cate Blanchett, Kevin Spacey and Colin Firth will be in attendance. Additional A-listers who are slated to attend are: Cuba Gooding Jr, Frieda Pinto, Rooney Mara, Kristen Davis, singer Bryan Ferry, Firth's wife Livia, English actor Steve Oram and Kiwi actress Kerry Fox.

A host of Arab celebrities including Egyptian actresses Laila Aloui, Nelly Kareem, Caroline Khalil, Sherine Adel and actors Khalid Al Nabawy, Amr Waked and Mohammad Sa'ad will also rub shoulders with Lebanese star Shirine Abdul Nour on the red carpet during the eight-day festival.

Oscar-winning director Ang Lee's Life of Pi will open the festival. The comedy drama The Sapphires, based on a play of the same name, will close the festival.

EVERYBODY READY TO REBOOT THE BAKTUN!? on Monday, December 10, Maya expert Dr. Mark Van Stone will speak on Science and Prophecy of the Ancient Maya followed by a digital show Tales of the Maya Skies. Billed a great enlightening treat, to learn about the Maya calendar, and why the world is not going to end on December 21.

In other words, you will have to pay for those Christmas presents, cruises and other extra live-it-up purchases you charged, thinking you'd be off the planet before the bill arrived.

Dr. Van Stone specializes in Maya hieroglyphs and calligraphy, and his books include 2012: Science and Prophecy of the Ancient Maya inspired by Maya inscriptions, astronomical knowledge, math and myth, and Reading the Maya Glyphs.

Monday, December 10 at the Reuben H. Fleet Science Center Heikoff Giant Dome Theater in San Diego, CA.

ERIKA IRIS SIMMONS has been selected as the artist who will create the official artwork for the 55th Annual Grammy Awards. The work depicts the iconic Grammy image composed with half-inch studio recording tape, called "a true celebration of recording excellence."

Her creation will be used as the official artwork for the world's premier music event and will grace the cover of the Grammy Awards program book, telecast tickets and promotional poster.

The 55th Annual Grammy Awards will be held February 10, 2013, at Staples Center in Los Angeles and will be broadcast live on the CBS Television Network.

SMASHED: THE CARRIE NATION STORY a Staged Reading of the first ever opera commissioned by Opera On Tap (OOT). Music by James Barry. Libretto by Timothy Braun. Stage Direction by Kathleen Stakenas. Music Direction by Mila Henry.

This comic opera about drinking booze (and about those people who don't drink booze) features: Krista Wozniak as Carrie Nation, Matthew Curran as her arch-nemesis The Bartender, with Seth Gilman, Evan McCormack, and Patricia Vital as The Uncle Jimmy's Liquid Courage Brigade, and Allison Linker, Bevin Hill and Kayleigh Butcher as The Carrie Nation All-Stars and Stephen Thornton as The Narrator.

Friday December 14th at the National Opera Center in New York City.

SWANSONG by Patrick Page. A staged reading directed by Roger Reese. The reading features Tom Hammond, Patrick Page, Tom Bloom and Michael Littig.

Based on true events between peers Ben Jonson and Shakespeare, this is billed as "a moving tale of a dramatic friendship.

Presented by Red Bull Theater on December 10, 2012 at the Lucille Lortel Theater, NYC.

REUNIONS AT THE FABULOUS PALM SPRINGS FOLLIES

Lorna Luft (right) greets Margaret O'Brien. Photo: The Fabulous Palm Springs Follies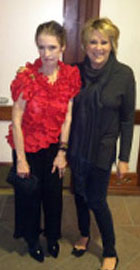 Last Sunday Lorna Luft, currently guest starring in The Fabulous Palm Springs Follies, brought good friend Barry Manilow (who is also her record producer) to the show.

And that same day, MGM legends Mickey Rooney and Margaret O'Brien had tender reunions with "Judy's Little Girl" immediately after the matinee.

Another reunion that day occurred between Follies Cast Member Hank Brunjes and Rooney, the two having performed together for seven years in the national touring company of Sugar Babies.

And the prior night brought cast favorite and Dancing With the Stars' two-time champion Kym Johnson back to the Follies.

Visiting from Australia was her mother, who requested the Follies as the location for her birthday festivities. They were happy to helped her celebrate.

The Fabulous Palm Springs Follies which is headquartered in - where else - Palm Springs, CA has a holiday break beginning on December 15.

They then reopen December 28 for eight shows, concluding with two New Year's Eve gala performances - a matinee and an evening welcome to 2013.


OTHER PEOPLE'S MONEY


THE BROADWAY LEAGUE'S 15th ANNUAL DEMOGRAPHIC REPORT compares current theatergoing habits to previous seasons in predicting trends for the future.

The newest study reveals that tourists accounted for 63.4% of all Broadway tickets, up from 61.7% in the 2010-2011 season. Overall, international tourists accounted for 18.4% of all admissions to Broadway shows in New York City.

"This was our strongest 52-week season in history in terms of attendance and grosses with over 12.3 million admissions," commented Charlotte St. Martin, Executive Director of The Broadway League. "We are pleased to see growth in international market, as New York City continues to show strong tourism numbers. As well, the 2011 – 2012 season saw an increase in the diversity of our audience. Word of mouth continues to be the greatest influence for show selection, with a notable uptick in the power of social networking posts."

The report also shows that the use of the Internet for the purchase of tickets has increased from 44% to 47%. Online purchase continues to be the most popular method of ticket buying.

Reflecting a trend of the past few decades, 67% of the audiences were female. Playgoers also tended to be more frequent theatregoers than musical attendees. The typical playgoer saw six shows in the past year, compared with four for the musical attendee. Those who saw fifteen or more shows comprised 5% of the audience, but represented 29% of all admissions (3.6 million admissions).

From June 2011 through June 2012, the League's Research Department administered surveys at 31 different productions at 81 individual performance times. Shows were selected on a quarterly basis to represent what Broadway was offering that season (i.e., a proportionate number of musicals versus straight plays; revivals versus original works; and new productions versus long-running shows). Questionnaires were distributed at multiple performances per show to account for variances in the weekday, weekend, evening and matinee audiences. Completed questionnaires were tabulated and weighted based upon the actual paid attendance for each show. In total, 16,175 questionnaires were distributed and 9,903 were returned, representing a 61% rate of return.



THE TURNER PRIZE has been awarded to video artist Elizabeth Price for her video installation, The Woolworths Choir of 1979. The film was inspired by a fatal fire at a Woolworths store.

Actor Jude Law presented Price with the award of $40,250 at Tate Britain in London.

The prestigious and controversial award is presented to a British artist under the age of 50 who is judged to have put on the best exhibition of the last 12 months.

The other nominees were performance artist Spartacus Chetwynd, video artist Luke Fowler and Paul Noble, a visual artist.

Previous recipients of the prize, first awarded in 1984, include Antony Gormley, Damien Hirst, Steve McQueen and Grayson Perry. Last year's prize was awarded to sculptor Martin Boyce.


CURTAIN DOWN


SCANDALOUS: THE LIFE AND TRIALS OF AIMEE SEMPLE McPHERSON will close on Broadway today, December 9. Shuttering at a total financial loss, the musical opened November 15 following previews from October 13 at the Neil Simon Theatre. At close, it will have played 31 previews and 29 regular performances.

For the week ending December 2, the show grossed $370,243, an increase of more than $175,000 from the previous week's tally, thanks to The New York Dream Center, which purchased tickets for area residents affected by Hurricane Sandy. The New York Dream Center is the local arm of The Los Angeles Dream Center, the charity organization founded by McPherson at the height of her fame in the 1920s. More than 1,600 tickets were bought and distributed to those in need the week of November 26, but the theatre was filled only to 37.6 percent of capacity during the week.

Despite the short run, expect two-time Tony Award nominee Carolee Carmello, who starred as Aimee Semple McPherson, to receive a plethora of theatrical award nominations.



THE HOLIDAY GUYS IN HAPPY MERRY HANU-MAS a variety entertainment show starring Jeffry Denman and Tony Award nominee Marc Kudisch.

Whether you celebrate Hanukkah or Christmas the production promises that you'll enjoy Kudisch and Denman, the self-proclaimed Holiday Guys, who bring their unique sound and irreverent point of view to what promises to be one of the most infectious and joyful holiday concerts you'll ever experience.

A fun-filled 80 minutes of song and cheer.

Timothy Splain will serve as pianist and music director.

Special guests will also make appearances at every performance .

Prior to arriving in The Big Apple, The Holiday Guys in Happy Merry Hanu-Mas will be staged December 11-16 at the Signature Theater in Arlington, VA.

Opens December 18 for a two week Off-Broadway premiere at the York Theatre in New York City.

THE KNICKERBOCKER SUITE a new holiday offering, brought to the stage by Rose Caiola with the Manhattan Youth Ballet. Based on the jocular story by artist Elliott Arkin.

This original ballet is a timely tale of American values and folklore with New York City at the center of attention. The first act, mixed media production, opens with a satirical animated film narrated by Tony award winning actor, Michael Cerveris, revealing a series of imaginative contemporary visual scenarios and characters following in the tradition of the Nutcracker story.

Choreographers include New York City Ballet's Daniel Ulbricht, Deborah Wingert,formerly of New York City Ballet, Nick Kepley who was last seen on Broadway in Mary Poppins, and currently working with choreographer Josh Prince, Marina Stavitskaya who was seen in the feature film, Black Swan and Natalia Boesch, formerly of American Ballet Theatre.

December 12-16 at the Manhattan Movement & Arts Center, NYC.

IT'S A WONDERFUL LIFE: A LIVE RADIO PLAY by Joe Landry, inspired by the classic American film, It's A Wonderful Life.

Directed by Gordon Greenberg, choreographed by Lorin Latarro.

It's A Wonderful Life: A Live Radio Play is performed as a 1940s live radio broadcast in front of a studio audience. This beloved American holiday classic, that tells the story of idealistic George Bailey as he considers his demise one fateful Christmas Eve, comes to captivating life with the help of an ensemble that brings over two dozen characters to the stage. It premiered in 1996 and has since been produced countless times around the country to critical acclaim.

Starring Justin Guarini, Garth Kravits, Lauren Molina, Jill Paice, Kevin Pariseau, and Mark Price.

December 13, 2012 — December 30, 2012 at the Bucks County Playhouse in New Hope, PA.

Special post-show talkbacks following the matinee performances take place on December 19, December 22, and December 26.

MY FAIR LADY based on Pygmalion by George Bernard Shaw, Book and lyrics by Alan Jay Lerner. Music by Frederick Loewe. Directed by Molly Smith. Choreographed by Daniel Pelzig.

One of the most entertaining musicals every written. Perfect holiday fare.

Molly Smith's fresh reinterpretation of My Fair Lady set the all-time box office record at the prestigious Shaw Festival in Canada. And now Molly has reassembling her creative team to bring this breathtaking musical to Arena Stage.

Starring Benedict Campbell as Henry Higgins, Manna Nichols as Eliza Doolittle and Thomas Adrian Simpson as Colonel Pickering.

When Professor Henry Higgins wagers he can transform a Cockney flower girl into an aristocratic lady, he never guesses that Eliza Doolittle will in turn transform him. Lerner and Loewe's sparkling score includes such enduring favorites as I Could Have Danced All Night, Wouldn't It Be Loverly, The Rain in Spain, On the Street Where You Live and Get Me to the Church on Time. Based on Shaw's most incisive social satire, My Fair Lady has always been a joyful, crowd-pleasing celebration for the entire family.

Through January 6, 2013 in the Fichandler Stage at Arena Stage in Washington, DC.


WHO'S WHERE




A NIGHT IN HAVANA WITH TIEMPO LIBRE bright colors, festive sounds and hot tropical nights. Transcending classical, jazz and Cuban music the NAC Orchestra heats up the stage with Cuban sensations Tiempo Libre and vocalist Malena Burke for this irresistibly seductive concert. The three-time Grammy-nominated Tiempo Libre brings their authentic tropical sound to perform alongside the incomparable Malena Burke. Raised in the heart of Havana, the soulful Burke hails from the famed Cuban nightclubs of the Tropicana and Riviera. Together with the Orchestra, audiences will be transported to a sizzling and sultry musical night in Havana. December 13 - 15, 2012 at the NAC in Ottawa, Ontario, Canada.

LADY GAGA entertains Wednesday, December 12, at the SCO Olympic Arena in Moscow, Russia.

THE IRISH TENORS on stage Monday, December 10, at the Ferguson Center for the Arts in Newport News, VA. Wednesday's show is at the Count Basie Theatre in Red Bank, NJ. On Thursday they can be enjoyed at the NYCB Theatre at Westbury, NY.

WAYNE NEWTON sings his hits December 11 at the Keswick Theatre in Philadelphia.

MADONNA brings her talent to the Thu 12/13/12 Buenos Aires, Argentina Estadio River Plate in Buenos Aires on Thursday, December 13 and then repeats the show on Saturday.

CARRIE UNDERWOOD performs Tuesday, December 11, at the Schottenstein Center in Columbus, OH. On Wednesday the show id at the United Center in Chicago. Friday she's on stage at the Event Center in Des Moines, IA. Saturday's gig is at the Sprint Center in Kansas City, MO.

CELTIC WOMAN light up the stage on Tuesday, December 11, at the Segerstrom Center in Costa Mesa. On Thursday they open a two nighter at the Pechanga Resort in Temecula, CA. Saturday's performance is at the Fantasy Springs Resort in Indio, CA.

BRIAN SETZER ORCHESTRA gets the place jumping Tuesday, December 11, at the Civic Center in Peoria, IL. On Wednesday they are on stage at the Uptown Theater in Kansas City. Thursday finds them at the Hard Rock in Catoosa, OK. On Saturday the beat will come from the Arena Theatre in Houston. Next Sunday, December 16, their tour stops at the Event Center in Allen, TX.


FINAL OVATION


DAVE BRUBECK the great jazz pianist died in Norwalk, Connecticut on November 5, 2012, the day before his birthday. He was 93 and died of heart failure, en route to "a regular treatment with his cardiologist," according to the official release.

He also wrote a number of jazz standards including In Your Own Sweet Way and The Duke. He was also a respected composer of orchestral and sacred music, and wrote soundtracks for television such as Mr. Broadway and the animated mini-series, This Is America, Charlie Brown.

Brubeck organized The Dave Brubeck Quartet in 1951 with Paul Desmond on alto sax.

In 1954, he was featured on the cover of Time, the second jazz musician to be so honored. The first was Louis Armstrong on February 21, 1949.

He was a Kennedy Center honoree in 2009.

Neil Portnow President/CEO of The Recording Academy issued the following statement:

"Recording Academy Lifetime Achievement award recipient David Brubeck was an iconic jazz and classical pianist. Throughout his six decade-long career, his unique time signatures and distinct rhythms were highlights of his innovative style. As one of the prime architects of the sophisticated West Coast jazz sound, Brubeck showed that jazz could be artistically challenging yet accessible to large audiences. His recordings have received both commercial and critical success, and will be remembered and celebrated for generations to come. We have lost a great legend in our community, and our thoughts and condolences go to his family, friends and all those he inspired."

He is survived by his wife, Iola; four sons and a daughter; grandsons and a great granddaughter. His sons are also professional musicians. Darius, the eldest, is an accomplished pianist, producer, educator and performer. He was named after Dave Brubeck's mentor Darius Milhaud. Dan is a renowned percussionist, Chris is a multi-instrumentalist and composer. Matthew, the youngest, is a versatile cellist with an impressive list of composing and performance credits. Brubeck's children often joined him in concerts and in the recording studio.

JULES CHAIKIN lead trumpet with the big bands of Stan Kenton and Les Brown, studio musician, music contractor and contributor to film scores, died November 23 in Cabo San Lucas, Mexico of heart failure. He was 78.

He was a studio musician in recording sessions with Herb Alpert and the Tijuana Brass, Paul Anka, the Carpenters, Chicago, Aretha Franklin, the Jefferson Airplane, Kris Kristofferson, Manhattan Transfer, Johnny Mathis, Lou Rawls, Kenny Rogers, Nina Simone, the Turtles, Dionne Warwick and Nancy Wilson.

For 20 years, he was the music contractor of the Grammy Awards, also hiring musicians for the BET Awards and the Latin Grammys. He acted as the music contractor for TV specials with Sammy Davis Jr., Michael Jackson and Rod Stewart.

He hired musicians for such recording artists such as Tony Bennett, Michael Buble, Natalie Cole, Andrea Bocelli, Michael Feinstein, Aretha Franklin, Josh Groban, Julio Iglesias, Michael Jackson, Frank Sinatra, Barbra Streisand and Diana Krall. He was the house contractor for the Greek Theater, the Universal Amphitheater and the Pantages Theater.
He was the national secretary-treasurer of the National Academy of Recording Arts and Sciences.

Neil Portnow President/CEO of The Recording Academy issued the following statement: "An accomplished trumpeter, music contractor and contributor to film scores, Jules Chaikin was a highly talented musician with a career that spanned several decades. Chaikin worked with such artists as the Carpenters, Chicago, Dionne Warwick, Aretha Franklin, Kenny Rogers, Nina Simone, and Johnny Mathis, and he contributed to such films as The Rose, A Star Is Born, Ghostbusters, and Star Wars. We were fortunate to have him as part of our Grammy family not only as a past elected leader but as a music conductor on the telecast for more than 20 years. We have lost a gifted musician and a giving individual, and our thoughts and condolences go out to his family, friends and all those who were fortunate to work with him."

Jules Chaikin is survived by his wife of 57 years, Judy; a son and a daughter; and three grandchildren.







Next Column: December 16, 2012
Copyright: December 9, 2012. All Rights Reserved. Reviews, Interviews, Commentary, Photographs or Graphics from any Broadway To Vegas (TM) columns may not be published, broadcast, rewritten, utilized as leads, or used in any manner without permission, compensation and/or credit.
Link to Main Page
---
Laura Deni



For the snail mail address, please E-mail your request.
CLICK HERE FOR COMMENT SECTION