!>
Broadway To Vegas
  SHOW REVIEWS     CELEBRITY INTERVIEWS     GOSSIP     NEWS 
| | |
| --- | --- |
| | |
Copyright: December 9, 2001
By: Laura Deni
CLICK HERE FOR COMMENT SECTION

LUCK BE A LADY

The introduction of a one dollar Frank Sinatra Slot Machine gives new meaning to Luck Be A Lady. December 12 would have been Frank Sinatra's 86th birthday. From Las Vegas, where he reigned as Chairman of the Board, to his birthplace in New Jersey, celebrations are occurring commemorating his musical legacy.


Frank Sinatra on stage at the Sands Hotel surrounded by their world famous Copa Showgirls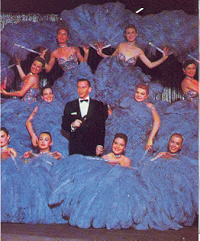 Last Thursday Nevada Lt. Gov. Lorraine Hunt and Las Vegas Mayor Oscar Goodman used the mayor's weekly press conference to present Frank's third and youngest child, daughter Tina, with a medal and proclaim December 12th Frank Sinatra Day in Las Vegas. The mayor credited Sinatra with shaping the Nevada entertainment image.

"If anyone deserves his own day in Las Vegas, it's Frank Sinatra, who epitomized all the best of Las Vegas style and cool," Goodman said.

The new Sinatra slot machine also was introduced by International Game Technology. Sinatra Slots is a dollar progressive machine, paying a jackpot of up to $500,000. The series of four themed reel spinning, familiar MegaJackpots games are a tribute to Sinatra's favorite cities - Las Vegas, New York, Chicago and Los Angeles. The Sinatra(TM) game features music and sound bits from Frank singing some of his hits, including Fly Me to the Moon, New York, New York and My Kind of Town.

The MGM Grand hotel-casino, one of the places the slot machine will be featured, and IGT are sponsoring a free concert on Tuesday starring Frank Sinatra Jr.

Sinatra Day will be recognized by Las Vegas Strip hotel-casinos, which will display Happy Birthday Frank on their marquees, while the Bellagio fountains and the Fremont Street Experience will play musical tributes.

In Frank's birthplace, Hoboken, Sinatra's granddaughter, AJ Lambert takes to the stage. The rock singer is the daughter of Frank's eldest child, Nancy. Her late father, Huge Lambert, was the noted dancer/choreographer.

The promo reads - AJ Lambert invites you to her grandfather's birthday celebration An Evening of Loving Tribute to Frank Sinatra. Hear Hoboken's own perform Frank's songs - Bossa 51 featuring Dave Stengel and Tom Vincent, I Trei Amici performed by Matt and Fran Azzarto with AJ Lambert and Skanatra, a Sinatra tribute band, fond of the word broad, that hails from Frank Sinatra's hometown of Hoboken, New Jersey. Skanatra has won rave reviews for breathing new and energetic life into some of The Chairman Of The Board's classics.



Members of SKANATRA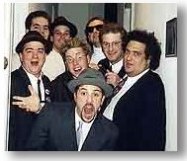 The event is Wednesday at The Goldhawk in Hoboken, NJ. The five-dollar cover charge will be donated in its entirety to the Frank Sinatra Foundation, a charitable organization run by the Sinatra family.

In addition to live performances a plethora of albums are being released

As part of the tribute, the Las Vegas Convention and Visitors Authority released a CD that features the never-before-released Sinatra song, It's Time for You.

The song was used with permission of the Frank Sinatra Foundation in a series of TV ads launched by the authority after Sept. 11 to promote Las Vegas.

"To do the It's Time for You campaign was a big decision," admitted a tearful Tina."Do you move on from those images and start promoting Las Vegas?" questioned Tina. "I wanted to make him part of this healing process," she said. "He was a man that when times were tough, went to work."

There are also two new Rat Pack CDs, a collection of their greatest hits Eee-O-11 and the previously unreleased The Rat Pack Live at the Sands, both released by Capitol.

The Rat Pack Live at the Sands (2001), is a recording from that unforgettable performance at the famed Las Vegas hotel's Copa Room on September 7, 1963, and Eee-O-11, the first time that 18 of their signature recordings, ranging from 1952 to 1964, have been officially collected on one album. Both were released November 20th.

From Dean's opening medley of Drink To Me Only With Thine Eyes/I Don't Care If The Sun Don't Shine/I Love Vegas (Paris), to the threesome's closing romp on The Oldest Established (Permanent Floating Crap Game In New York), Frank, Dean and Sammy command the Las Vegas stage for more than an hour.



Dean Martin, Sammy Davis, Jr. and Frank Sinatra having fun their way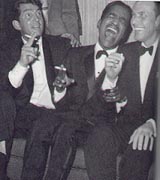 The Rat Pack Live at the Sands presents the show just as it happened that night, complete with wisecracks, dialogue, impressions, mixed drinks - and plenty of great music.

Martin's slurred ad-libs open these 1963 shows at the Sands' famous Copa Room. Their dialogue and ring-a-ding-ding antics helped make this town's swinging, cool reputation.

Dean: "Did you know Lincoln was Jewish?" Frank: "I did not know." Dean: "Yeah, he was shot in the temple."

There is Sam's Song, in which Martin keeps trying to call it "Dean's Song," Sammy insists on the formal title and Dean finally suggests, "Clyde's Song."

And then there is that $39.3 million box office record breaking movie. While the George Clooney, Julia Roberts, Brad Pitt, Matt Damon, Elliott Gould update of Ocean's Eleven, released last Friday, is getting all of the hype, there is no sense in ignoring the original.

Staying true to the spirit of the era, Eee-O-11 takes its title from its closing track, the original Ocean's 11 movie theme by Sammy Davis Jr., released only as a collectors item single on Verve back in 1960.

The collection is divided, and alternates back and forth, between classic sides by Frank, Dean and Sammy at what many consider the artistic heights of their careers.

Sinatra is represented by his Capitol recordings circa 1954 to '58, Dean Martin is represented on Eee-O-11 by his Capitol and Reprise recordings of the '50s and '60s, including Ain't That A Kick In The Head which he sang in Ocean's 11. Sammy Davis Jr. is heard on his 1962-63 Reprise recordings and both sides of his rare non-LP duets single of Me And My Shadow with Frank backed with Sam's Song with Martin.

The first-ever individual CD issue of the 1956 rarity Frank Sinatra Tone Poems of Color headlines the Jan. 8, 2002, release of seven more Capitol Records concept albums.

This group of seven includes a handful of Sinatra's most intriguing albums.

Frank Sinatra Conducts Tone Poems of Colors is an innovative instrumental album, with Sinatra commissioning eight acclaimed composer/ arrangers, including Nelson Riddle, Billy May, Gordon Jenkins, Elmer Bernstein, Andre Previn and Victor Young, to write instrumental pieces contemplating different colors.



Frank Sinatra conducting while Nelson Riddle, seated to Sinatra's left looks on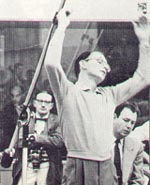 The inspiration for this unique musical concept was the poetry of Norman Sickel, writer of past Sinatra radio shows. The color poems of Norman Sickel are also included in the album booklet.

According to Sickel records it was in Hollywood on February 22, 28, March 7 and March 15, 1956 Sinatra conducted their performances with a 55-piece orchestra.

Frank Sinatra An American Legend by the eldest Sinatra child, Nancy, states that the Tone Poems of Color recordings took place on July 30, 1956.

Sinatra wasn't the only fan of Sickel. Helen Hayes kept Sickel scripts in her possession for decades. Americana Resources, which lists 120 of the personal effects from the estate of Helen Hayes currently for sale, has this listing: Helen Hayes Personal Item: The House, and As I Remember Him, original scripts by Norman Sickel, PhM.3/c with cover letter from Mr. Sickel (U.S. Naval Hospital, Bethesda address, March 2, 1943) to Miss Helen Hayes. He thanks her for her recent visit to the Naval Hospital and how much it meant to the men. He is sending her these 2 scripts to use as she sees fit, neither having been done in public, either on stage or on the air." Asking price $35.00

Close to You And More has Sinatra accompanied by a string quartet; the ballad album was a Top 5 hit.

Where Are You? 1957, his first Capitol album without Nelson Riddle is an all ballad album that also went Top 5. It was also Sinatra's first album recorded in stereo.

The 1959 No One Cares was Sinatra in a melancholy mood. Nice N' Easy released in 1960, hit No. 1 and went gold. Come Swing With Me was one of six Sinatra Top 10 albums released in 1961 as he segued to Reprise Records. His final swing sessions for Capitol, arranged by Billy May, were recorded without strings or saxes, and experimented with stereo effects. Point Of No Return Sinatra's aptly-titled 1961 final Capitol album ironically saw the return of Axel Stordahl, who was with him during his rise to stardom and arranged his first Capitol sessions which are included here as the CD reissue's bonus tracks.



Broadway To Vegas is supported through advertising and donations. Priority consideration is given to interview suggestions, news, press releases, etc from paid supporters. However, no paid supporters control, alter, edit, or in any way manipulate the content of this site. Your donation is appreciated. We accept PAYPAL. Thank you for your interest.


IN CASE OF RADIATION LEAKS WRAP YOUR COW IN A BLANKET

American are suppose to be on high alert. So listen up. In case of a nuclear or chemical disaster make sure you wrap your cow in a blanket.

Hello!!

We're of the school that feels the word Hello should be used when greeting somebody or answering the telephone. We've always though the popular use of the word Hello to emphasize a point comes across as insulting, pejorative - rude.

This past week we heard Hello used in just that way and, for the first time, felt it was - appropriate.

Testimony was being given before an august body which CNN was carrying live. Our channel surfing stopped as the person testifying caught our ear.

A well groomed and articulate farmer's wife was speaking. Her family and farm are apparently a down wind distance to a nuclear plant and there were concerns.

People who live within a close proximity to nuclear reactors have reasons to want answers. These good folk wanted specific instructions on how to protect and prepare themselves should there be a nuclear leak.

Our government obliged by providing the citizens with a detailed printed instruction list which included stockpiling additional food, water, first aid kit, tape to secure windows and openings and a lot of extra blankets.

The lady testifying looked at the list as she read from it, commenting that she had done this, or could handle that. Then she got to the extra blanket section and read the instructions which indicated that the person should go out onto the farm land and wrap a blanket around each cow.

She looked up from the paper, stared at the male faces above the polish desk and said - HELLO!!!

Then she explained to the leaders that in case of a nuclear disaster she was going to be too busy worrying about the safety of her children, securing her home and trying to take care of a million things at once to go out into the fields and attempt to wrap a cow in a blanket.

Not to mention that to wrap any living thing in a blanket and expect that blanket to stay in place needs total cooperation.

While there is scientific merit in covering items and then carefully removing and destroying the covering after a nuclear cloud has passed over, the idea of people wrapping cows in blankets could only have been written by a City Slicker who not only didn't see the movie, but perhaps has never even seen a photograph of a cow.

People need specific information to judge for themselves what methods to take, if any, to prepare for events that we all hope never occur. For instance, in case any poor soul has the misfortune to have their home under any type of a passing over nuclear cloud, throw out all opened food.

To instruct the citizens to attempt to wrap each cow in a blanket sounds like it was written by Comedy Central. Or, if The Daily Show needs more writers all they have to do is look to some of those penning our government's missives.


SWEET CHARITY


BROADWAY HOLIDAY TREE LIGHTING the annual lighting of the Broadway Holiday Tree in Duffy Square takes place on Wednesday.

This year's master and mistress of ceremonies are George Hamilton, currently Billy Flynn in Chicago, and Rue McClanahan, one of the stars of The Women. They will be joined by members of other Broadway and Off-Broadway shows. The festivities will also include a special performance by the NYPD's Daniel Rodriguez and Michael McElroy with the Broadway Inspirational Voices.

As part of the ceremony, TDF and the League of American Theatres and Producers will present a $5,000 donation to Joseph Nardone, Battalion Commander of the 9th Battalion, for the Ladder 4/Engine 54/Battalion 9 Memorial Fund, which has been established to aid the families of men from that theater district firehouse who were lost in the tragedy of September 11.(See Broadway To Vegas column of September 23, 2001)

This year's tree, a 25-foot, white spruce, will be decorated with red, white, and blue lights and ornaments representing every show now running on and Off-Broadway

ELTON JOHN AIDS FOUNDATION BENEFIT takes place Wednesday at the Universal Amphitheatre in Universal City, CA. Helping Elton raise funds will be Alicia Keys, Bon Jovi, Craig David, matchbox twenty, Pete Yorn, Rufus Wainwright, and Sting.

HERE'S LOVE Meredith Willson's musical version of Miracle on 34th Street which opened on Broadway October 3, 1963 and closed after 334 performances, stages a benefit concert for the Lark Theatre Company in New York City, Monday, December 17 at the Lortel. The production stars Jeff Blumenkrantz, Chuck Cooper, Robert Creighton, Debbie Gravitte, Ann Harada, Crista Moore, and Mary Testa, all under the direction of Donald Brenner. Todd Rosen a 1992 graduate of Boston University's School of Theater, is the managing director of The Lark Theater Company, an off-Broadway theater company that researches and develops new plays for the theater.



SOUTH PACIFIC in the middle of a 31 city cross country tour, opened December 5 in Boston at The Colonial Theatre with performances through Sunday.



MICHAEL NOURI gives a moving curtain call speech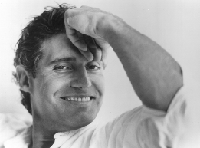 The production stars Michael Nouri as Emile de Becque and Erin Dilly as Nellie Forbush

Every night since September 11 Nouri has delivered a curtain speech about the September 11 Relief Fund. The cast members sing God Bless America, and then go out into the audience with hats and dufflebags. Their impromptu USO efforts have helped raise $200,000.

The timeless Broadway musical of wartime and romance set on an Island in the South Pacific marked Rodgers and Hammerstein's fourth collaboration. Adapted from two short stories by James Michener, South Pacific chronicles two love affairs. The first involves Lt. Joe Cable and a young Polynesian girl. The second revolves around Nellie Forbush, a Navy nurse from Little Rock, and Emile de Becque, a French planter with whom she falls in love one enchanted evening. Rodgers and Hammerstein tied the two stories together by having Cable and de Becque go on a dangerous mission behind Japanese lines from which only one of them returns.

This landmark show won nine Tony Awards including Best Musical, Book and Score. South Pacific became only the second musical to win a Pulitzer Prize for Drama. The original production featured Mary Martin and marked the Broadway debut of Metropolitan Opera basso Ezio Pinza. It opened at the Majestic Theatre on April 7, 1949 and ran for 1925 performances, making it the second longest running musical of the decade.

The unforgettable score is full of some of the most enduring standards in Broadway history, including: There's Nothing like a Dame, I'm Gonna Wash That Man Right Outa My Hair, Bali Ha'i, Some Enchanted Evening, and the powerful You've Got To Be Taught,

The made for television production starring Glenn Close and Harry Connick, Jr. was televised in March of 2001. It also became only the second musical to be awarded the Pulitzer Prize for Drama.

In 1967, the show was revived at Lincoln Center with a cast headed by Florence Henderson and Giorgio Tozzi. The classic 1958 film version featured Mitzi Gaynor and Rosanno Brazzi.

This national tour of South Pacific is directed by Scott Faris with Gary Chryst as choreographer, Derek McLane as Set Designer and Ken Billingston Lighting Designer next sets down stakes at the Clowes Memorial Hall in Indianapolis, IN for performances December 25-30.

CAUGHT IN THE NET by Ray Cooney starring Harry Groener, Tony Randall, and Paxton Whitehead. The plot concerns John Smith, played by Groener, happily wed for 18 years to two women. There is wife Barbara in Streatham and wife Mary in Wimbledon. Smith discovers that his daughter by Mary and his son by Barbara have encountered each other in an Internet chat room. After discovering that their fathers have the same name, same job and same age - what a coincidence! - the kids decide to meet in the real world. Opened December 4 with performances through Dec 23 at Miami's Coconut Grove Playhouse.

AND THEN THERE'S BEA staring Bea Arthur and her friend Billy Goldenberg at the piano December 11 - 22 in the Royal Poinciana Playhouse, Palm Beach, Florida.

ANNIE GET YOUR GUN December 14-16, in Greensboro, NC

MUSIC MAN Kristin Chenoweth will be starring in ABC's upcoming Wonderful World of Disney adaptation of The Music Man, playing Marian the Librarian to Matthew Broderick's Professor Harold Hill. Shooting is expected to begin in March

CABARET by composer John Kander and lyricist Fred Ebb The national tour makes a stop at Kingsbury Hall, Salt Lake City, Utah for performances December 11-16. Cabaret stars Allison Stratt as Sally Bowles and John Byron Holley as Clifford Bradshaw.

THE TIN PAN ALLEY RAG A musical by Mark Saltzman with music and lyrics by Irving Berlin and Scott Joplin Directed by: Lynne Taylor-Corbett This high-spirited ragtime musical takes place in 1915, when the young upstart, Irving Berlin is creating quite a stir on New York's 29th Street - the popular-music Mecca known as Tin Pan Alley. One afternoon, Scott Joplin, king of ragtime piano, pays Berlin a visit. The result is a humorous, dance-filled exploration of the roots of the American Popular Song, featuring the best of Irving Berlin and Scott Joplin. Director Lynn Taylor-Corbett received Tony Nominations for staging and choreographing Swing on Broadway

The Cleveland Play House, America's first permanently established professional theatre company offers this production in their Bolton Theatre. Opening night was Nov. 27 with performances through December 30. The Cleveland Play House, Cleveland, Ohio.


WHO'S WHERE


THE COLORS OF CHRISTMAS began in 1992 and since then has turned into an annual event - bringing together on tour a host of beloved award-winning artists, performing songs of the season as well as their own familiar hits, accompanied by a full orchestra and gospel chorus.

This year's tour includes Peobo Bryson, Sheena Easton, Oleta Adams and Michael McDonald who was part of the first Colors of Christmas performance benefiting UNICEF's relief effort in Somalia in 1992.

The Colors of Christmas returns to the Riviera Hotel, Las Vegas on December 11.

BARRY MANILOW Thursday through Saturday at Mandalay Bay Resort, Las Vegas.

SMOOTH JAZZ CHRISTMAS starring Brenda Russell, Dave Koz, David Benoit, Peter White, Rick Braun, center stage December 11 in Fort Lauderdale at the Broward Center. On Wednesday the group is in Clearwater Florida in the Ruth Eckerd Hall. Thursday finds them in Naples, Florida in the philharmonic center, Friday it's Sarasota, Florida at the Van Wezel Performing Arts Hall and they close out the week Saturday stage in New York City at the Beacon Theatre.

WAYNE NEWTON performs Friday and Saturday at the Foxwoods Casino in Mashantucket, CT.

LUTHER VANDROSS today sings at the Bronco Bowl in Dallas, Texas. Tomorrow he performs at the Majestic Theatre in San Antonio, Texas. On Thursday the entertainer stars at the BCJJ Concert Hall in Birmingham, Alabama and closes out the week Friday with the show in the Ovens Auditorium in Charlotte, N.C.

HOLIDAY REUNION with Leslie Gore, Lou Christie, Charlie Thomas Drifters, Kenny Vance and the Planotones, and David Somerville of the Diamonds. From the era of drive-in movies, sock hops, poodle skirts and black leather jackets come the rock 'n' roll oldies you loved so well. With chart-topping hits and holiday favorites, these legends of the '50s and '60s will make your holiday season memorable. Classics include It's My Party, Under The Boardwalk, Little Darlin' and Lightnin' Strikes/ December 15, Alexander W. Dreyfoos, Jr. Concert Hall Kravis Center, West Palm Beach, Florida

SMASH MOUTH perform tomorrow at the Atlanta Civic Center in Atlanta, Ga. Next Sunday they can be found in Miami, Florida at the American Airlines Arena.

MOSCOW BOYS CHOIR on tour in America have a busy week. Today they perform at the Meyerhoff Symphony Hall in Baltimore, MD. On Monday the performance takes place in Elmsford, NY at the Westchester Broadway Theatre. Thursday finds the group center stage in Ipswich, MS at the Performing Arts Center. On Friday the star in Ridgefield, CT at the Ridgefield Playhouse. Saturday the lads sing in Montclair, NJ at the Memorial Auditorium.

JOHN PIZZARELLI December 13-15 at the National Arts Center in Ottawa, ON.

VIENNA BOYS CHOIR perform today at Carnegie Hall in New York City.

THE MANTOVANI ORCHESTRA was founded by Italian maestro Annuzio Paolo Mantovani. The group toured internationally and scored hits with renditions of Charmaine, Greensleeves, Moulin Rouge, Exodus, Moon River and Mantovani's own composition, Cara Mia. The orchestra remained a popular concert draw, touring steadily throughout the 1950s, '60s and into the '70s. Mantovani retired in 1975 and died in 1980. The orchestra was reconvened in 1983 in a celebration of Mantovani's life and works, and is now under the leadership of conductor Charles Ellis. Performs Thursday First Presbyterian Church, Myrtle Beach, S.C.

DIANA KRALL performs December 11 at the California Center in Escondida, CA. Then on Thursday she takes to the stage in Palm Desert, CA at the McCallum Theatre.

RICHARD HERD best known as Mr. Welhelm, George Costanza's boss on Seinfeld brings is one man show Cecil B. DeMille Presents - A One-Man Show to the Pardoe Theatre at Brigham Young University, Deccember 13-14.

Written by James A. Brown the production is directed by Jeffrey Marcus. The one-act performance will be followed by a screening of DeMille's first silent, feature-length film, The Squaw Man, starring Dustin Farnum.


PIFFLE AND PROFUNDITIES

IT'S A WONDERFUL LIFE was considered a failure by both Frank Capra and the studio.

A JAPANESE ARTIST in 1983 made a copy of the Mona Lisa completely out of toast.












Next Column: December 16, 2001
Copyright: December 9, 2001. All Rights Reserved. Reviews, Interviews, Commentary, Photographs or Graphics from any Broadway To Vegas (TM) columns may not be published, broadcast, rewritten, utilized as leads, or used in any manner without permission, compensation and/or credit.
Link to Main Page
---
Laura Deni


CLICK HERE FOR COMMENT SECTION