! >
Broadway To Vegas
  
  REVIEWS INTERVIEWS COMMENTARY NEWS

| | |
| --- | --- |
| | |
ANDREW LLOYD WEBBER MUSICAL STEPHEN WARD IN PREVIEWS - - THE CARRIE UNDERWOOD SOUND OF MUSIC LIVE RECORDING CD REVIEW - - THE FUTURE QUEEN ELIZABETH'S THEATRICAL CAREER - - BRUCE VILANCH AND BEN VEREEN STAR IN ALADDIN AND HIS WINTER WISH - - GRAMMY NOMINATIONS - - WILLLIAMSTOWN THEATRE FESTIVAL ANNOUNCES NEW ARTISTIC DIRECTOR - - PUPPETRY IN AMERICA - - THE RECORDING ACADEMY ANNOUNCES 2014 GRAMMY HALL OF FAME INDUCTEES - - DONATE . . . Scroll Down




Copyright: December 8, 2013
By: Laura Deni
CLICK HERE FOR COMMENT SECTION


A UNIQUE PROFESSIONAL RESOURCE PARTNERSHIP FOR MUSICAL THEATER STUDIES


The Yip Harburg Foundation and SUNY Empire State College Metropolitan Center on Monday, December 9, will announce a unique resource partnership for musical theater education.

The collaboration between the college and the foundation will offer students of the Metropolitan Center an opportunity for unique undergraduate study in the arts and a personalized degree that reflects their interests in Musical Theater.

The collaboration unites theater professionals with students and offers a new model for public-private partnerships in theater studies that go beyond the familiar university/conservatory models.

At the by invitation only announcement event, Yip Harburg songs will be performed by Broadway performers including Jonathan Hadley (Jersey Boys) and Jenifer Babiak (Fiddler on the Roof). Rare film excerpts of the lyricist and his work will be shown with narration by Yip's son, Ernie Harburg, President of the Yip Harburg Foundation.

Empire State College (ESC) is termed ideal for students who need maximum flexibility, including older students returning to college after a hiatus and those who are studying part time around work or family commitments. Such students profit from the college's flexible approach to learning and the opportunity to earn college credit through work and life experience.

In this partnership, the Yip Harburg Foundation (YHF) offers workshops for ESC credit. They are not exclusively designed for performers, but will appeal to a wide variety of students, for example a performer who wants to direct, a student of the music business who wants to learn songwriting, or a student of economics who wants to learn acting.

The workshops will be led by the highest level of Broadway and Entertainment professionals. They now include Scenes to Songs with David Brunetti, who is a director, musical director and vocal coach to many stars on Broadway. Also on board is Theater Dance with actress/dancer Stephanie Fitttro who has appeared on Broadway and in numerous National and European Tours.

Workshops do not follow a single formulaic approach; they can be geared to almost all matriculated students who are interested. The Yip Harburg Foundation is also offering a vast array of customized internships that can place students into non-profit theater companies and other venues around NYC.

In addition, the foundation has donated $4,000 for scholarships to students in the arts at the Metropolitan Center for 2013-14 and has pledged an additional $4,000 for the next academic year. The foundation also will be publicizing opportunities for theater professionals to earn a bachelor's at the college. Its goal is to link those who may be performers, directors, choreographers, designers, or practitioners from virtually any aspect of the musical theater business.

Free YHF workshops for credit are already underway for ESC students with it being pointed out that free training is practically unheard of in NYC or for that matter, elsewhere.

The college will provide applicants from the foundation with pre-enrollment advising, information sessions and other specific presentations when appropriate in addition to providing a modest scholarship and waiver of the college's orientation fee.

Notable alumni of Empire State College include Lisa Brescia '08, who appeared in Wicked, Aida, Jesus Christ Superstar, Mamma Mia and Woman in White; Alan Rachins '74, best known for his role as Douglas Brackman in the long-running TV series L.A. Law, which earned him both Golden Globe and Emmy nominations, as well as for his portrayal of Dharma's hippie father, Larry, on the hit TV series, Dharma & Greg; and Lee Summers, who appeared in Dreamgirls and TV's Blue Bloods.

This partnership was developed in collaboration with Cynthia L. Ward, dean of the college's Metropolitan Center, and Deena R. Harburg, executive vice president and artistic director of the foundation.





Broadway To Vegas is supported through advertising and donations. Priority consideration is given to interview suggestions, news, press releases, etc from paid supporters. However, no paid supporters control, alter, edit, or in any way manipulate the content of this site. Your donation is appreciated. We accept PAYPAL. Thank you for your interest.





ART AND ABOUT


PUPPETRY IN AMERICA a new display will explore the impact puppets have had on American culture.

Puppetry is one of the oldest types of performance art in America. The earliest traditions were imitations of old world forms brought to this country by immigrants from Italy, France, and Great Britain. American puppetry is unique. Its many styles and techniques combine ancient and immigrant traditions, homegrown innovations, and the influences of electronic media.

The art of puppetry relies on the harmonious relationship of a puppet, a puppeteer's imaginative manipulation, and an audience whose willing suspension of disbelief allows it to accept the puppet's actions as "real."

This artifact wall will display two different rotations of objects from the stage and screen that cover over 160 years of American puppetry.

Rotation 1 will include a Chinese-inspired shadow puppet from 1850, Punch and Judy hand puppets, a Slugger Ryan rod puppet, finger puppets from entrepreneur Hazelle Hedges Rollins, paper puppets, marionettes such as TV's Howdy Doody, an Edgar Bergen Charlie McCarthy ventriloquist puppet, Mr. Moose and Bunny Rabbit from Captain Kangaroo, stop-motions puppets from Tubby the Tuba and Tim Burton's Corpse Bride, as well as several puppets (and Muppets) from The Jim Henson Company.

The display will look at the complexities of puppetry and examine different kinds of animated figures.

Opening on December 13, at the National Museum of American History, in Washington, DC.


SWEET CHARITY


THE COUTURE CHRISTMAS BALL an inaugural event taking place Thursday, December 12, benefiting the Fashion and Textile Museum in London.

For one night only, the museum will be transformed into a classic 1950s Ball where you and your friends can enjoy a vintage photograph, gin and tonic, makeovers, music and entertainment.


THE MUSIC GOES ROUND AND ROUND


THE NBC LIVE CAST RECORDING OF THE SOUND OF MUSIC was released by Sony Masterworks on December 3, two days prior to the live broadcast itself, which was watched by 18.6 million, while the DVD edition will be released on December 17.

This is a review of the CD version of the show.

If there is anybody who doesn't love The Sound of Music they are in serious need of immediate medical help. Polarizing is the passionate, fanatic idolization of the brilliant Julie Andrews in the title role.

No musical number was ever written to be sung by one - and only one specific - singer. Much blather has been spewn around, regarding somebody other than Julie Andrews singing the role of Maria.

Get over it. Appreciate Julie Andrews in her version and equally appreciate Carrie Underwood's voice in the current incarnation. It isn't being disloyal to Ms. Andrews to enjoy somebody else singing those golden songs.

When the 1965 movie was released, television was just exiting what had become known as The Golden Age of Television when all productions were live.

In the Golden Age of Television actors trained in that live version of television - there was no other. People forgot their lines, actors acted wooden, scenery fell over, costumes got caught on props, stagehands got in the way, and the audience would try to catch the flubs - forgiving every one. Those actors trained in the art of the live performance - where there is no Take Two - progressing to become consummate actors. They rarely turned into male or female divas. They valued their job, the audience and honed their craft.

Technology has advanced. The unrelenting ballyhooing about of a live performance of The Sound of Music guaranteed that nobody would forgive anything. That meant that only the best made the casting cut.



Carrie Underwood as Maria and Stephen Moyer as Capt. Georg von Trapp. Photo: NBC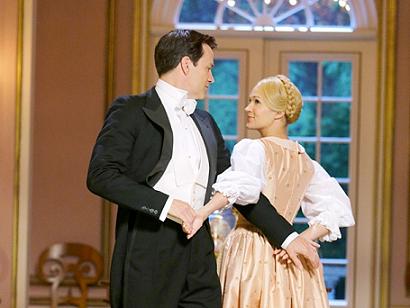 Six-time Grammy winner Carrie Underwood stars as Maria and True Blood star Stephen Moyer as Capt. Georg von Trapp with Tony Award winners Audra McDonald (Mother Abbess), Laura Benanti (Elsa Schrader) and Christian Borle (Max Dettweiler). Tony nominee Christiane Noll is cast as Sister Margaretta.

The younger members cast as the von Trapp children are Ariane Rinehart (Liesl), Michael Nigro (Fredrich), Ella Watts-Gorman (Louisa), Joe West (Kurt), Sophia Caruso (Brigitta), Grace Rundhaug (Marta) and Peyton Ella as young Gretl.

Tony nominee Nielsen played Frau Schmidt, with Sean Cullen as Franz, Michael Campayno as Rolf, CJ Wilson as Herr Zeller, Catherine Brunell as Frau Zeller, Emmy winner Michael Park as Baron Elberfeld, Paula Leggett Chase as Baroness Elberfeld and John Bolger as Admiral Von Schrieber.

Also featured are Shannon Lewis, Samantha Zack, Megan Sikora, Matt Wall, Ward Billisen, Marty Lawson, Alex Michael Stoll, Bob Gaynor, Karl Warden, Brandon Henschal, David Hull, Charlie Williams and Jennie Ford.

Jazz great Jessica Molaskey (married to another jazz icon John Pizzarelli) is cast as Sister Berthe and Elena Shaddow is Sister Sophia. Rounding out the cast of nuns are Georgia Stitt, Ashley Brown, Linda Mugleston, Margot de La Barre, Laura Shoop, Sydney Morton, Wendi Bergamini, Cameron Adams, Rema Webb, Rayanne Gonzales, Andrea Jones-Sojola, Adrienne Danrich, Autumn Hurlburt, Catherine Brunell, Leah Horowitz, Gina Ferrall, Nikki Renee Daniels, Joy Hermalyn and Stowe Brown.

The producers took an iconic musical and hedged their bets with talent. Even the most insignificant part was cast as though it was the lead.

Casting The Nuns of Nonnberg Abbey wasn't some haphazard - "send over 20 who can sing." Rather, individually, they have amazing track records.

Nun captain Georgia Stitt is married to composer Jason Robert Brown. Stitt posted some funny Twitter comments during rehearsals, including: reprinting a note that the nuns received from Audra McDonald. "Nuns, don't sing right into Audra's face. If you can help it."back off ma face!!!!" Stitt also posted: "New respect for nuns. Wimples are HEAVY!" Then there was the personal message: "Note to self: go to the bathroom before you put on 2 pairs of tights, Spanx, a microphone pack & 2 costumes: one of which is a nun's habit."

Elena Shaddow plays Sister Sophie and - for the Williamstown production, replaced a very pregnant Kelli O'Hara in Bridges of Madison County, a musical penned by Tony Award winners Jason Robert Brown (Stitt's husband) and Marsha Norman.

Some of the nuns had previously worked with Audra McDonald. Nikki Renne Daniels, aka Nun #18, appeared as Clara in the 2012 Tony Award winning revival of The Gershwins' Porgy and Bess. Also in that show was Andrea Jones-Sojola who played the Strawberry Woman.



Michael Nigro as Friedrich, Ella Watt-Gorman as Louisa, Joe West as Kurt, Sophia Anne-Caruso as Brigitta, Grace Rundhaug as Marta, Ariane Rinehart as Liesl, Peyton Ella as Gretl and Carrie Underwood as Maria in The Sound of Music Live!. Photo NBC Photo: NBC
Many of the nuns have ties to The Sound of Music. Wendi Bergamini who played Mother Abbess when she was 17, steps into the role of Miss Olsen in the Broadway revival of Promises, Promises beginning December 14. Stowe Brown, 16, appeared as part of the North Shore Music Theatre's production of The Sound of Music, which ran this past June. Among Gina Ferrall'a numerous Broadway credits was playing Sister Berthe in the 1998 Broadway production. Leah Horowitz has played both Marta and Louisa. She was also a braces-wearing postulant in a high school production of The Sound of Music. Linda Mugleston has seven Broadway shows under her belt. She's also played both Mother Abbess and Sister Margaretta.

Credits of the other nuns include Cameron Adams who has been on Broadway in the productions of The Music Man as Zaneeta Shinn, Oklahoma! as Rosie and Hairspray as Brenda and in the touring cast of Hairspray as Lou Ann.

Ashley Brown, noted for her perfect pitch, recently finished starring in the title role of the national touring production of Mary Poppins, and received a Drama Desk Award for Outstanding Actress in a Musical.

Catherine Brunell is a veteran of six Broadway productions. Opera soprano Adrienne Danrich's voice has been described as "fresh liquid-silver". Margot de la Barre was last seen on The Great White Way in Evita.

On Thursday, October 15, 2009, Paula Leggett Chase became the first chorus member of the 2009-2010 Broadway Season to receive the coveted Gypsy Robe, an opening night tradition that honors a member of the chorus who has the most Broadway chorus credits. Many of the nuns are double cast. For instance, Joy Hermalyn plays a nun and a drinking socialite. Hermalyn has been seen on Broadway as Fruma Sarah in Fiddler on the Roof, Chaperone in Cyrano, Old Lady (u/s) in Candide, Mrs. Fezziwig in A Christmas Carol, and in Baz Luhrmann's La Boheme.

Autumn Hurlbert was the runner-up on the reality competition series Legally Blonde - The Musical: The Search for Elie Woods. In 2009, Hurlbert was awarded the Fringe NYC Overall Excellence Award for Outstanding Actor for originating the role of Abby Lawrence in the comedy hit: A Contemporary American's Guide to a Successful Marriage, 1959.

Sydney Morton has been on Broadway in Memphis, Evita, and Motown the Musical. Laura Shoop a Juilliard-trained dancer, played Hodel in the Broadway revival of Fiddler on the Roof. She was also in the revival of Oklahoma. Rema Webb was in the Broadway production of The Book of Mormon.

This is one strong cast which knows how to sing, evident from the very first note.

The CD begins with the bell clear, gorgeous voice of Audra McDonald and the nuns performing Preludium. Audra McDonald as the Mother Abbess and The Nuns of the Nonnberg Abbey equals, if not puts to shame, the great orchestral and church choirs of the world.

If McDonald and those talents playing nuns had recorded an entire CD of holiday, inspirational or patriotic songs, it would have an annual appeal.

Just as the voice of Julie Andrews was meant to sing these songs, Carrie Underwood opens her mouth and vocally makes the songs her own on this CD.



Jessica Molasky as Sister Berthe, Elena Shaddow as Sister Sophia, Audra McDonald as Mother Abbess, Christiane Noll as Sister Margaretta in The Sound of Music are four women who always are in the habit of singing to perfection. Photo: NBC.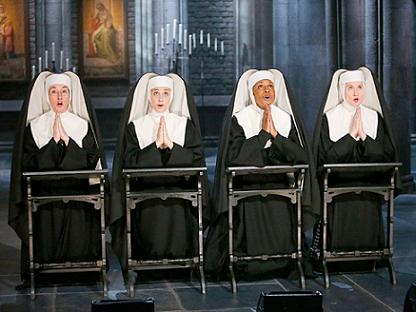 If there is one thing that Underwood can do, it's sing, and that stands out on this CD. Her rendition of the title song is beautiful.

While it was the initial intent to comment only on the CD, there has to be a slight deviation. This CD was recorded in a studio. The forthcoming DVD is suppose to be the TV show - presumably the sound from that show, not this CD. That means there is a difference. In the sainted movie version, the role of Abbess was played by Peggy Wood who delivered a gentle, physically restrained performance - more in keeping with the solid propriety that an Abbess is suppose to present at all times to the other nuns. However, Wood's singing voice was dubbed by Margery McKay who delivered the gold standard rendition of Climb Ev'ry Mountain.

McDonald's television performance was high energy, totally animated, almost frenetic - as if she felt that on her wimple rested the success of the show. That changes the way she sings. On the television show her voice was full throttle, delivering little of the emotional nuances that are evident on the softer, CD studio version of the same song. Thus, the DVD version will have differences from the CD. Both are excellent, as though you were listening to a stellar performer sing a song twice. Double the pleasure.

Just a thought, which has absolutely nothing to do with the splendid CD or McDonald's commendable TV performance - someday I'd like to see Kathleen Battle in the role of The Mother Abbess.

While beginning Climb Ev'ry Mountain on the CD in a more "lighter" vein that either the movie ot her television rendition, McDonald's CD delivery is not only powerful, but stirringly heartfelt.

Another difference between the CD and the DVD is Tony nominee Kristine Nielsen as housekeeper Frau Schmidt. On the CD you can't tell, but in watching the DVD you'll discover that she steals her scenes. Another scene stealer is Laura Benanti as Elsa Schrader.

Underwood's rendition on Something Good is sensitive.



Laura Benanti as Elsa Schraeder, Stephen Moyer as Captain Von Trapp, Christian Borle as Max Detweiler in The Sound of Music. Photo: NBC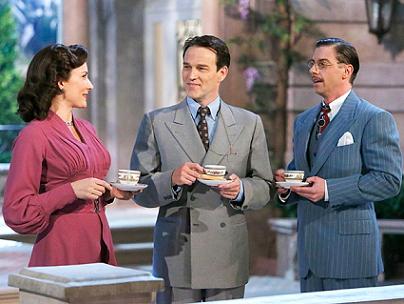 Rodgers and Hammerstein were noted for injecting social commentary, and they did in this musical with No Way To Stop It, a song with powerful lyrics, encased in an upbeat tune, sung by Laura Benanti, Christian Borle and Stephem Moyer.

Michael Campayno and Ariane Rinehart's duet on Sixteen Going on Seventeen will make you smile.

However, those unbelievably talented kids will be better appreciated on the DVD than this CD. They need to be seen to be believed. Then when you listen to the CD you'll visualize them and begin to better appreciate their abilities. Here's hoping the family friendly The Sound of Music gives them good footing and that - ten years from now - none of them have done the perp walk or are in rehab.

Joe West, 13, who appeared on Broadway in The Christmas Story, has the pure boy soprano voice that was showcased in solo segments. It's too bad he couldn't have also been cast this year in a production of Amahl and the Night Visitors, an opera in one act by Gian Carlo Menotti, commissioned by NBC and broadcast live on television. By next year, Joe West's voice may have changed.

The Sound of Music premiered on Broadway in 1959 where it broke box-office records and won the Tony Award for best musical. The 1965 film adaptation won the Oscar for best picture. Thankfully, this is the same show. No updating, no trying to convey any social message. Just glorious, glorious glorious music sung by singers who have now established themselves as being some of the best on the planet.

The Sound of Music From the NBC Television Event features studio recordings of all the musical numbers performed in the live broadcast, including Rodgers and Hammerstein favorites The Sound of Music, My Favorite Things, 'Do-Re-Mi, Sixteen Going on Seventeen and Climb Ev'ry Mountain, and the spirited How Can Love Survive?

Each and every member of the orchestra should be permitted to individually stand and take a bow.

The release of the NBC live cast recording of this Rodgers and Hammerstein classic is a fantastic listening experience. It doesn't matter if you own other versions of The Sound of Music, add this to your collection.

Recorded by Frank Wolf at Avatar Studios, New York City.
Mixed by Frank Wolf at Studio F. Music Supervisor: Frank Chase. Recording Production Manager Janet Weber. Mastered by Gavin Lurssen and Reuben Cohen at Lurssen Mastering in Los Angeles. Assistant Engineers Tyler Hartman and Nate Odden.

Music Coordinator: Howard Joines. Additional Vocal Recording: Tyler Hartman. Scording Editor: David Channing. Orchestrations: Doug Besterman. Music Preparation: Anixler Rice Music Services. Associate Music Supervisor: Fred Lassen. Children's Vocal Conductor: Steven Malone. Nun Captain: Georgia Stitt. Music Assistant: Ian Weinberger.

Orchestra:
David Chase, conductor
Emily Bruskin Yarbrough, concertmaster
Violin: Lisa Matricardi, Maxim Moston, Mineko Yajima, Erin Benim, Shinwon Kim, Matt Lehmann, Elizabeth Lim-Dutton, Jonathan Dinklage, Sean Carney.
Viola: JJ Johnson, David Creswell, Carla Fabiani.
Cello: Sarah Seiver, Summer Boggess, Laura Bintrager.
Bass: Michael Kuennen
Harp: Susan Jolles
Flute: John Romeri
Flute, Piccolo: Keith Bonner
Oboe, English horn: Lynne Cohen
Clarinet: Jonathan Levine, Steve Kenyon
Bassoon: Daniel Sullivan
Horn: Adam Krauthamer, David Byrd-Marrow, Aaron Korn
Trumpet: Dominic Derasse, Gareth Flowers, Jason Covey
Trombone: John Allred, Nate Mayland
Tuba: Marcus Rojas
Guitar: Scott Kuney
Celesta, Organ: Matt Perri
Percussion: Bill Hayes, Rich Rosenzweig
Keyboard Programmer: Randy Cohen

Lovely accompanying CD booklet which contains the lyrics to all of the songs. CD Cover Design Scott McDaniel. Design by Federico Ruiz.


PHOTOS OF QUEEN ELIZABETH'S STAGE CAREER GO UP FOR AUCTION
Princess Margaret, 11, as the lead in Cinderella, Cyril Woods in the middle and Princess Elizabeth, 15, as Prince Florizel. Photo: Dominic Winter Auctions.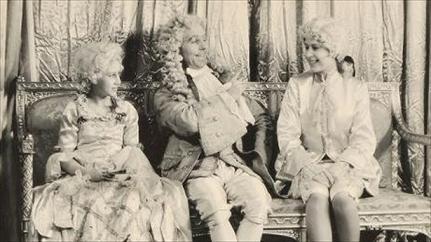 Never before seen photographs of the future Queen of England not just acting on stage, but performing male roles, are expected to fetch top dollar when they are hammered down by auction. Dominic Winter auctioneers in Gloucestershire, on December 11. The auction house has been in business since 1972.

The extraordinary collection are of pictures and newspaper reviews of the futue Queen Elizabeth and her sister Princess Margaret starring in plays during World War II.

There were four plays all together with Elizabeth playing the parts of men in three of the productions, while Margaret was always cast as a female.

While Princess Elizabeth received favorable reviews for her singing and dancing, it was her young sister who was repeatedly lauded for stealing the show.

Productions included Princess Elizabeth, then 15, performing alongside Princess Margaret in Cinderella in 1941 in Windsor, Berkshire. Elizabeth played Prince Florizel with Margaret - then just 11 - in the title role.

They also performed in Sleeping Beauty, Aladdin and Old Mother Red Riding Boots in the following years.

The panto performances were staged in the Waterloo Chamber at Windsor Castle.

The 1942 production Sleeping Beauty saw young Elizabeth playing Prince Salvador and Margaret cast as the Fairy Thistledown.

The following year they co-starred in a production of Aladdin with Princess Elizabeth in the starring lead and her sister as Princess Roxana.

The final show in 1944 was Old Mother Red Riding Boots with Elizabeth as Lady Christina Sherwood and Margaret as the Honorable Lucinda Fairfax.

Photographs, programs and press clippings of the productions - many signed by the two princesses - are being sold as part of an archive collected by a Cyril Woods who was an honor student at the Royal School in Windsor and acted in the pantos.

The four royal pantos were staged during the war after the future Queen and her younger sister were evacuated from Buckingham Palace at the conflict. The pair stayed at the Royal Lodge, in Windsor, until 1945.

The idea to stage a panto came after the two young princesses appeared in a concert with children from the Royal School to aid the war effort. Funds from the show went towards the Royal Household Wool Fund which provided blankets for the troops.



The cast of Aladdin. Princess Elizabeth left center with Princess Margaret right center. Photo: Dominic Winter Auctions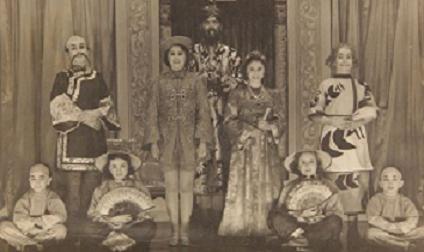 It was Princess Margaret who first suggested a panto and school head Hubert Tannar was invited to write the script and produce the first show in December 1941.

Cyril Woods, who never married, was of similar age to the princesses appeared in all four pantos, which were all written and produced by Tannar who also acted in the first and last ones.

The performances were all reviewed by numerous British newspapers. A News of the World clip reported:

"With the King and Queen seated in the front row of an Aladdin performance," the newspaper reported that "Prince Elizabeth was Aladdin and Princess Margaret Princess Roxana. The eight-year-old Duke of Kent and his sister Princess Alexandra, were in the supporting cast of 40 children, mostly from a village school.

"From the moment Princess Elizabeth first popped out of a laundry basket, to the final curtain, the King and Queen and the audience of 400 laughed and thoroughly enjoyed the show.

"Princess Elizabeth's tap dance in the first act and her song In My Arms brought a big round of applause. . . . " The Daily Telegraph wrote: "Princess Elizabeth, as Aladdin, sang several solos. Princess Margaret, as the Princess, scored a hit, her dancing being a feature. Other characters were taken by children from a village school with Cyril Woods as Widow Twankey and James Cox as the wicked uncle. The show was stage managed by Mr. H. I. Tanner, the village school-master, who also assisted Princess Elizabeth to write the book." One clip pointed out all of the costumes - many appearing to be extremely elegant - were made from "odd scraps of material supplied by the players."

Tannar died shortly after the war in 1948 but Princess Elizabeth kept up a warm correspondence with his widow Ethel until she died in 1975.

Mrs. Tannar then left her collection of letters and other memorabilia to Mr. Woods who became officer manager in the Crown Estate Office at Windsor. He died in 2001.

In 1990 The Queen asked Woods to write his memoirs of The Royal Pantomimes and a copy of his work is now in the Royal Archives.

Woods' collection, which includes almost 60 pictures, is expected to fetch over $26,000 when they go up for bid at Dominic Winter's Gloucestershire auction next week. The auction will feature 614 lots. The Royal theatrical photographs are in Lots 306-311.


THE RECORDING ACADEMY ANNOUNCES 2014 GRAMMY HALL OF FAME INDUCTEES


The Recording Academy has announced the newest additions to its legendary Grammy Hall Of Fame.

This latest round of inducted recordings continues to highlight diversity and recording excellence, and acknowledges both singles and album recordings of all genres at least 25 years old that exhibit qualitative or historical significance. Recordings are reviewed annually by a special member committee comprised of eminent and knowledgeable professionals from all branches of the recording arts, with final approval by The Recording Academy's National Board of Trustees.

With 27 new titles, the list currently totals 960 and is on display at the Grammy Museum at L.A. LIVE.

2014 Grammy Hall Of Fame Inductees
(Songwriters of singles in parentheses)

AFTER THE GOLD RUSH Neil Young Reprise (1970) Album

ALL THINGS MUST PASS George Harrison Apple (1970) Album

THE CHICAGO TRANSIT AUTHORITY Chicago Columbia (1969) Album

COSMO'S FACTORY Creedence Clearwater Revival Fantasy (1970) Album

DOC WATSON Doc Watson Vanguard (1964) Album

FORTUNATE SON Creedence Clearwater Revival (John Fogerty) Fantasy (1969) Single

GEORGIA (ON MY MIND) Hoagy Carmichael And His Orchestra (Hoagy Carmichael,Stuart Gorrell) Victor (1930) Single

GET UP — I FEEL LIKE BEING LIKE A SEX MACHINE James Brown (James Brown) King (1970) Single

HONKY TONK WOMEN The Rolling Stones (Mick Jagger, Keith Richards) London (1969) Single

JOLENE Dolly Parton (Dolly Parton) RCA (1973) Single

THE JOSHUA TREE U2 Island (1987) Album

KRISTOFFERSON Kris Kristofferson Monuent (1970) Album

LOW RIDER War (Allen, Brown, Dickerson, Goldstein, Jordan, Miller, Oskar & Scott) United Artists (1975) Single

MARY POPPINS — ORGINAL CAST SOUND TRACK Julie Andrews, Dick Van Dyke & Various Artists Buena Vista (1964) Album

NOBODY KNOWS THE TROUBLE I'VE SEEN Louis Armstrong And The All Stars(Spiritual Arranged by Henry "Harry" Thacker Burleigh) Decca (1938) Single

RAINDROPS KEEP FALLIN' ON MY HEAD B.J. Thomas (Burt Bacharach, Hal David)Scepter (1969) Single

RAPPER'S DELIGHT Sugarhill Gang (Bernard Edwards, Nile Rogers) Sugar Hill (1979) Single

RELAXIN' WITH THE MILES DAVIS QUINTET Miles Davis Prestige (1958) Album

THE REVOLUTION WILL NOT BE TELEVISED Gil Scott-Heron (Gil Scott-Heron)Flying Dutchman (1970) Single

STRANGE THINGS HAPPENING EVERY DAY Sister Rosetta Tharpe (Rosetta Tharpe) Decca (1945) Single

SWEET HOME CHICAGO Robert Johnson (Robert Johnson) Vocalion (1937) Single

3 O'CLOCK BLUES B.B. King (Lowell Fulson, B.B. King) RPM (1952) Single

UNDER THE BOARDWALK The Drifters (Artie Resnick, Kenny Young) Atlantic (1964) Single

WALK THIS WAY Run-D.M.C. (Joe Perry, Steven Tyler) Profile (1986) Single

WONDERFUL WORLD Sam Cooke (Sam Cook, Herb Albert & Lou Adler) Keen (1960) Single

WOODSTOCK — MUSIC FROM THE ORGINAL SOUND TRACK AND MORE Various Artists Cotillion (1970) Album

YARDBIRD SUITE Charlie Parker Septet (Charlie Parker) Dial (1946) Single

The 56th Annual Grammy Awards will be e broadcast live on January 26, 2014, on the CBS Television Network).


IN THE COURTS


ACTOR DAVID BIRRELL who was blinded in his right eye when a prop gun misfired at a October 2010 matinee performance of Stephen Sondheim's Passion at the Donmar Warehouse, has received "substantial damages."

The actor was shot in the face with a prop Colt 1851 Navy revolver during a scene where his character, Colonel Ricci, challenges another to a duel. The gun was supposed to fire blanks.

He fell to the stage but, despite his pain, Birrell left the stage without alerting the audience to his injuries. He was rushed to University College Hospital, London, by ambulance. Cast members praised his professionalism.

Acting union Equity represented Birrell in his compensation claim.

The theatre had admitted liability.

Papers filed at the High Court in London last July stated that the actor suffered "total and permanent blindness in the right eye" after the gun "ejected rearwards and at high velocity". He had sought damages of $400,000.

The papers stated the accident left Birrell's eye "shrunken and unsightly", which has now required him to wear "a cosmetic shell" to disguise its appearance.

Although he is still undergoing treatment for the injury, Birrell has been able to return to the stage.

BOLSHOI BALLET SOLOIST PAVEL DMITRICHENKO has been sentenced to prison l for six years for organizing an acid attack on the company's artistic director Sergei Filin in January 2013. The case disclosed bitter rivalries and infighting at the Bolshoi, one of the world's most famous ballet and opera companies.

Lawyers said they would appeal.

Fellow defendant Yuri Zarutsky, a former convict, who admitted actually throwing the acid was sentenced to 10 years in a maximum-security prison. The third man accused, Andrei Lipatov, drove Zarutsky to and from the scene of the attack. He was given four years in a high-security prison.

In addition to the prison sentences, Dmitrichenko and his fellow defendants were ordered to pay compensation of $105,000 to Filin, under a civil suit. In other news related to the Bolshoi, last Monday, the sudden resignation of the Bolshoi's music director and chief conductor, Vasily Sinaisky, was announced without explanation. He had been due to conduct Verdi's opera Don Carlos, which is premiering at the theatre beginning December 17. With Adrian Noble serving as Stage Director: Set Design by Tobias Hoheisel, Costumes by Moritz Junge, Lighting Design by: Jean Kalman and Valery Boisov serving as Chorus Master, Sinaisky's name was removed from the program with no mention of who is to conduct.

In another development, the Bolshoi said it was not renewing the contract of an aide to Mr Filin, Dilyara Timergazina. Her contract expires at the end of this year.








SPREADING THE WORD


THE FABULOUS PALM SPRINGS FOLLIES

(from left) The Follies Man Riff Markowitz, Carol Channing, Follies co-founder Mary Jardin and Tommy Tune. Photo: PS Follies.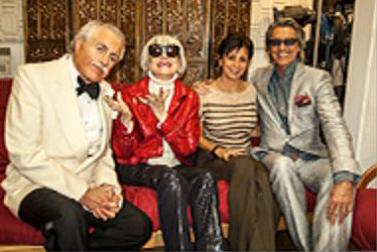 currently in its final season recently had some Tony Award winning guests.

Tony Awards are just a few of the many accolades and awards received by recent Follies guests Carol Channing and Tommy Tune who came backstage after the show.

Follies performers learned that there is one show Channing and Tune have in common.

It's Hello Dolly! Carol. Channing created the title role of the lovable Dolly Levi in the stage version of Hello Dolly! and Tommy Tune co-starred in the film version with Barbra Streisand in the title role. The Fabulous Palm Springs Follies closes permanently on May 18, 2014 after an unprecedented 23-year run.

Currently in the star slot is Susan Anton who performs through December 31st.

Maureen McGovern enters the spotlight on January 7, 2014 with performances through March 8th. Darleen Love has the honor of being the final star, beginning March 11th through ringing down the curtain on May 18, 2014.

10 MUSIC TEACHERS from ten cities across eight states have been announced as finalists for the first annual Music Educator Award presented by The Recording Academy and the Grammy Foundation. . In total, more than 30,000 initial nominations were submitted from all 50 states.

The Music Educator Award was established to recognize current educators (kindergarten through college, public and private schools) who have made a significant and lasting contribution to the field of music education and who demonstrate a commitment to the broader cause of maintaining music education in the schools. This special award will have its inaugural presentation at the Special Merit Awards Ceremony & Nominees Reception honoring recipients of the Lifetime Achievement Award, Trustees Award and Technical Grammy Award during Grammy Week 2014.

One recipient will be selected from 10 finalists each year, and will be recognized for his/her remarkable impact on students' lives. The winner will be flown to Los Angeles to accept the award, attend the 56th Annual Grammy Awards ceremony, and receive a $10,000 honorarium. The nine finalists will receive a $1,000 honorarium, and the schools of all 10 finalists also will receive matching grants.

The finalists are:

Lisa Bianconi Kurn Hattin Homes for Children Westminster Vt.
Charles Cushinery Ed W. Clark High School Las Vegas Nev.
Andrew DeNicola John P. Stevens High School Edison N.J.
Vivian Gonzalez South Miami K-8 Center Miami Fla.
Kent Knappenberger Westfield Academy and Central School Westfield N.Y.
Kathrine Kouns Horizon High School Scottsdale Ariz.
Glen McCarthy George Mason University Fairfax Va.
Steve Vutsinas Grassfield High School Chesapeake Va.
Jo Wallace-Abbie Plano West Senior High School Plano Texas
Mary Jo West George Mason High School Falls Church Va.

TOO CLEVER BY HALF or The Diary of a Scoundrel. by Alexander Ostrovsky. Translated by Rodney Ackland.

An anarchic, side-splitting satire about a smooth-talking opportunist and his ruthless climb to the top.

Directed by Daniel Sullivan.

With Marylouise Burke, Jonathan Groff, Stephen Spinella and Tovah Feldshuh.

December 16, 2013. Part of the Revelation Readings Series presented by Red Bull Theatre in New York City.

WILLLIAMSTOWN THEATRE FESTIVAL has announced that Mandy Greenfield will goin the company as Artistic Director in September 2014.

Mandy, currently Artistic Producer at Manhattan Theatre Club in New York City, will succeed Jenny Gersten, who is departing the Festival at the end of 2013 ti become Executive Director of Friends of the High Line.

THE GRAMMY NOMINATIONS WERE ANNOUNCED ON DECEMBER 6th Categories of most interest to Broadway To Vegas readers include:

Best Musical Theater Album nominees include Kinky Boots (Masterworks Broadway), Matilda: The Musical (Broadway Records/Yellow Sound Label) and Motown the Musical (Universal Music Enterprises).

Best Traditional Pop Vocal Album nominees include Viva Duets (Tony Bennett & Various Artists, Columbia Records), To Be Loved (Michael Buble, 143/Reprise), The Standards (Gloria Estefan, Masterworks), Cee Lo's Magic Moment (Cee Lo Green, Elektra) and Now (Dionne Warwick, Blue Horizon).

Best Spoken Word Album (Incl Poetry, Audio Books & Storytelling) nominees are America Again: Re-becoming The Greatness We Never Weren't Stephen Colbert, Carrie And Me Carol Burnett, Let's Explore Diabetes With Owls David Sedaris, Still Foolin' 'Em Billy Crystal.

Best Compilation Soundtrack for Visual Media nominations include Django Unchained, the deluxe edition of the soundtrack for the film version of Les Miserables, (Universal Republic). The Great Gatsby (Deluxe Edition), Muscle Shoals and Sound City: Real To Reel.

Best Pop Vocal Album nominations are Paradise Lana Del Rey, Pure Heroine Lorde, Unorthodox Jukebox Bruno Mars, Blurred Lines Robin Thicke and The 20/20 Experience - The Complete Experience Justin Timberlake.

Best Comedy Album nominees include Calm Down Gurrl Kathy Griffin, I'm Here To Help Craig Ferguson, A Little Unprofessional Ron White, Live Tig Notaro and That's What I'm Talkin' About Bob Saget.

Best Opera Recording Adès: The Tempest Thomas Adès, conductor; Simon Keenlyside, Isabel Leonard, Audrey Luna & Alan Oke; Luisa Bricetti & Victoria Warivonchick, producers (The Metropolitan Opera Orchestra; The Metropolitan Opera Chorus). Britten: The Rape Of Lucretia Oliver Knussen, conductor; Ian Bostridge, Peter Coleman-Wright, Susan Gritton & Angelika Kirchschlager; John Fraser, producer (Aldeburgh Festival Ensemble). Kleiberg: David & Bathsheba Tõnu Kaljuste, conductor; Anna Einarsson & Johannes Weisser; Morten Lindberg, producer (Trondheim Symphony Orchestra; Trondheim Symphony Orchestra Vocal Ensemble). Vinci: Artaserse Diego Fasolis, conductor; Valer Barna-Sabadus, Daniel Behle, Max Emanuel Cencic, Franco Fagioli & Philippe Jaroussky; Ulrich Ruscher, producer (Concerto Köln; Coro Della Radiotelevisione Svizzera, Lugano). Wagner: Der Ring Des Nibelungen Christian Thielemann, conductor; Katarina Dalayman, Albert Dohmen, Stephen Gould, Eric Halfvarson & Linda Watson; Othmar Eichinger, producer (Orchester Der Wiener Staatsoper; Chor Der Wiener Staatsoper).

Best Music Film Live 2012 Coldplay. ¡Cuatro! Green Day. I'm In I'm Out And I'm Gone: The Making Of Get Up! Ben Harper With Charlie Musselwhite. Live Kisses Paul McCartney. The Road To Red Rocks Mumford & Sons.

Best Score Soundtrack Argo Alexandre Desplat, composer. The Great Gatsby Craig Armstrong, composer. Life Of Pi Mychael Danna, composer. Lincoln John Williams, composer. Skyfall Thomas Newman, composer. Zero Dark Thirty Alexandre Desplat, composer.

Best Americana Album Old Yellow Moon Emmylou Harris & Rodney Crowell. Love Has Come For You Steve Martin & Edie Brickell. Buddy And Jim Buddy Miller And Jim Lauderdale. One True Vine Mavis Staples. SongbookAllen Toussaint.

The 56th Annual Grammy Awards will be held January 26, 2014, at The Staples Center in Los Angeles and will be broadcast live on CBS.



ALADDIN AND HIS WINTER WISH a British Panto style production produced, directed and written by the Lythgoe Family productions.

Bruce Vilanch plays Widow Twankey and Ben Vereen is the Genie, Josh Adamson as Evil Abanazar, Ashley Argota as The Princess, Jordan Fisher as Aladdin, Ben Giroux as Wishee Washee, and Richard Karn as The Sultan - there is also a live pony.

Choreography by Spencer Liff. Musical direction by Michael Orland.

An updated version of the classic Arabian Nights tale, in the style of a traditional British family Panto, Aladdin and his Winter Wish is a singing, swinging and soaring adventure that features family-friendly magic, with a comedic twist, dancing and contemporary music. A Panto is known for its interactive style and humor that appeals to everyone from ages 2 – 102!

Before every performance, guests and their families are invited to enjoy a Winter Wonderland event in The Playhouse's Engemann Family Courtyard, complete with holiday carolers, crafts, activities, games, and photo opportunities.

Gala opening on December 11 with performances through December 29. Pasadena Playhouse in Pasadena, CA.

STEPHEN WARD music by Andrew Lloyd Webber. Book and lyrics by playwright Christopher Hampton. Lyrics by Don Black.

Directed by Richard Eyre.

Starring Alexander Hanson in the title role. Based on fact, the musical centers around what became known around the world as The Profumo Scandal. Stephen Ward, the society osteopath becomes involved with the young and beautiful Christine Keeler It was Ward who introduced his friend Keeler to the British Secretary of State for War, John Profumo, and the Russian naval attaché (and spy) Yevgeny Ivanov. What took place was one of the biggest political scandals and trials of the twentieth century.

Profumo resigned, after it was established that he had lied to the House of Commons about the sexual nature of his relationship with Keeler.

Ward was tried for living off immoral earnings. He committed suicide on the last day of his Old Bailey trial.

Keeler is played by Charlotte Spencer, with Charlotte Blackledge as Mandy Rice Davies, Anthony Calf as Lord Astor, Daniel Flynn as John Profumo and Joanna Riding as Valerie Hobson.

Also in the cast are Ian Conningham as Ivanov, Chris Howell as Murray, Ricardo Coke Thomas as Lucky Gordon and Wayne Robinson as Johnny Edgecomp. Other cast members are Martin Callaghan, Kate Coyston, Jason Denton, Julian Forsyth, Amy Griffiths, Paul Kemble, Emma Kate Nelson, Carl Sanderson, Emily Squibb, John Stacey, Helen Ternent and Tim Walton.

Designs by Rob Howell, lighting by Peter Mumford, sound by Paul Groothuis, projections by Jon Driscoll and choreography by Stephen Mear.

Performances began December 3 with the official opening slated for December 19 at the West End's Aldwych Theatre, London.

PETER AND THE STARCATCHER winner of 5 Tony Awards. Based on the novel by Dave Barry and Ridley Pearson. Written by Rick Elice. Directed by Roger Rees and Alex Timbers.

Music by Wayne Barker.

Billed as "a grownups prequel to Peter Pan, with a dozen brilliant actors playing more than 100 unforgettable characters using their enormous talent, ingenious stagecraft and the limitless possibilities of imagination. Seen on Broadway, this is a wonderful, delightfully entertaining show.

Featuring: Ben Beckley, Harter Clingman, Jimonn Cole, Joey deBettencourt, Nathan Hosner, Carl Howell, Robert Franklin Neill, Rachel Prather, John Sanders, Benjamin Schrader, Luke Smith, Megan Stern, Ian Michael Stuart, Edward Tournier, Nick Vidal, Lee Zarrett.

At the Ahmanson Theatre in Los Angeles through January 12, 2014.

REASONS TO BE HAPPY Written and Directed by Neil LaBute.

Starring Gia Crovatin, Jenna Fischer, Thomas Sadoski, and Josh Stamberg.

The West Coast premiere of his fresh, quirky sequel to Reasons to Be Pretty, featuring the same characters 3 years later. LaBute is in the director's chair again, and Emmy nominated Jenna Fischer, Thomas Sadoski, Gia Crovatin and Josh Stamberg are back as Steph, Greg, Carly and Kent. The couples have realigned, but the stars are still crossed as these four struggle to find love. LaBute's gift for contemporary dialogue captures a woman's directness and a man's loss for words in this hilarious take on heartbreak and miscommunication.

All performances will be recorded live in front of an audience (without sets or costumes) by L.A. Theatre Works to air on LATW's syndicated radio theater series, which broadcasts weekly on public radio stations nationwide and can be streamed on demand.

Thursday, December 12 - Sunday, December 15 at the James Bridges Theater, UCLA School of Theater, Film and Television in Los Angeles, CA.

I'LL EAT YOU LAST: A CHAT WITH SUE MENGERS by John Logan.

A one-woman show starring the Grammy, Emmy and Tony Award winning Bette Midler.

Directed by Tony Award winner Joe Mantello.

The one-woman show in which Midler plays Sue Mengers. The production reviews the career and conversations of Hollywood's biggest female super agent, Sue Mengers, (1932-2011) whose clients included Barbra Streisand, Marlon Brando, Candice Bergen, Cher and Burt Reynolds, among many others.

The intermissionless work is set in 1981 in the living room of Mengers' Beverly Hills home.

The creative team includes three-time Tony Award winner Scott Pask (scenic design), Academy Award winner Ann Roth (costume design), three-time Tony nominee Hugh Vanstone (lighting design; recreated by Craig Stelzenmuller), Kathy Fabian (props) and Drama Desk Award winner Fitz Patton (sound design).

The Divine Miss M spent her December lst birthday in rehearsals. After a wildly successful Broadway premiere performances began December 3 and continue through December 22, 2013 at the Geffen Playhouse's Gil Cates Theater in Los Angeles.


WHO'S WHERE


HAPPY HOLIDAYS WITH BRIAN STOKES MITCHELL headlines this annual NSO Pops tradition. The spirit of the season is yours to enjoy in a program of joyful song. December 12-14 at the Kennedy Center in Washington, DC.

KATHERINE JENKINS today, Sunday, December 8, performs at to St. David's Hall in Cardiff England On Monday she can be enjoyed at the Royal Albert Hall in London. On Wednesday opens a two nighter at Cork City Hall in Cork, Ireland.

TRANS SYBERIAN ORCHESTRA have two touring groups performing their always popular Christmas show. On Wednesday, December 11, the shows are at the KFC Center in Louisville, KY and right State University' Nutter Center. Thursdays performances are at the Bankers Life Fieldhouse in Indianapolis, IN and l Wireless Center in Moline, IL. On Friday the tours stop at the Alliant Energy Center Coliseum in Madison, WI and the U.S. Bank Arena in Cincinnati, OH. Saturday's entertainment can be enjoyed at the Quikcen Loans Arena in Cleveland, OH and the Target Center in Minneapolis. Next Sunday, December 15, the performances are at the Van Andel Arena in Grand Rapids, MI and the BMO Harris Brandly Center in Milwaukee, WI.

JUSTIN TIMBERLAKE performs Wednesday, December 11, at the Fieldhouse in Indianapolis, IN On Thursday his tour stops at the Quicken Loans Arena in Cleveland. Saturday's gig is at the Consol Energy Center in Pittsburgh. Next Sunday, December 12, he's on stage at the KFC Yum Center in Louisville, KY.

ROD STEWART singing his hits Monday, December 9, at Madison Square Garden in New York City. On Wednesday the show is at the Wells Fargo Center in Philadelphia. Saturday's performance is at the Bell Centre in Montreal. Next Sunday, December 15, he's in the spotlight at the Air Canada Centre in Toronto, Canada.


FINAL OVATION


NELSON ROLIHLAHLA MANDELLA one of the few human being to have actually changed everyone's life for the better died December 5, 2013. He was 95.

Prince William and his wife Katherine the Duchess of Cambridge were attending the UK and European premiere of the movie Mandela: Long Walk to Freedom, at the Odeon Leicester Square in London as part of the Royal Film Performance, when it was announced that Mandela had died.

The film's cast, including British actor Idris Elba, who plays Mandela, and Naomie Harris, as his ex-wife Winnie Mandela, were also at the event, along with his daughter Zindzi Mandela.

The after show cast party was immediately canceled.

The death of Nelson Mandela is "extremely sad and tragic", Prince William said. Speaking after the premiere, he said: "We were just reminded of what an extraordinary and inspiring man Nelson Mandela was and my thoughts and prayers are with him and his family right now."

The film is based on Mandela's autobiography, Mandela, covers half a century, including Mandela's teen years, his time as a Johannesburg attorney, his involvement in politics, the 27 years he spent in a remote prison and his election in 1994, when he became South Africa's first black president. It opens wide on December 25, 2013.

There have been other movies about Mandela. He has been seen on the large screen portrayed by Terrence Howard, Morgan Freeman, Dennis Haysbert, Danny Glover, and Sidney Poitier.

Mandela inspired stage plays and the theater was used by the leader to topple apartheid government. Mandella used Athol Fugard's The Island and Sizwe Bansi Is Dead which was co-created with actors Winston Ntshona and John Kani. He also furthered his cause by using the powerful Master Harold and the Boys; Percy Mtwa, Barney Simon and Mbongeni Ngema's Woza Albert, and Ngema's Sarafina.

In response to the news of the death, the Jenin-based Freedom Theatre touring company, currently appearing at the University of Sao Paolo's International Theatre Bienniale, alongside theatrical groups from Lebanon, Tunisia and other parts of the world, announced that they are dedicating their performance of The Island to Mr. Mandela.

The Island is described by the festival organizers as "an adaptation of a true story set in South Africa during apartheid, and focuses on the experiences of Palestinian political prisoners."

Freedom Theatre, a community-based theatre and cultural centre in Jenin Refugee Camp, occupied Palestine's announcement stated: "A true freedom fighter has ended his struggle but his legacy will forever be in the hearts of millions across the world. In Palestine, Mandela is known as a brother, a friend and an inspiration."

According to the notice, "This South African play with its story of political prisoners was inspired by Nelson Mandela's time incarcerated at Robben Island." The play was originally co-written in the 1970s by South African actors John Kani and Winston Ntshona, along with renowned anti-apartheid playwright Athol Fugard.

Last September the Freedom Theatre traveled to the United States, performing nine performances of The Island at the University of Connecticut, Brown University, Washington DC and New York. There was also a single performance of the Arabic production of the play, in New York.

The former South African president and anti-apartheid icon will have a state funeral on December 15, 2013.

STAN TRACEY OBE, CBE jazz pianist and composer died December 6, 2013. The cause of death was cancer. He was 86.

His professional career spanned 70 years. He was widely acknowledged as one of the greats in his field.

He began his career at age 16 when he joined the variety troupe ENSA entertaining workers as an accordionist. First gig was at a factory in Cosham, Sussex. He later joined a gypsy accordion band.

Tracey He was honored with the first Ivor Novello award for jazz in 2012. The musician was also awarded a lifetime achievement award at the BBC Jazz Awards in 2002.

Tracey was also a prolific composer during his lengthy career. His first major work was Under Milk Wood, inspired by Welsh writer Dylan Thomas's radio play, while he penned music for big bands, eight-pieces, sextets and quartets.

Tracey was awarded an OBE in 1986. He became a CBE in the 2008 New Year Honors list.

In May 2013 Stan received Parliamentary Jazz Award for Services to Jazz. In August 2013 the Stan Tracey Quintet released their CD The Flying Pig containing new compositions inspired by a visit to the WW1 battlefields of Loos and dedicated to his father 'Stanley Clark Tracey' who was wounded and captured in 1915 aged 18.

Stan Tracey is survived by two children.

JANE KEAN a performer whose career spanned over 60 decades died November 26, 2913. She had suffered a stroke after being hospitalized following a fall at her Toluca Lake, CA home. She was 90.

She gained widespread recognition when she replaced Joyce Randolph as Trixie Norton in The Honeymooners, when the show was revived by Jackie Gleason in 1966.

She began her stage career in Hi Ya, Gentlemen! at the Colonial Theatre in Boston. Her Broadway debut was in the Fats Waller musical Early to Bed with actor/producer Richard Kollmer in 1943. She was 16. That was followed with another Broadway musical The Girl from Nantucket (1945) and then she stepped in as a replacement for Call Me Mister.

Along with her sister Betty she appeared on Broadway in the musical shows Along Fifth Avenue (1949) which starred Jackie Gleason and Ankles Aweigh (1955)

Trained for the stage with Sanford Meisner at the Neighborhood Playhouse, her other theatrical productions included The Pajama Game and Will Success Spoil Rock Hunter? in which she would take over Jayne Mansfield's sexpot role, Light Up the Sky, Carnival, and she portrayed Sally in the first touring production of Stephen Sondheim's Follies.

She appeared in Las Vegas at the Union Plaza Hotel in productions of The Mind with the Dirty Man, and Last of the Red Hot Lovers.

In 2002 she starred in a Los Angeles revival of Kander and Ebb's musical 70, Girls, 70.

In later years Jane performed on the dinner theatre circuit, at college campuses and on cruise lines. In 2012, at age 89, appeared in her own one-woman show An Evening with Jane Kean in which she humorously referred to herself as the Lady Gaga of the Stone Age. She also wrote her memoir A Funny Thing Happened on the Way to The Honeymooners...I had a Life.

She was married twice; first to Richard Linkroum (1962-1969) and then in 1970 to her manager, Joe Hecht, who died in 2006. She had no children.













Next Column: December 15, 2013
Copyright: December 8, 2013. All Rights Reserved. Reviews, Interviews, Commentary, Photographs or Graphics from any Broadway To Vegas (TM) columns may not be published, broadcast, rewritten, utilized as leads, or used in any manner without permission, compensation and/or credit.
Link to Main Page
---
Laura Deni



For the snail mail address, please E-mail your request.
CLICK HERE FOR COMMENT SECTION