! >
Broadway To Vegas
  SHOW REVIEWS CELEBRITY INTERVIEWS GOSSIP NEWS

| | |
| --- | --- |
| | |
PAUL NEWMAN ON BROADWAY - -HUG YOUR HIPPOPOTAMUS - - ENTERTAINING WITH A SALUTE - - HANK WILLIAMS' LOST HIGHWAY - - RUPERT HOLMES SPEAKS - -HAIRSPRAY SEMINAR - - LENNOX LEWIS' TEDDY BEAR - - MAMMA MIA! BEGINS VEGAS REHEARSALS - - DONATE . . . Scroll Down


Copyright: December 8, 2002
By: Laura Deni

CLICK HERE FOR COMMENT SECTION
THOSE WHO ENTERTAIN ALSO SERVE


You're a steadily employed pop singer. You're performing in a theme park when a casting notice is posted. It's not for a Broadway show or a gig in Vegas. Rather, the United States Air Force could use a few good performers.

"I auditioned," related M/Sgt. Shani Prewitt, talent coordinator for the Air Force Band, who spoke with Broadway To Vegas about the Air Force and their various entertainment components.

"It was a regular audition," she recalled of her tryout which turned into an enlistment. She made the cut and suddenly found herself learning how to salute.

Going from the civilian performer free form lifestyle, into the regimented world of the military "is something we all struggle with all the time," she admitted.

"It makes us different," she continued. "What we like to do is sing and play our principal instruments every day. But, the rules of engagement are you have to do other things. So, we all conform. You conform or you get out. Those are the choices you have. We knew that we would be coming into the military before we auditioned," she matter-of-factly stated.

"But, we struggle with that every day, because this year we are doing more with less, during this war time. With the cut backs, we all have to do more than just perform."

"We all wear the uniform every day and we know that it is Air Force first, then performance second. We conform to all of he rules. We understand it all. We do our Commander's Call. We go right in with the regular military, because we are active duty. But, we are musicians," she emphasized.

"We are all stationed together in one building," she said of the Bolling AFB, Washington, D.C. living arrangements.

Prewitt, who even has a gorgeous, melodic speaking voice, has thoroughly enjoyed her employment as an Uncle Sam singer.



Colonel Dennis M. Layendecker, a graduate of the American Conservatory of Music in Chicago, is commander and music director of The United States Air Force Band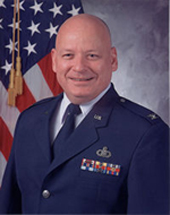 In the past, during the days of the draft, after a person was conscripted, if it was discovered they were a professional entertainer, with exceptional performing skills, they could be diverted into the Special Services Unit. Now, you audition to get it. The openings are few and it's tough to make the cut.

"I was a performer at numerous theme parks in my younger years," recalled Prewitt. "This particular flyer for this vacancy came through all the theme parks and I got the spot based upon that."

"It is like auditioning for a show," she continued. "I was a civilian and auditioned to come in as a performer. Then I went into basic training and then active duty. I moved over into the public affairs office, part of this staff, as the talent coordinator for the Air Force Band. Prior to that, I was a vocalist with High Flight. My group was the official show group of the Air Force Band. We were a choreographed, costumed group that did about a 30 minute show - the whole nine yards."

The United States Air Force Band, which adopted the moniker "America's Band" in 1999, has several components; The Singing Sergeants, Airmen of Note, Air Force Strings, Ceremonial Brass, High Flight, Silver Wings and Chamber Players.



The United States Navy Band during World War I. Photo legal property of Laura Deni.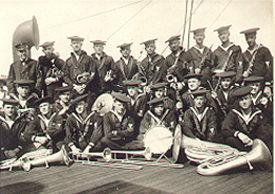 Military musicians are not limited to the Air Force, nor is this something new. You might recall that David was writing psalms and playing that harp while fighting Goliath. Buglers waking up the folks in uniform have been annoying the troops long before Irving Berlin wrote about it.

The Airmen of Note is the premier jazz ensemble of the United States Air Force. Created in 1950 to carry on the tradition of Glenn Miller's Army Air Corps dance band, the Note adopted a more contemporary style under the direction of the legendary Sammy Nestico.

Beginning in the '70s, Senior Master Sgt. Mike Crotty, the Note's chief arranger for more than 25 years, helped elevate the band to the forefront of modern big band jazz. The Airmen of Note has commissioned works by such celebrated arrangers as Bob Florence and Bob Mintzer. Nestico, and fellow Note alumnus Tommy Newsom have each composed works for the group as well. Following his Airmen of Note duty, Newson joined the Tonight Show band in 1963 where he stayed for nearly 30 years, until Johnny Carson's retirement.



Airmen of Note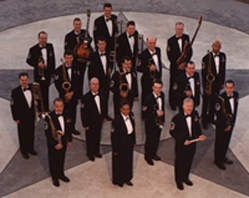 Twice a year The Airmen of Note venture throughout the United States, spreading its big band sound to communities from coast to coast. Recently they performed at the Art Ham Hall in Las Vegas.

"My dear friend, Darden Safley, is the vocalist in Airman of Note," Prewitt related last Wednesday. "She and I were both performers together in High Flight and we both separated from the group at the same time. She chose to go with the Airmen of Note and I have come in this office full tme. She will be deploying with them in the next few days."

Deployments become routine.

"It's always - when it is your turn, when duty calls, you answer the call," added Prewitt.

As with all the military, the musicians have their wills in order and shots up to date. "That is exactly right. All of it is exactly the same as everyone else in the military who is being deployed. None of that is different," she verified.

The bright lights shinning at a performer may not all be from the stage. Somebody could be trying to kill you. There is a lot of danger being aimed your way.

"Absolutely," she admitted.



Master Sgt. Shani Prewitt, singing during a concert for forward-deployed troops of Operation Enduring Freedom on April 27, 2002. U.S. Air Force photo by Staff Sgt. Sonny Cohrs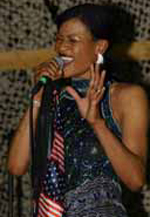 "I just returned in April from Afghanistan. It was a lot of fun, though. We had a great time."

As far as Prewitt is concerned, "there is no downside for an entertainer. I can only speak for myself, but - it is definitely a great job."

Steady work, steady pay, good benefits. Understanding that you are serving your country, you must be able to conform to the military life.

"Yes, that is exactly right," she concurred.

Musicians that have to shoot up with drugs, or need to discover four girls in their room after a concert, need not bother to apply.

"You need to be squeaky clean," laughed Prewitt.

The United States Air Force Band advertises all projected openings in the American Federation of Musicians' International Musician and well as other outlets. The audition winners must be able to enlist in the United States Air Force for a minimum period of four years. A federal security clearance is required. The maximum age at time of enlistment is 34. ~ Starting Salary $36,703 - $41,863 and the performers finish basic training with the rank of tech sergeant.


CINNAMON, TEDDY or HIPPOPOTAMUS
Prime Minister Tony Blair's childhood bear which he called Lynton. From the Liverpool Bear Festival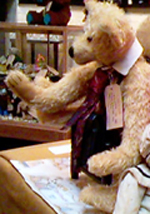 This is the 100th Christmas that teddy bears have been part of the wish list.

Prime Minister Tony Blair still has his childhood bear. Kevin Spacey collects them and even the Chippendales have one. Charities have learned that a good way to attract money is to have celebrities decorate them.

Recently, the famous not only admitted they still have their cherish childhood bears, but agreed to show them off. Blair and boxer Lennox Lewis dusted off their bears and permitted them to be displayed during the Liverpool Bear Festival in aid of Arthritis Research.



Boxer Lennox Lewis named his bear after himself - Lennox. From the Liverpool Bear Festival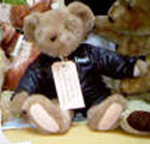 The event that inspired the cuddly creation was a cartoon, drawn by Clifford Berryman and titled Drawing the Line in Mississippi, which showed President Theodore Roosevelt refusing to shoot a baby bear.

According to this often told tale, Roosevelt had traveled to Mississippi to help settle a border dispute between that state and Louisiana. His hosts, wanting to please this avid hunter, took him bear hunting. The hunting was so poor that someone finally captured a bear and invited Roosevelt to shoot. Roosevelt's refusal to fire at such a helpless target inspired Berryman to draw his cartoon with its play on the two ways Roosevelt was drawing a line - settling a border dispute and refusing to shoot a captive animal.



Drawing the Line in Mississippi by Clifford Berryman
The cartoon appeared in a panel of cartoons drawn by Berryman in The Washington Post on November 16, 1902.

According to The Teddy Bear Encyclopedia, soon after the cartoon ran New Yorker Morris Michtom stuck a furry bear made by his wife, Rose, in his store window. The toy's label read, "Teddy's bear." People loved it, and soon Michtom started the Ideal Novelty and Toy Company.

When teddy bears first appeared, adults loved them as much as kids.

By 1905 no self respecting woman would leave her home without her teddy bear - even carrying their bears with them when they went bicycling.

President Roosevelt used the bear as a mascot in his successful re-election bid. Seymour Eaton, an educator and a newspaper columnist, wrote a series of children's books about the adventures of The Roosevelt Bears, and another American, composer J. K. Bratton, wrote The Teddy Bear Two Step.

Irishman Jimmy Kennedy (1902-1984) from Omagh, Co. Tyrone, was a world-famous songwriter who composed such songs as Red Sails in the Sunset. In 1907 he added words, turning the tune into The Teddy Bear's Picnic.

The Cinnamon Bear is considered a radio Christmas classic.

This wonderful Christmas holiday fantasy adventure serial was created and written by Glanville Heisch for children of all ages.

It all happens to twins Judy and Jimmy before Christmas. Something has taken the Silver Star for their Christmas tree. The very Irish teddy bear, Paddy O'Cinnamon by name, comes to their aid and tells them that the Crazy Quilt Dragon has taken the star to Maybeland. So the three venture off to find their Silver Star.

During the 1930s the fifteen-minute episodes were first broadcast from the end of November right up 'till Christmas. This delight was brought to our attention last year when a radio station aired the episodes. Copies of the radio series can be purchased through numerous old time radio show vendors.

For the first time Broadway To Vegas heard the song, I Want a Hippopotamus for Christmas, recently aired on Las Vegas radio station Sunny 106.5. We found it interesting enough to investigate. With words and music by John Rox, the song was recorded by Gayla Peevey in 1953.

In addition to being a campy hit, the song was released at the time the Oklahoma City Zoo decided they needed a hippo and thought the song would be a natural tie in. The media jumped on the hippo wagon and encouraged people - kids mostly - to send in their nickels and dimes to buy "Gayla" a hippo for Christmas.

Those nickels and dimes purchased Matilda, who was flown to Oklahoma City. Matilda was presented to Gayla, who in turn donated Matilda to the Oklahoma City Zoo.

On Thursday Tara Henson, Public Relations Manager for the Oklahoma City Zoo & Botanical Garden, gave Broadway To Vegas an update.

"Matilda the hippo was acquired through a fundraising campaign spearheaded by the song I Want a Hippopotamus for Christmas in 1953," verified Henson. "The song was sung by a young Oklahoma girl named Gayla Peevey. Matilda bore nine offspring with her mate, Norman. Norman now resides at Disney's Animal Kingdom. Matilda died in 1998. The Zoo now exhibits pygmy hippos and had our first birth last year. Our current collection includes father Wolee, mom Hope and baby Howie.

"By the way," added Henson, "Gayla's song is a local nostalgic favorite and can be heard on many stations in the metro area during the holidays."

As to whatever happened to Gayla, she graduated from San Diego State University, married happily and has a daughter who is a staff songwriter for Disney.


FA LA LA THIS


MARY SHELLEY'S SANTA CLAUS: PRESENCE IN BOXES is Frankenstein crossed with St. Nick, in a multimedia piece, featuring video and extensive puppetry. It's a Gothic tale. The lights go out at an Oklahoma Woolworth's. Store patrons spin a yarn about a young girl who constructs a saint out of spare parts. The creature, ever an outsider, retreats to the North Pole to become a distributor of gifts. The Cornerstone Theater Company's unofficial holiday show is being performed at Pasadena's Armory Northwest. Of course it opens on Friday the 13th running through December 22. Pasadena, California.

TWISTED TALES FROM A HARD CANDY CHRISTMAS is Hell In A Handbag Productions' first annual holiday monologue show - an alternative to the routine ho, ho, ho's and winter wonderland schmaltz so readily available. No Currier & Ives stuff here.

Hosted by R. Kelly, featured performers are BC Kalz, Fausto Fernos, Ludwig, Merrie Greenfield, and Richard Bluestein. Theatre Building Chicago. Opening Friday the 13th.

A QUEER CAROL by Joe Godfrey is being staged for the second year in a row by Source Works Theatre at the Duplex in Greenwich Village. Starring Danny Pintauro - the star of TV's Who's the Boss? - as young Scrooge and "Tiny" Tim, this warm-hearted play transplants the Dickens classic A Christmas Carol to contemporary Manhattan, among a group of gay men and lesbians. Mark Cannistraro directs the cast that includes, in addition to Pintauro; Marc Moritz, Kip Driver, David Weincek, Tim Cross, Valerie Hill, Michael Lynch and Cynthia Pierce. Through December 15.



Broadway To Vegas is supported through advertising and donations. Priority consideration is given to interview suggestions, news, press releases, etc from paid supporters. However, no paid supporters control, alter, edit, or in any way manipulate the content of this site. Your donation is appreciated. We accept PAYPAL. Thank you for your interest.


SWEET CHARITY


HELP IS ON THE WAY FOR THE HOLIDAYS BENEFIT

Bonnie Franklin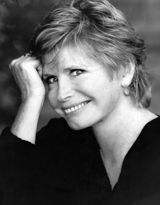 presented by the California based Richmond/Ermet AIDS Foundation, is a star-studded performance December 9th at San Francisco's Herbst Theatre.

The fourth annual event produced by Joe Seiler and Ken Henderson, with David Galligan directing, benefits The HIV/AIDS Program at Children's Hospital Oakland HIV Services at Lyon-Martin Women's Health Services and BAY (Bay Area Young) Positives.



Jill Eikenberry and Michael Tucker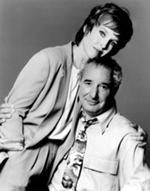 Among those scheduled to take part in the fundraiser are Tony Award winner Carol Channing, Bonnie Franklin, Jill Eikenberry, Michael Tucker, Gregory Harrison, Rod McKuen, Sally Struthers, Davis Gaines, Franc D'Ambrosio, Muriel Maffrey, Benjamin Pierce, Parrish Maynard, Sharon McNight, Wesla Whitfield, Lisa Viggiano, Opie Bellas, Michael Bannett and the cast of Stomp.

The Richmond/Ermet AIDS Foundation is a non profit organization established to raise funds for AIDS service provider agencies.

Tickets for the just the show are priced at $35, $50 and $75; tickets for the show plus the champagne and dessert party with the cast range from $100 to $5,000.

ACTORS' FUND PERFORMANCE Mamma Mia! tonight, December 8, at the Winter Garden Theatre, NYC.

A VERY SPECIAL EVENING WITH CORIN REDGRAVE - BLUNT SPEAKING! Monday, December 9 Corin Redgrave will do a benefit performance for the Actors' Fund of his one-man show, Blunt Speaking, at the Lucille Lortel Theatre. Blunt Speaking is about Sir Anthony Blunt, minor aristocrat, art historian, power in the art world, and traitor who spied for Stalin's Soviet Union. Tickets are $75 for VIP Prime orchestra seats and post-performance reception hosted by Mr. Redgrave. All other seats are $30.

LAURI STRAUSS LEUKEMIA FOUNDATION BENEFIT

Skitch Henderson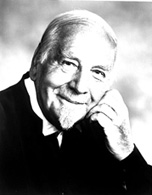 with the theme of Catch the Spirit, takes place Monday, December 9 at Carnegie Hall. Starting with the evening's overture by Skitch Henderson and the New York Pops, the hosts include Skitch himself, stage and screen award winning composer Marvin Hamlisch, and PBS and WQXR host Midge Woolsey.

The evening will include the presentation of the LSLF Humanitarian Spirit Award to leukemia victor Harry J. Pearce, Chairman of General Motors Cancer Fund and Chairman of the Marrow Foundation. LSLF Lifetime of Spirit Awards to Margaret Whiting, singing legend and President of The Johnny Mercer Foundation, and Skitch Henderson, Founder and Music Director of the New York Pops.

Additional Volunteer Stars who will "Catch the Spirit" Include;

Tony Danza, Maureen McGovern, Odetta, Geoffrey Holder, pop jazz celebrity Chris Callway, prize winning pianist Roy Eaton, Barry Levitt will deliver a tribute to the 92nd Street Y's long-running series, Lyrics & Lyricists . Also performing are New York City Opera soprano Monique McDonald, comedian Freddie Roman and Jack Wrangler. John Pizzarelli and his guitar join his legendary father, Bucky Pizzarelli. The New York Pops All Stars, with Peter Appleyard renowned vibraharpist will join Bucky and Skitch. And, don't forget Chuck Barris of Gong Show fame, performing his hit song Palisades Park.

In its 12 years of benefits the LSLF has given more than $2 million in grants.

FRANK SINATRA SCHOOL OF THE ARTS which will be a high school in New Jersey, launched a $25 million fund raising campaign at Sony Records in Manhattan. Among the guests were Tony Bennett, who has championed this project from its inception, Allan King, Jerry Seinfeld, corporate sponsors and friends - and family - Nancy Sinatra and her daughter A.J. Bennett donated a lithograph portrait he did of Sinatra, signed Bennedetto.


JABBER, JABBER, JABBER
Rupert Holmes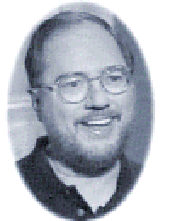 RUPERT HOLMES the author of Say Goodnight Gracie, hosts a special post performance discussion entitled Eastside, Westside: From the Bowery to Broadway on December 10th at the Helen Hayes Theatre, NYC.

The muli-talented Holmes lived through his 20s as a session musician who wrote jingles and pop tunes - including for television's The Partridge Family.

Barbra Streisand used some of his songs in the movie A Star is Born. His 1979 album, Partners in Crime, produced the hit Escape (The Pina Colada Song) and Him.

In 1986 he won three Tony awards for his Broadway musical, The Mystery of Edwin Drood, and in 1996 he was the creator and writer of the television series, Remember WENN, on American Movie Classics until 1999. A musical version of Remember WENN is set to begin previews March 22, 2003 at the Helen Hayes Performing Arts Center in Nyack, New Jersey. Another Rupert's musical, The Picture of Dorian Gray, features a song My Son, which Patti LuPone sings on her Matters of the Heart album. His current stage efforts also include a comedy-mystery thriller, Thumbs. His production of Marty was mounted October 30-November 24 at Boston's Huntington Theatre with John C. Reilly in the title role and Anne Torsiglieri as Clara.

Say Goodnight Gracie is produced by William Franzblau, Jay Harris, Louise Westergaard, Larry Spellman, Elsa Haft, Judith Resnick, Libby Adler Mages/Mari Glick and Anne Gallagher.

In Say Goodnight Gracie, starring Frank Gorshin, audiences will take a guided tour through an American century told through the eyes of George Burns who savored each day from his impoverished youth on the lower East side, to his career in Vaudeville, his marriage to Gracie Allen, their rise to success on stage, screen, radio and TV, and finally George's "second time around".

Tickets for the Tuesday performances range in price from $65 to $70 (plus a $1.25 facility charge.

HAIRSPRAY SEMINAR the creators and producers of this hit are centerstage in the second of the American Theatre Wing's "Working in the Theatre" seminars.

Producers Richard Frankel and Margo Lion, director Jack O'Brien, choreographer Jerry Mitchell, book writers Thomas Meehan and Mark O'Donnell, and composers Marc Shaiman and Scott Wittman will participate.

Created by American Theatre Wing Chairman Isabelle Stevenson for theater students, members of theatrical unions and guilds, and casts of Broadway and Off-Broadway shows, the seminars are now in their 30th year. A Working in the Theatre series is telecast six times a week on CUNY-TV, as well as on PBS, the Metro TV Channel, and other cable outlets in the tri-state area and around the country. The Hairspray seminar, Monday, December 9, at the Graduate Center of the City University of New York.


HANK WILLIAMS: LOST HIGHWAY


Coinciding with the 50th anniversary of Hank Williams death in the back seat of a Cadillac on New Year's Eve in 1952, Manhattan Ensemble Theatre (MET) opens its season with Hank Williams: Lost Highway, the musical biography of one of the towering figures in American folk and popular music.

Co-written and directed by Randal Myler, Hand Williams: Lost Highway charts the rise and fall of William's meteoric career. It stars Jason Petty.

Although Williams has been dead for just shy of 50 years, he remains a country legend whose songs are described as "timeless."

Jason Petty, who grew up outside of Nashville in Manchester, Tennessee, performs the role of Williams.



Hank Williams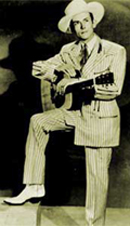 Born in rural Alabama in 1923, Williams began playing guitar at an early age. Influenced by Ernest Tubb, Roy Acuff and the soulful sound of black music he learned from a street singer named Rufus Payne. Williams won an amateur talent contest after writing and singing "WPA Blues" at the age of 14.

By 1938, Hank had formed his own band, The Drifting Cowboys, which played Alabama Honky Tonks.

Williams' music soon took him from those Honky Tonks to country music's most famous show - The Grand Ole Opry. His Opry debut on June 11, 1949, is still considered one of the biggest events in country music history. Williams sang Lovesick Blues, and went on to perform six encores that evening.

Although his recording career spanned a mere six years, eleven of the thirty-six singles Hank placed in the top ten went to number one.

His influence on the recording industry is widespread, as several of his songs have been recorded by the likes of Tony Bennett, Ray Charles, Charley Pride and Linda Ronstadt.



Artistic rendering of Hank Williams & his 1952 Cadallic convertible, which would become his dead bed. By Alabama artist, Joseph Stone.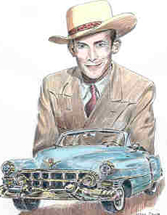 He died at the age of 29 after a hard life of excesses and abuses that provided the sad inspiration filling his songs.

Hank Williams was inducted into the Country Music Hall of Fame in 1961. His plaque reads: "The simple, beautiful melodies and straightforward plaintive stories in his Iyrics of life as he knew it will never die." He was later elected into the Rock and Roll Hall of Fame in 1987.

Propelled by 20 Hank originals such as Your Cheatin' Heart, Mind Your Own Business, Down by the Bayou, and Hey, Good Lookin, this production celebrates the music and lays bare the soul of an American original. All songs are performed live on stage by a 5-piece band that duplicates Williams' original arrangements.

Petty originated the role of Hank Williams in the 1996 production of Lost Highway at Nashville's Ryman Auditorium and has since toured nationally with the production. Lost Highway presented an opportunity for The Cleveland Play House to partner with the Rock and Roll Hall of Fame and Museum, in their staging of this show.

Opening December 9 at the Manhattan Ensemble Theatre. NYC.



OUR TOWN seen in Connecticut last summer has moved to Broadway and should not be missed.

The classic by Thornton Wilder stars Paul Newman, Ben Fox, Maggie Lacey, Jayne Atkinson, Jane Curtin, Jeffrey DeMunn, Stephen Spinella. Directed by James Naughton. Sets and costumes by Tony Walton with Richard Pilbrow's lighting. The opening night party at B.B. King's had Newman and the rest of the cast being congratulated by such well-wishers as Bernadette Peters, who will soon star in Gypsy, and talk show host Caroline Rhea. At the Booth Theatre. NYC.

MAN OF LA MANCHA Book by Dale Wasserman. Music by Mitch Leigh. Lyrics by Joe Darion. Windmill tilling on Broadway in a revival starring Brian Stokes Mitchell as the delusional Don Quixote - his rendition of The Impossible Dream bringing the audience to its feet.

Mary Elizabeth Mastrantonio as Aldonza, delivers what deserves to be an award winning performance. Ernie Sabella is excellent as Quixote's faithful sidekick, Sancho. Jonathan Kent, former artistic director for Britain's Almeida Theatre Company, directs the production which co-stars Stephen Bogardus, Mark Jacoby and Don Mayo. Impressive sets by Paul Brown. Lighting by Paul Gallo. Choreography by Luiz Perez. At the Martin Beck Theatre, NYC.

GREASE starring Frankie Avalon December 10-12 and December 13-15 at the Atwood Concert Hall, in Anchorage, Alaska.

OKLAHOMA! welcomes Academy Award winner Patty Duke, into the role of Aunt Eller. She will begin performances on December 14.

LONG DAY'S JOURNEY INTO NIGHT by Eugene O'Neill directed by Robert Falls, aspiring to open on Broadway in the spring, will star Brian Dennehy, Vanessa Redgrave, Robert Sean Leonard and Philip Seymour Hoffman.

A LAST DANCE FOR SYBIL by Ossie Davis stars his wife, Ruby Dee. This is a New Federal Theatre production, under the direction of Edward Smith, which has opened at the St. Clement's Theatre in New York City.

In A Last Dance for Sybil, a man who comes from money falls in love with a woman whose family has struggled just to survive. The drama that deals with power, economic freedom and family also features an ensemble cast that includes Earle Hyman, Arthur French, Herb Downer, Alice Spivak, Ben Hammer, Teagle F. Bougere, Craig Alan Edward, Count Stovall, and Phillip Clark. Robert Joel Schwartz designs sets with Shirley Pendergast in charge of the lighting design. Tony Award-winning director Lloyd Richards is supervising director.

CABARET welcomes Tony Award winner Tom Bosley to role of Herr Shultz in this long-running musical hit at Studio 54, NYC. The production also stars Molly Ringwald and Raul Esparza.

MAMMA MIA! opens in Las Vegas at Mandalay Bay in February. The cast begins rehearsal in Sin City on Decmber 16, telling Broadway To Vegas "we are very excited about coming to Vegas."

POSEIDON! AN UPSIDE-DOWN MUSICAL Almost thirty years to the date after the film that inspired it premiered, Poseidon! An Upside-Down Musical sets sails on its maiden voyage. David Zak directs the cast which includes; Tracy Repep, David Cerda, Steve Hickson, Jennife Connelly, Merrie Greenfield, Ed Jones, Ron Kelly, Steve Kimbrough, Todd McConville, Chad McLaughlin, Michael Miller, and Joe Waterman who don hot pants, go-go boots and "just panties" while struggling through a world where up is down and down is up. Opening at Theatre Building Chicago on Sunday, December 8th and running through January 11th.


WHO'S WHERE


LOU RAWLS in his Holiday Concert Tuesday, December 10 at the Paper Mill Playhouse, New Jersey.

THE NEW JERSEY POPS Holiday Celebration Friday, December 13 at the Paper Mill Playhouse.

JAMES TAYLOR performs December 10 at the Riverside Centroplex in Baton Rouge, LA. On December 11 he can be enjoyed in Austin, Texas at the Erwin Center. Taylor is also going to be joining Alabama, Coldplay, and John Mayer for Dick Clark's Primetime New Year's Rockin' Eve 2003 on December 31. The New Year will find Taylor a 2003 tour of Australia with shows in Brisbane, Sydney, Adeleide, and Melbourne.

PAT BOONE aka Ozzie Osbourne's favorite neighbor, on stage tonight at the Westbury Music Fair in Westbury, N.Y. On Tuesday his white bucks will be on stage at the Taft Theatre in Cincinnati. Ohio.

WAYNE NEWTON on stage Wednesday in Sault Ste Marie, Minnesota at the Vegas Kewadin Casino. On Thursday the guy known as Mr. Las Vegas performs in Mt. Pleasant, Minnesota at the Soaring Eagle Casino. On Friday he is all over the stage in Boise, Idaho at the Pavilion at Boise State and he closes out the week, Saturday, in Atlantic City at Trump Plaza.

GEORGE CARLIN discussing words Wednesday in West Palm Beach, Florida at the Raymond G. Kravis Center. On Thursday he'll be telling funny stories in Melbourne, Florida at the Maxwell C. King Center. Saturday finds him in Clearwater, Florida at the Ruth Eckert Hall.

KEELY SMITH opens a two nighter Friday in Palm Desert, California at the McCallum Theatre.

SMOOTH JAZZ CHRISTMAS starring Brenda Russell, Dave Koz, David Benoit, Peter White and Rick Braun appear tonight in Palm Desert, California the McCallum Theatre. On Tuesday the show is in Indianapolis, Indiana at the Murat Theatre. Wednesday finds the group on stage in Cleveland at the Palace Theatre and Thursday they open a two night in Chicago at the Chicago Theatre.

JULIE ANDREWS AND CHRISTOPHER PLUMMER star in this holiday production special. Tonight they are at the Nationwide Arena in Columbus, Ohio. On December 10 they are at the John LaBatt Centre in London, Ontario. On December 11 they can be enjoyed at the Air Canada Centre in Toronto. December 12 finds the production at the Corel Centre in Ottawa. They cross back over the border, performing December 14 at the Dunkin' Doughnuts Center in Providence, Rhode Island and on December 15 at the Fleet Center in Boston.

BRIAN SETZER ORCHESTRA jivin' on stage Saturday in Denver, Colorado at the Paramount Theatre.

LORRIE MORGAN featuring songs of the season Wednesday, December 11 at the Paper Mill Playhouse, New Jersey.

BRUCE SPRINGSTEEN performs tomorrow in Columbia, South Carolina at the Carolina Center. On Friday the gang is in Albany, New York at the Pepsi Arena.

BILL COSBY telling funny stories tonight in Cedar Falls, Iowa at the Gallagher-Bluedom Performing Arts Center. On Thursday he is in the spotlight in Eureka Springs, Arkansas at the Eureka Springs Auditorium.

THE COLORS OF CHRISTMAS starring Peabo Bryson, Jon Secada, Jody Watley, Oleta Adams backed by a 21- piece Gospel Choir and Professional Orchestra perform tomorrow in Philadelphia at the Academy of Music. On Tuesday the show is in Newark, New Jersey at the New Jersey Performing Arts Center. Thursday the holiday merriment will be in Akron, Ohio at the E.J. Thomas Hall. On Friday the show is in Green Bay, Wisconsin at the Weidner Center. The end the week, Saturday, they are in Merrillville, Indiana at the Star Plaza Theatre.

MANNHEIM STEAMROLLER ringing out the holiday sounds on Tuesday in Louisville, Kentucky at Freedom Hall. On Thursday the production is in Indianapolis, Indiana at the Conseco Fieldhouse. Saturday the holiday favorite is in Richmond, Virginia at the Richmond Coliseum. This isn't simply a concert, but an event. Concertgoers are greeted by 50 costumed characters. Choirs also sing a variety of Christmas carols in a winter wonderland 1600-1700's Christmas village setting circled by an oversized electric train.

PRINCE at the Aladdin Hotel, Las Vegas December 15.

CHER AND CYNDI LAUPER in the Living Proof Farewell Tour on stage at the MGM-Grand Las Vegas December 13-14.

THE KINGSTON TRIO December 13-15 at the Suncoast, Las Vegas.

LINDA EDER singing December 12 at the Van Wezel Performing Arts Center in Sarasota, Florida.

MAUREEN McGOVERN center stage December 14 at part of the Boca Pops Big Band Series in Boca Raton, Florida.

ANUNA Ireland's most famous and original choir, makes their U.S. solo debut with a holiday concert, celebrating the release of their latest CD, Winter Songs.

The concert, produced with the support of The Irish Arts Center and Irish America magazine and featuring special performances by The Anuna Dancers, will take place at St. Bartholomew's Church, in Manhattan, on Monday, December 16. A portion of the proceeds from the concert will benefit the Irish Arts Center as part of its 30th anniversary celebration.

Best known as the original Riverdance choir, Anuna was founded in 1987 by Dublin composer Michael McGlynn in order to explore and redefine the music of the ancient Celts. Michael's twin brother, John McGlynn, created the artistic, atmospheric staging that has become the trademark of the unique choral group, whose enchanting musical style blends rich Celtic traditions with classical and New Age sounds.

Anuna has performed and recorded throughout the world with artists as diverse as Elvis Costello, Sting, Michael Crawford, the Chieftains, Barry Manilow, Jeff Buckley, Secret Garden, Sinead O'Connor, and Andrea Corr.


PIFFLE AND PROFUNDITIES


THERE IS ALWAYS A CRITIC Eighty-Four Years Ago This Week - on December 11, 1918, composer Serge Prokofiev conducted the U.S. Premiere of his Symphony No.1 in D Major, Op.25 ("Classical") with the Russian Symphony Society of New York. Conservative American ears were startled, and even shocked, by Prokofiev's bracing modernism. Musical America quipped, "Prokofiev's mission in life would seem to be to make two dissonances grow where only one grew before."













Next Column: December 15, 2002
Copyright: December 8, 2002. All Rights Reserved. Reviews, Interviews, Commentary, Original Photographs or graphics from any Broadway To Vegas (TM) columns may not be published, broadcast, rewritten, utilized as leads, or used in any manner without permission, compensation and/or credit.
Link to Main Page
---
Laura Deni


CLICK HERE FOR COMMENT SECTION