! >
Broadway To Vegas
  
  REVIEWS INTERVIEWS COMMENTARY NEWS

| | |
| --- | --- |
| | |
THE CHRISTMAS TRUCE - - BROADWAY ESCAPES NYC NO INDICTMENT DEMONSTRATIONS - - THE TAYLOR SWIFT EXPERIENCE - - CITY OF ANGELS IN LONDON - - PRINCE WILLIAM AND KATE IN AMERICA - - HUGH JACKMAN EXCELLENT IN THE RIVER - - MATILDA THE MUSICAL RECOUPS - - VIEW FROM THE TOP - - DONATE . . . Scroll Down







Copyright: December 7, 2014
By: Laura Deni
CLICK HERE FOR COMMENT SECTION


BROADWAY ESCAPES NYC NO INDICTMENT DEMONSTRATIONS


The tree got lit while Broadway and Off-Broadway shows went on as scheduled.

Following a grand jury decision to not indict a New York police officer in the death of Eric Garner, protesters chanting, "No justice, no tree!" and "F–k the tree!" attempted to disrupt last Wednesday's annual tree lighting ceremony at Rockefeller Center. The angry group made it as far as Radio City Music Hall before being stopped by the police.

The famed event, which was televised on NBC, was illuminated as planned. It seemed that Mariah Carey's live rendition of All I Want for Christmas received as many protests as the grand jury's decision.

After 50 protesters staged a "die-in" at Grand Central Terminal, they walked west along 42nd Street to Times Square - the beginning of the Broadway theater district - blocking westbound traffic.

The mid-week demonstrations were on a day when many shows staged both a matinee and evening production. Broadway To Vegas wondered if the protestors had any effect on ticket sales that day; or if those who already had purchased expensive tickets chose to stay at home out of fear for their safety.

In a spot check query with firms who have off-Broadway clients, it seems that show goers tend to sally forth and carry on.

As to whether the public was deterred from purchasing tickets last Wednesday, Erica Ryan Communications & Government Relations Manager for The Broadway League told Broadway To Vegas that "weekly grosses aren't reported until Monday."

Veteran press agent Joe Trentacosta whose clients include the family friendly Gazillion Bubble Show, which recently celebrated its 3000th performance in New York City at New World Stages, responded; "I don't believe so," to the question as to whether patrons had chosen to stay away from his productions.

Michelle Tabnick and Jonathan Slaff didn't know of any problems, while Sean Katz offered the coy reply: "Can not comment. Wish I could help."

Lynn Manuel of International Production Management replied: "I was at Last Ship which was further uptown and was not selling our entirely to begin with."

On Thursday night more than 200 were arrested as protestors shut down the Brooklyn Bridge and major streets.






Broadway To Vegas is supported through advertising and donations. Priority consideration is given to interview suggestions, news, press releases, etc from paid supporters. However, no paid supporters control, alter, edit, or in any way manipulate the content of this site. Your donation is appreciated. We accept PAYPAL. Thank you for your interest.




ART AND ABOUT


THE TAYLOR SWIFT EXPERIENCE a New Exhibit at the Grammy Museum in Los Angeles, Features Artifacts From the Personal Collection of Superstar Taylor Swift.

The Taylor Swift Experience will debut on December 13, 2014, the seven-time Grammy-winning artist's 25th birthday. Through never-before-seen personal photographs and home videos, interactive experiences, handwritten lyrics of the star's top-charting hits, and iconic costumes, this one-of-a-kind exhibit will give visitors and fans an in-depth look at the multi-platinum selling artist as a singer, musician, songwriter, entrepreneur, and style icon.

"Global superstar Taylor Swift is one of popular music's biggest talents, whose music is beloved by millions of fans worldwide," said Bob Santelli, Executive Director of the Grammy Museum. "The story of Taylor's remarkable rise to superstardom is one that the Grammy Museum is extremely excited to tell."

Taylor Swift is the only artist in history to have three million-selling weeks (2010's Speak Now, 2012's RED and 2014's 1989). Taylor is a global superstar and seven-time Grammy winner, and the youngest winner in history of the Grammy Award for Album of the Year. She is the first artist since the Beatles (and the only female artist in history) to log six or more weeks at #1 in the U.S. with three consecutive studio albums. Taylor has an album on Rolling Stone's prestigious The 50 Greatest Albums of All Time (by women) list, Time magazine has named her one of the 100 Most Influential People in the world, and she is Billboard's youngest-ever Woman of the Year and the only artist to have been awarded this honor twice.

On display through May 10, 2015, the exhibit will feature:

Early childhood reading books
Never-before-seen family and childhood photos
Tour costumes from Swift's Red Tour
Handwritten lyrics for the singer/songwriter's hit 22
Swift's 2009 Grammy Award for Best Female Country Vocal Performance for White Horse
Official props used in the music video for Shake It Off
Dresses worn by Swift in her music video for Mean
The dress Swift wore in the music video for Teardrops On My Guitar Swift's banjo used during her performance at the 54th Grammy Awards in 2012
And more

December 13, 2014 - May 10, 2015 at the Grammy Museum in Los Angeles.



HUGH JACKMAN EXCELLENT IN THE RIVER


The River, a new play by Jez Butterworth, from the poem The Song of the Wandering Aengus by W. B. Yeats. With polished direction by Ian Rickson. Starring Hugh Jackman as The Man. Laura Donnelly, an actress from Northern Ireland, transferring to this production from the Royal Court London mounting as Other Woman and Cush Jumbo as Woman.

All know their craft.

Set in a fishing cabin The Rivers is a verbalized metaphoric think piece, in which avid fisherman The Man, played by Jackman, ruminates. Is he trying to catch fish, convert the Woman to his way of life or is he fishing for his own true feelings?

Perhaps the cobwebs in the cabin simply show that the cabin needs a good cleaning. Or, are they symbolic of life's cobwebs which have trapped The Man?

The play is passionate, subliminal and an intriguing tease. As famed as Jackman is - he's underrated as a stage actor.

In The River Jackman has drunk very deeply into the intoxicating brew of words by Butterworth, and English nature poetry from the likes Ted Hughes, and the third-century Roman writer Aelian. As a fisherman uses a fly to lure in his catch, Jackman bates the audience with words and then reels us in.

The plot line can only be discussed in limited form, otherwise the play would be ruined for future theatergoers - and this is a play that will stay with you.

The Man, reads a poem by Ted Hughes to his new girlfriend, The Woman. The Man attempts get The Woman to join him fishing, but she is reluctant. Finally she agrees, and they disappear. When the couple returns, however, The Woman, played by Cush Jumbo, has been replaced by The Other Woman played by Laura Donnelly.

Then the plot thickens. Is The Man prone to sabotaging his own potential for happiness?

I've never been in a fishing cabin. What designed Ultz created must be as authentic as one can come to creating one on a stage. Although The Man does gut and cook a trout, the only thing missing is the odor of fish, which gratefully isn't present.

The mood enhancing lighting by Charles Balfour gives added dimension to Jackman's words.

See this intriguing play. You'll mull it over after you leave the performance. See it with friends and you'll have a conversation going for hours.

Sound by Ian Dickinson for Autograph, music by Stephen Warbeck, and casting by Jim Carnahan.

Performances extended into February at Circle in the Square in New York City.


FOOTBALL
REMEMBERS THE CHRISTMAS TRUCE



German and American soldiers play football during The Christmas Truce. Photo: Getty/Imperial War Museum
Late on Christmas Eve 1914, men of the British Expeditionary Force heard the Germans singing carols and patriotic songs and saw lanterns and small fir trees along their trenches.

Messages began to be shouted between the trenches. The following day, British and German soldiers met in No Man's Land and exchanged gifts, took photographs and some played football. They also buried casualties and repaired trenches and dugouts.

Some officers viewed the truce as a chance to improve living conditions in the trenches, while others worried that such unwarlike behavior would undermine fighting spirit.

"I found an extraordinary state of affairs - this a.m. a German shouted out that they wanted a day's truce."

General Walter Congreve VC wrote in a letter to his wife on Christmas Day. Congreve led the Rifles Brigade and was based in Northern France during WWI. The letter, part of numerous documents given to Staffordshire County Council by the general's family in the 1960s was only discovered this year. It is now on public display.

"Darling dear - as I cannot be with you all, the next best thing is to write to you.

"We have had a "seasonable weather" day - which means sharp frost & fog & never a smich [sic] of sun. I went to church with 2 of my battalions in an enormous factory room & after lunch took down to the N. Staffords in my old trenches at Rue du Bois Mother's gifts of toffee, sweets, cigarettes, pencils, handkerchiefs & writing paper.



German and American soldiers sang, traded cigars and enjoyed each other's company during The Christmas Truce. Photo: The Imperial War Museum.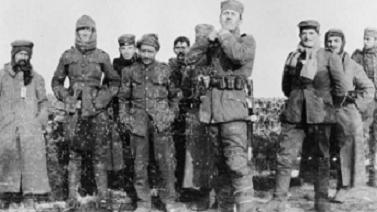 "There I found an extraordinary state of affairs - this a.m. a German shouted out that they wanted a day's truce & would one come out if he did; so very cautiously one of our men lifted himself above the parapet & saw a German doing the same.

"Both got out then more & finally all day long in that particular place they have been walking about together all day giving each other cigars & singing songs. Officers as well as men were out & the German Colonel himself was talking to one of our Captains.

"My informant, one of the men, said he had had a fine day / of it & had "smoked a cigar with the best shot in the German army, then not more than 18. They say he's killed more of our men than any other 12 together but I know now where he shoots from & I hope we down him tomorrow."

"I hope devoutly they will - next door the 2 battalions opposite each other were shooting away all day & so I hear it was further north, 1st R.B. playing football with the Germans opposite them - next Regiments shooting each other.

"I was invited to go & see the Germans myself but refrained as I thought they might not be able to resist a General."

"To have such a detailed account from a high ranking officer, written on the actual day, is a real gem," said Ben Adams, who is responsible for archives. "The fact the letter has come to light in the year we commemorate the centenary of the Great War makes its existence even more special."

According to the Imperial War Museum "The high commands on both sides took measures to ensure such fraternization would not happen again, and the 1914 Christmas Truce remained a unique event on the Western Front."

But, for one brief day, the most unusual football game ever played took place.

It is also a profound statement on the absurdities of war.

Great Britain and American are commemorating this event - the Christmas Truce.



Arsenal forward Theo Walcott and Prince William president of the FA, discuss plans for Football Remembers. Photo: Samir Hussein – The FA/Getty/Clarence House.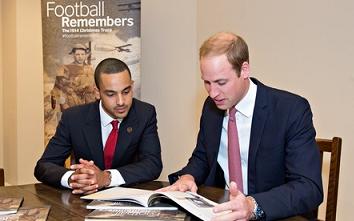 Last May Prince William threw his support behind a commemorative project aimed at encouraging schoolchildren to mark the centenary of World War One. Pupils were asked to design a memorial in honor of the Christmas Truce football game of December 1914. More than 30,000 schools were sent an education pack to help them learn about the history of the game.

A memorial to the Christmas Truce – designed by the 10-year-old Spencer Turner from Newcastle, was declared the winner and was unveiled this week-end to reside permanently at the National Memorial Arboretum in Staffordshire.

The competition was judged by Prince William, president of the FA, and the Arsenal forward Theo Walcott.

Prince William said: "We all grew up with the story of soldiers from both sides putting down their arms on Christmas Day, and it remains wholly relevant today as a message of hope over adversity, even in the bleakest of times. It promises to be a powerful way to engage and educate young people about such an important moment in our history."

Both the educational pack and the memorial design competition are part of a wider initiative called Football Remembers Week, devised by the Premier League, Football League and the Football Association (FA) in collaboration with the British Council. The event began December 6 and runs through December 14.

The British Council's chief executive Sir Martin Davidson stated that the truce match was an illustration of how "people-to-people connections can triumph at a time of global crisis."

And his sentiments were echoed by FA chairman Greg Dyke, who added: "The scale of the loss is unthinkable and it is only right and fitting the game comes together to pay tribute to those that made the ultimate sacrifice."

The United States World War I Museum in Kansas City celebrates The Christmas Truce with the second annual Truce Tournament with Sporting KC, Downton Abbey preview and other events.

Sporting Club and the Museum invite the Kansas City soccer community to take part in the second annual Truce Tournament on Saturday, December 26. The event is paired with an English Premier League Watch Party inside the Museum and the Boxing Day Brewhaha games competition.

The Museum debuted its newest online exhibition The Christmas Truce, Winter 1914 last Wednesday, December 3. The exhibition explores myths and realities surrounding the Christmas Truce featuring dozens of firsthand accounts from men on the front lines and insights from Great War experts. The exhibition includes an online/social media platform that allows individuals to declare a truce of their own and share with their friends and family.

In partnership with KCPT, the Museum hosts its annual preview of the new season of the award-winning series Downton Abbey on Thursday, December 11. A Downton Abbey-themed party and reception will then be followed by another screening. The event features light hors d'oeuvres, drinks and dancing, plus a special performance by Shay Estes and Mark Lowrey.

On Friday, December 19, the Museum welcomes legendary folk musician John McCutcheon for a one-night performance. McCutcheon composed the world's most famous song about the Christmas Truce Christmas in the Trenches, which was recently named one of the 100 essential folk songs by Folk Alley.

The Museum also offers a free public screening of Joyeux Noël on Saturday, December 21. The Oscar-nominated film recreates the events of the Christmas Truce.

The Museum is closed on December 24, but the Lyric Opera Veterans Chorus will offer a free Christmas Eve performance featuring Silent Night in three languages in the Liberty Memorial Courtyard.

Other events include Day in the Life on December 14 in which Living History volunteers will discuss the Christmas Truce while wearing World War I era outfits, a performance from the Mid America Freedom Band and a book signing with The Angel of Mons: A World War I Legend author Jerred Metz on December 20.

America's National World War I Museum holds the most diverse collection of World War I objects and documents in the world and is the second-oldest public museum dedicated to preserving the objects, history and personal experiences of the war.


VIEW FROM THE TOP
The observation floor of the Burj Khalifa offered a splendid view, even as rain clouds loomed. Photo: Luo Zhenni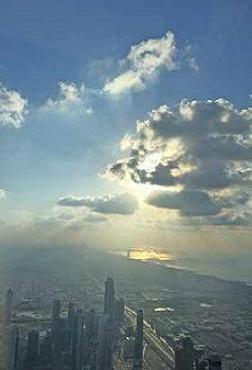 Burj Khalifa, the largest building in the world islocated in Dubai, UAE. Photo: Burj Khalifa.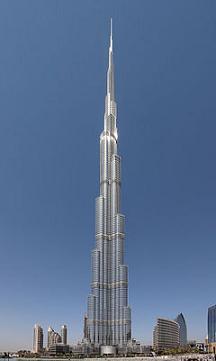 While Las Vegas has been experiencing some unusual weather including fog, which hid much of the Strip from view, the Burj Khalifa, the tallest building in the world in Dubai, UAE - offered a splendid view, even as rain clouds loomed.

The structure is two thousand seven hundred and seventeen feet high - more than a thousand feet taller than its nearest rival.

The building boasts the world's highest nightclub on the 144th floor as well as the world's highest restaurant on the 122nd floor.

At the Top, Burj Khalifa SKY visitors have guided tours of the attraction with a Guest Ambassador. The average time it takes to enjoy At the Top is approximately 1 hour and 30 minutes. However, visitors are welcome to take their time and stay as long as they like up to closing time.

Smart audio devices with headphones can be rented to enjoy the fascinating story of the engineering and architectural marvel. The tours are also available in English, Arabic, French, Spanish, Mandarin, Japanese, Russian, and German. Young guests between 8-12 years of age, have an option of a special children's audio tour.

Getting the building up was the Chicago architectural firm of Skidmore Owings and Merrill, world leaders in design of supertall buildings with Adrian Smith as chief architect, and Bill Baker as chief structural engineer. The primary contractor was Samsung C&T of South Korea. The tower's construction was done by the construction division of Al Ghurair Investment group.

Burj Khalifa was designed to be the centerpiece of a large-scale, mixed-use development that would include 30,000 homes, nine hotels including the 304-room Armani Hotel, the first of four by Armani which occupies 15 of the lower 39 floors. Floors through to 108 have 900 private residential apartments which, according to the developer, sold out within eight hours of being on the market. There is the the Dubai Mall, and also 7.4 acres of parkland and the 30-acre man-made Burj Khalifa Lake.

To wash the 24,348 windows, totaling 1,290,000 sq ft of glass, a horizontal track has been installed on the exterior at levels 40, 73, and 109. Each track holds a 3,300 lb bucket machine which moves horizontally and then vertically using heavy cables. Above level 109, up to tier 27 traditional cradles from davits are used. The top of the spire, however, is reserved for specialist window cleaners, who brave the heights and high winds, dangling on ropes to clean and inspect the top of the pinnacle. Under normal conditions, it takes 36 workers three to four months to clean the entire exterior façade.


SHARON OSBOURNE SHOULD EXHIBIT MORE CAUTION OVER WHAT SHE SAYS


I've never spoken or communicated with Sharon Osbourne in any way. I almost - sort of - maybe - met her once. Decades ago a woman deliberately bumped into my back while I was seated in a Los Angeles restaurant. A woman walked behind me and it felt like she pulled my hair and hit me in the back with perhaps a purse or her hand. Then liquid slid down the bottom of my hair and back. Her prank ruined both the back of my dress and my hair. I got up and left the restaurant before ordering. Two restaurant employees ran after me. They yelled that the woman was Sharon Osbourne and she'd pay for my dinner - that she must have thought I was somebody else. I kept walking. I had to get my hair re-done and throw away my dress.

I don't like practical jokesters.

Other than that, what I basically know about her is that she is a brilliant manager of musical acts; while as a panelist on The Talk she can waffle between sensible and an ill informed know-it-all.

From others, I've been told that she has implied to people that she knows how I think. I'd love to know more about that.

I don't have an opportunity to see The Talk on a regular basis. However, when I can, I attempt to watch the program. It a good show, although the audiences' cued (and perhaps even sweetened) responses can become too long and loud, drowning out the first couple of sentences. I did catch the show the middle of last week, when a discussion was talking place about Bill Cosby after attorney Gloria Allred suggestion that Cosby either waive the statue of limitations and agree to one combined federal lawsuit from all of his accusers, or pay $100 million into a fund for his alleged victims.

The issue of whether and how victims of any wrongdoing should be financially compensated is a complex one. To 'stir the pot' making it even more confusing isn't helpful.

Weeks ago when 7th Heaven star Stephen Collins topped the headlines, Sharon Osbourne stated that he should commit suicide, using a British phrase. With Bill Cosby she indicated that his career had been destroyed and, therefore, the numerous accusers had succeeded and should back off in seeking money.

Both suggestions are wrong.

Ms. Osbourne has an interesting moral compass.

She's as brilliant as a music act manager as she is irresponsible with some of her statements on The Talk. While she is sometimes required to qualify her opinions by stating they are hers and not those of CBS, her mind set that she can say anything just to "stir the pot" is derelict. Knowingly, a television network gives her the platform to repeatedly do so.

If alleged victims atempt to take the polite and quiet way out, asking the evil doer for settlement money, thus preventing a lawsuit or publicity, they can find themselves in the position of being accused of extortion.

Osbourne's comments can put victims in a Catch 22 position when it comes to money, and appears to have double standards.

With Collins - whose career was destroyed - it was; there should be no statute of limitations and the woman should sue for money. Basically, take him for all he's got. With Cosby it's - women coming forward brought him down; victims you won a moral fight - but financially - go away.

Of course Bill Cosby isn't going to put $100 million dollars into escrow or wave the statute of limitations. That's lawyer Gloria Allred doing her required attorney dance.

To suggest that Cosby should donate money to a rape crisis center, rather than to his accusers, was a misguided suggestion by the intelligent Aisha Tyler, whose comments are usually well thought out.

It is outrageous to imply that if you've hurt one person you can make up for it by helping somebody else. It lets the ultra rich get away with anything and then, perhaps, receive an income tax charity deduction to boot. The victim is left out in the cold.

The accusers are all alive.

Just because the main motive isn't money, doesn't mean the victim couldn't use a monetary settlement.

To some degree - no matter the issue or the people involved - everything is about money.

Each and every one of the alleged victims - be they from Collins or Cosby - should be financially compensated. Let them decide how additional money can help them find closure. Each will have different needs. And, when women come forward, like so many have recently, they are now in the position that the notoriety, which now follows them, will disrupt their employment and personal lifestyle. They may need to move, have to find another job, need security - from a dead bolt lock on a door, to a rent-a-guard.

Some of the Cosby accusers may even need financial assistance for the basics.

Mental anguish is a personal issue. Some victims are able to effectively block out the issue and get on with their lives until - either by force or voluntary - they relieve the issue. That doesn't bring closure. Rather, just the opposite. Then bad memories can no longer be blocked out. The torment can be even more traumatizing that the initial event or events. It never goes away. Attorneys who get an ego boost from picking apart every nuance of a victim's life aren't defending their client as much as they are engaging in cruelty.

As CBS executives, as well as any other network, corporate, and executives of businesses of all descriptions know - to subversively destroy somebody, the modus operandi is to contact friends, relatives, employers - anyone who has any dealings with the person - and through real or implied threats, payoffs, innuendo or any other means, see to it that personal and business relationships are severed.

That's what happens to victims.

The brave people - women and a man - who came forth regarding Cosby have, at a minimum, been publicly insulted.

Sharon Osbourne's performance mantra of "stirs the pot," is a phrase she has used to promote herself on The Talk. It is not the business of Sharon Osbourne to be the judge and jury. All television shows balance personalities. Indeed, Sharon's role is to provide the verbal shock - to "stir the pot". That becomes a problem when what she says is believed and even acted upon. And, I'd sure love to know more about why she thinks she knows how I think.


SPREADING THE WORD


KEN EHRLICH the Veteran music and television producer who will executive produce and write the 57th Annual Grammy Awards - his 35th year as a producer of the event - has been confirmed to repeat those duties for the 58th and 59th Grammy Awards.

The 57th Annual Grammy Awards will take place live from Staples Center in Los Angeles on Sunday, February 8, 2015, and will be broadcast on CBS.

ARTS GARAGE RADIO THEATRE Radio theater is a significant slice of Americana. But, did you know its storied tradition began in ancient Rome? Playwright Seneca has been credited as a forerunner of radio drama because his plays were performed by readers as sound plays, not by actors as stage plays. That is the humble beginnings of what later achieved widespread popularity as purely acoustic performances of dialogue, music and sound effects allowing listeners to imagine the characters and story. Arts Garage Radio Theatre in Delray Beach, Florida continues this tradition with its production of a classic holiday drama It's A Wonderful Life December 17-19.

PRINCE WILLIAM AND DUCHESS KATE land in The Big Apple today, Sunday, December 7 and will attend a private engagement on behalf of the American Friends of The Royal Foundation this evening.

Tomorrow Kate will tour a child development center in Harlem along with Chirlane McCray, the first lady of New York. Prince William will head to Washington, D.C. for a White House meeting with President Obama and Vice President Joe Biden. Prince William will then attend a World Bank conference about efforts to fight illegal wildlife trading. Kate will have lunch at British Consul General's Residence and meet members of the British Community in New York from culture, arts, hospitality, and business sectors.

After returning to New York Prince William, accompanied by former Secretary of State Hillary Clinton and Chelsea Clinton, will attend a reception co-hosted by the Royal Foundation and the Clinton Foundation, in recognition of the conservation work carried out by Tusk and United for Wildlife partners: Wildlife Conservation Society; Conservation International; and The Nature Conservancy.

The duke and duchess will then travel to Brooklyn's Barclays Center to watch the Cleveland Cavaliers play the Brooklyn Nets.

On Tuesday, the royal couple will visit the National September 11 Memorial & Museum. Then Wills and Kate will visit The Door to see the work they carry out in partnership with the CityKids Foundation – both organizations offer services to young people to help them reach their potential. Their Royal Highnesses will tour the youth organization and view arts performances by the young people. Creativity is GREAT Reception, hosted by NeueHouse, New York is next on the docket. The Prince and his Duchess will attend a reception at NeueHouse celebrating the wealth of British Talent in the Creative Industries based in New York. Innovation is GREAT Reception, hosted by Shutterstock takes place at The Empire State Building. The Duke of Cambridge accompanied by The Mayor of New York City will visit the observation deck at the 86th floor, attend the technology-themed reception; and present the winners of the GREAT Tech Awards with trophies.

They'll end their American trip by attending an event Tuesday night for their alma mater, the University of St. Andrews. The Scottish university is holding its black tie, 600th Anniversary Gala Benefit dinner at the Metropolitan Museum of Art. About 450 guests are expected, including opera singer Renee Fleming and actor Tom Hanks, whose daughter attended St. Andrews.

Tickets went for up-to-$10,000 per seat.

Next time they visit America, it's hoped they'll bring their children.


OTHER PEOPLE'S MONEY


PORN AND CARROTS Orimas de Riesgo or Risk Premium, an all-woman Spanish theater group created two years ago in Madrid is headed by 33-year-old director, Karina Garantivá. Theatres are always loooking for ways to bring in money. This group found a unique way around the "crippling" government sales tax hike by selling porn magazines, with a free theatre ticket included with each magazine purchase.

As first reported by The Local and The Guardian, the group began the bonus with purchase practice after Mariano Rajoy's conservative PP government raised sales tax on tickets to movies, plays and concerts from 8 to 21 per cent in September 2012.

The sales tax on magazines remained at 4 per cent.

The mathematically astute women set itself up as an official adult literature distributor, selling back issues of the magazine Gente Libre, or Free People, for about $20.

300 magazines, which date back to the 80s and 90s, were secured through a collector, and with each copy comes a free ticket to the group's production of El Mágico Prodigioso, (The Prodigious Magician) a 17th-century drama by Pedro Calderón de la Barca, whom Garantivá described to The Guardian as "Spain's Shakespeare."

The porn/theatre ticket venture resulted in 180 tickets being given away for the show's premiere, which was held the last week of November, 2014 at the New Alcala Theatre.

Last year a Catalan theatre company sold carrots, also taxed at 4%, with a free ticket for its performances as a carrot purchase bonus.

The National Federation of Theatre and Dance Business Associations asserts that attendance had plummeted to 9.3 million from from 13.1 million since the tax increase.

THE OREGON SHAKESPEARE FESTIVAL (OSF) has been awarded an $80,000 grant from the National Endowment for the Arts (NEA) to support the 2015 U.S. premiere of Secret Love in Peach Blossom Land. OSF is one of 919 nonprofit organizations nationwide to receive an NEA Art Works grant, which will help fund 73 performances as well as surrounding education and audience engagement events for Secret Love in Peach Blossom Land, a hugely popular play in China and Taiwan by Taiwanese playwright Stan Lai, who also translated the play into English and will direct at OSF.

Secret Love in Peach Blossom Land is "an example of how art can transcend borders, languages and time and speak to the core of our common humanity," said OSF Executive Director Cynthia Rider. "It is an honor and an affirmation of the significance of this international collaboration to be recognized and supported by the NEA and also by our theatre peers from across the country who served who served on the grant review panel." Secret Love in Peach Blossom Land will run April 15-October 31, 2015, in the Angus Bowmer Theatre in Ashland, Oregon.

MATILDA THE MUSICAL the Tony Award-winning production, which opened on Broadway April 11, 2013, at the Shubert Theatre, has recouped its $16 million investment, producers announced December 5, 2014.


STORK REPORT


THE TONIGHT SHOW HOST JIMMY FALLON and wife Nancy Juvonen welcomed their second child via surrogate on Wednesday, December 3, 2014.

Waiting at home to welcome baby sister Frances Cole Fallon is 1-year-old Winnie.



CITY OF ANGELS

the new production of the Tony Award winning, utterly delightful musical with Book by Larry Gelbart, Music by Cy Coleman, Lyrics by David Zippel.

Directed by Josie Rourke. Choreography by Stephen Mear.

Two decades after its London premier, Donmar artistic director Josie Rourke revives one of the acknowledged greats of twentieth century musical theatre.

Hollywood comes calling for a New York novelist. The offer is too good to refuse: adapt the private detective protagonist of his books into a big-screen hero. The siren song of Los Angeles is a dangerous temptation and while his movie plays out in black and white, his new life is all-too colorful.

Starring Katherine Kelly as Carla/Alaura, and is best known for her TV role as Becky in Coronation Street, Tam Mutu, as Stone, Peter Polycarpou as Buddy Fidler and Rebecca Trehearn who portrays Donna/Oolie.

They are joined by Hadley Fraser, Rosalie Craig, Samantha Barks, Nick Cavaliere, Cameron Cuffe, Marc Elliott, Adam Fogerty, Kadiff Kirwan, Sandra Marvin, Mark Penfold, Jennifer Saayeng, Jo Servi and Tim Walton.

Designer: Robert Jones - Musical Director: Gareth Valentine - Lighting Designer: Howard Harrison - Sound Designers: Terry Jardine and Nick Lidster for Autograph - Orchestrations: Billy Byers and Larry Blank - Video and Projection Designer Duncan McLean.

The musical began previews December 6 at the Donmar in London The official opening is slated for December 10 with a run through February 7, 2015.

NOT THE MESSIAH (He's a Very Naughty Boy) A Comic Oratorio based on Monty Python's Life of Brian by Eric Idle and John Du Prez.

Featuring Eric Idle, Victoria Clark, Marc Kudisch, Lauren Worsham, and William Ferguson with Conductor/Director Ted Sperling and Orchestra of St. Luke's.

Described by Eric Idle as "Baroque-N-Roll," Not The Messiah features a lively pastiche of musical styles ranging from pop, country, and Broadway to doo-wop, hip hop, and Greek chorus. Hit songs include Hail to the Shoe, We Love Sheep, and the audience favorite and sing-along Always Look on the Bright Side of Life.

The New York Premiere presented by The Collegiate Chorale December 15-16, 2014 at Carnegie Hall in New York City.

ELEPHANTS a new black comedy by Rose Heiney.

Directed by Tamara Harvey.

Featuring Helen Atkinson-Wood, Adam Buchanan, Jonathan Guy Lewis, Richard Lintern, Bel Powley, Imogen Stubbs and Antonia Thomas.

5.53pm. Christmas Eve. Richard and Sally are waiting for their friends and family to join in the festivities - the tree is decorated, the wine is mulling, the presents are wrapped. But beneath this shiny façade, disastrous events from last Christmas have left their mark on the Llewellyn family and attempts to paper over it make for an explosive evening of surprising revelations and dark secrets exposed.

Billed as "a sharp, black comedy with a tender heart that explores the paths we take in life and their repercussions on the people we love most."

Designer: Polly Sullivan - Lighting: Mark Howland - Sound:Tom Gibbons.

Performances at Hampstead Downstairs in London December 11 - January 17, 2015.

A DELICATE BALANCE by Edward Albee.

Directed by Pam MacKinnon.

The production stars Glenn Close, in her return to Broadway for the first time in 20 years, John Lithgow, Lindsay Duncan, Bob Balaban, Clare Higgins, and Martha Plimpton.

In A Delicate Balance, Agnes (Glenn Close) and Tobias (John Lithgow), a long-married couple, must maintain their equilibrium as over the course of a weekend they welcome home their 36-year-old daughter (Martha Plimpton) after the collapse of her fourth marriage, and give shelter to their best friends (Bob Balaban and Clare Higgins), all the while tolerating Agnes' alcoholic sister Claire (Lindsay Duncan).

Scenic design by Santo Loquasto, costume design by Ann Roth, lighting design by Brian MacDevitt, and sound design by Scott Lehrer.

Performances at the Golden Theatre in New York City through Sunday, February 22, 2015.

TIGER COUNTRY by Nina Raine who also directs.

This action-packed drama entertainingly entwines multiple stories from beyond the corridors of a busy London hospital at Christmas. An extraordinary workplace full of professionals driven by ambition, compassion and humor.

December is the busiest time of year for London's hospitals. For one particular team it's business as usual, even with the seasonal upsurge.

Brian, the urology consultant, is audaciously trying to convince his superior, Mr. Leffe, to swap irksome patients. Newcomer Emily has already discharged 5 people and it's not even 10am. Her boyfriend James, a dishy doctor, is as usual engaged in charming his superiors – not to mention the eye-catching Rebecca. Feisty senior house officer Mark is wrestling with his bossy mentor Vashti to allow him to be more hands-on. And throughout it all, John, the cardiology registrar, simply can't find a minute in the day to enjoy his roast turkey sandwich.

Starring Indira Varma (Game of Thrones), Ruth Everett, Souad Faress, Jenny Galloway, Nick Hendrix, Maxwell Hutcheon, Tricia Kelly, Alastair Mackenzie, Wunmi Mosaku, Shaun Parkes, and Luke Thompson.

Designer: Lizzie Clachan - Associate Designer: Ruth Sutcliffe - Lighting: Neil Austin - Video Designer: Dick Straker - Choreographer: Leon Baugh - Sound: Fergus O'Hare - Casting: Amy Ball.

Opens on the Main Stage of the Hampstead Theatre in London, Monday, December 8, 2014.


WHO'S WHERE




AUDRA McDONALD brings her tour to Carnegie Hall in NYC on December 12, 2014.

ELTON JOHN in the spotlight on Tuesday, December 9, 2014 at the 02 in Dublin, Ireland

FLEETWOOD MAC entertain Wednesday, December 12, at the US Airways Center in Phoenix, AZ. On Friday they are on stage at the Pepsi Center in Denver. Next Sunday, December 14, they perform at the American Airlines Center in Dallas.

THE SMASHING PUMPKINS perform Monday, December 8, at Webster Hall in NYC. On Thursday they perform at the Warfield Theatre in San Francisco. On Thursday they appear at the KROQ Almost Acoustic Christmas at the Forum in Inglewood, CA.

THE WHO entertains Tuesday, December 9 at the Metro Radio Arena in Newcastle-upon-Tyne in the UK. On Thursday they can be found at the Echo Arena in Liverpool. Saturday's stop is at the Phones 4u Arena in Manchester.

PINK MARTINI with singer Storm Large open a two night stand on December 12 at Abravanel Hall in Salt Lake City, Utah.


FINAL OVATION


BOBBY KEYS longtime saxophonist for the Rolling Stones died Tuesday, December 2, 2014, at his home in Franklin, Tennessee, after a long illness. He had suffered from cirrhosis. He was 70.

Keys had played with everyone from John Lennon to Barbra Streisand, Joe Cocker, Carly Simon, BB King, John Lennon and Eric Clapton, but it was work with the Stones for which he was most famous. His distinctive style on the saxophone can be best heard on songs like the Stones' classic Brown Sugar.

He played on every Stones' album from 1969 until 1974 and from 1980 to present, and has performed on all Stones tours since 1970.

LUIS ESTEVEZ famed fashion designer who dressed among others First Lady Betty Ford, Princess Grace of Monaco, and actress Natalie Wood, died in Miami, Florida on Friday, November 28, 2014. He was 85.

He designed clothes, shoes, hats, jewelry and fabrics.

He studied architecture at the University of Havana, and fashion design at Traphagen School, New York.

His Night and Day collection and gala, at the Waldorf Astoria, was dedicated to Cole Porter; the Broadway cast of Hello Dolly was featured prominently in his 1964 collection; and Estévez took over the Great Hall of the Met for his 1965 Fly Me to the Moon collection. He also showcases his collection during Hair, Los Angeles, 1969. He was a designer for Universal Studios, 1969-1970s; he designer, of Eva Gabor collections, 1972-74, and Luis Estévez International line for Gabor, 1974-77.

His gowns displayed in the Smithsonian Institute, Washington, D.C., and at the Gerald R. Ford Museum in Grand Rapids, Michigan.

In 1956, he was the youngest designer honored with the Coty American Fashion Critics award.

ANDREA TESTANI GORDON a stage manager for Broadway and off-Broadway shows died November 30, 2014 from cancer. She was 46.

She earned her B.A. in Theatre form Elmira College, and her MFA in Directing from Wayne State University in Detroit, MI. She taught stage management at Fordham.

Her first Broadway production stage manager credit was in 1998, for Side Man. Other credits include revivals of Uncle Vanya, The Man Who Came to Dinner, The Man Who Had All the Luck, All My Sons and Design for Living. She also worked on the award-winning original Broadway productions of I Am My Own Wife and The 25th Annual Putnam County Spelling Bee.

She is survived by her husband, John Gordon, and two sons, Robert and Sean.















Next Column: December 14, 2014
Copyright: December 7, 2014 All Rights Reserved. Reviews, Interviews, Commentary, Photographs or Graphics from any Broadway To Vegas (TM) columns may not be published, broadcast, rewritten, utilized as leads, or used in any manner without permission, compensation and/or credit.
Link to Main Page
---
Laura Deni



For the snail mail address, please E-mail your request.
CLICK HERE FOR COMMENT SECTION