! >
Broadway To Vegas
  
 SHOW REVIEWS CELEBRITY INTERVIEWS GOSSIP NEWS

| | |
| --- | --- |
| | |
ACCUSATIONS ARE SERIOUS AS AMERICAN MUSICAL THEATER OF SAN JOSE SHUTS DOWN - - IMPRESSIVE MUSICIANS PERFORM AT BUCKINGHAM PALACE - - THE 2008 TRU VOICES NEW MUSICALS SERIES - - KENNEDY CENTER HONORS - - 15TH ANNIVERSARY REUNION CONCERT OF THE WHO'S TOMMY - - WILLIAM PETERSEN LEAVES CSI FOR STEPPENWOLF - - LEAVE IT TO BEAVER STAR TONY DOW'S SCULPTURE ON DISPLAY - - WORLD PREMIERE OF EMMETT OTTER'S JUG-BAND CHRISTMAS AT GOODSPEED - - DONATE . . . Scroll Down


TARZAN PLAYWRIGHT HWANG ONE OF THE LAST TO KNOW WHEN MUSIC THEATRE OF SAN JOSE FOLDED


Tony Award-winning playwright David Henry Hwang thought his revised version of Disney's Tarzan was about to go on tour, in a joint venture, bankrolled by the American Musical Theatre of San Jose and the Atlanta based Theater of the Stars.

Then the San Jose Mercury News broke the story that the AMT of San Jose was closing its doors and declaring bankruptcy. The Tarzan tour had been cancelled.

The Theater of the Stars-San Jose production of Tarzan would have marked the regional premiere of the musical, which features a book by David Henry Hwang and a score by Phil Collins. Tony nominee Lynne Taylor-Corbett was scheduled to direct the production with scenic design by Kenneth Foy, aerial design by Paul Rubin and lighting design by Ken Billington.

Shay Quillen author of the newspaper piece E-mailed Hwang who E-mailed her back. Quillen posted Hwang's E-mail reply on the newspaper's blog:



David Henry Hwang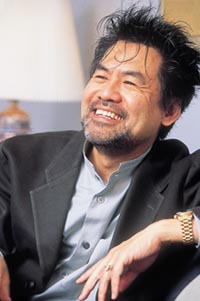 "Well, your email was the first I'd heard of this development. I've since read the sad news online, and, at this point, can only say that I'm shocked. It seems incomprehensible to me that an established, reputable organization like Theatre of the Stars could have engaged in, at best, gross negligence, at worst, outright deception. Having just enjoyed a blissful experience with AMTSJ on 'Flower Drum Song,' I was so looking forward to continuing our collaboration on the American Premiere of this revised 'Tarzan.' Needless to say, I'm crushed, not only for myself, but even more so for the demise of AMTSJ, which has enjoyed such a long and distinguished history in the Bay Area. I'm very interested in learning further how this tragic chain of events could have happened."

Almost a week later lawyers were deeply entrenched.

"Building the American Musical Theatre of San Jose into what it is today took 74 years, but it will be gone in a matter of days. On Monday, the theater abruptly closed its doors, laid off employees and filed for Chapter 7 Bankruptcy," reported San Jose CBS-5.

The company, with a budget of $9.8 million and 30 full-time employees, officially filed bankruptcy papers on Wednesday.

Like many theatrical companies, AMT was on a tight budget - struggling, running a deficit of more than $2 million, according to its latest tax statement, and had managed to survive thanks to a $1 million bailout loan from the city in 2006. They were optimistic since there were $800,000 in advance ticket sales for Tarzan, and public sales were to have begun Dec. 4.

American Musical Theatre had partnered with Theater of the Stars in Atlanta, Georgia coughing up roughly a quarter of a million dollars for Tarzan which was to have staged a mini-tour in conjunction with Dallas Summer Musicals. Tarzan opened at the Richard Dodgers Theatre on Broadway on May 10, 2006 and was nominated for a Tony award for Best Lighting Design of a Musical (Natasha Katz). Due to poor reviews and ticket sales, the show closed on July 8, 2007 after 35 previews and 486 performances.

Why mount a questionable venture in the first place becomes the investment question.

"It was an extremely exciting project for us, because Disney was going to take a look at it and maybe purchase it back from us, so it was a really huge opportunity to mount the beginnings of a national tour between the three companies," Michael Miller CEO and executive producer of AMTSJ said. "We were very excited about it."

Then the wheels fell off.



Michael Miller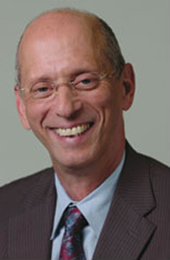 Miller's statement continued; "We received a telephone call a few days ago from our co-producer for Tarzan, which was the Theater of the Stars in Atlanta, Georgia basically telling us that they had used all of the funds that we had paid them towards the production for other things. In essence, they cancelled the show without giving us any warning, and we discovered that the funds we had paid for Tarzan were spent on another production of theirs, which lost a significant amount of money."

It is believed that the money grabbing production was an elaborate staging of Disney's High School Musical 2.

"We had a model in place that was going to work, and it just got snatched away from us, and it's very disheartening and very frustrating," Chief Financial Officer Robert Nazarenus told the press Monday. "We worked very hard to get here, and to have somebody take it away is unconscionable."

AMT was left with no money, no show of its own, in the midst of the worst economic downturn since The Great Depression.



Robert Nazarenus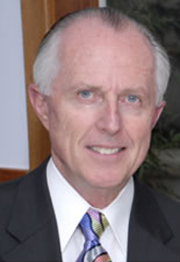 Miller's statement continued, "We are devastated for this community, our staff, and most of all for our loyal patrons. It is especially frustrating because of how hard we have worked, how sound our plan going forward has been, and because of the history and heritage of the American Musical Theatre of San Jose. This is a sad moment for all of us. We will aggressively pursue our claim against the Theater of the Stars to recover whatever money we can to pay the City of San Jose, our vendors and our loyal patrons for their good faith investment in AMTSJ."

The final decision to cease operations was made at an emergency board meeting the Tuesday before Thanksgiving. Employees were notified the next day. Because of Thanksgiving, the theater delayed making a public announcement until Monday. The officials also indicated that they had difficulty reaching donors, supporters and community leaders over the long holiday weekend and didn't want them to learn of the situation via the news.

The theater's artistic associate, Gia Solari, who had planned to conduct auditions last week in San Jose and New York for the upcoming production of 42nd Street, instead, spent Thanksgiving week-end calling 100 actors to tell them the show was off.

Dan Fenton, chief executive of Team San Jose, which oversees the Center for the Performing Arts and other downtown venues, said the demise of the AMT does not mean the end of Broadway-style musical theater in San Jose. "We are certainly very active now in working with producers of Broadway musicals to make sure they continue to come to San Jose," Fenton told the Mercury News "We think that there is a future for Broadway in San Jose."

While the resident productions of Tarzan and 42nd Street are down, representatives for AMTSJ insist that the national tour of Chicago will still arrive in San Jose in January 2009, and the company is currently working to salvage the touring engagement of Avenue Q, which would run in March 2009.

Michael A. Jenkins, president of Dallas Summer Musicals, told The Atlanta Journal-Constitution that "his organization had also invested $225,000 in the Tarzan project and was seeking legal counsel."

Miller told The Atlanta Journal-Constitution that lawyers for all the producing entities were trying to negotiate a financial agreement. "The producers that have been calling me around the country are pretty angry," Miller said. "The general mood has got a lot of four-letter words in it."

Broadway To Vegas contacted Theater of the Stars for their comment on the demise of Tarzan and the closing of American Musical Theater of San Jose.

"I appreciate your taking the time to look at both sides of this story," immediately responded Karen Hatchett who attached the following statement, which is printed in its entirety.

"Difficult economic times and the resulting general falloff in ticket sales has caused Theater of the Stars to indefinitely postpone its planned production of TARZAN® which was originally scheduled to play Atlanta's Fox Theatre from January 16-25, 2009. The show was also scheduled to preview in North Charleston, SC in early January and to perform additional engagements in San Jose, CA in February and Dallas, TX in March.

"Like most Performing Arts organizations, the recent economic turmoil has severely affected our ticket sales and as a result our cash flow," states Nick Manos, President of Theater of the Stars. "As much as we love this show and have the greatest faith in our creative team and actors, it impossible for us to continue with this exciting but intricate and expensive project at this time. Therefore, we have reluctantly decided to postpone the production indefinitely until economic conditions improve sufficiently to allow the show to be produced in an appropriate scale and manner."

"We sincerely apologize to everyone affected by this postponement for the disruption and inconvenience that this action has caused. That list includes the patrons, subscribers and management of each of the theaters affected." adds Christopher B. Manos, Producer of Theater of the Stars. "We hope that you will continue to support Theater Of The Stars and all of the other Performing Arts organizations during this difficult period. The Arts are an important aspect of the fabric of every major city especially in troubled times."

"It is a great disappointment to us that we are not able to continue on this show," continues Manos. "We have a long history of artistically and financially successful co-productions with other professional theaters around the country, and this is the first production that we have not been able to complete. A great deal of time, energy and money have gone into this production, and we are saddened that those efforts will not immediately come to fruition. However, cancellations are a part of the fabric of the theater business, and we are working with the other theaters on repayment plans for their pre-production advances."

"Theater of the Stars (TOTS) is one of America's premier not-for-profit Regional Theaters. For over 56 years, TOTS has produced and presented the best of Broadway in Atlanta and throughout America."



Broadway To Vegas is supported through advertising and donations. Priority consideration is given to interview suggestions, news, press releases, etc from paid supporters. However, no paid supporters control, alter, edit, or in any way manipulate the content of this site. Your donation is appreciated. We accept PAYPAL. Thank you for your interest.


PERFORMANCE RESUME INCLUDES PRIVATE RECITAL FOR THE QUEEN


It's assumed she won't have too much trouble finding a booking agent.



Condoleezza Rice at the piano, backed by musicians including American citizen Louise Shackelton (violin) wife of British Foreign Secretary David Miliband, Harriet Rayfield (violin), Simon Roland-Jones (viola) and Moray Walsh (cello). Photo: State Department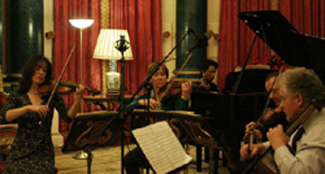 She's had formal musical training and a few jobs - performing at diplomatic events at embassies, in public with cellist Yo-Yo Ma at the National Medal of Arts and National Humanities Medal Awards. They weren't paying jobs - most musicians know that feeling - but the credit looks good on a resume.

Then there was that gig last Monday - the one in which she played piano for Queen Elizabeth II.

Condoleezza Rice - whose given name is derived from the Italian musical expression, Con dolcezza, which means "with sweetness" has been paying her bills since 2005 as the Secretary of State. When she hasn't been talking with heads of state, she's been practicing the piano and playing regularly with a chamber music group in Washington, D.C.

At age 15, she began classes with the goal of becoming a concert pianist. In 1967, the family moved to Denver where she played Mozart with the Denver Symphony. After studying piano at the Aspen Music Festival and School, Rice got sidetracked into political science.

Last week Rice happened to be in the neighborhood of Buckingham Palace, because she was in London for talks with British Prime Minister Gordon Brown.



Queen Elizabeth II greeting Condoleezza Rice prior to the recital. Photo State Department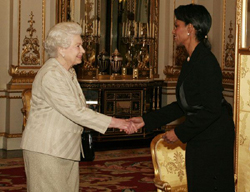 A palace spokeswoman announced that Rice "expressed a wish to play at Buckingham Palace and the queen offered her to play in the music room."

Rice was accompanied in her performance by four musicians, one of whom is the British Foreign Secretary David Miliband's wife, the former Louise Shackelton, an American citizen who is also a violinist with the London Symphony Orchestra. As an aside, both of their adopted sons were born in America, so there is quite the American-Brit connection.

Press reports referred to the "other three musicians" only as "members of the London Symphony Orchestra." Broadway To Vegas determined that only the highest quality string plunkers and bass slappers would be invited to take part in this private tunefest. Thus, we went on a hunt to find the identity of the three nameless string players.

Shelley Williams-Walker, APS (Diary) to the Foreign Secretary, Rt Hon David Miliband MP was immediately responsive and helpful, providing the following information.

"The other three musicians were Harriet Rayfield (violin), Simon Roland-Jones (viola) and Moray Walsh (cello). The Foreign Secretary's wife is known by her maiden name - Louise Shackelton."

"One further point," continued Williams-Walker, "Simon Rowland Jones is not a member of the London Symphony Orchestra, as I think has been reported incorrectly elsewhere over the last couple of days!"

Simon Rowland-Jones - violist, composer, and music editor - is best known for his arrangement of the Bach Cello Suites, which is widely praised as one of the best scholarly editions of the work for viola. He has taught at the Malmö Musikhögskolan in Sweden, the royal College of Music, the Royal Northern College of Music, the Royal Welsh College of Music and Drama, and the Yahudi Menuhin School.

Rayfield and Walsh are active members of the London Symphony. Rayfield's numerous accomplishments include backing diverse performers from Chaka Kahn to Dave Brubeck's son Chris, as well as having led 60 musicians comprising The English Sinfonia Orchestra. Walsh has equally impressive credentials including being featured on the Relaxation Series: Bach for Relaxation.



Louise Shackelton received a Bachelor of Music from Northwestern University and a Master of Music from the Eastman School.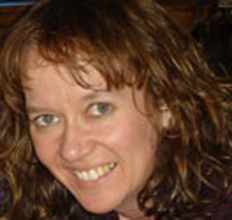 Louise Shackelton is a violinist with the London Symphony Orchestra and was until recently one of the Board's player directors. She began her British career with the City of Birmingham Symphony Orchestra, appointed by Sir Simon Rattle as co-principal second violin. She received a Bachelor of Music from Northwestern University and a Master of Music from the Eastman School. Her first job was with the Florida Symphony. She went on to play with the Rochester Philharmonic, Buffalo Philharmonic, New Haven Symphony, Hartford Symphony, Boston Ballet Orchestra and the Rome Opera Orchestra.

During the Monday concert, the musicians performed Brahms's piano quintet, Op. 34 by Johannes Brahms whom Rice has stated is her favorite composer, because she thinks Brahms's music is "passionate but not sentimental."

Prior to the recital, the musicians were presented to Queen Elizabeth who then sat front row center and listened to the private performance. Afterwards Her Majesty presented Rice with a recording of the recital as a present.


WARNING: ICE ON STAGE! - BREAKING IT UP IS HARD TO DO


What does a theater do when their stage is covered with ice? Letting it melt is not an option.

That is the problem - actually an enchanting one - being faced by the Palace Theatre at the Stamford Center for the Arts in Stamford, CT.

Tonight, December 7, the St. Petersburg State Ballet on Ice presents the spectacular classic fairytale Sleeping Beauty on Ice. An award-winning cast of 35 ice skaters – The Russian Stars – breeze through the ballet-inspired choreography. This production is magnificently costumed and performed with exquisite sets to the music of the great ballet score by Tchaikovsky, All done, of course, on ice.



Covering the Stamford stage with ice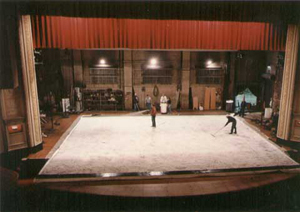 That presented the SCA with two issues - first getting the stage covered with ice and then getting rid of the cold, slick stuff.

Getting a stage iced proved to be the easy part.

"Curiously enough, it takes only 24 hours to transfer a theater to a grand ice rink, thanks to a special technique called the Yontzmat Portable Ice Rink." reported the SCA.

Manufactured by the Yontz Corporation, the Winter Haven, Florida based business designs, engineers, manufactures and installs all types and sizes of refrigerated ice surfaces, specializing in portable theatrical ice rink systems.

"The stage is first covered with several layers of thick carpet, Styrofoam and vinyl to elevate the stage a bit higher for a better view. Then a large wooden frame is placed over the stage. The technician team connects special pipes and coils that contain coolants across the wooden frame and pour in 6,500 pounds of ground ice."

For 12 hours, a technician must check every 30 minutes if the rink is cold enough, pouring in more ice and water. When the ice is finally smooth and hard, it is ready for the performance."

Getting rid of the ice after the show, however, is a bigger task. To prevent the stage from being ruined by melted ice, a support team will break the ice with hammers, load the pieces onto a truck and discard them in a stream or river such as Springdale Brook, East Branch Mianus River and the Noroton River.


ART AND ABOUT


LEAVE IT TO BEAVER STAR TONY DOW'S SCULPTURE ON DISPLAY

Unarmed Warrior will be on display at the Louvre. Photo Karen Lynne Gallery

Dow, best known for his role in the 1967-63 television sitcom Leave It To Beaver, in which he played Wallace "Wally" Cleaver, the older brother of Theodore "Beaver" Cleaver (Jerry Mathers). Their parents - June and Ward Cleaver were portrayed by Hugh Beaumont and Barbara Billingsley, who has a Dow bronze on display in her backyard garden.

Dow is one of three sculptors from the Karen Lynne Gallery, acting as the American contingency to be shown at the Société Nationale des Beaux-Arts exhibition at the Louvre in Paris from December 11-14.

Last year Karen Lynne Gallery was chosen as the first American delegation to represent the United States in the prestigious Societe Nationale des Beaux-Arts (SNBA) exhibit at the Carrousel du Louvre in Paris. This was a unique honor because the United States has never been represented in the 100-plus years the SNBA has been in existence.

Dow's contribution is Unarmed Warrior, a bronze figure of a woman holding a shield. It has been compared to Alberto Giacometti's tall stick figures of women, also made of bronze. "But unlike Giacometti's figures who merely stand erect, Dow's woman seems to take on modern day challenges, and is a "warrior" without a weapon," wrote one reviewer.

Art has helped Dow manage depression. In the 1990s, Dow revealed that he has struggled and was eventually diagnosed with clinical depression. He has since starred in self-help videos chronicling his battle with depression. He has been quite open about discussing it, even appearing in videos discussing his personal battle with depression, including Beating the Blues (1998), which Dow hosted and in which he talked about his personal struggle with depression.



Inside Out a bronze by Dow. Photo Karen Lynne Gallery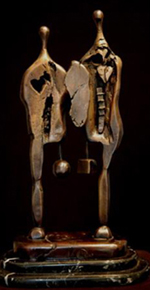 Dow has become a serious, respected artist, creating abstract bronze sculptures. In his artist statement, he says the following about his work::

I have always been attracted in the power of nature, it's forms, colors, textures, and it's relationship to man. Therefore, it seemed predictable I would gravitate to a collaboration with the environment. I am interested in exploring relationships: the ideas that surround them and the stories that bring people together or drive them apart. The stories behind my pieces may be simple or sometimes quite complex. The observer doesn't need to wholly perceive the story but hopefully will create his or her own narrative. My interest is in evoking emotion, hopefully creating a desire to explore the work deeper and find one's own story within each piece.

My sculpture derives from whatever has passed through or by me; a culmination of my experiences; what I've seen, what I'm drawn to. The figures are abstract and not meant to represent reality but rather the truth of the interactions as I see and feel them. I find the wood in he hills of Topanga Canyon and each piece evolves from my subconscious. I produce limited editions of nine bronzes using the lost wax process from molds of the original burl sculpture.

SNBA was established in 1862 and was first chaired by writer Theophile Gautier; painter Aime Millet was deputy chairman. In 1864, just after the death of chairman Eugene Delacroix, the society ceased to hold further exhibitions until its revitalization in 1890. It is an annual juried exhibition and has been held annually since the early 1900s. Auguste Rodin was once a vice president of the SNBA, which has a mission to foster the work of artists, particularly in the field of visual arts, by gathering them under one roof to provide support and opportunities.




SWEET CHARITY


THE 15TH ANNIVERSARY REUNION CONCERT OF THE WHO'S TOMMY a reunion of the original Tony Award-winning Broadway cast and band. The proceeds from the concert will go to support Broadway Cares/Equity Fights Aids and Broadway Dreams Foundation as well as the Bachmann-Strauss Dystonia and Parkinson Foundation.

The production will be presented concert style with the cast and band on stage during the entire performance. The show's original band members will provide music for the evening's performance, with musical direction by Joe Churst. Projections and photographs from the original production will be used to express the design elements and feel of the show.

David Bologna, one of two young actors that play Billy's cross-dressing friend Michael in Billy Elliot, heads the cast which reunites original cast members; Michael Arnold, Anthony Barrile, Bill Buell, Maria Calabrese, Victoria Cave, Michael Cerveris, Tracy Nicole Chapman, Paul Dobie, Jonathan Dokuchitz, Tom Flynn, Cheryl Freeman, Romaine Fruge, Jody Gelb, Christian Hoff, Todd Hunter, Paul Kandel, Donnie Kehr, Tracey Langran Corea, Lisa Leguillou, Norm Lewis, Marcia Mitzman, Lee Morgan, Alice Ripley, Sherie Rene Scott and Timothy Warmen, along with national tour alum Destan Owens, who is appearing for original cast member Michael McElroy.

The Who's Tommy opened at the St. James Theatre on April 22, 1993. The show earned 11 Tony Award nominations and won five, including Best Original Score and Best Direction. The production played 899 performances before closing on June 17, 1995.

Monday December 15, 2008 at the August Wilson Theater, NYC.

OLNEY THEATRE PRESENTS NEVER GROW UP a celebration fundraiser. There will be a chance to win several unique silent auction items, including: the opportunity to fly on the Olney stage like Peter and Wendy. Two winners will be harnessed to fly above the stage and receive a commemorative flight package.

Plus a package at CNN headquarters that includes a tour of The Situation Room control rooms; a partial viewing of the live show; and a brief meet and greet with award-winning CNN Anchor Wolf Blitzer, who is one of the few reporters that deserve to be emulated by would-be anchors.

Cocktail Reception, Light Buffet with Silent Auction followed by 70th Anniversary Performance with Special guest artists from Olney's Past, Present, and Future. Sherri L. Edelen, Loretta Giles, Helen Hedman, Chris Sizemore, and Peggy Yates. The evening wraps up with a Dessert Reception. The event will also celebrate the launch of the Olney Theatre Center Legacy Project for a Sustainable Future honoring Miss Gertrude Poe and Mrs. Maggi Root. December 8, Washington, DC.

THE 4TH ANNUAL BROADWAY SINGS FOR TOYS A Benefit Concert for Toys for Tots Sunday, December 14 at The Zipper Factory in NYC.

Once again, the Broadway Boys will host this laid back event of holiday music and songs of inspiration featuring top Broadway talent. Scheduled to perform in this year's installment are Gavin Creel (Thoroughly Modern Millie), Julia Murney (Wicked), Julie Reiber (Wicked), Antonique Smith (Rent), Jenny Fellner (Pal Joey), Asmeret Ghebremichael (Legally Blonde), Janet Dacal (In the Heights), Patina Miller (Hair), Julie Reiber (Wicked), Natalie Weiss (Ever After), Judy McClane (Mamma Mia), Chelsea Krombach (Wicked), the Broadway Inspirational Voices, and of course the Broadway Boys. This year will also include performances from the casts of Altar Boyz; Spring Awakening, and the upcoming Broadway production of Hair.


OTHER PEOPLE'S MONEY


KNOCK OFF THE SELF SERVING DONATIONS apparently if you wait long enough everything repeats itself. Decades ago at holiday time, major Los Angles PR firms sent extremely nice presents to members of the press. PR firms frequently sent wrapped presents or cash (before the days of gift cards) as a thank you for covering their clients, etc. I was on the list. Then a recession hit and that Christmas a couple of nice cards came with a lovely message to the effect that, because of the economic downturn, a donation in my name had been made to a highly respected charity. At that time, my reaction was one of attempting to be polite. I sent the PR firms hand written thank you notes, acknowledging their kindness in thinking about the less fortunate.

Shortly thereafter a letter from the charity arrived indicating - indeed - a donation in my name had been made to that charity - and if I'd like to make any future donations that would be peachy keen with them. That letter I threw away.

Other members of the press on the "we've sent a donation in your name" list opted to turn the letter over to their tax lawyers/financial accountants/tax preparers. Keep in mind the itemized tax form charity tax credit goes to the person in whose name the donation is given.

One bean counter contacted the charity to inquire the amount of the donation, so that the deduction might be taken by his client. He was informed that a donation of 5 cents was his client's credit. Seems the major PR firm had sent in a $50 donation with a donation list stretching from one end of the country to the other. (Another PR firm had done the same with a different charity, but they were big spenders and contributed and entire dollar in each press person's name). In both instances, it cost more in postage and paper to notify the press list of the donation, than the donation received. The bean counter reported the situation back to the major press person who printed the information.

That stopped PR firms from pulling such stunts.

Now it's starting up again from a New York City based firm - only this time we're in the electronic age and the "in appreciation of you" notes are received by E-mail.

Stop.

If you want to wish somebody a happy ho-ho, do it. If you don't - don't. If you want to give somebody a present - then do it. If you don't - don't. Don't use a recession to attempt to bolster your own public image as well as providing charities with new solicitation lists.



KENNEDY CENTER HONORS OF 2008 Recipients to be honored Sunday, December 7, 2008 at the 31st annual national celebration of the arts are: actor Morgan Freeman, singer George Jones, director, singer, actress, composer and producer Barbra Streisand, choreographer Twyla Tharp, and musicians Pete Townshend and Roger Daltrey of The Who.

The annual Honors Gala has become the highlight of the Washington cultural year, and its broadcast on CBS is a high point of the television season. On Sunday, December 7, in a star-studded celebration on the Kennedy Center Opera House stage, produced by George Stevens Jr., the 2008 Honorees will be saluted by great performers from New York, Hollywood, Nashville, and the arts capitals of the world. Seated with the President of the United States and Mrs. Bush, the Honorees will accept the thanks of their peers and fans through performances and heartfelt tributes.

The President and Mrs. Bush will receive the Honorees and members of the Artists Committee, who nominate them, along with the Kennedy Center Board of Trustees at the White House prior to the gala performance. The 2008 Kennedy Center Honors Gala concludes with a supper dance in the Grand Foyer.

The Kennedy Center Honors were bestowed the night before the gala on Saturday, December 6, at a State Department dinner, hosted by Secretary of State, Condoleezza Rice.

Stevens, who created the Honors in 1978 with Nick Vanoff, will produce and co-write the show for the 31st year. The Honors telecast has been honored with five Emmy's for Outstanding Program and is nominated again this year. It has also been recognized with the Peabody Award for Outstanding Contribution to Television and seven awards from the Writers Guild of America.

STEPPENWOLF has announced that William Petersen has become their 42nd ensemble member. The official announcement from Artistic Director Martha Lavey indicates that Petersen was "one of the founders of Remains Theatre, the original company of both Amy Morton and Gary Cole. Remains and Steppenwolf grew up together in the Chicago theater scene of the late 1970s and '80s and many of our company members have known one another and worked together for years. Our founders, Gary, Jeffrey and Terry recently approached me to suggest that we extend the invitation to Billy to join Steppenwolf when it became clear that Billy would be concentrating, once again, on working on stage and maintaining a base in Chicago. As you know, Billy is now on our stage in our production of Dublin Carol and will be acting in Blackbird at Victory Gardens later this season."

Many known Petersen as the star of the CBS series C.S.I.: Crime Scene Investigation. The actor had announced that he would take a step back from a full-time role on C.S.I. after this season but would continue to appear as a guest star and serve as an executive producer.

JOE MASTEROFF will receive the Eighth Spotlight Award presented by the Boca Raton, FL based Caldwell Theatre Company on December 8th.

The author who wrote the hit musicals She Loves Me and Cabaret will receive his Spotlight Award at a Champagne Reception Ceremony. The evening will include music and readings from Joe Masteroff plays as tributes to this internationally renowned playwright.

Caldwell's Spotlight Award is presented to an artist who has devoted a lifetime of distinguished service to the arts while advancing the art of theater. Past recipients of the Spotlight Award include Len Cariou, Nehemiah Persoff, Julie Harris, Christopher Reeve, Roddy McDowall, Cliff Robertson and Charles Nelson Reilly.

THE SHUBERT ORGANIZATION still grieving over the tremendous loss by the sudden death of Gerald Schoenfeld, has named Philip J. Smith as chairman of the Shubert Organization and the Shubert Foundation, considered by many as the single most powerful position in the theater world.

Smith was the organization's president, working closely with Schoenfeld in producing shows and booking the company's many theaters.

Receiving an early birthday present was Robert E. Wankel, named co-chief executive officer. Wankel's ascention was named on Tuesday. His celebrated his 62nd birthday on Friday. He was also named president and elected to the board of directors.

Wankel, who has worked for the company for more than 30 years, was its chief financial officer and executive vice president.

The Shubert organization owns and operates 17 theaters in Manhattan including The Little Shubert located Off Broadway and is the largest and most important landlord for the theater community. The Shubert Foundation, whose value is estimated at more than $300 million, helps support nonprofit theaters and dance companies across the country.


SPREADING THE WORD


THE 2008 TRU VOICES NEW MUSICALS SERIES has announced a lineup of prominent Broadway producers and general managers for the Dollars and Sense panels which will follow readings of the winning selections of the 2008 TRU Voices New Musicals Series. The series develops new producers as well as new musicals, and in keeping true to its mission, the TRU talkbacks focus on producer concerns regarding the development of these works beyond the series. The panels will follow readings of the works on Mondays, Dec. 8 and 15.

On Dec. 8 Sheila McDevitt presents Once Upon A Wind with Book and Lyrics by Tom Diggs. Music by Jay D'Amico. Directed by Jeremy Dobrish. Music Direction by Oran Eldor.

Starring Alex Brightman, Molly Ephraim, Laura Fois, Kevin Pariseau, Marcus Stevens and Ken Triwush.
The Dollars and Sense panel: Stewart Lane, Jennifer Manocherian, Brian Swasey and Cheryl Wiesenfeld.

On Dec. 15 Meredith Lucio/Wild Bird Productions in association with Fumiko Eda presents So Happy I Could Scream - A Musical Celebration of Motherhood with a book by Judy Freed. Music by Sari Miller. Lyrics by Randi Wolfe and additional lyrics by Sari Miller. Directed by Kim Wield.

The Dollars and Sense panel will feature Peter Bogyo, Pat Addiss and Pam Koslow. All events take place at Players Theatre mainstage, NYC.


ALIAS, POOR YORICK


The human skull of concert pianist and Holocaust survivor Andre Tchaikowsky is no longer appearing in the Royal Shakespeare Company's production of Hamlet. The RSC determined that recent publicity disclosing that the prop wasn't plastic will now distract the audience. ( See Broadway To Vegas column of November 30, 2008 )

Actor David Tennant was the first actor to use Mr. Tchaikowsky's skull during Hamlet's famous grave-digger scene.

When the production played in Stratford the audiences were unaware the skull belonged to the Oxford pianist, but the secret was revealed by Tennant. Thus, all is not well - but that is another of Shakespeare's plays.

In the Hamlet that transferred to London on December 3, the real skull has been replaced by it's plastic understudy.



WINTER MUSICALE Like building a December snowman, baking gingerbread cookies, or sipping hot cocoa by the fire, The Bristol Riverside Theatre promises that their Winter Musicale will fill your heart with cheer. This BRT tradition celebrates the season with favorite holiday songs from yesterday and today. Full of warmth, humor and joy, December 11 – December 21, 2008 at the Bristol Riverside Theatre in Bristol, PA.

OUR TIME THEATRE COMPANY an artistic home for kids who stutter, will present its fourth annual One-Act Play Program, in which three teens who stutter write and direct original plays that are performed by professional actors.

This staging features plays written and directed by Danielle Diesu, Tom King and Edward Mawere.

A Playlist Worth A Thousand Words Written and directed by Danielle Diesu, age 17, from Long Island. Can a playlist on an ipod have the power to bring two Co-workers together? Find out in this delightful romantic comedy. Starring Rosie Perez, Ramon Rodriguez, Shirley Rumierk, Pancho Gutstein, and Our Time company members Tim Short and Victoria Perlman.

Cherish Every Moment Written & directed by Tom King, age 17, from Long Island. This emotional play deals with loss, love, faith, and carrying on. We see a Mother and her Father coming to terms with the death of their Son/Grandson. Starring Jace Alexander, Taro Alexander, Maddie Corman, Joel Higgins, and Our Time company member Joseph Popovich, Jr.

Mendacity,Written and directed by Edward Mawere, age 16, from Brooklyn. This original musical is about the relationship between a Mother and her Daughter and the on-going lies that both have been telling. Edward has written four original rockin' songs that drive this new work. Starring Noah Cornman, Carl Danielsen, and Emily Whyte.

This evening of one-acts will take place December 12-13 at the historic Cherry Lane Theatre in NYC.

HANSEL UND GRETEL Colin Davis conducts Humperdinck's sumptuous score in a new production, with two exceptional casts both offering a delightful family treat for Christmas Is that the wind whispering or a wicked witch planning to fatten you up and eat you? Find out with Hansel and Gretel in this funny-scary-touching opera – perfect family fare from The Royal Opera for everyone at holiday time. In this famous fairytale, two children become lost in a forest and are captured by a witch whose gingerbread house proves too much of a temptation. In an explosive climax the defeated witch gets a taste of her own culinary methods, and there is a rousing happy ending as parents and children are happily and safely reunited.

Directed by Moshe Leiser and Patrice Caurier. Set Designs by Christian Fenouillat. Costume Designs by Agostino Cavalca. Lighting by Christophe Forey.

Conducted by Colin Davis and Robin Ticciati.

Hänsel is portrayed by Angelika Kirchschlager and Alice Coote. Gretel is portrayed by Diana Damrau and Camilla Tilling. Elizabeth Connell and Irmgard Vilsmaier are cast as Gertrud. Peter is portrayed by Thomas Allen and Eike Wilm Schulte. Anja Silja and Ann Murray are cast as the Witch. Pumeza Matshikiza and Eri Nakamura are Sandman. Portraying Echo are Eri Nakamura, Simona Mihai, Anita Watson and Pumeza Matshikiza. Dew Fairy is played by Anita Watson and Simona Mihai.

Sung in German with English surtitles. December 9, 2008 to January 1, 2009 at the Royal Opera house, London.

GIMPEL TAM (GIMPEL THE FOOL) American Premiere of a New Musical Based on the short story by Isaac Bashevis Singer. Written and Directed by Moshe Yassur. Music by Radu Captari. Musical Director, Zalmen Mlotek.

This adaptation of Singer's morally complex story of a simple man whose faith and innocence are tested by life's harsh truths. Isaac Bashevis Singer is the only Yiddish author to be awarded the Nobel Prize for Literature. In his acceptance speech, Singer famously said, "There is a quiet humor in Yiddish and a gratitude for every day of life, every crumb of success, each encounter of love."

In this story, Gimpel, much like Job, finds his faith tested endlessly when even his crumbs are taken away. For Gimpel, it is his faith in humanity which is tried time and time again by the cruelty of his fellow shtetl (A small Jewish town or village formerly found throughout Eastern Europe) dwellers who find amusement in taking advantage of Gimpel's gullibility. But Gimpel reasons that he must believe in his fellow man, no matter how ridiculous the lie, in order to maintain his faith in goodness.

Starring Jonathan Brody, Matthew Didner, Ilan Kwittken, Lisa Fishman, Amy Goldstein, Richard Kass, Harry Peerce, Daniella Rabbani, Nicole Raphael, Sheila Rubell, Adam Shapiro and Ethan Sher.

Officially opened December 4 with performances through December 28 at The National Yiddish Theatre - Folksbiene, New York City.

A HOLIDAY GARLAND Devised by Eileen Atkins and John Tillinger. Directed by John Tillinger.

Featuring James Naughton and Joanne Woodward.

An evening of songs, funny stories, poignant tales, jokes and poems compiled to celebrate this festive season.

Staged December 13 – 21 at the Westport Country Playhouse in Westport, CT.

BABES IN TOYLAND Based on the operetta by Victor Herbert with an updated book and lyrics by Alice Hammerstein-Mathias and William Mount-Burke. Presented by Pasadena Playhouse, the Theatre 360 production is directed by Devon Yates.

Victor Herbert's timeless musical adventure follows young Alan and Jane as they run away from rules and chores to the magical land of Toyland, a beguiling world of walking and talking toys. As their journey continues they are introduced to the wonderful dolls of Toyland and a place where anything can happen. Even a little evil and greediness, as Pete Pinkerton tries to steal the magic of Toyland by escaping with the Toymaker's plans of the famous Toy Soldiers. Alan, Jane and all the Toy's help teach Pete Pinkerton about the meaning of Christmas and giving as the young children themselves learn a valuable lesson about love and respect.

A holiday festival coincides with the opening of Babes In Toyland. The events and activities include: Carolers performing familiar and favorite Christmas carols. Meet Santa and Mrs. Claus - Children can meet and take photos with Santa and Mrs. Claus. Santa will appear for 30 minutes prior to each performance and during intermission. Mrs. Claus will be making a special guest appearance for one night only on Sunday, December 14, a half-hour before the performance and during intermission. Build Your Own Snowflake Workshop where families can create giant snowflakes out of coffee filters and then decorate them. Photos with The Toy Soldiers who are in full costume. Take the opportunity to meet the cast of Babes In Toyland. The cast will be available to take photo for 15 minutes after each performance. Enjoy Delicious Holiday Treats and Beverages – Special for the holidays, fresh seasonal baked goods such as peppermint brownies and gourmet chocolate grahams and hot apple cider and other fun winter drinks. Donate a Toy - A drop off box for the Spark of Love Toy Drive will be at the festival. Free Raffle Prizes – Patrons will have an opportunity to win gifts prior to each performance. Win a Walk-on Role in Babes In Toyland. Prior to each performance there will be a raffle for a walk-on role in that performance of Babes In Toyland. The winner will be notified just before the curtain. Raffle tickets are $10.00 each and benefit the Theatre 360 Scholarship Fund.

December 12 – 21, 2008 at Pasadena Playhouse, in Pasadena, CA.

EMMETT OTTER'S JUG-BAND CHRISTMAS Music and Lyrics by Paul Williams who composed two new songs for this stage version. Book by Timothy A. McDonald & Christopher Gattelli. Based on the book by Russell & Lillian Hoban. Directed and Choreographed by Christopher Gattelli. A world premiere produced in association with The Jim Henson Company

As Christmas approaches Frogtown Hollow, Emmet Otter and his Ma can only dream of buying each other gifts. So when a Christmas Eve talent contest is announced, both secretly enter hoping to win the prize money.

In a heartwarming twist on The Gift of the Magi, Emmet and Ma risk all they have and end up with the greatest grand prize of all. Based on director Jim Henson's television feature, this new theatrical adaptation features a lovable mix of actors and puppet characters from The Jim Henson Company and a toe-tapping score. A new classic holiday musical for all ages.

Costume Design by Gregg Barnes. Emmy and Grammy award-winner John McDaniel serves as Music Supervisor.

Two special events include; Meet the Puppeteers and opportunity to meet the professionals who bring the magical Henson puppets to life following the evening performance on Wednesday, December 10 and Backstage at Goodspeed which is a lively audience discussion with the cast. That takes place following the Thursday evening performances on December 11 and 18.

Emmet Otter's Jug-Band Christmas will run December 7, 2008, through January 4, 2009, at the Goodspeed Opera House in East Haddam, Connecticut.


WHO'S WHERE


RYAN ADAMS WITH OASIS perform Monday, December 8, at the Broomfield Event Center in Broomfield, CO. On Wednesday the show is at the Target Center in Minneapolis. Friday finds them at the Allstate Arena in Rosemont, IL. On Saturday they are on stage at the Palace of Auburn Hills in Auburn Hills, MI.

CELINE DION performs in Mexico this week. On Tuesday she is in the spotlight at the Palacio De Los Deportes in Mexico City. On Thursday the show is at the Arena VFG in Guadalajara. On Saturday she's on stage at the Arena Monterrey in Monterrey.

BILLY JOEL continues his Australia tour opening up a two night gig Tuesday, December 9 at the Acer Arena in Sydney.

BIG BAD VOODOO DADDY has a three night engagement at the Mohegan Sun in Uncasville, CT beginning Friday, December 12.

SARAH BRIGHTMAN brings her tour to the Pengrowth Saddledome in Calgary, AB on Monday, December 8. On Wednesday she is on stage at Rexall Place in Edmonton, AB. Friday finds her at General Motors Place in Vancouver, BC. On Saturday the show is at the Save On Foods Memorial Centre in Victoria, BC. Next Sunday, December 14, she performs at the Comcast Arena at Everett Events Center in Everett, WA.

CLINT BLACK who dropped out of high school to play bass in his brother Kevin's band, supporting himself with day jobs as an ironworker and fishing guide, going on to win just about every music award possible, performs December 13 at RiverPark Center, Owensboro. KY.

LEA DELARIA WITH SPECIAL GUEST SANDRA BERNHARD Backed by the Dirty Martini Band, under the musical direction of the pianist and composer Janette Mason. In a very special Christmas show, Lea and the band perform a repertoire of witty festive favorites, and songs classic torch songs, up-tempo jazz standards and soulful ballads. With special guest the laugh getter Sandra Bernhard. December 8 at The Zipper Factory in NYC.


WE NEED YOUR HELP....


BROADWAY TO VEGAS, which has been in existence over 10 years, is not affiliated with any blog. A copyright clause is at the bottom of every Broadway To Vegas column. Recently, it has been brought to our attention that there is a Las Vegas based blog with an extraordinarily similar title. If you have provided that (or any) blog with: information, invitations, purchased anything through any link on that blog or transferred money, goods or services to anyone connected with that blog THINKING YOU WERE DOING BUSINESS WITH BROADWAY TO VEGAS - we want to hear from you. The more detail the better. Thank you. Next Column: December 14, 2008
Copyright: December 7, 2008. All Rights Reserved. Reviews, Interviews, Commentary, Photographs or Graphics from any Broadway To Vegas (TM) columns may not be published, broadcast, rewritten, utilized as leads, or used in any manner without permission, compensation and/or credit.
Link to Main Page
---
Laura Deni


CLICK HERE FOR COMMENT SECTION