! >
Broadway To Vegas
 
  SHOW REVIEWS CELEBRITY  INTERVIEWS GOSSIP NEWS

| | |
| --- | --- |
| | |
MICKEY MANTLE AUCTION - - GERRY SPENCE SAYS HE'LL SHOW UP - - CHRISTMAS IN COWTOWN - - REVELING IN SATCHMO - - JUDI DENCH CELEBRATES BIRTHDAY ON STAGE - - GRAMMY AWARD NOMINATIONS - - COMEDY TURNES INTO DRAMA FOR MARY TYLER MOORE - - BETTE MIDLER BEGINS TOUR - - DONATE . . . Scroll Down


ALL'S WELL AS JUDI DENCH CELEBRATES BIRTHDAY ON STAGE
Judi Dench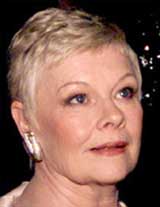 All's Well That Ends Well is considered one of Shakespeare's most complex plays. Perhaps fitting that the star of a new production, Judi Dench, is a complex actress - and that's a compliment. On December 9th Dame Judi Dench, celebrates her birthday.

Her pal Kevin Spacey swears she cheats at cards. Her name is Judi, not Judith and she doesn't like being called Dame even though that's what Queen Elizabeth II bestowed upon her.

In this production Dench plays the Countess of Rossillion. This marks her debut performance on the Swan stage and the first role she has played for the RSC in Stratford since 1979 when she played Imogen in Cymbeline. "The Countess is one of the few Shakespearean women that I've never played and I'm thrilled to be working with Greg Doran and being part of a big company again," said Dench at the casting announcement.

Director Doran is a self described "Shakespeare nut," who once hitch-hiked around England to catch anything Shakespeare - even seeing three Macbeth productions in one day.



Judi Dench and Greg Doran, who has an unusual directing style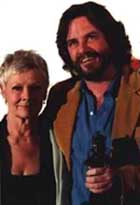 He also has an unusual directing style. He spends the first week of rehearsals sitting around the table with the cast holding the script. What is unusual about that is that everybody reads everybody else's lines, never their own. Doran feels that approach instills an investment in the play from the entire company.

Dench took home an Academy Award for her portrayal of Elizabeth I in Shakespeare in Love. She has combined her acclaimed stage and television work with international film roles including Iris Murdoch in Iris, as well as developing a new generation of fans through her role as M in the recent James Bond. Currently she is enjoyed by millions of Americans in the PBS series As Time Goes By, which co-stars Geoffrey Palmer.



Judi Dench and Geoffrey Palmer in As Time Goes By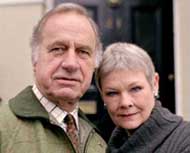 Dench and Palmer star as Jean Pargetter and Lionel Hardcastle, a student nurse and an Army officer and who met and fell in love during the Korean war. They were separated, but meet again 38 years later. The series follows their reunion and rekindling of the flame.

Written by Bob Larbey, the show began airing in England on the BBC in 1992. As Time Goes By is currently shown on PBS stations in the US.

All's Well That Ends Well is a bitter-sweet comedy contrasting deeply with Shakespeare's greatest tragic study of jealousy.

Helena, a doctor's daughter and now ward of the Countess' court, saves the life of the King using one of her father's secret prescriptions. Her reward - to take any man to be her husband. She chooses Bertram, the Countess' son. Appalled at having to marry a commoner, he declares he will never be hers until she obtains the ring he wears and is pregnant with his child, all of which is seemingly impossible.

The cast also includes Claudie Blakley, Shelley Conn, Aimee Cowen, Tim Delap, Chris Geere, Jamie Glover, Colm Gormley, Guy Henry, Charles Kay, Arthur Kohn, Mark Lambert, Jane Maud, Brendan O'Hea, Miles Richardson, Oliver Senton, Gary Waldhorn and Sarah Jane Wolverson. Gregory Doran directs, with designs by Stephen Brimson Lewis, costumes by Deirdre Clancy, lighting by Paul Pyant and music by Paul Englishby.

All's Well That Ends Well is currently in previews at the Swan Theatre, officially opening December 11 with performances through Feb. 7 It will then transfer to London's Gielgud Theatre for a limited run Feb. 18 April 24 presented by Bill Kenwright and Thelma Holt.


AUCTION BLOCK FOR THE SULTAN OF SWAT
Mickey Mantle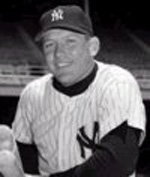 Artifacts from the career of legendary baseball player Mickey Mantle will be gaveled down December 8 at Madison Square Garden.

Arguably the most admired and beloved sports figure of our time, the sale of Mantle's personal treasures is being heralded as one of the most extraordinary events in auction history.

Up for bid - his 1956 Babe Ruth Sultan of Swat crown. That headgear honored the ball player with the greatest slugging average each season. Joe DiMaggio called it "the greatest award in baseball." Mantle, the first to ever win the crown, considered it one of his favorite mementos. It's expected to fetch $100,000.

Arlan Ettinger, president of Guernsey's Auction House says that the sale will include two of Mantle's three MVP (Most Valuable Player) trophies, many home run baseballs, the silver bat awarded for his 1956 batting crown, several of his baseball gloves and his contracts for each year he played ball.



Sultan of Swat Crown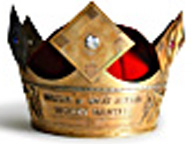 Ettinger added, "The auction contains Mantle's contract for playing with the minor league Independence (Missouri) Yankees and then all eighteen of his contracts with the New York Yankees including his rookie year (1951) and the three MVP years (1956, 1957 and 1962.) What is particularly wonderful is the fact that many of these rarities come directly from the family's showcases and are accompanied by pertinent period photographs. A trophy awarded to Mick by the Little Leaguers of the Bronx, for example, is accompanied by a photograph of Mickey receiving the award from those same Little Leaguers in the 1950s on the playing field at Yankee Stadium. Some of Mick's home run baseballs come with photographs of the Yankee legend holding the ball in the locker room following the game."

The auction catalogue is being viewed as a collector's item. Virtually every one of the nearly three hundred lots are pictured as are many previously unpublished images of Mantle before and during his career. There are also many family scenes with photographs of Mantle's four sons and his high school sweetheart and wife, Merlyn. Several of Mick's Hall of Fame friends have written warm recollections of their teammate.



Mantle's engraved HOF Omega Wristwatch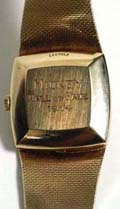 Some of the possessions up for bid include; Mickey Mantle's US Passport from 1955 ; his Rawlings Game-Used Baseball Glove; Mantle's 1956 Batting Champion of the Year Award; 1957 MVP Trophy; a 14K Gold Circular Pendant; 1962 NY Yankees World Series Ring; Mantle's World Series Home Run Ball #16 and his Baseball HOF Omega Wristwatch.

Mantle ended his 18-year Yankee career with 536 home runs, 2,415 hits, 1,509 RBI's, and a .557 slugging percentage. The switch-hitting Mantle led the Yankees to 12 pennants and seven World Series titles in his first 14 seasons. He won three MVP Awards, one Triple Crown, and was inducted into Baseball's Hall of Fame in 1974.

On June 8, 1995 Mickey received a liver transplant at Baylor University Hospital in Dallas, during which time it was discovered that Mickey had inoperable cancer. Before he died he formed the Mickey Mantle Foundation to raise awareness of the importance of becoming an organ donor. Mickey died at Baylor University Hospital on August 13, 1995. He was 63 years old.


REVELING IN SATCHMO - ON STAGE AND IN HIS HOME


Satchmo. The whole world knows his name. Who could forget the sweet sound of his trumpet, the granular grace of his voice, the brightness of his smile? Louis Armstrong, is one of greatest jazz giants of the 20th century, yet what do we know about the man behind the music?

You have an opportunity to find out - by seeing a new musical about the jazz great and touring the house that he called home.

The Queens, New York house where the jazz great lived and died is open to public tours, giving visitors a glimpse of the life and style of Armstrong and his fourth wife, Lucille. Armstrong married Lucille in 1942. They purchased a humble, middle class, red-brick house on 107th Street in 1943, and formed such strong ties with the community and their neighbors, that they never moved. It was while living in this house, that Louis amassed a great quantity of treasures, many of which have never before been on public display. Lucille decorated the house, all without her husband, who was often on the road.

The first time the trumpeter-vocalist saw it was when he returned from a road trip.

"He came inside, fell in love with the place and lived here for the rest of his life," said Michael Cogswell, director of the Armstrong archives at Queens College.

Lucille Armstrong spared no expense in decorating the house, and she redecorated often until her husband's death in 1971. She lived there until her death in 1983. In 1986, the Louis Armstrong Educational Foundation gave the house to the New York City Department of Cultural Affairs (DCA) and arranged for Queens College to administer the house under a long-term license agreement.

The 40-minute guided tours include the entire house. Visitors to the house will have the intimate experience of "visiting Louis and Lucille." Because no one has lived in the house since the Armstrongs, all of the furnishings are authentic.



In a presentation called High Hat and Low Down Metropolitan opera star Robert Merrill and Satchmo performed together for two weeks in 1954 at the Sands hotel in Las Vegas. In this photo of the finale, Satchmo provided a low down Basin Street background for the sophisticated Merrill singing Honeysuckle Rose.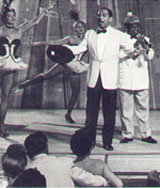 Highlights of the tour include a turquoise kitchen from the 1960s, with a Sub-Zero refrigerator and custom-made stove with six burners, two ovens and two broilers, as well as the original wine-bottle holder.

The original gold-plated fixtures imported from Europe are in the first-floor bathroom, the silver paper lining the master bedroom matched to the window blinds, the foil-covered walk-in closet where some of Lucille Armstrong's dresses still hang.

There are original oil paintings by Tony Bennett, LeRoy Neiman, and Calvin Bailey, a spectacular bathroom with gold fixtures and mirror-covered walls, and Louis's den, where he wrote letters to his fans and visited with friends and neighbors.

In three rooms, a hidden audio system plays excerpts from Louis's home-recorded tapes—visitors will hear Louis telling jokes and band stories, Louis and Lucille eating dinner, and Louis playing with General, the family dog. Satchmo's much-used second-floor den holds his desk and a tape deck he used to record hours and hours of conversations.Visitors hear some of the tape - conversation, music, the clink of dinner utensils.

The house, a National Historic Landmark and a New York City landmark, has undergone a $1.6 million restoration and renovation. Money came from city and federal sources. The basement has been turned into a visitor's center.

Ambassador Satch starring Broadway's André De Shields. Written by James P. Mirrione and Andre De Shields Choreography and Musical Staging by Mercedes Ellington. Directed by Laurence Maslon. Music Direction by Terry Waldo.

Ambassador Satch features a live quintet onstage with acclaimed ragtime pianist Terry Waldo. Hear Armstrong's signature hits including Hello Dolly, Mack the Knife, What a Wonderful World and more. Discover the substance behind Satchmo's famous smile as we follow him from his youthful days in the delta to his rise to international stardom.

The production of Ambassador Satch was originally presented March 22-April 6 at the Helen Hayes Theatre Company in Nyack, New York and then in association with the Helen Hayes Theatre staged its world premiere at the Goodman Theatre in Chicago. Now performing through Dec. 21 at the White Plains, Performing Arts Center in White Plains, New York.



Broadway To Vegas is supported through advertising and donations. Priority consideration is given to interview suggestions, news, press releases, etc from paid supporters. However, no paid supporters control, alter, edit, or in any way manipulate the content of this site. Your donation is appreciated. We accept PAYPAL. Thank you for your interest.


GRAMMY NOMINATIONS HAVE UNUSUAL CONTENDERS


Bill Clinton is with Sophia Loren while Hillary Rodham Clinton is against Al Franken.

Nominations for the 46th annual Grammy Awards were announced at a Beverly Hilton press conference last Thursday.

It's not your usual set of contenders.

The late Rosemary Clooney's work appears in the Best Traditional Pop Vocal Album category twice — as an artist and in homage by another artist. Nominees include Clooney's own The Last Concert album going head-to-head with Bette Midler's Bette Midler Sings The Rosemary Clooney Songbook, as well as A Wonderful World by Tony Bennett and k.d. lang, As Time Goes By…The Great American Songbook: Volume II by Rod Stewart, and The Movie Album by Barbra Streisand.

In an interesting twist, former President Bill Clinton and Senator Hillary Rodham Clinton are both nominated in Spoken Word categories. Best Spoken Word Album For Children nominees include Charlie And The Chocolate Factory by Eric Idle, Harry Potter And The Order Of The Phoenix by Jim Dale, Prokofiev: Peter And The Wolf/Beintus: Wolf Tracks by Bill Clinton, Mikhail Gorbachev and Sophia Loren, Tell Me A Scary Story by Carl Reiner, and Winnie-The-Pooh by Jim Broadbent.

The Best Spoken Word Album nods went to Fear Itself by Don Cheadle, Lies And The Lying Liars Who Tell Them: A Fair And Balanced Look At The Right, by Al Franken, Living History by Hillary Rodham Clinton, The Nikki Giovanni Poetry Collection by Nikki Giovanni, and When You Ride Alone You Ride With Bin Laden by Bill Maher.

Musical Show Album nominations went to: Flower Drum Song, Gypsy, Man of La Mancha, Movin' Out, and Nine — The Musical.

The Grammys, which will be awarded in 105 categories, take place Feb. 8 at the Staples Center arena in downtown Los Angeles. The program will be broadcast by CBS.


A DOUBLE DOSE OF ASPIRIN


If trouble comes in sets of three, Manhattan Theatre Club Artistic Director Lynn Meadow may want to consider hiding under the bed.

Some pharmaceutical company should sign Meadow as their spokesperson. She should be doing commercials for a headache remedy. If anyone is entitled to a migraine, it's her.

Her last production The Violet Hour saw actress Laura Benanti replaced after a few rehearsals, and Jasmine Guy left the play in the middle of a preview, citing medical reasons.

Her current production Rose's Dilemma has morphed from comedy into a tragedy.

It was a sad, over the top dramatic exit from the Neil Simon penned script that took place last Wednesday. Just as star Mary Tyler Moore was about to take the stage for the matinee performance of the play, the author's wife, Elaine Joyce, handed Moore a harshly worded letter, critical of apparent problem to remember her lines. Written by Simon, the missive told Moore to shape up or ship out. Moore chose the latter and stormed out the backstage door minutes before the curtain.

Moore, who played the title role of a novelist, was replaced by her understudy, Patricia Hodges, who has now been permanently been cast in the part.

"Mary was devastated and completely debilitated personally and professionally," said her publicist, Mara Buxbaum, in a prepared statement. "Mary has been working tirelessly for months but feels pushed out of this production."

The production is set to officially open at the Manhattan Theater Club on Dec. 18.




SPREADING THE WORD


CONVERSATION WITH RICHARD EASTON, DANA IVEY, AND DAKIN MATTHEWS actors from Henry IV discussing their careers and the process of rehearsing Henry IV. Lincoln Center Theater's Platform series presents conversations with artists working at LCT before an audience of interested theatergoers. Admission is free and open to all. This platform takes place in the lobby of the Vivian Beaumont Theater on December 17.

17th ANNUAL WEEKEND WITH THE STARS presented by the National Trial Lawyers Association taking places through December 14 at the Sheraton New York Hotel. The event is touted as one of their "most popular annual event-in one of the world's favorite cities-features speakers Bobby Unser, a 3-Time Indianapolis 500 Winner; David Boies the name behind the MicroSoft and Court TV cases; and Gerry Spence a perennial favorite; plus, an ATLA All-Star cast who will reveal their case-winning secrets and inspire an appreciative audience."

When Broadway To Vegas asked Spence about the Dec. 13 event he replied; "all I know is that I will be there."

Spence is the founder of the Trial Lawyers College which has established a revolutionary method of training lawyers for the people. Gerry currently has published 12 books. This latest, Of Murder and Madness is the remarkable true story of a little-known Mexican-American from a remote Wyoming town who one day killed his white wife in a room full of witnesses-and it is attorney Gerry Spence's own story as well, as he pleads his client, Joe Esquibel, "not guilty by reason of insanity."

CAREER TRANSITION FOR DANCERS offers The Dance of Networking and Mentoring, offering steps and partnering pointers to lead a dancer towards the center stage of their next career. Monday, Dec. 8 at Actors' Equity Association in NYC.


SWEET CHARITY


SAVE A CHILD'S HEART BENEFIT a black tie Gala Dinner & Show Featuring Performances by Ashford & Simpson and the World Famous Harlem Gospel Choir.

Save A Child's Heart is the largest undertaking in the world providing urgently needed pediatric heart surgery and follow-up care for children from third world and developing countries.

Children, ranging in age from infants to teenagers, regardless of race, religion, sex, color, or financial consideration receive the best possible care that modern medicine has to offer for their heart problems. Their entire surgical, intensive care, and nursing staff substantially volunteer their services and donate their time.

Save A Child's Heart has a full outreach program to train medical personnel in our partner countries. The ultimate goal is to create centers of competence in these countries, enabling local medical personnel to provide needed treatment in their own environment. Until that goal is achieved, children with congenital heart problems are brought to Israel for surgery and other cardiac care. Save A Child's Heart provides all its services in cooperation with the Wolfson Medical Center in Holon, a southern suburb of Tel Aviv, Israel's largest city.

The benefit takes place December 14 at B.B. King's in NYC.

THE NUTCRACKER FAMILY BENEFIT to be held by the School of American Ballet and New York City Ballet to benefit the New York City Ballet's Education Programs and the School of American Ballet's Scholarship Fund. Guests will be treated to a performance of the timeless classic, George Balanchine's The Nutcracker, a backstage visit to the "Land of Sweets," and a holiday party on the Theater's promenade where they may mingle with costumed members of the cast. Honorary Chairman: Katie Couric. Benefit Co-Chairs: Ide Dangoor, Serena Lese and Veronique Pittman. Saturday, December 13 at the New York State Theater in Lincoln Center. NYC.


OTHER PEOPLE'S MONEY


GROUND BREAKING for the Schermerhorn Symphony Center in Nashville was witnessed Dec. 3 by about 1,000 attending the 45 minutes ceremony. Excavation on the $130 million project is expected to begin Monday Dec 8. The site of The Nashville Symphony's future concert hall is named after Kenneth Schermerhorn, the symphony's music director and conductor. He told the crowd that he was ''cosmically numb'' when informed that the venue, which will open in September 2006, would carry his name.


CURTAIN DOWN


NINE this year's Tony winner for best musical revival, will close Dec. 14, its producers announced. The musical, starring former TV star John Stamos-who in October replaced Antonio Banderas as womanizing filmmaker Guido Contini, will have played 23 previews and 285 regular performances. The original cast included Jane Krakowski, who won a Tony for best featured actress in a musical.

HANDY DANDY

Helen Gallagher and Nicolas Surovy. Photo by David Rodgers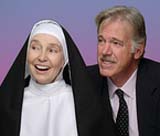 by William Gibson starring two-time Tony and three-time Emmy Award winner Helen Gallagher and Nicolas Surovy, directed by Don Amendolia.

A revival of Gibson's 1984 comedy/drama pitting a feisty activist nun against a troubled, conservative judge.

A sister from Catholic order, Molly Egan, portrayed by Gallagher, is 71 and a frequent participant in peace demonstrations. She's hauled into the courtroom of Henry Pulaski, played by Gibson, a Boston district court judge. She is charged with trespassing on the property of Skidmore Labs, a nuclear arms manufacturer.

Neighborhood Playhouse, Manhattan December 9-January 4.

THE SUBJECT TONIGHT IS LOVE by Sandra Deer. World premiere directed by Kenny Leon. Starring Sandra Deer and Brenda Bynum.

A powerful, poetic look at Alzheimer's. A dark comedy about love - an intimate portrayal of a mother/daughter relationship and the toll this mysterious disorder takes on three generations of a family. Part of the Turner Series on the Hertz Stage Through December 21. Alliance Theatre Company in Atlanta, GA.

A NEW WAR a comedy by Gip Hoppe stars Janet Zarish, John Cunningham, Andrew Polk and Guy Boyd. Conn's Long Wharf Theater's production staged by the theater's artistic director Gordon Edelstein.

"The uproarious on-air personalities of CNC, the "Cable News Channel," are standing by to bring you the latest news of a "brand-spankin' new war!" in this timely new comedy, America takes aim at an enemy who is "evil, eats bad food, and dresses differently from us." Dec. 10 to Jan. 18.

MERCY OF A STORM by Jeffrey Hatcher. New Year's Eve, 1945. Champagne, a snowstorm and a secret tryst in the country club's pool house. In the hours before midnight, the soon-to-be-divorced George and Zanovia Holmburg grapple with the emotions that brought them together and the class differences that are driving them apart. Florida Stages December 12-Jan 18, 2004.

The home of Florida Stage since 1991, is a facility in Manalapan's Plaza del Mar is nestled between the Atlantic Ocean and the Intracostal Waterway, just across the street from the Ritz-Carlton Hotel.

The 250-seat, three-quarter thrust auditorium features state-of-the-art lighting and sound equipment, the Sennheiser Infrared Hearing System, and a lift to the upper level lobby and wheelchair seating for those patrons needing special assistance. Convenient, free, lighted parking at the Plaza.

OLD FASHIONED CHRISTMAS AT COWTOWN

a unique, 17 acre open-air living history museum which recreates Wichita and Sedgwick County, Kansas from 1865 to 1880.

See how holidays were celebrated by different early Wichitans, from pioneers to farmers to Victorians, through 150 volunteers in period costumes.

Old Cowtown Museum, Dec. 11, 12 & 13 in Wichita, Kansas.

OEDIPUS THE KING Written by Sophocles. Translated & Directed by Nicholas Rudall. Starring Robert Foxworth and Swoosie Kurtz.

The Greek psychological drama that still fascinates and terrifies audiences today. Caught in his terrible destiny, Oedipus murders his father and marries his mother. Consummate theatre artist Nicholas Rudall rediscovers and breathes contemporary life into Sophocles' tragedy. December 11-13 at The Getty Center in Los Angeles.

2 PIANOS, 4 HANDS Ted Dykstra and Richard Greenblatt's popular North American play with music. Performed by Mark Anders and Carl J. Danielsen.The piece "covers musical maestros from Beethoven and Bach to Billy Joel as the actor-pianists take on many roles, including teachers, parents and even the ghost of Antonio Vivaldi. Every child who has taken a music lesson or adult who thought they shoulda/coulda/woulda been a star will relate to the music, antics and characters." Dec. 9-Jan. 4, at the Coconut Grove Playhouse. Miami, Florida.

THR SKIN OF OUR TEETH by Thornton Wilder presented by The Yale School of Drama directed by third-year directing student Kara-Lynn Vaeni, Dec. 11 to 13 and 16 to 17 at the University Theatre in New Haven, Conn.


| | | |
| --- | --- | --- |
| | | |
WHO'S WHERE


DAVID BOWIE AND MACY GRAY perform tonight at the Patriot Center in Fairfax, Virginia. On Tuesday they are at the Fleet Center in Boston. Wednesday finds the show at the Wachovia Center in Philadelphia. On Friday they are all over the stage at the Air Canada Centre in Toronto, Ontario.

BETTE MIDLER the Divine One kicks off her tour Wednesday at the United Center in Chicago. On Saturday she can be enjoyed at the Nationwide Arena in Columbus, Ohio.

MICHAEL BUBLE opens a six night engagement tomorrow, December 8 at Ronnie Scott's in London.

PAUL ANKA starring at Harrah's Rincon in San Diego on Friday. On Saturday Anka will headline at the Casino Hollywood in San Felipe, New Mexico.

VIENNA BOYS CHOIR CHRISTMAS IN VIENNA Works by J. Strauss, Palestrina, Schubert, Schumann, Poulenc, Debussy, Kodaly, and Music for the Holiday Season. Raoul Gehringer, Conductor. Isaac Stern Auditorium Sunday, December 14 in New York City.

CANADIAN BRASS blending classical virtuosity with contemporary frolicking, Canadian Brass cavorts with the classics. Donning tennis shoes and tuxedos, these master clowns are known to blow their own horns to Bernstein and the Beatles, move on to Mozart, then jazz to Ellington. Serious fun. December 10 at the Bass Performance Hall in Fort Worth, Texas.

THE NEW YORK POPS A HOLIDAY CELEBRATION: TRIBUTE TO ROBERT SHAW with Skitch Henderson, Founder and Music Director. The Fort Worth-TCU Symphonic Choir. Featuring sopranos Amy Pummill and Beverly Beil Newsom. Part of the Carnegie Hall Goes Pops Series. December 18 at Carnegie Hall, NYC.
















Next Column: December 14, 2003
Copyright: December 7, 2003. All Rights Reserved. Reviews, Interviews, Commentary, Photographs or Graphics from any Broadway To Vegas (TM) columns may not be published, broadcast, rewritten, utilized as leads, or used in any manner without permission, compensation and/or credit.
Link to Main Page
---
Laura Deni


CLICK HERE FOR COMMENT SECTION