! >
Broadway To Vegas
  
 SHOW REVIEWS CELEBRITY INTERVIEWS GOSSIP NEWS

| | |
| --- | --- |
| | |
OPERATION HOMECOMING - - STEVIE WONDER HONORED - - ALLIANCE THEATRE'S INNOVATIVE PROMOTION - - VOICES OF THE ARTS JOHN CONLON - -NEW ROBIN HOOD MUSICAL THE LEGEND CONTINUES - - WOMEN OF HOPE AND VALOR - - RICHARD CHAMBERLAIN AS SCROOGE - - LEA DELARIA IN ONCE UPON A MATTRESS - - DONATE . . . Scroll Down


WRITING THE WARTIME EXPERIENCE


Wartime experiences have motivated literary works ever since Homer penned the Iliad, which was about the Trojan War. His follow-up tome, Odyssey, recounted one veteran's long and difficult homecoming. Many great playwrights were also soldiers and each war had its own peculiar dynamics. World War II was long, bloody and personal. Vietnam saw a nation that couldn't separate opposing a war with supporting the troops, resulting in a military that felt their own country had abandoned them. Troops in the Gulf War experienced an outpouring of support, perhaps an overcompensation from a nation determined not to acquire more guilt feelings. Letters written by the military in those engagements reflect the tenure of the times.

Knowing the importance of documenting the current Gulf War the National Endowment for the Arts is sponsoring Operation Homecoming: Writing the Wartime Experience. This unique literary program is aimed at preserving the wartime experiences of men and women in uniform - such as in Afghanistan and Iraq - and their families.

Jon Parrish Peede, project director for Operation Homecoming spoke with Broadway To Vegas about the program.

With news organizations covering Iraq and Afghanistan 24-hours a day, why is it important for the military to put their thoughts on paper?

"Early on for us we believed this was an important project on three levels. First, the human. It would be cathartic for the troops. We believed that would be important to them. We know from past lessons of Vietnam the consequences of not encouraging people to talk about their experiences. We thought it would be important in historic terms to really get first hand accounts, though a lot of that has been captured by embedded media," he admitted.

"When 40-50 soldiers and their spouses sit together in a room - it is like a dam breaking," he exclaimed.



HUMMV Army photo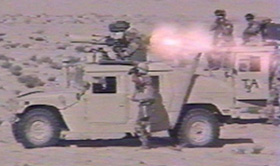 "At one workshop a writing instructor said to the Marines - just tell me something very simple. Tell me what it is like in a HUMMV. There was silence and they one said - it's dark. Another Marine said - and it smells really bad. The other one said - yeah, the diesel in the morning, when you crank it up, is nauseating. The other one said - yeah. I put on my gas mask when we start the engines. The other one said - it's sweaty. We stink. If we take fire it's slippery in there because somebody is bleeding.'"

"One will make a comment and they create, in a matter of three or four minutes, an oral history. For all of the extraordinary imbedded journalists we have, I personally never read something as straight forward as that," stated Peede.

Since April 2004, Operation Homecoming has brought writing workshops with distinguished authors to military bases nationwide and abroad.

Writers such as Bobbie Ann Mason, author of In Country, and Jeff Shaara, author Gods and Generals, have led workshops in New York, North Carolina, Alaska, Virginia, and Italy.

The 16 writers who have agreed to participate by visiting military bases include Tobias Wolff, Tom Clancy, Victor Davis Hanson and McKay Jenkins. Ten other writers, including Shelby Foote and Richard Wilbur, have contributed reminiscences and readings to a compact disc and Web site the Endowment has produced.

In addition to letters and reports, the NEA is welcoming fiction and poetry. Does that category open a window for misinformation and faked memories?



The late Joseph Heller's Catch-22 added a new phrase to the English language. The 1961 novel satirized the horrors of war and the power of modern society, especially bureaucratic institutions, to destroy the human spirit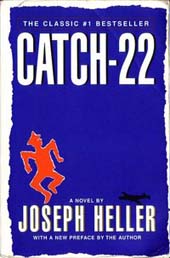 "We think that, in literary terms, we are going to discover some really important American writers," responded Peede. "Every war has given us such writers from Norman Mailer and Joseph Heller in WW II to Tim O'Brien in Vietnam. So, it has been our experience that you'll find these writers."

"If somebody chooses to write fictional poetry, I don't look at that as though they aren't telling the truth," Peede continued. "They decided to express themselves through their imagination. I think that fiction and poetry are very high arts and imaginative arts are very important. If they choose to do that, that is fine. Again, to go back to Joseph Heller, Catch 22 was an imaginative work which I think spoke great truths about certain matters."

The NEA project is organized in partnership with the Department of Defense and the Southern Arts Federation, a nonprofit group based in Atlanta. Boeing is paying $250,000 of the $300,000 cost. Writers visiting military bases are paid a $3,000 honorarium.

Nobody is going to get rich.

"The Department of Defense rules do not allow active duty service members to be paid for writing about their official duties," Peede stressed. "If they write a battle report and send it to us, that is really part of their official duty. A letter home or a poem is a different matter."

"In a nutshell, this will not be a work that will be financially rewarding to the troops," Peede cautioned. "But, if they are seeking careers as writers, it will go a very long way to making others aware of their writing. It's like being off-off Broadway. You never know whose going to see it and then bring you to Broadway."

"Whether they offer a letter or a battlefield report or write fiction depends upon where they feel the most comfortable."

"Do they feel empowered enough? Do they feel they have the freedom to speak freely about war while we are right in the middle of it?" asked Peede, who then answered his own questions. "Having gone to every base myself with the writers, I can say they are very candid about it. They really open up in the rooms, particularly when they are in the presence of each other."

Andrew Carroll, editor of the best-selling book War Letters: Extraordinary Correspondence from American Wars., will edit the Operation Homecoming anthology on a pro bono basis. Under Carroll's guidance, a panel of 14 renowned authors will review submissions for consideration in the anthology. The panel will select anthology writings based on literary excellence, historic importance, and a desire to present a diversity of genres. No writings will be excluded based on point of view.

Like any literary effort, the legal department gets involved.

Those whose literary efforts are accepted "will sign a contract like any author does," Peede declared. "Among other things, they are stating it is their writing - their work - and they have the copyright. They will go through the same process any writer does in submitting to an anthology. We will have thousands of submissions. The book will have 450 pages with less than 100 pieces in it."

Does this mean that the military is writing to get published, afraid of censorship?

"The NEA's position is that we never censor," he emphasized. "One of our ground rules with the Department of Defense was that they would let us on the base - and they have been great about that - but that they have no involvement in the selection of writing. The program is absolutely free of censorship."

"The NEA has a 40-year history of this and it has been tough for us at times, but we always stood for freedom of artistic expression. That is essential to us."

"We don't tell the workshop writers what to teach. We don't tell the troops what to write. If we work from that philosophy, we are going to come out on the right side of artistic freedom," he declared.

"I will say that some of them have expressed their political opinions here and there. We were doing this in the middle of an election year. These manuscripts have their own voice, but they aren't lending themselves out for an ideological concept."

So, are people self censoring?

"When it began I didn't know," Peede admitted. "But, having personally read the 400 submissions we've had so far, I can tell you they aren't. They are just real matter of fact about it."

"I've had them writing about losing troops under them. I've had people write us about taking lives. They aren't holding back. They just want to say how they got in that situation - how they lost somebody or how they took somebody's life. They just kind of pour out themselves."

For a few minutes a discussion with Peede centered on my own writing of letters to the men serving in Vietnam and then the men and women in the First Gulf War. Heart wrenching letters from strangers - enormous differences in attitudes based upon the support they received from people back home.

"It is really taken for granted that the nation is behind the troops," said Peede referring to the current situation. "The nation may be divided about the war, but the nation is solidly behind the troops. The most dramatic moments for me are when the writers for Operation Homecoming are Vietnam vets. They are sitting around talking to the Colonels who were junior officers in Vietnam and they are all saying - boy I wish my country cared about me like this then. I wish my government did something for me then."



Tobias Wolff photo by Gilliola Christé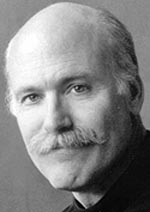 "I've had some very emotional letters from writers teaching the servicemen who say this is closing the loop for them. They say they haven't set foot on a military base in 30 years and this is helping them find closure."

"For example - Tobias Wolff made a statement in a newspaper that he did not support the war in Iraq but he would always support the troops and would be a part of Operation Homecoming."

"You get that from the Vietnam vet. I think in some ways this is completing a circle for them."

"Opposing the war in Vietnam but supporting the troops was, unfortunately, not the norm," continued Peede. "The vets or the Colonels now, who were in Vietnam, did not feel that level of personal support."

"We have had submissions all the way from private to Colonels and Chaplains. Also, from a number of spouses. I think one of the most unique things, as a side issue, is the number of submissions by female military officers and enlisted. While we have some good oral histories of Vietnam nurses at the Library of Congress, we really don't have anything like this - female military insight - so that is a really unique thing."

"We were at the Marine base in Camp Lejeune and a two star general, came to our reception," said Peede referring to Major General O'Dell who is currently serving as the Commanding General, 4th Marine Division. Previously he served as the Commanding General, 4th Marine Expeditionary Brigade (Anti-Terrorism).



Major General O'Dell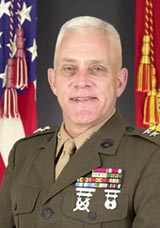 "General O'Dell was so moved by what we were doing that the next morning he showed up at our workshop. He brought a severely wounded soldier from the infirmary, who was healing from his injuries in Iraq. The General thought it would be therapeutically good for this Marine to be there. The General actually made an off the cuff remark - that he always thought the military was served by looking into itself and being open about the sacrifices that they make. He also really appreciated that the spouses were there, because it was important to open up to one another."

Last Monday and Tuesday the NEA, in partnership with the United States Air Force, hosted writing workshops and discussions for military personnel and their families at Offutt Air Force Base in Bellevue, Nebraska. The Offutt writing workshops were conducted by two nationally acclaimed writers: Larry Smith and Stephen Lang.

Smith is a veteran newspaper and magazine editor with The New York Times and Parade Magazine, where he was managing editor for 19 years. In addition, he is the former president of the Overseas Press Club of America. In his recent book, Beyond Glory: Medal of Honor Heroes in Their Own Words, Smith interviewed 24 Medal of Honor winners, providing a first-person oral history of enlisted men and officers who have faced intense combat, from World War II through the Vietnam War.

An award-winning stage actor, Lang's Broadway credits include A Few Good Men and Death of a Salesman. Last February, Lang starred in the world premiere of Beyond Glory, a one-man show he adapted from Larry Smith's book. Lang performs an excerpt from Beyond Glory at an opening reception for the workshops.

On December 8-9 a workshop will take place at the Naval Air Station North Island at Coronado in San Diego, CA. The workshops will be conducted by writers Mark Bowden and Lawrence Christon.

In addition to workshops and educational resources, the NEA has issued an open call for submissions from military personnel, reservists, National Guard members, and Coalition Authority members who served after September 11, 2001, as well as their immediate families. Items may include essays, letters, and other writings related to recent military service. All submissions will be preserved in an appropriate federal archive, and an Operation Homecoming anthology will feature the best writings submitted to the program. The anthology will be distributed free of charge to military installations, schools, and libraries. Submissions will be accepted through March 31, 2005.

My own letter writing involvement began during Vietnam when views of an unpopular war were displayed by showing a lack of support - if not outright contempt - for the individuals in the military. Information was received that those in uniform felt emotionally deserted - in need of letters from home - even if those letters were from not only a total stranger, but a stranger who opposed the war.

I picked up an inexpensive box of Christmas cards and a package of Chanukah cards.

To 25 identical Christmas cards and eight identical Chanukah cards I signed by name, placed them in one envelope and sent them to the military department in charge of the communications project. An unexpected correspondence resulted from the soldiers - men of all ranks. Problems regarding race and religious were evident. What they had in common was a desperate need not to feel deserted by their own country. My having a baby boosted their moral. Mine was devastated when I eventually learned that the majority of the men I corresponded with had been killed in action.

When the First Gulf War was imminent and reports stated that about 50,000 body bags had been ordered, my "baby" born during Vietnam and I diverted what had been saved for our Christmas towards presents and cards for those who were about to engage in battle. Soon, correspondence ensued from male and female, enlisted and officers. Fears of war were the same. The change was attitude. Americans were showing support for their troops, which made an enormous difference. Fortunately, none of those writing buddies were killed.

Small excerpts from a few letters - both Vietnam and The First Gulf War follow.

VIETNAM LETTERS



A PROMOTION SO CLEVER EVEN A GROUCH WOULD SMILE


It's not easy creating a clever and unique promotion for a production that is being done everywhere by everybody. The Alliance Theatre in Atlanta has developed a way to get attention. Their production of A Christmas Carol is being billed as the Bah HumBUG Tour.

Citizens of Atlanta are asked to "be on the lookout for Scrooge of A Christmas Carol as he cruises through Atlanta in his very own Bah Humbug Volkswagen Beetle - giving away tickets and causing ruckus along the way!"

"This is the first time we have ever done this," Robert Saxon Public Relations Manager of the Alliance Theatre told Broadway To Vegas. "The idea was developed by the marketing team here at the Alliance Theatre. We got together and kind of brain stormed about things we could do better highlight this event."

The car, elaborately decorated in what might be called removable decals, is sponsored by Jim Ellis Volkswagen and Free Car Media.



Chris Kayser as Scrooge, with his assistant (on the left) Curt Little who helps distribute chocolate coins, tickets, etc. Pictured at the Phipps Plaza in Atlanta.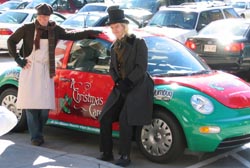 "After the tour, the car will be returned to the car dealer," Saxton explained. "We do not know what he intends to do with it. It is wrapped and not painted, so he could remove the wrapping and sell as used or whatever."

"We are getting very good - excellent - response. There has been a lot of excitement around Atlanta about this," exclaimed Saxon.

Last Thursday the car was at the Winter Arts Center with the driver handing out donuts and promotional items. On Friday the car and Scrooge participated in Can-A Thon, an event in which people bring cans of food. Saturday Scrooge and the car were entered in the Health Care for Atlanta Children's Christmas Parade.

"Then between now and the 17th the car will be driving around Atlanta without Scrooge, because he has matinee and evening performances. But, the car will be driven 8-hours a day, 5-days a week Wednesday through Sunday," explained Saxon.

"The driver has promotional items to hand out, little gold coins, T- shirts. And, he does have some free tickets to give away."

You can also catch up with Scrooge in that car during appearances including one on December 17 at the Egleston's Children Hospital.

"This is the 15th year Alliance Theatre has put on this production and the 12th year that Chris Kayser has played Scrooge. We just wanted to come up with something innovative."

They have succeeded.

A Christmas Carol, adapted and directed by David H. Bell stages performances through Dec 26.



Broadway To Vegas is supported through advertising and donations. Priority consideration is given to interview suggestions, news, press releases, etc from paid supporters. However, no paid supporters control, alter, edit, or in any way manipulate the content of this site. Your donation is appreciated. We accept PAYPAL. Thank you for your interest.



STEVIE WONDER will be honored with a Century Award at the 2004 Billboard Music Awards, scheduled to take place Dec. 8 at the MGM Grand Garden Arena.

Previous Century Award winners: George Harrison, Buddy Guy, Billy Joel, Joni Mitchell, Carlos Santana, Chet Atkins, James Taylor, Emmylou Harris, Randy Newman, John Mellencamp, Annie Lennox and Sting.

Scheduled to perform at the event: Usher, Nelly, Evanescence, Green Day and Gwen Stefani.


SPREADING THE WORD


VOICES OF THE ARTS JOHN CONLON Kennedy Center President Michael M. Kaiser welcomes the distinguished American conductor James Conlon to a lively, one-on-one discussion of his personal and professional experiences in the world of music and performing arts.

December 13 at the Terrace Theater, Kennedy Center for the Performing Arts in Washington, D.C.


SWEET CHARITY


ALL ABOUT GORDON BENEFIT GALA will celebrate the legacy of an American Theatre icon – Gordon Davidson.

Hosted by Sidney Poitier and Jane Kaczmarek and special guests Angela Bassett, John Lithgow, Garry Marshall, Edward James Olmos, Carl Reiner, Courtney Vance, and many more for this one-night-only event honoring Center Theatre Group's Founding Artistic Director.

This special evening celebrating Gordon Davidson's 39 years as Center Theatre Group's Artistic Director/Producer will include a performance produced by Walter Mirisch at the Ahmanson Theatre paying tribute to Gordon.

Event Chairs: Phyllis Hennigan, Patti Skouras.

Monday, December 13 at the Ahmanson Theatre in Los Angeles.

REGINA RESNIK PRESENTS OPENING GALA for the Congregation of Emanu-El in San Francisco. This world premiere program celebrates the 350th anniversary of the first Jewish settlers' arrival in the New World (1654). It includes performances by both renowned and neglected composers including Leonard Bernstein, David Diamond, S.F. native son Frederick Jacobi, contemporary West Coast composer David Schiff and others.

Narrating will be legendary Metropolitan Opera star Regina Resnik, who became a star overnight in 1942 and went on to sing for 39 seasons at the Met. She also won a Tony Award nomination for her performance in Cabaret. She narrates in witty and informative style citing personal experiences of conducting giants such as Bernstein, Klemperer and Walter.

The American Jewish Composers in Classical Song. Regina Resnik, narrator. Roslyn J. Barak, soprano. Michael Philip Davis, tenor. Charles Robert Stephens, baritone. Vlad Iftinka, piano. Congregation of Emanu-El, San Francisco on Monday, December 13.


GETTING RUDOLPH'S ANTLERS IN A TWIST


THE EIGHT REINDEER MONOLOGUES by Jeff Goode. Directed by Holly Shanahan.

The Sleigh Ride is Over. Tear down the tinsel. Dismantle the mistletoe and de-wrap the presents – CHRISTMAS IS CANCELLED Vixen: victim or downright slut? This is the "E! True Hollywood" story of the biggest scandal to hit the North Pole since…ever! As told by Reindeer's elite: Dasher, Cupid, Prancer, Blitzen, Comet, Dancer, Donner and Vixen – "THE EIGHT".

"If you ask me, that man has been a holly-jolly sex crime waiting to happen for years now," charges the press release. A dark festive comedy absolutely not to be missed! WARNING: This Show contains STRONG sexual themes, foul language and deer. This show is NOT suitable for children or elves.

Performances Dec 7-Dec 18. Bats Theatre at Kent Terrace in Wellington New Zealand.

RUDOLPH, THE RED HOSED REINDEER

Lori Lee as Yukon Cornelia, Brannen Daugherty as Rudolph, and Dan Hickey as Herbie.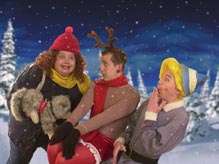 Chicago's favorite cross-dressing reindeer is back for the 7th year.

David Cerda's parody of the classic children's television special Rudolph the Red-Nosed Reindeer - Rudolph, The Red-Hosed Reindeer, is staged by Hell in a Handbag Productions.

Pull up an iceberg and join Rudolph (Brannen Daugherty) and his misfit friends - Herbie (Adam Keune), the "not gay enough" elf who wants to be a dentist and Yukon Cornelia (Lori Lee), the butch prospector with a deep, dark secret - as they search for happiness . and attempt to outrun the horrifyingly tacky Abominable Drag Beast (Ed Jones). Other Hell In A Handbag ensemble members featured include David Cerda, Troy Coleman, Derek Czaplewski, Brigitte Ditmars, Steve Hickson, Tim Howard, Terry McCarthy, Michael Miller, Melissa Pond and Al Spera. Jeff Award winning Brigitte Ditmars also choreographs and Matt Gunnels - a former Rudolph himself - is back on board as director for this year's red-hosed romp.

Opemed December 2nd with performances through December 31st at the Loop Theater in Chicago.



SCROOGE THE MUSICAL starring Richard Chamberlain. It's Leslie Bricusse's take on the classic Charles Dickens story. The production features 19 musical numbers including Father Christmas, December the Twenty-Fifth, I Like Life and Thank You Very Much.

The production features choreography by Lisa Kent and design by the Olivier Award-nominated designer Paul Farnsworth from his design in the London production.

The National Tour stops at the Masonic Temple Theatre in Detroit December 7 - 12. From December 14-19 the production is at the France-Merrick Performing Arts Center: The Hippodrome Theatre in Baltimore, MD

THE NUTCRACKER featuring live music by the Columbus Symphony Orchestra, will run Dec. 10 – 23 at the historic Ohio Theatre. BalletMet Artistic Director Gerard Charles will team with theater mastermind Robert Post to recreate The Nutcracker, a perennial holiday favorite with children and adults alike. The new production will also feature sets delightfully enhanced by Dan Gray, associate professor in The Ohio State University Theatre Department. December 10-23 Ohio Theatre in Columbus, Ohio.

ROBIN HOOD: THE LEGEND CONTINUES an adventurous musical romp with a book by Thomas Meehan, lyrics by Martin Charnin and music by Peter Sipos.

Directed by: Martin Charnin. Music Directed by: David Maddux.

The world premiere developmental production of Robin Hood: The Legend Continues is a rollicking romp of a musical that picks up the story twenty years later: Robin Hood and his Merry Men are two decades older, now with offspring as ribald and rabble-rousing as they once were. Disguise and intrigue, knockabout humor and swashbuckling adventure, and rousing music make this a wise, witty, wonderful take on a beloved tale. Village Theatre in Issaquah, Washington Dec. 10-23.

ONCE UPON A MATTRESS with special guest star Lea DeLaria. In this classic Broadway retelling of Hans Christian Andersen's The Princess and the Pea, DeLaria brings her own musical comedy panache to the role of Princess Winifred the Woebegone, a role originated by Carol Burnett. With the whole kingdom rooting for her, "Fred" must swim moats, endure all-night dance-a-thons, and feel a pea through 20 mattresses in order to impress the highly discriminating Queen and win the hand of her Prince Dauntless.

Nominated for Tony Awards for Best Musical in 1960 and Best Revival of a Musical in 1997, this musical delight features the Mary Rodgers/ Marshall Barer songs Shy, Happily Ever After, Many Moons Ago, In a Little While, and Yesterday I Loved You.

42ND Street Moon is San Francisco's only theatre company dedicated to presenting "lost musicals."

Previews begin December 8 with performances through Jan 2.

BLUES IN THE NIGHT Geraldine Connor's sultry, sexy production. An evening of heart-felt pain, slap stick humor, interwoven stories and twenty-six of the greatest blues and jazz songs ever written. Conceived and originally directed by Sheldon Epps. This staging directed by Geraldine Connor. December 10 to January 29 at the 350-seat Courtyard Theatre in Leeds, England.

LITTLE SHOP OF HORRORS the classic musical based on the 1960 Roger Corman film, with an all-new production directed by Jerry Zaks and choreographed by Kathleen Marshall, comes to San Diego's Civic Theatre from December 7 - 12.

Little Shop of Horrors tells the story of Seymour Krelbourn, a meek florist who makes a Faustian pact with a tiny plant in order to win the heart of Audrey, the girl he loves.

The exotic little plant makes Seymour a celebrity, but behind the glamour and fame lies a secret he can't reveal: this strange and unusual plant's favorite food is... blood!

San Diego Civic Theatre in San Diego, CA.

WOMEN OF HOPE AND VALOR by renowned composer, writer, and director Liz Swados commemorates the slaying of the nuns Maura Clark, Jean Donavan, Ita Ford, and Dorothy Kazel 25 years ago in El Salvador with an evening of angelic, rocking singers celebrating the heroic women of our time.

Jewish, Christian, and Muslim voices blend religious and political narratives in an unprecedented evening of music and words of power, compassion, and beauty.

A program of the 92nd Street Y, Sunday, December 12 at the Makor, NYC.

THOROUGHLY MODERN MILLIE The winner of six Tony Awards including Best Musical, Thoroughly Modern Millie was the 2002 season's most awarded new show on Broadway. Based on the 1967 Academy Award-winning film, Thoroughly Modern Millie takes you back to the height of the Jazz Age in New York City, when "moderns" - including a flapper named Millie Dillmoun - were bobbing their hair, raising their hemlines, entering the workforce, and rewriting the rules of love. This new stage version features 15 songs, including two from the 1967 film, four standards from the 1920s, and nine new songs by Jeanine Tesori and Dick Scanlan.

The cast includes; Darcie Roberts, Stephanie Pope, Pamela Hamill, Brian McElroy, John Ganun, Anne Warren, Emir Yonzon, Daniel May, Janelle A. Robinson, Michael Mayer, Rob Ashford, Michael Rafter, David Gallo, Martin Pakledinaz.

Dick Scanlan's lyrics, a book by Richard Morris, and music by Jeanine Tesori. Lighting Design by Dick Holder and Sound Design by Joe Weston.

December 7 - 26 at the Kennedy Center for the Performing Arts in Washington D.C.


| | | |
| --- | --- | --- |
| | | |
WHO'S WHERE


JOSH GROBAN on stage Wednesday, December 8 at Pepsi Stage in Amsterdam. On Thursday he's in the spotlight at the I.C.C. in Berlin, Germany. Next Sunday finds him at Corkus Djurgarden in Stockholm.

JASON GRAAE in Coup de Graae! an evening of Music and Comedy. The show features Alex Rybeck as Musical Director plus Surprise Guests. Helen's Hideaway Room in New York City. Opens Dec 6 and continues through December 18.

DOLLY PARTON has a busy week. On Tuesday she stars at the Colosseum at Caesars Palace in Las Vegas. Wednesday finds her center stage at the Dodge Theatre in Phoenix. Thursday the show is at Arrowhead Pond in Anaheim. Friday the personable performer is at the HP Pavilion in San Jose, CA. Saturday the show moves to the Reno Hilton in Reno, Nevada and next Sunday she can be enjoyed at the ARCO Arens in Sacramento, CA.

JEFF FOXWORTHY telling red neck stories Friday, December 10, at Beau Rivage in Biloxi, Mississippi.

TONY BENNETT in the spotlight Monday, December 6 at Royal Festival Hall in London.

ROGER WILLIAMS in the spotlight December 12 at Warren Performing Arts Center in Indianapolis, IN.

MICHAEL FEINSTEIN performs at his own place - Feinstein's at the Regency in NYC December 7th – December 31st.

VIENNA CHOIR BOYS dating back more than 500 years, the Vienna Choir Boys carry on the rich traditions of Vienna's musical life as a living heritage that traces its roots to such figures as Mozart, Haydn, and Schubert. Making a triumphant return to the State Theatre, this beloved ensemble of boys aged 10 to 14 brings its heavenly voices and exquisite harmonies to a holiday program that will entertain the entire family.

Thursday, December 9 at the State Theatre, New Brunswick, N.J.

MANNHEIM STEAMROLLER on the holiday spotlight December 10 at the Tacoma Dome in Tacoma, WA. On December 12 they can be enjoyed at Mandalay Bay in Las Vegas.

SIMPLY CHRISTMAS WITH AMY GRANT AND VINCE GILL are in the spotlight Monday, December 6, at the SBC Center in San Antonio, Texas. On Tuesday they perform at the American Airlines Center in Dallas. Thursday finds them at the Kansas Expocentre in Topeka. On Friday they take to the stage at the Civic Center Arena in Peoria, IL. Saturday finds them at the Hilton Coliseum in Ames, Iowa.

JOHN PIZZARELLI performs at the Quick Center for the Arts in Fairfield, Conn. on Saturday, December 11.

CLAY AIKEN entertains Wednesday, December 8 at Lowell Memorial Auditorium in Lowell, NC. Thursday finds him in NYC at Madison Square Garden Theatre. Friday the show is at the Oakdale Theatre in Wallingford, CT and next Sunday he's in the spotlight at Meymandi Hall in Raleigh, N.C.

CANADIAN BRASS in a two-nighter December 7-8 at Benaroya Hall in Seattle. On Friday they are at the Paramount Theatre in Charlottesville, VA. Saturday the holiday notes can be heard at George Mason University in Fairfax, VA.

CLAY WALKER center stage December 9-11 at The Orleans Hotel in Las Vegas.

BARENAKED LADIES December 6-7 at the Beacon Theatre in NYC.

BRUCE HORNSBY entertains December 6 in Madison WI at the Orpheum Theatre. December 8 finds him at the Weill Center in Sheboygan, WI. On December 9 he's on stage at the Indianapolis Murat Centre in Indianapolis. He closes out the week, Saturday, at the Royal Oak Music Theater in Royal Oak, MI. Next Sunday, December 12 Hornsby can be enjoyed at the Grand Rapids Fine Arts Center in Grand Rapids, MI.


PIFFLE AND PROFUNDITIES


FOUNTAIN

Marcel Duchamp's Fountain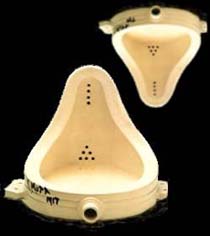 by Marcel Duchamp was, this past week, named as the most influential piece of modern art in a survey of 500 leading figures of the art world.

Picasso's Les Demoiselles d'Avignon (1907) was second.

Andy Warhol's Marilyn Diptych from 1962 came in third.

The art experts were asked to pick their top three from a list of 20 major works. The aim was to identify key art pieces to help the public understand more about the inspiration and creative process

Duchamp, born July 28, 1887, was a French painter and theorist, a major proponent of Dada, and one of the most influential figures of avant-garde 20th-century art.

He stunned the art world when he took the white urinal, signed it and put it on display in 1917.

With that act of taking an everyday object, signing it, naming it and proclaiming it a work of art - Duchamp paved the way for artists such as Tracey Emin Damien Hirst.
















Next Column: December 12, 2004
Copyright: December 5, 2004. All Rights Reserved. Reviews, Interviews, Commentary, Photographs or Graphics from any Broadway To Vegas (TM) columns may not be published, broadcast, rewritten, utilized as leads, or used in any manner without permission, compensation and/or credit.
Link to Main Page
---
Laura Deni


CLICK HERE FOR COMMENT SECTION