! >
Broadway To Vegas
 
 SHOW REVIEWS     CELEBRITY   INTERVIEWS     GOSSIP     NEWS 
| | |
| --- | --- |
| | |
Copyright: December 5, 1999
By: Laura Deni
CLICK HERE FOR COMMENT SECTION

STEVE ALLEN'S SPIRIT OF CHRISTMAS
They hadn't wanted anyone to know. Steve Allen and his wife Jayne Meadows spent decades thinking that their secret was safe. It was Christmas and Tommy Noonan had died.

Noonan was a famous movie star who died of a brain tumor in 1968, five days short of his 47th birthday.


JAYNE MEADOWS treasured playing a real life Mrs. Santa Claus
While still in his teens he and his half-brother John Ireland made their stage debut with a New York based experimental theatre. Noonan then returned to his native Delaware to launch his own repertory company. After serving in the Navy during World War II Noonan made his Broadway bow, then was brought to Hollywood with an RKO contract.

He played Marilyn Monroe's boyfriend in Gentleman Prefer Blondes (1953), Judy Garland's platonic musician friend in A Star Is Born (1954), and the officious stock clerk opposite Debbie Reynolds in Bundle of Joy (1956).

Noonan also produced three films and directed as well as starring opposite Mamie Van Doren in Three Nuts In Search of a Bolt. His last effort as a producer was 1967's Cottonpickin' Chicknepickers, which was also the screen swan song of the estimable Sonny Tufts.





TOMMY NOONAN left behind a wife and four small children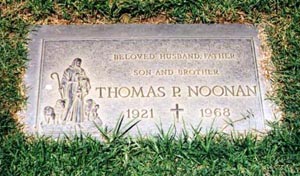 When Noonan passed away he had no insurance and he left a wife and four small children. They were penniless. Son Tim was six at the time. Now a Las Vegas magician, he recalled his most memorable Christmas.

"That first Christmas after Dad died there was no money for presents. My mother had to go back to work. As young as I was I knew not to ask my mother for anything. None of us did, because we didn't want to embarrass our mother.

"As young as I was I vividly remember peeking out the window and seeing Steve Allen drive up to the house on Christmas day in a car filled with Christmas presents for everyone.

"If it hadn't have been for Steve Allen, we wouldn't have had a Christmas." related Noonan, who added, "That is one of the most significant things that has ever occurred in my life. For my entire life I have remembered that."

When I relayed Tim's memories to Jayne Meadows the usually effervescent lady became very quiet. "Oh, I remember that," she softly responded. "I didn't know anyone knew the story about that. We didn't want anybody to know. I wanted Santa's name on those gifts. I never knew their mother had told them.

"Tommy Noonan had been very ill for many years and his medical bills ate up the entire estate. I believe it was Peter Marshall who told us of the situation." Jayne explained, referring to the game show host who had been Noonan's early comedy partner.

When Noonan's brother John married actress Joanne Dru, Noonan became friends with Joanne's brother, Peter Marshall. They formed a comedy team - Noonan and Marshall - and headlined the top nightclub venues.

"We were the third act to play the Desert Inn in 1950," Marshall had told me. " We used to do 20 weeks a year there."

"I remember buying a little girl's bicycle," recalled Jayne of that Christmas shopping spree 31 years ago. "There was a straw basket on the bicycle and I put roses around it. And I had such fun doing it!" she emphasized. "Steve picked out a lot of the presents for the boys. And, I tell you we did not know that anybody would ever find out that we had done that."



STEVE ALLEN has written a new Christmas musical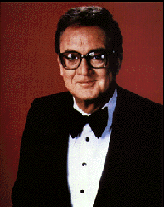 In a little more of a public way Allen has now offered up another type of Christmas present, a new musical Christmas Carols, which is at Theatre West, Los Angeles ending Jan. 9.

This is Steve's version of the famous Charles Dickins story. The production opened to mixed reviews primarily because of scenery and staging problems. Given a different theater, and without the aforementioned problems and with a little tweaking by Allen, Christmas Carols could become an annual event.

In keeping with Allen's musical talents and social activism this production has a more jazz feel musically and the story line is updated with an edge towards having a social conscious. Allen, who has written over 4,000 songs, has penned some new ones for this production; Wonderful Christmas, The Red of the Holly, The Things I Should Have Said, It's About Time, and Let's Have a Celebration.

Seasoned actor Harold Gould portrays Scrooge, Mary Garrpoli is Mrs. Cratchit, Kevin Symons plays nephew Fred, Bob Cratchit is David Brandt and Tiny Tim is played by Murphy Miller and Cosmo Zelman. Allen who wrote the book, music and lyrics, sits on stage as the narrator. On the rare nights when he doesn't take the stage, guests artists will appear.


FIRE ALARMS EVACUATE OOPS! CIRCUS SHOW

Oops! The Big Apple Circus Stage Show, produced by the Big Apple Circus, dubbed "the only circus good enough to play New York's Lincoln Center," kicked off a 40-week tour of North America.

When we learned that the Tony and Academy Awarding-winning Tony Walton was directing the production we sent Michael Ashleman to see the show - Saturday Dec. 4 - at the Lied Center, located on the campus of the University of Nebraska in Lincoln.

He wasn't sure what to expect, but he certainly wasn't expecting the fire alarms.

"After a scene ended and the lights went down, suddenly the house lights came up and the circus ringmaster, who is dressed as a Shakespearean character, came out on stage and very calmly told everyone that the fire alarms were going off and that the theater would have to be evacuated," related Ashleman. "Everybody got up and calmly left the theater. The management opened up the art gallery, which is across from the theatre, and told everyone to wait there until the fire department gave instructions.



NORMAN BARRETT the legendary British star calmly told the audience to vacate the theater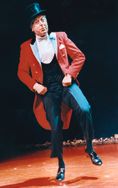 "We all just stood around. Nobody panicked. After about eight minutes they told us we could reenter the theater. Then the officials said that the production would resume in ten minutes. And, in an effort to keep the show on schedule the fire alarm evacuation would take the place of the scheduled intermission," Ashleman related. "However, it appeared that there was some ad-libbing and Vladamir and Olga Kurziamov's ballet was cut. Since I've never before seen the show I'm not sure how much ad libbing took place in an effort to get the show back on track.

While the fire alarms played havoc with the show, the unusual interruption almost fit into the deliciously ditsy plot. In Oops! the audience discovers the hilarious mayhem that ensues when a classical acting troupe and a circus act are inadvertently booked into the same theatre at the same time.

"As far as sheer raw talent, this is one of the best shows I've ever seen," said Ashleman. "All of the circus talent is some of the best in the world. This is a first class production. It's perfect for all ages. People who don't usually like circus acts will like this show. It's clever and funny and the director, Tony Walton, has cleverly interwoven the circus and Shakespeare."


RASULOV & TABIEVA stars of the legendary Bolshoi Circus in Moscow are making their American debut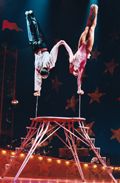 "The circus performers double as the Shakespearean actors. All of them are not only world class circus acts, but excellent actors. It's very well done and extremely entertaining," he stressed.

Portraying the theatre manager is Norman Barrett, known throughout the British Isles as The Ringmaster's Ringmaster.



ANNETTE DEVICK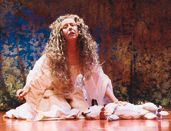 Stephen Ringold appears as The Circus Director. The role of the "star" is played by internationally renowned Canadian circus artist Annette Devick. As an acrobat with boisterous physical comedy skills, she's been featured in North American and Europe with Cirque du Soleil as well as Cirque Eloize and Canadian Fantasy Circus.

Visual comic Michael Lane Trautman is cast as the stage manager.

"During one scene where Trautman is showing off for the character played by Devick, he asks for children in the audience to volunteer. He brought two children up on stage. One he twirled around and the other he put in a chair and then balanced the chair on his chin!"

"I don't think I've ever seen better jugglers," continued Ashleman referring to Argentina's Paul Ponce. He is excellent."



JUSTIN CASE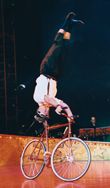 "Justin Case is just incredible!" exclaimed Ashleman about the cycling antics of Australian Justin Case. "At one point he may be riding the world's smallest bicycle.

"All of them do an excellent job," he added referring to Russian's Vladamir and Olga Kurziamov whose ethereal aerial ballet is set to Ravel's Bolero; the hand-voltage act of Ukraine's Kozakov Troupe; the aerial acrobatics of The Lobanov Trio, from St. Petersburg Russia, making their American debut in Oops!; and Don Otto, who hails from Prospect Heights, Illinois performs his award winning Diving Fool.

"The only thing wrong was that the theater was only 30 to 40 percent full," complained Ashleman. "That's a real shame. The theater should have been full. Everyone would have enjoyed this show. They received a standing ovation. After the show the performers. still in their costumes, are in the lobby to greet the audience, answer questions and sign autographs."

Set design by Dan Kuckar, lighting by Brian Nason, costumes by Tony Walton, and choreography by Gail Gilbert. Produced by Big Apple Circus founder Paul Binder, conceived by Circus Creative Director, Michael Christensen, based on an original concept by Jeff Jenkins and Julie Greenberg.

If you haven't yet experienced Oops! The Big Apple Circus Stage Show the tour's upcoming stops include: Bass Hall in Fort Worth, Texas, December 21-26; Peoria Civic Center in Peoria, Ill., December28-29; Topeka PAC in Topeka, Kansas December 31; Morris Performing Arts Center in South Bend, Indiana January 7-9; Kentucky Performing Arts Center, Louisville January 11-16; Indiana University Auditorium, Bloomington January 18-19; The Orpheum Theater in Minneapolis February 22-23. The tour continues through June with the final stops in California and Arizona.



Broadway To Vegas is supported through advertising and donations. Priority consideration is given to interview suggestions, news, press releases, etc from paid supporters. However, no paid supporters control, alter, edit, or in any way manipulate the content of this site. Your donation is appreciated. We accept PAYPAL. Thank you for your interest.


VEGAS SHOW STARS EASTON AND CASSIDY

What is being touted as a Broadway type show At The Copa will open Jan. 18 at the Rio hotel starring Sheena Easton and David Cassidy. The production is set to run for a minimum of 44 weeks within a one year period. They will perform eight shows a week, two on Wednesday night and two on Saturday night, dark on Monday nights.



SHEENA EASTON

In the production Sheena will portray Ruby Bombay, while Cassidy's character is dubbed Johnny Flamingo.

Easton appeared on Broadway in Man of La Mancha and toured with Grease. The Scottish born singer first gained prominence with her hit Train (Nine to Five) She is scheduled to perform at a New Year's Eve show at the Venetian Hotel in Las Vegas.

Cassidy replaced Michael Crawford in the EFX production show at the MGM-Grand hotel and most recently co-produced and made guest appearances in The Rat Pack Is Back, an entertaining show that sparked legal threats from the Sinatra and Sammy Davis, Jr. estates during its run at the Desert Inn. Cassidy gained serious respect and new fans when he starred on Broadway in Blood Brothers.


SWEET CHARITY

NEW YORK RANGERS HOCKEY GAME will have John McEnroe as a referee. Stars on skates will include; Kim Alexis, Denis Leary, Jason Priestley, Tim Robbins, Jane Seymour, Kiefer Sutherland, and Scott Wolf. December 11 Madison Square Garden, NYC. The event benefits the Rangers' Children's Charity and the Christopher Reeve Paralysis Foundation.

CHRISTMAS WITH CAROL CHANNING and FRIENDS

JAYMIE MEYER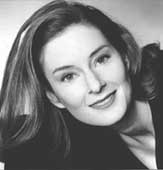 a benefit for TOPA -Towards Older Persons Awareness. December 10 at Don't Tell Mama in New York.

One of the "friends" appearing is singer Jaymie Meyer, who has been selected as one of the performers for the Kennedy Center's Millennium Series. ( See Broadway To Vegas column of November 21, 1999 ) (See Broadway To Vegas column of Nov.21)

"They received submissions from all over the world from artists whose acts are self-contained. I feel very honored and thrilled to have been selected," said Meyer who will be performing one 45-50 minute show.

As if surviving that grueling artists' competition isn't enough excitement, Jaymie's solo CD What You'd Call A Dream will be released May 3. We wish her the best.



SWING! directed and choreographed by Lynne Taylor-Corbatt, opens December 9 at the St. James Theatre, NYC. Swing! is an all-singing, all-dancing musical celebration featuring world-class swing dancers, a lot contemporary swing band and acclaimed jazz/pop singers, cutting loose to a mix of new and classic swing songs. The show features over 20 dance numbers.

TAKING A CHANCE ON LOVE the premiere of a revue based on the lyrics and the life of John Latouche devised by Erik Haagensen. One of Americas most talented yet overlooked lyricists who is best known for his work on The Golden Apple, Latouche was a contributor to 18 Broadway musicals including Candide and Cabin in the Sky. Taking A Chance On Love presents the best work of this funny and prolific writer. York Theatre Company through January 2.

SCANDALS stars stage, screen and television star Dick Van Patten in a production that features top comics, tap-dancing hoofers and glamorous showgirls. Presented by Theatre Virginia at the Virginia Museum of Fine Arts in Richmond, through December 18.

THE WITCHES OF EASTWICK will attempt to turn their spell on the theater crowd, with a musical version of the movie heading to London before opening on Broadway. Producer Cameron Mackintosh has signed Lucie Arnaz to play the role Cher created in the 1987 movie.

JOSEPH AND THE AMAZING TECHNICOLOR DREAMCOAT December 8-19 The Shubert Theatre, Chicago.


WHO'S WHERE


GEORGE WINSTON A holiday Concert at Alice Tully Hall, Lincoln Center. December 15. Patrons are asked to bring a donation of a nonperishable food to the concert.

NEIL DIAMOND is living out of a suitcase. December 5 he's performing in North Little Rock, AK. On December 7 he's at the Firestar Center in Cincinnati; December 8 it's the Conseco Fieldhouse in Indianapolis, December 10 it's on to the Hartford Civic Center, Hartford, Ct; He gets to unpack and do his laundry while in Wilkes Barre, PA. The performer will do a two-nighter, December 12-13 at the N.E. Penn Civic Arena.

STING Dec. 5 Orpheum Theatre, Minneapolis.

TONY BENNETT Rialto Square Theatre, Chicago December 11.

N' SYNC takes a break from their tour, flying a turn around to Las Vegas from Canada to participate in the Billboard Music Awards. They perform December 7 in the Canadian Airlines Saddledome in Calgary; the following night it's Las Vegas and the Billboard Awards. Then the heartthrobs get back on the road again with performances December 10 at the Skyreach Center in Edmonton, Alberta. During their Performance at the Gaylord Center in Nashville MARTINA McBRIDE and AMY GRANT and her children not only attended the show but went backstage afterwards to get their pictures taken and have the hunks sign autographs books. Martina stars at the Hilton Hotel, Las Vegas December 9-12, while Amy brings her Christmas Show to the United Center in Chicago on December 11 and then to the Thomas and Mack Center in Las Vegas on Dec. 16.

TOBY KEITH December 10 at Boulder Station, Las Vegas. The country singer who has scored six No. 1 Country hits keeps his good dead quiet. Keith, his wife Tricia and their two daughters, Shelley and Krystal, and son, Stelen, live on a ranch outside Oklahoma City. Reportedly, Keith was the only entertainer who participated in the rescue effort after the Oklahoma City bombing.

DARYLE SINGLETARY needs to take some lessons from Reba McEntire. Not singing lessons - lessons on how to stay on a horse. Reba was once a champion barrel racer and Singletary is currently nursing a bruised ego and a broken shoulder. He got the bust up while trying to rope off a horse. That's his favorite hobby. The horse had a different idea, did a somersault and took Daryl along for the ride, snapping the singer's collarbone.


THIS AND THAT

ANNIE GET YOUR GUN

TOMMY HILFINGER

saw 1,500 students from the tri-state New York area sing There's No Business Like Show Business last Wednesday during a special all day Educational Program presented by show producers Barry and Fran Weissler, which aims to stimulate students' passion for the arts.

Special discussions, presentations and question/answer sessions took place in the MarquisTheater, before they attended the Annie Get Your Gun matinee.

Tommy Hilfinger delivered the keynote address on the obstacles he faced and how he overcame them to gain success in the fashion world.

Bernadette Peters, Tom Wopat, Gregory Garagoza and cast members Valerie Wrightr and Peter Marx lead the audience in a question and answer session and Wright, Marx and conductor Marvin Laird held a music class.

FINAL OVATION

MADALINE KAHN star of stage, movies and television, passed away December 3 from ovarian cancer. She was 57. She won Tony, Drama Desk and Outer Critic Circle Awards for her role as Gorgeous Teitelbaum in Wendy Wasserstein's The Sisters Rosensweig. She also received Tony nominations for On the Twentieth Century and Born Yesterday. She won an Emmy as Outstanding Performer in Children's Programing in l986. She was currently part of Bill Cosby's television sitcom. Her final project a film Judy Berlin is set for a February release. She is survived by her husband attorney John Hansburg.

MICHAEL OCKRENT lost his battle against leukemia. The award winning director's credits include; Educating Rita, Me and My Girl, Big and Crazy For You, where he fell in love with the choreographer, Susan Stroman. They married on New Year's Day, 1996. At the time of his death the London born physicist turned stage director, was working on The Night They Raided Minsky's, a new musical by Charles Strouse and Susan Birkenhead.

GENE RAYBURN best known for emceeing television's The Match Game, appeared on Broadway in Bye Bye Birdie and traveled with the national touring company of Come Blow Your Horn, died in New York City at the age of 81. He was a widower and is survived by a daughter.

JOEY ADAMS 88, died December 2 in Mew York City. Born Joe Abramowitz on Jan. 11, 1911 in Brooklyn, the comedian honed his act in the Borscht Belt, graduating into the big time. Author of over 20 books, his newspaper column Strictly for Laughs appeared for over 20 years in The New York Post. Survived by wife, columnist Cindy Adams.



Mention BROADWAY TO VEGAS for Special Consideration
Call (800) 942-9027









Next Column: December 12, 1999
Copyright: December 5, 1999. All Rights Reserved. Reviews, Interviews, Commentary, Graphics or Photographs from any Broadway To Vegas (TM) columns may not be published, broadcast, rewritten, utilized as leads, or used in any manner without permission, compensation and/or credit.
Link to Main Page
---
Laura Deni




For the snail mail address, please E-mail your request.
CLICK HERE FOR COMMENT SECTION