! >
Broadway To Vegas
  
  REVIEWS  INTERVIEWS COMMENTARY NEWS

| | |
| --- | --- |
| | |
NEW PLAY HOPES TO HELP GET MURDER CONVICTION REVERSED - - SCOTT PELLEY REPORT ON POVERTY CHILDREN RESULTS IN LIFE ALTERING HELP - - DEBUTANTE CELEBRITY OFFSPRING MINUS DEMI MOORE - - SHUFFLE ALONG AND BLACKBIRDS CD REVIEW - - SIERRA BOGGESS AND TAM MUTU TEAM UP OFF STAGE AND ON - - JIM PARSONS TO RETURN TO BROADWAY - - OCCUPY BROADWAY IS SYMBOLIC ATTEMPT - - ON A CLEAR DAY YOU CAN SEE FOREVER STARS HARRY CONNICK JR - - DONATE . . . Scroll Down



KINGSHEAD THEATRE TO SPOTLIGHT NEW PLAY IN HOPES OF RELEASING A MAN CONVICTED OF MURDER
Sam Hallam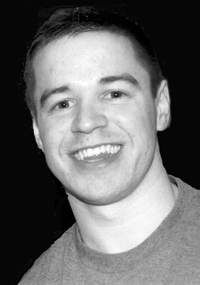 A powerful play The Exonerated tells the story of six people who were eventually released from death row after being wrongly convicted of murder.

An after the release re-telling.

Someone To Blame, a new play by Tess Berry-Hart, is a key point in a current defense effort to over-turn a murder conviction and get a young man released from prison.

In 2004, at the age of 17, Sam Hallam was tried and convicted of murder in a London street fight. He's spent the last 7 years behind bars in Bullingdon prison, Oxfordshire.

He maintains he wasn't even near the crime scene.

With little education and no funds, Sam was at the mercy of what appears to have been a flawed justice system and bad lawyering. There were those two eye-witnesses who withdrew their statements to police and one girl told the Old Bailey trial: "I was just looking for someone on the spot to blame," while a male witness said Hallam was "the only white boy I know from Hoxton, so I said it was Sam".

Hallam was convicted for the death of Essayas Kassahun, a trainee chef. The court heard the 22-year-old Ethiopian was stabbed and beaten October 11, 2004, when he intervened as a gang of 15 youths attacked his friend, Louis Colley. He suffered serious head injuries and died two days later.

On June 13, 2009 The Independent reported that "seven new witnesses have come forward with statements to the Criminal Cases Review Commission suggesting Mr Hallam was not at the scene of the crime, and was instead playing football half a mile away"

"An eighth testimony, from a youth worker who sat in on police interviews with teenagers arrested after Mr Kassahun was killed, alleges that three witnesses told police during interviews that Mr Hallam was not at the scene – but that this information was never disclosed to Mr Hallam's defense team."

"Neither the police nor Mr Hallam's defense team requested mobile phone evidence which could have helped prove his exact location."

"One of seven charged with the murder, Hallam initially, on the advice of his lawyer, declined to answer police questions, something his supporters claim may have counted against him at the trial," according to The Independent. "One other man, Bullabeck Ringblong was also convicted of the murder and is serving life."

A 17-year-old was convicted of conspiracy to cause grievous bodily harm, and violent disorder.



Author Tess Berry-Hart was asked to write Someone To Blame by director David Mercatali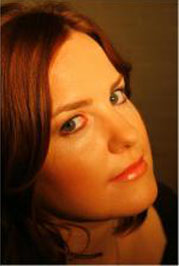 According to the campaign for his release: "The CCRC has seen the evidence and has, as well as interviewing Mr Hallam, interviewed the subject of his original alibi, as well as his original solicitor, to find out why he did not call these witnesses. It is possible investigators could also access police notebooks which may provide three other accounts which place Mr Hallam away from the scene," continued the report.

"The CCRC will also seek to access mobile phone records which, if available, could prove Mr Hallam was not at the scene – though these are routinely kept by mobile phone service providers for only one year."

The Criminal Cases Review Commission and an independent police enquiry, released findings "so significant" that the case has now been referred back to the Court of Appeal. They criticized the Met for "a poor-quality investigation".

Hallam's current defense team consists of his mother Wendy, justice campaigner Paul May who was responsible for leading the campaigns of the Birmingham Six, the Bridgewater Four, Judith Ward, Danny McNamee and many other miscarriages of justice, and actor Ray Winstone whose nephew and daughter know Hallam. King's Head director David Mercatali asked friend Tess Berry-Hart to write the play.

The production opens March 6, 2012 at The King's Head Theatre in London.

Every word of Someone To Blame has been taken verbatim from written sources or interviews.



Broadway To Vegas is supported through advertising and donations. Priority consideration is given to interview suggestions, news, press releases, etc from paid supporters. However, no paid supporters control, alter, edit, or in any way manipulate the content of this site. Your donation is appreciated. We accept PAYPAL. Thank you for your interest.



ART AND ABOUT


MERRY CHRISTMAS, CHARLIE BROWN! THE EXHIBIT developed with the Charles M. Schulz Museum, runs through January 2, 2012 at the Louisville Slugger Museum & Factory in Louisville, KY.

Last week ABC airing the Charlie Brown Thanksgiving topped Lady Gaga's A Very Gaga Thanksgiving.

Why do we all love that Peanuts gang?

Come see what all the fuss is about.

The temporary Merry Christmas, Charlie Brown! exhibit examines the making of the timeless animated classic and celebrates the anticipation, joy and pitfalls of the holiday season. The holiday collection honors the 1965 classic television special, A Charlie Brown Christmas, and features a rare behind-the-scenes look and artifacts used in the production.

Other exhibit high points include reproductions of winter and holiday-themed Peanuts comic strips, a continuous showing of the 1965 classic - A Charlie Brown Christmas, and hands-on arts & crafts.

While you're at the museum see the story of that bat.

It takes a special place to craft the Official Bat of Major League Baseball. Since 1884, Louisville Slugger has put prime lumber in the hands of the greatest players of the game. A visit to the museum shows you how the sport has changed a bit between then and now, but the "crack of the bat" remains one of the sporting world's most thrilling moments.

Even people who don't know baseball know the name Johnny Bench. The Cincinnati Reds Hall of Fame catcher has been named the 2011 Louisville Slugger Museum & Factory Living Legend. Bench accepted this honor at the Museum on Friday, November 11.

"From slugging home runs to raising money for scholarships, Johnny Bench has been a hero throughout this region and for all of Major League Baseball," said Anne Jewell, LSM&F Executive Director. "The Living Legend Award recognizes greatness both on and off the field and Johnny Bench has been a tremendous ambassador for America's pastime his entire life."

Using a Louisville Slugger B278 model during his 17-year career, Bench totaled more than 2,000 hits, 389 home runs and 1,376 RBI. He was a two-time National League MVP and he helped "The Big Red Machine" to six division, four NL and two World Series titles.

Louisville Slugger Museum & Factory has also added another superstar to its roster as it unveiled a lifelike sculpture of Derek Jeter, team captain of the New York Yankees and future Hall of Famer. Jeter joins elite company in the museum's main gallery as the fourth player to be immortalized with a statue.

Others player sculptures are fellow Yankee icon Babe Ruth, Red Sox legend Ted Williams and Cincinnati Reds/Seattle Mariners outfielder Ken Griffey Jr.

"We are thrilled to feature Derek Jeter in the museum," said Jewell. "Jeter is a baseball rockstar, an ambassador for the game and a huge fan favorite. We're proud to include him in our lineup of baseball greats and we know our guests will love it." Louisville Slugger Museum & Factory hit a home run in 2010, announcing that annual attendance was at an all-time high with 234,771 visitors.

26 TREASURES launched Saturday, December 3, a series of events involving writers to celebrate 26 Treasures at the National Museum of Scotland.

26 Treasures, kicked off with Treisur, a Scots prose poem inspired by the project, accompanied by jazz saxophone. Then the 26 selected writers shared their experiences of bringing their object to life, from an gown of repentance brought to the page by Jamie Jauncey, to a bionic hand explained by writer Lucy Harland.

The project concludes on January 26, 2012 with a closing event emphasizing that " A museum is a treasure chest not just of objects but of stories. At this closing event for the 26 Treasures project, four writers discuss how they tapped into the rich story of Scotland's past through objects that connect them not only to social, political, cultural and religious history, but to the powerful emotions of people who lived at the time."


THE MUSIC GOES ROUND AND ROUND


SHUFFLE ALONG OF 1921 AND BLACKBIRDS OF 1928 a Masterworks Broadway CD release is one of the most fascinating projects in recent memory.

It's a studio cast recording featuring songs from two landmark musicals Blackbirds of 1928 and Shuffle Along of 1921.

Shortly after World War I, Eubie Blake joined forces with performer Noble Sissle to form a vaudeville music duo, the Dixie Duo. After vaudeville, the pair began work on a musical revue, Shuffle Along, which incorporated many songs they had written, and had a book written by F. E. Miller and Aubrey Lyles. When it opened on May 23, 1921, at the Sixty-third St. Music Hall, New York City Shuffle Along became the first hit musical on Broadway written by and about African-Americans - and ran for a remarkable 518 performances, making it for many years to come the longest-running all-black show in Broadway history.

On this CD Eubie Blake conducted the orchestra and plays the piano, as he had in 1921.

The musical also introduced hit songs such as I'm Just Wild About Harry, sung on this CD by Thelma Carpenter with Avon Long adding his musical comments. Long is best-known for playing Sportin' Life in three Broadway revivals of Porgy and Bess. Also on the disc is Love Will Find a Way, performed by Louise Woods and Laurence Watson.

The other two Shuffle Along songs are Bandana Days, a riverboat type banjo-strummer and Carpenter offering Gypsy Blues, in which a fortune-teller doesn't tell the person what they want to hear.

Blackbirds of 1928 was a hit Broadway revue with music by Jimmy McHugh and pithy lyrics by Dorothy Field. It contained the songs Diga Diga Do, the duo's first hit, I Can't Give You Anything But Love, and I Must Have That Man all sung on this CD by Cab Calloway or Thelma Carpenter.



Cover page for I'm Just Wild About Harry from the musical Shuffle Along by noble Sissle and Eubie Blake, 1921.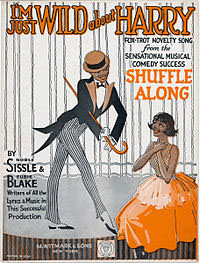 Blackbirds of 1928 opened on May 9, 1928, at the Liberty Theatre, New York City and ran for 518 performances. Of notable importance is that Blackbirds of 1928 gave composer Jimmy McHugh and lyricist Dorothy Fields their first Broadway hit.

Richard Maltby Jr once said of Fields: "A Fields lyric is always meticulously crafted yet retains the easy fresh natural flow of colloquial speech. Her language is precisely the language a person would use expressing a feeling, even if it weren't sung or rhymed - yet the rhyme schemes are scrupulous and the structures impeccable. Concealing the art may be the highest skill in the craft of lyric-writing. Dorothy Fields is a master."

The original Broadway production contained 8 songs, while the listener will be able to enjoy four on this recording.

Under Lehman Engel's baton, Cab Calloway delivers on I Can't Give You Anything But Love, with Carpenter chirping Diga Diga Doo, pining away on the torch song I Must Have That Man, and having fun with a song about a dance craze Doin' The New Low-Down.

A startling discovery is that the entire CD contains only 8 tracks and play time is less than a half hour long - ticking off a quickly passing 23:35 minutes - making them either a representation - or victim - of their time.

According to the liner notes by David Foil, both shows were recorded the same year, and "Shortly thereafter, the two 10-inch LPs were coupled for reissue on a single disc, as they appear here."

"Sadly, these are the most complete single recordings of either score, though individual sides were recorded and released (out of context, as pop records) in the 1920s by original cast members. What these brief recordings captured before it was too late is something of the original style and exuberance that made these two shows part of the Broadway zeitgeist of the 1920s. Shuffle Along and Blackbirds of 1928 themselves may be hopelessly dated theater, but the songs they introduced are timeless and unforgettable – representing nothing less than new voices and new sounds that would shape the destiny of that mainstay of modern American culture, the popular song."

With this Masterworks Broadway release the listener can look forward to excellent, precise sound quality. It's a delightful listen to the hit songs of two groundbreaking Broadway musicals.


SWEET CHARITY


BERNADETTE PETERS' CHRISTMAS ORNAMENT Notice Every Tree: This holiday season, you can adorn your own tree with a 6" hand-made ornament of Bernadette Peters as Dot in Sunday in the Park with George, made exclusively for Broadway Cares/Equity Fights AIDS by the Christopher Radko Company. This is the latest addition in their line of Broadway Legends Ornaments. Others include Carol Channing as Dolly in Hello Dolly, and Chita Rivera as Anita in West Side Story.

SAVE THE CHILDREN BENEFIT presented by the Manhattan Movement & Arts Center staging Freckleface Strawberry The Musical at 3pm on Saturday, December 10 with Julianne Moore in attendance and Peter PANtomime at 5:30pm with Tina Fey in attendance.

The benefit on Saturday, December 10, 2011 will include a party featuring The Amazing Max followed by a performance of Freckleface Strawberry The Musical.

Academy Award-nominated actress Julianne Moore, is the author of the original NY Times best selling Freckleface Strawberry book.

Ticket holders will have an opportunity to purchase a signed copy of Freckleface Strawberry and take photos with the cast.

All proceeds benefit Save The Children.

CLAUS WITH A CAUSE to benefit COPWA - Children Of Parents With AIDS. A Christmas Charity Cabaret starring Santa performing with 'Christmas Carol' Richard Skipper as Carol Channing, Sandy Jordan, Kyle Cassady, Greta M Herron, and more. Admission is a new unwrapped toy or a suggested $10 donation. Pictures with Santa and Handmade Christmas Stockings for purchase with all proceeds going to COPWA.

December 7 at Sardi's in New York City.


SIERRA BOGGESS AND TAM MUTU GETTING TOGETHER ON AND OFF BROADWAY
Sierra Boggess as Christine in Love Never Dies. When Boggess - who has a thing for shoes - was cast in the London production of Love Never Dies she congratulated herself by buying a pair of black Christian Louboutin d'Orsay style pumps. No word on what she'll purchase when Rebecca opens. Photo: Love Never Dies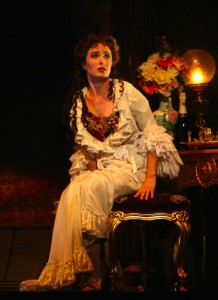 Sierra Boggess and Tam Mutu fell in love when she starred as Christine in the Phantom of the Opera sequel, Love Never Dies, and he appeared as the alternate Phantom.

Now the engaged couple will star as a married couple -"I" and Maxim de Winter - in the new Broadway musical Rebecca, which will mark Mutu's Broadway debut. Before they begin rehearsals the couple took a vacation, which included Las Vegas.

Sin City is old stomping ground for Boggess whose big career break came in 2006 when she starred as Christine in Phantom of the Opera: The Las Vegas Spectacular.

Before showing her on and off stage love Las Vegas, the couple visited her hometown of Denver where Sierra tweeted: "Tam Mutu is about to have his first thanksgiving! The British are coming! The British are coming!"

Mutu extolled to his followers about being in an outdoor hot tub with a view of the mountains.

Then they went to Vail where Mutu tweeted about getting a massage before the couple ate.

On to Las Vegas where they caught the Chris Angel Believe show at the Luxor Hotel last Wednesday. Then they made a quick trip to Disneyland.



Sierra Boggess and Tam Mutu party hardy. Photo: Love Never Dies
Boggess tweeted: "Tam Mutu and I are celebrating at Disneyland. We just rode The Little Mermaid ride!!!" The multiple exclamation statement is her reference to starring in The Little Mermaid on Broadway. Boggess then added: "Just had an amazing day in Disneyland!!!! I got back to my Disney princess roots. Felt good. I'm exhausted now."

But not too exhausted to return to Las Vegas on Friday. Boggess and Mutu attended Phantom: The Las Vegas Spectacular then caught up with the cast. On Saturday they were at the opening night of the new Michael Jackson: The Immortal World Tour. The couple leaves Las Vegas on Monday.

After they rest up from their vacation Sierra and Tam will get prepared to join Rebecca castmates: James Barbour as Jack Favell, Karen Mason as Mrs. Danvers, John Dossett at Frank Crowley, Donna English as Beatrice de Winter and Nick Wyman as Giles.

Based on the classic novel, Rebecca is the story of Maxim de Winter, his new wife ("I") and Mrs. Danvers, the controlling and manipulative housekeeper of Maxim's West Country estate of Manderley, where the memory of his first wife, the glamorous and mysterious Rebecca, still casts a shadow.

Rebecca features an original book and lyrics by Michael Kunze, music by Sylvester Levay, English book adaptation by Christopher Hampton and English lyrics by Hampton and Kunze. Graciela Daniele will create musical staging for the Broadway production. Scenic design is by Peter J. Davidson, costumes by Jane Greenwood, lighting by Mark McCullough, sound by Peter Fitzgerald, special effects by Gregory Meeh and projections by Sven Ortel. Musical direction and supervision is by Kevin Stites.

Michael Blakemore and Francesca Zambello will jointly direct the production, which will begin previews at the Broadhurst Theatre on March 27, 2012, and open on April 22.


OFFSPRING OF ELVIS, DEMI & BRUCE AND ANDI McDOWELL MAKE FORMAL DEBUT
Debutante Tallulah is flanked by her sisters Rumer and Scout Willis at the Le Bal des Débutantes held at Hotel Crillon on Saturday (November 26) in Paris, France. Rumer tweeted the picture of the three sisters. Proud father Bruce Willis was also in attendance.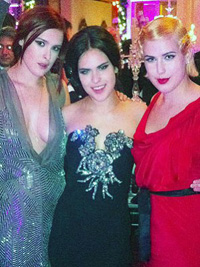 Daughters of celebrity royalty were presented to society at a debutante ball favored by the Hollywood elite - although it took place in Paris.

Not all debutante balls feature white gowns and a deep curtsey. While posh and elegant, this formal introduction to society highlights the couture fashion houses as much as the young women who wear their clothes.

Some of the 23 young women from 13 countries who made their debut on Saturday, November 26, at Le Bal des Debutantes at the Hotel Crillon in Paris were Tallulah Willis, 17, the youngest daughter of Bruce Willis and Demi Moore, Sarah Margaret Qualley, 16, the youngest daughter from Andi McDowell's 13-year relationship with fellow model Paul Qualley, Georgiana Marriott of the hotel empire family, Princess Alexandra von Ochsenzwick and Abigail Cooley who is a niece of the richest man in Germany.

Also on the official list was Danielle Riley Keough, the daughter of Lisa Marie Presley and granddaughter of Elvis and Priscilla.

Ladies being presented included HRH Charlotte de Bourbon Princess of Parma; Eliza Fraser, granddaughter of the novelist Antonia Fraser; Flora Collins, daughter of Amy Fine Collins who is in charge of the International Best Dressed List; Vivian Chou, daughter of Silas Chou who is the majority owner of the Michael Kors label; Oriane Piccard whose grandfather was the inspiration for Professor Tournesol in The Adventures of Tinti; and Hikari Mori, granddaughter of designer Hanae Mori.

Le Bal des Debutantes began in 1957 and re-launched in 1991 as a fundraiser, this year benefiting the Feed Foundation, which was started by 2000 debutante Lauren Bush, the daughter of Neal Bush. The Feed Foundation is dedicated to fighting malnutrition.

Debutantes are selected upon their accomplishments as well as their family standings.

All the ladies wear Haute Couture directly from the fashion houses. They accented with jewelry from Adler.

Tallulah Willis wore a black and silver sequined Lanvin gown while her sister Scout, 20, who made her debut at the event in 2008, wore a flutter-sleeve red dress. Eldest sister Rumer, 23, selected a silver gown with a plunging neckline. Bruce was utterly dignified in a black tuxedo. Rumer tweeted pictures of her family.

Remy Fisher whose grandfather started The Gab appeared in Gaultier Paris Haute Couture. Sarah Margaret Qualley was stunning in a white gown from Elie Saab Haute Couture.

Demi Moore was noticeably absent with chatter ranging from depression to Demi deliberately boycotting the event because of accusations that some of the couture fashion houses use underage children as garment workers. However, in 2008 when Scout made her debut, both Demi and Ashton Kutcher - and Bruce Willis - were in attendance.

Willis, his new wife Emma Heming, and his daughters also celebrated Thanksgiving in Paris. The 56-year-old actor announced in October that he and his wife are expecting their first and his fourth child.


SPREADING THE WORD


"EIGHT DAYS MORE," A LES MISÉRABLES TRIBUTE TO HANUKKAH Do you hear the people sing, singing a song of angry Jews?

It's Tablet Magazine's Eight Days More, a Les Misérables tribute to Hanukkah!

Written by Rachel Shukert (and Schönberg and Boublil and Victor Hugo), it's the stirring musical story of the courageous and honorable Judah Maccabee, relentlessly hunted by the Hellenized high priest Jason.

Starring Seth Rudetsky as Judah and Matt Cavenaugh as Jason.

The cast also includes Michael Schulman, Billy Zavelson, Rachel Shukert and Jesse Oxfeld.

This fun tribute to Hanukkah takes place "on the barricades" Thursday, December 15 at the 92YTribeca, which is 92nd Street Y's downtown arts and culture venue in New York City.

HEMINGWAY'S LETTERS: FROM CHILDHOOD TO PARIS a discussion of The Letters of Ernest Hemingway: Volume 1, 1907-1922 with Sandy Spanier, the book's editor, and novelist Ward Just. Scott Simon, host of NPR's Weekend Edition Saturday, will moderate, and the actor, Corey Stoll, who played Hemingway in Woody Allen's recent Midnight in Paris, will read selections.

A free screening of Midnight in Paris will be shown following the forum. Sunday, December 11 at the J.F. Kennedy Presidential Library and Museum in Boston, MA.

HOW JIM PARSONS SPENDS HIS SUMMER VACATION the two time Emmy award winner for his starring role in The Big Bang Theory doesn't go on cruises, read a good book while in a backyard hammock or clean out the garage. Instead, he goes to the professional version of summer camp on Broadway. The show's April hiatus found Parsons making his Broadway debut in a supporting role in The Normal Heart.

During the upcoming The Big Bang Theory vacation Parsons returns to The Great White Way as the lead in a revival of Harvey - the memorable role of Elwood P. Dowd created on stage in 1944 by Frank Fay and in the movie version by Jimmy Stewart.

Preview performances of the play will begin on May 18 at Studio 54, and the official run of Harvey will take place between June 14 and August 5.

AMAS MUSICAL THEATRE will present three shows only of BURLY-Q! A Gay Burlesque, created by Phillip George (co-director of Forbidden Broadway), on December 13-15 at The Players Theatre, NYC.

Written by Peter Morris, Phillip George, Fred Barton, Tom Orr and David Caldwell, with additional material by Brad Ellis, Ethan Fein, Matt Eisenstein, Dick Gallagher, Matt Ward and Steven Silverstein. The production is directed by Phillip George.

"BURLY-Q! A Gay Burlesque is a madcap tribute to classic American burlesque, with a treasure trove of priceless routines seen through a gay lens," says Amas Artistic Producer Donna Trinkoff. "When Phillip George told me that he'd always wanted to do a gay revue that he could take his mother to, I told him I'd hold him to that standard. Happily, in the first two Lab readings of Burly-Q!, all our mothers loved it! And now, with several naughty new numbers this show is funnier than ever. We think it's close to being ready for a full production".

The cast includes Fred Barton, Andrew Briedis, Jay Rogers, Will Taylor, Jake Warnecke, Michael West and Hernando Umana.

The presentations are part of the ongoing Amas Musical Theatre Lab, a development series for writers, lyricists and composers to mount staged readings of their new musicals free to the public.

ELECTIVE AFFINITIES the highly creative, site specific "informal tea" event starring Zoe Calwell stages a December 8 Creative Team Talk where members of the creative team will discuss the challenges and freedoms of site-specific theater. In conversation with Literary Manager Raphael Martin.

On December 16th the creative talk is titled - The Idea of the Upper East Side - WNYC's Sara Fishko moderates a panel examining the idea of The Upper East Side and how it has changed over the years.

Running only through December 18 with all advanced tickets sold out, Elective Affinities, by David Adjmi and directed by Sarah Benson is presented by Soho Rep, piece by piece productions and Rising Phoenix Repertory.

Set Design: Louisa Thompson. Lighting Design: Mark Barton. Costume Design: Susan Hilferty. Sound Design: Matt Tierney. Production Stage Manager: Tom Taylor.

2011 TRU VOICES NEW MUSICALS READING SERIES Oklahomo by Jesse Gage. Directed by Mark Robinson. Musical Direction by Doug Oberhamer; Famous by Yvonne Adrian (Book), Cheryl Stern (Lyrics) and Tom Kochan (Music). Directed by Christine O'Grady. Musical Direction by Seth Weinstein; and Through the Door by Judy Freed (Book) and Laurence Mark Wythe (Music and Lyrics). Directed by David Lee. Musical direction by Stuart McMeans.

The selected musicals will be read on Mondays, December 5, 12, and 19 at The Roy Arias Theatre, Mondays, December 5, 12 and 19, 2011 at 7pm at The Roy Arias Theatre, NYC.

MARK RYLANCE can go home again. He's returning to London's Globe Theatre where he served as their first artistic director, acting and helming plays there for ten years. Now the Tony Award winning actor will take to the stage in 2012 to star in two plays.

The 51-year-old will assume the title role in Richard III, and play the alluring Lady Olivia in Twelfth Night. Rylance is currently starring as Johnny Byron in the West End production of Jerusalem.

MAN IN THE MIDDLE written by Australian playwright Ron Elisha - based on the life of Wikileaks founder Julian Assange will make its European premiere in London at Theatre 503 beginning January 10, 2012.

The production stars Australian actor Darren Weller, who played Assange during its initial Sydney run in July. Lucy Skilbeck will direct.

How is it possible that a self-educated aussie 'Hactivist' who never finished high school could change our perception of the world and initiate a global chess game which had the greatest leaders of our time lawyering up?

Man in the Middle is a Wikiplay, sourced from the public domain, refracted and redacted by playwright, Ron Elisha. It reveals a man who sought to out the truth at any cost. The many faces and fallouts of 'the most dangerous man in the world'.

Assange is facing extradition to Sweden from the UK over alleged sex offences, which he denies. Weller dyed his hair platinum blond to match that of Assange for the play, which was called Stainless Steel Rat during the Sydney run.

Some scenes take place inside Assange's cell in Wandsworth prison and others in the Australian prime minister's bedroom in Canberra.


CREATIVE RESISTANCE: ARTS AND CULTURE WORKING GROUP OF OCCUPY WALL STREET


Occupy Broadway - described as "a symbolic attempt to regain the space of theatre as an accessible, popular art form, bringing it back to where it all started - in a public space, for the common citizen."

A Creative Resistance 24-hour protest performance took place from 6 pm December 2 through 6 pm December 3.

Fresh off its sold-out run at The New York Musical Theatre Festival, The Big Bank was there with a sampling of songs - the only musical with a performance slot during the first Occupy Broadway protest, which was organized by the Arts and Culture Working Group of Occupy Wall Street.

Written 16 years ago, well before the financial crisis in America, The Seligmann Brothers - Daniel and Jacob - wrote this amazingly timely musical about a bank that revels in the joys of foreclose with the tag line Life is a Loan.

"When the financial crisis began in 2008, my brother and I knew that The Big Bank would be a great show for people to experience for some comic relief," said Jacob Seligmann.

The Big Bank is the story of a bank in Brooklyn that revels in the joys of foreclosure and repossessing people's homes and dreams. Stuart Stevens, a long time employee, falls in love with a woman who owns a flower shop he is supposed to foreclose on; a radical Marxist conservationist who tweets together a revolution against the bank; But before Occupy The Big Bank protestors can run on the bank and repossess it, the precocious eleven-year-old daughter of the Big Bank Boss takes a stand.

"It's been an amazing journey for us, having written the musical 16 years ago," said Jacob Seligmann. "The rebirth of The Big Bank in this amazing time in our country's history is a very moving experience. We've changed the show a bit and included the Occupy Movement in it now. The Big Bank is meaningful entertainment for the whole family. That's a good thing, especially now."

Others that took part in Occupy Broadway included Mike Daisey, who currently stars in Off-Broadway's The Agony and the Ecstasy of Steve Jobs, members from the Off-Broadway theatre company The Civilians, Penny Arcade, The Working Groups of OWS, HERE Arts Center, Jenny Romaine and Great Small Works, The Foundry Theatre, The Church of Stop Shopping, Rude Mechanical Orchestra, NY Labor Chorus, The Yes Men, Ayo Jackson, April Yvette Thompson, The Living Theater, Bread and Puppet Theater, Tony Torn, Carlo Alban, Urban Research Theatre, Yolanda Kay, Rocha Dance Theater and Reno.


SCHOOL CHILDREN GET HELP AND JUSTIN BIEBER PERFORMS
Excellent report by Scott Pelley resulted in immediate help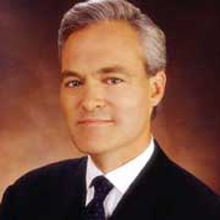 Scott Pelley did a marvelous job reporting on the plight of Central Florida school children who are in need. The reports aired November 27 on 60 Minutes with a follow-up on his Monday Nightly News show.

Then Santa Claus came early. What you wear on television can matter.

First, the story.

"Of all the families without shelter in this country, one-third are in Florida," Pelley told viewers. "Of all the homeless families in Central Florida, two-thirds are living on the streets."

With any large group there will be a certain percentage who couldn't find their way down a dark road if you gave them a map and a floodlight; there will be another percentage who know how to work the system, like it that way, and enjoy people feeling sorry for them.

Then there are the vast majority of the Florida school families. The type of people that Pelley's report focused on, such as the Metzger family. Arielle, 15, and Austin, 13. Their mother died when they were small - a devastating loss for any family. They survived as a loving family. They are still a loving family, but after their father, Tim, lost his carpenter's job, their savings ran out, they lost their home and now they live in a truck.

The children have learned to improvise. They neither feel sorry for themselves nor try to manipulate the system. They keep clean in public restrooms, study hard at the library, and they participate in community theater. Arielle indicated she wants to become a child advocate attorney.

The Monday night segment showcased Daphne Ford, a teacher, who left that job to give birth after her husband Michael landed a successful construction worker position. "Started out making $14.50 an hour. That was going very smoothly. We had a home and everything."

When the bottom fell out of the building business and schools began laying off, not hiring, the well educated, hard working family faced hard times. Now Michael accepts anything, including a $7.35 per hour, part time job in a fast food restaurant with no benefits. Currently the couple and their children live day-to-day in a cheap motel and struggle to feed themselves.

The executives at the homeless program, Families In Transition, in Seminole County, Florida are extremely well organized and offer resources to all school children in need and their families. They don't single out one school or one section of town. If you're hurting, they try to help.

"Before Thanksgiving, schools in Seminole County invited homeless families to hear about services available to them, and about 2,000 homeless people crowded into Winter Springs High School. Most of them were families like the Fords," said the reporter/anchor referring to families who aren't generational welfare, but true victims of the problems that life can hurl.

The hard working Beth Davalos, who runs Families In Transition for Seminole County Schools, told Pelley the need is only growing. "People are running out of resources. The unemployment runs out. Their savings run out. The family that lent them money does not have it any more, because they're looking at economic hardship."

Davalos organized the homeless family event that brought over 40 agencies to one location, at one time, together with the community. "It's a one-stop shop, so families can learn about exactly what resources are available," which included connections to housing, food and clothing assistance.

What Families In Transition needs are donations of money, goods, services and job offers.



Stetson University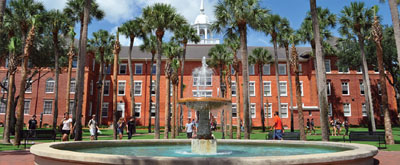 College scholarships are also welcome - as the aforementioned Arielle and Austin Metzger found out. It seems Arielle was wearing a T-shirt bearing the logo of Stetson College when Pelley interviewed her.

"Dozens of Stetson University students, employees, alumni and top administrators did a double-take this week while watching a 60 Minutes television special about central Florida families who have fallen on hard times and are living in their cars," began a statement issued by Stetson University.

"One of the main subjects of the story - 15-year-old Arielle Metzger - was wearing a green and gray Stetson T-shirt during her interview. The Seminole County teenager, who lives in a truck with her brother Austin, 13, and father Tom, talked about how important education is to the family and how she wants to become a lawyer to help children and homeless people."

"The Stetson community immediately felt as if Arielle was one of their own," continued the statement.

"With both Arielle and Austin speaking so sincerely and eloquently about the transformative nature of education and the importance of that to them, Stetson has decided to guarantee the brother and sister a financial aid package to cover the full cost of attending the university. A university financial aid counselor will work with them to assist in planning for their education."

"Stetson has a significant commitment to first-generation college students, a long history of values-based education, a tradition in service learning, a College of Law ranked No.1 in the nation for trial advocacy by U.S. News & World Report, and is 25 miles from Seminole County, Fla.," said President Wendy B. Libby.

"For these reasons, we see ourselves as an excellent fit for Arielle and her brother Austin's continued education," Libby said. "As an undergraduate at Stetson, Arielle in particular could participate in our Pre-Law Institute, allowing her unique insight into the legal profession."

"Further, to help guide these aspiring college students, three Stetson undergraduate students from Stetson's Bonner Scholars Program will reach out to Arielle and Austin as mentors as they navigate life and conclude their public school education. The Bonner program is a prestigious national program dedicated to opening access to education for all students who are seeking an opportunity to "serve," and Stetson is the only Bonner school in Florida."

"In the meantime, the Zeta Tau Alpha sorority at Stetson is raising funds to help support some of the immediate needs of the Metzger family."

"Stetson University is always seeking students who 'dare to be significant,'" Libby said. "These two young people certainly meet that criterion."

University officials got in touch with Beth Davalos, who said Friday morning that she had informed the Metzger family of Stetson's offer and, 'they're very excited.'"

We're going to surmise that this is the type of story that makes Pelley glad he entered the news business.



Anderson Cooper featured Blessings in a Backpack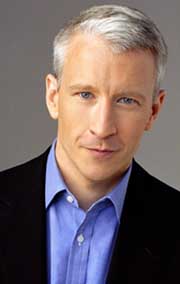 Up the coast in New York, Anderson Cooper's talk show spotlighted Blessings in a Backpack, which was founded by Stan Curtis. The growing organization started out helping two schools, and now feeds over 55,000 schoolchildren in 318 schools across 36 US states and 3 countries.

This unique program is designed "to feed elementary school children whose families qualify for the federal Free and Reduced Price Meal program, and have little to no food on the weekends. Every Friday, students receive their backpacks with staples that require little to no preparation. They return with their backpacks on Monday ready to learn."

Just $80 feeds a child in the Blessings in a Backpack program for an entire 38-week school year.

Laurie who has been working with PS/MS 20 in the Bronx, where much of the student body lives at or below the poverty line, E-mailed Cooper asking for help. "Currently, Blessings in a Backpack selects one grade at the school to feed - as this is all the group can afford. Their goal is feed every student in the school - from kindergarten to 8th grade," the newsman/talk show host reported.

"It's kind of sad when the school is kindergarten through eighth grade and you can only feed the first-graders," says Laurie. "But we're happy to feed them, but we really, really want to expand it so every child can benefit from the backpacks."

Anderson then surprised Laurie, "We've got some good news for you. After hearing Laurie and PS/MS 20's story, the good people at Sara Lee are donating $75,000 in food and cash to the Blessings in a Backpack program."



Justin Bieber shown performing in Indonesia in April 2011 will perform at the Whitney Elementary School in Las Vegas on December 15.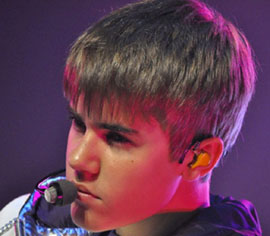 Justin Bieber is making good on a promise he made on the Ellen talker when the heartthrob promised to donate $100,000 and stage a concert at the highly publicized Whitney Elementary School in Las Vegas. On December 15, "Justin will be performing songs off of his brand new album Under The Mistletoe," according to Disney Dreaming.

This is a specific school donation which is not shared with other schools. The school principal has been quoted in several outlets stating many of the students are from generational welfare families.

If you eliminate the home owner aspect - some of the Whitney students live better than I do. Our gripe is not that Whitney students are helped, but that other needy students in Sin City are left out, simply because they don't attend one specific public elementary school.

It wasn't announced if below poverty line students attending other elementary schools will be bused to the Bieber acoustic concert, or if the songfest is only for the Whitney students who are in Pre-Kindergarten to 5th grade.

The generous folks at Target first donated $100,000 to the Whitney School principal with no strings attached. That was followed by another $100,000 tagged with a specific purpose of constructing a new school library - a marvelous specification which will benefit countless numbers of students for decades to come. It was not announced if Justin's matching check of $100,000 is for a specific purpose.


OTHER PEOPLE'S MONEY


THE BOOK OF MORMON announced on November 29 that the production had recouped its Broadway capitalization after only eight months. The show has broken weekly house records at the Eugene O'Neill Theatre 22 times since opening.

GOVERNMENT SPONSORED BRITISH MUSEUMS have seen combined visitor rates more than double in the past decade, since December 1, 2001 when the museums stopped charging admission.

According to recently released figures, almost 18 million people visited the 13 attractions in 2010-11, compared with 7 million in 2000-01.






THE 2012 GRAMMY AWARD NOMINATIONS were announced on Wednesday. Categories of particular interest to Broadway fans include:

Best Musical Theatre Broadway Cast Recording

Anything Goes - Sutton Foster & Joel Grey, principal soloists
The Book Of Mormon - Josh Gad & Andrew Rannells, principal soloists
How To Succeed In Business Without Really Trying - John Larroquette & Daniel Radcliffe, principal soloists

Best Traditional Pop Vocal Album

Duets II, Tony Bennett & Various Artists
The Gift, Susan Boyle
In Concert On Broadway, Harry Connick Jr.
Music Is Better Than Words, Seth MacFarlane
What Matters Most - Barbra Streisand Sings The Lyrics Of Alan And Marilyn Bergman, Barbra Streisand.

Best Spoken Word Album (Includes Poetry, Audio Books & Story Telling)

Bossypants - Tina Fey
Fab Fan Memories - The Beatles Bond featuring Various Artists
Hamlet (William Shakespeare) - Dan Donohue & Various Artists - Oregon Shakespeare Festival
If You Ask Me (And Of Course You Won't) - Betty White
The Mark Of Zorro - Val Kilmer & Cast.

The Grammy Awards ceremony will take place on February 12, 2012 at Staples Center in Los Angeles.



ON A CLEAR DAY YOU CAN SEE FOREVER With a new book by Peter Parnell based on the original book by Alan Jay Lerner, the musical is reconceived and directed by Tony Award-winner Michael Mayer, with choreography by JoAnn M. Hunter. The Tony-nominated score by Burton Lane (music) and Alan Jay Lerner (lyrics) is enhanced by classics from their film scores for On A Clear Day You Can See Forever (1970) and Royal Wedding (1951).

Starring three-time Grammy Award winner, two-time Emmy Award winner and Tony Award nominee Harry Connick, Jr. as Dr. Mark Bruckner, David Turner as David Gamble and Jessie Mueller, in her Broadway debut, as Melinda Wells.

Joining Connick, Turner and Mueller in the cast are Kerry O'Malley as Sharone, Drew Gehling as Warren, Sarah Stiles as Muriel, Paul O'Brien, Heather Ayers, Lori Wilner, Benjamin Eakeley, Alex Ellis, Tyler Maynard, Zachary Prince, Alysha Umphress, Kendal Hartse, Philip Hoffman, Sean Allan Krill, Patrick O'Neill, and Christianne Tisdale.

Love blooms in unexpected places in the delightfully reimagined world of On a Clear Day You Can See Forever. Still in love with his deceased wife, Dr. Mark Bruckner, a dashing psychiatrist and professor, unknowingly takes on the case of his life with David Gamble, a quirky young florists' assistant. While putting David under hypnosis to help him quit smoking so he can move in with his perfect boyfriend Warren, Dr. Bruckner stumbles upon what he believes to be David's former self – a dazzling and self-possessed 1940's jazz singer Melinda Wells. Instantly intrigued by Melinda, Dr. Bruckner finds himself swept up in the pursuit of an irresistible (and impossible) love affair with this woman from another time and place, who may or may not have ever existed.

Scenic design by two-time Tony Award winner Christine Jones, costume design by five-time Tony Award winner Catherine Zuber, lighting design by three-time Tony Award winner Kevin Adams and sound design by two-time Tony Award winner Peter Hylenski.

Officially opens Sunday, December 11, 2011 at The St. James Theatre, NYC.

THE SUBJECT WAS ROSES Frank D. Gilroy's Pulitzer Prize and Tony Award-winning play Directed by River City Rep's artistic director Patric McWilliams.

Starring Tony Award winner Donna McKechnie with company members Logan Sledge and Richard Folmer.

The Subject Was Roses concerns a young veteran, newly returning from WWII, and his strained relationship with his parents. The play was made into an Academy Award-winning film in 1968 starring Patricia Neal, Jack Albertson and Martin Sheen.

The creative team includes lighting designer David Gipson, wig designer Paul Huntley, production stage manager Vanna Richardson and sound designer Kermit Poling, who composed original music for The Subject Was Roses. Director McWilliams also provides set and costume design.

The Subject Was Roses will play December 9-11 at The River City Repertory Theatre in Shreveport. LA.

THE MAN WHO CAME TO DINNER the classic American comedy by Moss Hart & George S. Kaufman. Directed by Obie Award winner Dan Wackerman.

Starring Jim Brochu as Sheridan Whiteside and Tony Award winner Cady Huffman as Lorraine Sheldon.

The 28-member cast also features Joseph R. Sicari, Amy Landon, Thursday Farrar, Jay Stratton, John Windsor-Cunningham, John Seidman, Ira Denmark, Scott Evans, Kevin Fugaro, Jenna Gavigan, Kristin Griffith, Susan Jeffries, and Kristine Nevins.

Scenic design by Harry Feiner, costume design by Amy Pedigo-Otto and lighting design by Jimmy Lawlor.

This marks the Off-Broadway debut of The Man Who Came To Dinner originally opened at the Music Box Theatre on October 16, 1939 and ran for 739 performances. In the hilarious comedy satire, celebrated critic and radio personality Sheridan Whiteside slips on an icy doorstep while on a December lecture tour. Confined for several weeks of recovery at the Midwestern home of the utterly conventional Mr. and Mrs. Stanley, he proceeds to turn the family's life inside out with his incessant demands, long-distance phone calls and parade of eccentric celebrity guests. As Whiteside's secretary Maggie says, "He would see his mother burned at the stake if that was the only way he could light his cigarette!"

Presented by The Peccadillo Theater Company, The Man Who Came To Dinner is set to open December 4th at Theatre at St. Clement's, NYC.

CHRISTMAS IN FOLLIESLAND When the balloons drop at the stroke of midnight on December 31 and the final strains of Auld Lang Syne play, the Fabulous Palm Springs Follies' holiday season will have officially ended. But until then, the Follies' presents its all-new holiday production - up to eight performances per week - featuring musical selections both sacred and comedic.

A soaring medley of Silent Night, Ave Maria and O' Holy Night.

Hanukkah In Santa Monica performed by beach-clad dancing rabbis; a burlesque Mrs. Claus; and a shimmering onstage snowfall to the strains of White Christmas all combine to make the Follies' Yuletide offering unlike anything you've seen before.

Then, on December 31, the Follies presents two special New Year's Eve performances at 3:30 p.m. and 9:00 p.m., each with a glittering champagne reception, and hats and noisemakers to welcome in 2012 - or - "Rio de Janeiro midnight" for matinee-goers.

As in previous seasons of giving, the Follies is again a drop-off location for the U.S. Marine Corps' Toys for Tots Program. Through December 17, anyone in the vicinity during a performance may donate a new, unwrapped toy at the bin placed outside the theatre doors. Follies fans have made the Plaza Theatre one of the top donor sites for this most worthwhile annual toy drive benefiting needy children.

Performances are in Palm Springs, CA at the historic Plaza Theatre a charming, neon-encrusted old movie house, which is an attraction itself.

THE PHANTOM OF THE OPERA the longest-running show in Broadway history, welcomes the National Tour star Trista Moldovan when she assumes the leading role of Christine Daaé beginning Friday, December 9 at The Majestic Theatre.

Moldovan, who will be making her Broadway debut, is the fifteenth actress to take over as the Broadway production's leading lady.

A CHILD'S CHRISTMAS IN WALES Dylan Thomas' iconic piece features both traditional and contemporary Christmas music interwoven within the classic story of the legendary snowy Christmas Day in Wales.

Directed by Charlotte Moore. Musical direction by John Bell.

Starring Edwin Cahill, Howard McGillin, Ashley Robinson, Danielle Erin Rhodes and Beverly Ward.

Presented by Irish Repertory Theatre December 7th - 31st on the stage of the W. Scott McLucas Studio Theatre, NYC.

MACBETH AFTER SHAKESPEARE by Heiner Müller, directed by Ivica Buljan.

Since its world premiere in Ljubljana nearly three years ago, the Mini Teater Ljubljana (Slovenia) and Novo Kazaliste Zagreb (Croatia) co-production of Heiner Müller's Macbeth after Shakespeare has toured successfully around the world, including Havana, Cuba (The Best Foreign Production Award) and Seoul Theatre Olympic Festival alongside directors Robert Wilson, Tadashi Suzuki and Thomas Ostermeier.

The production received the Grand Prix for the Best Production at the Maribor Borstnik Theatre Festival, Borstnik Award for acting (Marko Mandi as Macbeth) and Borstnik Award for Young Actor (Jure Henigman).

Billed as "a visually stunning production of Heiner Müller's highly acclaimed variation of Shakespeare's classic play."

In Slovenian, with English subtitles. Four presentations, December 8-11 at La MaMa's Ellen Stewart Theatre, NYC.


WHO'S WHERE




MANNHEIM STEAMROLLER the #1-selling Christmas artist of all time and one of the top fifty best-selling artists of the last two decades, outselling prominent artists such as Bruce Springsteen, Billy Joel, Sting, REM, Barbara Streisand and Bon Jovi performs Monday, December 5, at the Bob Hope Theatre in Stockton, CA. On Tuesday the two touring groups offer shows at the State Theatre Center for the Arts in Easton, PA and at the Nokia Theatre in Los Angeles. Wednesday appearances are at California Theatre of Performing arts in San Bernardino, CA and Chrysler Hall in Norfolk, VA. On Thursday they can be enjoyed at the Chumash Casino in Santa Ynez, CA and the PAC in Shippensburg, PA. Friday a show is staged at the Covelli Center in Youngstown, OH and on Saturday there are performances at the Buell Theatre in Denver and at the Fox Theatre in Detroit.

THE BLIND BOYS OF ALABAMA CHRISTMAS SHOW is on tour. They perform Saturday, December 10 at the Scottsdale Performing Arts Center in Scottsdale, Arizona. On the 11th they can be enjoyed in Solana Beach, CA. Founded in 1939, the Grammy Award-winning Blind Boys of Alabama are living legends of gospel music. The group's joyful Christmas show offers up a rousing mix of holiday standards along with traditional gospel favorites and modern spirituals.

STING opens a two nighter Monday, December 5, at the Paramount Theatre in Seattle. On Thursday he starts a three night sand at the Queen Elizabeth Theatre in Vancouver, BC.

PINK MARTINI entertains Saturday December 10 at the Singletary Center for the Arts in Lexington, KY.

DAVE KOZ & FRIENDS CHRISTMAS TOUR 2011 featuring saxophonist Koz, trumpeter Rick Braun, South African singer/guitarist Jonathan Butler, and Dutch saxophone star Candy Dulfer. Wednesday, December 7, at the State Theatre in New Brunswick, NJ.

ANDREA BOCELLI performs Saturday, December 10 at the MGM Grand Hotel in Las Vegas.

STEPHANIE MILLER'S SEXY LIBERAL COMEDY TOUR brings together three of today's brightest "liberal comedians" - Stephanie Miller, Hal Sparks and John Fugelsang for an evening of humor from the left. Saturday, December 19 at the Parker Playhouse in Ft. Lauderdale, FL.


FINAL OVATION


DON DE VITO the Grammy Award winning music executive who produced Bob Dylan albums Blood on the Tracks and Desire has died. He was 72. In a statement, Columbia Records said DeVito had suffered from prostate cancer for the past 16 years.

Neil Portnow, President/CEO of The Recording academy issued the following statement: "Grammy Winner Don DeVito collaborated with numerous musical acts and was instrumental in the careers of many legendary artists including Bruce Springsteen, James Taylor and Janis Joplin. A musician turned A&R man for Columbia Records, he produced such iconic albums such as Bob Dylan's Blood On The Tracks and Desire, and his work on the all-star tribute Folkways—A Vision Shared: A Tribute to Woody Guthrie & Leadbelly in 1988 earned him a Best Traditional Folk Recording Grammy. We have lost a multifaceted talent whose contributions have made a lasting impact on our industry, and our thoughts and condolences are with his family, friends and colleagues."

He is survived by his wife Carolyn and two children, Marissa and James.

EDWIN JUDD WOLDIN musical composer, died November 27, 2011. He was 86.

Woldin was best known for Raisin, an adaptation of Lorraine Hansberry's classic work A Raisin in the Sun.

The musical premiered May 30, 1973, at the Arena Stage in Washington, D.C., and moved to Broadway at the 46th Street Theatre that Oct. 18, later transferring to the Lunt-Fontanne Theatre in early 1973. In total, it ran 847 performances and won a Tony for Best Musical and the score earned a Tony nomination. The musical took home Grammy Awards for Best Musical and Best Original Score From a Musical.

THE FOUNTAIN THEATRE announced that a guilty verdict has been reached in the trial of Jose Fructuoso, a Mexican citizen, charged with murdering longtime Fountain director/producer Ben Bradley.

The defendant was found guilty of second-degree felony murder on November 23 in the Los Angeles Superior Court Criminal Courts Building following a three-week trial that began on November 3. Closing arguments took place on November 21, with the jury deliberating for about a day and half before reaching the verdict. Present in the courtroom when the verdict was read were Bradley's brother, Michael Hill, a resident of Virginia; Fountain Producing Director Simon Levy; and Fountain Co-Artistic Director Deborah Lawlor. The verdict carries a sentence of 16 years to life. Sentencing is scheduled for January 3.

"All of us in the Fountain family are pleased and relieved by the verdict and grateful that the trial phase of this horrific nightmare is over," wrote Fountain Co-Artistic Director Stephen Sachs in a statement. "We thank Los Angeles District Attorney Mario Haidar and the team of detectives, led by Matthew Gares, who did such an excellent job on this case. Justice is done. But no matter the verdict or severity of the sentence, justice does not wield the power to bring Ben back to us. With that truth, comes the painful reality that justice can never be fully served in our hearts."

The Fountain Theatre has established The Ben Bradley Memorial Fund to develop new plays at the Fountain.








Next Column: December 11, 2012
Copyright: December 4, 2011. All Rights Reserved. Reviews, Interviews, Commentary, Photographs or Graphics from any Broadway To Vegas (TM) columns may not be published, broadcast, rewritten, utilized as leads, or used in any manner without permission, compensation and/or credit.
Link to Main Page
---
Laura Deni



For the snail mail address, please E-mail your request.
CLICK HERE FOR COMMENT SECTION