Broadway To Vegas
  
 SHOW REVIEWS CELEBRITY INTERVIEWS GOSSIP NEWS

| | |
| --- | --- |
| | |
WHOOPI GOLDBERG'S ALICE OPENS KENNEDY CENTER THEATER - - ARTISTS MAKE TREE OF LIFE FROM WEAPONS - - PRESIDENTIAL HOLIDAYS - - DIRECTORFEST - - THE COLOR PURPLE GETS ROYAL TREATMENT - - AFTERNOON TEA BY EDUARDO MACHADO IS ABOUT PETER PAN'S J. M. BARRIE - - JOHN BUCCHINO RECEIVES THE FRED EBB AWARD - - THE EVENING STANDARD AWARDS - - DONATE . . . Scroll Down


TREE OF LIFE
The Tree of Life at Sunset. Photo: David Rose/ Christian Aid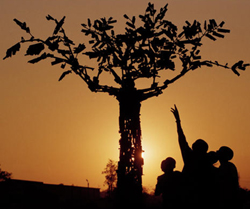 Christmas is traditionally a time of generosity, new life and hope for the future, which is precisely what the Tree of Life symbolizes. The Tree was made out of weapons decommissioned from Mozambique's civil war by an arts collective called Transforming Arms into Tools.

Christian Aid joined forces with the British Museum to commission the Tree of Life – a half tone sculpture made from dismantled guns and other decommissioned weapons. First displayed in Maputo's Peace Park, it is now on permanent display in the Sainsbury African Galleries of the British Museum in London.

The Tree of Life was made by four Mozambican artists: Cristovao Canhavato (Kester), Hilario Nhatugueja, Fiel dos Santos and Adelino Serafim Maté. It is a product of the Transforming Arms into Tools (TAE) project.



The four artists who created The Tree of Life. Photo: David Rose/ Christian Aid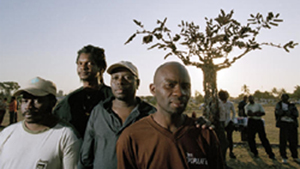 During Mozambique's civil war, which lasted from 1976 to 1992, millions of guns and other weapons poured into the country and most of them remain hidden or buried in the bush. The project is an attempt to eliminate the threat presented by the hidden weapons.

The weapons were collected by an innovative project, Transforming Arms into Tools, which exchanges guns for equipment such as sewing machines, bicycles and building materials. In one case a whole village gave up its weapons in exchange for a tractor.

Once the weapons are decommissioned, they are cut up and turned into sculptures by the artists in Maputo. This process has produced the Tree of Life and also the Throne of Weapons, created by Kester and currently on a tour of the UK.


REMEMBRANCES OF PRESIDENTIAL HOLIDAYS


Many of the Presidential Libraries and Museums are staging special events for this holiday season.



Miniature White House. Clothes pins give a good size comparison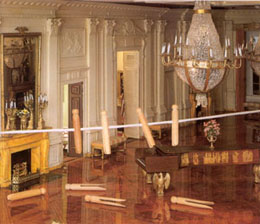 The Truman Library always seems to have something interesting and unique going on. The White House in Miniature exhibit is now on display at the Truman Presidential Museum & Library through July 9, 2006. The White House replica broke attendance records at the Library in 1996.

John and Jan Zweifel have labored since 1962 to create The White House in Miniature, a breathtaking scale model of the White House that is 60 feet long and 20 feet wide. The replica took more than 35 years to research, design and construct.

Among the features are tiny, working televisions, hand-carved chairs and tables, crystal chandeliers, portraits and miniature carpets that reproduce the originals stitch by stitch- each nuance of the White House is painstakingly reproduced to capture the elegance of one of the world's most recognized residences.

During its stay at the Truman Presidential Museum & Library, the model will be decorated for the holidays with more than 70 tiny Christmas trees with working lights, miniature presents, wreaths and greenery and falling snow.



Blue Room of the miniature White House decorated for Christmas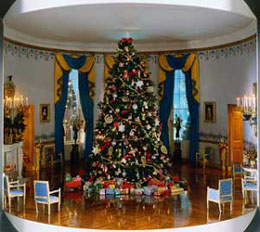 Decorations, music and photo opportunities also mark the holiday season at the Truman Library. On December 8 Truman impersonator Dr. Niel Johnson will meet patrons, pose for photos, and offer the occasional press conference.

The FDR Presidential Library will have several holiday offerings on Saturday, December 10. Children and their parents are invited to come to the Henry A. Wallace Visitor and Education Center and make holiday cards to send to the men and women serving on the USS Franklin and Eleanor Roosevelt, a U.S. Navy missile destroyer. Children can have their picture taken with Santa at no charge.

At the Ronald Reagan Library it's Christmas Around the World where visitors are invited to "visit to our winter wonderland of Christmas trees displayed inside our new Air Force One Pavilion. This year's selections represent the rich holiday cultural traditions of many countries visited by President Reagan during his eight years in the White House. Also featured is a likeness of the National Christmas tree, lighted by President and Mrs. Reagan in Washington, D.C. in 1981."

On Sunday, December 11, there will also be a Holiday Concert featuring the sounds of the season with a holiday performance by the Ventura County Master Chorale in the Library Rotunda. On Saturday, December 17, the Holiday Concert features a holiday performance by the Los Robles Master Chorale.

I'm Dreaming of a White House Christmas takes place through January 6 at the Gerald Ford Library in Ann Arbor, Michigan. This holiday season visitors can revisit the Ford family Christmas celebrations. I'm Dreaming of a White House Christmas is a special exhibition unique to Ann Arbor. Holiday ornaments, Christmas cards, and seasonal photographs from the Ford White House will be on display.

Nixon Library Celebrates Christmas Around the World with priceless state gifts, concerts, and trees from 17 nations.

The Nixon Library's special holiday presentation features a breathtaking variety of events and programs that bring the magic of a White House Christmas to Southern California.



President and Mrs. Nixon on the White House south lawn
The Library has opened the doors on a magnificent holiday tribute for guests to enjoy through January 8.

Christmas Around the World is a magnificent display recalling the varied travels of President and Mrs. Nixon during the Vice Presidency and Presidency. Several nations are represented with gloriously decorated holiday trees from Mexico, Russia, China, Japan, Lithuania, Great Britain, France, Germany, Italy, Ireland, Scotland, Ukraine, Africa, Sweden, and China.

Ten very special trees commemorate events honoring our Vietnam veterans, the American journey to space, and past Presidents and First Ladies. Nixon Family ornaments grace one of the trees along with other special items sent by ordinary Americans.

The trees create a fabulous display in the Library's new special exhibit gallery, surrounded by some of the thousands of Christmas cards received by President and Mrs. Nixon at the White House. The colorful selections include holiday wishes from the British Royal Family, Gene Autry, the Dalai Lama, Bob Hope, and other First Families. There is also an early Christmas card that young Congressman and Mrs. Nixon sent to family and friends, as well as a humorous holiday greeting sent out in 1958 by President and Mrs. Eisenhower.

A number of the priceless Gifts-of-State received by President and Mrs. Nixon during their time in Washington are also on display, many for the first time, including:
· Mother of pearl nativity scene, a gift from King Hussein of Jordan, 1969.
· Inscribed crystal goblet, a gift from British Prime Minister Edward Heath, 1970.
· Gold and silver colored glazed vase, a gift from Japanese State Minister Yasuhiro Nakasone, 1970.
· Carved marble bookends and a four-volume Chinese translation of a biography of President Nixon, a gift from His Excellency Chiang Ching-Kuo, Premier of the Republic of China, 1970.
· Hebrew-English Bible, bound in traditional 16th century silverwork, a gift from President Katzir of Israel, 1974.
· Model of the Volga seagoing Hydrofoil, a gift from USSR General Secretary Leonid Brezhnev, 1972.
· Sévres porcelain coffee pot, cup and saucer with "RMN" monogram, a personal gift from President Charles DeGaulle of France, 1960.

Visitors will be inspired by the spectacular holiday décor throughout the Nixon Library. Beautiful swags, wreaths and poinsettias welcome guests into the Library's Annenberg Court entrance with the Presidential seal at its center. Outside, red salvia and poinsettias add a touch of the holidays to the beautifully manicured grounds. An original 1959 Grandma Moses winter scene, Busy Winter Day, a gift of Armand Hammer to Mrs. Nixon, is on display in the Lincoln Sitting Room.

As the crown jewel of the Library's 47,000 square foot Katherine B. Loker Center addition, the Nixon Library brings the splendor of the White House East Room to the West Coast. Long described as "America's grand ballroom," the magnificent room has been recreated in breathtaking detail, with assistance from White House curators and artisans.

Visitors will enjoy the beauty of evergreen swags draping the impressive fluted columns, and traditional red-satin trimmed wreaths bedecking the massive gold-mirrored fireplaces. As in Washington, each window will be dressed in formal wreath-and-ribbon design, with lemons incorporated as a nod to President Nixon's father, Frank Nixon, on whose long-ago little citrus farm his son's Presidential Library was built.

On Sunday, December 11 a special Hanukkah celebration will take place. This free-admission event begins features remarks from U.S. Congressman Gary Miller, the Lighting of the Menorah by Rabbi David Eliezrie and traditional music performed by the Temple Beth Tikvah junior choir, the Tarbut V'Torah choir, the Heritage Oak Singers, and Celebration USA.

Free Family Holiday Concerts include; December 4 Kid Singers Holiday Program Presented by Paul McNeff. December 11 the Yorba Linda Senior Chorus Annual Christmas Concert and on December 18 the Patrick-Orozco-Green Annual Christmas Concert.



Broadway To Vegas is supported through advertising and donations. Priority consideration is given to interview suggestions, news, press releases, etc from paid supporters. However, no paid supporters control, alter, edit, or in any way manipulate the content of this site. Your donation is appreciated. We accept PAYPAL. Thank you for your interest.


SPREADING THE WORD


DAVID KENNEY'S EVERYTHING OLD IS NEW AGAIN on December 11th, will feature the music of, and present an In-Studio Interview with Michael Feinstein. Also, an In-Studio Interview with Rebecca Luker. Everything Old Is New Again is heard every Sunday on the internet and from 9-11 PM(ET) over WBAI 99.5 FM.

DAVID HARE Described by The Times of London as "Britain's leading contemporary playwright," David Hare is the author of How Brophy Made Good, Plenty, Racing Demon, Via Dolorosa, Amy's View, The Permanent Way and, most recently, Stuff Happens.

Monday, December 5, at the Kaufman Concert Hall in Manhattan.

REEL PIECES WITH RALPH FIENNES Dr. Annette Insdorf, the director of undergraduate film studies at Columbia University, once again brings to the 92nd Street Y in Manhattan this popular and prestigious series with film screenings and onstage interviews with major film artists.

The Reel Pieces guest for December 6 will be actor Ralph Fiennes. An interview with Mr. Fiennes will follow a preview of The White Countess - a Merchant/Ivory production co-starring Natasha Richardson, Vanessa Redgrave and Lynn Redgrave.

PAST AND PRESENT CASTS AND CREWS OF A CHRISTMAS CAROL attended a reception immediately following the 800th performance of the show on Wednesday, November 30 at the Omaha Community Playhouse.

THE EVENING STANDARD AWARDS were held at a special invitation only luncheon at London's Savoy Theater on Nov. 28, attended by Sir Elton John.

The winners are: Best Play: The Home Place by Brian Friel at the Comedy.
Best Actor: Simon Russell Beale for The Philanthropist at the Donmar.
Best Actress: Harriet Walter for Mary Stuart at the Apollo / Donmar.
Best Director: Michael Grandage for Don Carlos at the Gielgud and Grand Hotel at the Donmar.
Best Musical - Billy Elliot at the Victoria Palace.
Best Designer - Bob Crowley for Mary Poppins at the Prince Edward.
Best Newcomer - Menier Chocolate Factory, co-directors David Babani and Danielle Tarento.
Charles Wintour Award for New Playwriting went to Nell Leyshon for Comfort Me with Apples at The Hampstead Theatre
The London Evening Standard Special Award: The Royal Court Theatre.
The Patricia Rothermere Award/ Scholarship: Penelope Keith/ Hannah Croft.

THE FRED EBB AWARD the first annual Fred Ebb Award was presented to composer John Bucchino by Chita Rivera on November 29th at The American Airlines Theatre Penthouse Lounge.

The Fred Ebb Award for musical theater songwriting is a joint venture of the Fred Ebb Foundation and the Roundabout Theater Company. Given in the name of the late, great composer-lyricist, who died in 2004, The Fred Ebb Award recognizes excellence in musical theatre songwriting, by a lyricist, composer, or songwriting team that has not yet achieved significant commercial success. The award is meant to encourage and support aspiring songwriters to create new works for the musical theatre.

The winner receives a cash price of $50,000. Chosen from among 400 applicants, the panel selecting the winner includes Broadway director Scott Ellis, composer-lyricist Sheldon Harnick, producer-playwright Tim Pinckney, producer Arthur Whitelaw and Ebb Foundation trustee Mitchell S. Bernard.

Among those who were at the festivities was Ebb's longtime partner John Kander, together with a long list of names from Broadway and the entertainment world including Harvey Fierstein, John Weidman, Andrea Marcovicci, Rebecca Luker, Karen Ziemba, Brent Barrett, the Public Theatre's Oskar Eustis, Debra Monk, Roger Berlind, Marin Mazzie, Daisy Prince and Rupert Holmes.


SWEET CHARITY


THE FULL MONTY RAISES $50,000 FOR BROADWAY CARES / EQUITY FIGHTS AIDS Actors in North Shore Music Theatre's ( Beverly, MA) recent production of The Full Monty raised $50,000 for Broadway Cares/Equity Fights AIDS (BC/EFA) during the show's 3 week run. This is a record breaking collection for NSMT. Donations were collected from audience members after each show. In addition, the cast autographed more than 500 posters, donated by Minuteman Press of Beverly, that were given in exchange for a $20 donation.

The cast included Sebastian Arcelus, Beth Beyer, Craig Bennett, George Dvorsky, Bill English, Susann Fletcher, Michael Scott Harris, Christian Johansen, Charis Leos, Colleen Longshaw, Merle Louise, Milton Craig Nealy, Leo Nouhan, Dan Puck, Darren Ritchie, Rommy Sandhu, Daniel Spiotta, Sarah Stiles, Jennifer Taylor, Deborah Tranelli and Nick Wishnatzki.

Broadway Cares/Equity Fights AIDS is the nation's leading industry-based, not-for-profit AIDS fundraising and grant making organization. Since its founding in 1988, BC/EFA has raised millions of dollars for critically needed services for people with AIDS, HIV, or HIV- related illnesses, as well as working closely with other organizations, such as The Phyllis Newman Women's Health initiative, who assists women and their families who are affected by cancer.

ED HARRIS AND AMY MADIGAN will star in a new musical Afternoon Tea about the life of J. M. Barrie, the creator of Peter Pan, for one night only in a benefit for Intar Theater, whose mission is to develop and produce new works in English by U.S. Latino playwrights for the American theatre audience.

The piece is by Eduardo Machado, Intar's artistic director, who has a fascinating background.

Machado was one of 13,000 children of Cuba's elite who were sent out of the country in 1960-61 to the United States on Pan Am flights. This so-called Peter Pan Project entailed a relentless propaganda campaign on the part of the Voice of America, engineered by the CIA, to convince parents that their children would be sent to Moscow for retraining by Fidel Castro if they did not send them to America. The mass exodus and break-up of families took place with the tacit consent of Fidel Castro.

Many of the children never saw their parents again. Fortunately for Machado his parents arrived in the United States a year later, right under the wire, before people were stopped from leaving Cuba.

When Machado arrived in America he was eight and spoke no English.

Raised in Los Angeles, he began writing plays when a therapist suggested he compose an imaginary letter of forgiveness to his mother.

Machado, who has written 25 plays and wrote and directed the feature film Exiles in New York, has directed the graduate playwriting program in Columbia's School of the Arts since 1997.

This new two character musical about the later life of J. M. Barrie will be performed Dec. 11. at the Kirk Theater in New York City. The musical will be followed by a performance from Guys and Dolls' Josie de Guzman, who will sing selections from Peter Pan in Spanish. The evening will conclude with dinner at the restaurant Le Madeleine.


CURTAIN DOWN


MOVIN' OUT the Billy Joel-Twyla Tharp musical, will close on Dec. 11 after 28 previews and 1,303 regular performances at the Richard Rodgers Theater.

IN MY LIFE written, directed and produced by Joe Brooks, will close on Dec. 11 at a loss of more than $8 million. The new Broadway musical will have played 23 previews and 61 performances.



ALICE by Whoopi Goldberg; adapted for the stage by Kim Hines.

The Kennedy Center's new 320-seat Family Theater will open December 9th with a stage adaptation of Whoopi Goldberg's first children's book Alice. The new theater will be home to the Kennedy Center's programming for young people and their families and is part of the Center's $125 million commitment for performing arts education.

"So you think being rich will get you a giant house, fun times, and lots of great friends? Smart and sassy young Alice believes it will, so when she wins a mysterious sweepstakes, there's no time to lose to claim her prize! With her two best friends in tow - a white rabbit who's, well, kind of invisible, and a card-playing nerd who has a thing for hats - Alice heads into the topsy turvy neon wonderland of the Big City in a race against the clock."

In a statement regarding the new theatre, Kennedy Center Chairman Stephen A. Schwarzman stated, "Arts education can make an extraordinary difference in the lives of children and adults. The Family Theater provides a new home for world-class family theatre performances for Washington, the surrounding communities and visitors to our nation's capital." Kennedy Center President Michael M. Kaiser added, "The Kennedy Center has one of the most extensive arts education program in the world. This new venue will expand the Center's ability to produce and present excellent works for young people."

Alice will begin performances in the new venue Dec. 9 and will play through Jan. 2, 2006. The 2005-2006 season at the Family Theater will also include such world premieres as Brave No World, Citizen 13559: The Journal of Ben Uchida and Walking Winds: Arabian Tales.

CUTTIN' UP Charles Randolph-Wright returns to direct his own adaptation of Craig Marberry's book centered on the view of American life from the barber shop. December 9, 2005 - February 5, 2006 at Arena Stage in Washington, D.C.

ONCE IN A LIFETIME by Moss Hart and George S Kaufman.

Edward Hall directs a cast which includes; Victoria Hamilton, Adrian Scarborough, Caroline Sheen, David Suchet, Marcia Warren, Issy van Randwyck and Jonathan McGuinness.

As the talkies hit the headlines, three New York actors abandon their clapped-out vaudeville act to make it big in Hollywood. Jerry and May have a brilliant idea: a voice school for the brainless stars of the silent movies. Their sweet pal, George, tags along for the ride. He's dumb enough to impress the mighty Glogauer, head of Glogauer Studios, and when Jerry and May are drummed out of town, George comes up smelling of roses.

We can't fail. We're pioneers in a new field. The talkies are the thing of the future and there's going to be no stopping them. Got that?

From the great masters of American comedy comes the best ever play about the movies. A vast cast and all the visual extravagance of Hollywood's golden age: an irresistible comic treat.

Scenic Designer is Mark Thompson. Lighting Designer is Hugh Vanstone. Sound Design by Paul Groothuis. Music arranged and directed by Martin Lowe. Musical Staging by Rob Ashford. Associate to Rob Ashford is Chris Bailey. Dialect Coach is Joan Washington. Company Voice Work by Patsy Rodenburg.

Previews begin Monday, December 7 at the National Theatre in London.

THE COLOR PURPLE the musical based on the movie of the same name had its opening night, December 1, overshadowed by one of the producers - Oprah Winfrey. It was the type of star studded event that makes Broadway wondrously unique.

New best buddy David Letterman escorted her to the theater following their "never-was-a feud" kiss and make up on his television show - which drew a record number of viewers. If just of portion of those who watch The Late Show buy tickets to The Color Purple Oprah will have a hit on her hands - although the show opened with $11 million in advanced sales.

By Oprah's side were her best gal pal, Gale King, as well as long time beau Steadman Graham.

It was an evening of what couture is all about. Just a few of the well dressed invitees included;

Ashanti, Ashford & Simpson, Anita Baker, Angela Bassett and Courtney B. Vance, Toni Basil, Iman and David Bowie, Naomi Campbell, Mario Cantone, Sean Combs, Ann Curry, Clive Davis, Ruby Dee, Jonathan Demme, Rob Fisher, Jamie Foxx, David Hasselhoff, Kimberly Hefner, Isaac Hayes, Quincy Jones, Spike Lee, Jennifer Lewis, Norm Lewis, Wynton Marsalis, S. Epatha Merkerson, Mike Nichols and Diane Sawyer, Pat O'Brien, Sidney Poitier, Phylicia Rashad and her sister Debbie Allen, Paul Reubens, Star Jones Reynolds and Al Reynolds, Al Roker, Chris and Malaak Rock, Marc Shaiman, Sen. Charles Schumer, Jessica and Jerry Seinfeld, Rev. Al Sharpton, Anna Deveare Smith, Phoebe Snow, Gloria Steinem, Donald and Melania Trump, Tina Turner, Cicely Tyson, John Weidman, Lynn Whitfield, Bruce Willis, Bebe Winans, Scott Wittman, George C. Wolfe and Stevie Wonder.

The post show party was held at the main branch of The New York Public Library. A fitting place since Oprah has the power to make a best seller thanks to her Book of the Month Club.

As for the production - look for a lot of theatrical nominations. Certain to be singled out are LaChanze who stars as Celie. Felicia P. Fields in the supporting role of Sofia, the role Oprah played in the movie. John Lee Beatty's sets. Brian MacDevitt's lighting and Paul Tazewell's period costumes.

Based on the novel by Alice Walker and the Warner Brothers/Amblin Entertainment motion picture, The Color Purple has a book by Marsha Norman; music and lyrics by Brenda Russell, Allee Willis and Stephen Bray and is directed by Gary Griffin.

This is tough venture to mount and the creative team has accomplished a most difficult undertaking. At the Broadway Theater in New York City.

JOHNNY GUITAR - THE MUSICAL book by Nicholas van Hoogstraten, with music by Martin Silvestri and lyrics by Joel Higgins.

Winner of the 2004 Outer Critics Award, this laugh-filled musical is based on the legendary Joan Crawford cult western. It embraces and sends up '50s-style movie acting, melodramatic romances and rough-and-tumble cowboy action.

When a handsome stranger with a secret past rides into tow, the stage is set for a hilarious showdown unlike anything the old West -- or the theatre -- has seen

Through Dec 17 at the Actor's Theatre of Charlotte in Charlotte, NC.

RESTORATION COMEDY by Amy Freed. Amanda is believed to be a young widow. In fact, her husband, Loveless, is a very-alive inveterate philanderer, who's been on a ten-year binge of dissolute behavior.

Their friend Worthy conspires to reunite the pair using the disguise and pretense that permeate their society. At the same time, young Fashion, the impoverished younger brother of Lord Foppington, attempts to make his fortune (and outwit his brother) through his own game of love. Who will win?

In late-17th-century London, plays emphasized wit and sexual intrigue. Playwright Amy Freed mines the themes and style of that period to create Restoration Comedy, inspired by John Vanbrugh's The Relapse and Colley Cibber's Love's Last Shift.

Opened December 3 with performances through January 7, 2006. Presented by the Seattle Repertory Theatre at the Bagley Wright Theatre in Seattle, Washington.

A CHRISTMAS CAROL Take time to spend the holidays with someone you love to despise. The Cincinnati Playhouse in the Park kicks off the festive season this week with a new humbug stepping into the shoes of the show's most famous curmudgeon, Ebenezer Scrooge: actor Bruce Cromer, who has spent the last eight years portraying the role of the kindly clerk, Bob Cratchit.

A Christmas Carol runs through December 30 at the Cincinnati Playhouse in Cincinnati, Ohio.

SEUSSICAL! Based on the work of Dr. Suess. Book and music by Lynn Ahrens and. Through December 11 at The Theatre of Western Springs in Western Springs, IL.

THE SNOWMAN the stage version of Raymond Briggs' much-loved book continues to delight children everywhere as it returns to the West End's Peacock Theatre December 7 - January 8.

The music and lyrics are by Howard Blake and feature the beautiful Walking in the Air.

The Snowman is directed by award-winning director Bill Alexander and choreographed by Robert North.

When a young boy's snowman comes to life on Christmas Eve, the two set off on a night-time quest for adventure. On their travels, they meet dancing penguins, reindeer, and crowds of the Snowman's friends.

Watch spellbound as the Snowman literally flies through the night sky above you, before escaping the clutches of the evil Jack Frost to return home for Christmas morning.

West End's Peacock Theatre December 7 - January 8.

DIRECTORFEST '05 The Drama League Directors Project proudly presents four short plays directed by our Fall Fellows, in full, professional productions.

Moritz von Steulpnagel will direct the black comedy Audio/Video by Michael John Garces; Elizabeth Meriweather's Love and the Sketch Comedian will be directed by Alex Timbers; Michael Goldfried will stage the comic fantasy Kahn and Kant by Gary Sunshine, and Sung Rno's Korean War drama Drizzle will be directed by Abigail Marateck.

Created in 1984, The Directors Project has become the preeminent development program for new directors - advancing the careers of over 200 talented young theatrical directors. The goals of The Directors Project are to: Enhance young directors' artistic growth, broaden their knowledge, and hone their skills by providing opportunities to work with and learn from leading directors, playwrights, actors and designers around the country; Provide opportunities for young directors to present their work, and for the professional community to view and assess that work; Augment the network of professionals to whom new directors can turn for counsel, support, and employment; Accelerate the process through which new directors gain acceptance within the professional community, bringing their unique skills and vision into the working life of the American theatre. Directorfest takes place Dec 9-11 in New York City.


| | | |
| --- | --- | --- |
| | | |
WHO'S WHERE


THE LETTERMEN HOLIDAY SHOW More than twenty million records and seven thousand concerts ago, three young men in letter sweaters hit the music charts with their first single, The Way You Look Tonight.

That was the beginning of four decades filled with such timeless classics as When I Fall in Love, Theme From A Summer Place, Put Your Head on My Shoulder, Hurt So Bad, Shangri-La, and Goin' Out of My Head/Can't Take My Eyes Off You.

This show sold out four months in advance of the December 11th performance, which takes place at the Cerritos Center for the Performing Arts in Cerritos, CA.

CLAY WALKER on stage December 8, 9 & 10 at the Las Vegas Hilton

BIG BAD VOODOO DADDY will be delighting the crowds Wednesday, December 7, at the Community Arts Center in Williamsport, PA. On Friday they are on stage at the University of Illinois at Springfield, IL. Saturday finds the gang at the Raue Center for the Arts in Crystal Lake, IL and next Sunday they swing at the Four Rivers Center in Raducah, KY.

DIANNE REEVES has a busy week. On Thursday she's on stage at the Arts Block Grand Theatre in Wausau, WI. Friday finds her at the Pitman Theatre in Milwaukee. On Saturday she's in the spotlight at Hill Auditorium in Ann Arbor, MI and next Sunday the show is at the Weidner Center in Green Bay, WI.

BONNIE RAITT on stage Tuesday, December 6, at the DAR Constitution Hall in Washington, D.C. On Wednesday she stars at Memorial Hall in Chapel Hill, NC. Thursday finds her at the Ryman Auditorium in Nashville. On Saturday she'll be delighting fans at the Tennessee Theatre in Knoxville, TN. Next Sunday the show is at the Tabernacle in Atlanta.

BRIAN SETZER ORCHESTRA in the spotlight Tuesday, December 6, at the Promo West Pavilion in Columbus, OH. On Wednesday the Ryman Auditorium in Nashville will be hoppin'. Friday finds the guys at the State Theatre in Detroit. On Saturday they'll get the beat going at the Paramount Arts Center in Aurora, IL.

BLIND BOYS OF ALABAMA perform Thursday, December 8, at the Mondavi Performing Arts Center in Davis, CA. On Saturday they are in the spotlight at the Nob Hill Masonic Auditorium in San Francisco. Next Sunday they entertain at Humboldt St. University in Arcata, CA.

A TENNESSEE CHRISTMAS HOMECOMING This wonderful Christmas concert features the Knoxville Choral Society and the Knoxville Symphony Orchestra. Let the holidays glow. December 9 at the Cumberland County Playhouse in Crossville, Tenn.

GWEN STEFANI performs Thursday, December 8 in Cleveland, OH at the Wolstein Center at CSU. On Friday she stars at the Air Canada Centre in Toronto, ON. Next Sunday, December 12, the show is at the Bell Centre in Montreal, QC.

HILARY DUFF is in her final week of stop in Australia. She performs Monday, December 5 in Canberra, AUS at the Royal Theatre. On Wednesday she stars at the Entertainment Centre in Newcastle. On Friday the show moves to Wollongong, AUS for a performance in the Wollongong Entertainment Centre. On Saturday the performance is at the Sydney Ent'ment Centre and next Sunday, December 11, she is in the spotlight in Brisbane at the Brisbane Entertainment Centre.

BABYFACE performs at the Borgata Hotel in Atlantic City on Dec. 9.

KIM GARFUNKEL makes a rare appearance in New York City on Dec. 5. Garfunkel started her career singing backup for husband Art Garfunkel and soon earned solo spots on his concert tour. She has sung all over the world including Carnegie Hall and London's Palladium, and with the New York Philharmonic. Garfunkel will be accompanied by David Giometti on piano and Paul Kimser on guitar, with a special guest, Juilliard violist Rosanna Weinberger. Garfunkel's repertoire includes songs by Steven Sondheim, Frank Loesser, Jaques Brel, Billy Joel, and Paul Simon. Monday, December 5, at the Steinhardt Building. Park of the Makor Series of the 92nd St Y.
















Next Column: December 11, 2005
Copyright: December 4, 2005. All Rights Reserved. Reviews, Interviews, Commentary, Photographs or Graphics from any Broadway To Vegas (TM) columns may not be published, broadcast, rewritten, utilized as leads, or used in any manner without permission, compensation and/or credit.
Link to Main Page
---
Laura Deni


CLICK HERE FOR COMMENT SECTION