! >
Broadway To Vegas
  SHOW REVIEWS     CELEBRITY INTERVIEWS     GOSSIP     NEWS 
SOCIETY OF SINGERS HONORS JULIE ANDREWS

The Society of Singers will honor Julie Andrews with their highest accolade, the Ella Award - named for singer Ella Fitzgerald - at their springs gala, April 25 at the Beverly Hilton Hotel in Los Angeles.



JULIE ANDREWS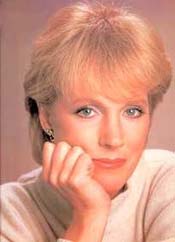 This will mark the first time that the Ella Award is presented to somebody who isn't primarily a recording star. Last year's recipient was Tony Bennett.

Already on board to honor the versatile lady are Carol Burnett, James Garner, Paul Newman, Dick Van Dyke and Robert Goulet. Officials hope that Jack Lemmon will be well enough to not only attend but sit down at the piano and noodle about on the keyboard.

Bravo Julie!

The Society of Singers was co-founded by Ginny Mancini, the widow of Oscar-winning composer Henry Mancini. She was also a singer herself, performing with Mel Torme as a member of the Mel-Tones in the 1940s.

"At one point 15 years ago, it came to my attention that many of those singers with whom I worked with were having really tough times, with catastrophic health problems, without anything to sustain them," Mancini has said."And they were having trouble making ends meet."

Instead of turning her back Mancini opened up her heart.

So in 1984 she sweet talked her friends into joining the Society of Singers. Anyone who has made a living for five years as a singer is eligible for help. Thus far The Society of Singers has dispersed about $1 million to 600 singers. Proceeds from the annual gala are used to help support the program.


COMEDIAN BILL KIRCHENBAUER TACKLES THE SERIOUS WORK OF LEGENDS IN COMEDY

Bill Kirchenbauer is best known for his role as Coach Lubbock on the hit comedy show Growing Pains and was the star in ABC's Just the Ten of Us. Prior to that he was a stand up comedian. Now he's added another credit to his resume - producer. Kirchenbauer presents Legends in Comedy, only the business side of the production is no laughing matter.



BILL KIRCHENBAUER
"The idea for Legends in Comedy came to me about four or five years ago when I had a friend of mine who looks and sounds like Sam Kinison come to me. He wondered if I could get him a job. I called up one of the tribute shows and suggested that maybe this guy would be good for the show. He said; Na, we just do music and hung up on me."

From rejection came inspiration - "Like the light bulb that goes off over your head," said Kirchenbauer.

"For a year I preceded to look around and try to find people that looked and sounded like famous comedians. It wasn't easy because there area lot of look alikes, but a look alike and an impersonator are two different things. A look alike is just a look alike and they don't necessarily have any talent. By some fluke they happen to look like some famous person.

"But to find people that look, can sound like, and get laughs like the famous comedians - is very hard. I went through the look alike community and I did find a few and they told me about other people. It's like scouting for a baseball pitcher - you find out where people are and you talk to them. Some times it works out and most of the time it doesn't."

Although they had successful runs in Laughlin, Nevada at the Flamingo Hilton and at Trump Castle in Atlantic City, this is the first foray into Las Vegas and the experience hasn't been a laughing matter.

Legends in Comedy is a gem that is waiting to be discovered.

Posters of Jack Benny and George Burns flank the stage. The song A Comedy Tonight, from A Funny Thing Happened on the Way to the Forum sets the theme. An actual clip from the Tonight Show starring Jay Leno brings on the Leno impersonator, Marcel Forestieri, who has Leno down so pat that after a second you think it really is the funny man. Even Leno was impressed. After catching the show he invited Forestieri to appear on The Tonight Show. The impersonators which include a Bill Cosby, Rodney Dangerfield, Jack Benny, George Burns, Rosanne and Jay Leno, are neither stealing somebody's act nor just repeating a bunch of old, tired jokes. The routines may be a Jack Benny classic, but the material is re-written just enough to keep it in the 22nd Century.

A bad impersonator show can hurt both the career of the live performer and the memory of a deceased artist. In this cast the impersonations only enhance the interest in and appreciation for the real McCoy. People who are old enough to remember a Jack Benny are going to be reminded of some fond memories, while a person who never saw the Jack Benny Show on TV or listened to him on radio just might go purchase a tape.

To enjoy the show you first have to know it exists. That's been a problem for Kirchenbauer. He cut a four wall contract with the Frontier Hotel which required the venue to do absolutely nothing. "They told us they weren't going to do anything and they kept their word," he said ruefully. So why did he enter into such a bum deal contract? This show isn't even on the marquee.

"We thought after we opened and they saw how great the show is they'd really want to promote it." he answered.

He was wrong. His advice to producers - spell it out and get it in writing. The flip side is - "better they leave you alone, stay out of it than to butt in and interfere."

At the end of this month Legends in Comedy switches location, to O'Sheas Casino which is owned by the Flamingo Hilton - a better deal and location.

Kirchenbauer is partners with Art Vieluf, who owns the comedy club - Comedy, Etc in St. Louis. Both are hands on producers. Vieluf commutes from St. Louis and was manning the box office while Kirchenbauer ushered customers to their seats.

"I'm not a huge big time producer. I do this on a small scale," he continued." This is really the only show of its kind. There are other look alike shows but this is the only one that features famous funny people."

"Being a comedian, I'm a big comedy history fan. I've studied how comedy developed in this country from vaudeville through what you get today. I'm 47 so I don't remember a lot of things on the radio shows. But, I have certainly made myself familiar with them," he emphasized.

"I find it interesting. It's an American art form - really. To stand up by yourself and talk about your experience and the way you look at it - how you look at the world. In all of the other countries, comedy is very clownish. Although, they have made directions towards what we call American stand up. - where a person stands up as themself and is funny. The English and French and even the Latin World have comedians now. That has only happened since the 40s. That's when it got away from vaudeville and got more towards people who are celebrities. People who became celebrities being themselves being funny

In any tourist market any comedian is hindered in that a foreign tour isn't going to understand the show. "That's one of the things about comedy - you have to speak the languages and understand the nuances of the society before you can get the jokes. I can't go to Japan and do my act. In fact, it's even hard to go down to Australia. I did well, but I watched the comedians down there and I had no idea what they were talking about."

"So, comedy is limited - unless you're doing physical stuff - to the language," he continued. "There will be a certain number of foreign tourists who come to Vegas who will have absolutely no interest in the show. But, you know, there are plenty of people who speak and understand English.

As to the legality of impersonators doing an act based upon a living person - the jokes can take on an intellectual copyright dimension.



MARCEL FORESTIERI was so good impersonating Leno that he was invited on the Tonight Show. Photo By:Laura Deni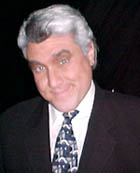 "Each character is different," he responded. "Now, I'll give you an example. I know Jay Leno. He's a great guy. When we were in Atlantic City he had heard about the show. He called me up in my room. I thought it was my guy, Marcel Forestieri, who does Jay Leno. He finally convinced me that it really was the real Leno," said Kirchenbauer who does a pretty good vocal impression of Leno himself. "We discussed it and Jay said it was find for him to depict the character but he didn't want him to do any of the material that Jay does in his act.

"The gentlemen who does Jack Benny for me - Eddie Carroll - he, himself, has a deal with the Benny estate," said Kirchenbauer about Carroll - who has been the voice of Jiminy Cricket for Walt Disney for over 25 years. The George Burns guy, Chuck Fraher, is the same way. Roseanne doesn't care any more because she doesn't do stand up comedy anymore, She can't do I'm a fat housewife because she's not really fat and she's not a housewife. She's a big a star."

As to problems - Kirchenbauer has only had one "and that was with Lucie Arnaz. I had a Lucy and a Desi in the show and she asked me to stop it, which I did. And, then she and my show ended up on a cruise ship at the same time. She came to see the show and she liked it a lot. so she has a better understanding of what we do and how it's done."



CHUCK FRAHER as George Burns
Photo By: Laura Deni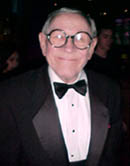 The comedian/sitcom star turned producer has more characters than those on stage. "I have enough characters for two shows; Robin Williams, Red Skelton, an incredible Jackie Gleason and Art Carney, that I'm going to bring in after the first of the year.

It's classic American comedy This act is clean. Eventually I hope to a show called the X- rated Legends in Comedy - a Richard Pryor, Redd Foxx, Sam Kinison. I think there is a market for that, too You just need to let people know what they are walking into. But, the current Legends in Comedy I present is totally clean"

A future goal for Kirchenbauer is to open a Comedy Museum in Las Vegas. "I've started collecting things," he related. "Comedy is a very important art form that is overlooked by a lot of people There is no Comedy Museum. Every once in awhile there is talk of somebody doing a comedy museum but it never happens. There are rock and roll, baseball, football, cowboy museums, but no comedy museum. If you study comedy you are studying the social commentary of the nations. Stand up comedy is an American art form that is under appreciated."

Legends of Comedy currently has performances at the Frontier Hotel in Las Vegas. At the end of this month the production moves to O'Sheas Casino.

Happy New Year - and keep your fingers crossed! New Year's is a most "super-tradition" filled holiday. If you haven't done your share of the good luck mumbo jumbo - get with it - or you're apt to have a miserable 2001 - a bad omen, indeed.

Food seems to be a popular theme when it comes to New Year's traditions.

In the South people like to eat black-eyed peas, cornbread and greens on New Years Day for good luck. Some German-Americans also have a traditional meal: sauerkraut, mashed potatoes and pork roast. Another German New Year's tradition is to bake a pig figurine inside a cake - similar to the Mardi Gras King cake tradition of New Orleans. The person who gets the pig will have good luck. Pig gifts are also exchanged for good luck in Germany.

Filipino-American traditions include wearing polka dots -- symbolizing coins -- on New Year's Eve to bring money in the coming year. Another tradition calls for the family's table to have a healthy spread of food at midnight to ensure an abundance throughout the year.

In Spain, a recent New Year's Eve tradition is to eat 12 grapes. The idea is to eat one grape for each chime of the clock, finishing your grapes when the clock reaches the last strike.

In Japan, folks go all out for New Year's. Shogatsu is the most important holiday in Japan, with celebrations running for at least three days. Years are seen as completely separate from one another so it's important to have everything done by the 31st.

Bonenkai parties - year-forgetting parties - are held in order to forget the worries and troubles of the old year.

On New Year's Eve, toshikoshi soba - buckwheat noodles - are eaten. The noodles symbolize long life. On New Year's night, big bells are rung 108 times in temples and shrines throughout the country, driving away the 108 evil thoughts in Buddhism.


GOOD EEEEEEVENING

HITCHCOCK AND ART:FATAL COINCIDENCES is a special exhibition at the Montreal Museum of Fine Arts. Director Albert Hitchcock, whose psychological thrillers still cause audiences to shudder is being profiled in the exhibit to March 18. It includes 300 stills, posters, story boards, costume and set designs, and other artifacts from the films.

One installation evokes the motel room in Psycho where Janet Leigh took the most terrifying shower in movie history. In another part of the exhibit, the avian attack in The Birds is projected onto a ceiling.



Broadway To Vegas is supported through advertising and donations. Priority consideration is given to interview suggestions, news, press releases, etc from paid supporters. However, no paid supporters control, alter, edit, or in any way manipulate the content of this site. Your donation is appreciated. We accept PAYPAL. Thank you for your interest.



JULIUS CAESAR will bring the glory of Rome and the back-stabbing machinations of Roman politics to school stages across the western United States, as the annual Utah Shakespearean Festival touring production is gearing up to take its show on the road. Julius Caesar will be on tour for a total of fifteen weeks this year and will perform in schools throughout Utah, Nevada, Arizona, Wyoming, and Idaho. In addition to the 75-minute play, the touring company offers three workshops. Stage Combat, Character Development through Improvisation, and Shakespearean Text through Performance. These three workshops are taught by actors in a face-to-face format. Following each play a talk-back session is conducted with the audience with active discussions of the play and related aspects of theatre. The tour is on the road from January 18 to April 13.

THE SCARLET PIMPERNEL Orange County, CA Performing Arts Center's Segerstrom Hall. January 2-7 There will be an ASL Interpreted Performance on Jan. 6

STOMP marches into Omaha with their percussion, movement and visual comedy at the Orpheum, Friday and Saturday.


WHO'S WHERE

TOM ANDERSEN kicks off a new Broadway Cabaret series at the Crest Theatre in Delray Beach, Florida, Monday, January 8. The five time MAC award winner will be followed by Sally Mayes on February 19; Marcia Lewis set for March 12 and Donna McKechnie on April 12.

BETTY BUCKLEY entertains January 5 in the Koger Center for the Arts at the University of So. Carolina in Columbia, SC. The following night, January 6, she'll do it again at the Georgia Institute of Technology Center for the Arts in Atlanta, Georgia.

TONY BENNETT performs January 6 in Fayetteville, Arizona at the Walton Arts Center.

GREGORY HINES brings his talented tap dancing skills to the Performing Arts Center in Las Vegas on Friday January 5.

THE BACON BROTHERS Hard Rock Hotel, Las Vegas January 5.

KENNY ROGERS with Bob Lappin & The Palm Beach Pops in the Au-Rene Theater of the Broward Center for the Performing Arts, Fort Lauderdale, Florida on January 4.

BOBBY SHORT Cabaret At The Pops with the Florida Philharmonic Orchestra in the Au-Rene Theater Broward Center for the Performing Arts, Fort Lauderdale, Florida January 7.


THIS AND THAT

BOB HOPE will have his kisser -ski nose and all - turned into a balloon.

Tomorrow's Tournament of Roses Parade in Los Angeles will feature Bob Hope 35 feet tall and as colorful as ever. The Veterans of Foreign Wars group has incorporated the 97-year-old entertainer's likeness into its float for the January 1st event.

The group said it wanted to honor the comedian for nearly 60 years of entertaining troops abroad. The elder statesman of comedy, who recovered from an illness earlier this year, won't attend the parade in person but plans to watch it on television.



Mention BROADWAY TO VEGAS for Special Consideration
Call (800) 942-9027









Next Column: January 7, 2001
Copyright: December 31, 2000. All Rights Reserved. Reviews, Interviews, Commentary, Photographs or Graphics from any Broadway To Vegas (TM) columns may not be published, broadcast, rewritten, utilized as leads, or used in any manner without permission, compensation and/or credit.
Link to Main Page
---
Laura Deni


CLICK HERE FOR COMMENT SECTION