! >
Broadway To Vegas
  SHOW REVIEWS     CELEBRITY INTERVIEWS     GOSSIP     NEWS 
| | |
| --- | --- |
| | |
Copyright: December 30, 2001
By: Laura Deni
CLICK HERE FOR COMMENT SECTION

BLESS THE BEASTS AND THE CHILDREN
If your son or daughter looks young for their age, is articulate, and you feel your family is dysfunctional, your offspring may be on the road to superstardom. Before you start fantasizing about mooching off your dependant, get a grip on reality.


PAUL PETERSEN

Paul Petersen and the organization he founded, A Minor Consideration, would like to help.

Paul's activism on behalf of young entertainment industry professionals led him to form A Minor Consideration in 1990. The non-profit organization provides a support system for former child stars, and lobbies for laws to ensure education, financial security, character growth and emotion stability. The former child actor now serves the United Nations as a delegate for the World Safety Organization, and represents 300,000 film workers as Vice President of the Hollywood Entertainment Labor Council.

The public remembers Petersen as the child actor who, in 1955, at age nine became one of the original Mouseketeers on The Mickey Mouse Club and then as Donna Reed's son on The Donna Reed Show.

Petersen is an intelligent, eloquent, personable advocate for children in the workplace. He discussed with Broadway To Vegas the problems of child actors. This is the first of a two part interview.

A Minor Consideration intends to make things better. For instance, it would be appreciated if children were treated as nice as the animals used in movies and on television.



All actors should be treated as well as Lassie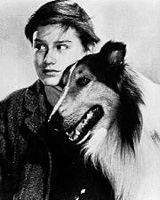 Animals are treated better than children?

"Oh, absolutely," exclaimed Petersen. "There are 29 pages of rules for animals. And, since 1938 the entertainment industry pays to keep animals safe. The American Human Association, which interestingly started life in 1877 as a children worker's protection agency, had a budget for the year 2001 at 1.4 million dollars to protect animals. You can guess what Hollywood spends on children - the answer - ZERO."

Focused and passionate about his cause, children in the workplace couldn't find a better advocate.

"We are going to end up with not only national rules and standards, but standards that will be applied internationally," he proclaimed. "Two things are our ultimate goal. Number One - that at the end of every movie and television show that employs children it says just what it says for animals - that no child was injured by their participation in the making of this motion picture. Secondly, we believe that given the path we're on that A Minor Considerations will one day have the same position as that of the American Humane Association, in terms of oversight and enforcement for children in the workplace."

Most people assume that Child Labor Laws protect the minor and that the Jackie Coogan law protects their money.



Charlie Chaplin and little Jackie Coogan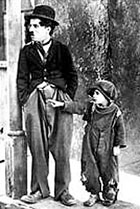 "No, not at all," stated Petersen.

Jackie Coogan was four years old when Charlie Chaplin spotted him one night and chose him for the role of The Kid. Jackie was an immediate favorite of moviegoers and went on to become one of the most popular child stars of all time, earning a great deal of money - none of which he ever saw, since his earnings had been squandered away by others. That scam led to the passage of legislation to protect child actors, known as the Coogan Law. As an adult, Coogan was best known for his comic role as Uncle Fester on the 1960s TV show, The Addams Family (1964 66). He was married briefly to Betty Grable and passed way in 1984.

"Not only was The Coogan Law just a California law, it was only for court approved contracts," continued Petersen. "In other words, it was specifically for kids who had long running television series or long term recording contracts. The kids that do most of the work - commercials, guest starring in movies and television shows were completely unprotected. People don't know that," Petersen emphasized.

"You see, Hollywood are such propagandists they know that impressions often carry the weight of fact. From the late 30s forward they have always left the impression that they took wonderful care of children. It wasn't true then and it isn't true now."

"There is a pale version of the Coogan Law in Florida for the young tennis players, but it is not nearly as comprehensive as it is in California," he continued. "Of course California's Coogan law is important because it changed the ownership of the money to that of the child, the person who actually does the work. Isn't that just remarkable," mocked Petersen.

Research by the Screen Actors Guild indicated that "Under existing legislation, (original Coogan Law) parents can use the minors' earnings and spend them all before the minor turns eighteen. Reports to the Screen Actors Guild have indicated parents buy houses and cars for the family in the parents' names, not the minors' names. This system, if abused, is analogous to slave labor, because minors work during childhood and receive none of the earnings upon adulthood since the parents have spent it all."

Peterson's organization was instrumental in convincing the California Legislature to put some teeth into the 1939 Coogan Law.

"The law now calls for a minimum of 15 percent of the gross income to be set aside for; all kids who live in California, all kids who work in California, kids who work for a California corporation, or kids who have an employer of record that is housed here in California. But, the most important feature is now the children own the money they earned."



Sen. Tom Harkin D-Iowa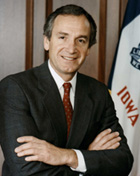 While that sounds good, it barely scratches the surface. "In our global entertainment industry that leaves out a lot of kids. Along with the Beverly Hills Bar Association and the theatrical unions, we will be going to the federal government, probably in the Spring. I already have the first draft of the bill from Senator Harkins office," said Petersen referring to the Democratic Senator from Iowa.

"I expect wide support," he speculated. " I expect that the two primary sponsors of the bill to be Sam Brownback, the very conservative Republican Kansan and Tom Harkin. But, I also expect the support, of course, of Sen. Barbara Boxer and Sen. Diane Feinstein here in the West and Senators Hillary Clinton and Edward Kennedy. I also, frankly, expect the support of Sen. Jesse Helms, Sen.Charles Grassley, Sen. John McCain and not least, Sen. John Edwards of North Carolina."



Sen. Sam Brownback R-Kansas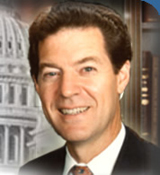 "Canada has nine provinces. All of the eastern provinces refused to pass the strict child labor laws that British Columbia has passed. The reason is that it gives them a production advantage. Just as ten years ago North Carolina's absence of child labor laws gave North Carolina an advantage over California based productions," charged Petersen.

When it comes to Broadway and New York Petersen is not a happy camper.

"I have a draft of a bill working its way through Linda Angelo's office, who is the Secretary of Labor in New York. They know that I am very upset about New York's prehistoric child labor laws. They have been on the books forever. They are seldom enforced and they don't come close to California s protection. They need to be amended.

Petersen thinks the inadequate protection is criminal. "Yes, I happened to think so," he responded. "You get things like Macaulay Culkin paying his parents and his siblings out of trust money. Trust money!" exploded Petersen.

"I try to explain to people that anyone who believes that you can expose a kid to that kind of celebrity and have them unaffected is a fool. Of course it affects your life. Of course it affects everything you touch. It affects all the people around you," admitted Petersen who has successfully conquered his own dependency problems.



The cast of the Donna Reed Show; Paul, Shelley Fabares, Donna Reed and Carl Betz.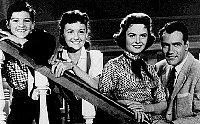 "Quality kid actors have some traits in common," elaborated Petersen, who got the part of Jeff on The Donna Reed Show the day after he turned thirteen. He was just 4'3" tall, which is one reason he was hired. Donna herself was a petite 5'4".

"Generally, they are undersized, they always have great communication skills which most often are the result of coming from a dysfunctional family where the ability to communicate is in fact a survival mechanism."

"That doesn't always help you," he continued. "And, as a performer this is important to know, a kid goes to work and lies about their feelings and speaks other people's words. That is dangerous for children. As a parent you do just the opposite. You are forever asking your flesh and blood to express themselves in their own words. And, to be truthful about what they are feeling. The acting profession corrupts that. Parents have to be on their guard."

There is usually an exception to every rule and in the case of child actors the exception is Ron Howard.



Ron Howard is the exception that makes the rule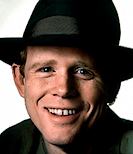 "Remember Rickey Sorensen who was boy in the Tarzan movies?" asked Petersen. "He said it best. You have to pick your parents with care. Grant and Jean Howard, God bless em, were deeply faithful people, who never lived off their children's income. They maintained their own level of existence and always kept the boys, Clint and Ron, pointed toward the future. I am so proud of Ron and his body of work is spectacular."

While their bodies may be spectacular the working life of a model irritates Petersen. "Next to child actors, models are the sickest part of the entertainment business," he asserted. Many think that modeling is a short-lived career. Petersen disagrees.

"Oh, but it's not! You've got a 14-year-old girl who is closing in on six feet, who is attractive. She has a chance to be a model for 10-15 years. Obviously, there are top models who work longer. But, an adolescent girl who fits the profile - and I'm talking post pubescent. She already has her breasts and she already has womanly hips, can have a very lengthy career. The reason that it seems so short is so many of them are blown out of the game by eating disorders, drug and alcohol addiction - the horrible life that these people are forced to live."

The casting couch has long been a part of the director/producer's office. Is there sexual abuse among child actors?

"The casting couch and sexual abuse are true and they are pushing the age level down further and further," answered Petersen. "What do you do, for example, with the 5,000 mostly mothers who, when they heard there was going to be a remake of Lolita brought their 12 to 14 year old daughters - five thousand of them- to audition for a part that they knew would require full nudity and simulated sex with an adult man?"

"That is what our world has become," complained the California born actor turned activist.

"The whole legal system, our culture, has got to step up to the plate here," he continued.

Was it different with the Mickey Mouse Club? Did they have better rules for handling children? "No, they didn't," he quickly answered. "What made the Mickey Mouse Club decent at any level was that you were working with a bunch of kids, rather than just two or three, or even just yourself. So you had that feeling of camaraderie, because you were all in it together."

When people ask me how I got started I always tell them my mother was bigger than me. That's the reality of it. So, if a parent is really determined to put them child on the audition treadmill first of all they must inform themselves. They've got to become educated as to the rules in their jurisdiction. As to what the expected costs should be, they have to beware of these management scams that promise the moon and hold themselves up as theatrical agents when all they are management consultants."

"There is a difference," he explained. "A theatrical agent is licensed and by law allowed to solicit employment and to negotiate the terms of that employment. A manager in the state of California, is completely unregulated and not franchised by any theatrical union. You have to be careful. If you go to a modeling school and they tell you that for $2,000 they'll get you pictures and lessons - run away. You can get started, assuming you're close to an entertainment center - by that I mean Chicago, Dallas, New York, Orlando, Los Angeles - for about $250."

Some parents started out with noble thoughts and then become caught up in their child's income.



Gary Coleman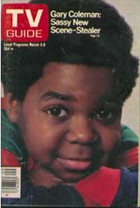 "That's the Gary Coleman experience," added Petersen. "And, I have up on our A Minor Consideration Website the story of Jena Malone. The article tells you how a naive and inexperienced mother can, in a very quick hurry, think that it is okay to take her child's money and give $80,000 to her relatives and not pay the taxes. It's an ugly thing. I remind everyone when the parents or the manager screw up the income taxes Uncle Sam comes after the kids.

"Of course it's absurd. It's beyond belief," argued Petersen. "It's unfair, because we must ask the central question what the hell is the government doing taxing little children? They very well know that if children have personal savings accounts to be used for education or start a home or a starter business that child becomes a more productive citizen down stream," Petersen contended.

The children are taxed but not protected. "That's part of the trouble, isn't it? The children have no voice They have no vote," he declared. "I have been pounding on the doors in Washington, Sacramento, New York, Austin, and Des Moines."

"Here's the sick part. Despite having the 13th Amendment, which prohibits indentured servitude, the parents of a working child are compelled by law to attend to the workplace and they receive no compensation. That's wrong," Petersen declared.

"The deal has always been - We don't have to pay you, you're getting it from your child. Parents make a significant contribution on any working set. They are psychologist, chauffeurs, dialogue coach, chief cook and bottle washer. The reason they get no respect is because they don't get paid."

"This works out into some very curious situations," Petersen elaborated. "For example, I as an adult member of Screen Actors Guild, have health care coverage. My health care coverage extends to my dependents, legitimate or illegitimate. A child is working in the same environment and yet their health care benefits cannot extend to their parents. What happens is many times the parent has given up their place in the ordinary work place and has sometimes sacrificed health care coverage for other members of their family. And, that's wrong. You can see how it works out (taking from the child's money) It's time to correct the vicious cycle," he declared.



Shirley Temple made a lot of people rich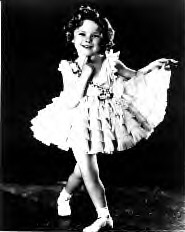 "When the child works the parents should be compensated. Not a lot of money," Petersen stressed. "I'm not talking about a multi million dollar Mom, like how Shirley Temple's mother was compensated by (studio mogul Louis B.) Mayer," said Petersen referring to Gertrude Amelia Kreiger who was determined to turn her daughter Shirley Temple into a star and did. Reportedly when Gertrude wanted something she always got it. Shirley made 57 films during her career and her mother made a fortune.

"I'm talking about adequate compensation so that parents have access to health care coverage," continued Petersen.

"These abuses and the sort of unnatural workplace realities have been known in Hollywood since the 20s. Our oldest member is Diana Serra-Cry. She was a big star in the twenties, before sound ever came into the picture. She was Baby Peggy and a contemporary of Jackie Coogan. The same abuses that ware going on now happened to Diana. She writes about this eloquently in a wonderful book called Hollywood's Children, which I recommend to everyone. It is an eye opener."

"Without the help of the Beverly Hills Bar Association this couldn't be taking place," stressed Petersen. "Among their highest priorities is the nationalization and unification of the child labor laws for entertainment. People must not think that this is for a small group of kids," Petersen cautioned. "There are about 300,000 that work in the entertainment and sports business. There are another 3 million children that work in other unprotected industries."

"The law was written in 1938. So children who deliver newspapers are exempt from child labor laws. Children who work in agriculture are exempt. When the Fair Labor Standards Act was passed in 1938 there weren't many kids working in the entertainment business. It wasn't a big thing that they were exempt from child labor laws," Petersen reiterated. "And, most kids who worked in farm labor were working on family farms. So, in 1938 it didn't seem like a big deal."

"But, the family farms have disappeared. The 850,000 children who are now working in agriculture are working for gigantic, international conglomerates, absent any child labor laws. It's ludicrous. And, it's right now - this very day. We all know the stories about our textile sweat shops. It's not just other countries. It is in Los Angeles, San Francisco, New York and in North Carolina, even though their textile business has taken it on the chin. It is everywhere. Remember the children who are involved in family enterprises doing piece goods and they live in Appalachia. There are no protections for them.

"If you care about kids you have to care about all of them you can't just pick and choose," Petersen stressed. "That is a powerful lesson I had to personally learn as A Minor Consideration grew and developed. I couldn't just decide to care for the famous kids. I couldn't just decide to care only about the kids work steady. They all count. People need to see that the child labor issues, for example, involved in agriculture, are very much the same that involve the entertainment industry."

Next week our interview with Paul Petersen continues. Petersen's A Minor Consideration website can be visited at http://www.minorcon.org


NEW YEAR RINGS IN RICHARD RODGERS CENTENNIAL

Richard Rodgers may not have invented the great American musical, but he composed some of the best shows ever to appear on stage. Most of his toe tapping, inspirational, heart warming showstoppers were penned while he was down in the dumps.



RICHARD RODGERS
The new PBS documentary profile, Richard Rodgers:The Sweetest Sounds, produced and directed by Roger Sherman, from Thirteen/WNET New York's American Masters series, showed that the composing genius suffered from alcoholism, depression, crippling phobias and emotional estrangement from nearly everyone around him. He may have written about that bright golden haze on the meadow, but personally he rarely enjoyed one.

Despite his persistent blue funk state of mind Rodgers composed over 900 tunes for his 70-odd shows.

His Centennial Celebration Year was officially launched last June 28 at the Richard Rodgers' Theatre in New York City, in an hour-long ceremony hosted by Theodore S. Chapin, President of The Rodgers & Hammerstein Organization.

The festivities take fans from Broadway to Hollywood, London to Tokyo; from new musical productions, books and documentaries, to museum exhibits, jazz concerts, and ballets. The hoopla extends well into 2003.

The breath of activities for the Rodgers Centennial underscores the versatility of his music. Winner of countless awards, including Pulitzers, Tonys, Oscars, Grammys and Emmys, Richard Rodgers (1902-79) wrote primarily for the stage, but his songs are equally at home in the worlds of jazz, cabaret, opera, dance and film.

Among his most famous musicals are Oklahoma!, The Sound of Music, The King and I, Carousel, and South Pacific, written with Oscar Hammerstein II; and Babes in Arms, Pal Joey and The Boys From Syracuse, written with Lorenz Hart.



RITA HAYWORTH, FRANK SINATRA and KIM NOVAK starred in the movie version of Pal Joey.
As exclusive licensor of the Richard Rodgers musicals worldwide, The Rodgers & Hammerstein Theatre Library confirms over 4,000 productions of his musicals annually. Pal Joey and Babes In Arms represent the top-selling titles in their Rodgers & Hart catalogue, with the Tony-nominated A Grand Night for Singing the most popular Rodgers revue.

Rodgers Library officials expect the number of Rodgers musical productions in his Centennial year to surpass the average by at least thirty five percent.

Highlights of the Rodgers Centennial, include:

A New York concert version of Carousel, at Carnegie Hall with Leonard Slatkin conducting the Orchestra of St. Luke's.

New Broadway productions of Oklahoma! and The Boys From Syracuse.

Cameron Mackintosh will present the internationally acclaimed, and long-awaited, production of Oklahoma! from Britain's Royal National Theatre, directed by Trevor Nunn and choreographed by Susan Stroman. Performances at the Gershwin Theatre begin February 23, opening March 21.



Richard Rodgers and Lorenz Hart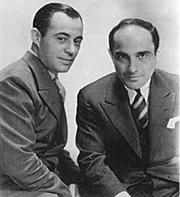 The Roundabout Theatre will present Broadway's first revival of Rodgers & Hart's 1938 musical comedy The Boys from Syracuse, which is the very first to be based on a play by Shakespeare, in this case The Comedy of Erros.

The original production was produced and directed by George Abbott with choreography by George Balachine. It starred: Eddie Albert, Ronald Graham, Jimmy Savo, Teddy Hart, Muriel Angelus, and Burl Ives, running for 235 performances. A revival staged April 15, 1963-June 28, 1964, enjoyed a 502 performance run. With the George Abbott book updated by Nicky Silver the new production will be directed by Scott Ellis. Opening at the American Airlines Theatre on March 7.

Of his 40 musicals, Richard Rodgers considered Carousel his personal favorite. "Oscar never wrote more meaningful or more moving lyrics, and to me, my score is more satisfying than any I've ever written," he said in his autobiography. As part of its Rodgers Centennial commemorations, Carnegie Hall will present an all-star concert version of Carousel for one performance only on June 6. Leonard Slatkin will conduct the Orchestra of St. Luke's.

New York's venerable Village Light Opera Group will present the first fully-staged New York revival of one of Rodgers & Hart's earliest musical comedies, Dearest Enemy. Set in New York during the American Revolutionary War, this 1925 confection introduced Here in My Arms. The VLOG production, featuring newly restored orchestrations, will be presented April 13-14, 19-21.

The York Theatre's popular musicals-in-concert series Musicals In Mufti will devote its entire Winter 2002 season to Richard Rodgers. For three weekends in January, the York will present one musical apiece from Rodgers' collaborations with Hart, Hammerstein, and his post-Hammerstein period (1960-79).



Jessica Rush as Cinderella and Eartha Kitt starring as the Fairy Godmother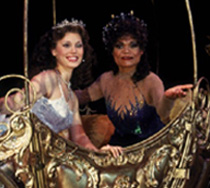 The popular U.S. National Tour of Cinderella, inspired by the recent ABC-TV/Wonderful World of Disney version, resumed this month with cities booked into late Spring, including Washington D.C., Boston, Philadelphia and St. Louis. Eartha Kitt stars as the Fairy Godmother. Paolo Montalban, who was handsome Prince Charming in the 1997 Disney/ABC television movie of Cinderella with Brandy and Whitney Houston, reprises the role in this stage version.

Regional productions, including Flower Drum Song, which starred Lea Salonga, in a new adaptation by David Henry Hwang, at the Mark Taper Forum in Los Angeles, closed this month after setting records.

Barry and Fran Weissler are presenting a U.S. National Tour of South Pacific in association with SFX Theatrical Group, which began in September. Jerry Zaks serves as production supervisor, with Scott Faris as director and Gary Chryst as choreographer.



TOM BOSLEY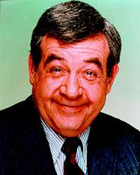 Cities on the fifty-week tour include Chicago, Boston, Seattle, Baltimore, and Costa Mesa.

Tom Bosley, beloved as the father in Happy Days and winner of a Tony Award in 1958 for Fiorello, will star as Noah in a U.S. National Tour of Two By Two. This 1970 Broadway musical is based on Clifford Odets' play The Flowering Peach, with a book by Peter Stone. Two By Two will be directed by its lyricist, Martin Charnin.

The Music & Theatre Departments of The University of Findlay, Ohio, will present the first fully mounted revival of Rodgers' 1976 Broadway musical REX about Henry VIII, with lyrics by Sheldon Harnick and book by Sherman Yellen. The score, to be performed by a 30-piece orchestra, has been reconstructed by Micheal [sic] F. Anders, Ph. D., Professor of Music at The University of Findlay, in consultation with the Music Dept. at R&H and co-authors Harnick and Yellen. REX will be performed at the Egner Fine Arts Center on the Findlay Campus from April 11-13, and April 18-20. In addition, Prof. Anders will host a concert/lecture evening on April 14 entitled The Evolution of REX, the Musical, featuring cut material and guest speakers.

42nd Street Moon in San Francisco will devote its entire 2002 season of musicals-in-concert to the works of Rodgers, with a schedule to include: By Jupiter kicking off the season on April 17, Pipe Dream, A Connecticut Yankee, with full orchestra, Peggy-Ann, and the American premiere of Rodgers & Hart's 1930 London musical Ever Green from November 27-December 5.



NANCY KERRIGAN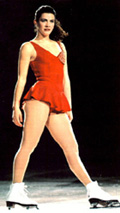 StarGames will present two-time Olympic Medallist Nancy Kerrigan and other luminaries of the skating world in a Centennial Ice Show Tribute to Richard Rodgers, opening this coming summer.

Phoenix Productions have on their agenda a touring theatrical concert celebration of Rodgers, to premiere in the spring, featuring a cast of 12 backed by a full orchestra.

International productions including South Pacific directed by Trevor Nunn at Britain's Royal National Theatre, The Sound of Music, in London produced by Andrew Lloyd Webber, and The King and I in Japan.

January 6th, kicks-off David Kenny's 2002 Everything Old Is New Again radio show saluting The Richard Rodgers Centennial. The program titled Some Enchanted Evening, will feature songs by the composer and lyrics by Hart, Hammerstein, and Sondheim. The program can be heard every Sunday 9-11 PM(EST) over WBAI 99.5 FM and on the Internet at: www.2600.com/offthehook/hot2.ram.



KEITH LOCKHART

The Boston Pops, with Keith Lockhart conducting, has just completed recording an all-Rodgers album on RCA Victor slated for an April release. In conjunction with the album's release will be an all-Rodgers program on the popular PBS Evening at Pops series, and a Rodgers segment during the Pops' nationally televised Fourth of July special.

Chicago Symphony Orchestra, with John Mauceri conducting, at the upcoming Ravinia Festival, will present a special tribute concert to Rodgers featuring John Mauceri leading the Chicago Symphony Orchestra in his CSO debut, with special guests artists to be announced.

The Danish Radio Orchestra with David Firman conducting will present a series of Rodgers concerts in Tivoli Gardens, Copenhagen, and in a tour of major Danish cities, to be nationally-televised this summer.

The Hollywood Bowl Orchestra, with John Mauceri conducting, has displayed an extraordinary commitment to the works of Richard Rodgers, including restorations of the film orchestrations for South Pacific, The Sound of Music, Oklahoma! and The King and I. The latter of which they subsequently recorded, starring Julie Andrews and Ben Kingsley. The orchestra will also present a special Rodgers tribute this summer and has authorized a special CD reissue of its Rodgers & Hammerstein Overtures album from Decca Broadway/Universal Music Group.



Skitch Henderson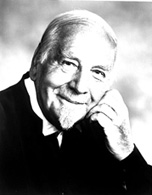 The London Royal Philharmonic Orchestra, with David Charles Abell conducting, will be featured in an all-star gala Rodgers program scheduled for June 26-27 at the Royal Albert Hall. The program presented by Raymond Gubbay will be directed by Paul Kerryson.

The New York Pops with Skitch Henderson conducting will present 100 Years of Richard Rodgers at Carnegie Hall on April 5.

Bernadette Peters has an all new Rodgers & Hammerstein album on Angel Records.

There is also the publication of two new books on Rodgers - Somewhere For Me, a biography by Meryle Secrest published by Alfred A. Knopf; and The Richard Rodgers Reader, edited by Prof. Geoffrey Block published by Oxford University Press - and new Rodgers songbook folios.



Broadway To Vegas is supported through advertising and donations. Priority consideration is given to interview suggestions, news, press releases, etc from paid supporters. However, no paid supporters control, alter, edit, or in any way manipulate the content of this site. Your donation is appreciated. We accept PAYPAL. Thank you for your interest.


CURTAIN DOWN


THE MUSIC MAN by Meredith Willson closes December 30 at the Neil Simon Theatre after 24 previews and 698 performances.The Music Man originally opened on Broadway December 19, 1957, starring Robert Preston and Barbara Cook. Book

KISS ME KATE by Cole Porter drops the curtain December 30 after playing 28 previews and 885 regular performances at the Martin Beck Theatre.

45 SECONDS FROM BROADWAY by Neil Simon ends its run at the Richard Rodgers Theatre after a 31 previews and 73 regular performances.



I'M NOT RAPPAPORT starring Judd Hirsch and Ben Vereen in a revival of Herb Gardner's play opens a mini tour of three American nonprofit theatres, Jan. 1, at the Coconut Grove Playhouse in Miami, Florida.

Daniel Sullivan directs the two Tony Award winners in the tale about two seniors who meet in Central Park and confront a changing world in the form of drug dealers, punks, an angry daughter and an ex boss. Hirsch won the Tony Award for playing crusty socialist Nat. Vereen, who plays Midge, is known for his Tony Award winning turn in Pippin, plus his recent work in Fosse on Broadway.

Director Sullivan has his own Best Director Tony Award which he won in 2001 for Broadway's Proof

I'm Not Rappaport plays Coconut Grove Jan 1-20, Ford's Theatre in Washington, DC, Jan. 23-Feb. 17 and Paper Mill in Millburn, NJ Feb 20-March 4.

ANNIE GET YOUR GUN the national tour Jan 1-6 Louisville, KY at the Kentucky Center.

RAGTIME which won 4 Tony Awards in 1998 Jan. 4-6 at The Jubilee in Edmonton, Canada.

VIVA (ALMOST) LAS VEGAS by Stage West. Through January 20. Bel Air Banquet Hall, Buffet precedes show. Bel Air, NE.

MY FAIR LADY Broadway Live at the Opera House in Lexington, KY on Jan 2-3.

WAITING FOR TADASHI written by Velina Hasu Houston, who is a current Japan Foundation Fellow. The production will be directed by artistic director David Saint.

A poetic tribute to the children born of Japanese women and U.S. servicemen in the aftermath of World War II, the play features elements of traditional Noh theatre transporting us on a mystical journey through Tadashi's memories from his childhood in an impoverished Japanese orphanage, to his present-day relationship with Satomi, the woman who became his mother.

The tale of a boy born to a Japanese mother and black U.S. serviceman father during World War II. Crossing cultures and decades, and underscored by a fusion of jazz and Shakuhachi music, Waiting for Tadashi is a universal story of an Afro-Amerasian man desperately seeking a sense of "home."

June Angela stars alongside Takayo Fischer, Clark Jackson, Danny Johnson, Sue Jin Song, Mia Tagano and Sabrina Le Beauf. Designing Tadashi are James Youmans (set), Joe Saint (lighting), Theoni V. Aldredge (costumes), and David Van Tiegham in charge of sound as well as providing original music for the piece. Begins January 8, opens January 9 and runs through February 3, at The George Street Playhouse in New Brunswick, New Jersey.


WHO'S WHERE
BARBARA COOK brings her Mostly Sondheim show to Lincoln Center's Vivian Beaumont Theater for 14 performances beginning Dec. 30.Sundays and Mondays only to February 11. Wally Harper conducts.

MANDY PATINKIN January 2 at the Marin Veteran's Auditorium in San Rafael, CA. On January 4 he is center stage at the Paramount Theater in Seattle, Washington. Next Sunday he makes his Las Vegas debut in Art Ham Hall.

WESLA WHITFIELD has returned to the Plush Room. Mike Greensill on piano and Bill Douglas on bass. Her engagement continues through February 2

DONNA McKECHNIE opens at Arci's Place in New York City January 3 performing An Evening with Donna McKechnie: My Musical Comedy Life. The talented lady's engagement runs through January 12.

JERRY VALE performs at the Flamingo Hilton in Laughlin, NV on January 5.

BRYAN ADAMS at Jannus Landing in St. Petersburg, FL on Friday. Then on Saturday he's in the spotlight at Gulfstream Park in Hallandale, FL.

NEIL DIAMOND tonight and tomorrow night at the MGM-Grand in Las Vegas. Last time to enjoy Diamond before he goes on hiatus, re-opening his tour on February 10 in Florida.

B.J. THOMAS performing Friday and Saturday at Casino Magic in Bay St. Louis, MS.

BETTY BUCKLEY as a child rode horses in the Fort Worth, Texas rodeo. On Friday and Saturday she will be in the in Mortensen Hall arena at the Buchnell in Hartford, CT. The buckaroos backing her will be the Hartford Symphony Pops.

BILL COSBY Jan 6 at the Cerritos Center for the Performing Arts, Cerritos, CA.

BERNADETTE PETERS center stage entertaining in the Ruth Eckerd Hall in Clearwater, FL Jan. 4

DAVE SANBORN Blue Note in New York City through December 31.

CHICAGO the innovative eight-man band that has successfully fused jazz, rock and blues music for the past 35 years, translating into 26 consecutive hit albums, will appear at the Stardust Hotel, Las Vegas. January 5-9.

DAVE BRUBECK January 6 at the First Church of Christ Church in Wethersfield, CT.













Next Column: January 6, 2002
Copyright: December 30, 2001. All Rights Reserved. Reviews, Interviews, Commentary, Photographs or Graphics from any Broadway To Vegas (TM) columns may not be published, broadcast, rewritten, utilized as leads, or used in any manner without permission, compensation and/or credit.
Link to Main Page
---
Laura Deni


CLICK HERE FOR COMMENT SECTION