! >
Broadway To Vegas
  
 SHOW REVIEWS CELEBRITY INTERVIEWS GOSSIP NEWS

| | |
| --- | --- |
| | |
LIGHTING OF THE BIG DUCK - - CLEANED COSTUMES FOR PLACIDO DOMINGO IN THE NEW EMPEROR - - WILLIAMSTOWN THEATRE FESTIVAL - - COMPLETELY HOLLYWOOD ABRIDGED - - JEWS IN SHAKESPEARE AND MARLOWE - - CELINE DION AND PARIS HILTON DROP OUT OF BILLBOARD MUSIC AWARDS - - NOBEL PEACE PRIZE CONCERT - - WICKED SETS BOX OFFICE RECORD - - DONATE . . . Scroll Down


Copyright: December 3, 2006
By: Laura Deni

CLICK HERE FOR COMMENT SECTION
COUNTING LIGHT BULBS AND LIGHTING THE BIG DUCK
The Big Duck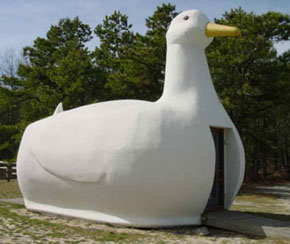 Lighting up the Christmas tree is just so - ordinary. After all, everybody seems to have one. Then there is The Duck.

For real excitement, a small but dedicated group attended the annual lighting of the Big Duck, a giant white building in the shape of a duck built in 1931 by Long Island duck farmer Martin Maurer and his wife, Juele.

Through the 1960's, Long Island boasted about 70 duck farms - called Duck Ranches - raising 6.5 million Galliformes annually and contributing two-thirds of the country's duck output.

The Duck, which Maurer patented, came to be when Martin and Juele, wanted to sell the webfooters and fresh eggs by the side of the road. They needed a gimmick.

They hired carpenter George Reeve and two eccentric stage show set designers, brothers William and Samuel Collins. A live duck tied with a string to their porch served as a model for the Collins' design. Reeve studied the carcass of a cooked chicken in order to create a sturdy, bird-accurate frame-work for the building.

The Big Duck in its entirety measures 30 feet from beak to perky tail, 15 feet from folded wing to folded wing, and 20 feet from its base to the top of its head. is 20 feet tall and stretches 30 feet from beak to tail. It features Model-T taillights for eyes - which glow red at night. For the holidays season is adorned with a huge wreath around its neck and festive holiday garland and lights surrounding its base.

Each year on the first Wednesday after Thanksgiving the Suffolk County Parks Department sponsors the Annual Holiday Lighting of the Big Duck. Local school children sing "Duck" carols - Rudolph the Red-Nosed Reindeer becomes Big Duck the White Winged Waterfowl. Refreshments including hot chocolate, cookies and doughnuts are served. Santa Claus, transported by the Flanders Fire Department, arrives and the switch is flipped lighting up Big Duck.



Inside The Big Duck
The Big Duck roosted at its original location till 1936 when the Maurers relocated The Big Duck and all, to Route 24 in Flanders. The Flanders community welcomed The Big Duck with open arms and have cherished it ever since.

When the land where The Big Duck rested was slated for development in 1987, Big Duck fans from all over joined Suffolk County in an effort to preserve The Big Duck. The Big Duck's then current owners, Kia and Pouran Eshghi, donated The Big Duck to Suffolk County in December of 1987. Since then it has remained open to the public and is considered Long Island's most famous landmark, listed on the National Register of Historic Places in Washington, D.C. Inside the store, visitors can purchase fowl memorabilia, and obtain travel and tourism information.

As for the Christmas trees - Las Vegas headliner Wayne Newton turned on the lights to a 60-foot faux Rocky Mountain Pine outside Caesars Palace. The tree has just over 216-thousand multi-colored lights which the hotel bragged is more than the famous tree in New York's Rockefeller Center. That tree - a real 88-foot Norway spruce from Ridgefield, Conn. - was set aglow with 30,000 colored lights at a ceremony Wednesday night hosted by hosted by the Today show's Al Roker and Ann Curry. Mayor Michael Bloomberg, singer Lionel Richie and NBC's 30 Rock stars Alec Baldwin and Tina Fey were also on hand.

Singers Martina McBride, John Legend, Christina Aguilera, Sting and Bette Midler were among those who performed during the two-hour event, Christmas in Rockefeller Center, part of which was televised nationally on NBC. The first nationally televised Rockefeller Center Christmas Tree lighting was in 1951 on the Kate Smith Show.


THE EMPEROR'S (CLEANED) NEW CLOTHES
Emi Wada's collage rendering of a costume for Emperor Qin, the title character, who will be portrayed by Plácido Domingo. Photo; Metropolitan Opera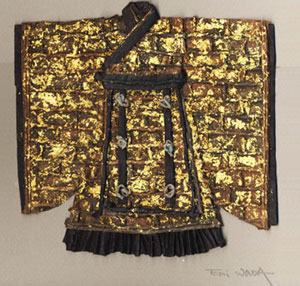 The New York Metropolitan Opera has undertaken an ambitious project the mounting of The First Emperor a $3 million new production with music by Tan Dun and a libretto by the composer and Ha Jin, starring Plácido Domingo as Emperor Qin - which marks Domingo's first world premiere at the Met.

The Emperor is getting some new clothes, since the costumes arriving from China made the cast and crew sick.

The shipment of costumes, including shoes, arrived from China less than a month before the premiere of The First Emperor, which opens December 21.

The New York Times first reported that at least one backstage worker was hospitalized, apparently with an allergic reaction made worse by an existing ailment. They quoted Elena Park, a Met spokeswoman. who said other company members, costume shop workers and chorus members also had reactions, but she did not know how many people were stricken.

The problematic costumes, confined to one of several shipments, were cleaned and the shoes replaced. "We don't know the cause," Ms. Park admitted. Samples of the costumes, elaborate designs created by Emi Wada, were sent to a laboratory for testing.

With a show must go on resilience, the clothing concerns did not delay rehearsals.

Chemical sensitivity to clothing is not new. The problem was researched by allergist Theron G. Randolph, M.D. (1906-1995). Dr. Randolph discovered that many of his patients became ill from chemical substances that were normally considered safe at the recommended dosage. Potential chemical toxins found in apparel include:

Formaldehyde which can be found in fabric finishes, polyurethane foam rubber used in shoe padding, synthetic clothes that are crease resistant and/or wrinkle resistant.
Polyethylene plastics in fake leather.
Polyesters in clothing, upholstery, drapery, and stuffing for pillows and quilts.
Pesticides residue on cottons and woolens.

Chemicals are noted to injure the part of the cell that produces energy causing swelling of the cell membrane and a decreased ability to pump out chemical toxins. When this occurs the person affected can experience fatigue, weakness, poor memory, migraine headaches, insomnia, anxiety, skin rashes etc.

While performers rarely experience such reactions with new creations. skin rashes are common when wardrobes department don't maintain immaculate cleaning standards and a sweat soaked costume is worn without being washed.



Emi Wada's collage rendering of a costume for Princess Yue yang. Photo; Metropolitan Opera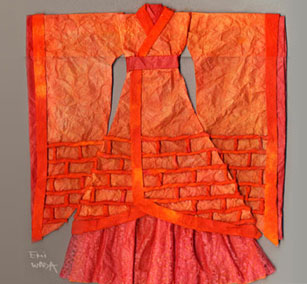 The costumes to be donned at the Met are elegant. Director Zhang Yimou, born in 1950 in China's northwest Shaanxi Province, personally recruited Japanese costume designer Emi Wada, 69, to create and oversee the hand-stitching of over 600 of authentic period costumes. Oscar winner Wada's career has spanned almost 50-years. Wada, who won an Oscar for Ran in 1986 and more recently worked on the films Hero and House of Flying Daggers has created costumes for operas directed by Franco Zeffirelli and Julie Taymor, published books about her luxurious designs, and worked with some of film's most influential directors, including Peter Greenaway, Zhang Yimou, and Akira Kurosawa.

The First Emperor - a co-production with the L.A. Opera - follows the rise of Qin Shi Huangdi, who unified China and built the Great Wall in the 3rd century BC.

To construct the costumes Wada searched Beijing's antique markets for rare fabrics. She then sketched her designs by hand, following by constructing doll-size prototypes at her Tokyo studio. Creating original colors is especially important to her so she personally sample dyed white fabric to specific colors.



Emi Wada's collage rendering of a costume for the Shaman Photo; Metropolitan Opera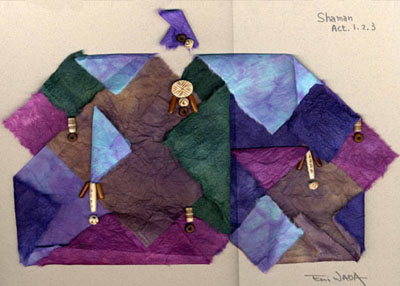 Dressing Domingo in the title role has certain challenges. In one scene he climbs a steep set of stairs wearing a gold coronation ensemble with a long train.

Wada spent two years working on Emperor. As Tan's music took shape, Wada revised some of her designs to fit the evolving sounds. The character of the Shaman performed by mezzo-soprano Michelle DeYoung, started out wearing a traditional Qin ponytail and clothes made of cotton. After listening to the music Wada opted for clothes with more movement and decided on lightweight silk and created a coif of loose multicolored threads.

Some costumes are multi-functional taking on the duty of percussion instruments. In one scene the 90-member chorus rhythmically slaps black leather squares that Wada incorporated into their armor so that the chorus members can hold an arm straight out at a 90-degree angle to the body. Each performer then lets their arm fall to their right leg in a swift, controlled motion. Breathtaking movement and sound.

Following the New York City debut The First Emperor is slated for runs in Los Angeles and Paris among other cities.


OTHER PEOPLE'S MONEY


WICKED the Tony Award winning Broadway musical is in the enviable position of being its own competition. Last week the show set a Broadway record with a box office take of $1.7 million, the biggest ever recorded for a single week of ticket sales. That beat the show's own record, set 11 months ago, by more than $100,000. The show is also a smash across the pond. Last month, just seven weeks after it began performances at the Apollo Victoria Theater, it set a West End record for weekly box office gross, with $1.4 million, and it has been extended to June 30, 2007. Idina Menzel, who won a Tony Award two years ago as the green-faced Elphaba, will play that role in London through Dec. 30.


BILLBOARD AWARDS - 2 DOWN


First it was Celine Dion. Now it is Paris Hilton.

The Billboard Awards, which takes place Monday at the MGM Grand Garden Arena in Las Vegas, has more drama off stage than expected in the footlights - although you can see for yourself since the clambake is scheduled to air live on Fox.

Celine Dion canceled five performances of her A New Day show at Caesars Palace and an appearance at the Billboard Music Awards because the Grammy-winning had contracted a respiratory infection diagnosed as mycoplasma bronchitis, which can be highly contagious. Her doctor has prescribed medication to treat the bacterial infection.

Then Hilton hotel heiress dropped out of her gig at the Billboard Music Awards because she didn't like the jokes written for her.

"It is my understanding that some satirical references ridiculed some of her peers," her spokesman, Elliot Mintz, said in a statement. "Paris did not want to say anything that could appear hurtful or embarrassing about people she knows."


NOBEL PEACE PRIZE CONCERT
Anjelica Huston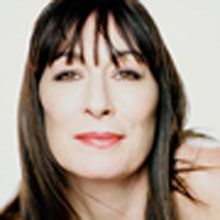 Wynonna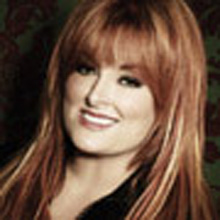 The annual Nobel Peace Prize Concert will take place December 11 in Oslo, Norway hosted by Sharon Stone and Anjelica Huston.

The event will feature performances by world renowned acts including Yusuf Islam (Formerly Cat Stevens), Lionel Richie, John Legend, Rihanna, Paulina Rubio, Wynonna, Simply Red, Hakim, Renée Fleming, and Morten Abel. John Legend, Rihanna, Pauline Rubio, Wynonna, Simply Red, Hakim, Renée Fleming, and Morten Abel are also on board to perform.

"There were one hundred reasons for leaving the music industry back in 1979, not least because I had found what I was looking for spiritually," Islam said in a press release. "Today there are perhaps 101 good reasons why I feel right making music and singing about life in this fragile world again."

The concert will honor 2006 Nobel Peace Prize winner Muhammad Yunus. The Bangladeshi banker and economist will receive his award the day before the concert at the Nobel Peace Prize Ceremony.

"The Nobel Committee is pleased to bring such a talented and eclectic group of artists together to help celebrate peace through music," said Geir Lundestad, Secretary of the Norwegian Nobel Committee. "It's always a special evening that we hope the world tunes in to watch."

This annual event is broadcast to more than 100 countries around the world.

Each year on the date of death of Alfred Nobel, December 10th, the Nobel Peace Prize ceremony takes place in The City Hall of Oslo, Norway. The concert is held in addition to the ceremony, in the Oslo Spektrum Arena, with the winner and prominent guest participating.



JON KIMBELL North Shore Music Theatre's Artistic Director and Executive Producer in Beverly, MA, will be presented with The Spirit of Broadway Theater Board of Directors Award for Lifetime Achievement, as part of the 6th Annual Spirit Awards on Saturday, December 9.

Kimbell is responsible for the artistic direction, administration and long range planning of NSMT, as well as the commissioning and development of new musical theater works including the premieres of 21 new musicals. Past recipients of the Spirit of Broadway Theater Board of Directors Lifetime Achievement Award have been Madeline Gilford (Actress / Producer), Paulette Haupt (O'Neil Music Theater Festival Director) and Sue Frost (former Producer, Goodspeed Musicals).

The Spirit Awards Gala is a black tie event which honors excellence on stage and behind the scenes as well as recognizing individuals who have made a significant difference in supporting the guiding principals of The Spirit of Broadway Theater.



Broadway To Vegas is supported through advertising and donations. Priority consideration is given to interview suggestions, news, press releases, etc from paid supporters. However, no paid supporters control, alter, edit, or in any way manipulate the content of this site. Your donation is appreciated. We accept PAYPAL. Thank you for your interest.


SPREADING THE WORD


THE SONGS OF HARRY WARREN

Harry Warren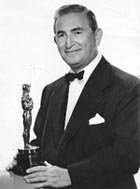 an insider celebration of the life of Harry Warren (42nd Street), one of the greatest American composers of the 20th century. Warren was considered a musical genius and was nominated for the Academy Award 11 times, winning for Lullaby of Broadway, You'll Never Know and On the Atchison, Topeka and the Santa Fe.

The first composer to receive a Gold Record (Chattanooga Choo Choo), he had 21 number one hits.

Join singer Sheila Weiler, Harry Warren's granddaughter Julia Riva, Dr. John Sannuto of Long Island University, Brooklyn NY and accompanist Jeff McDonnell to take a look at the man behind the music.

Monday, Dec. 11 at the Walnut Street Theatre in Philadelphia.

WILLIAMSTOWN THEATRE FESTIVAL Artistic Director Roger Rees will read Charles Dickens' A Christmas Carol on Saturday, December 9 in Griffin 3 on the Williams College Campus.

Rees will present the version that Dickens himself performed during his day, including on his American tours.

The reading will be introduced by Michael Patrick Hearn, noted literary scholar. Following the reading, Rees and Hearn will sign copies of Hearn's The Annotated Christmas Carol. The reading is part of the annual Holiday Walk Weekend presented by the Williamstown Chamber of Commerce. This annual event draws people to Williamstown for shopping, entertainment, and a winter weekend of holiday cheer.

JEWS IN SHAKESPEARE AND MARLOWE: A PERFORMANCE BY F. MURRAY ABRAHAM winner of an Academy Award for his portrayal of Salieri in Amadeus, returns to the 92nd Street Y to read scenes from The Merchant of Venice and The Jew of Malta. In January 2007, he will star in Theatre for a New Audience's repertory productions of both plays.

A discussion with the company's artistic director, Jeffrey Horowitz, and critic Michael Feingold follows the performance.

Wednesday, December 6, at the Kaufmann Concert Hall in New York City.



WHAT THE REINDEER SAW Santa Claus the 14th has watched his grandfather and father be Santa for years and thinks there's nothing to it, but all is not well at the North Pole.

Rudolf has broken his fourth metatarsal bone, the Elves are threatening to strike and Mrs. Claus' biological clock is ticking. With Christmas Day fast approaching, can the Reindeers talk Santa into fulfilling his destiny and can Mrs. Claus talk him into the broom cupboard for ten minutes?

Lyric Theatre in Belfast, Ireland Monday, December 4-Saturday, January 13.

COMPLETELY HOLLYWOOD (ABRIDGED) by The Reduced Shakespeare Company, one of America's funniest comedy troupes, which is known for taking long, serious subjects and reducing them into short, sharp comedies.

The RSC returns to Merrimack Repertory Theatre with this brand new show, celebrating 100 years of the movies. From The Gold Rush to The Matrix, from The Perils of Pauline to The Prestige, from Birth of a Nation to Death of a President they include every Hollywood cliché and movie star meltdown you've ever seen.

Completely Hollywood (abridged) is a side-splitting night out, shaking up Showbiz with an epic edit of movie masterpieces. Think you can name them all? Almost 200 movies in 100 minutes are captured as these "bad boys of abridgement" masterfully miniaturize Tinseltown's glorious moments. Performing for a limited 12 shows, Completely Hollywood (abridged) goes behind the scenes to expose all of Hollywood's magnificent excess.

The Reduced Shakespeare Company has created six comedy shows now touring in the U.S. and Great Britain. The RSC's first three shows - The Complete Works of William Shakespeare (abridged), The Complete History of America (abridged), and The Bible: The Complete Word of God (abridged) - ran for nine years at the Criterion Theatre in Piccadilly Circus, becoming London's longest-running comedies. For many years the RSC had more shows running in the West End than Andrew Lloyd Webber.

They have performed at the White House, Lincoln Center and the Kennedy Center. On television, the RSC was its own category on Jeopardy! in the 2005 Tournament of Champions.

The Reduced Shakespeare Company is a troupe of actors. Three of the four company members will appear in each performance. They include Dominic Conti, Reed Martin, Mick Orfe and Austin Tichenor.

The Reduced Shakespeare Company in Completely Hollywood (abridged) performs at Merrimack Repertory Theatre, in Lowell, MA from December 7 - 17.

THE TIME OF THE YEAR an all-new original musical revue of original songs highlighting the joys and anxieties of the holiday season. With concept and lyrics by the 2006 Kleban Award-winning team of Laurence Holzman & Felicia Needleman and music by Sanford Marc Cohen, Nicholas Levin, Donald Oliver, Kyle Rosen, Brad Ross, Mark Wherry and Wendy Wilf, That Time of the Year celebrates both Christmas and Hanukkah with warmth, humor and an eclectic musical style. Music runs the gamut from show tunes to rock, blues and jazz and the songs range from upbeat group numbers, which convey the angst and stress associated with the season, to touching ballads about family and the meaning behind the festivals.

Annette Jolles directs and choreographs a cast that features Bridget Beirne, Kerri Jill Garbis, Erin Maguire, Jonathan Rayson and Nick Verina. The creative team also includes Annie Pasqua as orchestrator/musical director, James Morgan as set designer, Chris Robinson as lighting designer and Terese Wadden as costume designer.

The limited engagement began November 29th and continuing through December 24th. All performances are at the York Theatre Company, Theatre at St. Peters, in New York City.

TALES FROM THE CHARRED UNDERBELLY OF THE YULE LOG by Kevin Kling. who describes his zodiac sign as "Minnesota with Iowa rising," and his accent could be right off the set of the movie Fargo. While many of his tales come from his Midwest roots, his childhood stories of the absurdity and irony of common human experience are recognizable to all of us. In Tales from the Charred Underbelly of the Yule Log, Kling lovingly skewers the holiday traditions that we all recognize, from long drives to grandmother's house to sibling competition for love and attention to the giddy excitement and profound disappointment of Christmas morning. Kling is perhaps best known for his regular storytelling contributions to NPR's All Things Considered, but he is also an established playwright whose works include 21A, Lloyd's Prayer, and Home and Away, which was produced at Seattle Rep in 1990. December 14 & 15 at the Bagley Wright Theatre, Seattle Rep in Seattle, Washington.


| | | |
| --- | --- | --- |
| | | |
WHO'S WHERE


MICHAEL FEINSTEIN on his own turf in his Home for the Holidays performances Dec 5-30 at Feinstein's at the Regency in NYC.

BRIAN SETZER AND THE CHERRY POPPIN' DADDIES in a two night stand December 5-6 at Foxwoods Casino in Mashantucket, CT.

PRESERVATION HALL JAZZ BAND on stage Tuesday, December 5 at Madison Middle Auditorium in Richmond, KY. On Thursday the show is at Hal Rogers Center in Hazard, KY. Friday finds the guys at the Tennessee Theatre in Knoxville, TN and on Saturday they can be enjoyed at Attucks Theatre in Norfolk, VA.

VINCE GILL opens a three night gig at the Las Vegas Hilton on Thursday, December 7.

JIM BRICKMAN has a busy week. On Monday, December 4, he performs at the Orpheum Theatre in Omaha, NE. Wednesday the show is at the Adler Theatre in Davenport, Iowa. Thursday finds him on stage at the Coronado Theatre in Rockford, IL. Friday the performance is at the Palace Theatre in Columbus, Ohio. On Saturday he is at the Aronoff Center in Cincinnati and next Sunday he's in the spotlight at Governors State University in University Park, IL.

OAK RIDGE BOYS sing their hits Tuesday, December 5, at the Broome County Arena in Binghamton, New York. Wednesday they are at the John Labatt Centre in London, ON. Thursday finds them at the Resch Center in Green Bay, WI. On Friday they can be enjoyed at the Shooting Star Casino in Mahnomen, MN. Saturday they open a two nighter at the Crystal Grand Theatre in Wisconsin Dells, WI.

TONY BENNETT has a two night stand beginning Wednesday at the Seminole Hard Rock Live in Hollywood, FL. On Sunday he'll be entertaining all ages at the Barbara B. Mann Hall in Fort Myers, FL.

CHICAGO SYMPHONY ORCHESTRA Pierre Boulez, Conductor. Performing Mahler Symphony No. 7. Friday, December 8 at the Stern Auditorium in Carnegie Hall, NYC.

U2 on stage Monday, December 4 at the Saitama Super Arena in Saitama, Japan. On Saturday they can be enjoyed at the Aloha Stadium in Honolulu.

The TRANS-SIBERIAN ORCHESTRA there are two - perform Wednesday December 6 in Seattle, Washington and Columbus Ohio. On Thursday the music is in Portland, Oregon Cincinnati, Ohio. Friday finds the groups in Nampa, Idaho and Auburn Hills, Michigan. On Saturday the shows are in Rosemont, Il and West Valley City, Utah. Next Sunday the performances take place in Las Vegas, Nevada and Grand Rapids, Michigan.

ANDREA BOCELLI brings his beautiful voice no the Mohegan Sun Casino in Uncasville, CT today, Sunday, December 3. On Tuesday he's center stage at the Auditorio Nacional in Mexico City. On Wednesday the place to be is the Arena Monterrey in Monterrey, Mexico. Saturday finds him at the Pepsi Center in Denver. Next Sunday the performance takes place at the Honda Center in Anaheim, CA.
















Next Column: December 10, 2006
Copyright: December 3, 2006. All Rights Reserved. Reviews, Interviews, Commentary, Photographs or Graphics from any Broadway To Vegas (TM) columns may not be published, broadcast, rewritten, utilized as leads, or used in any manner without permission, compensation and/or credit.
Link to Main Page
---
Laura Deni


CLICK HERE FOR COMMENT SECTION