! >
Broadway To Vegas
  
  REVIEWS INTERVIEWS COMMENTARY NEWS

| | |
| --- | --- |
| | |
2014 PROMISES A VARIETY OF ENTERTAINMENT - - THE ANIMATION GALLERY - - FRENCH THEATRE DIRECTOR ARRESTED - - FRED ASTAIRE THE EARLY YEARS AT RKO 2-DISC CD REVIEW - - A GINGERBREAD WHITE HOUSE - - BRITNEY SPEARS LIP-SYNCING CONTROVERSY - - JEREMY BLACK RETURNS TO PLAYWRITING - - DANCERS NEED VITAMIN D SUPPLEMENTS - - DONATE . . . Scroll Down




Copyright: December 29, 2013
By: Laura Deni
CLICK HERE FOR COMMENT SECTION




2014 OFFERS A CLEAN SLATE FOR ENTERTAINMENT OPTIMISM
Kristin Chenoweth rings in New Year 2014 by performing in Las Vegas.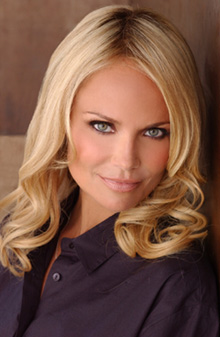 If everything that old is new again, as sung by Hugh Jackman on Broadway portraying Peter Allen in The Boy From Oz, then 2014 brings a clean slate - hopefully - overflowing with good fortune.

Tony and Emmy Award winner Kristin Chenoweth will start 2014 by performing at the Smith Center in Las Vegas in an early New Year's Eve show. On Chenoweth's personal wish list is to appear as Dolly Parton. She's a natural. Her CD Some Lessons Learned reminds the listener of Parton. With Chenoweth's comedic ability she'd be Dolly perfection. Reportedly, Parton had given Chenoweth her blessing to portray her.

If Chenoweth is ringing in 2014 with a 7:30 p.m. show, Susan Anton, currently starring in The Fabulous Palm Springs Follies, has her beat. Anton will count down to 2014 with two gala New Year's Eve performances - the first at 3:30 p.m. for those on New Zealand time, followed by a 9:00 p.m. New York City ball dropping time performance.

Billy Joel, a 2013 recipient of the Kennedy Center Honors which airs tonight on CBS, returns to touring, performing New Years Eve at Barclays Center in Brooklyn. The 20 stop tour includes Joel performing for the first time ever at The Hollywood Bowl on May 17 and 22, followed by a star turn at the MGM Grand in Las Vegas on June 7.

Britney Spears began her two-year gig at Planet Hollywood in Las Vegas last Friday night with a heavy on the choreography production. However, there are not as many costumes changes and wigs as Cher. After four nights she'll take a month-long break. The Grammy Award winner will perform 100 shows over the next two years. Considered a potential winner for 2014, Spears garnered generally favorable reviews, brought in a younger crowd and is set to return to the Vegas stage for a month of shows beginning the end of January. The high energy show has Spears singing over the tracks to her hit songs such as Toxic, Slave 4 U, Scream & Shout, Oops... I Did It Again and Baby One More Time. (see article below)

Phantom of the Opera returns to Broadway in March. Joining the cast of this new production are Ramin Karimloo as Jean Valjean, Tony Award nominee Will Swenson as Javert, Caissie Levy as Fantine, Tony Award winner Nikki M. James as Eponine, Andy Mientus as Marius, Charlotte Maltby as Cosette, Cliff Saunders and Tony Award nominee Keala Settle as the Thénardiers, and Kyle Scatliff as Enjolras.

Carole King will be honored as the 2014 MusiCares Person of the Year at a special event held in the Los Angeles Convention Center on January 24, celebrating her extraordinary creative accomplishments as well as her significant charitable work.

King's story has been turned into a Broadway musical, Beautiful, which takes its entire score from her considerable catalogue. Jessie Mueller plays King in the show, which opens January 12 at the Stephen Sondheim Theatre under the direction of Marc Bruni.

The multi-talented Neil Patrick Harris who started his career by starring in the hit television series Doogie Howser M.D., growing up to star in the hit TV show How I Met Your Mother, while becoming the go-to guy to host anything, will return to Broadway after an absence of ten years - in 2004 he appeared in Assassins - by taking on the title role in Hedwig and the Angry Inch, opening at the Belasco Theatre on March 29.

Also making his Broadway debut will be Denzel Washington. He'll star in A Raisin in the Sun alongside Tony winner Diahann Carroll who is returning to Broadway after an absence of 30 years. Also in the cast is Academy Award-nominee Sophie Okonedo who will be making her Broadway debut as Ruth Younger. The show plans to open April 3, 2014 at the Barrymore Theatre. That's where the original production opened in 1959.

Bette Midler who currently stars in I'll Eat You Last: A Chat With Sue Mengers at the Geffen Playhouse in Los Angeles, will star as Mae West in a new film for HBO to be written by Tony winner Harvey Fierstein.

Multiple Tony Award winner Fierstein will see his new play Casa Valentina premiere on Broadway in 2014.

The Bridges of Madison County based on the 1992 Robert James Waller novel, with a score by Tony winner Jason Robert Brown, book by Tony and Pulitzer Prize winner Marsha Norman begin previews on January 17, 2014, at Broadway's Gerald Schoenfeld Theatre. Directed by Tony Award winner Bartlett Sher, the romantic tear-jerker (turned ito a musical for Broadway) centers on a brief, four-day love affair between a National Geographic photographer and an Italian-American housewife in 1965 Iowa. Clint Eastwood and Meryl Streep starred in the 1995 film adaptation of finding perfect love - the memories of which last forever.

A wild card in this movie-to-stage version is the emotional intensity of the plot. Many women who saw the movie, loved it, but say they couldn't bear to watch it again, because it cuts too deeply into their heart - something men don't seem to understand.

Eastwood has stated that he's had women tell him how much they adored the movie, then immediately add that they could never watch it again. Women dominate Broadway ticket sales. (see related article below)

Also going from screen to stage is Rocky, the Sylvester Stallone creation which aims to reach out to the male audience, as well as keeping the distaff side buying tickets. Lynn Ahrens and Stephen Flaherty and book writer Thomas Meehan have brought the film to the stage. The Alex Timbers-directed show will begin February 11 at the Winter Garden. Andy Karl plays the big lug.

Another sports' theme offering is The Bronx Bombers, about the NY Yankees. They'll be aiming to hit a home run at New York's Circle in the Square. Christopher Plummer brings his celebrated one-man show to the Ahmanson Theatre in Los Angeles for 16 performances January 19-February 9. Tony Award winner Des McAnuff directs.

All of the surviving members of comedy group Monty Python - John Cleese, Eric Idle, Terry Gilliam, Michael Palin and Terry Jones - will reunite for the first time in almost four decades for a stage show. The Holy Grail of comedy reunite billed as "final reunion - sort of" will take place July 1, 2014 at the 02 Arena in London. The performance will also be taped for television.

Sally forth into 2014 and carry on.





Broadway To Vegas is supported through advertising and donations. Priority consideration is given to interview suggestions, news, press releases, etc from paid supporters. However, no paid supporters control, alter, edit, or in any way manipulate the content of this site. Your donation is appreciated. We accept PAYPAL. Thank you for your interest.





ART AND ABOUT


THE ANIMATION GALLERY

An articulated, poseable puppet of the Womble 'Great Uncle Bulgaria', made by FilmFair Limited in the United Kingdom, around 1997. This puppet was used in the 1998 series of The Wombles, made by FilmFair for HTV. The Wombles were fictional creatures that lived in burrows on Wimbledon Common and collected rubbish left by humans.

The Wombles originally appeared in a series of children's novels by Elisabeth Beresford (b. 1928). The characters went on to appear in an animated children's series, a film, comics and even release a single. Great Uncle Bulgaria was the leader of the Wombles. Photo: The Animation Gallery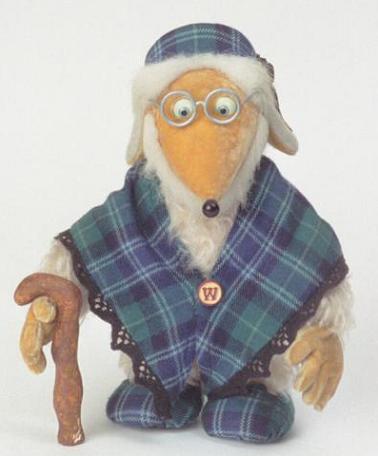 explores the history of animation and animated images. Visitors can see some of your favorite characters, look back at animation through the ages and discover how animators bring drawings and objects to life.

The first objects you encounter as you enter the Animation Gallery are the Smash Martian puppets, illustrating the importance of commercials to the survival of animation studios. Continue to the realm of children's animation to see a set from The Wombles, and artwork and storyboards from Bob the Builder.

A key object is the museum set from The Wrong Trousers, complete with Wallace and the notorious Feathers' McGraw. This section also showcases the development of an adult audience for animation by Channel 4 and the BBC.

The Moving Pictures area explores the basic principles of perceiving movement and how animated drawings pre-date the development of moving pictures.

You can try your hand at optical toys such as the zoetrope, praxinoscope and the wheel of life.

On display are major objects from the National Cinematography Collection such as Louis Le Prince's single lens and 16 lens cameras, an Edison Kinetoscope and a Lumière Cinématographe, together with an interactive display showing how these devices work.

One Hundred Years of Animation offers patrons the opportunity to take a seat in a viewing booth to watch clips from animated films from 1897 onwards, then learn about range of animation techniques from cut-outs to computer animation, and the ever-popular stop-motion method.

This section tells you about the work of Winsor McCay, Walt Disney, Lotte Reiniger, Norman McLaren, John Whitney, John Lasseter, and many other famous animators.

In the final section, the museum outlines the animation process from original idea to the final film, through script, storyboards, style sheets and bar breakdowns, and shows you how animators create moving images using cel, model and computer animation.

Before you leave, try animating a simple walk cycle against a moving background – not as simple as it seems.

The Animation Gallery, part of the National Media Museum, is located in Bradford, England.


SWEET CHARITY


THE CLEVELAND PLAYHOUSE set aside a portion of each ticket sold for their recent production of A Christmas Story to be donated to charity. The CPH was pleased to be able to provide a donation of $8750 to the Angie Fowler Adolescent & Young Adult Cancer Institute at UH Rainbow Babies & Children's Hospital.


THE MUSIC GOES ROUND AND ROUND


FRED ASTAIRE THE EARLY YEARS AT RKO is a 2 disc CD released by Sony Masterworks. A perfect musical collection that celebrates Astaire as he deserves to be remembered. Enjoy 37 of Astaire's stellar song performances plus two alternate tracks. There are also two solo performances by his famous partner Ginger Rogers.

If you learned of Fred Astaire listening records belonging to your grandparents or parents, or you only know of Astaire through his hit movies shown on TCM, Fred Astaire The Early Years at RKO is a must for any lover of music, Astaire, or the glory days of movie musicals.

It's difficult to translate tap steps to audio without them sounding phony. The mix of music and tap is perfectly captured in many of the selections, including the first song Music Makes Me. The seond offering Flying Down to Rio is followed by the iconic Night and Day with sweeping arrangements. No Strings, which also showcases those famous Astaire taps, is followed by Isn't This a Lovely Day, featuring the piano of the Johnny Green Orchestra. Top Hat, White Tie and Tails, and Cheek to Cheek, feature the Leo Reisman Orchestra with a beautifully sweet horn section.

You can visualize the debonair Astaire, fantasize about what it was like in those golden days of film musicals, romantic cross Atlantic ocean cruises, moonlight nights with champagne.

A pleasure to the ears, listening to this CD set will make you want to see all of the movies.

As a singer, Astaire is responsible for introducing more classic songs to audiences from the Great American Songbook which are considered the greatest and most influential songs from the 1920s to the 1950s than any other. Work from composers such as; Irving Berlin, Jerome Kern and George and Ira Gershwin are included on Fred Astaire The Early Years at RKO.

Many of these numbers were originally recorded and releases between 1932-1938 and the orchestra is listed on some selections but not the specific musicians.

It's a shame that on so many of the recordings of that era, there is no musician documentation. Perfect arrangements. The orchestras are credited as those of Johnny Green (whose harmony and mood were among the most sophisticated of the day), Hal Borne (who began as the rehearsal pianist for Astaire and was celebrated for his piano improvisations ), Ray Noble (during part of the 1930s Glenn Miller played the trombone in the Ray Noble orchestra), Leo Reisman (who had over 80 hits on the popular charts during his career. He was a violinist and Jerome Kern called Reisman's orchestra The String Quartet of Dance Bands. Eddy Duchin was a member of Leo Reisman's orchestra).

The best musicians of their day are on this CD. However, it's difficult to positively identify who were the music makers because the orchestras didn't always use the same musicians. For instance, piano from the Johnny Green Orchestra would probably have been played by Green, who was accepted into Harvard at the age of 15 and would go from being a stockbroker to being nominated for an Oscar thirteen times, winning the award five times.

Nor are backup singers listed. They were prominent on We Saw The Sea, which will make you to see the movie. Don't be surprised if Let Yourself Go inspires you to get up and dance.

Close your eyes and listen to Let's Face the Music and Dance backed by the Johnny Green Orchestra, Change Partners backed by the Ray Noble Orchestra, or They Can't Take That Away From Me, again backed by Green and you'll see Fred and Ginger gliding around the floor.

As the accompanying press release states: "It was a different era, a time when big movie musicals could break a song across the pop and publishing charts, and really, not that much different than what a video of a song gone viral does for an artist in the 21st century."

Having Astaire perform your song created a hit. Whether through his singing or dancing, Astaire had the ability to a captivate an audience.

Gorgeous sound, perfectly balanced. Not the tinny sound expected from songs originally recorded in the early 30s. Flawlessly remastered by Tim Sturges, Battery Studios, New York City. This is a CD that shows how previously released material should sound.

The accompanying booklet features liner notes penned by Michael Feinstein.

Produced by Didier C. Deutsch (Compilation); Tim Sturges (Compilation).

Receive some money or a gift card for Christmas? Spend some of it to purchase this CD.


DANCERS ADVISED TO TAKE VITAMIN D


Researchers have discovered that ballet dancers taking 2,000 units of Vitamin D per day had significant benefits. The researchers concluded that all dancers - especially during the winter months - should be on the supplement.

The study conducted by researchers at the Royal National Orthopaedic Hospital (RNOH), University of Wolverhampton and the Jerwood Centre at Birmingham Royal Ballet, three of the founding partners of the National Institute of Dance Medicine and Science (NIDMS), published their study in the Journal of Science and Medicine in Sport.

They found that vitamin D supplementation had a significant influence on improving muscle function and reducing the rate of injury occurrence. "Dancers who train indoors, especially during the winter, are prone to low serum 25-hydroxyvitamin D (vitamin D) due to a lack of sunlight exposure," they explained.

The researchers discovered that when providing oral supplementation of vitamin D3 (2000 IU per day, provided for the study by SunVit D-3) to dancers, significant improvements were noted. "The dancers who took vitamin D supplements demonstrated greater increases in muscle strength and vertical jump performance and showed a decreased rate of injury occurrence, compared to those in the group that did not take supplements."

As a result of the findings the RNOH is calling on medical staff and teachers to "monitor vitamin D levels in dancers throughout the year and consider providing supplements during the winter months to help return them to normal serum levels which can ultimately improve their overall performance."

The study was led by Professor Matthew Wyon from the University of Wolverhampton and included Nick Allen, Clinical Director of the Birmingham Royal Ballet and Dr Roger Wolman, Consultant in Rheumatology and Sport and Exercise Medicine at the RNOH.

Dr Wolman said:

"Vitamin D is important for bone development and has a wide range of functions. In a deficient state, dancers are at increased risk of bone injuries and this latest research indicates an increased risk of muscle injury, which can be detrimental to their health and their careers. "In a population known to be at risk of these deficiencies, such as ballet dancers, medical staff and teachers should consider supplying their dancers with appropriate levels of vitamin D whilst training indoors to help them build on their core muscle strengths to avoid injury. These findings could also be extrapolated to cover other sports and training activities that take place indoors."

Helen Laws, NIDMS Manager at Dance UK said: "Traditionally dancers spend between six and eight hours training indoors for six days a week throughout the year and they need to be able to execute highly technical movements during high intensity periods of training and when performing. This study provides important advice on performance enhancement as well as offering vital insights into the overall health and wellbeing of dancers."








SPREADING THE WORD


SHIRLEY MacLAINE

Shirley MacLaine pictured in Season Three of Downton Abbey returns to the hit series in Season Four.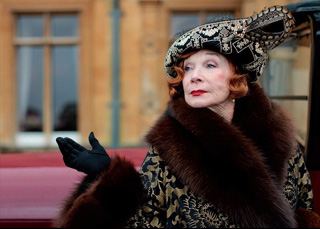 recent recipient of the Kennedy Center Honors, the presentation airing tonight, Sunday, December 29, 2013 on CBS, sent out an interesting report about her experiences in receiving the prestigious award.

"For me December was hectic and fun and filled with wonder and humility. It started with the trip to Washington DC where I received the Kennedy Center Honor. I was set to leave from Santa Fe and Brit ( Editor Note: Brit Elders is CEO of ShirleyMacLaine.com, author, documentary filmmaker, as well as a columnist for Wellness Bound Magazine) was set to leave from Flagstaff but weather and Mother Nature intervened. Brit got out of Flagstaff to Phoenix but then was stranded in Dallas in an ice storm. I managed to make the drive to Albuquerque on treacherous frozen roads to catch the only flight out to Washington. I arrived safely in Washington but didn't know if Brit was going to make it out of Dallas. She was up all night with the travel people, airlines and our wonderful aide, Kevin, from Senator Leahy's office. He had a friend with an airline that managed to get her the last seat on flights from Dallas to Philadelphia to DC. She arrived as I was leaving for the State Department dinner.

"Trooper that she is she popped in a shower, dressed and arrived in time for the evening's events – all with an hour of sleep.

"Sunday, Dec. 8th, was the big taped event, which will be broadcast on the 29th of Dec. That day began at the White House, meeting the President, his introduction of the honorees, and then it moved to the Kennedy Center where each of the honorees was given tribute by other performers. Brit and I, seated next to the Presidential Box, were thrilled by the spectacular performances. It was quite an evening. To see for yourself, tune in to CBS Sunday evening, Dec. 29th.

"Then the whirlwind was over and it was time to leave. Brit's flight left but I had to change flights and ended up leaving later in the day, which was great because I had an opportunity to visit my old dance school, The Washington School of Ballet. I was so happy I had the time to visit my old haunt and relish the memories of those halls that I walked - and danced through – so many years ago.

"I also went by the house I was raised in but no one was home. I left a note: 'You were gone and so am I, Shirley.'"

OPERAMISSION presents Handel's Agrippina January 16, 18, and 19, in conjunction with a residency of public Handeljam workshops for singers at the Gershwin Hotel January 5, 8, and 11, 2014.

Handel's second Italian opera, Agrippina, HWV 6, originally premiered in Venice in 1709 with a libretto by Vincenzo Grimani. Conductor Jennifer Peterson will lead from the harpsichord, joined by stage director Jeff Caldwell and costume designer Charles Caine, for a full production in Italian with period baroque orchestra, presented in the 15th Century Ducal Library of the Fabbri Mansion in New York.

The cast will led by soprano Karen Driscoll in the title role. Bass Paul Goodwin-Groen as Agrippina's husband the Roman Emperor Claudio will be joined by soprano Marcy Richardson as Poppea, countertenor José Lemos as Ottone, and mezzo-soprano Kimberly Sogioka as Nerone. Completing the cast are baritones Jorell Williams and Brian Mextorf, countertenor Joseph Hill, and mezzo-soprano Sarah Nelson Craft. The baroque orchestra will highlight Daniel Lee on baroque violin (concertmaster), baroque cellist Ezra Seltzer on continuo, baroque oboist Aaron Reichelt, and Kevin Payne on theorbo.

In conjunction with the production of Handel's Agrippina, operamission has been invited into an artistic residency at the Gershwin Hotel. As part of a one-week residency January 5-11, audiences can be taken behind the scenes in a series of Handeljams — workshops in baroque ornamentation.

Conductor Jennifer Peterson will be leading three public master classes for opera singers, teaching extemporization and improvisation in Handel opera arias, an overlooked skill currently seeing a resurgence, as 17th and 18th century performance techniques are rediscovered and explored, while possibly being amalgamated with modern jazz approaches.

BRITNEY SPEARS who opened Friday in Las Vegas, creates the first Las Vegas controversy of 2014. Is she lip-syncing? It all depends upon how you define the phrase.

Lip-sync is when no sound comes out of the person's mouth; they are mouthing the words to a voice generally belonging to somebody else.

For instance, it was Marni Nixon who sang for numerous actors in several movies, including the song An Affair to Remember, coming from the mouth of Deborah Kerr in the movie of the same name. Deborah Kerr was lip-syncing to Marni Nixon.

Singing over one's own track is not lip-syncing and is what most energetic singers have to do, in order to stage their performance, especially if it falls into the high concept spectacle category.

That means the singer attempts to sing or speak the lyrics they have already recorded. That's a necessity if the singer is also engaging in dancing, which causes the performer to become out of breath.

The singer's microphone may or may not be turned on, which can cause people in the first rows to think the singer isn't singing, when they are uttering the lyrics. The audience is hearing the track, not the performer.

A sound technican may be in control of the microphone, keeping it turned off when the singer is dancing and "singing" and turning it on when the singer attempts to speak to the audience.

It's been that way for decades. It's not being a fake. It's putting on a good show. You can't jump all over the place and sing. Race up and down a flight of stairs 10 times, run a mile, do a few squats and then try to sing.

Gasp.

A NIGHT WITH THE STARS OF THE BRIDGES OF MADISON COUNTY with Adam Guettel serving as Moderator.

92Y presents an evening with the stars and director behind the new Broadway musical The Bridges of Madison County, on Sunday, January 5 at the 92Y in New York City.

Four-time Tony Award-nominee Kelli O'Hara (Francesca) and Steven Pasquale (Robert Kincaid) join Tony Award-winning director Bartlett Sher and Tony Award-winning composer-lyricist Jason Robert-Brown for a conversation moderated by Tony Award winning composer/lyricist Adam Guettel.

The evening will also include a few performances of songs from the show.

The Bridges of Madison County is the latest production from the Tony and Pulitzer Prize-winning team of Marsha Norman and Jason Robert Brown. Based on the best-selling novel by Robert James Waller, which went on to become an Oscar-nominated film starring Meryl Streep and Clint Eastwood, the show opens on Thursday, February 20 at the Gerald Schoenfeld Theatre, after an acclaimed run at the Williamstown Theatre Festival.


A GINGERBREAD VERSION OF THE WHITE HOUSE
Assistant Pastry Chef builds gingerbread White House. Photo: The White House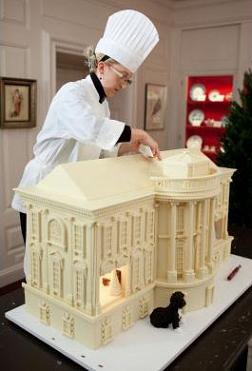 A holiday tradition - making a replica of the White House in gingerbread.

This year's sweet undertaking weighs 300 pounds. It's definitely bigger than a bread box. It's got a working water fountain, and it's edible.

Over the course of several weeks, pastry chef Bill Yosses and his talented team created the annual tradition, which was put on display at the State Dining Room.

The confection even features the Obama's dogs Sunny and Bo hanging out on the lawn of the White House.

The gingerbread house rests on a life-size, custom-made hearth fashioned from over 1,200 Springerle Cookies.

The famous gingerbread White House was started by Roland Mesnier, pastry chef to five presidents.

The tradition grew out of the simple models Mesnier crafted for the first family's Christmas celebrations.

Mesnier was born in rural, post-World War II France and was one of nine children.

He began his career as a pastry apprentice at the age of 12 and made his way up, working at many of the world's prestigious hotels. He came to the White House during the Carter administration and remained until his retirement in 2004.

The gingerbread house tradition continues.


OTHER PEOPLE'S MONEY


FRENCH THEATRE DIRECTOR PROTESTS CUTS by raming his car into the gates of the Elysee Palace in Paris, the Paris residence of French President Francois Hollande.

Attilio Maggiulli, 67, a theatre director of Italian nationality was irate over funding cuts to 100-seat Comédie Italienne Theatre in the Montparnasse district of Paris.

He was arrested as he tried to force his way through the Grille du Coq gate on Thursday, December 26, 2013.

President Hollande has pushed though cuts to the French cultural budget in an effort to reduce the government's deficit, resulting in the curtailing of 30,000 euros ($41,400) which has been paid to the Comédie-Italienne.

It was Maggiulli's second arrest in two days in protest of the budget cuts.

The previous day Maggiulli was taken into custody near the Elysee Palace after pulling a Harlequin puppet from his car and setting it on fire.

"He then threw around some leaflets denouncing the cuts in subsidies for his theatre," a police source stated. After being arrested on Wednesday the police let him go.

In attempting to gain publicity about the plight of Paris theatres the next day Maggiulli drove his car into the gates of the Elysee Palace. He was unconscious when pulled from the wreck. Slightly injured he was taken to a Paris hospital. On Friday was admitted to the psychiatric infirmary of the Prefecture of Police of Paris.

French newspapers described Maggiulli as "a kind director" and "a generous artist" who was "driven to despair."

Maggiulli has a long history of protesting.

According to Le Figaro in 1997 he staged a hungar strike to protest theatres being "inudated with taxes."

In 2003, Attilio Maggiuilli was attacked after he penned a piece lampooning President George W. Bush. His face was slashed and the tiny lobby of his Comédie Italienne Theatre was trashed.



EVITA music and lyrics by Andrew Lloyd Webber. Book and lyrics by Tim Rice.

Directed by Michael Grandage.

Evita tells Eva's passionate and tragic story through a dazzling and beloved score, including Don't Cry for Me Argentina, Another Suitcase in Another Hall and High Flying Adored, together with You Must Love Me, the Oscar-winning hit from the film Evita.

Starring: Caroline Bowman- Eva Peron; Josh Young - Che; Sean MacLaughlin - Juan Peron: Desi Oakley - alternate Eva: Christopher Johnstone - Magaldi: Krystina Alabado - the Mistress.

Choreographer - Rob Ashford; Set and Costume Designer - Christopher Oram; Lighting Designer - Neil Austin; Sound Designer Mick Potter;.

Officially opens at the Paramount Theatre in Seattle on December 31, 2013 with performances through January 5, 2014.

A PRAIRIE HOME COMPANION the live radio broadcast which features comedy sketches, music, and Garrison Keillor's signature monologue, The News from Lake Wobegon.

Special guests include Sara Watkins and The Wailin' Jennys.

The show begins at 2:45 p.m. and will be broadcast live on NPR stations.

This is a live broadcast. Patrons must be seated by 2:45 p.m. or wait in Theatre lobby until next available seating break.

January 4 at the San Diego Civic Theatre.

I'LL GO ON by Samuel Beckett from Molloy, Malone Dies and The Unnamable. Texts Selected by Gerry Dukes and Barry McGovern.

Directed by Colm Ó Briain.

Barry McGovern, Ireland's greatest interpreter of Samuel Beckett returns to the opus he helped develop for the stage 25 years ago and has performed over 200 times all over the world.

I'll Go On extracts indelible characters from the Beckett trilogy Molloy, Malone Dies, and The Unnamable. "With these marvelously surly characters, the mordant observations on life from a Nobel Prize celebrated author and the remarkable Barry McGovern center stage as the catalyst. You must go on, I can't go on, I'll go on."

A Gate Theatre Production January 10 - February 9, 2014 at the Kirk Douglas Theatre in Culver City, CA.

THE BLACKEST BLACK by BAFTA award winner Jeremy Black who returns to playwriting for the first time in over 20 years after scripting many critically acclaimed films including Mrs. Brown, The Last King of Scotland and How I Live Now.

Directed by Michael Longhurst who makes his Hampstead Downstairs debut following sell-out hits Constellations (Royal Court/West End), The World of Extreme Happiness (National Theatre) and If There Is I Haven't Found It Yet (Roundabout Theatre, New York).

Martin is an astronomer: a solitary, straight-laced introvert, itemizing the sky. Abi is an artist: a chaotic, free-spirited extrovert trying to fill the void. But something about the heat and intensity of a space observatory in the middle of the Arizona desert sparks a surprising and passionate relationship between them. And as they struggle to connect, Abi's reckless and un-boundaried nature sets in motion a deeply unsettling and wholly unexpected chain of events.

This unconventional love story asks whether the outcome of a collision resulting from the attraction of opposites is inherently unstable.

Starring Jake Gyllenhaal, Ian Bonar, John Light and Charity Wakefield.

January 9 - February 8, 2014 at Hampstead Downstairs in London.


WHO'S WHERE


MAROON 5 including the "Sexiest Man Alive" Adam Levine ring in the New Year December 30-31 at Mandalay Bay in Las Vegas.

GARTH BROOKS and his band reunite for a special weekend of New Year's concerts. January 3-4 at the Wynn Hotel in Las Vegas.

SANDRA BERNARD in her Sandyland show at Joe's Pub in NYC through New Year's Eve.

TONY LINDSAY is an 11-time Grammy winner who has recorded with, and written for, artists like The O'Jays, Al Jarreau, Curtis Mayfield, Teddy Pendergrass, Aretha Franklin and Lou Rawls. He's also spent over 20 years as the lead vocalist for Santana. Join Tony and his bandmates for an evening of pop, R&B and soul favorites. Friday, January 3, 2014 at the San Pedro Square Market in San Jose, CA.

BUDDY GUY opens Friday, January 3, 2014 at Buddy Guy's Legends in Chicago. The extended gig runs through January 31st.

JAMES GALWAY performs New Year's Eve at the Kammerorchester in Luzern, Switzerland. On the first day of the New Year he can be enjoyed at the Zürcher Kammerorchester in Zurich, Switzerland.

JIM BRICKMAN performs tonight, December 29, at the Pikes Peak Center in Colorado Springs, CO. On Monday he entertains at the Merryman Performing Arts Center in Kearney, NE. On New Year's Eve the show is at the Topeka Performing Arts Center in Topeka, KS.




FINAL OVATION


YUSEF LATEEF died December 23, 2013. He was 93. The cause of death was prostate cancer.

Lateef was an American jazz multi-instrumentalist, composer and educator for the Ahmadiyya Muslim Community after his conversion to the Ahmadiyya sect of Islam in 1950. Although Lateef's main instruments were the tenor saxophone and flute, he also played oboe and bassoon, both rare in jazz, and also used a number of non-western instruments such as the bamboo flute, shanai, sofar, xun, arghul and koto. He is known for having been an innovator in the blending of jazz with "Eastern" music.

In 1975, Lateef completed his dissertation on Western and Islamic education and earned a Ed.D. in Education from the University of Massachusetts Amherst.

In the early 1980s Lateef was a Senior Research Fellow at the Center for Nigerian Cultural Studies at Ahmadu Bell University in the city of Zaria, Nigeria. Returning to the US in 1986 he took teaching positions at the University of Massachusetts and Amherst College. To the end of his life, he continued to teach at the University of Massachusetts Amherst and Hampshire College in western Massachusetts.

In 2010 he received lifetime the Jazz Master Fellowship Award from NEA National Endowment for the Arts. The National Endowment for the Arts Jazz Masters is the highest honor given in Jazz.

Neil Portnow President/CEO of The Recording Academy issued the following statement: "Grammy winner Yusef Lateef was an accomplished musician and composer known for his impressive and superior technique as a tenor saxophonist. He also played flute, oboe and bassoon and his passion for music led him to perform with many of jazz's greats including Cannonball Adderly, Miles Davis, Dizzy Gillespie, and Charles Mingus, among others. Never one to be confined by genre or boundaries, he introduced woodwind instruments from other countries into his music, and he is often credited with playing world music before it became so named. His experience as a music educator later in life infused his more recent work, and he continued to compose and perform up until this past summer. Our music community, jazz in particular, has lost one of its giants, and his remarkable legacy will continue to inspire and teach future generations. Our heartfelt sympathies go out to his family, friends, and all who had the privilege of being touched by his enduring and soulful work."

RICKY LAWSON famed studio drummer, died Monday, December 23, 2013 in a Los Angeles hospital after being removed from life support. He had suffered a brain aneurism ten days earlier. He was 59.

Lawson had collaborated with musicians including Michael Jackson, Eric Clapton, Phil Collins and Whitney Houston.

He performed on Houston's version of I Will Always Love You. He also performed with Al Jarreau, George Benson, Bette Midler, Quincy Jones and many others.

Neil Portnow President/CEO of The Recording Academy issued the following statement: "Grammy winner Ricky Lawson was a gifted and dynamic drummer who co-founded the jazz-fusion band the Yellow Jackets. He also became a top studio session player, collaborating with a diverse group of artists including Eric Clapton, Whitney Houston, Michael Jackson, and Bette Midler. The music industry has lost a skillful and passionate musician all too soon, and our sincere condolences go out to his family, friends and those who were inspired by his musical talent."













Next Column: January 5, 2014
Copyright: December 29, 2013. All Rights Reserved. Reviews, Interviews, Commentary, Photographs or Graphics from any Broadway To Vegas (TM) columns may not be published, broadcast, rewritten, utilized as leads, or used in any manner without permission, compensation and/or credit.
Link to Main Page
---
Laura Deni



For the snail mail address, please E-mail your request.
CLICK HERE FOR COMMENT SECTION