! >
Broadway To Vegas
  SHOW REVIEWS CELEBRITY INTERVIEWS GOSSIP NEWS

| | |
| --- | --- |
| | |
CHARLOTTE REP'S NEW DIMENSIONS - - A KRISPY KREME NEW YEAR - - CONCERT FOR PEACE - - AMERICA'S PARTY: LIVE FROM LAS VEGAS - - SING ALONG TIMES SQUARE - - A FLAT FOR DAVID LETTERMAN - - THE LAST VIRGIN - - SHOOTING CRAPS - - DONATE . . . Scroll Down


KEEPING THE CHARLOTTE IN CHARLOTTE REP
The $67 million Blumenthal Performing Arts Center is home to Charlotte Rep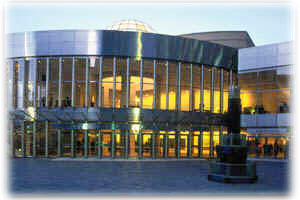 Before Michael Bush began his tenure as producing artistic director of Charlotte Repertory Theatre last June he was hit with criticism. Some thought he would destroy the Charlotte in Charlotte Rep, turning the stage into a guaranteed gig for his New York buddies.

For the preceding 22 years, Bush worked at the Manhattan Theatre Club (MTC) in New York City, and for the last 11 years there served as MTC's associate artistic director. In his time with MTC, which only produces new works, Bush helped artistically guide more than 120 productions of new plays and musicals. MTC's Musical Theatre Program, designed by Bush in 1993 to develop work by emerging composers and lyricists, produced such shows as: A Class Act (2001 Tony nominee), The Wild Party, The Green Heart and Time and Again.

Broadway To Vegas continues our interview with Bush, which began in last week's column.

He has called MTC a "writers' theatre" explaining that there are four types of theatres - writers, directors, actors and producers' theaters.

If MTC is a writers' theatre, what is Charlotte?



Michael Bush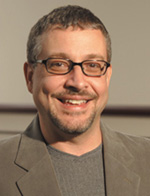 "I'd have to say that Charlotte is a Producer's Theatre, and I was very aware of that when I look this position," Bush stated.

Why leave MTC?

"When the opportunity came along, to quote Ellen Stuart who runs La Ma Ma - At some point everyone needs their own pushcart. I was 48 years old and it was time to go way out on that limb and really try to fulfill what I started to do 25-years ago," he explained.

"Charlotte Rep approached me," he emphasized about the company located at the Blumenthal Performing Arts Center. "As a matter of fact, the first time I was approached I said I am not interested. I was approached because it was part of a three-year, long range plan on their part. There was a producing director here named Keith Martin who, interesting enough, was a student of mine 20-years-ago when I taught high school very briefly in Hickory, North Carolina. Keith was my star student."

"I actually was doing my undergraduate work at the time and Hickory High fired their drama teacher," Burns recalled. "Or, I don't know if they fired him, but suddenly they didn't have one. They approached the college asking if there was a top student who would come over and teach drama. I did it for two years."



Matt Olin managing director and Michael Bush producing artistic director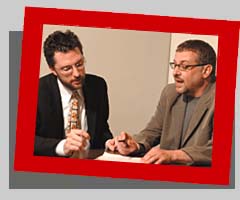 "Anyway, Charlotte Rep was going through a transition period. Martin decided to leave the organization and the board hired a consulting firm, Albert Hall out of Connecticut. Steve Albert was someone I knew. They went to him and said they were having a hard time finding a producing director. Albert Hall advised them they should hire a CEO, or a producing artistic director, who would come in and - at the time - work with the founding artistic director. Then they approached me the first of September last year. I had my first meeting with Steve Albert on September 10 in New York."

"And, of course, the eleventh arrived. Not that I can say that I took that as a sign from the universe, but what was interesting about that morning was that I didn't want to go to work," he recalled. "I needed to sit and think about this, because the feeling I had when I came away from the meeting was, if I went after this job, I would be offered it. Indeed, that is what happened."

"It was the biggest decision that I have ever made in my life," admitted Bush. "I thought it would give me the ability to create. That is really what was important to me."



Tony and Emmy Award winner Penny Fuller. Photo By: Laura Deni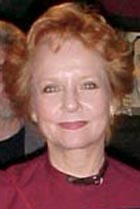 "This is one of only two fully professional theaters in the Carolinas, and I feel it is important to present a wide range of work and that includes the classics. A fair percentage of the theater in this community should be - I hate the term, museum theater, but I am going to use it a bit because I do think it is important."

"We plan on doing Shakespeare. I do plan on doing Chekhov. I did Tennessee Williams this year," he continued about opening the season with The Glass Menagerie, starring North Carolina native Penny Fuller.

"At the same time I want to develop new work."

"I saw a lot of opportunity down here because Charlotte is really a corporate town now with its stability built on banking."

"I thought there was a support here for the kind of work I wanted to do."

Burns casts both through auditions in Charlotte and through a casting agency in New York. That process met with immediate, if not unfounded, criticism from Charlotte actors who felt they might see their roles going to what they perceived as carpet baggers.

"Part of this is a fallacy because 50 percent of the actors that Charlotte Rep used before I came down here were not from Charlotte. That doesn't mean that they were necessarily from New York, but some of them were. Bonnie Franklin played here. They have done things with Olympia Dukakis, so it is not like this was a new concept," he argued.

"You're always going to have a certain degree of debate and discussion over change. But, I had to do what I set up and needed to do and know how to do best. I thought I could be a pipe piper down here, but it has always been my goal to interact with the vast artistic community that is here. There are 50 theater companies within a 24-mile-radius of downtown Charlotte. That includes college theater companies. There is a vast amount of work down here and there is a vast amount of talent," he stressed.

Charlotte Rep is the only professional theatre in Charlotte and as a member of the League of Resident Theatres, abides by the rules of Actors' Equity Association.

"As I have sort of said, to my critics, you have got to let me meet these people before you can expect me to hire them," he continued. "The Charlotte Rep budget has increased about 30 percent of what it was the year prior to me, which is the normal amount of growth here."

"I'm happy to say that my production of Fully Committed, which was my third show of the season, was a one man show and started a local actor. And, he competed nationally. I auditioned in New York and I auditioned in Charlotte and I hired a Charlotte actor to do it. He was not just sensational. In my opinion, he was better than the actor who I saw play it in New York. And, I want to do more and more of that - as I get to know the community."

"Let Me Sing is an original musical that, of course was developed by me, but I'm looking at two new works in my season next year. That, is easily twenty percent of my season. I actually don't think it should be any more than that."

"George Street was very supportive of this and then went on to offer us a co-production of Let Me Sing. David Saint likes to say we grew up together," he said about the artistic director of the George Street Playhouse. "But, what that means is that we grew up in the theater together. I think David Saint and I first worked together in the early 80s at the Manhattan Theatre Club and have remained friends every since."

"I was very complimentary and supportive of his strong commitment to new work in New Jersey. Frankly, that is a community that can support that. He does fifty, sometimes up to sixty percent new works, which is appropriate for that theater, which I think would be inappropriate for my theater. My theater, while not a Flat Rock Playhouse, which is the state theater of North Carolina, is something that I view as a state theater."

"We have a new look and I am officially calling it The Rep, going by what it was unofficially being called. When we were re-doing our logo here, I kept saying to my marketing people - I need a logo that will work with A Tuna Christmas and Medea and a new work because I do feel that it has to be all of that."

"We also have a new play festival, which I am revamping that will take place in the last two weeks of April. Readings of plays and musicals in development will be staged, festival-style, in various locations around Charlotte such as museums, parks, and uptown atriums. Some readings may be offered during the lunch hour, and most will be free to the public, with donations appreciated."

"There are going to do as many as seven new pieces within that two weeks period," Bush elaborated. "It's not performance oriented. It's all process. None of these pieces will be given productions. They will be staged readings, really working with the writers. I hope when the writer leaves the Charlotte Rep new play festival, which I'm calling In The Works, that their play will be in better shape than it was when it got here. And, I do hope that out of that festival I will pick a piece, or several pieces, that will go on to full productions the following season."

"I'm from Charlotte, which was just a coincidence," he insisted. "Frankly, running the theater in Charlotte is a different circumstance, because this is not the same town I grew up in."



Charlotte, North Carolina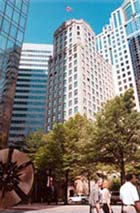 "Charlotte, when I was growing up, was really a small, very rural southern city of about 200,000 people, which still was the biggest city in the Carolinas. In the past 10 years, it has become the financial center of the country, other than New York. It is the number two financial center."

"They basically torn down the down town area that I knew, except for a few precious things like the library and the Carolina Theatre, where I had some of my great movie experiences as a kid. They built what I call the sort of Brasilia of the South. Charlotte is really the city of the 21st century. It is now huge, approaching 1.3 million, and just got named one of the 10 best places in America to live," related Burns who just became a Charlotte homeowner.



Historical Rosedale Plantation built in 1815 is one of the finest examples of Federal period architecture in North Carolina and is noted for its faux grained woodwork and the original French wallpaper that survives in three rooms.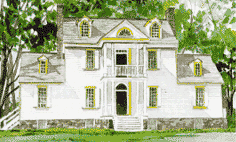 "My life partner and I bought a home in what is still considered down town, in an area called Noda, which is called the Arts District. If anything, it is Charlotte's equivalent to SoHo. It is the old mill part of Charlotte. This is where the textile mills were. Many of the houses here were old mill houses. We bought one of the larger ones that was, I think, a management house. It was built in 1928 and was restored in 1997, so we have literally been able to move in," said Burns about the move which also included two dogs. "I have two and one is a new addition. One is named Cole Porter and we just got a cairn terrier named Yip Harburg," he said about the new addition, which is the breed that accompanied Dorothy to the Land of Oz. "Yes, we have Cole and Yippy. It is a glorious house with three fire places, huge dining room. Luckily, for me, a totally separate upstairs attic apartment with a complete kitchen and bathroom that I can utilize. As a matter of fact, Marla Shaffle, is going to live up there during the run of Let Me Sing with her dogs."

Re-locating is a family experience and Bush admits that, on a personal level, he was fortunate the move was an easy transition for everyone. As Bush said, "It couldn't be better."

My life partner, Michael Aman, is a playwright. He was the literary manager at George Street Playhouse. He left George Street and came down here with me to become the literary manager of Charlotte Rep."

While in New York Bush spent eight happy years teaching a musical theater history class at Brooklyn College. Any possibility teaching in Charlotte?

"Yes," was the instant reply. "I hope to. Davidson College has offered me a teaching position," he said referring to a college where Jeanne O'Neill's Latin class features oral interchange in Latin with students about everything from the weather to family pets to Ovid's poetry. The textbook for her introductory Latin class doesn't include a single word of English, and students do homework on Web pages that link vocabulary to on-line Latin dictionaries, and art references to images of those paintings.

"But, I said to them, I can't teach in my first year here," continued Bush. "I've just got too much to do. They have basically said to me - just tell us when."

"I do absolutely plan on teaching. I used to say, especially in my last few years at MTC, that my happiest three-and-a-half hours a week were in the classroom."



Broadway To Vegas is supported through advertising and donations. Priority consideration is given to interview suggestions, news, press releases, etc from paid supporters. However, no paid supporters control, alter, edit, or in any way manipulate the content of this site. Your donation is appreciated. We accept PAYPAL. Thank you for your interest.


LETTERMAN'S CHRISTMAS FLAT
David Letterman spend Christmas on a USO tour, bringing laughs and cheer to troops in the Middle East. Unfortunately, some of the military felt that they had received a lump of coal, rather than a gift wrapped comedian, when a flat tire on a transport plane on Christmas Eve grounded one leg of Letterman's tour, his stop in Bagram.

Next time the military may need to consider renting a sleigh and reindeer. Santa doesn't get flat tires and Rudolph has never missed a destination.



SHOOTING CRAPS by Tom Dulack. The author of the irreverent comedy hit, Breaking Legs, brings together politicians, pretenders and small-time crooks to parody the collision of organized gambling and not-so-organized crime. A campaign for mayoral re-election hinges on building a much-needed casino. With grandma running numbers via cell phone and Uncle Carmine greasing every palm in sight, the candidate's future doesn't look bright.

Dulack is the author of a dozen plays, including Solomon's Child, Diminished Capacity, Capital Crimes, Bright Wings, and Catherine. His plays have been produced on Broadway, Off-Broadway, at the Long Wharf Theatre in New Haven, the Old Globe, the GeVa in Rochester, NY, the National Theatre in Brussels, and at the Kennedy Center. Dulack is also the author of several books his latest being the recently published In Love with Shakespeare: A Literary Memoir. The book is a humorous, irreverent and provocative look at the ways in which Shakespeare's plays are used and abused in today's culture.

In addition to literate scribblings, Dulack teaches courses in dramatic literature at the Waterbury Campus of the University of Connecticut, where he is a Professor of English.

Directed by Gavin Cameron-Webb Shooting Craps has performances January 5 to February 2 Studio Arena in Buffalo, New York.

FRANKIE AND JOHNNY IN THE CLAIRE DE LUNE welcomes Joe Pantoliano and Rosie Perez to the hit revival on January lst. Pantoliano drops his pants replacing Stanley Tucci and Perez takes over for Edie Falco, both of whom left the show December 29. Belasco Theatre, NYC.

THE PRODUCERS start off 2003 by opening January 1 in San Diego, California for an engagement running through January 12.

THE DEVILS OF LOUDUN adapted & directed by Matt Mitler. The production features Yvonne Brecht, Carolina Franco, Fyndra Krauss, Johnny Melville, Matt Mitler, John Norman, Michael Richardson, Stephen Shelley, Rebecca Sokoll and Bob Strock

The world premiere of this multi-layered chamber piece about mass possession, sin, and redemption was inspired by Aldous Huxley's historical treatise. The story, set in 17th century France, involves a group of nuns who become possessed by devils, and the local parish priest who is burned at the stake as a result. The text has been compiled from a variety of sacred and classic sources; the abundant vocal music comes from a wide range of Medieval and Renaissance sources; and elements of sacred movement and traditional dance, as well as techniques from mime, Commedidia dell'Arte, and Meyerhold, have been integrated into the staging.

Music direction by Bob Strock. Costumes by Karen Hatt. January 2 - 19 at the La MaMa Annex Theater, NYC.

FUNNY MONEY a farce by Ray Cooney. A mild mannered CPA named Henry Perkins picks up the wrong briefcase on the subway and discovers it contains a great deal of money. When he finally gets home for the birthday dinner his wife, Jean, has planned, he suggests they emigrate to Barcelona and quickly books air flights out of the country. From then on pure insanity develops, as the Perkins' friends show up for dinner, the cab driver comes to take them to the airport and two police sergeants show up - neither of them know about the money, but everybody thinks that they do.

Gregory Cohen directs the production that features Bill Peters, Yvonne Robertson, Cort Huckabone, Rebecca Morales, Mitchell Nunn, Bill Strongin, Stan Jenson, Bobby Lux and Patty Lund. Scenic design is by Vincent Roca; Sound Design by Ron Wyand, Costume Design by Donna Fritsche and Lighting Design is by Richard Taylor.

January 3 - February 15. The opening performance is followed by a champagne reception with the director, cast, crew, and Playhouse staff.

Long Beach Playhouse is considered a landmark in the City of Long Beach, California. Established in 1929, the Playhouse is one of the oldest continuously operating theatres West of the Mississippi. Construction was completed in 1950 on the Playhouse at its present site. Performances are held 50 weeks out of the year and the Playhouse brings in over 30,000 yearly patrons with 326 performances annually. In addition to producing 16 plays each year in its Mainstage and Studio Theatres which is the first professional theatre in Long Beach, the Playhouse produces four staged readings of playwright's new works, has ongoing workshops for youth and adults, active internship programs in its scene and costume shops and a professional full-time production staff.

THE LAST VIRGIN A comedy about Islamic Virgins in an Irish pub. Criticizing Islam is not Politically Correct, but is it Kosher? Written by Tuvia Tenenbom with belly dancer/ German Journalist Maria Lowy

Presented by The Jewish Theater of New York and we sincerely hope the people behind this production know what they are doing and have considered their timing.

The production is billed as "A Middle Eastern comedy of errors. Three men - one Christian, one Jew and one Arab - sit in a pub and play a dangerous game. Each pretends to be the other, but none knows who the other actually is. Praying at a table next to them is a seductive ghost known as "The Virgin." All try to tempt her, but she has her own game to play. Late into the night these four characters manipulate one another, but only one can win - and winner takes all.

The Last Virgin is based on the forays of playwright Tuvia Tenenbom earlier this year into the Arab world where he lived with Bedouin and Palestinians, and into Europe where he met with the classmates of Muhammad Atta. By posing as a "Devout Muslim" in Amman, a "German Christian" in Ramallah and a "Hasidic Jew" in Hamburg Tuvia allowed the people he met to feel comfortable, thus share with him their most intimate views. And while The Last Virgin professes love and passion for its characters, it contains more than a grain of deafening sadness for the tortured consequence of their actions. Written in Amman, Jordan, this work is a swim into the magical world of the East and an intimate look into the soul of its people. The Last Virgin has been co-written with Maria Lowy, a former Belly dancer in Iraq and a German journalist, who specializes in the Middle East and is enamored by its people.

A release from Abe Cohen, who represents The Jewish Theater of New York states; "the Modern Theater has slaughtered almost every sacred cow Christian, Jewish, Atheist, capitalist, communist, and all that's in between yet some noted exceptions remain. One of those is Islam. Islam had been treated with kids' gloves not only by theater people but also by the rest of the artistic community, intelligentsia and lay people too. Like it or not, Prophet Muhammad gets more respect than either Freud or Marx, not to mention Moses or Jesus. The Prophet of Mecca may have promised his followers a Paradise populated by smashing Young Babes, the Virgin Brides of Paradise, but you'll find multitudes of New Islamic Scholars of the West saying he never actually meant it. In the Middle East young men wrap their penises in white toilet paper before they blow themselves up in cafes and bus stops, yet no one in the West has ever dreamt of using Charmin toilet paper for such a purpose."

The Last Virgin stars Assaf Ben-Shetrit, Liat Glick, David Tirosh and Amy Yogev, directed by Tuvia Tenenbom. Set by Mark Symczak. Lighting by Jason Sturm. The Last Virgin will open at the Triad Theater, New York City on January 4th.


WHO'S CELEBRATING NEW YEAR'S WHERE


CEDRIC THE ENTERTAINER December 30 at the MGM-Grand in Las Vegas.

GRAHAM CENTRAL STATION in Nashville hosts its traditional blast with its legendary Krispy Kreme doughnut buffet at midnight, along with a champagne toast. The three levels remain open all night, but this year, the club welcomes ages 18-20, who will have a private room where DJs spin hip-hop, pop, techno and rap.

TOMMY TUNE takes time off from his show at the Little Shubert in New York to celebrate 2003 in Nevada. Tune and The Rhythm Kings will be entertaining in two New Year's Eve shows at the Eldorado Hotel in Reno.

THE TONHALLE ORCHESTRA has a long standing tradition of performing a New Year's concert in the Zurich, Switzerland venue with arguably the best acoustics in the world. This year the concert is entitled An American in Zurich. American bass Simon Estes joins conductor Nicholas Cleobury for an evening full of surprises. The Tonhalle Orchestra under the direction of David Zimmermann has been on extensive European tours since the mid 90s. December 30 and 31st in Zurich, Switzerland.

GYPSY ORCHESTRA is part of Budapest's New Year celebrations. The 100 strong, world famous Gypsy Orchestra will perform folk music favorites involving pieces by composers such as Offenbach, Brahms, Rossini, Liszt and Strauss. With their 100 members, the orchestra cannot fail to move both the soul and the ears with the powerful sound they produce - not for the faint-hearted! If it all gets too much, instead of ear plugs being offered, a "civilized" wine tasting is proffered in the hopes that "you'll soon find yourself getting in the spirit of things singing along with the best of them!" December 30 Budapest Convention Centre in Budapest, Hungary.

HARRY SMITH leads St. John the Divine's 18th New Year's Eve Concert for Peace, presenting singer Judy Collins, soprano Lauren Flanigan, cellist Eugene Friesen, the New York Chamber Sinfonia and the New York Festival Chorus. General admission is free; reserved seats are $50. New York City.

PHISH after taking a two year hiatus the jam band has hit the road performing New Year's Eve at Madison Square Garden. On Thursday they open a three night stand at the Hampton Coliseum in Hampton, Virginia.

JOHNNY MATHIS rings in 2003 performing December 31 at the Santa Ana Casino in Bernalillo, New Mexico.

SWEET HONEY IN THE ROCK on stage for the first time in 2003 on January 3 at the Arlene Schnitzer Hall in Portland, Oregon.

THE GRANDE MASQUE the New Year's Eve gala for the performing arts, will be held on Dec. 31 at Gaylord Palms Resort & Convention Center, Orlando, Florida, in a first-ever collaborative effort by the Orlando Ballet, Orlando Opera and the Orlando Philharmonic Orchestra. The hot ticke black-tie masked ball is limited to 1,000 guests.

Michael Andrew and Swingerhead, a popular jazz and swing band, will perform alongside the Orlando Philharmonic, Opera and Ballet at the event. The gala also will include a sumptuous five-course dinner, a live and silent auction, and a champagne toast at midnight.

This is the first time in Central Florida history that the city's three premier cultural organizations have come together to sponsor an event of this magnitude. The event is a fundraiser, with all proceeds benefiting the three non-profit cultural organizations.

JOHN PIZZARELLI TRIO staging their Happy New Year show at Sculler's in Boston on December 31.

LIZ CALLAWAY performing The Songs of Frank Loesser at the 92nd Street Y in New York, NY January 4-6.

LARRY GATLIN in a two nighter December 30-31 Cactus Pete's in Jackpot, Nevada.

THREE MO TENORS open a three night celebration on Tuesday at the Raymond F. Kravis Center in West Palm Beach, Florida.

KENNY ROGERS being festive on stage New Year's Eve at the Potawatomi Casino in Milwaukee, Wisconsin.

BARBARA COOK performs New Year's Eve at the Tilles Center for the Performing Arts in Long Island, NY.

BONNIE RAITT saying good bye to the old and hello to the new Monday and Tuesday at Caesars Tahoe Hotel in Lake Tahoe, Nevada.

MEAT LOAF has a busy week. Monday he's on stage at the Florida Theatre in Jacksonville, Florida. New Year's Eve the party is in Boca Raton, Florida at the Mizner Park Amphitheatre. On Thursday his first show of 2003 is at the Hard Rock Live in Orlando. On Friday the show takes place at the Barbara B. Mann Hall in Fort Meyers, Florida.

NEIL DIAMOND celebrates the New Year entertaining Tuesday at the Pepsi Center in Denver, Colorado.

MICHAEL FEINSTEIN in the spotlight Monday at the Raymond F. Kravis Center in West Palm Beach, Florida. His first show of 2003 is Thursday at the Van Wezel Performing Arts Hall in Sarasota,Florida. On Thursday he can be enjoyed at the McCallum Theatre in Palm, Desert, California.

MARIN MAZZIE AND JASON DANIELEY husband and wife in real life, can share a New Year's Eve kiss on stage. They team up for two concerts with the San Francisco Symphony. On December 29 they take part in Vienna Woods, New York Night: Songs of Two Cities, which begins with Viennese Waltzes and concludes with Broadway showstoppers. And, on New Year's Eve the duo will be part of the annual New Year's Eve Gala concert, which features complimentary champagne and desserts following the performance. Edwin Outwater will conduct the two concerts, which will be held in Davies Symphony Hall, San Francisco.

CREEDENCE CLEARWATER REVISITED in the spotlight Tuesday at Mystic Lake Casino in Prior Lake, Minnesota. They have a two nighter Friday and Saturday at Casino Rama in Rama, Ontario.

CANON PRESENTS AMERICA'S PARTY: LIVE FROM LAS VEGAS with American Idol host Ryan Seacrest live from the Venetian resort. You don't need to be in Sin City see this. It will air on Fox head to head against Dick Clark. Hoping to attract viewers with fewer rings around their trunks, there are pretaped segments from The Rolling Stones, and Bon Jovi. Live in Vegas will feature Sheryl Crow performing from inside The Venetian Ballroom, where she'll be giving a special New Year's Eve concert. Ja Rule, Ashanti, Dru Hill and Sugar Ray will also be in Vegas performing for Live from Vegas.

LINDA EDER on stage January 3 and 4 with the Baltimore Symphony in Baltimore, MD.


TIMES SQUARE SING ALONG RINGS IN 2003


The first ever Times Square New Year's sing along, led by Louise Pitre, from the hit Broadway musical Mamma Mia!, begins at 11:25 p.m. on New Year's Eve when the Times Square revelers unite their voices in a huge chorus to welcome the New Year. Two songs specifically selected for their sing-along appeal - the Beatles' All You Need is Love and Hoyt Axton's Joy to the World, will be played on the sound system as the lyrics appear with a bouncing New Year's Eve Ball on the giant Panasonic Astrovision screens in Times Square.

At 11:49 p.m. the sixty-second countdown begins with special guests, Christopher and Dana Reeve, joining New York City Mayor Michael Bloomberg at the Duffy Square Countdown Stage to lead the final sixty-second countdown to the New Year and signal the descent of the New Year's Eve Ball.

The lighted Ball descends 77 feet in sixty seconds. The Ball is a geodesic sphere, six feet in diameter, weighing approximately 1,070 pounds. The Ball is covered with 504 Waterford crystal triangles, 600 multicolored Philips light bulbs, 96 high intensity strobe lights, and 90 rotating pyramid mirrors.

At the stroke of Midnight, the light bulbs on the New Year's Eve Ball are turned off as the numerals of the New Year "2003" burst into life, shining high above Times Square, to welcome the New Year.

A spectacular two-minute Grucci pyrotechnic show brilliantly illuminates the sky above One Times Square. The synchronized bursts of custom-mixed colors glitter in the night to greet the New Year.

A colorful blizzard of New Year's Eve confetti is released from rooftop setbacks throughout Times Square. The red, white and blue confetti creates a panorama of color as the revelers celebrate the New Year.

Korbel Champagne is providing bright red balloons tied with gold mylar ribbons. Discover Card is providing glittering multi-color mylar pom-poms, bell ringing wristbands, and Official Times Square Confetti Bags which revelers can fill with souvenir confetti.

Broadway To Vegas wishes everyone a prosperous, healthy and peaceful













Next Column: January 5, 2002
Copyright: December 29, 2002. All Rights Reserved. Reviews, Interviews, Commentary, Photographs or Graphics from any Broadway To Vegas (TM) columns may not be published, broadcast, rewritten, utilized as leads, or used in any manner without permission, compensation and/or credit.
Link to Main Page
---
Laura Deni


CLICK HERE FOR COMMENT SECTION