! >
Broadway To Vegas
  
  REVIEWS INTERVIEWS COMMENTARY NEWS

| | |
| --- | --- |
| | |
NEW YEAR'S EVE ENTERTAINMENT - -MAMMA MIA! INTERNATIONAL TOUR OPENS - - KATHLEEN TURNER IN RED HOT PATRIOT EXTENDED - - THE ILLUSIONISTS RECOUPS - - NEW SIMBA ON BROADWAY - - ODD THINGS DROP ON NEW YEAR'S EVE - - THE 2015 EDWARD M. KENNEDY PRIZE FOR DRAMA - - THE WONDER YEARS ON DISPLAY - - DONATE . . . Scroll Down







Copyright: December 28, 2014
By: Laura Deni
CLICK HERE FOR COMMENT SECTION


RINGING IN 2015: DROPPING ITS BREECHES AND PICKLE
The famed Times Square New Year's Eve Ball Photo: Times Square Alliance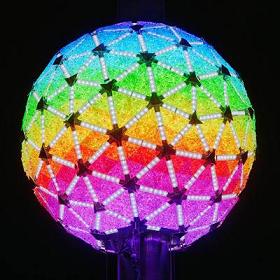 What would New Year's Eve be without something dropping? There is, of course, the global tradition of the ball dropping in New York Times Square. Not any old round thing. The Ball is a geodesic sphere, 12 feet in diameter, and weighs 11,875 pounds, covered with a total of 2,688 Waterford Crystal triangles that vary in size, and range in length from 4 ¾ inches to 5 ¾ inches per side. For Times Square 2015, 288 of the Waterford triangles introduce the new Gift of Fortitude design utilizing diamond cuts on either side of a crystal pillar to represent the inner attributes of resolve, courage and spirit necessary to triumph over adversity. The remaining 2,400 crystal triangles feature the Gift of Imagination design with a series of intricate wedge cuts that are mirrored reflections of each other inspiring our imagination. The 2,688 Waterford Crystal triangles are bolted to 672 LED modules which are attached to the aluminum frame of the Ball.

The Ball is illuminated by 32,256 Philips Luxeon Rebel LEDs (light emitting diodes). Each LED module contains 48 Philips Luxeon Rebel LEDs - 12 red, 12 blue, 12 green, and 12 white for a total of 8,064 of each color. The Ball is capable of creating a palette of more than 16 million vibrant colors and billions of patterns producing a spectacular kaleidoscope effect atop One Times Square.

As the famous New Year's Eve Ball descends from the flagpole atop One Times Square, an estimated one million people in Times Square, millions nationwide and over a billion will be watching throughout the world.

Other cities have their own take on the countdown.

A Georgia peach takes the countdown plunge in Atlanta. Peach Drop, the Largest New Year's Eve Celebration in the Southeast, is a 16-hour event with a full day of family fun and an evening of top-notch entertainment. Beginning at 11 a.m., Underground Atlanta will be filled with carnival-style rides, live music, face painting, street performers and festival food.

As 2015 nears, the main stage will light up with live performances and the 800-pound Peach will begin its 138 foot decent just before the clock strikes midnight. Following the drop, a fireworks show will illuminate the sky and millions of pieces of confetti will rain on revelers.

Fruit is a favorite item to throw down. Miami is home of "The Big Orange" Drop, appropriate since Florida is the orange state. The 35-foot orange rises 400 feet until it reaches the top of the Hotel Intercontinental Miami and is dropped from the top. Orange, California also drops an orange. In Sarasota, Florida, a glowing pineapple is dropped at midnight to ring in the New Year. Fredericksburg, Virginia drops an illuminated pear. In Vincennes, Indiana (near Terre Haute) a giant 18-foot, 500-pound steel-and-foam Watermelon Ball is raised 100 feet in the air during the 60-second countdown at midnight, then the replica releases 11 real locally-grown watermelons. Temecula, California drops a bunch of grapes.

Animals be they living, dead, stuffed, or carved are also given the heave-ho.

A stuffed muskrat in a top hat and bow tie named Marshall P. Muskrat is dropped in Princess Anne, Maryland. A stuffed opossum named Spencer is lowered in Brasstown, North Carolina. A Plexiglas pyramid containing a living opossum is lowered from the roof of Clay Logan's convenience store in Brasstown, North Carolina for The Possum Drop. The possum is turned loose at the end of the celebration.

A walleye fish named "Captain Wylie Walleye" is dropped in Port Clinton, Ohio.. Prairie du Chien, Wisconsin drops a real but dead carp caught by local fishers and weighing between 25 and 30 pounds. A carp was chosen to represent the area's fishing industry and because the carp is considered one of the luckiest fish in Chinese culture. The dead carp is nicknamed "Lucky".

A hog is dropped in Fayetteville, Arkansas. A pelican is the drop of choice in Pensacola, Florida while a beaver is dropped in Beavertown, Pennsylvania.

Blain, Pennsylvania drops a wooden cow from a silo.

A food drop is frequently the drop object. A sausage is dropped in Elmore, Ohio. A french fry is dropped Inkesburg, while a bag of Hartley's potato chips is the favored drop in Lewistown, Pennselvania. A ball of popcorn is let loose in Marion. Ohio.

Mobile, Alabama has a 600-pound, lit moon Pie which is lowered from the RSA Tower in the "MoonPie Over Mobile" festivities. Plymouth, Wisconsin drops an 80-pound decorated cheese wedge while Bartlesville, Oklahoma drops an olive.

Traverse City, Michigan lets loose a cherry at midnight while in St. George's, Bermuda, a paper-mache Bermuda onion covered in Christmas lights is dropped.



Yellow Breeches. Five feet high and coming down at midnight. Photo: Lower Allen Township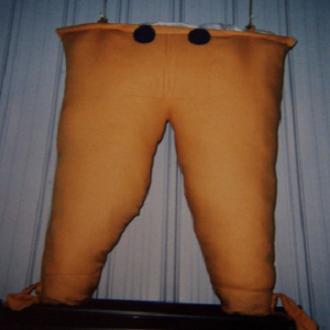 The fun loving folks in Pennsylvania drop statement making objects.

In Mechanicsburg, they drop a wrench. What did you think a town names Mechanicsburgh would drop - their britches? That's what they do in the Village of Lisburn, located in Lower Allen Township.

The event has the official slogan of The Breeches Come Down At Midnight.

Dropping of the Yellow 'Breeches' is a nod to the Yellow Breeches Creek which flows through the park. Before the five foot yellow breeches float down, there is an opportunity to have your picture taken with the undees. At midnight the pants gets dropped.

No bologna, that's what gets dropped in Lebanon, PA.

Sponsored by the Community of Lebanon Association, the town's annual New Year's Eve Bologna Drop features a bologna, measuring approximately 12-feet long and weighing almost 200 pounds, lowered at midnight.

Don't worry it won't go to waste. After it officially rings in 2015 the bologna will be processed at the Daniel Weaver Plant and will be donated both people and animals through the Lebanon Rescue Mission and animal shelter.

Heads up Dillsburg, PA. Marketing opportunity. A dill pickle would go well with a bologna sandwich.

The New Year's Eve Pickle Drop also includes various activities and food including their famous pickle soup, fried pickles and novelty pickle items available for purchase including pickle suckers, pickle lip balm and pickle mints.

This year will also feature Baby Pickle's First Drop - The Pickle's baby gherkin, "Lil' Dill," will conduct her first drop this year, in conjunction with Ireland's midnight.

This celebration honors Dillsburg's Irish founders while providing family fun for those who strive to be in bed before midnight!

Perhaps getting their condiments confused in Mt. Olive, PA which also does a pickle drop.

A big Hershey Kiss drops in Hershey, Pennsylvania.

Sweet.






Broadway To Vegas is supported through advertising and donations. Priority consideration is given to interview suggestions, news, press releases, etc from paid supporters. However, no paid supporters control, alter, edit, or in any way manipulate the content of this site. Your donation is appreciated. We accept PAYPAL. Thank you for your interest.




ART AND ABOUT


THE WONDER YEARS

Cast of The Wonder Years Photo: ABC series The Wonder Years.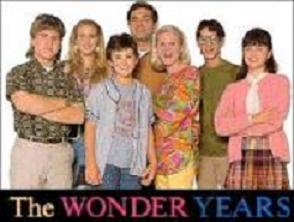 hit television series was honored by the National Museum of American History in Washington DC during a recent ceremony in which the Museum collected objects from the Emmy and Peabody award-winning ABC TV series, The Wonder Years, which told the timeless story of growing up through the eyes of a young teenager, Kevin Arnold.

Actors Savage, Jason Hervey, Josh Saviano, and Scilla Andreen, the show's costume designer, presented the items to the museum to join its entertainment collection.

Among the donated objects are original scripts as well as 1960s-inspired wardrobe pieces worn by leading cast members, including Kevin Arnold's (Fred Savage) iconic green-and-white New York Jets jacket, Karen Arnold's counter-culture hippie wedding dress, and Norma Arnold's two-piece dress worn during the opening credits.

Curated by Entertainment Curator Dwight Blocker Bowers, the acquisitions demonstrate how network TV used a show to look back at an era in American life through the perspective of the present.

The show (1988–1993) was a personal coming of age story paralleled with America's transitioning social awareness of Vietnam, the Black Power movement, free love, the hippie era and more. It fostered a sense of nostalgia, transcending generations, and quickly grew to be one of the most popular on TV. Awkward first crushes, teenage angst and troubles with friends, teachers and family are portrayed in a show that depicted more than just typical suburban life during the late 1960s and early 1970s.

ARTIST LAURENCE GARTEL has been selected by The Recording Academy to create the official artwork for the 57th Annual Grammy Awards. The striking work features a life-sized version of the iconic Grammy statuette wrapped in the distinctive psychedelic imagery of the artist using vinyl, glitter and prismatic materials. The Grammy Awards takes place Sunday, February 8 at the Staples Center in Los Angeles.

Gartel has been known around the world as a pioneer of digital art. His innovative and colorful imagery has championed many notable advertising campaigns over the past 35 years.



SPREADING THE WORD


FINALISTS FOR THE 2015 EDWARD M. KENNEDY PRIZE FOR DRAMA Inspired by American History have been named. They are:

Appropriate by Branden Jacobs-Jenkins, produced by the Actors Theatre of Louisville's Humana Festival of New American Plays

Father Comes Home from the Wars (Parts 1, 2 & 3) by Suzan-Lori Parks, produced by The Public Theater

The House That Will Not Stand by Marcus Gardley, produced by Berkley Rep

An Octoroon by Branden Jacobs-Jenkins, produced by Soho Rep

The Great Society by Pulitzer and Tony Award-winning playwright Robert Schenkkan. The Great Society is the second play by Schenkkan about Lyndon B. Johnson's presidency - both of which premiered at the Oregon Shakespeare Festival in 2012 and 2014, respectively. Part one, All the Way, was a co-winner of the Edward M. Kennedy Prize in 2013 along with Dan O'Brien's The Body of an American. Among All the Way's numerous additional honors was the Tony Award for Best Play in 2014. The Great Society was co-produced by Seattle Repertory Theatre and the Oregon Shakespeare Festival after being commissioned by Seattle Rep and developed through OSF's American Revolutions: The United States History Cycle, the same program under which All the Way was commissioned. Both plays are currently running at Seattle Rep through January 4, 2015.

The Edward M. Kennedy Prize is given annually through Columbia University to a new play or musical that, in the words of the Prize's mission statement, "…enlists theater's power to explore the past of the United States, to participate meaningfully in the great issues of our day through the public conversation, grounded in historical understanding, that is essential to the functioning of a democracy."

Ambassador Jean Kennedy Smith created the prize to honor the life and legacy of her late brother, Senator Ted Kennedy. Finalists were selected through nominations from a group of 20 theater professionals around the country. The jury will meet at Columbia in early February 2015. The Prize will be announced on or after February 22, 2015, the anniversary of Senator Kennedy's birth.

The winning play will receive an award of $100,000, and will be honored in a ceremony at Columbia later this spring.

RICHARD LINKLATER, ETHAN HAWKE, ELLAR COLTRANE the writer-director-producer of the critically acclaimed and award-winning film Boyhood, along with actors Ethan Hawke and Ellar Coltrane, who play father and son in this epic and one-of-a-kind coming-of-age story as seen through the eyes of a boy who literally grows up on screen before our eyes. Find out how they worked together to make this remarkable film - an ode to growing up and parenting - filmed with the same actors over 12 years.

January 6, 2015 part of The New York Times Times Talks Event, New York City.

LIAM NEESON will attend the UAE premiere of his latest film, Taken 3, on January 12 at the Novo Cinemas Cineplex in Dubai, UAE. The film, the third and final installment in the hugely successful series, will see Neeson back as Bryan Mills, a retired CIA operative, who sets out to avenge the death of a loved one.


OTHER PEOPLE'S MONEY


NEW YEAR'S EVE IS EXPENSIVE

Lady Gaga and Tony Bennett team up to revive classical jazz in a combination of vocal duets and solo performances for sold out shows December 30 and 31st at the Cosmopolitan in Las Vegas. The tickets are expensive, but the performance is worth the price. Photo: Cosmopolitan.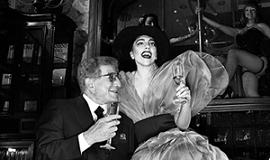 Various reports list New Orleans as the most expensive destination for New Year's Eve while Las Vegas leads as having the most expensive entertainment ticket prices.

TravelMag.com. conducted a survey which compared 30 major destinations in the United States based on the cost of their lodging on December 31. New Orleans tops the list with a rate of $359 for the most affordable room. That figure is over 300% more than what the least expensive room would normally cost.

The 10 most expensive cities are:

New Orleans $359
Atlantic City $350
New York City $345
Miami Beach $313
Honolulu $284
Nashville $284
Denver $269
Las Vegas $249
Savannah $223
Los Angeles $209

As for the most expensive entertainment ticket, that honor goes to the Las Vegas gig of Tony Bennett and Lady Gaga whose twosome tickets average at $647.58 and the get-in price starts at $239.



RED HOT PATRIOT: THE KICK-ASS WITH OF MOLLY IVINS by Margaret Engel and Allison Engel.

Directed by David Esbjornso.

Two-time Tony and Oscar nominee Kathleen Turner makes her Berkeley Rep debut as Molly Ivins, the brassy, sharp-witted political journalist and best-selling author of Bushwacked. Celebrated for her folksy yet barbed humor, Ivins was the rowdy raconteur stirring up trouble in the old boy's club and ridiculing those she deemed too big for their britches - earning her a widely read syndicated column and a seat next to Mark Twain as one of America's beloved satirists.

In Red Hot Patriot, Kathleen Turner is all smarts and sass as the redheaded firebrand, recounting her political rants and personal reflections with a liberal dose of piss and vinegar.

Appearing as Helper is Michael Barrett Austin.

Tony Award winner John Arnone - Scenic Design. Elizabeth Hope Clancy - Costume Design. Daniel Ionazzi - Lighting Design. Rob Milburn & Michael Bodeen - Sound Design & Original Music Maya Ciarrocchi - Projection Design. Tony Award winner Paul Huntley - Wig Design. Amy Potozkin - Casting. Michael Suenkel - Stage Manager.

Extended through January 11, 2015 at Berkeley Rep in Berkeley, CA.

THE LION KING on Broadway welcomed a new Simba on December 22, 2014. Jahi Winston, 10, of Texas is making his Broadway debut. The production can be enjoyed at the Minskoff Theatre.

THE ILLUSIONISTS direct from Broadway features the jaw dropping talents of seven of the most incredible Illusionists on earth. - including an escape artist and a contortionist.

The production which runs on Broadway at the Marriott Theater through January 4, 2015, took only three week to recoup its $1.75 million capitalization..

The special-effects-laden magic show can be enjoyed January 6-11 in the Opera House at the Kennedy Center in Washington, DC.

MASQUERADE by Kate Mulvany, based on the book by Kit Williams.

Directed by Sam Strong and Lee Lewis.

Composition & Musical Direction Pip Branson & Mikelangelo.

With Kate Cheel, Helen Dallimore, Nathan O'Keefe, Zindzi Okenyo with live music by Mikelangelo and the Black Sea Gentlemen.

In a wondrous world of riddles and hidden treasure, bumbling Jack Hare is on a race against time to deliver a message of love from the Moon to the Sun. Far, far away in a world just like ours, a mother cheers her son Joe with the tale of Jack Hare's adventure. But when Jack's mission goes topsy-turvy, Joe and his mum must come to the rescue, and the line between the two worlds becomes blurred forever. Bringing to life Kit Williams' iconic picture book, Masquerade stars a talking fish, a tone-deaf barbershop quartet, a gassy pig, a precious jewel and a few mere mortals. It's a magical adventure that is, at its heart, about the love between a parent and a child.

Designer Anna Cordingley - Lighting Designer Geoff Cobham - Assistant Director Nescha Jelk - Associate Designer Romanie Harper.

Bound to amaze and enchant audiences aged 9 to 90, Griffin Theatre in Kings Cross, NSW begins 2015 with the world premiere of Masquerade at the Sydney Opera House in Sydney, Australia for Sydney Festival January 7-17, 2015

MAMMA MIA!

Dancing it up in Mamma Mia! Photo: MammaMia.com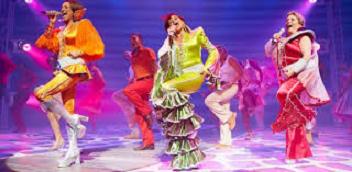 written by English playwright Catherine Johnson and composed by Benny Andersson and Bjorn.

Directed by Phyllida Lloyd. Nick Evans Resident-Director.

Writer Catherine Johnson's sunny, funny tale unfolds on a Greek island paradise. On the eve of her wedding, a daughter's quest to discover the identity of her father brings 3 men from her mother's past back to the island they last visited 20 years ago.

The story-telling magic of ABBA's timeless songs propels this enchanting tale of love, laughter and friendship, and every night everyone's having the time of their lives. The play was translated onto film starring Meryl Streep and Colin Firth among other famous stars. In 2014, the musical became the 9th longest running Broadway musical of all time.

Starring Sara Poyzer as Donna Sheridan, Niamh Perry as Sophie Sheridan, Sally Frith as Ali, Jasmin Colangelo as Lisa. Geraldine Fitzgerald as Tanya. Sue Devaney as Rosie. Bart Edwards as Sky, Kade Ferraiolo as Pepper, Ashley Luke Lloyd as Eddie Keiron Crook as Harry Bright, Michael Beckley as Bill Austin. Richard Standing as Sam Carmichael, Jay Bryce as Father Alexander / Ensemble,. Natalie Langston as Alternate Donna/Ensemble.

Anthony Van Laast Choreographer. Mark Thompson Production Designer. Howard Harrison Lighting Designer. Andrew Bruce Sound Designer. Bobby Aitken Sound Designer. Martin Koch Musical Supervisor.

Eight years after a week-long run in Dubai, the hit musical begins a new International Tour with performances January 2-10, 2015 at the Dubai World Trade Center in Dubai, UAE.


WHO'S WHERE




HERSHEY FELDER'S THE GREAT AMERICAN SONG BOOK SING-ALONG welcomes 2015 at the Geffen Playhouse with the sold out party on Wednesday, December 31, 2014. This event features an entire century of American music - beginning with Irving Berlin, Jerome Kern, George and Ira Gershwin, Rogers and Hammerstein, Lerner and Loewe, Bock and Harnick, Bernstein, Sondheim. Complimentary champagne in the lobby prior to the performance.

SALUTE TO VIENNA NEW YEAR'S CONCERT Featuring the Ottawa Symphony Orchestra. Alexander Steinitz, conductor (Vienna) - Rebecca Nelsen, soprano (Vienna) and Eduardo Aladren, tenor (Madrid). Dancers from the Vienna Imperial Ballet and international champion ballroom dancers. Party like it's 1899 in Vienna, the city of dreams. Celebrate the start of the New Year with an all-star cast of European singers, dancers, and full orchestra. Returning to Ottawa for a 10th season, this magnificent concert features uplifting melodies from famous operettas including Die Fledermaus and The Merry Widow, as well as polkas and Strauss waltzes. January 1, 2015 at the National Arts Centre in Ottawa, Canada.

JUSTIN TIMBERLAKE rings in 2015 with a two nighter opening January 1, 2015 at the MGM Grand in Las Vegas.

TRANS-SYBERIAN ORCHESTRA welcomes the new year with their two touring groups performing Friday, January 2, 2015 at Covalli Centre in Youngstown, OH and at the Resch Center in Green Bay, WI. On Saturday they can be enjoyed in shows at the Coliseum at Alliant Energy Center in Madison, WI and the Sovereign Center in Reading, PA. Next Sunday, January 4, 2015 they bring their lavish show to the XL Center in Hartford, CT and the Wireless Center in Moline, IL.



JENNIFER LOPEZ performs at Caesars Palace in Las Vegas on New Year's Eve.

MICHAEL FEINSTEIN with special guests Laura Osnes & Jessica Sanchez ring in the New Year in Las Vegas with a show at the Smith Center on New Year's Eve.

LARRY GATLIN AND THE GATLIN BROTHERS do the New Year's Eve honors at the South Point in Las Vegas.

MAROON 5 says hello to the New Year at Mandalay Events Center in Las Vegas.

BILLY JOEL brings in 2015 with a show at the Amway Center in Orlando, Florida.

PHISH rings out the old and ring in the new at the American Airlines Arena in Miami.

ELTON JOHN the legal newlywed brings his New Year's Eve show to New York City's Barclays Center.


FINAL OVATION


JOE COCKER OBE British gravely rock and blues singer and songwriter died December 22, 2014 after losing his battle with lung cancer. He was 70.

In 2008 he received an OBE at Buckingham Palace for services to music. Cocker was ranked #97 on Rolling Stone's 100 greatest singers list.

In 1963, Cocker began dating Eileen Webster. The couple dated intermittently for the next 13 years, separating permanently in 1976. In 1978, Cocker moved onto a ranch owned by Jane Fonda in Santa Barbara, California. Pam Baker, a local summer camp director and fan of Cocker's music, persuaded the actress to let the house to Cocker. Baker began dating Cocker and they eventually married on October 11, 1987. The couple resided on the Mad Dog Ranch in Crawford, Colorado.

Neil Portnow President/CEO of The Recording Academy issued the following statement:

"Singer/songwriter Joe Cocker had one of the most distinctive, soulful voices in all of rock. Classics such You Are So Beautiful, his famous cover of the Beatles' With A Little Help From My Friends, as well as his Grammy-winning duet with Jennifer Warnes, Up Where We Belong, showcased his rich, compelling vocals as well as his undeniable talent. Known for his powerful delivery and dynamic stage presence, he toured extensively around the world, becoming an international superstar in the process. Our music community has lost a passionate and influential artist, and his legacy will continue to inspire and entertain generations to come. Our deepest condolences go out to his family, friends, and all who have been enriched by his remarkable work."

SUSAN CAMARDO REILLY a well known actor and co-founder of Portland, Oregon's Irish Theatre was killed in a multi-car accident in Charlton, Massachusetts on Tuesday, December 24, 2014. She was 64.

Tony Reilly, 60, her husband, a fellow actor and theater company co-founder, received live threatening injuries in the crash and has been placed into an induced coma.

He was driving their car when the crash, involving two tractor-trailers, an SUV, and the car he was driving, collided. He has lost one and possibly both of his legs, according to Portland Press Herald.

For more than a decade, Susan Reilly entertained theatergoers in Portland and helped broaden and diversify the performing arts community in southern Maine.

The couple moved to Maine from New York in 2003 to found the Irish theater company, commonly referred to by its acronym, AIRE.

The couple was driving to New York to spend Christmas at the home of Susan Reilly's sister, the Rev. David Butler, a fellow actor and close family friend, told the paper.

They had no children.















Next Column: January 4, 2015
Copyright: December 28, 2014 All Rights Reserved. Reviews, Interviews, Commentary, Photographs or Graphics from any Broadway To Vegas (TM) columns may not be published, broadcast, rewritten, utilized as leads, or used in any manner without permission, compensation and/or credit.
Link to Main Page
---
Laura Deni



For the snail mail address, please E-mail your request.
CLICK HERE FOR COMMENT SECTION