! >
Broadway To Vegas
  
 SHOW REVIEWS CELEBRITY INTERVIEWS GOSSIP NEWS

| | |
| --- | --- |
| | |
HATS OFF TO ENTERTAINMENT AT ROSE BOWL PARADE - -HANG YOUR WISHES ON THE TIMES SQUARE BALL DROP - - LAUGH AND LIVE: THE FILMS OF DOUGLAS FAIRBANKS - - AGUMAN SANDU IN THE PHILIPPINES - - DEATHS OF HAROLD PINTER, EARTHA KITT AND DALE WASSERMAN - - NEW YEAR'S EVE ENTERTAINMENT - - LANG LANG FORMS CHARITY - - SALUTE TO VIENNA IS NEW YEAR'S EVE TRADITION - - DONATE . . . Scroll Down





THE GREAT DEPRESSION SPAWNED THEATRICAL CREATIVITY WHILE NEW YEAR'S DAY MEANS DANCING IN THE STREETS
Cheryl Cecchetto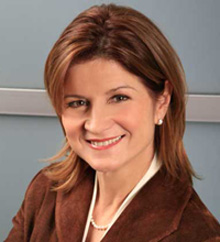 Act cheerful, poverty creates great theater.

Whoopee - tell that to all of the starving artists.

Cheryl Cecchetto president of Culver City, CA based Sequoia Productions is trying to look at the empty glass as half full. Cecchetto is at home in the world of glamour and glitz. For the past 16 years, Cecchetto has produced the Academy Awards Governors Ball, and the Primetime Emmy Awards Creative Arts & Governors Ball for the past eight years.

Interesting choreography has been created as people attempt to dance around their current economic situation. Either you don't have any money and are attempting not to look desperate - or - you have the filthy lucre but have to reign in the lifestyle so you don't appear uncaring and gauche.

Taking her cue from history - citing The Great Depression as inspiration - Cecchetto is producing a tribute to the American Musical Stage in the January 1, 2009 Opening Show for the Tournament of Roses Parade.

Back when Buddy, Can You Spare a Dime was the unofficial national anthem, being down and out created a need for American musicals which inspired and uplifted audiences. George and Ira Gershwin came to the rescue and in 1931 grabbed the first Pulitzer-prize winning musical for Of Thee I Sing.

"It's essential that we take a moment here and entertain the world in its grandest, truest form," said Cecchetto who was born in Sudbury, Canada.



Fred Astaire and Ginger Rogers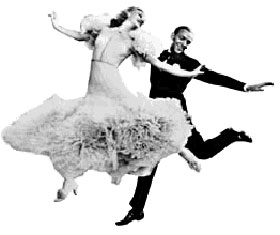 In the tradition of the timeless and classic Busby Berkeley musical, combined with the pizzazz of today's most innovative, high-energy choreographers and composers, the 120th Rose Parade Opening Ceremony, kicks off with a tribute to that most time-honored American institution, the big production musical extravaganza!

Inspired by Fred Astaire and Ginger Rogers during the Golden Age of Hollywood film musicals, Cecchetto has used the silhouette of the infamous dancing duo frolicking down a bright red film strip to represent theme of this year's Rose Parade

Hats Off To Entertainment, a high-energy show, will feature a centerpiece performance stage where the spectacular set will burst forth with a splash of blacks, reds and silvers, and performers costumed in flourishes of sequins, glitz and glamour crescendo from dizzying partners-dancing through breathtaking variations in style and period. Special guests will include Grand Marshal Cloris Leachman and other dancers from the television show Dancing with the Stars.

The show will kick off with The M-G-M Fanfare, and moves to songs such as Singing in The Rain; Mambo Number Five, and ending with That's Entertainment.

24 dancers will represent entertainment of the past and present in a production promises to razzle and dazzle as it travels the five-and-a-half-mile route down Colorado Boulevard.

Featured dancers will be dressed in color, while the rest are outfitted in black and white, with touches of silver.

The Opening Show kicks off the parade at 8 a.m.

For those in Pasadena ahead of the big game, a popular pre-game activity is watching the floats being built. Spectators can view a variety of fruit, seeds, bark, grasses, and of course, breathtaking flowers being applied to the floats by the float builders. The voyeurism takes place December 28-31 and the looky-loos are warned that "considerable waiting periods should be expected."

In the municipality of Minalin in the province of Pampanga, Philippines there is a hilarious tradition called Aguman Sanduc - translated literally, it means Ladle Organization.



Aguman Sanduc Festival Males of Minalin, Pampanga parade in brassieres to celebrate Aguman Sanduc, a tradition which spans 80 years and has been turned by the leaders of Minalin into an annual affair to promote tourism. Photo By: Andy G. Zapata, Jr. Photo from Baugio City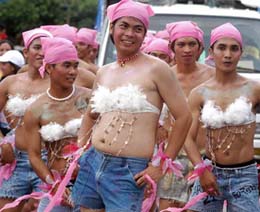 While everybody else is fast asleep or is suffering from a hangover from the previous night's revelry, Minalin's males are up early putting on clothing, make-up and wigs belonging to their wives, mothers, sisters and girlfriends.

The tradition started in 1934 when a group of Minalin men, drinking beer in front of the old municipal hall, wanted a unique way to end the holiday and welcome the New Year.

In a drunken stupor they came up with lelut manuk, then dared each other to do the ultimate no-no among Kapampangan men: wear a dress and parade in the street.

Someone put a pillow under his shirt and feigned pregnancy, another played a midwife and another an anxious husband; they mounted a gareta and a tradition was born.



Man celebrates Aguman Sanduc. Photo from kamanu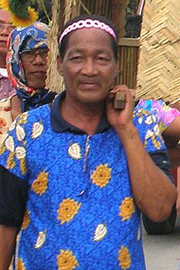 When it was over in the evening, they did what Kapampangans of yore did best: perform crissotan - verbal jousts where poets composed witty verses on the spot.

Sometime after World War II, the founders decided to crown a Miss Aguman Sanduc.

The first man to be named queen was Hilarion Serrano, who was described as the pekamatsura (ugliest), maragul atian (pot-bellied) and delanan ane lupa (literally, termite-ravaged face, or pock-marked).

He was inducted into the self proclaimed royalty with a ladle-shaped scepter and a crown of rattan.

Through the years, Aguman Sanduk attracted the rich and famous to join the cross-dressing festivities, including retired Sandiganbayan Justice Oberto Lagman, ConCon delegate Ricardo Sagmit, Jr. and provincial board member Antonio Mercado.



Floats and men who borrowed clothes from their wives, daughters and girlfriend parade down the street. Photo from kamanu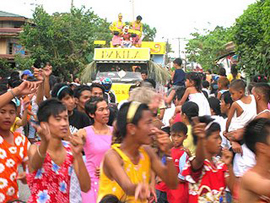 Town mayors were crowned Aguman queens with their vice mayors standing by as consorts.

On New Years Day hundreds of boys will wear their sisters' school uniforms. Men will be gowned in house dresses from their wife's closet. Teens will have clutch bags tucked under their armpits and shorts peeking below their micro-minis.

Old farmers and fishermen with sunburned skin and toothless grins, their atrocious blond wigs covering their bald heads.

Womenfolk stand on the sidelines cheering their sons, husbands and fathers and grandfathers as their freakish procession passes by - all seemingly unafraid of the superstition that what you do on New Year's Day will be repeated throughout the year.


ART AND ABOUT
LAUGH AND LIVE: THE FILMS OF DOUGLAS FAIRBANKS

Douglas Fairbanks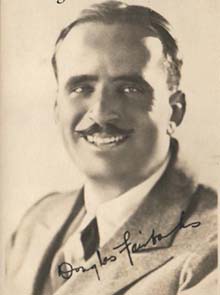 This series - which takes its title from Fairbanks's 1917 book of the same name, in which he promoted his optimistic outlook as the key to happiness and success - celebrates the seventieth anniversary of MoMA's acquisition of the Douglas Fairbanks Collection.

Fairbanks began acting on the Denver stage at an early age, doing amateur theater. He was in summer stock at the Elitch Gardens Theatre, becoming a sensation in his teens. He attended East Denver High School, and was once expelled for dressing up the campus statues on St. Patrick's Day.

He was a thirty-five-year-old veteran of live theater when he made his first films in 1915 for D. W. Griffith's Fine Arts studio. There, he created the character of "Doug," a breezy, all-American go-getter who seemed to move effortlessly though life and across the screen.

Still, Fairbanks never quite fit in with the Griffith ensemble, and within eighteen months he was working independently, eventually becoming one of the founders of United Artists in 1919.

The following year, with the release of The Mark of Zorro, Fairbanks combined his appealing screen persona with the new adventurous, costume element. It was a smash success and parlayed the actor into the rank of superstar. For the remainder of his career in silent films, he continued to produce and star in ever more elaborate, impressive costume films. Fairbanks spared no expense and effort in these films, which established the standard for all future swashbuckling films.

Organized by Steven Higgins, Curator, Department of Film, screening this week include A Modern Musketeer is a 1917 film written and directed by Allan Dwan. Recently restored by the Museum and the Danish Film Institute from nitrate materials in both institutions' collections. Another flick When the Clouds Roll By, a 1919 classic directed by Victor Fleming has a screenplay by Thomas Geraghty. Both of these silent films will be screened on Monday, December 29.

Unspooling on Tuesday, December 30, is The Mollycoddle a 1920 movie also directed by Fleming from a Geraghty screenplay. Joining Fairbanks in the cast are Wallace Berry, Ruth Renick and Betty Bouton.

People can start off the new year with two more screenings. Reaching for the Moon, is a 1931 musical which was written and directed by Edmund Goulding. Additional dialogue by Elsie Janis. Songs by Irving Berlin. With Douglas Fairbanks, Bebe Daniels, Edward Everett Horton, Jack Mulhall. Fairbanks plays Larry Day, a Wall Street broker in pursuit of the beautiful aviatrix who has captured his heart. The screening are on Thursday, January 1, and Friday, January 2.



When the Clouds Roll By 1919 American film directed by Victor Fleming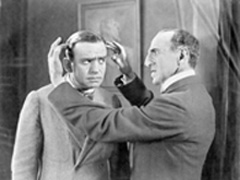 The Three Musketeers was released in 1921 and was directed by Fred Niblo from a screenplay by Lotta Woods and Edward Knoblock, based on the novel by Alexandre Dumas. The silent masterpiece also features Marguerite de la Motte, Leon Bary, George Siegmann, Eugene Pallette. Fairbanks portrays Dumas's swashbuckling hero D'Artagnan in an adventure set in France during the time of Louis XII and his chief minister, Cardinal Richelieu. This screen on January 1 and January 4.

In Again, Out Again was lensed in 1917. Directed by John Emerson, the silent screenplay is by Anita Loos. With Douglas Fairbanks, Arline Pretty, Walter Walker, Arnold Lucey. Teddy Rutherford (Fairbanks), who has fallen for the sheriff's daughter, needs to get inside the jail to help catch a saboteur who is blowing up munitions factories - so he does his best to get himself arrested. this can be viewed on Saturday, January 3 and again on Thursday, January 8.

The 1921 silent flick The Nut, directed by Theodore Reed from a screenplay by William Parker and Lotta Woods. With Douglas Fairbanks, Marguerite de la Motte, William Lowery, Gerald Pring. Charlie Jackson (Fairbanks) is engaged to a woman who seems to care more for underprivileged children than she does for him. To win her attention, the young Greenwich Villager tries to interest leading New York philanthropists in her work.

The Mollycoddle Victor Fleming directed this 1920 USA film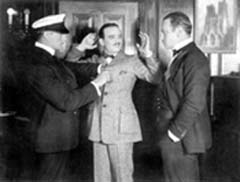 Screenings are on Saturday, January 3, 2009 and Sunday, January 11, 2009.

The Private Life of Don Juan is a 1934 release from Great Britain. Directed by Alexander Korda from a screenplay by Frederick Linsdale and Lajos Biro. With Douglas Fairbanks, Merle Oberon, Binnie Barnes, Melville Cooper. In his final film, Fairbanks portrays the world-famous lover in his sunset years. The screenings are Saturday, January 3, 2009 and again on Sunday, January 11, 2009.

All silent film will have piano accompaniment by Stuart Oderman or Ben Model. Laugh and Live: The Films of Douglas Fairbanks continues through January 12, 2009 at the MOMA in NYC.




YOUR NEW YEAR'S WISHES
New Year's Eve Time Square. Photo: Time Square Alliance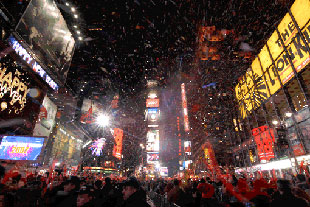 New Year's Eve is a time of celebration, reflection and renewal for people around the world. The Time Square Alliance - the good folks that drop the ball every New Year's Eve - want your New Year's wishes to come true.

They are inviting everyone to share personal goals, dreams, wishes and resolutions for 2009 - then watch them flutter down as confetti in the heart of Times Square on New Year's Eve.

Wishes can be submitted either in person at the Times Square Information Center - or on line - collected at the end of the year, and added to the confetti that will flutter down onto the streets of Times Square at the 12 o'clock hour on New Year's Eve.

If fate sees fit, your wish will come true.



Broadway To Vegas is supported through advertising and donations. Priority consideration is given to interview suggestions, news, press releases, etc from paid supporters. However, no paid supporters control, alter, edit, or in any way manipulate the content of this site. Your donation is appreciated. We accept PAYPAL. Thank you for your interest.


SWEET CHARITY


LANG LANG the famed pianist who recently completed a one-week residency with the San Francisco Symphony where he performed three subscription concerts, a solo recital, as well as a chamber recital and stopped by three local schools - is starting his own charity for gifted young students; the Lang Lang International Music Foundation. As a former child prodigy, he credits his success to the wonderful opportunities he were afforded at a young age, and as such he would like the talented youth of the future to have the same kind of access that they need to succeed. Lang Lang's hope is that this foundation will provide the proper nurturing of students' talents while allowing them to shine and maximize their true potential.


OTHER PEOPLE'S MONEY


THE STARS OF WHITE CHRISTMAS Kerry O'Malley, Meredith Patterson, Stephen Bogardus and Jeffry Denman will ring the closing bell of the New York Stock Exchange on Dec. 29.

While The NY Stock Exchange has had one of the worst years in decades, the Broadway production of White Christmas, which is based on the 1954 film of the same name, is doing great business during it's limited run. Boasting many Irving Berlin classics, performances at the Marquis Theatre continue to January 4, 2008.

THE LAS VEGAS PHILHARMONIC has money woes. Peter Aaronson who took over as director of the 10-year old orchestra on Sept. 2 has been dismissed from his $125,000-a-year position in a cost-cutting move. The orchestra has a $1.7 million annual budget and two months ago was faced with a deficit of almost $200,000. Musical director David Itkin, who commutes to Las Vegas from his home in Texas, has voluntarily cut his $93,500-a-year salary by 10 percent.


CURTAIN DOWN


MEL BROOKS MUSICAL YOUNG FRANKENSTEIN the Broadway adaptation of Young Frankenstein will close Jan. 4, 2009 at the Hilton Theater, NYC, having played 30 previews and 484 regular performances.

HAIRSPRAY based on the 1988 feature film by John Waters, opened on Broadway on August 15, 2002, and won eight 2003 Tony Awards. The production closes Jan. 4 and will have played 2,641 performances and 31 previews at the Neil Simon Theatre - making it the 19th longest running show in Broadway history. Hairspray's Tony-winning star Harvey Fierstein will close the production in the leading role of Edna Turnblad.

GREASE will play its final performance on Broadway at the Brooks Atkinson Theatre on Sunday, January 4, 2009 having played 554 performances and 31 previews.

BOEING-BOEING which won the 2008 Tony Award for Best Revival of a Play will be grounded Jan. 4, 2009. Boeing-Boeing began previews at the Longacre April 19, 2008. It opened May 4. Even in a bad economy, Boeing-Boeing recouped its initial $2.65 million investment. At the time of closing the revival will have played 280 performances and 17 previews.

13 a Broadway musical with music and lyrics by Tony Award winner Jason Robert Brown and, book by Dan Elish and Robert Horn, plays its final performance on Jan 4, 2009 at the Bernard B. Jacobs Theatre. When the show closes it will have played 22 previews and 105 regular performances.



CHICAGO welcomes Melora Hardin, star of the hit NBC comedy The Office who is making her Broadway stage debut fame-hungry murderess Roxie Hart in the Tony Award-winning smash hit musical Hardin will play a seven-week limited engagement beginning Monday, December 29,2008 at Broadway's Ambassador Theatre.

Best known to television audiences for her role as Jan Levenson, Steve Carell's rigid former-boss and love interest on The Office, Melora Hardin's impressive career spans a variety of mediums, including numerous television series, several films, two CDs, live concerts... and now Broadway.

On stage, Hardin most recently played Fantine in the acclaimed Hollywood Bowl production of Les Misérables in Concert last August, directed by Richard-Jay Alexander. Hardin will appear in Chicago through Thursday. February 12, 2009.

HYMN & CAROL Paul Slade Smith's innovative retelling of the nativity. Shepherds listening to Joni Mitchell, a couple traveling by bus instead of donkey and speechwriters thinking of King Herod's message from a public relations standpoint. Billed as "each little quirk in this blend of music and storytelling breaths new life into a traditional story, creating a heartfelt and alluring production in which it is promised that audiences may be tempted to sing along."

Playwright Paul Slade Smith is also an actor and is currently on tour with Wicked. Directing the play is BoarsHead Theater Artistic Director Kristine Thatcher. Directing the music in the show is BoarsHead Theater Executive Director John Dale Smith. Smith is also the conductor for the Lansing Symphony Big Band and Director of Music at Plymouth Congregational Church in Lansing. The cast includes Bryant Bentley, Lara Bidus, Ruth Crawford, Sharriese Hamilton, Nathan Hosner, Kristi Starnes and Jonathan Wagner.

This production includes set and lighting design by Ted Rhyner, costume design by Holly Speers, sound design by Sergei Kvitko and properties design by Michelle Raymond. Katie Doyle will stage manage with Kristi Starnes as assistant stage manager.

Previews begin December 3 with the gala opening taking place December 5. Performances continue through December 32 at BoarsHead Theater which is a 250-seat Equity house in Lansing, Michigan.

42nd STREET the Tony Award-winning musical will ring in the New Year Downtown Cabaret Theatre in Bridgeport, CT. The special New Year's Eve Gala Celebration on Wednesday, December 31 includes a private performance of 42nd Street, plus lots of Gala Goodies., followed by dancing with DJ Jimmy Cabaret.The evening also includes free party favors and noise makers for all attendees, the traditional Balloon Drop at Midnight, free Coffee and Danish after midnight.

42nd Street has been playing the Downtown Cabaret Theatre and continues on Fridays, Saturdays and Sundays through January 4, 2009.

SALUTE TO VIENNA Inspired by Vienna's world-famous New Year's Concert, Salute to Vienna brings the same splendor, charm and beauty to North America. Fall in love with Vienna's Waltz King, Johann Strauss Jr., in an unforgettable and uplifting performance of music, song and dance.

For sixty years the Vienna Philharmonic's world-famous Neujahrskonzert broadcast has thrilled 1.2 billion people annually around the globe - a joyous celebration of the musical legacy of Johann Strauss Jr.

Salute to Vienna - the only showcase modeled carefully after the Viennese original - has established itself as a New Year's tradition in North America featuring glorious music with an outstanding cast of 75 musicians, singers and dancers.

The music of Salute to Vienna captures the tradition of soaring waltzes and thrilling operettas of Johann Strauss Jr. and his contemporaries. The most famous member of the Strauss Dynasty, Johann Strauss, Jr. spread the intrinsically Viennese concepts of the waltz and operetta throughout the world. His Blue Danube Waltz has become Austria's unofficial national anthem, and Die Fledermaus is by far the world's favorite operetta. Familiar pleasures from Johann Strauss Sr. and Jr. are combined with the rhythms of Franz Lehár and Oskar Strauss. In addition, sweeping ballets and majestic marches are joined with duets by Robert Stolz and the grand eloquence of Emmerich Kálmán and Mozart.

Cities in North America participating include the Canadian cities of; Calgary, Edmonton, Hamilton, Kitchener, Montreal, Ottawa, Toronto, Vancouver, Victoria and Winnipeg. United States locales throwing party are: Chicago, Clearwater, Coral Springs, Costa Mesa, Ft. Lauderdale, Ft. Myers, Los Angeles, Miami, New Brunswick, New York City, Philadelphia, San Diego, Sarasota, Washington, and West Palm Beach.

Salute to Vienna continues to feature an astounding new cast each year such as the Strauss Symphony of America with an exciting maestro, charming European singers, and costumed dancers.

What Nutcracker is to Christmas, Salute to Vienna is to the New Year! For instance, the party in San Diego will feature: The Strauss Symphony of America conducted by Christian Schulz. Lívia Galambos, soprano from Budapest, and Valeriy Serkin, tenor from Vienna with dancers from the Vienna City Ballet.

It's a New Year's Tradition at Copley Symphony Hall in San Diego, CA.




WHO'S WHERE


ELTON JOHN will be a part of NBC's New Year's Eve with Carson Daly, appearing live via satellite from his Red Piano show at London's 02 Arena. Also appearing on the show will be Grammy-winning and nominated performers Katy Perry, Ludacris, The Ting Tings, and T.I. Elton, who has just finished his UK tour of the Red Piano will return to Caesars Palace in Las Vegas opening Feb. 3.

NEW YORK GILBERT AND SULLIVAN PLAYERS stage a New Year's Eve Champagne Gala Performance December 31st at Peter Norton Symphony Space in The Big Apple.

America's foremost Gilbert & Sullivan repertory ensemble, the New York Gilbert & Sullivan Players, will bring back the tradition of G & S New Year's Eve Wednesday, December 31st. The champagne gala will feature Artistic Director Albert Bergeret and his merry NYGASP Company in G & S scenes, songs, parodies, and the very popular tour-de-force challenge: audience requests performed impromptu with full orchestra! Incorporating a 25-piece orchestra, its productions are highlighted with contemporary energy while retaining the traditional respect for each of the G & S masterpieces.

CRAIG FERGUSON entertaining host of CBS's The Late Late Show, will be on stage ringing in the New Year Wednesday, December 31, 2008 at the Borgata hotel in Atlantic City.

BIG BAD VOODOO DADDY rings in the New Year December 31 at Northern Quest Casino in Airway Heights, WA.

TONY BENNETT begins 2009 with a performance Saturday, January 3, at Winstar World Casino in Thackerville, OK.

AHMAD JAMAL the legendary pianist brings his trio back to Blues Alley in Washington, DC for its annual New Year's Eve show. With the Keter Betts Memorial Band. Two shows; the early $110 performance includes dinner (a choice of filet mignon, shrimp and artichoke hearts, crab cakes, jambalaya or pesto pasta; served with house salad and bread pudding) and all non-alcoholic beverages. The 10 p.m. show includes all of the above, plus unlimited champagne by the glass, hats and noisemakers, and costs $160.

JEFF DUNHAM celebrates New Year's Eve on stage at the Target Center in Minneapolis. On Friday he's at the Patriot Center in Fairfax, VA. Saturday finds him at The Wachovia Center in Philadelphia.

JAY LENO makes merry New Year's Eve at The Colosseum of Caesars Windsor in Windsor, Ontario, Canada.

RADIO CITY CHRISTMAS SPECTACULAR opens a two nighter Tuesday, December 30 at the Frank Erwin Center in Austin, TX. On Friday they begin a three night high kick at the Toyota Center in Houston.

NEIL DIAMOND rings in the new Wednesday, December 31, at the Save Mart Center in Fresn, CA. On Friday he returns to Las Vegas for a performance at the MGM Grand Garden Arena. Next Sunday he can be enjoyed at Citizens Business Bank Arena in Ontario, CA.

BETTE MIDLER winner of four Grammy awards, an Emmy and a Tony rings in 2009 with her Vegas themed show - The Showgirl Must Go On - featuring plenty of girls, gags and guffaws. This week she'll be on stage New Year's Eve as well as January 2-4. Caesars Palace in Las Vegas.

KID ROCK hosts the Playboy New Year's Eve Spectacular at the Palms in Las Vegas. Complete with hats, noisemakers and a complimentary champagne toast. The tables are sold out.

ASHLEY SIMPSON AND PETE WENTZ newly weds and new parents co-host the New Year's Eve Party at Pure nightclub in Caesars Place, Las Vegas. Party favors and a champagne toast at midnight.

THE NIGHTCLUB AT ENCORE which is Steve Wynn's latest Las Vegas resort will stage their grand opening on New Year's Eve.

DONNIE WAHLBERG AND DANNY WOOD former members of New Kids on the Block co-host New Year's Eve at Jet nightclub inside the Mirage Resort, Las Vegas.

RITA RUDNER In a city of cabarets and production shows, Rita Rudner is billed one of the few female headliners who has achieved success by keeping her clothes on. She's also bright and funny. You can start of 2009 by attending her show at the Rio Hotel in Sin City. She takes off New Year's Eve but is back on stage January 1.


FINAL OVATION


HAROLD PINTER the Nobel Prize-winning playwright died December 23, after a long battle with throat cancer. He was 78. Pinter was regarded as the most influential British playwright of his generation. His distinctive contribution to the stage was enshrined in an adjective — "Pinteresque."

He is survived by his wife, Antonia Fraser.

EARTHA KITT

Eartha Kitt was a popular star at the El Rancho Hotel in Las Vegas during the 1950's. Here she is pictured during rehearsal in March 1956.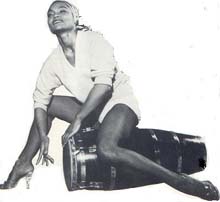 the sultry singer who made Santa Baby a hit, died from colon cancer on Christmas day. She was 81.

Dubbed the "sex kitten" because of her famous catlike purr, she won two Emmy Award and was nominated for two Tony awards and a Grammy.

She was perhaps best known for her role as Catwoman in the 1960s TV series Batman. Orson Welles once called her "the most exciting woman in the world."

Kitt got her start as a member of the Katherine Dunham Company and made her film debut with them in Casbah (1948).

In 1964, Kitt helped open the Circle Star Theater in San Carlos, CA. She returned to New York in a triumphant turn in the Broadway spectacle Timbuktu! which was a version of Kismet set in Africa in 1978.

In 1984, her recording of the disco song, Where Is My Man became her first certified Gold record of her career.

In the late 1990s she appeared as the Wicked Witch of the West in the North American national touring company of The Wizard of Oz. In 2000, Kitt again returned to Broadway in Michael John LaChiusa's The Wild Party opposite Mandy Patinkin and Toni Collette. Beginning in late 2000, she starred as the Fairy Godmother in the National tour of Cinderella alongside Deborah Gibson and then Jamie-Lynn Sigler. In 2003, she replaced Chita Rivera in Nine. She reprised her role of the Fairy Godmother at a special engagement of Cinderella which took place at Lincoln Center during the holiday season of 2004.

From October to early December, 2006, Kitt co-starred in the Off-Broadway musical Mimi le duck. In 2007, she performed at the Hotel Carlyle in New York.

She is survived by a daughter, Kitt Shapiro and two grandchildren, Jason and Rachel.

DALE WASSERMAN the playwright who penned the book for the 1966 Tony Award-winning musical Man of La Mancha, died last Sunday of heart failure in Paradise Valley, Ariz., near Phoenix Arizona. He was 94. The classic musical Man of La Mancha was based on his I, Don Quixote . The musical, which featured music by Mitch Leigh and lyrics by Joe Darion, played five Broadway engagements. The first, in 1965, starring Richard Kiley as Don Quixote, ran 2,328 performances; revivals were seen in 1972, 1977, 1992 and 2002. The musical is also a staple at regional theatres around the country.

Wasserman began his theatrical career as a lighting designer and eventually a director in theaters in Los Angeles and New York and in Europe. He worked for the impresario Sol Hurok and traveled with the Katherine Dunham Dance Company.

His Broadway career began in 1954 as the production stage manager for The Azuma Kabuki Dancers and Musicians which enjoyed a brief revival in 1955, for which Wasserman was the lighting designer. In 1955 an early script of his, Elisha and the Long Knives, helped the television series Matinee Theater win an Emmy Award, and he went on to write about 30 additional television dramas.

His adaptation of One Flew Over the Cuckoo's Nest, based on Ken Kesey's novel opened on Broadway in 1963 with a cast led by Kirk Douglas as Randle P. McMurphy and in 2001 with Gary Sinise as the rebel patient McMurphy and Amy Morton as Nurse Ratched. The play has become a fixture in community theaters. Wasserman wrote approximately 80 plays, which are housed in the Billy Rose Collection at the Lincoln Center Library for the Performing Arts. He also penned the book The Impossible Musical. Dale Wasserman was born Nov. 2, 1917 in Rhinelander, Wis., one of 14 children of Russian immigrants, Samuel Wasserman and Bertha Paykel, who ran small theaters that showed silent movies.He is survived by his wife, Martha Nelly Wasserman whom he married in 1984. A previous marriage to actress Ramsay Ames ended in divorce.


WE NEED YOUR HELP....


BROADWAY TO VEGAS, which has been in existence over 10 years, is not affiliated with any blog. A copyright clause is at the bottom of every Broadway To Vegas column. Recently, it has been brought to our attention that there is a Las Vegas based blog with an extraordinarily similar title. If you have provided that (or any) blog with: information, invitations, purchased anything through any link on that blog or transferred money, goods or services to anyone connected with that blog THINKING YOU WERE DOING BUSINESS WITH BROADWAY TO VEGAS - we want to hear from you. The more detail the better. Thank you.
Next Column: January 3, 2009
Copyright: December 28, 2008. All Rights Reserved. Reviews, Interviews, Commentary, Photographs or Graphics from any Broadway To Vegas (TM) columns may not be published, broadcast, rewritten, utilized as leads, or used in any manner without permission, compensation and/or credit.
Link to Main Page

---

Laura Deni

CLICK HERE FOR COMMENT SECTION