! >
Broadway To Vegas
 
  SHOW REVIEWS CELEBRITY INTERVIEWS GOSSIP NEWS

| | |
| --- | --- |
| | |
GROCERY AD CAUSES RECORD SALES - - ADAM GUETTEL'S LIGHT IN THE PIAZZA - - RINGING IN 2004 - - BEAUTY OF THE FATHER WORLD PREMIERE - - TRIBUTE TO HAROLD ARLEN - - SUNDANCE TICKETS ON SALE - - BARBARA COOK IN MET DEBUT NEW YEAR'S EVE - - FAO SCHWARZ TO STAY OPEN - - DONATE . . . Scroll Down


GROCERY STORE AD SPURS UNUSUAL SALES


When Great Britain's huge Sainsbury's Supermarket chain launched their Holiday promotional ad early in November, their object was to sell groceries.

With that in mind they hired Jamie Oliver, the Naked Chef, to tout the reasons to shop at that venerable United Kingdom grocery chain, whose logo is a little girl with wings.

Needing appropriate music to back up the commercial, the honchos discovered a mothballed song, Little Girl, penned by Madeleine Hyde and Francis J. Henry.

The number had been recorded decades ago by Jackie Gleason and his Orchestra, Nat King Cole, Vic Damone and most recently by John Pizzarrelli.

The grocery store dusted off the possibilities and selected an old Capitol record of Vic Damone singing the song.

Final Cut is the agency who selected the music for ad agency AMV who handles the Sainsbury's account. Julian Eguiguren of AMV confirmed that "they originally selected the song Little Girl from a Capitol Ultra Lounge CD - Capitol being part of EMI. They wanted an upbeat number but not a traditional Christmas song. This song fitted well with the "Little Girl" fairy on the ad."

The commercial aired with neither the song nor the singer being identified, since Jamie Oliver was the pitchman, and the rest merely appropriate background noise.

The grocers had visions of sugar plums and expensive roasts flying off the shelves.

Immediately upon the first ad running the phone lines at Sainsbury's Supermarkets began ringing non-stop. Did the callers want to have their grocery purchases delivered - a service which Sainsbury's offers. Perhaps the caller wanted to know on which aisle the Yorkshire pudding ingredients could be found. Or, to make sure all of those coupon items were really in stock.

No.

It seems the callers wanted "information on the song and the singer" backing the television spot. Susan Cooper of the AMV said Sainsbury's was "inundated" with phone calls about the commercial.

Suddenly, EMI records heard the ringing of bells - not sleigh - cash register.

Grammy nominated producer Steve Woof was hired to put together a Vic Damone compilation album Little Girl - The Very Best of Vic Damone.

Quicker than they could mutter Ho, Ho, Ho, EMI acted to capitalize on the popularity of the ad and song - emphasized by slapping a sticker on the front of the CD.

On December 8, EMI had product available.

If the grocery chain was surprised, Damone was flabbergasted.

Delighted by the Sainsbury's campaign and subsequent release of the CD, Damone sent his personal thanks to the person that selected the music.

As an aside, some shoppers were reported as "spitting feathers" when they went to pick up their Christmas turkey. They had ordered one of Prince Charles's Duchy Originals organic turkeys. It seemed they discovered that the turkeys were smaller than they had ordered. To make good, Sainsbury's handed out free Duchy Originals turkey breasts to make up the weight. A spokesman for the chain told customers the hot summer had caused the gobblers to lose their appetite, not eat as much and consequently, not plump up.


SUNDANCE OPENS UP TICKET SALES
Naomi Watts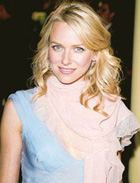 Robert Redford, Kevin Spacey, Kevin Bacon and Courteney Cox Arquette are among actors whose films are entered in the 2004 Sundance Film Festival, an annual 11-day movie party which unspools Jan. 15 in Park City, Utah.

Individual screening tickets will go on sale to Utah residents Jan. 3 and 4. Nationwide ticket sales will begin Jan. 6.

Even Robert Redford is involved in two of the films. The Clearing, the first independent film in which he's acted, will be screened. Redford nixed the idea of opening Sundance with the project, because he thought it would appear self-serving.

Redford also serves of producer of another film, The Motorcycle Diaries, which stars popular Mexican actor Gael Garcia Bernal. The movie centers on the time frame when a young Che Guevara was a biker. Guevara rode through South America, starting as a lark in Buenos Aires but along the way had his eyes opened to politics and poverty.

Bacon and his wife, Kyra Sedgwick, are teamed with hip-hop artist Mos Def in The Woodsman, a drama directed by Nicole Kassell that tells the story of a convicted child molester trying to rebuild his life. Other dramatic entries include We Don't Live Here Anymore, the story of a man's affair with his best friend's wife. The film, directed by John Curran, stars Mark Ruffalo, Laura Dern, Peter Krause and Naomi Watts. Cox Arquette stars in November, directed by Greg Harrison. The actress plays Sophie Jacobs, a photographer who struggles to cope after her boyfriend is shot to death in a convenience store.



Shirley Chisholm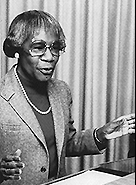 Documentary entries include Chisholm '72 — Unbought and Unbossed, an examination of Congresswoman Shirley Chisholm's 1972 presidential bid; The Fight, a look at the historic heavyweight boxing match between American Joe Louis and German Max Schmeling on the eve of World War II, Word Wars, an examination of the lives of expert Scrabble players and Metallica: Some Kind of Monster an unusual look at the heavy metal band undergoing group therapy to help its members through addiction, fatherhood and "near-total disintegration" while recording their first original studio album in six years.

This year's Sundance Film Festival runs Jan. 15-25 in a variety of locations in Park City and Salt Lake City, as well as locations in Ogden and at the Redford's Sundance resort.

As for the personal side of Redford, he has always stated his motto is; "You should settle where your heart is." Thus, he spends most of his time in San Francisco, because his love Billie Szaggars is a Tiburon artist.

2004 SUNDANCE DOCUMENTARY COMPETITION
2004 SUNDANCE FILM FESTIVAL SHORTS PROGRAM


BRRRR! INTO THE DRINK WITH THE POLAR BEAR CLUB


For over 100 years members of the Coney Island Polar Bear Club have been diving headlong into the New Year by taking a chilly plunge on New Year's Day into waters of the Atlantic Ocean.

The Coney Island Polar Bear Club was founded in 1903 by Bernarr MacFadden, a flamboyant entrepreneur who became well-known for railing against prudery and promoting the virtues of bodybuilding and physical fitness, especially among women.

With over 100 active members - both men and women, the Coney Island Polar Bear Club is the official registrar for cold water swimming in the United States.

Called a "sensory overload" experience, the odd ball tradition has caught on with others jumping into the drink in all parts of the country. All you need is a body of ice cold water and a lot of nerve.

BOULDER POLAR BEAR CLUB ICE PLUNGE takes place Jan. 1, 2004 in Boulder, Colorado. Join other cold water enthusiasts for an early New Year morning dip in Boulder Reservoir at the annual Boulder Polar Bear Club Ice Plunge. Emergency medical assistance and hot beverages are on hand in case you need a little help recovering.

84th ANNUAL VANCOUVER POLAR BEAR SWIM takes place at 2:30 p.m. on the first day of each new year at English Bay. To be a club member you must register before the swim. Registration takes place in front of the English Bay bathhouse from 12:30 p.m. each New Year's Day. Those who survive, receive a commemorative button after the plunge.

BIRCH BAY, WISCONSIN POLAR BEAR SWIM Come on down at 12:00 noon on Thursday, January 1st between the Dry Dock and OK Corral to take a dip in the Ocean. Special prizes will be awarded. Categories include Best Costume, Funniest Costume, Most Dressed, Least Dressed, and Crowd Favorite.

7th ANNUAL LAKE LANIER POLAR BEAR SWIM at Lake Lanier Olympic Center on January 1.

This fun event, hosted by the Gainesville, Georgia Lainier Canoe and Kayak Club is billed as "not for the faint of heart!" Awards will be given for the best costume and best jump!



Broadway To Vegas is supported through advertising and donations. Priority consideration is given to interview suggestions, news, press releases, etc from paid supporters. However, no paid supporters control, alter, edit, or in any way manipulate the content of this site. Your donation is appreciated. We accept PAYPAL. Thank you for your interest.

2004 GRAMMY LIFETIME ACHIEVEMENT AWARDS will be presented to recording artists Van Cliburn, the Funk Brothers, Ella Jenkins, Sonny Rollins, Artie Shaw and Doc Watson.

Trustee awards, which recognize contributions to the industry by nonperformers, will be presented to jazz producer Orrin Keepnews, songwriting team Gerry Goffin and Carole King, and pianist/radio host Marian McPartland.

Recipients will be officially acknowledged in a ceremony during a weeklong celebration leading up to the 46th annual Grammy Awards ceremony Feb. 8 at the Staples Center in Los Angeles. The show will air live on CBS.


SWEET CHARITY


ROUNDABOUT THEATER'S EDUCATION OUTREACH PROGRAM benefits from the final performance of the long-running, Fred Ebb and John Kander Tony-winning Cabaret, currently starring Susan Egan and Adam Pascal. The Auf Wiedersehen is January 4. For $200, you receive a souvenir book and a drink. The $500 tickets include an invitation to the closing-night party.

PAUL SIMON AND ART GARFUNKEL announced a joint $1 million donation to The Children's Health Fund. Half the money will go to CHF's national network for poor and homeless children; the other half will go to a pediatric preparedness program run by CHF at Columbia University's Mailman School of Public Health.

"Paul and Artie are American icons, and their actions today show that they are committed to improving the quality of life and opportunities for all of America's children," said Dr. Irwin Redlener, president of the fund.

Redlener and Simon co-founded the Children's Health Fund in 1987 to provide medical help for New York's homeless children. The nonprofit organization has since expanded to cover 16 communities.


OTHER PEOPLE'S MONEY


FAO SCHWARZ 11TH HOUR REPRIEVE

Customers were uncertain. Good news indicates the toy store will stay open. Photo by Laura Deni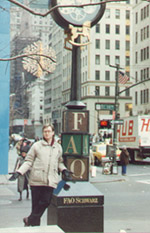 the toy store has been a part of family life since it opened its first store in 1870. Those with fond memories of toys dreamt about can rest easy - an 11th hour reprieve means the venerable toy store will not close. Bankrupt parent company FAO Inc. announced Friday that it signed an agreement to sell its Manhattan flagship store in the General Motors Building on Fifth and 59th Street in a package that includes its catalog, Website and the store located at the Forum Shops at Caesars in Las Vegas. The Sin City store is in a money maker of a location where the stores average sales of more than $1,200 per square foot. Also in the sales package is the FAO's signature clock towers, and the well known name.

The new high bidder is Manhattan-based D.E. Shaw Laminar Portfolios, which is part of D.E. Shaw & Co.

The reprieve was the equivalent of already being strapped on the death row table when the governor calls. FAO Schwarz landlord Harry Macklowe had been expected to close the stores.

Earlier this week, FAO's creditors committee approved a Macklowe proposal to buy the store in his GM Building plus the Las Vegas store for $23 million. Macklowe's intent was to close the stores and rent the valuable property. Now FAO indicated they will attempt to obtain bankruptcy court approval for the pending deal by Jan. 22.

All current merchandise will be sold. The stores will be temporarily closed for remodeling - and re-opened by next summer.

EMIL KANG president and executive director of the financially strapped Detroit Symphony Orchestra has resigned effective December 31. In a statement the symphony issued, Kang said, "With a new chairman and executive committee just taking over, I believe the timing is right for me to move on. It will give the new leadership a fresh start and an unencumbered opportunity to take the actions they believe necessary."

Kang, 35, has held the position since June 2000.

The orchestra has run operating deficits of more than $3 million the past three years, though a $1 million transfer from its endowment two years ago means the accumulated deficit stands at $2.2 million. The orchestra celebrated the opening of the $60 million Max M. Fisher Center in October and has played a key role in revitalizing downtown Detroit.



THE LIGHT IN THE PIAZZA book by Craig Lucas, based on the novella by Elizabeth Spencer.

Music and Lyrics by Adam Guettel. Music Director by Ted Sperling.

Directed by Bartlett Sher. Choreographer by Marcela Lorca. Produced in association with the Intiman Theatre.

In this radiant and romantic new musical, the splendor of Florence provides the backdrop as an American mother and her daughter discover that true love cannot be denied.

Performances begin January 10 at the Goodman Theater in Chicago.

THE GRADUATE in a tour directed by Peter Lawrence starring Linda Gray as Mrs. Robinson, Jonathan Kaplan as Benjamin and Devon Sorvari as Elaine at Heinz Hall in Pittsburgh Dec. 29-Jan. 4.

EDDIE MEKKA who was nominated for a Tony Award for his role in the musical Shenandoah and rose to name fame as Carmine the Big Ragu on the hit television sitcom Laverne and Shirley is busy traveling around the country starring in a variety of Broadway shows. He can currently be seen in Fiddler on the Roof, A Funny Thing Happened on the Way to the Forum and Nunsense A-Men. Upcoming 2004 productions of all three are slated for the Bucks County Playhouse, Struthers Library Theatre, and the Pocono Playhouse all located in Pennsylvania.

RIGHT AS RON a dark comedy written by Judd Bloch is a satiric look at the Elizabeth Smart kidnapping. Max Williams directs a cast that includes; Mark Auerbach, John Dohrman, Kathryn Ekblad, Susan-Kate Heaney, Jono Hustis, Carolyn Ladd, Yvonne Lin, Ben Lizza, Seth Michael May, John McAdams, Mike Mosley, Erica Rhodes and Jas Robertson. The play will follow the homecoming of kidnapping victim April Starr. When producers come calling and the film starts rolling, however, the family falls a little short of the all-American ideal. Jan. 29-Feb. 14 at the Bank Street Theatre in NYC.

NEW YORK GILBERT & SULLIVAN PLAYERS stage a New Year's Eve Champagne Gala Performance December 31st at Peter Norton Symphony Space. The champagne gala - the bubbly is complimentary - will feature Albert Bergeret (Artistic Director) and his merry NYGASP Company in G & S scenes, songs, parodies, and the very popular tour-de-force challenge: audience requests performed impromptu with full orchestra! Incorporating a 25-piece orchestra, its productions are highlighted with contemporary energy while retaining the traditional respect for each of the G & S masterpieces. The New York Gilbert and Sullivan Players are considered by many as the nation's "leading custodian of the G & S classics."

BEAUTY OF THE FATHER by Pulitzer Prize-winner Nilo Cruz has its world debut Jan. 3 at the intimate, 104-seat New Theatre in Coral Gables, Florida.

Beauty of the Father is a complex, emotional play about a father, Emiliano, who reunites with the adult daughter he abandoned when she was a baby.On the Costa del Sol, Marina reunites with her estranged artist father. As she discovers both her father's work and his world, the relationship between father and daughter evolves to new heights. Paquita the earthy Spanish woman, a handsome young Moroccan named Karim, and the spirit of Federico Garcia Lorca also populate this sensual and remarkable new work about the emotional fabric of love.

New Theatre Artistic Director Rafael de Acha directs the cast that includes Carlos Orizondo as Lorca. Euriamis Losada plays Karim. Emiliano is being played by Roberto Escobar. Teresa María Rojas is cast as Paquita. Ursula Freundlich is Marina.

Previews begin January 3 with the official opening slated for Jan.9. Performances through Feb. 15 at the New Theatre in Coral Gables, Florida. The production moves to the Seattle Rep Theatre April 24 - May 15 as a co-premiere with The New Theatre in Coral Gables, Florida.

SING ALONG WIZARD OF OZ at the Living Arts Center in Missisauga, Ontario on January 3.

THE MUSIC OF ANDREW LLOYD WEBBER will be presented by The Sooner Theatre and Cimarron Circuit Opera Company on December 31. The evening will feature selections from Phantom of the Opera, Joseph and the Amazing Technicolor Dreamcoat, Jesus Christ Superstar, Evita, Song and Dance, Cats, Sunset Boulevard, Aspects of Love, Starlight Express, and Requiem. The Sooner Theatre adapted Lyric Theatre's Show Notes production of Andrew Lloyd Webber for this evening. At the Sooner Theatre in Norman, Oklahoma.

CHICAGO welcomes original star James Naughton as he returns to the cast, for a limited run, beginning January 6th. Shubert Theatre, NYC.

THE MERRY WIDOW

Barbara Cook. Photo from her Mostly Sondheim Tour
will feature Tony award winner Barbara Cook making her Metropolitan Opera debut in the New Year's Eve production.

Cook will make a guest appearance appearing in the party scene in Act III singing Rodgers and Hammerstein's A Wonderful Guy from South Pacific, Rodgers and Hart's He Was Too Good To Me from Simple Simon, Stephen Sondheim's Losing My Mind from Follies and Carl Fischer and Frankie Laine's We'll Be Together Again.

The Met traditionally interpolates performances by surprise guest artists at this point in the show as part of the special New Year's Eve celebration. Cook will be the only non-operatic guest in this year's performance, and Wally Harper will serve as her accompanist and conductor.

The Merry Widow cast includes Susan Graham in the title role (Hanna Glawari), Bo Skovhus (Danilo), Emily Pulley (Valencienne), Paul Groves (Camille) and James Courtney (Baron), conducted by Kirill Petrenko.

Often called 'The Queen of Operettas', The Merry Widow is among the most celebrated and successful shows of its kind ever written. It tells the tale of a wealthy widow in fin-de-siècle Paris who is courted by a handsome dignitary from a mythical land in the hopes that she will wed him and, in turn, rescue his nation from insolvency.

With a libretto written by Viktor Leon and Leo Stein, The Merry Widow premiered December 30, 1905, at the Theater an der Wien. The operetta met with an instant success among the public and was performed almost continually by that company until March 1907. Later that same year, The Merry Widow was performed in London and at the New Amsterdam Theatre in New York. It has been adapted for the screen a number of times, including a 1934 version starring Jeanette McDonald and Maurice Chevalier and a 1952 version pairing Lana Turner and Fernando Lamas.


| | | |
| --- | --- | --- |
| | | |
WHO'S WHERE


SALUTE TO VIENNA is sweeping waltzes, majestic marches, graceful ballets and charming operettas, maintaining the spirit and quality of the original New Year's concert of the Vienna Philharmonic. Salute features Strauss' music, along with singers from the Vienna State Opera and dancers from the Sarasota Ballet performing the live waltzes on stage. Ringing the New Year December 31 in the Ruth Echerd Hall in Clearwater, Florida. They then open 2004 with a performance January 2 at the Barbara B. Mann Hall in Ft. Myers, Florida.

EARTHA KITT rings in the new year with 8:30 and 11:30 PM concerts at Joe's Pub in Manhattan on New Year's Eve. Music director is Daryl Waters. Tickets are priced at $150 for the early show and $200 for the late show.

AMERICA'S PARTY that New Year's Eve bash to air on Fox, live from Las Vegas at 11 p.m. ET (tape-delayed for the West Coast), with Paris Hilton and Nicole Richie as hosts. Ashanti, Metallica, Puddle Of Mudd, Hootie & the Blowfish, Westside Connection, Keith Urban and DJ Funkmaster Flex, are among the performers set to perform. America's Party will take place in Las Vegas' Venetian Resort Hotel/Casino. The performances will be augmented by footage of the parties along Las Vegas' famed strip, as well as live coverage of the Times Square New Year's celebration in New York

TOBY KEITH stages his New Year's Eve Blowout Dec. 31 at Gaylord Entertainment Center in Nashville.

THE BEACH BOYS ring in 2004 Wednesday night at the Adam's Mark Hotel in Dallas, Texas.

DARYL HALL AND JOHN OATES celebrating New Year's Eve at the Wyndham Anatole Hotel in Dallas, Texas.

ANDREA MARVOVICCI performing the wonderful music of Frank Loesser at the Oak Room of the Algonquin Hotel, through Jan. 3. She then offers up her show "So in Love: The Love Songs of Cole Porter." Jan. 6-24, Algonquin Hotel, NYC.

JAMIE CULLUM 23-year-old Reading University graduate has become the first British jazz artist in history to achieve platinum sales. It took his third album, Twentysomething just five weeks after its release in October sell the required 300,000 copies. In Great Britain he is currently outselling Christina Aguilera, Robbie Williams, Pink and Kylie Minogue. Cullum brings his swing-based vocal jazz to St George's College, Westgate, Sleaford, England on January 3.

ROCHESTER INTERNATIONAL JAZZ FESTIVAL NEW YEAR'S EVE GALA features The Bob Sneider Trio Jam Session, The Dawn Thomson Quartet, John Nugent &The RIJF All Star Jazz Orchestra and Rochester Brass & Electric New Year's Eve in Rochester, New York.

TRANS SIBERIAN ORCHESTRA-WEST perform tonight at the Arena @Gwinnett Center in Duluth, Georgia. On Monday the show is at the Ryman Auditorium in Nashville and on Tuesday the group is on stage at the Murat Theatre in Indianapolis, Indiana.

GEORGE BUGATTI who performs New Year's Eve at the Ritz Carlton at Lake Las Vegas has been asked to perform at the Hollywood Bowl tribute to Harold Arlen.

CHRISTINE ANDREAS performing her cabaret show Bewitched . . . Again! at the Prince Music Theatre in Philadelphia through December 31.

DANGERFIELD'S COMEDY CLUB offers a New Year's Eve laugh feast featuring Peter Bales, Jessica Kirson, Pete Correale, Sherod Small, and Kevin Brennan. In addition to laughs there are hats, favors and noisemakers. New Year's Eve at Dangerfield's in NYC.


TOASTING IN THE NEW YEAR - IT'S POSSIBLE TO SHOOT A CHAMPAGNE CORK 177 FEET


The term "toast" itself comes from the 17th-century custom of placing a crouton in the drinking vessel to absorb impurities.

The three most memorable theatrical toasts of record are;

Humphrey Bogart's to Ingrid Bergman in Casablanca: "Here's looking at you, kid."
Colonel Sherman Potter of M*A*S*H; "To long lives and short wars!"
Tiny Tim's toast in Charles Dickens' classic, A Christmas Carol: "God bless us everyone!"
















Next Column: January 4, 2004
Copyright: December 28, 2003. All Rights Reserved. Reviews, Interviews, Commentary, Photographs or Graphics from any Broadway To Vegas (TM) columns may not be published, broadcast, rewritten, utilized as leads, or used in any manner without permission, compensation and/or credit.
Link to Main Page
---
Laura Deni


CLICK HERE FOR COMMENT SECTION