! >
Broadway To Vegas
  
 SHOW REVIEWS CELEBRITY INTERVIEWS GOSSIP NEWS

| | |
| --- | --- |
| | |
RINGING IN DECADE 2010 - - WELL HEELED CELEBRITY FEET - - BLIND MAN IN DARK ROOM LOOKING FOR BLACK CAT THAT ISN'T THERE - - SHARON GLESS STARS IN A ROUND HEELED WOMEN - - KEVIN SPACEY AND ANDY McNAB - - RIVERDANCE TOURS IN CHINA - - THE PRODUCERS INVADE COMMUNITY THEATRE - - NEW YORK GILBERT & SULLIVAN PLAYERS - - DONATE . . . Scroll Down


RINGING IN A NEW DECADE - 2010
Times Square New York City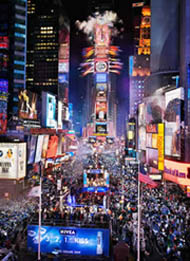 New York City's big New Year's Eve event and ball drop in Times Square is a traditional known the world over. As the famous New Year's Eve Ball descends from the flagpole atop One Times Square, an estimated one million people in Times Square, millions nationwide and over a billion watching throughout the world are united in bidding a collective farewell to the departing year, while keeping fingers crossed that 2010 is the beginning of something good.

"The Real Housewives of ..." aren't staying home serving home-made hors d'oeuvres. Danielle Staub of the Real Housewives of New Jersey is going to be one of those party hoppers. She's billing as hosting three New Year's Eve parties - Opera, Eden Roof and China Club - all located in Times Square's Legendary Nightclub. Kelly Killoren Benisimon of The Real Housewives of New York does the hosting honors at Guastavion's in The Big Apple.

Welcoming 2010 will be a bittersweet event at Tavern on the Green - which marks the end of an era.

Tavern on the Green promises to be as spectacular as ever this New Year's Eve, as it hosts it Farewell Party. After 30 magical years, Tavern on the Green is closing it's doors after this once-in-a-lifetime event on December 31, 2009. The Final Hoorah will be hosted by Jennifer LeRoy, owner of Tavern on the Green.

Last year the fireworks celebration staged by Las Vegas resorts was a dud because the pyrotechnics were launched from the ground, thus making them barely visible.

This year the powers that be have promised to light up the sky as the fireworks show has been moved back to the rooftops of the MGM Grand, Planet Hollywood Resort, Caesars Palace, Treasure Island, The Venetian, Stratosphere and the new Aria at CityCenter. Dubbed America's Party: A Vegas Celebration, the display will last 7 minutes, 11 seconds, with songs from Gloria Estefan and Star Wars being some of the musical selections accompanying the fireworks show.

Carmen Electra will host a party poolside at Mandalay Bay. The party will feature American Idol season eight winner Kris Allen and finalist llison Traheta along with music sensation Sean Kingston. In addition, the pool will be heated to 90 degrees.

Actress Eva Longoria Parker joins Billboard's New Year's Eve Live on Fox. She will be inside her new Latin steakhouse, Beso, at CityCenter's Crystals retail entertainment promenade. Kim Kardashian and some of the biggest party names in Hollywood will join Longoria Parker for the celebration. 50 Cent will be at Pure Nightclub.

In Washington, DC the Great Hyatt features the 13th Annual Downtown Countdown featuring Third Eye Blind.

James Bond fans will be in their own element with the Washington Plaza Hotel as the venue for this year's Licensed to Thrill Thunderball. In past years this gala was selected as one of the top five parties for New Year's Eve across the USA in Playboy Magazine.



Getting ready for the Licensed to Thrill Thunderball New Year's Eve party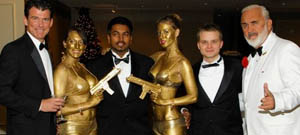 This year's 007 Gala has celebrity lookalike John Allen as Sir Sean Connery. In addition there will be sexy Golden Girls, a stilt walker, sensual belly dance performances, roving photographers to catch those ending 2009 and partying into the Living Daylights of 2010. There will be caricaturists to create masterpieces of the patrons and those all important party favors - hats, tiaras and noisemakers.

Attitude and appearance are important.

Gentlemen are advised to; "Look up, Look down, Look Out! It's you, the debonair, suave and unstoppable lethal cool Agent 007. You are "Bond, James Bond." Walk into the smooth and cool, sip on a martini "shaken not stirred, enjoy some mock casino gambling, rake in your winnings and make a move on the luscious femme fatale across the room with your exclusive license to thrill brand of charm and wit!

The Ladies are told that; "this is a spectacular all time high night of seduction for you. Dare to unleash your sexy femme fatale alter ego and turn your charms on the debonair secret agents and spies in your presence. Set your gold and honey trap and dance into the fire to be that woman who will make 007 never say never again! Who will you be? Secret or Double Agent, Villain or Temptress the choice is yours.

The possibilities are bountiful - beautiful Honey Ryder, mysterious Silvia Trench, sexy pilot Pussy Galore, golden girl Jill Masterson, luscious Kissy Suzuki, stunning Domino, 007's true love Tracy Draco, magical Solitaire, exotic Andrea Anders, sensuous Mary Goodnight, Greek goddess Melina Havelock, seductive Circus Owner Octopussy, gorgeous Stacy, soulful siren cellist Kara, Chinese Agent Wai Lin, Russian beauties Agent XXX Anya Amasova, Tatiana, Natalya, NASA scientist Holly Goodhead, American diamond smuggler Tiffany, Unforgettable KGB assassin Xenia, Outrageous henchwoman MayDay, Deceitful Elecktra King, Ice Queen Miranda Frost, American NSA Operative Irresistible Jinx, Italian beauty Solange, double agent Vesper Lynd, feisty sensual Camille. Or maybe you are the witty "M" or the efficient Moneypenny.

Dress code is Black Tie Optional, Tuxedo, Evening Dress, Bond Girl Lookalike, Bond Villain Character.



Attending a New Year's Eve Ball in Vienna in considered a once-in-a-lifetime experience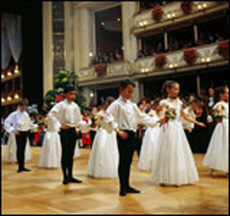 Around 700,000 visitors are expected to come to Vienna for the New Year's Eve celebrations this year.

Wien's New Year's Eve Trail begins at the City Hall Square and makes its way around the Austrian capital's center.

Huge screens, giant stages, 3 DJ sets, an impressive astrology village with fortune tellers and some seventy refreshment stands serving punch and delicious foods from around the globe along the party route keep everyone in great mood and highly entertained before the clock strikes twelve on New Year's Eve in Vienna.

On the morning after the New Year Eve street celebrations, on the City Hall Square Wien Philharmonic's New Year Day Concert is shown live on the large screen from the opera house.

The annual Opera calendar kicks off with the Kaiserball (Imperial Ball) on the December 31 at the gorgeous Hofburg which guarantees that attendees will be whirling into 2010.

Vienna balls are a once-in-a-lifetime occasion to experience the immortal charm and sophistication of the city, accompanied by the swaying melody that signifies the Austrian capital as no other feature - the waltz.

Those choosing to welcome 2010 in London will experience fireworks, parties and dinner cruises. Then 2010 steps off with the annual New Year's Day Parade which takes over Central London. This year's theme is Let Us Entertain You, and will feature over 10,000 performers representing 20 countries.



Broadway To Vegas is supported through advertising and donations. Priority consideration is given to interview suggestions, news, press releases, etc from paid supporters. However, no paid supporters control, alter, edit, or in any way manipulate the content of this site. Your donation is appreciated. We accept PAYPAL. Thank you for your interest.


ART AND ABOUT


FOR THE BLIND MAN IN THE DARK ROOM LOOKING FOR THE BLACK CAT THAT ISN'T THERE

Bruno Munari, Looking for comfort in an uncomfortable chair, c1950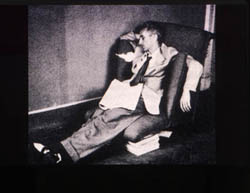 the acclaimed international group exhibition which features works by over twenty modern and contemporary artists, including works by Giorgio Morandi, a celebrated film by Fischli & Weiss, and a sculptural installation by Dave Hullfish Bailey.

The exhibition celebrates the speculative nature of knowledge, rejecting the common assumption that art is a code that needs cracking, and presenting works that employ nonknowledge, unlearning and productive confusion as ways to understand the world.

"A mathematician is like a blind man in a dark room looking for a black cat that isn't there."

The exhibition takes its title from that remark attributed to Charles Darwin, who is supposed to have compared mathematical enquiry to the explorations of a blind man.

However, this project also nods to The Blind Man, the journal which was co-founded by Marcel Duchamp, and a re-issue of which by artist Sarah Crowner is presented in the ICA's concourse.

Other works here include a game by David William, which encourages visitors to engage with the idea of the fourth dimension, and a large piñata by Mariana Castillo Deball in the shape of a Klein bottle - a topological form whose outside is indistinguishable from its inside.

Stretching 49 feet along one of the walls in the lower gallery is an installation by Matt Mullican, including drawings, flags, diagrams, rubbings, photographs and prints, and demonstrating the artist's highly subjective theory of everything.

Many of the works in the exhibition demonstrate sustained and paradoxical quests for knowledge, and the lower gallery also contains a slideshow of photographs by Bruno Munari, showing the artist tirelessly looking for comfort in an uncomfortable chair, and a large-scale installation by Benoît Maire and Falke Pisano which will be continually re-arranged over the course of the exhibition.

An artist who explores collecting and archiving is Patrick van Caeckenbergh, whose works at the ICA include a photo-collage inspired by the fable of a man unable to forget, who keeps thousands of stories within a large hat equipped with tiny drawers.

Featuring Dave Hullfish Bailey, Marcel Broodthaers, Sarah Crowner, Mariana Castillo Deball, Eric Duyckaerts, Aye Erkmen, Hans-Peter Feldmann, Peter Fischli & David Weiss, Rachel Harrison, Benoît Maire and Falke Pisano, Giorgio Morandi, Matt Mullican, Bruno Munari, Nashashibi/Skaer, Jimmy Raskin, Frances Stark, Rosemarie Trockel, Patrick van Caeckenbergh and David William.

For the blind man... is organized by Contemporary Art Museum St. Louis and curated by its chief curator, Anthony Huberman. On display through January 31, 2010 at the Institute of Contemporary Arts in London.





WELL HEELED CELEBRITY FEET
Sarah Jessica Parker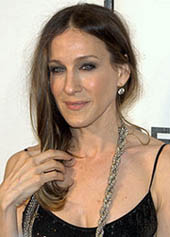 When Michelle Obama and Queen Elizabeth had tea, they discussed shoes. Women Wear Daily referred to Queen Elizabeth II as "quite the Carrie Bradshaw in her day," referring to the fictional narrator and lead character of Sex and the City, played by actress Sarah Jessica Parker.

A known shoe lover with an affinity for expensive designer shoes - notably Manolo Blahniks, but also Christian Louboutin and Jimmy Choo - Carrie Bradshaw claims she has spent over $40,000 on shoes. Her pairs seem to average around $450-500, and it is implied that she has at least, if not more than, 100 unique pairs.

"I used to spend 18 to 20 hours filming in heels. I've totally destroyed my body by running and dancing in heels. My knees are shot." Sarah Jessica Parker has been quoted as saying. Today the mother of three frequently wears flip flops to the grocery store.

In 2008 Parker told AOL Australia: "I like shoes very much but not to the same degree as Carrie. As a working mother, high heels don't really fit into my life any more - but in a totally wonderful way. I would much rather think about my son than myself. He is going through a crazy clothes phase at the moment. It is wonderful, it's great."

Parker is still seen in eye-catching footwear at various entertainment events.



When Queen Mother Elizabeth's doctor told her she could not longer wear high heels, she kicked him out of her hospital room and wore the shoes anyway.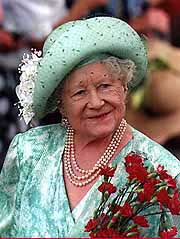 The late Queen Mother Elizabeth, who died at the age of 101, had a passion for stylish heels. During World War II's blitz, she toured devastated London in high-heels.

At the age of 95 she underwent hip replacement surgery. Her physician told her that, from then on, she could only wear sturdy, support shoes. Her reaction was to order the doctor out of her hospital room. She refused to leave the hospital in a wheel chair. While a terrified hospital staff looked on, she waved aside proffered help and descended down a few steps on her own - wearing stylish shoes - although conceding to a one inch heel.

Those that stars and royalty bow to are the shoe designers.

Stuart Weitzman is the footwear designer who made headlines with the creation of the Million Dollar Shoe.

Recently, Spain honored Weitzman with an official postage stamp, immortalizing his Million Dollar Shoe: a silver sandal adorned with 464 Kwiat cut diamonds weighing 61.92 carats. The unforgettable shoe is set in platinum on a platinum mesh frame, and it was originally worn by Mulholland Drive actress Laura Elena Harring at the 2002 Academy Awards ceremony. The creation of the Million Dollar Shoe was a collaboration between Weitzman, Kwiat Diamond and The Platinum Guild.

Weitzman's choice of raw materials from which he fashions his shoes have been unfailingly unique. Examples include shoes made from wallpaper, cork, vinyl, Lucite and even 24-karat gold.

Some Weitzman shoes are encrusted with high-end diamonds and other jewels that can be removed and worn later as jewelry.

In 2008, Weitzman created his Retro Rose shoe embellished with over a million dollars worth of diamonds for Diablo Cody, Academy Award winner for Best Original Screenplay for Juno, a coming-of-age story about a teenager's unplanned pregnancy. The Jason Reitman-directed comedy stars Ellen Page and Michael Cera.

The Retro Rose shoe features two Kwiat diamond roses, fixed to 1940s-style beige metallic T-strap high heels. More than 1,800 Kwiat diamonds, weighing 100 carats were used to make the roses and 400 of them were incorporated into the design of the shoe.



The Retro Rose Shoe, which most women would love to wear, was shunned by Diablo Cody in favor of her own shoes
Shoe mogul Weitzman also created a ballerina flat with a similar diamond-like design, which Cody was to change into after she walks the red carpet and kicked off those expensive high heels. That marked the first time Weitzman created a changeover pair of shoes with a matching design element for use at the Academy Awards.

Controversy erupted when Cody didn't wear either pair of shoes to the awards ceremony, instead was shod in a pair of her own gold flats. Cody's failure to don the shoes made headlines and some snarky exchanges between the screenwriter/former exotic dancer and the shoe designer.

Last February Weitzman announced that because of the frosty economy there would be no million dollar shoes at the March 2010 Oscar ceremony. His quotes were re-printed in the December 21, 2009 issue of The NY Post.

"There will be no Million Dollar shoe for the Oscars this year. With so many people struggling financially, and unemployment at 10 percent, I don't think it is appropriate. The actresses still want to go for glamour, but this year it will be more understated."

Weitzman was then quoted as saying even Queen Elizabeth once asked about them. "I was at Ascot with a model wearing the Million Dollar shoe," Weitzman recalled. "Her Majesty came up asked me: 'I hear they cost a lot of money?' I replied: 'Yes, but surely not as much as some of your crown jewels.' She just smiled and walked away."

While we have no idea his tone of voice or expression from a man known to be polite - the stark words read as rude, not just to a reigning monarch of an ally country, but to a potential customer or walking billboard for his company.



Prominently featuring the Fleurs-de-Lis motif that was used to decorate the St. Edward Crown and the Imperial State Crown worn by the Queen for the occasion. The A Princess To Be a Queen Roger Vivier shoe collection combines jewel shades of ruby reds, emerald greens and sapphire blues, reminiscent of the precious stones that adorned the crown.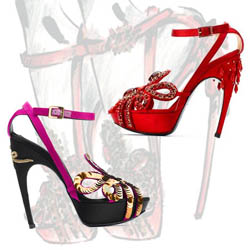 One would think shoe designers would fall all over their feet to design something special for Her Majesty's feet. Elizabeth II knows what it feels like to be a queen. If she likes fancy shoes, give her something that makes her feel like Cinderella.

Last September the Roger Vivier company launched a collection of Elizabeth-inspired shoes and bags called A Princess To Be a Queen. Designed by Bruno Frisoni for Roger Vivier's Autumn/Winter 2009-10 showing, the collection is inspired by the shoes worn by Her Majesty Queen Elizabeth II during her coronation on June 2, 1953.

Those shoes originally designed by Vivier, were a decadent, embroidered slipper with rubies. The slippers featured the Fleurs-de-Lis motif that was used to decorate the St. Edward Crown and the Imperial State Crown worn by the Queen for the occasion.

The A Princess To Be a Queen collection combines jewel shades of ruby reds, emerald greens and sapphire blues, reminiscent of the precious stones that adorned the crown.



The shoes worn by then Princess Elizabeth, on her wedding day to Prince Phillip, were designed by Edward Rayne and made with duchesse satin and trimmed with silver and seed pearl buckles.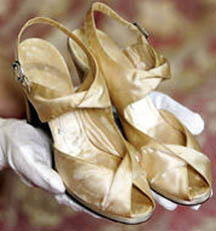 Diane Vreeland, Marlene Dietrich, Sophia Loren, Elizabeth Taylor and many more of the A-list of the haute couture crowd, have snuggled their tootsies into Vivier shoes.

The shoes worn by then Princess Elizabeth, on her wedding day to Prince Phillip, were designed by Edward Rayne and made with duchesse satin and trimmed with silver and seed pearl buckles.

Hollywood and the world's most wealthy and powerful went to David Evins and commissioned him to design shoes for the special occasions in their lives.

American actress Grace Kelly had Evins design shoes for her wedding to Prince Rainier III of Monaco.



Grace Kelly's Wedding Shoes. Made in United States 1956. Designed by David Evins, American (born England), 1907 - 1991. Made by Evins, New York. Rose point lace, silk faille, seed pearls, glass beads, leather 8 7/8 x 3 1/8 x 4 3/4 inches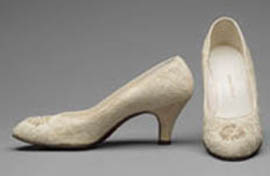 For the future Serene Highness, Evins created custom-made but elegantly simple shoes. The main design feature is provided by the cordonnet, or thread, outlines around the lace motifs, which include a rosette on the vamp accented with seed pearls and clear glass beads. The left shoe is embossed with the celebrated client's name, and in the right shoe, under the designer's name in its trademark script, a copper penny was built in for good luck.

Although the idea that Grace Kelly was married in flats or very low heels so as not to tower over the groom is proved false as her classic pumps in fact have 2½-inch-high heels.

Evins also designed shoes for the likes of Judy Garland and Queen Elizabeth. He also custom-designed shoes every First Lady from Mamie Eisenhower to Nancy Reagan, who ordered six pairs each year - two styles in three sizes each to allow for effects different climates and altitudes have upon the feet: size 6 for cold places, 7 for Washington and 8 for Air Force One.

His designs and manufacturing processes were widely imitated and he became a favorite among Broadway and Hollywood stars. He designed the "chunky pump" worn by Judy Garland, Marilyn Monroe's "subway sandals" and the shoes worn by Ava Gardner in the film The Barefoot Contessa.



Michelle Obama selected green Jimmy Choo Glacier pumps for the inauguration ceremony and parade. The shoes complimented her lemongrass-colored Isabel Toledo dress and jacket.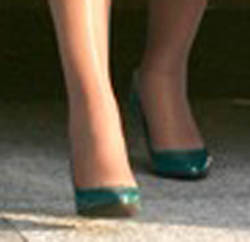 Michelle Obama selected Jimmy Choo pumps for the inauguration ceremony. For casual events she has been seen in suede, with grosgrain ribbon laces and metallic pink toe caps sneakers - made by French design house Lanvin. Others favoring Lanvin's costly sneakers include Ellen DeGeneres and Kanye West.

The First Lady donned the Choo label for a number of big inauguration-related events, including the swearing-in ceremony, inaugural parade and the 10 balls she attended.

For the evening festivities, Obama wore a pair of the brand's white-satin sandals with her Jason Wu gown. During the daytime events, she sported green Jimmy Choo Glacier pumps with her lemongrass-colored Isabel Toledo dress and jacket.

Obama also wore the green pumps to the Kids' Inaugural concert on January 19, and the same style in black patent to the We Are One concert the preceding day.

Jimmy Choo shoes have long been the stuff that dreams are made of. The label is one of the most sought after and recognizable footwear brands in the world. These red carpet shoes have found their way onto such famous feet as Victoria Beckham, Emily Blunt, Jennifer Garner, Scarlett Johansson, Katherine Heigl, and singers Beyonce Knowles, Jennifer Lopez and Kylie Minogue. According to Stephanie Pendersen in her book, Shoes: What Every Woman Should Know, (David & Charles 2005), no less than 45 pairs of Jimmy Choos were counted on the red carpet at the 2003 Oscars.

In 1988 British Vogue featured a record breaking 8 pages of his designs, and from 1990 until her death, Choo was under the patronage of Diana Princess of Wales.

Italian manufacturer Bruno Magli is known for its high-end, well-crafted, classically styled shoes and manufactures more than a million pairs of shoes and 60,000 handbags (always coordinated with the footwear) per year. From the beginning, the firm's shoes were purchased by many celebrities; current customers range from Hillary Clinton to Queen Elizabeth II.

Despite the use of the latest in modern technology, much of the craftsmanship in Bruno Magli footwear continues to be done by hand; 30 people touch each shoe during the course of its manufacture. The designs are sometimes likened to architecture - with several of the shoes on display at New York's Museum of Modern Art.






SPREADING THE WORD


KEVIN SPACEY the Tony Award winning actor, who currently serves as the Artistic Director of the Old Vic Theatre in London, is reported by the British press to have entered a deal with Andy McNab to produce a stage version of his best selling book Last Night, Another Solider.

Written for BBC Radio 4, it tells the moving story of an 18-year-old soldier going to war for the first time, in Afghanistan.

Before turning author McNab was a career military man. In fact he was Britain's most decorated serving soldier when he left the Army in 1993.

SAN FRANCISCO OPERA begins its radio broadcast season with Verdi's Il Trovatore, conducted by Nicola Luisotti in his inaugural season as San Francisco Opera music director. The illustrious cast features soprano Sondra Radvanovsky, mezzo-soprano Stephanie Blythe, tenor Marco Berti and baritone Dmitri Hvorostovsky.

New broadcasts of San Francisco Opera productions from the Company's Spring and Fall 2009 Seasons, recorded live at the War Memorial Opera House will air on Classical 102.1 KDFC on the first Sunday of each month.

KDFC radio announcer Dianne Nicolini will serve as program host and offer lively introductions to each opera with historic facts and brief plot synopses. The upcoming Winter-Spring broadcast series begins on Sunday, January 3.





OTHER PEOPLE'S MONEY


ROUNDABOUT in existence for 44-years, becoming the biggest not-for-profit entity on Broadway, is expected to end the fiscal year with its first budget deficit since 1992.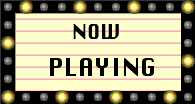 A ROUND HEELED WOMAN

Sharon Gless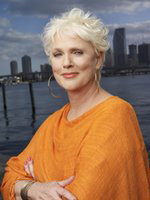 written by Jane Prowse based on Jane Juska's best-selling book A Round-Heeled Woman: My Late-Life Adventures in Sex and Romance. Directed by Chris Smith.

Emmy winner Sharon Gless stars as Jane Juska. Stephen Macht, who spent three seasons (1985-88) in the recurring role of David Keeler, love interest to Detective Chris Cagney (Sharon Gless) on Cagney & Lacey, will reunite with Gless on stage in this production as one of her lovers. The cast of A Round-Heeled Woman, also includes Stacy Ross, Ray Reinhart, Ian Scott McGregor, and Anne Darragh.

A Round-Heeled Woman follows the real-life adventures of Jane Juska when she courageously decides, at age 66, to place a personal ad in The New York Review of Books, that reads, "Before I turn 67, next March, I would like to have a lot of sex with a man I like. If you want to talk first, Trollope works for me." Juska then sets off on a series of amorous adventures that include - in addition to a lot of sex - falling in love, enduring heartbreak, humiliation, rejection, and having her first orgasm with a man after 30 years.

Previews begin January 5 at the Theater Artaud in San Francisco. Performances run through February 7 with opening night taking place January 16.

In the summer of 2009, Gless traveled to London to produce and star in a one-off rehearsed reading of A Round-Heeled Woman. After the San Francisco production, the producers hope to bring the show to London's West End.

A VIEW FROM THE BRIDGE a revival of Arthur Miller's 1955 drama. Directed by Gregory Mosher.

Starring Tony Award winner Liev Schreiber, Scarlett Johansson who is making her Broadway debut, Jessica Hecht, Michael Cristofer, Corey Stoll, Santino Fontana, Alex Cendese, Anthony DeSando, Antoinette LaVecchia, Mark Morettini, Joe Ricci, Morgan Spector, Robert Turano and Marco Verna.

In A View From the Bridge, Miller's most passionate drama, Schreiber plays Eddie Carbone, a Brooklyn longshoreman obsessed with his 17-year-old niece Catherine, played by Johansson. When Catherine falls in love with a newly arrived immigrant [played by Fontana], Eddie's jealousy erupts in a rage that consumes him, his family, and his world.

The creative team includes John Lee Beatty in charge of scenic design; costume design by Jane Greenwood; Peter Kaczorowski lighting design; Scott Lehrer sound design.

Previews begin December 28 at the Cort Theatre in NYC. Opening night is January 24, 2010.

THE DROWSY CHAPERONE music and lyrics by Lisa Lambert and Greg Morrison. Book by Bob Martin and Don McKellar. Original Direction and Choreography by Cast Nicholaw. Tour Direction by Jay Douglas.

The Five-Time Tony Award-Winning Musical will launch a new tour from The Riverpark Center in Owensboro, Kentucky on January 1.

The musical tells the story of a modern day musical theater addict known simply as "Man in Chair". To chase his blues away he drops the needle on his favorite LP - the 1928 musical comedy, The Drowsy Chaperone. From the crackle of his hi-fi, the musical magically bursts to life on-stage telling the tale of a pampered Broadway starlet who wants to give up show business to get married, her producer who sets out to sabotage the nuptials, her chaperone, the debonair groom, the dizzy chorine, the Latin lover and a pair of gangsters who double as pastry chefs. Man in Chair's love of The Drowsy Chaperone speaks to anyone who has ever been transported by the theater.

Featuring Bradley Allan Zarr, Britt Hancock, Corey Scheys, Craig E. Treubert, Diedra Grace, Dennis Setteducati, Erik M. Christensen, Elizabeth Pawlowski, Erin Edelle, Greg Kalafatas, Jake Warnecke, Kristin Netzband, Lauren Gemelli, Lindsay Devino, Marc de la Concha, Matt David, Patti McClure, Roberto Carrasco and Tim Hackney.

The creative staff: Jason Wetzel, Musical Director/Conductor; Sean Kelson, Production Stage Manager; Ryan Cowles, Company Manager; Tiffany Haas, Choreography Recreation; David Gallo, Original Scenic Design, James Kronzer, Scenic Design Coordinator; Gregg Barnes, Costume Design; Jimm Halliday, additional Costume Designer. Ken Billington, Lighting Designer; Brian Monahan, Co-lighting Design; Bernie Ardia, Hair Design; Shannon Slaton, Sound Design; Larry Blank, Orchestrations; Glen Kelly, Dance and Incidental Music Arrangements and john Mezzio, Music Supervisor/Coordinator/Additional Orchestrations.

Following the New Year's Day show the tour stops at January 4 at the Civic Center in Lakeland, FL. On January 6 the show is at the Heymann Center in Lafayette, LA followed by a three night engagement January 8-10 at the Von Braun Center in Huntsville, AL.

GROUNDSWELL By Ian Bruce. Directed by Daniel Gidron.

New England Premiere - The lives of three disappointed men intersect with volatile consequences in a hotel in a sleepy South African port town, when Thami, the gardener and caretaker, and Johan, the odd-job man and former police officer, conspire to pressure the hotel's lone guest to invest in their diamond mining scheme. The three men find themselves in a power struggle fueled by greed and entitlement. A psychological thriller about desperation and hope, and the glittering promises of the post apartheid society.

Featuring Jason Bowen, Timothy John Smith and Richard McElvain.

Opens January 1, 2010 with performances through January 30, 2010 at the Lyric Stage Company of Boston.

RIVERDANCE is currently on tour in China. The 12-city tour stops December 26-29 at the WuHan Theatre in WuHan. From January 1-3 the Irish step dancers will be at the Zhoushan Stadium in Hangzhou. From January 5-10 the show stops at the Grand Theatre in Shanghai. The People's Great Hall in Suzhou will be the venue for shows January 12-13. Next up are performances January 14-15 at the People's Great Hall in Nanjinh. From January 19-24 the show is at the Sichuan Stadium in Chengdu. Yannan Grand Theater will stage the show from January 26-29 in Kunming From January 30-February 1 the tour stops at the Grand Theatre in Chongqing. The final stop is at the BEC Theatre in Beijing from February 5-11.

An unusual aspect of the tour is that several cities are holding contests to determine which Chinese song will be included in the program. The Bann Company will deliver Chinese music in the show, interspersed with Irish instruments and dance. A vote will decide which Chinese song would be performed in Riverdance: People have the choice of voting for; My Motherland; You and Me; Song of Yangtze River; Rising Higher Step by Step or Love Song of Kangding.

THE PRODUCERS the Mel Brooks' sensation is - for the first time - mounted on a local community theatre stage.

Directed & Musical Directed by Steve Isaacson. Choreography by Ron Cisneros.

A special New Year's Eve show followed by shows January 8-31, 2010 at the Davis Musical Theatre Company in Davis, CA.

Jan and Steve Isaacson founded the Davis Musical Theatre Company (DMTC) in 1984. DMTC is California's longest-running, year-round, amateur musical theater company. It produces 10 musicals each year.





WHO'S WHERE


NEW YORK GILBERT & SULLIVAN PLAYERS considered America's Preeminent Gilbert & Sullivan Repertory Ensemble, stages their New Year's Eve Ring in 2010 Champagne Gala Performance, which will feature Artistic Director Albert Bergeret and his merry NYGASP Company in G & S scenes, songs, parodies, and the very popular tour-de-force challenge: audience requests performed impromptu with full 25-piece orchestra! The productions are noted for incorporating contemporary energy while retaining the traditional respect for each of the G & S masterpieces. December 31 at Peter Norton Symphony Space in NYC.

THE BLACK EYED PEAS say farewell to '09 with shows at Mandalay Bay Resort in Las Vegas on Tuesday and Wednesday.

LADY GAGA continues the tour with a two night stand beginning Monday, December 28 at the Fox Theatre in Atlanta. Then on Thursday December 31 she'll ring in the New Year at the James L. Knight Center in Miami. On Saturday she'll return to that same stage for her first official show of 2010.

MARIAH CAREY welcomes 2010 with a New Year's Eve show at Madison Square Garden in NYC. On Saturday she'll headline the Borgata Hotel in Atlantic City.

WEDNESDAY NIGHT AT THE IGUANA hosted by Dana Lorge and Richard Skipper. The pre-New Year's Eve show features Barry Levitt on keyboard & Saadi Zain on bass. Guests include: Ritt Henn, Annie Hughes, Yvette Malavet-Blum, Cindy Marchionda, David Nathan Scott and David Vernon. Wednesday, December 30 at Iguana VIP Lounge in NYC.

TONY BENNETT that ageless crooner performs Saturday, January 2, at the King Center in Melbourne, FL.

ANDRE RIEU rings in the New Year with a two nighter beginning Friday, January 1, 2010 at the Lanxess Arena in Cologne, Germany.

GEORGE WINSTON will be playing pretty songs Saturday, January 2 at the Hoffman Theater in Walnut Creek, CA.

JERRY SEINFELD telling funny stories December 29 at Caesars Palace in Las Vegas.





Next Column: January 3, 2010
Copyright: December 27, 2009. All Rights Reserved. Reviews, Interviews, Commentary, Photographs or Graphics from any Broadway To Vegas (TM) columns may not be published, broadcast, rewritten, utilized as leads, or used in any manner without permission, compensation and/or credit.
Link to Main Page
---
Laura Deni



U.S. Postal Address: Post Office Box 60831, Las Vegas, NV 89160
CLICK HERE FOR COMMENT SECTION