! >
Broadway To Vegas
  
 SHOW REVIEWS CELEBRITY INTERVIEWS GOSSIP NEWS

| | |
| --- | --- |
| | |
WICKED RECOUPS INVESTMENT - - STEVE & EYDIE CELEBRATE 47th WEDDING ANNIVERSARY - - DAME EDNA IN METROPOLITAN OPERA DEBUT - - HAL LINDEN STARS IN THE PIRATES OF PENZANCE - - FROZEN TO BE RECORDED FOR RADIO - - ORANGE COUNTY MUSICIANS PROTEST OLIVER! OPENING - - JAMES GALWAY AT LINCOLN CENTER - - LIFE: A GUIDE FOR THE PERPLEXED - - DONATE . . . Scroll Down


A SEARCH FOR CLOSURE FUELS NEW ONE MAN SHOWS
Luke Rosen (seated) and Jeffrey Stanley in The Golden Horseshoe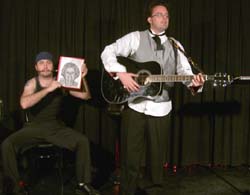 Personal and family problems have always been script inspirations. Recently, two men have turned their own angst into one-man stage productions. The Golden Horseshoe, A Lecture On Tragedy plays in New York while The Blacker the Berry the Sweeter the Juice is being staged in Los Angeles.

The Golden Horseshoe, A Lecture On Tragedy is a southern fried Greek tragedy, written and performed by playwright Jeffrey Stanley.

Stanley gained famed as the author of the full-length play Tesla's Letters, a wartime drama set in Yugoslavia. Directed by Curt Dempster and funded by a grant from the Alfred P. Sloan Foundation, the world premiere in New York at The Ensemble Studio Theatre received rave reviews. Stanley holds an MFA from the Dramatic Writing Program at NYU Tisch School of the Arts where he studied under playwright David Ives. Stanley also received his BFA in Film & Television Production from Tisch with a minor in cultural anthropology.

"This new show, in which I take to the boards myself, is a new foray for me," Stanley told Broadway To Vegas.

With his teaching assistant Luke Rosen in tow, Stanley takes you through "an existential tunnel of country music terror" to the Underworld and back, through his failed marriage and his obsessive life and death search to find his hard drinking, country music singing, biological father.

Stanley uses country music, courtroom transcripts, birth certificates, Marine Corps discharge papers, DNA evidence, lawyers, and a healthy dose of Nietzsche to pick through his shattered marriage while piecing together a portrait of his biological father.

"Yes indeed, it's 100% autobiographical," stressed Stanley. "I produce "exhibits" throughout the lecture to verify the story's veracity because it's got a lot of twists and turns and people think I'm making it up. The exhibits wind up in plastic protectors on a table center stage, treated as precious artifacts, and at the end I invite the audience to take a look."

Currently in a limited engagement at Don't Tell Mama in The Big Apple, performances are on January 12, 19, 26, and February 2.



Mario Burrell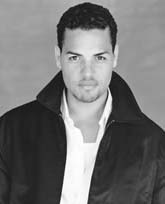 The Blacker the Berry the Sweeter the Juice is written and performed by Mario Burrell, known for his role in the Broadway production Rent.

Burrell's father was Walter Rico Burrell, a groundbreaking journalist and a publicist for Hollywood's Black elite. Burrell worked for Universal, Motown, 20th Century Fox, MGM and ABC. He wrote one of the earliest pieces by a black gay man chronicling his life with HIV/AIDS. Burrell died of AIDS-related complications in 1990. He was 44.

In this creative endeavor, Mario creates a fruitful cast of eight characters depicting the various people who have affected his life and have inspired his appreciation for his black heritage. The show is a comedic, poignant look at life in Hollywood, through the eyes of Mario's father Walter Burrell.

NAACP-nominated director Jemal McNeil stages the profound one-person comedy.

Mario has a B.A. in Drama from San Diego State University and a MFA from the University of Washington. Mario has also studied and performed at The Groundlings Theatre in Los Angeles where several of his sketches were produced.

As an actor, Mario's regional theatre credits include productions at the Cornerstone Theatre, the San Diego Civic Light Opera; the Tacoma Actor's Guild; A Contemporary Theatre. He recently did the reading of Salt on Sugar Hill, directed by Oz Scott for the Mark Taper Forum. Mario appeared in NBC's Days of Our Lives.

Performances begin on Sunday, January 2 with an official press opening on Monday, January 3. The World Premiere plays through February 14 at the Zephyr Theatre in Los Angeles.


SPREADING THE WORD


L.A. THEATRE WORKS RECORDS AWARD-WINNING FROZEN FOR RADIO original Broadway cast member Laila Robins joins Jeffrey Donovan when L.A. Theatre Works presents Bryony Lavery's award-winning Frozen, January 5 through 9 at the Skirball Cultural Center in Los Angeles.

Eric Simonson directs.

All performances are recorded to air on LATW's nationally-syndicated radio theater series, The Play's The Thing, which broadcasts weekly on public and satellite radio.

Frozen brings together the mother of a missing ten-year old child, the man convicted of the child's murder, and a psychologist who studies the brains of serial killers to find out if what they do is pure evil - or simply beyond their control. Each exists in a state of frozen emotion, and together the three embark on a long, dark journey toward personal redemption. The New York production was nominated for four Tony Awards, including Best Play.

BOB KERREY

Bob Kerrey stays employed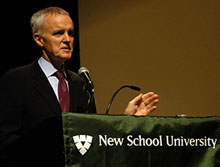 61, a former Nebraska senator and governor and a member of the Sept. 11 Commission, announced Thursday that he has signed a new contract to remain as president of New School University through June 2011.

The University contains the Parsons School of Design, Mannes College of Music and Actors Studio Drama School.

The eight-time Emmy Award-nominated series Inside the Actor's Studio, hosted by James Lipton, emanates from New School.

Lipton serves as Dean of the Actors Studio Drama School.



Broadway To Vegas is supported through advertising and donations. Priority consideration is given to interview suggestions, news, press releases, etc from paid supporters. However, no paid supporters control, alter, edit, or in any way manipulate the content of this site. Your donation is appreciated. We accept PAYPAL. Thank you for your interest.



Can you rearrange the letters to give the ingredients of the Holiday pudding?



TEUS - SGEG - GAURS - NISSAIR - TRANSCUR - LEPE - EPICS - SLAMNOD

The answers can be found at the bottom of the column


SWEET CHARITY


MARIO CANTONE'S LAUGH WHORE will present the final performance of his one man show as a Special Benefit Performance for The Actors' Fund. Monday, January 3 at the Cort Theatre, NYC.


OTHER PEOPLE'S MONEY


WICKED housed at the 1,800-seat Gershwin Theatre in NYC ended the year on a high note - and bank account. On December 20th it was announced that the Broadway musical would recoup its $14 million capitalization this week. A two year North American tour begins in Toronto in March, followed by a stop in Chicago and Los Angeles.

ORANGE COUNTY MUSICIANS' ASSOCIATION LOCAL 7, AMERICAN FEDERATION OF MUSICIANS demonstrated Tuesday, December 22 , outside the opening-night performance of the musical Oliver! at the Orange County Performing Arts Center in Orange County, CA. They were protesting using prerecorded music as a means of cutting costs.

Oliver! is currently on a nationwide tour. To trim costs producers decided to use a synthesizer.

Frank Amoss, president of Local 7 of the American Federation of Musicians asserted that Oliver! would have hired about 15 local musicians at a pay rate of about $157 per performance. Instead, a smaller number of traveling performers are used. Amoss called it "an assault on our profession."

Oliver! has performances at the Orange Country Performing Arts Center through January 2.

DORIS DUKE CHARITABLE FOUNDATION recently announced awarding $3.5 million in endowment grants to six leading theatres.

The six theatres receiving the grants are;

Steppenwolf Theatre Company of Chicago, $700,000
The Public Theatre in New York City, $700,000
American Repertory Theatre in Cambridge, Mass. $700,000
Center Stage Associates in Baltimore, $600,000
Intiman Theatre in Seattle awarded $400,000
Actors Theatre of Louisville $400,000


GET WELL TO...


CLINT HOLMES the energetic and talented star at Harrah's Hotel in Las Vegas. Last Thursday the performer underwent surgery for colon cancer. A dull recovery is expected. The showroom is currently closed. Bill Medley will step in for Holmes and host Harrah's New Year's Eve party for invited guests. Holmes plans to return to the stage the first part of January.



DAME EDNA who is usually speaking to her minions at the Music Box Theater on Broadway, in Dame Edna: Back With a Vengeance! will make her opera debut - with the Metropolitan Opera. We would have expected nothing less. Remember, this is the same persona that introduced Queen Elizabeth II during the Golden Jubilee. To get a listen to this high note, the place to be New Year's Eve is the Met for the performance of Gioacchino Rossini's The Barber of Seville. Dame Edna will appear in the second act of Rossini's comic opera, during the music-lesson scene, in which lovers Rosina (Katarina Karneus) and Count Almaviva (Matthew Polenzani) are discovered. Oh, what will Dame Edna tell them to do? Show up and find out.

HALLELUJAH, BABY!

Illustration by Jody Hewgill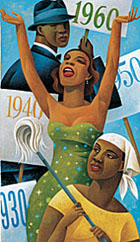 with a book almost two-thirds re-written by the original book writer, Arthur Laurents, who also directs.

Laurents participated in the Molly's Salon program which, in the spirit of artistic and literary salons of the past, features Arena Stages' Artistic Director Molly Smith and other artistic leaders from Arena Stage in a series of lively, in-depth conversations with the playwrights, actors, directors, designers and audiences. On December 13, the Monday before the show opened, Laurents spoke out - not mincing words about his feelings for the original show and his own career.

Hallelujah, Baby! was the winner of the Tony Award for Best Musical in 1968, and it follows a young woman named Georgina through the decades of the 20th century as she longs to leave her position as a maid and rise to stardom on the theatrical stage.

Music by Jule Styne, lyrics by Betty Comden and Adolph Green with new lyrics by Amanda Green, daughter of the late Adolph Green. Musical direction/ orchestrations and additional vocal arrangements by David Alan Bunn.

Choreography by Hope Clarke who was am member of the original production.

The production stars; Suzzanne Douglas, Randy Donaldson, Gerry McIntyre, Ann Duquesnay, Curtiss I' Cook, Stephen Zinnato, Laurie Gamache, Todd Cerveris and Crystal Noelle.

Set and Projection Design by Jerome Sirlin. Costume Design by Theoni V. Aldredge. Lighting Design by David Lander. Sound Design by Shannon Slaton.

A co-production with George Street Playhouse. Through February 13 in the Kreeger Theatre of Arena Stages in Washington D.C.

THE PIRATES OF PENZANCE

L to R:Ross David Cruthchlow, Laurelyn Watson & Hal Linden Photo by: Carol Rosegg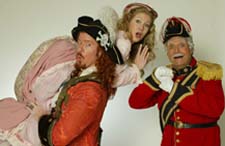 presented by New York Gilbert & Sullivan Players America's Foremost Gilbert & Sullivan Repertory Ensemble Announce The Gala 125th Anniversary Production starring Tony Award winning Hal Linden as The Major General. January 7-23rd at New York's City Center Joining Linden will be: Ross David Crutchlow as the Pirate King; Andrew MacPhail as Frederic; Keith Jurosko as Sergeant of Police; Laurelyn Watson as Mabel and Angela Smith as Ruth.

The Pirates of Penzance, or The Slave of Duty was first performed at the Fifth Avenue Theatre in New York City on December 31, 1879. It was Gilbert & Sullivan's fifth collaboration and their only operetta to have its world premiere in the United States - an unsuccessful effort to secure an international copyright for their works, which had regularly been produced in the US without their consent.

The 125th anniversary production will feature costumes designed by Gail J. Wofford; lights designed by Sally Small and scenery by LouAnne Gilleland.

The 25-piece orchestra will be under the direction of Albert Bergeret.

January 7-23rd at New York's City Center.

THE FOREIGNER starring Richard Kline, who starred as Larry, the womanizing best friend of John Ritter`s character Jack on Three's Company plays Charlie Baker, a man completely devoid of personality, who is marooned by a friend in a fishing lodge in rural Georgia. Charlie is so socially inept that the idea of having to make small talk with the other people in the lodge scares him to death. So he pretends that he is a foreigner and can`t understand a word of English. The consequences are hilarious and lead Charlie to uncover a scheme that puts everyone in danger. Yet he manages to defeat the bad guys, solve his own personality problems, and even get the girl! The Foreigner is a farce with a heart, full of wacky humor and a surprising amount of humanity.

Performances through February 6 at The New Theatre Restaurant in Overland Park, Kansas. (See Broadway To Vegas column of March 16, 2003).

Beginning April 13 the venue will be one of only two to stage 2 Across, before it opens in New York City. The romantic comedy stars Bonnie Franklin and Bruce Weitz.

LIFE: A GUIDE FOR THE PERPLEXED

The Flying Kaaramazov Brothers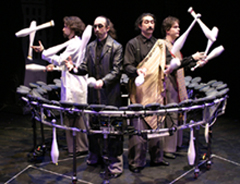 written by and starring The Flying Karamazov Brothers.

The book by Paul Magid; music by Mark Ettinger, lyrics by Howard Patterson; directed by Michael Preston. The cast - in descending age order - includes Paul Magid (Dmitri), Howard Jay Patterson (Ivan), Mark Ettinger (Alexei) and Roderick Kimball (Pavel).

The most ambitious show yet from the masters of hilarity - a seriously silly and crazy comic recipe for survival in the modern world. The Flying K's sing, dance and juggle their way through a mid-life crisis - a dazzling vaudevillian romp through the stages of life. LIFE: A Guide for the Perplexed is a spectacle of hilarity and silliness bound to tickle your eyes as well as your sides – a series of parables as seen through the prism of Karamazovian eyes. So don't expect the unexpected, don't even expect the expected; just don't expect and they won't have to clean up after you. Except possibly after the traditional juggling of three audience-contributed objects in every show!

Performances begin January 8, opening Friday, January 14, running through February 6 on the Lyceum Stage. San Diego, CA.

THE VOYSEY INHERITANCE by Harley Granville Barker, adapted by David Mamet is co produced by the American Conservatory Theater in San Francisco and the Kansas City Repertory. The world premiere will take place March 18–April 17 at the Geary Theater in San Francisco and April 29-May 22 at Spencer Theatre in the Performing Arts Center on the UMKC campus.

Carey Perloff, artistic director of A.C.T., will direct.

An exploration of the conflict between family, money, and professional honor, The Voysey Inheritance is a study of modern morality with surprising relevance to current headlines about corporate scandal and white-collar crime.

For generations, the Voysey family business has been secretly cheating its clients. Edward, a junior partner designated to take over the firm from his aging father, is horrified when he discovers the embezzlement that has been keeping his relatives in a life of luxury.

But moral outrage turns to self-protection when Edward proposes to dismantle the firm's criminal legacy - especially when his large, pampered family realizes the cost of disclosure. Edward's sense of righteousness becomes increasingly distorted as the risk of disgrace looms larger and he comes to understand fully the consequences of his "inheritance."

Mamet's adaptation streamlines much of the action and adds more dramatic muscle to Barker's original narrative. While keeping the story set in the same time period, the new adaptation eliminates several of the minor characters found in the original and confines the action within the play to the family home, providing the story with more direct intimacy and a quicker pace. Mamet, in collaboration with Perloff and Altman, will continue to edit his adaptation in the coming months.

The Voysey Inheritance will feature several veteran Kansas City actors who will appear in the A.C.T. run in San Francisco as well as at the Rep. Gary Neal Johnson will play George Booth, close friend of the Voysey family; Cheryl Weaver will play Honor, the eldest Voysey daughter; and Mark Robbins will play the dual roles of Peacey, a long-time clerk in the family firm, and Trenchard, the eldest Voysey son.

THE GAMSETER by Freyda Thomas. A sexy, high stakes comedy in which every turn of the roulette wheel reveals naughty dalliances and scandalous situations, opens at the Geary Theater in San Francisco on Wednesday, January 12 and runs through Sunday, February 6. Interesting promotions for this show include references to the popularity of gambling in Las Vegas.

Based on Jean-Francois Regnard's Le Joueur, The Gamester is directed by Ron Lagomarsino.

In The Gamester, the odds are stacked against ValPre: a compulsive gambler, he loves the beautiful and rich Angélique, but she refuses to marry him unless he puts an end to his wild lifestyle. Having to endure the protests of a father who disapproves of his mounting debts, the advances of a wealthy older madam who refuses to stay out of his life and his bed, and the competition of a lecherous uncle whose heart is also set on Angélique, ValPre is forced to choose between his battling twin addictions: the games and the girl. Written in rhyming verse, The Gamester infuses its turn-of-the-17th-century Parisian setting with ultra-modern humor and delicious double entendres. Featuring grand costume and set designs.

Lorenzo Pisoni leads the cast of The Gamester as ValPre. Pisoni is the son of Larry Pisoni, one of the founders of the Pickle Family Circus, with whom Lorenzo performed from the age of 2 to roughly 18. Joan Mankin portrays the insatiable Madam Securité. Gregory Wallace and René Augesen portray, respectively, ValPre's loyal servant Hector and Madam Argante, a widow with her eyes set on ValPre.

Also featured in the cast are; Ron Campbell, Anthony Fusco, Steve Irish, Margot White, Stacy Ross, Lianne Marie Dobbs and Andy Murray.

JESUS CHRIST SUPERTAR the first masterpiece from the legendary writing team of Tim Rice and Andrew Lloyd Webber takes to the stage at the Stamford Center for the Arts in Stamford, CN Jan 8-9.

A new production with a score of amazing songs - I Don't Know How To Love Him, Hosanna, Everything's Alright, What's The Buzz, Superstar, Heaven on Their Minds - and a stunning visual design.

FIDDLER ON THE ROOF at the Minskoff Theatre on Broadway, welcomes Harvey Fierstein to the cast as Tevye beginning January 4. He takes over the prayer shawl from Alfred Molina.


| | | |
| --- | --- | --- |
| | | |
WHO'S WHERE


KRISTEN JOHNSTON currently starring in Paula Vogel's The Baltimore Waltz at Peter Norton Space, guesting on The David Letterman Show last Wednesday divulging that she was once mugged while coming home from a Christmas Party. During another Christmas season she worked for three weeks selling dancing Christmas trees in Macy's Basement. Hopefully, this season is better for her.

STEVE AND EYDIE aka as Steve Lawrence and Eydie Gorme will celebrate their 47th wedding anniversary on December 29. They were married on December 29, 1957, in the Las Vegas home of their boss, Beldon Katleman - then the owner of the El Rancho hotel-casino where Steve and Eydie continued to star a husband-and-wife team. They bring their good-as-pure-gold act to the Stardust Hotel in Las Vegas January 12-15.

ROBERT GOULET long time Las Vegas resident heading back to Sin City after co-starring with Shirley Jones in Home for the Holidays. This was a stage presentation which also featured the American Festival Orchestra and Choir and the fabulous Shumka Ukrainian Folk Dancers. Goulet and Jones led the audience and a cast of over 75 dancers, singers and musicians through a magical evening of holiday favorites including. For the evening's finale, the audiences joined the cast for a sing-along of holiday carols. Personally, Broadway To Vegas thinks the venues dropped the ball in not actively publicizing this warm-hearted family holiday concert, which was a tour of several cities running November 24-Dec 23. We hope Goulet and Jones take it on the road again next year.

VAMPS AN EVENING WITH BEBE NEUWIRTH the winner of two Tony Awards - one for her sizzling performance in Chicago and another for her dazzling role in Sweet Charity and an Emmy Award for her hilarious portrayal as Lilith on Cheers stars in an evening of very special songs by Kurt Weill, legendary composer of The Threepenny Opera, and Kander and Ebb, composer and lyricist of Cabaret, Kiss Of The Spider Woman and Chicago.


CHICAGO SYMPHONY ORCHESTRA New Year's Eve Gala with the Count Basie Orchestra, Symphony Center in Chicago December 31.

STEVE TYRELL opens a 7 night engagement December 27 at the Catalina Bar & Grill in Hollywood, CA.

JAMES GALWAY backed by the Orpheus Chamber Orchestra will do magical things with his flute in a solo recital Wednesday, at the Penthouse in New York's Lincoln Center. The event, introduced by Beverly Sills, will be broadcast on PBS' Live From Lincoln Center.

LIONEL RICHIE that would be Nicole's father, ringing in the New Year with a performance at the Aladdin Hotel in Las Vegas.

PAUL ANKA welcomes 2005 on stage in Milwaukee, WI at the Potawatomi Casino.

AARON CARTER on stage Tuesday, December 28 at the Shoppingtown Mall in Syracuse, NY. On Thursday the show is at the Crocodile Rock Cafe in Allentown, PA. He'll greet the New Year on stage Friday, December 31 at City Hall Plaza in Boston. Then Aaron will start out 2005 with a show Saturday, January 1 at the Hartford Civic Center in Hartford, CT.

SHIRLEY HORN
BLONDIE takes her on stage New Year's Party to the Hogmanay in Edinburgh, UK, Friday, December 31.

DARREN ROMEO the protégé to Siegfried & Roy combines an extraordinary singing voice with dazzling illusions for a one-of-a-kind magical performance. Special sneak preview December 26 through 29 prior to the premiere of Romeo's limited engagement January 2 through February 27 in the Eldorado Showroom in Reno, NV.

DEBBIE REYNOLDS rings in the New Year with performances December 28-Jan 1 at the Riverside Hotel & Casino in Laughlin, NV.

MARIAH CAREY who makes no secret that she would like to spend New Year's 2006 on Broadway is spending Friday night in Las Vegas. She'll be at a new nightclub, Pure, lodged inside Caesars Palace. The $14 million club with a panoramic view of the entire Strip, finds Mariah hosting its New Year's Eve party and counting down to 2005, ending the night with a champagne toast. Admission: $150 Line Pass + Admission: $200.

REGIS PHILBIN who plays the Las Vegas Golden Nugget Jan. 14-15, will countdown the ball drop in The Big Apple. In Las Vegas, a massive fireworks display will also kick off the city's year long 100th birthday celebration. Mayor Oscar Goodman calls it the biggest blowout the city has ever seen. The fireworks will be launched from 10 resort rooftops along the Strip and illuminate a five-mile stretch of the sky. Authorities will close to traffic a portion of the Las Vegas Strip, making it accessible only to pedestrians with over 300,000 expected in Vegas to herald New Year 2005.


PUDDING MIXTURE ANSWERS


THE CORRECT SPELLINGS ARE



EGGS - SUGAR - RAISINS - CURRANTS - PEEL - SPICE - ALMONDS

7,000: Average calories consumed by an adult on Christmas Day
780: Minutes running needed to burn off 7,000 calories

to everyone - but especially to our paid subscribers whose support makes Broadway To Vegas possible.
















Next Column: January 2, 2005
Copyright: December 26, 2004. All Rights Reserved. Reviews, Interviews, Commentary, Photographs or Graphics from any Broadway To Vegas (TM) columns may not be published, broadcast, rewritten, utilized as leads, or used in any manner without permission, compensation and/or credit.
Link to Main Page
---
Laura Deni


CLICK HERE FOR COMMENT SECTION