! >
Broadway To Vegas
  
  REVIEWS INTERVIEWS COMMENTARY NEWS

| | |
| --- | --- |
| | |
DOCTOR ZHIVAGO HAS LONDON AND BROADWAY DREAMS VIA KOREA - - APHRODITE AND THE GODS OF LOVE - - CIRQUE DREAMS HOLIDAZE - - ELVIS PRESLEY'S CO-STAR TURNED NUN NEEDS MONEY - - GRAMMY LIFETIME ACHIEVEMENT AWARDS - - THE BOOK OF MORMON ELDER McKINLEY BUILD-A-BEAR - - RINGING IN 2012 - - ARE CUPCAKES WEAPONS OF MASS DESTRUCTION? - - DONATE . . . Scroll Down



DOCTOR ZHIVAGO HAS LONDON AND BROADWAY DREAMS VIA KOREA
Still of Julie Christie and Omar Sharif in Doctor Zhivago, which is considered the best movie ever set in a cold location.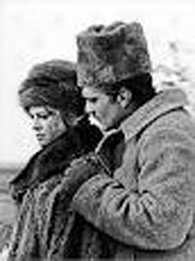 Put the pain, put the past away.
Look into my eyes.
And let the music play.
Yesterday's fade away.
To a world, we restored.

Doctor Zhivago, a new musical based on the famous novel by Boris Pasternak is musically snow shoveling it's way towards Broadway via sold out productions in Sydney, Melbourne and Brisbane Australia.

"Discussions are going on for Doctor Zhivago to open in London and Broadway but there is nothing definite as yet. It does open in Korea in January," publicist Ian Phipps told Broadway To Vegas.

Korea as the place to hone and launch a musical is being touted based upon cost and the press. Investors have a better opportunity of making a profit versus taking the production to regional American theaters where the probability of seeing a return is zilch. In Korean the press doesn't delight in killing a production before it is set in stone.

"The Korean language production of Doctor Zhivago opens on January 27 at the Charlotte Theatre in Seoul," added Mitzi Zaphir an executive producer at Australian's The Gordon Frost Organisation and in that capacity served as the company manager of the Australian productions of Wicked the Musical, and Guy & Dolls.

Doctor Zhivago hit the big screen in 1965 as an epic, drama romance by David Lean and created a star of Omar Sharif in the title role.



Des McAnuff is a two-time Tony Award-winning director and Artistic Director of the Stratford Shakespeare Festival. His 2006 Broadway production of Jersey Boys earned four Tony awards including Best Musical. Now he's shepherding Doctor Zhivago - The Musical.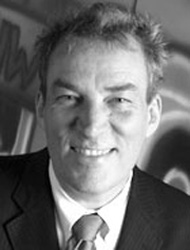 This ambitious musical which is being quietly and carefully polished into what the creatives hope is perfection, is causing buzz that this is the next musical worthy of being called a Broadway musical in the same sentence as Phantom or Les Miz.

With a book by Michael Weller, the music composed by the Tony nominated Lucy Simon with lyrics by Michael Korie and Amy Powers, with music supervision by Eric Stern and orchestrations by Danny Troob were called "powerful". Kellie Dickerson was the Musical Director and Loclan Mackenzie-Spencer served as the Assistant Musical Director.

Doctor Zhivago directed by two-time Tony Award winner Des McAnuff, is a romantic and passionate love story, set against the snowy background of the Russian Revolution. The English language Australian version starred Anthony Warlow as the ardent young Doctor Yurii Zhivago, along with Lucy Maunder as the alluring Lara, and Taneel Van Zyl in the role of his wife Tonia. Martin Crewes played political radical Pasha Antipov, Bartholomew John was Viktor Komarovsky, and in the roles of Alexander and Anna were Peter Carroll and Trisha Noble.

It originally premiered in 2006 as Zhivago at the La Jolla Playhouse in San Diego, CA.

Anthony Warlow who didn't appear in that production, has been quoted as saying that "the original San Diego production had been rushed against a deadline in order to retain the rights to the famous novel."

Now revised as Doctor Zhivago, the Australian musical received rave reviews and garnered seven nominations in the 2011 Helpmann Awards, Australia's annual national performing arts awards. The nominations were for Best Musical, Best Direction of a Musical (Des McAnuff), Best Male Actor in a Musical (Anthony Warlow), Best Female Actor in a Musical (Lucy Maunder), Best Male Supporting Actor in a Musical (Martin Crewes), Best Female Supporting Actor in a Musical (Taneel Van Zyl), and Best Choreography in a Musical (Kelly Devine).



Kwang-Ho Hong who played Raul in Phantom of the Opera and starred in Jekyl & Hyde, stars in the title role.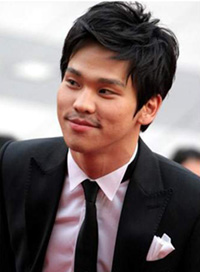 In a flip from the usual legs attached to a production - that of first making it in the West End and then Broadway before setting out to conquer the world, Doctor Zhivago selected to mount at the Charlotte Theatre in Seoul. Known as Korea's First Musical Theatre since it is "exclusively for musicals, boasting the world's greatest stage, plus powerful sound effects and state-of-the-art lighting systems," according to the venue. Charlotte Theatre has mounted Broadway shows Cats, Jekyll & Hyde, 42nd Street, The Phantom of the Opera, Dreamgirls, Mamma Mia! and The Lion King.

It's been opined that the show is currently about 85 percent set with final changes being made based upon the Seoul engagement.

The Korean language production requires both a different cast and technical crew.

Grace (Eun-Hye) Yu, Production Administrator for the Overseas Business Division of the OD Company explained the process to Broadway To Vegas.

"Don't be confused by the number of creative and technical staffs as we are doing a Replica production in Korea so all original creative team and staff are coming to work on this production with Korean staffs hired in local."

Heading up the team traveling to Korean from Australia is director Des McAnuff. Two of the most crucial positions are book translator and the Korean lyricist positions held respectfully by Myung Joo Jung and Ji Hye Lee.

The Resident Director Korean Associate is Kyu Jong Kim and the Music Director Korean Associate is Mi Sol Won with Soo Jung Choi and Ji Eun Jang serving as Assistant Music Directors.



Ji Woo Kim, who feels that men and women are treated differently when it comes to their romantic pasts, is one of the stars who will portray Lara in Doctor Zhivago.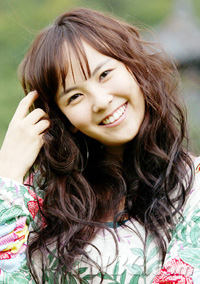 Mi Kyung Kim is the Korean Technical Director.

The Australian production creatives include: Resident Director Shaun Murphy; Choreographer Kelly Devine; Dance Captain Glenn Hill: Stage Manage Pam Kekos: Deputy Stage Manager Suzanne Large and Head Wardrobe Sue Lyons.

Their Korean creative professionals are: Wardrobe Supervisor Moon Sou Jo; Lighting Supervisor Jin Keun Choi; Sound Supervisor Do Kyung Kwon; Makeup/Hair Supervisor Sung Hye Kim; Projector Operator Won Young Jung; Special Effect Dong Sun Ha; Production Stage Manager Byung Woo Noh: Assistant Stage Managers Oh Yong Byun, Jung Sook Lim and Jung Kook Lee. Projector Operator Won Young Jung and Special Effects Dong Sun Ha.

The Production Director is Yong Suk Jung and the Line Producer is Eun Hee Lee.

The Korean Doctor Zhivago has some roles double cast. Playing Zhivago are Kwang-Ho Hong who played Raul in Phantom of the Opera and starred in Jekyl & Hyde, and teen sensation Joo Ji Hoon.

Famous for portraying Crown Prince Lee Shin in Princess Hours, Joo Ji Hoon completed his two-year mandatory military service on November 21, 2011. The weekend immediately after, he was welcomed back into civilian life by 2,000 of his fans in Seoul, where he called his renewed career his "season 2." Then he headed into rehearsals for Doctor Zhivago.

Ji Woo Kim and Mi Do Jeon will portray Lara with Soo Na Cho cast as Young Lara.

Ticket sales for the heart wrenching love story of Doctor Zhivago may be bolstered by the popularity of its stars. In an interview posted by Allkpop, actress Ji Woo Kim spoke of her personal life.

She is quoted as saying, "There has been a lot of scandals written about me in the past although most of them weren't real. . . . Not long ago, I met a guy through my friends. We had good feelings about each other and started dating. But shortly afterwards, we broke up after his parents disapproved of me because I was an artiste. But later, I realized that he left me because of my scandals. Apparently, a simple search of my name on the internet would turn up a string of news about my scandals. That was the main reason he decided to leave me."

"What's most upsetting is that while topics about male artistes scandals will die down after a while, it tends to stick with female artistes for a lifetime. I hope that misconceptions towards female artistes can be lessened and everyone can be more understanding. Not every scandal should be treated as real fact."

Other cast members include Pil Suk Kang as Pasha while Hyun Joo Choi has the role of Tonia. Komarovsky is portrayed by Young Joo Seo and Alex will be played by Bong Hwan Kim. Sun Ae Lim takes on the part of Anna and Tae Moon Kim is Kornakov.

Added Grace Yu: "The rehearsal began on December 6th, and the rehearsal goes very well now, so all are looking forward to the opening."

Doctor Zhivago will run January 27, 2012 until June 3, 2012 at the Charlotte Theatre in Seoul.



Broadway To Vegas is supported through advertising and donations. Priority consideration is given to interview suggestions, news, press releases, etc from paid supporters. However, no paid supporters control, alter, edit, or in any way manipulate the content of this site. Your donation is appreciated. We accept PAYPAL. Thank you for your interest.



ART AND ABOUT


APHRODITE AND THE GODS OF LOVE

Aphrodite and the Gods of Love - on display through February 20, 2012 at the Museum of Fine Art in Boston.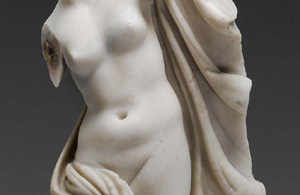 pay homage to the goddess of love at this groundbreaking exhibition featuring spectacular loans from Italy.

Known today as the goddess of love and beauty, Aphrodite, or Venus as she was known to the Romans, was one of the most powerful ancient Greek divinities and a favorite subject in ancient art. This is the first exhibition about the powerful goddess that both ancient writers and artists described as complex and even dangerous.

Through the presentation of 150 Greek and Roman works of art, Aphrodite and the Gods of Love, which includes spectacular loans from Rome and Naples, reveals the most popular ancient goddess in her roles as adulterous seductress, instigator of sexual desire, mother to mischievous Eros and sexual outliers Hermaphrodite and Priapos, patroness of brides, and much more.

This exhibition is organized under the auspices of the President of the Italian Republic, in celebration of the 150th anniversary of the unification of Italy.

On display through February 20, 2012 at the Museum of Fine Arts in Boston.


BAH, HUMBUG! LAS VEGAS TSA HAS A PROBLEM WITH FROSTING
Professional singer and University Professor Rebecca Hains was TSA questioned at Las Vegas McCarren Airport for attempting to bring onto an airplane what they labeled as a potential security threat - a frosted cupcake.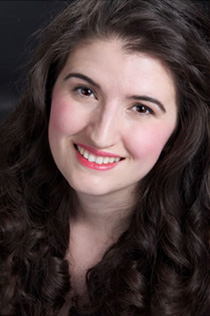 We don't know if the Las Vegas Transportation Security Administration (TSA) agent who, at first, refused to permit a passenger to board an airplane, because he didn't approve of the frosting on a cupcake, is anti all frosting or just discriminates against the type used on cupcakes. Maybe he's the hard cookie type.

In an interesting show of the intelligence and common sense level displayed by paid TSA agents, Rebecca Hains a 35-year-old communications professor at Salem State University, north of Boston and a professional singer was stopped and questioned by a TSA agent at McCarren Airport in Las Vegas. She was then forced to relinquish her cupcake because its "gel-like" frosting could have been an explosive.

Hains told WHDH-TV that she had flown to Las Vegas from Boston's Logan International Airport with two red velvet cupcakes, which had been given to her as a gift and packaged for travel in jars.

"And actually, the TSA agent who saw them, picked them up and said 'these look delicious,' and sent me on my way," Hains told the station about passing through security at Logan.

During her stay in Las Vegas Hains got hungry and ate one of the cupcakes. She saved the other for her flight home.

A power heavy TSA agent in Las Vegas became a grinch and declared the frosting on the cupcake to be a potential weapon of mass destruction.

"I offered to take it out and put it in a zip-lock bag on the spot and he said 'no I can't let you touch it,' said Hains who has starred as Mabel in The Pirates of Penzance, Marion in The Music Man, and Cunegonde in Candide.

The soprano has also performed Queen of the Night (The Magic Flute) with MetroWest Opera; Beethoven's Ninth Symphony and Vaughan Williams' Dona Nobis Pacem with Claflin Hill Symphony Orchestra; Mozart's Exsultate, Jubilate with the Concord Ensemble; and Haydn's Lord Nelson Mass and Orff's Carmina Burana with the Paul Madore Chorale.

An alumna of the Tanglewood Festival Chorus, Rebecca frequently appears as a soloist in regional musical theater and opera concerts, including the concert series of Longwood Opera, Mass Theatrica, the New England Gilbert and Sullivan Society, New England Light Opera, and Worcester Opera Works.

Singing out about her cupcake didn't win back the sweet treat.

"So once he had identified it as a security threat it was no longer mine and I couldn't have it back," the cupcake carrier told the television station.

The store where the cupcake was purchased has offered to send Hains a replacement cupcake. While the TSA has said they were "reviewing the incident," there is no word on whether there will be a "replacement agent."


SWEET CHARITY


VINCENT

Jim Jarrett as Vincent Van Gogh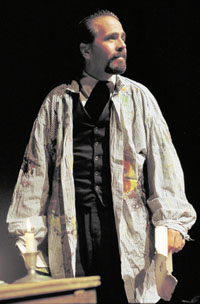 written by Leonard Nimoy, starring actor/producer Jim Jarrett is one of the most successful and respected touring one-man shows in the world. Now, Vincent, comes "home" to Sun Valley, Idaho, for 4 performances benefiting nexStage Theatre.

"Vincent Van Gogh was one of the world's loneliest souls. He was also one of the most misunderstood. He was an artistic genius, yet he received no recognition during his lifetime and his work was dismissed as that of a mad man.

There was one man on earth who encouraged him in his work, provided him with supplies and money necessary to continue painting, who believed in him and who had an inexhaustible fund of love, which above all else, Vincent needed: his brother Theo.

Each night, when the fourteen to sixteen hours of drawing and painting were over, Vincent sat down with pen and ink and poured his heart out to his brother. There was no element of his artistic struggle too unimportant for Vincent to communicate to the only other living person who considered his every word and feeling precious.

At age thirty-seven, Vincent died in Theo's arms. Six months later, at the age of thirty-four, Theo died. He left behind a wife and baby. Having saved every letter Vincent had ever written, Theo also left behind the story of Vincent's life - told by Vincent in soul searching detail.

For a number of years I researched these letters - one thousand six hundred and seventy pages survived - and discovered that at Vincent's funeral Theo was so overcome with emotion, he was unable to speak. And so, my play begins one week after Vincent's death. The setting is a lecture hall in Paris. The time is late July 1890. Theo has rented this space and invited artists, friends, anyone who will listen to him. His hope is today he will be able to express himself and do justice to the memory and reputation of his beloved brother, Vincent.

Those of you in attendance are an integral part of this play. You are the people who came to hear Theo that warm day in Paris, over one hundred years ago." ...Leonard Nimoy

Jarrett was a full-time resident of Sun Valley for nine years. Although Jarrett moved away several years ago, but stressed: "I will be forever grateful to so many people who have been so kind to me over the years. That's one of the many reasons I am so happy to be able to bring Vincent back to Sun Valley as fundraiser for the nexStage at Christmas time is a tremendous honor."

The benefit shows will take place Monday, December 26th through Thursday, December 29th at nexStage in Ketchum, Idaho. After every performance Jarrett will also offer a post-show Q&A.

GODSPELL has partnered with the 2011 New York Cares Coat Drive. The Godspell initiative – dubbed the "Give Him Your Coat As Well" Coat Drive – takes place through Saturday, December 31 at Circle in the Square Theatre.

Godspell audience members can donate gently used, freshly laundered coats in the receptacle located in the lobby of the theatre. All coats will be donated to the New York Cares Coat Drive, an annual citywide tradition that has collected 1.5 million winter coats for men, women and children in need throughout the city since 1989.

BENEFIT CONCERT FOR THE AMERICAN CANCER SOCIETY a tribute to Horowitz: Lola Astanova, Piano Debut has been announced for Thursday, January 19.

Donald J. Trump is the Gala Chairman and Julie Andrews is the Special Guest Artist Host.

Piano virtuoso Lola Astanova makes her Carnegie Hall debut in A Tribute to Horowitz performing the works of Chopin, Scriabin and Rachmaninov at the Stern Auditorium/Perelman Stage.

The young piano virtuoso from Russia, now a U.S. citizen residing in Manhattan is a Steinway artist and as such will perform not just on a Steinway, but on a piano that is, without question, the most famous piano in the world - the legendary Horowitz Steinway. It was built in 1941 and Vladimir Horowitz acquired it on May 27, 1943. This piano traveled with Horowitz all over the globe, including his legendary Return to Russia concerts in Moscow and Leningrad in 1986. Horowitz also played it at the White House for President Ronald Reagan. The piano has a serial number CD503 which is considered famous in the piano world.

Franz Mohr was Horowitz's piano technician for years and in his book, he wrote about how Horowitz famously refused to play concerts unless Franz was preparing his piano. Franz Mohr will prepare the piano for Lola's concert on January 19th - and will attend the show as her special guest.


WEDDING NEWS . . .


STEVE LAWRENCE AND EYDIE GORME celebrate their wedding anniversary on Thursday. The performers were married on December 29, 1957 at the El Rancho Hotel in Las Vegas. The union produced two adorable and talented sons, the younger of whom, Michael, died unexpectedly in 1986 of ventricular fibrillation resulting from an undiagnosed heart condition at the age of 23. Their elder son, David composed the score for High School Musical.

The anniversary couple appeared together on Broadway in Golden Rainbow, and Lawrence starred in What Makes Sammy Run, which earned him a Tony Award nomination. The singing headliners have lived in Las Vegas for decades.

MARRIAGE PROPOSAL AT GODSPELL the musical revival currently playing at the Circle In The Square theatre recently hosted their first marriage proposal according to a posting by producer Ken Davenport. The would be groom set it up ahead of time so that he could be helped onto the stage and make his romantic plea in the middle of the performance. She said yes. The video is on UTube


STORK DELIVERY . . . .


ROBERT DeNIRO AND GRACE HIGHTOWER received an early visit from the Santa Stork welcoming daughter Helen Grace, 7-pounds, 2-ounces, born through a surrogate.

The couple have been married for 14 years and have a 13-year-old son, Elliot.

This isn't the first time De Niro, 68, has used a surrogate. Now the father of six, he has four other children from previous relationships.

In 1995 he fathered twins Julian Henry and Aaron Kendrik through in vitro fertilization and a surrogate mother with his former longtime partner Toukie Smith.

Daughter Drena, 40, an actress, is the daughter of De Niro and his first wife, actress Diahnne Abbott. De Niro adopted Drena in 1976, when she was 5. That same year Raphael was born. A former actor, he is now in real estate.


HAPPY BIRTHDAY TO . . .


RORY O'MALLEY who stars as Elder McKinley in The Book of Mormon. He received an Ice Cream Cake from the cast on December 23 - his 42nd birthday.

The Tony award nominee, who isn't a Mormon but plays one on stage, sent an Elder McKinley Build-A-Bear to his cousin for Christmas, who posted a picture of it on her site.

We presume dark slacks, white shirt and black tie are sold separately. Funny!


RINGING IN 2012


Ringing in the year the Mayan calendar says will be the last - as we know it - is being celebrated with gusto and glee.

Show up in New York's Time Square on New Year's Eve and watch the star-studded musical performances, balloons, confetti, fireworks, with about a million of your closest friends and of course the ball drop at midnight.

Lady Gaga, Justin Bieber, Pitbull, Hot Chelle Rae, Drake and more will be performing live in Times Square.

You've seen it on TV. Now experience it live and be a part of history - after all, if those Mayan seers knew what they were talking about this will be your only chance, so trot on down to Times Square.

But before then shred, dump and pulverize your bad memories from 2011 at Good Riddance Day in Times Square.

Join the producers of New Year's Eve in Times Square on December 28, where a dumpster, sledgehammer and a giant Cintas shredding truck will be on hand for you to discard distasteful, embarrassing or downright depressing memories from 2011 giving you a fresh start for 2012.

Whether you're bidding farewell to pink slips or parking tickets, credit cards or Valentine's Day cards, the one percent or the 99 percent, your bad memories from 2011 will be destroyed, never to be seen again.

The most creative entry wins an iPad2.

Write your wishes for the New Year on official New Year's Eve confetti and placed on the wishing Well The wishes are collected at the end of the year, and added to the one ton of confetti that flutters down at midnight onto the crowd gathered in Times Square.

You can also get up close and personal with the New Year's Centennial Balll, which stood atop One Times Square in 2007, and simulates the New Year's Eve countdown every 20 minutes.

Down the road in Las Vegas around 300,000 tourists are expected to cram onto the Las Vegas Strip to watch 56,400 pyrotechnicals decorate the sky in an 8 minute-36 second Fireworks by Grucci event shot from the rooftops of eight Las Vegas Strip Hotels - Tropicana, MGM Grand, Aria, Planet Hollywood, Caesars Palace, Treasure Island (or the TA as it is now known), Venetian and the Stratosphere.

Utilizing the them of Dance: Las Vegas, the soundtrack will begin with Sal Soul Orchestra's rendition of Countdown to New Year's Eve followed by LMFAO's Party Rock Anthem, Lady Gaga's Edge of Glory and Ne-Yo, Afrojack and Nayer as the backup to Pitbull's Give Me Everything Tonight. The festivities continue with On the Floor by Jennifer Lopez and Adele's Rolling in the Deep, with the finale from ZZ Top with Viva Las Vegas.

Three of those every-time-your-turn-around-they're-there Kardashians have bookings. Good Charlotte, Mike "The Situation" Sorrentino and Kourtney Kardashian and Scott Disick at Chateau Nightclub & Gardens at the Paris; Kim Kardashian at Tao in the Venetian while Rob Kardashian will be at Tryst in the Wynn.

London visitors are invited to revel in The Mayor's Midnight Fireworks Display by the Thames River which attracts huge crowds - usually around 250,000 people. Viewing areas fill up around 2-3 hours in advance.

You'll also get to hear the famous Big Ben 'bongs' just before the launch of the UK's biggest annual fireworks display from the London Eye, alongside a tailor-made soundtrack. An exclusive live DJ set from Radio 1's Nihal will keep the crowds entertained pre and post the pyrotechnics, starting at 10pm.

The next day it's the fantastic New Year's Day Parade which takes over Central London. After that, bag the bargains as the shops begin their January sales - think Harrods.

For those romantics spending New Year's Eve in Paris the Champs-Elysees is the place to head if you want to be at the center of the party. Starting at around 9 p.m. on New Year's Eve, people start to flock to the famous street, often bringing along champagne bottles and plastic flutes. From many places on the Champs-Elysees, you can get a good view of the Eiffel Tower, which explodes into a sparkling dance of light at the stroke of midnight.


OTHER PEOPLE'S MONEY


DOLORES HART

Dolores Hart (Susan Jessup) kisses Elvis (Deke Rivers) in the 1957 movie Loving You. Photo: Paramount's Everett Collection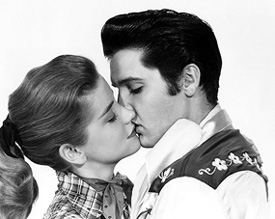 the actress who gave Elvis Presley his first screen kiss in the 1957 Paramount film, Loving You, then left Hollywood to become a nun, needs money.

$4 million.

Now known as Mother Dolores, 73, the prioress of the cloistered Abbey of Regina Laudis which houses 40 other nuns must raise $4 million to comply with renovations to meet fire and safety codes, add an elevator and make handicap accessibility upgrades.

According to their website: "This is a critical moment in our history and we can no longer delay action. Without a major renovation project, the Abbey will not be able to welcome women seeking to enter religious life at Regina Laudis or to care for the elder and infirm in our monastic community. We need your help."

The order founded in 1947 from the Abbey of Notre Dame de Jouarre in France. Located in Bethlehem, a suburb of Hartford, it is a working, growing order, with two new postulates soon to arrive. Regina Laudis was elevated to the status of abbey in 1976. The abbey is financially independent from the Archdiocese of Hartford and supports itself through the sale of everything from artisan cheeses and hand-crafted pottery to recordings of the choir and a recent Christmas bake sale.

The Abbess of Regina Landis is Mother Abbess David Serena O.S.B. who is assisted in her position by the Prioress, Mother Dolores Hart, O. S. B., who has been the Abbey's Dean of Education since 1972, and the Subprioress, Mother Maria Immaculata Matarese, O.S.B. who practiced law in Hartford, was elected to the State House of Representatives and spent seven years working in the Hartford Legislature.



Mother Dolores Hart. Photo: Abbey of Regina Laudis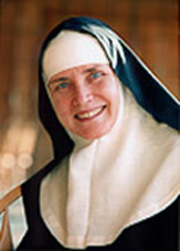 Mother Dolores is still a voting member of the Academy of Motion Picture Arts and Sciences, receiving copies of movies to watch in her small room - or cell, as they're known in the order - to help select yearly Oscar winners. ( See Broadway To Vegas column of February 1, 2004 )

Hart made 10 films in 5 years, playing opposite Stephen Boys, Montgomery Clift, George Hamilton, Robert Wagner, Myrna Loy, Connie Francis, Jim Hutton, Frank Gorshin, Yvette Mimieux, Anthony Quinn and Paula Prentiss. ( See Broadway To Vegas column of September 2, 2007 )

In addition to Loving You Hart and Presley co-starred in King Creole. He attended a birthday party in her home she gave for actress Jan Shepherd who in 1958 appeared with Hart and Presley in King Creole. At the birthday party Hart played the clarinet and Elvis accompanied her on the piano.

Hart made her Broadway debut winning a 1959 Tony Award nomination for Best Featured Actress for her role in The Pleasure of His Company.

Recently Mother Dolores signed autographs at a New Jersey convention, as a favor for a friend, and one that helped boost the fundraising efforts.

According to a 2008 article written by Frank Rizzo, in The Columbus Dispatch (The Hartford Courant), Mother Delores "was instrumental in developing her Abbey of Regina Laudis' project of expansion of its community connection through the arts, using her fame to do just that. Paul Newman helped her with funding for a lighting grid, when she envisioned a year-round arts school and a better-equipped stage. Another friend, the Academy Award winning actress Patricia Neal helped support the abbey's theater. Hart's vision was to meet the abbey's needs - development and expansion of its open-air theater and arts program for the Bethlehem community."

Every summer the nuns help the community stage a musical. Presentations have included West Side Story, Fiddle on the Roof, The Music Man and My Fair Lady.

Patricia Neal was buried at the abbey after her death in August 2010.






THE RECORDING ACADEMY AKA THE GRAMMY'S have announced their Special Merit Awards. This year's selections are: Allman Brothers Band, Glen Campbell, Antonio Carlos Jobim, George Jones, the Memphis Horns, Diana Ross and Gil Scott-Heron as Lifetime Achievement Award recipients; Dave Bartholomew, Steve Jobs and Rudy Van Gelder as Trustees Award honorees; and Celemony and Roger Nichols as Technical Grammy Award honorees.

The special invitation-only ceremony will be held during Grammy Week on February 11, 2012, and a formal acknowledgment will be made during the 54th Annual Grammy Awards telecast, which will be held at Staples Center in Los Angeles on February 12, 2012, and broadcast live on the CBS Television Network.


SPREADING THE WORD


ONE MAN, TWO GUVNORS the hit London production which will transfer to Broadway has royal approval and a new leading man for the West End staging.

Las week Prince Charles took in Richard Bean's slapstick comedy starring comedian James Corden and then took the program home as a souvenir.

When Bean's update of the Carlo Goldoni classic The Servant of Two Masters, leaps the Pond opening in April at the Music Box theatre, Corden will be on the bill.

Comedian Owain Arthur will take over the lead role - the gluttonous Francis Henshall - when the play opens at London's Theatre Royal Haymarket in March.

The adaptation tells the story of a sacked skiffle (a type of popular music with jazz, blues, folk, roots and country influences, usually using homemade or improvised instruments) musician working for two bosses in 1960s England. For the Broadway transfer Bean is Americanizing the script - for instance, changing phrases that refer to playing cricket.

Directed by Nicholas Hytner, One Man, Two Guvnors playing to SRO audiences, opened to rave reviews at London's Adelphi Theatre in November.






CIRQUE DREAMS HOLIDAZE directed by Neil Goldberg who re-imagines the holiday season with this production. An international cast of over 30 multi-talented and brilliantly costumed artists come to life and perform astonishing feats of disbelief. Experience gingerbread men flipping mid air, toy soldiers marching on thin wires, snowmen daringly balancing, icemen powerfully sculpting, penguins spinning, puppets dancing and reindeer soaring high above a landscape of holiday wonderment. An original music score and some seasonal favorites accompany hundreds of spectacular costumes and holiday dreams in a setting of gigantic gifts, colossal candy canes and 30-foot towering soldiers. The perfect way to come in from the cold, forget the holiday stresses and rediscover the magic of the season.

The opening night on December 27 features a free pre-show celebration includes lobby activities for the family, a free souvenir photo, a Candy Cane fantasy lobby, red carpet walkway and much more. Search lights in the sky will guide patrons to the festivities.

Performances December 27- January 1, 2011 at the Broward Center for the Performing arts in Fort Lauderdale, FL.

GYPSY Music by Jule Styne, Lyrics by Stephen Sondheim and Book by Arthur Laurents.

Directed by Keith Baker.

Starring four-time Tony nominee Tovah Feldshuh as American musical theatre's legendary Mama Rose. Soap opera star Robert Newman plays Herbie.

On New Year's Eve join Tovah and Robert in a special after performance party with party favors, desserts and champagne to ring in 2012.

Gypsy runs through January 15 at the Bristol Riverside Theatre in Bristol, PA.

HOW TO SUCCEED IN BUSINESS WITHOUT REALLY TRYING the Broadway revival at the Al Hirschfeld Theatre, welcomes Emmy, Golden Globe and Grammy Award winner Beau Bridges is returning Broadway for the first time in 38 years January 3, 2012, when he succeeds Tony winner John Larroquette in the role of J. B. Biggley.

Bridges is scheduled to play a six-month run through July 1. How to Succeed will mark his Broadway musical debut.

Bridges will co-star with Darren Criss (Jan. 3-22, 2012) and Nick Jonas (Jan. 24-July 1, 2012).

LYSISTRATA JONES the sophisticated comedy is written by Tony nominated bookwriter Douglas Carter Beane and composer/lyricist Lewis Flinn and is directed and choreographed by Tony nominee Dan Knechtges.

The Athens University basketball team hasn't won a game in 30 years. But when spunky transfer student Lysistrata Jones (Patti Murrin) dares the squad's fed-up girlfriends to stop 'giving it up' to their boyfriends until they win a game, their legendary losing streak could be coming to an end. In this boisterous new musical comedy, Lyssie J. and her girl-power posse give Aristophanes' classic comedy a sexy, modern twist and take student activism to a whole new level.

Starring as Lysistrata Jones is Patti Murin - who was a high school and college cheerleader. Others in the cast are: Liz Mikel (Hetaira), Josh Segarra (Mick), Jason Tam (Xander), and Lindsay Nicole Chambers (Robin) with Alexander Aguilar ('Uardo), Ato Blankson-Wood (Tyllus), Katie Boren (Lampito), Kat Nejat (Cleonice), LaQuet Sharnell (Myrrhine), Teddy Toye (Harold) and Alex Wyse (Cinesius), with understudies LaVon Fisher-Wilson, Libby Servias, Charlie Sutton, Barrett Wilbert Weed, and Jared Zirilli.

To really keep the musical collegiate, last October the cast attended a basketball boot camp in Los Angeles led by NBA Hall of Famer Chris Mullin.

Lysistrata Jones is at the Walter Kerr Theatre in NYC.


WHO'S WHERE


VANESSA WILLIAMS performs New Year's Eve at the Riviera Hotel in Las Vegas.

FERGIE OF THE BLACK EYED PEAS will headline the New Year's Eve celebration at the new 1 OAK in the Las Vegas Mirage Resort.

BRUNO MARS spends New Year's Eve entertaining at The Bank in the Bellagio Hotel, Las Vegas.

DAVID FOSTER AND FRIENDS can be enjoyed Thursday, December 29 at Mandalay Events Center in Las Vegas.

STEVIE WONDER will rock in 2012 at the Cosmopolitan Hotel in Las Vegas. Tickets go for $250.

MARY J. BLIGE performs New Year's Eve at the RPM Nightclub at the Tropicana Hotel in Las Vegas. Tickets are $125.

PINK MARTINI celebrate New Year's Eve on stage at Walt Disney Concert Hall in Los Angeles.

STEVE TYRELL winds up his engagement at the Cafe Carlyle in New York City by welcoming 2012 on New Year's Eve.

THE ROYAL PHILHARMONIC ORCHESTRA the UK's most prodigious orchestra, featuring principal guest conductor and violin soloist, Pinchas Zukerman. Pre-show Lecture at 6:30pm: Matters of Taste: How wine enhances our enjoyment and understanding of music. Tuesday, January 3 at the Broward Center for the Arts in Fort Lauderdale, FL.


FINAL OVATION


FORMER MISS VENEZUELA EVA EKVALL died of breast cancer on December 17, 2011 at a Houston hospital. She was 28.

The beauty was crowned Miss Venezuela at age 17 in 2000, and the following year she was third runner-up in the Miss Universe pageant in Puerto Rico. She went on to work as a model, actress and television news anchor.

She is survived by her husband, radio producer John Fabio Bermudez and their 2-year-old daughter.

CESARIA EVORA the Grammy Award winning vocalist, nicknamed 'the barefoot singer' for performing without shoes, died December 17, 2011 in Sao Vicente, Cape Verde, from cardiorespiratory insufficiency and hypertension. A heavy smoker, she was 70

Cesária Évora was one of the best-known international practitioners of morna. Often compared to the blues, morna is a music and dance genre from Cape Verde. Lyrics are usually in Cape Verdean Creole, and instrumentation often includes cavaquinho, clarinet, accordion, violin, piano and guitar.

In 2004, Évora's album Voz d'Amor was awarded a Grammy in the World Music Category.

Neil Portnow, President/CEO of The Recording Academy issued the following statement:

"Grammy-winning singer Cesaria Evora's stirring voice touched people of all cultures, regardless of language and race. Her uncommon musical style brought her from her homeland of West Africa to Portugal, where she went on to share her unique melodies with the world, yet always remained connected to her roots. The music world has lost one of its most distinct voices, and our deepest sympathies extend to her family, friends, and all who were impacted by her global cultural significance."

HEIDI HELEN DAVIS director, teacher and actress known for her work in Los Angeles at the Theatricum Botanicum, Mark Taper Forum, East West Players and Ensemble Studio Theatre died December 15, at Cedars Sinai Hospital in Los Angeles after a year long struggle with breast cancer. Her son and ex-husband were by her side. She was 60.

Known for her innovative work as a director, she began her career as an actress at the American Conservatory Theater (ACT) in San Francisco. Her numerous credits include the acting coach on the Showtime mini-series Fidel in 2000, and on the feature film Memoirs of a Geisha in 2003.

Born in 1951 in Wichita, Kansas, she grew up in Palo Alto California and trained with Phillip Pruneau of the Poverty Players and at ACT under the direction of Bill Ball and Allen Fletcher. In 1984 she married cinematographer Lloyd Freidus. They had one son, Benjamin, and were divorced in 1991. At the time of her death she was directing a class production of Loose Ends at the Academy of Art University in San Francisco, where she had taught for the past three years.

Since 1985 she had staged more than twenty plays at Theatricum Botanicum including her adaptation of The Cherry Orchard set in the old American south, Our Town and Long Day's Journey Into Night.

James Pasternak, a colleague at the Los Angeles Film School where she taught from 2001 to 2010, said: "She taught film directors how to direct actors. Her mastery was immediately recognized and she was given her own studio at the school. The whole school is in mourning."
After staging its world premiere at [Inside] the Ford in L.A. in 2010, Ms. Davis directed and championed the UK premiere of EM Lewis's Song of Extinction at Venue 13 for the Edinburgh Fringe Festival. The play revolves around a teenage son coming to grips with his mother dying of cancer.

She is survived by her son, Benjamin Lyon Freidus, 22, her parents Robert A. and Nana Tomita Davis and three siblings.

A public memorial at Theatricum Botanicum, which had been her artistic home over the past 26 years, is planned for next spring.

DOE AVEDON the actress and model who was the inspiration for the movie Funny Face died from pneumonia December 18 in Los Angeles. She was 86.

Born Marie Nowell, she was transformed by her Svengali husband, photographer Richard Avedon, from a bookworm into a beauty who was called Doe because of her eyes.

Doe Avedon appeared in two Broadway shows, The Young and Fair and My Name is Aquilon.

In 1949 she divorced Avedon to marry actor Dan Mathews who died in an automobile accident in the early 1950s; in 1957, she married film director Don Siegel. The couple had four children before divorcing.

She is survived by four children: two daughters, Ms. Siegel-Wamsat and Kit Saldiveri, and two sons, Nowell and Jack Siegel, as well as by a stepson, Kristoffer Tabori; her longtime companion, Michael Liscio; seven grandchildren; and five great-grandchildren. Richard Avedon died in 2004.








Next Column: January 1, 2012
Copyright: December 25, 2011. All Rights Reserved. Reviews, Interviews, Commentary, Photographs or Graphics from any Broadway To Vegas (TM) columns may not be published, broadcast, rewritten, utilized as leads, or used in any manner without permission, compensation and/or credit.
Link to Main Page
---
Laura Deni



For the snail mail address, please E-mail your request.
CLICK HERE FOR COMMENT SECTION