Broadway To Vegas
  
 SHOW REVIEWS CELEBRITY INTERVIEWS GOSSIP NEWS

| | |
| --- | --- |
| | |
BOB DYLAN MUSICAL - - DREAMGIRLS HAS NEW YEAR'S TOAST - - CBS AIRS KENNEDY CENTER HONORS - - NEW YEAR'S EVE TRADITIONS - - DANA IVEY IN MRS. WARREN'S PROFESSION - - ST. JOHN THE DIVINE CONCERT FOR PEACE - - GOLDIE HAWN CIRCA 1966 - - CANDIDA - - DONATE . . . Scroll Down


AULD LANG SYNE
Guy Lombardo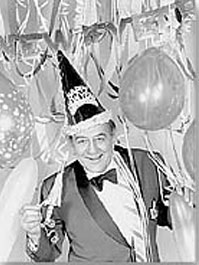 Long before there was a Dick Clark, Regis Philbin or Anderson Cooper counting down until the New Year - there was Guy Lombardo.

Auld Lang Syne, an old Scottish song, first published by poet Robert Burnsin in the 1796 edition of the book, Scots Musical Museum, was popularized by Lombardo, who turned the ditty into a New Year's tradition.

For most of four decades, Lombardo, who with his brothers formed a band called The Royal Canadians, practically owned New Year's Eve. Lombardo played the song at midnight at a New Year's eve party at the Roosevelt Hotel in New York City in 1929, and a tradition was born.

After that, Lombardo's version of the song was played every New Year's eve from the 1930s until 1976 at the Waldorf Astoria - first on radio, later on TV.

Life magazine wrote that "if Lombardo failed to play Auld Lang Syne, the American public would not believe that the new year had really arrived."

Lombardo, who was an avid speed-boat racer and the national champion 1946–49, added the phrase "the sweetest music this side of heaven" to the common vernacular. He first heard Auld Lang Syne in his hometown of London, Ontario, where it was sung by Scottish immigrants. When he and his brothers formed the famous dance band, Guy Lombardo and His Royal Canadians, traveling 60,000 miles a year and selling over 100,000 million records, the song that became their theme song was Aude Lang Syne.

The celebration of the new year wasn't started by Lombardo. In fact, it's the oldest of all holidays - first observed in ancient Babylon about 4000 years ago.

Traditionally, it was thought that one could affect the luck they would have throughout the coming year by what they did or ate on the first day of the year.

While American's prefer to toast and kiss on New Year's Eve there are other traditions hyped as a guarantee for a lucky New Year.

Ano Viejo is celebrated in South America by creating a fake person or dummy. The scarecrow looking person will be completely dressed and stuffed with old newspapers and firecrackers. The dummy is usually placed outside the home. He represents all the bad that happened during the year. At midnight each family lights the dummy on fire. As the dummy goes up in smoke troubles end as the new year begins.

In Denmark it's a good sign to find your door heaped with a pile of broken dishes at New Years. Old dishes are saved year around to throw them at the homes where their friends live on New Years Eve. A yard full of broken china tells the neighbors that you are popular.

In Puerto Rico children throw pails of water out the window at midnight - riding their home of any evil spirits.

In Spain. regardless of whether the city is big or small, one can see a similar scene and it includes church bells and grapes. When the clock strikes 12, the church bells sound 12 times, and at this moment, all Spaniards eat 12 grapes, one for each toll of the bell. According to tradition, those who eat the grapes will have 12 months of prosperity in the new year.

Switzerland believes good luck comes from letting a drop of cream land on the floor New Year's Day. While in France people eat a stack of pancakes for luck and good health.

The new year is the most important holiday in Japan, and is a symbol of renewal. In December, various Bonenkai or "forget-the-year parties" are held to bid farewell to the problems and concerns of the past year and prepare for a new beginning. Misunderstandings and grudges are forgiven and houses are scrubbed. At midnight on Dec. 31, Buddhist temples strike their gongs 108 times, in a effort to expel 108 types of human weakness. New Year's day itself is a day of joy and no work is to be done. Children receive otoshidamas, small gifts with money inside. Sending New Year's cards is a popular tradition—if postmarked by a certain date, the Japanese post office guarantees delivery of all New Year's cards on Jan. 1.

Probably the most famous tradition in the United States is the dropping of the New Year ball in Times Square, New York City, at 11:59 P.M. Half a million revelers completely close down Times Square to watch this ball make its one-minute descent, arriving exactly at midnight. The tradition first began in 1907. The original ball was made of iron and wood; the current ball is made of Waterford Crystal, weighs 1,070 pounds, and is six feet in diameter.

A traditional southern New Year's dish is black eyed peas and ham hocks. An old saying goes, "Eat peas on New Year's day to have plenty of everything the rest of the year."

It is believed that the Babylonians were the first to make New Year's resolutions, and people all over the world have been breaking them ever since. Popular modern resolutions might include the promise to lose weight or quit smoking. The early Babylonian's most popular resolution was to return borrowed farm equipment. The early Christians believed the first day of the new year should be spent reflecting on past mistakes and resolving to improve oneself in the new year.

The tradition of using a baby to signify the new year was begun in Greece around 600 BC. It was their tradition at that time to celebrate their god of wine, Dionysus, by parading a baby in a basket, representing the annual rebirth of that god as the spirit of fertility. Early Egyptians also used a baby as a symbol of rebirth.


WATCH THE KENNEDY CENTER HONORS
Tony Bennett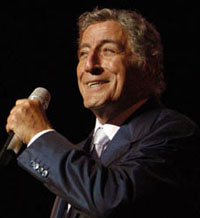 On December 27th CBS will air the 2005 Kennedy Center Honors, as a two-hour prime time special. The event was taped December 4th at a gala performance in the Kennedy Center's Opera House attended by the President of the United States and Mrs. Bush, and by artists from around the world.

Recipients honored at the 28th annual national celebration of the arts are: singer Tony Bennett; dancer and teacher Suzanne Farrell; actress Julie Harris; actor, director and producer Robert Redford; and singer Tina Turner.

"We honor five extraordinary American artists whose unique and abundant contributions to our culture have transformed our lives," said Kennedy Center Chairman Stephen A. Schwarzman. "Tony Bennett is a brilliant musician and singer's singer whom even the great Frank Sinatra called the best there is; Suzanne Farrell's profound artistry has inspired the creation of masterpieces and is teaching ballet to a new generation; for half a century, the enchanting Julie Harris has been one of this country's most acclaimed and revered actors; Robert Redford is an actor/director whose extraordinary support of independent film has had an immeasurable impact on filmmakers and audiences alike; and Tina Turner's sizzling talent and indomitable spirit has made her one of the world's best-loved entertainers."



Tina Turner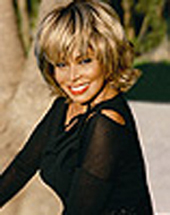 The annual Honors Gala has become the highlight of the Washington cultural year. The President and the First Lady receive the Honorees and members of the Artists Committee, who nominate them, along with the Kennedy Center Board of Trustees at the White House prior to the gala performance. The 2005 Kennedy Center Honors Gala concludes with a supper dance in the Grand Foyer. The Kennedy Center Honors were bestowed the night before the gala on Saturday, December 3, at a State Department dinner, hosted by the Secretary of State, Condoleezza Rice.

George Stevens, Jr., who created the Honors in 1978 with Nick Vanoff, produced and co-wrote the show for the 28th year. The Honors telecast has been honored with five Emmy's for Outstanding Program as well as the Peabody Award for Outstanding Contribution to Television.

The Honors recipients are recognized for their lifetime contributions to American culture through the performing arts: whether in dance, music, theater, opera, motion pictures or television. The primary criterion in the selection process is excellence. The Honors are not designated by art form or category of artistic achievement; the selection process, over the years, has produced balance among the various arts and artistic disciplines.



Broadway To Vegas is supported through advertising and donations. Priority consideration is given to interview suggestions, news, press releases, etc from paid supporters. However, no paid supporters control, alter, edit, or in any way manipulate the content of this site. Your donation is appreciated. We accept PAYPAL. Thank you for your interest.



STEVE LAWRENCE AND EYDIE GORME celebrate their 48th wedding anniversary on Thursday.

They were have married sooner but Lawrence is scared of needles and kept balking at having the then required Wasserman blood test. Finally he got up his courage and rolled up his sleeve.

The singers were married in Las Vegas in the home of Beldon Katleman, who was the owner of the El Rancho Hotel.

Eydie was co-starring with the late comedian Joe E. Lewis and Steve was just back from a stint in the service.

The performing duo first got their act together on a Las Vegas stage at the Sahara Hotel in March, 1961.

AVENUE Q the Tony-winning musical, which also has a production in Las Vegas, has played its 1,000th performance on Broadway.

REPRISE! BROADWAY'S BEST based in Santa Monica, CA has announced that Managing Director Jim Gardia has been named Producing Director of the nine-year-old organization. Mr. Gardia succeeds Marcia Seligson, who recently resigned to put her full time attention into another artistic endeavor.

THE ASPEN MUSIC FESTIVAL AND SCHOOL IN COLORADO has announced the appointment of Alan Fletcher as its president and chief executive, effective March 1. Since 2001 he has been at Carnegie Mellon University, where he leads the school of music and is a music professor. Fletcher will be the 7th president and CEO of the AMFS in its 57-year history.


SWEET CHARITY


THE NEW YORK TIMES AUCTION FOR THE ARTS with honorary chairs Brian Stokes Mitchell, Bebe Neuwirth and Lynn Redgrave. The event benefits The Actors' Fund of America. Thursday, January 5 at Christie's in New York.


HOLIDAY GREETINGS




This year's interesting holiday card from the Stardust Hotel in Las Vegas has a caption at the bottom which states:


Goldie Hawn, right, was a 21-year-old dancer when she appeared as a New Year's Eve reveler on the cover of Stardust News in l966.

Stardust showgirl Willa Solomoni was Santa's helper.






CURTAIN DOWN


SWEET CHARITY will play its final Broadway performance at the Al Hirschfeld Theater on December 31st after having played 25 previews and 279 regular performances. A national tour of the musical is being considered.



THE TIMES THEY ARE A-CHANGIN' a new musical, directed and choreographed by Twyla Tharp based on songs by Bob Dylan, will have its world premiere at the Old Globe Theater in San Diego.

The plot concerns a low-rent traveling circus run by one Captain Arab and the longings of his son, Coyote, for the world outside the family business. Another character in the show is Cleo, a young animal trainer in the circus who is exploited by Captain Arab but loved by his son.

The show will star Michael Arden as Coyote, Jenn Colella as Cleo, and Paul Kandel as Captain Arab.

Songs include; Bob Dylan's 115th Dream ("I yelled for Captain Arab/ I have yuh understand") and Ballad of Hollis Brown ("Way out in the wilderness/ A cold coyote calls").

The production begins Jan. 25 and runs through March 5.

MRS WARREN'S PROFESSION by George Bernard Shaw is a play in four acts, written in 1893 and published in 1898 but not performed until January 1902 at The New Lyric Club because of government censorship.

This mounting stars the Tony nominated Dana Ivey and directed by Charlotte Moore. The cast also includes Laura Odeh as the daughter, David Staller as Mr. Praed, Sam Tsoutsouvas as Sir George Crofts, Kevin Collins as Frank Gardner, and Kenneth Garner will perform the role of Reverend Samuel Gardner.

At the turn of the century, Vivie Warren, a Cambridge educated and well brought-up young woman, discovers that her mother has attained her present status and affluence by rising from poverty through prostitution and that she now has financial interests in several brothels throughout Europe. For years, an aristocratic friend of the family has been her partner. Vivie also discovers that the clergyman father of Frank, her suitor, had once been a client of her mother's.

Mrs. Warren states her position that poverty and a society which condones it are the true immorality. She asserts that life in a brothel is preferable to a life of grinding poverty as a factory worker. Vivie acknowledges her mother's courage in overcoming her past but rejects her continued involvement in prostitution. She severs her relationship with her mother, also rejecting Frank and the possibility of other suitors.

Mrs. Warren's Profession had it's American debut in 1905 in New Haven but was closed and banned after only one performance. It subsequently transferred to Broadway's Garrick Theatre where it opened on October 30, 1905 to a sold-out audience, but was soon closed there as well and the cast was cited for "disorderly conduct."

Shaw wrote in Plays Pleasant and Unpleasant, Shaw wrote; "Mrs. Warren's Profession was written to draw attention to the truth that prostitution is caused, not by female depravity and male licentiousness, but simply by underpaying, undervaluing and overworking women so shamefully that the poorest of them are forced to resort to prostitution. No normal woman would be a professional prostitute if she could better herself by being respectable, nor marry for money if she could afford to marry for love." Shaw won the Nobel Prize in Literature in 1925.

Shaw treats prostitution not simply as a profession but as a metaphor for a corrupt society and mercilessly exposes the double standards of Victorian England.

Set design Dan Kuchar, costumes design by David Toser, lighting design by Mary Jo Dondlinger, sound design by Murmod, Inc., wig and hair design by Robert-Charles Vallance, casting by Laura Maxwell-Scott, Elis Arroyo Production Stage Manager, and Rebecca Goldenstein-Glaze Stage Manager.

This production is being performed during the centennial anniversary of the play's original American production. Performances continues through January 29 at The Irish Rep in New York City.

DREAMGIRLS at the Prince Music Theatre in Philadelphia will present two special New Year's Eve performances - at 4 pm and 9 pm. Following the 9 pm performance there will be a meet and greet with the cast as well as a champagne toast!

Dreamgirls exploded on Broadway in 1981, a timeless work about three young women with big dreams of show business glory, unaware of just what those dreams would cost. Loosely based on the sagas of such '60's groups as the Supremes and Marvelettes, the show ultimately zeros in on one woman who somehow manages to find herself, through all the traps and temptations, seductions and betrayals of the cutthroat music business. With hits like I'm Telling You, I'm Not Going and Fake Your Way to the Top, the sweeping score mixes 60's pop, funky grooves and Broadway pizzazz

SAFETY by English playwright Chris Thorpe. Directed by Daisy Walker.

Crash Landing Productions will present this American premiere, an emotionally charged drama from the award-winning British playwright Chris Thorpe, a member of the Unlimited Theatre in London. Safety is the dark and compelling story of Michael, a war photographer renowned for his iconic global images in the late 20th century. When a stranger saves Michael's young daughter from drowning, he is forced to reevaluate his roles as journalist, husband and father. Sometimes proximity to inhumanity requires a surrendering of one's own humanity in the long term. It is this process that Safety sets out to investigate.

The four-member cast will be headed by David Wilson Barnes as Michael, the photographer, with Katie Firth, as his wife Susan; Susan Molloy as Tanya, a reporter; and Jeffrey Clarke, as Sean, a young man in his late 20's. The set design will be by Kevin Judge, costume design by Kevin Christiana, lighting design by Patricia Nichols, and sound design by Samuel Scott Doerr.

Performances begin on Friday, January 20, at Urban Stages, officially open on Monday, January 23 and run through Sunday, February 12.

2 PIANOS 4 HANDS The Laguna Playhouse presents the Orange County premiere of this show created by Ted Sykstra and Richard Greenblatt. Starring Richard Carsey and Tom Frey.

In 2 Pianos 4 Hands, two actors, two pianos and numerous characters grace the stage as fifteen years of learning the art of piano playing unfolds in an hour and a half. This riotous musical begins with young Richard – "Richy" - being told he is too young to play the pedal. So begins the journey of these two boys – "Richard and Ted" – in search of their dream of concert pianist stardom. In the beginning each actor plays a younger version of himself while the other becomes the teacher, the adjudicator, the parent. No costume changes are needed; posture, voice and mannerisms are all that is required to indicate a new character has entered the scene.

As "friendly" competitors they face off at various festivals – experiencing stage fright and eight year old prodigies who have thankfully moved away.

Seamlessly, as the boys mature so does their piano playing. From Little Birch Canoe they move to auditioning for the Conservatory, playing Jazz and, well, thinking about the opposite sex. One key turning point is a scene between Ted and his father when his dad points out that his son really doesn't have a life outside of music. Ted responds with "I'm not going to 'try' to be anything okay, I'm going to be a professional musician".

And there lies the universal plight of all those with an ounce of training and talent – the will and the dream to "be" a professional musician, athlete, actor or dancer. Through two strong characters – Ted and Richard – 2 Pianos 4 Hands captures the humor that comes with learning to play the piano, and the sense of loss of eventually learning to let go of one's dream.

Previews begin January 3 at the Laguna Playhouse in Laguna Beach, CA.

THE CATHEDRAL CHURCH OF ST. JOHN THE DIVINE a magnificent gothic church that perches on the edge of Harlem, provides an awesome setting for the New Year's Eve Concert for Peace. Leonard Bernstein conducted the first New Year's Eve Concert for Peace.

This year's event features Lauren Flanigan and Judy Collins and Hinton Battle. Hosted by Harry Smith, the musical groups include The New York Festival Singers and the New York Chamber Sinfonia. This event is free to the public. December 31 at the Church of St. John the Divine in New York City.

CANDIDA

Amanda Jones as Candida Morell and David Tillistrand as the Rev. James Morell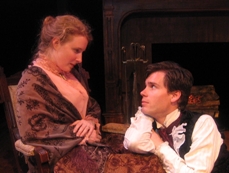 by George Bernard Shaw. Directed by Michael Halberstam.

This sparkling domestic comedy is about a wife who is forced to choose between her steadfast clergyman husband and the passionate young poet who has fallen in love with her. Highly comic scenes are mixed with serious and touching moments in Shaw's uncharacteristically romantic play, which tests the boundaries of expected roles within a marriage and, to a larger extent, within society.

First produced in 1904 and one of Shaw's personal favorites, Candida salutes (and skewers) the old established institution of marriage. It is a warm and humorous tale that challenges the conventional wisdom about relationships between the sexes and focuses on women who must make difficult choices.

The cast is led by Amanda Jones as Candida Morell. David Tillistrand plays Reverend James Morell; joining them are Angus Hepburn, Danaher Dempsey, Seth Duerr and Kate Holland.

The creative team includes Brian Sidney Bembridge (Scenic Designer), Josh Schmidt (Sound Designer and original music composer) and Joel Moritz (Lighting Designer). Costumer Designer Sean Sullivan, Production Stage Manager Allen Hale and Assistant Director Judith Jarosz. Through January 29 at The Jean Cocteau Repertory Theatre in NY City.


| | | |
| --- | --- | --- |
| | | |
WHO'S WHERE


NEIL DIAMOND with a new CD receiving rave reviews, is on stage at the MGM Grand in Las Vegas on December 30.

PATTI PAGE see Broadway To Vegas column of rings in the New Year, December 31, at Whiskey Pete's in Primm, Nevada.

NEW YEAR'S EVE GALA AT THE SYDNEY OPERA HOUSE The Australian Opera and Ballet Orchestra will be conducted by Richard Bonynge. Singing favorites Amelia Farrugia, Yvonne Kenny AM, Deborah Riedel, Fiona Janes, José Carbó and Glenn Winslade will be doing their bit. Gala Concert $160-$350, the Gala Concert and Midnight Party $310-$500. Concert Hall, Sydney Opera House in Sydney, Australia.

PARIS HILTON hosts the New Year's Eve bash at Tao in Las Vegas.

BODY PAINTING, BURLESQUE AND CIRQUE DE SOLEIL STYLE AERIALISTS plus a gourmet dinner catered by Wolfgang Puck, a Vegas style casino, fire dancers, Dancing, DJs, Strolling Musicians Carnaval/Mardi Gras/Monte Carlo Style Entertainment, Poolside Entertainment, Laser Light Shows, and 2006 fortune tellers. The New Year's Eve Ball takes place December 31 in Los Angeles at the at the Renaissance Hollywood and Grand Ballroom.

BIG BAD VOODOO DADDY swing in the New Year Saturday, December 31, at the Walt Disney Concert Hall in Los Angeles.

AHMAD JAMAL the inventive jazz pianist performs Monday-Friday, Dec. 26-30 at Blues Alley in Washington, D.C.

CHRIS ISAAK the singer-composer performs January 1 to inaugurate 2006 in a special Rose Ballroom concert. John Ascuaga's Nugget in Sparks, NV.

DEBBIE REYNOLDS in the spotlight December 27-31 at the Riverside Hotel in Laughlin, NV.

HOOTIE AND THE BLOWFISH celebrate the New Year December 31 at the Silverton in Las Vegas.

PRESERVATION HALL JAZZ BAND on Tuesday, December 27, open a five night gig at the Jazz Standard in New York City.

B.B. KING is ageless and full of energy. He performs Tuesday, December 27, at the Silver Legacy Casino in Reno. On Thursday he's on stage at the Dodge Theatre in Phoenix, AZ. On Friday he opens a two nighter at the Pechanga Resort and Casino in Temecula, CA.

BOB NEWHART getting laughs Thursday, December 29 at Table Mountain Casino in Friant, CA.

PAUL ANKA will be pleasing the crowds Friday, December 30 at the Reno Events Center in Reno, NV.

MANNHEIM STEAMROLLER returns home after a holiday tour with one last performance this season Monday, December 26, at Qwest Center in Omaha, NE.

TRANS SIBERIAN ORCHESTRA performs Monday, December 26 at the Pepsi Arena in Albany, NY and at the Resch Center in Green Bay, WI. On Tuesday the shows are at the Fleet Center in Boston, and the Target Center in Minneapolis. On Wednesday the groups are on stage at the Alliant Energy Center in Madison, WI and the HSBC Arena in Buffalo, NY. On Thursday the performances are at the Bradley Center in Milwaukee and the OnCenter in Syracuse, NY. Friday finds the performances in Moline, IL at the Mark Of The Quad Cities and in Manchester, NH at the Verizon Wireless Arena.

OAK RIDGE BOYS celebrate the New Year with a show Saturday, December 31 at Mystic Lake Casino in Prior Lake, MN.


FINAL OVATION


ENZO STUARTI Italian tenor who performed at Carnegie Hall, on Broadway and regularly in Las Vegas, died December 16 of heart failure. He was 86.

Stuarti appeared on Broadway and in national tours of; By the Beautiful Sea, Me and Juliet, Two on the Aisle, As the Girls Go, Around the World, South Pacific and Kiss Me Kate.

The charming performer also appeared in commercials for Ragu spaghetti sauce, delivering the "That's-a -nice!" line about the sauce.

Stuarti was born Lorenzo Scapone on March 3, 1919, in Rome. He moved to Newark, N.J., in 1934. He served in the Merchant Marines during World War II and test drove cars for the Ferrari Racing Cars in the 1940s in Italy.

During the 1960s Stuarti designed a supercar based on the Lamborghini Miura drivetrain and engine. Enzo unveiled the car at the US Auto Show, but wealthy drivers failed to order and production stayed in park.

Stuarti is survived by and his second wife, Thelma, and two children from his first marriage, son Larry Stuart of Orlando, FL, and daughter Andrea Leib of Menifee, CA.
















Next Column: January 1, 2006
Copyright: December 25, 2005. All Rights Reserved. Reviews, Interviews, Commentary, Photographs or Graphics from any Broadway To Vegas (TM) columns may not be published, broadcast, rewritten, utilized as leads, or used in any manner without permission, compensation and/or credit.
Link to Main Page
---
Laura Deni


CLICK HERE FOR COMMENT SECTION