! >
Broadway To Vegas
  
  REVIEWS INTERVIEWS COMMENTARY NEWS

| | |
| --- | --- |
| | |
NEW YEAR'S EVE EVENTS WELCOMING 2013 - - SHOP TILL YOU DROP AFTER CHRISTMAS SALES - - 15th ANNUAL ENTERTAINMENT LAW INITIATIVE WRITING COMPETITION - - MARIO TESTINO: BRITISH ROYAL PORTRAITS - - COMMEMORATING VICTIMS OF UNBEARABLE NEWTOWN HORROR - - FORCED SALE OF WAYNE NEWTON ESTATE - - KIDS' NIGHT ON BROADWAY - - A VICTORIOUS SCARLETT JOHANSON IN CAT ON A HOT TIN ROOF - - DONATE . . . Scroll Down




Copyright: December 23, 2012
By: Laura Deni
CLICK HERE FOR COMMENT SECTION


THEATRES RING IN 2013 WITH PARTIES, MYSTERIES AND BENEFITS
The Purple Rose Theatre New Year's Eve Gala is a benefit for the popular theatre.

The Purple Rose Theatre in Chelsea, Michigan, founded by Tony nominee Jeff Daniels, will stage a theatre benefit party at the Chelsea Convention Center. The evening kicks off with an International Cocktail Party featuring hors d'ouevres from around the world and close up magic by Stuart McDonald.

That will be followed by "the best (and last) Meal of 2012 (Dinner.)" Then there will be a sneak performance of The Meaning of Almost Everything, a new comedy by Daniels, featuring Matthew Gwynn and Michael Bryan Ogden. After enjoying that, the partygoers will head to the Purple Rose Theatre for Jeff Daniels: Life and Unplugged with special guests The Jeff Daniels Band, Jed Fritzmeler, Brad Phillips and Luc "The Roadie" Daniels.

Jeff Daniels is currently nominated for SAG and Golden Globe awards in the leading actor category, for his portrayal of newsman Will McAvoy on Aaron Sorkin's HBO drama The Newsroom.

The 19th Screen Actors Guild Awards will air on TNT and TBS on January 27 from the Shrine Auditorium & Exposition Center in Los Angeles. The Golden Globe Awards, the only awards show where those attending are permitted to drink alcoholic beverages, will be held Sunday, January 13, at the International Ballroom of the Beverly Hilton Hotel in Beverly Hills and broadcast live on NBC. Comedy stars Tina Fey and Amy Poehler will co-host.



San Francisco Symphony Masquerade Ball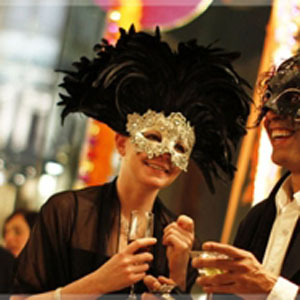 The New Year's Eve Masquerade Ball with the San Francisco Symphony is an annual highlight.

Pop. Fizz. Clink! Toast to the joy of a new year at what is called "the most glamorous party in the City," and add a little sparkle to your night. Shine your shoes, don your finest cocktail attire, and dance 'til dawn at the San Francisco Symphony's Masquerade Ball.

The event supplies the masks and patrons create the memories at this fabulous concert and celebration.

Those with the VIP package will indulge in a special cocktail reception beginning at 6pm followed by a sumptuous 3-course dinner in the grand lobby of the War Memorial Opera House. Take a brief evening jaunt across Grove Street to Davies Symphony Hall and enjoy the swinging lounge tunes of The Martini Brothers in the main lobby. At 9pm, it's time for a lively concert with Michael Francis conducting the San Francisco Symphony with soprano Heidi Stober and the Dance Through Time dancers.

Afterward, complimentary La Marca Prosecco will be flowing alongside desserts that taste as good as they look in an exclusive gathering in the Loge Lounge. Get your groove on with Super Diamond on the Second Tier, or harken back to the golden age of the 1930s with the Peter Mintun Orchestra and dance on the stage of Davies Symphony Hall.

Spirits are at their brightest at the stroke of midnight when the new year is on the brink, and anything is possible.

The State Theatre in New Brunswick, NJ presents Salute to Vienna on New Year's Eve. The brilliant concert will feature a cast of over 75 musicians, European singers and dancers. The program includes a light hearted blend of popular Strauss waltzes, polkas, and famous operetta excerpts including those from Die Fledermaus, and The Merry Widow.

First Night in Boston is North America's oldest First Night Celebration, attracting about one million people each New Year's Eve.

In Las Vegas there will be fireworks by Grucci who'll rocket the illuminations into the sky off the tops of Tropicana, MGM Grand, Aria, Planet Hollywood, Caesars Palace, Treasure Island, the Venetian and the Stratosphere. That light up is expected to last about eight and half minutes. Grucci will also gets the fuses lit at New Year's celebrations at the Atlantis in the Bahamas; Atlantis in Dubai; the One & Only Reethi Rah New Year's Eve Celebration in North Male, Maldives and Waikiki's New Year's Eve Celebration.

If you don't know about that ball dropping in New York Times Square then - thrilled that you have awakened from your coma - enjoy New Year's Eve.

Beating everyone to a head start in saying hello to 2013 is The Fabulous Palm Springs Follies in Palm Springs, CA.



The Fabulous Palm Springs Follies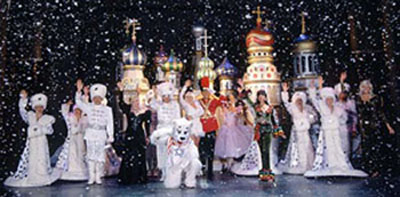 They'll presents two New Year's Eve performances beginning at 3:30 p.m. and 9:00 p.m.

These special events kick-off with a champagne reception where each patron receives a goody bag, hat and noisemaker.

At the stroke of midnight (or "Rio de Janeiro midnight" for matinee-goers), the Follies Man and cast join audiences in welcoming the New Year with the sentimental strains of Auld Lang Sang.

If you've had you're fill of dining, dancing and drinking in the New Year, consider a murder mystery weekend. Allenberry Resort Inn & Playhouse is a 57-acre Country Estate featuring a professional theatre on a century old wood limestone estate in Bolling Springs, PA.

This year, 12 productions were presented from April-December. The line-up included: Forever Plaid, Honky Tonk Angels, Nunsense, The Sound of Music, Chicago The Musical, Smokey Joe's Cafe, Alfred Hitchcock Presents: The 39 Steps, and The Allenberry Christmas Show.

Murder Mystery Weekends are a longstanding tradition, which is how they'll welcome 2013, by staging A Candidate for Murder.

"When a mysterious accident puts the beloved Mayor of Boiling Springs out of commission, the race is on to find the town's next leader. But as soon as this emergency special election heats up, controversy reigns. Sex scandals! Shady dealings! Corruption, bribery, blackmail... and murder!"

If you can't make the Murder Mystery Week-end over New Year's, the next sleuthing is February 1 - 3, 2013.

Oh, the venue is also noted for its sticky buns. In their dinning rooms, Allenberry Sticky Buns are served at breakfast, lunch and dinner, and many guests have them three times a day.

Then there is New Year's Day where Catalina Island wakes up to the annual Pajama Breakfast Party at Antonio's Cabaret.

An Island tradition for 18 years, Antonio's house specialties include Mamma Mia's Day Old Spaghetti ~ a local favorite.

Their "Good Morning Avalon" breakfasts has a large selection of Traditional and International favorites.

For the New Year's Day wake-up and party, bathrobes, slippers and flannels are encouraged attire at the event which lasts until noon.

The breakfast event features the Good Morning Avalon! breakfast menu. The morning party hearty crowd can swing in the first day of 2013 with Dixieland Jazz Live with The Hyperion Outfall Serenaders. Named after a sewage plant, since 1969 the HOS has been playing the happy toe-tapping type of music that is perfect to welcome in another shot at getting life right.

Officially named the official band of Manhattan Beach, CA, current HOS music makers are: Bob White (cornet), Jack Freeman (trombone), his wife Fran Freeman (washboard) and brother Dave Freeman (tuba); Jimmy Green (banjo), and Rod Norris (clarinet).

In addition to food and music, there will be dancing and prizes for the best pajamas!





Broadway To Vegas is supported through advertising and donations. Priority consideration is given to interview suggestions, news, press releases, etc from paid supporters. However, no paid supporters control, alter, edit, or in any way manipulate the content of this site. Your donation is appreciated. We accept PAYPAL. Thank you for your interest.



ART AND ABOUT


MARIO TESTINO: BRITISH ROYAL PORTRAITS

Mario Testino, TRH The Duke & Duchess of Cambridge (detail), 2010. Digitally produced Chromogenic C Type print. © Mario Testino.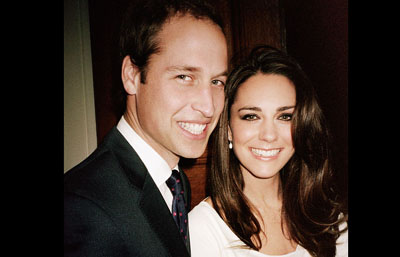 Shortly after photographer Mario Testino went to England from his native Peru in 1976, he took his first photograph of British royalty, an impromptu shot of Her Majesty Queen Elizabeth the Queen Mother and her grandson, Prince Edward, as they passed by crowds gathered in London's streets to celebrate the marriage of HRH the Prince of Wales and Lady Diana Spencer.

It was the first of many photographs Testino has taken of members of the House of Windsor during the course of his significant career.

Testino's work has been featured in magazines such as Vogue and Vanity Fair. His career highpoint came when he was chosen by Princess Diana for her Vanity Fair photoshoot in 1997. Testino has been regularly employed by the British royal family ever since.

Mario Testino: British Royal Portraits showcases images of the royal family, from Diana, Princess of Wales, and Prince Charles, to their sons, William and Harry, and, most recently, the engagement portraits of Prince William and Kate Middleton, now the Duke and Duchess of Cambridge.

This is the first US showing of many of these photographs.

On exhibition through June 16, 2013 at the Boston Museum of Fine Arts.


SWEET CHARITY


THE ELTON JOHN AIDS FOUNDATION celebrates its 20th anniversary in December, 2012. They report that the; "EJAF has grown into one of the largest HIV/AIDS funders in the world. Since 1992, we have raised more than $275 million in support of grassroots organizations. Our grantees conduct innovative HIV prevention programs, raise awareness, fight stigma, and provide treatment, care, and services to people living with the disease in 55 countries around the globe."


THE 15th ANNUAL ENTERTAINMENT LAW INITIATIVE WRITING COMPETITION


The Grammy Foundation has launched its 15th Annual Entertainment Law Initiative Writing Competition, co-sponsored by the American Bar Association.

The ELI Essay Competition invites law students to write a 3,000-word paper on a compelling legal topic facing the music industry today.

To encourage applications, the Grammy Foundation hosts ELI Essay Competition workshops at prominent law schools around the country with the goal of helping students with their essays.

Submissions must be postmarked by January 3, 2013 (2 p.m. EST). Winners will be announced on January 31, 2013.

A substantial cash scholarship of $5,000 will be awarded to the author of the winning paper and $1,500 will be awarded to each of four runners-up. Additionally, each winner will receive airfare, hotel accommodations and a ticket to the 55th Annual Grammy Awards, which will be held at Staples Center in Los Angeles on Sunday, February 10, 2013, and broadcast live on the CBS Television Network.

In addition, the winners receive invitations to other Grammy Week activities, including the prestigious annual ELI Luncheon on February 8. The winning student authors will present their essays at the luncheon. Past luncheon keynote speakers include Edgar Bronfman Jr., former chairman and CEO of Warner Music Group; Clive Davis, chief creative officer of BMG North America; Daniel Ek, co-founder and CEO of Spotify; Timothy J. Leiweke, president and CEO of AEG; and will.i.am, Grammy-winning artist/producer and Grammy Foundation Board member among others.


HOW TO COMMEMORATE VICTIMS OF UNBEARABLE HORROR

Funerals for the children and adult school personnel killed in the horrific Newtown massacre are underway. Across the ocean in Dunblane, Scotland residents are lighting candles in memory of the Newtown victims.

Dunblane is the only place where people can truly understand what Newtown is experiencing. The town went through a similar experience in 1996. How they found strength to carry on - and commemorate the tiny victims may be a help to the Newtown survivors.

The Reverend Colin McIntosh, who leads the Church of Scotland congregation in the Stirlingshire town, told a BBC radio interviewer that his community could understand the "numbing incomprehension" that the residents of Newtown would be feeling.

Rev McIntosh's comments came two days after the mass shooting at the Sandy Hook Elementary School. He told BBC Radio Four's Sunday program that he had been in touch with Newtown and left messages which he hoped would help the community there.

He said: "I think we will be hesitating to try to give any advice but there do seem to be similarities between the community in Newtown and our community here in Dunblane. So perhaps we can begin to understand what they're going through and the sheer numbing incomprehension they must all be feeling at the moment."

The Dunblane school massacre occurred at Dunblane Primary School on March 13, 1996.



Memorial Windows at the Holy Family Church, Dunblane created by Shona McInnes, Leadline Studio, in West Yorkshire. "Here the theme is the triumph of light over darkness, of good over evil. The left window is somber, its mood suggesting winter and darkness. From this window a flight of doves is borne upon the wind towards the light, each dove representing one of the children who lost their lives. Every dove can be identified by a special flower it carries in its beak, and by it's ribbon of individual color. In the center panel the blues turn to green, the color of spring and new life. The colors get lighter and brighter suggesting a journey from darkness into a blaze of golden light, symbolizing the welcoming Holy Spirit." Photo: Leadline Studio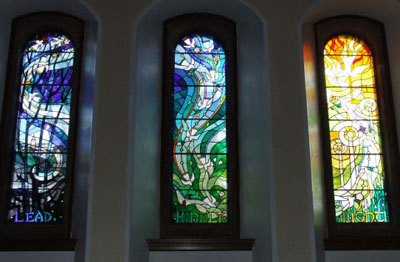 After gaining entry to the school, the gunman, a 43-year-old unemployed former shopkeeper, made his way to the gymnasium and opened fire on a Primary One class of five-and six-year-olds, killing or wounding all but one person. Fifteen children died together with their class teacher, Gwen Mayor, who was killed trying to protect the children.

Tennis superstar Andy Murray was an 8-year-old student in that school. He and his older brother survived the attack by hiding under their desks. He has also sent a message to the families of the victims at Sandy Hook.

Murray was training in Miami with Ivan Lendl when the Newtown massacre took place. He wrote in a post on his Facebook account, "My heart goes out to all those poor children, their families and the community in Newtown in Connecticut, so, so sad."

In an interview with ESPN in 2009, Judy Murray, the tennis player's mother, described her experience of racing to the school when she learned something was wrong.

"Absolutely horrendous. The worst. The worst thing you could ever imagine having to go through in your life," she told ESPN. "Sitting, waiting and not knowing if your child is alive or dead - you can't imagine what that was like. It was quite horrific."

She had to wait almost five hours to learn that her sons were okay.

"Andy hardly mentioned it," Tennis magazine quoted Shirley Erskine, Murray's grandmother. "He really didn't speak about it."

With that said - now leave Andy Murray alone. He's never really spoken about the life altering event. If he has anything to say, he'll say it. Many times victims of horrific childhood events manage to go on with their lives by putting that past behind them. When noisy busy-bodies, trouble makers or reporters out for a story, dredge up the past, the person is then thrown back into relieving the memory. Triggering such a return to the past can then prevent the person from ever again having peace within themselves. Murray is one of the world's greatest tennis players. Let him stay that way.

When it comes to serious childhood events, those who profess that having a person 'talk about it' as 'helpful' are usually aural voyeurs who get their kicks - sometimes on the victim's dime - by listening to events which tend to deal with violence or sex.

If a victim of anything horrific wants to talk specifically to you - listen. Don't pry.

In the Dunblane massacre, the killer entered the school armed with four handguns, two 9, Browning HP pistols and two Smith & Wesson M19 .357 Magnum revolvers, all legally owned. The killer was carrying 743 cartridges, and fired his weapons 109 times. The subsequent police investigation revealed that the killer had loaded the magazines for his Browning with an alternating combination of full-metal jacket and hollow-point ammunition.

Public debate subsequent to these events centered on gun-control laws, including public petitions calling for a ban on private ownership of handguns and an official enquiry, the Cullen Report. In response to this debate, the Firearms (Amendment) Act 1997 and the Firearms (Amendment) (No. 2) Act 1997 were enacted, which effectively made private ownership of handguns illegal in the United Kingdom.

Dunblane Primary School gymnasium was demolished on April 11, 1996, and replaced by a small garden: a plaque bears the names of the victims. A memorial garden, dedicated at a ceremony on March 14, 1998, was created at the town's cemetery, where most of those who were killed are buried.



Maggy Howarth designed the overall concept for this complex memorial fountain. She worked closely with the landscape architects to achieve the result. The top pool has a simple daisy mosaic showing through the splashing water. The lower pool mosaic is placed so that small children can reach the shallow water and the friendly creatures made in pebbles. Lettering design by Boris Howarth. Photo: Maggy Howarth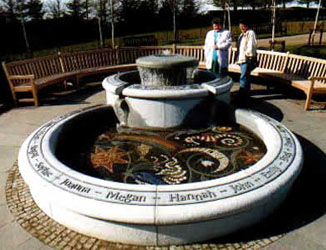 The central feature of the garden is a fountain designed by Maggie Howart, with the names of the children engraved around it. Stained glass windows in memory of the victims were placed in three local churches, St Blane's and the Church of the Holy Family in Dunblane and the nearby Lecropt Kirk as well as at the Dunblane Youth and Community Centre.

At least three flowers have been named after victims of the shootings. Two roses, developed by Cockers of Aberdeen, were named "Gwen Mayor" and "Innocence" in memory of the teacher and the children. A variety of snowdrop, discovered ten years earlier in the garden of a house close to Dunblane Primary School, has been named after victim Sophie North.

The National Association of Primary Education commissioned a wooden sculpture, "Flame for Dunblane", created by Walter Bailey, which was placed in the National Forest, near the village of Moira, Leicestershire.

In the nave of Dunblane Cathedral is a standing stone by the monumental sculptor Richard Kindersley. It was commissioned by the Kirk Session as the Cathedral's commemoration and dedicated at a service on March 21, 2000. It is a Clashach stone six-and-a-half-feet high on a Caithness flagstone base. The quotations on the stone are by E. Rieu (He called a little child to him...), Richard Henry Stoddar (...the spirit of a little child), Bayard Taylor (But still I dream that somewhere there must be The spirit of a child that waits for me) and W. H. Auden (We are linked as children in a circle dancing).

With the consent of Bob Dylan, musician Ted Christopher wrote a new verse for Knockin' on Heaven's Door in memory of the Dunblane school children and their teacher. The recording of the revised version of the song, which included brothers and sisters of the victims singing the chorus and Mark Knopfler on guitar, was released on December 9,1996 in the UK, and reached number 1. The proceeds went to charities for children.

Less than 2 months after the Dunblane massacre, on April 28, 1996, the Port Arthur massacre took the lives of 35 people with an additional 23 wounded. The location was a popular tourist attraction, Port Arthur, in south-eastern Tasmania, Australia.

The Port Arthur massacre remains one of the deadliest shootings worldwide committed by a single person. This killer did not commit suicide and was given 35 life sentences.

Gun control laws in Australia, which had been relatively lenient before the massacre, were reviewed and tightened significantly after the incident.


SHOP 'TILL YOU DROP
The Dubai Mall. Photo by: Jenny.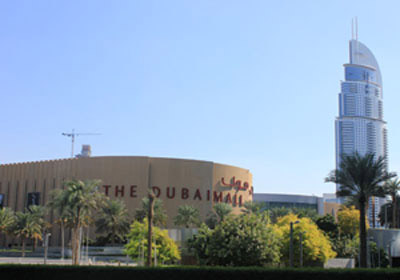 After Christmas sales always draw people like a magnet. There are, however, two drastic mark-downs which attract people from around the world. Perfectly sane folks will even spend hours flying, changing both planes and times zones, just to fight over bargains in London and Dubai.

Dubai Shopping Festival 2013 will take place January 3 - February 3, 2013 and feature Dubai at its Best!

The 32-day extravaganza will paint the city with a festive mood through its unique blend of shopping, entertainment and the opportunity to win prizes.

In addition to tax-free discounted shopping there are promotions, and thousands of chances to win daily and weekly prizes organized by participating malls and retailers; with raffle prizes including everything from cars to jewelry to cash.

There will also be international concerts, musicals and shows, sports, outdoor, and fashion events, as well as the ever-popular fireworks over picturesque Dubai Creek.

The Dubai Mall is the world's largest shopping mall and includes 1,200 shops anchored by Galeries Lafayette, Debenhams, Bloomingdale's, Waitross and Mark & Spencer.

In 2011, Dubai Mall became the world's most-visited shopping and leisure destination, and attracted more than 54 million visitors, the traffic was a 15 per cent increase from 2010 and surpassed 50.2 million visitors to New York City. The numbers also surpass visitor arrivals to all landmark leisure destinations and theme parks in the world including Times Square (39.2 million), Central Park (38 million), and Niagara Falls (22.5 million).

In addition to The Dubai Mall, more than 70 of the city's spectacular malls will be participating in the Dubai Shopping Festival 2013,

Thus far the DSF has attracted more than 42 million visitors from across the world with a visitor expenditure close to $27bn.



Harrods in London. Photo by: Laura Deni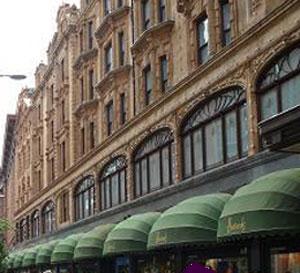 In London, it's the most wonderful time of the year again – the Harrods January sale.

London's most famous store will once again offer amazing bargains on their finest products, from food to furniture and everything in-between.

There is also a star studded opening. Glamorous celebrity guests who have cut the ribbon and officially opened the Harrods January sale in years gone by include the actress and Britain's Got Talent judge Amanda Holden and Florence and the Machine. This year's guests are Cirque Du Soleil who will be performing at the grand opening at 9.45am.

With discounts up to 75 percent off, hardcore shoppers are known to camp out in front of the store.

A favorite of celebrities and tourists Harrods first opened up in 1849 and quickly established a reputation for excellence. From humble beginnings as a grocer in East London to a million dollar group that influences the style and shopping of the entire world, there's no doubt that Harrods is one of the world's most famous stores.

The Harrods January sale starts at 10am, Wednesday December 26, 2012 and runs throughout January 2012, until stocks last.

Shop till you drop.




SPREADING THE WORD


THE SOUND OF MUSIC that five-time Academy Award winning Rodgers and Hammerstein musical will air this evening, December 23 on ABC-TV. For those who might wonder, this glorious film was shot on location with the Schloss Leopoldskron in Salzburg used for some of the Trapp Villa scenes. The mountains are the Tyrolean Alps. During tonight's showing The Sound on Music on Twitter is also going to be posting trivia throughout the evening.

The 1959-62 Broadway version also won five Tony Awards.

3 MILLS STUDIOS reporting that "the Studios witnessed the second (and third) coming, with two productions of Jesus Christ Superstar rehearsing simultaneously! Actually, the facility could have handled additional "comings." Located in London, 3 Mills Studios provides 14 stages, totaling 108,000 sq ft.

KIDS' NIGHT ON BROADWAY presented by The Broadway League is when kids ages 6 to 18 can see Broadway shows for free when accompanied by a full-paying adult. 2013 Kids' Night On Broadway will take place Monday, February 25, 2013 to Sunday, March 3, 2013.

The participating Broadway shows are: Ann, Annie, Cinderella, Chicago, Hands on a Hardbody, Jersey Boys, The Lion King, Mamma Mia!, Mary Poppins, The Mystery of Edwin Drood, Nice Work If You Can Get It, Newsies, Once, The Phantom of the Opera, Rock of Ages, Spider-Man: Turn off the Dark, and Wicked.

Off-Broadway production include: Avenue Q, Forever Dusty, The Gazillion Bubble Show, and Stomp.

KATIE HOLMES who is making her Broadway debut in Dead Accounts, while guesting on Late Night With David Letterman, divulged that she forgot her lines and froze during a key scene in the second act. She attempted to ad-lib until she got back into the role, but confessed it "felt like a good hour".


OTHER PEOPLE'S MONEY


A Santa Claus financial rally for some Broadway Shows ......

NEWSIES the Disney musical announced December 20 that the Broadway production has recouped its entire initial investment in just over nine months at the Nederlander Theatre. The musical's capitalization was $5 million, according to the New York Times. The recoupment marks the fastest a Disney production has ever turned a profit. In 41 weeks of performances to date, nearly 400,000 people have attended the Broadway show.

GLENGARRY GLEN ROSS the Broadway revival of David Mamet's Pulitzer Prize-winning play, which officially opened December 8 at the Gerald Schoenfeld Theatre, has recouped its entire initial investment. The limited run production has shows through January 20, 2012. The revival is the first production of the season to recoup.


THE ERA OF WAYNE NEWTON RECEIVES ANOTHER LEGAL SETBACK


Wayne Newton may have to find a new place to call home.

On Monday, December 17, 2012, U.S. Bankruptcy Court Judge Bruce Markell approved the sale of Wayne Newton's Casa de Shenandoah ranch by the Las Vegas branch of the brokerage firm Nathan & Associates.

Bankruptcy papers placed the value of the property at $50.8 million.

In addition to the ranch, which covers 40 acres at the busy intersection of Pecos and Sunset roads, the 13-plus acres on the north side of Sunset that were meant for a museum and other parts of a planned Wayne Newton dinner theater and Newton theme park, are also for sale.



Nobody has every disputed Wayne Newton's love for Las Vegas. He's been performing in Sin City since he was a teenager. Photo: Laura Deni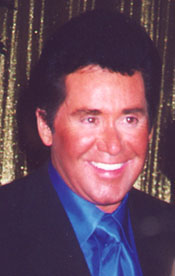 CSD LLC owns the property and has dropped plans to build the Newton attraction.

No asking price has been set on the estate, nor has it been determined whether to sell it as a whole or in pieces.

Lead by Nevada designated broker Cheryl Kypreos, the Arizona based Nathan & Associates would receive a $25,000 marketing fee and a $!00,000 commission if an insider buys it, or $100,000 plus a 3 percent commission if an outsider owns it.

Still to be decided is the problematic issue of what happens with the lease the entertainer known as Mr. Las Vegas and his wife, Kathleen, have on their mansion. The couple lives there along with their young daughter.

In a related legal issue Newton is also being sued by the developer who states he purchased Newton's home and paid the singer $19.5 million, with the understanding that Newton would move out and allow the property to be converted into a museum. According to ABC News, the developer claims that he has invested $50 million to date on the project, but that Newton has failed to move out and has deliberately thwarted construction efforts, including by sexually harassing construction workers. The case is set to go to trial in May 2013.

As indicated above, plans to turn the ranch into a Newton museum and dinner-theater, with tours of Newton's ranch, have been scrapped, but the lawsuit continues.


HIGH SCHOOL DRAMA DIRECTOR FIRED FOR STAGING LEGALLY BLONDE
Sonja Hansen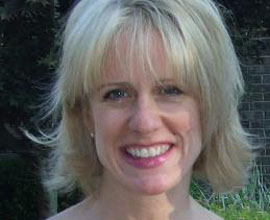 Loveland High School (about 20 miles northeast of Cincinnati, Ohio) staged a production of the Tony nominated musical Legally Blonde which was declared by administrators to be inappropriate for its audiences. That ruling has resulted in the forced dismissal of a drama teacher.

As first reported by station WLWT in Cincinnati, the interview of Sonja Hansen, a drama teacher at Loveland High School, had her telling the station that she was asked to resign or she would be fired.

Legally Blonde opened on Broadway 2007 and has since been widely produced in local theaters around the country and abroad. The original movie was rated PG-13, while the Broadway stage production was appropriate for general audiences

"High schools are doing the show; community theaters are doing the show," Hansen told the station. She said that "there are no bad words in the music."

Hansen said that she received approval from the school to stage the musical. She said that rehearsals were open and the she didn't hear any complaints.

Loveland School officials approved the musical in April 2012. Required paperwork and contracts were signed and returned to MTI. According to Hansen's aired interview, which Loveland School administration doesn't deny; "For eight months (school administrators) they knew that we were performing Legally Blonde. My rehearsals are open. We rehearsed for three months, four days a week, two hours per rehearsal. We had three tech rehearsals, two dress rehearsals and two performances before I was called in to the principal's office."

Following the first two performances of Legally Blonde's November 14-18 run, school principal Christopher Kloesz informed Hansen that there were concerns over presenting the material in a high school setting.

While students were permitted to finish the run of Legally Blonde Hansen was reprimanded in writing by the administration, for the "bootie-bounce dance moves" and the use of the word "skank" in the script.

Hansen was also cited for a scene in the musical that includes a champagne party involving a group of preppy Harvard University students. Officials charged that the scene violated the Loveland strict no-alcohol policy.

Hansen countered that students used real cigarettes as props during a scene in Joseph and the Amazing Technicolor Dreamcoat, and that the school's production of Grease, included drinking, smoking, sexuality and teen pregnancy in its script.

According to the LA Times "musicals that tackle mature themes can sometimes prove problematic for high schools. One of the biggest controversies took place in 2009 in Orange County, when administrators at Corona del Mar High School pulled the plug on a student production of Rent. The cancellation received national attention, leading the school to allow the production to continue as planned."

Now the Ohio high school "is reassessing the goals of its drama program," and Hansen has had the curtain dropped on her Loveland directing career.

The official announcement from Loveland Schools:

"The Loveland City School District has announced a new focus for the Loveland High School (LHS) drama department to include an expansion of dramatic plays, talent shows and musicals. As a result of the change in direction, LHS drama director Sonja Hansen will be leaving this position.

"First, I want to apologize directly to Mrs. Hansen for the way this issue was handled," said Dr. John Marschhausen, Loveland superintendent. "The district had a change in administration, and procedures were not in place for proper articulation of expectations and goals for the drama department. There was a breakdown internally in communicating this, which resulted in the circulating of misinformation which is unfortunate for all involved – our district, our students and Mrs. Hansen.

"On behalf of the district, I want to thank Mrs. Hansen for the success she achieved during her tenure in growing the participation of the drama department, and for the powerful impact she made in the lives and development of many Loveland students. We have heard from parents and students expressing support and appreciation for Mrs. Hansen's dedication, and everyone's goal is the progress of the drama department."

"Hansen and school administrators together concluded the separation was the best course for the new direction the school intends to take.

"My time working with the staff, the students and parents at Loveland has been deeply fulfilling, and I appreciate all of the energy they brought to the performances we brought to life together," said Sonja Hansen. "As my background is in choreography and dance, I want my professional focus to remain on musicals, and I look forward to seeing continued success in the LHS drama program."


BOOK NOOK GRIPES


Simon and Schuster is one of the most respected publishing firms in this country. However, I don't like it when two of their authors Bonnie Bealer and Alan Bennett Weinberg, Esq - which means he's a lawyer and should know better - attack me in their book.

The tome in question is their co-authored The Caffeine Advantage, copies of which are currently for sale.

Bealer and Weinberg are considered the go-to duo for those who advocate caffeine. Their numerous caffeine books get rave reviews. Their website World of Caffeine is flooded with promotional ads for products containing caffeine, as well as plethoric ads for coffee makers and assorted items which you can purchase from their site. When they say World of Caffeine they aren't kidding.

I personally don't care if they live on go-go juice or insert an IV mainlining caffeine. I do care about what they wrote about me in the introduction to their book.

In 1982 I researched and authored a booklet titled Caffeine: Warning, It Can Be Hazardous To Your Health. Their book The Caffeine Advantage, was published 2001, which is still available for purchase.

Their book's introduction is a section of the book which can be read by people on-line who are just browsing. In other words, you don't even have to purchase their book to read their negative comments about me. The authors mention both my name and my booklet's title stating: "You can also judge, even from the titles of recent books like Caffeine: Warning It Can Be Hazardous to Your Health, by Laura Deni, . . . that books share responsibility for worrying people unnecessarily about caffeine's effects. Beyond the bad advice being offered to the public ..."

Apparently, their definition of "recent" means two decades prior.

My title says "CAN be Hazardous" not "IS Hazardous." I clearing have balanced statements in my booklet such as: "in a study of housewives, coffee-drinking women who were given only decaffeinated coffee became irritable but felt better after they were given regular coffee..." (page 10) and "Boys eight to 13 years old, when they were given caffeine in soft drinks, could concentrate better in performance tests ..." (page 9). As in all fields of medicine, research and developments can shine new light on all topics. What was the standard medical advice one week, can be upended by a new study and then turned on its heels again with the release of the next study.

I resent that the authors Weinberg and Bealer seem to feel that, in order to boost their book sales, they have to claim that I am "worrying people unnecessarily" and offering "bad advice."

They also need to make it clear what financial interest of any type - monetary, merchandise, gifts - they receive from any entity having an interest in manufacturing, promoting, selling, distributing products that contain caffeine or the equipment needed to prepare such products.

Bennett's bio states: "Bennett's work has promoted an accurate understanding of caffeine and has taught people about the many ways caffeine can be used to improve their lives. Bennett also works as a media consultant for The Coca-Cola Company and several other corporations."

How much is he paid by Coca-Cola and all of these other companies to tout caffeine? Full disclosure should be required. There is nothing wrong with being a paid spokesperson. It is wrong to not fully disclose that information. And, if your lifestyle is based upon being a paid spokesperson, or selling their products, rather than from book royalties - you have to make that clear.

I have never, ever taken one cent from any of those entities.

The reason I don't personally drink coffee is because I think the stuff tastes bitter. I do like the taste of coffee ice cream.

Once I almost had an on air radio confrontation with at least one of the authors. A devious and emotionally immature former Los Angeles radio host set me up and blindsided me. He's one of those people who likes to stir the pot, causing problems, because he enjoys watching other people's reactions.

I had never heard of the authors nor their book. Nor was that information presented to me. I couldn't hear what had been broadcast ahead of my microphone being turned on. In an unusual turn, I was asked some broad brushed questions about the publishing industry; whether I thought a particular publishing company was reputable; whether I thought any company would hire a spokesperson who wasn't honest and whether an author would be permitted to refer to something as "current" if it wasn't.

Those odd questions had nothing to do with why I was going to be on the program, via a telephone interview from Las Vegas.

I was then pounced on, with the host slamming me including reading on air the negative book comments about me. When informed that at least one of the authors was on the line ready to join the interview, I replied - bring 'em on. After a commercial break, I was told the telephone connection to the authors had been mysterious disconnected.

While I'm no doctor, no matter how strongly Bealer and Weinberg advocate caffeine, it's my own personal opinion that if you're permitted to visit somebody in the hospital who has just had a heart by-pass operation, don't sneak them in an espresso. That's just my own personal opinion.

Over a week ago I contacted Alan Bennett Weinberg, Esq. He has yet to respond.



CHICAGO the Tony Award winning the revival of John Kander and Fred Ebb creation, on December 20, became the third longest-running show in Broadway history, when the 6,681 performance took place at the Ambassador Theatre in The Big Apple.

The musical has now surpassed the original Broadway production of Les Miserables.

As of Dec. 20, the all-time longest-running Broadway shows are:

1. The Phantom of the Opera - 10,356 performances
2. Cats - 7,485 performances
3. Chicago - 6,681 performances
4. Les Miserables - 6,680 performances



CAT ON A HOT TIN ROOF

Sultry Scarlett Johansson in an Cat on a Hot Tin Roof. Production Photo.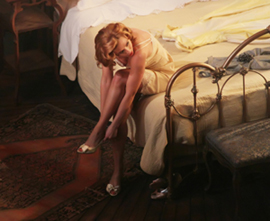 by Tennessee Williams. This revival is directed by Tony Award winner Rob Ashford.

Starring Benjamin Walker and Tony Award winner Scarlett Johansson, who began previews learning the wonderful news that a creep who admitted he became addicted to spying on celebrities was ordered to spend the next 10 years in a federal prison for hacking their e-mail.

Christopher Chaney, 36, stole nude photos, scripts and personal information from the e-mail accounts of 50 entertainment industry figures, including Scarlett Johansson.

During a hearing Monday, December 17, 2012, in Los Angeles, U.S. District Court Judge S. James Otero sentenced Chaney to 120 months - 10 years - in prison and ordered him to pay $66,179 in restitution.

In Cat on a Hot Tin Roof, Johansson stars as Maggie opposite Walker as Maggie's alcoholic and sexually conflicted husband Brick. Irish actor Ciaran Hinds appears as the dying patriarch Big Daddy. and Tony Award winner Debra Monk as Big Mama.

The cast also includes Emily Bergl and Michael Park as nosey kin Mae and Gooper, respectively, with Vin Kinght as Reverend Tooker, Brian Reddy as Doctor Baugh, as well as Will Cobbs, Tanya Birl, Jordan Dean, Lace Roberts and Cherene Snow.

For any who don't know the story line, the production is explained as: "Big Daddy Pollitt, the richest cotton planter in the Mississippi Delta, is about to celebrate his 65th birthday. He is distressed by the rocky relationship between his beloved son Brick, an aging football hero who has turned to drink, and his beautiful and feisty wife Maggie. As the hot summer evening unfolds, the veneer of Southern gentility slips away as unpleasant truths emerge and greed, lies and suppressed sexuality reach a boiling point."

The design team includes Christopher Oram (scenic design), Julie Weiss (costume design), Neil Austin (lighting design) and Adam Cook (composer and sound design).

Currently in previews with the official opening set for January 17, 2013 at the Richard Rodgers Theatre in NYC.

KISS ME KATE With music and lyrics by Cole Porter. Directed by Trevor Nunn. Choreography by Stephen Mear.

The dazzling, multi award-winning classic Broadway musical Kiss Me, Kate comes to The Old Vic this Christmas. This glittering new production stars Alex Bourne, David Burt, Adam Garcia, Clive Rowe and Hannah Waddingham.

This exuberant show-within-a-show throws together gun-toting gangsters, sparring actors and romantic entanglements against a backdrop of a touring musical production of The Taming of the Shrew.

The cast also includes: Michelle Bishop, Kevin Brewis, Wendy Mae Brown, Christopher Dickins, Paul Grunert, Mark Heenehan, Shaun Henson, Samuel Holmes, Richard Jones, Carolyn Maitland, Jo Morris, Jason Pennycooke, Tanya Robb, Warren Sollars, Holly Dale Spencer, Flik Swan, Kate Tydman, and Tim Walton.

Designer – Robert Jones. Dance Arrangements, Musical Supervisor & Musical Director – Gareth Valentine. Lighting – Tim Mitchell. Orchestrator – Chris Egan. Sound – Paul Groothuis. Casting – Pippa Ailion.

Performances through March 2, 2013 at The Old Vic in London.

JULIUS CAESAR by William Shakespeare.

Phyllida Lloyd directs an all-female company in Shakespeare's raw and eternal study of power. This production marks Phyllida Lloyd's return to theatre, and to the Donmar stage, after her film The Iron Lady.

Conspiracy. Assassination. Retribution.

Starring: Jade Anouka, Alice Bell, Ishia Bennison, Helen Cripps, Clare Dunne, Jen Joseph, Charlotte Josephine, Jenny Jules, Cush Jumbo, Irene Ketikidi, Carrie Rock, lina Valdés, Carrie Rock, Carolina Valdez, Harriet Walter, and Danielle Ward.

Designer is Bunny Christie; Lighting Design by Neil Austin; - Sound Design by Tom Gibbons, Composer Gary Yershon; Movement Director is Ann Yee; Fight Director Kate Waters is one of only two women on the Equity Register of Fight Directors.

Performances through February 9, 2013 at the Donmar Warehouse in London.

WATER BY THE SPOONFUL winner of the 2012 Pulitzer Prize for Drama by Quiara Alegría Hudes. Directed by Davis McCallum.

Elliot returns home to Philadelphia to reconnect with his Puerto Rican family after his time spent serving in Iraq. Upon arriving, he finds his family in flux and his career prospects limited. When an online support group begins to overshadow his aspirations for the future, the real and online worlds - one forged by blood, another by survival - collide in this funny, urgent and timely 2012 Pulitzer Prize winner.

Armando Riesco, Liza Colón-Zayas and Zabryna Guevara, Bill Heck, Sue Jean Kim and Armando Riesco and Ryan Shames make up the cast.

Water by the Spoonful is the second in a trilogy of plays that began with Hudes' Elliot, A Soldier's Fugue, a play about a young Marine coming to terms with his time in Iraq and his father's and grandfather's service in Vietnam and Korea. The third play in the trilogy, The Happiest Song Plays Last, is scheduled to make its world premiere in 2013 at The Goodman Theatre in Chicago.

Water by the Spoonful premiered at Hartford Stage in 2011. The New York debut has performances at the Off-Broadway Second Stage Theatre. Currently in previews with the opening night slated for January 8, 2013.

The Second Stage Theatre has acquired the right to purchase the historic Helen Hayes Theatre, located at 240 W. 44th Street. With this new home, Second Stage will be the only theatre company on Broadway dedicated exclusively to the development and presentation of contemporary American theatrical productions. Second Stage will also become one of only four non-profit theatre companies that own and operate theatres on Broadway. The company will continue to lease and operate their original theatres on the city's Upper West Side and in Midtown Manhattan.


WHO'S WHERE


MANNHEIM STEAMROLLER winds up their 27th annual Christmas tour. The two groups touring will have performances tonight at the Frauenthal Center in Muskegon,MI and the Orpheum Theatre in Omaha, NE. On Thursday they open a two nighter at the Music Hall in Kansas City and at Meyerson Symphony Hall in Dallas. On Saturday they do the same at Chapman Center in Tulsa, OK and give a performance a the Civic Center Music Hall in Oklahoma City. Next Sunday, December 30, the tours conclude with a show at the Majestic Theatre in San Antonio, TX. A Mannheim Steamroller group is also performing in Las Vegas, in a six-week engagement at the Palazzo Theatre, with the final performance taking place December 30.

THE FAMILY STONE New Year's Eve concert takes place - December 31, 2012 (of course) at the Topfer Theatre in Austin, Texas. The group features Sax man Jerry Martin, Cynthia Robinson on trumpet, drummer Greg Errico, bass guitarist Blaise Sison, with Nate Wingfield on lead guitar. Trina Johnson Finn is the vocalist and keyboardist Alex Davis is also the lead vocalist.

BIG BAD VOODOO DADDY gets the room swinging Saturday, December 29, at the Thunder Valley Casino in Lincoln, CA.

IDINA MENZEL rings in the New Year with a performance, Monday, December 31, at Walt Disney Concert Hall in Los Angeles.

JEFF DANIELS: ONSTAGE & UNPLUGGED will feature new tunes and old favorites written and performed by Tony Award nominated Daniels. Seven performances only, December 26 – 31, 2012 at the Purple Rose Theatre in Chelsea, MI.

B.B. KING performs at the Broward Center in Fort Lauderdale, FL on New Year's Eve.







Next Column: December 30, 2012
Copyright: December 23, 2012. All Rights Reserved. Reviews, Interviews, Commentary, Photographs or Graphics from any Broadway To Vegas (TM) columns may not be published, broadcast, rewritten, utilized as leads, or used in any manner without permission, compensation and/or credit.
Link to Main Page
---
Laura Deni



For the snail mail address, please E-mail your request.
CLICK HERE FOR COMMENT SECTION