! >
Broadway To Vegas
  
  REVIEWS INTERVIEWS COMMENTARY NEWS

| | |
| --- | --- |
| | |
SIERRA BOGGESS AWAKENING BELOW 54 CD REVIEWED - - NEW YEAR'S EVE FIREWORKS IN DUBAI AIMS FOR RECORD - - LONDON THEATER CEILING COLLAPSE NOT THE FIRST - - PLAY DEAD DIRECTED BY TELLER - - NATIONAL TOUR OF KINKY BOOTS TO BEGIN IN LAS VEGAS - - A STAGE VERSION OF HARRY POTTER IN THE WORKS - - ROYAL CHRISTMAS CARDS BOUGHT BY AMERICAN - - WALKING WITH THE WOUNDED REACHES THE SOUTH POLE - - DONATE . . . Scroll Down




Copyright: December 22, 2013
By: Laura Deni
CLICK HERE FOR COMMENT SECTION


LONDON THEATRE ROOF COLLIPSE SPARKS SAFETY AWARENESS
Rescue operations at The Apollo Theatre in London. The lobby of Queens Theatre, home Les Misérables, was turned into a triage center. Photo: Getty images.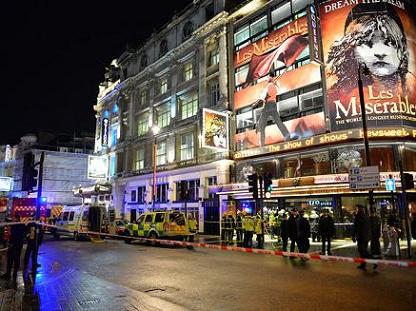 An investigation is underway to determine why the roof of famed Apollo Theatre in London collapsed during a performance last Thursday injuring 76 people, including seven who suffered serious, but not life threatening injuries.

Nick Harding from London Fire Brigade said a section of ornate plaster ceiling, measuring 33 feet square, fell onto the audience.

Police said there was no suggestion that it was the result of any deliberate act or attack. An investigation is underway to determine if a severe rain and hail storm earlier in the evening was to blame.

The only one of its kind, the Renaissance-style, multi-leveled auditorium is decorated with elaborate plasterwork and the balcony on its third tier, the steepest in London. Designed by architect Lewin Sharp, the building boasts elaborate sculpted work on the stone fascia to the front.

Since being built in 1901 it has been altered only twice; in 1932 and 1991, according to The Theatre Trust's records.

Old theatres are nothing new - in London or America.

Inspectors tend to be diligent in spotting code violations.

On April 12, 2013 the city of Chicago filed a lawsuit against Chicago's 87-year-old Congress Theater in Logan Square. The complaint cited a long list of "hazardous and dangerous" code violations, compiled by inspectors from the Health, Building and Fire Departments. One of the charges stated: "The catwalk for access above the ceiling in the auditorium, to rig shows and change lighting, is old and dilapidated posing risk of collapse. This condition poses a hazard to any unexpecting employee."

Chicago's Aragron Ballroom, built in 1926 with a capacity of 4,500 was in court May 22, 2013 on charges for ongoing oversight of repairs to its ceiling, a chunk of which collapsed in February, 2013.

At that time NBC Chicago reported: Allan Gold of AHG Structural Engineering said that if a ceiling fails, it's a warning sign about other parts of the ceiling. He also added that building owners have a responsibility to fix it immediately. "Once you have danger warnings you need to schedule an inspection with a qualified engineering firm or architectural firm and erect scaffolding and get up close to the ceiling and examine it inch by inch."

A portion of the Chicago's Des Plaines Theatre's plaster ceiling collapsed in September 2011, forcing show cancellations and delaying efforts to meet an already extended deadline for bringing the 87-year-old theater up to safety-code requirements.

Eighteen months later city inspectors ruled that the popular venue was safe for concert goers. The cost to repair the ceiling was $60,000.

As far as London is concerned this isn't the first time an audience thought the sky was falling.

On July 20, 1973 part of the ceiling at the Shaftesbury Theatre fell, forcing the closure of the long-running musical Hair, after 1,998 performances. The theatre was almost a goner, but an Equity campaign succeeded in having the theatre placed on the 'Statutory List of Buildings of Special Architectural or Historic Interest', and the theatre was Grand II listed by English Heritage in March 1974. The theatre reopened with West Side Story.



London program. Hair performed 1,998 shows before the Shaftesbury Theatre ceiling rained on their sunshine.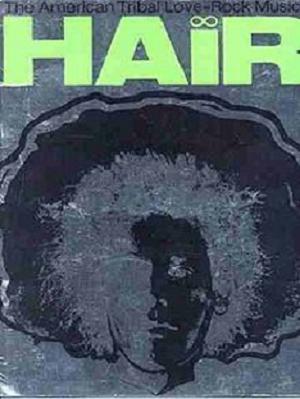 Back in May 2004, 15 people were injured when a chandelier slipped from its bearings, dislodging plaster which fell onto the audience at Theatre Royal Haymarket during a performance of When Harry Met Sally.

That same year Andrew Lloyd Webber, who at the time owned the Apollo, used a bully pulpit in the House of Lords to charge that some of London's theatres were in such shambles that they should be demolished rather than restored.

In 2011 the Comedy Theatre - now the Harold Pinter Theatre - suddenly cancelled a performance of The Children's Hour starring Keira Knightley for "essential building repairs".

On September 24, 2013, the Aldwych Theatre stopped a Tuesday matinee performance of the musical Top Hat after plaster from the proscenium fell to the stage and on the net covering the musicians. The incident occurred around two thirds of the way through act one and brought the performance at the 1,200-seat venue to a halt.

After about 15 minutes an announcement was made that the rest of the performance would not continue. Nobody was hurt and the evening show went on as usual.

Last year the Royal Court Theatre received an emergency half million dollars grant from the Arts Council for "immediate and unexpected repairs".

On October 10, 2013 Tony Award winner Kevin Spacey, the Artistic Director of the Old Vic, indicated he intended to make the London theatre 'fit for the 21st century'. The renovation proposals have been put together by architects Bennetts Associates. Those include urgent repairs to the roof.

During last Thursday's disaster, the Apollo Theatre was packed with a family audience watching The Curious Incident of the Dog in the Night-Time, winner of a record-breaking seven Olivier Awards this year - including Best Play. Simon Stephens's adaptation of Mark Haddon's award-winning novel is directed by Marianne Elliott for the National Theatre.

Running in London since August 2012, the show started at The National Theatre, before transferring to the Apollo in March of this year.



Artistic Director Kevin Spacey is determined to bring the Old Vic into the 21st Century. The Old Vic receives no government subsidy. Photo: Old Vic.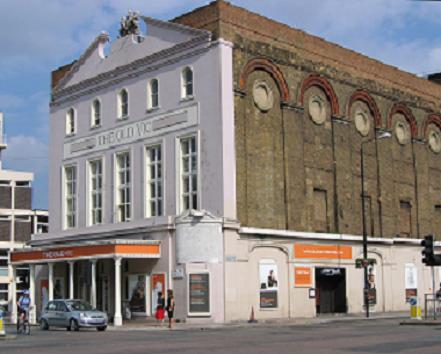 The cast includes Jo Dockery, sister of Downton Abbey's Michelle Dockery, former EastEnders actress Amanda Drew and Trevor Fox from 2000 film Billy Elliot.

There was an estimated 720 in attendance in a theatre which seats 755.

Police, eight fire engines and two dozen ambulances arrived within minutes.

Lobbies of nearby theatres were turned into triage centers. The walking wounded were taken to the Queens Theatre, home to the long-running hit Les Misérables, as well as the Gielgud Theatre where Strangers on a Train is playing.

"In the finest traditions of Theatreland, they very quickly rallied around," said fire brigade spokesman Graham Ellis.

Police commandeered three London buses to help take 56 of the injured, including several children, to three hospitals.

A surveyor examined the theatre overnight and said the roof was secure.

"We will not know the cause of the incident until all investigations have been completed but checks are ongoing," said Councillor Nickie Aiken of Westminster Council. "This appears to be an isolated incident, but we will continue to work with theatres to ensure that all safety precautions are in place."

The investigation will be carried out by Westminster City Council after police ruled out criminal action.

The council must conclude its investigation before it declares the theatre safe to reopen.

The Apollo cancelled all performances until at least January 4, 2014.

The London Fire Bridgade stated that a portion of the theatre's domed ceiling collapsed, taking with it part of the lighting rigging for the production. Kingsland Station manager Nick Harding stated, "A section of the theatre's ceiling collapsed onto the audience who were watching the show. The ceiling took parts of the balconies down with it."

All historic theatres are required to have their roofs checked every three years, and industry authorities stressed that visitors to other theatres need not be concerned.

Since last Thursday all London theatres have passed a reinspection.

The first London theatre of the Edwardian era, the doors of the Apollo Theatre first opened on February 21, 1901, for the American musical comedy The Belle Of Bohemia.

It is one of four London playhouses owned by Nimax Theatres, a group owned and operated by Nica Burns and Weitzenhoffer. Others include the Garrick Theatre, the Duchess Theatre and the Lyric Theatre. All were previously owned by Andrew Lloyd Webber.

On Saturday authorities returned control of the Apollo Theatre to its owners.

A spokeswoman for Nimax Theatres said: "The relevant authorities handed the theatre back to Nimax which meant we could commence the process of carefully recovering and logging all personal effects left in the theatre following its evacuation and subsequently return them to their owners."

In a statement on Friday morning, December 20, 2013, the Society of London Theatre (Solt) praised the emergency services and theatre staff for their "professional and compassionate" handling of the situation.

"At a meeting today all the major theatre owners have confirmed that their safety inspections and certificates are up to date, and will co-operate fully with the authorities to reassure the public that their theatres are safe. All other London theatres remain open," it said.





Broadway To Vegas is supported through advertising and donations. Priority consideration is given to interview suggestions, news, press releases, etc from paid supporters. However, no paid supporters control, alter, edit, or in any way manipulate the content of this site. Your donation is appreciated. We accept PAYPAL. Thank you for your interest.





ART AND ABOUT


ILEANA SONNABEND: AMBASSADOR FOR THE NEW

Andy Warhol (American, 1928–1987). Ileana Sonnabend. 1973. Acrylic and silkscreen ink on canvas, two panels, 40 x 80" (101.6 x 203.2 cm). The Sonnabend Collection. © 2013 Andy Warhol Foundation for the Visual Arts/Artists Rights Society (ARS), New York
During a career spanning half a century, Ileana Sonnabend (1914–2007) helped shape the course of postwar art in Europe and North America.

A gallerist and noted collector, Sonnabend discovered and championed many of the most significant artists of her time. Among the important works she owned is Robert Rauschenberg's Combine Canyon (1959), which the Sonnabend family donated to The Museum of Modern Art in 2012.

In celebration of this extraordinary gift, Ileana Sonnabend: Ambassador for the New explores Sonnabend's legendary eye through selected works of art that she presented in her eponymous galleries in Paris and New York.

Renowned for her ambassadorial role in bringing new art across the Atlantic, Sonnabend was instrumental in introducing American Pop art and Minimalism to Europe and Italian Arte Povera to the United States. She also sought out and supported some of the most noncommercial and challenging Conceptual, new-media, and performance-based art of the 1970s.

The exhibition includes works by approximately 40 artists, including Rauschenberg, Jasper Johns, Andy Warhol, Robert Morris, Mario Merz, Vito Acconci, Mel Bochner, John Baldessari, and Jeff Koons.

Ileana Sonnabend: Ambassador for the New reveals the astounding scope of Sonnabend's taste and salutes her commitment to introducing groundbreaking art to the public.

This exhibition is organized by Ann Temkin, The Marie-Josée and Henry Kravis Chief Curator of Painting and Sculpture, and Claire Lehmann, Curatorial Assistant, Department of Painting and Sculpture.

Among the works included in the exhibit is Jannis Kounellis's Da inventare sul posto (To invent on the spot) (1972), which comprises both a painting and a performance featuring a violinist and ballerina. While the painting is on view at all times, live performances are presented at specific times throughout the exhibition. These performances are facilitated in collaboration with Brooklyn Ballet.

December 21, 2013–April 21, 2014 at MoMA in New York City.

THE AGE OF IMPRESSIONISM Great French Paintings from the Clark is on view at the Museum of Fine Arts, Houston from December 22, 2013–March 23, 2014.

The MFAH is the final stop on a three-year international tour of great French paintings from the Sterling and Francine Clark Art Institute in Williamstown, Massachusetts.

The exhibition has been viewed by more than 1.6 million people around the world at venues including the Royal Academy of Arts, London and the Shanghai Museum.

On view will be more than 70 paintings spanning the 19th century and culminating with superb Impressionist canvases by Manet, Degas, Renoir, Monet, and Morisot.

Works by their predecessors Daumier, Corot, and Rousseau are also featured, as are the paintings of later masters such as Toulouse-Lautrec and Bonnard. The exhibition reflects the Clarks' singular passion for French art and presents some of the greatest paintings of the 19th century.

THE ROY LICHTENSTEIN FOUNDATION

Leap into the Void, 1960 Yves Klein (French, 1928–1962), photographed by Harry Shunk (German, 1924–2006) and Janos Kender (Hungarian, 1937–1983) Gelatin silver print; 10 3/16 x 7 7/8 in. (25.9 x 20 cm)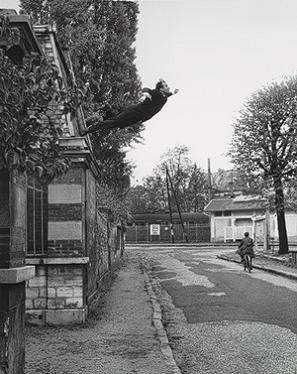 has donated 200,000 black and white prints, color prints, negatives, contact sheets and color transparencies and slides to five institutions around the world, including the Getty Research Institute in Los Angeles, the Museum of Modern Art in New York, the National Gallery of Art in Washington, The Centre Pompidou in Paris and the Tate in London

Dorothy Lichtenstein, President, and Jack Cowart, Executive Director of the Roy Lichtenstein Foundation made the announcement.

The donation is the first of its kind, establishing a consortium among the institutions that will both receive and share the materials.

The collection of photographic material was shot by the late Harry Shunk and Janos Kender. Based first in Paris and later in New York, they took the core group of photographs from 1958 to 1973. The collections also include photographs taken by Shunk alone in earlier and later years. These images offer a sometimes intimate and sometimes formal view of more than 400 prominent artists in their studios, at events such as openings and in the midst of their performances.

They provide an historic document of the artworks of the period in the context in which they were first shown and are often irreplaceable as the only existing record of ephemeral artworks and actions. In some cases - such as the celebrated Shunk-Kender image of an airborne Yves Klein, Leap Into the Void (1960) - the photographs are themselves acknowledged as the work of art.

The Foundation has preserved, catalogued and digitized the photographs.

A very abbreviated list of the photographs' subjects include: Vito Acconci, Arman, Joseph Beuys, Lee Bontecou, Trisha Brown, Alexander Calder, Christo and Jeanne-Claude, Merce Cunningham, Lucio Fontana, the Gutai Group, Eva Hesse, Jasper Johns, Donald Judd, Yayoi Kusama, Joan Miró, Bruce Nauman, Barnett Newman, Nam June Paik, Michelangelo Pistoletto, Man Ray, Robert Rauschenberg, Lou Reed, Niki de Saint Phalle, Jean Tinguely, Cy Twombly, Andy Warhol and Lawrence Weiner.

Getty Research Institute (GRI) will receive approximately 183,000 items: a near-complete set of 19,000 prints, 12,000 contact sheets, 126,000 negatives, 26,000 color transparencies and slides, all of the digital assets including the low- and 3 high-resolution images, as well as the inventories.

Centre Pompidou will receive approximately 10,000 prints as well as low- and high-resolution images representing most of the artists, events and exhibitions seen in the GRI materials. The Pompidou will actively share this key set with Tate for research, publication and exhibitions.

The National Gallery of Art will receive a complete set of approximately 2,300 prints of all the Christo photographs in the collection. This material dating from circa 1960 to 1976 has been selected because the National Gallery already holds a significant body of work by Christo and Jeanne-Claude spanning more than four decades with the Herbert and Dorothy Vogel Collection.

The Museum of Modern Art will receive 638 prints, including a set of 5 prints of Yves Klein's Leap into the Void and 92 prints of Yayoi Kusama's happenings The Anatomic Explosion and Mirror Performance (both 1968, New York). The highlight of the MoMA gift is a near-complete extant set of photographs of the Pier 18 exhibition (1971). Organized on an abandoned pier on the Hudson River, Pier 18 was a monumental performance project conceived by Willoughby Sharp. An invited group of 27 artists including John Baldessari, Mel Bochner, Daniel Buren, Dan Graham, Gordon Matta-Clark, Dennis Oppenheim, Richard Serra and Michael Snow created ephemeral performances or projects on the pier, which Shunk-Kender photographed. MoMA then mounted an exhibition of the photographs, which were, and are, the only contemporaneous record of the event and the individual works.

The Roy Lichtenstein Foundation will temporarily hold the remaining prints, documents, books, ephemera and photography equipment that have not been distributed to the consortium members. The Foundation intends to offer further gifts from this material to the consortium or will place them with other interested institutions.

Harry Shunk, whose name was also spelled Schunk and Schunke, was born on October 4, 1924, in Reudnitz, Germany, near Leipzig. Conscripted into the German army at the start of World War II, he was taken prisoner and interned in England and after the war eventually made his way to Paris, where he met János (Jean) Kender.

János (Jean) Kender was born in Baja, Hungary, on July 6, 1937. He fled to France in 1956 in the wake of the Hungarian uprising and the following year met Harry Shunk. Beginning in 1958, the two men worked as partners, formally crediting all their photographs as a new identity: "Shunk-Kender." They left Paris for Canada in 1967 and then relocated to New York City. In late 1973, they formally dissolved their creative partnership.

Shunk died in his home and studio in Westbeth in New York City on June 26, 2006. Kender died on December 5, 2009, in a welfare hospice in West Palm Beach, Florida.


SWEET CHARITY


WALKING WITH THE WOUNDED REACHES THE SOUTH POLE

All three teams at the South Pole – photo by Walking With the Wounded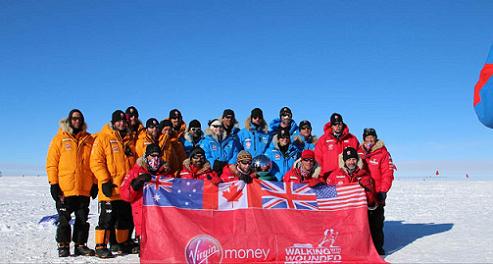 that dangerous - and cold -  walk to raise funds and awareness for the organization which  provides reeducation and retraining for the wounded.

Much has been written about the British Team, thanks to the participation of Prince Harry. However, there were actually three teams - the British,  known as Team  Glenfiddich, one from the UK which meant Australia and Canada, known as Team Soldier On,  and the United States team, known as Team Noom. Thanks to Prince Harry taking part this South Pole walk garnered  headline making attention. Although the British press kept everyone up to date and the UK press did their bit, the American press virtually ignored the outing, even though United States had a team of wounded warriors putting one snow boot ahead of the other.

Although the teams started out in a race to see who could  finish trudging first, an accompanying physician determined that the competition aspect was too physically and mentally exhausting for the participants. Thus the three teams were combined into one - with the goal of reaching the South Pole. 

All of the team members arrived at the South Pole - almost frozen - but no worse for wear.  Because the American team didn't receive as much coverage as the other teams,  Broadway To Vegas would like to print the last diary entry made by the American coach Alex Skarsgård. When he isn't tramping through ice and snow, he's the actor/director best known for his roles as vampire Eric Northman on the HBO series True Blood, Meekus in Zoolander and Brad Colbert in the HBO miniseries Generation Kill. He's the son of Swedish actor Stellan Skarsgård.

Alex Skarsgård, Team Noom Coach, Updates The Expedition Diary For The Last Time

"We are about 9.5km away from the South Pole station. We started out this morning and visibility was very, very bad. We couldn't see much at all but then around 3 o'clock in the afternoon it cleared up and we could see the South Pole station. It is the first time in a month that we have seen a structure and the whole team just stopped and stared at it for about 5 minutes – it was a very surreal experience. 

"To literally see the end of this adventure was very emotional for all of us. We set up camp after that and visibility is down again now so we can't see anything around us. We are going to get some shut-eye now and then up in the morning, ski for a couple of hours and then reach the pole.

"People are very tired, physically and mentally as well. It has been a couple of very intense weeks but spirits are high, most people are excited about getting to the pole.

"Personally, I am obviously extremely excited about it but also mixed emotions.  I think it will be quite bittersweet. It is obviously something we have been planning and training for, for so long and the fact that we are all going to make it there with all the soldiers – we have everything from a double amputee to a blind guy – they have been amazing to watch out here. The fact that we are going to get there with all them means so much. It is also quite sad because it means that it is going to be the end of this adventure and it really has been quite a surreal and cathartic experience personally. I really have loved every second of it.

"I haven't had the chance to talk to anyone in the outside world for about a month now, so I would like to take this opportunity to say 'Hi' to my family back in Stockholm, Sweden – so Mom, Dad, all my siblings, if you hear this, 'I love you. I miss you. As long as we don't get snowed in here, I will come see you for Christmas in about 10 days and Mom please keep the fireplace going because your son is cold. Thank for so much for following our progress down here. It means the world to all of us and please keep supporting the wounded soldiers through Walking With The Wounded. Thank you very much. If I don't speak to you before, have a wonderful Christmas." Alexander Skarsgård, Team Noom Coach.

Had it not been for Prince Harry  participating, this incredible journey would not have received nearly the publicity that it garnered. That Prince Harry was an active participant speaks volumes about his courage, tenacity and compassion for others, as it does for all of the participants. Bravo to all three teams and a Merry (warm) Christmas to all of them.








RECORDING ARTISTS SHOULD NEVER UNDERESTIMATE THE IMPORTANCE OF QUALITY SOUND


A sound engineer can make or break a singer. There is a performer, who makes regular Las Vegas appearances, who is an outstanding personality but marginal as a singer. From her first hit to the present the singer is dependent upon an excellent sound engineer. Just as a superb sound engineer can take a marginal singer and turn them into a hit, a sound engineer can distort an exquisitely beautiful voice.

The extremely talented Sierra Boggess has a new CD titled Sierra Boggess' Awakening: Live at 54 Below, released by Broadway Records.

Having the utmost respect for the product that Broadway Records has been releasing and the - until now - masterful recordings taking place with the Live at 54 Below series, this review is almost painful to write.

As background, 54 Below in New York City is intimate nightclub with cabaret seating for about 140 patrons. Some of the best singers in the business have performed in the venue. A smart move was to live record these performances for CD release. In addition to other product, Broadway Records releases all of the Live at 54 Below recordings. Their product quality for a live cabaret recording set the gold standard.

Other 54 Below Live Recordings have three specific technical credit sections. Credits for those associated with the singer's production team, those for Broadway Records and credits for 54 Below.

In the spot check of the Live at 54 releases that Broadway To Vegas has reviewed, the FOH Mix and Recording engineer is listed as Kris Umezawa.

All of the previously Live at 54 Below Recording are sound perfection.

Thus it came as a shock when the first seven selections on this CD were a listening nightmare.

A puzzlement as to what went so wrong with this CD.



Sierra Boggess as Christine.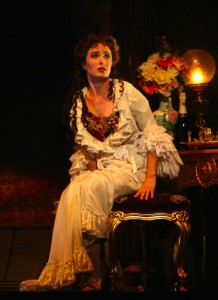 Important information is that Sierra Boggess is a fantastic singer. I first saw her on stage when she starred as Christine in the Las Vegas production of Phantom of the Opera. I first enjoyed her on a Broadway stage when she starred in The Little Mermaid. She has an enchanting, pure, wide ranging voice. She and her back up musicians deserve better than what is heard on the first 7 selections of this CD.

Sierra Boggess Awakening is, first of all, almost a musical infomercial for Dr. Wayne Dyer.

She feels a need to chat about how his books, instruction and philosophy have helped her. There is no doubt that Dr. Dyer has helped millions of people. At age 31, having achieved phenomenal success in her 20s, including winning the praise of both Hal Prince and Andrew Lloyd Webber, it's a shame that the talented singer has experienced such emotional angst that she needed to have her life transformed. However, the good news is that she has found a certain emotional peace from the guidance of Dr. Dyer.

The talented singer and actress begins this CD by mentioning the name Rebecca, a musical in which she was to have starred on Broadway. That musical went from rehearsals to various law offices. One day the cast and crew had a job. The next day they didn't. That's enough to distress anyone, but that is also show biz. It was also a Broadway musical financial issue which the record buying public, as a whole, neither knows nor cares about. That runs the risk of mentioning something that will generate limited interest and little empathy.

Dr. Dyer enjoys enormouss success including his PSB shows which air during pledge break weeks. Boggess needs to guest star on one of those specials, sing a couple of songs and give her testimony on Dr. Wayne Dyer - as she put it in the CD booklet "thank you for helping me to reinterpret this life through inspiration." Pledge donations would skyrocket for PBS, Dyer would sell books and Boggess would be exposed to a different fan base.

Somebody as young as Sierra, with a career ahead of her, has to be careful about too much disclosure. Many times what people say and what others hear are different. She may believe she is saying one thing, although what potential backers and agents can hear is something else and worry that she won't be able to cope with the stress of their project. Sierra Boggess is not some quirky rock star. There are different rules for legitimate stage performers who are dependant, not upon screaming fans, but financial investors. If she was 51, not 31, she'd be able to muse about a wide assortment of fears and people would nod and laugh with understanding. At 31, the nodding and laughing could be out of uncomfortable concern.

Musically this CD contains 26 tracks. The first 7 are so poorly sound balanced that it's difficult to listen to the CD. With a lesser known singer, this CD could hamper a career.

Broadway Records is noted for putting out a class product with flawless sound balancing, recording, and mixing. Usually the accompanying booklet lists the names of the recording engineer, and who mixed it. This booklet does not, although it lists the name of the studios - meaning the technicians had access to an excellent studio and equipment.

Referring to the CD Broadway To Vegas received in the mail:

The sound is cranked up so high that you can hear the click when the canned introduction is turned on. For the first 7 selections, the audience response is so over the top I'm not sure if they used sweetening or merely had the sound at the highest possible level. 54 Below is a 140-seat nightclub - not Madison Square Garden or Wrigley Field. Even if she was recording in a large venue, that isn't how you capture audience reactions. Nor do you hear that kind of overly loud, not balanced audience response from customers in arena venues.

Selection Number 1 is I Have Confidence. The first thought is that the talented piano player Brian Hertz should stop banging on the keys. Then it's apparent that he's not. The sound balancing makes it sound as though he is neither accompanying her nor even playing with her. It sounds like they are in an amateur competition to see who can perform the loudest.

There are other musicians on this CD: Summer Boggess on cello and Mike Boggess on acoustic guitar, although for the first seven sections you can't tell - maybe they are backing - maybe not.

Sierra's sister Summer Boggess is a highly accomplished cello player who is sought after and can be enjoyed on numerous recordings. Sierra's father Mike Boggess is an incredibly talented acoustic guitar player.

After I listened to just about all I thought I could possible endure with that dreadfully awful sound quality - something wonderful happened - Section 8.

Glorious, delightful, exquisite - balanced sound.

Track 8 is Wildflowers, a gorgeous rendition which shows off both Sierra Boggess' magnificent voice, as well as her father's guitar playing. It's worth it to buy the CD just to listen to this one number.

Fortunately, the remaining numbers are correctly laid down (with a slight exception here and there, with a few notes or a couple of bars being too loud). The musical numbers are varied and showcase her ability to sing a wide range of styles as well as her vocal sensitivity to the lyrics. Section #9 is a spoken section where every word she says is pleasant and easily understood. Her voice doesn't sound screcchy as it does in the prior spoken sections. Section #20 A Good Thing is sensitive and beautiful. Sierra Boggess is an amazing talent who deserves a long, successful future.

Just for the record, Broadway To Vegas contacted Broadway Records on December 16, 2013. In part the email stated:

"I'm afraid I do have concerns regarding the technical aspects of this release.

"Therefore - what is the relationship of Broadway Records to this CD? Are you just the distributor or was there control over the sound - miking in the first place, recording, balancing, and mixing?

"I noticed on the booklet that no names are listed for the recording engineer/s, or the person/s who mixed it .

"The booklet indicates where it was mixed, but not who did the mixing. So, whoever mixed it had access to a good studio and equipment.

"Any time I have an issue with a technical aspect of a CD I always attempt to contact somebody about that issue before printing a review."

The answer:
"I'm not sure quite what are you are asking. Broadway Records is the record label that releases these CDs. The miking is done by the 54 Below sound team - it's recorded off the board, (I would imagine that part is done by 54 Below's team) and then mixed/mastered off-site. Are you asking if that off-site team is hired by 54 Below or the label?"

Follow up response from Broadway To Vegas
"I am trying to find out who is responsible for the sound quality. Does anybody at Broadway Records listen to what has been taped before it is mastered, giving approval of what they have heard to be mastered?

"Or, as I think you are indicating, after everything is done Broadway Records just releases the CD. They aren't part of the hands on process. Broadway Records has no control over the quality. Is that correct?

"It was mixed at Kontinuous Jams Studios but the booklet does not say who did the mixing, which is unusual.

"The booklet does not say who were the engineers - as the booklets usually do.

"I am trying to find out who is responsible for the sound quality on this CD.

"The specific question is: Does Broadway Records take responsibility for the sound quality?"

The Answer:
"Michael J. Moritz and his team did the mixing. Broadway Records does have approvals on the mixes. The idea is to best replicate the live experience - we aren't trying to put out a 'perfect' glossy studio album. The idea is to give the listener the experience of being up close with the audience at the show. It isn't going to be perfect - just as any live show will never be studio perfect."

In listening to this CD three times on three different CD players, the same experience took place. From the opening through Track 7 the CD is an aural nightmare. From Tract 8 onward, it is bliss.


NEW YEAR'S EVE FIREWORKS IN DUBAI AIMS FOR RECORD
Loud and colorful - that's the promise as Dubai in the UAE aims to break the Guinness World Record for 'largest fireworks display,' a record currently held by Kuwait.

Kuwait went into the winner's circle when they set off 77,282 fireworks which stretched over 3 miles, which celebrated the 50th anniversary of its constitution in November 2012.

The Dubai attempt will cover a 61.7 miles of coastline, able to be viewed from vantage points across the city.

In a six minute display 450,000 colorful fireworks, choreographed to an original score, will be launched from 20 to 35 firing locations s across The Palm Jumeirah and the islands of The World. The display will be designed by US-based Fireworks by Grucci, which also engineered the pyrotechnic display during the opening of Atlantis and the Palm Jumeirah in 2008.

"We are waiting for Dubai to break the record. With this, it becomes an international destination for celebration," said Talal Omar, country manager, Middle East and North Africa, Guinness World Records Limited, was quoted as saying.

After the world record attempt, another 15-minute display will cover a 3280 foot stretch of the Jumeirah beach, with the Burj Al Arab, Madinat Jumeirah and Jumeirah Beach Hotel as the backdrop.

One million addition visitors are expected in Dubai for the celebration.

"A rainbow will stretch the entre Dubai coastline as a symbol of Love and peace. The event aims to honor the founding father of the United Arab Emirates, His Highness Sheikh Zayed Bin Sultan Al Nahran. All proceed will go to the Zayed Peace Foundation - Creating Peace among Men," said the official statement.

The Zayed Peace Foundation is a non-profit organization created to fulfill and perpetuate the vision of the late Sheikh Zayed Bin Sultan Al Nahyan, founder of the United Arab Emirates. The ruler is lauded as being a strong advocate for human rights, peace, unity and social stability, as well as protection and preservation of the environment. The official release indicated that he "believed that it is every man's duty to secure a better world for the younger generation."

"After months of meticulous planning, Zayed Peace Foundation is preparing to undertake a major project in the United Arab Emirates, comprised of a number of feasible, sustainable and independent initiatives designed to address these pressing challenges."

The website for The Zayed Peace Foundation features an endorsement by Muhammad Ali. It states:

"Peace is impossible, a utopian dream.

"Impossible is just a big word thrown around by small men who find it easier to live in the world they've been given than to explore the power they have to change it. Impossible is not a fact. It's an opinion. Impossible is not a declaration. It's a dare. Impossible is potential. Impossible is temporary. Impossible is nothing." Muhammad Ali

Gucci is also in charge of the fireworks which will help Las Vegas announce 2014.

This year more than 80,000 pyrotechnics, on display for 8 minutes and 23 second display will be choreography to a soundtrack using Pitbull and Christina Aguilera's "Feel This Moment" as the theme of this year's colorful explosions from several locations including the Stratosphere rooftop, the Venetian, Treasure Island, Caesars Palace, Planet Hollywood, Aria and MGM Grand. More than 10,000 circuits will deliver split-second electrical pulses to ignite one of America's largest New Year's Eve spectaculars and one of the biggest in the world.

The exhilarating music mix kicks off with Mariah Carey's traditional Auld Lang Syne. Then it's a salute to Frank Sinatra and Bing Crosby with Well Did You Evah. Poison continues with Nothing But a Good Time followed by Wild One by Flo Rida and Sia.

After Pitbull and Christina, Rihanna's Diamonds follows Robin Thicke's mega-hit Blurred Lines. The Grucci Fireworks finale with barrages of titanium flash salutes that will rattle the night sky and the Strip will be matched with colorful chrysanthemum explosions — all to "Stomp the Beat" by JS16. More than 330,000 visitors are expected to jam Las Vegas.


SPREADING THE WORD


A STAGE VERSION OF HARRY POTTER has been announced. It will be co-produced by author JK Rowling, who will work with producers Sonia Friedman and Colin Callender. Rowling will not write the script herself.

The play will be staged in the UK and will explore "the previously untold story of Harry's early years as an orphan and outcast", according to an announcement from its producers. "Featuring some of our favorite characters from the Harry Potter books, this new work will offer a unique insight into the heart and mind of the now legendary young wizard.

"Writers and directors are now being considered, and the project will move into development in 2014."

Earlier this year the author revealed she would be making her screenwriting debut on a new Potter-themed film series for the Warner Bros studio.

Friedman is a prolific Broadway and West End producer. Among her producing credits are The Book of Mormon, Merrily We Roll Along, Death of a Salesman, Master Class and the Twelfth Night and Richard III double bill starring Mark Rylance. Friedman's productions have been nominated for and won numerous Olivier, Tony and other awards.

The Emmy Award winning and Tony nominated Callende is an English television, film and theater producer who works primarily in the United States. A former president of HBO Films, he recently produced Lucky Guy on Broadway starring Tom Hanks and is currently working with the BBC on its adaptation of Hilary Mantel's Wolf Hall.

DISNEY PARKS' CHRISTMAS DAY PARADE which airs December 25 on ABC will feature cast members from the hit Broadway musical Newsies, performing the original song Are You Ready For Christmas?, written by David Javerbaum and Adam Schlesinger. Tony Award-winning choreographer, Christopher Gattelli, will stage the number.

Everybody's favorite go-to guy for assured success, Neil Patrick Harris, co-hosts with Nick Cannon and Lara Spencer.

Segments were taped two weeks ago, with dozens of cameras capturing the event.

Harris showed his versatility as a performer by not only hosting the parade but also co-starring with hundreds of Disney characters, singers and dancers in one of the show's musical numbers.

Celebrating 30 years of holiday magic, the festivities will feature Mary J. Blige singing yuletide carols from her new album, A Mary Christmas, a duet by American Idol Season 6 winner Jordin Sparks and Jason Derulo, as well as special performances by Demi Lovato, the cast of Teen Beach Movie and Dove Cameron. Season's greetings will be had by all at Walt Disney World Resort in Florida with a gleeful rendition of Let Me Love You by Grammy Award-winning R&B artist Ne-Yo, along with star-studded sounds by English-Irish boy band The Wanted, Italian vocal trio Il Volo, American Idol Season 12 champion Candice Glover and more.

The show also will air in Canada on CBC Network and across the globe on the American Forces Network.

KINKY BOOTS the Tony Award-winning musical, featuring a book by Tony Award winner Harvey Fierstein and a score by Tony and Grammy winner Cyndi Lauper and choreographer by Tony Award winner Jerry Mitchell, will kick up their high heels on a national tour beginning September 4, 2014, at the Smith Center in Las Vegas.

THEATRICAL PRESS AGENT FIRM POLK & CO has welcomed some veteran flacks to their roster of press agents. They are: Tom D'Ambrosio, Wayne Wolfe, Frances White and Colgan McNeil.

They're going to be busy as Polk & Co. now represents Wicked, and the upcoming Broadway productions of Rocky, which begins February 11, 2014, If/Then which begins March 5 and The Velocity of Autumn which begins April lst.

As if that's not enough the firm has also taken on the representation of off-Broadway's Second Stage Theatre.

Beginning January 6, 2014, the four press agents, formerly of The Hartman Group, join the company of five including press agents Jessica Johnson and Michelle Bergmann.

The Polk & Co. team was also awarded representation of the off-Broadway hit Buyer & Cellar, joining the line-up of productions that includes Bronx Bombers, Of Mice and Men and Bedlam's Saint Joan & Hamlet.

Additionally, Polk & Co. represents Roundabout Theatre Company and their productions of Machinal, Cabaret, Violet, The Real Thing, Bad Jews, Dinner with Friends and Too Much, Too Much, Too Many.

Additional clients include Birdland Jazz Club, By Experience, Production & Set Designer Derek McLane and Emmy nominated actor and producer John Stamos.

Busy, busy, busy.

JESSIE J spent three days filming her latest video at 3 Mills Studio in London. What makes the filming a bit different is that she used 50 tons of sand.


OTHER PEOPLE'S MONEY


A COLLECTION OF ROYAL CHRISTMAS CARDS

1987 holiday photo card featured a happy portrait of the Queen and Prince Philip with their grandchildren, Princes William and Harry, and Peter and Zara Philips. Photo: Duke Auctioneers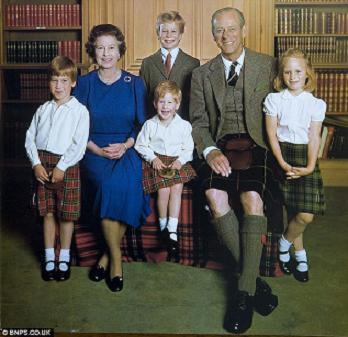 the British Royal Family sent to members of their staff beginning in 1981 with the marriage of Prince Charles to Lady Diana Spencer and continuing to 1998 were auctioned off last week.

The lot of 17 cards was hammered down by Duke Auctioneers in Dorset on December 13, 2013 for $4,052 to an undisclosed American buyer.

The auction house had estimated the cards would sell for around $982.

The cards were put up for bid by a former Buckingham Palace staff member. The hand-signed cards feature images of a young Charles and Diana after their marriage and then with their sons; the Queen and Prince Philip in both formal and relaxed poses; and the Queen Mother with her beloved corgis.

The annual holiday photograph on each card gives the public a poignant glimpse into the changing lives and turbulent years of the royal family between 1981 and 1998 - the years in which both Princes Charles and Andrew separated from their wives, and the year when Princess Diana was killed.

For instance, a 1987's holiday photo featured a happy portrait of the Queen and Prince Philip with their grandchildren, Princes William and Harry, and Peter and Zara Philips.

Hand signed Christmas cards from the Royal Family date back to 1911 when Princess Beatrice, the youngest child of Queen Victoria, sent out cards which read "Christmas Greetings and every Good Wish for the Coming Year."

A variation of that phrase is used on all of the cards: "With All Good Wishes for Christmas and the New Year" to "With Best Wishes for Christmas and the New Year."

Hand signed is the date and name of the sender.

Prince William and Kate have kept their Christmas cards private.


GET WELL SOON TO . . . .


TONY AWARD NOMINEE VALISIA LeKAE who originated the role of Diana Ross in the Berry Gordy musical Motown. She has dropped out of the production to undergo treatment for ovarian cancer.

The 34-year-old actress disclosed her diagnosis in a December 17 post on her Facebook page. "On Nov. 22, 2013, I had laparoscopic surgery to remove an endometrioma from my right ovary. A sample was taken from that endometrioma and on Dec. 2, 2013, my pathology results [revealed] that I was positive for Ovarian Clear Cell Carcinoma, Ovarian Cancer. After receiving a second opinion it was confirmed by my Gynecologic Oncologist on Dec. 9, 2013, that the diagnosis had been correct," she wrote. "Per the advice of my doctor, I will need to have another surgery (unilateral salpingo-oophorectomy) as well as chemotherapy. I am scheduled for Thursday (Dec. 19, 2013 ) and chemotherapy soon thereafter."

"Our thoughts and prayers are with Valisia during this challenging time, and we, along with the entire Motown the Musical family, are hoping for a complete and speedy recovery," producers said in a statement.

Felicia Boswell, who starred in the national tour of Memphis, has stepped into the role of Diana Ross.

Motown the Musical can be enjoyed at the Lunt-Fontanne Theatre. in NYC.



NUTCRACKER ROUGE conceived, directed and choreographed by Austin McCormick, with a script adapted and written by Jeff Takacs.

Nutcracker Rouge is called "a sparkling reimagining of the beloved Nutcracker tale told with erotic, sensual and opulent flair - a Baroque-Burlesque confection of theatre, dance, circus and sumptuous design.

The show contains partial nudity - no one under 16 will be admitted."

The cast includes Laura Careless as Marie-Claire, Jeff Takacs as Monsieur Drosselmeyer, Shelly Watson as Madame Drosselmeyer, circus artists Cassady Rose Bonjo, Courtney Giannone and Nicolas Maffey, and dancers Marisol Cabrera, Katrina Cunningham, Molly Griffin, Alexander Hille, Jakob Karr, Nicholas Katen, Kana Kimura, Tyler Phillips, Davon Rainey and Allison Ulrich.

The creative team includes Zane Pihlstrom (Set and Costume Design), Jeanette Yew (Lighting Design), Austin McCormick (Sound Design), John Starmer and Michael Givey (Technical Directors) and Nataliya Vasilyeva (Production Stage Manager).

The production has been extended with performances through January 12, 2014 at the Minetta Lane Theatre in New York City.

THE PIRATES OF PENZANCE by the New York Gilbert & Sullivan Players.

Under the artistic and music direction of Albert Bergeret.

The Pirates of Penzance, or The Slave of Duty centers on the dilemma of young Frederic who, as a child, was mistakenly apprenticed to the pirates until his twenty first birthday.

Helping Frederic to deal with this unusual predicament are the brash Pirate King, Ruth - the pirate maid-of-all-work, romantic Mabel, and the delightfully dotty Major-General Stanley.

On the rocky coast of Cornwall, England a band of tenderhearted pirates celebrates the coming of age of their apprentice, Frederic. Although Frederic's apprenticing to pirates was the mistake of his nurse maid Ruth, he has dutifully served, but he now announces his plan to devote his life to the extermination of piracy.

The naive young man meets a group of beautiful girls, their father the Major-General, and enlists the help of some bumbling and diffident policemen. But Ruth and the Pirate King tell Frederic that his apprentice papers state that he won't be of age until his 21st birthday, which won't occur until the distant date of 1940 because Frederic was born in leap year on the 29th of February.

Frederic is doomed to remain the pirate apprentice. The policemen try to capture the pirates on their own, but are easily defeated. Everyone is happy to discover that the pirates are really all "noblemen who have gone wrong," so all is forgiven in the end. December 27-31 at Symphony Space in New York City.

CHAMPIONA OF MAGIC LIVE feature world-class magicians presenting their award-winning acts instilling the belief of magic into the hearts of families everywhere.

From Las Vegas is Jason Andrews who recently returned to the US after a 3 month contract on board a luxury cruise line in China and Mark Kornhauser who has been a magic consultant and/or writer for Doug Henning, David Copperfield, and Terry Fator.

From Hollywood is Christopher Hart who became an advisor for David Copperfield's television specials, live shows, and was a key creator for the Great Wall of China special and Dana Daniels who teamed with his Psychic Parrot Luigi (yes, a Psychic Parrot), setting out to prove his little green friend is truly clairvoyant by performing incredible magic blended with rapid-fire clean comedy and audience participation.

Jade is a San Francisco native who, in 1994, was invited by the Royal Family of Monaco to perform at the Princess Grace Theater in Monte Carlo, an honor she considers a highlight of her career.

Performances December 28029 at the Julia Morgan Theater in Berkley, CA.

PLAY DEAD written by Todd Robbins and Teller. Featuring Todd Robbins who has ingested some 5000 light bulbs over the course of his career.

Directed by Teller. Yes, the Teller half of Las Vegas superstars Penn and Teller.

Invite death to come out and play in a creepy creation from Teller and performer/co-creator Todd Robbins who hosts a mesmerizing and terrorizing look at life, death and the horrific wonder between.

Weaving together storytelling, illusion and telepathy proves that there is nothing more arousing than unholy resurrection and we're never so alive as when we're scared to death.

The stories and events of this interactive production contains some disturbing images, strobe effect, theatrical haze, interactivity, brief moments of nudity and a great deal of fun.

Audiences are surrounded by sights, sounds and touches of the returning dead.

Material may be inappropriate for the faint of heart – or those under 18.

Performances through January 12, 2014 at the Geffen Playhouse in Los Angeles.


WHO'S WHERE


BRAD GARRETT and his friends Darrell Joyce, Michael Sommerville and Michael Malone will be getting laughs at a brand-new theatre custom-built for comedy at the MGM Grand in Las Vegas December 27, 2013-January 1, 2014.

JOSE CARRERAS performs Saturday, December 28, at the Guanzhou Opera House in Guanzhou, China.

JIM BRICKMAN has shows in Colorado this week. On Friday, December 27, he appears at the Lincoln Center in Ft. Collins,. Saturday's show is at the Paramount Theatre inDenver. Next Sunday, December 29, he's on stage at the Pikes Peak Center in Colorado Springs.

PITBULL is in the spotlight Thursday, December 26, at Barclays Center in Brooklyn. On Friday the show is at the MGM Grand at Foxwoods in Mashantucket.

BEYONCE is on stage this evening, Sunday, December 22, at Barclays center in Brooklyn. This is her last stop on her American tour before heading across the pond for the European leg, which begins February in Glasgow.

ALL-STAR CHRISTMAS DAY JAZZ JAM Host Chuck Redd leads this festive annual tradition, now in its 15th year, featuring D. C. favorites drummer Lenny Robinson, trumpeter Tom Williams, bassist James King, and vocalist Delores Williams.Wednesday, December 25, 2013. The Millennium Stage at the Kennedy Center in Washington, DC.

CHRIS ISAAK has a busy week with a show tonight, Sunday, December 22, at the Kravis Center in West Palm Beach, FL. On Friday he's on stage at the Agua Caliente Casino Resort Spa in Rancho Mirage, CA. Saturday finds him appearing at John Ascuaga's Nugget in Sparks, NV.




FINAL OVATION


PETER O'TOOLE nominated eight times for the Academy Award for Best Actor in a leading Role, making him the most-nominated actor never to win the award died December 14, 2013 at the Wellington Hospital in London, following a long illness. He was 81.

O'Toole attended the Royal Academy of Dramatic Art (RADA) from 1952 to 1954 on a scholarship after being rejected by the Abbey Theatre's drama school in Dublin by the director Ernest Blythe, because he couldn't speak Irish. At RADA, he was in the same class as Albert Finney, Alan Bates and Brian Bedford. O'Toole described this as "the most remarkable class the academy ever had, though we weren't reckoned for much at the time. We were all considered dotty."

O'Toole began working in the theatre, gaining recognition as a Shakespearean actor at the Bristol Old Vic and with the English Stage Company.

O'Toole appeared on Broadway just once, as Henry Higgins in a 1987 revival of Pygmalion. He gave his final stage performance in a revival of Jeffrey Bernard Is Unwell at the Old Vic in 1999.

Tony Award winning actor Kevin Spacey who is the Artistic Director of the Old Vic posted on his Twitter page: "Honored to have known Peter O'Toole & to call him a friend. He did 73 plays at Old Vic. A giant is gone & we shall not see his like again."

He made his television debut in 1954. He first appeared on film in 1959. O'Toole's major break came when he was chosen to play T. E. Lawrence in David Lean's Lawrence of Arabia (1962), after Marlon Brando proved unavailable and Albert Finney turned down the role.

He also appeared in Sean O'Casey's Juno and the Paycock at Gaiety Theatre, Dublin. Having been rejected by them, O'Toole fulfilled a lifetime ambition when he took to the stage of the Irish capital's Abbey Theatre in 1970, to perform in Samuel Beckett's Waiting for Godot alongside Donal McCann.

In 1959, he married Welsh actress Sian Phillips, with whom he had two daughters: actress Kate and Patricia. Peter and Siân were divorced in 1979. O'Toole and his girlfriend, model Karen Brown, had a son, Lorcan Patrick O'Toole who was born March 17, 1983.

O'Toole was plagued by serious illness for much of his life. In the late 1970s, his stomach cancer was misdiagnosed as resulting from his alcoholic excess. O'Toole underwent surgery in 1976 to have his pancreas and a large portion of his stomach removed, which resulted in insulin-dependent diabetes. In 1978, he nearly died from a blood disorder. He eventually recovered and returned to work, notably in The Stunt Man (1980) and My Favorite Year (1982), both of which brought him Academy Award nominations.

He was offered a knighthood in 1987, but turned it down for personal and political reasons.

On July 10, 2012, O'Toole released a statement that he was retiring from acting.

JOAN FONTAINE the Academy Award winning actress died in her sleep in her home in Carmel, CA on December 15, 2013. She was 96.

Fontaine was the sister of fellow Oscar-winner Olivia de Havilland who is 97 and lives in Paris. The relationship of the two sisters had been described as a "difficult" one.

The pair remain the only siblings to have both won Academy Awards for acting.

Fontaine made her stage debut in the 1935 West Coast production of Call It a Day and was soon signed to an RKO contract. During the 1960s, Fontaine appeared in several stage productions, including Private Lives, and Cactus Flower, as well as an Austrian production of The Lion in Winter.

Fontaine - born Joan de Beauvoir de Havilland in Tokyo - had four marriages which ended in divorce. Her first marriage was to actor Brian Aherne, in 1939; they divorced in April 1945. In May 1946, she married actor/producer William Dozier in Mexico City. They had a daughter, Deborah Leslie, in 1948 and separated in 1949. The following year, Fontaine filed for divorce. Fontaine's third marriage was to producer and writer Collier Young on November 12, 1952. Fontaine filed for divorce in November 1960. Fontaine's fourth and final marriage was toSports Illustrated golf editor Alfred Wright, Jr, in 1964. They divorced in 1969.

RAY PRICE country music singer, songwriter and guitarist, who was a member of the Country Music Hall of Fame, died December 16, 2013. He was 87.

On November 6, 2012, Ray Price confirmed that he was fighting pancreatic cancer. On December 2, 2013, Price entered a Tyler, Texas, hospital in the final stages of pancreatic cancer. On December 12 he returned home for hospice care. Price died at his home in Mt. Pleasant, Texas.

He is credited with changing the sound of country music from gutbucket country shuffle to propulsive honky-tonk and then to countrypolitan.

He appeared all over the country including frequnt performaces in Las Vegas. His last Sin City appearance in was in May 2012 at Boulder Station.

He is survived by his wife of more than 40 years, Janie, and by a son,Cliff, from a previous marriage.

Neil Portnow President/CEO of The Recording Academy issued the following statement: "Two-time Grammy winner Ray Price was a legendary country singer, songwriter and guitarist who had a prolific influence on the genre. With a career that spanned more than six decades, he consistently evolved his style and sound with versatile recordings that ranged from honky tonk to country swing. Known for his velvet-smooth voice and innovative approach to country music, Price collaborated with and influenced some of country's biggest stars. The industry has lost one of its true visionaries and great talents. Our sincerest condolences go out to his family, friends and fans, as well as the countless artists he inspired."













Next Column: December 29, 2013
Copyright: December 22, 2013. All Rights Reserved. Reviews, Interviews, Commentary, Photographs or Graphics from any Broadway To Vegas (TM) columns may not be published, broadcast, rewritten, utilized as leads, or used in any manner without permission, compensation and/or credit.
Link to Main Page
---
Laura Deni



For the snail mail address, please E-mail your request.
CLICK HERE FOR COMMENT SECTION