! >
Broadway To Vegas
  
  REVIEWS INTERVIEWS COMMENTARY NEWS

| | |
| --- | --- |
| | |
THE NUTTY PROFESSOR VERSUS EVITA - - AFTER A DECADE SHANIA TWAIN BACK ON STAGE - - LEROY NEIMAN FOUNDATION DONATION TO HELP HURRICANE SANDY VICTIMS - - WINTER RHYTHMS AT URBAN STAGES - - NEA 2013 ART WORKS GRANTS ANNOUNCED - - BROADWAY BLOWS BACK - - BELIEVERS - - HURRICANE SANDY LEAVES BEHIND HORROR STORIES - - DONATE . . . Scroll Down


Copyright: December 2, 2012
By: Laura Deni
CLICK HERE FOR COMMENT SECTION

JERRY LEWIS' THE NUTTY PROFESSOR OR EVITA?

Two shows are claiming the same stage.

At the November 18th PBS taping of An Evening With Jerry Lewis - Live from Las Vegas! which took place at the Orleans Hotel in Las Vegas, the 86-year-old Las Vegas resident announced that his production of A Nutty Professor would open on February 26, 2013 at the Marquis Theatre in New York City.

That information was heard by at least 800 people and picked up by several columnists.

As far back as February 2010 Lewis voiced that his goal was to open The Nutty Professor at the Marquis.

A statement that his dream had become a reality was news to the good folk producing Evita.

While it is true that Grammy winner Ricky Martin (Che), Olivier Award winner Elena Roger (Eva Perón) and Tony Award winner Michael Cerveris (Juan Perón) will play their final performances in the current Broadway revival of Evita Jan. 26, 2013, at the Marquis Theatre, they insist that the Tony-nominated revival of the Andrew Lloyd Webber and Tim Rice musical will continue its open-ended run following their departure.

This past week the producers promised that the new stars will be announced at a later date.

Either Lewis or the Evita honchos aren't telling the truth. You can't have both musicals on the same stage at the same time.

A week ago Ticketmaster was selling Evita tickets only through January 26, 2013, with Sunday performances on December 2, 9, 16, and 23 cancelled.

This week the major ticketing agency suddenly posted a new block of tickets for Evita at the Marquis through May 31, 2013.

A search couldn't locate any outlet selling tickets for The Nutty Professor, nor is that production listed as an upcoming shows at the Marquis.



Broadway To Vegas is supported through advertising and donations. Priority consideration is given to interview suggestions, news, press releases, etc from paid supporters. However, no paid supporters control, alter, edit, or in any way manipulate the content of this site. Your donation is appreciated. We accept PAYPAL. Thank you for your interest.






ART AND ABOUT

BELIEVERS
Hermes by Ines Doujak, 2012.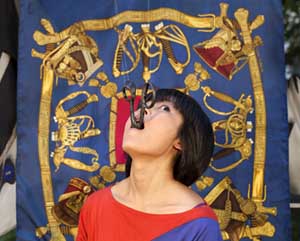 is an exhibition exploring blasphemy.

"The right to blasphemy should become a human right. The special right to the protection of religious sentiments, by contrast, should not. Trampling on such feelings is not a very empathetic thing to do, but the fact that they seem to be particular sensitive is not the fault of those who do not share that sensitivity. Everyone is free to keep Golden Calves in the privacy of their own home.

"In the public sphere, however, it must be permissible to laugh about them, ridicule them, and even offend them. Articles of faith are not very susceptible to fact-based discussion without a predetermined outcome, and so it is virtually impossible to impose rational limitations on their critique. That, after all, is what faith is: defending something even when everything that speaks for it has been refuted."

"We have put together an exhibition that uses the means of satire and deliberate misrepresentation, but also launches frontal attacks, against today's fetishes and Golden Calves as well as the tendency to genuflect before them.

"We were interested in addressing patterns of faith not just where they are obvious - in the religious context - but also in popular culture and political ideology.

When such patterns help establish compulsive ideas that go beyond the private realm to infect society at large, when personal sentiments develop an affinity for power and violence, it must be permissible to denounce them as well." This is the provocative Alexander Koch intro to Believers, a photography exhibition that is comprised of art about religious blasphemy and related topics.

The artists include: Zanny Begg, Joseph Beuys, Arno Brandlhuber, Chto Delat, Alice Creischer, Ines Doujak, Philippe Halsman, Barbara Hammer, Chris Martin, Adrian Piper, Pussy Riot, Christoph Schlingensief, Andreas Siekmann, Santiago Sierra, Andreas Slominski, Michael E. Smith, Sean Snyder, Franz Erhard Walther, and Tobias Zielony.

The Museum stressed that "the points of view raised are as important during this season as they are throughout the year."

Kow Gallery in Berlin, Germany until February 3, 2013.


SWEET CHARITY


LEROY NEIMAN FOUNDATION DONATES $25,000 TO AID VICTIMS OF HURRICANE SANDY

LeRoy Neiman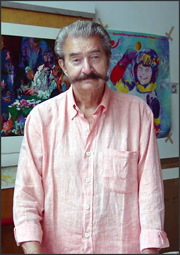 As it was during his lifetime, the celebration of LeRoy Neiman's life at The Friars Club Monday night, November 26, was a lively, upbeat affirmation of a life well lived. Comrades of the extraordinarily talented and generous artist gathered to honor his life with jokes, songs, anecdotes and poignant remarks by Hon. David N. Dinkins.

During the event, it was announced that The LeRoy Neiman Foundation had made a $25,000 donation to the Friars Club Sunshine Committee that is earmarked to help those effected by Hurricane Sandy.

Neiman's widow, Janet Byrne Neiman, on behalf of the LeRoy Neiman Foundation said, "We are honored by this wonderful tribute for LeRoy and that we can help the victims of Hurricane Sandy."

The program commemorated LeRoy Neiman's nearly century long legacy as an extraordinary artist committed to the service to others and helping those in need through generous philanthropy that epitomizes the philosophy that both he and his wife embraced.

Iconic Neiman drawings and prints of Frank Sinatra and Henny Youngman occupy the walls of the main dining room and anterooms of the 108 year old Friars Club. On this occasion they were accompanied by marvelous photographs of the artist shot by his good friend, Madison Square Garden lens-man, George Kalinsky. The photos spanning forty years, depicted the artist attending sports events and with friends like Muhammad Ali and Bette Midler.

The event was produced for the Friar's Club by the intrepid, Tony Award winning Broadway impresario Irving Welzer. Bill Boggs, K.T. Sullivan, Julie Budd, Lou DiBella, Robert Creighton, Stewie Stone, Irvin and Edith Drake, Marti Muller, Mark Simone, Rao's Frankie Pellegrino and Jerry Stiller were among the many Neiman friends and fans who packed the main room of the club to honor the artist.

Former New York City Mayor David Dinkins, who shared annual June birthday luncheons with lifelong friends Irv Welzer and LeRoy at the Friars so eloquently expressed, "LeRoy lived a full life. His death gives us reason to mourn, but his life leaves us so much to celebrate. LeRoy has left us with more than memories - he has left us a rich legacy of his friendship, a legacy of his colorful style, a legacy of his generosity, and a legacy of doing for others."

"It is said, my friends, that service to others is the rent we pay for our space on earth. LeRoy Neiman departed us paid in full. Let him not look down and find any of us in arrears."

The LeRoy Neiman Foundation has supported The School of the Art Institute Chicago, the LeRoy Neiman Center for Print Studies at Columbia University, the Arts Horizons LeRoy Arts Center in Harlem and the Good Tidings Foundation's LeRoy Neiman Art Center in San Francisco.

BROADWAY BLOWS BACK A benefit concert with celebrity performances to raise funds for New York and New Jersey communities affected by Hurricane Sandy.

The event promises to feature David Hyde Pierce, Ashley Brown, Patrick Wilson, Julie Murney, Robert Creighton, Max Crumm, Eden Espinosa, Dee Hoty, Natalie Joy Johnson, Raymond J. Lee, Carrie Manolakas. Jessie Mueller, Christopher Sieber, Elizabeth Stanley, Christiane Noll, Jane Monheit, Scott Alan and the Broadway Boys.

Written and directed by Joe Ricci. The musical director is James Lowe.

The producing team includes Richard H. Blake, Steve Chazaro, Mark Fisher, Michael Keeler, Raymond J. Lee and Betsy Werbel.

The Broadway company of Wicked, in conjunction with Mark Fisher Fitness, is behind the event. The show is sponsored by Broadway Cares/Equity Fights AIDS.

100% of proceeds will be donated to The Tunnel to Towers Foundation and The Mayor's Fund for NYC Hurricane Relief.

The Mayor's Fund retains no administrative fee, and one hundred percent of donations are being dispersed to relief efforts and organizations. Funds will support immediate aid needs — including, food, water and hygiene supplies — as well as long-term relief and restoration for victims affected by Hurricane Sandy.

Tunnel to Towers is very proud of the fact that no donations are being spent on overhead, and all hurricane funds are going directly to relief. The Foundation has active relief stations open seven days a week in Red Hook (Brooklyn), Far Rockaway/Long Beach (Long Island) and Staten Island.

December 10 at the Gershwin Theatre in New York City.

12-12-12 CONCERT to benefit the victim of Hurricane Sandy will take place December 12, 2012 at Madison Square Garden in New York City.

Music legends Paul McCartney, Bruce Springsteen, Jon Bon Jovi, Roger Waters, Kanye West, The Who, Billy Joel, and Alicia Keys.

"'12-12-12' is shaping up to be a showcase of musical royalty," producers James Dolan, John Sykes and Harvey Weinstein said in a statement. "The response of the entertainment community to help those most affected by Sandy has been nothing short of astounding."

All money raised for the Sandy concert will be administered by the Robin Hood Relief Fund, an anti-poverty group.

THE GROUP THEATRE TOO'S BROADWAY PERFORMANCE PROJECT tonight, December 2, at The Metropolitan Room in New York City. An evening of songs performed by some of Broadway's brightest stars. The event will be a fundraiser for Broadway Performance Project's 2013 season and will include several alumni from this past year's program.

The night also unveils The Nicole Fosse Scholarship, an initiative to allow more participation in the Broadway Performance Project.

The evening features; Richard Kline, Anita Gillette, Kurt Peterson, Colleen Zenk, Kevin Spirtas, Raissa Katona Bennett, Wayne Alan Wilcox, Sheri Sanders. Phillip Boykin, Candice Guardino,Sarah Amandes, Erin Elizabeth Eichhorn, Emily Nash and Stephanie Windland.

Directed by Kimberly Vaughn. Musical direction by Joshua Stephen Kartes. Produced by Justin Boccitto, Kimothy Cruse and Kimberly Vaughn.


HURRICANE SANDY LEAVES BEHIND HORROR STORIES


It's been a month since Hurricane Sandy went trick or treating. The aftermath of her pranks have been life changing for thousands and an annoyance for even more.

Two folks in the business, both living in the hard hit area of Manhattan e-mailed their personal experiences. Both are female, one is married and one is not. To protect them from being inundated with people trying to sell them everything from flood insurance to candles, Broadway To Vegas prints their thoughts, but omits their names.

From single lady, a writer/show producer:

"Sandy was a vicious storm and I was without heat, electricity, running water, food, a working toilet for one week. Ghastly.

"The super brought apples and cheese in from another borough because people in our area had no access to food markets for a week.

"We got our water from a rubber hose hooked up on Fifth Avenue, then had to carry it upstairs in a pitch black stairwell.

"Vendors on the sidewalk tried to sell candles for $25 but no one could access the ATM machines anyway.

"Don't even ask how I went to the toilet for 7 days."

From married lady, a publicist:

"I have to say it was a very stressful ordeal in NYC on many levels. One, the utter volume and numbers of people in such a comparatively small geographical space. We were without power, water, heat, wifi, etc. from Monday, Oct. 28 to November 4th.

"I never realized that you could pour water down a toilet to make it flush!

"We had candles and flashlights but no battery powered TV or Radio.

"Our building was safe as the doormen and building staff were great in a crisis. All the same, it was daunting.

"The first day we were just freaked out and ate comfort food and went to bed when it got dark. Day 2, we waited till daybreak and packed small bags and walked to my husband's midtown law offices where they had power and water but no phones. Walking down the stairs in the dark with a flashlight was like being in some Survivor-type reality show. We were both grateful that we were not on a high floor. We have friends that did 18 flights 2-4 times a day!

"At the office I had Internet access and my trusty cell with Sprint service allowed me communications. I think the phone companies will all be billing for additional minutes this month as everyone went way over their plans.

"We'd eat dinner in mid-town where there was power and by day 3-4 trucks were able to get some supplies in to town. There was not a "D" battery to be found and stores looked pretty depleted.

"It's amazing what we all take fore granted. On days 2, 3 and 4 we'd stealthy return to the apartment building in the dark. Once we walked south of 39th street there were no street lights, traffic signals, lights from stores or residential buildings. It was a cross between a Steven King novel and a Will Smith end-of-the-world movie. We'd climb the stairs and get into our apartment (having used the bathrooms uptown) and get directly into bed and sleep fitfully like bats till morning. On Friday, my husband got us a hotel room at the Marriott on Lex/49th so there was TV! Wifi! Hot showers and baths!

"Like everyone else, I did unplug my electronics and didn't lose data on my computer. We had to trash all the food from the fridge and freezer but we were much more fortunate than many others. The inconvenience was a small price to pay compared to so many friends that we knew outside of Manhattan who still were without power and heat and who operate cars where gas lines were many many hours long ..if they could even find a station.

"Then the bad news came. My husband's family home on Long Island was looted! We were contacted by a neighbor and called the police. As disasters bring out the best and worst in people, career criminals prey on the fact that no power equals no burglar alarms and my in-laws, in their 80s, spend October to April in Florida.

"They were insured but cleaned out of all coats, wedding gowns (mother in laws and sister in laws) cash, jewelry and silver and many irreplaceable sentimental things that will have little value but meant a lot to them. The crime wasn't as widely reported as what we know to be true, people stole generators, siphoned gas out of cars and some scumbags even posed as Red Cross workers and robbed homeowners."


WINTER RHYTHMS HEATS UP URBAN STAGES


For four years, Urban Stages in New York City has presented the crème de la crème of NYC's music scene in December and this year's Winter Rhythms promises the same higher caliber entertainment offering 24 shows in 12 days .

From award-winning stars like Julie Reyburn, Adriane Lennox. Robert Cuccioli and Karen Akers.

Beginning Tuesday, December 4 its Anything Goes: Karen Akers Sings Cole Porter.



Robert Cuccioli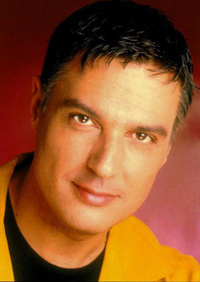 That is followed the next night with Peter Napolitano's songs from A Wedding, A Penthouse and a Pinocchio. Excerpts from three original musicals with book and lyrics by Napolitano, music by Barry Levitt, Matthew Martin Ward and Mark Janas. Performers include Tony nominee Robert Cuccioli, Julie Reyburn, Carole J. Bufford, Janice Hall, Mick Bleyer, Susan Winter, Adam Shapiro, Marcie Henderson, John McLaughlin, Miles Phillips, and Tyrone Robinson.

Also that night a performance by Lora-Faye Whelan.

Thursday, it's Life Is a Bitch celebrating the poetry and lyrics of Fran Landesman. Mary Foster Conklin, award-winning jazz vocalist, in his new tribute show to composer Fran Landesman the lyricist for The Nervous Set which contained the songs All the Sad young Men and Spring Can Really Hang You Up the Most, which carries those famous lines: "Every joke has a switch/ Every joker a twitch/ Every high has a hitch/ Baby, life is a bitch." Fran Landesman (1927-2011).

The evening will consist of a musical assortment of Landesman collaborators, including Tommy Wolf, Alec Wilder, Roy Kral and John Simon, with a special nod to past singers who were champions of Fran's songs, like Jackie and Roy and Suzannah McCorkle. John diMartino is on piano and special guest vocalist John DiPinto will sit in for several duets.

Also on Thursday, Nat 'King' Cole: Unforgettable Smooth Grooves with Cleve Douglass, internationally acclaimed jazz vocalist, channeling the legend.



Julie Reyburn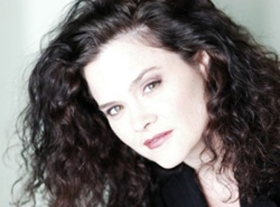 On Friday, December 7, Julie Reyburn, multiple award-winning cabaret artist, presents Winter Songs. Joining her will be Mark Janas as Musical Director with special guest, Joshua Dixon. Also that evening, Hopelessly In Love, the lyrics of Tom Toce with Carole J. Bufford, Jack Donahue and Marissa Mulder. Special guest: Karen Oberlin. Musical Director: Matthew Martin Ward. Directed by Peter Napolitano.

This new revue features the songs of celebrated lyricist Tom Toce with music by Tom and ten remarkably talented composers: Douglas Cohen, Rick Cummins, Zina Goldrich, David K. Israel, Jeff Lazarus, Shelly Markham, Peter Millrose, Kim Oler, Lew Spence and Alan Wolpert.

Saturday, December 8, you can be entertained by Carole Demas with special guest Paula Janis. Musical Director is Ian Herman with the event directed by Charles Repole.

Also on Saturday, Sean Hagerty performs a solo set of songs and instrumentals, looping violin, banjo, and mandolin combined with live video projections and electronics.

Next Sunday, December 9, Susan Winter, award-winning cabaret artist, in a celebration of Jewish heritage called Rise Up Singing. Also slated for that night Very Special Material 2012 featuring the award-winning songs of Sean Harkness, Nicholas Levin and Tracy Stark.

Kicking off the week of Monday, December 10, Excerpts From New Musicals followed by Emmy Winner Glen Rovens's Poetic License with TV/stage star David Garrison and opera star Daniel Okulitch.



Tony Award winner Adriane Lenox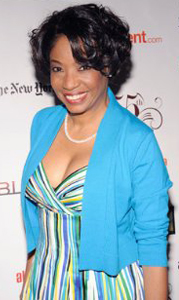 The double bill on Tuesday, December 11, has Tony Winner Adriane Lenox and Andrea Frierson with The Barry Levitt Trio. Barry then sticks around for his Jazz Jam. That's The Barry Levitt Trio with vocalists Kat Gang, LaTanya Hall and Gabrielle Stravelli.

Wednesday, December 12, it's Bill Zeffiro's Birthday Tribute to Frank Sinatra. Hosted by TV personality Bill Boggs, conceived and musical directed by Bill Zeffiro with jazz & cabaret artists Karen Oberlin, Marissa Mulder, Jenna Esposito, Terese Genecco, Shaynee Rainbolt, Julie Reyburn, Stacy Sullivan, Mary Foster Conklin, Ronnie Whyte, Valerie Lemon, Gregory Generet.

The event is following by award-winning vocalist Marissa Mulder in Listen to My Heart: The Jimmy Van Heusen Songbook.

Mary Liz McNamara's The Good Girl in Concert, highlights from a new musical is staged Thursday, December 13. Also that night Smile On My Face: The Songs of Richard Eisenberg with Erin Cronican, Rob Langeder, Stacie Perlman, Adam Shapiro.

Friday, December 14 has the double bill of The Songs of Douglas J. Cohen celebrating the musical theatre composer followed by cabaret artist Erin Cronivan in her solo debut show.

The closing night group concert followed by a champagne reception takes place Saturday, December 15.


SPREADING THE WORD


LA MAMA SETS CONVERSATIONS, WORKSHOPS AND PANELS taking place December 3 and 4, at LaMama in New York City to accompany the two productions of its European Young Directors' Forum.

Participants will include European directors Bojan Djordjev (Serbia/Croatia), Paul Knieriem (The Netherlands), Bastian Kraft (Germany), Ana Tomovic (Serbia) and U.S. based directors Anne Bogart, Meiyin Wang, John Jesurun and Charlotte Braithwaite.

These events are held in conjunction with two mainstage productions: Serbian National Theatre in The Doll Ship to December 2 and Zagreb Youth Theatre of Croatia in A Letter to Heiner Müller December 6 to 9.

Admission is free but space is limited.

LIVING HISTORY: RUDI ROSENFELD AND MOSHE YASSUR ON YIDDISH THEATRE On Monday, December 10, 2012 living legend Rudi Rosenfeld, the last of his generation of Yiddish-speaking actors in the storied Romanian Yiddish theatre, in conversation with noted Romanian Yiddish theatre director Moshe Yassur. Rosenfeld and Yassur will reflect on the past, present and future of Yiddish theatre in Romania and around the world with a panel of artists and theatre historians.

Vibrant from the late nineteenth century onwards but banned during World War II (save for a single Jewish theatre that performed Yiddish plays translated into Romanian, by special decree from the Antonescu regime), Yiddish-language theatre in Romania was consecrated when the new Communist government established the world's first state-operated Yiddish theatre in Bucharest in 1948. This theatre has been in continuous operation ever since, and now features primarily non-Jewish Romanian actors performing in Yiddish.

Monday, December 10, 2012 at the Martin E. Segal Theatre Centre at the Graduate Center, The City University of New York.

THREE WORKSHOP PERFORMANCES OF PINOCCHIO by Rogue Artists Ensemble pave the way for a full production in 2013. Based on the original text, the Rogues' Pinocchio is an adult retelling of Italian writer Carlo Collodi's tale of lust, desire, birth, death, madness and, ultimately, hope.

Audiences will be treated to an early, behind-the-scenes glimpse into the 10 years-in-the-making Hyper-theatrical performance, a visual feast that combines masked and unmasked actors; highly expressive physical performance; dance; interactive sets; multiple puppetry traditions; projected media; sophisticated special effects and illusions; and original music and songs.

Pay what you can on December 7, 8, and 11th at LA Mart in Los Angeles.

THE SIX MILLION DOLLAR MAN the popular television show which starred Lee Majors, had what might be the most unusual event which ever took place during the filming of a TV series.

On October 7, 1911 Elmer McCurdy, outlaw, alias Frank Curtis and Frank Davidson was killed at the age 31 during a robbery by a sheriff's posse near Pawhuska, Oklahoma. 66 years later, his mummified body was found in a fun house attraction at the Long Beach, California Nu-Pike amusement park. It was during the filming of an episode of TV's Six Million Dollar Man, that a technician rearranged what was thought to be a mannequin, only to have one of McCurdy's arms fall off. Elmer was returned to and buried in Guthrie, Oklahoma in 1977 under 2-1/2 yards of concrete in the Summit View Cemetery. We have no idea what happened to the prop tech.

VACATION PLANNING Michael Ritchie artistic director of Center Theatre Group, overseeing the Mark Taper Forum, the Ahmanson Theatre and the Kirk Douglas Theatre, and his wife actress Kate Burton (yes, the daughter of Richard Burton) are going to be hosting a theatre-themed Crystal Cruise adventure from New York through the Caribbean to Miami November 2-16, 2013.


OTHER PEOPLE'S MONEY


AMY WINEHOUSE PLAY CANCELLED the play about the late singer titled Amy, written by a group of 11 Danish playwrights, was due to open on January 30, 2013 in the 220-seat Royal Theatre in Copenhagen.

Reportedly, the singer's estate has blocked the use of her materials in the production, which had been given the green light by Danish copyright agency Koda.

Spokesman Nicolaj Hylten-Cavallius said in a statement: "We acted in good faith when we gave them the permission for the performance.

"We believed that the format, a theatre play, was okay. We were told by her father and the lawyers around him that we can forget all about the rights for the music, the photos, branding and everything."

.
NEA 2013 ART WORKS GRANTS ANNOUNCED


832 non-profit organizations nationwide have been named to receive an NEA Art Works grants. In March 2012, the NEA received 1,509 eligible applications for Art Works requesting more than $74 million in funding. The 832 recommended NEA grants total $23.3 million, span 13 artistic disciplines and fields, and focus primarily on the creation of work and presentation of both new and existing works for the benefit of American audiences.

Not-for-profit arts organizations in 47 states plus the District of Columbia and Puerto Rico will receive funding. The supported projects span 13 artistic disciplines and fields and focus primarily on the creation of work and presentation of both new and existing works for the benefit of American audiences. In addition, the NEA will award Creative Writing Fellowships to 40 outstanding poets for a total of $1 million. This grant announcement is the first of several for fiscal year 2013.

Theater and Musical Theater grants of varying amounts were awarded to:

About Face Theatre Collective Chicago, IL - Actors Theatre Of Louisville, Inc. Louisville, KY - Alley Theatre Houston, TX - Alternative Theater Ensemble (aka AlterTheater) San Rafael, CA - Amas Musical Theatre, Inc. New York, NY - American Conservatory Theatre Foundation (aka American Conservatory Theater (A.C.T.)) San Francisco, CA - American Repertory Theatre Cambridge, MA - Arden Theatre Company Philadelphia, PA - Ars Nova Theater I, Inc. (aka Ars Nova) New York, NY - Atlantic Theater Company New York, NY.

The list also includes: Berkeley Repertory Theatre (aka Berkeley Rep) Berkeley, CA - Borderlands Theater Teatro Fronterizo, Inc. Tucson, AZ - Cape Fear Regional Theatre at Fayetteville Inc. (aka Cape Fear Regional Theatre) Fayetteville, NC - Center Stage Associates, Inc. Baltimore, MD - Center Theatre Group of Los Angeles (aka Center Theatre Group) Los Angeles, CA - Cherry Lane Alternative Inc. (aka Cherry Lane Theatre) New York, NY - Chicago Theatre Group, Inc. (aka Goodman Theatre) Chicago, IL - Children's Theatre Company and School (aka Children's Theatre Company) Minneapolis, MN - Cincinnati Playhouse in the Park Cincinnati, OH.

Also honored are: City Theatre Company, Inc. Pittsburgh, PA - Civilians, Inc. (aka The Civilians) Brooklyn, NY - Classical Theatre of Harlem, Inc. New York, NY - Cleveland Public Theatre, Inc. Cleveland, OH - Clubbed Thumb, Inc. New York, NY - Connecticut Players Foundation, Inc. (aka Long Wharf Theatre) New Haven, CT - Contemporary American Theatre Festival, Inc. Shepherdstown, WV - Cornerstone Theater Company, Inc. - Los Angeles, CA - Court Theatre Fund (aka Court Theatre) Chicago, IL - Crowded Fire Theater Company (aka Crowded Fire Theater (CFT)) San Francisco, CA - Curious Theatre Company Denver, CO - Cygnet Theatre Company San Diego, CA.

Receiving the grants are: Dallas Theater Center Dallas, TX - Denver Center for the Performing Arts Denver, CO - District of Columbia Jewish Community Center (on behalf of Theater J) Washington, DC - East-West Players, Inc. (aka EWP) Los Angeles, CA - Emerson College Boston, MA - Eugene O'Neill Memorial Theater Center, Inc. Waterford, CT - Fayetteville State University Fayetteville, NC - Fiji Theater Company, Inc. (aka Ping Chong & Company) New York, NY - Foundry Theatre, Inc. New York, NY - GableStage, Inc. Coral Gables, FL - Geva Theatre Center, Inc. Rochester, NY - Gilloury Institute (aka Silk Road Rising (formerly Silk Road Theatre Project) Chicago, IL - Golden Thread Productions San Francisco, CA.

Making the cut are: Arts Beat Ensemble Hartford, CT - Hartford Stage Company, Inc. (aka Hartford Stage) Hartford, CT - Hippodrome State Theatre, Inc. (aka Hippodrome Theatre) Gainesville, FL - Home for Contemporary Theatre and Art, Ltd. (aka HERE) New York, NY - Honolulu Theatre for Youth Honolulu, HI - Huntington Theatre Company, Inc. Boston, MA - Idris Ackamoor & Cultural Odyssey (aka Cultural Odyssey) San Francisco, CA - Imagination Stage, Inc. (aka Imagination Stage) Bethesda, MD - In the Heart of the Beast Puppet and Mask Theatre Minneapolis, MN - InterAct, Inc. (aka InterAct Theatre Company) Philadelphia, PA - Intersection San Francisco, CA - Kansas City Repertory Theatre, Inc. Kansas City, MO - Kitchen Dog Theater Company (aka Kitchen Dog) Dallas, TX.

Included are: Lark Theatre Company, Inc. (aka Lark Play Development Center) New York, NY - Latino Theater Company Los Angeles, CA - Lookingglass Theatre Company Chicago, IL - Ma-Yi Filipino Theatre Ensemble, Inc. (aka Ma-Yi Theater Company) New York, NY - Mabou Mines Development Foundation, Inc. (aka Mabou Mines) New York, NY - Mad River Theater Works Zanesfield, OH - Manhattan Theatre Club, Inc. New York, NY - Metro Theater Company St. Louis, MO - Milwaukee Repertory Theater, Inc. (aka The Rep) Milwaukee, WI - Mint Theater Company New York, NY - Miracle Theatre Group Portland, OR - Mixed Blood Theatre Company Minneapolis, MN - Mo'olelo Performing Arts Company San Diego, CA.

On the awards list are: National Alliance for Musical Theatre, Inc. New York, NY - National Music Theatre Network, Inc. (aka New York Musical Theatre Festival) - New York, NY - National New Play Network, Ltd. (aka NNPN) Washington, DC - New 42nd Street, Inc. (aka New Victory Theater) New York, NY - New Dramatists, Inc. New York, NY- New Federal Theatre, Inc. New York, NY - New Group, Inc. (aka The New Group) Manhattan, NY - New Harmony Project, Inc. Indianapolis, IN - New Paradise Laboratories Theatre, Inc. (aka New Paradise Laboratories) - Philadelphia, PA - New York Stage and Film Company, Inc New York, NY - New York Theatre Workshop, Inc. New York, NY - New York University (on behalf of Skirball Center for the Performing Arts) New York, NY.

Receiving grants will be: Ojai Playwrights Conference Ojai, CA - Omaha Theater Company (aka The Rose Theater) Omaha, NE - Oregon Children's Theatre Company Portland, OR - Oregon Shakespeare Festival Association Ashland, OR - Pangea World Theater Minneapolis, MN - Paul Mesner Puppets, Inc. Kansas City, MO - People's Light & Theatre Company Malvern, PA - Perseverance Theatre, Inc. Douglas, AK - Philadelphia Theatre Company Philadelphia, PA - Pig Iron Theatre Company Philadelphia, PA - Plan-B Theater Company Salt Lake City, UT - Play Production Company, Inc. (aka The Play Company) New York, NY - PlayPenn, Inc. Philadelphia, PA - Playwrights Foundation, Inc. San Francisco, CA - Playwrights Horizons, Inc. New York, NY - Playwrights' Center, Inc. Minneapolis, MN - Portland Center Stage Portland, OR - Portland Playhouse Portland, OR - Portland Stage Company, Inc. Portland, ME - Present Theatre Company, Inc. (aka The Present Company) New York, NY.

On the list are: Robert W. Woodruff Arts Center, Inc. (on behalf of Alliance Theatre) Atlanta, GA - San Diego Repertory Theatre (aka San Diego Rep) San Diego, CA - Saratoga International Theatre Institute, Inc. (aka SITI ) New York, NY - Sautee Nacoochee Community Association, Inc. Sautee Nacoochee, GA - Seattle Children's Theatre Association, Inc. Seattle, WA - Second Stage Theatre, Inc. New York, NY - ShadowLight Productions San Francisco, CA - Shakespeare Theatre (aka Shakespeare Theatre Company) Washington, DC - Signature Theatre Company (aka Signature Theatre) New York, NY - Signature Theatre, Inc. (aka Signature) Arlington, VA - Soho Repertory Theatre, Inc. (aka Soho Rep) New York, NY - South Coast Repertory, Inc. Costa Mesa, CA - Southern Rep New Orleans, LA - St. Ann Center for Restoration and the Arts, Inc. (aka St. Ann's Warehouse ) - Brooklyn, NY - Stagebridge Oakland, CA - Steppenwolf Theatre Company Chicago, IL - Studio Theatre, Inc. Washington, DC - SU Theatre Corporation (aka Syracuse Stage) Syracuse, NY - Sundance Children's Theatre Inc. (aka Sundance Institute Theatre Program) Park City, UT - Synetic Theatre, Inc. Arlington, VA .

Honored are: Thalia Spanish Theatre, Inc. Long Island City, NY - Theater Breaking Through Barriers Corp. (aka TBTB) New York, NY - Theater Mu Incorporated (aka Mu Performing Arts) Saint Paul, MN - Theatre for a New Audience, Inc. New York, NY - Theatre Latte-Da Minneapolis, MN - Theatre of Yugen, Incorporated San Francisco, CA - Theatre Squared, Inc. (aka TheatreSquared) Fayetteville, AR - TheatreWorks Palo Alto, CA - Transport Group New York, NY - Triad Stage, Inc. Greensboro, NC - Trinity Repertory Company Providence, RI - True Colors Theatre Company, Inc. Atlanta, GA - Underground Railway Puppets & Actors, Inc. Cambridge, MA - Victory Gardens Theater Chicago, IL - Village Theatre Issaquah, WA - Vineyard Theatre & Workshop Center, Inc. (aka Vineyard Theatre) New York, NY - Washington Drama Society, Inc. (aka Arena Stage) Washington, DC - Watts Village Theater Los Angeles, CA - William Inge Festival Foundation (aka William Inge Center for the Arts) Independence, KS - Wilma Theater, Inc. Philadelphia, PA - Women's Project & Productions (aka Women's Project) New York, NY - Woolly Mammoth Theatre Company Washington, DC - Yale University (on behalf of Yale Repertory Theatre) New Haven, CT - Zachary Scott Theater Center (aka ZACH Theatre) Austin, TX.

Literature Fellowships: for Creative Writing in Poetry provides each recipient with $25,000. Among the poets receiving fellowships is Joshua Kryah of Las Vegas. Kryah was born and raised in Saint Louis, Missouri. He holds an MFA from the Iowa Writers' Workshop and a Ph.D. from the University of Nevada, Las Vegas, where he was a Schaeffer Fellow in poetry. His first collection of poems, Glean (2007), won the Nightboat Books Poetry Prize.


TABLE SETTING OF THE YEAR
At a State Banquet in honor of the Amir of Kuwait Queen Elizabeth is standing reading from notes. Seen in the photo, in addition to the Kuwait officials, are Prince Charles, Duchess Camilla and Prince Philip. Credit: WPA Pool/Getty Images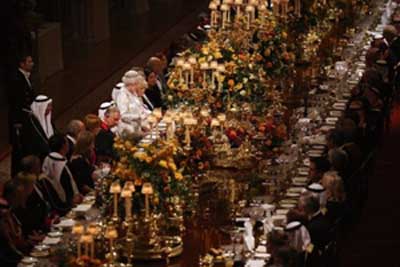 So you think you know how to set a table. Ha!

The candle sticks you got as a wedding present won't cut it, and never mind those craft classes where you make stuff out of overpriced beads, seeds, fake fruit and leaves.

His Highness the Amir Sheikh Sabah Al-Ahmad Al-Jaber Al-Sabah of Kuwait arrived at Windsor Castle on November 27, 2012 in Windsor, England where he was royally feted and greeted by Queen Elizabeth II.

And, boy do we mean royally. The official chow down was - awesome.

Nobody does a state visit better than the British.

They pulled out all the stops for the three day visit of the Amir of Kuwait. It isn't often that such a visit warrants such pomp, circumstance, jewels and flowers.

Queen Elizabeth brought the blue bloods home, telling her children to be there for dinner. All dolled up and looking every inch the royals that they are, it was a diamond bling, royal sash sit down.

The Amir was accompanied by one of his three wives. The candle-lit banquet in Windsor Castle's George's Hall was attended by Prince Charles, Camilla, the Duchess of Cornwall, The Princess Royale, that would be Anne, Prince Andrew and his two daughters, the princesses Beatrice and Eugenie, Prince Edward and his wife Sophie, the Countess of Wessex and other senior royals.



A grand view of the State Banquet at Windsor Castle for the Amir of Kuwait Credit: WPA Pool/Getty Images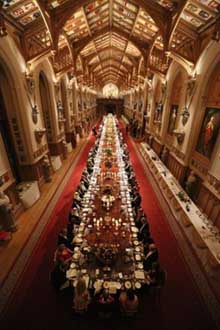 Also dining on poached turbot, Windsor partridge and dark chocolate gateau to a military band playing background of music by Bach and a Beatles compilation were David Cameron, George Osbourne and about 160 others.

They ate from a table of mahogany, made in 1849. To guarantees that nobody literally rubbed elbows, 60 leaves extended the table the length of the Hall. The room itself is 55.5 metres long and 9 metres wide.

The Queen sat at the center, where there were Yeomen warders, or Beefeaters, standing guard. About 40 footmen attended to the guests.

It took about two days to set the table and it is done with precision of microscopic brain surgery. Each glass, plate and piece of silverware is lined up from the table's edge with a ruler. Chairs are placed 27 inches from the table.

Whether guests consume alcoholic beverages or not, there are six glasses in front of each guest: one for red wine, another for white, one for port, two for champagne - one for toasting and the other to go with dessert - and one for water.

Her Majesty is extremely sensitive to accommodate the food preferences of her guests including those who for religious or personal reasons don't drink wine or champagne.

In 2009 Prince Philip hosted a lunch for 200 which had a vegan menu prepared by Edible Food Design, one of Windsor's regular catering companies.

The resulting menu included roasted pear salad with cobnuts and chicory, Portobello mushrooms stuffed with artichoke and herbs and pearl barley risotto.

So, how many does your dining room table sit?



MUSEUM OF THE MOVING IMAGE SALUTES HUGH JACKMAN

Hugh Jackman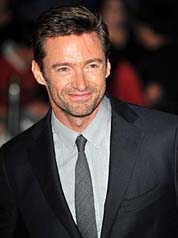 in an event taking place Tuesday, December 11, 2012 at Cipriani Wall Street in NYC.

Expected to join in the celebration to honor the Tony and Emmy award winning Jackson are Alec Baldwin and Mike Nichols, Rachel Weisz, Anne Hathaway, Liev Schreiber, Universal's Ron Meyer and Fox's Jim Gianopulos.

Also on the invite list are many of Jackman's fellow cast-mates from the eagerly awaited screen version of the musical epic Les Misérables, in which Jackman headlines as Jean Valjean.

The flick is scheduled for a December 14 release.

Hugh Jackman will join the ranks of past honorees who have received the Museum's Salute, including;

Alec Baldwin, Tom Cruise, Clint Eastwood, Robert DeNiro, Goldie Hawn, Dustin Hoffman, Tom Hanks, Steve Martin, Mike Nichols, Al Pacino, Sidney Poitier, Julia Roberts, Martin Scorsese, and Steven Spielberg.

Funds raised from the Salute support the programs, exhibitions, and educational activities of Museum of the Moving Image.

The education programs, which include curriculum-based tours, screenings, and workshops, serve nearly 60,000 students per year.


CURTAIN DOWN


THE STAGE DELI that New York City deli, famous for its overstuffed sandwiches named for celebrities, has closed after being in business for over 75 years.

Some of the celebrities whose names were immortalized in corned beef and pastrami - and don't forget the cheesecake - included; Mel Brooks, Tom Cruise, Clint Eastwood, Harvey Fierstein, Al Roker, Adam Sandler, Larry David, Howard Stern. Clint Eastwood, Cindy Adams, Marv Albert, Joel Grey, Richard Simmons, Katie Couric, George Pataki, Howie Mandel, Stephen Sondheim, James Gandolfini, Tiger Woods, Conan O'brien, Larry Gatlin, Alex Rodrigez, Gloria Estefan, Aretha Franklin, Derek Jeter, Hugh Jackman, Donald Trump, Robert Klein, Rudy Giulani and Tim Robbins.

The best named dishes; The Sid Caesar's Salad and the Dolly Parton, which was "Twin rolls of pastrami and corned beef."



IT'S A WONDERFUL LIFE! the 1946 Radio Show directed by Charlotte Moore.

Starring Rory Duffy, Katie Fabel, Kristen Griffith, Ian Holcomb, Peter Moloney, and Max Gordon Moore.

Christmas Eve, 1946.

George Bailey, the nicest guy in town, but in a terrible predicament, is perched precariously on a bridge threatening suicide.

Enter Clarence, George's guardian angel who has not yet earned his wings. Clarence shows George what Bedford Falls would be if George had never been born!

This favorite Christmas Season drama is brought vividly to life in a stage adaptation of Frank Capra's classic film of sacrifice and redemption in small town America.

Set in a radio station in the 1940's, with a live sound FX artist, this poignant drama comes to life with six actors portraying 25 characters.

P.S. Clarence wins his wings.

On the W. Scott McLucas Studio Theatre stage December 5th - 30th at The Irish Rep in NYC.

GOLDEN CHILD by Terrence McNally. Directed by Walter Bobbie.

The limited engagement stars Academy Award winner F. Murray Abraham, Dierdre Friel, Coco Monroe, two- time Emmy and Tony Award winner Bebe Neuwirth, Emmy Award nominee Lee Pace, Ethan Phillips, Lorenzo Pisoni, Will Rogers, and Eddie Kaye Thomas.

Its opening night of Vincenzo Bellini's (Lee Pace) new opera I Puritani in Paris, and the Italian composer is determined to win the adulation of not only his audience, but his colleagues and rivals as well. When the curtain falls, will a thunderous ovation cement his prominence? Or has Bellini unwittingly composed his own swan song?

Blending 21st century language with the timeless beauty of 19th century bel canto opera, Terrence McNally's new play portrays the final act of an artist whose desire for greatness has eclipsed all else.

The creative team includes Santo Loquasto (scenic design), Jane Greenwood (costume design), Peter Kaczorowski (lighting design), Ryan Rumery (sound design), and Tom Watson (hair & wig design).

Presented by the Manhattan Theatre Club, Golden Child officially opens December 4 at New York City Center – Stage I.

OTHER DESERT CITIES by Jon Robin Baits. The Tony-nominated drama is directed by Robert Egan.

Starring JoBeth Williams as family matriarch Polly Wyeth opposite Robert Foxworth as her husband, Lyman. Michael Weston is cast as Trip Wyeth, with Robin Weigert as Brooke Wyeth and Jeannie Berlin as Silda Grauman.

The acclaimed, explosive Christmas drama is about a Republican family whose holiday celebration is derailed when their liberal daughter arrives with her new memoir that seeks to unveil a painful secret.

Other Desert Cities has scenic design by Takeshi Kata, costume design by Alex Jaeger, lighting design by Lap Chi Chu and sound design by Adam Phalen.

In previews, with the official opening slated for December 9 at the Mark Taper Forum in Los Angeles. The production runs through January 6, 2013.

MIKE TYSON: UNDISPUTED TRUTH starring boxer Mike Tyson, helmed by renowned director Spike Lee and producer James L. Nederlander, has announced a tour which is set to begin February 2013.

The legendary boxer, Iron Mike, will kick off his 10-week tour with a two-night engagement at the Murat Theatre in Indianapolis on February 12 –13. The three month tour will visit over 36 cities including Chicago, San Francisco, Los Angeles, Houston, and Washington D.C. He's set to appear at the San Diego Civic Theatre on March 5, 2013.

SIDE BY SIDE BY SONDHEIM Directed and Choreographed by Kevin Black. Musical Direction by Caryl Fantel.

A dazzling array of some of Sondheim's best-known songs, featuring numbers from landmark shows that revolutionized musical theatre with their masterful craft and astounding creativity. Including: Company, Follies, A Little Night Music, West Side Story, Gypsy A Funny Thing Happened On The Way to the Forum, Anyone Can Whistle, Pacific Overtures and Do I Hear A Waltz?

Four performances Fridays, Saturdays and Sundays through December 23 at the Stage Door Theatre at the Byron Carlyle in Miami Beach, FL.


WHO'S WHERE




SHANIA TWAIN has returned to the stage after almost a decade, opening her first engagement at Caesars Palace in Las Vegas under a two year contract. Her show is directed by Raj Kapoor, costumes by Marc Bouwer, and choreography by Mandy Moore.

THE MUSICAL PARLOR OF EMILY DICKINSON presented by Music Division Chief George Boziwick and the Red Skies Music Ensemble, this program recreates the intimate setting of music-making in the Dickinson home. A selection of popular ballads, minstrel tunes, and Irish dance music from Emily's own music book illustrates in performance, pictures, and commentary how the Dickinson's collected, listened to, and performed the music of their time. Saturday, December 8, 2012, at the New York Public Library for the Performing Arts, Dorothy and Lewis B. Cullman Center, Bruno Walter Auditorium.

EMBASSY SERIES presents Holiday Baroque Music with Luxembourg artists, Marc Weydert and pianist Maurice Clement offering Holiday Baroque Music. In addition, the program will include a few arias from the Holiday Tradition, including The Trumpet Shall Sound from Messiah and Arm, Arm Ye Brave, from Judas Maccabeus. There will also be carolers, champagne, wine, hors-d'œuvres, and a great buffet dinner, prepared by the marvelous in-house chef. December 6-8 in the elegant Luxembourg Embassy in Washington, DC.

THE PLYMOUTH PHILHARMONIC ORCHESTRA and conductor Steven Karidoyanes present Holiday Pops, a festive program featuring seasonal favorites. WBZ Radio host Jordan Rich will narrate 'Twas the Night Before Christmas accompanied by the orchestra. Tenor Matthew Anderson, equally at home on the Carnegie Hall stage or with the Boston Pops, joins the Phil and the talented Federal Furnace School Treble Chorus, directed by Kathy McMinn, in God Bless Us Everyone as sung by Andrea Bocelli for the Disney film A Christmas Carol, as well as the holiday classic,O, Holy Night. December 8-9, Memorial Hall in Plymouth, MA.

THE BAY-ATLANTIC SYMPHONY offers a Holiday Concert series including delightful festive music by Bach, Pachelbel, Respighi, Strauss, and others on December 8 and 9. The concerts, conducted by Music Director Jed Gaylin, will take place on Saturday, December 8, at the Frank Guaracini, Jr. Fine and Performing Arts Center, Cumberland County College, Vineland, NJ; and Sunday, December 9, at the Richard Stockton College Performing Arts Center, in Galloway Township, NJ.

ADAM PASCAL the Tony nominee brings his hot new show to 54 Below in New York City for one night only on December 3.

THE IRISH TENORS making pretty sounds Monday, December 3, at the Keith-Albee Theatre in Huntington, WV. On Friday they'll be singing at the Kravis Center in West Palm Beach, FL.

ROBIN WILLIAMS brings his stand up talents to the Salle Wilfrid-Pelletier in Montreal, QC on Wednesday, December 5. On Friday he'll be getting laughs at the Jubilee Auditorium in Calgary, AB.

LADY GAGA performs Monday, December 3, at the Stadium in Cape Town, South Africa. On Thursday she's in the spotlight at the Telenor Arena in Fornebu, Norway. Next Sunday, December 9, the show is at the SKK Arena in St. Petersburg, Russia.

BRUCE SPRINGSTEEN in the spotlight Tuesday, December 4 at the Honda Center in Anaheim, CA. Thursday's show is at the Jobing.com Arena in Glendale, AZ.

CELTIC WOMAN opens a two night stand Monday, December 3, at the Heinz Hall for the Performing Arts in Pittsburgh. Thursday's show is at the Fox Theatre in Detroit. On Friday the gals will be singing at the Convention Center in Minneapolis. On Saturday they begin a two nighter at the Pfeiffer Hall in Naperville, IL.


FINAL OVATION


MARTY RICHARDS famed Broadway publicist and show producer died November 26, 2012. He was 80.

The Broadway community mourned the loss of the celebrated gentleman by dimming the marquees of Broadway theatres in New York on Tuesday, November 27.

Charlotte St. Martin, Executive Director of The Broadway League, said, "For over 50 years, Marty Richards has been transferring his passion for theatre to the stage. The popularity of his shows has brought many generations to Broadway. He was an admirer of talent, and we were an admirer of his. His love for the arts was matched only by his generosity and philanthropic causes. He will be greatly missed, and our thoughts are with his family and friends."

Mr. Richards produced such Broadway hits as On the Twentieth Century, Sweeney Todd, La Cage Aux Folles (original and 1st revival), Grand Hotel, The Life, Will Rogers Follies amongst many others. His shows have won over 40 Antoinette Perry "Tony" Awards as well as numerous Drama Desk and Outer Critics Circle Awards. In addition, his production of Crimes of the Herart garnered a Pulitzer Prize. Richards was the producer of the original Chicago on Broadway and went on to win an Academy Award for producing the film version in 2003. His other films include The Shining, Boys From Brazil, Fort Apache and The Bronx.

Richards was also a generous philanthropist. He, along with his late wife Mary Lea Johnson Richards, was instrumental in founding Broadway Cares/Equity Fights AIDS and Meals on Wheels. Richards went on to establish the liver and kidney transplant unit at the NYU Medical Center that bears his wife's name. Richards also created the New York Center for Children to care for abused children and their families.

He is survived by his brother Bruce Klein, his niece Lisa Kirschner and nephew Sean Klein. Other family survivors include Mrs. Elaine Johnson Wold, Diana Johnson Firestone, and J. Seward Johnson, Jr.

MILIKI known as Miliki The Clown died of pneumonia "at the stroke of midnight on Saturday, (November 17, 2012) surrounded by his family at the Madrid Hospital Ruber Internacional," in Spain. He was 83.

His death was reported by the production company Globomedia. 'Miliki' was the father of Emilio Aragón, Counselor of Globomedia partner and one of its founders. A member of a family of great tradition clowns, he was part of the trio Gaby, Fofó y. Miliki who achieved enormous success with the program There Once Was a Circus.

Gabriel Abaroa Jr. President/CEO of The Latin Recording Academy issued the following statement: "Two-time Latin Grammy winner Miliki was a singer, musician, actor, television host and writer who entertained audiences for more than seven decades. Born Emilio Aragón Bermúdez, he and his family have been renowned entertainers throughout Spain for generations. Beginning his career in 1939 with his brothers and forming the trio Gaby, Fofó and Miliki, his vaudevillian roots would lead him to become one of the most beloved children's characters of all time throughout the Spanish-speaking world. He will forever be remembered in the hearts of young and old along with his trademark phrase, '¿Cómo están ustedeeeeeessss?.' Our sincerest condolences go out to his family, friends and to all those who have been touched by his humor."

JUAN CARLOS CALDERON Spanish singer-songwriter and musician died Monday, November 26, 2012 in a Madrid, Spain clinic. He was 74.

In United States he recorded, as a composer and producer, with artists of the stature of Herp Alpert, Sheena Easton, Laura Branighan, Plácido Domingo and Enmanuel. In 1985 began his work as a composer and producer of Luis Miguel and achieved his major successes with the album A Man Looking For a Woman. In 1996 he started recorded in Spanish Nat King Cole with John Secada, Natalie Cole and Ana Belén, among others.

Gabriel Abaroa Jr. President/CEO of The Latin Recording Academy issued the following statement: "Juan Carlos Calderón was a composer, producer, performer, and arranger whose impressive career lasted more than four decades. He collaborated with a wide range of artists and was one of the first musical visionaries to cross Latin music over to mainstream radio in the United States, thus paving the way for many of Latin music's emerging artists. Among his numerous songs was the international hit "Eres Tú," which he composed for the group Mocedades. In 2010, we were honored to present him with The Latin Recording Academy Trustees Award for his contributions to and excellence in the field of recorded music. The world of music has lost one of its most important songwriting pioneers, and our deepest sympathies go out to his family, friends, and all who had the pleasure of working with him."








Next Column: December 9, 2012
Copyright: December 2, 2012. All Rights Reserved. Reviews, Interviews, Commentary, Photographs or Graphics from any Broadway To Vegas (TM) columns may not be published, broadcast, rewritten, utilized as leads, or used in any manner without permission, compensation and/or credit.
Link to Main Page
---
Laura Deni



For the snail mail address, please E-mail your request.
CLICK HERE FOR COMMENT SECTION