! >
Broadway To Vegas
  
 SHOW REVIEWS CELEBRITY INTERVIEWS GOSSIP NEWS

| | |
| --- | --- |
| | |
AGATHA CRISTIE MYSTERY CAUSES UP-ROAR - - MARIE ANTOINETTE PEARLS - - THE FARNSWORTH INVENTION - - NEW VERSION OF CINDERELLA AT THE OLD VIC - - KANSAS CITY REP ANNOUNCES NEW ARTISTIC DIRECTOR - -WOMEN CREATING TELEVISION AND RADIO HONORED - - CAROL LAWRENCE AND DONNA McKECHNIE IN GIRL'S ROOM - - ANTHONY McCALL EXHIBITION - - DONATE . . . Scroll Down


CANCELLATION OF AGATHA CHRISTIE'S TEN LITTLE INDIANS PUTS CITIZENS ON WAR PATH - SCHOOL BACKS DOWN!
Lakota, Ohio is about 25 miles north of Cincinnati. Lakota isn't accustomed to making headlines. This past week they are discovering what it's like to be under the glare - all because the play Ten Little Indians by Agatha Christie - scheduled to be staged this week-end - was abruptly cancelled.

Local NAACP President Gary Hines complained to Lakota officials that the play, based on Christie's 1939 mystery novel was racist and inappropriate for a school production. He contends that the play is just a symptom of a larger problem at Lakota - lack of racial diversity among Lakota's students and teachers which permitted the play to be chosen in the first place.

East Lakota High School is designed to meet the needs of a middle/upper class community with over 80 percent going on to college. The faculty includes 125 certified teachers, counselors and administrators with an average of 13.8 years experience. Of these, 60% hold master's degrees.

Hines operates GPH Consultants - a diversity training company - in West Chester Township.

Two weeks ago, after meeting with Hines, the administration began discussing the advisability of staging Ten Little Indians. On Nov. 16, the school administration agreed to allow the performance and use proceeds from it toward diversity education. Then an abrupt about face. On Tuesday, the district sent a letter home that said the play would be canceled.

"It was heartbreaking to know that two months of dedicating our time, effort and heart into that production — to know that it was all for nothing," said senior Alicia Frost.

"Unfortunately none of the money that was lost through trying to produce the show has been returned to the theater program," Frost told Broadway To Vegas on Wednesday, in answering the question as to whether Hines, in initiating the complaint, had offered to reimburse the caught-in-the-cross-fire students for costs incurred in preparing for the production; royalty, scripts, costumes, scenery - or had offered the students any compensation for their lost week-end.

"The cast/parent have actually never interacted with the man or group who actually filed the complaint, and we weren't even aware of his name until articles began surfacing a few days ago," said Frost.



Agatha Christie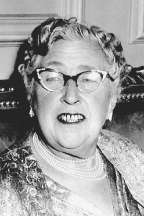 The play in question is a work of detective fiction by Agatha Christie and first published in the UK by the Collins Crime Club in November 1939 under the title of Ten Little Niggers and in US by Dodd, Mead and Company in 1940 under the title of And Then There Were None. The novel has also been published and filmed under the title Ten Little Indians. It is Christie's best-selling novel with 100 million sales to date, making it the world's best-selling mystery, according to the editors of Publications International, Ltd

Ten people, each with a deadly secret, journey to a house on a fictitious island off the coast of Devon. Upon arriving, each one finds a slightly odd bit of bric-a-brac in his or her room and a framed copy of a nursery rhyme, Ten Little Indians, hanging on the wall. They then find themselves trapped on the island where they become the subjects of a cruel game played by a figure styling himself Mr. U. N. Owen ("Unknown"). They are killed according to the old nursery rhyme, Ten Little Indians.

In 1943, Agatha Christie adapted the story for the stage. In the process of doing so, she realized that the novel's grim conclusion would not work dramatically on stage as there would be no one left to tell the tale, so she reworked the ending. Some of the names were also changed with General Macarthur becoming General McKenzie.

The story was adapted for the cinema and television movies, with the action sometimes taking place in locations other than an island:

All references to "Indian" in the story were originally "Nigger" - thus the island was called "Nigger Island" rather than "Indian Island" and the poem found by each murder victim was also called Ten Little Niggers rather than Ten Little Indians.



The movie version starred Hugh O'Brian, Fabian, Stanley Holloway, Wilfred Hyde-White and Shirley Eaton.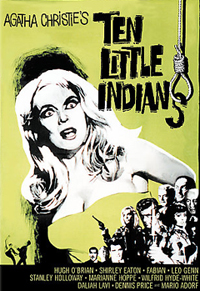 For the United States market, the novel was first serialized in the Saturday Evening Post in 1939 and then published separately in 1940. Both publications used the title And Then There Were None. The 1945 motion picture also used this title. In 1946, the play was published under the new title Ten Little Indians - the same title under which it had been performed on Broadway - and in 1964, an American paperback edition also used this version.

British editions continued to use the work's original title until the 1980s and the first British edition to use the alternative title And Then There Were None appeared in 1985 with a reprint of the 1963 Fontana Paperback. Today And Then There Were None is the title most commonly used.

However, the original title survives in many foreign-language versions of the novel: for example, the Spanish title is Diez Negritos, while the French title is Dix petits nègres. A Dutch translation available as late as 1981 even used the work's original English title Ten Little Niggers. The 1987 Russian film adaptation has the title Desyat' negrityat.

In addition, the 2003 Harper Collins edition changes the name of the island to "Soldiers Island" and the nursery rhyme is changed to Ten Little Soldiers, while the computer adventure game based on the novel uses Ten Little Sailor Boys.

There are no reports of either Indians, soldiers or sailors ever complaining about the book, productions or games.

Educational Theatre Association lists the play to be perennially in the top 25 shows produced on high school stages nationally.

Joan Powell, president of the Lakota Board of Education is quoted in the Cincinnati Enquirer newspaper as saying "Hines has a history of making racial accusations against Lakota schools with his personal financial interests sometimes coming into play."

"In 2002, Hines accused Lakota schools of widespread, systemic racism and recommended that more than 2,000 Lakota employees be required to enroll in diversity and cultural sensitivity training similar to what was offered by his company. He promised to compile a report months later detailing his accusations against the schools but never produced a document."

Hines, however, has continued to allege racism in the school district and indicated he was voicing complaints that troubled parents had hade to him.

"Most recently in a Nov. 20 E-mail to Powell and other Lakota school board members, he wrote: 'Given the history of the district, anything short of involving the NAACP in planning, developing, and executing a systemic approach to diversity is not acceptable and certainly not good enough for the district's students, faculty, and staff."

Powell countered that "Gary Hines has a certain vested interest in district's diversity since he has approached us many times in the past about providing that service.'"

She told the paper she disagrees with the administration's decision to cancel the play.

"I'm concerned about censorship, and I'm concerned about the message it sends to other student productions that we are now in the business of censorship," Powell said.

"We have certainly heard about the issue," Carrie Davis, staff attorney for the ACLU of Ohio told Broadway To Vegas. "We are following it. We are not directly involved - at this point. But, we are watching it, closely."

"It's an odd situation," Davis admitted. "I grew up doing theater, so part of me empathizes, because I did theater all the time in school. It was a great experience. But, I grew up to be a lawyer. Both deal with freedom of expression."

"We have had this come up in a number of concepts," she said of the issue of censorship based on racial sensitivity. "That is frequently used when schools are considering including different books in their curriculum or to ban them."

Published in 1939, a year when many of the grandparents of the students involved were born, at that time Negro was considered the polite, proper ethnic term for many dark skinned nationalities - including the race now covered under the designer phrase Afro-Americans - a definition which is an American invention. Ask people in many foreign countries to define Afro-American and they think you're talking about an American with a really bad hair style.

According to the dictionary:

Meaning of Negro. ... [Spanish and Portuguese negro, black, Black person, from Latin niger. From the 18th century to the mid-20th century, "negro" (later capitalized) was considered the proper English term for all people of sub-Saharan African origin.

"It's these differences in culture and history that change over time and in different regions," commented Davis.

"Without question, the law clearly says that schools have the right to decide - make decisions based on their curriculum," Davis emphasized. "What books they are going to have their students read, what plays they are going to put on, what assemblies they are going to have. Those are decisions that the courts have said are decisions that should legally be made by the schools."

"With curriculum decisions or with banned books, the schools are trying to be sensitive and I'd like to praise them to trying to be sensitive. But, at the same time, they miss out on an opportunity to allow their students to have these challenging adult discussions. From what I've heard about how the students were approaching this play, they were beginning by having a speech and a note in a program putting this in context and acknowledging the historical evolution of the title and how that challenges people to think about race in America."

Indeed.

It is East Lakota High senior Alicia Frost that wrote the Ten Little Indians program notes which included reference notes:

"With over 100 million copies sold to date, the novel version of this play is not only Agatha Christie's best-selling novel but the world's best-selling mystery of all time," began Frost.

"Thus it's no surprise that such a huge, successful response spawned the creation of the play you are seeing today, several movies and even a video game."

"Furthermore the "whodunit" concept, made famous by Christie and other writers in the Golden Age of detective fiction, has had a significant influence on popular culture, prompting everything from board games such as Clue, to mystery shows that flood primetime television like CSI and Without a Trace, to phenomenon movies like The Thin Man and Devil in a Blue Dress," continued Frost's explanation.

"The excitement of trying to solve a mystery before the characters caught in the middle of it has proven to be universally appealing, and because of this, the basic principles of mystery fiction have been continuously adapted and modernized right alongside evolving cultures."

"The novel known today as And Then There Were None was originally published in the United Kingdom as Ten Little (N---). At the time and place the novel was written, in Britain in the 20th century, the "N-word" was widely used without derogatory connotation, often to refer to Pakistanis, East Indians and darker-skinned foreigners in general".

"While this word was regarded as acceptable in Britain up until the 1960s, in America it had taken on an entirely new meaning and very offensive implication."

"As a result, when the book was brought to America a year after it had been published in Britain, the title was immediately serialized by Agatha Christie and publishers Dodd, Mead and Company to And Then There Were None."

"The intent of the novel was never to offend, and the subject matter of the plot is so far removed from anything racial that this necessary adaptation did not alter the story whatsoever."

"The way in which the title was altered signifies the way a changing society demands a coinciding change in pop culture, politics and people themselves."

"Once something like a racial slur develops, it is society's responsibility to eradicate its usage. While the publishers in America recognized the wrongness in using the "N-word," unfortunately, it took the rest of the world time to catch up, in literature and individuals alike," stated Frost's play introduction.

"Britain continued to publish the novel under its original title up until 1985 even though by the 1970s, this and other offensive racial slurs had been outlawed by stricter government legislation."

"Today, the use of the "N-word" is considered a criminal-like offense, and even though it is used considerably less than in the early part of the twentieth century, it still exists as a problem."

"In 1940 the American publication of the novel was fixed to meet the needs of a changing society. Its evolution is exemplary of the obligation we all hold in correcting wrongdoings and promoting tolerance, and it is important to acknowledge that there is still a ways to go."

"The universal appeal of And Then There Were None or Ten Little Indians is not derived from the title but from the classic, murder-mystery suspense it hones, shown by its huge popularity that transcends cultures, countries, and decades. The play itself should not be held accountable for British culture in the 1940s," concluded Frost's explanation.

"That is an adult and a difficult discussion to have," stressed Davis. "While, legally the school can decide whether or not to put on the play - that is the school's lawful decision to make - they are taking away from the students the opportunity to engage in this type of challenging adult discussion," she reiterated.

"The timing - I feel for these kids. They've put all this work into it."

As to why wait until the last second to drop the curtain, Davis opined: "This may be a question for the school - how they reach this decision and why now? This play has been scheduled for months. Why did they make this decision now as opposed to before - and what changed from before to now to influence their decision?"

"I completely understand the school wanting to be racially and culturally sensitive. There is nothing wrong with that. But, at the same time, they have taken away the opportunity for these students to engage in this type of dialogue. That's a shame."

"I don't think the school was prepared to have American agonizing over their decision," speculated Davis. "They weren't prepared for national publicity."

Correct.

In a statement released Thursday morning by Lakota school officials, Superintendent Mike Taylor wrote that the issue has shifted away from students and diversity to claims of censorship. He said the Lakota East theater department will perform the play on December 13 and 14, with additional materials, conversations, or other activities to honor diversity in the community.

Taylor also stated that: Two weeks ago, we learned there was history around a previous title to the play Ten Little Indians. "Learning this history caused a negative impact on some members of our community, our staff, and our students. The original decision to cancel the play was made out of respect for these valuable members of our schools and community. "We believed that performing the play could damage these important relationships. We had hoped that this choice would become a springboard for a broader discussion of inclusion and tolerance. "Unfortunately the community dialogue in recent days has become focused more on distracting issues like censorship and the NAACP's role in our community. This has taken away from the direction we hoped for and our students have been caught in the middle."

"Right now, we need to refocus on our students and return to our original goal. We need to move forward. I believe the best way forward is to allow the performance of the play to occur while using it as a learning vehicle. We have asked for our community's help to stage this play and, at the same time, provide that vehicle for discussion about what we as a community believe," he said.

"In this process, we learned that our drama department inadvertently had the wrong version of the play. Since 2004, the Agatha Christie family has released the play for performance only under the title, And Then There Were None."

"The play will be performed under the corrected title, And Then There Were None."
"We apologize to the students and families who have been affected by events of recent weeks," wrote Taylor. "We've learned a great deal already-proof that everyone can and should continue to learn and grow."


ART AND ABOUT


ANTHONY McCALL EXHIBITION

Between You and I (2006). Installation drawing Anthony McCall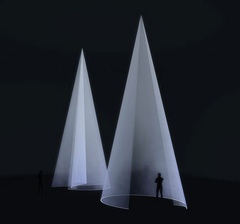 has flooded the Serpentine Gallery with mesmerizing, room-sized, 'solid light' installations in the first major London exhibition by the British-born American Avant-Garde artist, specializing in cinema/projected film - disciplinary practices in which film, sculpture, installation, drawing and performance overlap.

McCall was a key figure in the avant-garde London Film-makers Co-operative in the 1970s and his earliest films are documents of outdoor performances that were notable for their minimal use of the elements, most notably fire.

After moving to New York in 1973, McCall continued his fire performances and developed his 'solid light' film series, conceiving the now-legendary Line Describing a Cone, in 1973. These works are simple projections that strikingly emphasize the sculptural qualities of a beam of light. In darkened, haze-filled rooms, the projections create an illusion of three-dimensional shapes, ellipses, waves and flat planes that gradually expand, contract or sweep through space. In these works, the artist sought to deconstruct cinema by reducing film to its principle components of time and light and removing the screen entirely as the prescribed surface for projection. The works also shift the relationship of the audience to film, as viewers become participants, their bodies intersecting and modifying the transitory forms.

At the end of the 1970s, McCall withdrew from making art. Over 20 years later, he acquired a new dynamic and re-opened his 'solid light' series, this time using digital projectors rather than 16mm film. Through his involvement in expanding the notion of cinema, which enabled a more complex experience of projection, McCall has become a hero to a younger generation of artists working with film and installation.

A renewed interest in his work has resulted in many screenings of his individual projections at museums and galleries internationally, as well as inclusion in major group exhibitions, such as Into the Light: the Projected Image in American Art, 1964-77, Whitney Museum, New York, 2001-02; X-Screen: The Expanded Screen: Actions and Installations of the Sixties and Seventies, Museum Moderner Kunst, Vienna, 2003-4; Expanded Cinema: Film as Spectacle, Event, Performance, Hartware Medien Kunstverein, Dortmund, 2004; Eyes, Lies and Illusions, Hayward Gallery, London, 2004; The Expanded Eye, Kunsthaus Zürich, 2006, and Projections: Beyond Cinematic Space, Hamburger Bahnhof, Berlin, 2006-07.

His work is largely unknown to the wider British public and the Serpentine exhibition offers an overview of both the early and more recent works of this seminal practitioner. The exhibition also features previously unseen drawings, studies, scores, photographs and documents, predominantly from the artist's own archive, that offer an insight into his working practice. The exhibition is organized by the Serpentine Gallery, London, and presented in association with the Musée départemental d'art contemporain de Rochechouart, France.

Long Film for Four Projectors 1974. Anthony McCall. Installation view Solid light installation in five-and-a-half-hour cycles Photograph: Henry Graber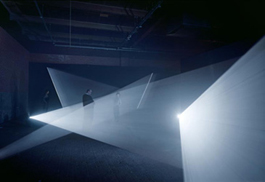 The exhibit opened November 30 a continues through February 3, 2008.

Last Friday McCall participated in a conversation with artists, Graham Ellard and Stephen Johnstone and Mark Godfrey, curator, Tate Modern in a forum organized in association with the Curating Contemporary Art Department, Royal College of Art.

Other exhibitions involving McCall include: through December 21 Insubstantial Pageant Faded at Western Bridge in Seattle, WA. Drawing its title from The Tempest, this exhibition is a critique of a theme repeatedly invoked in Shakespeare's sonnets, contrasting life's transitory nature and brief duration with art, which can render the life it depicts immortal and unchanging. Work in this exhibition disturbs that understanding.

Pieces by Jeppe Hein, Jordan Wolfson, and Roger Hiorns will physically change over the course of the exhibition. Projected video and light works by Martin Creed, Neil Goldberg, Anthony McCall, and Alex Schweder introduce time-based art's relation to persistence and change.

Opening February 14, 2008 showing through May 11, 2008 The Cinema Effect: Illusion, Reality, and the Moving Image at Hirshhorn Museum, Washington, DC.

The Cinema Effect: Illusion, Reality, and the Moving Image Part I: Dreams February 14, 2008 - May 11, 2008

This two-part exhibition features moving-image artworks by a range of influential and emerging international artists whose works use film language and technology to explore the ever-increasing impact of the cinematic on our perceptions and the ways in which the very boundaries between "real life" and make-believe have become at least blurred, if not indecipherable.

The first, Dreams, addresses film's ability to transport us out of our everyday lives and into a dream world. Using a series of artists' installations, the exhibition moves us through the different stages of consciousness and dreaming, from those moments between wakefulness and sleep to the darker recesses of the imagination and fantasy.

KANSAS CITY REP ANNOUNCES NEW ARTISTIC DIRECTOR

Eric Rosen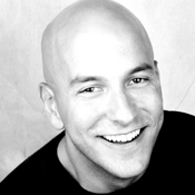 Guy Bailey, Ph.D., chancellor of the University of Missouri-Kansas City (UMKC), and William C. Nelson, chairman of the board of directors of Kansas City Repertory Theatre, have announced the appointment of Eric Rosen, 37, as the new Artistic Director for Kansas City Rep. Rosen will be the fourth artistic director in the 44-year history of Kansas City's leading professional theatre. He is a co-founder and current artistic director of About Face Theatre, a nationally recognized theatre located in Chicago, and is a leader in the development of new work and an award-winning playwright.

Rosen's current project, the world premiere of his play Wedding Play, which he also directed, opened November 3 at Steppenwolf Theatre in Chicago.

Rosen also fosters new work that frequently transfers to theatres around the country. His hip-hop musical Clay, which he created with performer Matt Sax and which opened to acclaim at the Kirk Douglas Theatre in Los Angeles in October, is expected to open on a New York stage in 2008. The Chicago production of Clay won a Chicago Joseph Jefferson Award for Outstanding Solo Performance. At About Face, Rosen also collaborated on Doug Wright's highly regarded play I am My Own Wife; its Broadway production won a Pulitzer Prize, multiple Tony Awards and other major theatre honors and was the most produced play in the country in 2006. Rosen also has served as dramaturg at Sundance Institute Theatre Labs.

Rosen earned his M.A. and Ph.D. in performance studies from Northwestern University.

Kansas City Rep began a national search for its next artistic leader when Peter Altman, then producing artistic director of the Rep, announced that he would retire at the end of the 2006- 07 season.

NANCY MALONE

Nancy Malone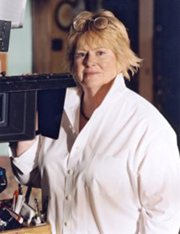 co-Founder of Women in Film to be honored by The Paley Center. Award winning actor, director, writer, producer, child star and a mentor and inspiration to many women and men in theater, film, television and radio is receiving an honor on December 6.

She Made It: Women Creating Television and Radio, a three year initiative of the Paley Center to celebrate the achievements of creative and business women in the industries of television, radio and new media, will name it's 2007 inductees on December 6 at an invitation-only event in Manhattan.

Malone is one of 50 women inductees for 2007.

As a young girl, Nancy Malone was featured on the cover of the Tenth Anniversary issue of Life Magazine as The Typical American Child, but her life, which began in Queens, New York, has been anything but typical. She began her acting career shortly after the cover appeared, studying at the Stella Adler Conservatory (continuing with her until Miss Adler's death, and still studies with Milton Katseles) & is a member of the famed Actors Studio. She acted in television's very first soap opera, The First Hundred Years, and starred as Libby in the award-winning series, Naked City, which garnered Nancy her first Emmy nomination. She won the Best Performance by an Actress Award from the American Cinema Editors for her portrayal of Clara Varner in the series The Long, Hot Summer.

At age 16, Nancy made her Broadway debut, co-starring with Melvyn Douglas in Time Out For Ginger, for which she was nominated for a Sarah Siddons Award. She followed this success with Major Barbara, Requiem for A Heavyweight, A Touch of the Poet & The Chalk Garden, The Trial of the Catonsville Nine.

In 1971, Nancy became a Story Analyst for Tomorrow Entertainment, which led to a position as Director of Motion Pictures. It was during this time that Nancy co-founded Women In Film. the most powerful women's organization in Hollywood, also serving on their Board of Directors. She continues to work with them, as the liaison to the Advisory Council on the Women In Film Foundation Board of Trustees.

With the establishment of Lilac Productions in 1975, she began to produce films for TV. Her credits include movies of the week Winner Take All starring Shirley Jones (NBC), Sherlock Holmes in New York, Like Mom, Like Me (CBS), The Great Pretender (ABC), the series Bionic Woman and the Emmy Award winning Bob Hope, the First 90 Years.

In 1977, Nancy became the first woman Vice President of Television at 20th Century Fox, and with Lucille Ball, Eleanor Perry, and Norma Zarky, won Women in Film's first prestigious Crystal Award. In 1987, Nancy & Linda Hope co-produced There Were Times Dear (PBS), the first film about Alzheimer's Disease, which helped to raise over $2,000,000 for caregivers throughout the country.

She Made It: Women Creating Television and Radio, is The Paley Center for Media's multiyear initiative to build a unique collection of television and radio programming that celebrates the achievements and preserves the legacy of great women writers, directors, producers, journalists, sportscasters, and executives.


BAUBLES, BANGLES AND BEADS


MARIE ANTOINETTE PEARLS

Before she was beheaded, these pearls belonged to Marie Antoinette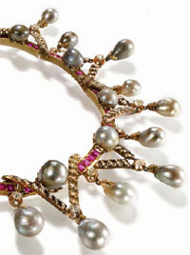 Although she was beheaded, while Marie Antoinette was alive the most-famed queen of France's legacy - was noted for the exorbitant amount of money she spent on everything from clothing to jewels.

Auction house Christie's is now offering a part of that legacy to the public. In its upcoming Magnificent Jewelry sale, to be held on Dec. 12 in London. Christie's is offering a historically important natural-pearl, diamond and ruby necklace, the pearls of which belonged to Marie Antoinette.

The necklace has never before been offered at auction, and the pearls have been in the same family for more than 200 years, Christie's said in a statement. The necklace is estimated to fetch between about $711,830 and $813,520.

The historically important pearls came into the possession of Elizabeth Leveson-Gower, the Lady Sutherland, during Marie Antoinette's imprisonment at the height of the French Revolution. The queen gave the pearls, along with the diamonds, to Lady Sutherland for safekeeping. Anyone caught in possession of this jewelry risked severe punishment, but Lady Sutherland, the wife of the British ambassador, had diplomatic immunity, so she was one of the few who could be trusted to return the jewels when the queen escaped.

But the wife of Louis XVI was never to secure her freedom and met her highly public end in front of a baying mob in the centre of Paris in 1793, her guillotined head paraded before the crowd as a proof of the fall of the hated monarchy.

56 years later on the other side of the pond, 21 of the drop-shaped natural pearls were mounted into the Sutherland diamond necklace in 1849 on the occasion of the marriage of Lady Sutherland's grandson George Granville William Sutherland-Leveson-Gower to Anne Hay-McKenzie. It features a fringe of 21 graduated drop-shaped natural gray pearls, each suspended from an old-cut diamond collet surmounted to a diamond ribbon. The ribbon is intertwined with a ruby collar that is set with 12 button-shaped natural gray pearls, mounted in gold.

"It is exceptionally rare to be able to offer jewels that belonged to Marie Antoinette and which are completely fresh to the market," Raymond Sancroft-Baker, senior director of Christie's Jewelry, London, said in a statement. "The story behind the pearls and their integral integration into this necklace for the Sutherland-Leveson-Gower family wedding in 1849 adds to the fascinating history of this necklace."

CALVIN AND KELLY KLEIN'S

The Duchess of Windsor's Necklace is up for bid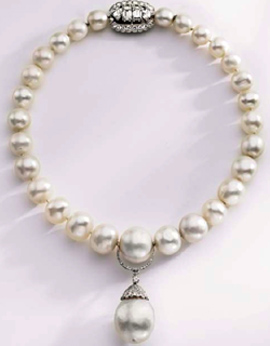 personal collection of pearls and diamonds are expected to fetch in excess of $2 million on December 4 when they are gaveled down at Sotheby's in New York City. The pieces are a necklace, pendant and ear clips that were purchased by Calvin for Kelly at Sotheby's 1987 auction of The Jewels of the Duchess of Windsor in Geneva. They are expected to go for record amounts. Speculated to fetch between $1.5 million to $2 million is a single strand, 14-inch long natural pearl and diamond necklace with a clasp signed Cartier, Paris.

Given as a present to the Duke of Windsor by his mother, Queen Mary, wife of George V, the necklace comprises 28 natural pearls graduating from 16.8 to 9.2 millimeters, and the oval clasp is set with two emerald cut diamonds (weight about two carats) and two fancy-shaped diamonds (weight about one carat), bordered by 20 small round diamonds (weight about 0.7 carat).

The second lot is a natural pearl and diamond pendant, also Cartier, Paris circa 1950 ($400,000-$600,000).This can be worn as a drop on the necklace.

Of slightly baroque form, the large pearl weighs 190.6 grains, measures 18.4 millimeter in diameter and is drilled and capped by single-cut and round diamonds on a detachable, stirrup-shaped diamond set pendant fitting.

The final lot is a pair of black and white natural pearl ear clips made by Van Cleef & Arpels in New York in 1957 ($300,000-500,000). Mounted in white gold, the pearls are bordered by 32p ear-shaped and 64 round diamonds, weighing a total of about 9.25 carats.

Kelly Klein has donned more than a few precious jewels in her time, but she has a special affection for pearls. In a press release she described them as ''warm, mysterious, a small miracle created by nature. They should be worn close to the skin, imbued with the essence of the wearer. It is my hope they will be given again, as they have been in the past, as a gesture of love and worn often and proudly."



Broadway To Vegas is supported through advertising and donations. Priority consideration is given to interview suggestions, news, press releases, etc from paid supporters. However, no paid supporters control, alter, edit, or in any way manipulate the content of this site. Your donation is appreciated. We accept PAYPAL. Thank you for your interest.


SPREADING THE WORD


RE-DISCOVERY READING: THE JEW OF MALTA by Christopher Marlowe. Directed by Alexander Burns. With The Jew of Malta, Marlowe turns his cynical eye on political and religious conflict. When the Christian governor of Malta seizes the money and home of the wealthy Jew Barabas to pay off the Turks, Barabas swears to take revenge. The ruthless Barabas betrays friend and foe alike in his single-minded plot to punish those who wronged him. Equal parts thriller and dark comedy, Marlowe's controversial The Jew of Malta was a major influence on Shakespeare's The Merchant of Venice.

This free reading is part of the Shakespeare Theatre Company's Marlowe Mini-Festival. December 10, Lansburgh Theatre in Washington, D.C.

Seating is on a first-come basis. Reservations are required.
SWEET CHARITY


BOARSHEAD THEATER ANNUAL TOY DRIVE starts December 7, the same night the nearly month-long run of the comedy Moonlight and Magnolias also opens.

BoarsHead, Lansing, Michigan's only Equity theater, asks those who wish to participate to bring an unwrapped toy suitable for a 5- to 12-year-old boy or girl to the theater.

Last year, theater patrons donated "a boatload" of toys, said BoarsHead managing director Marlene Shelton.

"Considering the economic situation in Michigan, the ones at the bottom of the pile are the children," said Carmen Turner, president of the Boys and Girls Club of Lansing. "But kids want to feel special and last year the BoarsHead made a lot of kids feel special."



LOVE IS LOVE conceived and directed by Martin Charnin.

Written by; Catherine Lloyd Burns, Martin Charnin, Larry Doyle, Martha Moffett, Ellen Pall, Richard Reiss, Debra Spar and Ayelei Waldman. Music and Lyrics by Richard Gray and Martin Charnin.

A new modern-relationships musical revue about the journey of 12 unique women as they grapple with the mysteries and complications of love.

Love is Love follows the stories of 12 unique women, played by four actresses, as they grapple with the mysteries and complications of love, that elusive feeling — from the undeniable flutter of love at first sight to the responsibilities of keeping love alive. The musical numbers and monologues traffic in 19 varied aspects of love, from love of pets to love of partners.

The cast includes Shelly Burch, Ann Evans, Charity Parenzini and Maggie Stenson.

The Love is Love creative team includes choreographer Dannuel Dailey, set and lighting designer Alex Berry and musical director Dwight Beckmeyer.

The production is part of the Village Originals series. Performances began Nov. 29 at Washington state's Village Theatre in downtown Issaquah and continues through December 16.

ANNIE by Charles Strouse, Martin Charnin and Thomas Meehan. The timeless tale of Little Orphan Annie is back, giving a whole new generation the chance to experience this classic musical about hope and family. Boasting one of Broadway's most memorable scores - It's the Hard-Knock Life, Easy Street, N.Y.C. and the ever-optimistic Tomorrow - bet your bottom dollar that the whole family will love this classic musical. This all new production features a brand new song, Why Should I Change A Thing? by Martin Charnin and Charles Strouse.

Broadway national tour. Main Stage of the Flynn Center in Burlington, VT December 6. Friday, December 7, at the Massmutual Center in Springfield, MA.

GIRL'S ROOM

L to R: Carol Lawrence, Donna McKechnie and Stephanie Wright Thompson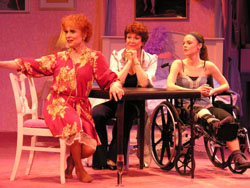 starring Carol Lawrence and Donna McKechnie in a new play by Joni Fritz. Directed by Lynne Taylor- Corbett.

Set in the suburbs outside of New York City, Girl's Room centers on a young ballet dancer about to break into the big-time but has another kind of break - an accident that could end her career. Donna McKechnie, who created the role of Cassie in A Chorus Line and Carol Lawrence, Broadway's original Maria in West Side Story are top cast in this charming new play about three generations of lively women and the lies that bind them together as well as the truths that tear them apart. Casting for the young ballet dancer will be announced shortly.

Girl's Room is the first play from the Theatre's "Plays A Mother Would Love" reading series selected for a fully staged production.

A limited engagement as part of the Theatre Series sponsored by the Dr. William O. Benenson Rehabilitation Pavilion & Flushing Manors. Opened November 30 with performances through December 9 at Queens Theatre in the Park, NYC.

KING LEAR AND THE SEAGULL by William Shakespeare and Chekhov starring Ian McKellen. Directed by Trevor Nunn.

First performed 400 years ago, the tragedy of King Lear remains one of the greatest plays in world drama, as Shakespeare investigates old age, mortality, family and man's need for religious belief and the capacity to endure. Ian McKellen returns to the Company after 17 years to play the title role in Shakespeare's epic tragedy. Sylvester McCoy, perhaps best known for his performance as Doctor Who, plays the Fool.

In The Seagull, Frances Barber leads the cast as Arkadina, with McKellen sharing the role of Sorin with William Gaunt; while in King Lear – the closing production of the RSC's Complete Works Festival – McKellen takes the title role and Barber plays Goneril.

Cast includes: Ben Addis, Adam Booth, Zoe Boyle, Russell Byrne, Naomi Capron, Monica Dolan, Romola Garai, Richard Goulding, Julian Harries, John Heffernan, Peter Hinton, Jonathan Hyde, Melanie Jessop, Gerald Kyd, Seymour Matthews, Ben Meyjes, David Weston, Guy Williams, Philip Winchester.

The productions are designed by Christopher Oram, with lighting by Neil Austin, sound by Fergus O'Hare and music by Steve Edis. Also featured are Romola Garai (Cordelia/Nina), Sylvester McCoy, Monica Dolan, Jonathan Hyde and Ben Meyjes. New London Theatre, Drury Lane, London, officially opened on November 28 with performances to January 12, 2008.

CINDERELLA a world premiere of a wonderfully witty new version of Cinderella by celebrated writer, actor and comedian Stephen Fry, with new music by Oscar-winning composer Anne Dudley.

Cinderella is a tale of passion, jealousy, cross-dressing, injustice, chocolate, madness, cruelty, ice-cream, hatred, revenge, jelly, unrequited love, envy, tarts, forgiveness, music, laughter, hope, redemption and most importantly of all, love – the truest, purest love that ever was. And cake. So much cake you won't believe.

Directed by Fiona Laird.

Starring: Debbie Chazen, Oliver Chopping, Pauline Collins, Hal Fowler, Paul Keating, Mark Lockyer, Joseph Millson, Sandi Toksvig, Matthew White, Madeleine Worrall with Gareth Charlton, Daniella Gibb, Simon Harvey, Louisa Maxwell, Bonnie Parker, Sherrie Pennington, Daniel Robinson, Jo Servi, Simon Shorten and Chair Winsper.

Designer is Stephen Brimson Lewis. Lighting by Tim Mitchell. Choreographer Francesca Jaynes. Musical Supervisor & Vocal Arrangements by Neil McArthur. Orchestrations by Steven Edis & Neil McArthur. Musical Director Michael Haslam. Sound by Nick Lidster & Terry Jardine for Autograph. Casting by David Grindrod Associates.

December 4- January 20, 2008 at The Old Vic in London.

THE FARNSWORTH INVENTION AND THE SEAFARER are two shows whose official Broadway opening was delayed due to the stagehands strike. The Farnsworth Invention is now set to open December 3 at the Music Box Theatre in NYC. The Seafarer will open December 6 at the Booth Theatre. ( See Broadway To Vegas column of November 11, 2007 )

JERSEY BOYS the don't miss Tony Award winning musical about Rock and Roll Hall of Famers The Four Seasons: Frankie Valli, Bob Gaudio, Tommy DeVito and Nick Massi. This is the story of how four blue-collar kids became one of the greatest successes in pop music history. They wrote their own songs, invented their own sounds and sold 175 million records worldwide... all before they were 30! Jersey Boys features their hit songs Sherry, Big Girls Don't Cry, Rag Doll, Oh, What a Night and Can't Take My Eyes Off You.

The Jersey Boys creative team comprises two-time Tony Award-winning director Des McAnuff, book writers Marshall Brickman and Rick Elice, composer Bob Gaudio and lyricist Bob Crewe.

December 5 - January 12, 2008 at the 5th Avenue Theatre in Seattle, WA.

LOVE SWEET LOVE Music by Burt Bacharach. Lyrics by Hal David. Book by C. Ben Wolfe. Directed choreographed by Sha Newman. Musical direction/orchestrations/arrangements by Lloyd Cooper. Presented by Theater League.

A cast of seventeen delivers 31 of the greatest hits penned by Bacharach/David.

"Bacharach-David's songs are the perfect vehicle for musical theater," explained love Sweet Love bookwriter C. Ben Wolfe. "Each Hal David lyric is a wonderful, self-contained story about love – whether lost, found, dreamed about or realized. That's the sentiment that makes the Bacharach-David songbook so right for musical theater."

Bacharach and David began collaborating in 1957 when they struck gold with hits for Marty Robbins and Perry Como. The multiple Grammy, Academy, and Tony award-winning team went on to write and produce hits for numerous other performers, including Dionne Warwick, the Fifth Dimension, Bobby Vinton, Herb Alpert, Tom Jones, Jack Jones, Dusty Springfield, and B.J. Thomas. Bacharach and David collaborated on the Broadway musical Promises, Promises, and won the Academy Award for Butch Cassidy and the Sundance Kid. Love Sweet Love features 31 of Bacharach and David's greatest hits including: Always Something There to Remind Me, Do You Know The Way to San Jose, One Less Bell To Answer, Raindrops Keep Falling on My Head, Say A Little Prayer, The Look of Love, Close to You, Walk on By, What The World Needs Now and What's New Pussycat. It tells the story of four contemporary Los Angeles women looking for love during the week leading up to Valentine's Day.

"These songs are about people we know, people we can relate to," continued Wolfe. "And the feelings are as real and relevant now as they were in the 60's and 70's when Burt and Hal wrote their biggest hits. That's why I set the production in present time. These lyrics work now and always."

The four ladies looking for love are played by Kristen Howe, Alaine Kashian, Dawnn Lewis and Kara Shaw. The cast also features Keith Bearden, Matthew Patrick Davis, Daniel Lujan, Gail Bianchi, Jessica Dorman, Michael Dotson, Terry Hanrahan, Eugene Barry-Hill, Ron Kellum, Mercy Malick, Samantha Mills, George Pelligrino and Staci Wilson.

Joining the creative team with Newman are Lloyd Cooper, musical direction / orchestrations/ arrangements; Bradley Kaye, set design; Thomas G. Marquez, costume design; Stephen Young, lighting design; Mark Ciglar, video design and Mark Cowburn, sound design.

Love Sweet Love had its world premiere at the Mesa Arts Center in Mesa, Arizona on November 20, 2007 followed by its California premiere at the Cerritos Center for the Performing Arts November 30 – December 2 prior to its opening at the Thousand Oaks Civic Arts Plaza in Thousand Oaks, CA on December 4.

RAIN

Rain ©Productions Éloize 2007 – Patrick Lazic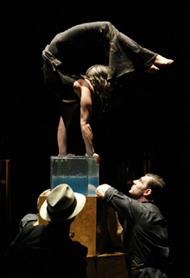 by Cirque Éloize director Daniele Finzi Pasca. An evening of memory and wonder, which opens at the San Diego, CA. Civic Theatre on December 4 for a one-week engagement.

Finzi Pasca draws on childhood memories blending dance, theater, daring stunts and humor; appealing to children and adults alike; and pays homage to childhood and the part of it that lives on in all of us. This stage event is filled with spectacular visual effects, imaginative movement, magical feats of skill, and much anticipated precipitation. Born into a family of photographers, Finzi Pasca recalls his childhood as an exploration of feelings of exhilaration, awe, tenderness, joy and love. "I grew up in a world where memories were made up of moments snatched from time and frozen forever. In my shows, I simply make these images move," Finzi Pasca says. "When I was little, when the first summer storm came, I was allowed to go out in the garden and play in the rain and get soaked to the skin. I still love that feeling of freedom - shoes full of water, clothes drenched, hair dripping. 'Let it rain,' we'd say. And then there is the vast sky. Unexpected things can come from the sky: messages, signs, promises - surprises can pour down as well."

The story takes place in a theatre where a circus show is in rehearsal, where theatre and reality blend into one another and you can't tell where one begins and the other ends. The protagonists exchange glances revealing little love stories, secret passions, flashes of intimacy. Their fragilities slowly blossom, surfacing in the ultimate moments of effort in the interplay of extreme equilibrium. The artists are out of the past, characters from collections of old photos, handsome and strong like our grandparents.

The international company features Jocelyn Bigras, Jean-Philippe Cuerrier, Anne Gendreau, Catherine Girard, Nadine Louis (all Canadians); Stéphane Gentilini (France), Jacek Wyskup (Poland), Oksana Burliy (Ukraine), Krin Maren Haglund and Jonas Woolverton (US). Cirque Éloize has traveled the world with five different productions, performing in more than 200 cities and 20 countries, and played prestigious venues including Edinburgh Festival, Sydney Opera House, NYC's Lincoln Center, Sadler's Wells in London, and most recently, at NYC's New Victory Theatre to great critical acclaim.

On December 4 Cirque Éloize and Teatro Sunil will present their latest creation, Nebbia, with the world premiere taking place in Geneva, Switzerland.

Nebbia is directed by Daniele Finzi Pasca and co-produced by the two companies. This latest opus is the third collaboration between the Swiss-Italian director and the virtuoso modern circus and acrobatic theatre company from Canada.

In this new creation the fog (nebbia in Italian) takes centre stage: A fog in which everything becomes possible, and in which reality is transformed into dream. According to Daniele Finzi Pasca: "In Nomade, we looked up to discover that, at night, the sky is endless; and in Rain, a shower of nostalgic freedom fell; now in Nebbia, the sky descends like a mantle to cover our shoulders and protect our dreams."

Following upon Nomade and Rain, Nebbia completes the trilogy dedicated to the sky.

The world premiere of Nebbia will be presented in Geneva on Tuesday December 4, 2007, at Théâtre du Grand-Casino. Several shows are scheduled for Geneva before the production begins a tour of Slovenia, Italy, and Germany. In 2008/2009, Nebbia will return to Switzerland, important series are planned for Montréal and Paris, as well as a first tour in Asia/Oceania, before touring the United States.


| | | |
| --- | --- | --- |
| | | |
WHO'S WHERE


KATHLEEN BATTLE HOLIDAY CELEBRATION with Joel Martin on the piano and the WPAS Children of the Gospel Choir, Stanley J. Thurston, artistic director. Enjoy the winter season with your whole family. Hear traditional holiday music and inspired seasonal spirituals performed by luminous soprano Kathleen Battle. Friday, December 7 Kennedy Center Concert Hall, Washington, D.C.

MICHAEL FEINSTEIN will present his new show Winter Dreams, will feature seasonal favorites and contemporary standards, in addition to a tribute to singing legends of the past such as Rosemary Clooney, Bing Crosby, Tony Martin and Kay Thompson. Feinstein will be joined by an all-star band including musical director John Oddo on piano, Bucky Pizzarelli on guitar, Jay Leonhart on bass, Joe Cocuzzo on drums, and a trio of backup singers. . Performances are on Friday and Saturday nights December 7, 8, 14, 15, 21, 22, 28 and 29 at the Regency Hotel in NYC.

TONY BENNETT the living legend connects with audiences through the magic of his music and the power of his art. Sunday, December 9, at the King Center for the Performing Arts in Melbourne, Florida.

THREE IRISH TENORS in Christmas From Dublin - singing Christmas songs that will bring a tear to your eye, such as Little Drummer Boy, Silent Night and Saviour's Day. Thursday, December 6 at the Palace Theatre in Stamford,CT.

BRUCE SPRINGSTEEN AND THE E STREET BAND perform Tuesday, December 4, at the Oslo Spektrum Arena in Oslom Norway. On Saturday the group will be delighting fans at the Forum in Copenhagen, Denmark.

NEIL YOUNG opens a three night gig tonight, Sunday, December 2, at the Orpheum Theatre in Boston. On Friday the show is at the Chevrolet Theatre in Wallingford, CT. Next Sunday, he opens a two night stand at the Tower Theatre in Upper Darby, PA.

LINDA EDER shows off her beautiful voice Friday, December 7, at Palm Beach Community College in Palm Beach, FL. On Saturday she is on stage at Florida Atlantic University in Boca Raton, FL.

BIG BAD VOODOO DADDY performs Monday, December 3, at Forest Hills Fine Arts Center in Grand Rapids, MI. On Thursday they are on stage at The Community Theatre at Mayo Center in Morristown, NJ. Friday they opens a three night stand at the Mohegan Sun in Uncasville, CT.

HANNAH MONTANA/MILEY CYRUS BEST OF BOTH WORLDS TOUR entertains tonight, December 2, at the Ford Center in Oklahoma City. On Monday the show is at the Spring Center in Kansas City. Wednesday she is on stage at the Palace of Auburn Hills in Auburn Hills, MI. Thursday finds the show at the Van Andel Arena in Grand Rapids, MI. On Saturday she can be enjoyed at the Allstate Arena in Rosemont, IL.

JAY AND THE AMERICANS on stage Friday, December 7, Mellon Arena in Pittsburgh.

MICHAEL BUBLE performs at Wembley Arena in London on Tuesday, December 4.

BILLY JOEL center stage Tuesday, December 4, at the American Airlines Center in Dallas. On Thursday he stars at the Sprint Center in Kansas City.

BARRY MANILOW who can usually be found performing at the Hilton Hotel in Las Vegas is making some other stops this week. On Wednesday, December 5 he will be at AT&T Park in San Francisco. Next Sunday, December 12, finds him at the Nassau Veterans Memorial Coliseum in Uniondale, NY.

OZZY OSBOURNE on stage Tuesday, December 4, at the Pepsi Center in Denver. Thursday finds him at the Ford Center in Oklahoma City. On Saturday he's in the spotlight at the Kansas Coliseum in Valley Center, Kansas.

VAN HALEN brings his show to the General Motors Place in Vancouver, BC on Wednesday, December 5. On Friday he's at the Saddledome in Calgary, AB.

ANDREA BOCELLI at Madison Square Garden in NYC on Friday, December 7. On Saturday he'll be entertaining at the Continental Airlines Arena in East Rutherford, NJ.

JETHRO TULL at the Music Center at Strathmore in North Bethesda, MD on Monday, December 3. Wednesday finds him at the Ferguson Center for the Arts in Newport News, VA. On Friday the show is at the Tabernacle in Atlanta. On Saturday the performance is at the Saenger Theatre in Mobile, AL.

JUDY COLLINS opens a two night stand Friday at the Schuster Performing Arts Center in Dayton, OH.

BOB NEWHART brings his button down mind to the Flint Center in Cupertino, CA for the three night gig beginning Wednesday, December 5.

MAROON 5 across the pond performing Wednesday, December 5, at The Brighton Centre in Brighton, UK. On Friday the show is at the Palais Omnisports de Paris-Bercy in Paris. On Saturday they perform at Brabanthallen in Den Bosch, Netherlands.




PIFFLE AND PROFUNDITIES


MAN ATTEMPTED SEX WITH FENCE IN LONDON PARK Daniel French, 24, made "sexual motions" towards metal railings in Leicester Square Gardens - a location termed "a hub for drujen revelers" - after being challenged by police in the early hours of last Sunday morning, Westminster Magistrates' Court was told. "He said words to the effect of: 'I'm going to have sex with that fence'," said Philip Lemoine, prosecuting. "The gardens were locked and police asked French to leave. He was drunk and there were some sexual motions - drunken silliness - to the railings." French, who lives in Hertfordshire, admitted being drunk and disorderly after a night out in the West End, but angrily denied making romantic overtures towards the fence. French was sentenced to serve the time he had already spent in custody since his arrest - meaning he was allowed to walk free from court. Romantic liaisons with inanimate objects known as objectophilia, are not as uncommon as one might think. The previous week a "cycle-sexualist" was caught half-naked in a compromising position with his bicycle in a Scottish hostel. He was put on probation for three years.

On the hit television series Boston Legal lawyer Jerry Espenson (played by Christian Clemenson) has a blow up doll. His gal pal, Leigh, was in love with a utility box. Then she dumped Jerry and the utility box for an iPhone. In a funny exchange - Lorraine (Saffron Burrows) tells Alan (James Spader) that Jerry has been dumped, Alan wants to know if Leigh dumped him for a clock radio.

Next Column: December 9, 2007
Copyright: December 2, 2007. All Rights Reserved. Reviews, Interviews, Commentary, Photographs or Graphics from any Broadway To Vegas (TM) columns may not be published, broadcast, rewritten, utilized as leads, or used in any manner without permission, compensation and/or credit.
Link to Main Page
---
Laura Deni


CLICK HERE FOR COMMENT SECTION