! >
Broadway To Vegas
  
 SHOW REVIEWS CELEBRITY INTERVIEWS GOSSIP NEWS

| | |
| --- | --- |
| | |
HENRY WINKLER HOSTS HOLIDAY CELEBRATION - - GETTY MUSEUM CELEBRATES ANNIVERSARY - - DANNY GLOVER APPEARS IN FINAL PERFORMANCE OF GUANTANAMO: HONOR BOUND TO DEFEND FREEDOM - - SPAMALOT - - GOOD VIBRATIONS SURFING ON BROADWAY - -HUMANA FESTIVAL ANNOUNCES LINE-UP - - ELVIS RETURNS TO VEGAS AS LISA MARIE PRESLEY SHAKES UP ESTATE - - ALL SHOOK UP IN CHICAGO - - DONATE . . . Scroll Down


RECONSTRUCTED BREASTS AND EYES THAT FOLLOW
Getty Museum in Los Angeles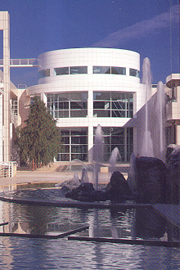 It's free, making it one of the best bargain's in America. It's also an intellectual wonderland. The J.P. Getty Museum in Los Angeles, funded by a billion dollar trust, is one of six buildings that together comprise Californiaís Getty Center. Celebrating it's seventh anniversary this week, doors to the public opened on December 16, 1997.

Pleading Buddy, Can You Spare A Dine, museums in the United States are raising ticket prices and The Prado in Madrid announced plans to double its admission prices at the start of the New Year. Free museums in the United Kingdom are wailing over funding cuts. The Getty is crooning a different tune - We're In The Money.

Devouring the cherry on the sundae are the great masses - food can be purchased at venues ranging from al fresco to an upscale restaurant that prefers reservations.

Also being digested are daily 60-minute tours which give an overview of major works in the Museum's collection. A Spanish-language version is offered on weekends.

The upper level of the museum houses 22 skylit galleries showcasing the museumís priceless painting collections which include master-pieces by Rembrandt, Goya, Monet and Cťzanne, among others. Strategically located skylights allow natural light to illuminate the galleries, approximating the conditions in which the artists worked.

Although natural light is optimum for viewing paintings, the destructive ultraviolet rays pose an obvious threat to fragile, centuries-old art. To counteract the damaging effects of direct sunlight, an elaborate configuration of shades and louvers are installed throughout the museumís galleries and common areas to direct and control the stream of incoming light.

Designed by award-winning American architect Richard Meier, the Getty, which uses a unique combination of natural and electric light sources - the only art gallery in the world equipped with such an intricately designed automated lighting control system.



Marble Statue of Venus. Rome, A.D. 100-200. Photo by Laura Deni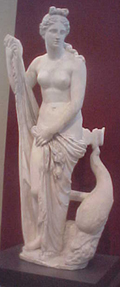 It's a fine art to be both informative and interesting. Masters of that genre are Getty art historians and lecturers - two of which are Amy Rice and Nancy Real.

Art historian Rice has been with the Getty for six years. She received her masters from the University of California.

In her over-view lecture tour she described a marble statue of Venus executed in Rome, A.D. 100 - 200.

Venus, the goddess of love, stands nude, grasping a piece of cloth around her hips. The dolphin at her feet supports the figure and alludes to the goddess's birth from the sea. This depiction of Venus ultimately derived from an extremely popular Greek statue created by the sculptor Praxiteles about 350 B.C. Indeed Praxiteles' statue was so popular that, beginning around 100 B.C., many artists created variations on his theme of the naked Venus.

This statue is a Roman reproduction of one of those Hellenistic variants. In 1509 it was discovered in Rome, where it contributed to the Renaissance revival of the Classical tradition. It later entered the collection of Cardinal Mazarin, advisor to Louis XIV, king of France.



An animated Amy Rice explaining the 1775 statue Minerva by Joseph Nollekens. Photo by Laura Deni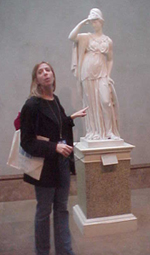 During its long history, the statue has been heavily damaged. Marks on the back of the statue have been interpreted as gunshot wounds suffered during the French Revolution, although this story may be based more in romance than in fact.

Rice explained that when it was excavated the head was missing and the breasts were too flat. In restoration, the head probably belonged to another ancient statue, was lifted and tucked onto the neck and experts created breasts. Real quipped that the statue, with a face life and fake breasts, fit right into Los Angeles.

Several female deities by Joseph Nollekens (1737-1823) are in the Museumís collection such as figures of Juno and Minerva and his Venus Removing Her Sandal, formed part of a series sculpted for Lord Rockingham to accompany a marble Paris, which Rockingham already owned and believed to be antique.

The four statues together illustrate the story of the shepherd king who was empowered to judge which goddess was the fairest. Nollekens chose to depict each of the goddesses in a different state of undress.

Canadian born Real, with a masters in art history, was educated in Italy. Her tours on Coming of Age in Ancient Greece, and another session on the Relationship Between Art & Science brought attendees to the ornate state of Saint Gines de la Jara by Seville artist Luisa Roldan, known as La Roldana - named Sculpture of the Bedchamber by King Charles II



Saint Gines de la Jara by La Roldana. Photo by Laura Deni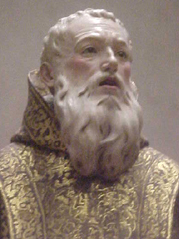 Saint Gines de la Jara by La Roldana. Photo by Laura Deni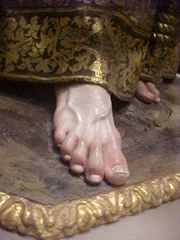 Gilt and polychromed pine and cedar, the rich decoration of the saint's robes is executed in estofado, a technique that simulates the brocade of ecclesiastic vestments by stamping patterns of foliage and fleurs-de-lis over brown pigments and burnished water gildings to mimic he texture and brilliance of the gold cloth.

Even the veins in the feet and toe nails look lifelike.

The use of glass eyes - giving the impression that the statue is following the viewer - adds heightened realism typical of the emotionally expressive devotional practices of Catholic Spain.

It can also scare the hell out of a person, which may have been the idea.

"I was raised a Catholic and the statues always scared me," admitted Real. Then she divulged that the glass eyes are so lifelike that guards on rounds at night have been so startled that alerts were signaled - warning that an unauthorized person was in the building.


ELVIS PRESLEY TO BE REINCARNATED IN LAS VEGAS
Elvis Presley at the New Frontier Hotel in Las Vegas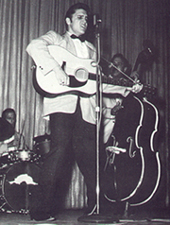 He's the top earning dead celebrity in the world and was hailed as both the King of Rock and Roll and the King of Las Vegas.

Thanks to his only child Lisa Marie selling 85% of Elvis Presley Enterprises Inc to Robert F.X. Sillerman, founder of promoter SFX Entertainment Media, expect Elvis to materialize in Sin City.

Sillerman called Presley the "most significant icon in American pop culture" and said more aggressive marketing could make him an even bigger earner - that mean Las Vegas.

Immediately after the sale was announced Sillerman, who is also one of the producers of Broadway mega-hit The Producers started talking about reincarnating Presley in Sin City. Speculations then took flight predicting an Elvis themed hotel. We lean more towards an interactive entertainment exhibit - akin to crossing the Star Trek exhibit with a karaoke bar.

No matter what form the cash register takes, people and money follow the Presley ghost.

Graceland attracts more than 650,000 visitors a year.

Elvis Presley Enterprises controls Presley's name and likeness, a music publishing catalog, and the operation of Graceland.

Under the agreement, Presley will retain title to her father's home, Graceland, and the more than 13 acres it sits on. She also will keep most of her father's "personal effects," an announcement on the agreement said.

The agreement will pay her $53m in cash and absolve her of $25m in debts owed by the estate. She will also receive shares in the new company expected to be worth more than $20m.

Actress Priscilla Presley, Lisa Marie's mother and Presley's former wife, will remain executive consultant to the business.

The new partnership will handle Graceland's tourist business and control trademark rights to Presley's name and likeness. The purchase covers intellectual property owned by the estate as well as its music publishing catalog.

Presley said she expects the new managers to increase the marketing of her father's name and image.

"I feel confident that Bob Sillerman and his team are the right people to do this with. My greatest responsibility to my father is to preserve and protect his legacy, and this is an exciting new structure that opens up an incredible array of opportunities with a major infusion of new investment capital to do just that," she said in a statement.

Elvis first performed in Las Vegas in April, 1956 at the New Frontier Hotel. He returned as King of The Strip when he opened the International Hotel - now the Hilton - in July, 1969. Priscilla and Elvis were married in Las Vegas May 1, 1967 at the old Aladdin Hotel.


CELEBRATING THE SEASON


The Los Angeles Holiday Celebration hosted by Henry Winkler, presents a kaleidoscope of seasonal traditions at the Dorothy Chandler Music Center on December 24.

A yearly ritual which began in 1964, the 2004 edition will be the 45th annual live show. The program honors the spirit of many cultures and holiday traditions through music, song and dance. Community and professional choirs, music ensembles, folk and traditional artists, and dance companies perform for an audience in the Dorothy Chandler Pavilion The production features 1000-1500 performers representing 40 groups chosen by competitive application.

Los Angeles public television station, KCET, has broadcast the live show since 1965. In 2002 L.A. Holiday Celebration received its first national exposure on PBS with a one-hour television special of selected Holiday Celebration performances. The Los Angeles County Arts Commission is the executive producer of the show.

Attendance and parking are free. No reservations or tickets are necessary. Seating is first come, first served. Attendees can arrive at any time and stay as long as they wish.

Friday, December 24, from 3:00 p.m. to 9:00 p.m.



Broadway To Vegas is supported through advertising and donations. Priority consideration is given to interview suggestions, news, press releases, etc from paid supporters. However, no paid supporters control, alter, edit, or in any way manipulate the content of this site. Your donation is appreciated. We accept PAYPAL. Thank you for your interest.


HOLIDAY
BRAIN TEASERS

WENCESLAS' WORDS
Good King Wenceslas looked out,
On the Feast of Stephen,
When the snow lay round about,
Deep and crisp and even;
Brightly shone the moon that night,
Though the frost was cruel
When a poor man came in sight,
Stamping out a message:
Suddenly the snow began to fall heavily and the first letter N soon disappeared, leaving the word SOWING.

King Wenceslas rubbed out another letter of the word in the snow and it again left a word. He carried on taking out one letter at a time which left other, smaller words. He did this until there was only one letter left - and this was a word too!

Which words did King Wenceslas make and what was his final word?
The answer can be found at bottom of the column.


SPREADING THE WORD


GUANTANAMO: HONOR BOUND TO DEFEND FREEDOM stages is final performance today - December 19 - at the 45 Bleecker Street Theater in NYC. Danny Glover will read the part of Justice Lord Steyn.


OTHER PEOPLE'S MONEY


CANDY MANUFACTURES will sell over $500 million during this holiday season.



MONTY PYTHON'S SPAMALOT Telling the legendary tale of King Arthur and the Knights of the Round Table and the quest for the Holy Grail, in song, Monty Python's Spamalot features a chorus line of legless knights, men in tights (with legs), killer rabbits and sexy dancing divas creating some of the most unforgettable musical production numbers you will ever see in the theatre on this evening!

Directed by Tony and Academy Award-winner Mike Nichols and starring David Hyde Pierce, Tim Curry and Hank Azaria, this world premiere, pre-Broadway engagement features a book by Python Eric Idle, lovingly ripped off from the screenplay of the acclaimed Monty Python and the Holy Grail film with a new score featuring music and lyrics by Eric Idle and John Du Prez.

Dec. 21-Jan. 23 at the Shubert Theatre in Chicago.

HUMANA FESTIVAL LINEUP has been announced by the Humana Foundation and Actors Theater of Louisville, Ky. Works by 17 playwrights will be presented at the 29th annual Humana Festival of New American Plays Feb. 27 to April 9. The festival will comprise six full-length plays, four 10-minute plays and a satiric anthology by seven playwrights. The full-length plays are Nervous Smile by John Belluso of Los Angeles, The Shaker Chair by Adam Bock of New York, Pure Confidence by Carlyle Brown of Minneapolis, Moot the Messenger by Kia Corthron of New York, Hazard County by Allison Moore of Minneapolis and Memory House by Kathleen Tolan of New York.

GOOD VIBRATIONS the music of the Beach Boys comes to Broadway in a new musical. Directed and choreographed by John Carrafa, Good Vibrations begins preview performances on December 20, at the Eugene O'Neill Theatre. The official opening date is January 27.

The musical stars Tituss Burgess as Eddie, David Larsen as Bobby, Kate Reinders as Caroline and Jessica-Snow Wilson as Marcella.

The cast also includes: Tracee Beazer, Heath Calvert, Janet Dacal, Tom Deckman, Sarah Glendening, Milena Govich, Justin Guarini, Chad Kimball, Amanda Kloots, John Jeffrey Martin, Jesse Nager, David Reiser, Jackie Seiden, Allison Spratt, Carlos L. Encinias, Vasthy Mompoint, Steve Morgan and Krysta Rodriguez.

Good Vibrations features more than 30 songs with music and lyrics by Brian Wilson and The Beach Boys, and a book by Richard Dresser that tells a new story that is not the history of the Southern California super-group.

Rather, Good Vibrations follows the romantic misadventures of a group of small-town teenagers from the East Coast on a life-changing odyssey to the Promised Land: the beaches of Southern California.

The design team is comprised of Heidi Ettinger (sets), Jess Goldstein (costumes), Brian MacDevitt and Jason Lyons (lighting), Tom Morse (sound), Elaine J. McCarthy (projection design) and Charles LaPointe (hair and wig design). David Holcenberg is Musical Supervisor/Arranger, Steve Margoshes is Orchestrator, Susan Draus is Musical Director/Conductor and Van Dyke Parks is Musical Consultant.

Good Vibrations was first done at New York Stage & Film on the campus of Vassar College in Poughkeepsie, New York.

ON THE RECORD from the producers of The Lion King and Beauty and the Beast, - that would be Disney - comes this new musical that sparkles with more than 50 of the most beloved songs ever written, from some of the most popular films ever made ó including The Little Mermaid, Aladdin, Tarzan, The Hunchback of Notre Dame, Sleeping Beauty, Dumbo, Peter Pan, Pinocchio, Lady and the Tramp, Cinderella, and Snow White.

Set behind the scenes at one very magical recording session, where every song you see performed ends up on the record!

December 21 - January 2 at the Ordway Center for the Performing Arts in Saint Paul, Minn.

BY THE BOG OF CATS by Marina Carr. Directed by Dominic Cooke. Starring Holly Hunter who is making her West End debut in the role of Hester Swane.

Designs by Hildegard Bechtler.

Set in the mysterious and stark landscape of the bogs of rural Ireland, Carr's lyrical and timeless play tells the story of Hester Swane, an Irish traveler with a deep and unearthly connection to her land. Tormented by the memory of a mother who deserted her, Hester is once again betrayed, this time by the father of her child, the man she loves, on the brink of despair and heartbreak, she embarks on a terrible journey of vengeance as the secrets of her tangled history are revealed.

By The Bog of Cats was written in 1998 and was last performed at the San Jose Repertory Theatre in 2001, when Hunter first played the role of Hester.

Wyndham's Theatre in London through February 26.

MARY POPPINS which has one of the biggest advance bookings in London West End history - $8 million - opened at The Prince Edward Theatre to rave reviews. A transfer to America seems almost certain. The new Cameron Mackintosh production is based on the PL Travers stories and the Disney film. Disney owns the songs and story lines from the 1964 movie, and Mackintosh, controls the stage rights to the Poppins books, announced in 2001 that they had joined forces to collaborate on a stage adaptation.

The show's book is by Academy Award-winning scriptwriter Julian Fellowes. Composer George Stiles and lyricist Anthony Drewe have written six new songs to complement the film's tunes by brothers Robert and Richard Sherman.

Directed by Richard Eyre with co-direction and choreography by Matthew Bourne with and additional choreography by Stephen Mear. Designs by Bob Crowley.

Stars Laura Michelle Kelly as Mary Poppins, Gavin Lee as Bert. David Haig portrays Mr. Banks, Linzi Hateley as Mrs. Banks with Jenny Galloway as Mrs. Bril the cook, Rosemary Ashe, Julia Sutton, Kevin Williams and Gerard Carey.

Prince Edward Theatre, London

THE RIVALS Richard Brinsely Sheridan's comedy of manners written in 1775. Directed by Mark Lamos. Sheridan's rarely-performed restoration comedy comes to Lincoln Center Theater for its first New York production since a Broadway revival in 1942. Considered one of the funniest plays ever written, outrageous characters, including the infamously misspoken Mrs. Malaprop, reveal the lengths to which a group of society well-to-dos will go in order to capture the elusive magic of love.

Starring Dana Ivey as Mrs. Malaprop, Richard Easton as Sir Anthony Absolute, Matt Letscher as Capt. Jack Absolute, Brian Murray as Sir Lucius O'Trigger, Emily Bergl as Lydia Languish, Herb Foster as Thomas, David Manis as David, Keira Naughton as Lucy - see Broadway To Vegas column of April 19, 1999 - Carrie Preston as Julia, Jeremy Shamos as Bob Acres, Jim True-Frost as Faulkland, James Urbaniak as Fag and P. J. Verhoest as the Errand Boy.

Sets by John Lee Beatty. Choreography by Sean Curran. Costumes by Jess Goldstein. Lighting by Peter Koczorowski. Sound by Scott Stauffer. Original Music by Robert Waldman.

Officially opened December 16 with performances to January 23. At the Vivian Beaumont Theater Lincoln Center in New York, NY.

ALL SHOOK UP written by Joe DiPietro, with direction by Tony Award nominee Christopher Ashley. This new musical comedy that tells the story of a small town girl who dreams of hitting the open road, and the mysterious guitar-playing stranger who brings romance, rebellion an rock'n'roll into her life.

Featuring such classics as Heartbreak Hotel, Burning Love, Love Me Tender, Can't Help Falling in Love, Jailhouse Rock, Blue Suede Shoes, A Little Less Conversation, Hound Dog, Don't Be Cruel, and of course the title song, All Shook Up.

Music direction and arrangements are by Stephen Oremus. Orchestrations are by two-time Tony nominee Michael Gibson and choreography is by Ken Roberson of the Tony Award-winning production of Avenue Q.

At the Cadillac Palace Theatre in Chicago December 19 - January 23. Transfers to Broadway in the spring.


| | | |
| --- | --- | --- |
| | | |
WHO'S WHERE


BARRY MANILOW has been signed by The Las Vegas Hilton Hotel to a long-term engagement through 2005 and beyond. The superstar will debut his 90-minute show Manilow: Music and Passion on February 25, 2005. He will perform 5 shows a week for 24 weeks throughout 2005 and into 2006. Manilow said he intends to also intends to write a Las Vegas theme song.

RICHARD SKIPPER AS CAROL CHANNING in Christmas With Carol Channing and Friends - A benefit for The IGCITA Scholarship Fund. With Special guests: Dottie Burman, Dana Lorge, Sue Matsuki, Jaymie Meyer, & Leslie Orofino. Musical Director John Bowen. December 20 at Donít Tell Mama in NYC.

CANADIAN BRASS blowing their own horns Monday, December 20, at the Meyerhoff Symphony Hall in Baltimore, MD. On Tuesday they are center stage at the Trop Savings Bank Music Hall in Troy, NY. Wednesday the performance is at the Empire Theatre in Belleville, ON and on Thursday they are in the spotlight at Roy Thompson Hall in Toronto, ON.

JOSH GROBAN entertaining Monday, December 20 at the Casino de Paris in Paris, France. On Wednesday he can be enjoyed at Carling Apollo Hammersmith in London.

MANNHEIM STEAMROLLER performing songs of the season December 26 at the Qwest Center Omaha in Omaha, NE.

JERRY SEINFELD telling funny stories Dec 26-27 at Caesars Palace in Las Vegas.

MARTINA McBRIDE delivers her holiday concert Tuesday, December 21 at the Pepsi Arena in Albany, NY.

ANDY WILLIAMS CHRISTMAS SHOW brings the holiday spirit to Abravanel Hall in Salt Lake City, Utah on Monday, December 20.

LINDA EDER with a magnificent three-octave voice, in this her holiday tour Linda sings the sounds of the season and all her greatest hits. Tues., Dec. 21 at Barbara B. Mann Hall in Fort Myers, Florida.

CLAY AIKEN on stage Tuesday, December 21 at the Palace Theatre in Cleveland, Ohio. On Wednesday he's center stage at Heinz Hall in Pittsburgh and on Thursday the performance is at the Masonic Temple Theatre in Detroit.


BRAIN TEASER ANSWERS


WENCESLASíS WORDS - ANSWERS
SNOWING
S OWING
OWING
WING
WIN
IN
I
















Next Column: December 26, 2004
Copyright: December 19, 2004. All Rights Reserved. Reviews, Interviews, Commentary, Photographs or Graphics from any Broadway To Vegas (TM) columns may not be published, broadcast, rewritten, utilized as leads, or used in any manner without permission, compensation and/or credit.
Link to Main Page
---
Laura Deni


CLICK HERE FOR COMMENT SECTION