! >
Broadway To Vegas
  SHOW REVIEWS     CELEBRITY INTERVIEWS     GOSSIP     NEWS 
COLD CHILLS IN THE HONEYMOON SUITE - NAKED MODELS GREET MUSEUM GUESTS

It's a hotel built totally out of ice and snow, including the beds in the honeymoon suite - and people are clamoring to experience the frostbite.

Over 10,000 guests booked reservations in advance for last Friday's official opening of the all-Ice Hotel in Sweden.

Located just 200 km north of the Arctic Circle lies Jukkasjarvi, Sweden, which is situated on the Torne River, Jukkasjarvi, translated "meeting place", has been a crossroads and marketplace for half a millennium - except a few years ago city fathers noticed that other countries ere raking in the tourism dollars and they weren't.

It came as no surprise that very few tourists visited Jukkasjarvi throughout its long, dark, cold and snowy winters.



Entrance to the Ice Hotel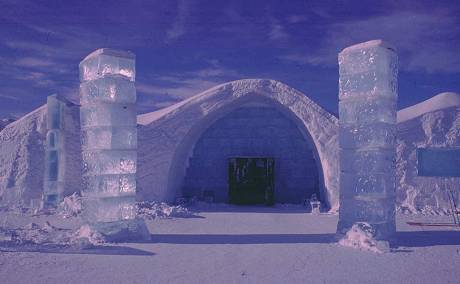 Jukkas AB, the company that runs the Icehotel, has been involved with tourism since the mid 1970's and offers numerous activities such as, river-rafting,fishing, wilderness survival, reindeer and dog sledding. In 1991, Jukkas AB devised a brilliant and innovative way to use the winter as an asset.



It all started with an "Art-ic" exhibition igloo built directly on the Torne River. Hundreds of visitors marveled at the 60-sq. meter art gallery; a few visitors even spent the night. The first "Art-ic" exhibition wasn't intended to spawn a resort. But well-rested guests argued that igloos have served as accommodations for thousands of years. Hence, the birth of the Icehotel.

Now in its tenth year, the Icehotel continues to prosperous as the world's largest, and perhaps only, hotel made completely of ice and snow.

From its modest one room start nearly a decade ago, the Icehotel now covers more than 6,000 square yards - more than a football field, using about 10 000 tons of ice, and 40 000 cubic meters of snow.

This 37 room winter wonderland includes; a hotel reception, a main hall, an ice-art exhibition, the Absolut Ice-bar, Icehotel Cinema with an ice screen, a honeymoon suite, and, of course, hotel rooms.

Guests snuggle into their thermal sleeping bags at night on beds built of ice around a wooden frame and equipped with a reindeer skin and a sleeping mat. The temperature varies between 16 degrees and 25 degrees Fahrenheit.

In the evening, the freezing fun lovers gather abound the Absolut Ice-bar, which boasts an ice dome hovering 30 feet over the ice bar and take a drink "in the rocks", from glasses cut from river ice.

Knowing that tourists love souvenirs, guests are being encouraged to "take your ICEglass home with you!" Invite the neighbors over for a drink from an ice glass made of the purest River Torne ice. With the help of special packaging produced by the Royal College of Technology in Stockholm, it is now fully possible to take some of the River Torne home with you. This is because the ICEglass will survive for 32 hours in the packaging. A souvenir store has been set up to sell the ICEglasses, or you can even order them over the phone and have them shipped to you.

Adjacent to the entrance, the Ice Church which opens on Christmas day, hosts religious services, weddings and baptisms. You think you've heard a kid scream? Just wait until the heir hits the ice water.

Then there are the naked girls by the museum

To commemorate the opening of the museum, organizers hired tall, thin, beautiful models working three hour shifts, to stand naked at the entrance greeting customers who are suppose to be eyeballing the ice art.

The Icehotel is also the world's first wireless hotel. Frontec and Symbol Technologies put their ice tongs together and discovered that by connecting all buildings in the area to the Spectrum24, a wireless network from Symbol Technologies, the guests are able to check in with Symbols wireless PDA's. In the world famous Absolut Ice Bar all given orders will be stored in PDA'ss equipped with readers for bar-codes and credit cards The guests will also be able to send e-mails. If e-mail is too commonplace, phone calls can take place from Symbols IP-telephone in front of a wireless web-cam. Symbol Technologies is delivering the hardware and Frontec is developing the software.

In early October, about a dozen resident artists and builders get busy before the arrival of the first guests in mid December. Snow cannons and front loaders help to mould the snow over vaulted steel forms, some forms as large as 5 meters high and 6 meters wide. After two days the vaulted sections are moved and ready for use in a new location. Then, ice columns are brought in to give extra support to the free-standing snow vaults. In late November, the builders remove ice from the Torne River aided by tractors and special ice saws and ice tools developed in Jukkasjarvi. The clean river water coupled with the fact that the water is moving produces crystal-clear ice.

Through December's continual darkness, as the main structure nears completion, refinement of the interior begins. The interior design continues into late January.

The constant minus seven degrees indoor working conditions are relatively comfortable compared to the outside temperature which can drop below 40 degrees Celsius. Late into the evening, the sculptors saw and chisel the ice blocks to create, among other things: architectural details, windows, doors, columns, desks, beds, chairs, tables, lamps, and of course sculptures.

Every year, hand picked national and international guest artists are invited to design the interiors of certain rooms. The diverse styles of the numerous artists in combination with the characteristics of the ice result in a museum like atmosphere full of magic, mystery, and surprises as one meanders from room to room.

However unfortunate, in late April, the sun's rays begin to melt the recently completed masterpiece. It's a way of saying check out time has arrived.

To get a head start on the following year, the builders isolate tons of ice under sawdust; however, the sculptor's only preserve ice blocks and allow the ice sculptures to melt. Nature's temporal gift gives the opportunity to experiment with form, space and technique every year; like snowflakes, no two Icehotels are identical.

By June the place has turned back into a puddle.



Broadway To Vegas is supported through advertising and donations. Priority consideration is given to interview suggestions, news, press releases, etc from paid supporters. However, no paid supporters control, alter, edit, or in any way manipulate the content of this site. Your donation is appreciated. We accept PAYPAL. Thank you for your interest.


YUK IT UP

Billy Crystal may not be doing the Oscars but he'll be front and center at the seventh annual U.S. Comedy Arts Festival in Aspen, Colorado Feb. 28-March 4.

Other mirth makers taking part include Catherine O'Hara, Janeane Garofalo, Martin Mull, Fred Willard, Keenan Ivory Wayans. Rachel Dratch, Tina Fey, Wayne Brady, The Bomb-itty of Errors, David Pasquesi, Dave Gorman and George Lucas a guy we didn't know did stand-up.


OTHER PEOPLE'S MONEY

MANNA FROM HEAVEN The Rev. Denny Bellesi of the Coast Hills Community Church in Aliso Viejo, CA looked down from the pulpit at the close of a recent Sunday service pointed at random to 100 parishioners and asked them to come forward. Then he gave each person a $100 bill and instructed them to "go forth into the community and make a difference."

The church goers with the greenbacks to spend ranged in age from a fifth grader to grandparents. The chosen 100 are suppose to return to the flock the first Wednesday of February to report what they did with their money, whom it touched and whether it changed any lives, including their own.


APPLAUSE, APPLAUSE

NATIONAL MEDAL OF ARTS MEDALLISTS have been announced by President Clinton. Congress permits presidents to select up to 12 medal winners each year in both the arts and the humanities. President Clinton will award the maximum number in both categories.

The awards, administered by the National Endowment for the Arts and the National Endowment for the Humanities, will be presented by President Clinton this coming Wednesday in Washington, D.C.

Recipients of the Medal of Arts include: Mickhail Baryshnikov, dancer and choreographer; Benny Carter, jazz saxophonist and composer; Chuck Close, painter; Horton Foote, playwright and screenwriter; Lewis Manilow, Chicago arts patron; National Public Radio Cultural Programming Division; Claes Oldenburg, sculpture; Itzhak Perlman, violinist; Harold Prince, theater director and producer; Barbara Streisand, singer, actress, film director and producer.

Those receiving the humanities medals include: Robert N. Bellah, sociologist of religion; Will D. Campbell, civil rights activist in Tennessee; Judy Crichton, PBS documentary writer, producer and director; David C. Driskell, curator and scholar of African-American art; Ernest J. Gaines, writer on the South; Herman T. Guerrero, preservationist in the Northern Mariana Islands; Quincy Jones, jazz musician, composer, arranger and producer and preservationist; Barbara Kingsolver, writer; Edmund S. Morgan, historian; Toni Morrison, writer; Earl Shorris, writer and advocate of humanities courses for the poor; Virginia Driving Hawk Sneve, writer on American Indian life.


PLAYWRITING COMPETITION

Repertprop Espanol and The Metropolitan Life Foundation announce Nuestras Voces II, the Second Annual Playwriting Competition, which was created in order to help develop plays and playwrights that deal with subjects that are of interest and importance to the Hispanic community, or which focus on the Hispanic experience.

The first place winner of Nuestra Voces II will receive $3000 and a fully staged production of the play by Repertorio Espanol's professional company, which will run as part of the rotating repertory. Second and third place winners will receive $2,000 and $1,000 respectively; and the two runners up will be awarded $500 each. All finalists will receive staged readings of their work.

Plays should discuss an aspect of the Hispanic experience or have Hispanic themes or characters. All entries must be postmarked by Wednesday, February 15, 2001. Entries are accepted at any time before the deadline. No late submissions will be accepted. All plays must be full-length, and cannot have received a full-fledged Equity production or been reviewed; prior staged readings are acceptable. One-act plays or screenplays will not be accepted. Scripts can be written in Spanish or English. Playwrights must be at least 18 years of age. Finalists will be asked to provide written permission for any material subject to copyright laws.

Submit all materials to: NUESTRAS VOCES II Repertorio Espanol 138 East 27th Street New York, New York 10016.



SECOND SUMMER by Gary Richard who has received four EMMY nominations for producing Guiding Light will star Joan Copeland and Gil Rogers, with Catherine Wolf, Joel Rooks, Margery Beddow, Jerry Rockwell and Carolyn Younger co-starring in the world premiere of the new play presented by The Colleagues Theatre Company. Roy B. Steinberb will direct.



GIL ROGERS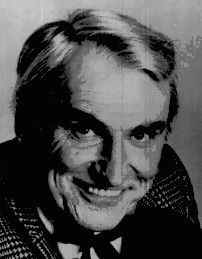 The Colleagues Theatre Company was founded in 1995 by Catherine Wolf to commission and produce plays that celebrate the richness of the mature life experience, to provide performance opportunities for seasoned artists, and to create a 2-year scholarship training program in theatrical craftsmanship for gifted high school graduates from underserved communities. The first scholarship recipient has, as a result of her training at CTC, recently been hired in the stage management and carpentry departments of The Public Theatre.

The Colleagues Theatres goal is to put mature actors back into center stage. Productions have included the American Premiere of Angela Hutha The Understanding and the World Premiere of George Bamford's Irish Strawberries.

Second Summer is the company's third major production in New York City and the first of two productions scheduled for the 2000/2001 season. Second Summer is set in Brooklyn and Florida in the present. Recent widower Reginald Herring expects to live out his final years alone. What he finds instead is a world of new possibilities.

Copeland, who plays Sheila won the Drama Desk Award for her appearance in the original Broadway production of The American Clock and received a Drama Desk nomination for the revival of Pal Joey at the Circle in the Square uptown. Her other Broadway shows include the Richard Rodgers musical Two By Two opposite Danny Kaye, The Price, Tovarich and Detective Story. Last summer she appeared in Noel Coward's Tonight at 8:30 at Williamstown and You Can't Take It With You at the Bay Street Theatre.

Rogers, who plays Reginald Herring, is known for his work on Broadway, off-Broadway and in daytime TV dramas. On Broadway he played Sheriff Ed Earl Dodd in The Best Little Whorehouse in Texas, Frank Brady in The Great White Hope and The Squire in The Corn Is Green. His off-Broadway credits include a production nearly 30 years ago called The Eve of the Green Grass in which he co-starred with Kim Hunter. TV audiences will recognize Gil as Hawk Shayne on Guiding Light for the past 15 years as well as the dastardly Ray Gardner on All My Children.

The design team for Second Summer is Drew Francis (sets,) Greg Poplyk (costumes,) Jeff Fontaine (lights) and David A. Gilman (sound.)

Second Summer will begin performances at the Neighborhood Playhouse, NYC on Thursday, January 4th, open officially on January 5th and continue through January 20th.

ROSIE O'DONNELL who has done more to promote Broadway than any TV host since Ed Sullivan, is taking it one step further, by physically stepping into Seussical, The Musical - the $10.5 million Broadway show which opened recently to mostly negative reviews. O'Donnell will do six performances a week beginning January 16 as the Cat in the Hat, replacing a vacationing David Shiner who returns to the production on February 13. O'Donnell will donate her salary to charity. O'Donnell last appeared on Broadway in Grease.

ANNIE GET YOUR GUN December 19-24 in Philadelphia starring Marilu Henner. and Tom Wopat.

BLACK COMEDY AND THE REAL INSPECTOR HOUND the first by Peter Shaffer who drop-kicks us into the middle of a London blackout and the latter by Tom Stoppard, a fast paced satire where two snotty theater critics watch a creaky old murder mystery, and prepare to nail this show to the wall. Until, suddenly ... the show turns the tables and nails them. Both directed by Jiri Zizka. Through December 31 at The Wilma Theater in Philadelphia.

THE FULL MONTY will take it off on the road. A touring version opens in Toronto on May 22 and then crosses the border and heads to Los Angeles.

LILLY TOMLIN IN THE SEARCH FOR SIGNS OF INTELLIGENT LIFE IN THE UNIVERSE written and directed by Jane Wagner has been held over through February 25 at the Booth Theatre, NYC.

THE VAGINA MONOLOGUES welcomes Carolee Carmello, Roma Maffia and Rue McClannahan starring in the production through January 7 at the Westside Theatre, NYC.

OLD MONEY by Wendy Wasserstein, directed by Mark Brokaw at the Lincoln Center Theatre through January 14.

DESIGN FOR LIVING a revival of the Noel Coward piece which first opened on Broadway February 6. 1933, will be directed by Joe Mantello and star Alan Cumming, Jennifer Ehle and Dominic West in the Roundabout Production. Previews start February 16 with an opening scheduled for March 15 at the American Airlines Theatre. Tony Award winners Alan Cumming (Cabaret) as Otto and Jennifer Ehle (The Real Thing) as Gilda, Dominic West as Leo along with featured players Marisa Berenson as Grace, John Cunningham as Ernest, T. Scott Cunningham as Henry and Jenny Sterling as Miss Hodge. Written by Coward in 1932, the "sensuous menage a trois comedy" involves a "trio of decadent artists on a scintillating romp through London, Paris and New York in search of true love..." The creative team includes set designer Robert Brill, costume designer Bruce Pask and lighting designer James Vermeulen.


WHO'S WHERE

DAVID COPPERFIELD will make his audience disappear when he plays Kingsbury Hall in Salt Lake on December 21-23.

Copperfield will explore that "Unknown Dimension" in what is billed as his "most spectacular stage show ever." He will perform such feats as shrinking himself to 12 inches tall, cutting himself in half, levitating above the stage and performing interactive magic with each audience member. But the evening's most amazing illusion will come as Copperfield transports himself from the stage to the other side of the planet. He's claiming to have a crew in Bali, Indonesia, and a satellite uplink so he can talk to the audience once he "gets there." He will take proof: clothing, distinctive mementos, signed and dated Polaroid photographs of the audience and one lucky audience member. The encore for the evening will also involve unusual transportation. Thirteen members of the audience will be chosen at random and vanish in a fiery blast. Some will reappear miles away. Some may not come back at all!

JUDY COLLINS with Albany Pro Musica, at the Troy Savings Bank Music Hall in Troy, NY Thursday, December 21.

KATHY MATTEA at the Proctor's Theatre, in Schenectady, NY performing Holiday music and her greatest hits on Wednesday, December 20.

SARAH BRIGHTMAN December 19 in St. Petersburg at the Octlabrsky and December 22 in Moskau at the Kremi.

CLEO LAINE performs Christmas Shows December 20-23 at Wavendon Stables, United Kingdom.

MANNHEIM STEAMROLLER CHRISTMAS at the Kemper Arena in Kansas City on December 21.

LUCIANO PAVAROTTI is scheduled to perform an April Fool's Day concert in Rochester, N.Y. No fooling. It will be the Italian tenor's first trip Rochester and is part of a U.S. springtime tour. He'll perform at the Eastman School of Music, delivering a traditional opera program, with songs from Verdi and Puccini. Tickets for the event will range from $20 to $300.

WESLA WHITFIELD with Mike Greensill at the piano, perform through January 20 at the Plush Room, San Francisco.

PATTI La BELLE Venetian Hotel,Las Vegas December 30.

LILLIAS WHITE singing at Arci's Place, NYC until December 31.

JIM BRICKMAN current instrumental king of the adult contemporary radio format, along with his longtime vocal partner, Anne Cochrane, performed before 2,000 fans at Proctor's Theatre in Schenectady this past week. Also well received were electric violinist Tracy Scott, but it was Donny Osmond that stole the show. He donned sunglasses, fake sideburns and did his Elvis impersonation to Blue Christmas.

GEORGE WINSTON in a Christmas Concert December 20 at Alice Tully Hall, Lincoln Center, NYC.


THIS AND THAT

JUILLIARD is offering a class in The Musical Theater of Cole Porter for ten Monday evenings beginning Jan. 29. The course will demonstrate how this composer-lyricist combined sophisticated wit with a prodigious melodic gift. Anything goes!

FRANK SINATRA SCHOOL OF THE ARTS will happen in the borough of Queens, NY thanks to Tony Bennett who convinced the big shots that this was the way to honor the late crooner. The official announcement came last Tuesday on what would have been Ol' Blue Eyes' 85th birthday. The school will open in a temporary facility in September with an initial enrollment of 250 eighth and ninth-graders. Academic courses will be combined with intensive study in music, the fine arts, drama and dance. A permanent school site is expected to accommodate 1,000 ninth-through 12th grade students. Enrollment will be based upon auditions and academic reviews. The school will be funded through donations from the Friar's Club and others. Alan King, long time friend of Sinatra and head of the Friar's Club, attended the announcement as did Nancy Sinatra, the singer's eldest daughter.

TRAFFIC the new film starring Michael Douglas has recruited a bunch of bit players United States Senate. The five politicians cast as politicians are Barbara Boxer of California, Orrin Hatch of Utah, Don Nickles of Oklahoma, and Harry Reid of Nevada. Also landing a part is former Gov. William Weld. of Mass. Douglas stars as a federal drug official who has been nominated for a top level drug position.



Mention BROADWAY TO VEGAS for Special Consideration
Call (800) 942-9027









Next Column: December 24,2000
Copyright: December 17, 2000. All Rights Reserved. Reviews, Interviews, Commentary, Photographs or Graphics from any Broadway To Vegas (TM) columns may not be published, broadcast, rewritten, utilized as leads, or used in any manner without permission, compensation and/or credit.
Link to Main Page
---
Laura Deni


CLICK HERE FOR COMMENT SECTION