! >
Broadway To Vegas
  
  REVIEWS INTERVIEWS COMMENTARY NEWS

| | |
| --- | --- |
| | |
TO KILL A MOCKINGBIRD BROADWAY PLAY REVIEWED - -SHIRLEY MacLAINE WILL RECEIVE AARP LIFETIME SCHIEVEMENT AWARD - - GAINSBOROUGH'S FAMILY ALBUM - - THE PHANTOM OF THE OPERA IN DUBAI - - HARRY CONNICK, JR WHEN MY HEART FINDS CHRISTMAS CD REVIEW - - CHASING BONO - - THE PANTIES, THE PARTNER AND THE PROFIT - - KATHARINE HEPBURN: DRESSED FOR STAGE AND SCREEN - - DONATE . . . Scroll Down





Copyright: December 16, 2018
By: Laura Deni
CLICK HERE FOR COMMENT SECTION


JEFF DANIELS MAKES THE GREGORY PECK ROLE OF ADDICUS FINCH IN TO KILL A MOCKINGBIRD HIS OWN
Jeff Daniels and Gbenga Akinnagbe give powerful performances in To Kill a Mockingbird. Photo: Julieta Cervantes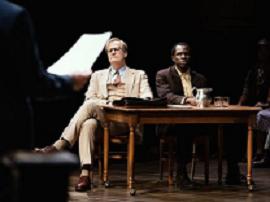 It doesn't happen often - an iconic book turned into an iconic movie then is reconfigured as a Broadway play and - succeeds.

The performance holy trinity - writer, director and actor - in this case Alan Sorkin, Bartlett Sher and Jeff Daniels emotionally fused into one and created a minor miracle - a stage version of To Kill a Mockingbird which stays true to the original yet is transitioned into something greater - a powerful, thought provoking - yet fresh approach to bigotry and racism which is as rampant as it was when Harper Lee penned her manuscript.

The show will not only hold your attention and entertain but have you admitting/questioning - perhaps even chastising your own views on current day racial issues.

What audiences are oblivious to is that symbiosis created this masterpiece. Sorkin and Daniels have previously worked together - magic happened. Sorkin has said that he wrote Finch with Daniels in mind. In what most people never experience - and for the few that do - it's once in a lifetime, almost total merging of two individuals. Sorkin and Daniels are totally comfortable with each other. They almost read each other's minds and can correctly finish each other sentences. Sounds like a perfect love match. In a way it is - only it's a creative one - one in which the audience as voyeurs are mesmerized and then assimilate this rare stage feat.

Nobody should ever try to impersonate or compete with the performance of Gregory Peck as Addicus Finch in the movie version of To Kill a Mockingbird. On this stellar Broadway production the incredible talent of Jeff Daniels doesn't. With nuanced hues and subtle undertones Daniels makes the part his own.

Daniels proved with Dumb and Dumber that he owned the 13-year-old teen boy market. The remainder of his body of work gained the respect of fans and critics. With this performance he's left no doubt that he is one of the finest actors to ever grace a stage. He knows how to caress a part, polishing it into burnished glory.

The play is the book and movie; but it is also so much more.

With the current volatile political temperature, it should have been considered a challenge to present racism without the fear of becoming problematic - even incendiary.

This production pulls it off.

"We can't go on like this. We have to heal this wound or we will never stop bleeding," Jeff Daniels as Atticus Finch pleads about racial inequality.

In the book and movie three important roles are played by children while the stage presentation uses adults cast as children. Jean Louise "Scout" Finch - a young looking Celia Keenan-Bolger appropriately wearing country dungarees and a haircut which must have involved putting a mixing bowl over her head. There is her older brother the spunky Jem (Will Pullen) who considers his father a push-over, as well as their friend Dill Harris (Gideon Glick) - a character inspired by Harper Lee's pal Truman Capote. The awesome responsibility of convincing the audience to accept that casting concept takes about 10 seconds for the talented threesome to accomplish.

The script isn't in chronological order - rather it effortlessly moves between time and place.

Adding emotional depth to the production is the music - haunting organ music composed by heavyweight Adam Guettel. Guitarist Allen Tedder sits on one side of the stage and music director Kimberly Grigsby who, performing as organist, is positioned across the stage from Tedder. Their music offers both intrigue and smooth scene transitions. Excellent sound by designer Scott Lehrer.

The stage curtain is the first hint that this isn't a typical production. The second you see the set you know this isn't any precious production. No cozy tree lined streets. The play opens in an old, empty, dilapidated building with the children talking about the events depicted in Mockingbird. Ever since it happened Scout has been reliving that horrid evening when Scout and her brother were viciously attacked, when their attacker died. Racist redneck Bob Ewell (Frederick Weller), father of alleged rape victim Mayella (Erin Wilhelmi) has died. While Scout declaring her skepticism about the official statement that Ewell fell on his own knife, the secondary plot line emerges. Constructed rumors became neighborhood fact.

Ewell is the man who beat and raped his own daughter then manipulated the blame to Tom Robinson.

At one point in the play Jem says: "I could split Bob Ewell in half and God himself would call it a public service."

The three children sometimes directly address the audience. In doing so, the audience is not just invited in - as much as sucked into the emotionalism of the production. Deal with it. Your belief system and preconceived ideas will be challenged.

Scout, Jem and Dill are suddenly engulfed in a courtroom thanks to Miriam Buether's imaginative, sparse set design. A jury box, witness stand, judge's bench, attorney stations and spectator seats almost instantly are in place. People are everywhere - except the white men who will decide the fate of the accused. That becomes powerful staging, because it requires the audience to use their imagination.

Remember, at that time, women weren't permitted to serve on a jury. Neither were those of color.

According government reports: As late as 1942 only twenty-eight state laws allowed women to serve as jurors, but these also gave them the right to claim exemption based on their sex. The Civil Rights Act of 1957 gave women the right to serve on federal juries, but not until 1973 could women serve on juries in all fifty states.

The accused is Tom Robinson portrayed by Gbenga Akinnagbe who is making his Broadway debut. He delivers an important, monumental performance.

Akinnagbe celebrated his birthday on December 12, 2018 - the day before To Kill a Mockingbird officially opened - meaning all of the rave reviews might be one of the best birthday week presents he has ever received.

Robinson, a 25-year-old father of three, stands falsely accused of raping Mayella Ewell (Erin Wilhelmi). He's black, she's white. Easy verdict. The trial has yet to begin, although it's the town viewpoint that the only event not announced is the time and date of Robinson's lynching. At best, all that Robinson can hope for is that somebody doesn't spit into his last meal.



Cast of To Kill a Mockingbird courtroom scene. Photo: Julieta Cervantes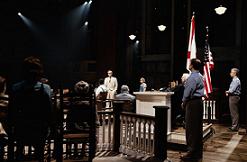 Atticus Finch is a small-town Southern lawyer who doesn't have the greatest track record. The last two defendants he represented were executed. However, he does claim to know how to write a will. Now he is defending a black man wrongly accused of rape.

Dakin Matthews portrays upstanding Judge Taylor, who renders southern justice duplicity with countrified humor - the down-home version of a drum rim shot. Law has its rules and boundaries. It also is laced with hypocrisies. The blindfold wearing Lady of Justice can also be used as an excuse to permit racism and inequality.

Unusual for the time, but important for the play's balance, is the believable Danny McCarthy as the fair-minded, white Sheriff Heck Tate.

The rape victim is the stereotypical epitome of Southern White Trash. That doesn't mean that a victim isn't a victim and she leaves no doubt about what it's like growing up among poverty and abuse.

The biggest differences in the book and the film successfully brought to the Broadway play are the well fleshed out character development of all roles, expertly crafted by Sorkin and a crucial change of viewpoint. In previous editions the script is seen through the eyes of Jem and Scout, who is the protagonist. In the play Finch is the protagonist.

Finch is all for empathy - "You gotta crawl around in another man's skin 'fore you can really know him," Atticus informs his children, insisting that there is fundamental goodness in everyone.

That would include the lynch mob that shows up in tattered Klan masks at one point all hell bent to enact their Klan duties. "But they're still good people," Atticus insists.

Jem considers his father spineless. He faults him for always trying to understand the motives and actions of others.

People who are always making excuses for others get walked on and over, and play into the hands of their enemies.

Although there was no doubt that Robinson would be convicted - being it was Alabama in the 30's - his own lawyer made it easier for a guilt free conviction by showing empathy and compassion for the personal trials and tribulations of the prosecuting witnesses.

In seeing good in everyone Atticus became an enabler. The play forces Atticus to confront that issue.

Even his long time African-American housekeeper, Calpurnia deliciously played by LaTanya Richardson Jackson has a few opinions to share with Atticus. Cal who does know her place when it comes to employment - is also the woman who raised Atticus' late wife from childhood, and then after the then Mrs. Finch died, Cal raised her children. Now, she is attempting to help Atticus gain maturity. She's not afraid to stare him down or point out that his benevolent attitude works against him.

Even the term "passive-aggressive" is used.



Jeff Daniels as Addicus Finch and LaTanya Richardson Jackson as housekeeper Calpurnia. Photo: Julieta Cervantes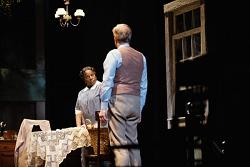 There is Boo Radley (a sensitive performance by Danny Wolohan), the recluse who lives with drawn curtain and isn't somebody you'd want to meet in a dark alley. Suddenly gifts start appearing under his knotted oak tree.

Then there is bigoted old Mrs. Dubose played to perfection by Phyllis Somerville who calls Scout an ugly little girl. She also mouths off such vile racial epithets regarding her opinion of Atticus defending Robinson, that an infuriated Jem destroys the pain-ridden woman's prized flower garden.

At one point Bob Ewell drops by Atticus' home on what Southerners refer to as a "fellowship" call. You either invite a person into your house, or go to somebody's home provided the person is of a different race, religious belief or is an enemy - somebody you can't stand - and "fellowship with them." That makes you feel that you are a better person than they - because you have stooped to "commune" or "fellowship" with them.

During the Ewell visit the scum bag downs a glass of bourbon before pontificating on the tragedy of whites being defeated in their attempt to keeps blacks in their place. He warns Atticus that his fellow Klansmen don't cotton to race traitors, leaving Atticus - a white man who defended a black man - with a blood chilling: "One tree, two ropes."

Act One ends on a note so powerful that many patrons had difficulty standing up - much less leaving their seats during intermission. Wearing sacks over their heads, Ewell and his kind, waving about shotguns or chairs clamor down the theater's aisles, as Atticus sits outside the county jail where Tom Robinson is being kept.

Eventually, Addicus reaches the end of his rope. He breaks down in a powerful, focused, violent, dramatic scene in which Atticus challenges his own moral beliefs.

Mood enhancing sepia lighting by Jennifer Tipton. Period costumes which don't steal attention away from the performance but effectively depict the poor and downtrodden of the 30s are by Ann Roth.

Assured, precise directing by Bartlett Sher. This is one of the rare - don't miss it - plays which will reverberate inside you long after you leave the theatre.

In this powerful To Kill a Mockingbird it isn't Scout who matures - it's Atticus who grows up.






E-Book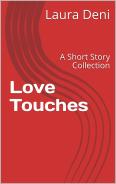 Soft back Book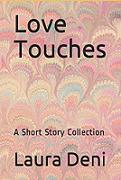 Broadway To Vegas is supported through advertising and donations. Priority consideration is given to interview suggestions, news, press releases, etc from paid supporters. However, no paid supporters control, alter, edit, or in any way manipulate the content of this site. Your donation is appreciated. We accept PAYPAL. Thank you for your interest.



E-Book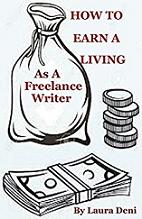 Soft back Book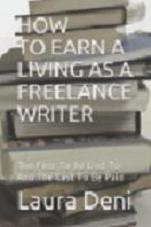 This is not your typical, totally boring textbook.

In the pages of How To Earn A Living As A Freelance Writer (the first to be lied to and the last to be paid) you'll find sex, celebrities, violence, threats, unethical editors, scummy managers and lawyers, treacherous press agents, sex discrimination; as well as a how-to for earning money by writing down words.





ART AND ABOUT


KATHARINE HEPBURN: DRESSED FOR STAGE AND SCREEN

Katharine Hepburn Dressed For Stage and Screen exhibit. Photo: Kent State.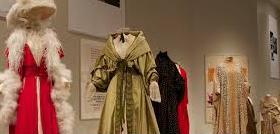 featuring costumes from her various roles on the stage and the screen, on loan from Kent State University Museum.

In 2008, the Kent State University Museum was honored to receive Katharine Hepburn's personal collection of film, stage and television costumes, as well as clothes worn by her for publicity purposes. The exhibit is also be supported by special events and programming on Hepburn's career, influence and life.

The special exhibit includes stage costumes from the 1939 stage production of The Philadelphia Story; Without Love and the 1969 musical Coco; screen costumes from such classic films as Stage Door; the sultry black evening gown from the 1949 film Adam's Rib and Long Day's Journey Into Night; to the blue work shirt Hepburn wore in the 1981 film On Golden Pond.

Television movies represented include Love Among the Ruins. In addition, Hepburn's "signature look," an ensemble of 30 tailored beige trousers and linen jackets, is spotlighted, as will vintage posters, playbills, photos and other Hepburn-related artifacts.

Visitors will be able to see the frayed material and imperfect hand stitching on the pale nightgown from State of the Union, Hepburn's 1948 film with Spencer Tracy. Her makeup kit, with original Chanel lipstick and false eyelashes, is called "an extraordinary treat for fashion historians."

Katharine Hepburn: Dressed for Stage and Screen is on display at the Edward E. and Jane B. Ford Gallery at the Museum of Arts & Sciences, Daytona Beach, Florida through February 2, 2019.

GAINSBOROUGH'S FAMILY ALBUM exhibition explores the private life and motivations of one of Britain's greatest artists, charting Gainsborough's career from youth to maturity, through intimate portraits of his immediate family.

For the first time, 10 of the surviving portraits carried out by British master Thomas Gainsborough of his daughters, augmented by approximately 40 additional family images by the artist, are on view in a historic gathering.

Gainsborough's Family Album traces the full arc of Gainsborough's career through his family portraiture from public and private collections around the world, and by doing so provides fascinating insights into the human character and compassion of one of Britain's greatest artists, as well as into the nature of the family in the 18th century.

The exhibition is anchored by well-known paintings of Gainsborough's two daughters, Mary and Margaret, as they grew from young children into adulthood, including The Artist's Daughters with a Cat (ca. 1760-61) and rarely seen works such as a full-length double portrait of the two from about 1774. These images will be seen alongside a portrait of the artist's father, a drawing of the artist with his wife and pet dogs, and canvasses of his siblings, in-laws, nieces and nephews, among others. Taken together, these works tell a story of family intimacy, the passage of time, artistic evolution and even mortality unique in the history of art.

On display until February 3, 2019 at the National Portrait Gallery in London. The exhibit will then travel to America for the exhibition's only North American venue where it will be on display at the Princeton University Art Museum February 23 - June 9, 2019.

KAYWIN FELDMAN 52, who served as director of the Memphis Brooks Museum of Art since 1999, has been named director of the National Gallery of Art in Washington, D.C. Upon being selected by the National Gallery, she resigned her offices at the Minneapolis Institute with her last day set on March 1, 2019, and will assume her new position in Washington ten days later becoming the first woman to serve in that capacity in the Museum's 77 year history. She was also the first woman to helm the Minneapolis museum.

During her tenure at MIA attendance doubled - to a record high in 2017 with 891,000 visitors.

The National Gallery boasts some 5.2 million visitors a year. The National Gallery's annual operating budget of $168 million, most of it from federal funding and has over 1,100 employees.






E-Book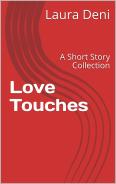 Soft back Book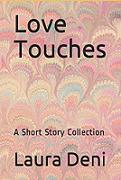 IT'S
BEGINNING TO SOUND LIKE CHRISTMAS

HARRY CONNICK, JR WHEN MY HEART FINDS CHRISTMAS is an oldie but a goodie. Just because a recording came out before last year doesn't mean it should be collecting dust on a shelf. If it good - it deserves to be played and thus enjoyed.

Harry Connick Jr. When My Heart Finds Christmas is one such example. If ou own it, dig it up. If you don't, it's still available for purchase.

The Columbia/Sony release was recorded at Capitol Studios, Hollywood, CA, July 16, 17, 19-23, 1993 and released on October 26, 1993.

Singing in his own voice Harry exhibits a strong resemblance to a young/at his prime Frank Sinatra including phrasing and breath control. In his own right Harry Connick, Jr. is a delightful performer. This CD features 14 tracks beginning with Sleigh Ride and ending with What Are You Doing New Year's Eve?

In between are such selections as the title CD number, The Little Drummer Boy; Ave Maria; Parade of the Wooden Soldiers; Rudolph The Red Nosed Reindeer and O Holy Night.

The personable and talented performer also composed four songs for the album: When My Heart Finds Christmas; (It Must've Been Ol') Santa Claus; The Blessed Dawn Of Christmas Day and I Pray On Christmas.

The booklet contains song lyrics and some pictures of the singer.

This recording became the best-selling holiday album in the U.S. of 1993, selling 748,000 copies that year according to Nielsen SoundScan. In December 2005, the album was certified Triple Platinum by the Recording Industry Association of America for shipment of three million copies in the U.S. As of November 2014, When My Heart Finds Christmas is the twelfth best-selling holiday album in the U.S. since May 1991 having sold 3.15 million.

There is a reason this is a best seller. While we own several Connick albums, this is the one played this week. It's holiday heaven in a CD.

Musicians:
The 720 piece orchestra and 42-voice choir performing exquisite arrangements include: Harry Connick Jr. - Vocals, piano: Ben Wolfe - Bass; Russell Malone - Guitar; Brad Leali - Alto Saxophone; Will Campbell - Alto Saxophone; Jerry Weldon - Tenor Saxophone; Ned Goold - Tenor Saxophone; Dave Schumacher - Baritone saxophone; Mark Mullins - Trombone; Craig Klein - Trombone; Lucien Barbarin - Trombone; Joe Barati - Trombone; Roger Ingram - Trumpet; Dan Miller - Trumpet; Jeremy Davenport - Trumpet; Louis Ford - Clarinet.

Produced by Tracey Freeman with Gregg Rubin as Engineer/ Mixer.

Currently on tour, Harry Connick can be enjoyed on Monday, December 17, in Springfield, Missouri at Hammons Hall. On Tuesday he'll be delighting the audience in Lincoln, Nebraska at the Lied Center. December 19 finds him in Kansas City at the Midland Theatre and on December 20 he'll be on stage in St. Louis, Missouri at the Stifel Theatre.


SPREADING THE WORD


THE PHANTOM OF THE OPERA will premiere at Dubai Opera in Dubai, UAE in Autumn 2019.

The Andrew Lloyd Webber blockbuster has won over 70 major theatre awards, including seven Tonys on Broadway and four Olivier Awards in the West End. The Phantom of the Opera became Broadway's longest running show ever when it overtook the record set by Cats with its 7,486th performance on January 6, 2006. On January 1, 2018 it celebrated its 13,000th performance and later that month on January 24, the Broadway production celebrated an amazing 30 years on Broadway.

CHRISTMAS VILLAGE AT BAYOU BEND COLLECTION AND GARDENS in Houston, Texas which opened December 14th, contains: 100,000 dazzling lights - Carolers singing 68 hours over 17 nights - A 90-foot faux-snow sled run - 9 acres of holiday fun - 473 Fitbit steps to find the reindeer hidden throughout the grounds - 2 model trains circling the 15-foot tree in 32,000 rounds - 1,500 attempts by 3D Santa to make it down the chimney of the historic home and 60,000 throws in the cotton-snowball zone.

SHIRLEY MacLAINE will be receiving a Lifetime Achievement Award from AARP on February 4, 2019.

SUNDAY, DECEMBER 16 National Chocolate-covered Anything Day. December 17 is National Maple Syrup Day. December 18 is National Roast Suckling Pig Day and Answer The Telephone Like Buddy The Elf Day. December 19 is National Hard Candy Day and National Oatmeal Muffin Day. December 20 is National Sangria Day and Mudd Day. December 21 is National Maine Day, National French Fried Shrimp Day, Crossword Puzzle Day, Humbug Day, Phileas Fogg Win A Wager Day, National Ugly Christmas Sweater Day and Underdog Day. December 22 is National Date Nut Bread Day.

.



OTHER PEOPLE'S MONEY


ROBIN DiMAGGIO drummer for stars before becoming musical director for the United Nations has been arrested after embezzling $750,000 from a homeless children charity concert benefiting the Peace for You Peace for Me Foundation in order to buy his ex-wife a house as a partial settlement of his spousal support requirement. He faces 20 years in prison.

DiMaggio is the former musical director for Arsenio Hall. The drummer and classical/world percussionist based out of Los Angeles has performed/recorded with artists as diverse as Paul Simon, David Bowie, Jackson Browne, Diana Ross, Tupac, Dr. Dre, Luther Vandross, Lil Jon, Martina McBride, Daft Punk, Johnny Cash, and Chris Isaak, among others, as well as sitarist/composer Ravi Shankar and violin maestro L. Shankar. He has also worked as a producer/songwriter and a composer/arranger, and produced the albums Road to Forever (2012) by Don Felder of The Eagles and Be Here Then (2014) by Stephen Bishop.

He recently composed a theme song for a graduating class of Los Angeles County Deputy Sheriffs.

According to a criminal complaint filed Monday, December 10, 2018 by the U.S. Attorney's office in Los Angeles, DiMaggio lied to a Bulgarian-based non-profit Peace for You Peace for Me Foundation, offering to help with a charity concert in the Bulgarian capital to raise money for homeless and displaced children from war zones.

On August 5, 2016, the foundation's financial sponsor allegedly wired $750,000 to a DiMaggio-controlled account as a guarantee for future payments related to artists performing at the charity concert. Prior to the money transfer, DiMaggio allegedly told the financiers that he would not spend the money, but would only place it in an escrow account to pay the artists. The complaint, however, alleges that DiMaggio never set up the escrow account, and instead deposited the $750,000 into his personal bank account and used the money to make payments on cars, credit card debt and his living expenses. Within weeks of the wire transfer, DiMaggio allegedly used $251,370 of the funds to purchase a Calabasas home for his ex-wife. He also wired $150,000 of the funds to a bank account in the name of his company, DiMagic Entertainment. An FBI investigation found that none of the transfers was sent to artists or their management in connection with the charity concert in Bulgaria, according to the complaint.

When DiMaggio filed a Chapter 7 bankruptcy petition the bankruptcy court proceedings disclosed that charity's financial sponsor and his company, which also had filed claims against him in that court, were awarded $1.2 million.



E-Book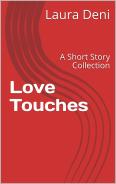 Soft back Book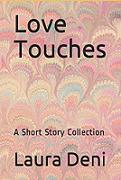 GET WELL SOON TO . . .


WAYNE ALLEN owner and operator of the Historic North Theatre in Danville, VA who has been sidelined in the hospital having suffered a heart attack which required open heart surgery.

Because of that he had no other choice but to cancel "all of our Christmas Shows and events in December (Including the Virginia Christmas Museum at the theatre.). I hope to start shows again in late January or early February. Thanks for your understanding and continued support please keep me in your prayers. Wayne Alan."



10 FINALISTS ANNOUNCED FOR 2019 MUSIC EDUCATOR AWARD PRESENTED BY THE RECORDING ACADEMY AND GRAMMY MUSEUM have been announced. They are:

Jeremy Bradstree - Dublin Coffman High School in Dublin, Ohio.
Victor de los Santos of Santa Ana High School in Santa ana, CA.
Elizabeth Hering of Churchill High School in Canton, Michigan.
Henry Miller of Sierra vista middle School in Lake Forest, CA.
Amy Rangel of Glendale High School in Burbank, CA.
Jeffrey Redding of West Orange High School in Orlando, FL.
Scott Sheehan of Hollidaysburg Middle School in Hollidaysburg, PA.
Mickey Smith, Jr. of Maplewood Middle School in Sulphur, LA.
Craig Snyder of Penncrest High School in Garnet Valley, PA.
John Weatherspoon of Lake Worth Community High School in West Palm Beach, FL.

In total, more than 2,800 initial nominations were submitted from all 50 states.

Each year, one recipient is selected from 10 finalists and recognized for their remarkable impact on students' lives. The sixth annual honoree will be flown to Los Angeles to attend the 61st Annual Grammy Awards and a range of Grammy Week events. The nine additional finalists will receive a $1,000 honorarium, and the schools of all 10 finalists will receive matching grants.

NEWLY MINTED CLASS OF 2019 ROCK AND ROLL HALL OF FAME MEMBERS include Janet Jackson, Radiohead, Def Lepard, New wave pioneers The Cure, influential art rockers Roxy Music and British Invasion band The Zombies. and Stevie Nicks who makes history as the first woman to be inducted twice. Her first induction was as a member of Fleetwood Mac.

The induction ceremony takes place March 29, 2019 at the Barclays Center in Brooklyn, New York. They'll also honored at the 2019 Inductee exhibit at the museum in Cleveland, Ohio.



THE PANTIES, THE PARTNER AND THE PROFIT: SCENES FROM THE HEROIC LIFE OF THE MIDDLE CLASS an original play by David Ives. Inspired by the work of Carl Sternheim.

Directed by Michael Kahn.

Leaping from Boston in 1950 to Wall Street in 1987 to lavish Malibu tomorrow morning, David Ives gives his "translaptation" treatment to Carl Sternheim's epic trilogy, Scenes from the Heroic Lives of the Middle Classes - with panties falling, dueling pistols going off, brunch being eaten and other signs of near-apocalypse.

Featuring Julia Coffey, Kimberly Gilbert, Carson Elrod, Kevin Isola, Turna Mete and Tony Roach.

Scenic Designer: Alexander Dodge. Costume Designer: Frank Labovitz. Lighting Designer: Nancy Schertler. Original Music & Sound Design: Elisheba Ittoop. Casting Director: Jay Binder, CSA and Carter C. Wooddell. Voice and Text Coach: Lisa Beley. Dramaturg: Dr. Drew Lichtenberg. Assistant Director: Craig Baldwin. Production Stage Manager: Joseph Smelser. Assistant Stage Manager: Josie R. Felt.

Production through January 6, 2019 at the Lansburgh Theatre in Washington, DC.

THE PLAY THAT GOES WRONG written By Henry Lewis, Jonathan Sayer and Henry Shields.

Tour Directed By Matt DiCarlo Original Broadway Direction By Mark Bell.

What would happen if Sherlock Holmes and Monty Python had an illegitimate Broadway baby? You'd get Broadway and London's award-winning smash comedy The Play That Goes Wrong!

Welcome to opening night of The Murder at Haversham Manor where things are quickly going from bad to utterly disastrous. With an unconscious leading lady, a corpse that can't play dead, and actors who trip over everything - including their lines.

The company is led by Scott Cote as Dennis, Peyton Crim as Robert, Brandon J. Ellis as Trevor, Angela Grovey as Annie, Ned Noyes as Max, Jamie Ann Romero as Sandra, Evan Alexander Smith as Chris, and Yaegel T. Welch as Jonathan. The cast also features Blair Baker, Jacqueline Jarrold, Sid Solomon, and Michael Thatcher.

Set Design Nigel Hook. Lighting Design Ric Mountjoy. Costume Design Roberto Surace. Sound Design Andy Johnson.

December 18, 2018 - January 6, 2019 at the Eisenhower Theatre at the Kennedy Center in Washington, DC.

BLUE RIDGE by Abby Rosebrock.

Directed by Taibi Magar.

Blue Ridge features Kyle Beltran, Tony Award nominee Marin Ireland, Peter Mark Kendall, Nicole Lewis, Kristolyn Lloyd and Chris Stack.

A progressive high-school teacher with a rage problem retaliates against her unscrupulous boss and is sentenced to six months at a church-sponsored halfway house, where she attends to everyone's recovery but her own. Set in Southern Appalachia, Blue Ridge is a pitch-dark comedy about heartbreak, hell-raising and healing The creatives are: scenic design by Adam Rigg, costume design by Sarah Laux, lighting design by Amith Chandrashaker, sound design by Mikaal Sulaiman, and casting by Telsey + Company: Adam Caldwell, CSA; Will Cantler, CSA; Karyn Casl, CSA.

Performances through Sunday, January 27, 2019 Off-Broadway at the Linda Gross Theater in New York City.

THE BOY UNDER THE CHRISTMAS TREE written and directed by Glenn Chandler.

What would you do if you found a handsome young man almost naked under your Christmas tree? This is the dilemma that faces aspiring comedian Lawrence Bennett when he wakes up on Christmas morning, after a bad gig and with a king-size hangover, and wonders if Santa Claus has finally delivered. The beautiful youth doesn't know how he got there or what his name is or where he came from. The doctor who lives downstairs thinks he might have had a bang on the head. The local copper suspects he may be a wanted criminal. As for Santa Claus, he's on another planet. Join Lawrence and his Christmas visitations in this bizarre and surreal comedy.

Starring Jamie Loxton as Lawrence Bennett, Sam Sheldon as The Visitations and Daniel Grice as The Boy.

Julian Starr sound designer. Jack Wills lighting designer. Costume design by David Shields. Stage manager Samantha Gardiner.

Through January 5, 2019 at King's Head Theatre in London.

CHASING BONO a stage adaptation by Dick Clement and Ian La Frenas of Neil McCormick's memoir I was Bono's Doppelgänger, about his youth and friendship with Paul Hewson, aka Bono of U2 .

Directed by Gordon Anderson.

1970s Dublin. Friends Neil McCormick and Paul Hewson share the same ambition: to form bands and become global superstars. Paul changed his name to 'Bono' and his band became U2. Neil's band never got off the ground.

1987. Dublin gangster Danny Machin wants a fair and balanced account written of his life whilst now-writer Neil is wondering where his went so wrong. Danny sees an opportunity and kidnaps him. Neil becomes Danny's biographer. Danny becomes Neil's shrink, probing the reasons for Neil's succession of disastrous decisions.

Cast includes: Denis Conway as Machin; Ciarán Dowd as Plugger; Farzana Dua Elahe as Gloria; Niall McNamee as Neil Shane O'Regan as Bono; Dónal Finn as Ivan; Niamh Bracken as Stella.

The creatives are: Christoper Nairne Lighting Designer.

The touring production has performances through Saturday, January 19, 2019 at the SoHo Theatre in London.



E-Book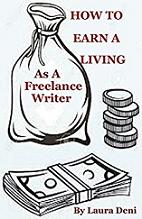 Soft back Book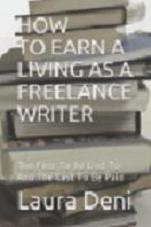 This is not your typical, totally boring textbook.

In the pages of How To Earn A Living As A Freelance Writer (the first to be lied to and the last to be paid) you'll find sex, celebrities, violence, threats, unethical editors, scummy managers and lawyers, treacherous press agents, sex discrimination; as well as a how-to for earning money by writing down words.





WHO'S WHERE




MANNHEIM STEAMROLLER on their annual Christmas tour with two companies will be delighting the crowds on Monday, December 17, at the River Center, Bill Heard Theatre in Columbus, GA. Tuesday's shows are both two night gigs at the Des Moines Civic Center in Des Moines, Iowa and the Durham Performing Arts Center in Durham, NC. On Thursday the tour stops at the Lied Center Lincoln in Lincoln, Nebraska. On Friday they'll be starring at the US Cellular Center Cedar Rapids in Cedar Rapids, Iowa and at the Wharton Center in East Lansing, Michigan. On Saturday they can be enjoyed at the Orpheum Theatre in Omaha, Nebraska and at the State Theatre-Playhouse Square Center in Cleveland, Ohio. Next Sunday, December 23 the shows repeat at the Omaha stop but the other show moves to the Palace Theatre in Columbus, Ohio.

JOHNNY MATHIS opens a two night Friday December 21, 2018 at Exhibition Hall, Neal S. Blaisdell Center, Honolulu, HI.

II DIVO in the spotlight Tuesday, December 18 at the Abraham Chavez Theatre, El Paso, Texas. Thursday's show is at the Smart Financial Centre, Sugar Land, Texas. On Friday they'll be on stage at the Tobin Center for the Performing Arts, San Antonio, Texas. Saturday's engagement is at the Majestic Theatre, Dallas, Texas.

DANNY BACHER a swingin' singin' soprano saxophone player makes his New York City Feinsteins/54 Below debut on Friday, December 21, 2018 Appearing with him is his band: are Allen Farnham (piano), Dean Johnson (bass), Samuel Martinelli (drums), Harry Allen (tenor sax), and Charles Caranicas (trumpet).


FINAL OVATION


NANCY WILSON an American singer whose career spanned over five decades, from the mid–1950s until her retirement in the early–2010s died December 13, 2018. She was 81.

She was notable for her single How Glad I Am and her version of the standard Guess Who I Saw Today. Wilson had her own series on NBC, The Nancy Wilson Show (1967–1968), which won an Emmy.

Born in Ohio, on September 10, 2011, she performed on a public stage for the last time at Ohio University in Athens, Ohio. According to Wilson, "I'm not going to be doing it anymore, and what better place to end it than where I started – in Ohio."

Her numerous awards include being inducted into the Big Band and Jazz Hall of Fame in 1999. Wilson was the recipient of the National Endowment for the Arts (NEA), NEA Jazz Masters Fellowships award in 2004, the highest honors that the United States government bestows upon jazz musicians. In 2005 she received the NAACP Image Awards for Best Recording Jazz Artist. She received the 2005 UNCF Trumpet Award celebrating African-American achievement, a Lifetime Achievement Award from the NAACP in Chicago, and Oprah Winfrey's Legends Award.

At the Hollywood Bowl, August 29, 2007, Wilson celebrated her 70th birthday with an all-star event hosted by Arsenio Hall. Ramsey Lewis and his trio performed To Know Her Is To Love Her.

Wilson married her first husband, drummer Kenny Dennis, in 1960. In 1963, their son, Kenneth (Kacy) Dennis Jr., was born,. They divorced in 1970. On May 22, 1973, she married a Presbyterian minister, Reverend Wiley Burton. She gave birth to Samantha Burton in 1975, and the couple adopted Sheryl Burton in 1976. They remained married until his death in 2008 from renal cancer.

Neil Portnow President/CEO of the Recording Academy issued the following statement: "The Recording Academy is deeply saddened by the passing of legendary jazz vocalist and torch singer, Nancy Wilson. Nancy was a self-described "song stylist" whose refined vocals contributed to her success as a versatile artist who was able to create unique interpretations of songs that extended beyond the jazz genre. A three-time Grammy winner, she earned her first Grammy in the Best Rhythm And Blues Recording category for How Glad I Am at the 7th Grammy Awards and went on to win two additional Grammys in the Best Jazz Vocal Album category for R.S.V.P. (Rare Songs, Very Personal) and Turned To Blue. Nancy's musical talent and sophisticated style will inspire audiences for years to come. She will be dearly missed, and our sincerest condolences go out to her loved ones at this difficult time."


















Next Column: December 23, 2018
Copyright: December 16, 2018 All Rights Reserved. Reviews, Interviews, Commentary, Photographs or Graphics from any Broadway To Vegas (TM) columns may not be published, broadcast, rewritten, utilized as leads, or used in any manner without permission, compensation and/or credit.
Link to Main Page
---
Laura Deni



For the snail mail address, please E-mail your request.
CLICK HERE FOR COMMENT SECTION