! >
Broadway To Vegas
  
  REVIEWS INTERVIEWS COMMENTARY NEWS

| | |
| --- | --- |
| | |
EVITA TO CLOSE ON BROADWAY - - CHARLIE BROWN AND THE GREAT EXHIBIT - - THE GRAMMY FOUNDATION HONORS STUDENTS - - GEARING UP TO CELEBRATE DYLAN THOMAS - - KIND HEARTS AND STUPID PRANKS - - CAROLE KING TO RECEIVE GERSHWIN PRIZE - - MILK CRATE THEATRE IS HONORED - - PRISCILLA PRESLEY IN SNOW WHITE & THE SEVEN DWARFS - - DONATE . . . Scroll Down


Copyright: December 16, 2012
By: Laura Deni
CLICK HERE FOR COMMENT SECTION


DESPITE ORIGINAL DENIALS EVITA TO CLOSE, OPENING THE STAGE FOR THE NUTTY PROFESSOR
Evita starring Michael Cerveris, Elena Roger and Ricky Martin will close January 26, 2013.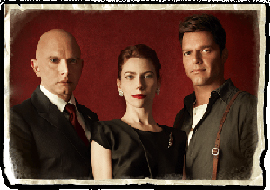 When on November 25, 2012, Broadway To Vegas printed the exact date that the Broadway revival of Evita would close - January 26, 2013 - producers instantly denied the claim and put a new block of tickets on sale.

( See Broadway To Vegas column of November 25, 2012 ) and ( See Broadway To Vegas column of December 2, 2012 )

Then on December 11, 2012 producers Hal Luftig and Scott Sanders officially announced that the 2012 Tony Award-nominated production of Tim Rice and Andrew Lloyd Webber's musical would indeed close on - January 26, 2013.

At that time the revival will have played 26 previews and 337 regular performances at Broadway's Marquis Theatre.

That leaves the stage free for Las Vegas resident Jerry Lewis to direct The Nutty Professor, which he has stated will open in February.





Broadway To Vegas is supported through advertising and donations. Priority consideration is given to interview suggestions, news, press releases, etc from paid supporters. However, no paid supporters control, alter, edit, or in any way manipulate the content of this site. Your donation is appreciated. We accept PAYPAL. Thank you for your interest.



ART AND ABOUT
CHARLIE BROWN AND THE GREAT EXHIBIT For nearly 50 years, Charles Schulz researched, wrote, designed, and drew each Peanuts strip that appeared in daily and Sunday newspapers. He may never have liked the name - assigned by the syndicator over his original title, L'il Folks - but Schulz poured himself into Peanuts. In achieving his boyhood dream of drawing a comic strip, he also wound up spawning an industry, bringing existential dilemmas to the funnies and conducting a master art class in the process.

Charlie Brown and the Great Exhibit explores Schulz's personal history and his role as the sole inspiration and artistic talent behind Peanuts and its unique cast of characters. Through original cartoons, as well as reproductions and related Peanuts memorabilia, you will see how characters like Charlie Brown, Snoopy and Lucy were developed and how they evolved over decades in print and popular culture.

A recreation of Schulz's Santa Rosa, Calif. studio is presented on tour for the first time, where the real tools and mementos he kept there provide a deeper look into what fueled his creative process.

Take a Peanuts tour of holidays - Halloween, Thanksgiving, Christmas, New Year's Day and Valentine's Day - celebrated so famously by these characters. Enter the recreation of Snoopy's doghouse interior, never shown in the strip, to see the eclectic belongings of this unique dog. Exercise your own Schulz-like creativity with activities like making animations for a zoetrope, tapping out a tune on Schroeder's piano or donning a Joe Cool costume.

A trove of beloved memories and a fascinating study of creativity, Charlie Brown and the Great Exhibit presents one man's life and his work… which just happens to be about life.

On display through February 18, 2013 at the Museum of Science and Creativity in Chicago.


SWEET CHARITY


IN THE TRUE SPIRIT OF CHRISTMAS

Camilla, The Duchess of Cornwall helping three-year-old Scott Walters decorate her Christmas tree. Photo: Clarence House.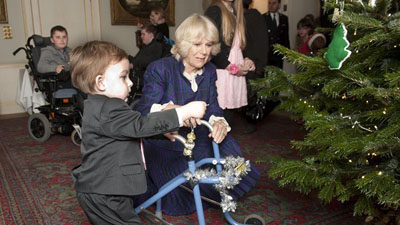 Prince Charles' wife, Camilla, invited a group of youngsters to Clarence House to help decorate her Christmas tree.

The Duchess of Cornwall got into the festive spirit and was helped by children with life-shortening illnesses.

The eight youngsters, who receive support from the Helen & Douglas House Hospice, based in Oxford, not only placed baubles on the tree but also enjoyed a lunch of sausage and mash with The Duchess.

Her Royal Highness is Patron of the hospice, which provides respite and end-of-life care for youngsters with life-shortening conditions and gives their families practical and emotional support.

Since The Duchess of Cornwall became its Patron in 2007, children from the organization have been invited to decorate her Christmas tree at Clarence House every year.

Captain Charles Fraser-Sampson, Assistant Equerry to The Prince of Wales, joined in the fun and delighted the children as he was dressed in his Welsh Guards ceremonial uniform, complete with bearskin and scarlet tunic.

The youngsters arrived at the royal residence in central London in a fleet of decorated black cabs from the London Taxi Drivers' Fund for Underprivileged Children.

One was even covered in fur and sported a flashing red nose just like Rudolph the red-nosed reindeer.

CELTIC THUNDER recently traveled to New York City to visit the storm ravaged victims of Hurricane Sandy in the heavily Irish American community of Rockaway, Queens.

They also gathered for a packed unplugged benefit performance at the Greenwich Village hotspot, Sullivan Hall, later that evening.

All proceed of the event are going to aid people affected by Hurricane Sandy, both out in Rockaway via Navillus & The Coalition of Hope, and through the New York Mayor's Fund to advance New York City. Almost $50,000 was raised thanks to Celtic Thunder Fans.

ONE NIGHT TO CHANGE LIVES THE ANNUAL OXFAM GALA took place December 15 at the Armani Hotel in Dubai. Attended by Colin Firth, Freida Pinto, Kristin Davis of Sex And The City fame, Rooney Mara and Arab star Amr Waked, the black tie gala raised $542,000.

Firth auctioned off the Paul Smith "guilt-free" organic tuxedo he was wearing, tempting the female bidders by offering women an opportunity to feel the fabric.

Frieda Pinto, and Indian actress and model best known for her portrayal of Latika in the 2008 Academy Award winning film Slumdog Millionaire, teased the male bidders into offering substantial bids for the strapless red Valentino gown that she had on. Designed by Valentino duo Maria Grazia Chiuri and Pierpaolo Piccioli, the stunning creation was constructed from recycled polyester made from plastic bottles.

"Come on guys, make me happy… I will give you the gown after I slip into my pajamas," kidded Pinto as she twirled to give the well-heeled guests a better look at the gown. It sold for $18,000.

Pinto is also the only Indian actress to have joined Andre Agassi and Steffi Graf in support of their Las Vegas based philanthropic organization the Agassi Foundation, participating in their The 15th Grand Slam for Children fundraiser at the MGM-Grand Hotel in Las Vegas.

One Night To Change Lives was held in association with Dubai Cares and Oxfam.

SLIM MAN

Slim Man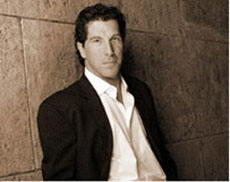 doing a Christmas Concert Thursday, December 20th, in Baltimore, Maryland, at a great Italian restaurant in Little Italy called La Scala. It's a benefit for the Mt. Washington Pediatric Hospital. Admission is free.

However, this is a benefit. As explained by Slim Man: "But I'm asking for donations. We're trying to raise money to buy a ventilator for preemies, babies born prematurely. We are trying to raise...$12,500.00.

"I volunteered at Mt. Washington for more than 8 years. I was what they call a "cuddler". I held and consoled infants that were in bad shape. Crack babies. Fetal Alcohol Syndrome kids. Burn victims. It was so very sad. These kids need our help."

Slim also indicated that gifts of toys for the kids are also appreciated.

The musician also has a funny joke.

What do you get when you cross Santa Claus with Angelina Jolie?
A thank you card from Santa.



Have YOU had a "SAVANNAH KATHERINE" in your life? How did you handle the situation? Do the Savannah Katherines of this world succeed or fail? E-mail what you experienced using the Mail Link at the bottom of this column.


THE GRAMMY FOUNDATION HONORS STUDENTS


All of the jumping up and down screaming heard across the nation came from 32 talented high school students who were selected for positions in the 2013 Grammy Camp — Jazz Session (formerly known as Grammy Jazz Ensembles).

Their selection launches them into the spotlight surrounding the 55th Annual Grammy Awards, and provides them with unparalleled opportunities to perform in front of some of music's biggest names.

The students, representing 31 cities and 15 states, will travel to Los Angeles for a weeklong musical adventure under the direction of Justin DiCioccio of the Manhattan School of Music, Dr. Ron McCurdy of the University of Southern California Thornton School of Music and Dr. Leila Heil of the University of Colorado, Boulder.

This year, two members will comprise the Grammy in the Schools Media Team, and they will document the Grammy Week experience for a range of the Grammy Foundation's social media platforms.

Students selected are singers: Kate Gratson, NY, soprano - Elena Pinderhughes, CA, soprano - Chloe Brisson, NH, alto - Ashley Pezzotti, FL, alto - Nathan Heldman, CA, Tenor - Elliott Skinner, TX, Tenor - Chris Burrus, TN , Bass - Mark Mekailian, CA, Bass.

The Combo composed of: James Francies, TX, Piano - Andrew Sommer, GA, Bass - Simone Boszormenyi, CA, Guitar and Adrian Cota, CA, Drum.

Band members selected include: Sam Hart, NY, Alto Sax 1 - Lenard Simpson, WI, Alto Sax 2 , Matthew Babineaux, TX, Tenor Sax - Julian Lee, NJ, Tenor Sax - Henry Solomon, CA, Bari Sax - Michael Raehpour, KS, Trumpet Lead - Nathan Sparks, IA, Trumpet 2 - Fernando Ferrarone, FL, Trumpet 3 - Aidan Lombard, IL, Trumpet Jazz - Max Boiko, FL, Trumpet 5 - Johnathan Black, AZ - Trombone 1 - Coleman Hughes, NJ - Trombone 2 - Blake Manternach, IA, Trombone 3 - Peter Wikle, CA, Bass Trombone - Matthew Malanowski, NY, Piano - Bob Bruya, WA, Bass - Francis Salerno, WI, Guitar - Fredric Griggs, PA, Drums.

The Media Team winners are Cameron Capers, GA and Allison Spice, CA.


NEWEST AMERICAN REVOLUTIONS COMMISSIONS ANNOUNCED BY THE OREGON SHAKESPEARE FESTIVAL
Lisa Loomer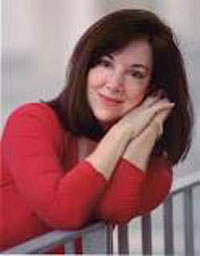 The Oregon Shakespeare Festival continues to expand its ongoing commitment to the development and production of new work with five new commissions.

American Revolutions: the United States History Cycle adds Ayad Akhtar, Kirsten Greenidge, Stephen Karam, Lisa Loomer and Karen Zacarías to its list of commissioned writers.

To date, OSF has commissioned 21 projects for American Revolutions.

In 2012, two American Revolutions plays were produced in one season: Party People by UNIVERSES (Steven Sapp, Mildred Ruiz, William Ruiz, a.k.a. Ninja) and Robert Schenkkan's All the Way. It was announced December 11, 2012 that both plays are among the five finalists nominated for the Kennedy Theater Prize. This new $100,000 award was established to honor Senator Edward M. Kennedy and his interest in American history. The winner of the annual prize will be announced on February 22, 2013.

Also staged in 2012 was Frank Galati's The March, a co-commission with Steppenwolf Theatre Company, produced this season at Steppenwolf.



Ayad Akhtar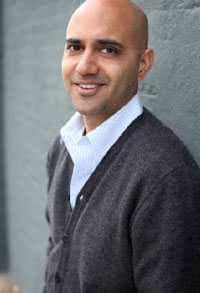 Prior to this season, OSF produced American Night by Culture Clash and Richard Montoya (2010) and Ghost Light, written by Tony Taccone, and conceived and developed by Taccone and Jonathan Moscone (2011).

In addition to the five writers already noted, OSF also has commissioned Richard Montoya to re-envision American Night for its annual School Visit Program, in which six pairs of actor-teachers perform for more than 70,000 students in schools in four states (CA, OR, WA, KS).

This will be the first time an American Revolutions commission will be transformed to be part of OSF's ongoing education programs. "We are committed to bringing the vision and artistry of American Revolutions writers to all of our audiences," says Alison Carey, director of the history cycle, "and we are incredibly proud to imagine students watching American Night's Juan José, an aspiring immigrant, encounter the play's remarkable history dreamscape.

The plays of American Revolutions look at moments of change in America's past, helping to establish a shared understanding of our national identity and illuminate the best paths for our nation's future.

Commissions to date: Tanya Barfield, Bill Cain, Culture Clash (Richard Montoya, Ric Salinas and Herbert Siguenza), Kristoffer Diaz, Michael Friedman, Frank Galati, Quiara Alegría Hudes, David Henry Hwang, Young Jean Lee, the team of Jonathan Moscone and Tony Taccone, Lynn Nottage, Robert Schenkkan, collaborators Rebecca Taichman and Paula Vogel, Naomi Wallace, Universes (includes core performers Steven Sapp, Mildred Ruiz, William Ruiz), and Rhiana Yazzie.

American Revolutions has created partnerships with Arena Stage, CenterStage, Steppenwolf Theatre Company, Berkeley Rep, Seattle Rep, The Public Theatre, and the Playwrights Center.


GEARING UP TO CELEBRATE DYLAN THOMAS
Dylan Thomas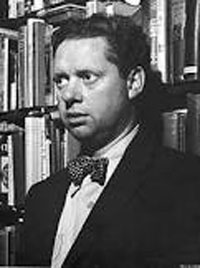 Fancy year long festivals don't put themselves together overnight. DT100, the centenary celebrations to commemorate the life and works of the famous Welsh poet and writer Dylan Thomas takes place in 2014.

On Friday some influential supports got on board. Prince Charles not only announced his royal patronage, The Prince visited the house at 5 Cwmdonkin Drive in the Uplands area of Swansea, where Dylan Thomas was born in 1914. He was joined by the poet's granddaughter Hannah Ellis, who is the Honourable Patron of the DT100 Festival, and Welsh Business and Tourism Minister Edwina Hart.

Hannah Ellis, Honorable Patron of DT100 and granddaughter of Dylan Thomas, said:

"It is a great honor for the DT 100 project, and for my family, to have HRH The Prince of Wales join us as Royal Patron. Today we see a number of leading Welsh figures state their support for our plans to celebrate the centenary of my grandfather's birth in two years' time and this can only serve to raise the profile of the program and contribute positively to its ultimate success."

Overlooking Swansea Bay, the semi-detached house has been restored by its current owners to its Edwardian condition to reflect what it looked like when Dylan Thomas lived there. The Thomas family bought the house a few months before a baby Dylan was born in the front bedroom in October 1914.

The iconic address now offers holiday accommodation and is open for guided tours, offering a glimpse into an environment that contributed to inspire Dylan's famous writings, such as A Child's Christmas in Wales.

Other high-profile figures from Welsh public and cultural life who have also agreed to endorse the DT100 Festival by becoming Patrons are:
Opera star Bryn Terfel CBE; Composer Karl Jenkins CBE; Singer-songwriter Cerys Matthews; Former First Minister Rt Hon Rhodri Morgan; and Harpist Catrin Finch.

DT100 will mark the birth centenary of the poet with a year-long festival and line-up of events, including performances, visual arts, comedy, television, film and exhibitions, to be held across Wales and beyond, celebrating the life and works of the poet.


KIND HEARTS AND STUPID PRANKS
NYPD Officer Larry DePrimo putting booths on a homeless man, Photo by Jennifer Foster which was posted by the NYPD.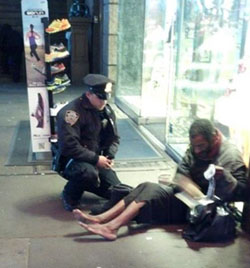 Recently two events have dominated the headlines - a New York City policeman buying a pair of shoes for a homeless man and a revolting radio hoax which triggered the suicide of a London nurse.

Both events should be a lesson for everyone.

Kind hearted cop - usually an oxymoron - NYPD Officer Larry DePrimo, spent his hard-earned cash on a frigid night to buy a pair of Skechers boots for a shivering homeless man.

"It's what I felt I had to do," DePrimo told the press referring to the November 14 encounter in Times Square. "I just looked down at this gentleman's feet, and you could see the blisters . . . It was just so cold that I had to do something."

De Primo raced into a Skechers store and explained the situation. Management responded by offering an employee discount to DePrimo who then paid about $50 to buy boots and socks. He put them on the man's feet himself.

The 25-year-old cop has a base pay reported to be about $48,000, which is just about poverty level when trying to live in New York City. DePrimo wasn't aware his good deed was being photographed by Arizona tourist Jennifer Foster, herself a law-enforcement veteran.



Jennifer Foster and Police Office Larry DePrimo being interviewed on the NBC Today program. Photo: NBC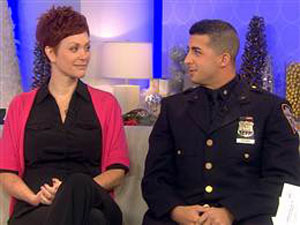 Foster sent the photo to the NYPD, which posted it to its Facebook page. The photo went viral.

"I went up to him and said, 'Where are your shoes?' " DePrimo recalled to the press. "And he said, 'It's OK. I've never had a pair of shoes, but God bless you.'

"And that had really taken me aback, because this gentleman had enough heart to say God bless me, and he didn't even have a pair of socks!"

A few days later the homeless man was seen again, wearing a pair of flip flops. When questioned about the boots he indicated he had to get rid of them because they were worth money. His main concern was playing to the camera and asking if they were getting a good shot.

Homeless people are exceptionally skilled in saying "God bless you," and "Have a blessed day."

Officer DePrimo and the Skechers store are to be heralded for their compassion and generosity.

However, don't let your compassion get sucker punched by the homeless.

There are numerous agencies who know how to screen and care for the needy. Donate your money to a creditable agency who will properly handle the funds. If you want to point out a certain individual that you can identify, who might need immediate help, then do so. But, don't intervene. Let the churches and agencies who do such good work handle the situation.

Many times people with severe mental disorders are beyond the reach of ordinary citizens, who may actually put themselves in danger by inviting a homeless person or beggar into their home for dinner, or hiring an iterant to do some household job. Some are armed. Just ask the Las Vegas authorities about a recent murder.

People who beg for money may be part of an organized group who have become skilled actors at making people feel sorry for them. Many use dogs to gain sympathy, increasing their monetary take. Police officials have reported that many of the homeless have some type of income. Their major problems are that they don't know how to budget, and don't have the mental where-with-all to make good decisions.

May Officer DePrimo and the Skechers store have their best Christmas, ever. It's sad to say, but harden up and get wise. And, it's the fervent hope that twenty years from now, Officer De Primo hasn't crusted up to the point of becoming a cynic. However, the homeless have more street sense than the compassionate who would help.



Nurse Jacintha Saldanha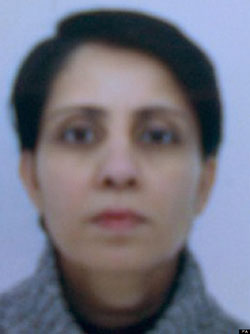 The second headline of the recent past is the heartbreaking saga of British nurse Jacintha Saldanha, 46, who was helping to care for Duchess Kate and fell victim to a cruel hoax played by two Australian shock jocks. The result was her suicide.

At first the radio station claimed that they had attempted to contact the hospital: That statement said: "Several attempts were made by the production team to discuss the segment with the hospital, but with no success. The segment was referred to an internal review process which included internal legal review and authorization was granted to broadcast.

"The company does not consider that the broadcast of the segment has breached any relevant law, regulation or code. The company will fully co-operate with any investigations."

A spokeswoman for the King Edward VII's Hospital fired back with: "Following the hoax call, the radio station did not speak to anyone in the hospital's senior management or anyone at the company that handles our media inquiries."

The chairman of the hospital added:

"King Edward VII's Hospital cares for sick people, and it was extremely foolish of your presenters even to consider trying to lie their way through to one of our patients, let alone actually make the call," wrote the chairman, Simon Glenarthur.

"The immediate consequence of these premeditated and ill-considered actions was the humiliation of two dedicated and caring nurses who were simply doing their job tending to their patients.

"The longer term consequence has been reported around the world and is, frankly, tragic beyond words."

A tearful apology by the two shock jocks also included fans trying to place blame on the victim, including former Smiths frontman Morissey trying to place blame on - of all people - Duchess Kate.

As a firm believer that anybody who plays any type of a hoax should be charged with, at the very least, a misdemeanor, the emotionally immature who get their kicks out of frightening or embarrassing others, should be confined to April Fool's Day. At least on that day people can be on-guard or have the option of staying inside and not communicating with anyone.



Prince William and Kate leave King Edward VII's Hospital. Picture Leon Neal/AFP/Getty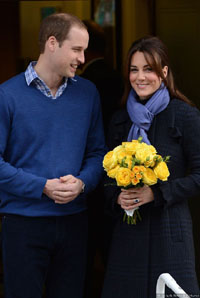 Or, if radio stations are ruled by the shock jock advertising dollars, then the radio stations should require that any person or business who gives their permission for the station to make and air a crank call to them, has to register with the station. Then the shock jocks are confined to only calling people or businesses on that list.

And, apologies, which may be tearful and 'sincere' also ring hollow when the word 'if' is used. "If that upset you . . . "If I . . . "If you were hurt, offended, embarrassed," etc. . . is not an apology. It's a qualified statement meant to shove blame onto the victim.

Everyone should remember that nobody, not even close friends and relatives, can truly know what is going on with another person. We all have our tipping point. The proverbial, 'Straw that broke the camels back'. What might not phase you, may be the last straw for somebody else. Don't play pranks or bully.

The only blame caveat on this tragic event is how much of the responsibility belongs on the shoulders of the two shock jocks. The station which permitted, encouraged, and didn't properly vet the call before airing, carries an enormous amount of the guilt. Reports of death threats made to the two shock jocks are wrong!

Jacintha Saldanha's brother Naveen today told the Daily Mail newspaper that his devoutly Catholic sister was a 'proper and righteous person', who would have been 'devastated' at unwittingly helping a colleague breach medical confidentiality.

"She would have felt much shame about the incident," he told the Mail. Jacintha left behind a devoted husband and two children. She was also a working mother whose career as a nurse brought income into her house hold. With her death comes a serious loss of financial resources.

Finally, the station network, Southern Cross Austereo (SCA), send out a release indicating that the two DJs, Mel Greig and Michael Christian, have been fired. The company also suspended all prank calls, and ordered a comprehensive review of relevant policies and processes.

Last Tuesday it was announced that the radio station will donate the rest of the year's ad profits to a fund for nurse Jacintha Saldanha's family.

SCA made the announcement in a press statement, detailing that advertising would resume on 2DayFM on Thursday, December 13, and all profits until the end of the year will be donated to a fund for her family.

A minimum contribution of $500,000 (Australian dollars, about $524,000 U.S.) will be made, reported CNN. Chief executive Rhys Holleran said: "We are very sorry for what has happened. It is a terrible tragedy and our thoughts continue to be with the family. We hope that by contributing to a memorial fund we can help to provide the Saldanha family with the support they need at this very difficult time."

Hospital chairman Lord Glenarthur said Monday, December 10, that the Jacintha Saldanha Memorial Fund has been established in her memory. Donations may be sent to: Finance, King Edward VII's Hospital, 10 Beaumont St., London W1G 6AA, U.K.

Also on Monday, Ben Barboza, husband of the late nurse, visited the Houses of Parliament in central London with daughter Lisha, 14, and son Junal, 16, for a meeting with a British Member of Parliament about his wife's death. He expressed grief in a post on Facebook, reported People.com, saying: "I am devastated with the tragic loss of my beloved wife Jacintha in tragic circumstances, She will be laid to rest in Shirva, India."

Saldanha's daughter posted a photo of herself with her mother and wrote: "I miss you, I loveeee you. Jacintha saldanha."


SPREADING THE WORD


THE FRUITCAKE EXPERIMENT a lot of bad jokes have been made about the traditional fruitcake. Then again there are a lot of bad fruitcakes, so maybe those comments aren't really meant as jokes.

On December 26 through December 30 the Science Museum of Virginia in Richmond will subject the fruitcake to the rigors of scientific testing.

Fruitcake is a dish best served ice cold. See what happens when fruitcake and liquid Nitrogen meet.

Floating Fruitcakes: Will it sink or float? That is followed by Fruitcake Digestion where the museum warns: "Oh yeah. We're going there."

In the Live Science Lab they are going to be Burning Fruitcakes. There will also be a demonstration of using fruitcake to create electricity and a demonstration of "galileo's Fruitcakes vs. gravity.

In the challenge lab people will be given an opportunity to build a newspaper bridge strong enough to hold a 2 pound fruitcake.

On December 27 there's even a special appearance of a medieval siege machine launching heavy objects - as in fruitcake.

You can also stick around to watch the IMAX films The Polar Express and Rocky Mountain Express.

SPECIAL FREE EVENT FROM ARENA STAGE IN WASHINGTON, DC The scene is the Arena Stage Piano Bar on Wednesday, December 19 at 10:30pm. Keep the music going and gather 'round the piano with cast members from My Fair Lady and Pullman Porter Blues. Grab a drink at the bar and sing the night away at Arena Stage. Free, no ticket required.

KRISTIN CHENOWETH who has had more than her share of bad falls, posted on her Twitter account: "<=-P i almost fell three times on that slick stage!" referring to the Mandalay Bay stage and her participation in the American County Awards, which aired live from that Las Vegas resort.

TOM HANKS AND PETER SCOLARI to reunite on Broadway in Nora Ephron's new play Lucky Guy is the best news heard in a long time.

The play, due to begin previews at the Broadhurst on March 1, 2013, stars Hanks as famous tabloid reporter Mike McAlary. Scolari will play fellow journo Michael Daly.

CATS which on June 19, 1997 became the longest running musical on Broadway, has been presented in over twenty countries. The Swiss production required a bilingual cast who performed in German and English on alternate nights.

JOB WELL DONE to the highly informed, articulate, sensible CBS News senior correspondent John Miller who, in covering the December 14, elementary school shooting, did an excellent job taking sometimes highly technical information and presenting it a thoughtful, easily understood reporting style.

He is the former Associate Deputy Director of National Intelligence for Analytic Transformation and Technology. Prior to this, he was an Assistant Director of Public Affairs for the Federal Bureau of Investigation (FBI), where he was the bureau's national spokesman.

Miller is also a former ABC News reporter and anchorman, perhaps best known for conducting a May 1998 interview with Osama bin Laden in Afghanistan.

He is a member of the International Association of Bomb Technicians and Investigators and the International Association of Chiefs of Police. Miller is an instructor at the FBI's National Executive Institute, as well as the Leadership in Counterterrorism (LinCT) course.

His journalistic awards include two Peabody Awards, a DuPont Columbia Award and nine Emmys.

Miller is the son of the late John J. Miller who was a syndicated Broadway columnist and freelance magazine writer.


OTHER PEOPLE'S MONEY


THE CASABLANCA PIANO

Dooley Wilson, left, as Sam, Humphrey Bogart as Rick Blaine and Ingrid Bergman as Ilsa Lund Laszlo. Photo: Everett Collections.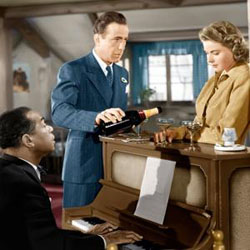 that upright with only 58 keys, featured in the classic 1940s film Casablanca, been gaveled down for $602,500 at a Sotheby's auction in New York.

In the film, Sam, played by Dooley Wilson, seated at the small green piano (which looked brown in the film because it was shot in black and white) moved his hands on the keyboard pretending to play As Time Goes By (a real pianist was out of camera range, playing a different piano) during one of the film's most iconic scenes, in which Humphrey Bogart's character Rick and Ilsa played by Ingrid Bergman toast as Sam sings at the keyboard and Rick utters the line: "Here's looking at you, kid."

While it could use a good tuning, the still (sort of) playable box was put up for bid by its Japanese collector owner to mark the film's 70th anniversary. It was sold to an unknown buyer in a telephone bid.

It was expected to sell for as much as $1.2m, The owner originally paid about $154,000 for the piano at auction in the late 1980s.

THE SHAKESPEARE THEATRE COMPANY in Washington, DC. announced that on December 11, 2012 DC Superior Court Judge John Ramsey Johnson issued a preliminary injunction against Lansburgh Theatre Inc. and its principals, preventing LTI from kicking the Shakespeare Theatre Company out of its 7th Street home for refusal to pay LTI's nearly sevenfold increase in rent. The parties are scheduled for another hearing on January 10, 2013.

The on-going litigation began last June when LTI, a charitable organization created specifically to serve the Shakespeare Theatre Company, raised STC's annual rent from $70,000 to $480,000. STC refused to pay, and when LTI sought to evict the company STC responded by filing suit.

BROADWAY THEATRE FOR SALE the 1,900 seat Foxwoods, where Spider-Man Turn Off the Dark spins, has been put on the market by its owner Live Nation. The asking price? $40 million.



The 2013 ROCK AND ROLL HALL OF FAME INDUCTEES have been announced. They are the performers Heart, Albert King, Randy Newman, Public Enemy, Rush, and Donna Summer.

The Ahmet Ertegun Award will be presented to Lou Adler and Quincy Jones.

Scheduled for Thursday, April 18, 2013, the 28th Annual Rock and Roll Hall of Fame Induction Ceremony will be held at the Nokia Theatre in Los Angeles.

This marks the first time since 1993 that the Rock and Roll Hall of Fame Induction Ceremony will be held on the West Coast. The ceremony will again be open to the public, as it was in 2009 and 2012 in Cleveland.

The induction ceremony will broadcast on HBO on Saturday, May 18.

CAROLE KING will receive the prestigious Gershwin Prize. Librarian of Congress James Billington made the announcement. King becomes the first woman to receive the prize.

The Library of Congress Gershwin Prize for Popular Song is an award given to a composer or performer for their lifetime contributions to popular music. Created in 2007 by the Library of Congress, the prize is named after brothers George Gershwin and Ira Gershwin.

Other recipients of the award are Paul Simon, Stevie Wonder and Paul McCartney.

MILK CRATE THEATRE has been named the winner of the Macquarie Group Foundation Australian Social Innovation Award for its contributions through theatre to the homeless communities of Sydney, Australia.

Milk Crate Theatre is a not-for-profit theatre company that was established in June 2000 to connect the homeless community to the arts as a means of addressing mental health issues.

The Award recognizes and rewards Milk Crate Theatre's community shows program addressing an unmet community need in Australia. The community shows are Australia's only ongoing theatre program devised by the homeless community for the homeless community.

An ensemble of people who have experienced homelessness and/or social marginalization write, act and stage manage in the shows, as well as interact with the show as a participating audience. These shows offer a safe space to have fun and be creative but to also share stories of the homeless experience and advocate for systemic change.

Milk Crate Theatre will receive $100,000 over the next two years to promote the organization's activities and fund its theatre rehearsal programs.

Milk Crate Theatre works with people who have experienced homelessness and/or social marginalization to create theatre that creates change. A collaboration between actors, artists, welfare services and community members, Milk Crate Theatre works in the inner city, metropolitan and western suburbs of Sydney.

The Macquarie Group Foundation is one of Australia's largest corporate benefactors. In the year to March 31, 2012, the Macquarie Group Foundation, together with Macquarie Group staff efforts, contributed more than $A21 million and thousands of volunteering and pro bono days to over 1,300 community organizations around the world.

Since the Foundation was established in 1985, it and Macquarie staff have contributed more than $A165 million globally.

THE RECORDING ACADEMY announced its Special Merit Awards recipients. This year's honorees are: Glenn Gould, Charlie Haden, Lightnin' Hopkins, Carole King, Patti Page, Ravi Shankar and the Temptations as Lifetime Achievement Award recipients.

Marilyn & Alan Bergman, Leonard & Phil Chess and Alan Livingston as Trustees Award honorees; and Ikutaro Kakehashi & Dave Smith and Royer Labs as Technical Grammy Award recipients.

A special invitation-only ceremony will be held during Grammy Week on Saturday, Feb. 9, 2013, and a formal acknowledgment will be made during the 55th Annual Grammy Awards telecast, which will be held at Staples Center in Los Angeles on Sunday, Feb. 10, 2013.


CURTAIN DOWN


THE ANARCHIST closes today, December 16, 2012, after 23 previews and 17 performances.

The production starred Patti LuPone and Debra Winger.



VIVA FOREVER! a new musical featuring the songs made famous by the Spice Girls who have had nine Number One singles and have sold over 75 million albums worldwide. The book is by Jennifer Saunders. Directed by Paul Garrington.

The musical is billed as "the story of a beautiful, talented girl and her best friends who get swept up in the obsession of today's TV celebrity culture. As she follows her dream, the musical charts her journey into the world of overnight fame and its impact on her relationships with her mother and the friends she thought she'd have forever. From London to Spain and back again, as they confront the bitter reality of fame and as the world judges her, she and her mother learn to empower themselves and be who they really want to be."

Leading the cast is veteran Sally Ann Triplett and West End newcomer Hannah John-Kamen, who play Lauren and Viva, the mother and daughter roles which are right at the heart of the musical.

In the show, Viva and her three best friends (Luce played by Siobhan Athwal, Diamond by Lucy Phelps and Holly by Dominique Provost-Chalkley) get swept up in a TV talent show where stars are born and dreams are shattered. Lauren's best friend Suzi is played by Lucy Montgomery, with another friend Mitch played by Simon Slater.

The TV talent show judges are played by Bill Ward, Sally Dexter and Tamara Wall, with Ben Cura as Angel, the musical director of the TV talent show; Hatty Preston as Minty, a production assistant; Simon Adkins as Leon, the stylist; and Anthony Topham as Lance, the presenter.

The ensemble includes Tom Kanavan, Zak Nemorin, Curtis Angus, Luke Jackson, Oliver Roll, David Rudin, Darrell Carnall, Myles Brown, Charlotte Gorton, Rebecca McKinnis, Lucy Thatcher, Roxanne Palmer, Charlotte Walcott, Sophie Carmen-Jones, Carla Nella, Kirstie Skivington and Helen Ternent.

The creative team includes: music orchestrator and arranger Martin Koch, sound designer Bobby Aitken and lighting designer Howard Harrison. Choreography by Lynne Page. Set designs by Peter McKintosh.

All five, Sporty Spice (aka Melanie Chisholm), Scary (Melanie Brown), Baby (Emma Bunton), Posh (Victoria Beckham) and Ginger (Geri Halliwell) attended the opening. After the show, the Spice Girls took to the stage, where Mel C thanked the "wonderful" cast, saying: "I think they've done a pretty good job."

Beckham, who watched the performance with her husband, David, and three sons, thanked Saunders for the script, and paid tribute to her family.

Opened to mixed reviews with performances at the West End's Piccadilly Theatre in London.

ROMEO & JULIETTE the French musical, based on Shakespeare's play. The score is by Gerard Presgurvic.

The musical is billed as having songs in diverse styles. Some topped the French musical charts when the musical premiered a decade ago, such as Aimer (Love) and Les Rois du Monde (Kings of This World). The stage design will be "often impressionistic" as will the choreography. It's staged in 18th-19th century French costume. The show will "provide a fresh experience for local audience," according to press quotes from Fei Yuanhong, artistic director of Shanghai Culture Square.

"The culture of the French people is very unique. It's perceptual and romantic," Fei says. "French musicals place more emphasis on the music than the drama itself, so they are really great to listen to."

Roméo & Juliette will have Chinese subtitles, but there isn't any concern about patrons understanding the story line. "You see a lot of original plays on Broadway and the West End, but many French musicals are adapted from famous stories. So you can dive into the plot line when the music starts," Fei said.

Since it premiered in Paris in 2001, the French Roméo & Juliette has been performed in 16 countries and in 12 languages, watched by more than 5 million people.

December 22-January 6, 2013 at the Shanghai Culture Square which is the city's new musical theater.

INSPECTING CAROL by Daniel Sullivan and the Seattle Repertory Theatre Resident Company. Directed by Jerry Manning.

Get your holiday cheer on with this hilarious, madcap comedy! Behind the scenes of a struggling theatre's annual slapdash production of A Christmas Carol, rehearsals are at a standstill. Tim is no longer Tiny, Scrooge wants to do the play in Spanish (Feliz Navidad), and their funding is on hold pending an inspection.

Seattle Rep promises that "this laugh out loud spoof makes for a night at the theatre that is anything but show business as usual."

The cast includes: Ian Bell, Burton Curtis, Chris Ensweiler, Hank Fialkow, Peggy Gannon, Stephen Hando, Kathy Hsieh, Reginald Andre Jackson, Nathaniel Kelderman, Kimberly King, Gretchen Krich and Michael Winters.

Scenic design by Carey Wong. Costume designer is Catherine Hunt. Lighting design by Robert J. Aguilar. Sound design by Matt Starrit. Gin Hammond served as Vocal Coach. Geoffrey Alm was the Movement Coach. Jessica Bomball serves as Stage Manager and Whitney Breite is the Assistant Stage Manager.

Performances through December 23, 2012 at Seattle Rep in Seattle, WA.

WHITE CHRISTMAS Lyrics and music by Irving Berlin. Book by Paul Blake and David Ives.

Directed by Tony winner Walter Bobbie. Choreography by Tony nominee Randy Skinner and musical supervision by Rob Berman.

This North American tour shines with classic Berlin hits like Blue Skies, How Deep is the Ocean? and, of course, the unforgettable title song.

Irving Berlin's White Christmas tells the story of two buddies putting on a show in a magical Vermont inn and finding their perfect mates in the process. Full of dancing, laughter and some of the greatest songs ever written, Irving Berlin's White Christmas promises a merry and bright theatrical experience for the whole family.

White Christmas is a merry and bright experience for the entire family.

Starring James Chow as Bob Wallace, David Elder as Phil Davis, Stefanie Morse as Betty Haynes, and Mara Davi as Judy Haynes.

Also appearing are Ruth Williamson as Martha Watson, Tony Lawson as Ralph Sheldrake, Kilty Reidy as Mike Nulty, Joe Costa as General Waverly, Cliff Bemis as Ezekial Foster, and Shannon Harrington and Andie Mechanic as Susan Waverly.

The cast also includes; Darien Crago, Abby Church, Brandon Davidson, Lucas Fedele, Alexa Glover, Andrew Hodge, Drew Humphrey, Bryan Hunt, Megan Kelley, Kathryn Kendall, Kristyn Pope, Christopher Rice, Natasha Scearse, Krista Severeid, Kelly Sheehan, Kristen J. Smith, Andrew Black and Lea Kohl.

Scenic design by Anna Louizos, scenic supervision and adaptation by Kenneth Foy, lighting design by Ken Billington, and sound design by Peter Fitzgerald, and Erich Bechtel.

Performances through January 6, 2012 at the Opera House, Kennedy Center in Washington, DC.

THE SCREWTAPE LETTERS by C.S. Lewis.

Starring Max McLean as Screwtape.

The Screwtape Letters, reveals spiritual warfare from a demon's point of view. This funny, provocative and wickedly-witty theatrical adaptation change the way you think about how demons influence your everyday life.

December 19, 2012 - December 30, 2012, in the Lansburgh Theatre, Washington, DC.

BARE featuring music by Damon Intrabartolo, book & lyrics by Jon Hartmere, direction by Stafford Arima, choreography by Travis Wall as well as additional music by Hartmere and Lynne Shankel, who also serves as musical supervisor.

When your true love is your deepest secret. When your heart is so full that your head clouds. When you've let your self-image be a group project. How much do you share - and with who? Bare is billed as "an exhilarating new rock musical that follows a group of teens trying to navigate the tightrope to adulthood over the minefield of high school. Along with their teachers, they will wrestle with issues of identity, sexuality, religion and love. Both deeply moving and heartwarmingly humorous, Bare is for anyone who's ever felt locked out trying to fit in."

The company features Jason Hite (Jason), Taylor Trensch (Peter) and Elizabeth Judd (Ivy), with Gerard Canonico (Matt), Jerold E. Solomon (Father Mike), Barrett Wilbert Weed (Nadia) and Missi Pyle (Sister Joan). They will be joined by Anthony Festa (Swing), Casey Garvin (Zack), Ariana Groover (Vanessa), Sara Kapner (Madison), Alice Lee (Diane), Megan Lewis (Swing), Justin Gregory Lopez (Beto), Michael Tacconi (Nick) and Alex Wyse (Alan).

The creative team includes scenic design by Tony Award-winner Donyale Werle. costume design by Tristan Raines, lighting design by Tony Award-winner Howell Binkley, and sound design by Keith Caggiano.

Performances at New World Stages in New York City.

SNOW WHITE & THE SEVEN DWARFS written by Eric Potts. Directed by Ian Talbot. Choreography by Sarah Dean.

Starring Priscilla Presley in her first ever panto, playing the Wicked Queen.

Other members of the cast are: James Austen-Murray as the Prince; Warwick Davis as Prof the Chief Dwarf; Jarred Christmas as Herman the Henchman; Lee Carroll as Muddles the Jester; Peter Burroughs as Grumbly; Hayley Burroughs as Blusher; Darius Ashard as Snoozy; Phil Holden as Sniffley; Peter Bonner as Cheeky and Lizzie Jay-Hughes is Snow White.

The Ensemble includes: Hannah Robson, Wade Lewin, Jennifer Gray, Zachary Worrell, Tilly Ford, Jessica Hardy, John Collopy and Carl Williams.

In her role as the Wicked Queen, Priscilla, 67 (looks 35), wears a thigh-baring, sexy red sequined costume, and at times, a goat-horn headpiece.

As the Wicked Queen she encounters the boos and hisses of the crowd - as is the panto format.

The ex-Mrs. Elvis has always had a delightful flare for comedy - remember Naked Gun - and has eagerly brought her silly streak to the stage.

Snow White and the Seven Dwarfs is billed as "a dazzling fairytale of a pantomime guaranteed to melt everyone's hearts; watch as the beautiful Snow White and her seven little friends attempt to defeat the Wicked Queen. Will Snow White meet her Handsome Prince and save the day? Featuring spectacular sets, sparkling costumes, sensational songs, dazzling dance routines and bags of audience participation."

On of the "sensational songs" is an Elvis hit.

Lighting Design by David Howe; Sound Design by Orbital Sound; Juvenile Co-Ordinator is Ann Smith; Musical Director David Roper; Musical Supervisor is Steve Power.

The musicians are: Bass Guitar - Kevin Powell; Drums - Mike Osborn; Keyboard 2 - Dan Dibdin; Guitar - Alex Steer.

Company Stage Manager is Matt Watkins; Deputy Stage Manager is Sue Welch; The Assistant Stage Managers are Katherine Rayner and Ryan Quelch. Wardrobe Mistress - Ellie Banks; Wardrobe Assistant - Nicola Smith; Dresser - Elly Wdowski.

London's New Wimbledon Theatre through January 13, 2013.


WHO'S WHERE


TRANS-SIBERIAN ORCHESTRA which has two touring groups offers performances Wednesday, December 19, at the Century Link Center in Bossier City, LA and at the Dunkin Donuts Center in Providence, RI. On Thursday the shows will be at the Center in Cedar Park TX and the XCL Center in Hartford, CT. On Friday audiences can get into the holiday spirit at the Giant Center in Hershey, PA and at the Toyota Center in Houston. Saturday's performances are at the Prudential Center in Newark, NJ and the AT&T Center in san Antonio, TX. Next Sunday, December 23, the group can be enjoyed at the YD Garden in Boston and the American Airlines Center in Dallas.

MADONNA brings her show to the Chateau Carreras in San Roque, Argentina on December 22, 2012.

MACY GRAY performs Monday, December 17, 2012 at the Cabaret Sauvage in Paris, France. On Thursday she can be enjoyed at KOKO in London. Friday's show is at the Melkweg The Max in Amsterdam.

CHRIS BOTTI on Monday, December 17, opens an engagement at the Blue Note in New York City which runs through January 6, 2013.

BIG BAD VOODOO DADDY gets toes tapping tonight, Sunday, December 16, at The Paramount in Huntington, NY. On Friday they'll be on stage at Walt Disney Concert Hall in Los Angeles.

THE MANHATTAN TRANSFER singing those blended notes tonight, Sunday, December 16, at the Pullo Center at Penn State in York. PA. On Wednesday the beautiful music can be heard at the Bass Concert Hall in Austin, TX.

MICHAEL FEINSTEIN currently performing at his namesake place, Feinstein's at the Regency in NYC, through December 22.


FINAL OVATION


RIP the 20 young students who were all first graders, ages six and seven who apparently were all shot multiple times.

The school's principal and six teachers and staff who also perished in the unimaginable, senseless shooting spree conducted by a 20-year-old gunman at the Sandy Hook Elementary School in Newtown, CT, which is a suburb of Danbury.

The shooter's mother was shot to death in her home before her son drove to the school and carried out the massacre.

RAVI SHANKAR sitarist and composer who helped introduce the sitar to the Western world through his collaborations with The Beatles, died in San Diego, California on December 11, 2012. He was 92.

Neil Portnow President/CEO of The Recording Academy issued the following statement: "Three-time Grammy winner and renowned sitar player Ravi Shankar was a true pioneer in introducing Indian music to the West. He influenced artists across classical, jazz, pop, rock, and world music genres, including the Beatles, John Coltrane, Philip Glass, and his daughters, Norah Jones and Anoushka Shankar. In 1971, he helped pave the way for charity concerts, alongside George Harrison, organizing the Concert for Bangladesh, to help Bangladesh refugees. Just last week, I had the honor to inform him that he would receive a 2013 Lifetime Achievement this February. He was deeply touched and so pleased, that he extended a gracious and personal invitation to visit with him at his home. We have lost an innovative and exceptional talent and a true ambassador of international music. Our thoughts and sincerest condolences go out to his family, friends and all of those around the world who were inspired by his music and compassionate philanthropy."

Shankar married Allauddin Khan's daughter Annapurna Devi in 1941 and a son, Shubhendra Shankar, was born in 1942. Shankar separated from Devi during the 1940s and had a relationship with Kamala Shastri, a dancer, beginning in the late 1940s. An affair with Sue Jones, a New York concert producer, led to the birth of Norah Jones in 1979. In 1981, Anoushka Shankar was born to Shankar and Sukanya Rajan, whom Shankar had known since the 1970s. After separating from Kamala Shastri in 1981, Shankar lived with Sue Jones until 1986. He married Sukanya Rajan in 1989.

He is also survived by three grandchildren and four great-grandchildren.

JENNI RIVERA a popular Mexican-American singer died December 9, 2012, when the small plane she was traveling in crashed in the mountains of northern Mexico. She was 43.

Seven people were on board and all perished.

The plane, a Learjet 25, number N345MC, built in 1969, was registered to Starwood Management of Las Vegas. According to the National Transportation Safety Board, the twin-turbojet was substantially damaged in a 2005 landing mishap at Amarillo International Airport in Texas. It hit a runway distance marker after losing directional control. There were four aboard but no injuries. It was registered to a company in Houston, Texas, as the time. The company is also subject of a federal lawsuit in Nevada.

Rivera had a concert in Monterrey on Saturday night before boarding the Learjet early Sunday. Her plane took off from Monterrey at 3:15 a.m., according to a statement from the Transportation Ministry. Its destination was the airport in Toluca, near Mexico City. Air traffic controllers lost contact with it about 60 miles into the flight, the ministry said. Two helicopters assisting in the search for the plane spotted the wreckage in Mexico's Sierra Madre Oriental mountain range.

Rivera sold 15 million records, according to Billboard. She recently won two Billboard music awards, including favorite Mexican music female artist. She also was nominated for Latin Grammy Awards in 2002, 2008 and 2011.

In October, People en Espanol named Rivera to its list of the 25 most powerful women. She also was a judge on the popular TV show, "The Voice, Mexico," which was scheduled to air Sunday night. In its place, Televisa aired a special report about the singer.

She became the first artist to sell-out two back-to-back nights at the Nokia Theatre in Los Angeles, California, on August 6 and 7, 2010. She sold out the Staples Center in Los Angeles last summer, and a record-signing in Riverside, Calif., drew so many fans police had to be summoned to control the crowd.

Earlier this year she separated from former baseball pitcher Esteban Loaiza, who played for the New York Yankees and the Los Angeles Dodgers after less than two years of marriage. It was her third marriage.

Rivera developed fragrances, cosmetics and clothing lines, and started the Jenni Rivera Love Foundation, which helps single mothers and victims of domestic abuse.

A single mother at the age of 15, she is survived by her five children and a large family, including four brothers and a sister.



Have YOU had a "SAVANNAH KATHERINE" in your life? How did you handle the situation? Do the Savannah Katherines of this world succeed or fail? E-mail what you experienced using the Mail Link at the bottom of this column.



Next Column: December 23, 2012
Copyright: December 16, 2012. All Rights Reserved. Reviews, Interviews, Commentary, Photographs or Graphics from any Broadway To Vegas (TM) columns may not be published, broadcast, rewritten, utilized as leads, or used in any manner without permission, compensation and/or credit.
Link to Main Page
---
Laura Deni



For the snail mail address, please E-mail your request.
CLICK HERE FOR COMMENT SECTION