! >
Broadway To Vegas
  
  REVIEWS INTERVIEWS COMMENTARY NEWS

| | |
| --- | --- |
| | |
THE INSTRUMENT THAT ROCKED THE WORLD - -SEX MUSEUM FEATURES LINDA LOVELACE EXHIBIT - - 42nd STREET JAZZ FESTIVAL - - MEET JOHN DOE CD REVIEW - - AMERICAN PSYCHO OPENS IN LONDON - - A CHRISTMAS STORY CELEBRATES 30th ANNIVERSARY - - HEATHERS SET TO OPEN - - ICELAND CUTS CLASSICAL MUSICAL PROGRAMMING - - DONATE . . . Scroll Down




Copyright: December 15, 2013
By: Laura Deni
CLICK HERE FOR COMMENT SECTION


A CHRISTMAS STORY CELEBRATES 30th ANNIVERSARY


Did you know that the house featured in the movie A Christmas Story has been turned into a museum? It has and it's celebrating the 30th anniversary of the release of the iconic film.

In the pantheon of classic Christmas movie characters, young Ralph "Ralphie" Parker, with his glasses and bright eyes, from the film A Christmas Story may be among the most recognizable. The movie starred the late Darren McGavin as The Old Man and Peter Billingsley as Ralphie. The film became a holiday favorite years after its theatrical release and is celebrated annually on TBS with a 24 hour marathon.

Located in Cleveland, recently an eBay auction took place offering a two-night stay in celebration of the film's 30-year anniversary. 31 bids were placed with the winning bid of $3,152.00.

The auction winner and their guests will receive a personal behind-the-scenes tour of A Christmas Story House & Museum, and then will check into the A Christmas Story House, where they will begin their other Christmas Eve activities which will include a Large FRA-GI-LE Major Award crate delivered to the front door of the house (crow bar provided). They will continue their experience by climbing under the sink just like Randy, and checking the mail for Decoder pins delivered to the mailbox. In the evening A Christmas Story will be screened in the house it was filmed (popcorn and sodas provided), and they'll spend the night sleeping in Ralphie and Randy's bedroom.

The holiday celebration continues on Christmas Day, with opening presents left by Santa in the Parker Family's living room. While enjoying a continental breakfast, they'll defend the backyard from Black Bart and his marauders with a trusty old Red Ryder carbine-action, 200-shot, range model air rifle (but "Don't Shoot Your Eye Out!!!"). Afterwards they'll warm up inside with rich, chocolaty Ovaltine while playing A Christmas Story The Party Game in Mrs. Parker's kitchen.

The next morning the auction winner and guests pack up the prized "Major Award" and check out of A Christmas Story House and extend their trip to Cleveland by checking into the Renaissance Hotel, where they can easily visit the historic Higbee's window right on Cleveland's Public Square, both filming locations from A Christmas Story.

In December 2004, Brian Jones, a San Diego entrepreneur and fan of the film since childhood, bought the house on eBay for $150,000. Jones used revenue from his business, The Red Rider Leg Lamp Company, which manufactures replicas of the "major award" Ralphie's father won in the film, for the down payment.



A Christmas Story house is open to the public. Photo: A Christmas Story House & Museum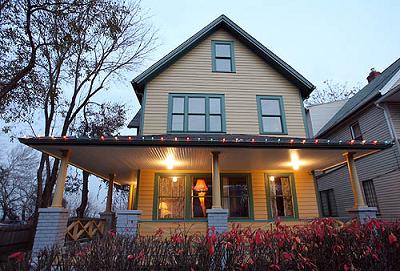 It was a rental property for a couple years until his museum opened in November 2006, after $240,000 in renovation costs.

The previous owners had reconfigured installing modern windows, and covered the original wood siding with blue vinyl. Watching the movie frame by frame, Jones drew detailed plans of the interiors, which had been filmed on a Toronto sound stage, and spent $240,000 to gut the structure, reconfigure it to a single-family dwelling, transform it into a near-replica of the movie set, and restore the exterior to its appearance in the film.

Then Jones purchased the house across the street and converted it into A Christmas Story House Museum, which contains some of the props from the movie, including Randy's snow suit, the Higbee's window toys, and hundreds of behind the scenes photos, the chalkboard from Miss Shields' classroom and the family car.

The house and museum opened to the public on November 25, 2006, with original cast members attending the grand opening, and the site drew 4,300 visitors during its opening weekend.

Proceeds from the auction will go to A Christmas Story House Neighborhood Restoration Project, a non-profit foundation that launched this year. The foundation, which has raised about $50,000 so far, restores and maintains the neighborhood surrounding the iconic house.

Because about 50,000 people a year visit the house, the foundation tries to give back to the neighbors by helping with basic needs for their homes.

"We put a lot of people through the neighborhood, so we owe them something," especially during the holidays, Jones said. "It's hard for neighbors to maneuver out of their driveways."

Wedding have also performed in A Christman Story House. The first wedding took place on Saturday, December 2, 2007. Erin Reed and Jeff Dubois from Fort Wayne, Indiana recited their vows dressed in 40s style attire.

Over the Thanksgiving Day week-end the 30th Anniversary Celebration began with a convention, which had been three years in the planning.

Hundreds stood in line to get into the Ohio home in Cleveland, where some of the movie was filmed and 9-year-old Ralphie dreamed of getting an air rifle for Christmas. The story's 1940s trappings are all there: the iconic leg lamp, a typewriter and globe, a BB gun range in the backyard.

At a hotel in the city's Public Square, some of the original cast members (Randy, Flick, Scut Farkus, Grover Dill, and the Evil Elves) signed autographs. And thousands were thrilled during the city's annual winter festival when a gigantic image of a leg lamp was projected onto a tower.

Conventioneers had an opportunity to see both versions of the stage adaptation - the John McCluggage directed stage play at the Cleveland Playhouse, written by Phil Grecian based on the motion picture written by Jean Shepherd, Leigh Brown and Bob Clark and the sold out Musical, at the Near West Theatre.

The After Party at the Renaissance Cleveland Hotel featured drink specials the "Triple-Dog-Dare!" Martini and the "Oh, Fudge!" Martini.

A Christmas Story Museum also features a deleted scene original movie costume exhibit which included costumes from the Flash Gordon and Ming the Merciless scene that was deleted from the final cut of the movie. These costumes had never before been seen by the public.



Higbees Depatment Store was in three of the movie scenes. Photo: A Christmas Story & Museum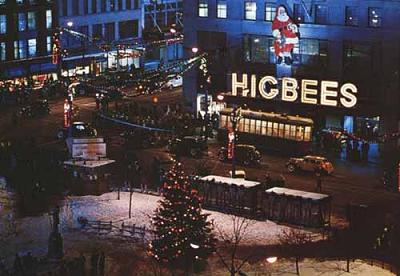 Those attending Mrs. Parker's Little Piggy Luncheon had an exclusive opportunity to enjoy a traditional meatloaf, mashed potato and red cabbage meal, just like Mrs. Parker made, while dining with cast members from A Christmas Story movie. Entertainment was provided by Cleveland Play House and Near West Theatre.

There was also a Character Look-a-like Contest where attendees were encouraged to "Dress up as your favorite A Christmas Story character for your chance to win A Major Award!!!"

Also part of the event was the first A Christmas Story Run! 2013. On December 7th runners were taken back down memory lane to the movie set locations that made this movie famous. Runners were told to "dress up like Ralphie, Run in a Leg Lamp Costume or jog in the Bunny Suit that Aunt Clara gave Ralphie for Christmas. This race attracted serious runners, everyday runners and walkers alike. Race runners and spectators were treated to hot, Rich Chocolate Ovaltine, one of Ralphie's favorite snacks, to help keep them warm during the race.

For the film adaptation director Bob Clark reportedly sent scouts to twenty cities before selecting Cleveland for exterior filming. Cleveland was chosen because of Higbee's Department Store. Scouts had been unsuccessful in finding a department store that was willing to be part of the film. Higbee's vice president Bruce Campbell agreed to take on the project on the condition he be allowed to edit the script for cursing.

Appropriately, the fictional boyhood home of Ralphie Parker is on Cleveland Street, the name of the actual street where Shepherd grew up. In addition to the house exteriors, Cleveland was the location used for the scenes involving Higbee's department store, despite the fact that there were no Higbee's stores in Shepherd's hometown.

Higbee's department store was the stage for three of the movie scenes. The first is the opening scene in which Ralphie first spies the Red Ryder BB Gun. The large glowing "HIGBEE" sign is unmistakable. The second scene is the parade just before Ralphie goes to see Santa. The parade scene was filmed just outside Higbee's in Cleveland's public square at 3 AM in the morning. The final scene is Ralphie and Randy's visit to see Santa which was filmed inside Higbee's. Higbee's kept the Santa slide that was made especaially for the movie and used it for several years after the movie's release.



John Bolton as The Old Man, in the original Broadway production, performs A Major Award. Photo: Carol Rosegg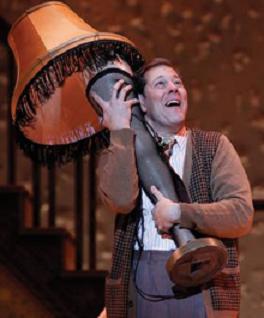 Holiday celebrations of A Christmas Story's 30th anniversary began with the Cleveland premiere of A Christmas Story, The Musical at the Near West Theatre in Ohio City. It's Cleveland's only musical version of the beloved holiday family classic, performed by a hometown cast of 55, including 31 children and teens.

Meanwhile, in New York City the Musical is being performed by the original production company at The Theatre at Madison Square Garden through December 29th.

Peter Billingsley, who played Ralphie in the movie, is co-producer of the New York production of A Christmas Story, The Musical.

The delightful Tony nominated musical features original 2012 Broadway cast members Dan Lauria, John Bolton, Erin Dilly and Caroline O'Connor. Lauria plays Jean Shepherd, with Bolton as The Old Man, Dilly as Mother and O'Connor as school teacher Miss Shields.

The cast also features Jake Lucas as Ralphie with Eli Tokash playing Ralphie at certain performances. Noah Baird plays little brother Randy.

A Christmas Story ensemble includes Charlie Babbo, Gabriella Baldacchino, Hannah Isabel Bautista, Charissa Bertels, Tanya Birl, Beada Briglia, Judae'a Brown, Michael Crispi, Andrew Cristi, Mathew deGuzman, Thay Floyd, Nick Gaswirth, Lizzie Klemperer, Jose Luaces, Mara Newbery, Alexa Niziak, Lindsay O'Neil, David Scott Purdy, Keven Ryan Quillon, Lucas Schultz, Mitchell Sink, Luke Spring, Jenny Lee Stern and Nicky Torchia.

The adorable Pete and Lily, the pooches from last season's production of A Christmas Story, return to cause a ruckus as the Bumpus Hounds.

The 2012 run of A Christmas Story, The Musical marked the Broadway debut of Richard Rodgers Award-winning songwriters Benj Pasek and Justin Paul. Joseph Robinette authored the book. The score includes such songs as Red Ryder, Ralphie to the Rescue, A Major Award and You'll Shoot Your Eye Out.

The production reflects the work of the original creative team, including Tony-winning director John Rando and Tony-nominated choreographer Warren Carlyle.

The production has scenic design by Walt Spangler; costume design by Elizabeth Hope Clancy; lighting design by Tony Award winner Howell Binkley; sound design by Ken Travis; wig design by Tom Watson; orchestrations by 2011 Tony nominee Larry Blank; musical supervision by Ian Eisendrath; dance arrangements by Glen Kelly; and vocal arrangements by composer Justin Paul.





Broadway To Vegas is supported through advertising and donations. Priority consideration is given to interview suggestions, news, press releases, etc from paid supporters. However, no paid supporters control, alter, edit, or in any way manipulate the content of this site. Your donation is appreciated. We accept PAYPAL. Thank you for your interest.





ART AND ABOUT


THE EVE OF PORN

Linda Lovelace photographed by Milton H. Greene Printed and Authenticated by Joshua Greene of The Archives LLC. Photo: Museum of Sex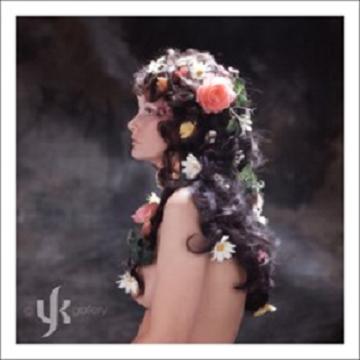 and Linda Lovelace, who died in 2002 from injuries sustained in a car accident, pays tribute to the Deep Throat star with never-before-seen photos by the late Milton H. Greene, well known for his shots of Marilyn Monroe; items from The Complete Linda Lovelace authored by Eric Danville; and a new documentary from The Uncensored Oral History of the Porn Film Industry by Legs McNeil called Linda Lovelace's Loose Lips: The Last Interview.

Rising to fame with the 1972 release of Deep Throat, Lovelace became the original porn star. Performing acts of graphic sex on camera, including the signature act of "deep throating," Linda Lovelace, born Linda Boreman, became a household name and the film a trailblazer of the pornographic genre. Considered "Porn Chic," screenings of Deep Throat, the tale of a woman whose clitoris was located in the back of her throat, were attended by celebrities from Jackie O to Jack Nicholson. Reportedly, Ed McMahon called it his favorite film. Linda became both the girl everyone wanted to attend their party and the girl that everyone wanted to have sex with, a star studded list including Hugh Hefner, Ted Kennedy, Frank Sinatra and Paul Newman.

Milton H. Greene (1922-1985), one of the world's most celebrated fashion and celebrity photographers, known for the Black Sitting of Marilyn Monroe, in 1973 agreed to shoot Lovelace. Never before exhibited, these images from 840 negatives and transparencies of Lovelace had long remained under ownership of a Polish financial institution and a private owner for nearly four decades before going on auction in 2013.

Purchased by Yuliya and Kevin Mattei of YK Gallery, Inc., the couple entered into a partnership with Joshua Greene's The Archives, LLC, which since 2006 has been working on the restoration and marketing of a 60,000-image collection created by his father, Milton H. Greene. "With a scar from her breasts down to her abdomen, fully nude photographs of Linda Lovelace are virtually nonexistent," says Yuliya Mattei, Co-founder and Director of YK Gallery. "These photographs alter the way people look at her…they show she wanted to be a superstar."

The Eve of Porn at the Museum of Sex in New York City is the first public viewing of these works.

Alongside these photographic treasures, the exhibition features photographs of Lovelace taken before her Deep Throat fame, including pornographic images of Linda and her husband-manager, Chuck Traynor, whom Linda asserted years later had forced her at gunpoint to perform in Deep Throat as well as earlier stag loops she was featured in. Traynor insists he is responsible for Linda's fame, and has been quoted saying, "There never was a Linda Lovelace. I'm Linda Lovelace. Linda Lovelace got where she got because of my brain, not because of her throat."

These and other rare photographs and ephemera on loan from Eric Danville, one of Lovelace's biographers and the author of The Complete Linda Lovelace, help tell Linda's complicated story.

Lovelace, once the poster child of pornography, later denounced her participation in the industry in her 1980 book, Ordeal. A deeply polarizing book, Lovelace's initial fans turned on her for renouncing porn. The feminist anti-porn movement, and individuals such as Gloria Steinem and Andrea Dorkin from the organization Women Against Porn, applauded her for validating their efforts. Porn became both the subject of free speech debates and a civil rights issue in the 1980s, with Lovelace caught in the middle. Footage from the forthcoming documentary, Linda Lovelace's Loose Lips, created by Legs McNeil, the author of The Other Hollywood, and Alex Chmaj, helps round out Linda's legacy of proclamations and reversals, which spanned the instrumental decades of the porn industry's inception. The documentary, scheduled for public release in the near future, includes segments from Linda's last interview on camera before her untimely death in 2002.

"It all started with Linda Lovelace," says curator Sarah Forbes. "But while much has been said, books have been written and films created, the public is only left with more questions. Did Linda bite from the apple of porn willingly or was she forced?"

"The Mission of the Museum of Sex is to preserve and present the history, evolution and cultural significance of human sexuality. In its exhibitions, programs and publications, the Museum of Sex is committed to opening discourse and exchange and to bringing to the public the best in current scholarship. From fine art to historical ephemera to film, the Museum of Sex preserves an ever-growing collection of sexually related objects that would otherwise be destroyed and discarded due to their sexual content."

ASHMOLEAN MUSEUM OF ART AND ARCHAEOLOGY attached to the University of Oxford in England has acquired one of the greatest private collections of modern and contemporary Chinese art in the world and the single greatest private collection of this type in the west. The Sullivan Collection has been bequeathed to the Museum by Chinese art expert Professor Michael Sullivan (1916–2013) who died in September.

It comprises more than four-hundred works of art amassed by Professor Sullivan and his wife, Khoan, from the 1940s, and represents works by the principal artists of late-twentieth century and contemporary China.

A large part of the collection has never been exhibited in public.

Key to Michael Sullivan's understanding of the subject, and to the collection of Chinese art which he built with Khoan, were the friendships he made with artists both in China and abroad. Many of the painters represented in the collection were the couple's close friends and the paintings they acquired were often gifts. Among the most important pieces in the collection are works by Qi Baishi (1864–1957), Zhang Daqian (1899–1983), and Fu Baoshi (1904–1964); and more recent acquisitions including Landscript (2002) by Xu Bing (b. 1955)

The works will be displayed on rotation at the Ashmolean in a gallery dedicated to Sullivan and his wife.

GUITAR

See Through Guitar is part of the Guitar: The Instrument That Rocked The World.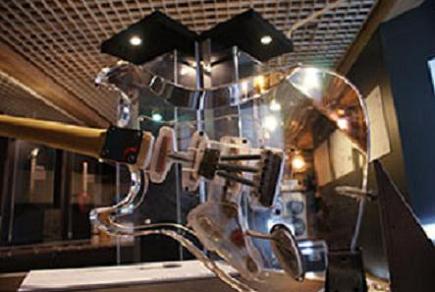 The Instrument That Rocked the World opens Friday, December 20, 2013 at the Fleet Science Center in San Diego, CA.

The guitar is the single most enduring icon in American history.

This rockin' exhibition explores all facets of the world's favorite musical instrument, from its history as an instrument of popular culture to the science of creating sound with wood and steel.

You will experience the science, sound, history and cultural impact of the guitar in an exhibition that contains more than 60 instruments.

Those instruments range from the rare and antique to the wildly popular and innovative.

There are also engaging, entertaining and educational displays specific to the guitar, including historical artifacts, models, posters, video screens, interactives and kiosks.

Hands-on scientific displays explore the way that sound is produced by a guitar and an amplifier and delve into the way the density of wood shapes and affects sound and music.

This exhibition gives you the chance to interact with the guitar not only from the perspective of its history, evolution and design but through the music created with guitars and the technology that continues to enhance the instrument.

Guitar is a touring exhibition of The National Guitar Museum.


SWEET CHARITY


EAST LYNN THEATER an award-winning Equity professional company based in West Cape May, NJ is assisting the Food Closet and Cape Regional Medical Center Auxiliary. Patrons attending the Friday, December 13 performance of ELTC's Christmas with Harte and O. Henry, will save $3.00 off the admission price when bringing Food Closet items. What is needed are "cans of fruit, paper towels, and toilet paper. Any canned food items will be graciously accepted, as long as they have current and future expiration dates."

Also, every year, ELTC shares part of its box office proceeds with at least one nonprofit organization. This year, some of the ticket sales for the 2:00p.m. Saturday matinee on December 14 will go to Cape Regional Medical Center Auxiliary.








THE MUSIC GOES ROUND AND ROUND


MEET JOHN DOE ORIGINAL STUDIO CAST RECORDING released by Broadway Records.

Music by Andrew Gerle. Lyrics by Eddie Sugarman. Book by Gerle and Sugarman, additional story by Matt August. Based on the 1941 film by Frank Capra.

A truly engaging, interesting, entertaining - and timely CD. Listening to it makes you want to see the stage production. This is a CD which can be used as a springboard for further stage mountings and ought to be included in any packets for potential investors.

The strong cast is composed of Tony Award nominee Robert Cuccioli, Andrew Keenan-Bolger, James Moye, Tony nominee Joel Blum, John Jellison and Heidi Blickenstaff who sing the witty, smart lyrics and clever melodies, which are brought to life through orchestrations by Jonathan Tunick.

Rounding out the cast are: Pamela Bob, Steven Booth, Nick Cartell, Holly Davis, Channez McQuay, Scott Mikita, Brian Munn, Steve Routman, Sasha Weiss.

While based upon a l941 film set in Depression Era 1932, with the current failure of print media and the ongoing layoffs of countless reporters, the topic is as relevant today as it was back then. It's also a timely though sad commentary on how easy it is for the media to manipulate the masses.

Despite the modern applications, this is one of those cast recordings where it helps to know the history and plotline.

It's based on the 1941 American comedy drama film directed and produced by Frank Capra, which starring Gary Cooper, Barbara Stanwyck and Edward Arnold. The film became a box office hit and was nominated for an Academy Award for Best Story. In 1969, the film entered the public domains in the USA due to the claimants' failure to renew its copyright registration in the 28th year after release.

Meet John Doe had its workshop premiere at the New York Music Theater Festival (NYMF) in 2004 and was selected as part of the National Alliance for Musical Theatre convention in 2005. In 2006 it was presented in a limited production at the Goodspeed Opera House. In 2007, it received its world premiere at the Ford's Theatre in Washington, D.C., starring Heidi Blickenstaff and Jim Moye and directed by Eric Schaeffer. The production was nominated for 7 Helen Hayes Awards; Schaeffer and Blickenstaff both took home awards.

Musically Meet John Doe was significantly changed from the time it ended at Goodspeed and opened at Ford's Theatre. In 2011, Porchlight Music theatre in Chicago presented the Midwest premiere. The production opened March 4, 2011 at the Theater Building Chicago and ran to April 17, 2011 winning rave reviews. Due to these three productions, R&H Theatricals licensed the show for future productions.

Times are tough for the newspaper for which Ann Mitchell (Heidi Blickenstaff) writes a column. The paper, American Times, has been taken over and transitioned into New American Times.

Infuriated at being told to write one final column after being fired from her newspaper job in the depths of the Depression, Mitchell pens a prank letter to her own column from a fictional unemployed "John Doe" threatening suicide on Christmas Eve to "protest the state of society." When her column with the letter is printed, "John" becomes a citywide sensation and the paper's circulation skyrockets 65%. The paper's competition suspects fraud and starts to investigate. That gives Mitchell an opportunity to muscle her way back into her job, ghostwriting a column for "John."

Ann Mitchell convinces her editor (Robert Cuccioli) to hire an out-of-work ballplayer, John Willoughby, (James Moye) to stand in while she ghost-writes the "John Doe" column.

With her words and his charm, John Doe quickly becomes a national sensation. As Ann, John and "John" tour the country, a strange love triangle begins to form, then the paper's powerful owner reveals his true plans for John Doe.

"When Willoughby, who has come to believe in the John Doe philosophy himself, realizes that he is being used, he tries to expose the plot, but is first stymied in his attempts. Frustrated by his failure, Willoughby intends to commit suicide by jumping from the roof of the City Hall on Christmas Eve, as indicated in the original John Doe letter. Only the intervention of Mitchell and followers of the John Doe fan clubs persuades him to renege on his threat to kill himself. Both Mitchell and John must confront the hoax they've created and decide what they truly believe in."

Of Blickenstaff' performance at the Ford's Theatre mounting, Peter Marks wrote in the Washington Post: "She's a dynamite successor to the movie's Barbara Stanwyck: It's a star performance, in fact. There's an effortless kind of kick to Blickenstaff's readings of Ann's sharp-elbowed lines. And she can sing, to boot."

As conveyed on this CD, Blickenstaff sounds perfect for the part.



Heidi Blickenstaff in the CD back booklet cover shot.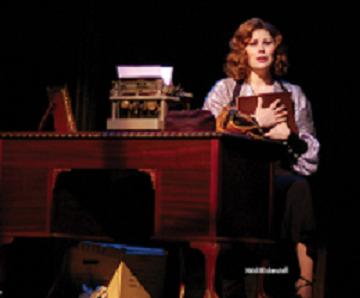 The feisty Blickenstaff isn't one for playing the ingénue. The depth of her soprano voice is perfect for portraying brassy, ballsy, knowing women. Blickenstaff once described the roles she plays as "ones (women) that had been through something."

Keeping the script set in the Depression Era while musically trying to emotionally stay in sync with today's economic times, the score weaves together melodies and tempos which signal the musical changes of the emerging 30s (from Brother Can You Spare a Dime to the big band jazz era) such as Get The Picture and Entr'acte/Meet John Doe Jingle with composition styles which are more current, such as He Speaks To Me

The CD begin with Yesterday's News in which oil tycoon and media mogul D. B. Norton (Robert Cuccioli) announces: "The last two years have been difficult for all of us, but 1932 is within sight and can be a year of optimism and change. That is why I am proud to announce my acquisition of a true city institution, the American Times. You can trust me to make the tough choices to pull this great paper out of the red and into the future. New York, I give you the New American Times! Of course, we will all need to tighten our belts in the interest of profitability." At this point pink slips are handed out. That is followed by the exubert and sassy I'm Your Man in which Mitchell begs for her job.

Mitchell sits at her desk, looking at the photo of her late father and asks him to "pull some strings up there." It's to no avail, she is fired. After devising the John Doe scheme she offers the tender ballad I Hope You Can See This, a poignant attempt to brag to her father about what she has pulled off.

The transformation of John Willoughby into John Doe as played by James Moye is a showcase for Moye'a voice which is rich, powerful and pure. He has several standout songs: I Feel Like A Man Again, which he executes the vocal version of a home run, Bigger Than Baseball which he sings with the entire company, the baseball anthem Perfect Days, the romantic duet with Mitchell on Who the Hell (Forgot to Tell My Heart) and the defiant New American Times.

Cuccioli has no show stopping numbers, such as his show stopping rendition of This Is the Moment from Jekyll and Hyde. However, he effectively comes across as what he was cast to portray, a newspaper boss. He's on target with Yesterday's News, Fast Talking, Be More, and Bigger Than Baseball.

Andrew Keenan-Bolger as Beany is outstanding on Yesterday's News and Money Talks, as is Joel Blum as the Colonel, a hobo who is Willoughby's buddy.

Musicians
Piano & Musical Direction Andrew Gerle
Reeds: Todd Groves - Trumpet/Flugelhorn: Colin Brigstocke - Drums/Percussion: Rex Benincasa - Bass: Michael Blanco.

Mixed by Andrew Gerle at Not Crazy Music
Mastered by Nathan James at Vault Mastering
Recorded at Not Crazy Music, Andrew Gerle engineer and Skyline Studios M.P. Kuo engineer.

Interesting and good looking booklet with the CD package design and layout by Van Dean. The booklet contains numerous photos by Mark Ramont from the Ford's Theatre production.


6 YEARS AFTER ANNOUNCEMENT HEATHERS SET TO OPEN OFF-BROADWAY


On March 12, 2009 it was announced that Heathers, a much-loved 1988 high school movie which launched the careers of Winona Ryder, Christian Slater and Shannen Doherty was being turned into a musical directed by Andy Fickman, who worked on the musical Reefer Madness.

Almost six years to the day, the musical is set of open Off-Broadway.

Heathers, the dark comedy about a teenage couple who start killing classmates and disguising the deaths as suicides had staged a 2009 reading with actress star Kristen Bell playing Ryder's lead role of Veronica Sawyer. Christian Campbell, who starred in Fickman's production of Reefer Madness, read Slater's role as JD, the ultimate bad-boy rebel.

The official 2009 announcement indicated that a musical version was approved by screenwriter Daniel Waters, who controls the rights to the material.

At that time the statement indicated that the production team was aiming to open the show in 2010. Heathers did stage a concert production in 2010 at Joe's Pub at the Public Theater in New York.

Now Heathers: The Musical is set to open off Broadway at New World Stages beginning March 17, 2014. Opening night is set for March 31 with performances until early September.

The score is composed by Olivier Award winner Laurence O'Keefe.

The creative team also includes writer Kevin Murphy and director Andy Fickman.

The musical recently played sold out evening performances on Fridays and Saturdays and a matinee show on Sundays in the 99-seat Hudson Backstage Theatre located in Hollywood, although the September 21 – October 6 mounting was not open to critics.

Barrett Wilbert Weed appeared as Veronica, the role originally played by Ryder in the movie. Ryan McCartan took the role of J.D., originally played by Christian Slater. Sarah Halford was Heather Chandler, Kristolyn Lloyd as Heather Duke and Elle McLemore as Heather McNamara. It hasn't been announced if the cast in that run will transfer to New York.

Patrons are warned that the show contains haze, loud noises and strobe lighting.

Emmy Award-winner Marguerite Derricks is choreographing the show.

Producers have called the production a "truthful, uplifting parable for anyone who's ever been in love, in trouble, or in high school" and said the tale is both "darkly funny, romantic and moving".

The film was voted in the top five Greatest High School Movies of All Time by Entertainment Weekly in 2006.


SPREADING THE WORD


42nd STREET JAZZ FESTIVAL presented by NYU Steinhardt Music and Performing Arts Professions, New York Foundation for the Arts, and Yamaha Pianos, RS Berkeley Horns, takes place December 16-23, 2013 at Theater Row, in New York City.

The 42nd Street Jazz Festival features a wide variety of jazz artists from New York City and around the world, with a diversity of styles from Senegal to Prague, and Buenos Aires to Brooklyn. The festival programs are:

Monday, December 16 - Gabriela Anders, voice. Jim Ridl, piano. Leo Traversa, bass. Cliff Almond, drums, with special guest Wayne Krantz on guitar.

Tuesday, December 17, the Rudy Linkja Trio. Rudy on guitar with Dan Fabricatore, bass and Norman Edwards, drums.

Wednesday, December 18, the Leni Stern African Trio. Leni Stern, guitar and voice. Mamadou Ba, bass. Alioune Faye, pecussion. Special guest Leo Genovese, piano.

Thursday, December 19, Krantz Carlock Lefebvre. That's Wayne Krantz, guitar. Tim Lefabvre, bass. Keith Carlock, drums.

Friday, December 20 it's the Tony Moreno Quintet. Ron Horton, trumpet. Marc Mommaas, saxophone. Jean-Michel Pilc, piano. Ugonna Okegwo, bass. Tony Moreno, drums.

Saturday, December 21, the Combo Nuvo. Dave Schroeder, harmonica and woodwinds. Billy Drewes, woodwinds. Brad Shepik, guitar. Rich Shemaria, piano. Mike Richmond, cello. Tim Keiper, percussion.

Sunday, December 22 the Alex Brown Trio with Alex Brown on piano. Zach Brown, bass and Eric Doob playing the drums.

Monday, December 23, the piano stylings of Jeff Franzel in his Mood of the Moment show.

On Friday, December 20, 2013, the New York Foundation for the Arts (NYFA) will present an afternoon of workshops entitled Sustaining Your Musical Career: Opportunities and New Directions. Partnering with NYU Jazz Studies and Theatre Row, NYFA will present panels on resources for the music community, as well as fundraising techniques, discussions on artist sustainability, and examples and explorations of international collaborations.

SUSAN BOYLE'S CONCERT in Abu Dhabi, which was to have taken place last Friday at the Zaed Cricket Stadium was, according to the official release, canceled "due to logistical production difficulties that prevent the show going ahead at this time."

Boyle is slated to appear next year in her first tour of England and Wales, beginning on March 22, 2014 at the Empire Theatre in Liverpool. That stop is followed the next night with a performance at the Barbican Theatre in York. On March 25 she is slated to be on stage at the Bridgewater Hall in Manchester.

Her tour ends on April 17, 2014 with a performance in Northampton.

THE ANTAEUS COMPANY L.A.'s classical theater ensemble, has chosen long-time development consultant Miki Shelton to fill the newly created position of executive director beginning January 1. She holds an MFA equivalent from the American Repertory Theater Institute for Advanced Theater Training at Harvard University.

Current managing director Kathleen Eads is moving to Jamestown, NY, where she will serve as executive director of the Reg Lenna Center for the Arts.

THEATER RESOURCES UNLIMITED (TRU) will stage their December panel The Bumpy Road to New York: Developmental Paths for New Works on Wednesday, December 18, 2013 at The Players Theatre, NYC.

Guests will include Tony Award winning producer Van Dean of The Broadway Consortium, and general partner on an incoming Broadway show; Tony Award winning producer Larry Kaye of Hop Theatricals, and general partner on an incoming Broadway show; producer Jana Robbins who has been working with writer D. Tucker Smith to bring in Smith's play Roof of the World (formerly The Great Game); and Ken Waissman who is working on bringing in Josephine, a musical about legendary Josephine Baker.

Getting a show to New York is difficult, and there are multiple ways to go about it. This panel will explore various developmental trajectories, including regional productions, not-for-profit partnerships, college collaborations and testing the waters in the West End, as well as the early steps from table readings to industry presentations.

Also discussed will be the producer's role as a creative collaborator, options and other ways a producer can be attached to a project, the pros and cons of having a producer come on board during early development and the reasonable expectations a writer and producer may have of each other during the road to production.


OTHER PEOPLE'S MONEY


ICELAND CUTS CLASSICAL MUSICAL PROGRAMMING according to a report first published in Gramophone.

Two weeks ago the state run broadcaster Ríkisútvarpið (RÚV) laid off 60 staff members - almost half of its music staff. Insider speculation indicated that broadcasts of classical music and jazz would end.

The move follows an ISK multimillion dollar cut in RÚV's funding. That drastic financial cut will also cause a reduction in the length and number of news broadcasts.

Already taken off the are the station's baroque music show, its only jazz and world music shows, and the two shows which featured new music writing and contemporary music performance.

The Finnish violinist Pekka Kuusisto used his Facebook page to call for the establishment of an internet radio station for classical, contemporary and alternative music in Iceland. The country's second radio station Rás 2, which gave an early platform to artists including Björk and Sigur Rós, also faces a dramatic reduction in programming.

Iceland's Finance Minister Bjarni Benediktsson expressed his sympathy with those who had lost their jobs but stated that RÚV is "a public limited company in which costs need to be rationalized" just like any other government department.



THE PRINCE OF WALES MEDAL FOR ARTS PHILANTHROPY was awarded to five people at a special ceremony at St. James's Palace State Apartments in London on Wednesday, December 11, 2013.

Prince Charles presented the medals to investment banker Lord Rothschild, the 77-year-old head of RIT Capital Partners Lord Rothschild has served on the board of the Courtauld Institute of Art and chaired the National Gallery for seven years during the 1980s. Through the Rothschild Foundation, he has made donations to the British Museum, the Royal Ballet School, the Ashmolean Museum, the Royal Academy of Music, and the new Migration Museum, among others.

Others honored were: Lady Bernstein, who supports dance companies; Philip and Christine Carne, who created the Richard Carne Trust in 2006 to help young people studying drama or music; Delfina Entrecanales, who set up the Delfina Studios Trust to aid artists; and Ian and Mercedes Stoutzker, who have donated over $781,000 to the Royal Welsh College.

ROB LOWE proudly posted a Tweet announcing that his son John Lowe has received an early admission acceptance to Stanford.

THE RECORDING ACADEMY has announced its Special Merit Awards recipients. Lifetime Achievement Award recipients are: the Beatles, Armando Manzanero, Clifton Chenier, the Isley Brothers, Kraftwerk, Kris Kristofferson, and Maud Powell.

Rick Hall, Jim Marshall and Ennio Morricone are Trustees Award honorees; and Emile Berliner and Lexicon are Technical Grammy Award recipients.

A special invitation-only ceremony will be held during Grammy Week on Saturday, Jan. 25, 2014, and a formal acknowledgment will be made during the 56th Annual Grammy Awards telecast, which will be held at the Staples Center in Los Angeles on Sunday, Jan. 26, 2014 and broadcast live on the CBS Television Network.



AMERICAN PSYCHO a world-premiere musical with a book by Roberto Aguirre-Sacasa; music and lyrics by Tony Award winnig Duncan Sheik. Based on the 1991 novel by Bret Easton Ellis.

Directed by Rupert Gould.

Starring BAFTA Award-nominated Doctor Who star Matt Smith as Wall Street serial killer Patrick Bateman. This is Smith's debut as a leading man in a musical.

The cast also features Ben Aldridge, Charlie Anson, Jonathan Bailey, Katie Brayben, Cassandra Compton, Holly Dale Spencer, Susannah Fielding, Simon Gregor, Holly James, Lucie Jones, Tom Kay, Gillian Kirkpatrick, Eugene McCoy and Hugh Skinner.

Living the high life in 1980s Manhattan, Patrick Bateman has it all - looks, money, style and status. He and his entourage buy the most expensive designer clothes; eat at the most exclusive restaurants and party at the hottest clubs. But privately, Patrick indulges in another kind of transgression. And people - including those closest to him - keep disappearing. Bateman is a fictional 1980s Wall Street investment banker who engages in twisted, sick, sadistic, misogynistic fantasies involving rape, mutilation, torture and cannibalism.

According to the official description, "its satirical commentary on capitalism resonating as strongly now as it did two decades ago."

The production has set design by Es Devlin, costume design by Katrina Lindsay, with choreography by Lynne Page, lighting by Jon Clark, musical direction from David Shrubsole, sound by Paul Arditti and video by Finn Ross.

Officially opened December 12 the 325-seat Almeida Theatre in North London. Reportedly the hope is to transfer the production to the West End and then move it to Broadway. Reportedly, there is an American producer already involved.

HANDLE WITH CARE a new play by Emmy Award nominee Jason Odell Williams.

Directed by Karen Carpenter.

Starring Tony Award nominee Carol Lawrence. The cast also includes Sheffield Chastain, Charlotte Cohn, and Jonathan Sale.

The official description for Handle With Care "tells the story of a young Israeli woman who reluctantly travels with her grandmother to America. Fate and hilarious circumstances bring together the young woman, who has little command of English, and a young American man with little command of romance. Is their inevitable love an accident? Or destiny generations in the making?"

The creative team includes David Arsenault (set design), Cory Pattak (lighting design), Wojcik|Seay (casting) and Brierpatch Productions (general management).

Officially opens on December 15 at the Westside Theatre Downstairs in New York City.

THE LAST TWO PEOPLE ON EARTH: AN APOCALYPTIC VAUDEVILLE a fully staged Classic Stage Company workshop presentation with direction and choreography by Tony Award winner Susan Stroman and music direction by Paul Ford.

Starring Tony and Emmy Award winner Mandy Patinkin and Taylor Mac.

According to the official description: "Following a flood of biblical proportions, the last two people on the planet discover their common language is song and dance. Together they chronicle the rise and fall and hopeful rise again of humankind through music that runs the gamut from Rodgers and Hammerstein to Sondheim, R.E.M. and Queen."

This fully-staged workshop presentation gives audiences an opportunity to be part of the discovery process as these artists continue to fine tune a remarkable new music theater piece.

Set design by Tony nominee Beowulf Boritt, costume design by Tony Award winner William Ivey Long, lighting design by Tony Award winner Ken Billington and sound design by Daniel J. Gerhard who has designed and engineered both the Tony Awards and the Grammy Awards.

A limited engagement through December 31, 2013 at the Abrons Arts Center in New York City.

PACIFIC OVERTURES Stephen Sondheim's rarely performed and arguably most challenging work. Book by Assassins librettist John Weidman. Additional material by Hugh Wheeler.

Directed by Jim Petosa.

Choreography by McCaela Donovan and Stephen Tracey-Ursprung.

Matthew Stern conducts the pared down orchestra which is composed of: piano, brass, reeds, strings, and percussion, with a synthesizer creating the airy sounds of shakuhachi (Japanese end-blown flute) and other Asian instruments..

The show is set in 1853 Japan and follows the difficult Westernization of Japan, told from the point of view of the Japanese. In particular, the story focuses on the lives of two friends caught in the change - Kayama, played by Charles Coursey, Jr., a minor official selected to dismiss American warships in the harbor, and Manjiro, portrayed by Evan Gambardella, a young Japanese prisoner who is granted a reprieve to help advise Kayama about Western ways.

The title of the work is drawn directly from text in a letter from Admiral Perry addressed to the Emperor dated July 7, 1853.

The original Broadway production was filmed and broadcast on Japanese television in 1976.

The musical play runs through December 19 at the Virginia Wimberly Theatre in the Calderwood Pavilion at Boston Center for the Arts.


WHO'S WHERE


MICHAEL FEINSTEIN, the multi-platinum-selling, two-time Emmy and five-time Grammy Award-nominated entertainer dubbed "The Ambassador of the Great American Songbook," performs at Birdland in New York City during December with this week's performances December 18-21.

ROYAL PHILHARMONIC ORCHESTRA conducted by Nick Davies, performs Christmas Cracker, an evening of festive holiday musical gems, with West End soloists including Mary Carewe and Michael Dore. Two performances on Saturday December 21. Cadogan Hall, London.

THE BEACH BOYS CHRISTMAS led by Mike Love and Bruce Johnston, along with Christian Love, Randell Kirsch, Tim Bonhomme, John Cowsill, and Scott Totten will wow fans with their greatest hits and signature holiday tunes. Tuesday, December 17, 2013 at the State Theatre in New Bruncwick, NJ.

KENNY ROGERS performs Wednesday, December 18, at the Sanford Center in Bemidji, MN. Then he appears with Linda Davis on Friday at the Bridge View Center in Ottumwa, IA. On Saturday they're on stage at Pfeiffer Hall in Naperville, IL. Sunday, December 22, they're in the spotlight at the State Farm Center in Champagne, IL.

JUSTIN TIMBERLAKE entertains Tuesday, December 17, at the Philips Arena in Atlanta. On Thursday he'll be singing at the Amway Center in Orlando, FL.


FINAL OVATION


ELEANOR PARKER a three time Oscar nominee, best-known for playing the Baroness Elsa Schraeder in The Sound of Music, died December 9, 2013 in Palm Springs, CA. The cause of death was due to complications from pneumonia. She was 91.

The actress was discovered at the Pasadena Playhouse and was signed to a contract at Warner Bros. Her career included appearing in over 80 films and televsion series.

Parker starred in a number of theatrical productions, including the role of Margo Channing in the Broadway musical version of the film All About Eve, replacing Bette Davis and then replacing Lauren Bacall in Applause. In 1976, she played Maxine in the Ahmanson Theater revival o The Night of the Iguana. She quit the Circle in the Square Theatre revival of Pal Joey during previews.

Parker was married four times: She married Navy dentist Fred Losee in 1943. They divorced in 1944. Her next husband was film producer Bert E. Friedlob whom she married in 1946. Together had three children and divorced in 1953. Her third husband was Paul Clemens an American portrait painter. They married in 1954 and divorced in 1965. Their union produced one son. She was married to Shubert Theater manager Raymond Hirsch from 1966 until his death from esophageal cancer in 2001.

She was the grandmother of one-time child actor Chase Parker. She is survived by two daughters Susan Eleanor Friedlob, and Sharon Anne Friedlob and two sons, Richard Parker Friedlob and Paul Day Clemens.













Next Column: December 22, 2013
Copyright: December 15, 2013. All Rights Reserved. Reviews, Interviews, Commentary, Photographs or Graphics from any Broadway To Vegas (TM) columns may not be published, broadcast, rewritten, utilized as leads, or used in any manner without permission, compensation and/or credit.
Link to Main Page
---
Laura Deni



For the snail mail address, please E-mail your request.
CLICK HERE FOR COMMENT SECTION