! >
Broadway To Vegas
  SHOW REVIEWS CELEBRITY INTERVIEWS GOSSIP NEWS

| | |
| --- | --- |
| | |
VEGAS STAGE VERSION OF MOULIN ROUGE MOVIE??? - - PETER PAN FLYING HIGH - - LA BOHEME'S A LIST CROWD - - STUDENTS BAKING A LIVING - - PETER BOYLE BACK ON STAGE - - DANCE OF THE VAMPIRES SUCKS - - ANITA BAKER SINGS - - SHULER HENSLEY LEAVES OKLAHOMA! - - DONATE . . . Scroll Down


MUSICAL MOULIN ROUGE VEGAS BOUND??


Does Baz Luhrmann, the creative genius behind hot ticket La Boheme, have his eyes on Las Vegas?

According to Variety and U.S.A. Today he does. Last Thursday U.S.A. Today printed a blurb about the success of La Boheme ending with "Luhrmann's next plans: a New York stage production of his 1992 film Strictly Ballroom and a Las Vegas stage version of his Oscar-winning movie Moulin Rouge."

Don't anybody hold their breath.

We checked with Bonet Bryan/Brown, the respected New York public relations firm that handles La Boheme and Mamma Mia! - the latter in rehearsals for a Vegas production at Mandalay Bay.

The response from Bonet Bryan/Brown, regarding a stage version of the Oscar winning Moulin Rouge flick coming to Sin City was - incredulous. "This is the first we've heard of that. He has talked about bringing Strictly Ballroom to Broadway. But, does it exist? No. This is the very first I've heard about Moulin Rouge. If you're looking for me to confirm a Vegas show, I can't."

Could it be that Luhrmann, who has a reputation of taking a long time to transfer an idea into a product, is speaking from his heart dreams rather than from any viable production?

The reply? "Yes."

All of Luhrmann's projects adhere to a specific style developed by him and his collaborators which Luhrmann has dubbed "the Red Curtain," which contain certain specifics. 1) the audience knows how it will end right from the start; 2) the storyline is thin and simple; 3) the world created in the film is one of heightened reality; and 4) there is to be a specific device driving the story, whether it be dance, iambic pentameter or characters bursting out in song.

Bringing a spectacular show to Las Vegas is a current conversational fad. While most never materialize, all claim to be just thisclose to signing a hotel contract.

There is no doubt that the Luhrmann-directed opera La Boheme has become the hottest ticket on Broadway. A spokesman for the show, which opened last Sunday, said the show sold $1 million in tickets on Monday and another $500,000 last Tuesday.

It takes a lot to get jaded New Yorkers jumping to their feet and screaming for more. That is exactly what happened at the opening of the $7.5 million production.

Leonardo DiCaprio, Sandra Bullock, Hugh Grant, Candice Bergen and Marshall Rose, Isabella Rossellini, Rita Wilson, Oscar winner Marcia Gay Harden, John Turturro, Cameron Diaz, James Gandolfini, Francis Ford Coppola and his daughter, Sofia, and Allan Houston of the Knicks, all gave a thumbs up to the lavish musical based on the Puccini classic about young artists living and loving in the garrets above Paris.

There were enough bold names attending to wipe out an ink canister. Just a few on the opening night A list, delighting in the performances of Ekaterina Solovyeva as Mimi, David Miller as Rodolfo, Ben Davis as Marcello and Chloe Wright as Musetta, were; Cornelia Guest, Badgely and Mischka, Gerry and Pat Schoenfeld, Joan Cullman, Prince Pierre and Sylvia d'Arenberg. Denise Hale, Donna Karan, William Ivey Long, Leonard and Allison Stern, Leonard and Wendy Goldberg, Katherine Ross and Allan Wanzenberg, Nicholas Klein, Amy Sacco, Harvey Weinstein, Anna Wintour and Shelby Bryan, Joe Armstrong, Claudia Cohen, David Granoff, Jill Krementz and Kurt Vonnegut, Veronica Hearst and Randy Bourscheidt, Austin Hearst, Randy Jones, Caroline Waxler, Jean Doumanian and Maurice Sonnenberg.

Afterwards the producers threw an opening night party at the Hudson Hotel sponsored by Absolut. With the success of this show, the producers are still in a party mode.


SECOND STAR TO THE RIGHT AND KEEP ON FLYING


On December 27th Peter Pan celebrates 98 years since Peter uttered the instructions of "second star to the right and keep on flying."

The first performance of the play took place on December 27, 1904 at the Duke of York Theatre in London, receiving critical acclaim.

Author/playwright James M. Barrie later adapted the play into a novel, Peter Pan and Wendy, which was first published in 1911.



Maude Adams as Peter Pan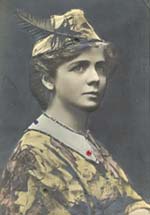 As early as 1905, a musical version of Peter Pan had appeared on the New York stage featuring Utah native Maude Adams as the boy who wouldn't grow up.

In 1924, Jerome Kern tried his hand at adapting the popular children's story, and in 1950, Leonard Bernstein wrote five songs for a stage adaptation of Peter Pan which featured Boris Karloff and Jean Arthur. But it was not until 1954 that the most popular stage version of Peter Pan would be born thanks to producer Jerome Robbins.

Developed as part of the Los Angeles and San Francisco Civic Light Opera series, Robbins originally planned to use the relatively unknown composer/lyricist team of Mark Charlap and Carolyn Leigh, but when he began to realize the potential of the project, he turned to the more established team of Jule Styne, Betty Comden and Adolph Green for additional songs.



Mary Martin starring as Peter Pan spun-off into airline advertising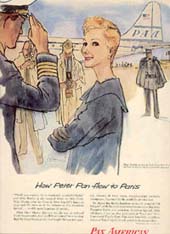 That production featured Mary Martin as Peter Pan and Cyril Ritchard as Captain Hook. It opened at the Winter Garden Theatre on October 20, 1954 and ran for 152 performances. On September 6, 1979, the show was revived at the Lunt-Fontanne Theatre with Sandy Duncan playing the lead role. This production proved even more popular than the first, enjoying a run of 551 performances.

Peter Pan was also made into a 1924 silent film, a feature-length 1952 animated cartoon, and performed on television. Steven Spielberg even produced his version, a 1991 movie called Hook.



James Barrie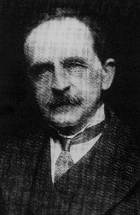 James Barrie was the ninth child and third son born to David Barrie, a handweaver, and Margaret Ogilvy, daughter of a stonemason. When Barrie was six his older brother David, considered the mother's favorite, died in a skiing accident. To gain her affection Barrie tried to dress up in the dead boy's clothes.

The obsessive relationship that grew between mother and child affected Barrie his entire life. Freudian psychiatrists considered him prime fodder for analysis. Psychologists even turned Peter Pan into a syndrome.

Barrie himself had stopped growing when he reached the height of five feet. He also suffered from migraines. Peter Pan first appeared by name in Barrie's adult novel The Little White Bird. It was a first-person narrative about a wealthy bachelor clubman's attachment to a little boy, David. Taking this boy for walks in Kensington Gardens, the narrator tells him of Peter Pan, who can be found in the Gardens at night. Re-written as Peter Pan it became the story of a boy who refuses to grow up and creates his own world of Indians, pirates, and fairies. Peter Pan, was created as a character based on the children in Barrie's life - the five young sons of Sylvia Llewelyn Davies - and on Barrie himself.



Walt Disney's Peter Pan game designed especially for Hunt Wesson Foods was a 1969 promotion. The game was free with the purchase of 1 bottle of Hunt's catsup, 1 bottle of Wesson Oil & 2 cans of Hunt's Tomato Sauce.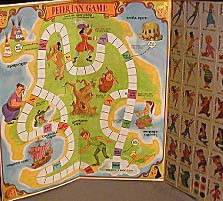 Sylvia Llewelyn Davies was the daughter of novelist George du Maurier - a motherly figure, with whom Barrie formed a long friendship. In 1884 he married Mary Ansell, who had appeared in his play Walker, London. According to Janet Dunbar's 1970 biography, Barrie was impotent and the marriage was never consummated.

In 1909 Mary Barrie began an affair with the writer Gilbert Cannan and Barrie's marriage ended. When Sylvia Llewelyn Davies and her husband died, Barrie was the unofficial guardian of their sons.

In 1978 the BBC produced a television mini-series about Barrie and the boys of Arthur and Sylvia Llewelyn Davies. The film was based on the book J.M. Barrie and the Lost Boys published in 1979 by Andrew Birkin. The series was directed by Rodney Bennett and starred Iam Holm as Barrie, Maureen O'Brien as Mary Barrie, Ann Bell as Sylvia Llewelyn Davies and Tim Pigott-Smith as Arthur Llewelyn Davies.



Johnny Depp as Barrie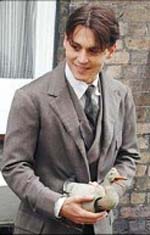 The movie Neverland, written by David Magee, based on Allan Knee's play, The Man Who Was Peter Pan, is a fictional tale of author Barrie and how he came to write Peter Pan, after befriending Sylvia, and her fatherless boys in 19th century London. Production began last June in London. Directed by Marc Forster the cast includes; Johnny Depp as Barrie, Kate Winslet as Sylvia Davies, Julie Christie as Emma du Maurier, Dustin Hoffman as Charles Frohman and Radha Mitchell.

In 1913 Barrie became a baronet and in 1922 he received the Order of Merit. He was elected lord rector of St. Andrew's University and in 1930 chancellor of Edinburgh University. Barrie died on June 3, 1937.

Even wonder whose pockets get the royalties from all of those Peter Pan productions? Well, maybe not. But just in case you're curious, in April, 1929, Barrie wrote his will, leaving the rights to the royalties from all Peter Pan books and productions to the Great Ormand Street Children's Hospital in London.

Although the UK copyright was due to expire 50 years after Barrie's death, in 1987, Lord Callaghan, the former Prime Minister, successfully amended it to assign the copyright in perpetuity to the hospital. In 1996, copyright protection was extended from 50 to 70 years throughout the European Union. This means that Peter Pan will now enjoy revived copyright in Europe until the year 2007. A similar Copyright Extension Act was passed in the USA, effective from October 1998.

The royalties from this wonderful legacy are a much-needed source of income for the hospital, and Barrie's Peter Pan, whether on stage, in books or on the big screen, will continue to benefit the more than 22,000 inpatients and 78,000 outpatients per year at Great Ormond Street.

And as with all great fairy tales, this one is shrouded in mystery - the question of how much Great Ormond Street has benefited from J M Barrie's generosity is one mystery that will never be solved. Barrie stipulated in his will that the figure should remain a secret.

The hospital observed its 150th anniversary with a commemorative set of Peter Pan stamps.



Broadway To Vegas is supported through advertising and donations. Priority consideration is given to interview suggestions, news, press releases, etc from paid supporters. However, no paid supporters control, alter, edit, or in any way manipulate the content of this site. Your donation is appreciated. We accept PAYPAL. Thank you for your interest.


STUDENTS BAKING A LIVING


Have you ever thought that the gourmet cakes and breads you mail ordered were baked by high school kids? Could be.

Recently, Broadway To Vegas began a monthly series spotlighting drama departments of different high schools. We went looking for a play. Instead, we found food. Down the hall from a drama class at Fort Fairfield Middle-High School in Fort Fairfield, Maine, we discovered Students Baking A Living, which will be awarded a Presidential Points of Light on December 18th.

In an era of press coverage about nine-year-olds selling drugs and headlines screaming of dropouts and gang violence, Students Baking A Living deserves equal space. They may not be on a theatrical stage, but they would be delighted to cater your cast party.

Sarah Ulman, co-creator of the program spoke with Broadway To Vegas.

"We don't have a drama department. We are too small a school. We have a drama class, but they don't put on plays. But, it's pretty dramatic in here," she laughed about the Students Baking A Living program.



Grocery store bread display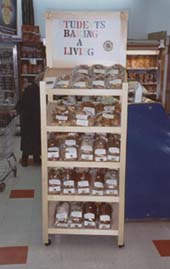 Two-and-half-years-ago, armed with a $5,000 grant from the Maine Community Foundation's Aroostook County Fund, a group of Fort Fairfield Middle- High School students opened a fully licensed, student run bakery selling goods made with locally grown products.

"We retail, wholesale and cater for special occasions," said Ulman.

Students Baking A Living has three product divisions. "Regular, Organic Breads and Non dairy. We don't use any eggs if we can help it," explained Ulman.

"We only use an egg wash. We do have a raspberry cream cheese bread that has eggs in it, but that is about the only product."

The six-braid traditional Jewish Challah bread is made with pumpkin instead of eggs for superior color and taste and the same dough is used to make paska - the small shaped holidays breads - with or without raisins.

The chocolate almond coffeecake, a popular mail order item, is laced with chocolate and pure almond filling.

Customers can buy dinner rolls, sesame seed sandwich buns, calzones and stromboli.

The breads include; garlic, butter top, oatmeal, rye and honey whole wheat. The Country Potato Bread is made with organic potatoes and whole wheat flour grown in Aroonstook County and the crispy- topped of Dutch Crunch are made with rice flour.

If, at all possible, organic products from Maine are used.

Students Baking A Living was the brainchild of four high school juniors, and two teachers - Sarah Ulman and Myer Taksel. They wrote and submitted the proposal outlining plans to develop baking as well as marketing, financial and business management skills.

"The person who was the baker was Myer Taskel, the Alternative Ed teacher," related Ulman about the third generation expert baker. "He was here until just a year ago. A new male teacher, Steve Golden, came into the program this year."

"I was the home economics teacher. Myer and I worked together for a year to bring this together," recalled Ulman. "We had a grant that came from the Kellogg Foundation for service learning. So, we worked with students that we had in common to make this happen."

"We started out as an Alternative Ed Program, but now we encompass kids from throughout all of the schools," explained Ulman. "Regular, Alternative and Special Ed. They sign up for the classes as part of their program."

"A former student, Ross Hayes, is a production manager. He graduated two years ago and has come back to manage the bakery."

"We do all of the baking here," she emphasized.



Students surrounding their popular products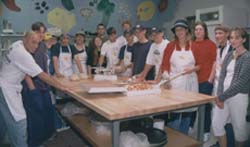 "We have four grocery stores that are retail outlets for us. And, we have one restaurant in town, Essies, that uses all of our products. We supply cinnamon rolls to our hot lunch program. We sell to the athletic boosters. They sell pizzas and cinnamon rolls at basketball games."

"We mail order and sell our coffee cakes in tins. We can do it any time of year but we especially promote it this time of year."

"We are all in the bakery right now, because we have so much to do. It is a block schedule. The kids are in here for 80 minutes. If they are a fifth year student and just have as an English credit or a history credit to pick up, then they come in for most of the day, which is really nice because then we have some continuity."

"The best sellers are cinnamon rolls, pizza and we have a line of organic breads. We also sell to Hamden Natural Foods, which is around the Bangor area. We are north of Bangor about three-one-half-hours. We are on the border crossing into New Brunswick."

Those traveling the area become couriers.

"Whenever we can, we'll find somebody who is traveling south and ask them if they'll transport an order down for us, which may be about three times a month."

Statistically the school is described as located in a depressed community, having a demographic of 49 percent enrollment below the poverty level. In many situations that would inspire the people to manipulate the welfare system for a bucket load of freebies. In the case of this group, they were motivated to bake for the bucks. And, don't call them poor.

"We're not poverty stricken, "but we have a lot of people who are below the poverty line. We have colleges up in this area. We don't think of ourselves as poor and impoverished," stressed Ulman.

"We are located in the high school. We have a lot of new equipment that we bought with a grant. In the past, the students did the grant writing. This year we don't have anyone who is doing the grant writing. The administration and I did a grant for this year. One of the first grants we got was for $5,000. That was done by three or four students. And the other one was a $20,000 grant from the Libra Foundation. That was written by one of our students who graduated two years ago," explained Ulman.

James Smith, a former student who helped author one of the successful grant applications, described the experience as "kind of an extended English essay."

"We pay salaries for some students that come in early or stay late," continued Ulman. "They can earn money. Money for that comes from a Juvenile Justice Grant. We've had a grant from them for two years. We are trying to keep kids busy and out of trouble."

Some of the students admit they had dropped out of high school and returned because of Students Baking A Living.

The bakery operates on the school calendar.

"We tried working one summer and it was too much for Myer and I," admitted Ulman. "During Christmas vacation we sometimes come in for special occasions. Right now it is about 30 below and sometimes I think I am crazy," she laughed.

"We also have a mentor ship with Jim Amaral, the owner Borealis Bread. He has bakeries in several Maine communities. They are a Sour dough bakery. He does artesian breads with starters. We have a good working relationship with him. He's been up here several times a year. In fact, he was just here on Friday. When he's here he helps the kids with their bakery and with marketing ideas."

"He has provided bread starters and has also sent students here to work in his bakery. We had two young men - students - who went before Thanksgiving and they did as an internship. He has also supported up by giving us help to attend seminars in Southern Maine and the Bread Baking Guild of America convention."

Why would the busy businessman take his time and spend his hard earned money on this project? "There is no doubt in my mind that there was a lot of fermentation here," he quipped to an assembly gathered to honor program contributors.

Indeed, they have risen to the occasion.

"We started our product line with five products and are now up to twenty five, so we are increasing our line very well," Robert Dionne, a student in the program told Broadway To Vegas. Dionne, who is interested in public relations and marketing, demonstrated staying on top of the interview and follow-through skills frequently lacking in professional firms.

"We deliver to many different stores. If there are any products that were not sold, we then donate and deliver them to shelters or soup kitchens," added Dionne.

On December 18, Maine Governor Angus S. King, Jr will present a Presidential Points of Light Award to Students Baking A Living.

LES PAUL will be honored in his hometown of Waukesha, Wisconsin. The county's historical society has received permission to transform an old courthouse into an exhibit dedicated to electric guitar pioneer Les Paul. The agreement also provides $5.6 million to renovate and operate the exhibit in the next decade.

Paul now lives in New Jersey and continues to perform every Monday with his trio at the Iridium Jazz Club in New York City, will donate items to the exhibit.

As an inventor, Les Paul is credited with inventing the solid-body electric guitar, creating sound-on-sound, over-dubbing, the electronic reverb effect and multitrack tape recording. He made the first eight track recorder in the late 1940s by stacking eight Ampex tape machines and synchronizing them. Old friend W.C. Fields dubbed the contraption "the Octopus."

His hits include Tennessee Waltz, Vaya Con Dios, Mockin' Bird Hill and How High the Moon.

BOMBAY DREAMS Andrew Lloyd Webber's musical set in India, has been seen by more than 320,000 people and the run extended until October, 2003. The musical, which opened in June, celebrated its 200th performance at the Apollo Victoria Theatre in London on Wednesday.

ABBA'S DANCING QUEEN has been voted the top dance floor tune of all time, according to viewers of cable music channel VH1.

Abba member Benny Andersson responded to the announcement by telling the press: "It's rather fantastic that our music is still around and that they didn't kill us for being so corny at the time."

Abba songs are the backbone for the musical Mamma Mia!



SOPHIE'S CHOICE based on the best-selling 1979 novel by William Styron - had made its world premiere at the Royal Opera House in London.

Music and libretto by Nicholas Maw who had the original idea, and wrote the opera, after he was commissioned by BBC Radio 3.

Styron was not involved in the project, but attended the premiere.

The conductor is Sir Simon Rattle, and Trevor Nunn directs.

This intense new work which was made into an Oscar-winning film in 1982 starring Meryl Streep and Kevin Kline headlines soprano Angelika Kirchschlager, in her much-awaited London debut, as Sophie. She shares a tempestuous relationship with Nathan played by Rodney Gilfry. Into their lives comes Stingo portrayed by Gordon Gietz, a young would-be novelist who observes the destructive relationship while gradually becoming a part of it himself. What we learn of the enigmatic Sophie and her experiences in Poland under the Nazis is to surprise, shock and finally provoke a heart-aching sympathy as the truth of her choice is revealed. Combining in its psychological searching an intense tenderness alongside the cruelest of pain, Sophie's Choice is considered a highlight not just of this Royal Opera season, but of the international operatic stage.

The production also features Dale Duesing, Frances McCafferty, Stafford Dean, Jorma Silvasti, Alan Opie, Stephanie Friede, Quentin Hayes, Adrian Clarke and Gillian Knight.

Designs by Rob Howell. Lighting by Mark Henderson. Choreography by David Bolger.

Performances continue on December 16, 19 and 21. You might want to eat before the show - the running time is at 4 hours and 5 minutes. Royal Opera House in London.

ANIMAL FARM a satire on Stalin's Soviet Union by George Orwell is being staged at the prestigious Chinese Central Academy of Drama. As China's leading dramatic institution the school has graduated internationally acclaimed Chinese film directors and performers including Gong Li, Jiang Wen, Zhang Yang, and Zhang Zi Yi. China's media, including its theatre and films, are heavily censored, so eyebrows were arched over this curtain rising. The opening scene of Animal Farm has a group of animals led by two large pigs celebrating victory to the sound of a Jewish wedding dance. Beijing, China.

MEDEA starring Fiona Shaw, is on Broadway for only 84 performances, following sold-out engagements at The Queen's Theatre in London's West End, The Brooklyn Academy of Music and The Kennedy Center for the Performing Arts in Washington D.C.

Written by Euripedes. Directed by Deborah Warner. Scenic Design by Tom Pye. Costume Design by Jacqueline Durran. Lighting Design by Peter Mumford and sound design by Mel Mercier. Opened December 10 at the Brooks Atkinson Theatre, NYC. Closing February 22.

DANCE OF THE VAMPIRES starring Michael Crawford and Rene Auberjonois. Score by Jim Steinman, book by David Ives, directed by John Rando, choreographed by John Carrafa - despite all of the talent - looks like something put together by a committee - each of whom had a different agenda. Save your time and money. The production sucks the life out of both. Minskoff Theatre, NYC.

THE EXONERATED welcomes Emmy winner Peter Boyle to the cast - a return to the stage after 20 years. The talented and personable Boyle last appeared on the boards in the early '80s. He was in the original production of True West, which opened at the New York Shakespeare Festival's Public Theatre. Also starring Tommy Lee Jones, the effort received such disastrous notices that writer Sam Shepard disavowed the production. Boyle also appeared in Snow Orchid with Olympia Dukakis. Written by Joe Pintauro the play was produced by Circle Rep. Boyle began his acting career studying under the legendary Uta Hagen and performed off-Broadway in plays such as The Balcony.

The Exonerated, written by Jessica Blank and Erik Jensen, also stars Lynn Redgrave and Andrew McCarthy. December 30-January at the Bleeker Street Theatre, NYC.

THE PRODUCERS national tour entertaining December 10-19 in St Louis, Mo.

OKLAHOMA! bids farewell to Tony Award winning Shuler Hensley, who exits his role of tormented farmhand Jud Fry January 5. Hensley leaves the musical to begin work on Van Helsing, the new epic action-adventure film from writer-director Stephen Sommers. Van Helsing reunites Hensley with former Oklahoma! co-star Hugh Jackman and Kate Beckinsale, and features an international cast including Richard Roxburgh, David Wenham, Will Kemp, and Kevin J. O'Connor. Hensley portrays The Frankenstein Monster in the 19th-century gothic action extravaganza, which follows vampire hunter Dr. Van Helsing as he battles three classic monsters from Universal Pictures' vintage horror years - Frankenstein, Dracula, and the Wolf Man. The film begins production in January and is slated for a May 2004 release by Universal Pictures.




A TOUCH OF HOME


James Reynolds and the Days of Our Lives cast members on tour December 21-28 in the Mediterranean.

Drew Carey on another USO tour, this one taking place December 21-28 in Diego Garcia and Singapore.

Dennis Farina and James Avery bringing a touch of home to the troops, December 21-30, in the Balkans.


WHO'S WHERE


DARLENE LOVE who has been on Broadway in Grease, Leader of the Pack and will star in the upcoming 20th anniversary tour of Nunsense, brings her annual Christmas concert to New York's Symphony Space on December 20 and 21. Darlene Love's Christmas in New York will feature a rock-and-roll band and a full choir as well as a host of classic and not-so-classic holiday tunes. Presented by RRAZ Productions Inc. She'll be performing first number one recording, He's a Rebel, through her string of label hits with legendary producer Phil Spector, to the countless songs she sang backup on for artists like Sam Cooke, Elvis Presley, Dionne Warwick, Cher and Aretha Franklin.

Her latest albums are Age of Miracles, recorded live in New York City and her first gospel album, Unconditional Love released by Harmony records.

Darlene will be joined by a rock & roll band and a full choir for her shows at the Peter Jay Sharp Theatre at New York's Symphony Space, NYC on December 21 and 22nd.

JOHNNY MATHIS performing December 15 in San Diego, California at the San Diego Civic Theatre. On Friday, December 20th, he can be enjoyed at the Civic Arts Plaza in Thousand Oaks, California.

BARBARA COOK December 20th at the Robert Ferst Center for the Arts at Georgia Tech in Atlanta, Georgia.

LINDA EDER Dec. 16 at the Kravis Center for the Performing Arts in West Palm Beach, Florida. On December 17th she is at the Ruth Eckerd Hall in Clearwater, Florida. Dec. 18th finds her in the spotlight at the Philharmonic Center for the Arts in Naples, Florida. December 20th and 21th she performs with the Atlanta Symphony at the Woodruff Arts Center in Atlanta, Georgia.

GEORGE WINSTON center stage tonight in Philadelphia at the Verizon Hall at the Kimmel Center. On Tuesday the show is in Princeton, New Jersey at the McCarter Theatre. On Thursday he'll be performing in Madison, Wisconsin at the Oscar Mayer Theatre. He closes out the week, Saturday, in University Park, Illinois at the Center for the Performing Arts.

LARRY GATLIN performing Tuesday in Nashville at the Ryman Auditorium. On Thursday the show is in East Lansing, Michigan at the Wharton Center On Friday he can be enjoyed in Elgin Illinois at the Hemmens Cultural Center. He closes out the week, Saturday, in Sandusky, Ohio at the State Theatre.

MEAT LOAF performing tonight in Toledo, Ohio at the Sea Gate Convention Centre. On Tuesday, December 17, the show is in Sioux City, Iowa at the Orpheum Theatre.

JULIE ANDREWS AND CHRISTOPHER PLUMMER on the last week of their fabulous holiday tour. If you're lucky enough to be in the area, the production can be enjoyed December 16 at the Pepsi Arena in Albany, NY., December 17 at the Giant Center in Hershey, Pennsylvania. On December 18th they are at the Nassau Coliseum in Uniondale, NY. On December 20 the show is at the St. Pete Times Forum in Tampa, Florida and on December 21 they are at the Office Depot Forum in Ft. Lauderdale, Florida

TORI AMOS who had The Joint in the Hard Rock Hotel in Las Vegas jumpin last night is on stage tomorrow, December 16 at the Gammage Auditorium in Tempe, Arizona. On Tuesday she begins a two nighter in Los Angeles at the Universal Amphitheater. Then on Friday she stars another two nighter in San Francisco at the Bill Graham Auditorium.

TONY ORLANDO in his holiday Santa and Me show December 16-22 at the Orleans Hotel, Las Vegas.

ANITA BAKER croons her way back to the concert stage after a too long seven-year hiatus. Multi-award-winner Baker, who smoothly mixes R&B, soul and gospel-flavored sound, has selected the Westbury Music Fair in Westbury, New York Anita sings December 17-18. and December 20-21

MICHAEL MARTIN MURPHEY has a busy week. Tonight the show is in Fort Smith, Arkansas at the Fort Smith Convention Center. Monday he is in Fort Worth, Texas at the Bass Performance Hall. On Tuesday he's on stage in Waco, Texas at the Hippodrome Theatre. Wednesday finds him in Kerrville, Texas at the Hilton. On Thursday the week of one nighters takes him to Odessa, Texas for a show in the Ector Theatre. Friday the show is at the Pioneer Hall in Anson, Texas and on Saturday he performs in Lubbock, Texas at the Memorial Civic Center.

NEIL DIAMOND entertaining this evening in Spokane, Washington at the Spokane Arena. On Tuesday the show is in Billings, Montana at the Metra Park Arena. Thursday finds the singer/songwriter in Arnes Iowa at the Hilton Coliseum. On Friday he is center stage in Kansas City, Missouri at the Kemper Arena.

ANN HAMPTON CALLAWAY joins David Kenney in the studio this evening for his Everything Old Is New Again radio program prior to her engagement at the Jazz Standard in New York City December 17-21.

THE MONACO BALLET dates back a century.The current artistic director, Jean-Christophe Maillot, leads the group which consists of in-house dancers and choreographers, as well as musicians from the Monte Carlo Philharmonic Orchestra. They performs La Belle December 20-23 and December 25 at the Grimaldi Forum in Monte Carlo. The group will embark on their tour of France, the United States and Russia next year.

ANDREA BOCELLI the tenor performs December 20 at the Olympic Hall in Munich, Germany.


PIFFLE AND PROFUNDITIES


THE IDES OF MARCH or the 15th day of March in 44 BC was ushered in by a violent electrical storm. That's the day that Julius Caesar was warned. He was celebrating his victory over his adversary Pompeii when a stranger pushed through the crowd, pointed at Caesar and warned, Beware the Ides of March. A tale of treachery and intrigue. On March 15, 2003 Les Miserables, the second longest-running show in Broadway history, will stage its 6,612th and final performance, three days after its 16th anniversary on Broadway at the Imperial Theatre.













Next Column: December 22, 2002
Copyright: December 15, 2002. All Rights Reserved. Reviews, Interviews, Commentary, Photographs or Graphics from any Broadway To Vegas (TM) columns may not be published, broadcast, rewritten, utilized as leads, or used in any manner without permission, compensation and/or credit.
Link to Main Page
---
Laura Deni


CLICK HERE FOR COMMENT SECTION