! >
Broadway To Vegas
  
  REVIEWS INTERVIEWS COMMENTARY NEWS

| | |
| --- | --- |
| | |
CHARITABLE CELEBRITIES MAKE IT CHRISTMAS ALL YEAR 'ROUND - - YOU MUST REMEMEBER THIS - - UNBROKEN RED CARPET RECEPTION AND SPECIAL PREVIEW SCREENING - - INGE FESTIVAL HONORS DONALD MARGULIES - - TONY WINNER EDWARD HERRMANN SUES ACCOUNTANT - - A STUNNING DUCHESS KATE - - LOVE LETTERS AND SIDE SHOW TO CLOSE EARLY - - 17th ANNUAL ENTERTAINMENT LAW INITIATIVE - - DONATE . . . Scroll Down







Copyright: December 14, 2014
By: Laura Deni
CLICK HERE FOR COMMENT SECTION


CHARITABLE CELEBRITIES IN THE HOLIDAY SPIRIT
Jon Bon Jovi accepting the Marian Anderson Award. Photo: Jon Bon Jovi.com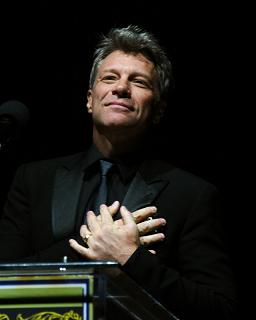 There is a Christmas song with lyrics by Dorothy Fields and music by Burton Lane titled Let's Make It Christmas All Year 'Round.

Many celebrities do just that - by turning their fame, fortune and celebrity into compassion for others. Not just the bright stars who let their light of fame sell tickets for a good cause ever now and then, but those blessed with fame who seem to sincerely and tirelessly use their success to benefit the less fortunate.

Jon Bon Jovi has been a tireless humanitarian. The founder and front man for the iconic band Bon Jovi and Chairman of the Jon Bon Jovi Soul Foundation, accepted the 2014 Marian Anderson Award last November during a gala dinner and concert, hosted by Wanda Sykes, at the Kimmel Center in Philadelphia.

As Chairman of the Jon Bon Jovi Soul Foundation, a non-profit organization dedicated to bringing about positive change and helping the lives of those in need "one SOUL at a time," he focuses on the issues of food and shelter for individuals and families experiencing hunger and homelessness. In the Philadelphia region, the Foundation has supported a range of organizations, including Project HOME, Covenant House, Rebuilding Together and Northern Children's Services, as well as Heart of Camden and Saint Joseph's Carpenter Society in Camden, NJ. See Broadway To Vegas column of November 28, 2010.

According to Nina C. Tinari, board chair of the Marian Anderson Award, "Jon Bon Jovi exemplifies the spirit of the Marian Anderson Award, which is to honor an artist whose leadership benefits humanity. We are honored to present him with this award in recognition of his many philanthropic contributions, especially those here in Philadelphia."

The Marian Anderson Award was created in 1998 to celebrate critically acclaimed artists - individuals who have used their talents for personal artistic expression and whose body of work has contributed to our society in a singular manner. It is named in memory of the legendary singer and distinguished Philadelphian, Marian Anderson. Previous honorees include Harry Belafonte, Gregory Peck, Dame Elizabeth Taylor, Quincy Jones, Danny Glover, Oprah Winfrey, Ruby Dee and Ossie Davis, Sidney Poitier, Richard Gere, Maya Angelou and Norman Lear, James Earl Jones, and Berry Gordy.

Last month Bon Jovi also lent his support to a new organization whose goal is to help rebuild New Jersey's middle class. New Start New Jersey is a nonprofit organization founded by Phil Murphy, a Middletown resident and former U.S. Ambassador to Germany. Jon Bon Jovi participated in a panel discussion of the issues affecting his home state of NJ after the announcement of this new organization took place. The panel covered topics ranging from the continuing rise of the cost of living, to the loss of middle class jobs (most recently the closure of casinos in Atlantic City), to the need to make education more affordable and accessible to today's youth.

Mary Tyler Moore and Bernadette Peters are founders and backbone of Broadway Barks, the annual star-studded dog and cat adoption event featuring celebrities from the hottest shows on Broadway to promote the adoption of shelter animals.

Currently, Broadway Barks "wants to make finding the perfect gift easy with a list of amazing gifts that also help animals. And, yes, we checked the list twice! At Broadway Barks we never recommend giving a pet as a gift, but we are huge fans of shopping, especially for a good cause! We found great gift ideas for pet lovers and non-pet-lovers alike - from handpicked pet toys and treats delivered to your door, to decadent chocolate and fine wines - for people not pets. From culinary olive oils and vinegars, to fun games, luxurious candles, and more, there is sure to be something for everyone on your list, and maybe even a little something for yourself. And the best part is when you shop from this list this holiday season you will also be helping animals in need."

Another animal lover is Betty White who appears to receive more pleasure from trying to help animals than she does talking about her own storied career.



2014 Elton John Holiday Candle. Photo: EJAF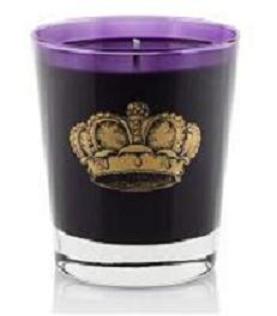 Sir Elton John began his Aids Foundation in 1992. Since then the organization has raised over $300 million and funded programs across four continents in the fight against AIDS. His composition Candle in the Wind has been transformed into an annual Christmas candle.

The 2014 edition is a blend of evergreen and balsam fir needles combined with rich woods and a sparkling citrus accord. The source of inspiration for the unique and unexpected design for this Elton John Holiday candle packaging and glass is based on an etching of a coat of arms crest with added gold, red and green seasonal holiday foliage.

The artwork blends old and new in a playful and light manner, featuring majestic gold crowns and gothic calligraphy. A portion of the proceeds from the sales of Sir Elton John's Holiday Candle, which has a burn time of approximately 50 hours, will benefit the Elton John AIDS Foundation.



Emmy and Tony award winner Rosie O'Donnell has given over $100 million of her own money to charity.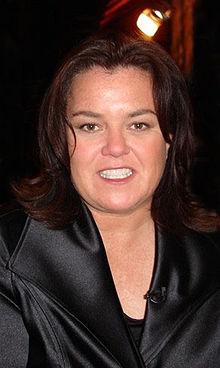 Rosie's Theater Kids is an organization founded in 2003 by Rosie O'Donnell, who can currently be enjoyed on The View. Rosie's Theater Kids is dedicated to providing free instruction in music and dance to New York City public schools or students. Rosie's Broadway Kids serves more than 4,500 teachers, students, and their family members at 21 schools.

For her creation of and dedication to this project, O'Donnell received a Tony award.

Yesterday, December 13, 2014 The Hetrick-Martin Institute held workshops with Rosie's Theater Kids and their parents in an effort to educate on LGBTQ issues and ensure that Rosie's Theater Kids is a safe, inclusive space for every person who comes through their doors.

In 1996 O'Donnell founded her For All Kids Foundation to help institute national standards for day care across the country. Since 1997, Rosie's For All Kids Foundation, overseen by Elizabeth Birch, has awarded more than $22 million in Early Childhood Care and Education program grants to over 900 nonprofit organizations.

She is also reported to have contributed several hundred thousand dollars for rehabilitation therapies for war veterans who have lost limbs in Iraq and Afghanistan wars. On The Tyra Banks Show, Banks brought up to O'Donnell that people don't realize that O'Donnell, the mother of five, has given more than $100 million to charity.

Many celebrities who have experienced a medical problem come forward to help others.



Olivier Newton-John standing in front of the Cancer and Wellness Centre. Photo: Olivia Newton-John Cancer and Wellness Centre
Breast cancer survivor Olivia Newton-John, who has just extended her contract with the Flamingo Resort in Las Vegas, startedas The Olivia Newton-John Cancer and Wellness Centre which is located at the Austin Hospital in Heidelberg, Melbourne, Australia. The facility is "dedicated to providing the very best in medical care and treatment; combined with research programs for new treatments to help stop cancer from destroying the lives of so many people."

The center specializes in the integrated treatment involving mind, body and spirit.

Recently the Olivia Newton-John Cancer Research Institute (ONJCRI) became Australia's newest medical research institute, established to help find the cure for cancer by translating research discoveries to clinical application.

This Christmas they are selling "Christmas Cards ready to personalize with your company details, and our exquisite range of yummy Hampers that excite the senses with gourmet goodies such as fruit mince pies, moist Christmas cakes, chocolates that melt in your mouth, nuts, crackers and other goodies."

Hugh Jackman, currently starring on Broadway in The River, speaks out about the importance of sun screen and keeping an eye on moles and spots, after he underwent (thanks to the nudging of his wife) a couple of procedures to remove suddenly occurring spots on his nose.

Terry Bradshaw, who brought his one man show to Las Vegas, fell victim to the horrible pain of shingles and is now a spokesman encouraging those 50 and over to get the inoculation, and not become the one in three that comes down with the miserable condition.






Broadway To Vegas is supported through advertising and donations. Priority consideration is given to interview suggestions, news, press releases, etc from paid supporters. However, no paid supporters control, alter, edit, or in any way manipulate the content of this site. Your donation is appreciated. We accept PAYPAL. Thank you for your interest.




ART AND ABOUT


YOU MUST REMEMBER THIS Warner Bros. is one of the oldest established American production companies. The display will feature selected memorabilia spanning the company's 90-plus years.

The focus will be on costumes from Warner Bros. produced films The Adventures of Robin Hood, My Fair Lady and the Academy Award winning 2013 film Gravity.

Visitors will also see a drawing by Chuck Jones and a script by Theodor Geisel, better known as Dr. Seuss, for the short animated training film Private Snafu, in addition to paintings used in Robin Hood and a Constitution Day booklet given to Warner Bros. employees to boost morale during World War II.

Opening December 19, 2014 at the Artifact Walls, First Floor Center of the National Museum of American History, Smithsonian Institution, Washington, DC



SWEET CHARITY


PRINCE WILLIAM AND HIS CATHERINE

Duchess Kate is stunning right down to her exquisitely applied eye makeup. Photo: Getty/Clarence House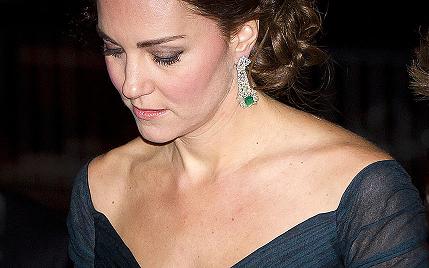 benefited their alma mater St. Andrews to the tune of $1.57 million which will go towards student scholarships for those who would otherwise be unable to attended the university.

At the event held at the Metropolitan Museum of Arts' underground Temple of Dendur, guests dined on a menu that began with a trio of potato and leek soup, smoked haddock fish cakes with crispy leeks and Scotch lamb pie. For the main course diners were served a duo of mushroom-crusted tenderloin of Angus beef and cedar plank Scottish salmon with a Scotch ale reduction, truffle-whipped parsnips and potatoes, sauteed spinach, and Thumbelina carrots. A miniature sticky toffee pudding was served for dessert, with creme caramel gelato and praline brittle, along with a warm chocolate molten cake with vanilla-honey poached pears and vanilla gelato.

Tom Hands, whose daughter graduated from St. Andrews in 2004, was set to MC but had to drop out at the last second "for personal reasons," and was replaced by Seth Myers. Wills spoke about the fond days he and his wife enjoyed at St. Andrews. He also had a bit of advice for parents.

Prince William said: "I don't need to tell all of you just how much St Andrews University means to me and Catherine.

"It goes without saying to those in this room that the education we received there was first class."

He then joked: "It's often said by the undergraduates that you leave the university in one of two states: either married or an alcoholic. Fortunately for Catherine and me, we ended up married.

"But for those of you who are parents of undergraduates right now, I give you one tip: ask your son or daughter over the holidays if they know what Ma Bells is. If they answer yes, perhaps remove their wine glasses out of reach."

Ma Bells is a pub frequented by many St Andrews students - including William and Kate during their student days.

As for fashion - Kate looked stunning in a midnight blue gown by British designer Jenny Packham. It's a gown she has worn before and, hopefully, will wear many time in the future - sending a much needed message that it's fashionable to be photographed in the same gown at several events. Oh, Wills looked handsome in his tux.

At the event Wills' cousin Princess Eugenie, daughter of Prince Andrew and Sarah Ferguson, wearing a sleeveless Art Nouveau black and white gown, caught up with the couple. Eugenie works at the tony New York auction house Paddle8, and had been at Art Basel in Miami Beach, which is an offshoot of the prestigious Swiss art fair that focuses on modern art.

A RED CARPET RECEPTION AND SPECIAL PREVIEW SCREENING of Universal Pictures and Legendary Pictures' Unbroken, the new film from Academy Award winner Angelina Jolie, will take place Tuesday, December 16, to benefit the World War I Museum in Kansas City.

Unbroken opens in theaters nationwide on Christmas Day.

Jolie directs and produces Unbroken, an epic drama that follows the incredible life of Olympian and war hero Louis "Louie" Zamperini (Jack O'Connell) who survived in a raft for 47 days after a near-fatal plane crash during World War II - only to be caught by the Japanese navy and sent to a series of prisoner-of-war camps.

"We are thrilled to offer the public the opportunity to view a film of this stature in advance of its national release," National World War I Museum President & CEO Dr. Matthew Naylor said. "As we commemorate the Centennial of World War I, this film fits into our series of distinguished cultural programs acknowledging global conflict and change. We are grateful to Thomas Tull and the team at Legendary Pictures, Waddell & Reed and Ivy Funds for making this event possible and for their significant contributions to the National World War I Museum."

The benefit preview screening will be followed by the film screening in J.C. Nichols Auditorium at the Museum.

World War II veterans from the greater Kansas City area have been invited to attend the event as guests along with local dignitaries and officials.

Proceeds from the event will benefit the National World War I Museum, which is a 501 (c)(3) non-profit organization that receives no federal funding. The National World War I Museum holds the most diverse collection of World War I objects and documents in the world and is the second-oldest public museum dedicated to preserving the objects, history and personal experiences of the war.

TTHE COLLEGIATE CHORALE HOSTS THE 2014 GALA featuring the New York City premiere of Eric Idle and John Du Prez's Not The Messiah (He's a Very Naughty Boy) featuring Eric Idle, Victoria Clark, William Ferguson, Marc Kudisch, Lauren Worsham, Ted Sperling, Orchestra of St. Luke's, The Collegiate Chorale. Gala.

Honored Guest: Eric Idle.

Honoree: Christie Calder Salomon.

The gala takes place at Carnegie Hall on December 15, 2014. The event will begin with cocktails and hors d'oeuvres in Carnegie Hall's Rose Museum, followed by a seated dinner in the Rohatyn Room. The performance will commence in the Stern Auditorium with a dessert reception with the artists (and surprise guests) immediately following the concert.

Co-Chairs: Susan Baker and Michael Lynch, Antonia and George Grumbach, Sandra and David Joys, Emilia Saint-Amand Krimendahl.


SPREADING THE WORD


PLAYWRIGHT DONALD MARGULIES

Donald Margulies. Photo by Ethan Hill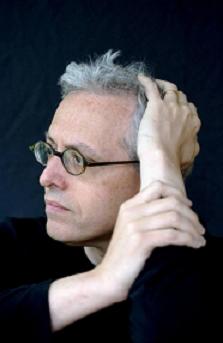 will be honored with the William Inge Distinguished Achievement in the American Theater Award, at the 34th Annual William Inge Theatre Festival in Independence, Kansas, at Independence Community College on April 19, 2015. The Inge Festival is the Official Theatre Festival of the State of Kansas.

His latest play, The Country House, premiered on Broadway this season, and will receive a reading on Friday, April 17, 2015, in the William Inge Theater. While at the Inge Festival, Margulies will also present a Master Class in Playwriting.

The film of his screenplay, The End of the Tour, will premiere at Sundance Film Festival in 2015. Additional Margulies projects include the book of a new musical of Father of the Bride, for Disney Theatricals.

His play Time Stands Still opens September 26, 2015 at the Fortune Theatre in Dunedin, New Zealand.

17th ANNUAL ENTERTAINMENT LAW INITIATIVE Luncheon & Scholarship Presentation, by The Grammy Foundation will feature a keynote address by Rep. Jerrold Nadler (D-N.Y.).

Russell Frackman, a partner in the law firm of Mitchell Silberberg & Knupp LLP, will be the recipient of the 2015 Service Award.

The honor is awarded to an attorney who has demonstrated a commitment to advancing and supporting the music community through service. Other program participants include: Ron Wilcox, ELI Executive Chair; Ken Abdo, ELI Executive Committee Program Chair and top music industry attorney (Lommen, Abdo, Cole, King & Stageberg, P.A.); and Neil Portnow, President/CEO of The Recording Academy and the Grammy Foundation.

At the luncheon, a cash scholarship of $5,000 will be awarded to the winner of the ELI Writing Competition, and $1,500 will be awarded to each of four runners-up. Additionally, all ELI Writing Competition finalists will receive airfare, hotel accommodations and a ticket to the 57th Annual GRAMMY Awards, which will be held at Staples Center in Los Angeles on Sunday, February 8, 2015, and broadcast live on the CBS Television Network, as well as invitations to other Grammy Week activities.

The ELI Writing Competition is open to law students, who are asked to write a 3,000-word essay on a compelling legal issue facing the music industry. Submissions must be received by January 6, 2015 (1 p.m. ET /10 a.m. PT).

THE ACTING COMPANY will present a staged reading of Bell, Book and Candle, John Van Druten's delightful play about a beautiful witch who casts a spell over a publisher when she finds herself quite smitten. One small problem arises: witches cannot fall in love. The reading is on Monday, December 15 at the Pearl Theater, in New York City.

The performance - starring four-time Academy Award nominee Marsha Mason, Tony Award nominee Kate Baldwin and Acting Company Alums Andy Prosky Chris Thorn and Grant Fletcher Prewitt - will be followed by a reception with the cast and director, Tom Fontana.

PURRING LIKE A CAT former Pussycat Doll singer Nicole Scherzinger has made her West End debut as Grizabella in Cats at the London Palladium. In the audience was Elaine Paige, who starred as Grizabella in the original Cats cast in 1981.

Scherzinger won raves from both Paige and the critics.

Cats, which has not been mounted in London for 12 years, is based on TS Eliot's Old Possum's Book of Practical Cats. The musical ran for 21 years in London and 18 years on Broadway.

CONVERSATIONS WITH THE DIRECTOR Gary Tinterow, director of the Museum of Fine Arts, Houston, sits down with Philippe de Montebello, esteemed curator, professor, and former director of the Metropolitan Museum of Art, to discuss de Montebello's storied career in the world of fine arts.

The longest-serving director in the Met's extensive 140-year history, de Montebello oversaw a 31-year period of significant growth at the Met, including the acquisition of significant works of art, numerous acclaimed international loan exhibitions, and the reinstallation of permanent collections in new and refurbished galleries. Before moving to New York, de Montebello was director of the Museum of Fine Arts, Houston, from 1969 to 1974.

Now serving as the first Fiske Kimball Professor at New York University's Institute of Fine Arts, de Montebello returns to Houston to discuss his recently released book, Rendez-Vous with Art, which provides a fascinating view into how, and why, we look at art. A book signing follows the discussion. Thursday, December 18, 2014 at the Museum of Fine Arts, Houston.

UNDERNEATH THE LINTEL by Glen Berger.

Performed by John Shuman.

Underneath the Lintel is the story of a spiritual quest told by the most unlikely of narrators. Tracking down a delinquent book borrower takes a librarian on an around-the-world hunt. The evidence he collects gradually reveals the culprit's identity. By walking in the culprit's footsteps, the librarian experiences a unique spiritual reawakening that is surprising, amusing and profound.

The free event takes place Tuesday, December 16, at Guild Hall in East Hampton, NY.

QUESTION why isn't the 1997 made for television Cinderella - the one starring Brandy, Whitney Houston, Paolo Montalban, Bernadette Peters, Whoopi Goldberg, Victor Garber, and Jason Alexander ever re-run? It was an awesomely entertaining spectacular production, which aired on ABC. An annual broadcasting would be nice. The television film was the #1 show of the week, with over 60 million viewers. It became the highest-rated TV musical "in years" An encore broadcast on Valentine's Night 1998 drew another 15,000,000 viewers. The Emmy award winning show hasn't been seen since. A pity.


OTHER PEOPLE'S MONEY


TONY AND EMMY AWARD WINNING ACTOR EDWARD HERRMANN filed a $14.5 million lawsuit against an accountant he has used for over two decades, Rick Kantor and his firm CohnReznick, charging that its malpractice and negligence have cost him millions.

Herrmann, 71, who is battling malignant brain cancer, says Kantor also failed to pay his credit-card bills and overdrew his checking accounts. Hermann and his wife, Star, had given the firm power of attorney.

Papers were filed Thursday, December 11, 2014 in Manhattan Supreme Court. The Herrmanns contend that last summer they learned that they had significant, long overdue bills with vendors who were refusing to do work on their home in Salisbury, Conn.

Herrmann, who studied acting at the London Academy of Music and Dramatic Art on a Fulbright Fellowship, also stated the when he went to pay his daughter's college tuition he discover that he was nearly broke, according to court papers.

Court papers say the couple could owe $1.25 million in taxes, penalties and interest because every return filed in the last six years by CohnReznick and their personal accountant, Frederick Kantor, had "'massive errors' on nearly every line."

"The extensive pattern of errors on nearly every line and schedule of plaintiff's federal tax returns is more than negligent or grossly negligent. Mr. Kantor and CohnReznick have attempted to cover up their ... misappropriation of plaintiff's monies," court papers allege.

The suit contends that the firm hid some bank accounts and credit cards that were used to pay the accountants' personal expenses which were disguised as family expenses.

Herrmann began his career in theatre. One of the first professional productions he appeared in was the U.S. premiere of Michael Weller's Moonchilden at the Arena Stage in Washington D.C. in November 1971. He moved with the show to New York City to make his Broadway debut the following year. Herrmann returned to Broadway in 1976 to portray Frank Gardner in the revival of Mrs. Warren's Profession. For his performance he won a Tony Award for Best Performance by a Featured Actor in a Play.

He is known for his portrayal of Franklin Delano Roosevelt in the made-for-TV movies, Eleanor and Franklin (1976) and Eleanor and Franklin: The White House Years (1977), both of which earned him Best Actor Emmy nominations, as well as in the first feature film adaptation of the Broadway musical Annie in 1982.

Herrmann also earned an Emmy in 1999 for his guest appearances on The Practice. He was nominated for a Tony Award for Plenty in 1983 and Emmys in 1986 and 1987 for his guest-starring role as Father Joseph McCabe on St. Elsewhere. Herrmann also played Tobias Beecher's s father on the HBO series Oz. From 2000 to 2007, he portrayed Richard Gilmore on WB's Gilmore Girls.

THE NATIONAL ARTS CENTRE in Ottawa, Canada will undergo a $110.5 million transformation. The announcement was made by The Honorable John Baird, Minister of Foreign Affairs and M.P. for Ottawa West-Nepean, and the Honorable Shelly Glover, Minister of Canadian Heritage and Official Languages., today announced capital funding of $110.5 million to transform and revitalize the National Arts Centre.

The renewed NAC will include improved performances spaces, public areas for education and events, improved accessibility for people with mobility challenges, and a magnificent glass entrance.

The new design is the work of internationally renowned architect Donald Schmitt of the Canadian firm Diamond Schmitt Architects, who wanted to create a transparent entrance to the National Arts Centre. The glass entrance, in the hexagonal shape of the NAC's original design, will showcase the importance of the performing arts in Canada.

The NAC is Canada's only bilingual, multi-disciplinary performing arts centre and was built as a centennial project, first opening its doors in 1969. The NAC will remain open during the construction phase and all scheduled performances will go ahead. The target date to open the new transparent entrance of the NAC facing Confederation Square will be sometime in 2017.


STORK REPORT


PRINCESS CHARLENE OF MONACO gave her husband Prince Albert two early Christmas presents when she gave birth to twins - a boy and a girl - on December 10, 2014 at the Princess Grace Hospital in Monaco.

Their paternal grandmother is American actress, the late Grace Kelly.

The recognized heir and spare to the Monegasque dynasty have been named Gabriella Thérèse Marie and Jacques Honoré Rainier. Their daughter will receive the title of Countess of Carladès while their son will go by Marquis of Baux.

Even though Gabriella was born two minutes before her brother it is Jacques who is heir, in line with male priority of Monaco's succession law. The new arrivals are the first Grimaldi twins born since the 13th century.

Prince Albert has two other children by two previous relationships.


CURTAIN DOWN


LOVE LETTERS the Broadway revival of the A. R. Gurney play, which was struggling with ticket sales, shutters today, Sunday, December 14, 2014. The production, with sets of rotating stars, closed with Alan Alda and Candice Bergen, meaning that stars Stacy Keach and Diana Rigg, followed by Martin Sheen and Anjelica Huston, won't be performing at the Brooks Atkinson Theater. Love Letters had been scheduled to run through mid-February. The play began performances in September starring Brian Dennehy and Mia Farrow with Carol Burnett, as scheduled, replacing Farrow. Alda and Bergen began their run in November. The play will start a national tour in fall 2015.

SIDE SHOW a revival of the musical by Henry Krieger and Bill Russell, originally presented in 1997, and closing after 91 performances, will shutter January 4, 2015 after a run which began November 17, 2014.



DINER a musical adaptation of the film of the same name, with a book by the movie's Academy Award-winning screenwriter and director Barry Levinson and an original score by nine-time Grammy Award winner Sheryl Crow.

Directed and choreographed by three-time Tony winner Kathleen Marshall.

The cast features Whitney Basher, Bryan Fenkart, Araron C. Finley, Josh Green, Erika Henningsen, Derek Klena, Adam Kantor, Tess Soltau, Matthew James Thomas and John Schiappa with Nova Y. Payton, John Leslie Wolfe, MaryLee Adams, Mitch Marois, Maria Egler, Colleen Hayes, David Little, Ben Lurye, Lou Steele and Russell Sunday.

Set in Baltimore during Christmas of 1959, a circle of childhood friends reunite for the upcoming wedding of one of them. From the comfort of their all-night diner, the men, now in their early-twenties, confront the realities of adulthood: marriage, careers, money and the ever-mysterious opposite sex.

Music direction by Lon Hoyt, orchestrations by Grammy nominee Mitchell Froom, scenic design by Tony winner Derek McLane, scenery adapted by James Kronzer, costume design by Tony nominee Paul Tazewell, lighting design by Tony winner Peter Kaczorowski, sound design by Lane Elms, production stage management by Kerry Epstein, assistant stage management by Allie Roy and New York casting by Justin Huff, CSA (Telsey + Company).

The world premiere is currently in previews with the official opening set for December 27, 2014 at Signature Theatre in Arlington, VA.

FOOTPRINTS IN THE SNOW by Anthony Chan.

Directed by Tang Wai Kit.

Cantonese opera composer is Tsang Kin Man.

A story yet to be told on and off stage triggers an inter-generational conflict, which turns out revealing a tale of love transcending the mortal life. A poignant encounter between Cantonese opera and theatre.

"Life takes us to all kinds of places, like a giant goose which leaves its footprints in the snow; these footprints are left by chance, and when the goose flies away, it does not matters where they are any longer," Su Shi, Song Dynasty.

Legendary Cantonese opera playwright Yip Fei Hung in his last letter to his son Eric, reveals his yet- to-produced script, currently hidden in Ying Seung (congealed box). In search of the script, Eric recollects more about his father's life and love, and also an ambiguous relationship with a retired male actress. Let's discover the playwright's unrevealed sensation and unique artistic vision from his footprints.

The cast includes: Liu Kai Chi, Wog Wan Choi, Au Yeung Chun, Luvin Ho, Chan Kiu, Chung Yat Ming, Chan Kam Sing and Frances Wong.

Set design by Moe Mo. Costume design by Edmond Wong. The lighting designer is Leo Siu. Music and Sound Design by Can Ha.

This production is the celebration program for the opening of Ko Shan Theatre's New Wing.

December 18-21, 2014 at the Hong Kong Repertory Theatre in Hong Kong.

A CHRISTMAS CAROL A Ghost Story of Christmas by Charles Dickens.

Performed by Paul Morella.

"A unique and memorable adaptation of A Christmas Carol. Experience the unforgettable characters and vivid imagery as Charles Dickens originally intended - in his own words - and rediscover this timeless classic presented in a masterful solo performance."

Performances through December 28, 2014 at the Olney Theatre in Olney, MD.

SISTER'S CHRISTMAS CATACHISM The Mystery of the Magi's Gold.

Written by Maripat Donovan with Jane Morris and Marc Silvia.

Starring Patti Hannon.

In an unusually jolly mood, Sister, the tart-tongued, ruler-wielding nun, teaches her students the story of the Nativity and asks for their help to solve the greatest Christmas caper ever – who swiped the gold that those three wise men gave to Baby Jesus?

Using the latest forensic technology and her uncanny ability to detect guilt, Sister creates an unforgettable living Nativity with her students to expose the culprit.

Part of the Late Nite Catechism comedies, each performance is unique and will appeal to people of all ages and faiths.

December 16–21 at the Scottsdale Center for the Performing Arts in Scottsdale, Arizona.


WHO'S WHERE




AUDRA McDONALD entertains at Hilbert Circle Theatre in Indianapolis, IN on December 15, 2014.

FLEETWOOD MAC in the spotlight Monday, December 15 at the Toyota Center in Houston. On Wednesday their tour stops at the Philips Arena in Atlanta, GA. Friday finds them at the BB&T Center in Sunrise, FL. On Saturday the show is at the Times Bay Times Forum in Tampa, Florida.

THE WHO open a two night stand Wednesday, December 17, at The 02 in London.

MICHAEL McDONALD performs today, Sunday, December 14, 2014 at the Genesee Theatre in Waukegan, IL. On Thursday the show is at the Paramount Theatre in Denver.

AIR SUPPLY on stage Saturday, December 20, 2014 at the Casino & Golf Resort in Riverside, CA. Next Sunday, December 21, they'll be singing their hits at Caesars in Atlantic City.

TONY LINDSAY with a distinctive voice that has garnered 11 Grammy Awards during two decades as Santana's front man, Tony Lindsay will perform R&B classics and yuletide favorites. Friday, December 19, at San Pedro Square Market, CA.

MICHAEL FEINSTEIN "Happy Holidays: Swinging with the Big Band" backed by a 17-piece big band, Feinstein, kicks off a year-long, global, centennial celebration of Frank Sinatra with a program of Ol' Blue Eyes favorite standards from the great American songbook. December 16-20 and December 24-27, 2014 at Birdland in NYC.


FINAL OVATION


MARY ANN MOBLEY the 1959 Miss America, turned actress, and television personality died December 9, 2014 in Beverly Hills, California from breast cancer. She was 75.

She starred in the Broadway musical Nowhere To Go But Up, which led to the launch of her film career opposite Elvis Presley in Girl Happy and Harum Scarum.

In 1967, she married actor and talk show host Gary Collins, whom she met on the set of the 1966 comedy Three on a Couch. Collins also later served as emcee for the Miss America pageant, which Mobley remained active with throughout her life. He died in 2012.

She is survived by a daughter, Clancy Collins-White.

PERRY DAMONE son of famed crooner Vic Damone, and the late actress Pier Angeli, died December 9, 2014, surrounded by his family and a few very close friends, after a long, tenuous battle with lymphoma. He was 58.

Perry was a long-time Arizona Valley radio broadcaster and founder of the KidStar Radio network. See Broadway To Vegas column of October 20, 2002 and Broadway To Vegas column of December 1, 2002.

One of Perry's last posts was: "For all my friends, whether close or casual, just because. One of the longest posts I will ever write, and the most real, too. Everyone will go through some hard times at some point. Life isn't easy. Just something to think about. Did you know that people who are the strongest are usually the most sensitive? Did you know that people who exhibit the most kindness are the first to get mistreated? Did you know that the ones who take care of others all the time are usually the ones who need care the most? Did you know the three hardest things to say are 'I love you,' 'I'm sorry', and 'help me'? Sometimes just because a person looks happy, you have to look past their smile to see how much pain they may be in. To all my friends who are going through some issues right now--let's start an intention avalanche. We all need positive intentions right now."















Next Column: December 21, 2014
Copyright: December 14, 2014 All Rights Reserved. Reviews, Interviews, Commentary, Photographs or Graphics from any Broadway To Vegas (TM) columns may not be published, broadcast, rewritten, utilized as leads, or used in any manner without permission, compensation and/or credit.
Link to Main Page
---
Laura Deni



For the snail mail address, please E-mail your request.
CLICK HERE FOR COMMENT SECTION