! >
Broadway To Vegas
 
 SHOW REVIEWS     CELEBRITY INTERVIEWS     GOSSIP     NEWS 
| | |
| --- | --- |
| | |
STAR TREK INSURRECTION WORLD PREMIERE

The Las Vegas Strip was invaded by Trekkies, who congregated outside Bally's Hotel last Thursday evening, hoping to get a glimpse of their Star Trek heroes making their way up a red carpet to attend the world premiere of Star Trek The Insurrection.

Producers selected the first Annual CineVegas film festival as the arena in which to showcase the movie which opened to the public last Friday. Insurrection is the best of the series with cutting edge special effects.

Patrick Stewart, who received both producers' credit and $12 million, reprises his role as Capt. Jean-Luc Picard, the tea-tottler who guides the Starship Enterprise. This time it's an alien race that tries to take over a planet that holds the secret to immortality.

Stewart came perilously close to losing his mortality in a recent Broadway theater mishap that gashed open his follicley challenged head. The actor had the last of the stitches removed from his pate only a couple of days before flying to Las Vegas.

Stewart had been starring in Arthur Miller's The Ride Down Mt. Morgan at the Public Theater in NYC. It's a dark comedy about a self-made millionaire Lyman Felt - played by Stewart - turned bigamist who lies in a hospital bed having nearly died in an automobile accident, which might have been a suicide attempt. The production was a double hitter - receiving both rave reviews and an audience that clamored for more. That became the problem.

Patrick Stewart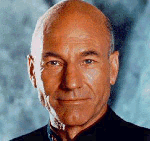 Stewart was asked to extend the play's run. He had to decline, meaning that the play would close. It was the final performance. During the last five minutes of the play Stewart as Lyman Felt lies in his hospital bed. The script calls for the lights to go dark. Just as the stage was pitched into blackness something hard hit Stewart on the head.

Stewart admits the first thought that crossed his mind was "that I had been attacked by someone in the cast because I wasn't available to extend the show." It soon became evident that what had attacked Stewart was an object - which Stewart now refers to as Exhibit One - falling from the grid.

Blood gushed from his huge open wound - a cut so severe that Stewart's pate wasn't protected by the gray wig he wore in the play. Dazed, not realizing how badly hurt he was, Stewart's first concern was to assure his fiancee, producer Wendy Neuss, and her parents who had attended the final performance, that he was okay. Stewart insisted upon taking his bows - as blood gushed from his head and his costume became blood soaked.

Finally convinced that he needed immediate medical attention, it wasn't until the shock wore off that the veteran actor realized he could have been killed or permanently injured. His noggin required both internal and external stitches.

His chrome dome healed nicely and the the actor, who is respected from Shakespeare devotees to avid Trekkers, arrived in Las Vegas for the premiere. The December evening had a frosty chill. Stewart's engaging personality warmed the crowd, many of whom had waited outside for three hours, in hopes of catching a glimpse of a man that is considered a 58 year old sex symbol.

Commenting on Insurrection Stewart said; "This is much lighter, more fun, almost like it was doing the television series," related the actor who appeared in 179 episodes of TV's Star Trek The Next Generation.

"It's fast, funny and sexy," continued Stewart about Insurrection. The talented actor admits that he's not above experiencing envy."I can't wait for the next Star Wars movie The Phantom Menace," which opens in May. My only problem is that I'm jealous as hell that I'm not in it."



F. Murray Abraham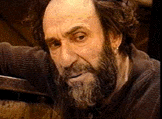 Arriving in Vegas with Stewart for the world premiere were his movie mates. F. Murray Abraham carted home the 1984 Best Supporting Oscar for his portrayal of Salieri, Mozart's insanely jealous rival in Amadeus. Abraham beat out Al Pacino among others for the role. In accepting the Oscar he told the world that he was going home to make love to his wife - paused and then commented that he hoped it would be the first time she had ever made love to an Oscar winner. He got out of bed and into years of serious theatrical roles. Stewart lured him on board as the evil Ru'afo, who attempts to oust the Ba'ku from their homeland planet.

Thursday's event marked only the third time that the acclaimed actor and his wife, Katherine, had visited Las Vegas, since they were married at the Little White Chapel almost 40 years ago.

While most people associate the Texas born Abraham with high brow New York theatre during his Before Oscar years he worked as a waiter, a department store Santa Claus then landed some commercials. He was in one for Fruit of the Loom underwear - he played a leaf. If he wasn't an actor Abraham says he would have been a valet parking attendant - "a previous career in which I excelled." Fortunately for Stewart and Star Trek fans, Abraham never gave up acting.



Brent Spiner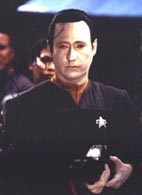 Also on board Insurrection is two time Tony Award winner Donna Murphy is Anij, a 300 year old ageless beauty. She has a close encounter of the personal kind with Picard.

Next Generation regular Brent Spiner returns as the android Data. The personable Brent Spiner looked more like a handsome human being, abet a wind blown one, as he attempted to enter the hotel.

Fans and the press tried to get him to divulge details of the movie's plotline.

"I don't want to spoil it for anyone," pleaded the actor who recently starred in the wonderful Broadway revival of 1776.



Brent Spiner in 1776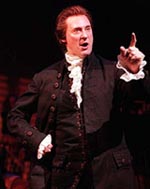 Marina Sirtis who reprises her role as Deanna Troi, the tactile ship's counselor, braved the cold night air in a beautiful gown. She kept refusing to cover up explaining, "I'm just stupid and vain. I want to wear my best dress without a coat."

Gates McFaden who plays Dr. Beverly Crusher and her co-star Michael Dorn, who plays Lt. Cmdr. Worf, kept warm by dancing down the red carpet.

Jonathan Frakes, who plays Commander Riker, directed Insurrection.

Stewart arrived in Las Vegas in good spirits. "I thought I was here to play blackjack," he quipped. After the screening Stewart kidded, "I thought I might go to Caesars (Palace) in my captain's uniform - something low-key and anonymous."

What the celebrities did after the world premiere was beam themselves towards the Star Trek Experience at the Hilton Hotel where a post movie bash lasted until the wee hours.


SEXUAL PROWESS EQUALS POWER


At the above mentioned four day Cine Vegas Film Festival several documentaries were screened including Stripped and Teased: Tales of Las Vegas Women by Amie Williams.

The movie maker was inspired to make the documentary thinking that strippers and prostitutes were unhappy and exploited. Williams was appalled at billboards that feature women's breasts and statues of showgirl backsides. She entered the film project assuming that the women who take it off for pay were unhappy and exploited.

In her Stripped and Teased film she showcased nine real Las Vegas women - from a casino executive to a Culinary union striker - counter the stereotypes in the Las Vegas premiere of this documentary.

In making the film Williams discovered that the strippers and prostitutes she encountered in the research and production of her creative effort were happy, high paid and exercised power. While many may not agree with her conclusion, Williams came away from the project with an enlightened perspective - that the women who take it off at the sight of a dollar sign possess an enormous amount of power over other people and are well paid. They also appeared to be happy.

Williams serves as CineVegas' programming vice president and introduced the 1998 festival's final screening.


BILLBOARD AWARDS BACKSTAGE
Shania Twain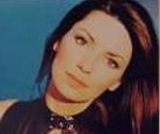 Madonna, who has previously attended the awards, cancelled a week before this year's event. Garth Brooks received the call asking him to fill her shoes. Instead, he filled out a trapeze harness. "The scariest part was the very opening where you had to step off the catwalk into space. All you try to think about is - Keep your gut in," Brooks confessed. Neither accustomed to nor liking the trapeze idea was Andy Dick of News Radio. "Did you see it twist up?" he nervously asked reporters regarding the harness which knotted up, creating Andy's anguish.

Hanson, who had failed to show last year because of illness, appeared this year - got up close working the crowd, reaching across the barriers to shake the hands of their fans and to sign autographs.

Shania Twain, who received the Female Artist of the Year Award, wore a dress with a train that kept twisting - to no avail her assistants kept untangling the yardage - Shania kept tripping over the train, at one point, almost toppling to the ground.

Managing to stay balanced on her towering heels was Australian soap star turned pop singer Natalie Imbruglia. The diminutive star explained her stiletto heels: "They make me look taller."



Courtney Love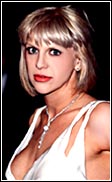 Mariah Carey, who received some negative backlash after she criticized her former husband and current boss, Tommy Mottola in a Barbara Walters' interview, waxed philosophically; "It could have been worse."

Nonchalant that Madonna was missing was Courtney Love who reflected on the Material Mom's absence: "Now we won't have to worry about the fashion thing." If she isn't best buds with Madonna, she developed an instant bond with Garth Brooks.

The two hung out together backstage after the show.

As to her own daughter, whose father is the late Nirvana frontman Kurt Cobain following in her parent's footsteps, Love snapped: "She's not gonna want to be a rock star. I'll lock her in the closet."



Broadway To Vegas is supported through advertising and donations. Priority consideration is given to interview suggestions, news, press releases, etc from paid supporters. However, no paid supporters control, alter, edit, or in any way manipulate the content of this site. Your donation is appreciated. We accept PAYPAL. Thank you for your interest.


APPLAUSE APPLAUSE
JOHN TRAVOLTA will receive the Nortel Palm Springs International Film Festival's Charles A. Crain Career Achievement Award during the festival's awards gala on Jan. 9.

Travolta will be lauded as "an icon of both the American screen and consciousness" by festival executive director Craig Prater.

Previous recipients include; Sylvester Stallone, Richard Dreyfuss and Susan Sarandon.


NEW COMEDY BY MARIO FRATTI
Playwright Mario Fratti, author of Nine has unveiled his latest offering Passionate Women at LaMaMa in NYC.

Fratti is a proliferate playwright, charming gentleman and fellow Outer Critics Circle member.

Born in Italy, a resident of New York since 1963, Fratti's plays characteristically take on realistic subjects with a touch of Latin irony. In Passionate Women; A Comedy About Creativity and Stealing a great film maker - think Fellini - has been stealing ideas all his life. Six passionate women decide that to be a muse is to be exploited. They enact a bizarre revenge.



Tony Torn, the son of Rip Torn and Geraldine Page; Yale Rep veteran Bebecca Nelson (holding camera); and Maria Cellario.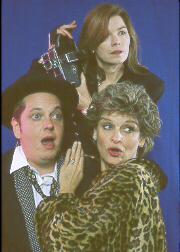 Fratti admits that he was inspired by his acquaintance with Fellini, whom he covered closely as a journalist in the late 1950s.

The comedy combines a serious inquisition on the creative mind with recurring themes of all Fratti's plays: betrayal, jealousy and sexual politics.

Fratti has previously written another play based on Fellini - an adaptation of the film "8 1/2"- that became the Broadway musical, Nine winning five Tony awards and eight Drama Desk Awards.

Fratti's plays which include The Cage, The Victim, Che Guevara, and Eleonora Duse have been performed in 19 languages in over 600 theaters.

Passionate Women has performances at La MaMa through Dec. 20. Directed by Joumana Rizk with sets by Jim Schubert. Costume design by Quina Fonseca with video by James Rattazzi. Lighting design under the direction of Howard Thies and Han Yong is charge of sound.

In addition to Tony Torn, Bebecca Nelson, and Maria Cellario cast members include; Holly Care, who appeared in the Broadway production of Wilde's An Ideal Husband; Bruce Katzman, Charmaine Lord, and Susan Wands.

ALAN KING remembers the days when Vegas entertainment was ruled by the Rat Pack. Storyteller Alan King was a Vegas mainstay. He is one of the very few performers (Frank Sinatra being another one) who hotels acknowledge actually drew high rollers. If King was booked into a showroom the casino bosses knew he'd bring money into their bank. It's been years since King has performed in Las Vegas and from the looks of his schedule it appears that Broadway has won him over. The entertainer has agreed to star in Ostrovsky, a musical by Cy Coleman with Gene Saks directing. It's a great premise for King. Set in the New York Yiddish theater, King will play a larger than life character who has affairs with young women to convince himself that he isn't getting older.

PETULA CLARK is wonderful - both as a talent and as a person. She stars in the 1995 Tony Award winning musical Sunset Blvd opening December 22 at Travis Place, Houston.

MAGALI AMADEI can walk and talk at the same time. The gorgeous Q Model Management cover girl who has caused viewers to -take it off- in those sexy Schick razor commercials, is about to hit the footlights. She's snared the role of Eglea in the off-Broadway play A Matter of Dispute at the Kraine Theater, NYC. The beauty with acting ability began her modeling career at the age of 16. This isn't the first legit offer to come her way. The picky lady has been turning down TV offers because she didn't want to get typecast as a model playing a model. She refers to A Matter of Dispute as a surreal, sexual experiment.

JULIE HARRIS AND CHARLES DURNING star in The Gin Game opening Dec. 15 at the Orpheum Theatre, Phoenix, running through Dec 20.

TOM ARNOLD has periodically reinvented himself. He seems to get better with each reincarnation. Now the writer/actor is taking a step back in time - two hundred years before the Christian era, to star in A Funny Thing Happened On The Way To The Forum. Arnold will play Pseudolus, the cheeky roman slave in search of his freedom. Performances run from January 26-31 at the Bass Performance Hall. The marvelous Tony Award winning production has starred the toga wearing Zero Mostel, Phil Silvers, Nathan Lane and Whoopi Goldberg. Book by the late Burt Shvelove and Larry Gelbart with music and lyrics by Stephen Sondheim.

Next Column: December 21, 1998
Copyright: December 14, 1998. All Rights Reserved Reviews, Interviews, Commentary, Photographs or Graphics from any Broadway To Vegas (TM) columns may not be published, broadcast, rewritten, utilized as leads, or used in any manner without permission, compensation and/or credit.
Link to Main Page
---
Laura Deni




For the snail mail address, please E-mail your request.
CLICK HERE FOR COMMENT SECTION