! >
Broadway To Vegas
  
 SHOW REVIEWS CELEBRITY INTERVIEWS GOSSIP NEWS

| | |
| --- | --- |
| | |
THE ENGLISH BALLET NUTCRACKER AND LINGERIE FOOTBALL - - RACKSTRAW DOWNES: ONSITE PAINTINGS - - THE CHOCOLATE SOLIDER CD REVIEW - - LONG MARCH: RESTART - - A VERY MERRY UNAUTHORIZED CHILDREN'S SCIENTOLOGY PAGEANT - - GET WELL TO ARETHA FRANKLIN AND DICK VAN DYKE - - THE BROADWAY LEAGUE TALKS TICKET SALES - - HELEN HUNT IN MUCH ADO ABOUT NOTHING - - DONATE . . . Scroll Down


CLICK HERE FOR COMMENT SECTION

Copyright: December 12, 2010
By: Laura Deni
T'IS THE SEASON FOR LINGERIE FOOTBALL AND THE NUTCRACKER


Angelica Bridges. Photo by Glenn Francis.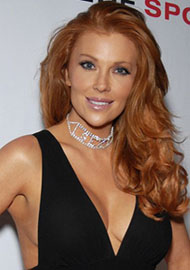 Las Vegas has welcomed a franchise of the Lingerie Football League while London's English National Ballet is presenting a new production of The Nutcracker.

Of course.

Those watching the new Nutcracker will be enthralled by the addition of Swarovski crystals. Those eyeballing the football games will be focused on what's in the bikini and then perhaps notice who has the ball.

Both the Nutcracker and the Lingerie Football League (LFL) are drawing attention this holiday season.

A job qualification for those in the LFL is to look sexy while running a 40-yard dash or being tackled. The women's 7-on-7 tackle American football league was founded in 2009 by Mitchell S. "Mitch" Mortaza. Team names include Dallas Desire, San Diego Seduction, Los Angeles Temptation, Seattle Mist, Philadelphia Passion and Baltimore Charm. A new Cleveland franchise will be called Cleveland Crush, and is set to begin play in Fall 2011 at Quicken Loans Arena. The new Las Vegas franchise has been picked to host the Eighth Annual Lingerie Bowl, which will kick off in Sin City at the Thomas & Mack Center on February 6, Super Bowl Sunday.

The Vegas team features former Baywatch beauty Angelica Bridges, who also headlined the Fantasy review at the Luxor hotel. When she isn't throwing the pigskin she sings the national anthem at Las Vegas Motor Speedway.

As with the Nutcracker the LFL has "uniforms." What one wears - or doesn't wear - ranks right up with knowing how to play the game.

Officials bristle at the thought that the female quarterbacks and those in assorted other positions aren't serious athletics. If you were great at sports in high school or college or ever played semi-pro, and if you happen to be gorgeous in a bikini, the Lingerie League regularly holds tryouts, just like a real team, which by the way, they are.



Esteban Berlanga and Erina Takahashi in The Nutcracker. Photo by Richard Haughton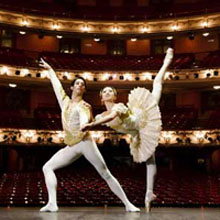 Across the pond the English National Ballet's bevy of beauties are showing off their dancing legs under the direction of Wayne Eagling. His new version of the Christmas classic is the first new production in almost a decade. It's also Las Vegas glitzy thanks to Swarovski. There are tens of thousands of those famous crystals sprinkled across the snowy scenes and tutus, including the Sugar Plum Fairy's white and gold creation. Each of those Swarovski covered confections cost over $3000.

The paying public wouldn't have it any other way. The Nutcracker is an important tradition. Over 80% of the seats were sold before the season even started.

60 years ago the English National Ballet was the company that put The Nutcracker on the map in Western Europe in a production choreographed by Anton Dolin, Alicia Markova and Grace Cone. It had been danced by other companies, but did not have a central role in the repertoire until English National Ballet placed it at the heart of its annual program and made it the popular Christmas feature it is today. In the 1950s, Balanchine's production of The Nutcracker for New York City Ballet played a similar role in the USA.

Eagling's production of The Nutcracker returns the celebrated classic to a world of Edwardian elegance. Designer Peter Farmer brings to life the eternally popular Tchaikovsky score that features the Dance of the Sugar Plum Fairy and many other familiar favorites.

The full company of 67 dancers, and 25 children, with some 400 costumes between them, will dance 32 performances through December 30. Whether it's girls in bikinis chasing a football or waltzing flowers, pirouetting snowflakes and a Sugar Plum Fairy, t'is the season to be jolly.



Broadway To Vegas is supported through advertising and donations. Priority consideration is given to interview suggestions, news, press releases, etc from paid supporters. However, no paid supporters control, alter, edit, or in any way manipulate the content of this site. Your donation is appreciated. We accept PAYPAL. Thank you for your interest.



ART AND ABOUT


RACKSTRAW DOWNES: ONSITE PAINTINGS 1972-2008

Rackstraw Downes (United States, born Great Britain, 1939), At the Confluence of Two Ditches Bordering a Field with Four Radio Towers, 1995, 48 x 46 inches. Private Collection.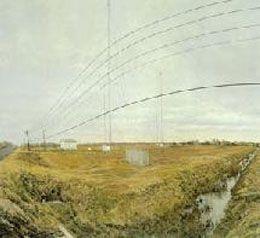 the first major survey of paintings by the MacArthur Foundation "genius" award-winning contemporary artist Rackstraw Downes

Featuring more than 30 major works, many of them multiple-part canvases, the exhibition will feature his minutely detailed paintings of exterior and interior panoramic scenes ranging from Downes' to his later signature views of the New York City skyline including a haunting depiction of the untenanted interior spaces in the World Trade Center in 1998, and the vast panoramas near his home in Presidio, Texas.

Organized by the Parrish Art Museum in Southampton, New York, the exhibition will feature more than 30 of Downes' minutely detailed paintings, some of them multiple-part canvases, of exterior and interior panoramic scenes of the American land-and urbanscape from 1972 to 2008.

The exhibition will trace the artist's career through major examples of his earliest en plein air paintings executed in Maine as well as Texas, New Jersey, and New York, including two haunting depictions of the untenanted interior spaces in the World Trade Center in 1998.

His scenes of Maine in the exhibition will include a dam in Fairfield, a Skowhegan softball field, a Searsmont lumber yard, Portland's Back Cove, the mouth of the Passagassawaukeag River in Belfast, and a view of Portland Harbor.

Recipient of a 2009 MacArthur Foundation "genius" award, Downes, who was born in England in 1939, developed his panoramic style by studying 17th-century Dutch landscape painting. His landscapes invite viewers to reconsider the intersection between the natural world and man-made objects. Turning from abstract painting in the early 1960s, and encouraged by the work of his fellow painters Alex Katz, Fairfield Porter, Neil Welliver, and Jane Freilicher, Downes has pursued a unique approach to realism that defies standard categorization. He begins each work with drawings and oil sketches before meticulously painting each scene on site. In order to capture the precise details of lighting and weather, he can spend many months completing a single piece.

Rejecting picturesque views characteristic of much realist work, his landscapes depict scenes generally overlooked or dismissed for lack of a traditional aesthetic appeal. His subjects range from the roadways, urban detritus, and industrial backyards of the East Coast to the oil fields and vast, empty scrubland of Texas. In painting the American landscape as it is, not as it has been idealized, Downes imbues seemingly ordinary subjects with extraordinary power.

Downes received a B.A. (1961) from the University of Cambridge and a B.F.A. (1963) and M.F.A. (1964) from Yale University. His work is in the permanent collections of the Art Institute of Chicago, the Museum of Modern Art, New York, the Museum of Fine Arts, Houston, and the National Gallery of Art, Washington, among many others.

Rackstraw Downes: Onsite Paintings, 1972-2008 will travel to the Weatherspoon Art Museum, the University of North Carolina at Greensboro (May 28-August 21, 2011).

December 16, 2010 through March 20, 2011 at the Portland Museum of Art in Portland, Maine.

LONG MARCH: RESTART

Feng Mengbo. Long March: Restart. Video game installation (color, sound). The Museum of Modern Art. Given anonymously. © 2010 Feng Mengbo. Screenshot courtesy the artist

Beijing-based artist Feng Mengbo unveils Long March: Restart, a large-scale, fully functional video game installation . Recently acquired by MoMA and presented for the first time since it has entered the Museum's collection, Long March is a fully functioning video game created by the Beijing-based artist, who is known for his long-time engagement with digital technology.

Lifting imagery from classic games like Street Fighter II and Super Mario Bros., along with propaganda motifs from Communist China.

The exhibit invites visitors to use a wireless controller to direct the hero of the game - a Red Army soldier - through the myriad enemies in his digital path.

Born in 1966 in China, in 1992, Mengbo graduated from Zhejiang Academy of Fine Arts in Hangzhou. He lives and works in Beijing.

The exhibit Long March: Restart opens December 12, 2010 in MoMA PS1's first-floor Painting Gallery. On exhibit through April 3, 2011.


THE MUSIC GOES ROUND AND ROUND


THE CHOCOLATE SOLIDER a re-release by Sony MasterworksBroadway of the RCA studio recording is a non-caloric treat for this holiday season. A perfect stocking stuffer.

The steamiest romance novel has nothing on The Chocolate Soldier, a racy operetta composed in 1908 by those scamps Oscar Straus (1870–1954) based on George Bernard Shaw's 1894 play, Arms and the Man.

The operetta is set in 1885, near the Dragoman Pass, in Bulgaria. Bumerli, a Swiss mercenary in the Serbian army hides from the Bulgarians in the bedroom of Nadina, the daughter of a Bulgarian colonel, setting female hearts on fire. Her wedding is ruined but then true love wins out.

While Arms and the Man carried a pacifist message, and had political overtones, The Chocolate Soldier does not. Rather, the message is one of sex, love and lust.

In 1958, in honor of the show's upcoming 50th anniversary, RCA Victor hand picked an all-star cast: two of the greatest names to ever grace a stage - mezzo soprano Risë Stevens and baritone Robert Merrill. The other grand voices include soprano Jo Sullivan Loesser. As Jo Sullivan she played Polly Peachum in Marc Blitzstein's legendary English-language adaptation of The Threepenny Opera by Kurt Weill and Bertolt Brecht off-Broadway in 1954. On Broadway, she starred in her future husband's masterpiece The Most Happy Fella (1956) as Rosabella, which earned her a 1957 Tony Award nomination as Best Featured Actress in a Musical.



Risë Stevens and Robert Merrill recording A Chocolate Soldier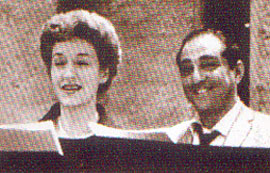 Two years before this recording Peter Palmer gained famed on Broadway as L'il Abner. Michael Kermoyan, who died in 1973, made his Broadway debut in 1954 in The Girl in Pink Tights. He played the first minister in the 1977 Broadway revival of the musical The King and I, which starred Yul Brynner. In 1978, when Brynner went on vacation, Kermoyan played the king, as he had in an earlier revival at the City Center. Sadie McCollum who appeared in Cradle Song on the Hallmark Hall of Fame. and Eugene Morgan round out the cast. They performed before an orchestra conducted by Lehman Engel.

The resulting two-LP set is now available via CD and digital download. The sound - proudly proclaimed on the cover as in "LIVING STEREO" - is pitch perfect - you even hear the sound of a man's face being slapped.

One of the best operatic voices, Risë Stevens, was cast in the lead in both the 1941 film version and the 1955 TV special. Thus, it was a no brainer that she should once again portray Nadina, a sheltered Bulgarian miss in whose bedroom Bumerli seeks comfort Nadina is mortified to discover that Bumerli doesn't carry ammunition in his pockets but chocolate instead - hence the title.

The first English-language version premiered in New York, translated by Stanislaus Stange, September 13, 1909, where it was the hit of the Broadway season. It was revived on Broadway in 1910, 1921, 1930, 1931, 1934, and 1947. Its London premiere at the Lyric Theatre in 1910 was also a tremendous success, running for 500 performances.

Mastered by Matt Fowler, the disc with step to it beat and sassy. clever, sexual lyrics, featured a marching tempo overture as the soldiers sing about the maidens they long for and the kisses they miss. The maidens reply that "we too are lonely - oh, how we miss them, long to kiss them, our soldiers big and strong." There are delightful Viennese waltzes and songs you instantly recognize. For instance, the dramatic, romantic song which many think is called "Come, come, I love you only (my heart is true)" is really My Hero.

Act I
Introduction - Soldiers
My Hero - Nadina
Sympathy - Bumerli, Nadina
Seek The Spy - Ensemble
Finale - Nadina, Aurelia, Mascha

Act II
Our Heros Come (The Fatherland is Free) - Chorus
Alexius the Hero - Nadina, Aurelia, Mascha, Poppoff, Alexius, Bumerli, Ensemble
Never Was There Such a Lover - Alexius, Nadina
The Chocolate Solider - Nadina, Burnerli
The Tale of the Coat - Nadina, Aurelia, Mascha, Poppoff, Alexius, Bumerli
That Would Be Lovely - Bumerli, Nadina
Finale - Nadina, Aurelia, Mascha, Poppoff, Alexius, Bumerli, Ensemble

Act III

Falling in Love - Alexius, Mascha
The Letter Song - Nadina and Bumerli
Finale - Company


SWEET CHARITY


WILDCAT

Wildcat poster from the original production which opened on Broadway in 1960, starring a 48-year-old Lucille Ball in her only Broadway show from the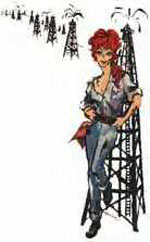 the first New York production of the original Cy Coleman-Carolyn Leigh-N. Richard Nash show since 1961. This special one-night-only event, starring Luba Mason in the role created by Lucille Ball and Tony nominee Robert Cuccioli, will benefit the Actors Fund.

The musical will also feature Lenny Wolpe, two-time Tony nominee Beth Fowler, Junior Mendez, and Jenn Gambatese. The 29-person cast includes Vincent D'Elia, Lawrence E. Street, Pierce Cravens, Kenneth Kasch, Tony Castellanos, Gregory Couba, Michal Salonia, Spencer Andrew Taylor and Michael Puglia. The ensemble comprises Lital Abrahams, Andrea Andert, Kiarri D. Andrews, Jaime Lyn Beatty, Christopher DeRosa, Jonathan Juarbe, James LaRosa, Nolan Muña, Alison Rose Munn, Tara Novie, Erin O'Neil, Tony Ramos, Jillian Schochet and Bradley Vile.

Wildcat tells the story of "a frontier woman named Wildcat Jackson (Mason) who arrives in a border town in the American southwest with dreams of striking oil, and tricks foreman Joe Dynamite (Cuccioli) into helping her," according to the program.

Theatrical Gems artistic director Jacob Shoesmith-Fox will direct the evening with musical direction by Steven H. Taylor.

December 19 at The Julia Miles Theatre at the Women's Project, NYC.

3RD ANNUAL BAY STREET HOLIDAY CONCERT AND SING-A-LONG Join Broadway Irish Tenor Ciaran Sheehan accompanied by Brenda Landrum for a holiday concert and sing-a-long. Admission is free to the public with a canned good donation for the food pantry. Tuesday, December 21, Bay Street Theatre in Sag Harbor, NY.

THE ART OF THE SONG is an auction presented by PRS for Music, the organization that collects and pays royalties to its 70,000 song-writing and composing members, which asked some of the UK's best songwriters and composers to donate lyrics from their greatest hits to be auctioned off at Bonhams in aid of Teenage Cancer Trust.

Called The Art of the Song, Sir Paul McCartney, Paul Weller, Jim Kerr, Sir Tim Rice, Julian Lennon and Annie Lennox are just some of the famous songwriters that have penned original lyrics from their most famous hits exclusively for the campaign. As well as raising money for Teenage Cancer Trust the project hopes to create a lasting legacy of the music and song lyrics of our generation.

Going up for auction are Sting's - Message in a Bottle, Duran Duran's - Girls on Film and Sir Tim Rice's – Don't Cry for me Argentina. Chris Rea has donated his original lyrics written for Road to Hell famously penned on the M25.

The auction will take place at Bonhams Knightsbridge on December 15, 2010

Some of the pieces in the auction are: Sir Paul McCartney – Why don't we do it in the road'; Brian May – We Will Rock You; Rod Temperton – Thriller; The Stranglers – Something Better Change; Sting – Message in a Bottle; Simple Minds – Jim Kerr – Alive & Kicking; Sir Tim Rice – Don't Cry for Me Argentina; Barry Mason – Delilah; Duran Duran – Girls on Film; Doug Flett – Fallen Angel (from the Jersey Boys); Status Quo – Down Down & Rain; Julian Lennon – Saltwater; Gary Barlow – Back for Good; Jethro Tull – Locomotive Breath; Pet Shop Boys – Neil Tennant – various; Don Black – Born Free / Diamonds are Forever; The Cure – Robert Smith - Plainsong; Chris Rea – Road to Hell; Annie Lennox – Sweet Dreams; Craig David – Walking Away; Graham Gouldman from 10cc's – I'm Not In Love; Paul Weller – Andromeda; Mark Knopfler – Get Lucky; Stephen Warbeck – Shakespeare in Love; Eric Clapton – Back to Your Side; Jeff Christie - Yellow River.


SPREADING THE WORD


SONGBOOK SERIES a presentation of holiday songs, presented at the New York Public Library for the Performing Arts at Lincoln Center, as part of The Church of Saint Paul the Apostle's Songbook Series will be directed by Erica Ruff. John Znidarsic will serve as host. Admission is free and seating is on a first come-first serve basis.

On Sunday, December 12 performers will include Jill Abramovitz, Sherz Aletaha, Madeleine Burns, Chris Critelli, Yuval Edoot, Jessica Hershberg, Adam Wiggins, Stephen Drabicki, Mary Feinsinger, David Gaines, Bradley Scott Hamilton, Leah Horowitz, Matthew Hydzik, Joelle Lurie, Matt Lutz, Dan Martin, Happy McPartlin, Joseph Medeiros, Lacretta Nicole, Brittney Redler, Stephanie Sine, Lara St. John, Danny Taylor, Nikos Tsakalakos, Brian Usifer, Jeff Washburn, Dennis Williams, Leah Wool, and Ronn Yedidia.

On Monday, December 13, performers will include Andrew Barbato, Paulo Coelho, Andrea Daly, Leslie Fornino, Colin Geaghan, Alex Goley, Alexa Green, Molly Hager, Patrick Oliver Jones, Morgan Karr, Lizzie Klemperer, Andrew Kober, Jenni Lawton, Max Mamon, Aimee Mungovan, Riana Nelson, Jed Resnick, Rocio Valles, and Joel Waggoner. Featured composers will be Andrew Barbato, Bobby Cronin, Andrea Daly, Richard Danley, Leslie DeSantis, Michelle Elliott, Drew Fornarola, David Gaines, Alex Goley, Sophie Jaff, Josh Halloway, Alaina Kunin, Danny Larsen, Jordan Mann, Dan Marshall, Riana Nelson, Pat Polk, Bradford Proctor, Charlie Sohne, Brett Teresa, Jeff Thomson, Will Van Dyke, and Joel Waggoner.

FLIPZOIDA by Ralph B. Pena, directed by Loy Arcenas, receives a reading on Saturday, December 18, at Queens Theatre in the Park, in Flushing Meadows Corona Park, Flushing, NY. Tickets are free and reservations are available.

A part of QTP's Immigrant Voices Reading Series, Flipzoids is billed as a funny and highly moving story about three Filipinos navigating through the shifting landscape of home, desire, and loneliness. Set on a deserted beach in southern California, the play examines what it means to be an outsider, to be Filipino and/or American; to be a hybrid. Flipzoids tests the great American axiom, "please melt in our pot" by showing three generations coping with ethnic and sexual confusion in the "promised land" of America. Flipzoids is about what we do, how we twist ourselves, to become what is expected of us - the New Americans."

This performance is presented by the Ma Yi Theatre Company, a frequent QTP collaborator. This reading of Flipzoids is part of Queens Theatre in the Park's Immigrant Voices Project Reading Series, a New Play Development Program.

35MM a multimedia musical exhibition featuring songs by Ryan Scott Oliver based on photographs by Matthew Murphy will have a concert reading directed by Daisy Prince on Monday, December 12 at Urban Stages in NYC.

The show includes the songs, The Ballad of Sara Berry, On Monday, Twisted Teeth,The Seraph, and others. The concert will Feature: Alex Brightman, Lindsay Mendez, Jay Armstrong Johnson, F. Michael Haynie, and Carrie Manolokos, with Matt Hinkley on guitar, Eric Day on bass, Kiersten Cunningham on Violin/Viola, Amanda Gookin on Cello, Kat Sherrell on Piano, and Jeremy Yaddaw on Drums.

AESOP & COMPANY a free staging of this new musical with book and lyrics by Jay Jeffries, book and music by John McMahon, directed by Jay Binder, presented by Amas Musical Theatre on December 16-18 at New 42nd Street Studios, in New York City.

The show stars Josh Grisetti as Aesop and Brad Oscar as King Croesus, and features Heidi Blickenstaff, Kimberly Fauré, Jennifer Frankel, John Christopher Jones, Alli Mauzey, Sean McKnight, Amber Owens, Blair Ross, Josh Rouah, Danny Rutigliano, Jennifer Smith, Edward Watts, and Anthony Waynes.

Music Director Eric Stern. Choreography by Warren Carlyle.

Aesop and Company is billed as a comic tale of how the famed fabulist's career was launched, an evil king's plots foiled, and a gorgeous slave woman wooed and won. The presentations are part of the ongoing Amas Lab and Workshop Series, a development program for writers, lyricists and composers to develop and advance their new musicals. The performances are being offered free to the public.

GLORIA VANDERBILT joins Wendy Goodman, author of The World of Gloria Vanderbilt (Abrams, 2010) and design editor of New York magazine, to discuss her fascinating life as an artist, author, designer, and entrepreneur and the times she lived in. Come hear how Vanderbilt brought her family name out of the Gilded Age and into the Digital Age, reinventing herself over and over along the way.

Thursday, December 16, at the Museum of the City of New York

READINGS AND MUSIC IN A HOLIDAY SPIRIT hosted by Elliott Forrest. With Richard Skipper, trumpeter and bandleader Steve Bernstein, The Lower Hudson Valley Youth Chorus, actress Sakina Jaffrey, and Celtic Rock musician Sean Fleming. There will also be a special appearance by Nyack Mayor Richard Kavesh. Sunday evening, December 12, 2010 at the Nyack Center in Nyack, NY.

MISS ABIGAIL'S GUIDE TO DATING, MATING AND MARRIAGE

Eve Plumb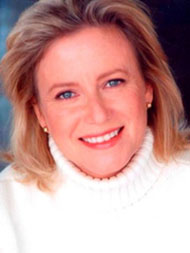 currently performing at the Downstairs Cabaret Theater in NYC, on Sunday, December 19, welcome internationally renowned love expert Dr. Gilda Carle for a special talkback immediately following the matinee performance.

Author of three best-selling love know-how books, Don't Bet on the Prince! How to Have the Man You Want by Betting on Yourself, He's Not All That! How To Attract the Good Guys and Teen Talk with Dr. Gilda: A Girl's Guide to Dating.

Dr. Gilda Carle will dispense her one-of-a-kind relationship recommendations for the audience during a tell-all discussion.

At the December 19 talkback, Dr. Gilda will introduce the second edition of Don't Bet on the Prince! featuring new and updated material.

Starring artist and television actress Eve Plumb, known for her role on The Brady Bunch, Miss Abigail's Guide To Dating, Mating and Marriage is written by Ken Davenport and Sarah Saltzberg, and is based on Abigail Grotke's popular book - the comedy's namesake - that promises "classic advice for contemporary dilemmas."


OTHER PEOPLE'S MONEY


THE BROADWAY LEAGUE'S 13th annual demographics report, 2009-2010, compares current theatergoing habits to previous seasons in predicting trends for the future, has been released.

Of note, the newest study reveals that tourists accounted for 63% of the 11.89 million Broadway admissions this year. Overall, international tourists accounted for 17%.. With 8.6 million visits by foreign tourists, approximately one in four took in a Broadway show.

"Our annual demographic report reflects the consistency of the Broadway audience, yet slight nuances demonstrate how audiences and their behaviors do change from year-to-year," commented Charlotte St. Martin, Executive Director of The Broadway League. "We did see a drop in the international tourists from a record high, most logically due to the changing economic conditions. New York City continues to show strong tourism numbers as such a significant number of our visitors do come from outside the NYC metro area."

The report also shows that the use of the Internet for the purchase of tickets has decreased by 5% since the 2008-2009 season (from 39% to 34%). However, online purchase continues to be the most popular method of ticket buying for a sixth year in row.

For show selection, critics' reviews were the most influential factors for playgoers, followed closely by personal recommendation. However, 48% percent of theatergoers at musicals said that personal recommendation was the single strongest reported factor in deciding which show to see.

Playgoers also tended to be more frequent theatregoers than musical attendees. The typical playgoer saw seven shows in the past year, compared with five for the musical attendee. Those who saw fifteen or more shows comprised 6% of the audience, but represented 31% of all admissions.

Reflecting a trend of the past few decades, 66.3% of the audiences were female, marking the highest percentage of female audiences. Furthermore, 69% of those making the purchasing decisions were female.

Three quarters of admissions were Caucasian theatergoers, but audiences have become slightly more diverse over the past decade. There were a higher percentage of Asian theatergoers this season, moving up from 3.9% to 6.1%.

THE PASADENA PLAYHOUSE happily reports that Santa Claus, in effect, came early. According to Sheldon Epps, Artistic Director and Stephen Eich, Executive Director, they managed to raise $2 million, which was a challenge inspired by anonymous donors' $1 million matching grant.



BILLY CRYSTAL

Billy Crystal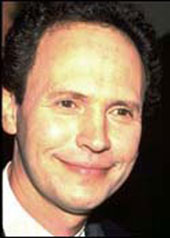 who was honored on Monday, December 6, 2010 by the NYU's Tisch School of the Arts with the Steuben Big Apple award at its annual The Face of Tisch gala.

Crystal who received his BFA there in 1970 quipped to he star studded crowd that he was "a lousy student."

Apparently one of his more grevous errors was failure to return library books.

Crystal won the 2005 Tony Award for Best Special Theatrical Event for 700 Sundays, a two-act, one-man play, which he conceived and wrote about his parents and his childhood growing up on Long Island. He toured the U.S. with the show in 2006 and Australia in 2007.

Singing praises of the Emmy and Tony Award winning baseball fanatic were Robin Williams and Whoopi Goldberg.

A-listers in attendance included musicians Tony Bennett and Paul Schaffer as well as actors Marcia Gay Harden and Jesse L. Martin.

The gala raised over $1 million, which will go partially to funding scholarships for Tisch students.

MARK W. JONES the former executive director of the Paper Mill Playhouse in Millburn, N.J., who has been appointed president and chief executive of the State Theater in New Brunswick, N.J.

DANCERS OVER 40 PRESENTS THEIR SECOND ANNUAL LEGACY AWARDS to five men "whose careers, lives and deeds have exceeded expectations and whose contributions to the art of dance have been extraordinary." They are Fred Curt, Harvey Evans, Stuart Hodes, Richard Korthaze and Ken Urmston.

The special Holiday party and luncheon in honor of the awardees with Richard Skipper as Carol Channing serving as host.

Also, DO40 is giving a special Legacy Award to producer Ed Gaynes, "who helped DO40 launch its popular yearly panels at his St. Luke's Theater on West 46th Street. Ed was a Broadway performer, in shows like Greenwillow and Fig Leaves Are Falling. A talented singer and actor, Ed has been in the business in some way, shape or form since the 50s when he was a child star!"

Dancers Over 40 is a non-profit all-volunteer organization, formed to provide a community of support for mature dancers and related creative artists. This event takes place December 12 at Swing 46 in New York City.


GET WELL SOON TO . . . .


ARETHA FRANKLIN who underwent surgery on December 2. but did not disclose the nature of her illness, although several outlets are reporting cancer.

After the surgery, her representatives released this statement: "The surgery was highly successful. God is still in control. I had superb doctors and nurses whom were blessed by all the prayers of the city and the country. God bless you all for your prayers!" On the advice of her doctor, she also canceled all performances until May.

DICK VAN DYKE has suffered an Achilles injury forcing Geffen Playhouse to shut down Van Dyke's new biographical show Step in Time! The Tony Award winner performed one preview on December 8. The show was to have officially opened on December 16 with performances to January 16, 2011.

"We are incredibly disappointed to share that due to an Achilles injury beyond anyone's control, Dick Van Dyke will be unable to perform in his upcoming show Dick Van Dyke - Step in Time! - A Musical Memoir," according to a Geffen statement. "Obviously the Geffen Playhouse's top priority is to do what's best for Mr. Van Dyke, who is a longtime friend and supporter of the theatre, and as such, we have no choice but to cancel the production."

Refunds or exchanges are at point of purchase. Van Dyke is expected to be off his feet for several weeks






A VERY MERRY UNAUTHORIZED CHILDREN'S SCIENTOLOGY PAGEANT by Kyle Jarrow and Alex Timbers. Directed by Todd Olson. American Stage Theatre Company in St. Petersburg, FL continues its After Hours series with the holiday musical satire the Obie Award winning A Very Merry Unauthorized Children's Scientology Pageant, in repertory with David Sedaris' The Santaland Diaries, through December 22 - unless the Church of Scientology manages to get it closed down before then .

Starring Stephen Ray as L. Ron Hubbard.

According to the official description, "A Very Merry Unauthorized Children's Scientology Pageant begins with six children gathering on a cold winter night to rejoice in telling the story of L. Ron Hubbard during their holiday pageant. A narrator notes, "Today we relate the life of L. Ron Hubbard: Teacher, author, explorer, atomic physicist, nautical engineer, choreographer, horticulturist and father of Scientology!" And so begins what Variety called, "A breezy one-hour show that is equal parts adorable and creepy, hilarious and unsettling, making it way more compelling than your average holiday entertainment." Learn about Scientology and its creator in musical form, including special appearances by many of the churches greatest practitioners as puppets and the possible arrival of the almighty Xenu himself. See why the president of the Church of Scientology tried to shut this play down (before we get closed down)."

The show was originally presented in 2003 in New York City by Les Freres Corbusier, an experimental theater troupe, enjoying sold-out Off-Off-Broadway and Off-Broadway productions. Later productions have included Los Angeles, New York, Boston, Atlanta and Washington, D.C.

Early in the production of the musical, the president of the Church of Scientology in New York sent a letter to the producer pointing out the Church's history of litigation. This led Timbers and Jarrow to insert the word "Unauthorized" into the title, upon the advice of legal counsel. During the Los Angeles production, representatives of the Church of Scientology visited the production staff in the midst of rehearsals and handed out documentation of successful litigation against critics of Scientology. Parents of some of the Los Angeles cast members also received phone calls from Scientologists in the entertainment industry, asking them not to allow their children to perform in the musical.

The script features characters of famous Scientologists like John Travolta, Tom Cruise and Kristie Alley and most of the dialogue comes from the writings of Hubbard and church literature. The holiday musical is scheduled to run through December 22 at the American Stage Theater located in the Raymond James Theatre, in St. Petersburg which is located one block from a Scientology church. Drinks and food will be allowed into the seating area. Special show themed alcoholic beverages will be offered for sale, as well as the theatre's usual open bar.

MUCH ADO ABOUT NOTHING by William Shakespeare. The Shakespeare Center of Los Angeles celebrates its 25th anniversary with this comedy starring Helen Hunt, Tom Irwin, Stephen Root, Dakin Matthews, and David Ogden Stiers in a world-class company of 17 American actors and musicians.

Director Ben Donenberg has set the production in a grape-stomping California vineyard, ripe with Lyle Lovett's music – and if you know one of his most famous songs She's No Lady, She's My Wife, performed live in the show by Sara and Sean Watkins -- you'll understand the fun the is experiencing with one of Shakespeare's greatest comedies.

Much Ado About Nothing is a production of The Shakespeare Center of Los Angeles, presented by special arrangement with Center Theatre Group.

Race to see this one. It only plays through December 19. Kirk Douglas Theatre in Culver City CA.

JACKIE HOFFMAN'S JACKIE FIVE-OH! written by Hoffman and Michael Schiralli, and directed by Schiralli. Musical numbers are co-written with Bobby Peaco, who is also the musical director.

In this one-women show, the filter-free Hoffman muses on her own decay at 50, her career of playing 'bit' parts, her thoughts about being in The Addams Family and an array of other topics running the gamut from Queen Latifah to Kristen Chenoweth.

Hoffman also sings five new original songs, including one she's written. with musical director Bobby Peaco. for her character "Grandma," the only character in The Addams Family without a solo number - not that she's ever complained about that.

Continues at Joe's Pub in New York City through January 17.

DRACULA the 1927 Hamilton Deane-John L. Balderston play based on Bram Stoker's novel. Directed by Artists Theater Group artistic director Paul Alexander.

Tony Award winner George Hearn stars as the vampire hunter Abraham Van Helsing, and film actress Thora Birch is Count Dracula's love interest, Lucy Seward. Making his American stage debut as Dracula is Italian theater actor Michael Altien. Also in the cast are Timothy Jerome as Dr. Seward, Jake Silbermann as Jonathan Harker, and John Buffalo Mailer as Renfield.

Performances at the 499-seat off-Broadway Little Shubert Theater beginning December 14 with the official opening night set for January. 5, 2011.

OTHER DESERT CITIES a new play by Jon Robin Baitz. Directed by Joe Mantello.

With Stockard Channing, Stacy Keach, Linda Lavin, Elizabeth Marvel, and Thomas Sadoski.

In Other Desert Cities, Brooke Wyeth (Elizabeth Marvel) returns home to Palm Springs to visit her parents (Stockard Channing and Stacy Keach) after a six-year absence. A once-promising novelist, she announces to her family the imminent publication of a memoir dredging up a pivotal and tragic event in the family's history - a wound that her parents don't want reopened.

Brooke has come home to draw a line in the sand and is daring her family to cross it. Her brother (Thomas Sadoski) won't play her game; her aunt (Linda Lavin) knows way too much, and her parents fall into all their old routines as they plead with her to keep their story quiet. In this family, secrets are currency and everyone is rich.

Scenery by John Lee Beatty, costumes by David Zinn, lighting by Kenneth Posner, sound by Jill BC DuBoff, and original music by Justin Ellington.

Previews begin Thursday, December 16, 2010 at the Mitzi E. Newhouse Theater. NYC.

THE NOT SO NUTCRACKER a modern retelling of Clara, her wonderful Christmas Present, and the joys that lie ahead while visions of Sugarplums dance in her head. Adapted and directed by Sharon Sabga the Artistic Director of Destination Dance. The classic Nutcracker that everyone knows and loves has been moved into the 21st Century, infused with today's music and dance styles.

Choreographers include: Brian Andrews who was in the original Broadway cast of Cats for 10 years and A Chorus Line, Natalie Sager, Suzanne Weinstein, John Cooper, Pamela Malik-Himmelberger, and Sabga.

Presented by Destination Dance in an exploration of that story through our 21st century perspective. Expect some of the traditional music, some new music and, maybe even a few surprises as everything Nutcracker is Not So this time around.

Saturday December 18, 2010 at the Count de Hoernle Theatre in Boca Raton, FL.

BROADWAY HOLIDAY billed as "the number one touring Broadway concert in America" brings Broadway's stars and songs together for an unforgettable holiday event. Music director Neil Berg and his band back five Broadway stars including Carter Calvert, Jeffry Denman, Rita Harvey, Marc Kudisch, and Ivan Rutherford as they sing holiday tunes and the music of Kander & Ebb, Rodgers & Hammerstein, Lerner & Loewe, Andrew Lloyd Webber, Leonard Bernstein, Stephen Sondheim, Cole Porter, Irving Berlin and many more. Performance Notes: Running time is 90 minutes including one intermission. Special 75 minute performances with no intermission will be presented on New Year's Eve.

December 17, 2010 - January 02, 2011 at the Geffen Playhouse in Los Angeles.

SINATRA: DANCE WITH ME the Twyle Tharp Las Vegas casino version of her Broadway production Come Fly Away opened last night at Wynn Las Vegas.

The dance production based on the music of Frank Sinatra brings to Sin City the Broadway cast, including Tony Award nominees Karine Plantadit, Keith Roberts and John Selya.

Other Broadway transfers are Laurie Kanyok, Laura Mead, Charlie Neshyba-Hodges, Marielys Molina, Matthew Stockwell Dibble, Todd Burnsed, Meredith Miles, Mark Myars, Justin Peck, Carolyn Doherty, Amanda Edge, Cody Green and Ronny Todorowski. They are joined by Kyle DesChamps, Michelle Camaya and Candy Olsen.

To songs made famous by Sinatra four dancing couples who flirt, fight and fall in love throughout the evening are played by Mead, Neshyba-Hodges, Selya, Plantadit, Molina, Roberts, Dibble and Kanyok.

The production features set designer James Youmans, lighting design by Donald Holder, costume design by Katherine Rothand and sound design by Peter McBoyle.

Sinatra Dance With Me, conceived, choreographed and directed by Tharp, also features a 17-piece live band. The show includes original arrangements by Nelson Riddle, Billy May and Quincy Jones, as well as newly created arrangements for the production.

Sinatra Dance With Me runs through Jan. 29, 2011.


WHO'S WHERE


NAOMI AND WYONNA JUDD have embarked on their first tour in 10 years, dubbed the Last Encore Tour. Every move is being recorded for their new reality TV series, which will air on the Oprah Winfrey Network next year Tonight, December 12, the mother-daughter duo-perform at the Arco Arena in Sacramento. On Wednesday the show is at the Nokia Theatre in LA. On Thursday they are on stage at the Chumash Casino in Santa Ynez, CA. They perform at the Agua Caliente Casino in Rancho Mirage, CA and they are in Las Vegas at Mandalay Bay Events Center on December 18.

GIVE ME REGARDS TO . . . featuring Broadway stars Liz Callaway, Mary Testa and Jason Graae in a holiday treat for musical theatre patrons. They'll be singing music from their stage shows and animated movies including Cats, 42nd Street, Chicago, Falsettos, Snoopy, Anastasia and The Swan Princess. Plus a dash of Christmas Cheer for a great night of Broadway and holiday music.

Friday, December 17 at The Edgerton Center for the Performing Arts on the campus of Sacred Heart University, in Fairfield, Connecticut.

JUSTIN BIEBER entertains Monday, December 13, at the Energy Center in Pittsburgh. On Wednesday the show is at the Coliseum in Greensboro, NC. Thursday the tour stops at the Bi-Lo Center in Greenville, SC. On Saturday the fans will be screaming at the American Airlines Arena in Miami, FL.

USHER is on stage Monday, December 12, at Madison Square Garden in NYC. On Tuesday he's in the spotlight at the TD Garden in Boston. On Thursday the show is at the Wells Fargo Center in Philadelphia. On Friday he can be enjoyed at the Verizon Center in Washington, DC. On Saturday the performance is at the XL Center in Hartford, CT.

ELTON JOHN takes to the stage of the SKK Arena in St. Petersburg, Russia on Monday, December 13. On Wednesday he stars at The O2 in Dublin, Ireland. Friday he performs at the Zenith in Dijon, France. On Saturday he's at a different Zenith, this one located in Strasbourg, France.

CHERISH THE LADIES perform A Celtic Christmas on Thursday, December 16, at Guild Hall in East Hampton, NY.

SAN JOSE JAZZ presents a free holiday concert. The San Jose Jazz Orchestra will be joined by singers from the acclaimed show Stompin' at the Savoy to interpret jazzy versions of famous Christmas carols. This special family event takes place Tuesday, December 14 at Club Regent at the Fairmont in San Jose, CA.






Next Column: December 19, 2010
Copyright: December 12, 2010. All Rights Reserved. Reviews, Interviews, Commentary, Photographs or Graphics from any Broadway To Vegas (TM) columns may not be published, broadcast, rewritten, utilized as leads, or used in any manner without permission, compensation and/or credit.
Link to Main Page
---
Laura Deni



For the snail mail address, please E-mail your request.
CLICK HERE FOR COMMENT SECTION