! >
Broadway To Vegas
  
 SHOW REVIEWS CELEBRITY INTERVIEWS GOSSIP NEWS

| | |
| --- | --- |
| | |
STEVE SMITH ON PLAYING THE DRUMS - - A NUMBER BY CARYL CHURCHILL - - KEVIN SPACEY SRO IN VEGAS - - THE NEW YORK PHILHARMONIC SETS GUINNESS WORLD RECORD - - BILLY CRYSTAL OWNS BROADWAY - -NIGHT OF THE IGUANA WITH ALEC BALDWIN AND JUDITH IVEY - - ALTMAN'S THE WEDDING AT LYRIC OPERA OF CHICAGO - - 2004 GRAMMY NOMINATIONS - - DONATE . . . Scroll Down


DRUMMING HIS WAY TO SUCCESS
Steve Smith
"If people think they are going to make money by being a musician in this business, then they should just buy lottery tickets, because they'd get about the same result," declared Steve Smith, legendary rock and jazz fusion drummer for Journey and Vital Information.

"This is just not a business you go into because you think you are going to make money. You just do it because you have no other choice. You just love it and you have to do it. " continued Smith whose DVD on how to play the drums is the best selling DVD of its kind. Currently on tour, between gigs Smith conducts Drummer Clinics.

He was in the middle of a two nighter, Dec. 7 and 8, at the Blues Alley in Washington, D.C., when Smith spoke with Broadway To Vegas.

If environment influences occupation, then it was a given that Smith would forge a kinship with the drum set. He was born in Whitman, Massachusetts just 20 minutes from the world famous Zildjian cymbal factory - the company whose products Smith now endorses.

Whether you want to credit nurture or nature, Smith is ranked as one of the top three rock and jazz fusion drummers in the world.

So, how does he keep drumming from turning into a real pain.

Recently, medical reports have stated that musicians are at very high risk for carpal tunnel syndrome (CTS) and other problems related to the muscles and nerves in the hands, upper trunk, and neck. In one study, it was reported that at least 20 percent of all musicians suffer from CTS. The Mayo Clinic even singled out guitar players and drummers. If you're going to teach people how to play the drums, how do you prevent the job related injury?

"I hear about people suffering from the carpal tunnel, but I don't have it at all," responded Smith. "It is a relatively new problem especially for drummers. Up until 15 years ago I'd say nobody had carpal tunnel because of the drum set."

"It's because of a couple of things that carpal tunnel is a new phenomenon. Number one, drummers have been playing extremely hard and loud. That's new. In the first 50-60 years of drumming, all of the drum set players were jazz drummers. So, they played in big bands or small groups. And, in the early years of rock and roll, drummers didn't play very loud. That is one aspect of it."

"Another aspect is most of the drummers from the earlier years had some kind of pretty serious and rigorous instruction, so they learned how to play correctly. How to hold the sticks without gripping them too tightly. How to allow the sticks to rebound off of the drums and the symbols. So, when you aligned with the natural laws of physics and those drum sticks are rebounding off of the surface that you are playing on, and you're not gripping the sticks tightly, you're not going to be hurt when you play. There is nothing unnatural or forceful about it. But, in the last 20 or some years, lots and lots of drummers have picked up the sticks and decided to teach themselves how to play - self taught. This is the beginning of the problem of carpal tunnel, because they don't know, literally, how to hold the sticks."

"Most of the people are holding the sticks way too tight," stressed Smith. "Then they start off hitting the drums much too hard. As a result it would be like taking a basketball and jamming it into the floor and not allowing it to bounce off of the surface. Or, taking a baseball bat and banging it into the floor over and over again. Of course, they are going to hurt themselves. But, if you have proper instruction from a teacher that really knows how to play the instrument, in a way where you are aligning yourself with natural principles of physics, there is no way you are ever going to suffer from something like that."

"It's all due to bad technique," he emphasized.

According to the Mayo Clinic, musicians who have CTS and are attempting to avoid surgery, can opt for therapy which includes a physical therapy regimen of stretching exercises done at home a few times a day and visits to a massage therapist. Progress is slow and the musician needs to play correctly.

"If they have carpal tunnel my DVD can actually help, because I do demonstrate quite clearly what I was talking about - aligning the natural principles of holding the sticks in a relaxed way and using rebound. That is really the major problem. Somehow they think it is an occupation hazard and it's not."

Smith and his group travel with a sound man. Smith stressed that a sound check is crucial, specified in every contract with no corners cut.

"The sound check is very important," he stressed. "You can't forget the sound check. You're not saving money. You have to set up your instruments on the stage and you have to get the sound through the PA and through the monitor system. There is no way around that. So, you need to have a sound check. You can't just walk on stage and start playing."

Of course, when you do a sound check you need to be able to accurately hear. Musicians lose their hearing at a higher rate than those in many occupations.

"The hearing loss is a personal issue, usually as a result of playing loud," responded Smith. "Or, in the case of drumming, just the sound of the snare drum and the symbols alone are so much high end it can damage your high end hearing."

"The best thing you can do - especially if you are in a small room - is to use hearing protection. I definitely do that when I practice. When I play, I don't. I can't play with hearing protection."

"In the group I'm playing with now, we don't play all that loud. It's a jazz group. So, the sound doesn't approach rock levels."

Smith has conducted his Drum Clinics all over the world. Is the instrument or interests of those who want to beat the skins the same?

"The drum set, as I play it, is a U.S. percussion instrument, so it is indigenous to the United States," he answered. "It really got its start in the late 1800's and early 1900's when somebody invented the bass drum pedal. When that happened you could take the snare drum and the bass drum that existed in Europe, brought here by the Europeans, and play it as one unit."

"The African-American community in the United States are really the leaders in developing the playing concept of the drum set. Then White USA followed. From there it branched out and went to the rest of the world. But, they usually put somewhat of an ethnic or regional slant on it, depending upon where they are from."

"For instance, if you wanted to study conga drums, you'd want to study with somebody from Cuba. If you wanted to study Tabla you'd want to study with somebody from India," he said referring to a set of two drums played by hand which are used in Northern Indian Classical Music. "That's put me in the center, being a US person, being able to teach and bring the concept of the drum set around the world. The drum set is that same type of ethnic instrument to the United States," he added.

"What they want to know most and what they should know are two different things," said Smith about what students want to learn in the Drum Clinics.

"What they want to know the most is about technique. I can explain technique all day and it is an important part of drumming - but it is not the essential part of drumming. What they don't always ask about are the essentials, which is developing a pulse that feels good for people to play with. And, developing your time so, as a drummer, you have steady time. The third thing is even the biggest thing - musicianship. Playing with a high level of musicianship in order to be able to communicate and demonstrate that you are a high level musician. That is what is going to get you work and keep you working."

"There is an attitude that drums are not all that difficult to play," he complained. "That you don't need to take lessons. That you can just go out, pick up a drum stick and then go join a band."

"That may be great for a little while. But, the more people that do that, the more work for people like myself, who have a solid background, who can read music, communicate with other musicians on a high level."

"If you really want to be a serious musician and have a lifetime of work, of course, you need to be grounded in the fundamentals. You have to learn how to read music," he advised. "The Big Band experience is probably the best learning experience that anyone can experience. I was 18 and 19 years old touring with big bands on the East Coast and the Boston area," he said referring to his tenure in the Lin Biviano Big Band, which he toured and recorded with for the next two years. At that same time he also performed with bebopper Buddy DeFranco and was a member of free-jazz group The Fringe featuring George Garzone.

"I'm in a band with 15 other guys with ages that ranged from 18 to about 60," recalled Smith about Lin Biviano's Band. "So, if a trombone player or a sax player talks to me after the gig, and he's 30 and gives me some feedback, I'm going to learn something. Versus another 18-year-old playing in the basement with other 18-year-old kids. They aren't going to teach each other anything. They are going to have a good time, but they aren't going to learn anything."

"The system that is still the best way to learn - to develop your experiences - is to play with older musicians. The best situation for that is big bands."

Smith's own drumming style has crossed all variations. He doesn't recommend that drummers wear musical blinders. The more musical styles a drummer can handle, the more the job opportunities.



Steve Smith and the Buddy Rich Big Band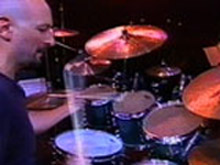 "The best way to learn other styles - whether it's Country, R&B, Funk, Hiphop or whatever, is to hang out with the guys who do that and play with them. And, talk to them about what they are trying to accomplish," Smith suggested.

While most musicians spend a lot of time out of work Smith has a busy schedule.

He credits that to "years and years of being focused and dedicated, developing a support system of bands and agents. I have an agent, Janet Williamson, who works really hard to get gigs for my bands - Vital Information and another band that I tour with called Buddy's Buddies, a Buddy Rich alumni group. I have band members who are very dedicated. I have a lot of guys who want to work and are into touring. I also work with my instrument manufacturer company Zildjian cymbals - so these people keep me busy. I just enjoy getting out there playing and doing the clinics."

Vital Information, perhaps America's best fusion/jazz group, consists of an all-star lineup: drummer Steve Smith, guitarist Frank Gambale, keyboardist Tom Coster, and bassist Baron Browne.



Frank Gambale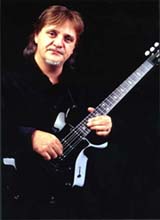 Tom Coster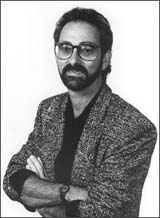 "Gambale is a legend in a guitar world," emphasized Smith. "He played with Chick Corea. He's very well known around the world as a guitar virtuoso."

"Coster played for years with Santana and wrote a lot of their hits," said Smith about Coster who was born in Detroit, Michigan and spent 1972-1978 with Santana.

"Baron Browne is a consummate bass player," declared Smith about the man who has toured and performed with Angela Bofill, Stanley Clarke, Tom Browne, Billy Cobham, Kevin Eubanks, Lonnie Liston Smith, Noel Pointer, Freddie Hubbard, Tiger Okoshi, Kenny G, Jean-Luc Ponty, Dave Valentine, Stanley Turrentine, Gary Burton, Mike Manieri and Steps Ahead, Larry Coryell, Randy Brecker, Al Dimeola, Exposé, Tom Jones, Brian McKnight, Walter Beasley, and Aydin Esen, Tommy Campbell and Andrea Bocelli.

Smith also uses Baron for his Buddy Rich tribute band Buddy's Buddies with Mark Soskin on piano and Buddy Rich alumni sax player Steve Marcus and Andy Fusco.

"We're doing great business everywhere we go, filling up the clubs, and having a great time. The sound is grounded in U.S. jazz but then rhymically we use the earthy rhythms of R&B and Funk and a Cajun sound using the accordion on some tunes. The music is exciting for people. We put on an interesting show that is based on the American jazz tradition, so there is a lot of spontaneous improvisation. The energy of the audience really makes a big difference in our performance."

Smith and his band arrive in Las Vegas this week-end. The Steve Smith Drum Clinic takes place December 16 at the University of Nevada in Las Vegas. Steve will open the clinic with a ferocious 30-minute solo and then he'll break it down and explain exactly how he did it. The next night, December 17, the group performs at the Rampart Casino.

They have been on the road for three weeks beginning their tour at Martyr's in Chicago followed by gigs at The Crazy Donkey in Farmingdale, NY, The Van Dyck in Schenectady, NY, Ryle's Jazz Club in Cambridge, MA, and the Helen Foley Theatre in Binghamton, NY.

"We drive every day an average of six hours," said Smith. "We have all of the equipment and the five of us, because we travel with a sound man. We're all in the back of a 15 passenger van. We take out the two back seats, all of the gear and suitcases go in and then we drive anywhere from four to nine hours a day with an average of six hours a day. No major problems, just a lot of traffic problems. We've been doing it for years like that. We are going to fly to Vegas," he said facetiously.

Any problems with airport security?

"They look at our instruments almost every time, but no big problems."

When not on the road Smith now calls Oregon home.

"I live in a little town in Southern Oregon called Ashland, where they have the Shakespeare festival. I just moved there this past year. I lived in the San Francisco area for about 25 years. We just deiced to sell our house in the Bay Area. My girlfriend and I both have our daughters going to college in Oregon. So, we discovered it and just fell in love with the place and moved there. We have two sons and two daughters and all four are in college - two in New York and two in Oregon."

That's a lot of dollar signs.

"That's why I'm on the road all of the time."


SPACEY PRESENTS DARRIN
Bobby Darin holding son, Dodd, on stage in Las Vegas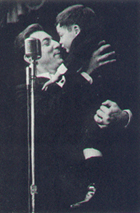 Kevin Spacey has hit the road - on tour with his own nightclub act, singing the songs of Bobby Darin to promote the release of both the movie Beyond The Sea and Spacey's new CD of the same name.

On that CD Spacey traces the remarkable arc of Darin's career on 18 songs that show Darin's evolution from teen idol with Splish Splash and Dream Lover to nightclub sensation Mack the Knife and Beyond the Sea and folk artist If I Were a Carpenter and Simple Song of Freedom.

On December 6 Spacey sang selections from Darin's timeless songbook at The Wiltern LG in Los Angeles.

Historically in Las Vegas, the week between Christmas and New Year's is a slow one. It's a period when a nightclub novice might be given change to try their chops on a Vegas stage. Spacey was scheduled for a one night stand, December 26, at the Stardust Hotel. An instant sell-out, a second night on December 27 was added. That is also SRO.

Spacey's show may be the closest to recreating what was the pinnacle for Strip entertainment during the halcyon days of the 60-70's.

Not content to just lip-sync, Academy award winning Spacey has spent the past five years studying Darin's vocal delivery and perfecting his stage presence. In 2002, Spacey went into the Capitol Records studio with legendary record man Phil Ramone. Backed by a 16-piece orchestra, Spacey cut more than 20 tracks, which he later used as rehearsal tapes.

The recordings heard on the Beyond The Sea soundtrack were arranged with a 73-piece orchestra led by John Wilson and cut in Abbey Road's legendary Studio 2. Darin's son Dodd and manager, Steve Blaumer provided all of Bobby's original arrangements and charts to recreate specific sessions and shows note-for-note.



Wayne Newton and Bobby Darin. Spacey will be bringing his act honoring Darin to the Wayne Newton Theatre at the Stardust in Las Vegas.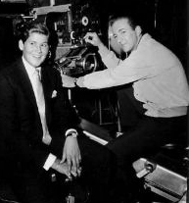 Spacey has also masterminded a new presentation at the Museum of Radio and Television in New York City - Spacey Presents Darin: Television Appearances of Bobby Darin Selected By Kevin Spacey. The exhibit runs to January 13.

Darin, a multifaceted singer whose recordings ranged from rock to show music, was also a songwriter, Oscar-nominated actor, and popular nightclub entertainer. Darin's versatility is highlighted in a package of some of his best television appearances between 1959 and 1973, the year of his untimely death. Darin shares the bill with performers like George Burns, Judy Garland, and Stevie Wonder while singing such tunes as Beyond the Sea, Clementine, I Wish I Were in Love Again, and his signature number, Mack the Knife.

These clips were personally chosen by Spacey, director and star of the new feature film on Darin, Beyond the Sea, which was released December 10 in New York and will open December 17 in Los Angeles and nationwide on December 29. The film features a stellar supporting cast which includes Kate Bosworth as Sandra Dee, John Goodman, Bob Hoskins, Brenda Blethyn, Gretta Scacchi, Caroline Aaron and Peter Cincotti.


SPREADING THE WORD


NIGHT OF THE IGUANA a free reading of Tennessee Williams' turbulent masterpiece about a fallen clergyman, crippled by his desires, and the two women that represent his struggle between sin and redemption. Featuring Alec Baldwin and Judith Ivey. December 12 at Tony Randall's National Actors Theatre at the Michael Schimmel Center for the Arts, Pace University in NYC.

This event is open to the public and Pace community. Tickets are free but only a limited number of seats are available solely on a first-come basis.

THE WRITER written and directed by Chad Michael. The production stars writer/director Terry Becker, who won an Emmy for directing Room 222, Jeff Jordan, Kelli McNeil and Ovation Award Winner Marilyn McIntyre.

Produced by Koren Young. See Broadway To Vegas column of April 21, 2002. Executive Producers Chad Michael & Matthew Chastain. Music by Turner Movie Classics Young Composers Award Winner Darrel Raby.

The Friday, December 17th, premiere screening, preceded by a cocktail mixer and hors d'oeuvres, is a media only invite with the cast and crew in attendance. Deluxe Laboratories, Theatre 3 in Hollywood, California.

The Writer centers on the story of Joshua Knowne (Jeff Jordan), a young man who is grievously afflicted by the nightmares of other people, particularly those of a young woman (Kelli McNeil) who constantly torments him in his sleep. Dr. Solomon (Becker) reviews the young man's condition and decides to move him to his personal estate to care for him. As the film progresses, it is revealed that the real reason Dr. Solomon has taken an interest in the young man is because they both possess a powerful gift: the ability to write other people's dreams. Solomon tries to teach the young man to hone his craft before the nightmares of others drive him mad, or worse, before he unwittingly injures the dreamers who haunt his sleep. The film takes the viewer down a dark narrative that explores the relationship between fear and faith, and empathy and forgiveness.



Broadway To Vegas is supported through advertising and donations. Priority consideration is given to interview suggestions, news, press releases, etc from paid supporters. However, no paid supporters control, alter, edit, or in any way manipulate the content of this site. Your donation is appreciated. We accept PAYPAL. Thank you for your interest.



THE NEW YORK PHILHARMONIC will set the Guinness World Record for "the most concerts performed by a symphony orchestra" with concert No. 14,000 on Dec. 18.

Sir Colin Davis will conduct the orchestra in works by Mozart, Britten and Haydn. The concert also will feature the Philharmonic debut of mezzo-soprano Lorraine Hunt Lieberson.

Board chairman Paul B. Guenther said the orchestra was thrilled to be recognized for its 14,000th concert. "In the course of our 163 years, we have commissioned 128 new works, and performed 485 world premieres and 443 U.S. premieres, including music that has become a staple of the classical repertoire," he said in a statement.

EVENING STANDARD THEATRE AWARDS FOR 2004 will be announced at a special presentation on Monday, December 13 at The National Theatre's Olivier Theatre in London.

CLICK FOR 2004 EVENING STANDARD THEATRE NOMINATIONS

THE NATIONAL ACADEMY OF RECORDING ARTS & SCIENCES announced their 2004 Grammy nominations in over 100 categories. Several of those categories have particular interest to Broadway To Vegas readers. The winners will be announced at the Grammy Awards in Los Angeles Feb. 13. The event will be aired on CBS. CLICK FOR A LIST OF GRAMMY CATEGORIES OF PARTICULAR INTEREST TO OUR READERS
OTHER PEOPLE'S MONEY


BILLY CRYSTAL whose new one-man Broadway show will win every theatrical award in which it can be nominated, is already rewarded with dollar signs. On Monday, December 6, the day after its opening at the Broadhurst Theatre, Crystal's 700 Sundays raked in $600,000 at the box office, pushing the take for the comedian's one-man show to over $8 million.

Crystal is makings his Broadway debut in 700 Sundays, which he penned with additional material by Alan Zweibel. The show is directed by two-time Tony Award winner Des McAnuff. This autobiographical journey is an original two-act play in which Billy plays numerous characters that have influenced who he is today. It deals with his youth, growing up in the jazz world of Manhattan, his teenage years, and finally, adulthood. It is about family and fate. It is hilarious, personal, and touching as he takes us through moments of love, laughter and loss.



A WEDDING

William Bolcom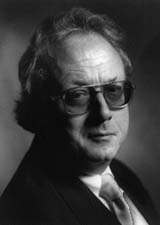 score by William Bolcom, the 1988 Pulitzer Prize winner for music, with a libretto by Arnold Weinstein and Robert Altman.

A World Premiere presented by the Lyric Opera of Chicago as part of its 50th-anniversary season.

The groom is old-money Lake Forest, Illinois. The bride is nouveau-riche Louisville, Kentucky. Now, they just have to survive the reception where the foibles of their respective family members would be tabloid fodder.

The groom's sister continues her clandestine affair with the butler; the bride's mother and the groom's uncle contemplate running off together; the groom's father confronts his hidden roots when his long-lost brother bounds in from Italy; the groom's socialist aunt shocks everyone with her revolutionary gift - all this and more before the bride has even thrown the bouquet!
Set to William Bolcom's score, A Wedding is witty, satirical, poignant, and funny. Legendary film director Robert Altman has refashioned his brilliant 1978 movie into a grand-opera comedy of manners - or lack of them.

A favorite collection of America's favorite singing actors - Lauren Flanigan, Jerry Hadley, Catherine Malfitano, Mark Delavan, Kathryn Harries, Timothy Nolen, Jake Gardner, Mark S. Doss, Cynthia Lawrence, Wayne Tigges, Anna Christy, Patrick Miller, Beth Clayton, David Cangelosi, Patricia Risley, Kevin Short, Brian Leerhuber and more make up the cast.

In English with projected English titles.

Conducted by Dennis Russell Davies. Sets by Robin Wagner. Costumes by Dona Granata. Lighting design by Duane Schuler. Choreography by Patricia Birch. Lyric Opera of Chicago. Opened December 11 with performances through January 21.

PINOCCHIO by Carlo Collodim adapted by Mike Kenny.

A magical experience for children from the same team that created last year's The Elves and the Shoemakers. If only Pinocchio would tell the truth and be good he could become a real boy. But where's the fun in being good when there's so many adventures to be had?

Pinocchio has set up home in the Barber Studio, a specially created space for this Christmas children's show. December 16-January 15 in the Barber Studio at the West Yorkshire Playhouse in Leeds, England.

ARTISTS SHOWCASE SERIES THE BROADWAY KITCHEN SINK: VOLUME 2 reprising last year's sold out event, this event features Broadway, TV and film performers singing their favorite classics from stage and screen.

The evening will be hosted by Seth Rudetsky and stars Christopher Sieber, Shoshana Bean, Lisa Brescia, Jesse Tyler Ferguson, Michael Arden, Kate Shindle, Anita Gillette, Jenna Leigh Green, Justin Guarini, Daniel Letterle, and more.

A program of the 92nd Street Y, Sunday, December 19 at the Makor, NYC.

ROMEO AND JULIET by William Shakespeare starring Matthew Rhys as Romeo and Sian Brooke as Juliet. Directed by Peter Gill.

Previews begin December 16. Officially opens December 21 with performances through January 8. The Royal Shakespeare Company at the Albery Theatre in London.

I LOVE YOU, YOU'RE PERFECT, NOW CHANGE! by Joe DiPietro and Jimmy Roberts. Directed by Michael Edwards.

Everything you wanted to know about dating, mating, marriage and life is hilariously skewed in this intoxicating blend of singing, comedy and, of course, romance. It is all your secret thoughts about lovers, husbands, wives and in-laws, but were afraid to admit! Four actors portray over sixty characters that will take you from the start of dating to 30 years of marriage, and from the doubts of choice to the joys of finding the right mate.

At the Booth Playhouse at Charlotte Repertory Theatre in Charlotte, NC. Performances through December 31 with the New Year's Eve show including complimentary valet parking, champagne and party favors.

MRS. BOB CRATCHIT'S WILD CHRISTMAS BINGE by Christopher Durangdirected by Jon Kretzu.

A playful, cracked look at the perennial Dickens Christmas classic about mean Ebeneezer Scrooge and his discovering the true meaning of Christmas through the visitation of Three Ghosts. In Durang's giddy version, the Ghost's magic is off, and Scrooge and the Ghost keep showing up at Bob Cratchit's house way too early, where Mrs. Bob Cratchit is in a state of fury, hating her life and planning on getting drunk and jumping off the London Bridge. The production features longtime A.R.T. favorites Sarah Lucht as the fitful Mrs. Bob Cratchit and Brenda Phillips as the Three Ghosts.

Through December 26 at the Artists Repertory Theatre in Portland, Oregon.

LA CAGE AUX FOLIES with music and lyrics by Jerry Herman. Book by Harvey Fierstein, which is based on the play La Cage aux Folles by Jean Poiret. Directed by Jerry Zaks. Music director is Patrick Vaccariello. Choreography by Jerry Mitchell. Sets by Scott Pask. Costumes by William Ivey Long. Lighting by Donald Holder. Sound by Peter Fitzgerald. Hair and wig design by Paul Huntley. Original orchestrations by Jim Tyler with additional orchestrations by Larry Blank. Dance music arrangements by David Krane. Music coordinator is Michael Keller.

Starring Gary Beach (Albin), Daniel Davis (Georges), Gavin Creel (Jean-Michel), Angela Gaylor (Anne), Ruth Williamson (Jacqueline), Michael Mulheren (Edouard Dindon), Linda Balgord (Mme. Dindon), John Shuman (Francis) and Michael Benjamin Washington (Jacob). At the Marquis Theater in NYC.

A NUMBER by London born Caryl Churchill who is an inventive and surprising, thought provoking playwright. Churchill has been called one of the most influential playwrights currently writing in the English language. For more than thirty years she has been combining social commitment and theatrical experimentation.

Starring Sam Shepard and Dallas Roberts. Directed by James Macdonald.

Written in 2002, this one-hour, one-act play for two performers was produced at the Royal Court Theater in London two years ago, winning rave reviews and the prestigious Evening Standard Best Play Award in the same year.

Heralded as "the first true play of the 21st century" A Number is an emotionally shattering drama of a father and his cloned sons. Multi-talented actor, playwright, and director Sam Shepard, not seen on stage for many years, plays Salter, the father of a young man who is cloned into 21 supposedly exact copies - each having had different upbringings. His meetings with the original and two clones forces him to look at the faces of his ethically questionable actions, delving into the advantages and dangers of genetic engineering both to society and the individuals involved.

Sets by Eugene Lee. Costumes by Gabriel Berry. Lighting by Edward Pierce. Sound by Darron L West. Currently at the New York Theater Workshop in New York City.

AMAHL AND THE NIGHT VISITORS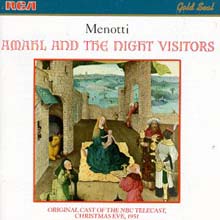 composed and written by Gian Carlo Menotti. The original production was the first opera ever written expressly for television. Commissioned by NBC it was broadcast December 24, 1951 and broadcast annually until the original video recording was lost. The original RCA album was recorded January 4 and 10, 1952, in New York, under the personal direction of Menotti.

The tale centers on Amahl, a crippled young shepherd boy living with his mother, an impoverished widow. Nothing is left to them of the little they ever had, and they are now faced with hunger and cold in their empty house.

Three Wise Men, on their way to Bethlehem, stop at the hut and ask to be taken in for the night. Amahl and his mother welcome them and their Page as well as they can, and are much astonished at the splendor of their robes and the wealth of gifts they are carrying with them. When Amahl's mother realizes that the Three Kings are looking for a newborn babe and that the expensive gifts are all destined for him, she becomes bitter and envious. She cannot understand why at least some of these gifts could not be given to her own child, who is so poor and sickly.

Under cover of darkness, while the Three Kings are asleep, she steals some of the gold from them - and is caught red-handed.

The story, only 55 minutes long, delves into the relationship between the boy and his mother and how the wealthy kings interact with the small family's impoverished situation.

One of the most popular of American operas, Menotti's work is performed throughout the country every Christmas season. Look for a production in your area.


| | | |
| --- | --- | --- |
| | | |
WHO'S WHERE


ANNE SOFIE VON OTTER The Swedish mezzo-soprano has earned international acclaim as one of the finest singers of her generation not only for her lyricism and superb vocal composure, but also for her wide-ranging versatility and willingness to take artistic risks. December 16 at Herbst Theatre in San Francisco.

JOSH GROBAN performs Monday, December 13, at the Oslo Spektrum in Oslo, Norway. On Thursday he's center stage at Grieghallen in Bergen, Norway. Saturday he' in the spotlight at Congres Centum in Hamburg, Germany.

DAVE KOZ AND FRIENDS - A SMOOTH JAZZ CHRISTMAS in concert at the Palace Theatre in Cleveland Dec 14.

CANADIAN BRASS CHRISTMAS center stage December 14 at the Grand Opera House in Wilmington, Delaware. On Thursday they will be totting their own horns at the Strand-Capitol Theatre in York, PA. On Friday the group is at the Bergen Performing Arts Center in Englewood, NJ. On Saturday they begin a two nighter at the Kimmel Center in Philadelphia, PA.

SIMPLY CHRISTMAS WITH AMY GRANT AND VINCE GILL tonight, December 12, bring their show to the Kohl Center in Madison, Wisconsin. On Tuesday they are at the Conseco Fieldhouse in Indianapolis, Indiana. Thursday finds them at the Florence Civic Center in Florence, SC. On Friday they are center stage at the Silver Spurs Arena in Kissimmee, Florida. Next Sunday the husband and wife perform at the Office Depot Center in Sunrise, Florida.

DOLLY PARTON on stage Thursday, December 16 at the Idaho Center in Nampa, Idaho. On Friday she'll be charming the crowd at the Rose Garden Arena in Portland, Oregon. Saturday the show is at the Spokane Arena in Spokane, Washington and next Sunday she'll be in the spotlight at the Key Arena in Seattle.

ROY CLARK CHRISTMAS a tribute to the holidays with seasonal favorites performed by the beloved former Hee Haw host. Tuesday, December 14 at the Strand/Capitol Performing Arts Center in York, Pennsylvania.

WAYNE NEWTON CHRISTMAS SHOW "Mr Las Vegas" comes to Cleveland with his Christmas Show which includes his hits as well as a variety of Christmas Songs. Dec 17 at the Palace Theatre in Cleveland.

THE IRISH ROVERS have literally hundreds of crowd favorites they can pull from their deep bag of tricks including The Unicorn, The Black Velvet Hand, The Orange And The Green and Wasn't That A Party. They'll be keeping the place upbeat Tuesday, December 14 at Ruth Eckerd Hall in Clearwater, Florida. On Wednesday the guys are on stage at Barbara B. Mann Hall in Fort Myers, Florida. The following day the show is at the Polk Theatre in Lakeland, Florida.

BRIAN SETZER ORCHESTRA perform Thursday December 16 at the Pala Casino in Pala, CA. On Friday they'll be swinging at Trump 29 Casino in Indio, CA and on Saturday they'll have the Universal Amphitheatre jumping at Universal City, CA.

TRANS-SIBERIAN ORCHESTRA at the Aladdin Hotel in Las Vegas on December 18.

VIENNA CHOIR BOYS on stage December 19 at Carnegie Hall in NYC.

KAREN MASON performs her Christmas Concert show, December 15-20, at Davenport's in Chicago.

ANDY WILLIAMS CHRISTMAS SHOW that Moon River is moving around almost as fast as Santa Claus. On Monday, December 13, he brings his holiday show to the Marion Oliver McCaw Hall in Seattle. Wednesday the holiday spirit hits the stage at Nob Hill Masonic Auditorium in San Francisco. Thursday finds the ho-ho party at the Cerritos Center in Cerritos, CA. On Friday the merriment takes to the stage at the Dodge Theatre in Phoenix, AZ and on Saturday Andy can be found at the Orleans Arena in Las Vegas.

CLAY AIKEN on stage Wednesday, December 15 at Ruth Eckerd Hall in Clearwater, Florida. Thursday the show is at the Maxwell C. King Center in Melbourne, Florida. On Friday Clay begins a two night stand at Symphony Hall in Atlanta.

MANNHEIM STEAMROLLER offering tuneful holiday cheer December 16 at the Glendale Arena in Glendale, AZ.

THE NEW YORK POPS in A Holiday Celebration with Skitch Henderson, Founder and Music Director. Featuring the Juilliard Choral Union with Judith Clurman, Director and The Dorothy Shaw Bell Choir with director Jack Noble White, and The Dorothy Shaw Bell Choir December 17-18 in the Isaac Stern Auditorium at Carnegie Hall in NYC.

OAK RIDGE BOYS CHRISTMAS SHOW takes place December 19. The boy will gather center stage singing the songs of the season for their fifth year in a row. Star Plaza Theatre in Merrilliville, IN.
















Next Column: December 19, 2004
Copyright: December 12, 2004. All Rights Reserved. Reviews, Interviews, Commentary, Photographs or Graphics from any Broadway To Vegas (TM) columns may not be published, broadcast, rewritten, utilized as leads, or used in any manner without permission, compensation and/or credit.
Link to Main Page
---
Laura Deni


CLICK HERE FOR COMMENT SECTION