! >
Broadway To Vegas
  
 REVIEWS  INTERVIEWS COMMENTARY NEWS

| | |
| --- | --- |
| | |
MICHAEL BUBLE'S CHRISTMAS SPECIAL A MUSICAL SUCCESS & COMEDIC FAILURE -- PAUL ANKA SONGS OF DECEMBER CD REVIEW - - DOGS NIGHT OUT AT SEATTLE REP - - FRANK SINATRA BIRTHDAY CELEBRATION BENEFITS ALZHEIMER'S ASSOCIATION - - KEVIN SPACEY GETS HIS LAZAR POINT ACROSS TO NOISY AUDIENCE - - SINEAD O'CONNOR AND BARRY HERRIDGE WED IN VEGAS DRIVE-THRU - - THE WAX MUSEUM AT FISHERMAN'S WHARF GOES HOLIDAY - - VANESSA REDGRAVE TO SERVE AS GUEST DIRECTOR - - DONATE . . . Scroll Down



MICHAEL BUBLE'S FIRST CHRISTMAS SPECIAL WAS A MUSICAL SUCCESS, BUT A COMEDIC FAILURE
Michael Bublé at Rockefeller Center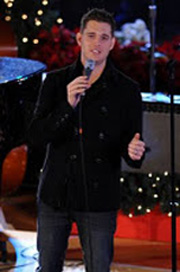 Television musical Christmas specials were a time honored tradition - Andy Williams, Bing Crosby and Perry Como.

Then crooners doing holiday feel good fell out of fashion.

Having Michael Bublé host his 'first' Christmas special - lending speculation that more are to follow, gave hope that a new musical treat would annually fill the small tube.

The singer has starred in Las Vegas and his Hilton Hotel show was incredible - even standing room only tickets sold out. His musicians are the best.

There is no quarrel with the musical portions of A Bublé Christmas, or his musical guests, Kellie Pickler, Thalia, The Puppini Sisters, Naturally 7 and Justin Bieber who will make a charity appearance at a Las Vegas elementary school on Thursday.

However, some of the lines crafted for Bublé to speak on A Bublé Christmas should go back to the return desk.

They weren't funny and Bublé, who has a wonderful sense of humor, doesn't do a good job in delivering snarky lines in a holiday setting.

Most Christmas musical specials are warm and fuzzy and that's what a network television audience wants in prime time - holly, cheer and a cup of cocoa.

Bublé's NBC-aired special was convoluted.

The offering began with a terrible skit with Michael Bublé and The Office's Ed Helms playing hosts of a 1974 Christmas special aimed at children. The action centered on things that could go wrong including toys being set on fire, terrifying the children. That skit is a perfect fit for SNL which - no coincidence - Bublé appears on this Saturday, December 17th.

The special ended with a follow up skit with Bublé and '30 Rock' star Tracy Morgan, which wasn't much of an improvement. The main purpose of those pre-taped digital shorts appears not to have been to entertain viewers of a televised Christmas special, but to be picked up on the internet - where SNL demographics can be found; those who wouldn't sit through a Christmas special. They'd see the quirky humor shorts and then make a point to watch this week-end's SNL show.

The singer's attempt to kid about his trademark suit and tie were lame. Bublé's half hearted, awkward effort at a monologue involved being nice to people you don't like at Christmas - because they are your relatives.



Ardal O'Hanlon (as Thermoman/George Sunday) Photographer: Nicky Johnson ©1999 BBC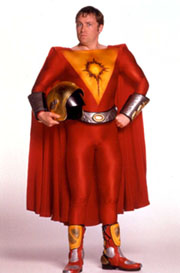 For those who don't like eggnog and fudge and want a reality check on Christmas, the best - ever - written and performed sitcom with a segment on Christmas was the BBC series My Hero created by Paul Mendelson which aired for six seasons. The sitcom starred popular Irish stand up comedian Ardal O'Hanlon as George Sunday/Thermoman and Emily Joyce as his human wife Janet Dawkins.

(In February 2011, O'Hanlon, by the way, returned to the Gate Theatre, Dublin starring in the Irish premiere of Christopher Hampton's God of Carnage along side Maura Tierney.)

The episode My Hero Christmas, broadcast December 22, 2000, was directed by John Stroud, and written by Paul Mendelson and Paul Mayhew-Archer.

The plot centered around the well-mined, but not too bright alien from the planet Ultron, Thermoman, whose alter ego is George Sunday, the proprietor of a health food shop. In spite of his numerous superhero powers, George is a lovable buffoon whose ignorance of human life leads to frequent misunderstandings - such as Christmas.

The famed Christmas special concerns George becoming completely confused about the meaning of Christmas and what ensues when he tries to spread good cheer after his wife Janet Dawkins (Emily Joyce) tries to explain the holiday to him.

For that type of a scenario, nobody is ever going to best the writing or acting in My Hero Christmas. Eleven years later, you laugh just thinking about it.

As for Bublé - the next time you do a Christmas special - just shut up and sing.



Broadway To Vegas is supported through advertising and donations. Priority consideration is given to interview suggestions, news, press releases, etc from paid supporters. However, no paid supporters control, alter, edit, or in any way manipulate the content of this site. Your donation is appreciated. We accept PAYPAL. Thank you for your interest.



ART AND ABOUT


THE WAX MUSEUM AT FISHERMAN'S WHARF in San Francisco is decorated for the holidays. There are special displays decorating the exhibits of celebrities, presidents, royals, and historical and legendary figures. Holiday glitter starts at the front door, as President Barack Obama presides over a lobby filled with snowflakes, poinsettias, garlands, and a red, white, and blue-decorated tree.

Throughout the museum, selected displays sparkle with thematic holiday decor, both traditional and edgy.

As you wander the galleries, see the Titanic exhibit draped with wreath and garland; world leaders gathered around a traditionally decorated Christmas tree; and British royalty gazing on a tree studded with old-fashioned candle lights.

Other holiday displays are far from traditional and instead reflect the nature of the wax exhibits. Hollywood glamour girls surround a white tree decorated with disco balls. Even the ghouls and monsters in the Chamber of Horrors mark the holidays, their black tree lovingly adorned with skulls and barbed wire.

The Wax Museum shows all aspects of life from the ignoble Chamber of Horrors to the inspiring Hall of Religion, including the historic Library of U.S. Presidents, the spectacular recreation of King Tut's Tomb and the unique Palace of Living Art, where the world's most famous masters and their masterpieces come to life through the magic of wax artistry.

The most popular part of the wax museum tour is The Gallery of Stars, where a galaxy of brand new stars, such as Leonardo Di Caprio, Johnny Depp and Will Smith, join such classics as Humphrey Bogart, Marilyn Monroe and John Wayne.


THE MUSIC GOES ROUND AND ROUND


PAUL ANKA SONGS OF DECEMBER is one of the most romantic - dreamy - holiday music CDs released in eons. Songs of December is only the second album of Christmas/Holiday music in Anka's storied career, which spans 56 years. He's not that old - he just started young.

Singing holiday music can be overdone. There are countless numbers of singers who feel they are require to slap out an on-the-cheap produced CD of holiday music. Some even stoop to any level of self promotion - usually to no avail.

While the sum of enjoying Christmas music doesn't have a grading curve based upon the reputation of the singer, it is a plus if the person behind the vocals has more personal pluses than negatives. Anka is one of the nicest, most thoughtful men you could ever hope to meet. He's devoted to his children and grandchildren. He was a hands on father back in the days when the only thing a man did around the house was take out the garbage. You don't see him doing drugs, driving drunk or humming one of his hits while doing the perp walk.

Anka has never done anything on the cheap or ill thought out in his entire career. Last night Anka starred at The Colosseum at Caesars Windsor in Ontario, Canada. If you've never seen him perform live, you've missed a sensationl performance from somebody who can actually sing. Anka is one of only a handful of singers who could devote an entire show to singing music they either wrote or recorded the hit version.

A perfectionist, he can knock songs like The Bitch Is Back and Jubilation to a third balcony and get a standing ovation at all levels. He used theatrics, lighting and video long before it became commonplace. The difference is that Anka can sing. Take away any of the stage gimmicks and you've got a guy who know how to hit the notes and deliver the meaning of the lyrics. He also knows how to communicate with an audience.

This is the guy who wrote the English lyrics for Frank Sinatra's signature song, My Way, penned the theme song for The Tonight Show Starring Johnny Carson, and wrote one of Tom Jones' biggest hits, She's a Lady.

In 1983, he co-wrote with Michael Jackson the song I Never Heard, which was retitled and released in 2009 under the name This Is It. An additional song that Jackson co-wrote with Anka from this 1983 session, Love Never Felt So Good, was released by Johnny Mathis in 1984.

Backed by a 50-piece orchestra, Paul Anka Songs of December is a CD of songs we all love, yet different, brought to another level with rich, lush new arrangements, sung by Anka, who delivers a lyric in a way few singers are capable of executing.

Anka's renditions are sensuous, romantic, rich and warm - comforting.

Anks's voice on Let it Snow and The Christmas Song is a loving hug. With a piano intro bringing on the string section Anka's promise of I'll Be Home for Christmas makes you want to turn on the porch light. Winter Wonderland is a jaunty rendition spotlighting a flute. It's The Most Wonderful Time of the Year, again with a prominent piano which never overpowers, as the string section adds a cozy background for a smooth delivery.

Santa Claus is Coming to Town is given a unique, slow dancing arrangement. When Anka sings 'He's checking his list, checking his twice, gonna find out whose naughty and nice' you can almost visualize couples dancing cheek to cheek.

Blue Christmas has never been a 'ho, ho ho' type of song. It's a love song for a couple who will be apart on the holiday and never has the message been more heartfelt. Silver Bells is a comforting, pleasant, makes you feel-good-to-listen-to-it rendition.

So many of the arrangements used on the recordings of Christmas standards are as frenzied as the holiday rush season. This is a most welcome, well thought out, different presentation.

Put the Anka rendition of Silent Night right up there with the Streisand version, which has been the gold standard since she recorded it in 1967.

Decades ago when Anka first hit the charts, there was a division called "Easy Listening". Today, people might wonder - what's that? Paul Anka Songs of December is the true meaning of an "Easy Listening" CD.

On stage, he can next be enjoyed December 12, 2011 at Hamilton Place Theatre in Ontario, Canada. On New Year's Eve he'll be ringing in 2012 with a show at the Seminole Hard Rock Live in Hollywood, FL.



Famed recording engineer Al Schmitt has won 21 Grammy Awards. Photo: The Recording Academy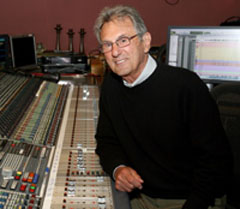 This CD can be enjoyed anywhere all year long.

The teen dream who matured into the consummate performer, has never forgotten his musical foundation, always giving credit to composers, arrangers and musicians.

Recorded at both the legendary Capitol Studios and Ocean Way Recording Studio in Los Angeles, California, Songs of December which was produced by Anka, includes guest arrangements by David Foster, Johnny Mandel, Patrick Williams and Chris Walden and was engineered and mixed by the legendary Al Schmitt.

Brooklyn-born Schmitt, with 21 Grammy Awards, has won more Grammys than any other engineer or mixer.

In his four decade career as producer, engineer or mixer he's worked on more than 160 gold and platinum albums for artists representing a variety of musical genres, such as Henry Mancini, Sam Cooke, Ray Charles, Miles Davis, Jefferson Airplane, Neil Young, Johnny Cash, Willie Nelson, Kenny Rogers, Steely Dan, Barbara Streisand, and Madonna.

Today, Schmitt is perhaps best known for the sonically exquisite recordings of Natalie Cole and Diana Krall.

Songs Of December Track-listing:

1. Let It Snow
2. Christmas Song
3. I'll Be Home For Christmas
4. Winter Wonderland
5. It's the Most Wonderful Time of the Year
6. White Christmas
7. Have Yourself A Merry Little Christmas
8. Santa Claus Is Coming to Town
9. Blue Christmas
10. Silver Bells
11. Silent Night/A Cradle in Bethlehem


SWEET CHARITY


FRANK SINATRA TRIBUTE BENEFITS THE ALZHEIMER'S ASSOCIATION

Frank Sinatra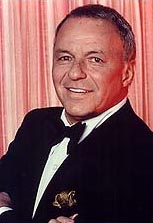 Monday, December 12, 2011 would have marked the 96th birthday of Ol' Blue Eyes - Frank Sinatra.

The crooner took his final curtain call on May 14, 1998.

While you don't see him immortalized in a Cirque show, he is being remembered with a lavish benefit - A Swingin' Affair! is a three-stage gala, named appropriately for Sinatra's acclaimed 10th studio album, A Swingin' Affair!

The unique throwback to the 60s Rat Pack era will give gave fans a unique, behind the scenes Lifestyle Experience. Hosted by a Pamela Anderson, A Swingin' Affair! takes place this evening, December 11, in three historic Palm Springs locations and benefits the Alzheimer's Association.

Performers include Frank Sinatra, Jr. and his 20-piece Orchestra, Lainie Kazan, singer/pianist Daniel Joseph Baker from America's Got Talent, X Factor finalist Phillip Lomax, Broadway Actor/Singer Lica Ellis, and jazz artist Matt Dusk.

The gala will features a three-course dinner, signature cocktails and a star-studded blue carpet in honor of Ol' Blue Eyes.

As befitting Sinatra's immortal style, A Swingin' Affair! kicks off with an exclusive VIP cocktail hour - for which only 150 privileged VIP ticket holders will be able to attend - at Sinatra's former Twin Palms estate, which was designed by famed architect E. Stewart Williams and lived in by Sinatra and first wife Nancy and then Ava Gardner. Visitors will experience the lap of luxury in this grand estate where a scar still remains in the bathroom that Sinatra himself thrust a bottle of Jack Daniels cracking the surface of the counter.

Canadian jazz artist Matt Dusk, who has three No. 1 international hits under his belt, will perform and cocktails and canapes will be served poolside from 2-5 p.m. Aptly appointed with splashes of orange and draped with the fragrance of his favorite flower, the gardenia, the evening will be celebrated with a signature cocktail throughout.

Stop two of the evening will be the main gala - for which 1,000 tickets were sold - at the posh Riviera Palm Springs where Sinatra held most of his lavish parties. Architect and visionary Irwin Schuman designed the historic location and the event will be fashioned in the grand Hollywood Regency style. Pamela Anderson will be on hand as the host of the night, with performances by Frank Sinatra Jr. and his Big Band Orchestra, Daniel Joseph Baker, Matt Dusk, Lainie Kazan. A sumptuous dinner will be served and cocktails will be flowing.

The night closes with an after-party, starting at 11:30 p.m., at the swanky Starlite Lounge in the Riviera. Daniel Joseph Baker will once again perform, as well as Phillip Lomax and recent Ovation award nominee, Lica Ellis. Need we mention that the cocktails will be flowing into the wee small hours of the morning. At midnight a special toast and a cake will be cut in honor of Sinatra's birthday.

The Alzheimer's Association works on a global, national and local level to enhance care and support for all those affected by Alzheimer's and related dementias. Alzheimer's disease is an irreversible degeneration of the brain that causes disruptions in memory, cognition, personality, and other functions that eventually leads to death from complete brain failure. Over 5.4 million Americans age 65 and older are thought to have Alzheimer's disease.


MARRIAGE VOWS . . . .


SINEAD O'CONNOR AND BARRY HERRIDGE celebrated her 45th birthday on December 8, 2011 by exchanging wedding vows while sitting in a pink Cadillac during a drive-thru wedding, at The Little White Chapel in Las Vegas. They didn't shout their vows into an order box as if requesting a hamburger and fries. There is a live person who officiates and the couple goes into the chapel to finalize the paperwork.

The area is actually called the Tunnel of Love Drive Thru and isn't as totally off-the wall as it sounds - although a wall was knocked out.



Sinead O'Oonnor and Barry Herridge. Photo: The Little White Chapel/Sinead O'Connor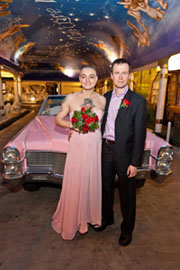 In 1991, the Rev. Charolette Richards who has married more than 800,000 couples in her almost 55 years as owner of The Little White Chapel, which has been in business for almost 65 years, "noticed a handicapped couple having difficulty getting out of their car and into the chapel. Having a heart for the handicapped, the idea of a drive-up window became very clear to her. She instructed her son, a contractor, to knock out a wall. After the window opened on Valentine's Day, it became such a novelty that all kinds of couples began lining up for a "drive thru" wedding of vows."

The Drive Thru Tunnel Of Love has been expanded to include a romantic ceiling with cherubs and starlights billed as "perfect for a unique, yet romantic ceremony," including couples being married on bicycles and motorcycles.

The Irish singer wore a floor length, pale pink, strapless formal gown which showed off her impossible to ignore tattoos, which almost served as jewelry adornment. She selected chunky pink metallic and silver heels. No veil covered her shaved head.

The groom selected a dark suit and a pink shirt. She carried a bouquet of red roses and the groom wore a red rose boutonniere. No word on whether the car had gone through a car wash or had the tires rotated for the ceremony.

The day before the singer posted her intention to marry on her website.

The couple met on line three months ago after O'Connor asked men who were interested in her to post their qualifications on line. The controversial singer indicated that she was in 'desperate need of a very sweet sex-starved man.' Qualifications included: 'must be no younger than 44, must not be named Brian or Nigel, must be blind enough to think I'm gorgeous, has to be employed and he has to like his mother.'

Herridge, who has been previously wed, works as a counselor for people with addiction problems in Dublin, and made it through O'Connor's on line application process.

There were no wedding guests except for a photographer. Witnesses were provided by the wedding chapel.

Sinead has four children from previous relationships and was previously wed to music producer John Reynolds in 1989, journalist Nicholas Sommerlad in 2001 and long-time friend and collaborator Steve Cooney in July 2010. That union ended last July.

The couple immediately flew back to Dublin to attend a Saturday, December 10, party for a concert marking the 50th anniversary celebrations of Amnesty International.

The Little White Chapel has been the location for several celebrity weddings, including that between Britney Spears and childhood friend Jason Alexander in 2004. Numerous notable ceremonies which actually took place at the venue include the weddings of Joan Collins and Peter Holmes, Michael Jordan and Juanita Vanoy, Judy Garland and Mark Herron, and Patty Duke who was married twice at the place to two different men. All of those marriages ended in divorce or annulment.

Employees of The Little White Chapel have also been a part of the wedding of Frank Sinatra and Mia Farrow at the Sands Hotel, Rita Hayworth and Dick Haymes also at the Sands, Demi Moore and Bruce Willis at the Golden Nugget while George Hamilton and Alana Collins tied the knot at the Las Vegas Hilton - unions which all ended in divorce court.

On the positive side, employees of The Little White Chapel also took part in the wedding of Joanne Woodward and Paul Newman who were married at the El Rancho Hotel and Steve & Eydie were wed in the home of Beldon Katleman in Las Vegas. Katleman was the owner of the El Rancho Hotel. Those unions became some of the longest and happiest in show biz history.


DOGS NIGHT OUT AT SEATTLE REP
Jaks, who pet parent is the Seattle Rep Box Office Manager. Photo: Seattle Rep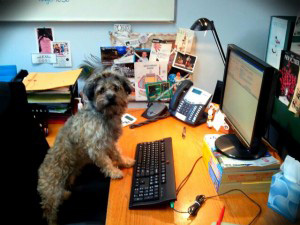 In one of the most creative promotional events encountered in recent memory, Seattle Rep "Bark by popular demand" is staging Dogs Night Out: Part 2 this evening, December 11.

That's the bad part - that it will have already taken place before many of you read this. The good news is - keep an ear tweaked or sniff out when Seattle Rep stages Dogs Night Out: Part 3.

Those dogs lucky enough to have pet parents who care about performing arts will be permitted to attend a "pet friendly" performance of Sylvia, a play by A. R. Gurney about a dog, the couple who adopts her, and the drama that results. Dogs get in free with a human who has paid for their ticket.

The venue even offers "tips and guidelines from Jaks, the Box Office Manager's pup.

According to Jaks, " My human, the Box Office Manager here at the Rep, has asked me to remind you of a few things . . .

Stay:

Bring your favorite leash because you'll need to be on it at all times while inside the theatre.
Make sure you are with your human at all times. This means no running to chase after the cute little Chihuahua across the lobby.

Potty:

Understandably, all this fun might cause a little excitement piddle, but do your best to use the designated potty patch to do all your business.

Keep Out:

The balcony will be reserved strictly for humans without canine friends.
Backstage is where humans will be too busy running the show to notice four-legged friends running around.
Try to resist the urge to jump up and play with the humans having fun on stage.

Good:

Remind your human that you should be up-to-date on all your vaccinations.
Make sure your human has signed the Pet Waiver and mailed it to the Box Office.

Down:

Rather than try to sit in those theatre seats, I suggest you lay down at the foot of the seat. Some of you larger pups may feel more comfortable in an aisle seat, please have your human contact the Box Office if you think you'll need more space.

No:

You will have the opportunity to make new, theatre-loving four-legged friends. So be nice! Those of you acting like tough guys will be asked to leave by the humans running the event.

Come:

The show starts at 7:30, but you will want to come early - starting at 6:30 - to check out the sponsor booths in the lobby.

Can't wait for a Seattle Rep production that is appropriate for Bark by Popular Demand - Dogs Night Out - Part 3.

Seattle Rep is located in (duh!) Seattle, Washington.


KEVIN SPACEY REBUKES IN CHARACTER


Every actor knows you aren't suppose to break character.

Thus, those who dare to violate Kevin Spacey's "no noise" zone will be publicly chastised while the Tony Award winning actor stays in position, costume and vocally in character. And, the skilled thespian comes prepared with a high tech lazar arsenal.

Currently in Sydney, Australia for a 10-day run of the Sam Mendes-directed play Richard III, the actor has been receiving rave reviews - for his consistent and innovative ways of telling off audience members.

During one performance Spacey, the would-be Duke of Gloucester, singled out the phone owner and bellowed "Tell them we're busy!". The audience erupted in approval.

The following night, he shone a laser light at some theatregoers who were heard to rustle candy wrappers and whisper within earshot of the king.

"Quick as you like [he] dipped into his tunic and withdrew a green laser light, pointing it at the offending audience members who, we are told, were suitably chastised," reported the Sydney Morning Herald.

There was one audience member that drew praise - Spacey's high school drama teacher Mr. Carrelli who flew to Singapore to see Spacey in Richard III when the production played there for two weeks in November. Spacey Tweeted: "Great mentor & why arts ed is so important to me!"

Spacey also had compliments for Australia in general and the cast and crew in particular, posting on Twitter: "Opening night at Lyric. Sydney is awesome. All of us in company of Richard III are excited to be here. Thanks for such a great welcome!" and "Chookas to the cast and crew of Richard III Opening night!"

The Academy Award winner brings Richard III to New York January 10-March 4, 2012 to open the BAM season.


SPREADING THE WORD


VANESSA REDGRAVE will serve as guest director of next year's Brighton Festival - England's most established mixed arts Festival - which runs May 5-27, 2012.

Previous guest directors have included Turner Prize-winning artist Anish Kapoor and musician Brian Eno.

Redgrave, 74, takes the reigns from Burma's pro-democracy leader Aung San Suu Kyi, who assumed the position in 2011. Because she was under house arrest she was unable to attend the festival but sent a video message from Burma.

Now released from house arrest, the Burmese leader, who met US Secretary of State Hillary Clinton in Rangoon recently, highlighted the importance of liberty and freedom of expression in her video message.

CALDWELL THEATRE COMPANY announced that it will open its doors on December 14th from 1:00 p.m. to 8:00 p.m. In its continuing effort to embed itself in the Boca Raton, and Palm Beach County community, South Florida's longest running professional regional theater will provide patrons the opportunity "to see behind the curtain, and experience the magic of theater."

"Something magical occurs when we bring patrons into the prop and costume shop and they see up close how much time and detail goes into creating one of our costumes," said Patricia Burdett, Producing Director. "Invariably their future experience is enhanced by their newfound knowledge."

"In any of these types of Open House opportunities, "said Clive Cholerton, Artistic Director of Caldwell Theatre Company, "I want to be certain that people leave knowing they have an ownership stake in Caldwell Theatre Company. "

Featured at the events will be cast members from the upcoming production of The Elaborate Entrance of Chad Deity, Working, excerpts from the popular Story Telling Series, and South Florida's hottest playwright, Christopher Demos Brown will be on hand to discuss his upcoming Caldwell World Premiere, Our Lady of Allapattah.


OTHER PEOPLE'S MONEY


ELIZABETH HURLEY'S HORSE BOUGHT BY QUEEN ELIZABETH the filly Memory, part owned by Hurley, was sold for a reported $782,000 by Highclere Thoroughbred Racing, a racehorse ownership company.

Memory, reportedly impressed the Queen after winning last year's Albany Stakes at Royal Ascot, bursting through a field of 22 in the final furlong. The new addition to the royal household will be used for breeding at the royal stud at Sandringham.






THE ROCK AND ROLL HALL OF FAME ANNOUNCED ITS 2012 INDUCTEES Guns N' Roses, Red Hot Chili Peppers, Donovan, Laura Nyro, The Small Faces/TheFaces, Beastie Boys, Freddie King, Don Kirshner, Cosimo Matessa, Tom Dowd and Glyn Johns.

The 27th Annual Rock and Roll Hall of Fame Induction Ceremony returns to Cleveland for a week of events beginning April 5, 2012 and culminating with the Induction Ceremony on April 14, 2012.



CLOSE UP SPACE a new play by Molly Smith Metzler, directed by Leigh Silverman.

Starring Obie Award winner Michael Chernus, Jessica DiGiovanni, Colby Minifie, Academy Award and Emmy Award nominee Rosie Perez and Tony Award and four-time Emmy Award winner David Hyde Pierce.

David Hyde Pierce brings his signature wit back to the MTC stage as Paul Barrow, an obsessive book editor on a major deadline. With an assistant (Chernus) who's been camping in the office, a famous author (Perez) threatening to bail on him and an intern (DiGiovanni) who is no help at all, Paul's just about had it. But when his fiery daughter (Minifie) shows up and lambastes him in Russian, Paul faces a glaring personal error that can't be corrected with red ink.

The creative team includes: Todd Rosenthal (scenic design), Emily Rebholz (costume design), Matt Frey (lighting design), and Jill BC Du Boff (sound design).

Manhattan Theatre Club's world premiere of Close Up Space officially opens Monday, December 19 at New York City Center – Stage I.

WISEMEN by David Bestock and Eli Rosenblatt. Choreographed by W. Scott Davis.

With Ben Harris, Gavin Cummins, Colin Smith. Birch Pereira on bass and Sam Esecson on drums and percussion.

Wisemen "traces the story of three representatives from the Wisemen Law Firm: Goldberg, Frankenstein and Murray. Hired by a cuckolded Joseph to find and prosecute the biological father of the Baby Jesus, the three lawyers must battle an evil Santa Claus, The Pope and The Easter Bunny in their quest for the truth," reads the description.

"A sacrilegious script and an original score ranging from klezmer to hip-hop to funk to mariachi, will make you die laughing without worrying whether or not you're going to hell for it."

December 13-22 in the Bullitt Cabaret of ACT in Seattle, Washington.

WEARING LORCA'S BOWTIE Text by Mar Gómez Glez and Judith Goudsmit. Story by Josh Hecht and Mar Gómez Glez. The piece will be created by the company in rehearsal using devised theater techniques, directed by Josh Hecht and Ignacio García-Bustelo.

AENY-El Puente, with the support of the Consulate General of Spain in New York and the Embassy of Spain in Washington, presents this innovative, multi-disciplinary piece inspired by internationally acclaimed Spanish poet and playwright Federico García Lorca's trip to New York, which changed his life and art forever.

In 1929, Federico Garcia Lorca, perhaps Spain's most well known poet and dramatist, spent nine months in New York as a guest lecturer and student at Columbia University. The experience changed both his life and his work. His collection of poems Poet in New York revolutionized his style and electrified the literary community in both Spain and the U.S.

In Wearing Lorca's Bowtie, 15 individual artists find themselves in New York, dreaming of Lorca and wondering why it is that we continue to be drawn to this city to make our life and our art and exploring the peculiar brand of loneliness that this city can evoke. The piece blends fantasy with actual moments from Lorca's work and trip - such as his famous witnessing of the 1929 stock market crash - with today's experience of trying to make a life in New York during the biggest economic crisis since Lorca's visit.

Scenic design by Robin Vest, lighting design by Clifton Taylor, sound design by Sam Kusnetz, composition by Javier Moreno, choreography by Cherice Barton, costume supervisor Yuko Nakoa, aerial design by Bobby Hedglin-Taylor, and art design by José Carlos Casado. Production Manager: Amanda Raymond for Production Core. Production Associate: C. Golden. Line Producer: Vicky Graham.

A New 42nd Street project, performances are at The Duke on 42nd Street, through December 17, 2011.

FREUD'S LAST SESSION opened its first foreign production on December 9th at the Stockholm City Theatre, Sweden's most popular theatre. The Stockholm production of Mark St. Germain's play is set to run through December 20th and stars Tomas Bolme as Sigmund Freud and Ole Forsberg as C. S. Lewis, under the direction of Stina Rautelin.

Freud's Last Session centers on legendary psychoanalyst Dr. Sigmund Freud, who invites the young, rising academic star C. S. Lewis to his home in London. Lewis, expecting to be called on the carpet for satirizing Freud in a recent book, soon realizes Freud has a much more significant agenda. On the day England enters World War II, Freud and Lewis clash on the existence of God, love, sex, and the meaning of life – only two weeks before Freud chooses to take his own. Not just a powerful debate, this is a profound and deeply touching play about two men who boldly addressed the greatest questions of all time.

Mark St. Germain's celebrated new play was suggested by the bestselling book The Question of God by Harvard's Dr. Armand M. Nicholi, Jr.

Freud's Last Session is currently in its second smash year at NYC's New World Stages, starring Mark H. Dold and Martin Rayner, directed by Tyler Marchant.

BONNIE & CLYDE has music by Frank Wildhorn, lyrics by Don Black, book by Ivan Menchell and music supervision/orchestrations/arrangements by John McDaniel.

The new musical is directed by Jeff Calhoun and stars Laura Osnes and Jeremy Jordan as Bonnie Parker and Clyde Barrow. They are joined on stage by Melissa van der Schyff as Blanche Barrow, Claybourne Elder as Buck Barrow, Joe Hart as Sheriff Schmid and Louis Hobson as Ted Hinton.

The cast also features: Talon Ackerman, Rozi Baker, Leslie Becker, Mimi Bessette, Alison Cimmet, Dan Cooney, Jon Fletcher, Kelsey Fowler, Victor Hernandez, Sean Jenness, Katie Klaus, Michael Lanning, Garrett Long, Matt Lutz, Marissa McGowan, Cassie Okenka, Justin Matthew Sargent, Jack Tartaglia and Tad Wilson.

The musical centers on Bonnie Parker and Clyde Barrow, the ill-fated lovers and outlaws whose story has been infamous since they achieved folk hero status during the Great Depression. Wildhorn has described the music as a "non-traditional score, combining rockabilly, blues and gospel music."

The design team includes scenic and costume design by Tobin Ost, lighting design by Michael Gilliam and sound design by John Shivers.

The musical had its world premiere at the La Jolla Playhouse, running from November 10, 2009, through December 20, 2009. In New York, the musical is mounted at the Gerald Schoenfeld Theatre.


WHO'S WHERE




CARNEGIE HALL AND THE NEW YORK POPS will celebrate the holidays with John Pizzarelli and Jessica Molaskey in Wish You a Swingin' Christmas on December 16-17. Steven Reineke will conduct the evening that promises songs made famous by Frank Sinatra, Bing Crosby, Nat King Cole and Rosemary Clooney. Carnegie Hall, NYC.

A LINDA EDER CHRISTMAS her first ever holiday performance with the Houston Symphony becomes the perfect match for a divine evening of beloved Christmas classics like Silent Night, Little Drummer Boy, and O Holy Night. Tuesday, December 13 at Jones Hall in Houston, TX.

ALICE COOPER performs classic rock Monday, December 12, at the Taft Theatre in Cincinnati, OH. On Tuesday the show is at the Cobb Energy Performing Arts Centre in Atlanta. Wednesday finds him at the Hard Rock Cafe in Orlando, FL and on Thursday he moves his show to the Seminole Hard Rock Live in Hollywood, FL. He performs his Alice Cooper's Christmas Pudding Show on Saturday, December 17, at the Comerica Theatre in Phoenix, AZ.

SLIM MAN TRIO John E Coale on drums, Rick O'Rick on keyboards, and Slim Man doing some holiday hits, and some Slim Faves has shows in California this week. Spaghettini's in Seal Beach on Wednesday, December 14th a San Francisco gig at the Showroom on Thursday, December 15th, and let's not forget Friday, December 16th at D'Anbino Winery in Paso Robles.

CHRIS BOTTI puckers up and blows his horn at the Blue Note in NYC from December 15, 2011 through January 1, 2012.

SMOOTH JAZZ CHRISTMAS that's Dave Koz, Rick Braun, Jonathan Butler and Candy Dulfer perform Wednesday, December 14, at the Ikeda Theatre in Mesa, AZ. On Thursday they are on stage at the McCallum Theatre in Palm Desert, CA. Friday they open a two nighter at the Cerritos Center for the Performing Arts in Cerritos, CA.


FINAL OVATION


ALAN SUES a star of the famed Rowan And Martin's Laugh-In, died of cardiac arrest on December 1, 2011 at his home in West Hollywood. He was 85.

Sues served in WWII and used those veterans' benefits to pay for acting lessons at the Pasadena Playhouse. He made his Broadway debut in the 1953 play Tea and Sympathy, directed by Oscar-winner Elia Kazan.

After leaving Laugh-In in 1973, he returned to stage playing Professor Moriarty in the Royal Shakespeare Company production of Sherlock Holmes opposite John Wood and later Star Trek actor Leonard Nimoy. He remained in the production for the entire run, and then perform it with the touring company. He also toured with Singin' in the Rain, playing the Elocution Instructor.

Sues is survived by a sister-in-law, two nieces and a nephew.

HARRY MORGAN who starred as Colonel Potter in the classic TV comedy M*A*S*H, and as Officer Bill Gannon in '50s detective series Dragnet, died December 7, 2011. He was 96.

Morgan began acting on stage under his birth name, Harry Bratsberg, joining the Group Theatre in New York City in 1937, and appearing in the original production of the Clifford Odets play Golden Boy, followed by a host of successful Broadway roles alongside such other Group members as Lee J. Cobb, Elia Kazan, Sanford Meisner, and Karl Malden.

Morgan did summer stock at the Prine Brook Country Club located in the countryside of Nichols, Connecticut, with the Group Theatre (New York) formed by Harold Clurman, Cheryl Crawford and Lee Strasberg in the 1930s and early 1940s.






Next Column: December 18, 2012
Copyright: December 11, 2011. All Rights Reserved. Reviews, Interviews, Commentary, Photographs or Graphics from any Broadway To Vegas (TM) columns may not be published, broadcast, rewritten, utilized as leads, or used in any manner without permission, compensation and/or credit.
Link to Main Page
---
Laura Deni



For the snail mail address, please E-mail your request.
CLICK HERE FOR COMMENT SECTION
=