Broadway To Vegas
  
 SHOW REVIEWS CELEBRITY INTERVIEWS GOSSIP NEWS

| | |
| --- | --- |
| | |
LESTAT - -MADAME BUTTERFLY GALA - - LARRY GELBART'S FLOODGATE - - NEVADA SCHOOL SCORES DOUBLE BILL CARNEGIE HALL COUP - - SINKING TEETH INTO THE ORPHEUM - - NORTH SHORE MUSIC THEATRE RECEIVES GRANT - - RE-CREATING A CHRISTMAS PARTY - - DANCE FROM THE HEART - - DONATE . . . Scroll Down


PRACTICE, PRACTICE, PRACTICE
Carnegie Hall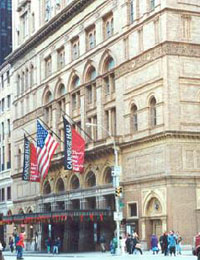 An old joke goes: How do you get to Carnegie Hall? Answer - Practice, practice, practice.

Turning all that practice into performance reality is Mid America Productions, which has presented over 720 concerts worldwide and some 600 in New York at Carnegie Hall.

Under the guidance of MidAmerica's founder, Peter Tiboris, more than 2115 American ensembles, representing each of the 50 states, have appeared with MidAmerica in New York, as have 75 symphonic and choral ensembles from Europe, the Far East, South America, and Canada. There have been more than 300 guest conductors, 620 solo artists, and 88,000 performers who have cherished memories that they played in Carnegie Hall.

Broadway To Vegas spoke with Iris Derke, the intelligent, knowledgeable and articulate Director of Special Projects for Mid-America Productions.

"We are an independent concert production company. We've been around for 22 years and we are the largest independent producer of concerts at Carnegie Hall."



Iris Derke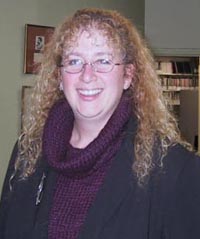 "Carnegie Hall is actually a public hall which is for rent to anyone and everyone in the world," she explained. "The largest producer of concerts is the Carnegie Hall Corporation themselves. They are the ones who bring in the Vienna Philharmonic, The London Philharmonic - some of the really big names in the world. We're second on that list with our concerts."

"Our main series is in the main auditorium of Carnegie - the Issac Stern Auditorium - and we feature talented orchestras and wind ensembles, youth and adults, as well as featuring major choral masterworks which include talented chores."

Broadway To Vegas became curious about this organization when a rapturous parent, of a student at Green Valley High School in Las Vegas, spieled forth a string of superlatives regarding her daughter's orchestra being selected to perform at Carnegie Hall. The mother offered a seemingly endless list of compliments about the orchestra leader, Geoff Neuman.

"We have two groups from Las Vegas," explained Derke. "Both are from Green Valley High School. We have both the band and the orchestra appearing with us. Each group has its own specific director - the band being Diane Koutsulis and the orchestra is Geoffrey Newman."

"It is unusual for two groups from one school to participate - quite unusual," stressed Derke. "We normally only have one. But, they are really a top program. Without a doubt we wanted to have both groups with us," said Derke about the musical groups from a school that is ranked as one of the top ten in America.

"They are the evening performance on April 9th," said Derke referring to the bill which will also include a third group "which won't be known for another two weeks."

With approximately 27,140 high schools in American how does a class make it to center stage?



Diane Koutsulis, 1999 Nevada Teacher of the Year with President William Jefferson Clinton at The White House on April 19, 1999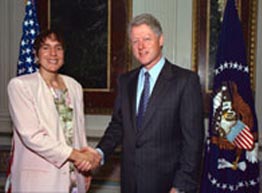 "It all started with a personal recommendation for Diane Koutsulis made to me by a legendary conductor in this country, H. Robert Reynolds," answered Derke regarding the Green Valley groups. "He has known Diane for a number of years. He connected the two of us saying that Diane was someone that I needed to know - that she had a really stellar program in Las Vegas," continued Derke about Diane who was the 1999 Nevada Teacher of the Year.

"Diane in turn sent me audition recordings and materials on their program, which is really one of the top in the country. That all started back in 2002," said Derke indicating that a two or three year time frame from application to performance is standard. The entire audition process is conducted through audition tapes.

"The groups that appear with us are all by recommendation and by audition tapes, so we can really keep a professional level to the series."

The concert series runs until the end of June. "Anywhere from one to three concerts on any particular weekend. We have different guest conductors and different youth ensembles. It's a lot of wonderful music happening."

That translates into a lot of hard work. Coordination would exhaust the double jointed.

"We work in tandem with a travel agent that is based here in New York. Everything that goes into making the concert - both the rehearsal and the concert successful - is arranged through us. We make sure that we are on top of all if it - from the flights coming into New York, so that our artists can be met at the airport and brought to the hotel. All of our performers reside at the same hotel, so the rehearsals are held there. Then we coordinate all the back and forth to Carnegie Hall. Everybody pays for all of their own expenses and helps in making the production possible."

"It's quite a high watching everyone coming off of the stage at the end of the night," emphasized Derke. "We send everybody off on a cruise around Manhattan afterwards, because it is kind hard to just go back to your hotel room and shut the door. So, everyone gets a chance to celebrate together before they head back home."

It's an experience that makes for lifetime memories - and also looks good on a college resume. "It sure does," Derke agreed.

"I just spoke with one director who said that he had come on one of our concerts about 10 years ago as a student and he is now a director himself. That experience helped to inspire him. He's now looking forward to bringing his own group to Carnegie Hall."

"It is nice to know that there is an educational wheel that goes on. You touch one person's life who then touches who knows how many more."

"We are really excited to have Diane and Geoff with us," reiterated Derke about the Green Valley High School groups.

"Diane is just like a firecracker," exclaimed Derke. "I had a chance to meet her in Los Angeles at one of the national conventions in February. All of the materials that she had sent to me previously showed how they had been selected to be part of the Mid West band and orchestra convention, which is a big honor. As we spoke I found out that we both share the same educational background."

Originally from Chicago, Koutsulis received a B.A. degree in music from Western Illinois University; and, after teaching junior band in Oswego, Illinois for three years, she completed the Master's degree in music education from Louisiana State University in Baton Rouge. She is currently Chairman of the Music Department at Green Valley.

"We know and have worked with the same directors," said Iris who is a flautist.

"The majority of our office is composed of musicians who have become business people. It kind of makes it a special relationship with all of our clients. We can speak the language," disclosed Derke who did her undergraduate work at UCLA and graduate work at the Manhattan School of Music in New York and The Royal College of Music in London.

"It has been so much fun seeing Diane over the years," Derke continued. "They actually came to visit New York about ten months ago to do a fact finding mission, taking a look at the hall and the hotel and learn about everything that would happen. We just had a great time planning everything - trying to choose the Broadway show that they are all going to go to in the evening and what music they want to play."

Groups pick their own program with certain guidelines. "We want to make sure that the NY Phil isn't doing the same repertoire the same night!"

Each group is on stage for approximately 40 minutes.



View from the Carnegie Hall stage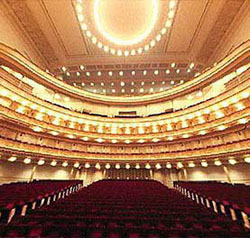 "We have a wonderful audience. Obviously all of the groups who perform have their own fan clubs situated. But, we have a regular subscription base. We have one department of our company which is audience development. Between the subscription base, advertising, and lot of wonderful clubs in the city that enjoy coming out to music, we average about 80 percent capacity of the hall which is 2800 seats. It is quite impressive to walk out on stage and see all of those people in front of you."

While the majority of the applicants are turned down, the rejections seem to fuel a practice harder mentality rather than one of resentful complaints.

However, there is one complaint that Derke regularly encounters.

"When you sit in the hall of Carnegie it is this absolutely grandiose, wonderful space. When you take people back stage they are shocked because it is a very small space. When they are all in the rehearsal room backstage waiting to go out and they can't move. That is the only complaint that we hear. We just look at them and say - we can't rebuilt the building, this is it."

Upcoming concerts include; Sunday, January 15, the New England Symphonic Ensemble with Timothy Sharp, Conductor. Participating choruses: Perham High School Concert Choir, Perham, MN; Sanctuary Choir of First Baptist Church, Forest City, NC; The Voices of the Mountains, Bristol, TN; First Baptist Church Sanctuary Choir, Cookeville, TN; Chancel Choir of Christ United Methodist Church, Memphis, TN; Variations of Bluefield College, Bluefield, VA.

Raymond Sprague conductor for participating choruses: Davidson College Concert Choir, Davidson, NC; Nyack College Chorale, Nyack, NY; Seahawk Voices, Myrtle Beach, SC; Charleston County School of the Arts Chorale, North Charleston, SC.



Broadway To Vegas is supported through advertising and donations. Priority consideration is given to interview suggestions, news, press releases, etc from paid supporters. However, no paid supporters control, alter, edit, or in any way manipulate the content of this site. Your donation is appreciated. We accept PAYPAL. Thank you for your interest.


SWEET CHARITY


ROYAL CHARITY GALA Prince Charles and his wife Camilla, The Duchess of Cornwall will attend the December 16th Royal Charity Gala Performance of Madam Butterfly by English National Opera, in aid of The Prince's Trust and ENO's Young Singers Program.

Oscar winning Director, Anthony Minghella best known for The English Patient and The Talented Mr Ripley turns his skills for the first time to directing this production of Puccini's entrancing love story. Anthony will bring a new dimension to opera using multi-media, puppetry and beautiful costumes designed by New York fashion designer Han Feng.

David Parry will conduct the cast of British opera stars including Mary Plazas (Cio-Cio-San), Gwyn Hughes Jones, Christopher Purves, Jean Rigby, Mark Stone and one of ENO's Young Singers graduates, Victoria Simmonds.

Madam Butterfly by the English National Opera at The Coliseum, London on December 16.

FLOODGATE

Original Drawing by Bob Gill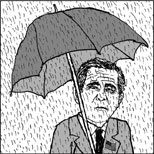 a World Premiere reading of this Larry Gelbart creation performed on the main stage of the Geffen Playhouse.

Highlights of a faux congressional committee's investigation to determine responsibility for the disastrous events that swamped and overwhelmed the nation's capitol.

The chief casualty of the hearings: the destruction of what little is left of the English language.

Directed by Mr.Gelbart, all proceeds from the evening benefit PEN USA. There will be a post show reception with cast and audience. December 12 at the Geffen Playhouse in Los Angeles.

DANCE FROM THE HEART New York's new home for dance, Cedar Lake, and Dancers Responding to AIDS (DRA) host Dance from the Heart, an event featuring some of the world's most renowned dance companies performing at Cedar Lake's beautiful new theater for dance. All proceeds benefit DRA and Broadway Cares. The legendary Mikhail Baryshnikov is Honorary Benefit Chair. Isabella Rossellini is the Special Guest.

Carlos Lopez-Soloist, American Ballet Theatre, Cedar Lake, Complexions Contemporary Ballet featuring Desmond Richardson, Doug Varone and Dancers, Grandiva, Lar Lubovitch Dance Company, MOMIX and Patricia Barker-Principal, Pacific Northwest Ballet are among the performers.

Wendy Whelan and Craig Hall will be performing After the Rain a duet choreographed by Christopher Wheeldon (Sweet Smell of Success - choreographer and Resident Choreographer with New York City Ballet). Music by Arvo Part will be played live.

Monday, December 12th.

HELP FEED AUDREY II Little Shop of Horrors, Broadway's monster hit eats up Denver's Buell Theatre, Dec 20-Jan 8. On Tuesday, December 13, in the Galleria Theatre, a blood drive for the Bonfils Book Center will take place. All donors will receive one free ticket to attend the show!


OTHER PEOPLE'S MONEY


SINKING YOUR TEETH INTO the fundraiser at the Orpheum Theatre in Memphis. One complete orthodontic (braces and retention) treatment. Patient must not be currently in braces and treatment must be initiated by December 31, 2006. Accepting Bids through 5 pm, Monday, December 12, 2005. Value $5,500. Minimum Bid $2,000. Donated by Danny Weiss, D.D.S, M.S. The winning bidder will be notified by phone no later than noon on Tuesday, December 13th.

NORTH SHORE MUSIC THEATRE RECEIVES GRANT U.S. Congressman John F. Tierney (D-Salem) announced that North Shore Music Theatre (NSMT) has been awarded a $30,000 Chairman's Extraordinary Action Fund grant from the National Endowment for the Arts to support the restoration of musical instruments, costumes and sets that were destroyed or damaged during the fire on July 14, 2005. A grant for $30,000 is the maximum amount an organization can receive from this fund.


SPREAD THE WORD


EVERYTHING OLD IS NEW AGAIN hosted by David Kenney tonight, December 11, features the music of Michael Feinstein, plus in-studio interviews with Feinstein and Rebecca Luker prior to her December 12th – 15th engagement at Feinstein's at the Regency in New York City. Next week, December 18, there will be an in-studio visit with Andrea Marcovicci.

Everything Old Is New Again can be heard on the internet and every Sunday 9-11 PM(ET) over WBAI 99.5 FM.



LESTAT is being brought to the stage by the illustrious team of Sir Elton John (music) and Bernie Taupin (lyrics) in their first-ever collaboration on a Broadway production.

Based on characters and incidents from Anne Rice's best-selling novels, Interview with the Vampire and The Vampire Lestat, the musical's book is by Linda Woolverton and Robert Jess Roth will direct.

Starring Hugh Panaro in the title role, Carolee Carmello, Jim Stanek, Michael Genet, Jack Noseworthy, Roderick Hill and Allison Fischer.

Lestat is the lush and rich story of a man who escapes the tyranny of his oppressive family only to have his life taken from him. Thrust into the seductive and sensual world of an immortal vampire, Lestat tries to reconcile his innate sense of good with his primal need to exist. Produced by Warner Brothers Theater Ventures, the show will have a pre Broadway first in San Francisco, from Dec. 17 through Jan. 29 at the Curran Theater.

SISTER'S CHRISTMAS CATECHISM by Maripat Donovan with Jane Morris and Marc Silvia.

Imagine an episode of CSI set in the holy city of Bethlehem and you'll get a sense of this hilarious holiday mystery extravaganza by the author of Late Nite Catechism. Sister takes on a mystery that has intrigued historians throughout the ages: whatever happened to the Magi's gold? Retelling the story of the Nativity as only Sister can, this high-spirited production is bound to become a Christmas classic. Employing her special scientific tools and "divine" know-how—and assisted by a local Vermont choir and a gaggle of audience members—Sister uncovers holiday hijinks unlike any you've ever seen. Friday, December 16, at the Flynn Center for the Performing Arts in Burlington, Vermont.

DAMN YANKEES based on Douglass Wallop's novel The Year the Yankees Lost the Pennant.With music and lyrics by Richard Adler and Jerry Ross and a book by George Abbott.

Molly Smith directs a revival of the 1956 Tony award winning musical about the Washington Senators fan who was willing to sell his soul to see his team beat the New York Yankees in the World Series.

Matt Bogart stars as Joe Hardy. Brad Oscar is the devilishly Mr. Applegate and Meg Gilentine as Lola.

The production will also feature Lawrence Redmond as Joe Boyd, Kay Walbye as Meg, Cindy Marchionda as Gloria, Fred Schiffman as Welsh, Michael L. Forest as Van Buren, Lynn McNutt as Doris, Rayanne Gonzales as Sister, Tracy Lynn Olivera as Weston, Stephen F. Schmidt as Lynch, and Stephen Gregory Smith as Bryan/Reporter. In addition to a 17-person ensemble, children from 20 D.C.-area schools will perform in the show.

Choreography by Baayork Lee. Damn Yankee's design team will comprise Martin Pakledinaz (costumes), Rachel Hauck (sets), and John Ambrosone (lighting) and George Fulginiti-Shaker (musical direction).

Opened December 9 with performances through February 5 at Arena Stages in Washington, D.C.

ELVES GONE WILD! What do toy-slaves do when Big Red is away on Christmas Eve? The hilarious answer will be revealed as the Connecticut Gay Men's Chorus - recently voted Best Vocal Group in Connecticut - rings in its Twentieth Anniversary Season with Elves Gone Wild! a backstage look at the secret desires of Santa's indentured servants.

Elves Gone Wild! takes its audience, elf and non-elf alike, into enchanted territory as M. Jodi Relf discovers her inner Patti LuPone, Laura Bush gives voice to a secret, and Elfis Presley returns to a Connecticut stage for the first time since he, well, died. Did we mention the giant singing and dancing candy canes with needs?

In addition to the silliness, Elves Gone Wild! also offers a heartfelt salute to couples who have had Civil Unions since Connecticut's historic new law took effect this October.

Sunday, December 18 at the Stamford Center for the Arts in Stamford, Conn.

FOREVER PLAID: PLAID TIDINGS is a brand-new show that offers the best of Forever Plaid tied-up in a nifty package with a big Christmas bow on top! Filled with Christmas standards that have all been "Plaid-erized," our boys are back to do their Christmas Special. At first they aren't sure why they've returned, but a phone call from the heavenly Rosemary Clooney lets them know that they're needed to put a little harmony into a discordant world.

Sprinkled among the Christmas offerings are audience favorites like their riotous three minute and eleven second version of The Ed Sullivan Show - this time featuring the Rockettes, the Chipmunks and The Vienna Boys Choir, and a Plaid Caribbean Christmas which puts the "Day-O" in Excelsis! This is one holiday treat that is truly "heaven-sent!"

Performance this season include; The Coconut Grove Playhouse in Coconut Grove, Florida opening December 13 until January 1. The Drury Lane at Water Tower Place in Chicano continuing until December 31. The Maltz Jupiter Theatre in Jupiter, Florida continuing until December 17. The Gold Coast Hotel in Las Vegas opening December 13 with shows through December 31.


| | | |
| --- | --- | --- |
| | | |
WHO'S WHERE


DIANNE REEVES entertaining Friday, December 16, at the New Jersey Performing Arts Center in Newark, NJ. On Saturday she can be enjoyed at the Annenberg Center in Philadelphia.

BONNIE RAITT on Friday, December 16, she's in the spotlight at Foxwoods Casino in Mashantucket, CT. Saturday finds her at the Grand Opera House in Wilmington, DE.

BRIAN SETZER ORCHESTRA on stage Monday, December 12, at the Isleta Casino and resort in Albuquerque, NM. On Tuesday the action is at the Arts Center in Mesa, AZ. Thursday finds the guys at Spotlight 29 Casino in Indio, CA. On Saturday they can be enjoyed at the Gibson Amphitheatre at Universal City, CA. Next Sunday they'll be delighting fans at the House of Blues in San Diego.

BLIND BOYS OF ALABAMA entertain Wednesday, December 14, at Bass Performance Hall in Forth Worth, Texas. On Thursday they are on stage at Temple Theatre in Lufkin, Texas. Friday finds them at the University of Texas in Austin and on Saturday they can be enjoyed at the Bill Heard Theater in Columbus, GA.

TONY BENNETT opens a three night stand at the Golden Nugget in Las Vegas on Friday, December 16.

ANNE MURRAY opens a two nighter Monday, December 12 at the Weidner Center in Green Bay, Wisconsin. On Friday she stars at the Mendel Center in Benton Harbor, Michigan. Saturday finds her on stage at the Potter Center in Jackson, MI.

JAMES TAYLOR in stage at the Boardwalk Casino in Atlantic City on Dec. 17.

GWEN STEFANI performs Monday, December 12 at the Mohegan Sun casino in Uncasville, CT. On Wednesday she is on stage at the Turning Stone Casino in Verona, NY. Thursday finds her at Madison Square Garden in Madison Square Garden and on Saturday she can be enjoyed at the Schottenstein Center in Columbus, Ohio.

LENNY KRAVITZ entertains Tuesday, December 13 in Milwaukee, WI at the Bradley Center. On Thursday the show is at the Palace of Auburn Hills in Auburn Hills, MI. Saturday finds the performance at the Van Andel Arena in Grand Rapids, MI.

MICHAEL BUBLE in the spotlight Monday. December 12 in Barcelona, Spain at the Palau Sant Jordi. On Tuesday he stars at the Madrid Arena in Madrid.

ANDY WILLIAMS' CHRISTMAS SHOW on stage Tuesday, December 13 in Clearwater, Florida at Ruth Eckerd Hall. The shoes moves to the Raymond F. Kravis Center in West Palm Beach on Wednesday. Next Sunday the performance is in Atlanta, Georgia at the Atlanta Civic Center.

TRANS SIBERIAN ORCHESTRA has performances Tuesday December 12 at the Air Canada Centre in Toronto, ON and at the Don Haskins Center in El Paso. On Wednesday a show takes place in Amarillo, Texas at the Amarillo Civic Center. Thursday there is a show in Providence, RI at the Dunkin Donuts Civic Center. On Friday the groups are on stage in Hartford, CT at the Hartford Civic Center and at the SBC Center in San Antonio, Texas. Saturday the performances are in Dallas at the American Airlines Center and in Philadelphia at the Wachovia Center. Next Sunday, December 18, they can be enjoyed in Pittsburgh at the Mellon Arena and in Houston at the Toyota Center.

MANNHEIM STEAMROLLER on stage Thursday, December 15 in Hershey, PA at the Giant Center and on Saturday at the Fleet Center in Boston,

GAY MEN'S CHORUS OF LOS ANGELES in its 27th season. A Classy, Brassy Holiday Extravaganza, with Dr. Bruce Mayhall conducting for his fifth season as Artistic Director. December 16, 17 & 18 at the Alex Theatre in Glendale.

U2 in the spotlight Monday, December 12, at the Bobcats Arena in Charlotte, NC. On Wednesday they are on stage at the Savvis Center in Saint Louis, MO. Thursday finds them in Omaha at the Qwest Center. On Saturday they perform in Salt Lake City at the Delta Center.

BON JOVI entertains Monday, December 12 in Albany, NY at the Pepsi Arena. On Wednesday they begin a two night stand in Montreal, QC at the Bell Centre. On Saturday the show is in Washington, DC at the MCI Center.

NEIL DIAMOND stars Tuesday, December 13 in Kansas City, MO at the Kemper Arena. On Friday he brings his show to the E Center in West Valley City, UT.


PIFFLE AND PROFUNDITIES


RECREATING THE CHRISTMAS PARTY The Imperial War Museum Duxford, England and the United States Air Force from Lakenheath, Suffolk joined forces to host a Christmas party for local children December 8. The event was held in Duxford's American Air Museum and recreated the WW II wartime Christmas parties that the members of the Americans put on during their time here at Duxford.

Christmases in 1943 and 1944 were full of festive spirit for the Duxford-based American servicemen as they entertained children from the nearby towns at parties on the base. The airmen saved up their rations for weeks in advance so the children could have as much chocolate as they could eat!

This touching example of Anglo-American cooperation was recreated last Thursday when US Air Force personnel from Lakenheath provided food, entertainment and presents for the specially invited group of Suffolk school children.
















Next Column: December 18, 2005
Copyright: December 11, 2005. All Rights Reserved. Reviews, Interviews, Commentary, Photographs or Graphics from any Broadway To Vegas (TM) columns may not be published, broadcast, rewritten, utilized as leads, or used in any manner without permission, compensation and/or credit.
Link to Main Page
---
Laura Deni


CLICK HERE FOR COMMENT SECTION