! >
Broadway To Vegas
  
  REVIEWS INTERVIEWS COMMENTARY NEWS

| | |
| --- | --- |
| | |
IT'S A WONDERFUL LIFE THE LIVE RADIO PLAY - - BEBE NEUWIRTH STORIES IN NY LIVE AT 54 CD BELOW REVIEW - - NEW JERSEY THEATRES HELP DECORATE GOVERNOR'S MANSION - - ANDERS ZORN: SWEDEN'S MASTER PAINTER - - 80th BIETHDAY YEAR CELEBRATION OF SONGWRITER MIKE STOLLER - - DORIS DUKE CHARITABLE FOUNDATION AWARDS THEATER GRANTS - - DOG STARS IN WORLD PREMIERE OF BECAUSE OF WINN DIXIE - - FORTUNE'S FOOL MAKES WEST END DEBUT - - DONATE . . . Scroll Down




Copyright: December 1, 2013
By: Laura Deni
CLICK HERE FOR COMMENT SECTION


A UNIQUE THEATRICAL PARTNERSHIP DECORATES THE NEW JERSEY GOVERNOR'S MANSION
Photo: New Jersey Theatre Alliance

For a time it appeared there were too many cooks stirring the Christmas pot. There were moments of frustration and angst. That happens when, not such several committees, but organizations try something new for the first time.

Then, just as magical as Santa down the chimney, it all came together.

It all started months ago when a decision was made that this year's holiday theme for Drumthwacket, the New Jersey Governor's Official Residence in Princeton, would be Drumthwacket on Stage. It might be noted that Gov. Chris Christie, his wife and four children have never lived in Drumthwacket. When he took office in 2010, he decided not to move his family into Drumthwacket, because it would uproot his kids. The family lives in Mendham, a town about 35 miles away.

Nevertheless, Drumthwacket is a busy place. During the holiday season over 5,000 visit the Mansion either on a tour or attending a special event.

In the past it has been the responsibility of the Garden Clubs of New Jersey to decorate the various rooms, in what has always been an intense, but friendly, competition between the flowering groups.

The unique move of inviting the New Jersey Theatre Alliance to the party offered the theatrical companies an opportunity for favorable publicity for their venues and productions.

"When the Drumthwacket Foundation asked the New Jersey Theatre Alliance if its members would be interested in helping The Garden Club of New Jersey decorate this prestigious residence, East Lynne Theater Company was among the theaters to say "yes," reported ELTC's artistic director Gayle Stahlhuth, who admitted to Broadway To Vegas than she didn't know the Governor's Mansion had a name. "I never knew the Governor's home had a name before this project, and I've been associated with this NJ theater company - in one way or another - since 1981!"

Sited on land that witnessed the 1777 Princeton battle for American independence, the property upon which Drumthwacket stands was once owned by William Penn, the Quaker who founded the colony of Pennsylvania. In 1696 William Olden acquired the property. Charles Smith Olden, who gained his wealth in business ventures in New Orleans, began the construction of Drumthwacket in 1835, possibly using a design by architect Charles Steadman. For its name he borrowed two Scottish Gaelic words that mean "wooded hill".



Ghost of Christmas Present, design and construction by Julia Sharp for Centenary State Company. Photo: Tina Medina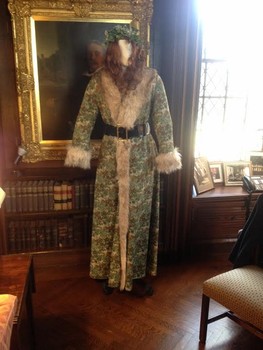 Drumthwacket is a 20-room Greek Revival mansion, with Italian gardens, a music room and a solarium. There are 12 private rooms upstairs and six public rooms on the main floor that are the site of many official functions.

The non-profit Drumthwacket Foundation is responsible for preserving, restoring, and curating the house which is a historic house museum. Drumthwacket was added to the National Register of Historic Places in 1975.

The New Jersey Theatre Alliance fosters collaboration, cooperation and audience development. Currently, there are thirty-two Equity professional, not-for-profit theaters who are members of the Alliance.

According to Stahlhuth, "at the first meeting at the residence last spring to discuss Drumthwacket on Stage, representatives from various theaters, the New Jersey Theatre Alliance, Drumthwacket Foundation, and The Garden Club, were in attendance."

Representing East Lynn Theatre was Stahlhuth, and costume designer, Marion T. Brady from Little Falls, NJ.

"Before the meeting, pictures of the five rooms to be decorated had been e-mailed to the participants," reported Stahlhuth.

Among the groups at the meeting were members of the Centenary Stage Company.

"When the Alliance first approached the theatres, I think we were hesitant because we knew it would be happening during one of our busiest times of the season," Rita Medina Program Assistant for the Centenary State Company, located at Centenary College in Hacketstown, told Broadway To Vegas on November 25.

"One of our newest traditions here at Centenary is doing a large holiday musical that often incorporates staff, CSC interns and Centenary College students, along with Equity and community actors. It's a huge production! But when I and CSC board member and friend Maria Brodeur heard about the opportunity to get our name out there and decorate a whole room in the mansion with our material, we felt like we just couldn't pass this up.

"So, we brought in Centenary College faculty member Julia Sharp, who also serves as costumer for our main stage shows and specializes in Fashion and Visual Merchandising, and she has spearheaded much of the design for the room," continued Medina.

"When we went for our first visit to pick out which rooms we would each like to decorate, Julia and I knew right away that we wanted the library with this majestic looking fireplace right in the center of the room. We would be bringing in elements from our production of A Christmas Carol: The Musical by Alan Menken, Lynn Ahrens and Mike Ockrent. CSC did the production in 2011 and are currently remounting it on a much grander scale," she said referring to their current production which opened November 29.

"Julia recruited two of her students to help out - Sarah Greenstone and Tina Medina - and between the four of us, we've set up a beautiful room with production photos, two beautiful costumes - one being a grand depiction of The Ghost of Christmas Present - props made especially for this room and a display of set designs from past productions by Emmy winning designer Bob Philips. We worked in conjunction with the Garden Clubs of New Jersey to help create what we think will be an impressive display."

Adorned by the Shrewsbury Garden Club, the tree, according to the official release, "is decorated with Marley's silver chains with natural ornaments and touches of snow to remind us of Christmas past. The fireplace niche has lanterns and greens to lead the way to the village scenes presented on the coffee tables."



It Pays To Advertise theme for the Governor's Study decorated by the East Lynne Theatre of Cape May, NJ. Photo: Gayle Stahlhuth.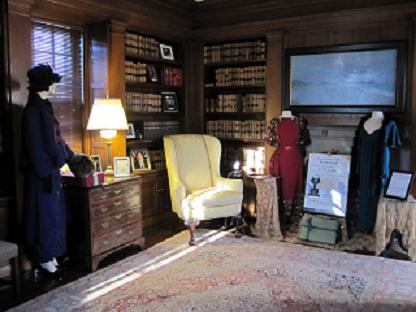 East Lynne Theatre Company was also thrilled with the room they decorated - the Governor's Study or Office. "Christmas themes were encouraged, and what is Christmas without shopping?" was Stahlhuth's rhetorical question. ELTC decided to base their decor on a production they had staged called It Pays to Advertise.

"The hunt began for mannequins," recalled Stahlhuth who confessed that she had never before dressed a mannequin. Susan and Barry Tischler, owners of Kaleidoscope, a women's clothing store in Cape May lent ELTC their full-size mannequin, which includes a head and feet. Though taller than the actor Maria Silverman who wore the purple suit in It Pays to Advertise, the suit fit the mannequin, and a hat, shoes, gloves, and a muff were found to complete the Edwardian look. Eric Hafen, artistic director of The Bickford Theatre located next to The Morris Museum in Morristown, NJ, brought two "torso" mannequins to the residence for ELTC's use."

On November 20, Stahlhuth and ELTC's technical director, Lee O'Connor, traveled to Princeton to set up the display.

Opening on Broadway in 1914, It Pays to Advertise is a comedy about the power of advertising, with actual facts and figures from what the likes of Kodak and Kellogg's spent in 1914 - almost 100 years ago - at the time World War I began in Europe.

"ELTC's display is created to make one think of a shop window," explained Stahlhuth. "The mannequin in the purple suit is looking at two dresses and a framed sign in the middle that advertises "Thirteen Soap: Unlucky for Dirt," designed by Mark E. Lang for ELTC's production. There are smaller frames on either side of the dresses, sitting on small tables. One has pictures and credits from the show. The other is a page of dialogue from It Pays to Advertise, where real statistics are revealed, ending with: "Six hundred and sixteen million dollars were spent last year in magazines and newspapers, billboards and electric signs, bringing education and comfort and fun and luxury to the people of the United States. It's romance - the romance of the printing presses, of steel rails, of the wireless, of trains and competition, the romance of modern business, and it's all built on advertising. Advertising is the biggest thing in this country, and it's only just the beginning."

Other theatrical organizations participated at various levels.

"Robert (Carr) at the New Jersey Theatre Alliance organized this with the Theatres. We simply provided them with a costume; we don't know what room it is in or what else is showcased in that room," Rick Engler Director of Marketing for The Shakespeare Theatre of New Jersey told Broadway To Vegas.



Parlor: Premiere Stages' Madison (photo courtesy NJ Theatre Alliance through Governor's Office)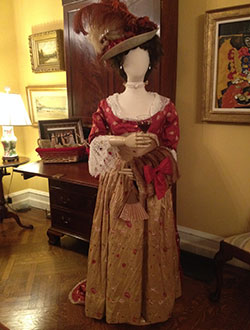 According to the official release from the Governor's Office, "The Parlor was decorated by Premiere Stages and Shakespeare Theatre of New Jersey, the theme for the Parlor Room is Madison (by Guillermo Reyes) and The Misanthrope (by Molière). The Keyport Garden Club has used its location on the Raritan Bay to inspire the parlor's holiday décor. Local greens and oyster shells adorn the arrangements. The costumes in the parlor are reflected in the design elements of colors, feathers, plumes and spiced orange pomander balls."

The Music Room is decorated by The Growing Stage: The Children's Theatre of New Jersey, the theme for this room is Rudolph the Red Nosed Reindeer. The West Trenton Garden Club welcomes Rudolph all dressed up and updated for the holidays. Rudolph's whimsical wonderland is filled with sophisticated white orchids and silver mercury glass with red-nosed accents. "The Club has also incorporated the environmentally conscious theme of Choices Make Changes into the déco," according to the Governor's Office.

The Foyer is decorated by the Dogwood Garden Club of Princeton, the setting is based on a scene from Mame. "Styled by a modern day Mame, the display is both chic and eccentric, and truly represents Mame's motto, Life is a banquet!"

Bringing the Dining Room to theatrical life was the Dogwood Garden Club of Princeton. The long table is set for a holiday dinner for 10, hosted by the stars of the film version of White Christmas: Rosemary Clooney, Bing Crosby, Danny Kay and Vera-Ellen.

"Other not-for-profit Equity professional theater members of the New Jersey Theatre Alliance have set designs and props from various shows on display in the dining room so that all Alliance members are represented at Drumthwacket," stressed Stahlhuth whose ELTC's production of Christmas with Harte and O. Henry runs through December 14.

"One of my favorite traditions as First Lady is to welcome visitors to Drumthwacket during the holiday season," said Mrs. Christie. "This year's theme, Drumthwacket on Stage, showcases the tremendous talents of our vibrant theatre community and the breathtaking creativity of New Jersey's garden clubs. The Governor and I are delighted that thousands of adults and children will tour the historic residence to experience Drumthwacket dressed for the holidays."

Garden State theatres support the economic development of New Jersey, contribute to their communities with outreach and arts education opportunities, and offer theatric works that inspire, challenge and entertain close to one million theatre goers annually. In addition, the Garden Club of New Jersey has donated countless hours decorating Drumthwacket in its holiday finery, with many members working since the summer to create the beautiful arrangements, garlands and ornamental accompaniments to compliment this year's theatrical theme.

"We are grateful to the First Lady and the Drumthwacket Foundation for the opportunity to be part of this holiday tradition. New Jersey's professional theatres bring such enrichment to the state, and it's wonderful that so many people will have the opportunity to visit the residence to see some of the 'backstage' artistry of these theatres at Drumthwacket on Stage," said John McEwen, Executive Director, New Jersey Theatre Alliance.

The Drumthwacket Foundation Holiday Open Houses, which are open to the public, are scheduled for Wednesday December 4; Sunday December 8 and Wednesday, December 11.





Broadway To Vegas is supported through advertising and donations. Priority consideration is given to interview suggestions, news, press releases, etc from paid supporters. However, no paid supporters control, alter, edit, or in any way manipulate the content of this site. Your donation is appreciated. We accept PAYPAL. Thank you for your interest.





ART AND ABOUT


ANDERS ZORN: SWEDEN'S MASTER PAINTER

Anders Zorn, Reveil, Boulevard Clichy,1892. Watercolor. Private Collection.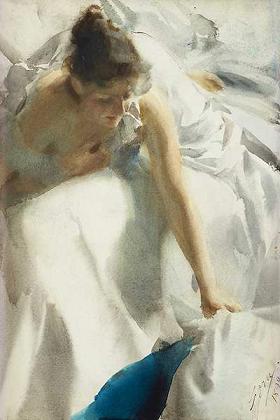 brings together one hundred of the artist's oil paintings, watercolors, etchings, and sculptures.

Anders Zorn (Swedish, 1860–1920) was one of the world's most famous living artists at the turn of the twentieth century, known for his virtuoso painting and printmaking techniques.

Although he was a hugely successful portrait painter in this country - depicting captains of industry, members of high society, and three U.S. Presidents - there has been only one other major American retrospective in the last century examining Zorn's work.

His early travels took him to Spain and Algeria where the intense color and light inspired the virtuoso watercolorist to perfect his craft.

In Paris he emulated the Impressionists as a chronicler of modern life, while in America he rivaled John Singer Sargent as the most sought-after portraitist of glittering high society.

Back at home Zorn captured his native folk culture and the serenity of the Nordic landscape.

Featuring 100 rarely seen works drawn from public and private collections throughout Europe and the United States, this major retrospective promises to be a revelation for those yet to discover the vibrant artistic personality of Sweden's master painter.

Trained at the Royal Swedish Academy of Fine Arts, where his watercolors brought him to the attention of King Oscar II, Zorn would remain closely tied to his native country throughout his career. In 1896 Zorn moved back to his hometown of Mora, where he painted scenes of the Swedish countryside and subjects that celebrated the country's folk culture. One such work in this exhibition, Midsummer Dance (1897, Nationalmuseum, Stockholm), has long been considered one of Sweden's national treasures, and it rarely leaves the country.

This exhibition is organized by the Fine Arts Museums of San Francisco and the Zornmuseet in association with the National Museum, Stockholm. Honorary Patron: Her Royal Highness Princess Madeleine of Sweden.

Through February 2, 2014 at the Legion of Honor Fine arts Museum of San Francisco.

Anders Zorn in the Gilded Age will be broadcast on KQED Life on Monday, December 9, at 9 pm and Tuesday, December 10, at 3 am.


SWEET CHARITY


BLESS THIS HOUSE: A HOLIDAY-ISH BENEFIT CELEBRATION FOR THE CHURCH OF ST. PAUL AND ST. ANDREW Upper West Siders, Victoria Clark, Mary-Mitchell Campbell, Ricky Ian Gordon, Kelli O'Hara, Greg Naughton, and David Hyde Pierce are joined by other Broadway favorites, Kimilee Bryant, Brian Cross, Hunter Ryan Herdlicka, Lindsay Mendez, Mary Louise Parker, and Cantor Ari Priven along with singer-songwriter Jane Kelly Williams to celebrate the holidays and raise funds for much needed repairs for the historic Church of St. Paul and St. Andrew.

The evening will be filled with song and jubilee from this star-studded cast. Directed by Barbara Grecki. The musical director is Mary-Mitchell Campbell.

St. Paul and St. Andrew is a vital part of the fabric of New York City's Upper West Side. Home to four churches and a large synagogue, Congregation B'nai Jeshuruni, this century-old building also houses New York's largest emergency food program, the West Side Campaign Against Hunger, a shelter for homeless women as well as a large tutoring program. One of their kitchens provides Meals-On-Wheels for Upper West Side seniors.

The 115 year old landmark is in urgent need of repair. The roof, front steps, sidewalks and areas throughout the building must be fixed in the next several months.

Monday, December 9, at St. Paul and St. Andrew in New York City.

PRINCE WILLIAM who reportedly has trouble carrying a tune in a bucket, never-the-less became part of a trio when he off-key chimed in with Bon Jovi and Taylor Swift on Bon Jovi's 1980s hit Livin' on a Prayer during the Winter Whites Gala for his homeless charity Centrepoint. The event took place last week at Kensington Palace.

The father of George and husband to Kate presented the Centrepoint Great Britain Youth Inspiration Award to Bon Jovi for his humanitarian work. Bon Jovi founded Soul Foundation in the US in 2006.


THE MUSIC GOES ROUND AND ROUND


BEBE NEUWIRTH STORIES . . . .IN NY - LIVE AT 54 BELOW has been released on Broadway Records.

Neuwirth is an amazing talent. From her Emmy Award winning role as the strident Dr. Lilith Crane on Cheers to her two-time Tony Award wins for roles in Sweet Charity and Chicago, Neuwirth seems to be able to do it all. In this sparkling CD she establishes that she knows how to project intimacy. Whether you perceive it as her coming into your living room, or her permitting you to be part of her night out, the contents of this CD will entertain and enthrall.

A combination of music and personal stories, each of the songs comes with his own story, frequently hilarious and always interesting.

The colorful, perky booklet is springtime in New York. Numerous photographs of Neuwirth is a pick me up, enticing one to listen to the CD inside.

Musical director Scott Cady is a strong presence on this CD.

Cady and Neuwirth are simpatico. In 2009, Neuwirth toured a one-woman cabaret show with pianist Cady. In 2011 they worked together on her Porceline album. Cady served as musical director, arranger and pianist, the same roles he fulfills on this CD. Her show at 54 Below was a collaboration between them.

"When I do my show, it's not about the sound of my voice; it's about the story and the emotional life of a character - if that's a character or if it's me," Neuwirth told The Huffington Post in an interview.

There are stories - many of them - all totally entertaining.

At one point Bebe smells the aroma of a desert a front row customer has and inquires as to what it is - the confection turning out to be a brownie cookie with chocolate sauce. That causes Bebe to reply that, as a dancer, she is only allowed to smell, not eat cookies. And - like a good dancer - she can smell a cookie a mile away.

Like a fine wine with a unique personality meant to be savored, Neuwirth's voice has character and body. It's a little Tallulah Bankhead, a little Elaine Stritch and a lot of the unique talent known as Bebe Neuwirth. You can visualize her performing The Ladies Who Lunch, a number which isn't included on this CD. She is a "character" singer. Her voice wavers, has a limited range, and conveys the meaning of the lyrics the way the writer intended.

I'd Love To Get You On a Slow Boat To China by Wally Harper showcases her singing voice more than the other selections. With composition by the likes of Kurt Weill, Tom Waits and, of course, some Broadway standards, Neuwirth provides a memorable listen.

She's a delight on the John Kander & Fred Ebb song, Ring Them Bells and poignant on But the World Goes' Round. She explains that she spent the first six weeks of her life in a cast because her long legs were curled up, which lead into The Bilbao Song from the 1929 musical Happy End. When she somewhat forgets the lyrics - it's charming.

Before singing Irving Berlin's I Love a Piano she explains why that was always her audition.

A perfect match of performance patter and song. Buy and enjoy this CD.

Mixed at Kontinuous Jams Studios. Mastered by Greg Reierson of Rare Form Mastering. Engineer Lake Baum. Photography by Chris Calkins. CD Packaging Designand Layout by Van Dean.

The track listing:

1. I Love A Piano
2. Intro: Welcome to Stories with Piano #4
3. Ring Them Bells
4. Susan's Dream
5. Intro: Dance Songs
6. The Bilbao Song
7. Simply A Waltz / It Only Happens When I Dance With You
8. Mr. Bojangles
9. Intro: Are those Cookies?
10. Surabaya Johnny
11. Intro: Here's a story...
12. On A Slow Boat To China
13. Intro: What I listen to
14. Invitation to the Blues
15. But the World Goes 'Round
16. Intro: One more song
17. Shiver Me Timbers
18. Intro: Thank you; here's our encore
19. I'll Be Seeing You








SPREADING THE WORD


AN 80th BIRTHDAY YEAR CELEBRATION OF SONGWRITER MIKE STOLLER

Mike Stoller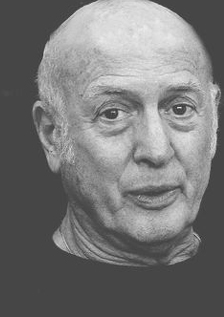 Not too many people are so important that their birthday is celebrated for an entire year. Songwriter Mike Stoller is such a gent. Born on March 13, 2013, his 80th birthday party just keeps rolling along.

The 92Y in New York City has announced that on December 9th they'll celebrate the famed tunesmith with an evening hosted by Paul Shaffer who has stated that; "There would be no rock and roll without them."

Aptly entitled An 80th Birthday Celebration, the one-night-only Lyrics & Lyricists Special Event wlll be directed and written by Randy Johnson, the irector/writer of A Night with Janis Joplin, with Tyler Rhodes serving as Associate Director and Co-Writer.

Confirmed artists performing expected and unexpected interpretations from Stoller's genre-spanning career in blues, R&B, rock 'n' roll and jazz include legendary vocal group The Coasters, along with artists Karen Akers, Mary Bridget Davies, Corky Hale, Maria Elena Infantino, Sally Kellerman, Bettye LaVette, Melissa Manchester, Billy Stritch, Tommy Tune and Steve Tyrell. Backed by Tyrell's band, the artists perform some of the greatest songs written by Stoller with his longtime lyricist partner Jerry Leiber and others. Leiber, who died in 2011, will be the subject of a special tribute during the evening. Stoller is planning to be in attendance for the celebration.

Jerry Leiber and Mike Stoller's iconic songs like Hound Dog, Jailhouse Rock, Poison Ivy, Yakety Yak, Kansas City, Ruby Baby, Love Potion #9 and Stand By Me (with Ben E. King), bridged the gap between blues, R&B and mainstream rock 'n' roll in the 1950s and early 1960s.

Peggy Lee's sultry 1968 recording of their song Is That All There Is? earned her a Grammy® award for Best Female Pop Vocal Performance, and their joint production of the Stealer's Wheel 1972 hit Stuck in the Middle With You achieved iconic status in the 1990s as the background music to a key scene in Quentin Tarantino's film Reservoir Dogs.

The 1995 Broadway show Smokey Joe's Café, a musical revue based on their work, received seven Tony Award nominations and running for five years, became and remains the longest-running musical revue in Broadway history.

Monday, December 9, 2013 at the 92Y in New York City.

ANGELA LANSBURY 88, will return to the London stage for the first time in almost 40 years in a new production of Noel Coward's Blithe Spirit. She will reprise the role of Madame Arcati, which she first played on Broadway in 2009, winning a Tony Award. The production opens at the Gielgud Theatre on March 18, 2014. Lansbury will appear in the production for 15 weeks.

Tony Award winner Michael Blake will direct, as he did the Broadway production.

Lansbury's last appearance on the West End was in 1974, when she played the lead role in Stephen Sondheim's Gypsy,

THE TRAGEDY OF MR. MORN New York Premiere of a play by Vladimir Nabokov A dazzling verse romance by the precocious 24-year old author, responding to Revolution with a bloody tale of desire. Translated by Thomas Karshan and Anastasia Tolstoy.

Directed by Ethan McSweeny.

With Tala Ashe, Quincy Tyler Bernstine, Corey Hawkins, Aaron Clifton Moten, David Greenspan, and Tony Plana.

Post-play discussion with Thomas Karshan.

December 9, 2013. Part of the Revelation Readings Series presented by Red Bull Theatre in New York City.

ELYSIAN FIELDS by Chris Phillips. A Staged Reading of a new play by Chris Phillips.

Lead Artist: is Scott Hinson.

A new play from the NY Fringe Festival, Elysian Fields sheds light on the phantom characters in Tennessee Williams' Streetcar Named Desire, Suddenly Last Summer and Cat on a Hot Tin Roof. Allen, Sebastian and Skipper must collide with the people closest to them, the demons that haunt them and come face to face with their unavoidable demise.

Free Admission. Tuesday, December 3, at Guild Hall in The Hamptons, New York.

All staged readings are sponsored in part by Dina Merrill and Ted Hartley

THE PHILHALLMONICS PRESENT A FREE HOLIDAY CONCERT in which they will be swingin' and singin' their way through holiday favorites in Man With The Bag presented by The Lincoln Center Library for the Performing Arts and The PhilHallmonics on Saturday, December 7, 2013, at the Bruno Walter Auditorium at Lincoln Center in NYC.

The PhilHallmonics is led by founder, Broadway conductor and composer, Phil Hall and directed by Broadway choreographer Sharon Halley.

Whether you've been naughty or nice, Santa's got something in his bag that's sure to delight. You'll enjoy innovative stylings of holiday chestnuts such as I've Got My Love To Keep Me Warm, We Need A Little Christmas, Jingle Bell Rock, Once Upon A December, That Holiday Feeling, Little Saint Nick, I Love The Winter Weather, among many, many other toe tapping tunes. You'll also find the crowd pleasing Sugar Plum Ladies, from previous holiday concerts, conspire to establish themselves as indispensable members of The Philhallmonics, and will do whatever it takes to do so.

The PhilHallmonics is comprised of professional Broadway, cabaret and classical singers and dancers. Man With The Bag will feature Karen Arlington, Lynette Baiocco, Mary Lou Barber, Dolly Ellen Friedman, Lenore Fuerstman, Linda Sue Moshier, Alyson Reim, Martin Samuel, Diana Silva, and Becca Yure?.

A three-piece band comprised of Phil Hall (piano) Karl Spicer (bass) Andy Drelles (reeds) will punctuate the proceedings as this bevy of beauties strut their stuff. The big man himself makes an appearance in the final number - in and out of his Santa suit.

The concert is free with general seating.

TREE LIGHTING AT ROCKEFELLER CENTER is a world-wide symbol of the holidays in New York City. This year, the Rockefeller Center Christmas Tree will be lit for the first time on Wednesday, December 4, 2013.

Tens of thousands will crowd the sidewalks for the event and hundreds of millions will watch it live across the globe.

The Tree will remain lit and can be viewed until 11pm on January 7th, 2014.

THE CHEW celebrates its 500th show on Tuesday, December 3.

When the ABC talk/cooker of a show first aired Broadway To Vegas thought the first couple of shows were some of the most boring and amateur ever seen. That first week should have been a test run that never aired. My, how that show quickly became an entertaining delight. However, save those first two shows. Years from now the talented cast can watch them and laugh. Meanwhile, congratulations to co-hosts Mario Batali, Daphne Oz, Clinton Kelly, Carla Hall and Michael Symon. Looking forward to the next 500 shows.


OTHER PEOPLE'S MONEY


THE MONTY PYTHON STAGE SHOW has been extended from one date to five, running from July 1-5, 2014 at he O2 Arena in London. The first show sold out within 43.5 seconds.

DORIS DUKE CHARITABLE FOUNDATION AWARDS THEATER GRANTS announced that five arts organizations will receive funding to help them further develop their long-term capacity to respond to changing conditions in the performing arts sector and the world at large, including those related to demographics, audience behavior and the impact of technology.

The five organizations are:
American Repertory Theater (Cambridge, MA), with a grant of $1 million
On the Boards (Seattle, WA), with a grant of $300,000
Oregon Shakespeare Festival (Ashland, OR), with a grant of $1 million
Wesleyan University's Center for the Arts (Middletown, CT), with a grant of $400,000
Woolly Mammoth Theatre Company (Washington, D.C.), with a grant of $800,000

Ben Cameron, Program Director for the Arts at DDCF, said, "This initiative recognizes and supports organizations that have proven, time and again, that they are leaders and innovators in their fields. We understand that most organizations do not have enough, if any, 'change capital' - funds that they can devote to maximizing their adaptability. With that in mind, these awards are intended to further fuel the ability of these five organizations to position themselves to respond to changes in their respective environments."

The grants were not open for application. Instead, an anonymous panel identified five organizations that have demonstrated a sustained appetite to innovate and experiment in ways that inform and lead their respective fields. Each organization will go through an organizational self-analysis, followed by an external assessment. Then they will develop and implement strategies and tactics to best enhance their long-term capacity to adapt. The grantees will receive support over a period of up to four years. Appropriate uses of this money include, but are not limited to, staff expansion, creation of capital reserves, professional development, technology, board and staff retreats, convenings and consultants.



BECAUSE OF WINN DIXIE a world premiere new musical. Based on the novel by Kate DiCamillo which was adapted into a film in 2005 starring Cicely Tyson, Jeff Daniels and Eva Marie Saint. Music by Tony winner Duncan Sheik, and lyrics and book by Tony nominee Neil Benjamin.

Animal direction by Bill Bertoni. Directed by Tony nominee John Tartaglia.

Because of Winn Dixie tells the story of an unlikely friendship that develops between a lonely girl and a dog she finds at a Winn Dixie supermarket.

This original production will also be the first pre-Broadway musical starring a live dog in a leading role. Taran (and understudy Cally), both Irish Wolfhounds, have been cast in the title role of Winn-Dixie, trained by Broadway's foremost animal trainer, Bill Berloni.

"It has always amazed me the reaction animals have on an audience," says Berloni, "When a dog or cat comes onstage, our collective reality is 'Wait a minute, you can't get an animal to act, what is it going to do?' And it brings the audience closer into the piece."

"This story will melt your heart," said producing artistic director Bob Hupp. "We are honored that the creative team of Winn Dixie approached us for this world premiere, and I think this project has tremendous potential to introduce a significant new work into the American musical theatre canon, and it all begins right here on our stage, for Arkansas audiences." In addition to the pooch Taran who stars as Winn Dixie the cast includes: Gabe Bowling, Cayla Christina Christian, Riley Costello, Aisha de Haas, Iman Hardon, Reagan Hodson, Dalton Johnson, Crystal Kellogg, Tari Kelly, Shannon Lamb, Julia Nightingale Landfair, Danny Phillips, Jonathan Rayson, Nic Rowe, Molly Russ, Sam Shaughnessy, Douglas Storm and Syndi Whitfield.

Set Designer: Mike Nichols. Costume Designer: Marianne Custer. Lighting Designer: Michael J. Eddy. Sound Designer: Allan Branson. Properties Designer: Lynda J. Kwallek. Music/Orchestrations/Vocal Arrangements: Duncan Sheik Assistant Animal Trainer: John Grimsley. Associate Director: Melanie Tojio Lockyer. Music Director/Arrangements/Band Leader: Jason Hart. AEA Stage Manager: Danny Kuenzel.

Performances begin December 4, with an official opening December 6. The production will run through December 29 at the Arkansas Repertory Theatre in Little Rock.

IT'S A WONDERFUL LIFE The Live Radio Play adapted by Anthony Palermo. Directed by Charlotte Moore.

Starring: Haley Bond, Rory Duffy, Kristen Griffith, Ian Holcomb, Peter Maloney, and Tony-nominee Howard McGillin.

Christmas Eve, 1946... George Bailey, the nicest guy in town is in a terrible predicament. We find him perched precariously on a bridge, on the verge of suicide. Enter Clarence, George's guardian angel, who has not yet earned his wings. Clarence shows George what Bedford Falls would be if George had never been born! This beloved holiday-season drama is brought vividly to life in a stage adaptation of Frank Capra's classic film of sacrifice and redemption in small-town America. Set in a radio station in the 1940s, with a live sound FX artist, this poignant drama features six actors portraying 25 unforgettable characters. P.S. Clarence wins his wings.

December 4th - 29th at the Irish Rep in New York City.

LADYBIRD Written by Laurie Woolery and Victor Vazquez, directed by Woolery, and supported by The James Irvine Foundation Exploring Engagement Fund.

Unique holiday show uses art to make a difference in the community. All performances are in Spanish with English supertitles, and admission is only 24 cents.

What are the things that we carry? What are the things that we love that make us who we are? 24th STreet Theatre's Teatro del Pueblo (Theater of the Village) presents the world premiere of "a warm, funny and unique holiday play about love and sacrifice, created from stories shared by members of the local community during workshops with professional theater artists."

The story of Norma, a Mexican immigrant who longs for home but comes to know and see the hardworking and generous members of her local neighborhood as a new, if different kind of family, Ladybird weaves together the true stories and real-life experiences of the residents of 24th STreet Theatre's North University Park neighborhood.

The ensemble includes Yolanda F. Baza, Charlton Brio, Earl I. Briones, Lorena Bustillo, Dalia Canche, Jesus Castaños-Chima, Maria de Lourdes Conde, Angelica Diaz, Tony Duran, Abel Flores, Veronica C. Flores, Nicolas P. Garcia, Madelou Gonzalez, Deisy Gutierrez, Jacques Hurtado, Gabriela Martinez, Maria Ortiz, Ismael Ramirez, Aurora Rodriguez, Ivonne Rodriguez, Luis A. Valentan, Carolina Vargas and Liliana Vasquez.

Set design is by Ricardo Soltero; lighting design is by Bob Scales; sound design is by Will Schuessler; community engager is Allegra Padilla; and English supertitles are by Aleida Montejo.

Following the performance, 24th STreet literally brings the entire show into the heart of their community with a Posada (Christmas procession) that takes actors and audience into and around the neighborhood before bringing everyone back to the theater to celebrate with food, warm ponche (punch) and a traditional star-shaped piñata.

Ladybird stages four performances December 7 through December 15 at 24th STreet Theatre in downtown Los Angeles.

FORTUNE'S FOOL Mike Poulton's adaptation of Turgenev's savagely funny play.

Directed by Lucy Bailey.

Starring Iain Glen as Kuzovkin and Richard McCabe as Tropatchov.

Also appearing, in alphabetical order:

Lucy Briggs-Owen, Daniel Cerqueira, Patrick Cremin, Dyfan Dwyfor, Janet Fullerlove, Paul Ham, Richard Henders, Simon Markey, John McAndrew, Bryonie Pritchard, Emily Tucker, and Alexander Vlahos.

A pair of newlyweds arrive at their country estate to be welcomed by Kuzovkin (Iain Glen), the penniless gentleman-in-residence.

Their wealthy and mischievous neighbour Tropatchov (Richard McCabe) stops by for a seemingly innocent celebratory lunch.

Fuelled by champagne the proceedings degenerate, leading to a shocking revelation with far-reaching consequences.

Designed by William Dudley. Lighting by Bruno Poet. Music by John Eacott. Sound Mic Pool. Movement by Leah Hausman. Casting by Sarah Bird.

This Old Vic production of Fortune's Fool marks its West End debut December 6, 2013- February 22, 2014 at The Old Vic in London.


WHO'S WHERE


BOSTON UNIVERSITY College of Fine Arts School of Music & Opera Institute presents Holiday Masterworks with a Ceremony of Carols by Benjamin Britten, conducted by Steven Seigart, and Amahl and the Night Visitors by Gian Carlo Menotti, conducted by William Lumpin. Nathan Troup is the stage director. Free admission. Saturday, December 7 at Boston University in Boston, MA.

TRANS SYBERIAN ORCHESTRA staged their elaborate Christmas show Wednesday, December 4, at the Verizon Center in Washington, DC. On Thursday the performance is at Times Union Center in Albany, NY. Friday finds the two touring groups at the Ed Ex forum in Memphis, TN and at the Mohegan Sun Arena in Wilkes-Barre, PA. Saturday's shows are at the BJCC Arena in Birmingham, AL and Pittsburgh, PA.

LUXEMBOURG AT HOLIDAY TIME presenting favorite show tunes, including songs from Call Me Madam - which Irving Berlin wrote about Pearl Mesta, the "Hostess with the Mostess," first ambassador to the Grand Duchy of Luxembourg. Featuring Broadway singer Klea Blackhurst, sensational "Merman-like," Angela Marchese, singing songs, arias, duets with David John Pike, baritone, resident of Luxembourg, and George Peachey, pianist and collaborator who has helped put the program together. The Thomas Circle Singers entertain as hors-d'œuvres and champagne served prior to performance, after which a buffet prepared by award-winning Luxembourg Embassy Chef is served. Business or cocktail attire. December 5-7 at the Luxembourg Embassy in Washington, DC.

WYONNA performs December 6-7 st the Orleans Hotel in Las Vegas.

YANNI performs his instrumental hits from shows that have become celebrated around the world. December 9, 2013 at the Peabody Auditorium in Daytona Beach, Florida.

AN EVENING WITH NEIL DIAMOND The Holiday Edition featuring Tom Sadge will play Bridgeport's Downtown Cabaret for two performances on Saturday, December 7. Audiences can expect all of the favorite Neil Diamond songs. The Downtown Cabaret Theatre in Bridgeport, Connecticut.

JUSTIN TIMBERLAND is in the spotlight Monday, December 2, at the Airways Center in Phoenix, AZ. Wednesday's show is at the American Airlines Center in Dallas. Thursday finds him at the Toyota Center in Houston.




FINAL OVATION


STEPHEN BOCCHINO singer, songwriter, composer, pianist passed away suddenly at his Upper West Side home in New York City on Tuesday, November 19 of cardiac arrest. He was 62.

Stephen worked as a musical director, arranger, cabaret pianist and coach in New York City. He was also nominated for the 2008 Mac Award and for over 15 years toured with vocalist Craig Pomranz.

He served as musical director for such performers as Julie Wilson, Wayland Flowers and Louise DuArt. He served as musical director for the New York run of Boobs! The Music of Ruth Wallis, which ran Off-Broadway for over a year. Stephen also worked on the long-running musical When Pigs Fly and toured with Always Patsy Cline. He spent five years music directing The Brandy Singers, who performed exclusively for Target, appearing at events from Broadway to Los Angeles.

He is survived by his partner David Weincek, parents Rose and Ed Bocchino of Wesley Chapel, Florida, brothers Edward and David, loving nieces and nephews and many bereft friends and music fans around the world.

A celebration of his life is planned for spring 2014.













Next Column: December 8, 2013
Copyright:December 1, 2013. All Rights Reserved. Reviews, Interviews, Commentary, Photographs or Graphics from any Broadway To Vegas (TM) columns may not be published, broadcast, rewritten, utilized as leads, or used in any manner without permission, compensation and/or credit.
Link to Main Page
---
Laura Deni



For the snail mail address, please E-mail your request.
CLICK HERE FOR COMMENT SECTION